The living room is one of the most well-used parts of a home and often has to serve many purposes at once. So it's no surprise that designing and furnishing this space can feel overwhelming at first.
Faced with the task of turning an empty room into a cozy, relaxed space for all the family, it's easy to panic. On top of that, making decisions about large purchases such as living room sets can be stressful. However, there are some simple tips and tricks you can do that will guarantee you a stunning yet practical living room.
Establish the Feel of the Room
Before you start buying and arranging furniture, soft furnishings, and artwork, it's important to establish how you will use the room and how you want the space to feel.
Every household uses its living room differently. For some, it's an informal place to socialize with family and friends, while others just want to put their feet up and get lost in a movie after a long day at the office.
Considering how you utilize your living room area will inform your decisions about the decor. If you're after a tranquil haven to lounge, soothing colors, minimal design, and extremely comfortable living room sets are ideal. However, if you're planning to host regular get-togethers with all your loved ones, maximizing your seating options should be a priority.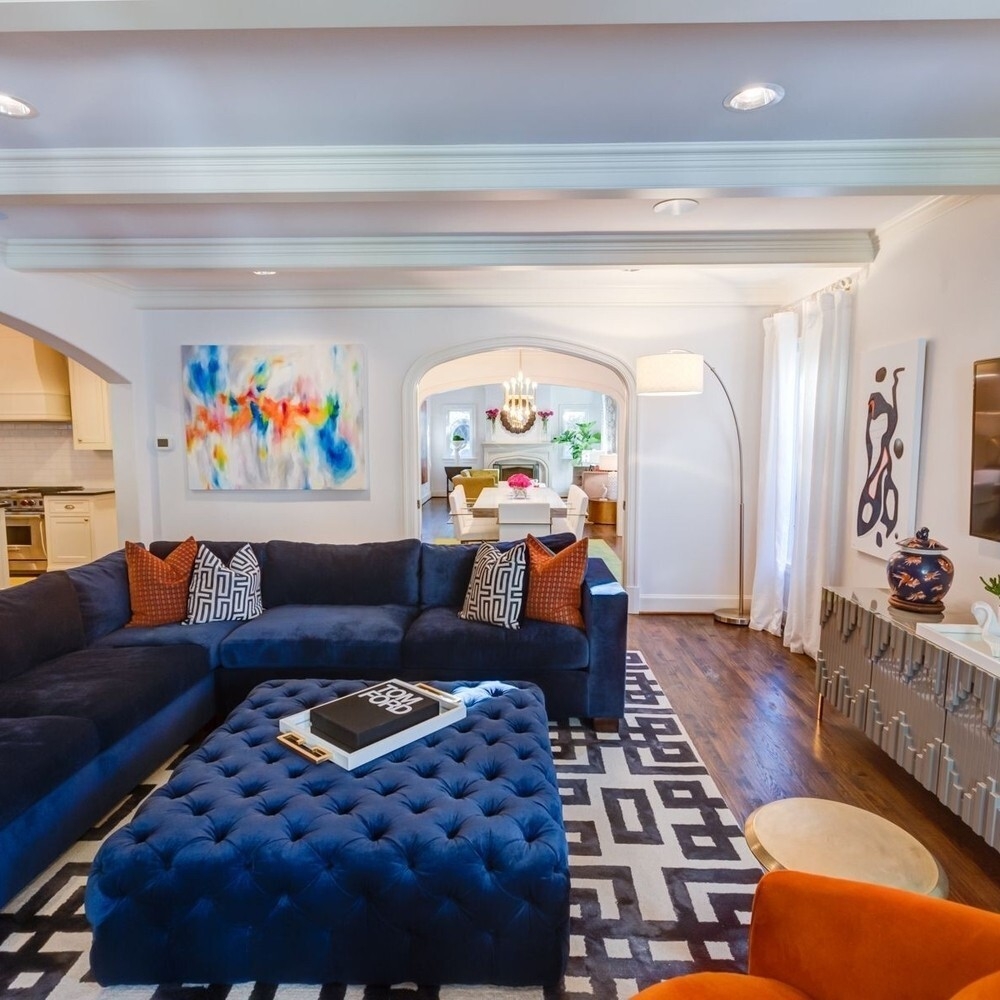 Create a Feature Focal Point
Any well-designed living room has a clear focal point. Deciding what that is and you'll be halfway to the room of your dreams.
Some spaces have a natural, architectural focal point. This could be an original fireplace, a feature window, or a central alcove. In the absence of such a feature, you can create one with well-chosen artwork, a striking mirror, an impressive coffee table, or your TV and media center.
Once you've settled on your focal point, arrange your furniture and accessories in a way that enhances rather than detracts from this feature. For instance, you could paint the surrounding walls a bold color or dress it with special decorative pieces that reflect the design elements in the focal piece.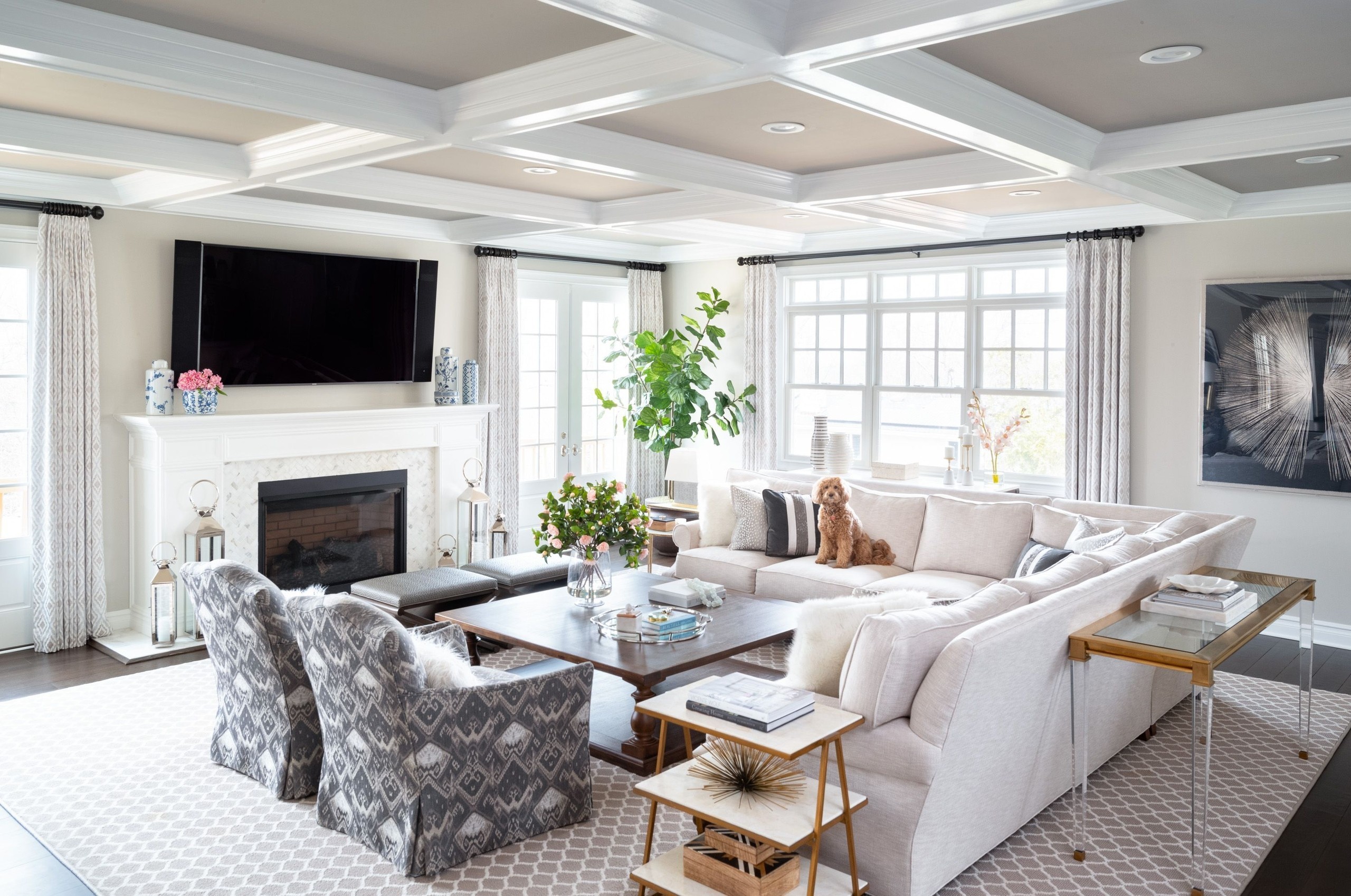 Respect the Flow of the Room
Every room has a natural flow; the way people instinctively move around the space. This is largely determined by where entrances and exits are. Take a step back and look at your living room.
Where are the doors and windows? Do you have to cross the space to access another room? Are there cupboards that cannot be moved? When arranging your furniture, you should consider these questions.
Make sure you don't interrupt the main thoroughfare or block off areas you need to reach. There's nothing more irritating than having to stretch over a couch to open and close your curtains!*
Create Designated Zones
Creating distinctive areas with different functions can make a room feel more intimate and less like one big square space. This concept is especially important in open-plan living spaces.
Arrange seating to face each other to establish social zones. Place a cozy armchair and lamp near a bookshelf for a reading corner. If you have young children or pets that use your living room, designate a specific area where their toys can live, and they can play happily.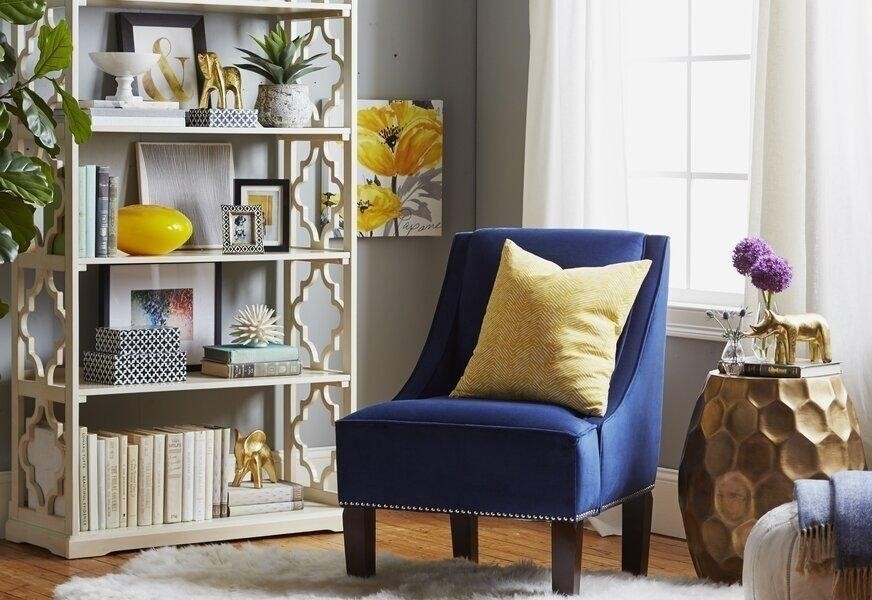 Put Thought into your Lighting Design
Although often overlooked, lighting has a significant impact on the mood of a room. It doesn't matter what color you paint the walls or what soft furnishings you invest in; if all you have is harsh overhead light, your living room will never feel cozy or relaxed.
To get the atmosphere you're looking for, you need to build up layers of light by using several soft light sources, which together illuminate the room. Lamps that focus the light down encourage a relaxing vibe, perfect for a living room.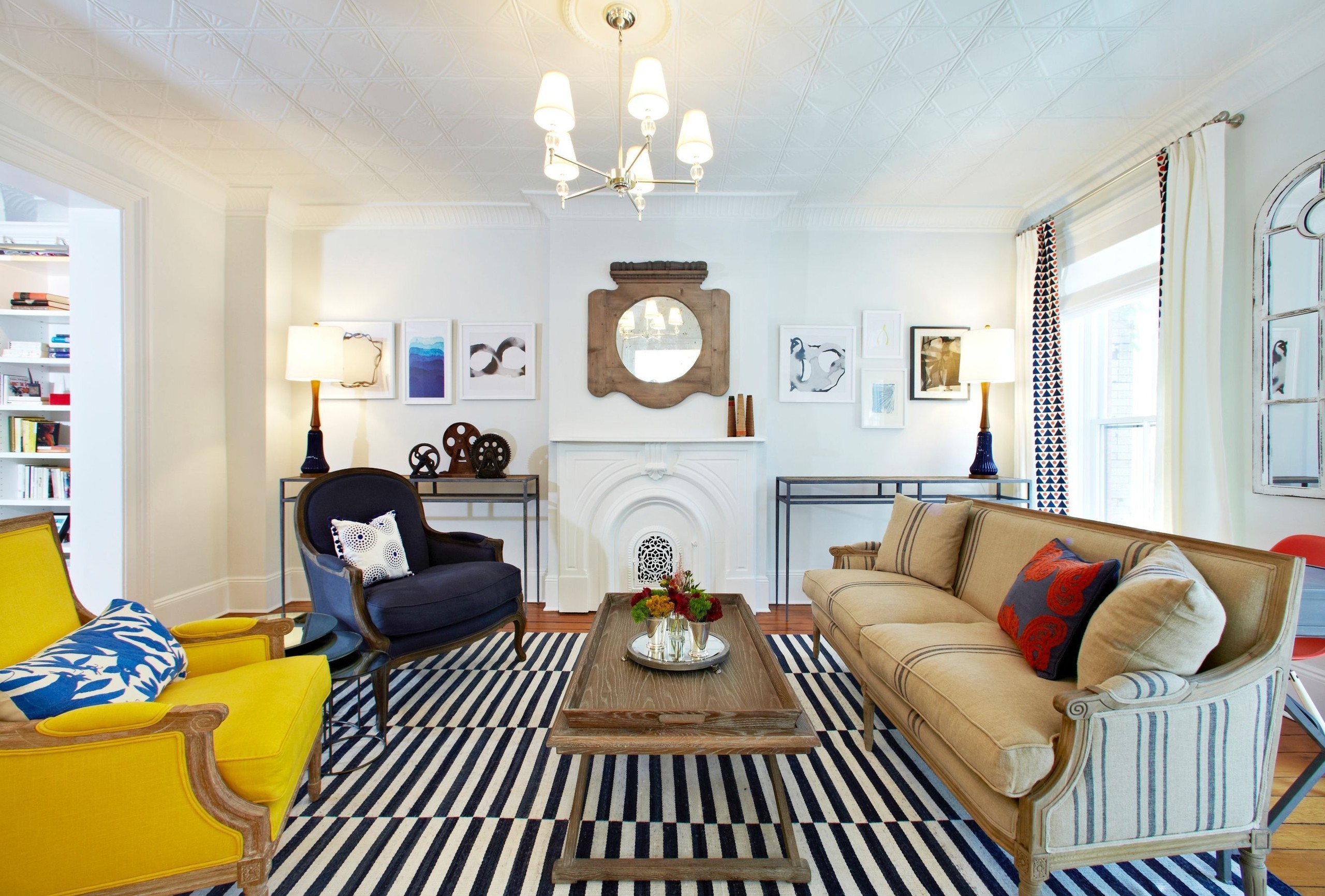 Select the Right Living Room Set for Your Room
A living room set is a significant investment that will hopefully last you for many years. So, it's essential to choose a set that meets your needs and looks good in the space.
Remember that couches and armchairs should complement rather than dominate a space. If you've got a large family and need to squeeze in some extra seating, we suggest opting for a sectional. These L- or U-shaped couches can usually fit lots of people without taking up too much floor space.
We love a matching living room set, but don't be afraid to mix things up with a contrasting feature chair or chaise. This can add a unique touch to your interiors. Don't be tempted to push all the furniture up against the walls. This destroys the intimacy in a room and won't make it feel bigger.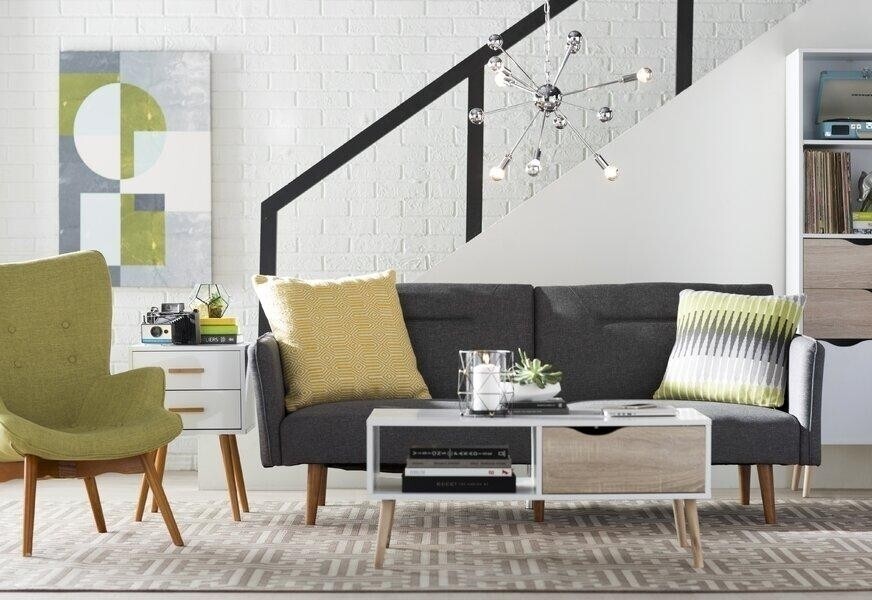 Be Considerate with Your Tables
There's nothing more stylish than a beautiful, imposing coffee table. Don't be afraid to go big; small coffee tables often feel lost next to large living room sets.
In larger rooms, however, even a sizable coffee table might not be enough. Every seat should have access to a table so that people don't have to get up and down every time they want a sip of their coffee. Strategically placed side tables will make all the difference.
When shopping for your living room tables, side tables should be the same height or lower than the arms of your chairs or couches, while coffee tables should be the same height or an inch lower than the seat.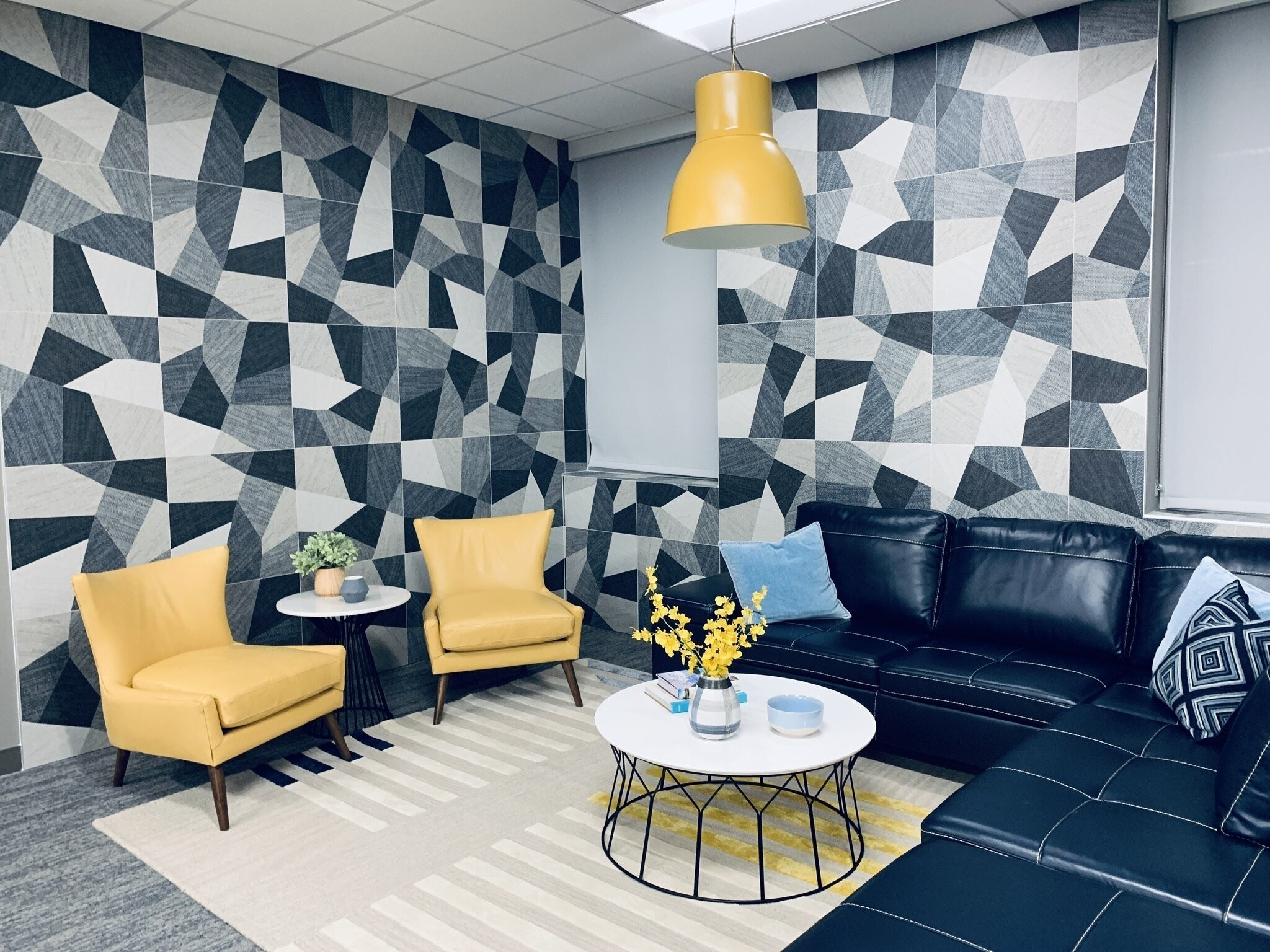 Decide on TV Placement
For many of us, our living rooms are where we chill out and watch TV, so finding the right position for it in your room is crucial. Even if it's not your main focal point, you should make sure that it's easily seen from your couch. However, that doesn't mean that every piece of furniture should be pointed directly at it.
Housing your TV in an entertainment center helps it blend with your decor, and if you're really concerned with the screen dominating the room, choose a hidden TV cabinet. That way you only have to see the TV when you're watching it.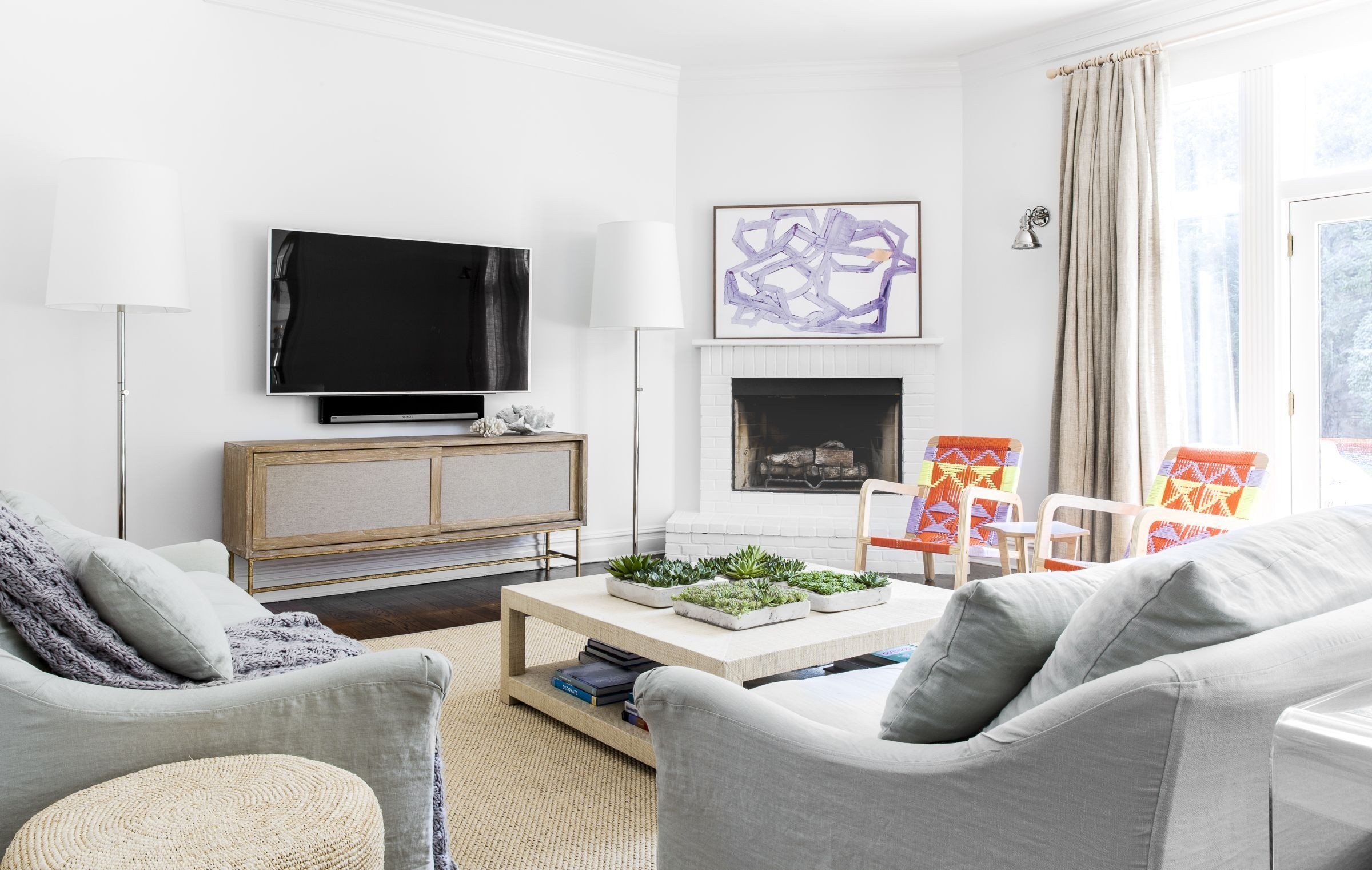 The Final Touches
With the big decisions made, it's time to have fun with those little touches that bring a room together. Accessories, like cushions, window treatments, plants, and knick-knacks, add personality and life to a space. Play with contrasting colors and textures to give the room some depth, and don't be afraid to go out of your comfort zone with these details.
The great thing about accessories is that they are easily changed and don't break the bank. In fact, if you ever want to give your living room a revamp without altering your carefully arranged furniture, switch up your cushions or try some new artwork; these little changes can breathe new life into any room.