Small Curved Sectional Sofa / Couch
Sectional sofas are the perfect place for relaxing with family and friends to socialize, watch a movie, or simply relax with a glass of wine. Curved sectionals are a great way to add a touch of contemporary flair to your living room, and thanks to their curved form, they are capable of comfortable seating more guests than a traditional couch.
If you're looking to take your living room design up a notch, you're in the right place. We've gathered some of the best small sectional sofa ideas around to inspire you for your own home and help you create the perfect stylish, comfortable seating area to entertain guests or simply relax and put your feet up at the end of a long day.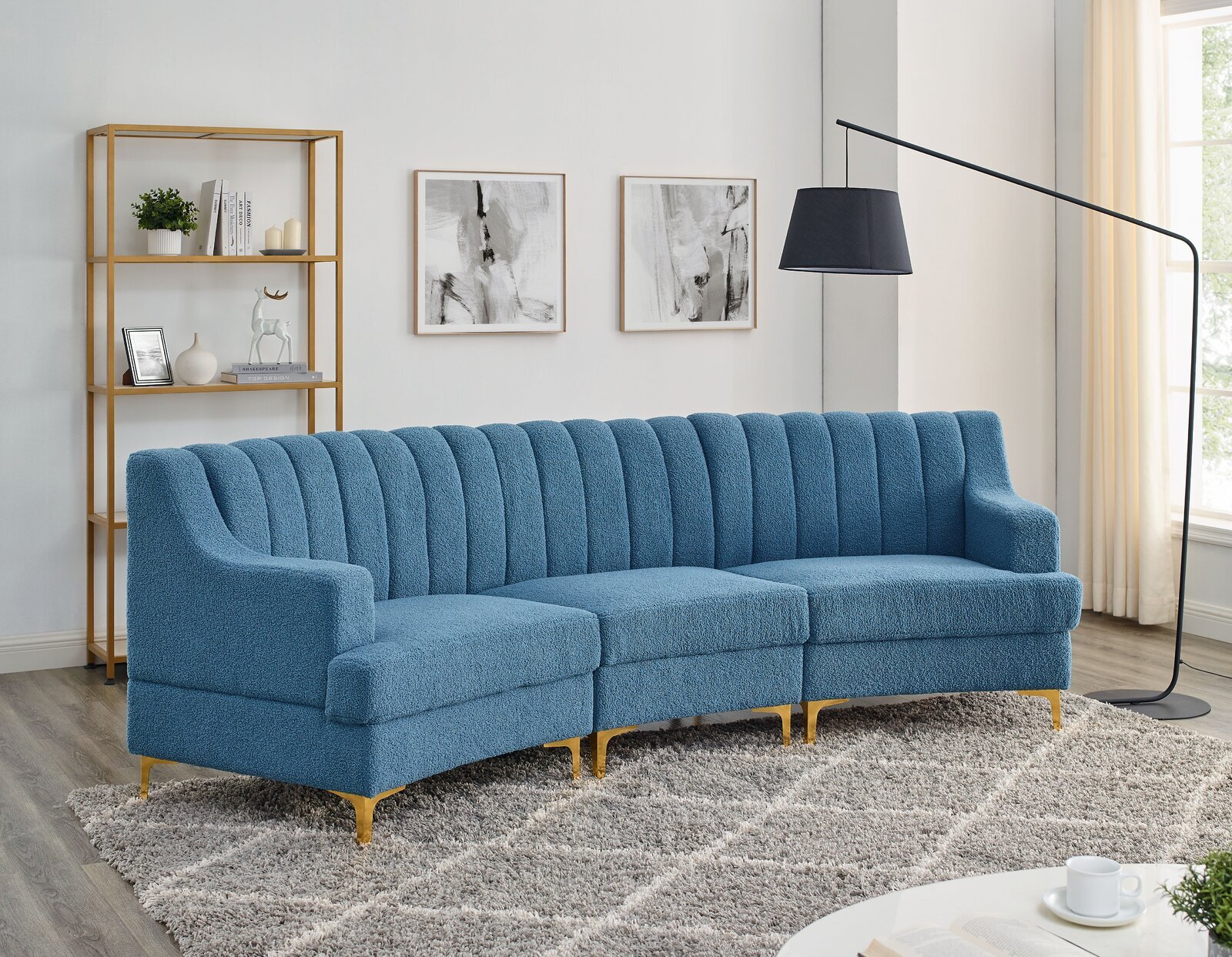 Small Curved Sectional Sofa

This small curved sofa features an iconic design with contemporary upholstery in a unique 'teddy fleece' fabric. Gold legs add a touch of extravagance to the look, making this a must-have piece for any transitional or modern interior.
This small curved sectional sofa seats three and comes in three pieces. If required, you can remove one piece of the sectional to create an even smaller curved sectional sofa for a very small space.
What we like:
● Stylish gold legs
● Teddy fleece fabric
● Firm, comfortable foam cushions
What we don't like:
● Tricky to put together
$1179.99 $1289.99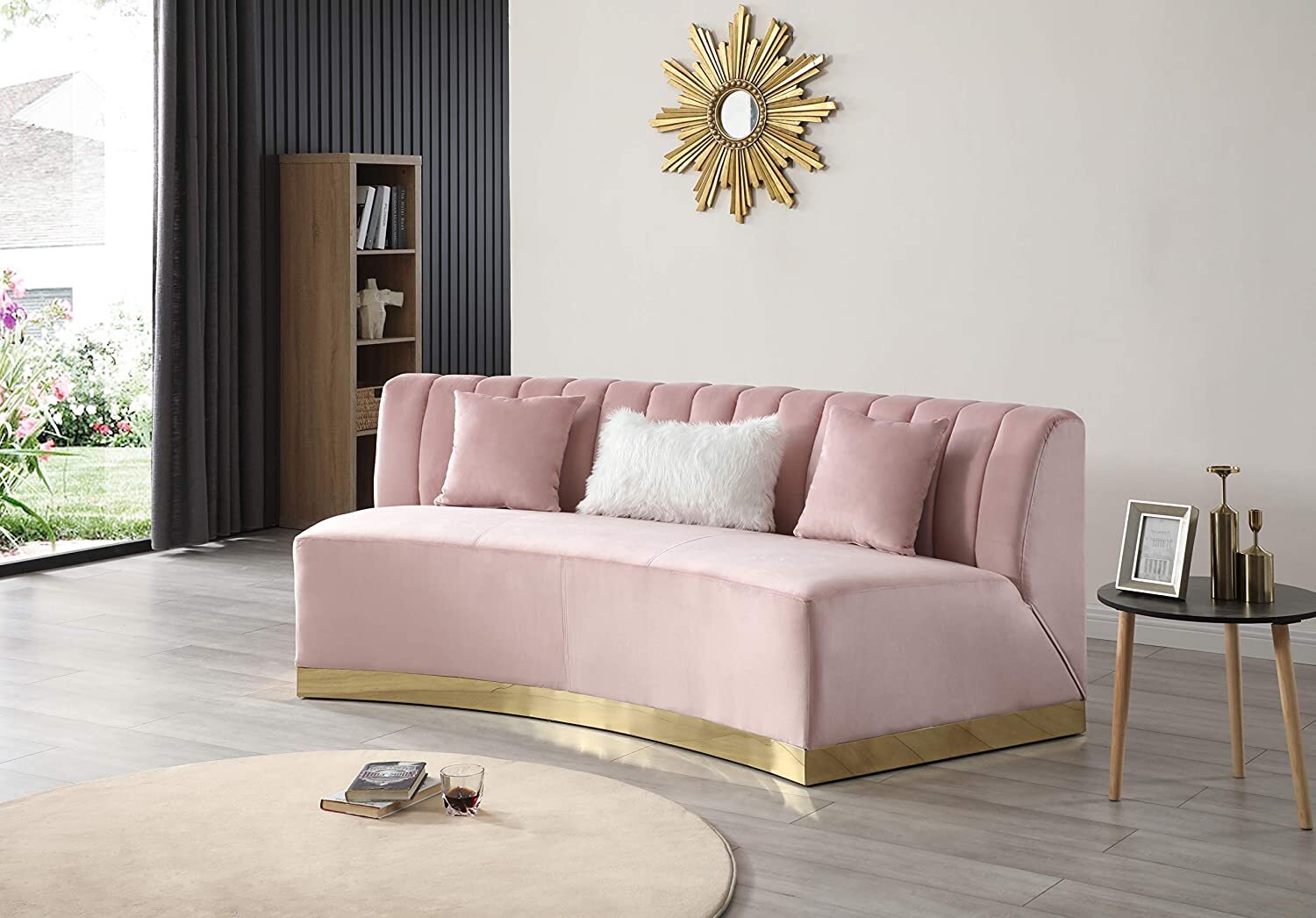 Small Curved Sectional Sofa in Pink

If you've been looking for curved sectionals for small spaces, this is a great option. This small curved sectional can be purchased on its own or with additional pieces, so you can make it as small or large as you need, depending on the size of your living room.
This sofa features a stylish curved design, and with pink velvet upholstery and a gold-tinted chrome base, making it an ideal choice for anyone who wants to inject a touch of glamour into their living space. Matching throw pillows are included to complete the look!
What we like:
● Modern glamorous design
● Gold-chrome base
● It can be joined with additional pieces
What we don't like:
● No arms to lean on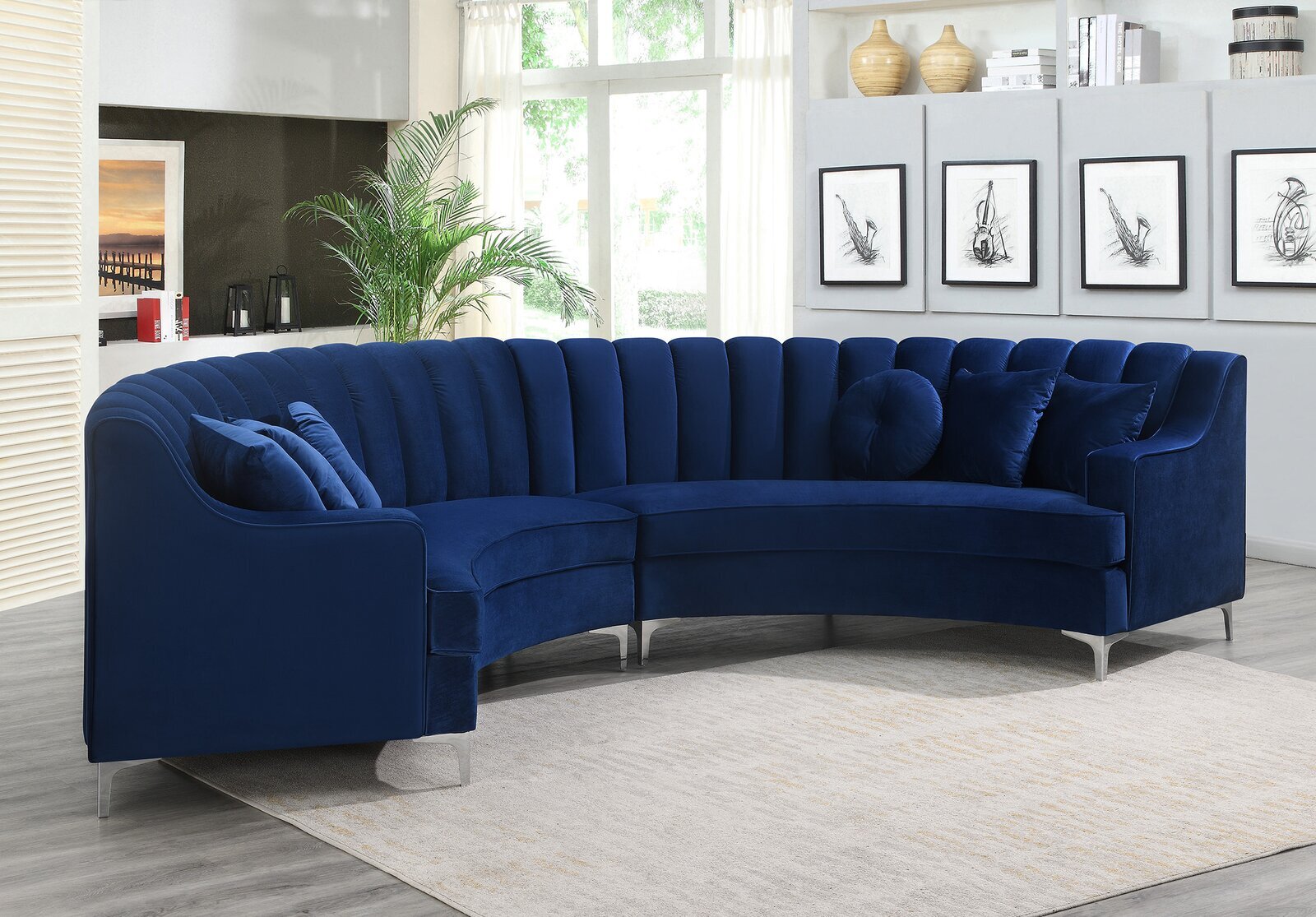 Two Piece Blue Velvet Curved Sectional Sofa

This stunning two-piece curved sectional sofa features a contemporary design with deep blue velvet upholstery and a scalloped back, which gives this sofa an opulent feel. This sectional sofa is a great choice for contemporary and transitional interiors where guests will be entertained, as it has the capacity to seat up to six.
Since this sectional comes in two pieces, each piece could be used separately if required to create two small curved sofas.
What we like:
● Easy to assemble
● Modern, elegant design
● Firm yet comfortable
What we don't like:
● There's nothing we don't like!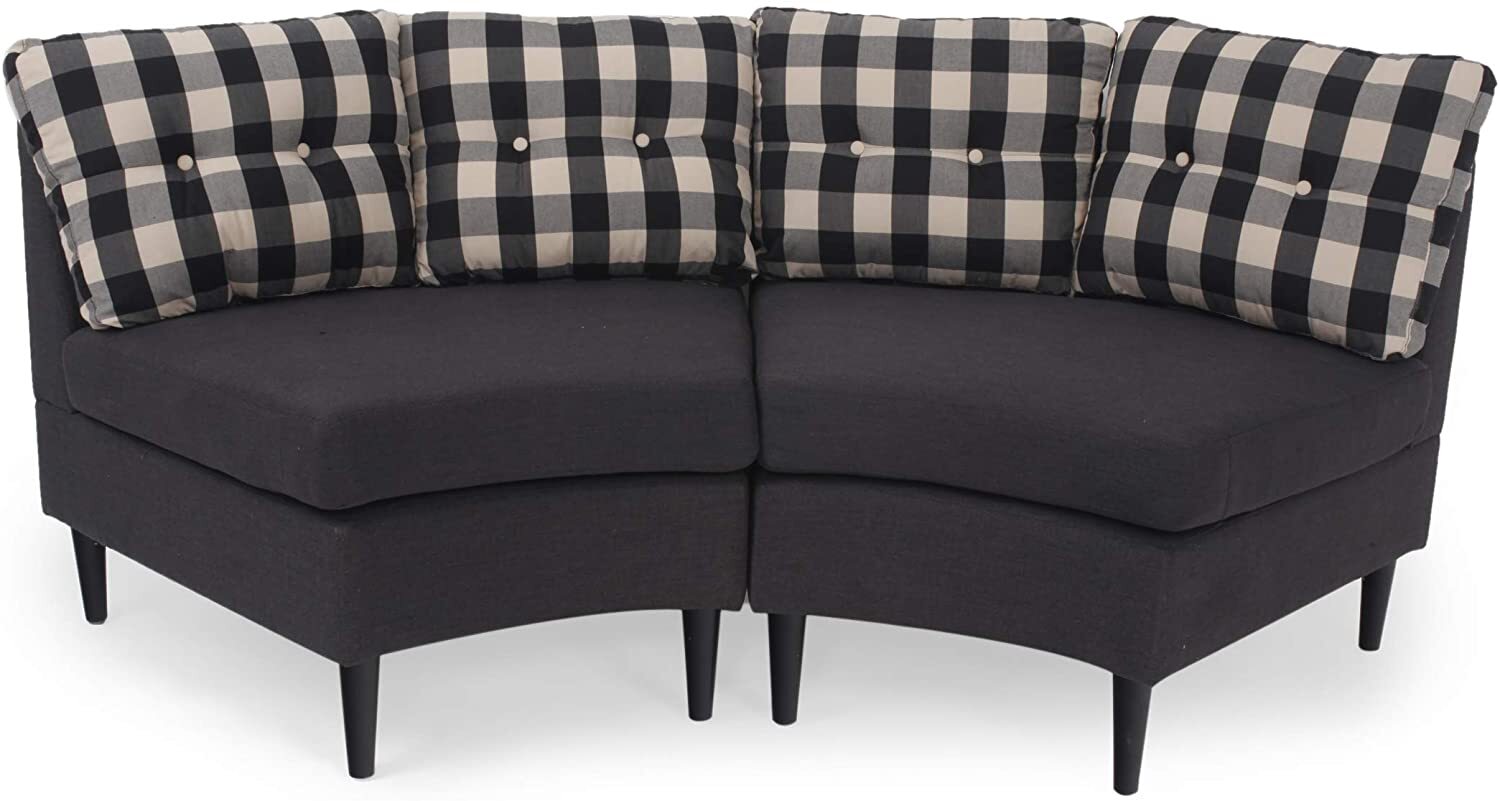 Modular Small Curved Sectional Sofa

This small sectional sofa features a modern design with black checkerboard back cushions and a stylish dark charcoal-colored base. The modular design means you can split the sofa into two to create two smaller sofas, or add other sections to it to create a small round sectional sofa, or even a small c-shaped sofa depending on your needs.
The cushions are deep and comfortable, making this curved sectional couch the ideal place to relax and socialize with family and friends. The design and flexibility of this sectional make it an excellent choice for open-plan kitchen/living rooms and conservatories. It also works well with round dining tables to create a 'nook' style seating area.
What we like:
● Easy to assemble
● It can be added to for multiple configurations
● Very comfortable
What we don't like:
● This sectional has no arms.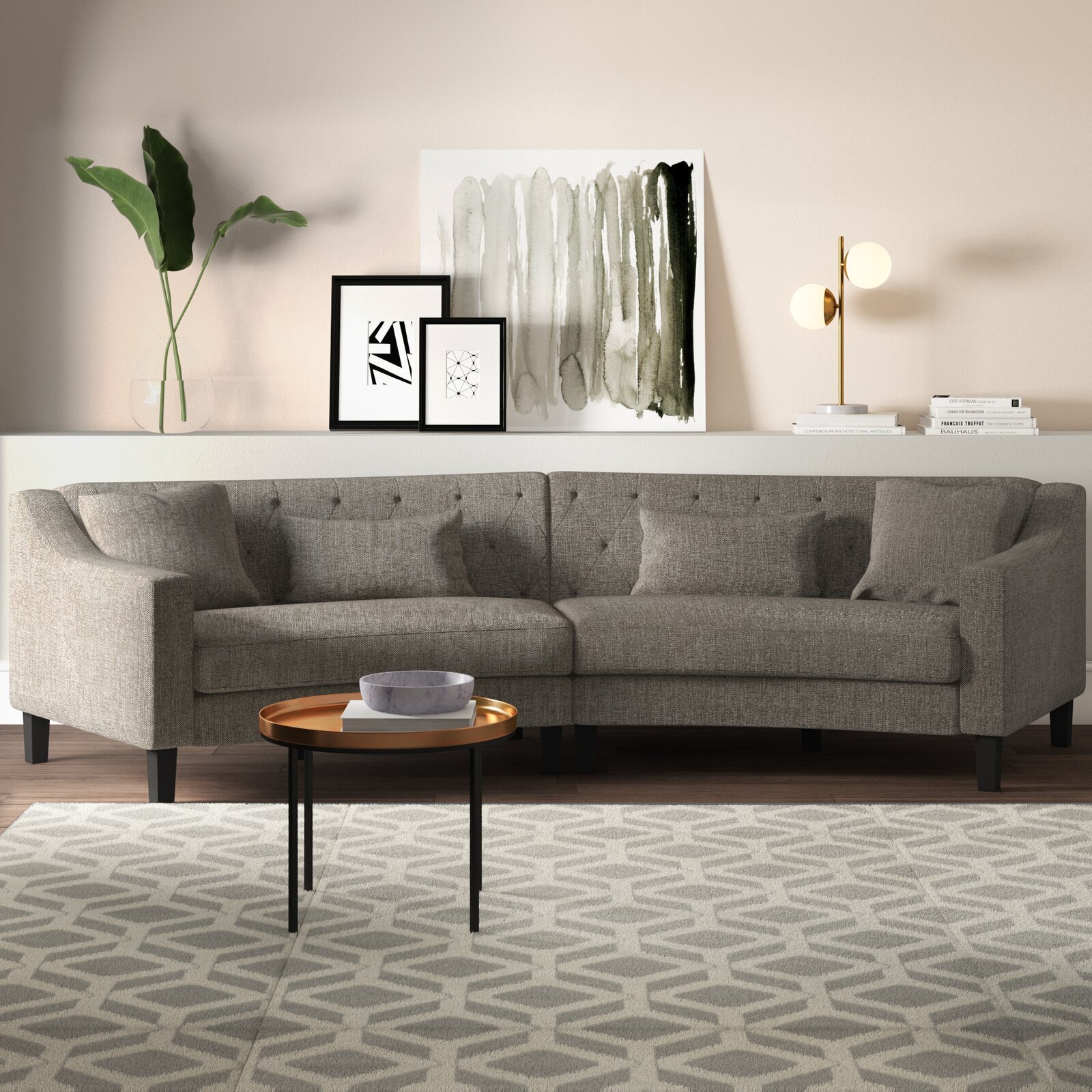 Small Curved Sectional Sofa With Ottoman

This stylish curved sectional sofa features a symmetrical design upholstered in warm gray fabric. With a button-tufted back and tall sturdy arms, this curved sectional is not only stylish, but it's super comfortable too! Tapered wooden legs complete the look, and add a mid-century vibe to this couch.
This small curved sectional can seat up to four people, and it includes a large ottoman which can serve as a footrest, coffee table, or even additional seating for surprise guests.
What we like:
● Durable fabric
● Elegant design
● Very comfortable
What we don't like:
● There's nothing we don't like.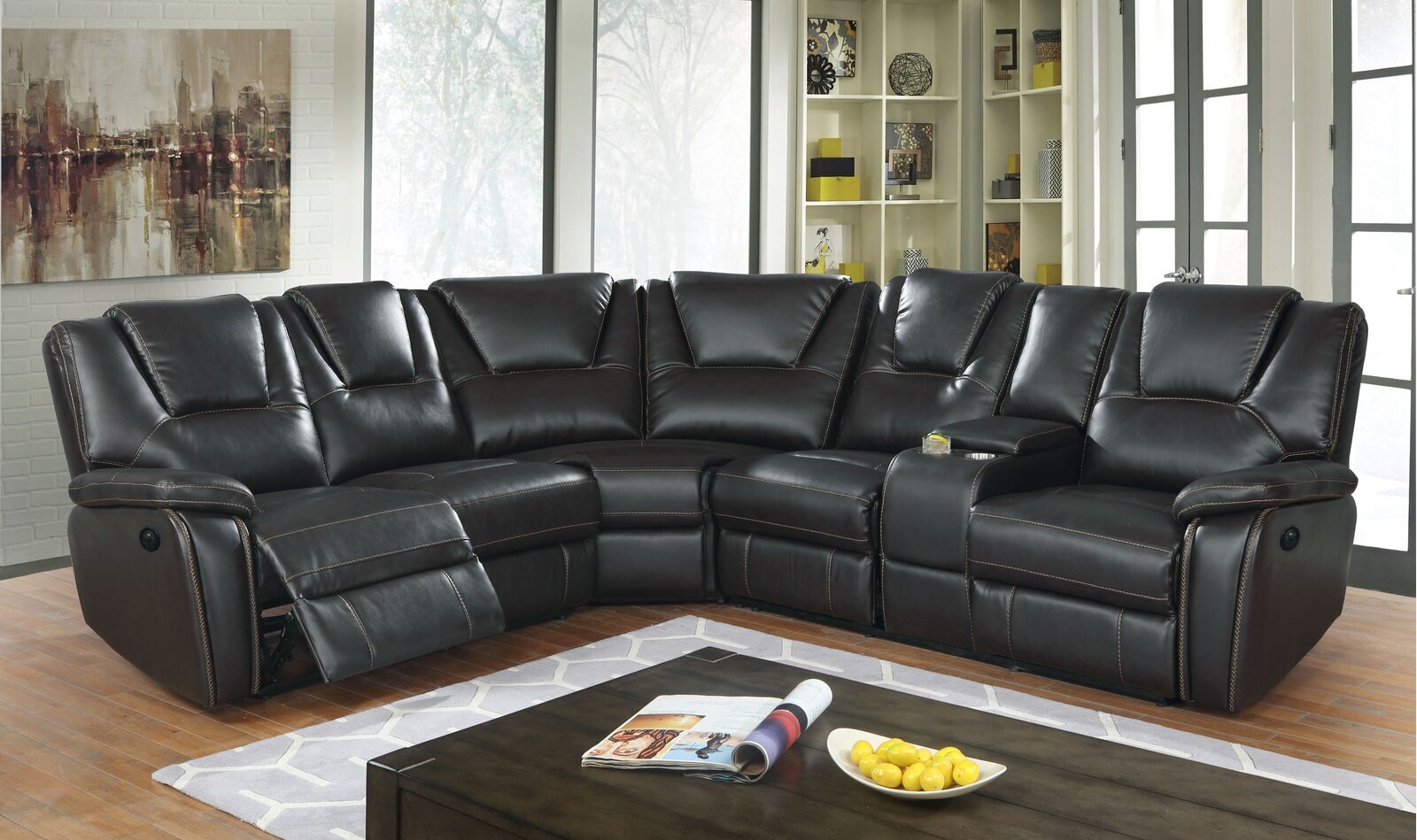 Small Curved Sectional Sofa With Recliner

This curved corner sectional sofa is perfect for movie nights with the family or even gaming nights with friends! It has four full-sized recliners but can easily seat more people when the chairs are in an upright position if required.
The upholstery is genuine leather, which will look even better as it naturally ages, and it comes in a choice of black or brown with baseball stitching. With loads of additional features like built-in cup holders and USB chargers on every arm, you will never want to leave this sofa!
What we like:
● Reclining seats
● Built-in cup holders and USB chargers
● Good head and lumbar support
What we don't like:
● Tricky to put together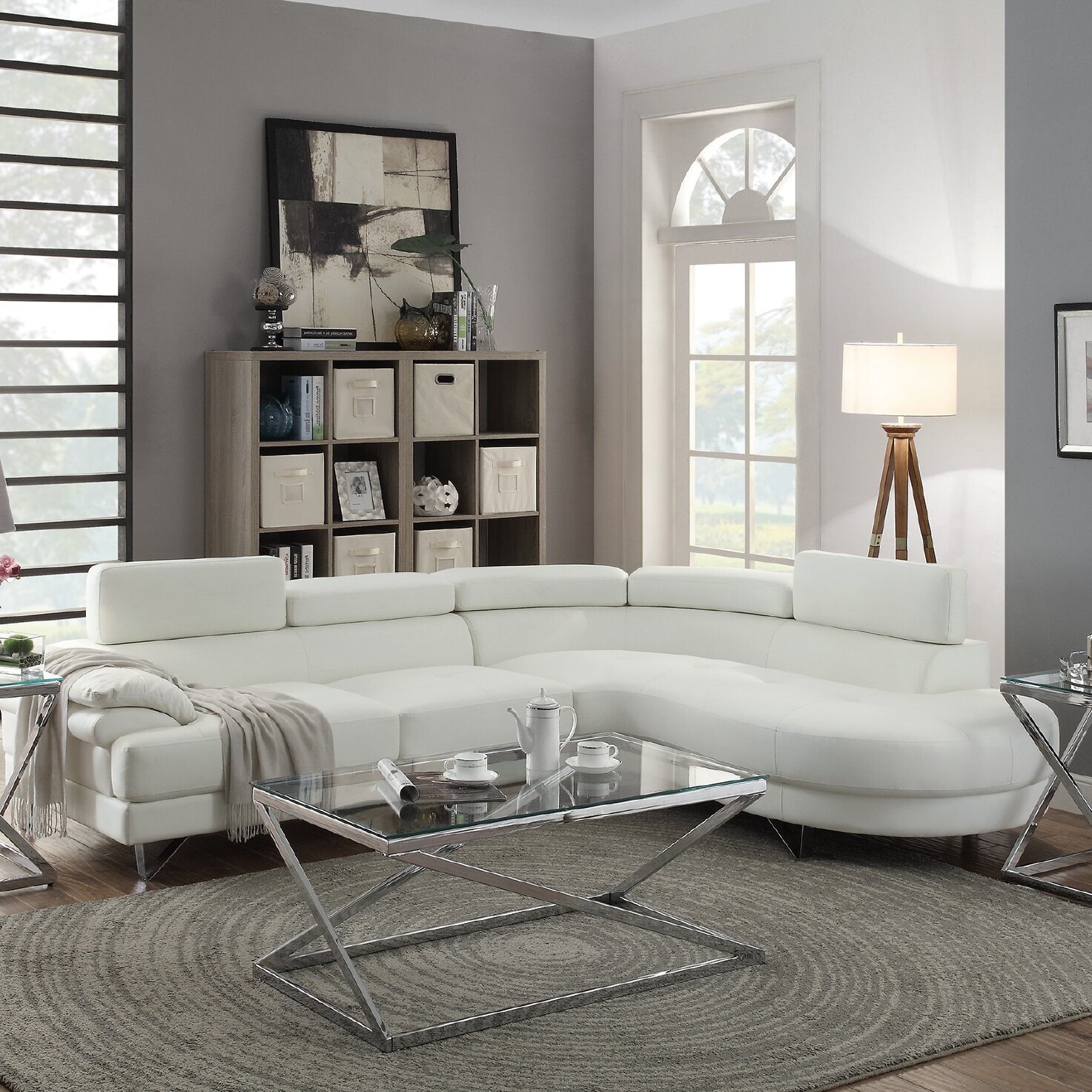 Two Piece Small Curved Sectional Sofa With Chaise

The futuristic design of this curved sectional sofa makes it a great choice for modern interiors. Since this curved sofa is on the smaller side, it's perfect for apartments and homes with smaller living rooms, as it can easily fit into a corner while still providing plenty of seating for guests, seating up to six people in total.
This sofa comes in two pieces and is upholstered in PU faux leather, making it easy to wipe clean when needed.
What we like:
● Stylish futuristic design
● Easy to clean
● Easy to assemble
What we don't like:
● The PU leather can wear out over time.
$1559.99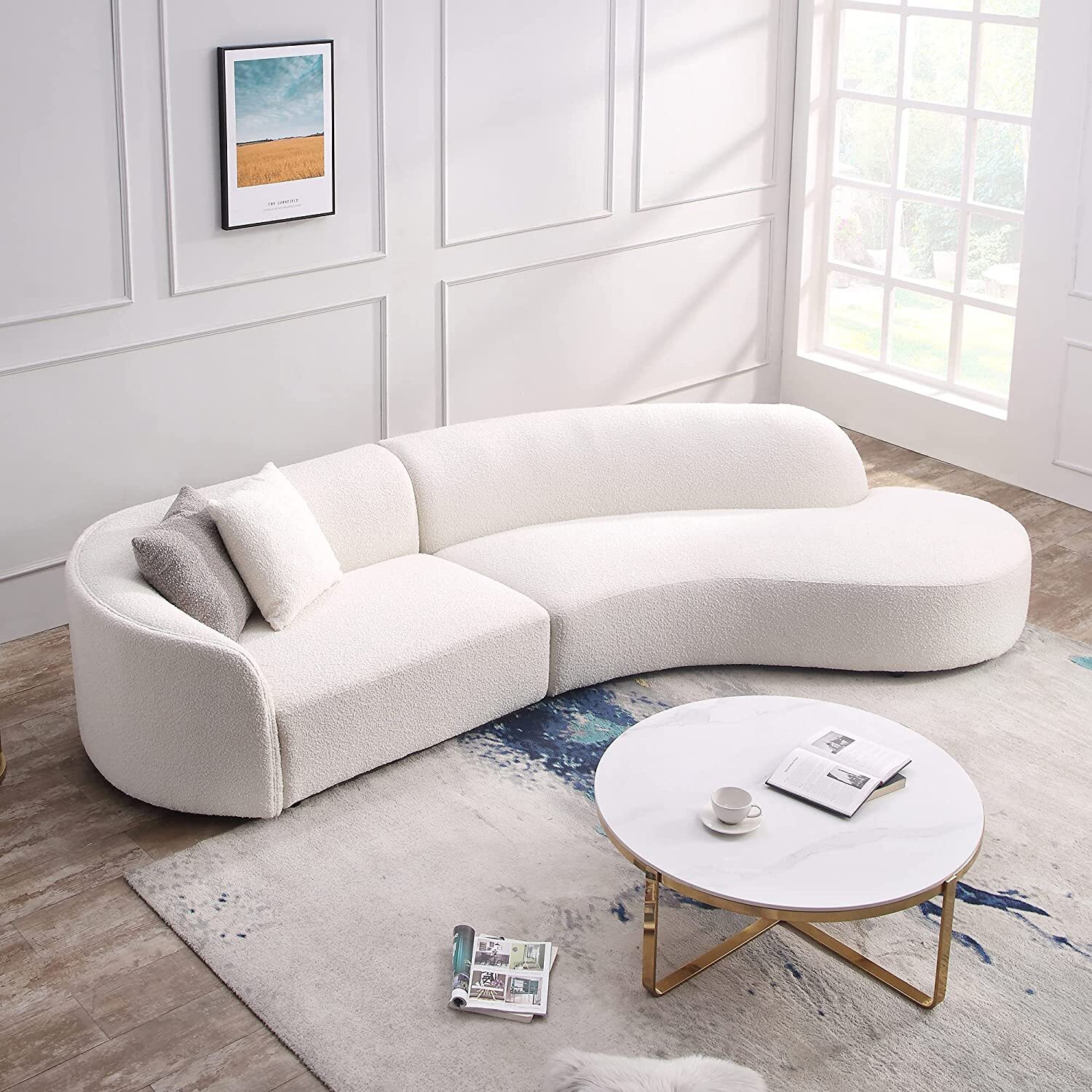 Elegant Small Curved Sectional Sofa

This stunning white curved sectional sofa is truly one of a kind. With its sweeping curved design and luxurious lambswool upholstery, this asymmetrically curved sofa is sure to make a statement in your living room.
This sofa is firm and comfortable, with a spring support structure and a sturdy larch wood frame. No assembly is required, and despite its pure white appearance, this sofa is surprisingly easy to maintain. This is thanks to the fact that it is upholstered in lambswool, so any dirt or stains can simply be spot cleaned with a damp cloth.
What we like:
● Lambswool upholstery
● No harsh chemicals used
● No assembly required
What we don't like:
● There's nothing we don't like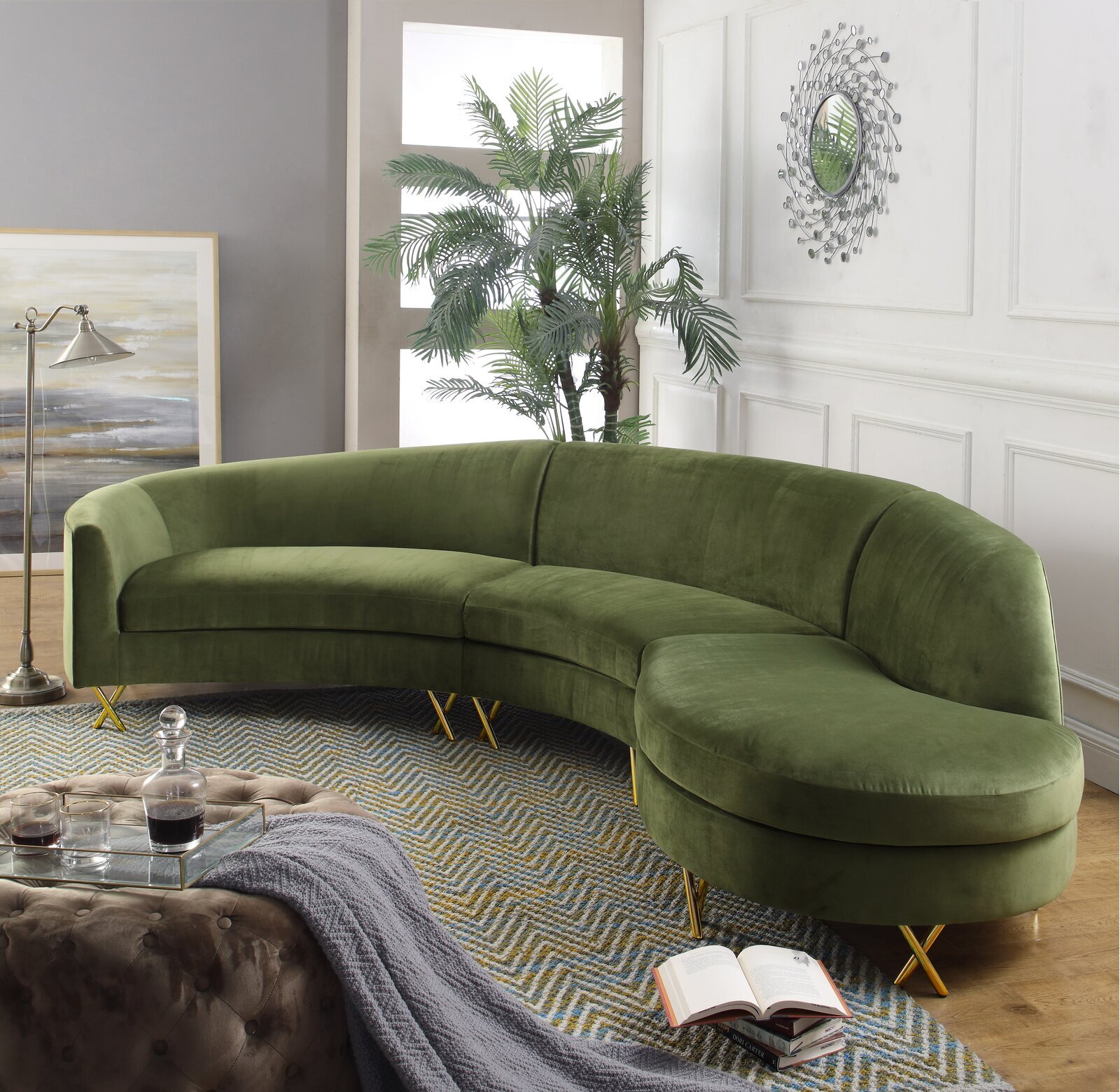 Olive Green Small Curved Sectional Sofa

This stylish green curved sofa is a real masterpiece, making it a perfect choice for anyone who loves to entertain guests in their home—this sofa is sure to get people talking!
With beautiful green velvet upholstery and gold criss-cross legs, this curved sectional will add a touch of glamour to any living room. The sofa is made up of three sections with a chaise at one end and can sit up to six people in total.
What we like:
● Elegant, stylish design
● Gold legs
● Very comfortable
What we don't like:
● Difficult to assemble.
$4499.99 $11100
OUR ADVICE Questions & Answers
I am looking for furniture that is not only comfortable but also versatile. Is a sectional sofa a good choice?
Certainly. The ability to almost freely change the shape and size of your sofa is a real lifesaver for anyone who deals with limited or difficult space. The number of sections used for your sectional will also directly affect the price, which means you can settle for fewer pieces at first, and buy more sections when you can afford it!

What to consider before buying a sectional sofa?
Do not buy a sectional sofa before planning out your space. It is best to draw a floor plan in order to be sure how many sections and what shape your room can accommodate. Then, decide on the colour, material and style, accordingly to the design of your house.

What are the most popular types of sectional sofas?
Depending on the layout of your room, you might want to look into Curved sectionals, L-shaped sectionals and U-shaped sectionals.

I have to work with demanding space. Do sectional sofas come in different shapes?
Yes. Pay attention to abbreviations – RAF stands for Right Arm Facing, and LAF for Left Arm Facing. This indicates the side on which the arm is located. This is crucial, as it determines the side on which you will be able to add more sections.

Do I need a large room to make a sectional work?
Not at all. As previously mentioned, sectionals are one of the most versatile pieces of furniture. As such, they fit just about any space, as long as you pick the correct number and shape of sections!

Is it a good idea to add a chaise to my sectional sofa?
Chaise is a solution that is most often incorporated when the sofa's primary function is for relaxing, watching TV, etc. However, if you're designing a more formal room, where you might be receiving business partners, then it may be better to skip the chaise.

What are the upholstery options?
Sectionals are usually upholstered in leather, polyester, faux leather, microfiber or chenille. If you have a hard time deciding on a certain material, it's best to do some research, as well as to pay a visit to your local furniture store and try out the different materials.

What if I have pets…?
Having pets or kids (or both) means that it may be wise to look at some of the more heavy-duty materials, which are durable and easy to clean. If that's the case, then leather could be a good idea. For a formal area, linen or velvet are also a good choice.

So which fabric is the best?
There is no one "best" material to be used for a sectional. When choosing one, consider not only the price but also the style of your house. While leather has a certain luxury vibe to it, is pleasant in touch and durable, it may not be the best idea for a cozy, cottage-like house.

How to choose the colour of my sectional?
There is a lot of freedom when it comes to the colour of your sectional because they make for great focal points. As such, they can be either subtle, cohesive with the rest of the room, or made to stand out and add a strong accent. Look at bright colours such as red or orange if you want to add some design weight to your sofa, or at gentle whites and beiges if you want it to blend with the room.

What is better – a pillow back or a tight back sofa?
It mostly comes down to personal preference, but it also affects the character of your sofa. Pillow back sectionals are generally more casual, while tight back sectional may be more appropriate when you want to create a room that's elegant, maybe even formal.