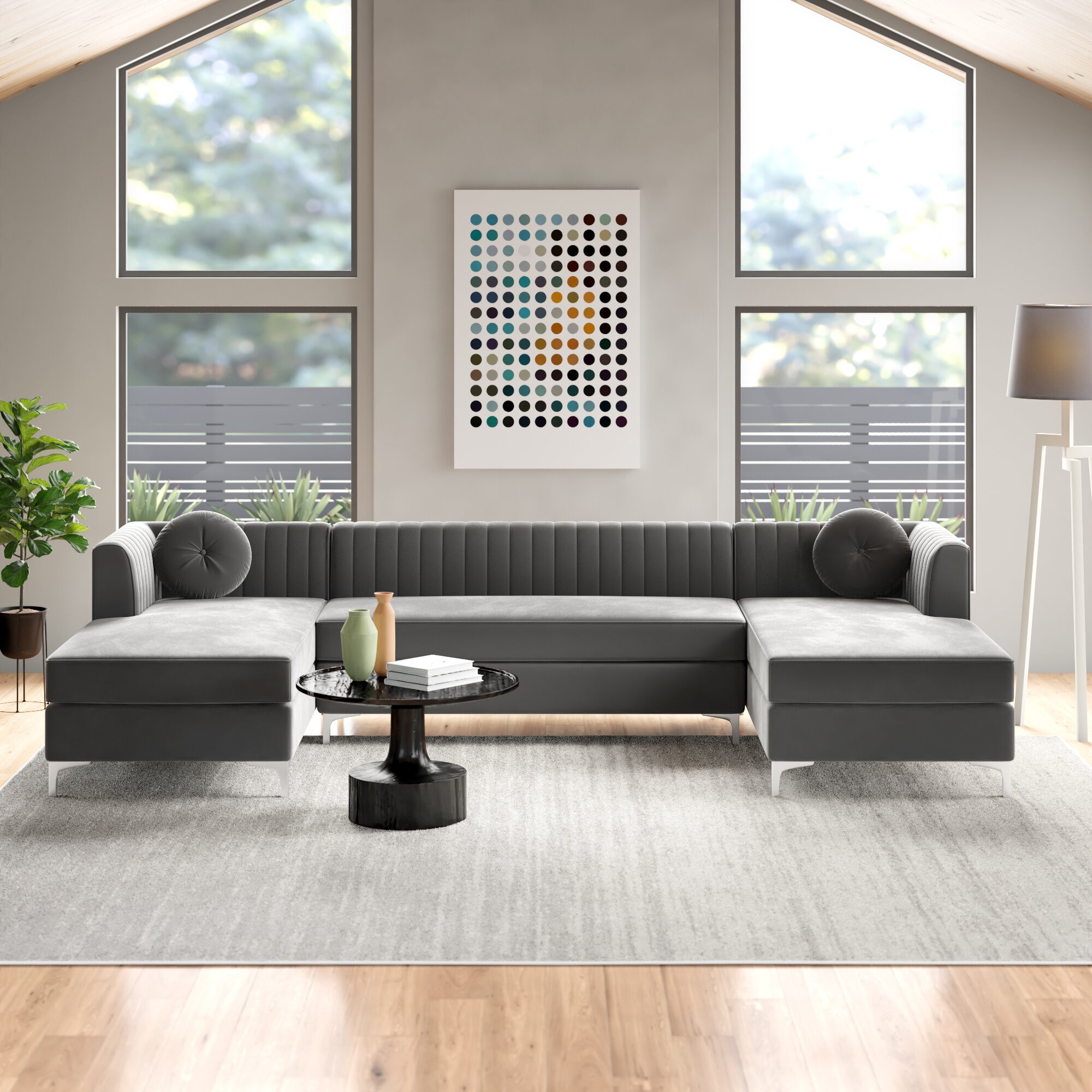 132" Velvet Symmetrical Modular Sofa & Chaise
Perfect for a spacious living room, this 132" long sofa comes in either navy, pink, or gray velvet, with an option for gold or chrome feet. This product's sleek, low-lying design makes it the ideal accessory for a modern-style interior. The modular cushions are supportive and comfortable, elevating your home theater experience.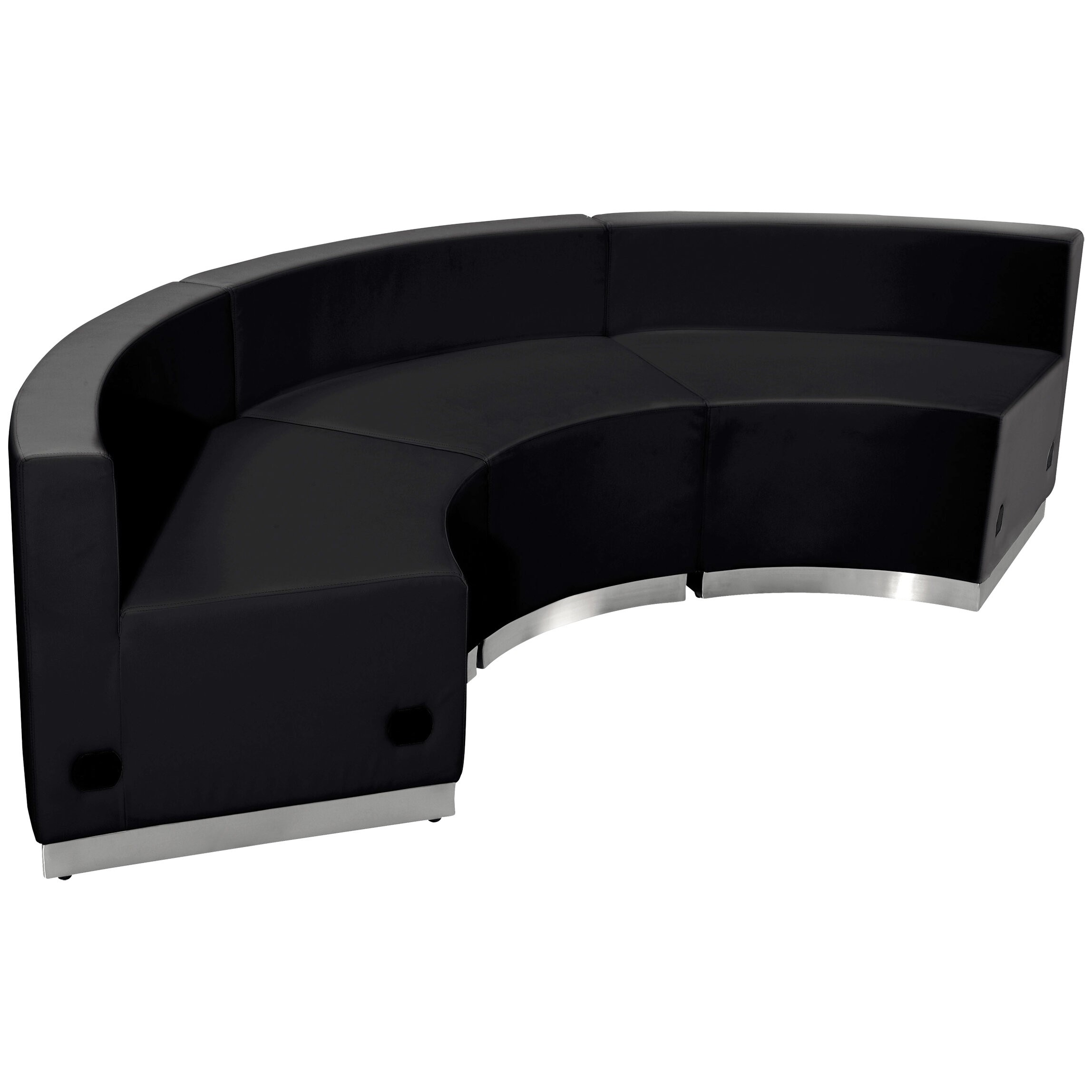 Krysten 101" Wide Faux Leather Symmetrical Modular Corner Sectional
If you're looking for a curved, sectional sofa for your home movie theater or entertainment room, you'll love this 70's-style design. The LeatherSoft upholstery lends a stylish sheen to this modular structure and comes in two colors, while those with achy backs will appreciate the firm support provided by the foam-filled cushions.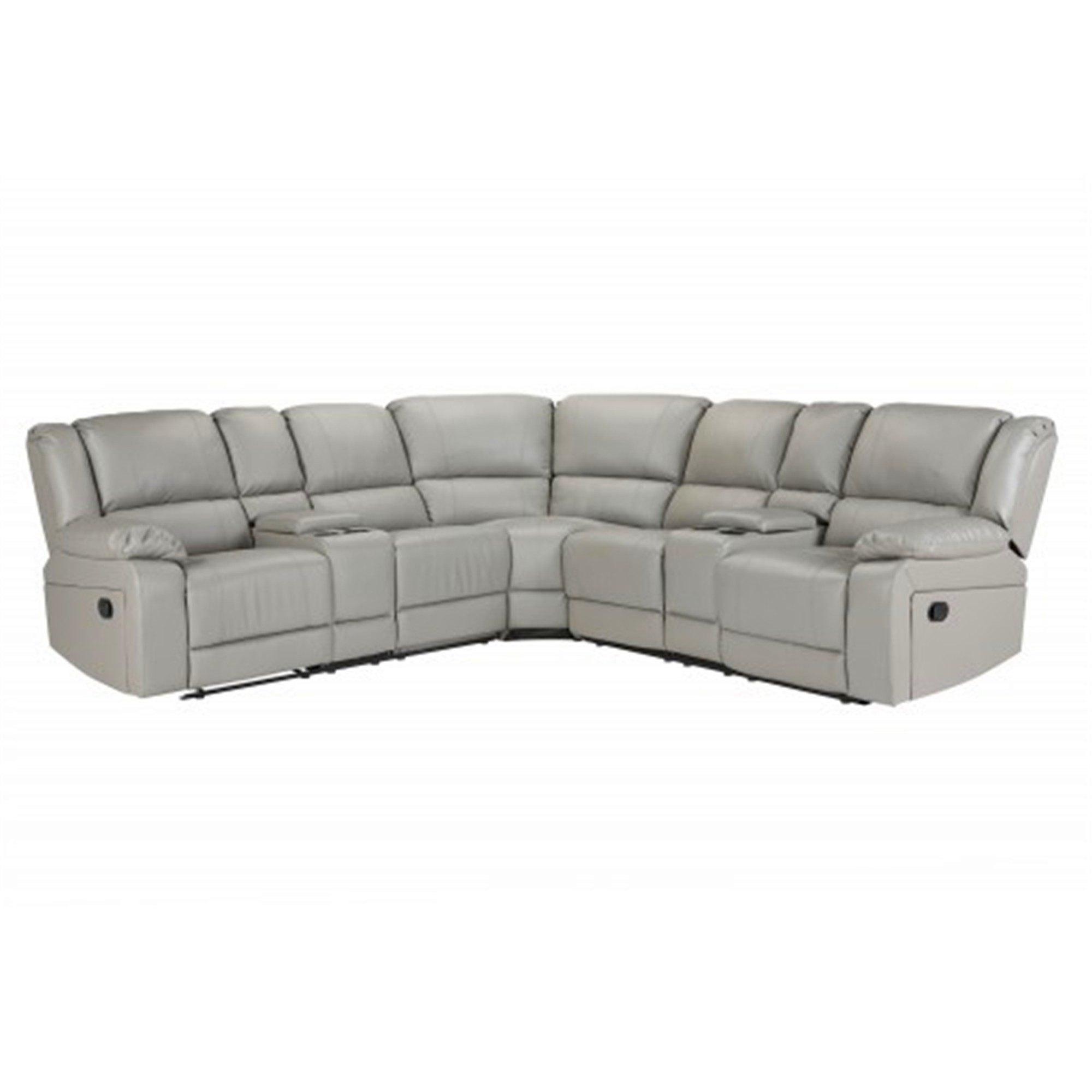 Procida 108.25" Wide Faux Leather Symmetrical Reclining Corner Sectional
If you love sinking into a soft, contoured cushion while watching movies, you'll want to try this faux-leather design. The two end seats double up as recliners, allowing you to lie back and nestle into the soft, supportive fabric. There are two built-in compartments for storing your popcorn and soda while you and your friends watch the film.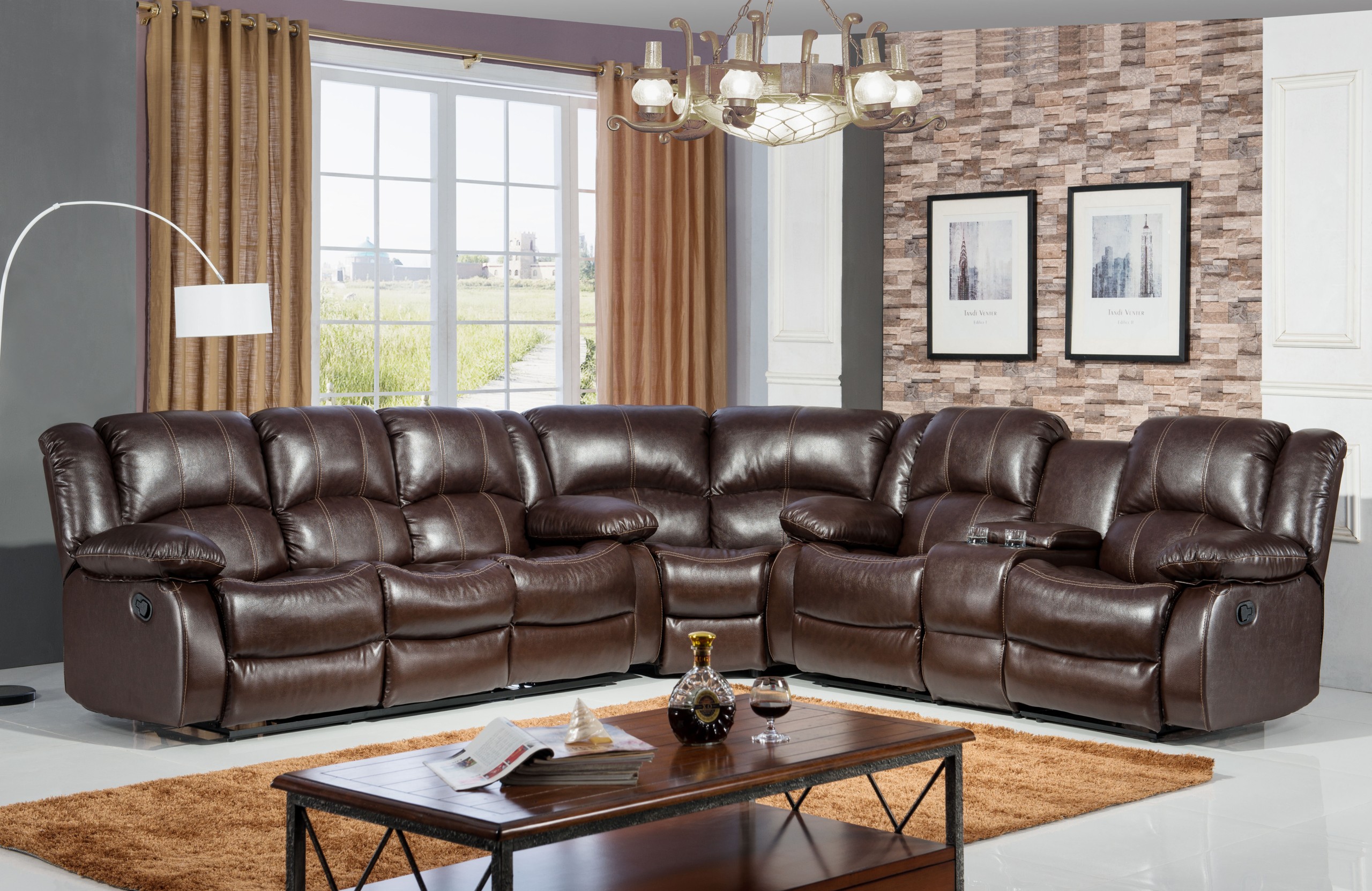 Hattie 115" Wide Faux Leather Right Hand Facing Large Sectional
Those wanting to recreate the full movie-going experience will love this large, plush design, with its reclining capacity, integrated cup holders, and reliable Alderwood frame. The black, faux-leather design complements light wooden floors and transitional-style interiors. The cushions are over 25" deep, so you can sink into this lounge, put your legs up, and enjoy the film.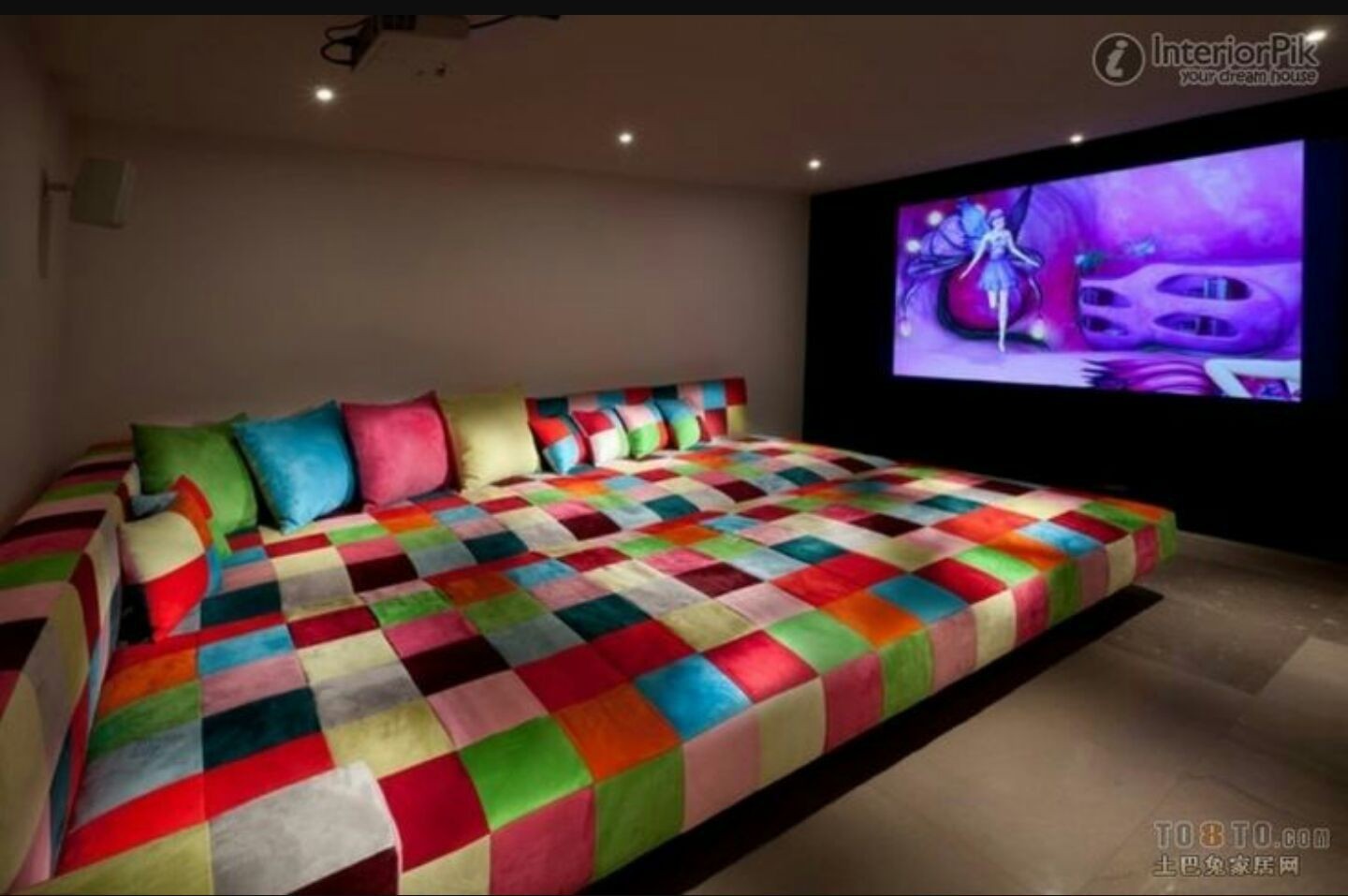 Ideabooks
Giant sectional sofa for living room and others interiors according to taste. It is upholstered with pleasant to the touch material and decorated with patchwork pattern. Includes extra pillows for added comfort.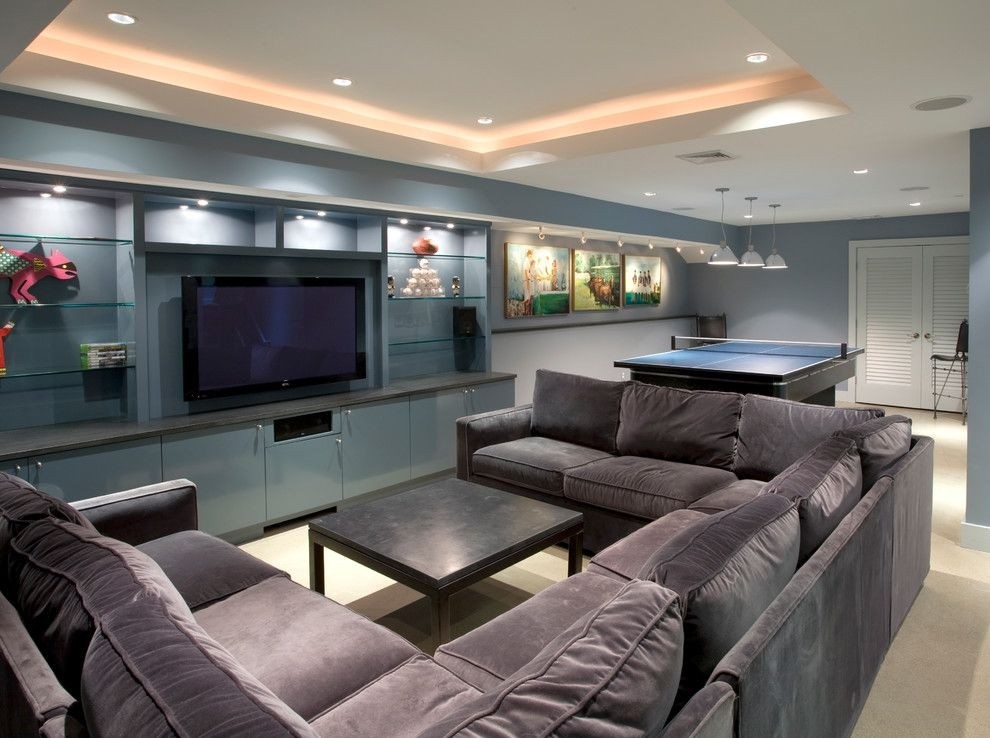 Top rated sectional sofas
Modern setup for a large living room with a game room combo, furnished with a half-circle sofa sectional upholstered in microfiber material, nicely complemented by the square coffee table and finished with a glass entertainment unit.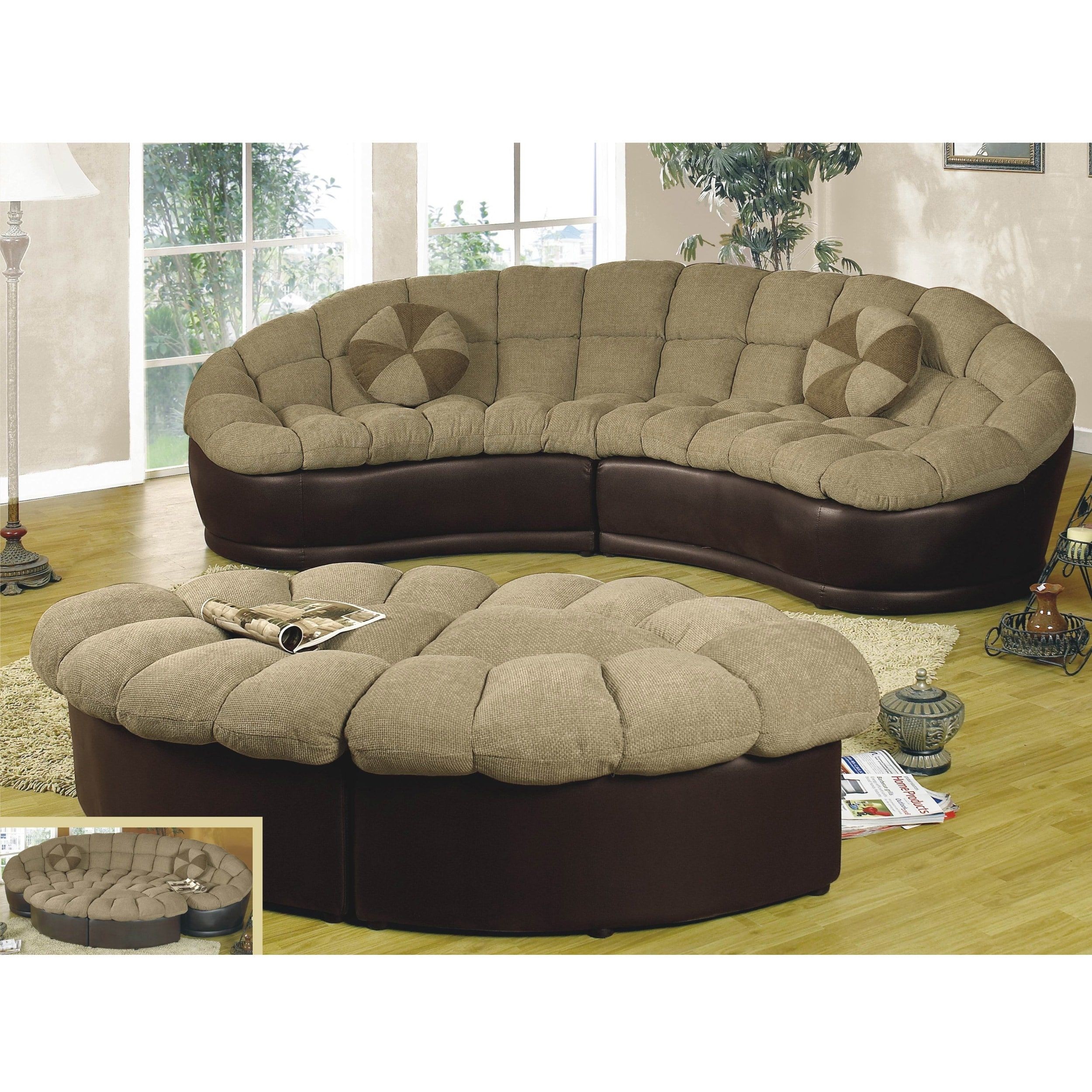 Papasan Two Piece Sectional Sofa
An elegant contemporary a bit curved sofa comprising of 2 sections with wooden frames. A sofa has a thick-padded seat unified with a backrest upholstered in beige cotton fabric with square quilting. A base is covered in contrasting brown vinyl.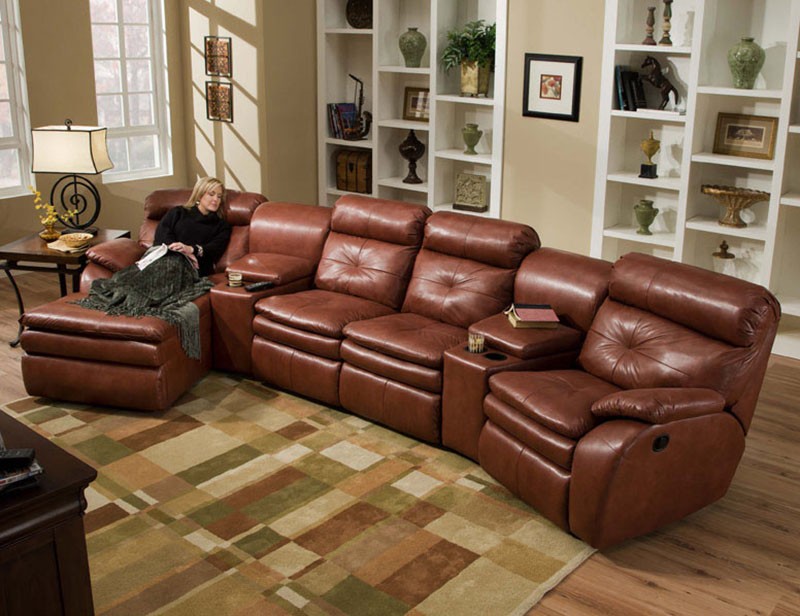 American made home theater sectional sofa set 3 recliners chaise
Sophisticated setup for an elegant living room with a large home theatre setup. The home theatre setup is made out of two armchairs and a loveseat joined together, all upholstered in faux leather in a brown colour with a red tint.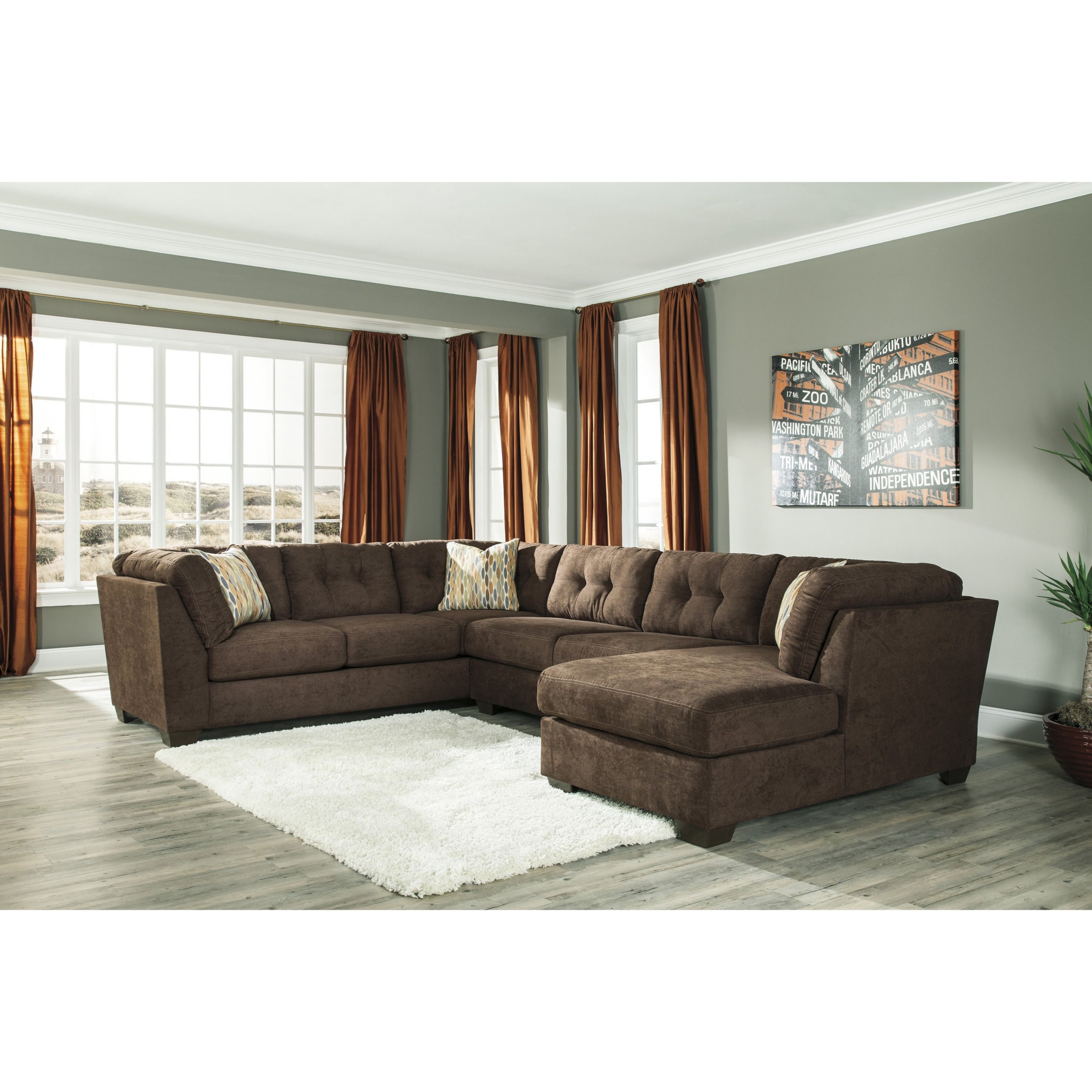 Delta City Right Sectional
This is a large, spacious and very comfortable corner sofa. It is covered with dark brown material, which causes the couch do not get dirty too easily. It is designed to the right side. You have to keep this in mind when decorating your living room.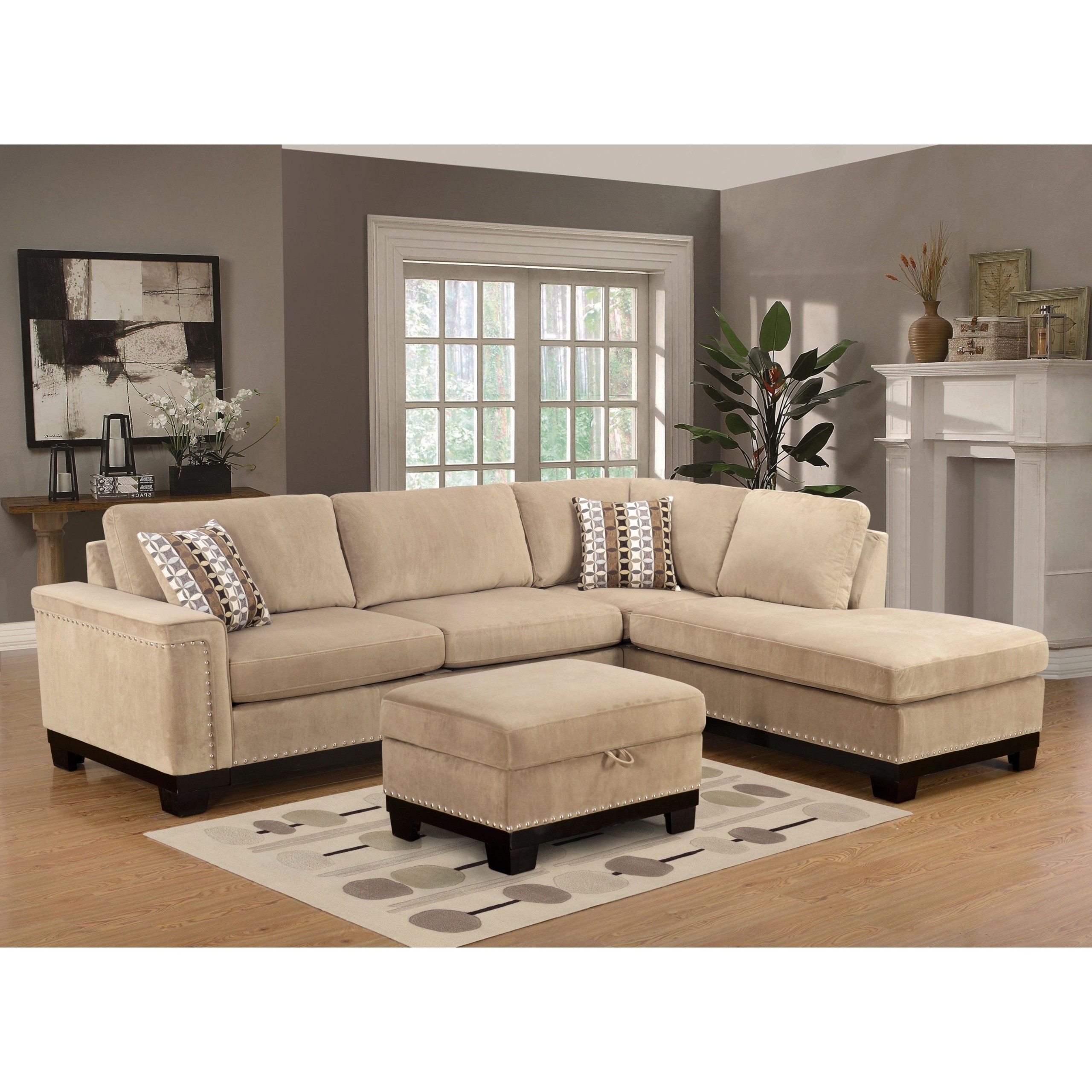 Yosemite Sectional
Are you dreaming of a dose of incredible style and luxury in your living room? Then, you're gonna be totally amazed by this amazing sectional that will make your house a very stylish and comfortable place.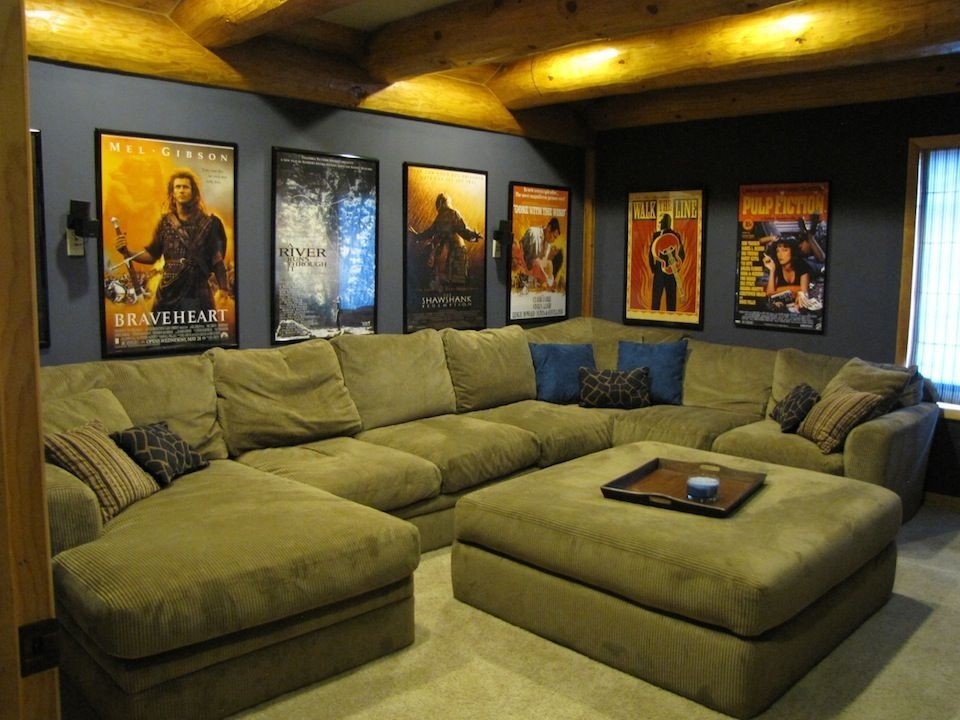 This amazingly decorated movie room is a great solution for anyone who loves watching movies. Beautiful couches finished in pleasing and eye-catching upholstery, curiously adorned with movie wall posters and the hint of shades of the walls, form a perfect whole.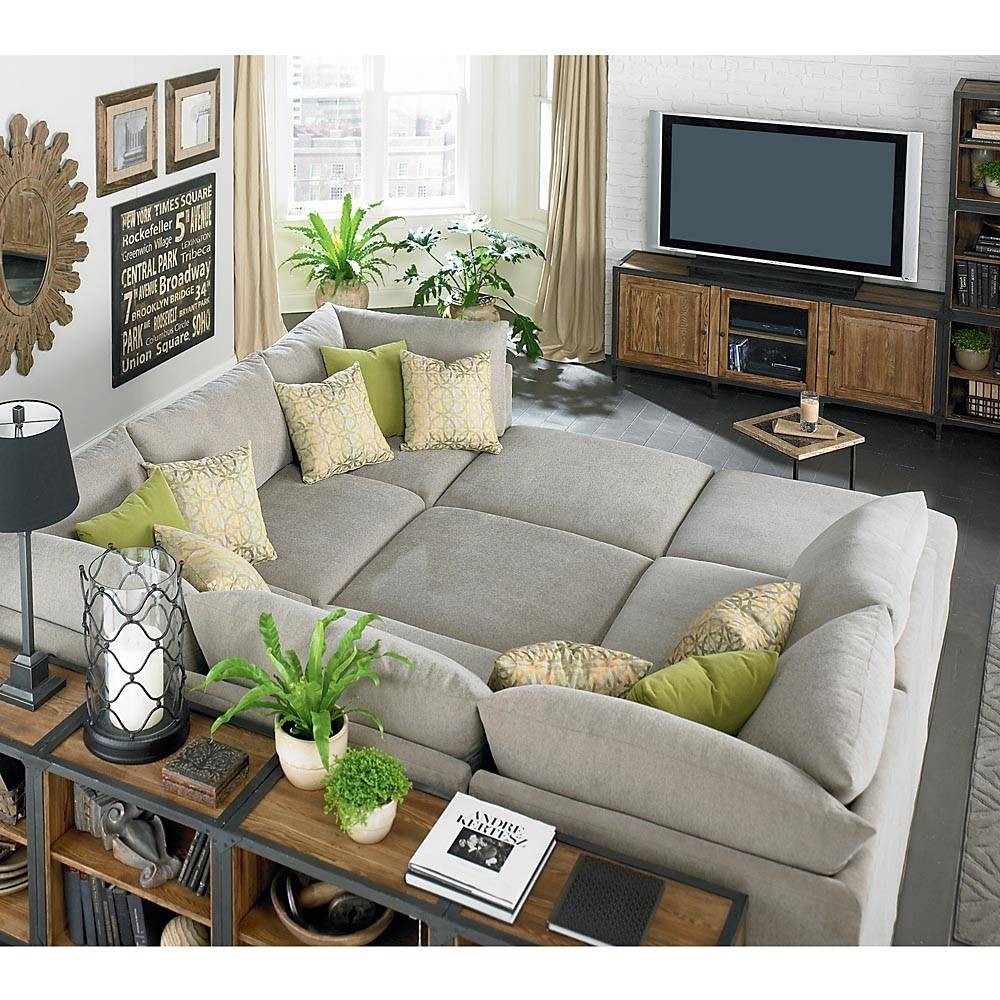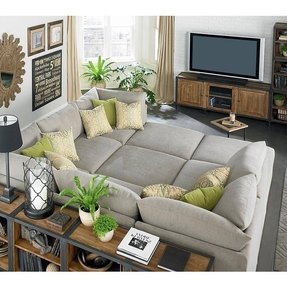 Sectional sofa in neutral form. It is covered with soft fabric and fitted with extra pillows for added comfort. Great for watching TV, reading books and more.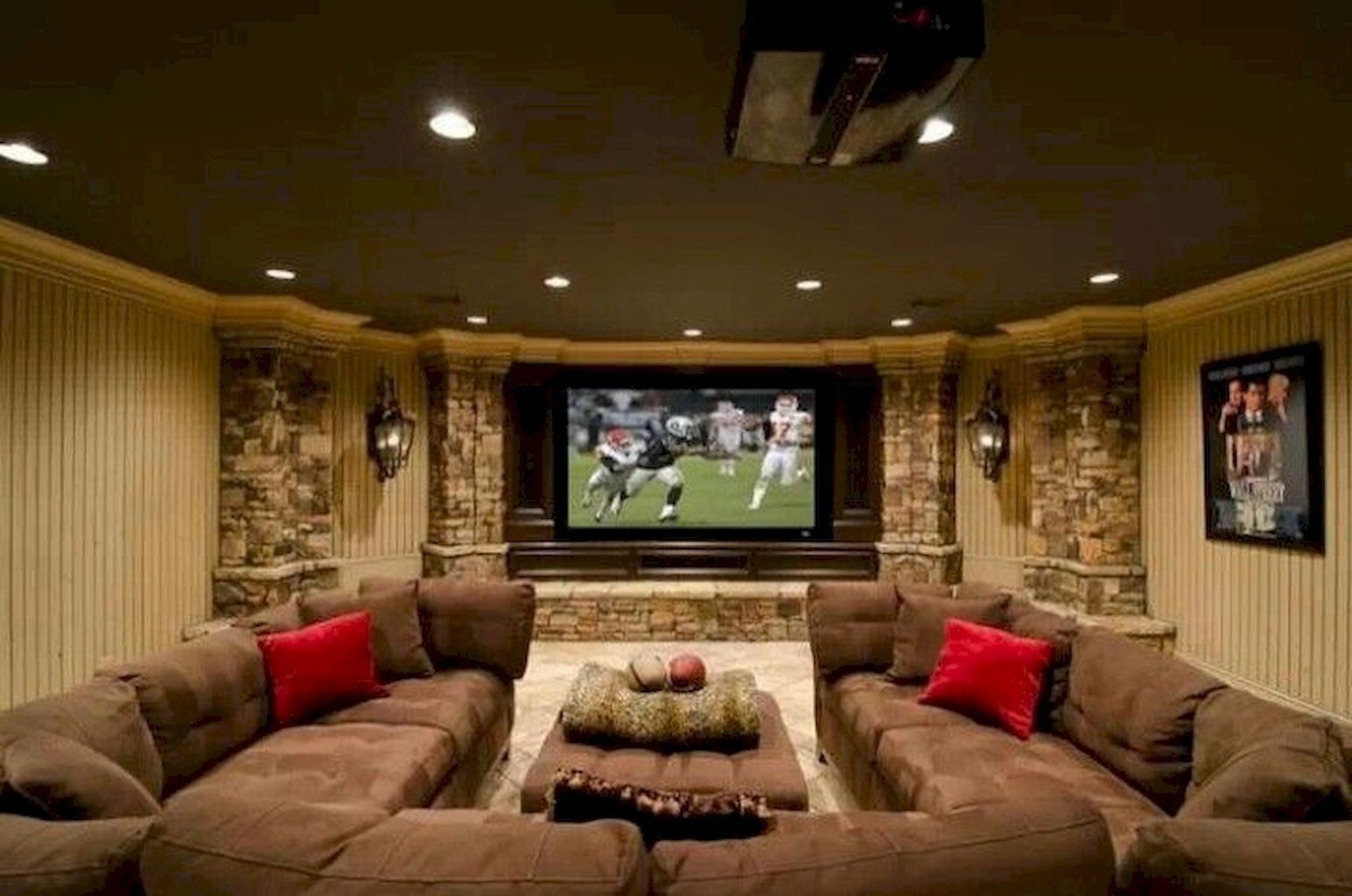 This sensational entertainment room for the whole family is the perfect solution for those who love spending time together. The big sofa covered with beautiful upholstery, interestingly finished walls and huge cinematic screen makes the room a great place to have fun.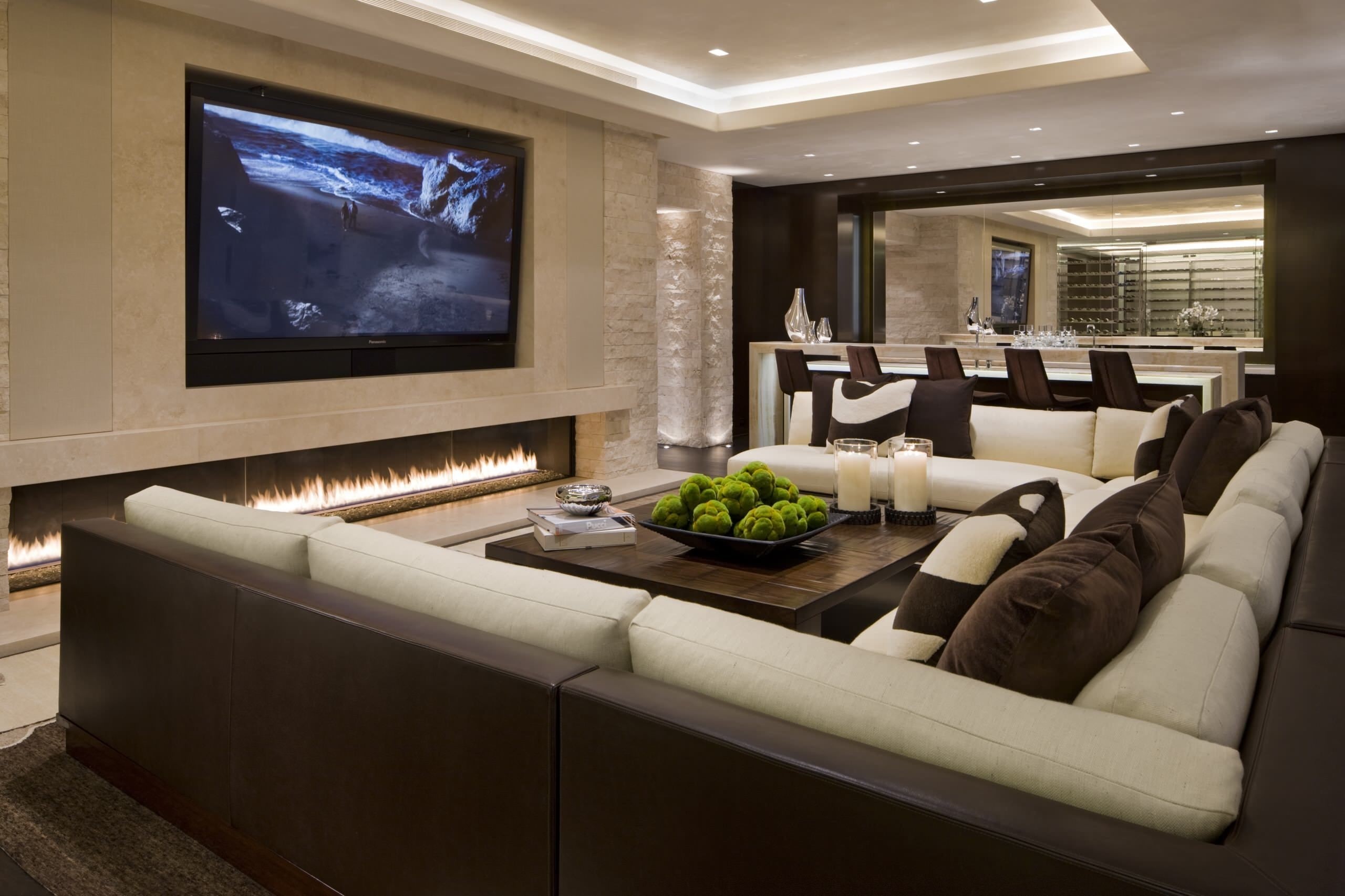 A fine addition for home movie theaters and large living rooms, this sectional sofa is able to comfy accommodate all of your guests. It's U-shaped, decorated with bunch of throw pillows, and has generously-filled back cushions for extra comfort.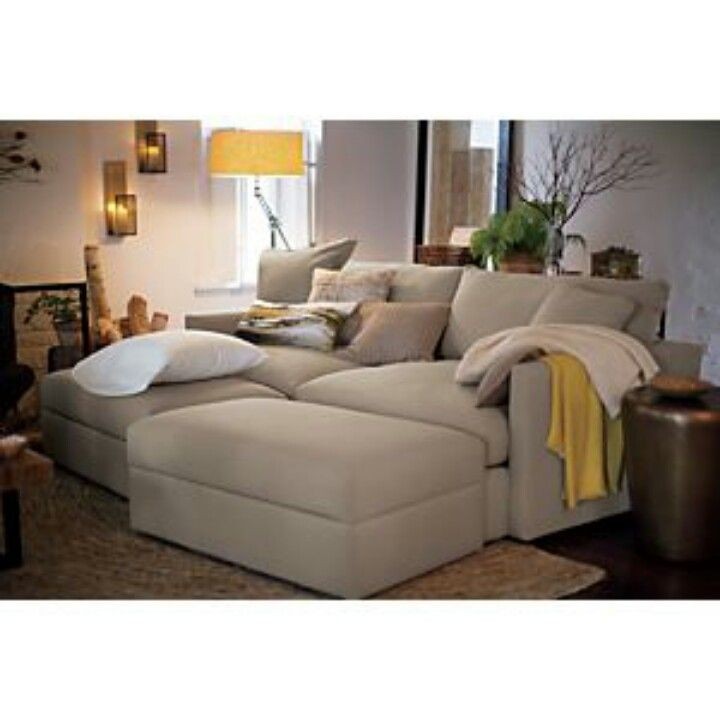 That's what I call a truly spacious coach. When I look at it, it makes me wanna stretch all over it. Those multiple cushions are inviting too. Beige fabric padding can blend seamlessly with existing coloring scheme - it's neutral.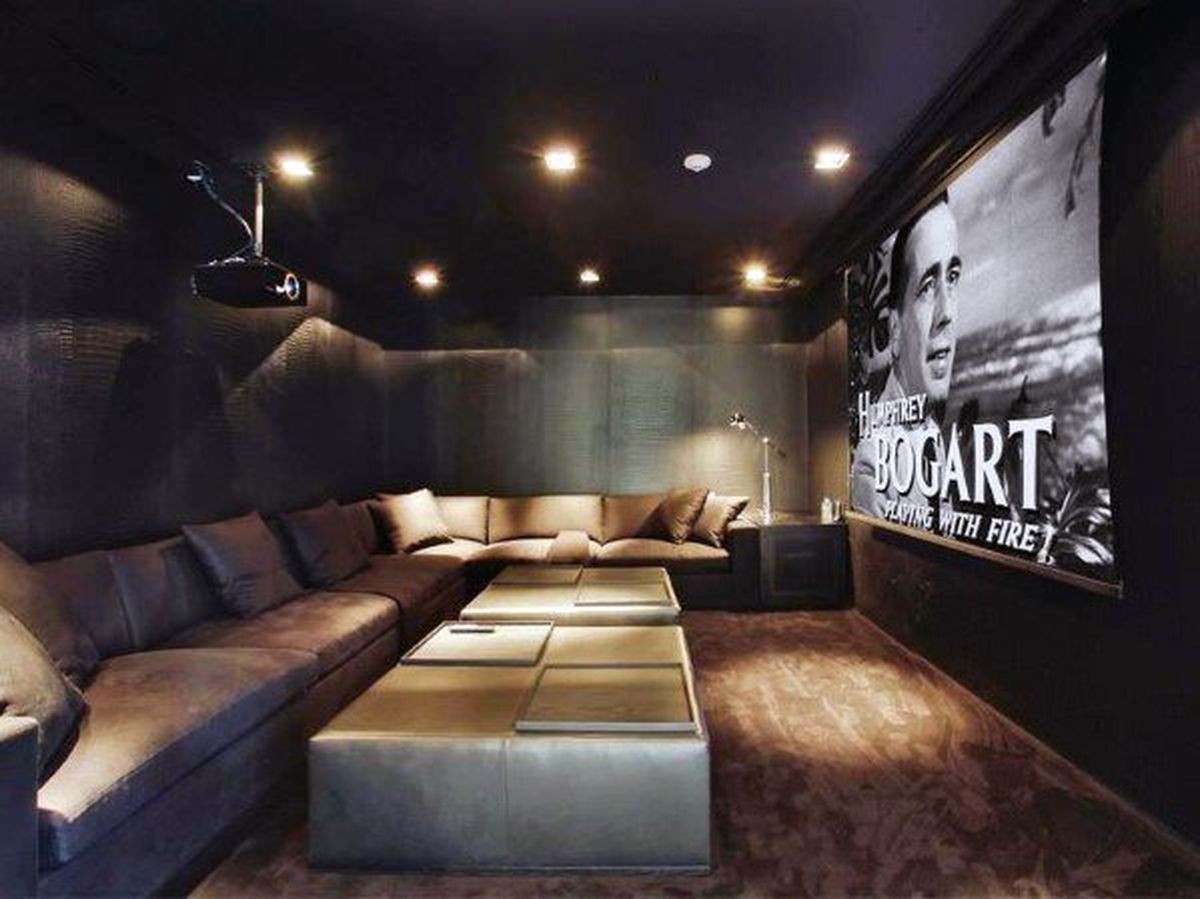 Enhance your movie theater using those beautiful additions in shape of long, sectional sofas. With nice-to-touch upholstery and couple of comfy throw pillows, you can easily forget about crowded cinemas.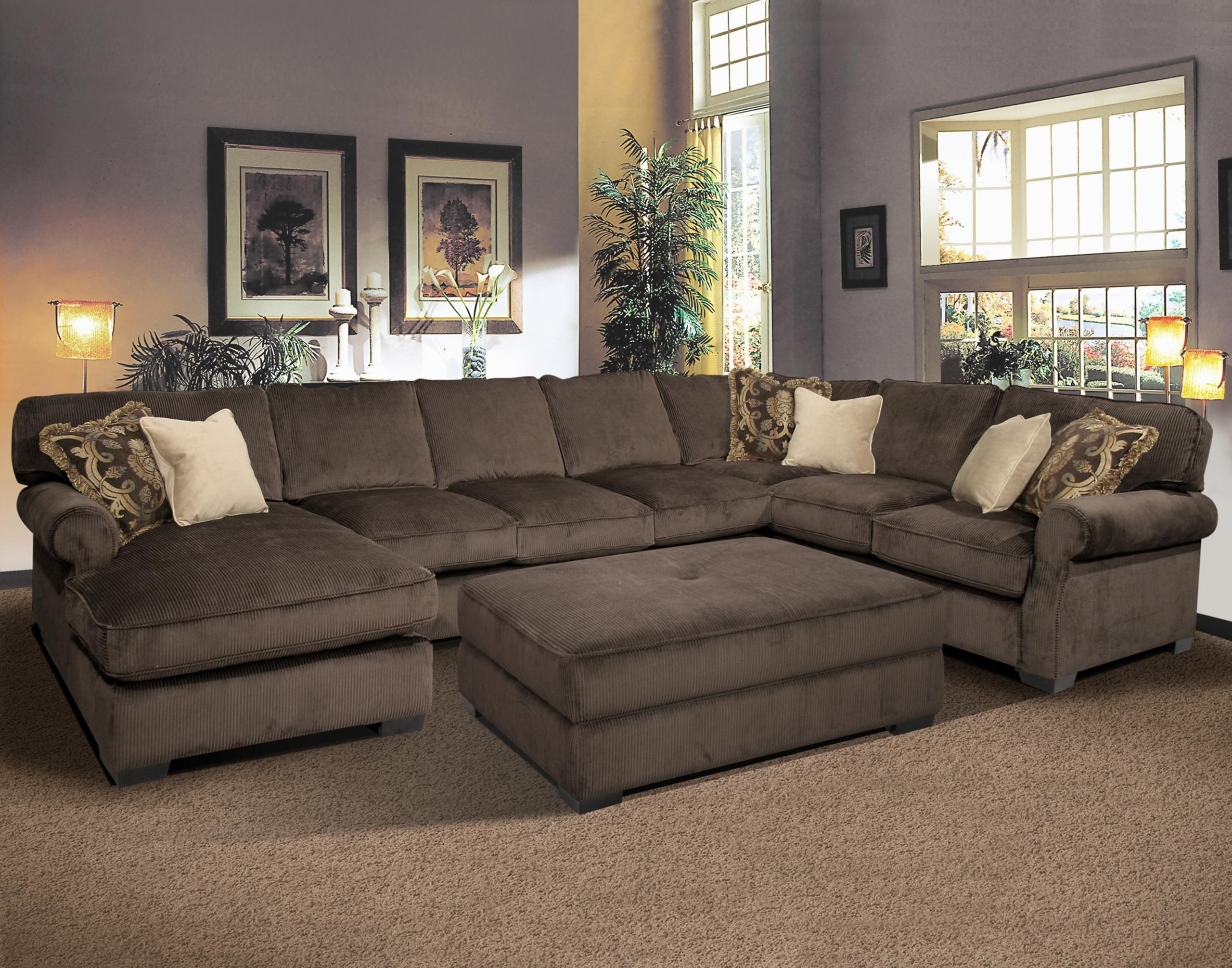 Sectional sofa suitable for home theaters and living rooms. This piece of furniture is very large and finished in neutral color. Backrest and seat cushions are thick, soft and they provide comfort on the highest level.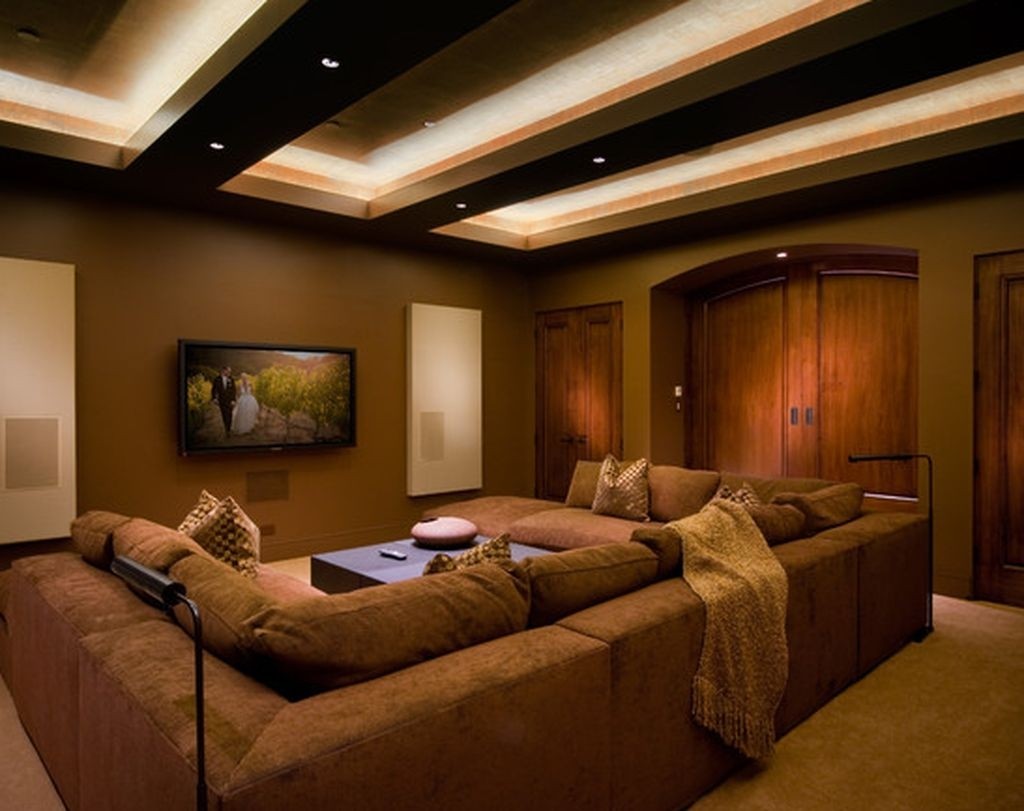 U shaped sectional sofa for living room and others interiors according to taste and need. It is upholstered with pleasant to the touch leather and finished with solid seams. Contemporary design for each home.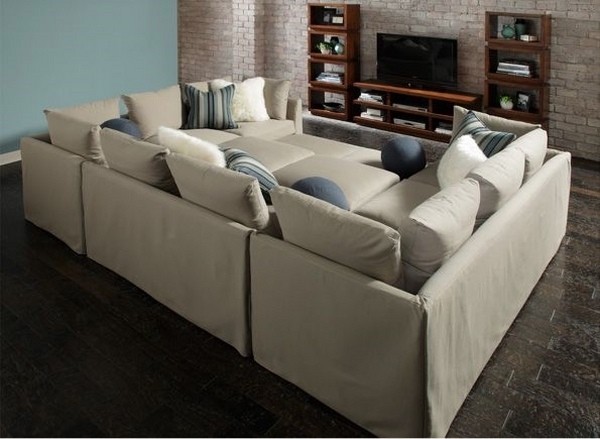 Spacious sectional sofa with footstools. This couch is covered with bright canvas and decorated of bright and navy blue cushions. This seat is very comfortable and will play its role perfectly in home theatre.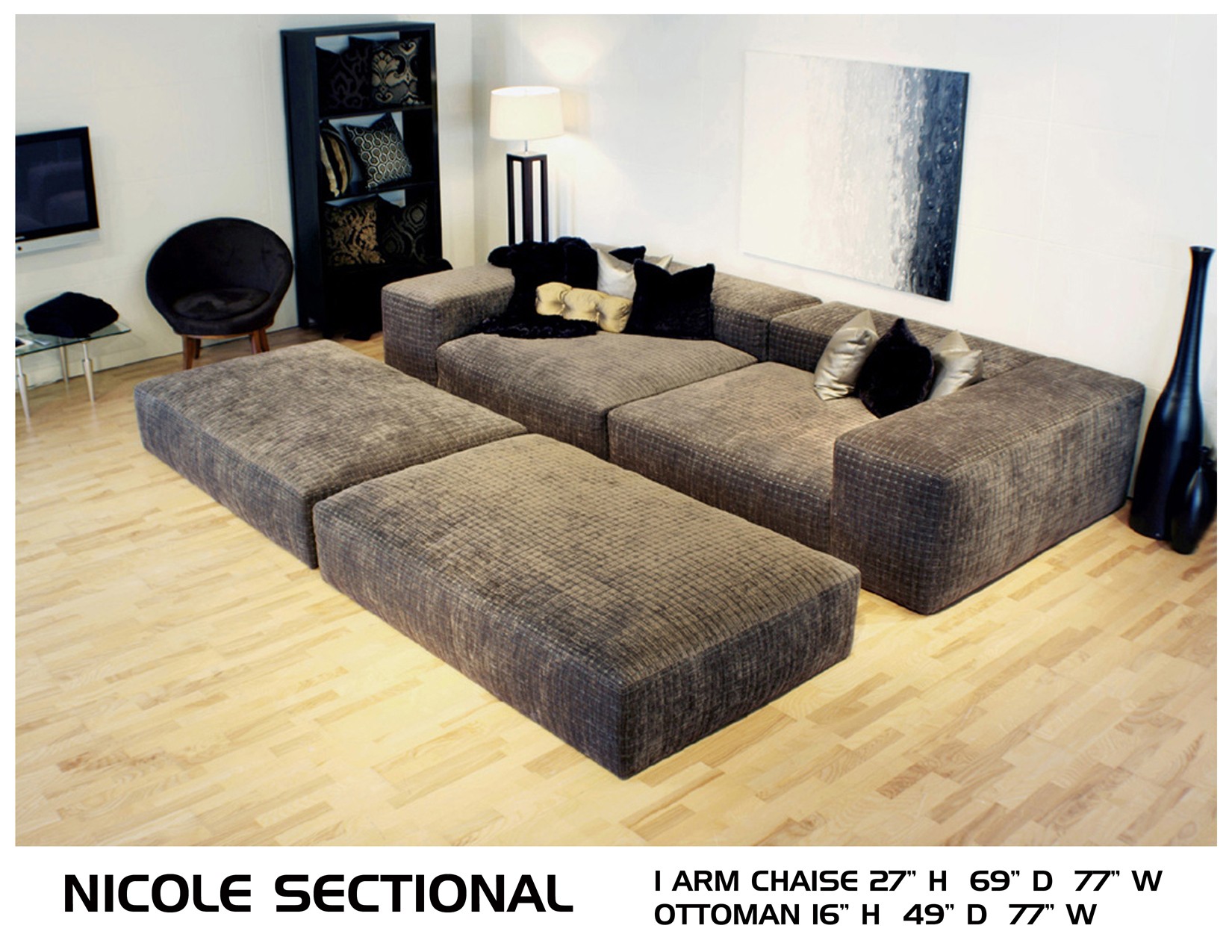 Contemporary setup for a spacious living room with a home theatre sectional seating, providing a cozy and comfortable place to watch movies. The gray, low back sectional provides a classy contrast to the bright wooden floor.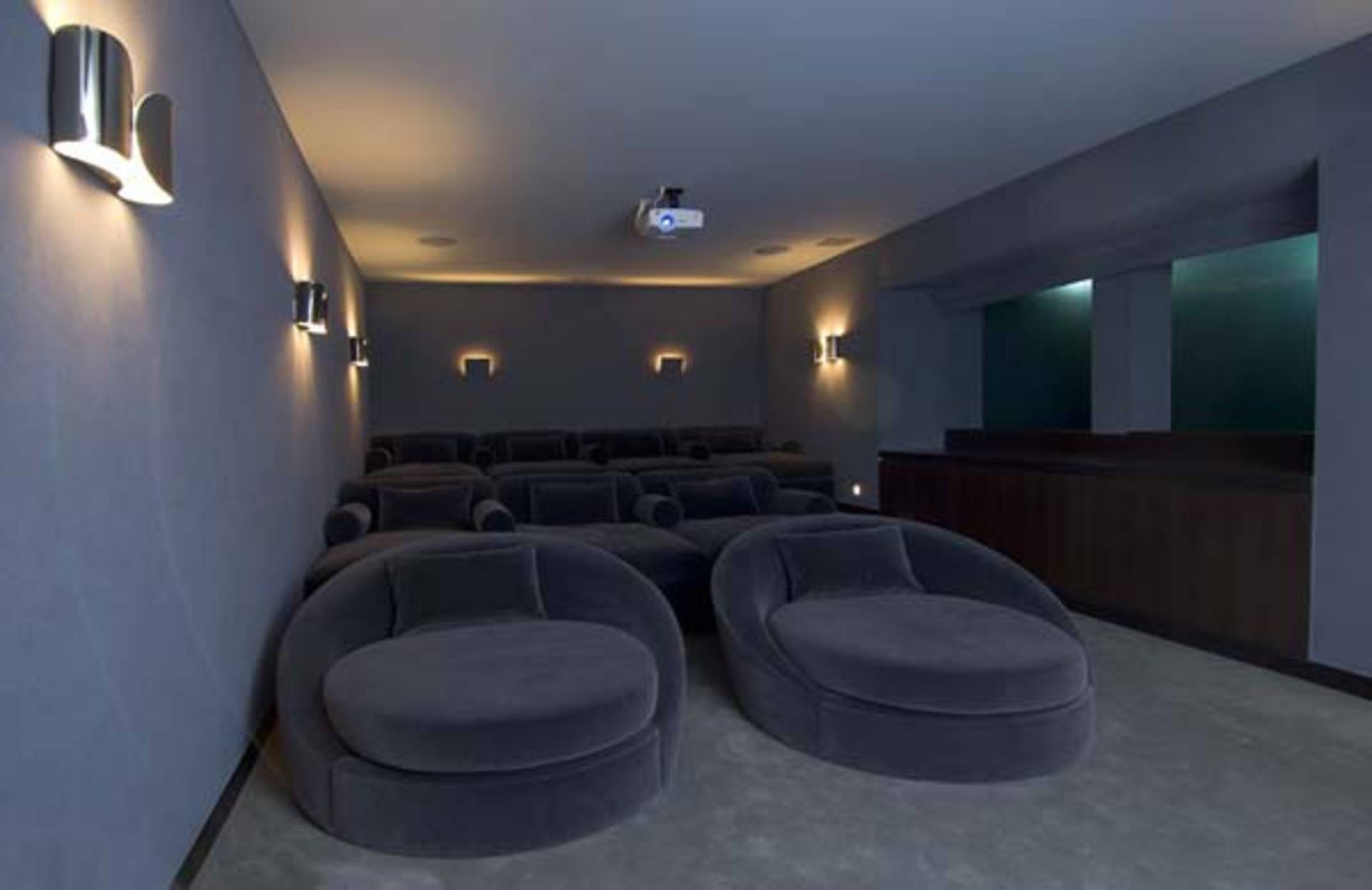 ... Whipple Russell Architects → Grey Comfortable Sofa for Home Theater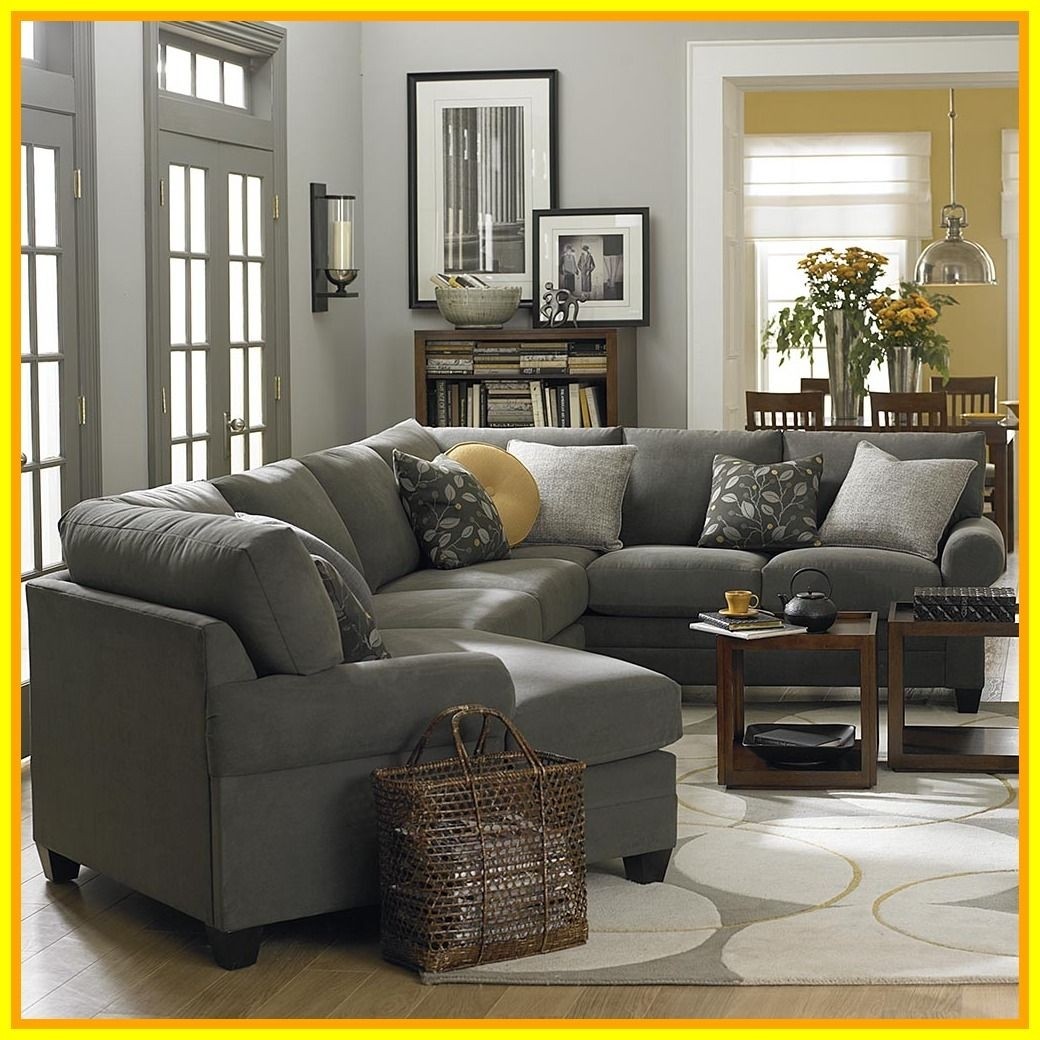 An aesthetic comfortable contemporary U-shaped sofa. It has thick removable seat cushions, low rounded arms, slanted pillowed backrests. Upholstery is of plain mid grey fabric. All sections have wooden frames and low thick angular black legs.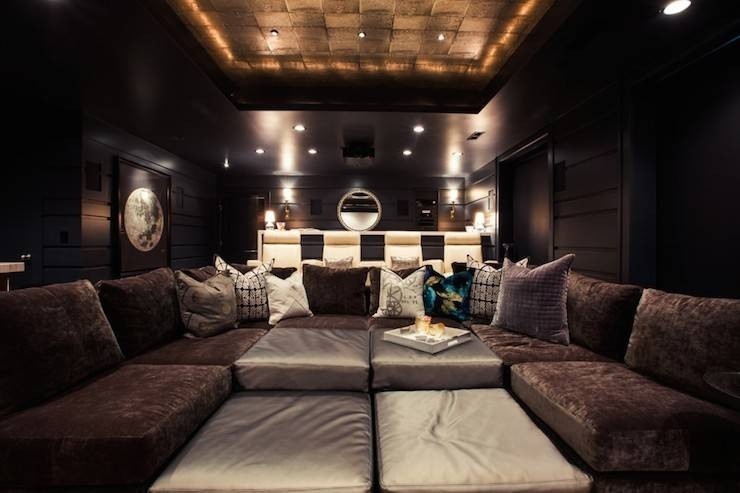 charcoal velvet Mitchell Gold + Bob Williams Dr. Pitt Sectional Sofa ...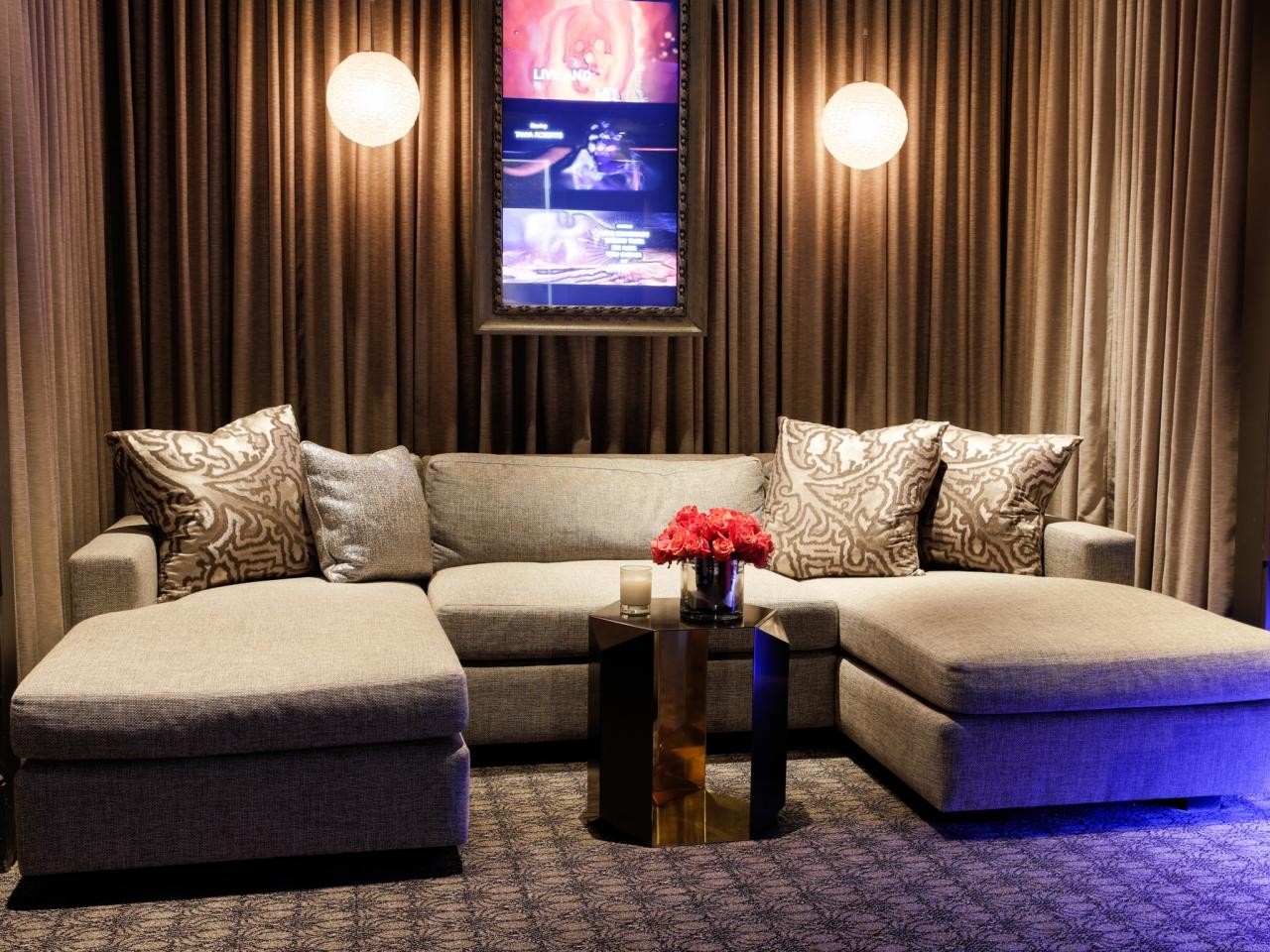 cozy homes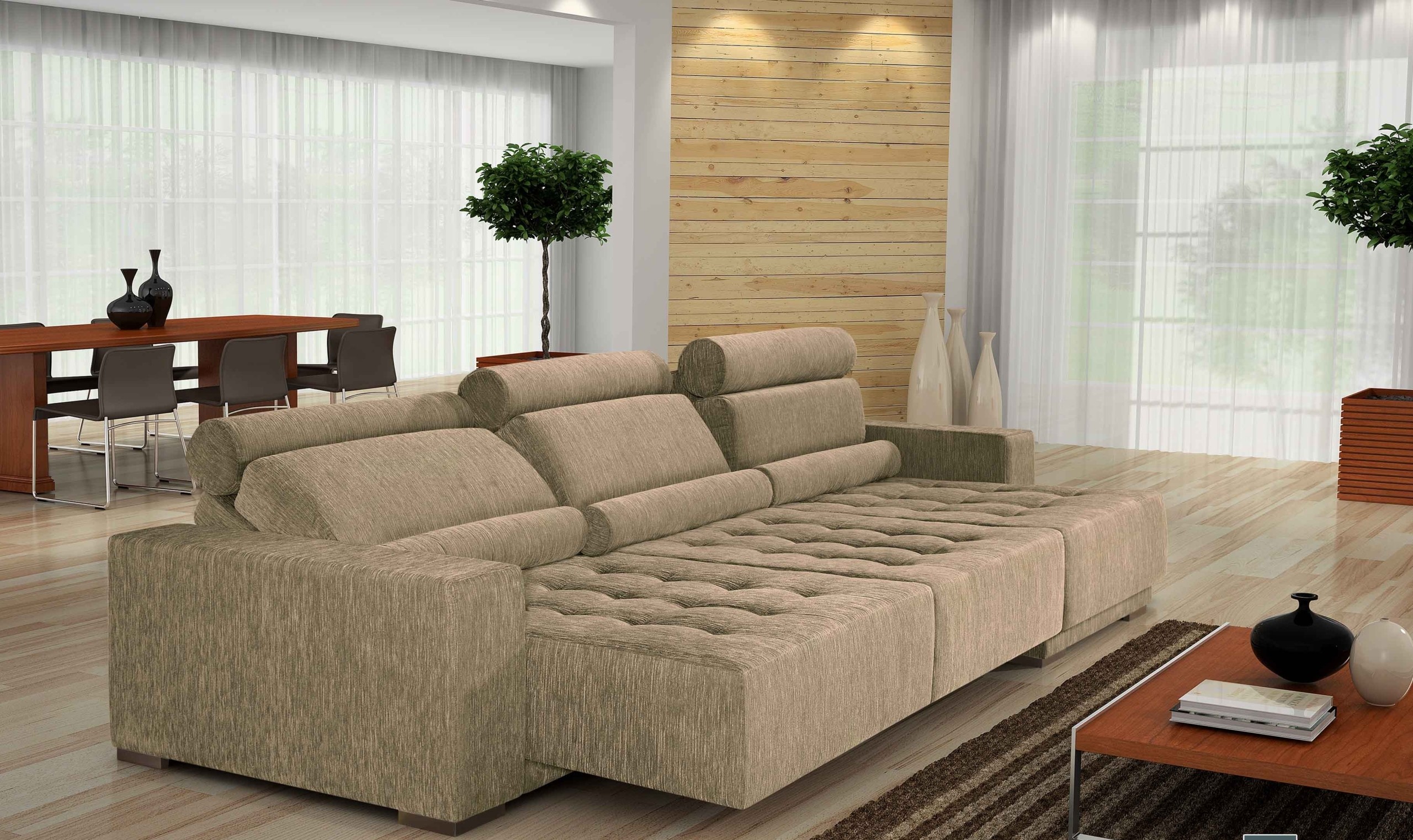 Sofás para sala, modelos diversos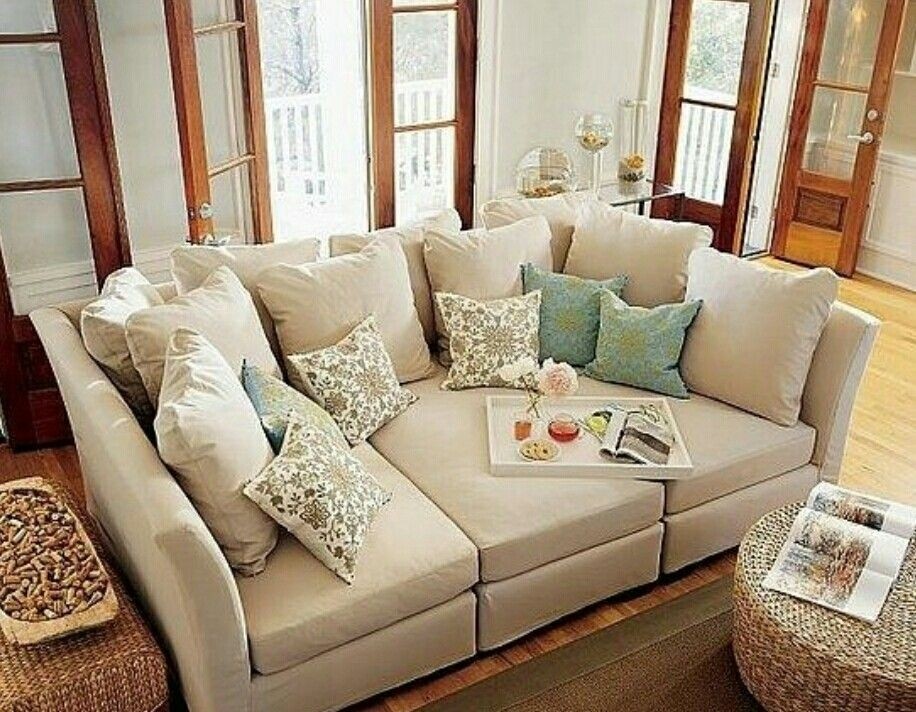 Wide sofa for the living room and others interiors according to taste and need. It is upholstered with nice touch fabric and reinforced with solid seams. Includes extra pillows for added comfort. Classic form and neutral design for each home.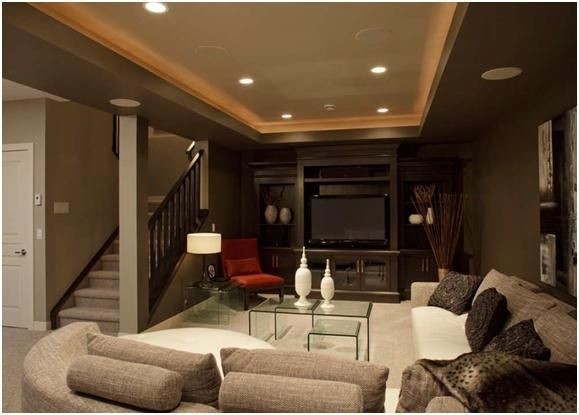 Why not style your man cave beautifully with some dark brown and gray shades, ensuring a warm and welcoming look and providing an utterly enjoyable setting for you to relax and rest to the fullest.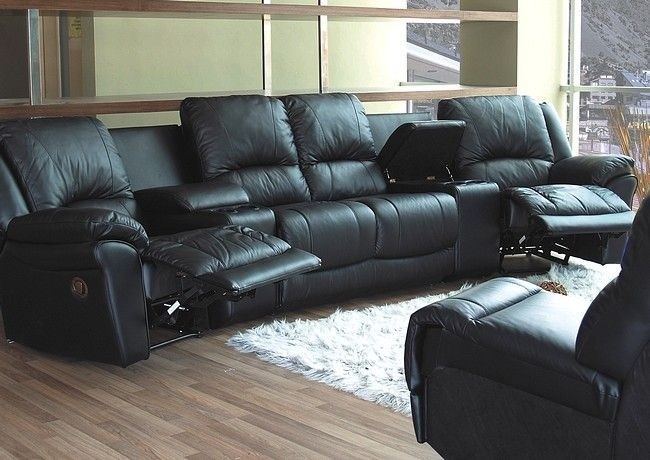 Show your style - and how you like to rest in the form of those recliner that are connected to each other in a unique home theater sectional sofa. The whole has a black leather upholstery and a characteristic shape of fastened seats with folding footrests.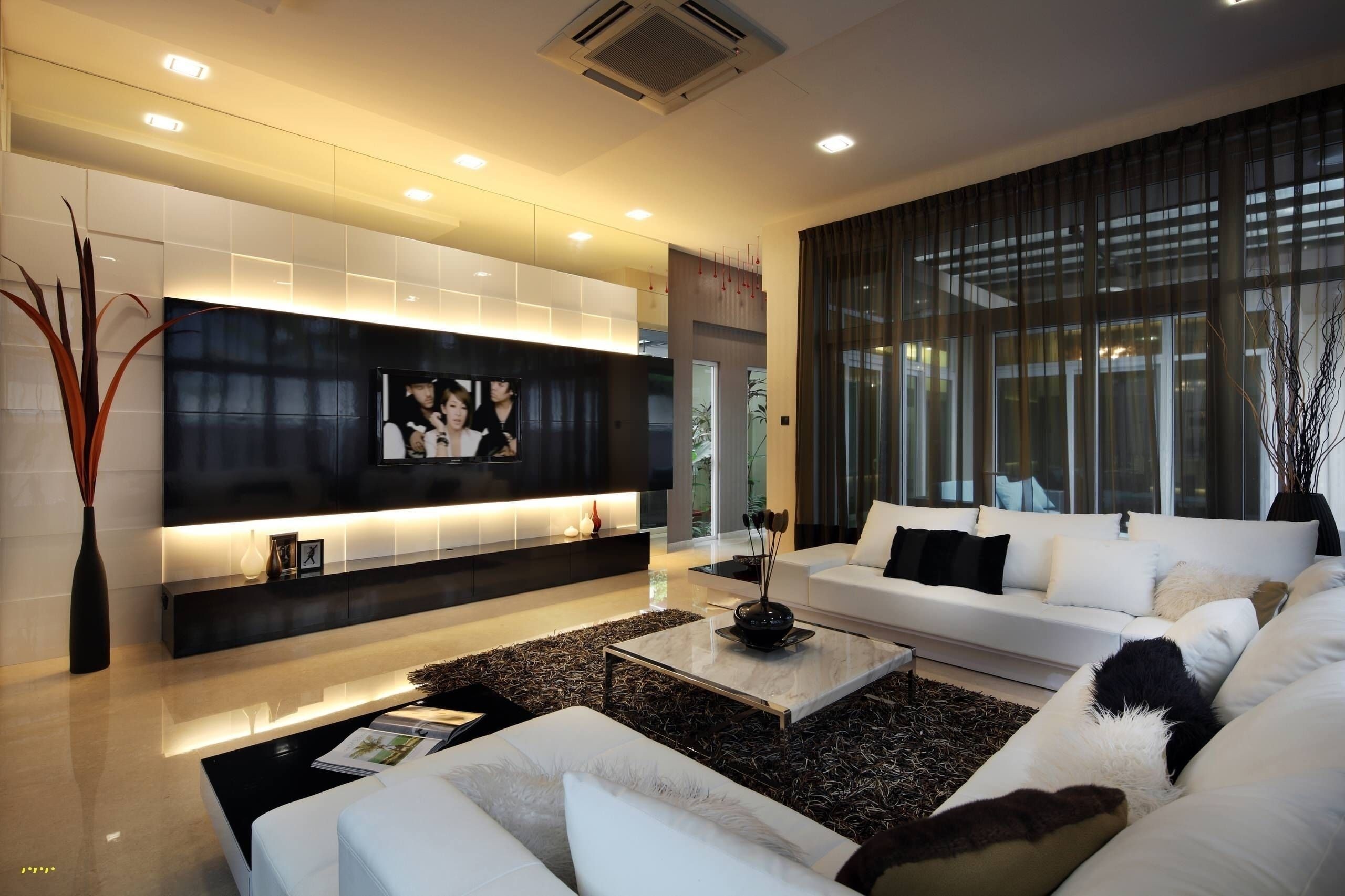 Being a great option for a contemporary entertainment room, this magnificent large sectional set comprises a white sofa along with the chaise lounge and a white, marble coffee table. All standing on an intricate, grey rug.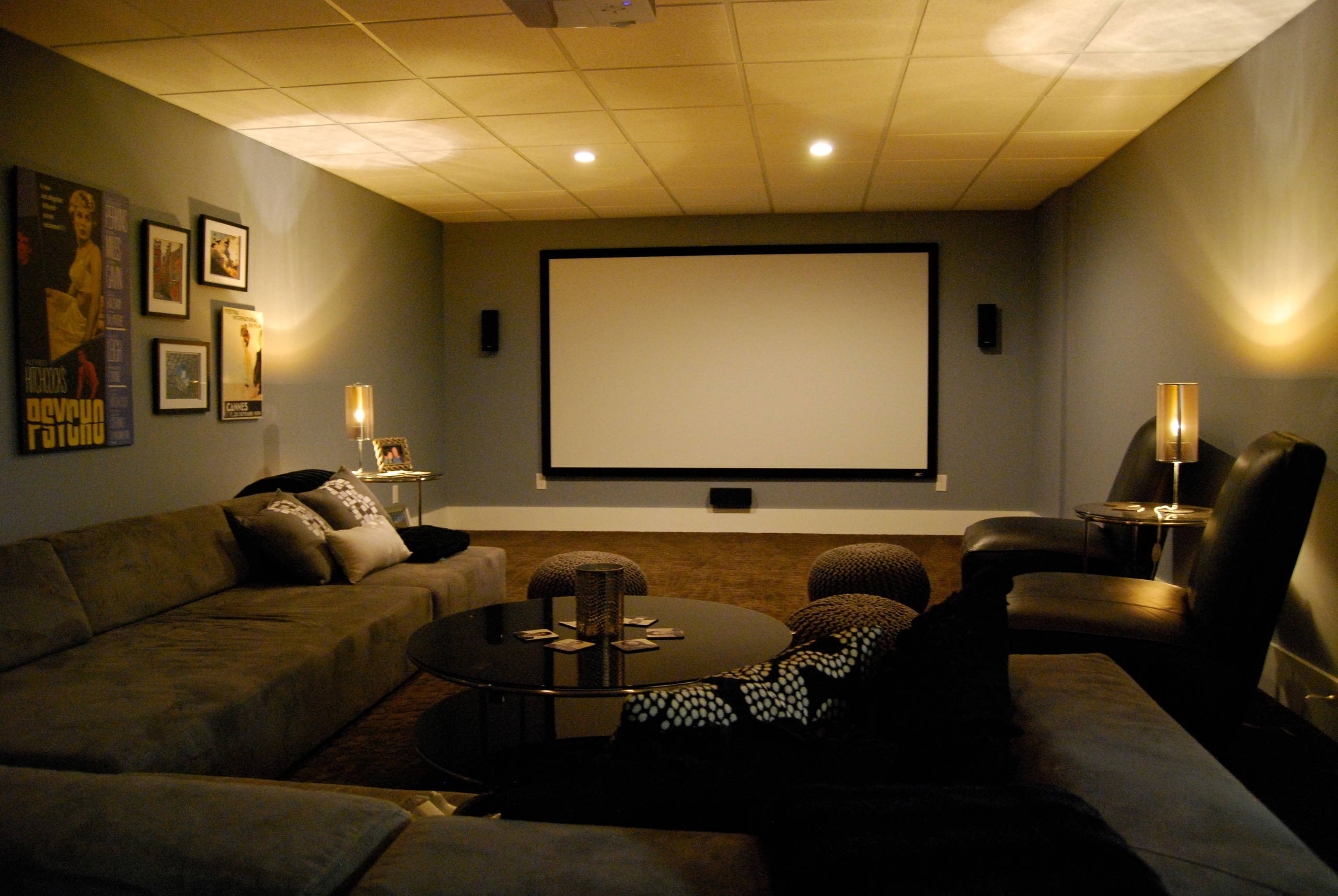 This is an awesome hangout space, if you add a lil fridge for snacks. Like my version of my woman's "Man-Cave" lol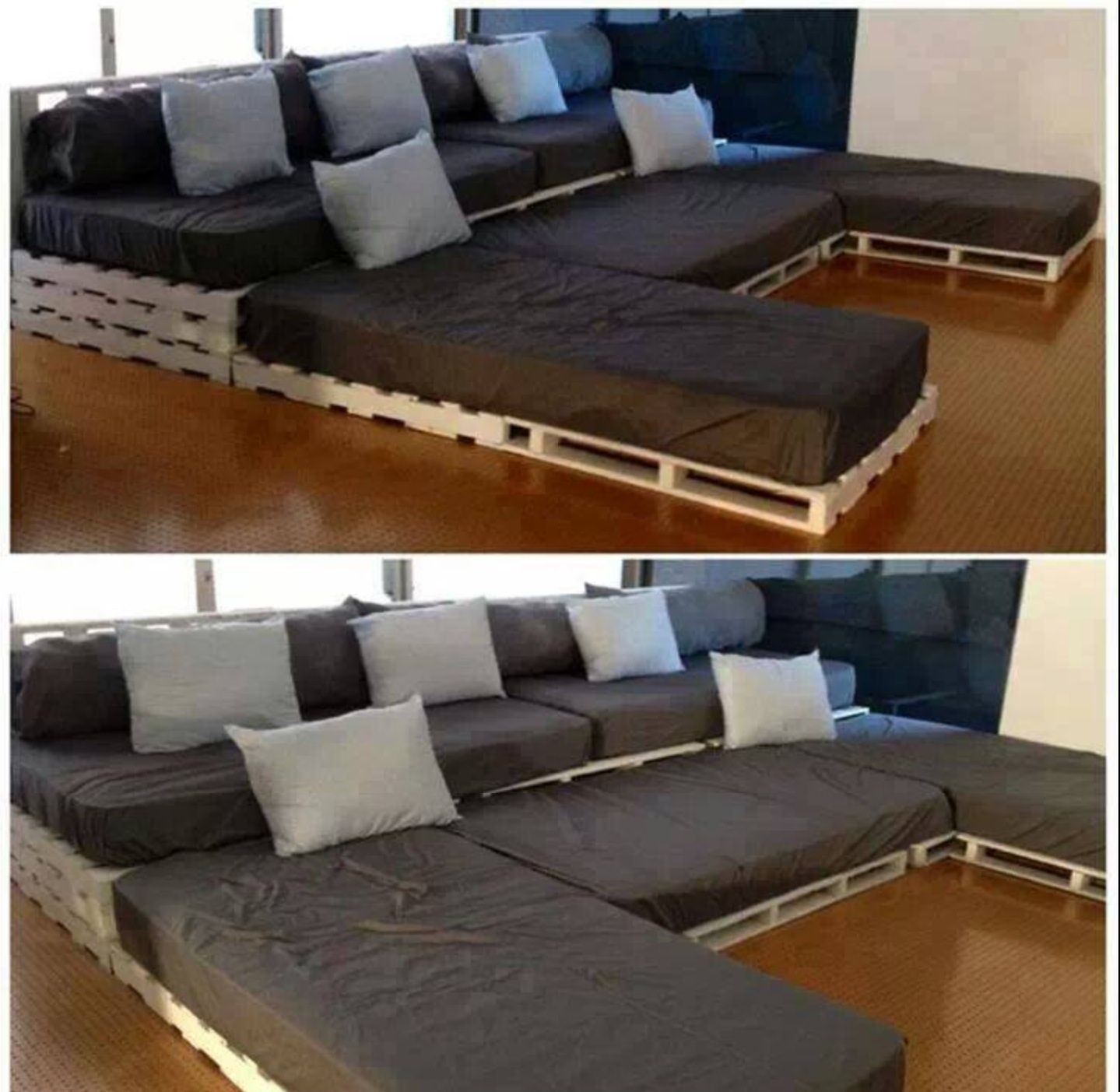 Pallet Sofa Design Ideas : Innovative UShaped Wood Pallet Grey Sofa ...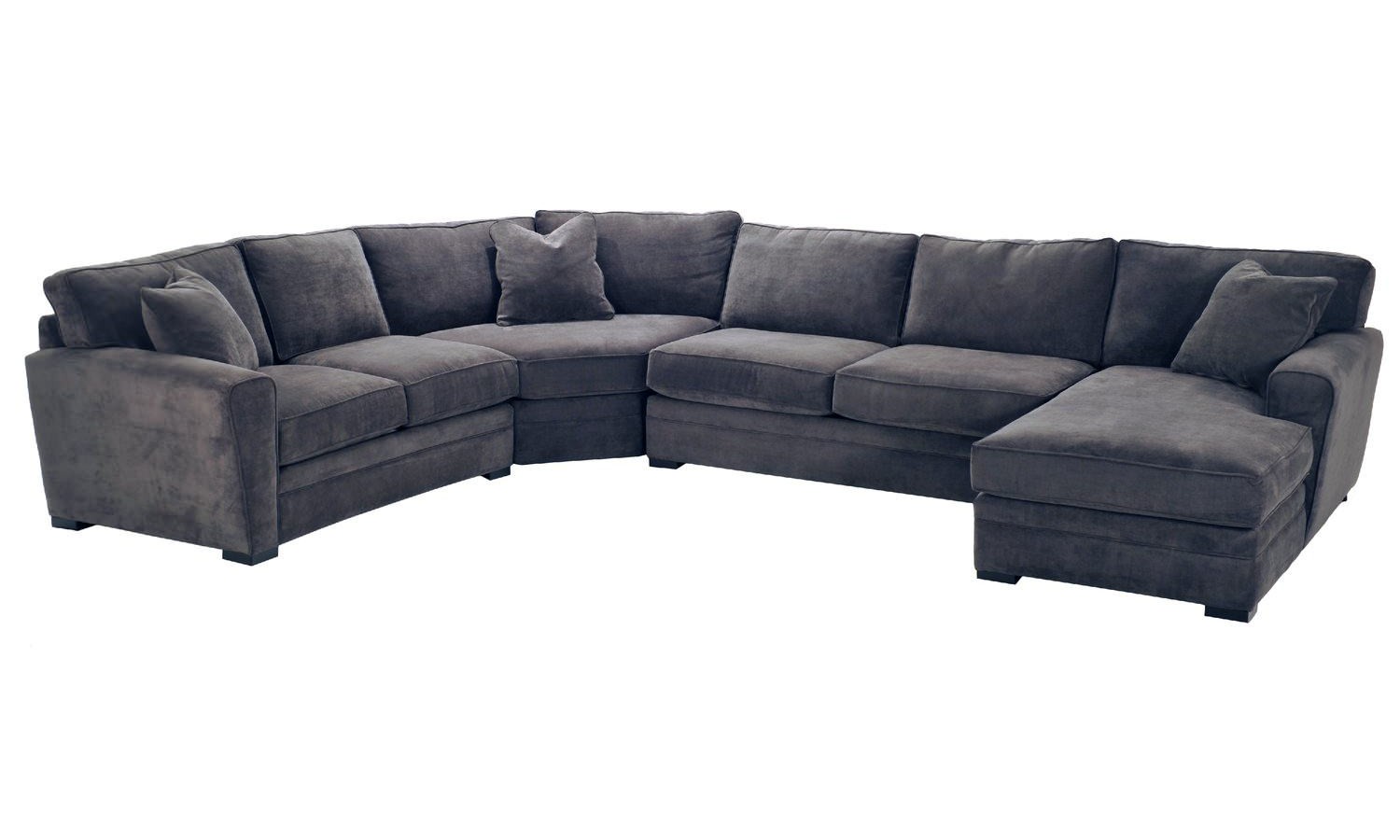 With this casual, contemporary design your living room will gain a whole lot of new seating space for you and your guests. This piece comes with dome shaped arms, boxed seat cushions and fully upholstered base and offers plenty of plush seating space.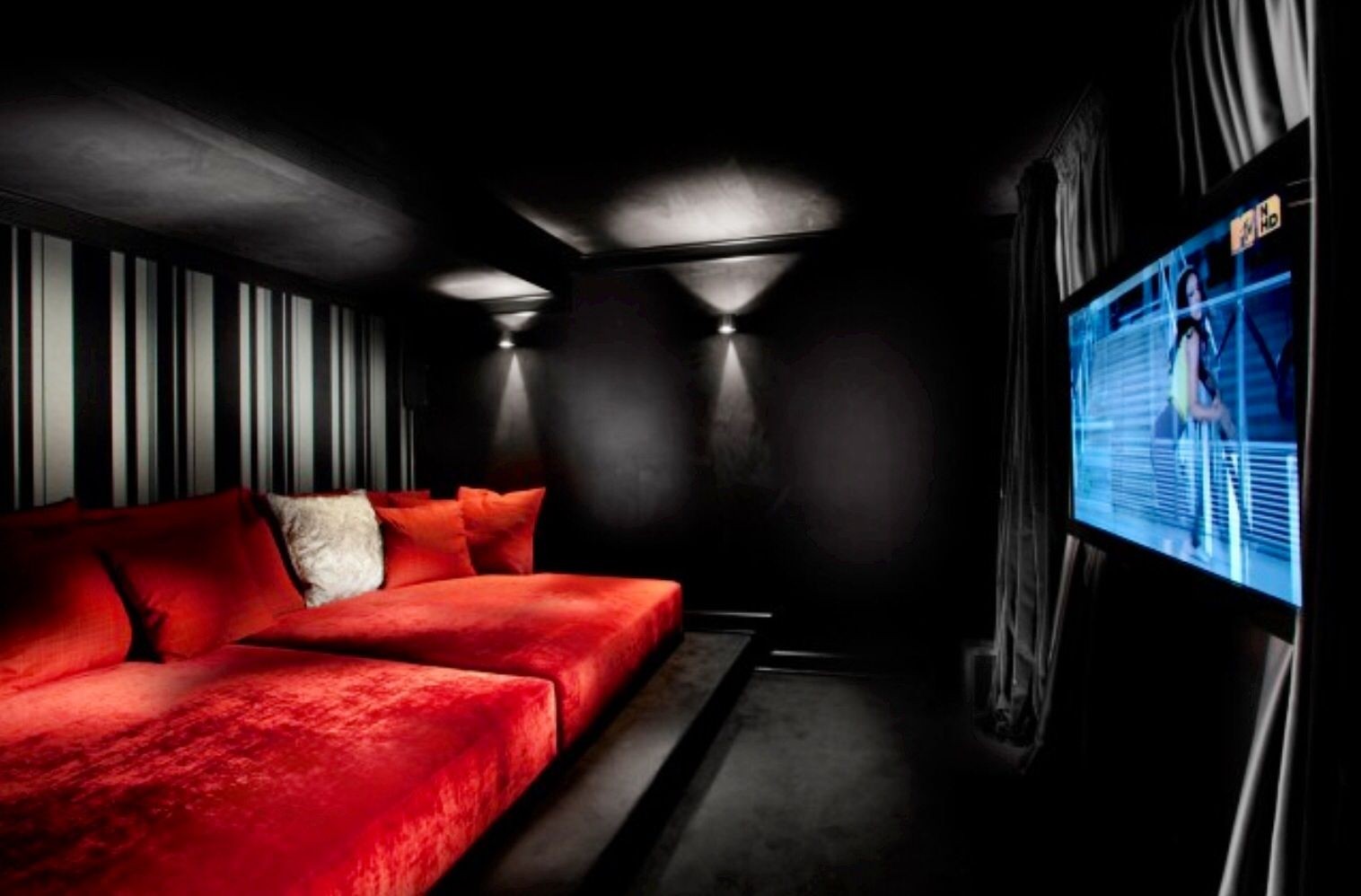 ... Inspirations : Elegant Modern Home Cinema Room With Big Red Sofa Bed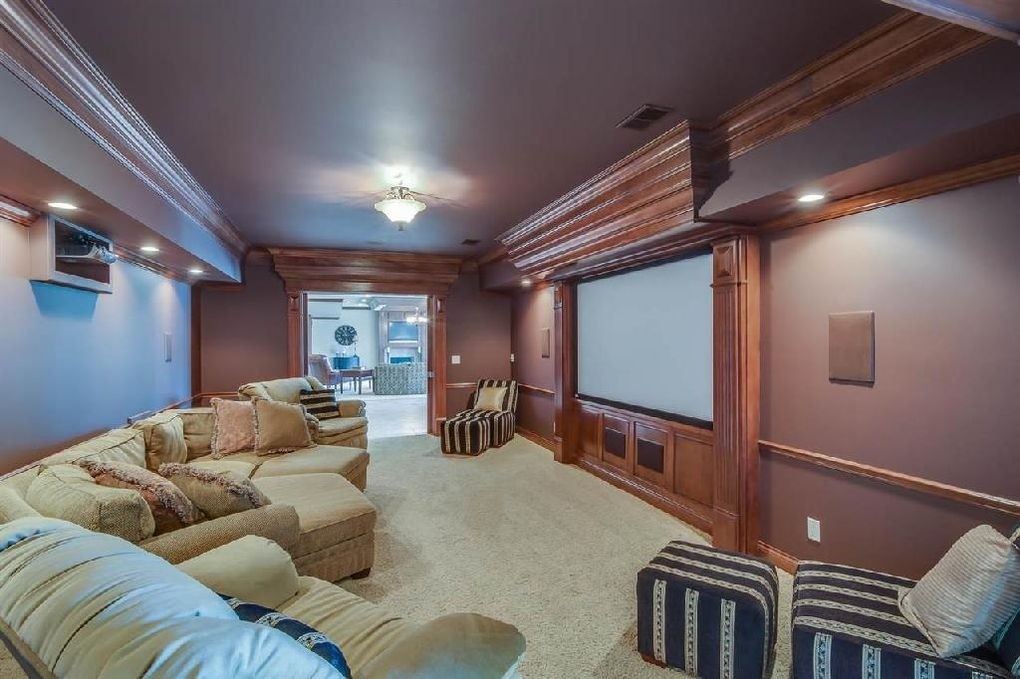 Traditional Home Theater with Carpet, Sectional sofa, Crown molding, Paint, Chair rail, Wood molding, Built-in bookshelf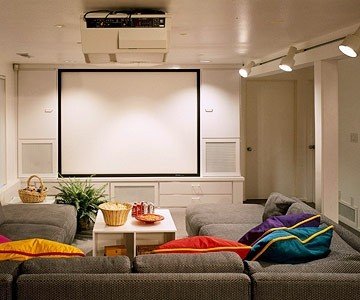 Designing your very own home theatre? Just look at this wonderful sectional sofa. It's very big, so it will accommodate a lot of people. Gentle, dark grey colour will be unobtrusive and let you focus completely on the movie!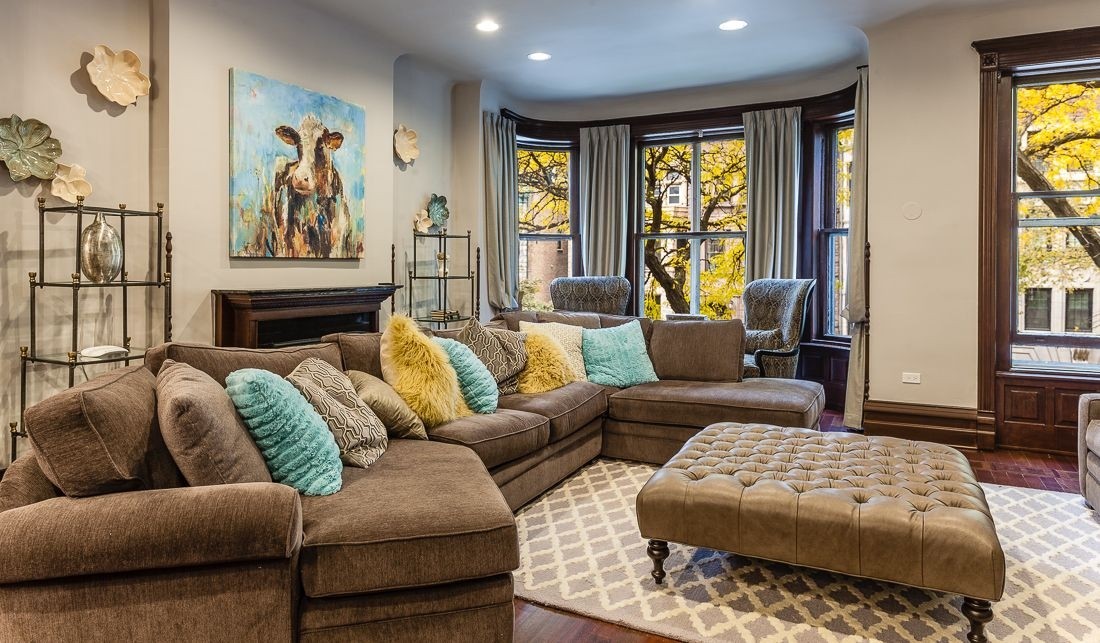 The perfect way to wrap a room in soft seating, not to mention add a pop of color!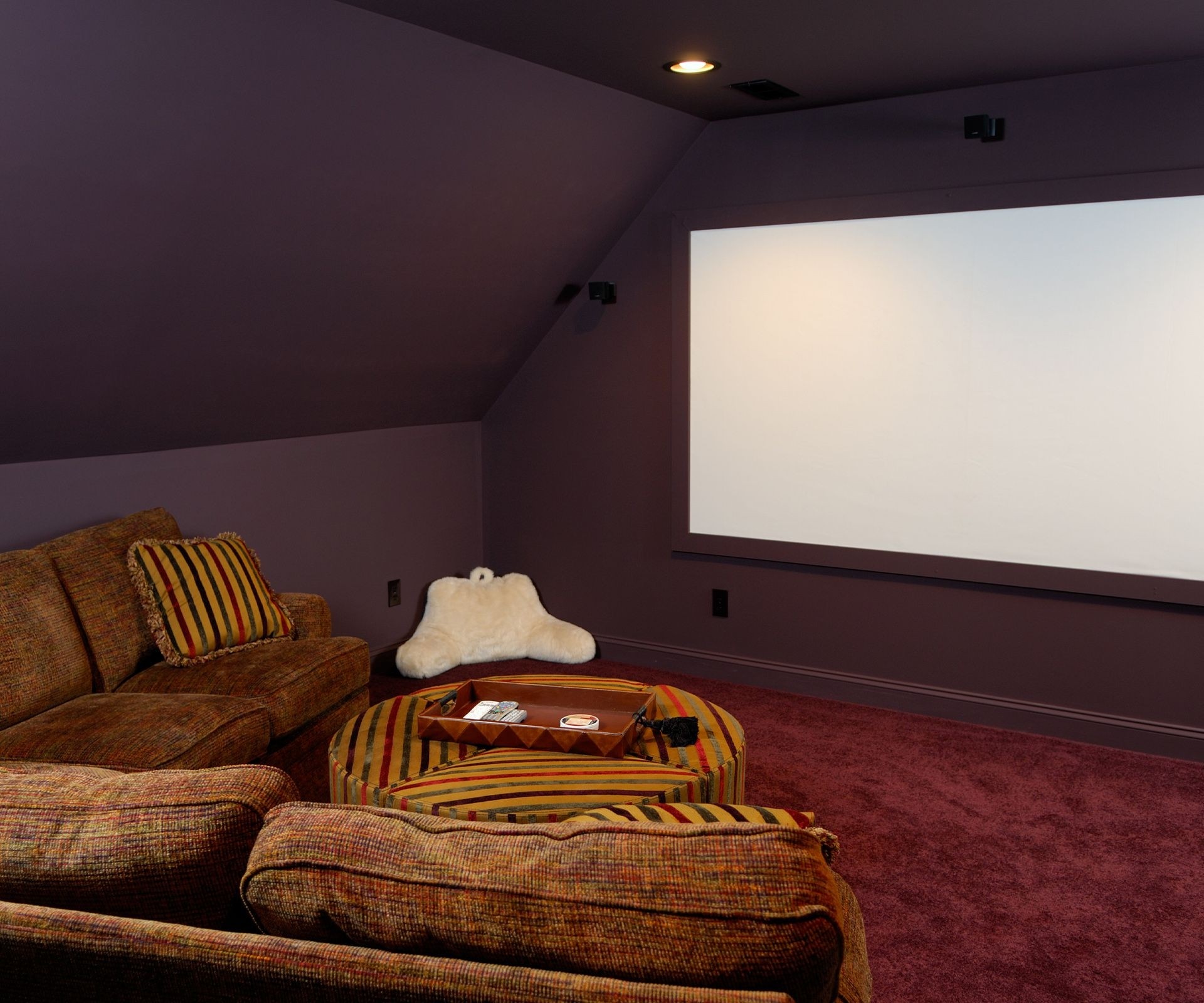 In our house plan....we have the Attic above the garage.....and i found this movie room...exactly what Phil was trying to picture for his CAVE man!!! perfect!!! Except with windows on the side!!!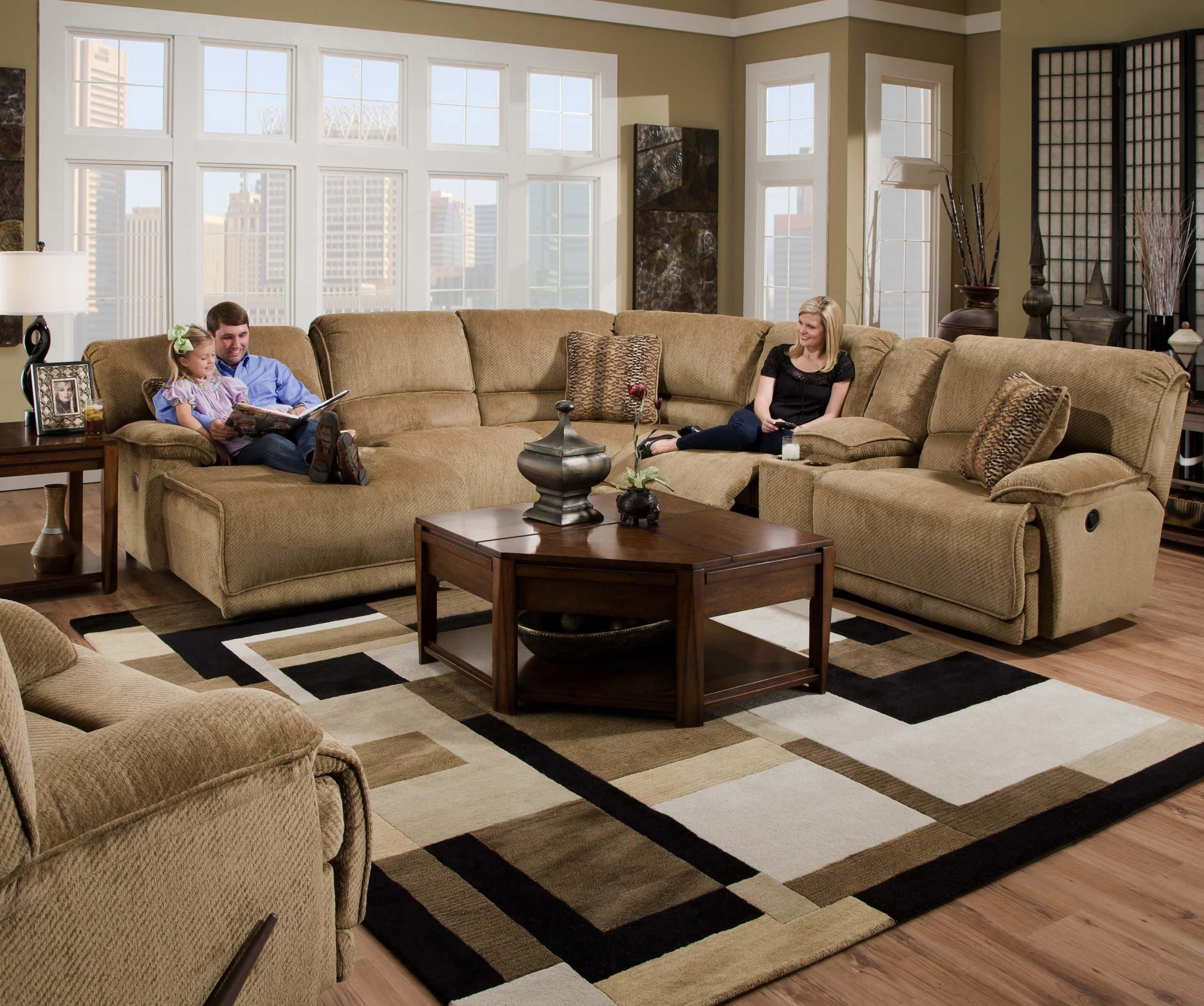 Grandover Five Person Sectional with Reclining Left Side Chaise by Catnapper - Morrison's Furniture Store Inc. - Reclining Sectional Sofa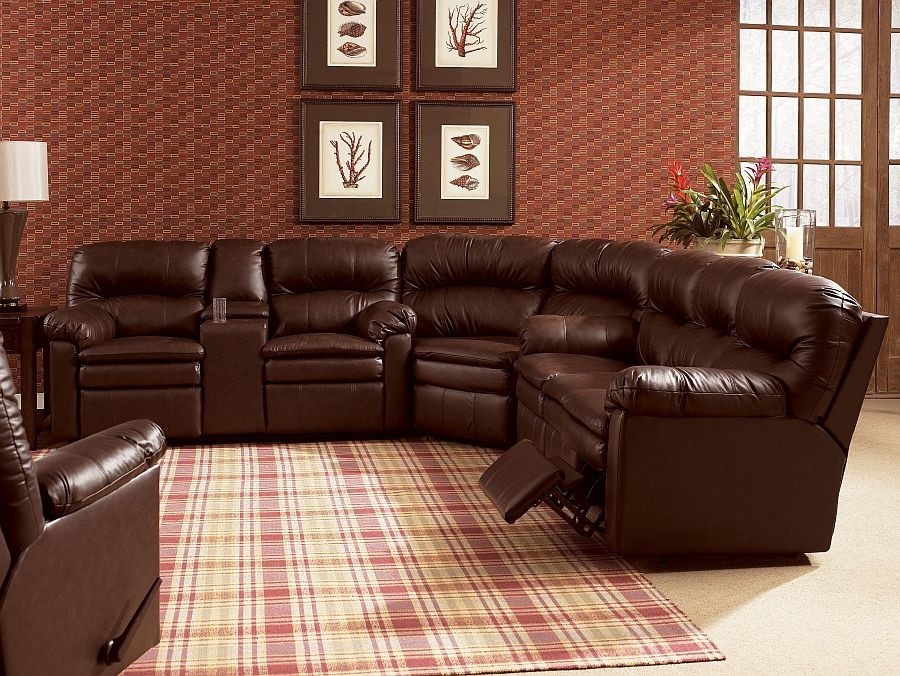 Home Theater Sectional Sofas | Lane Home Theater Double Reclining Sofa with Console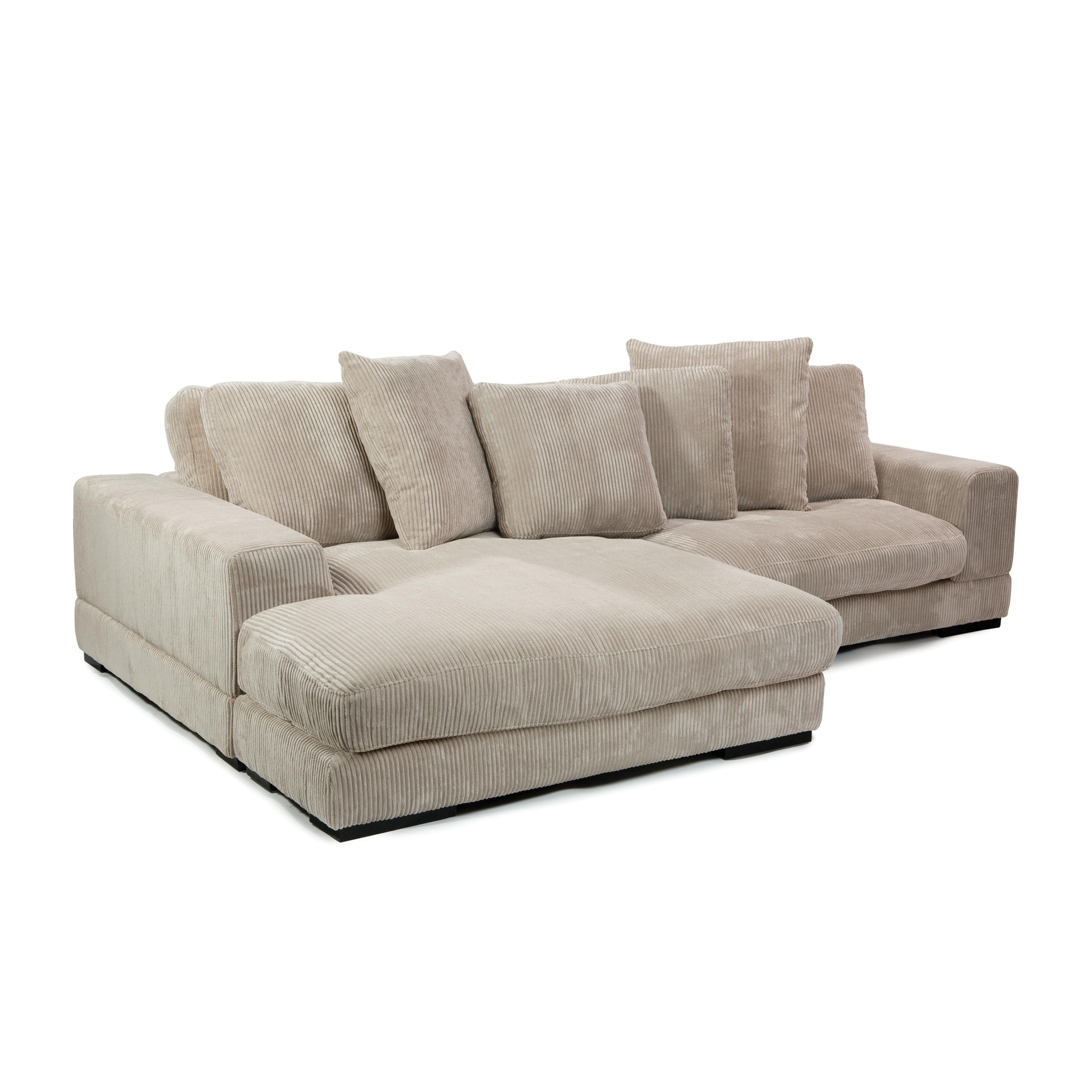 Bring some luxury into your home decor while using this fine sofa, upholstered in fashionable corduroy. With its double wide chase lounge design and generously padded cushions, you are getting a top notch piece for larger living rooms.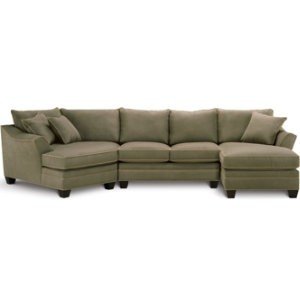 My dream sofa: 3 Piece Theater Sectional Set | Sectionals | Living Rooms | Art Van Furniture - Michigan's Furniture Leader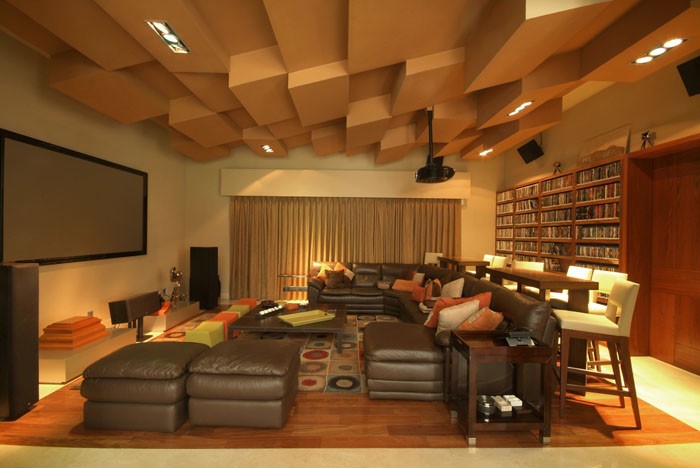 I want a bar height table behind my sofa for extra seating!! sectional with bar height sofa table and stools behind sofa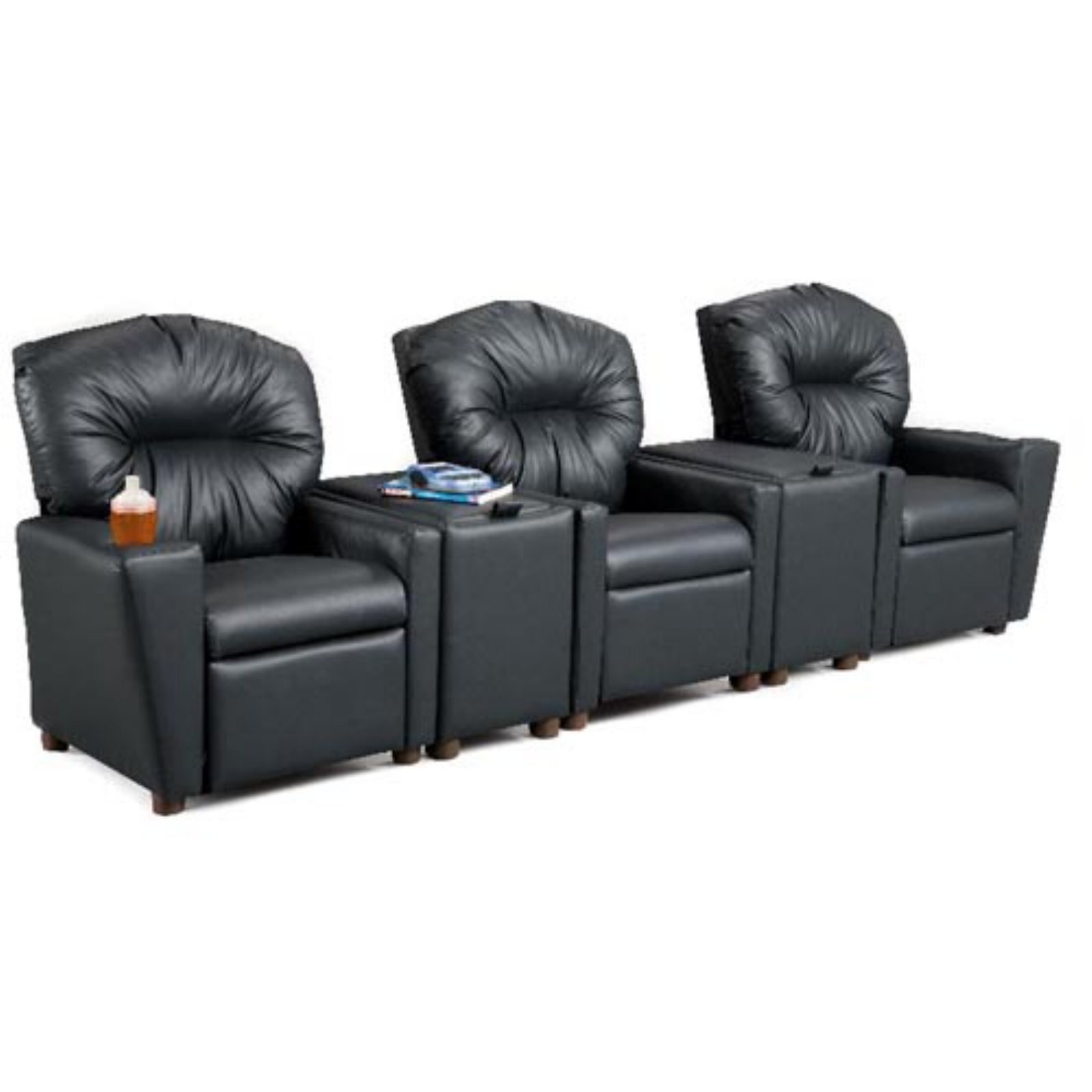 It is a set that includes two recliners for home theater. They have got an amazon sand color, storage, console and elegant design. If you looking for nicely finished recliners, you need to choose this set.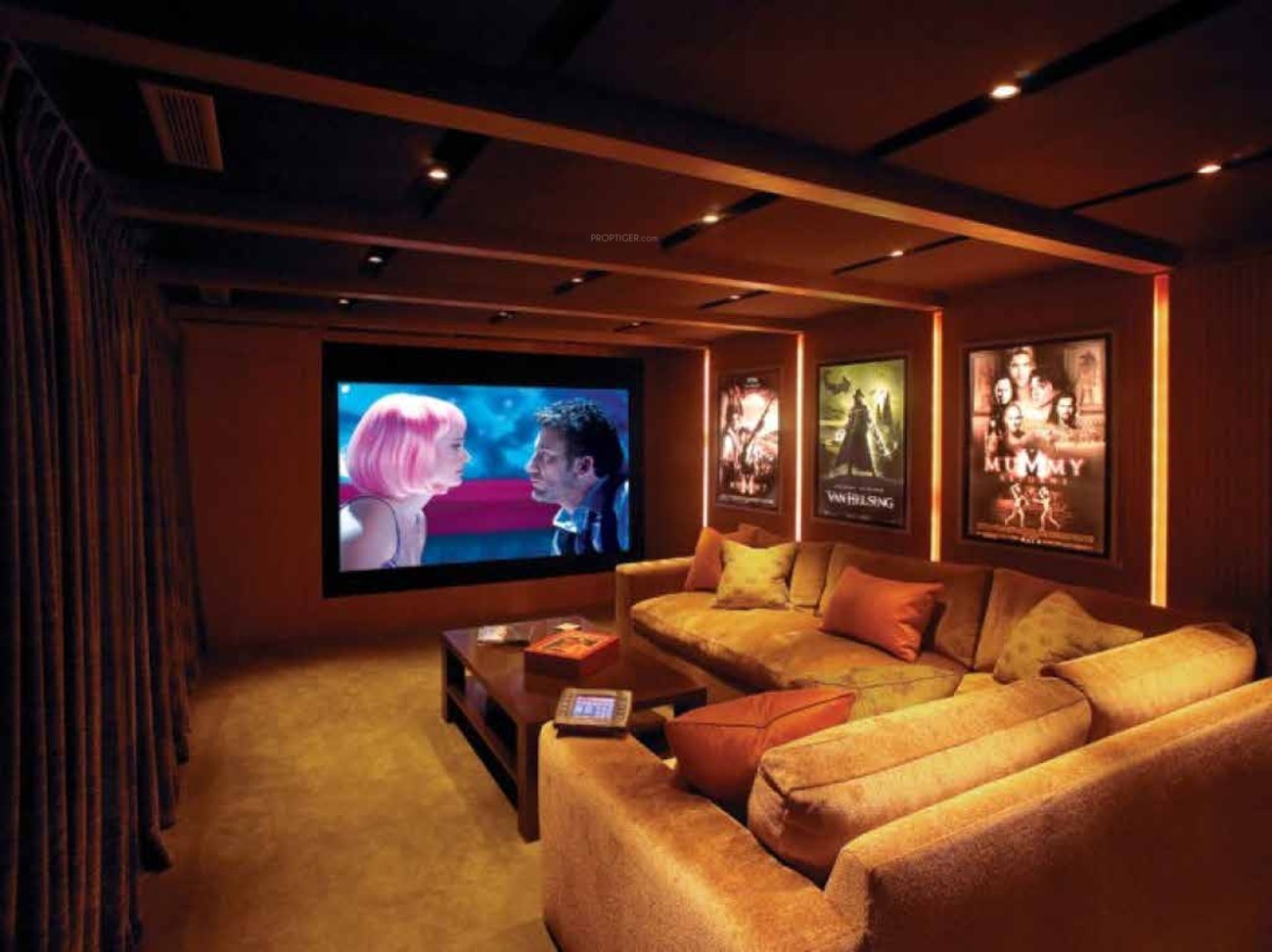 ... Home Cinema 〉 Sophisticated Brown Sectional Sofa Feats Wooden Table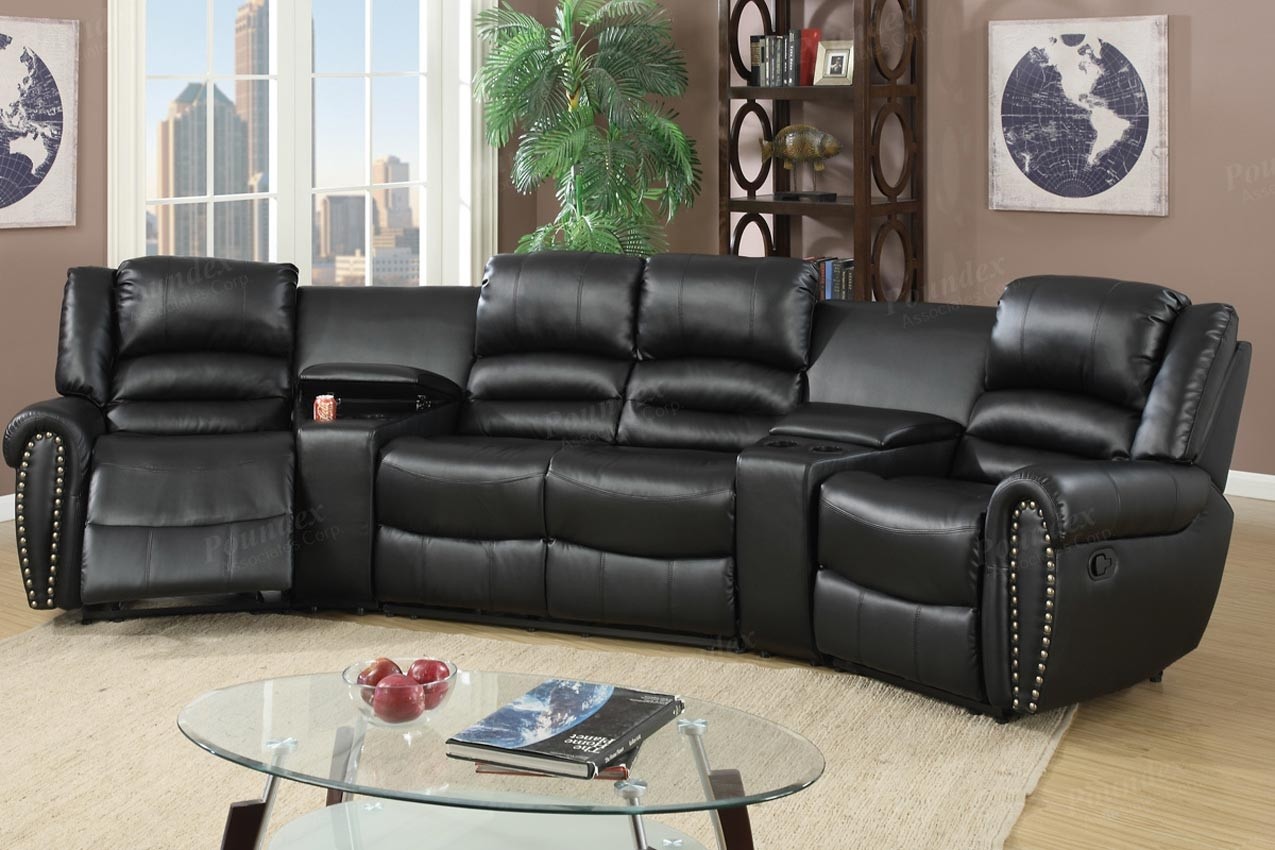 5 Pcs Reclining Home Theater Black Sectional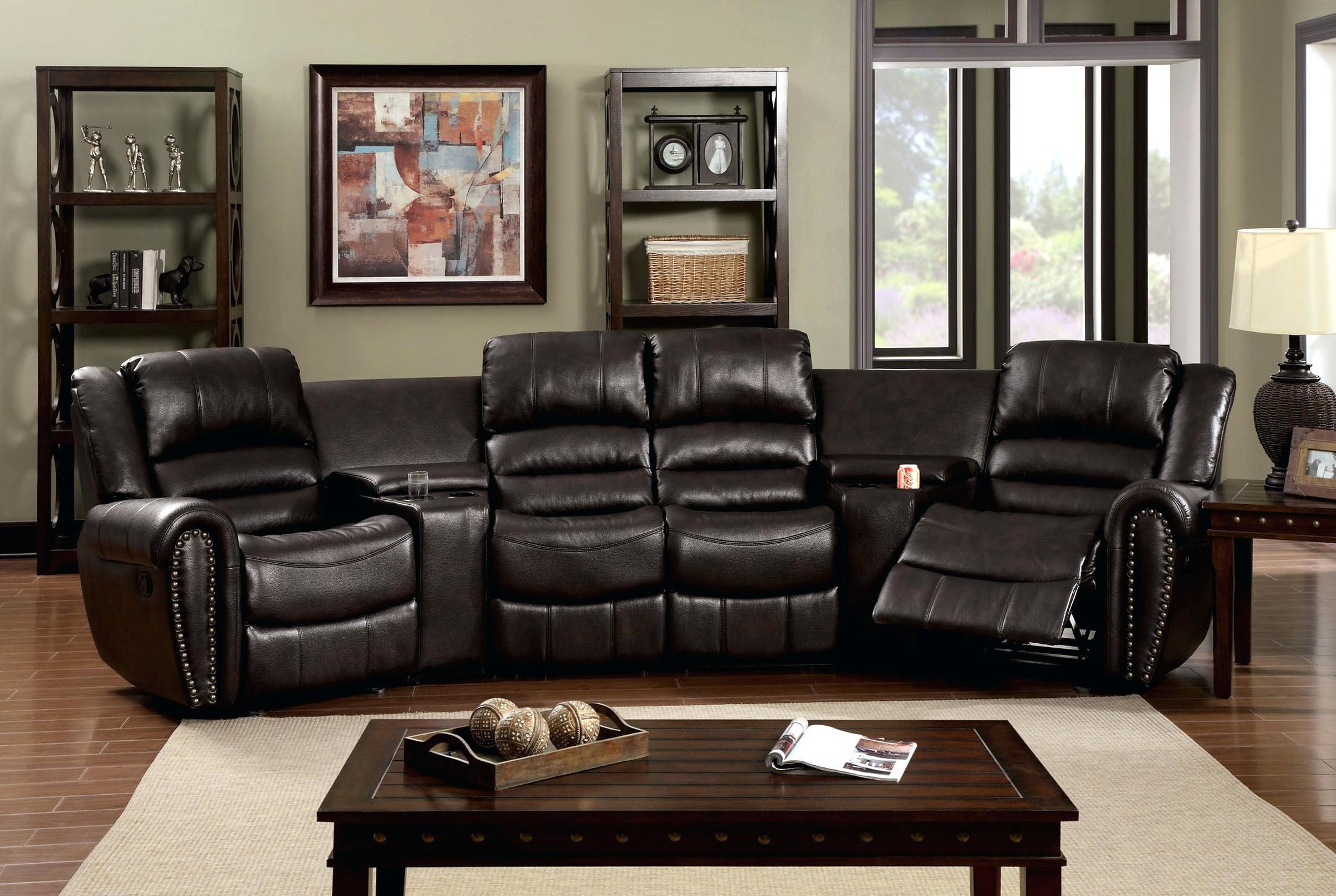 Lovely Home theater Sectional sofa Inspiration - Modern ...