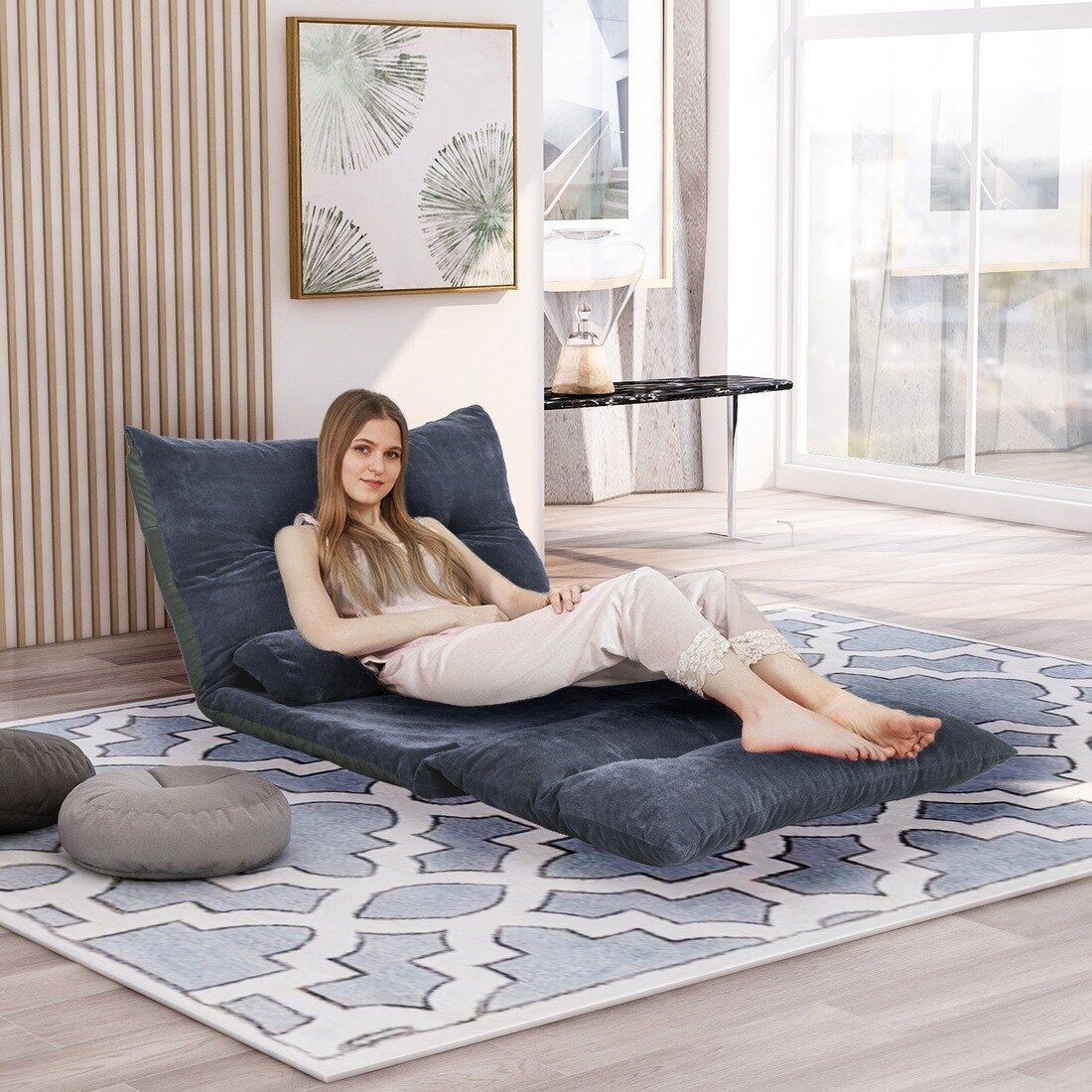 Trule Orisfur Adjustable Gaming Futon Sofa

What we like: Five-position adjustment system, comfortable sponge filling
What we don't like: Relatively low weight capacity
Folding futons are one of the most popular modern game room couch styles, and this model is no exception. This gaming futon features a soft polyester fabric cover and top-quality sponge filling, providing comfort while sitting in any position. If you feel tired after a long gaming session, you can also use the included pair of pillows to transform it into a gaming couch bed.
This item weighs less than 30 lbs., fits in a 43" wide by 48" diameter space, and is easy to clean, making it perfect for students, apartment dwellers, or as a dedicated couch for the game room in your house.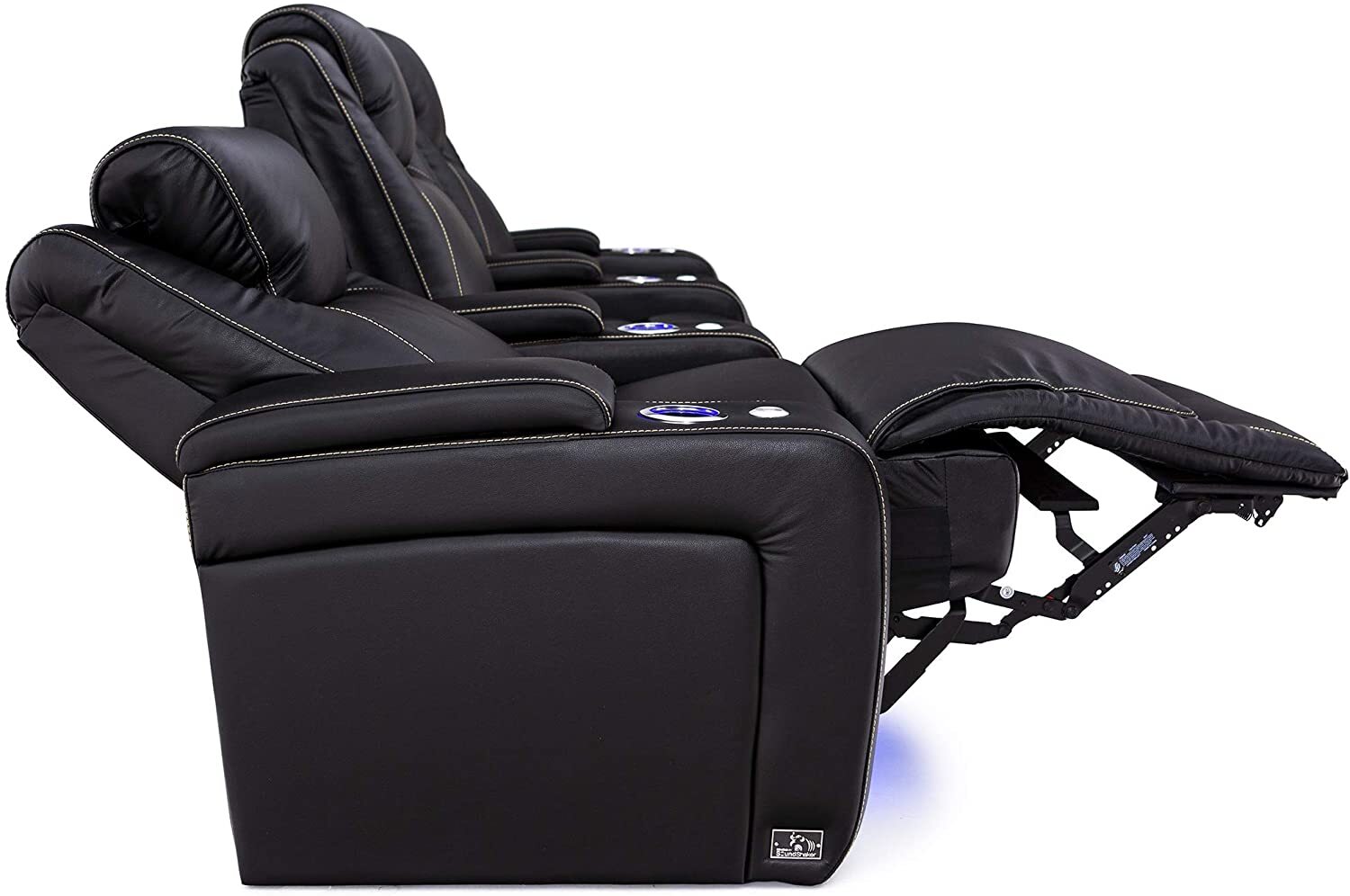 Seatcraft Pantheon Home Theater Seating, Row Of 3

What we like: Ultra-comfortable top-grain leather, plenty of accessories
What we don't like: Higher price tag than other gaming sofa models
More than an adjustable game room sofa, this high-tech home theater seating system is inspired by VIP seating in theaters and includes three fully adjustable seating units. Each unit is independently adjustable, fitted with the highest-quality top-grain leather upholstery covers, power-operated lumbar support and headrests, and all the accessories you could ask for in a movie or gaming room sofa.
Each unit comes complete with a full suite of accessories to enjoy a gaming evening or a movie night: Recliner controls, armrests, LED lighting, cup holder, bass shakers, and more. They are perfect as game couches or for movie marathons in a spacious rec room, finished basement, or den.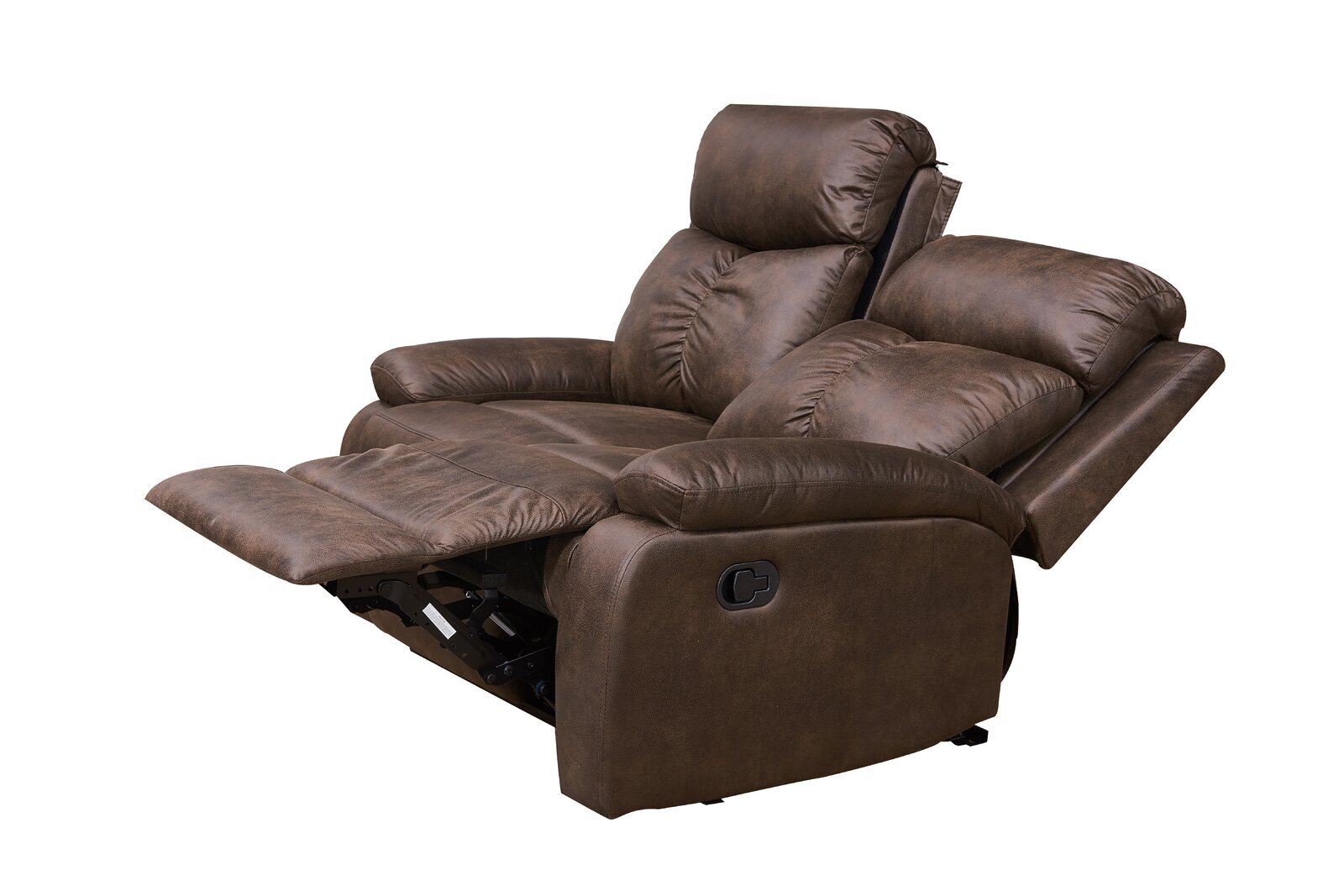 Godeus Pillow Top Arm Reclining Loveseat

What we like: Understated design fits in any living room, robust wood, and steel structure
What we don't like: Assembly is time-consuming.
With a robust wood structure, a high-quality microfiber cover, and colors designed to match dark furniture, this is one of the best game room couches available on the market. Its modest design style fits into almost any living room or game room.
Play games and watch movies or TV shows in total comfort, alone or with a partner on this gaming loveseat. With a seat height of 19" and full reclining controls on each side, you can adjust your position to any recline angle without disturbing your partner.
$779.99 $819.99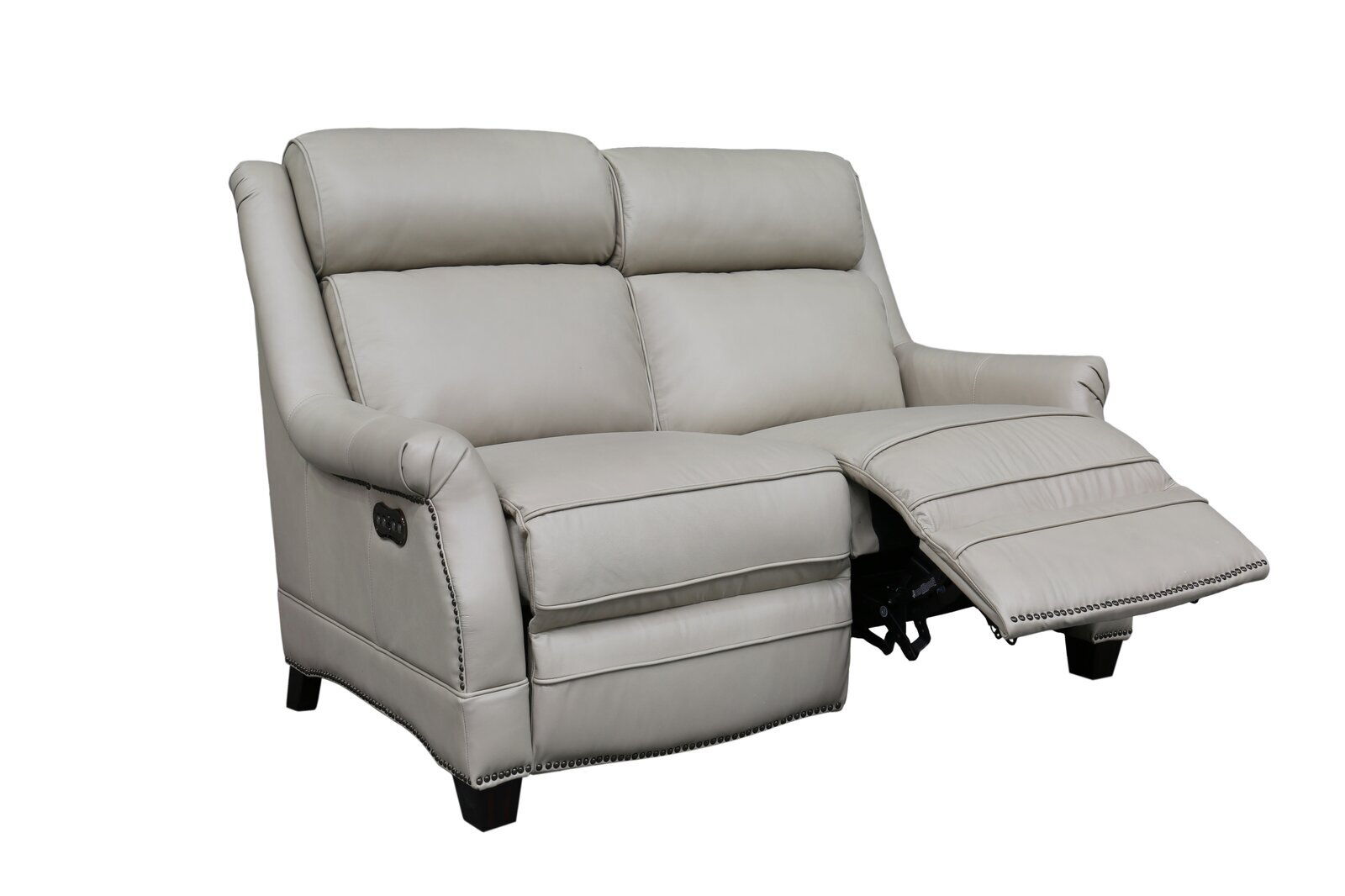 Donoho Genuine Leather Recliner

What we like: Tasteful, genuine top-grain leather, highly durable and comfortable
What we don't like: Fairly pricey for a game room chair
If you enjoy genuine leather furniture, this couch for gaming rooms simply can't be beaten. This gameroom couch features a mixture of top-grain and split-grain leather, giving it timeless looks that fit with any furniture set.
The power reclining feature transforms what would otherwise be a classic loveseat into a proper gaming couch, ideal for days and nights of relaxation alone or with a partner. In addition to being exceptionally comfortable, this reclining couch is also durable and environmentally friendly, thanks to its engineered wood frame and 100% leather upholstery.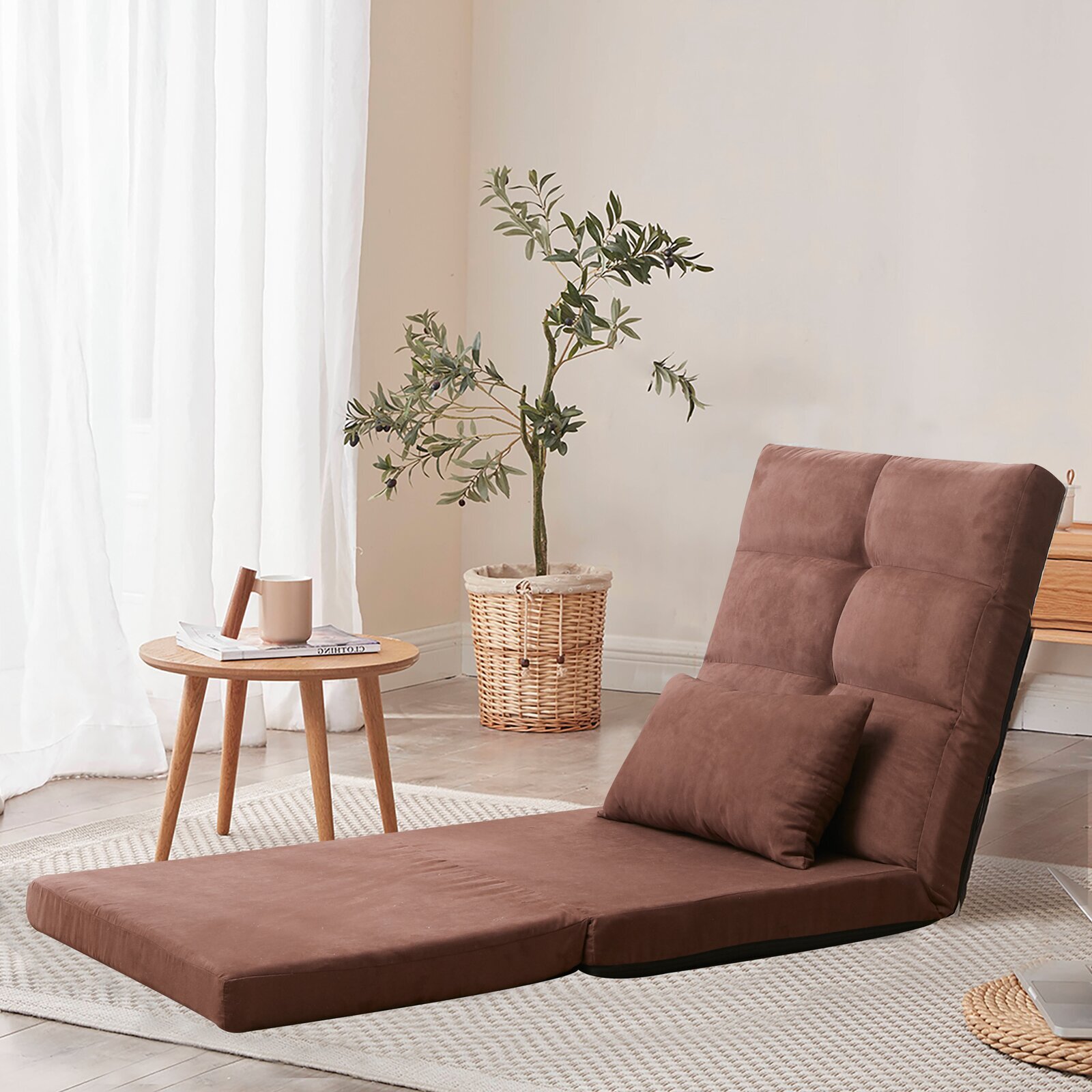 Trule Adjustable Foldable Gaming Sofa

What we like: Reasonably priced, folds to a compact format
What we don't like: Only intended to seat one, only one color available
For a compact home office or gaming room, this single-seating gamer couch has a small footprint and is easy to store. This item is a fully adjustable, foldable floor sofa for gaming rooms. Whether you need it to seat one adult or a few children, this small form-factor games room sofa is ideal for rooms with a limited amount of floor space.
This adjustable game room sofa comes with a comfortable pillow and can be configured into a futon-style bed, so it can serve as bedding for guests, a game room couch bed, or as the primary bed for a small apartment.
$165.41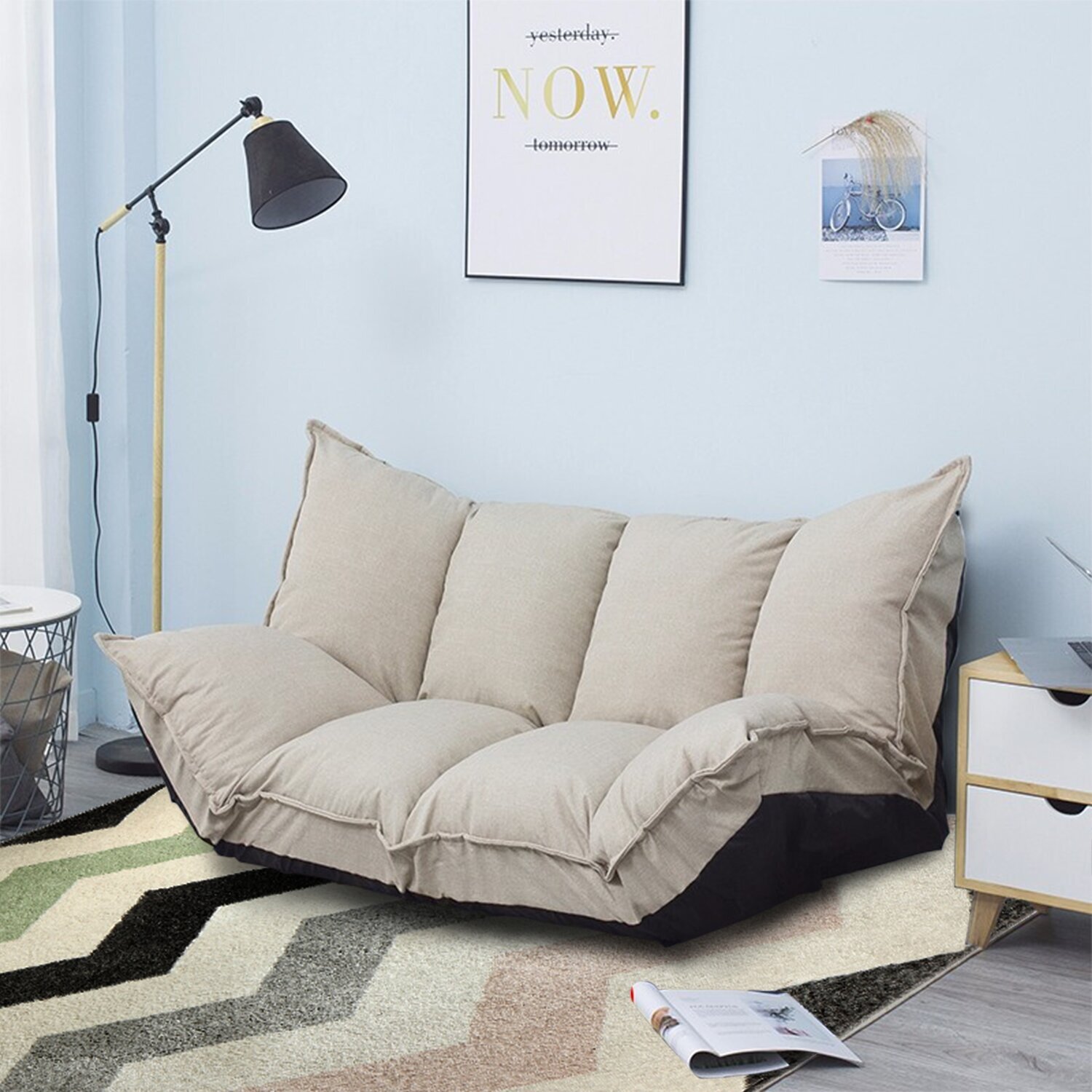 Latitude Run Lazy Adjustable Frame Sofa

What we like: Soft, cozy linen covers, includes lumbar support
What we don't like: Only available in beige
Ideal for carpeted floors, this fully adjustable gameroom sofa features no legs, providing low yet comfortable seating, with linen-covered cushions and a curved design forming natural rests for your arms (or your head).
The cushion is approximately 7" thick, giving it a cozy, inviting look and providing exceptional comfort, no matter the position you choose. It is fully adjustable, including five curvature angles for the sides and lumbar support. Best of all, no assembly is required; this unit is ready to go straight from the box.
$198.99 $229.99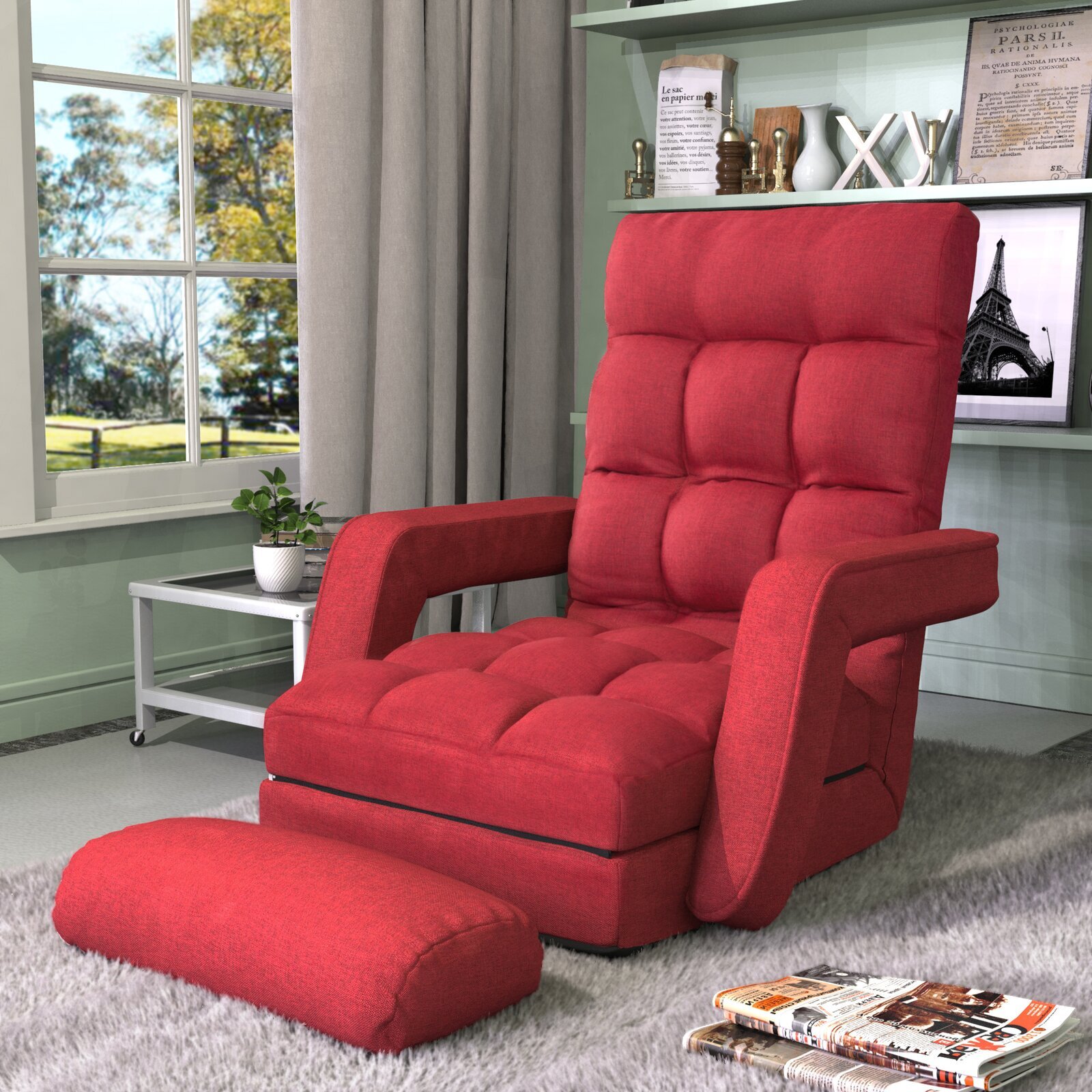 Trule Folding Lazy Floor Game Sofa

What we like: No assembly required, full lumbar support, armrests
What we don't like: Seats only one
This product is one of the most fully-featured single-seater game room couches you can find today. You'll find full lumbar support, a comfortable pillow, a foot mat, reclining adjustment ranging from 90° to 180° and a 100% ergonomic design, all designed to prevent back and cervical pain.
Game room sofas must be designed with maximum comfort in mind; this is why this unit employs a combination of polyester fiber and upholstered sponge padding, wrapped in comfy linen fabric and available in blue or red. It's the ideal lazy chair after a long day.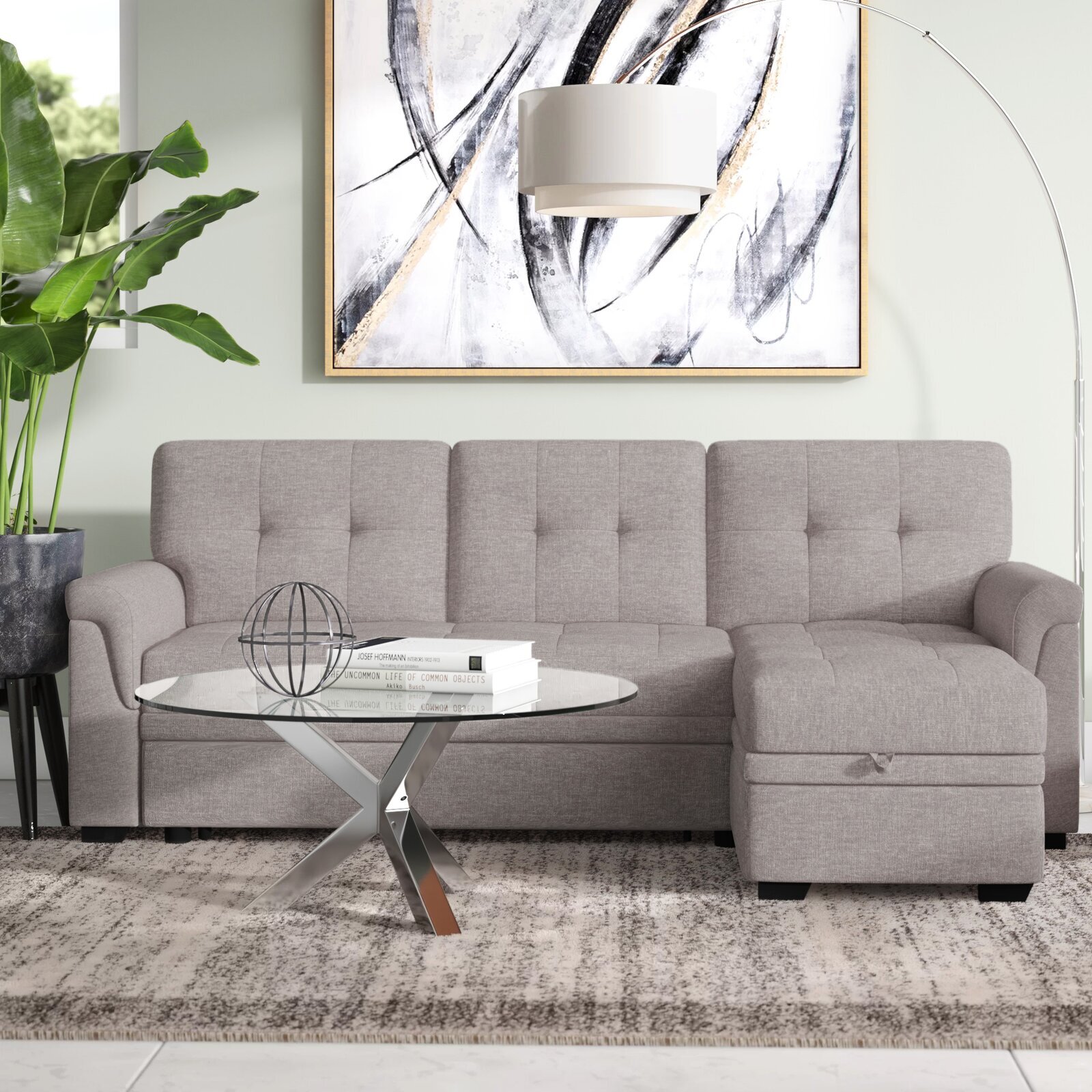 Ebern Designs Efim 84" Wide Sleeper Sofa & Chaise

What we like: Easy to assemble, includes storage, seats three comfortably
What we don't like: No adjustment, no ottoman
If you can't decide if your gaming room sofa should be sit-in or lie-in, opt for this game room sectional sofa. This 84" wide combination sofa and chaise seats at least three people, letting you and two or more friends enjoy your favorite games, movies, TV shows, and other forms of entertainment in complete comfort.
Under this gaming sectional sofa's seating cushions, you'll find ample storage space, perfect for additional controllers, organizing your game or movie collections, or simply storing extra pillows and blankets.
$899.99 $1039.99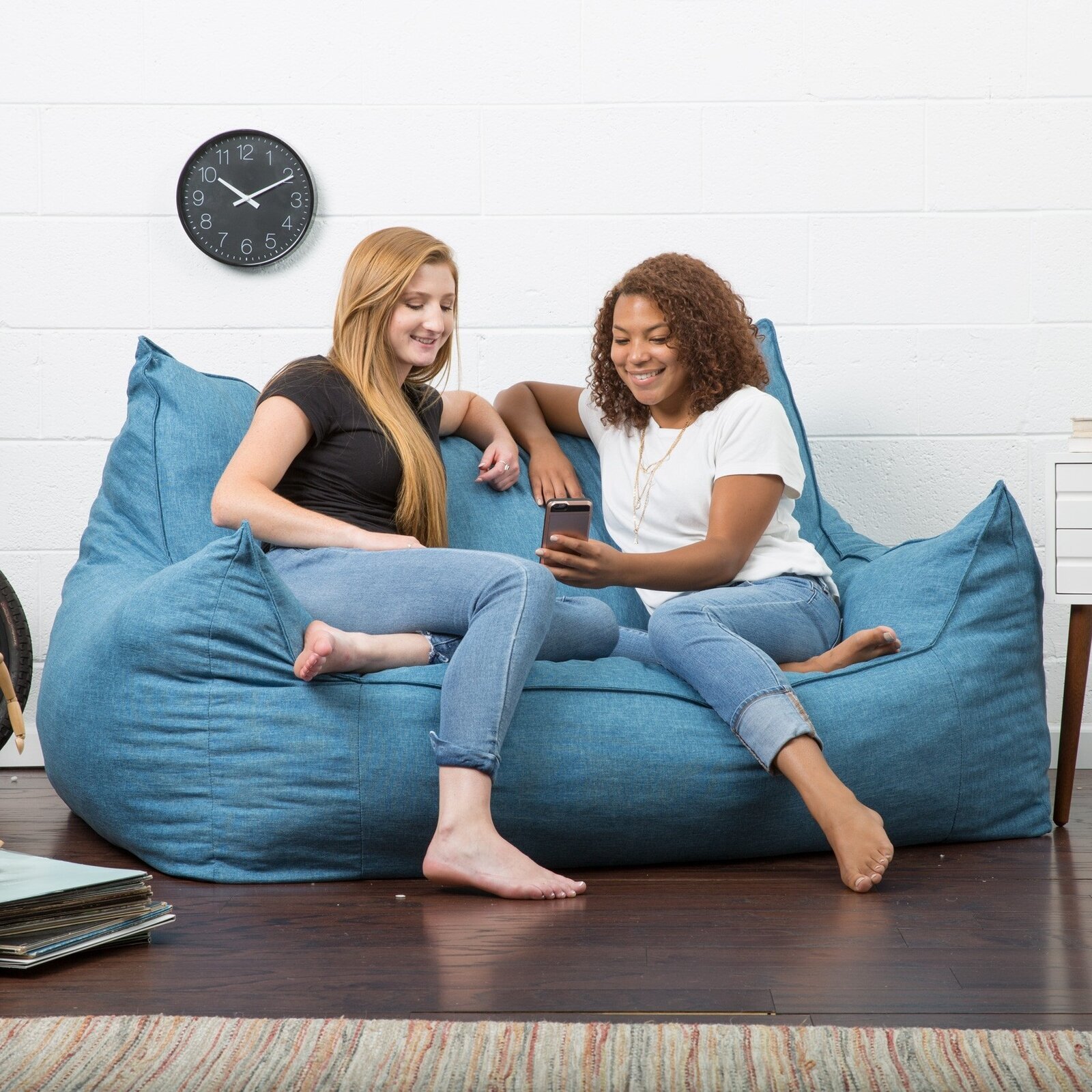 Greyleigh Large Bean Bag Sofa

What we like: Original couch-shaped bean bag design, seats two
What we don't like: Hard to assemble
Bean bags are one of the classic game room couch ideas and are ideal for casual gaming spaces, teen rooms, or a basement-turned-man cave. This bean bag sofa combines the softness and body-contouring comfort of a classic bean bag couch with the look and feel of a regular sofa.
When it comes to assembly, it is enough to put the inserts in a cover and fill them with a patented, finely shredded foam to give it the desired shape and dimensions. When inflated, the pouffe-shaped sofa will never flatten out, providing long-lasting comfort.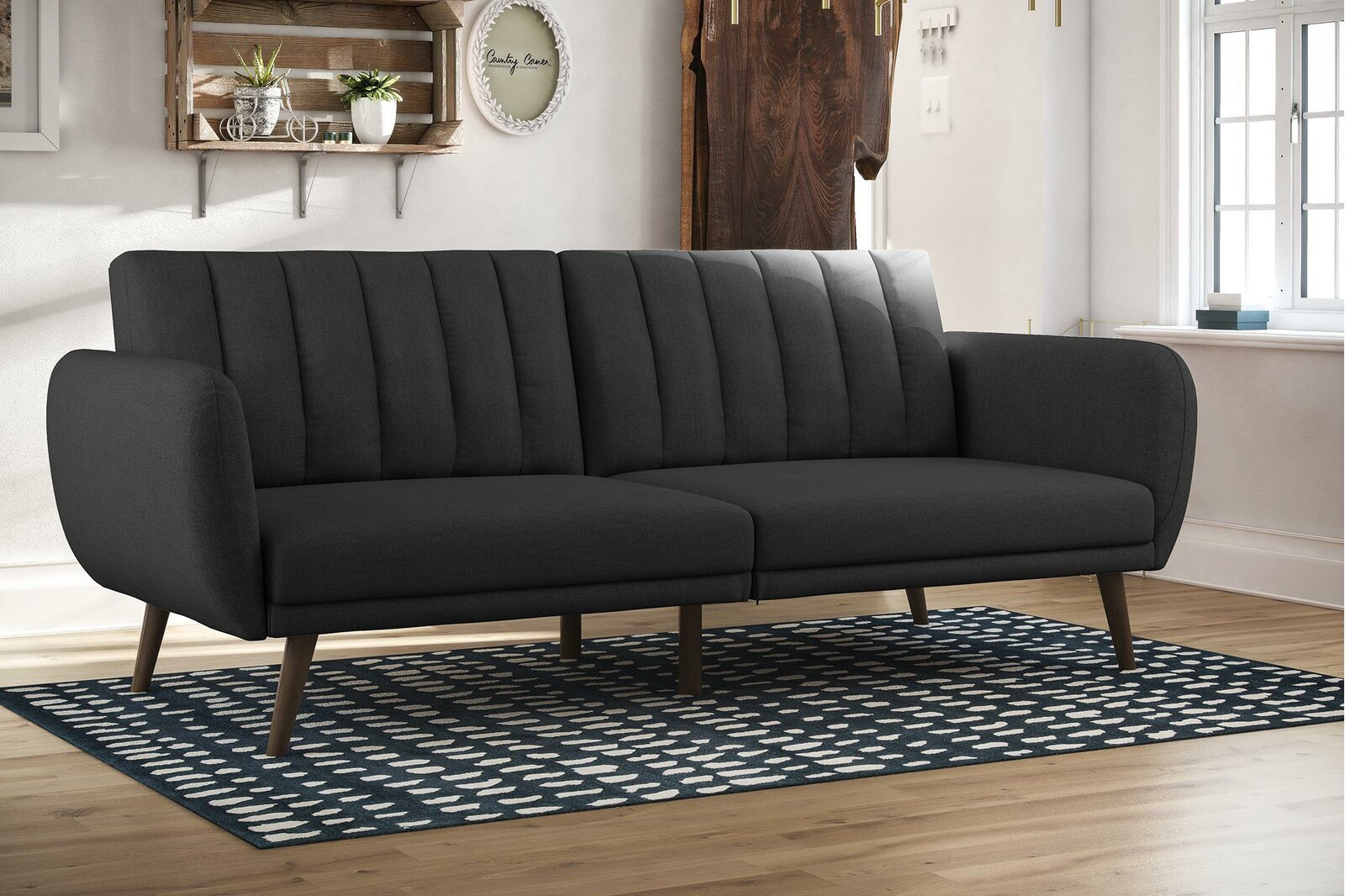 Novogratz Brittany 81,5" Round Arm Sleeper

What we like: Multiple colors available, comfortably seats two to four
What we don't like: Wood legs better suited for living rooms
Most conventional couches for game rooms typically sit one or two people. If gaming night is synonymous with party games and many players, a standard couch won't accommodate all your guests.
This extra-large unit is the best couch for game room nights involving four players or more. Featuring an overall width of 81.5" and over 70" of seating space, you and your guests have plenty of room to enjoy a day, night, or full weekend of gaming.
With eight different fabric colors available (ranging from dark gray to light pink), you'll have no trouble choosing a model that matches your gaming room's furniture and aesthetics.
$409.99 $620