Small Curved Sofa
Styling a small curved sofa for a compact room can be challenging. Too many accessories cause the space to become cluttered, while too few lead to a space that feels bare and uninteresting. Although curved sofas add an aesthetic edge due to their unusual shape, it's important to style them properly to ensure the design of your living space enhances that look.
Curved sofas promote comfort and intimacy in a small space. Adding interesting accessories, textiles, and furniture increases a room's coziness, spaciousness, and functionality. Explore these ten chic yet functional ways to style a small curved sofa to create an inviting living space.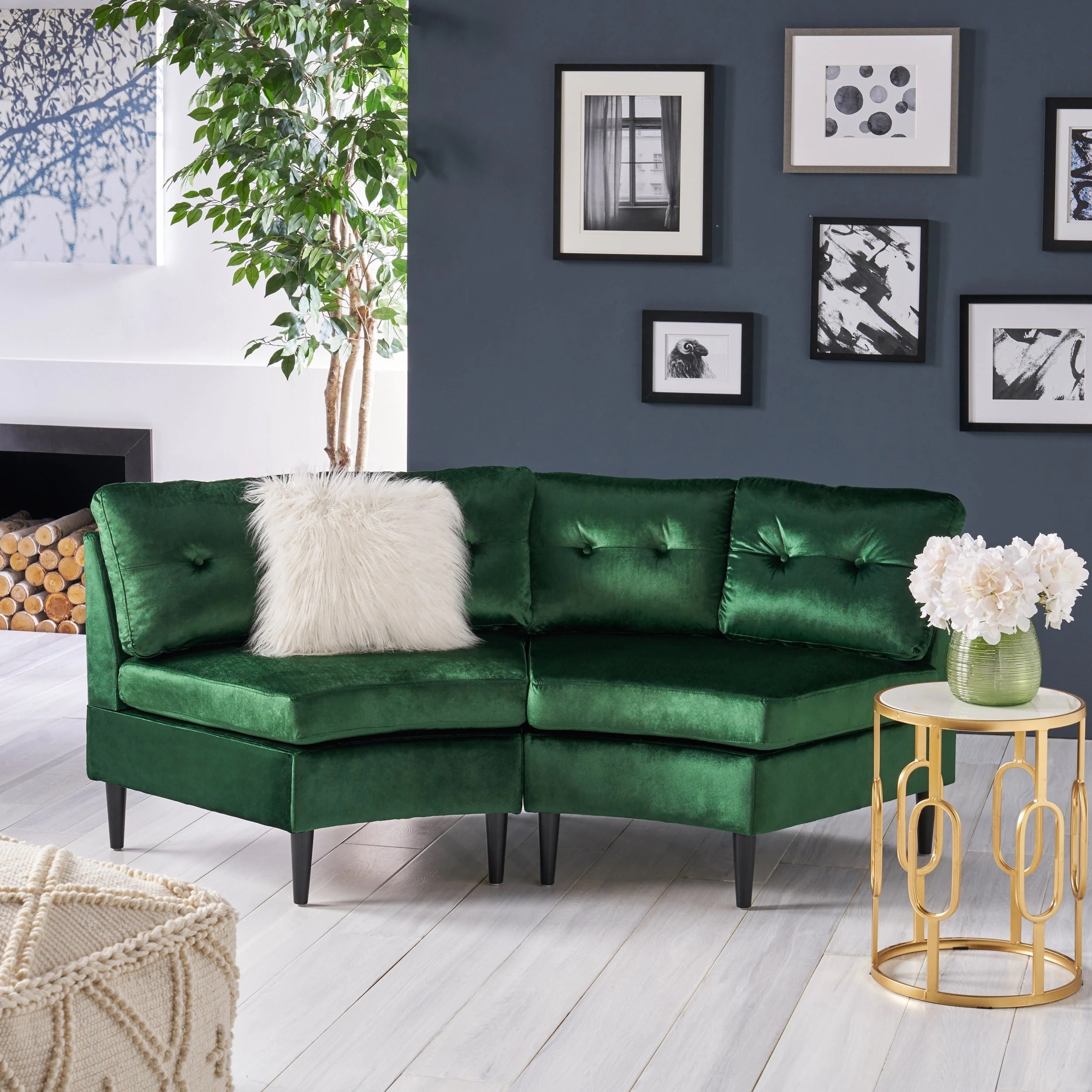 Inject Bold Colors With Your Curved Small Sofa

A great way to style a small curved sofa is through lavish, bold colors. Bright tones help illuminate a space, adding personality, style, and a luxurious feel. Consider stimulating incandescent colors, like emerald green, navy blue, or matte black to add flair to the room.
If a boldly colored sofa is overwhelming for your living room, some bright cushions may be enough to give the space a visual boost. A small curved sofa with vibrant colors can set the tone for a room, complementing modest but sophisticated interior decor, such as glass coffee tables or side tables.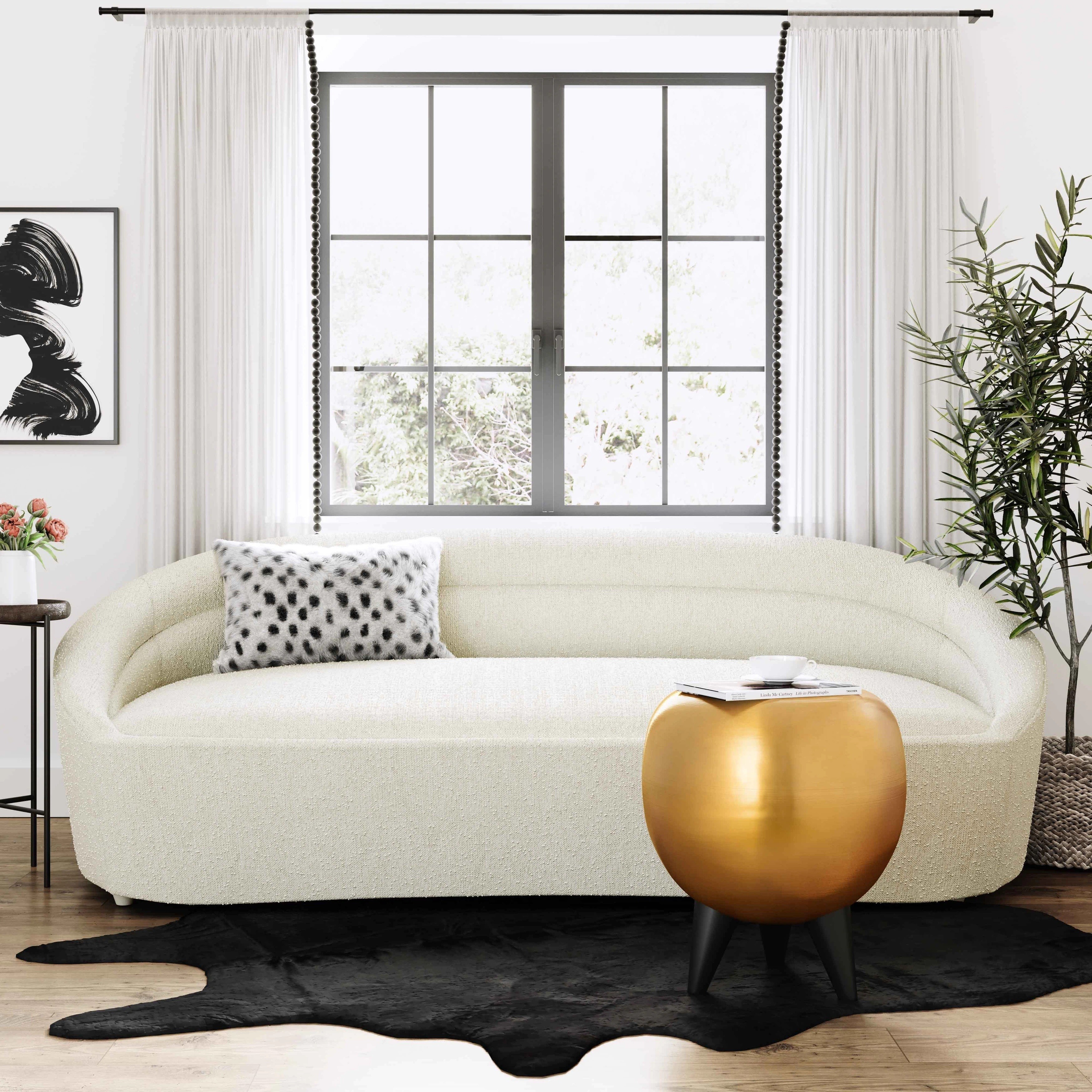 Break the Linear Flow With a Small Curved Couch

In a room with a dominant linear flow, a curved sofa can help create a more cozy feel. A small, comfortable sofa with high-density foam-filled cushions and an elegant silhouette breaks up the linear pattern created by a lot of modern furniture, like square tables, angular entertainment centers, and boxy shelving.
You can style this type of sofa simply with colorful and round plush cushions. Consider adding a matching round rug to soften the harsh lines in your living room.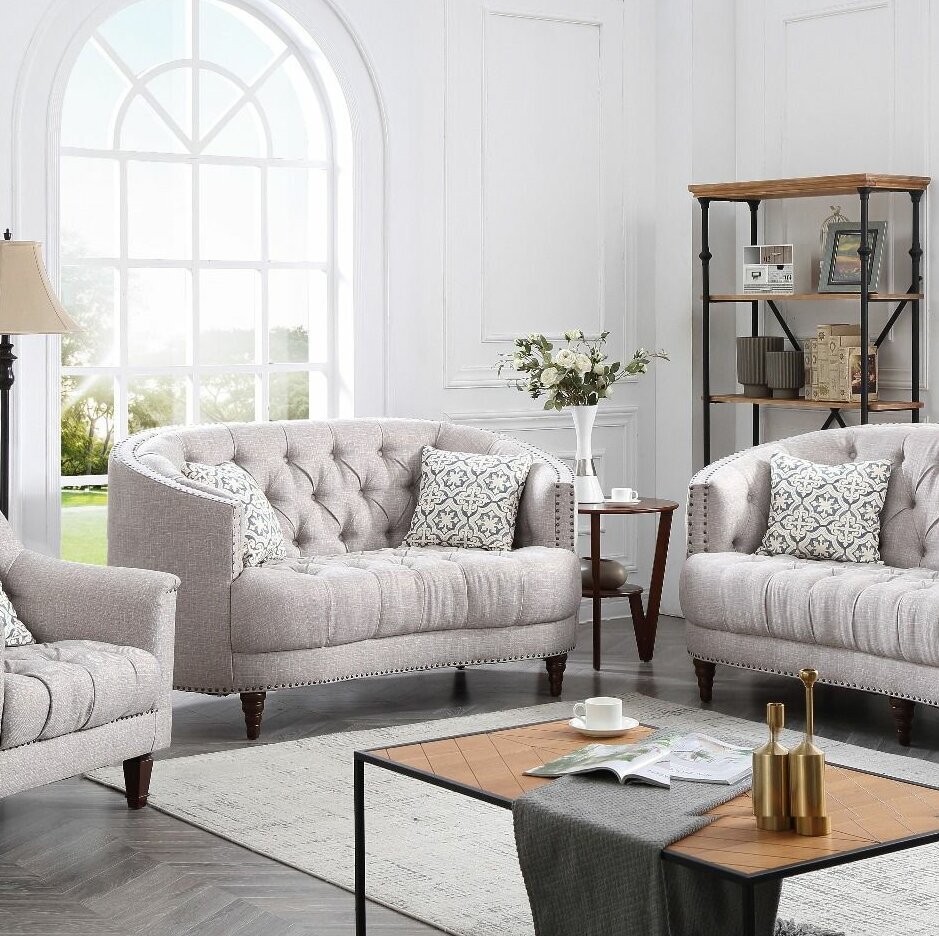 Complement a Curved Loveseat Couch With Round Furniture

Complement curved couches for small spaces by decorating your room with additional round furniture pieces; the soft edges will create a balanced, harmonious look.
Apart from the sofa, some of the most important aspects of a living room are the coffee table, end table, and accent chairs. Opt for adorable matching, round end tables beside the sofa, or add a round, glass-top coffee table to reflect the curves of the sofa and enhance the contemporary feel of the space.
$1259.99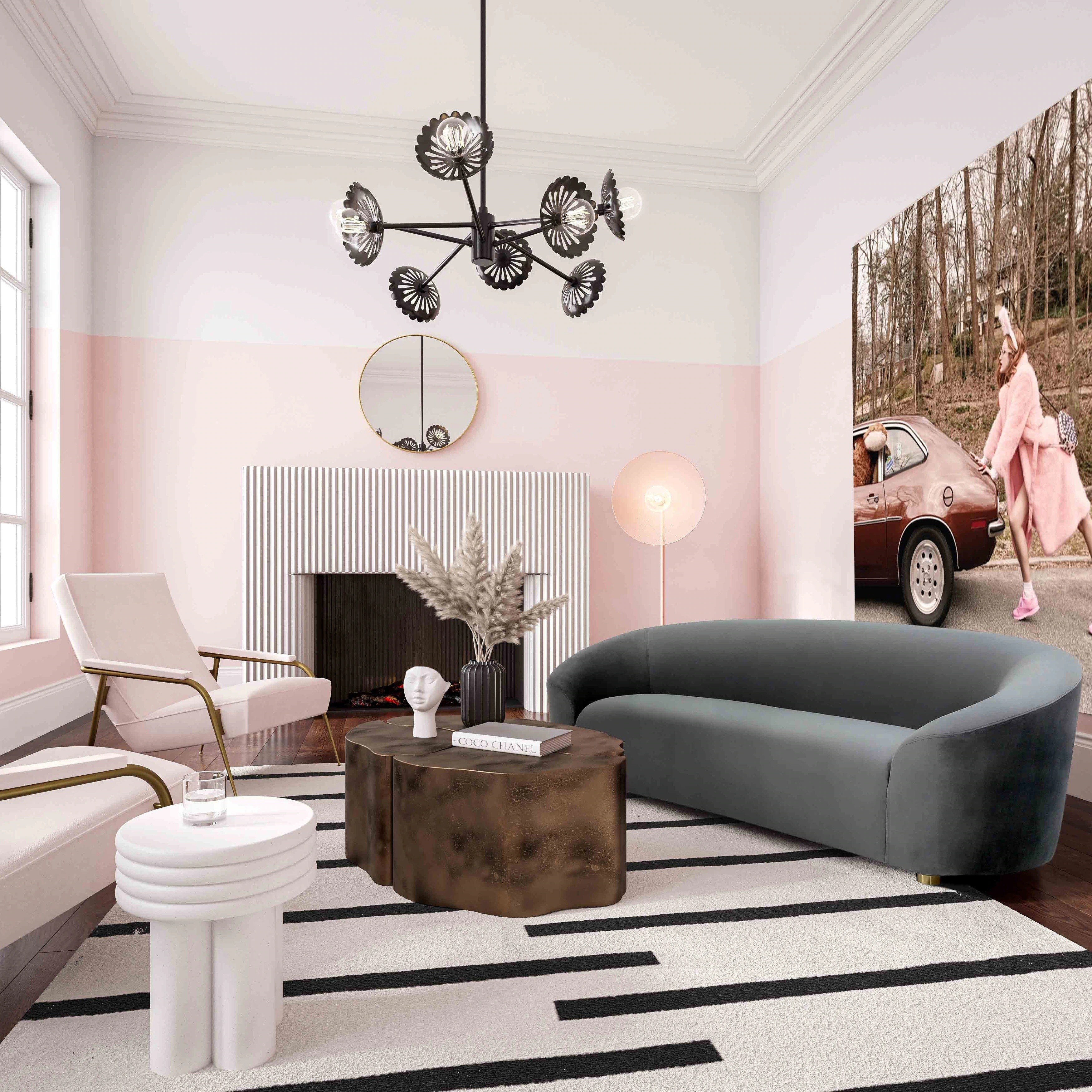 Add Nature to a Modest Sofa Design

A curved sofa fits beautifully in a small room and adds visual interest. Curved furniture is easy on the eye, and even a small curved sofa can foster a more intimate and inviting living room.
Surrounding your sofa with natural elements like plants and flowers adds life to a modest curved sofa. Greenery gives the room vibrancy and improves the air quality, providing health and aesthetic benefits.
Compile a Diverse Pillow Collection for a Neutral Sofa

There are few better ways to accentuate the style of a minimalist but high-quality couch than through an eclectic collection of cushions. Neutral tone sofas, such as cream or beige, add sophistication and spaciousness to a small room and provide the perfect canvas for adding a pop of color.
Orange, red, and blue pillows can brighten up the room, adding a touch of warmth and optimism. For a chic, modern look, pair solid-colored throw pillows with a busy patterned pillow in the hue or contrasting complementary color.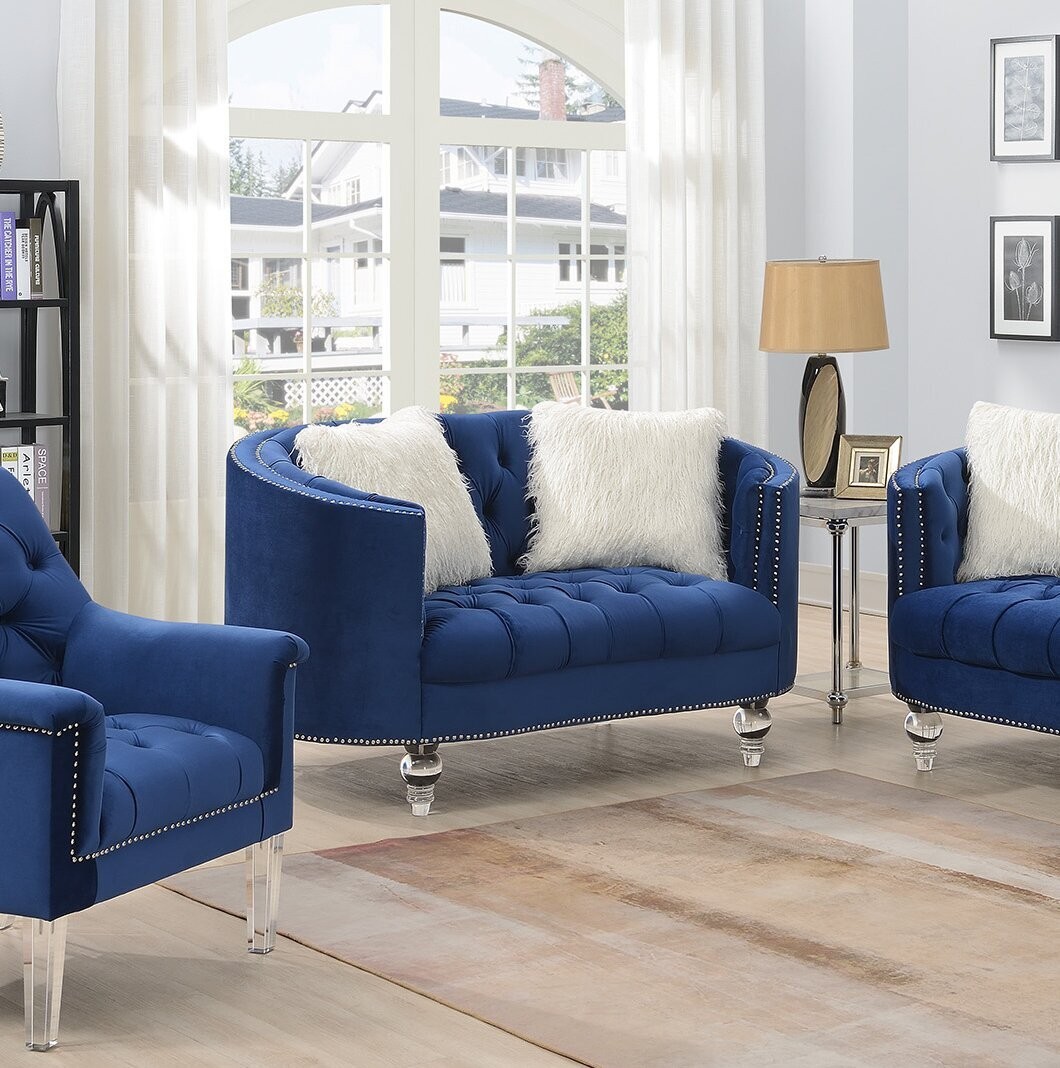 Adapt a Small Curved Sofa for a Bay Window

Although bay windows are beautiful additions to kitchens, living areas, or sunrooms, they are often underutilized. Style your curved sofa to create the ultimate bay window lounge spot.
Depending on your room's existing design, there are several ways to style a curved sofa for a bay window. Comfort is the priority for a window seat, so add plush accent pillows for style and support. A patterned blanket can be folded and thrown over the back of the sofa until you need it for an afternoon nap. Add a table or floor lamp to give you additional light for late-night reading.
$1499.99
Texturize Curved Loveseats for Small Spaces with Velvet

Give your living space a retro look with velvet textures. Real velvet upholstery provides a luxurious and inviting appeal. It adds significant depth to the room because of the way the colors react to light. In terms of comfort, it is one of the most touch-friendly sofa materials.
If chic is what you're looking for, consider a curved velvet loveseat. Velvet sofas work best in rooms with plenty of textural layers, such as faux fur throw pillows and high-pile rugs. Add a curved coffee table, modern shelving, a round mirror, and a large houseplant to create a cozy yet pulled-together room.
$1299.99 $1748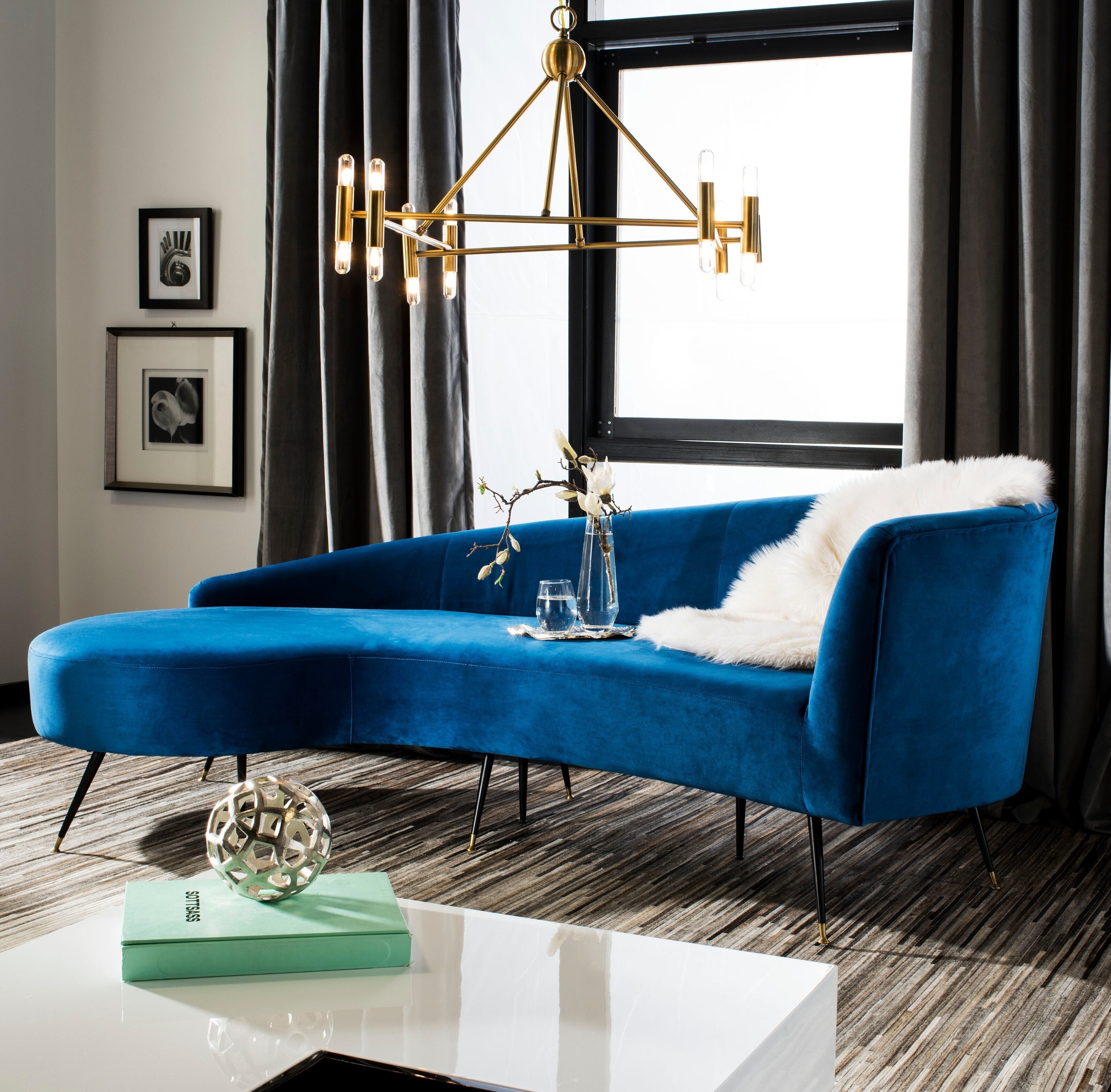 Build Reading Nooks with Curved Sofas for Small Spaces

Curved sofas are an ideal option for reading nooks. Combining comfort and sophistication, they are snug and stylish. A critical element of a good reading nook is creating maximum comfort for multiple positions, whether you're sitting upright, lying with your feet raised, or sprawled out somewhere in between.
You'll want to add plenty of accent pillows and throw blankets that match the existing layout of the room. Choose an array of materials for these pillows to incorporate different textures, including chunky knits, crochet, or velvet. A wooden end table with storage space is key for placing a reading light, books, magazines, drinks, and snacks.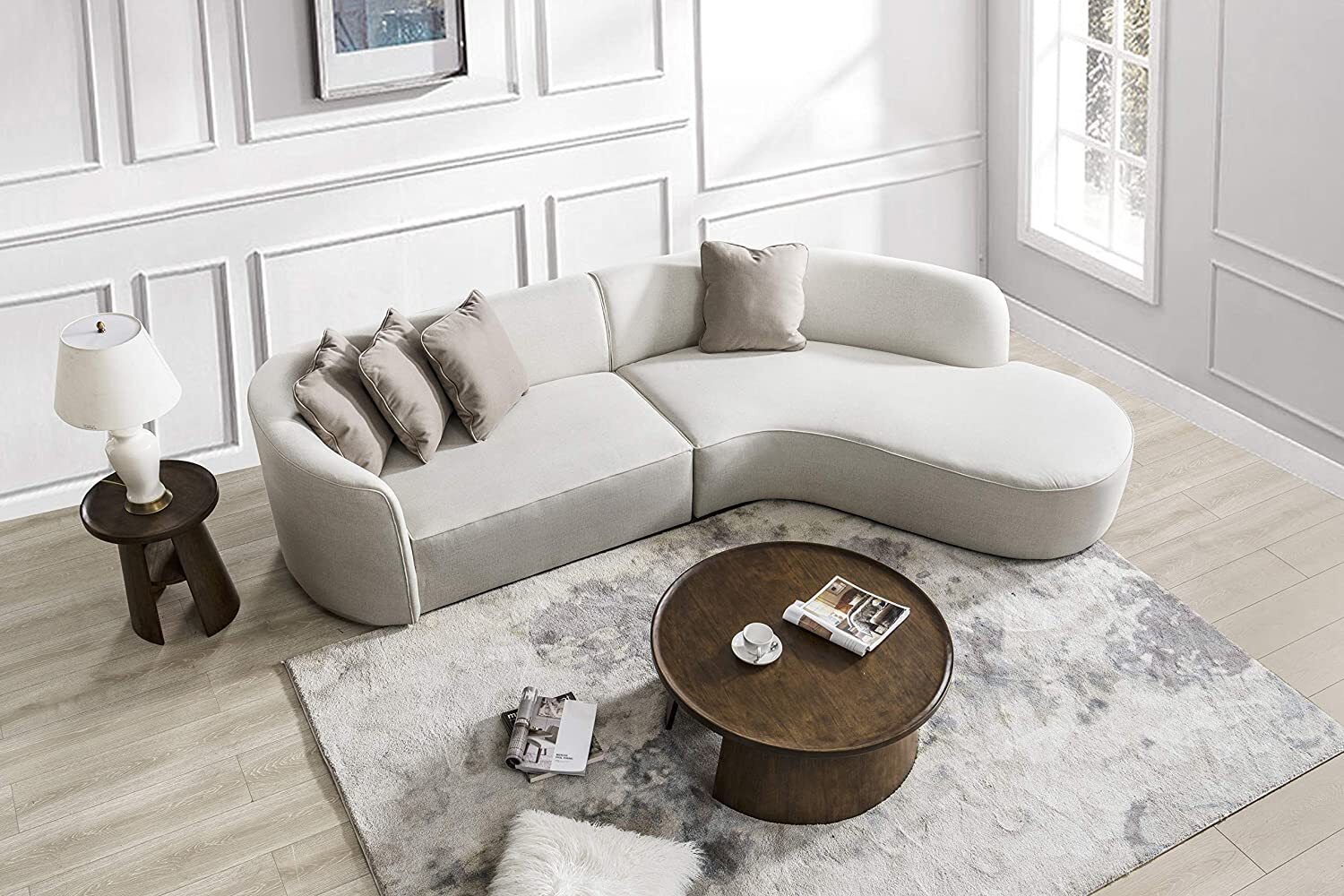 Improve Functionality With a Curved Sectional for Small a Space

A great way to add functional style to a game room, living room, or loft is to invest in a sectional sofa. They can be arranged in several positions, allowing you to adapt the furniture to the room in the most functional way possible. Choose a sofa with a smooth curve that allows it to fit seamlessly into the corner.
Style a neutral beige or cream sofa with fluffy blankets and surround it with darker wooden furniture, such as end tables with drawers or tall shelves for holding plants, photo frames, or books.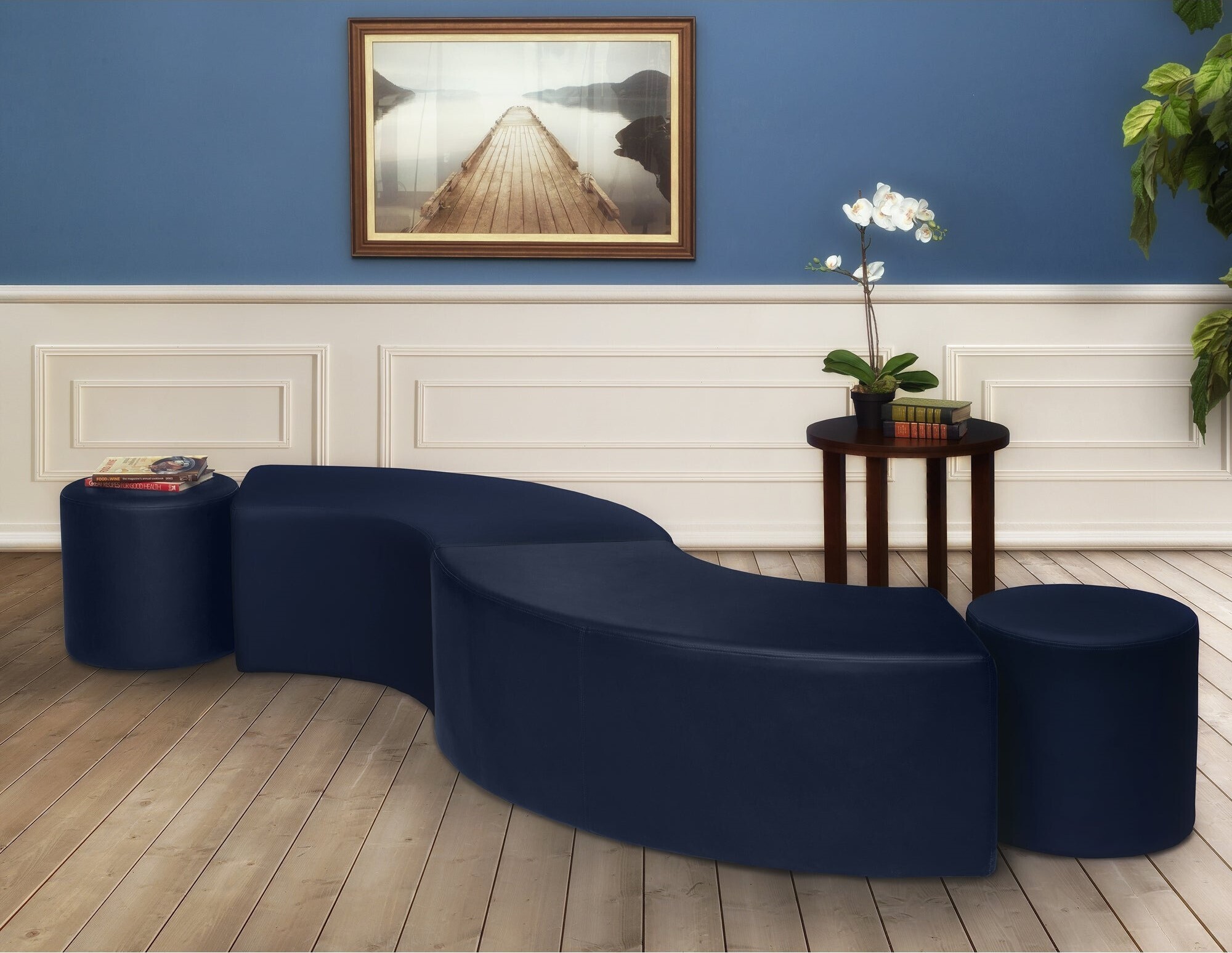 Modern Chic With Ottomans for Your Small Curved Sofa

Ottomans are the ultimate addition to any small room, providing you with storage space and a place to rest your feet. Round ottomans work perfectly with curved sofas, tucking neatly into the curve of the couch between uses to maximize your floor space.
Consider matching ottomans in the same color to fit the flow of the room. Alternatively, contrasting shades can add a pop of color, making the ottomans the perfect accent furniture.