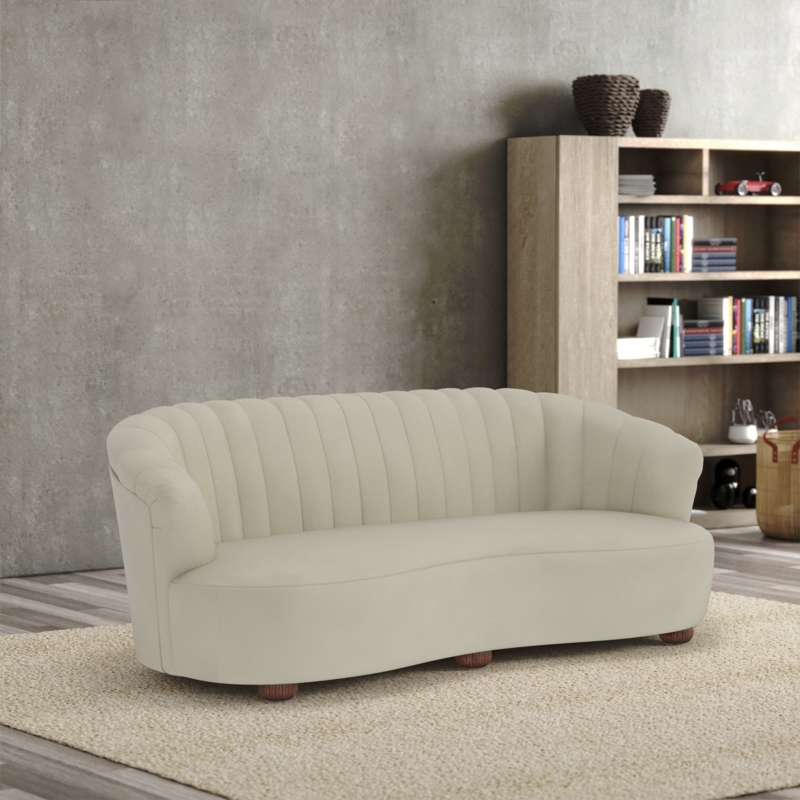 Leather Sofa with High Sloped Arms
Canora Grey
Perfect For: Enhancing any living space with elegance and comfort
What We Like: 8-way hand tied seating and supportive foam cushioning
Experience luxurious comfort with this genuine 100% leather sofa, featuring 8-way hand tied seating and supportive foam cushioning. The high channeled back, scoop rounded seat, and high sloped arms combine sophistication and exceptional comfort. Made fresh to order and boasting large round solid wood legs, this sofa offers both style and sturdiness. The advanced air flow cushions maximize comfort, making this beautiful piece perfect for indulging in Italian design. Please note that cushions are not reversible due to this unique feature.
Designer Advice:
Select pillows in contrasting textures and patterns to accentuate the sofa's transitional style and make it a stunning focal point in your living space.
Merchant links are sponsored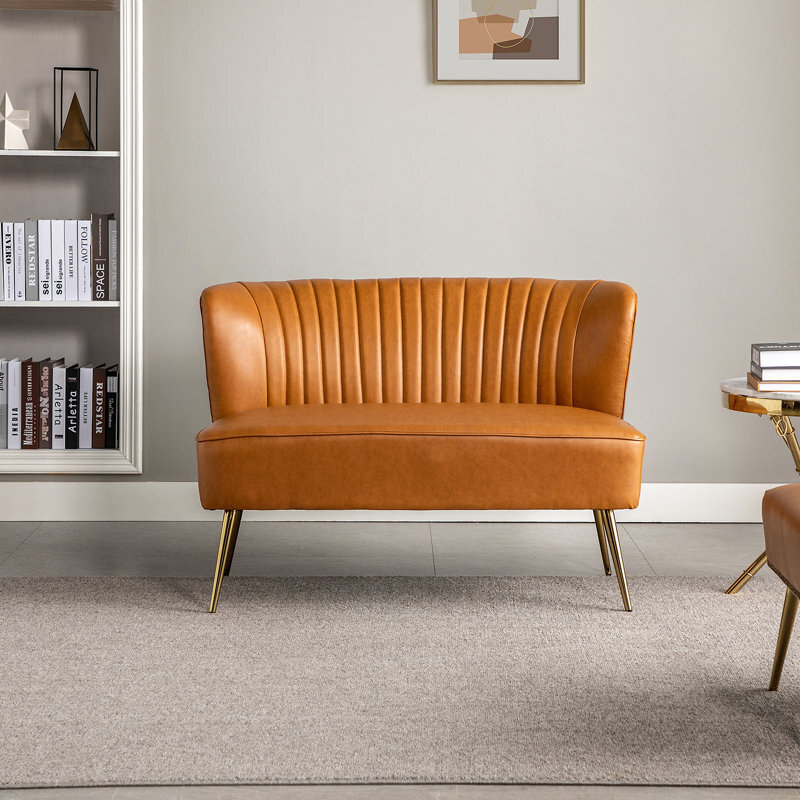 Glam Mid Century Modern Curved Leather Couch
Mercer41
What we like: Compact size
Not so great for: Over 500 pounds
This cute, stylish curved faux leather sofa jazzes up your space through sleek lines, a channel-tufted back, and slim gold legs. The wingback-inspired backrest accents the armless design and the sheen of the chic faux leather upholstery in seven colors.
$293.99 $629
Designer Advice:
You can create a powerful aesthetic with a small, colorful piece like this mid-century modern loveseat. The curved shape makes a perfect cuddle place for you and your SO. And the slim metallic legs add a touch of glam that can incorporate warm tones to your space. The neutral earth-toned upholstery can pair multiple color palettes and decors well.
What Users Say:
Attractive color and style. Lightweight and easy to put together. The material makes it easy to wipe up spills.
Merchant links are sponsored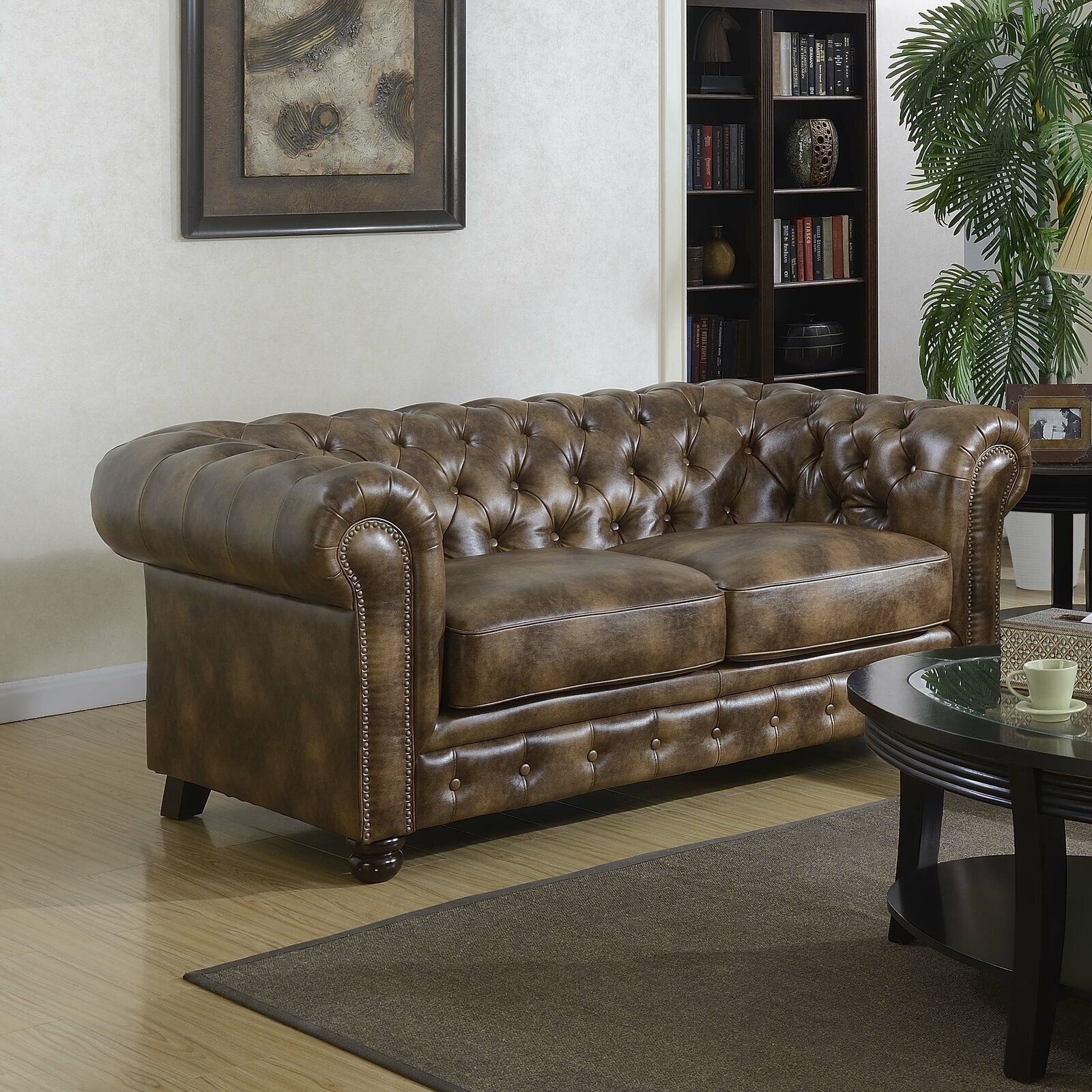 Masculine Traditional Chesterfield Leather Curved Sofa
Lark Manor™
What we like: Multiple design accents
Not so great for: Small rooms
This eye-catching vegan leather curved leather loveseat has a traditional sofa shape with a full back and high arms. The top sports a classic diamond pattern button tuft with columned arms and nailhead trim accenting the front.
$659.99 $899.99
Designer Advice:
Chesterfield-style sofas have signature features like a full back and broad arms. However, unlike many styles of couches, these designs have raised components that create a consistently rounded top half. We love combining decorative accents like button tufting, channeling, and nailhead trim with simple styles to create the perfect balance of accents for consistency.
What Users Say:
Love this couch! Adds that perfect traditional vibe we were looking for for our library room. Still working on setting the rest of the room, but LOVE the size and look of the couch.
Merchant links are sponsored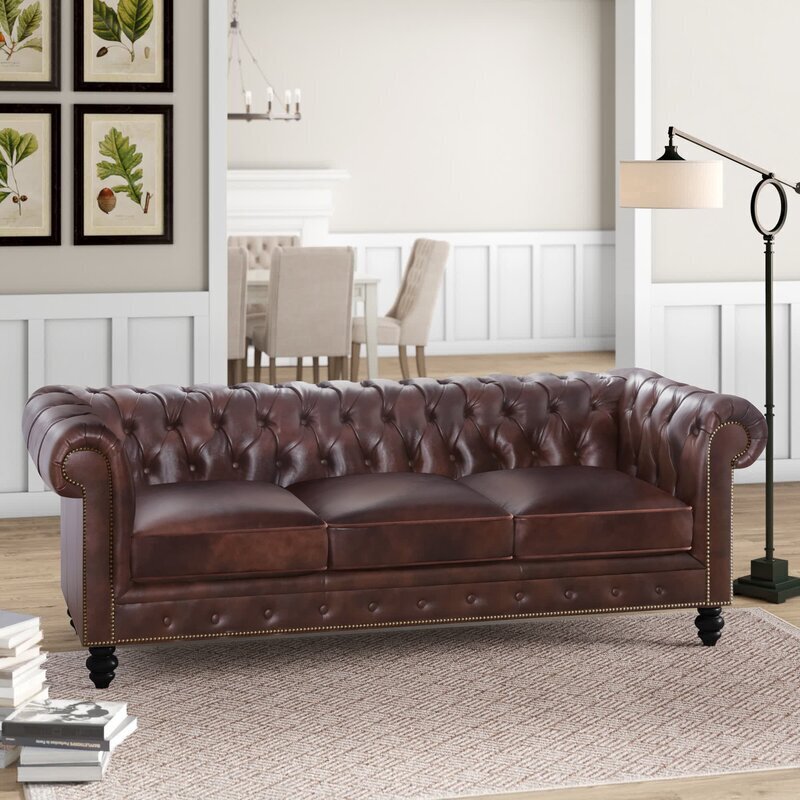 Luxurious Massive Modern Curved Leather Sofa
Birch Lane™
What we like: Regal sensuality
Not so great for: Narrow spaces
This charming Chesterfield sofa has the traditional rounded back, rolled arms, and elegant button-tufting for a bit of modernizing. Turned tapering feet in a dark espresso accent the gold nailhead trim and the natural marks of the genuine leather brown upholstery.
Designer Advice:
We love curved leather sofas with an elevated structure from decorative legs. We also enjoy when couches have the same height for the back as the arms, like the stylish rolls of this boxy curvy seat. Spacious plush cushions make the perfect sitting space for up to three people, making this piece great for libraries, dens, and living rooms.
What Users Say:
Absolutely perfect. Real leather. Smells good. Feels good. The tufted corners and sides are a dream. Love it.
Merchant links are sponsored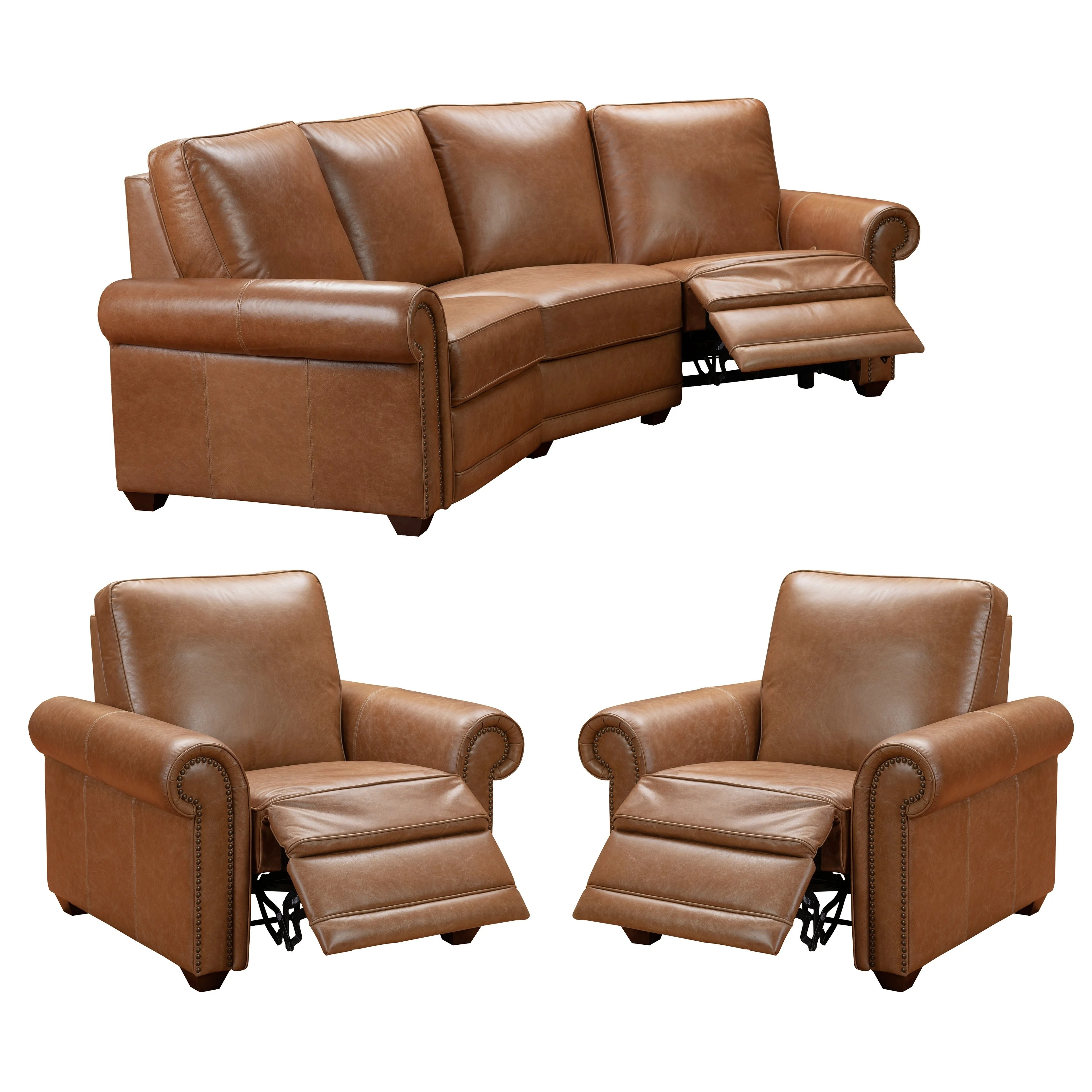 Reclining Curved Conversational Sectional
If you want a sofa and recliner in one, then this curved leather sofa for sale is what you're looking for. The reclining set comes with two chairs and features top-quality materials that add timeless beauty to your family home.
Merchant links are sponsored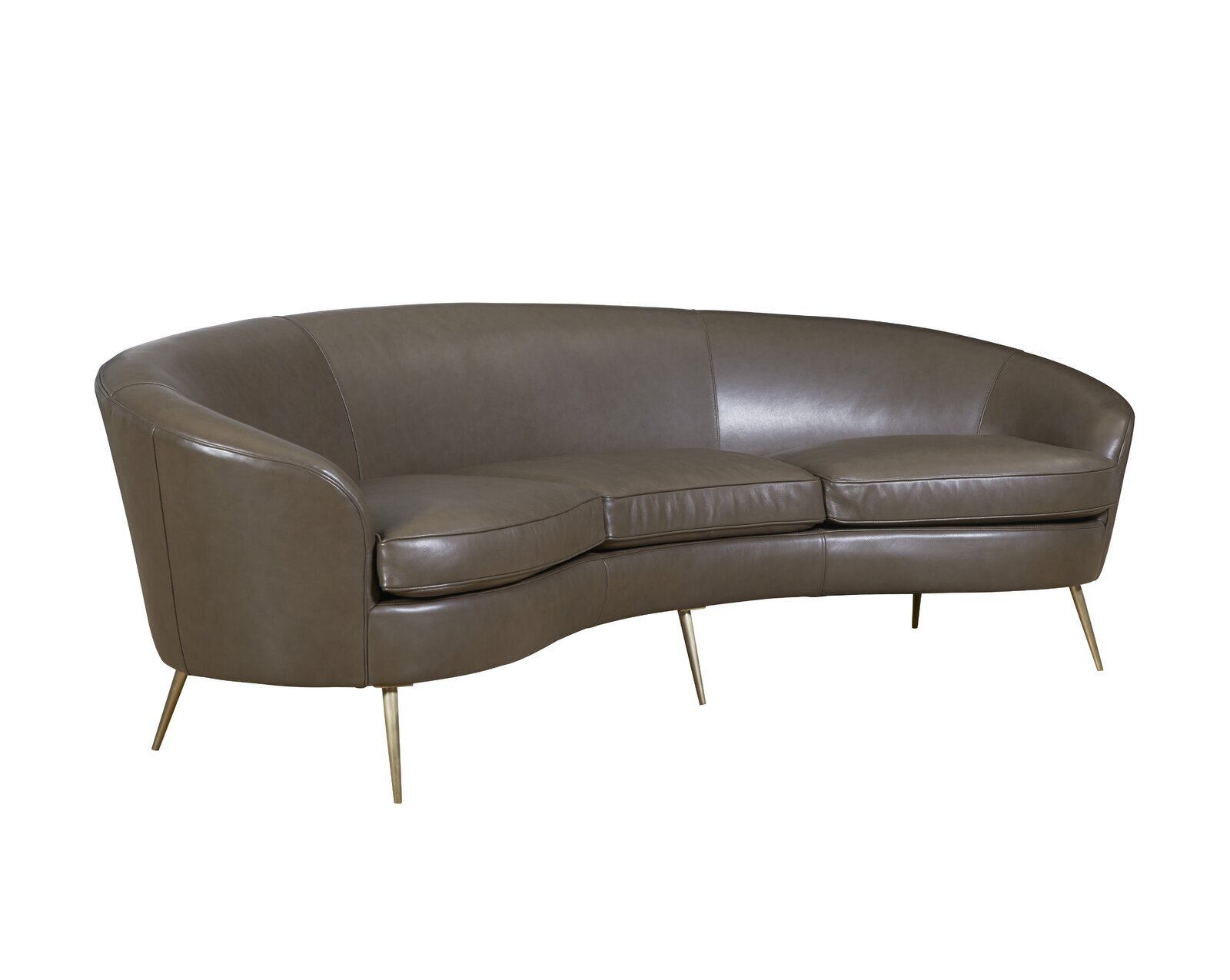 Mid Century Modern Curved Leather Sofa
Corrigan Studio®
The seamless silhouette of this curved leather sofa will readily complement any space that's used for entertaining guests. Its champagne gold bronze accents and winsome clove upholstery give a retro-chic vibe that's perfect for those who love hosting cocktail parties at home.
Merchant links are sponsored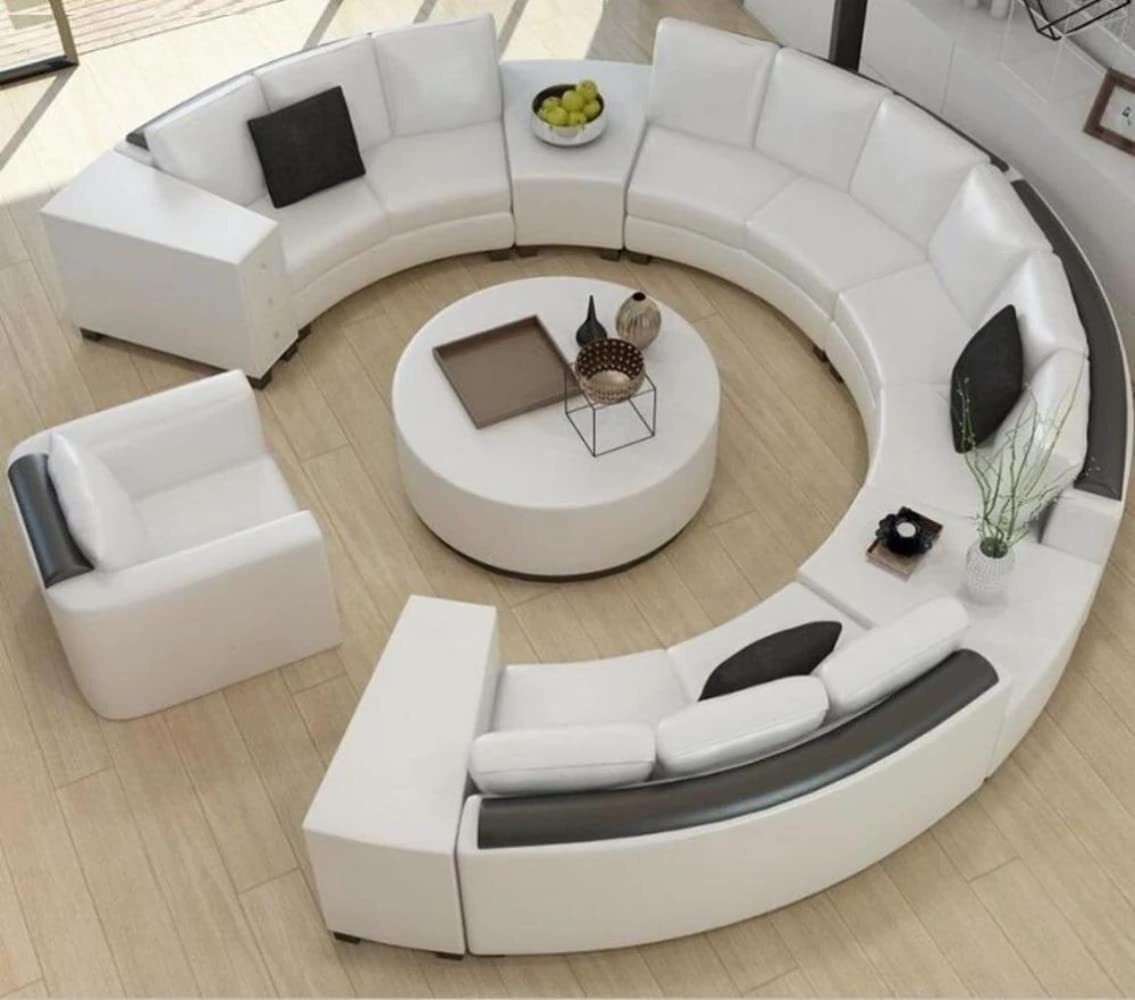 Modern Curved Leather Sofa
This modern curved leather sofa is perfect for entertaining lots of guests. It comes with multiple curved sectionals that can be positioned to create a curved or round sofa. You will need a spacious living room to accommodate this sofa.
Merchant links are sponsored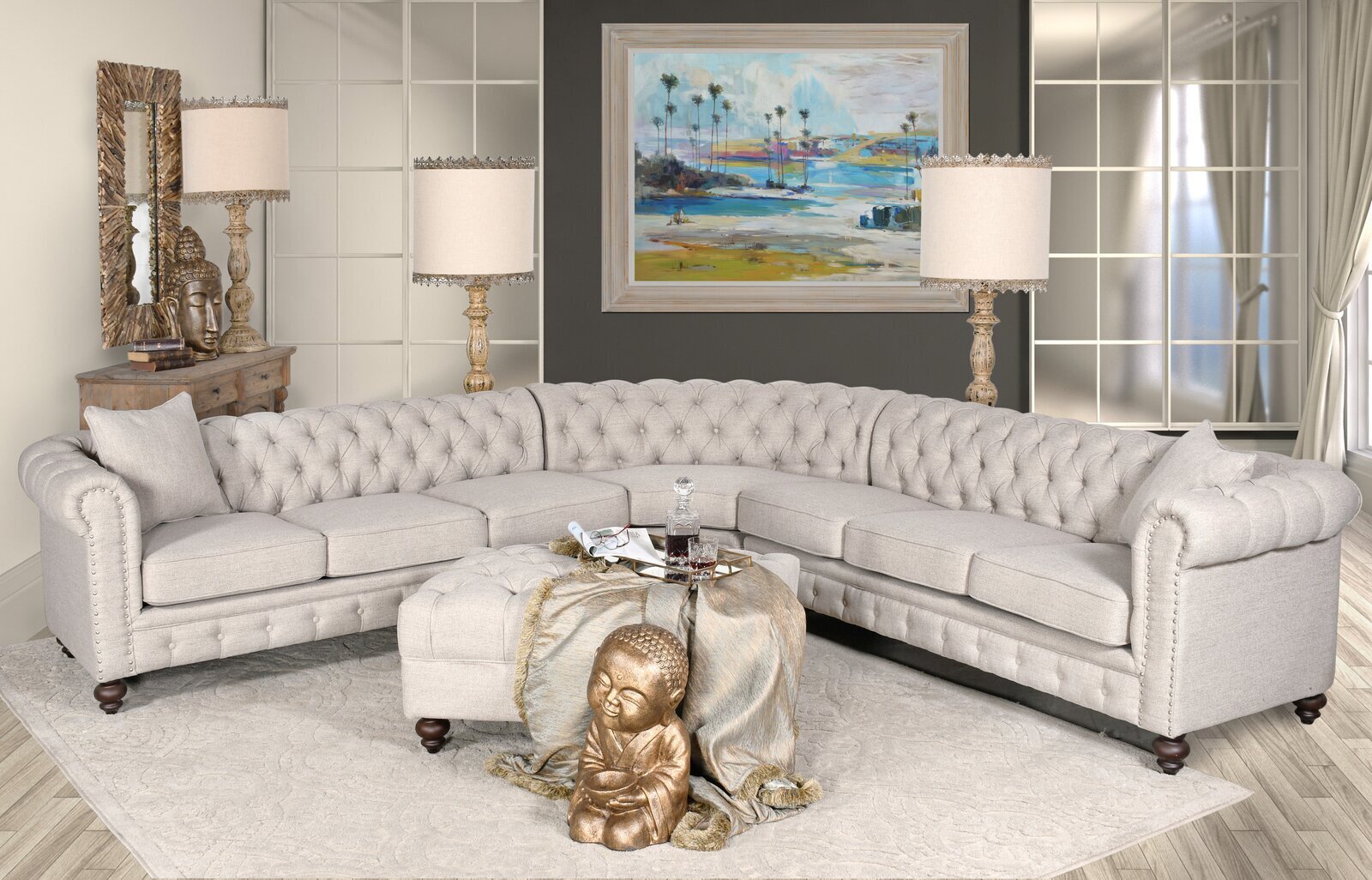 Traditional Tufted Curved Leather Sofa
Canora Grey
If you need a curved leather sofa for your classic American living room, then look no further than this traditional tufted curved leather sofa. This chesterfield sectional with nailhead accents and button tufting provides comfortable and spacious seating for a busy home or commercial space. The piece comes in three classy colors.
Designer Advice:
We like this sturdy leather curved sofa for its classy frame and elements. It seats a large group of people and has a symmetrical shape that makes for some great conversations. The set also comes with a matching ottoman. We recommend using this in your drawing, sitting, or lounge room. It will also fit perfectly in commercial settings.
Merchant links are sponsored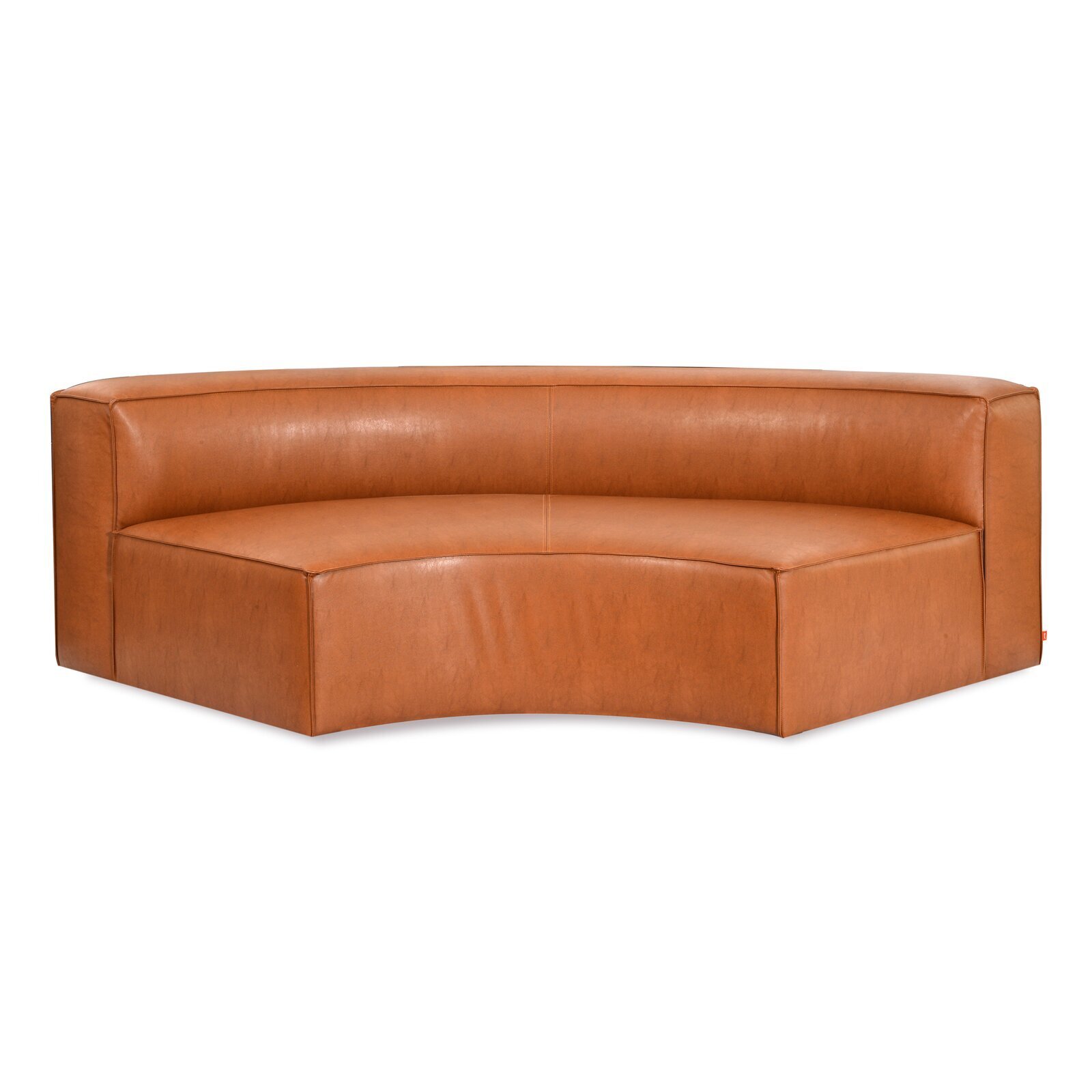 Contemporary Curved Leather Sofa
Gus* Modern
This curve leather sofa is for those who enjoy changing their living room seating arrangement periodically. It seats three people and features soft French-seam edges and clean lines that go with contemporary elements.
Designer Advice:
The armless soft edges of this sectional make it safe for homes with lots of people or children. The couch is also durable, stain-resistant, and easy to maintain. We suggest using this as extra seating in your study or drawing room.
Merchant links are sponsored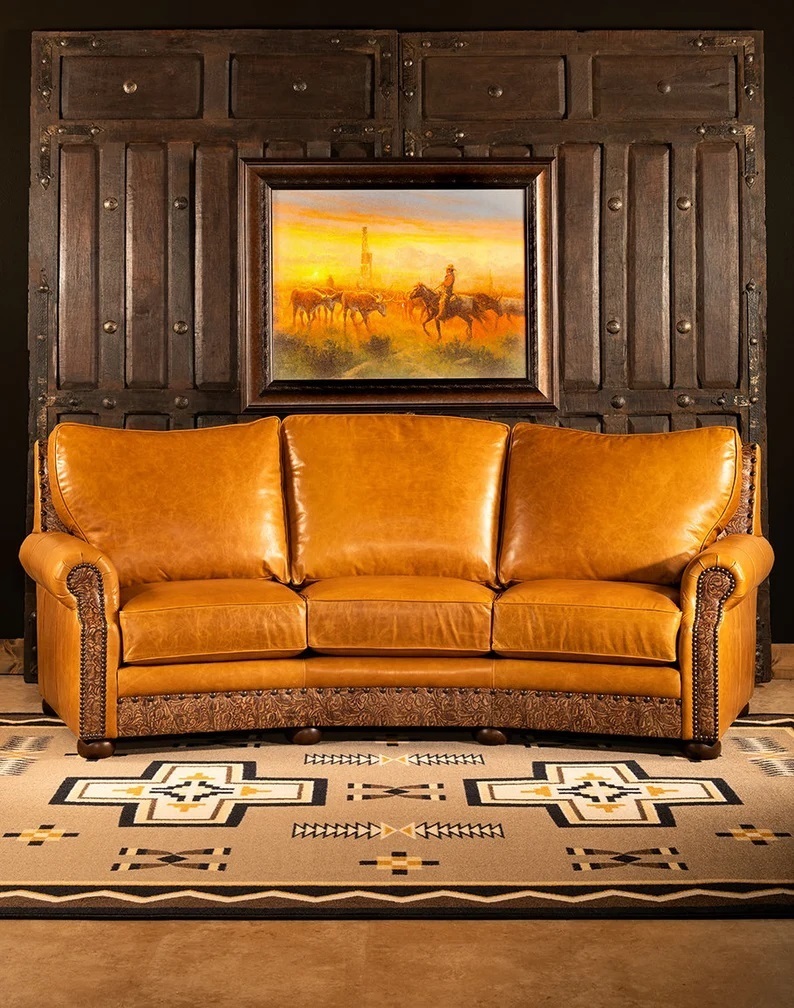 Rustic Curved Leather Sofa
A handmade leather curved sofa, this piece has a rustic-elegant vibe that perfectly suits southwestern home aesthetics. It is large enough for three people and features embossed leather croc accents along the arm panels and bottom. The piece adds old-school charm to any space.
Merchant links are sponsored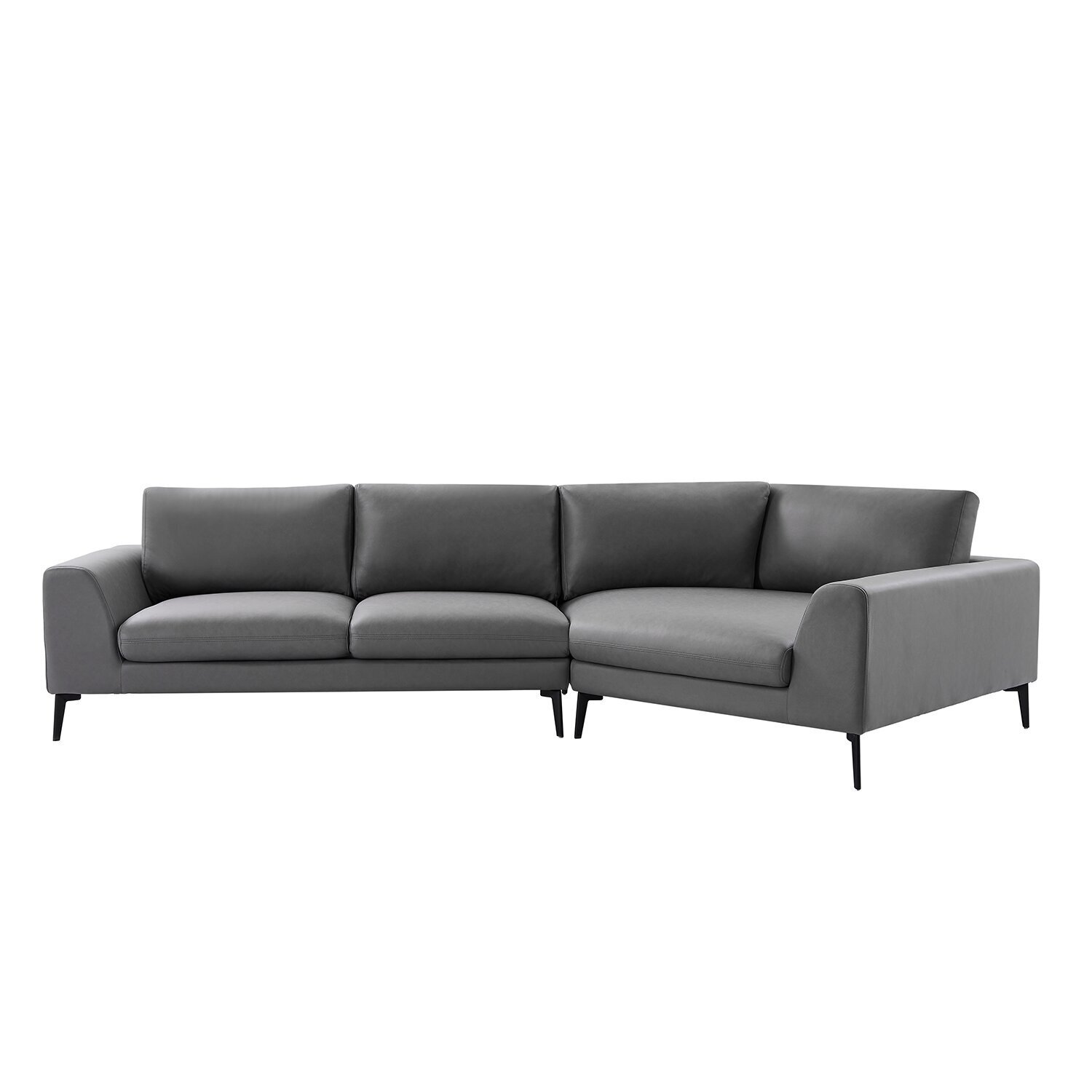 Sophisticated Curved Leather Sofa
Everly Quinn
This leather curved sofa with its genuine gray leather upholstery and black metal legs is a combination of style and comfort. It features a huge corner wedge that adds an interesting and inviting visual element to its otherwise plain construction.
Designer Advice:
We love the understated yet sophisticated design on this curved leather couch. Its high-quality build is easy to maintain and provides the right level of comfort. We suggest placing it a few inches away from an empty corner in your living space and letting the couch be your centerpiece. The couch is also a great fit for non-residential spaces.
Merchant links are sponsored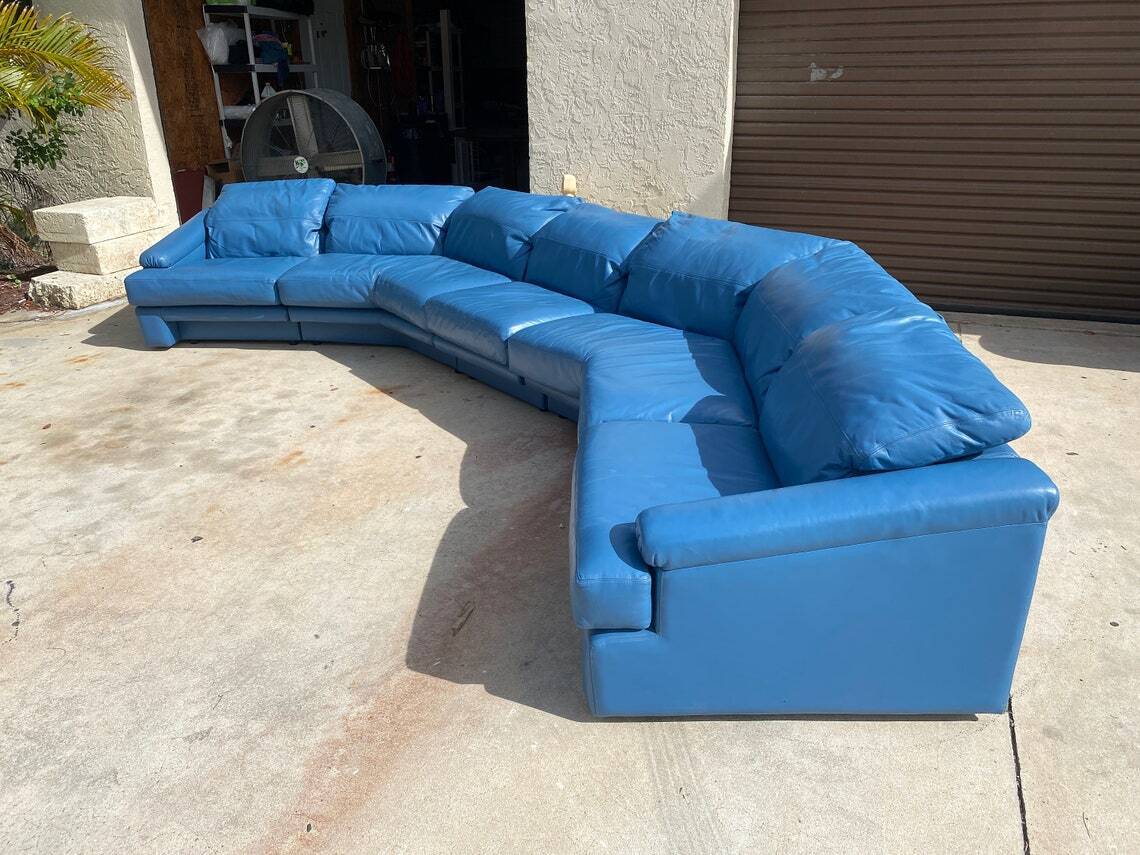 Post Modern Curved Leather Sofa
Here is a leather crescent sofa that'll add pizzaz to any bland living room. The couch comes in a beautiful bright blue color, features sloped armrests, and seats up to seven people. The vintage piece comes with postmodern elements, making it perfect for residential apartments.
Merchant links are sponsored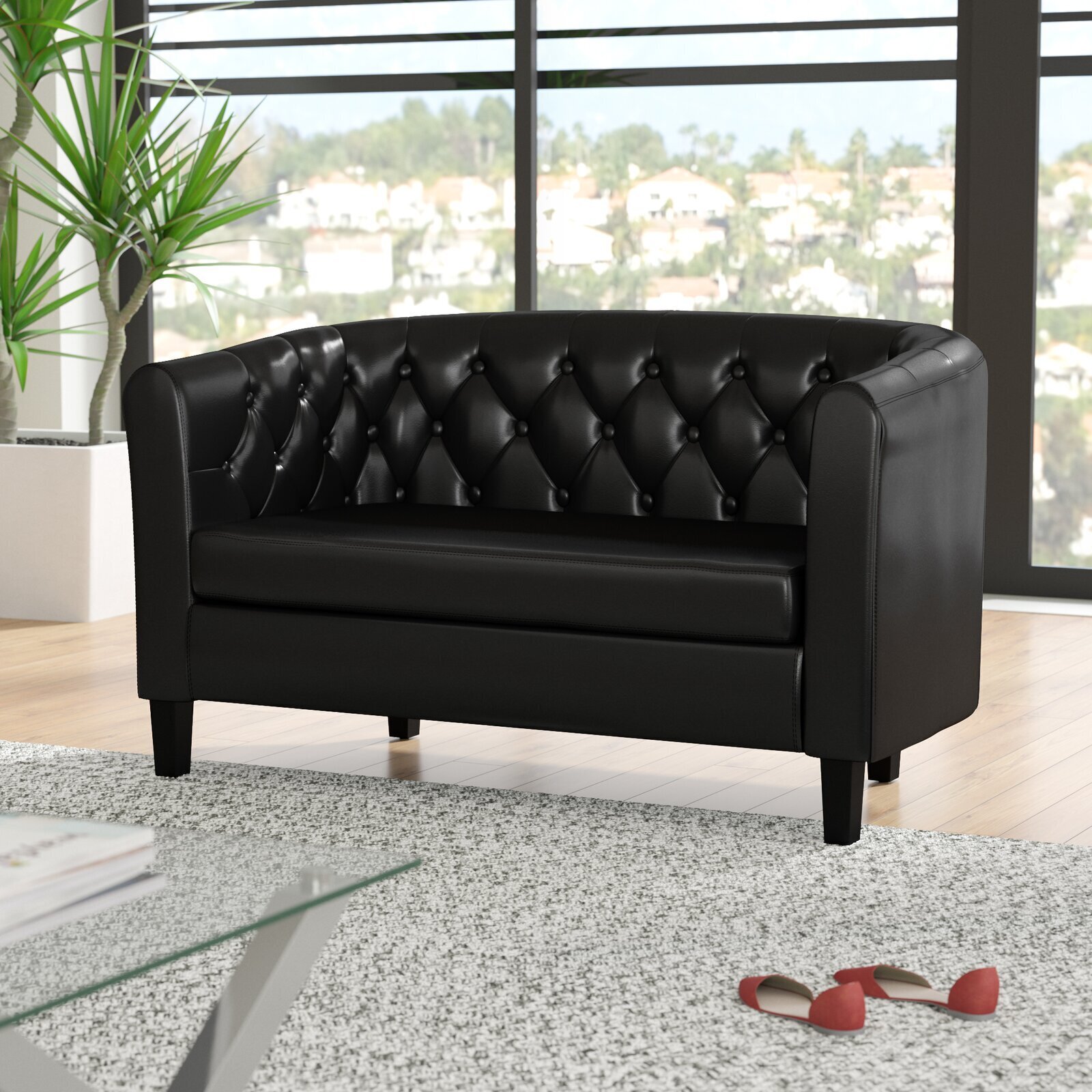 Small Curved Leather Sofa
Modway
For those with little space or no seating space in their powder room, this small curved leather sofa is worth checking out. The piece features medium-firm foam cushioning and deep button tufting in a diamond pattern. This piece comes in six elegant colors.
$500 $679.99
Merchant links are sponsored