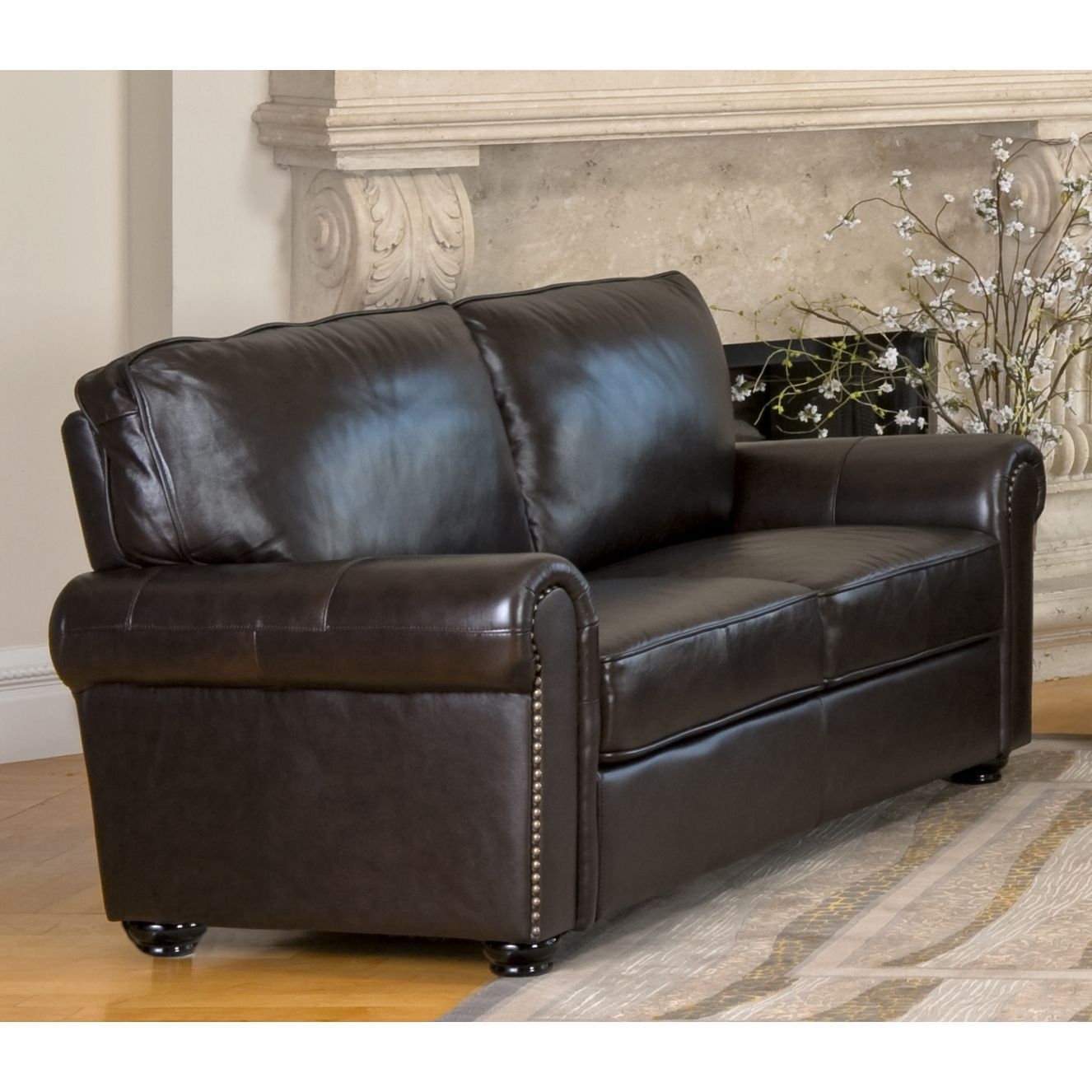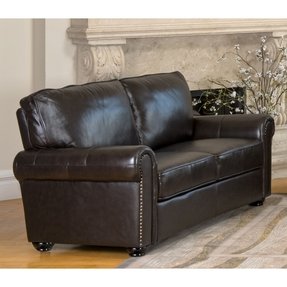 Bliss Leather Loveseat
This amazing loveseat would be a perfect choice for every stylish and elegant living room. Check it out now and enjoy an incredible, elegant design in your house together with the best possible quality.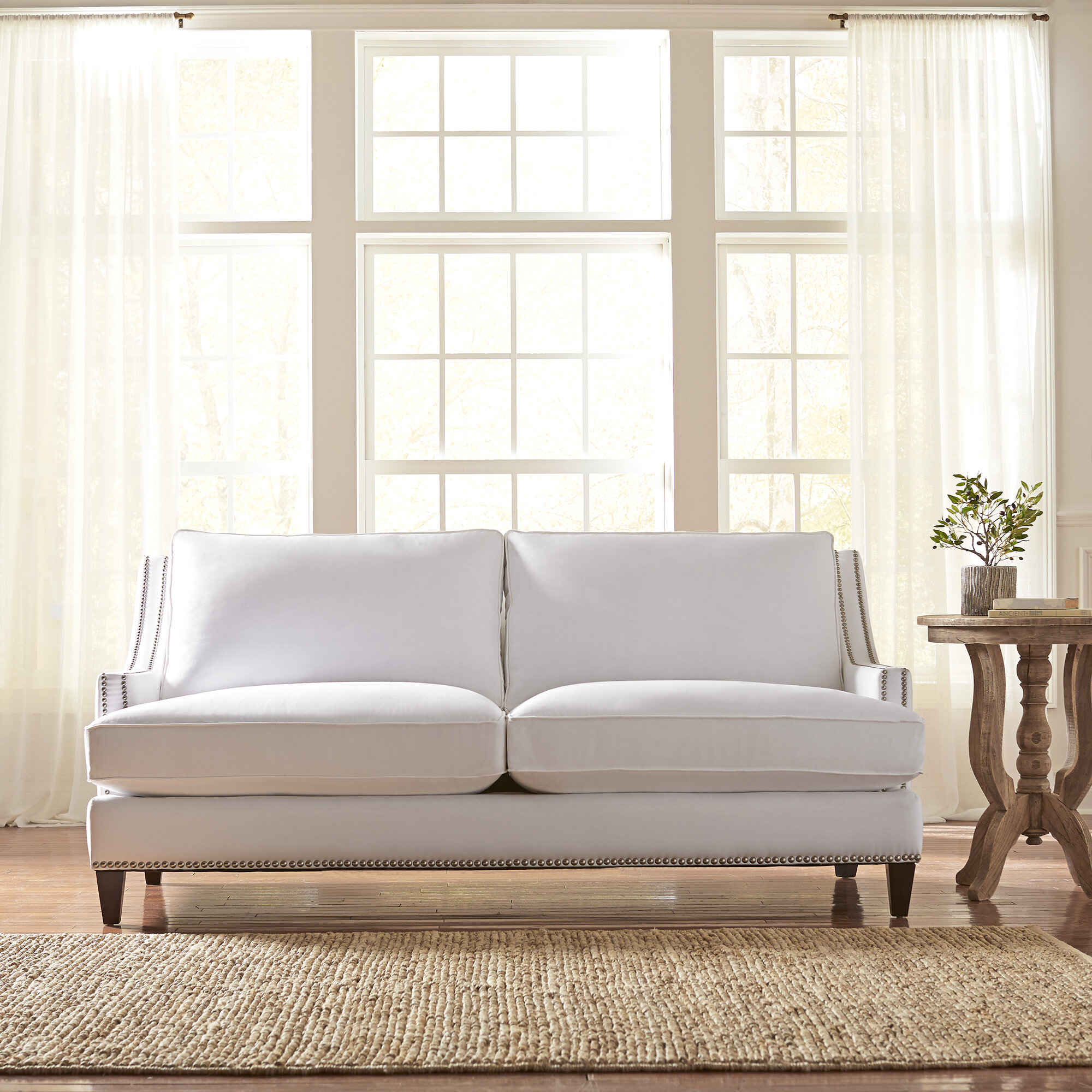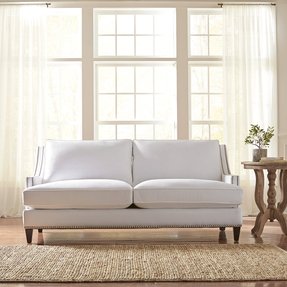 Larson Nailhead Trim Sofa
It is a simple, but at the same time very nice sofa that fits perfectly to the device the living room, whether in a modern or traditional style. It has a very beautiful, bright cushions. The whole upholstery along the perimeter is decorated with nails.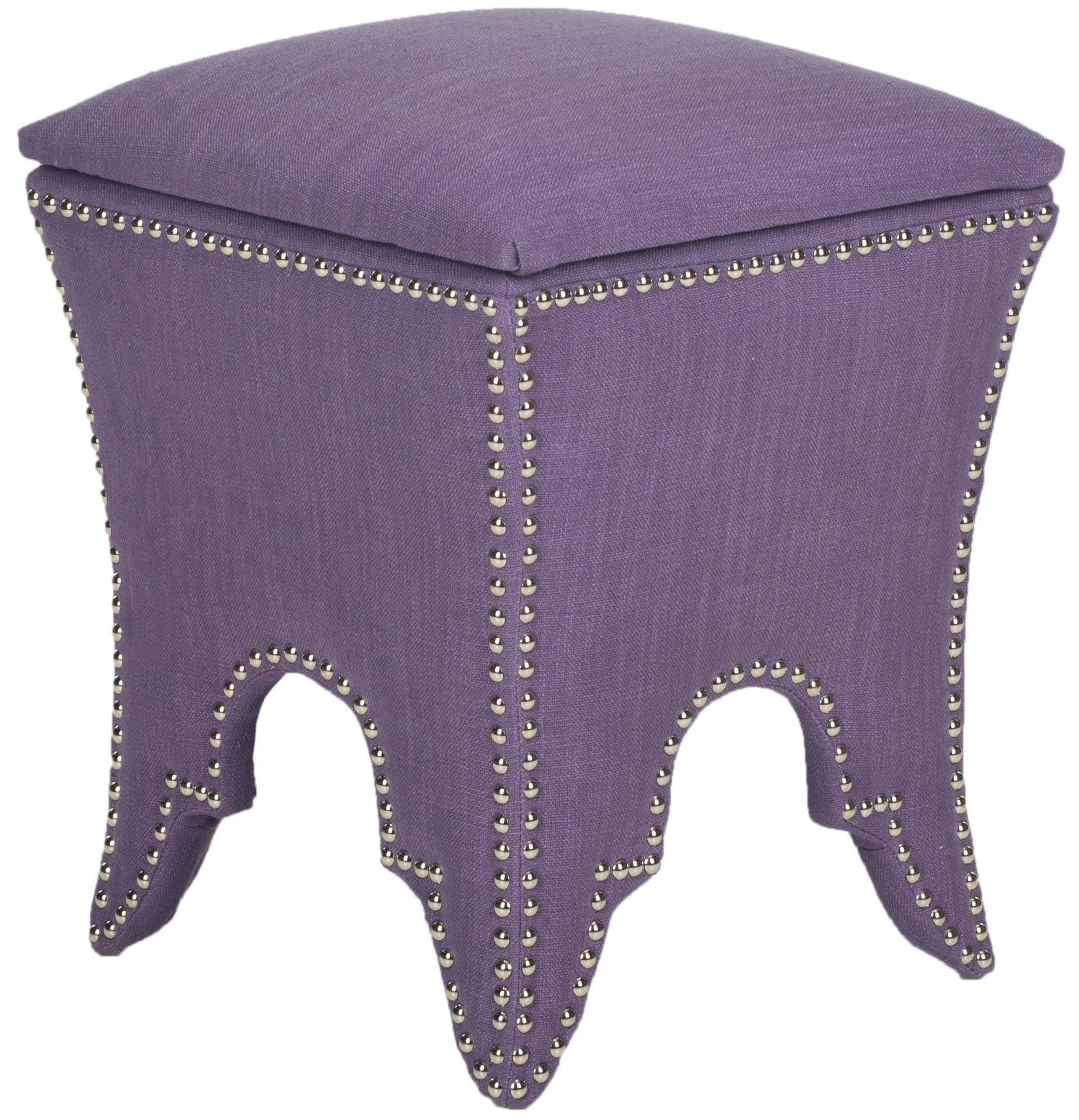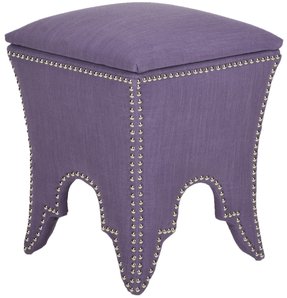 Deidra Ottoman
With this unique ottoman in purple, comfort of your home is going to be fully equipped. Characterized by a durable frame, and button-fabric upholstery with nailhead trim, the ottoman includes a softly padded seat, ensuring many years of coziness and beautiful appearance.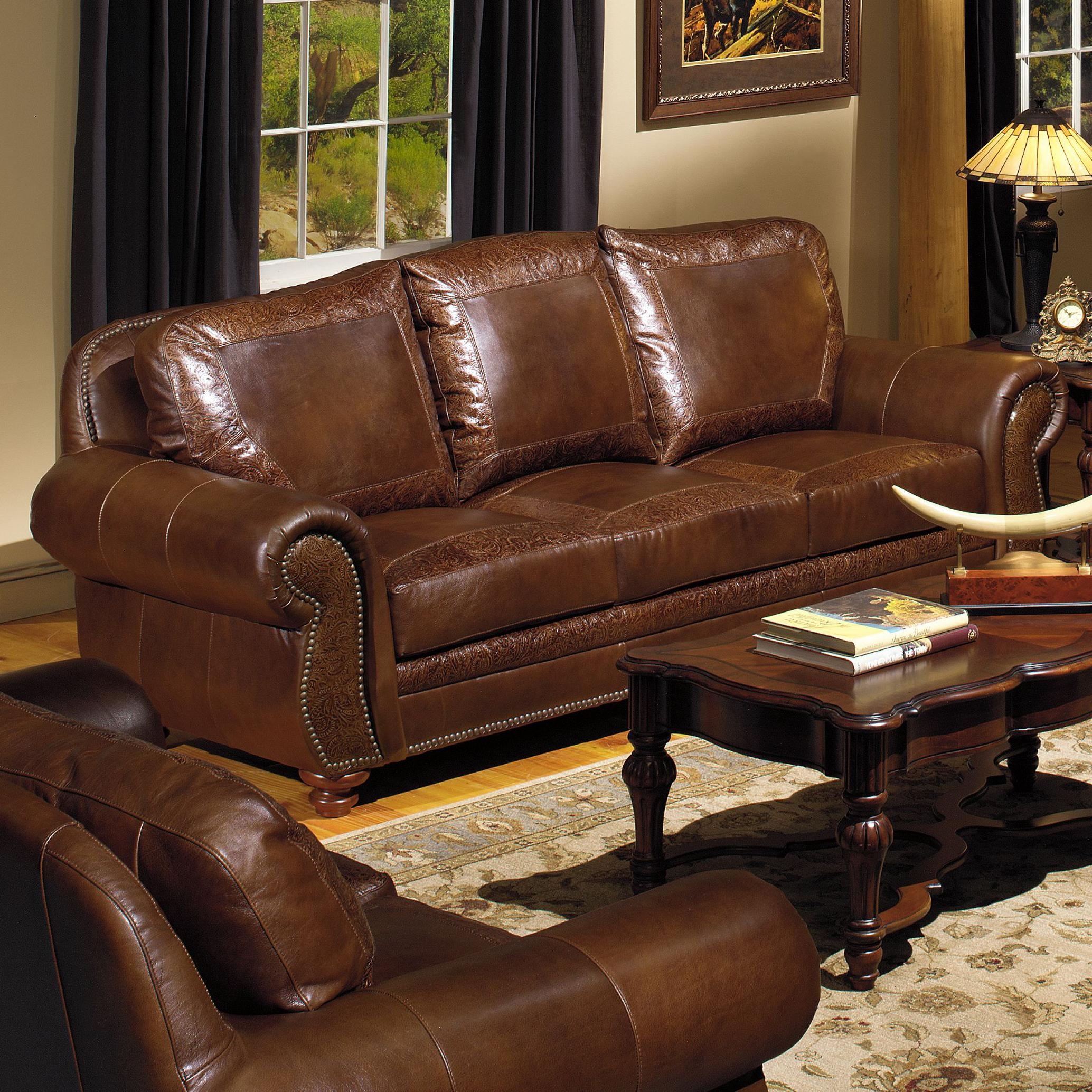 Being a model example of the traditional elegance, this brown leather sofa delights with its high-quality finish, i.e. the stylish nailhead trim. It will bring in prestige and luxury to your living room decor.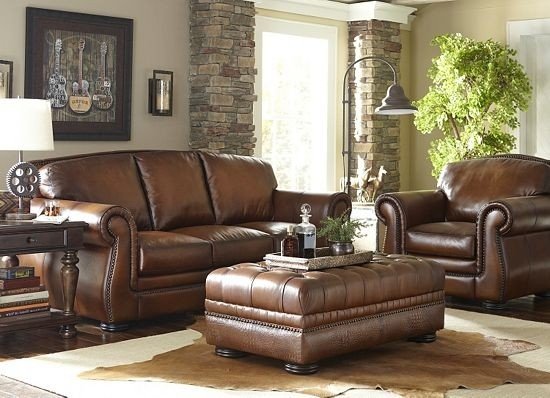 A chic vintage style set of wood with low brown bun feet. A 3-person sofa with thick seats and an armchair have pillowed backrests and rolled arms with front nailhead trims. A table has a button-tufted top. Upholstery is of brown top-grain leather.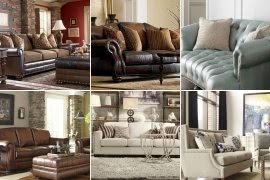 A fine mix of comfort and elegance that is going to work well in contemporary rooms. The sofa is upholstered in a premium leather, featuring thick seat cushions, over-padded back cushions, rolled arms, a stylish nail head trim and wooden bun feet.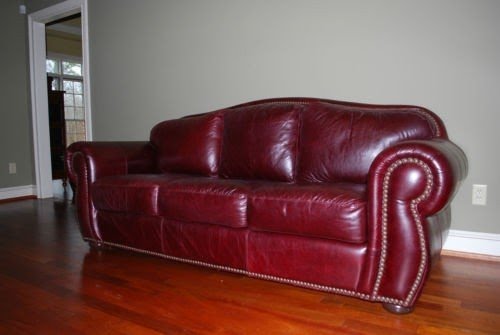 The aspect that primarily affects the decorative qualities, but also the practical red sofa or sofas, is the type of upholstery. Such as here a red leather sofa with nailhead trim is a good choice for families with children or animals.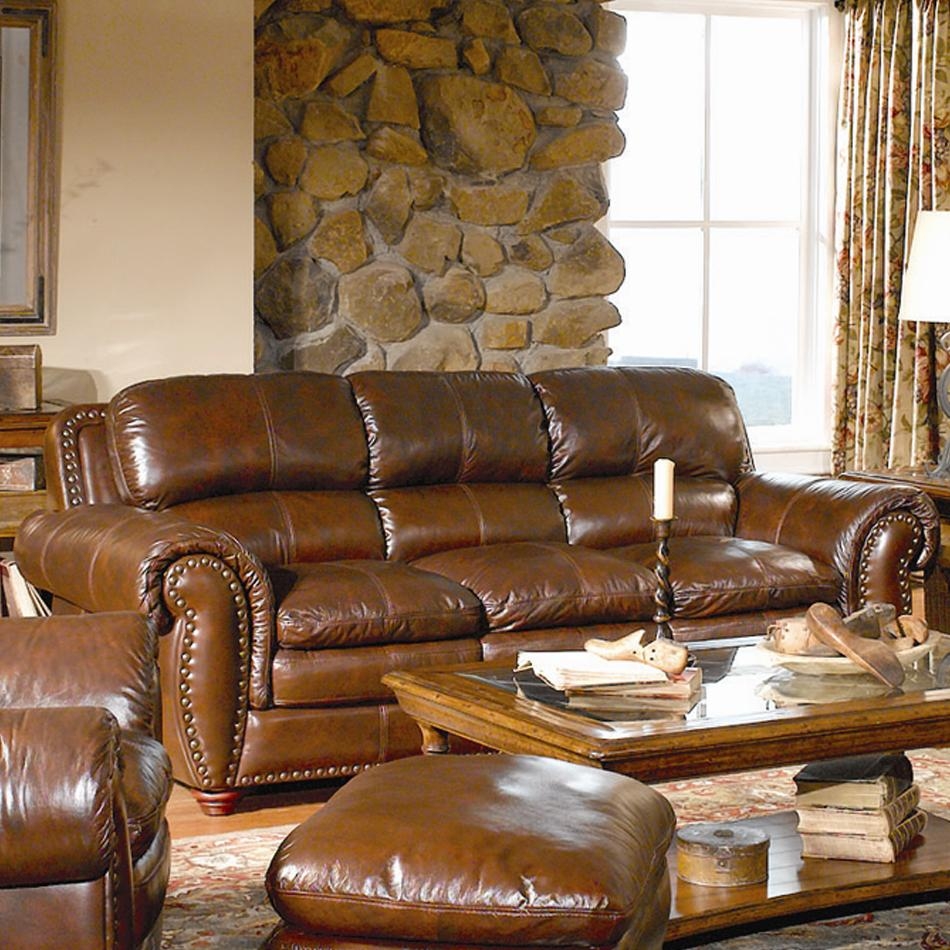 Designed in the stylish Aspen leather, this brown nailhead trimmed living room set comprises a 3-person sofa an armchair recliner and a pouffe or an ottoman. It will fit smoothly into traditional or classic decors.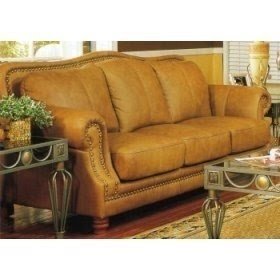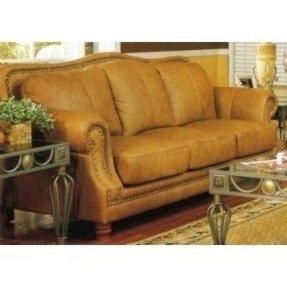 Italian leather sofa in delightful caramel. No better hue for warm colour scheme, I guess! The couch sports classic design with bun feet, rolled arms and camel back. Puffy cushions serve comfort sake, while the nailheads trim on front boosts the style.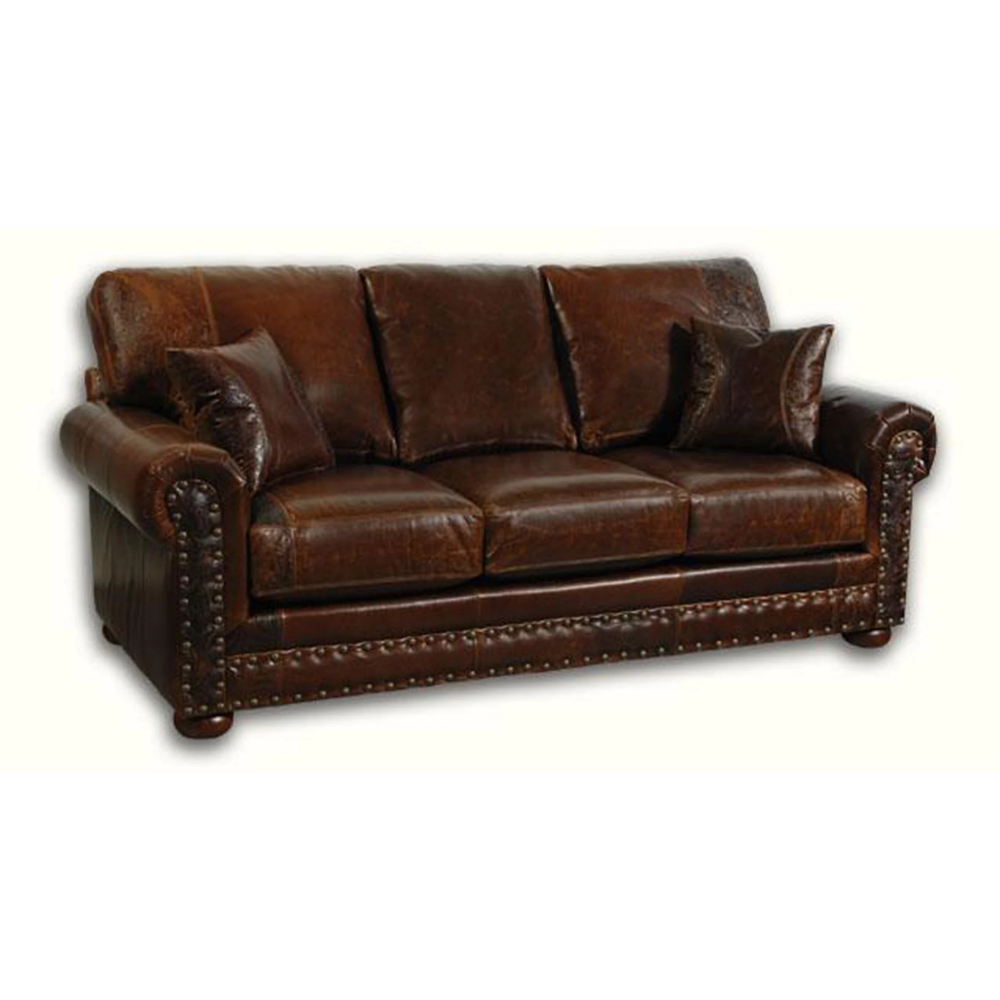 Stunning oversized rustic sofa with sinuous wire spring system on hardwood frame. The upholstery is particularly striking: a genuine top grain leather of delightful dark brown colour. Classic tooled design with nailhead trim aren't half bad either.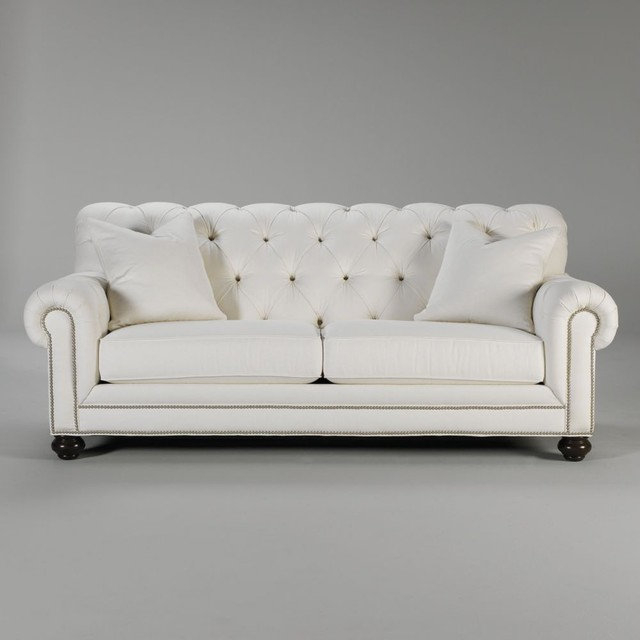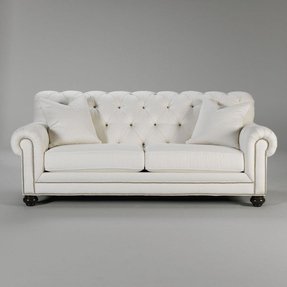 This tasteful, beautifully upholstered sofa is a stylish combination of beautiful coloring, quilting, and upholstery. The whole of the room fits nicely into the decor of the contemporary style, giving it a hint of coziness.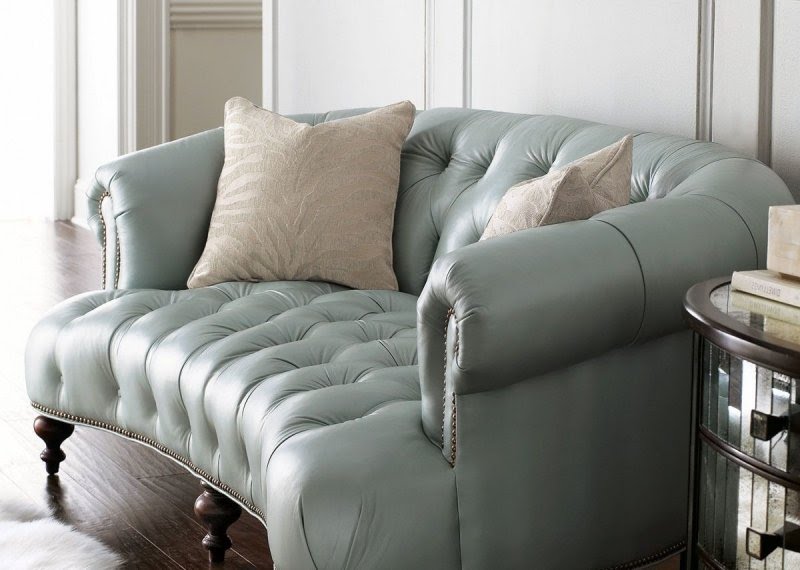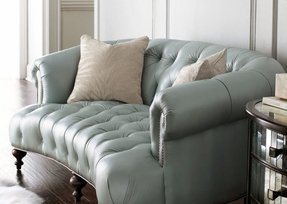 A chic comfortable sofa with a gently curved profile and a back and arms of same height. Its frame of maple wood has dark brown turned legs. It's upholstered in elegant button-tufted bluish leather with a pearl hue and a bottom silvery nailhead trim.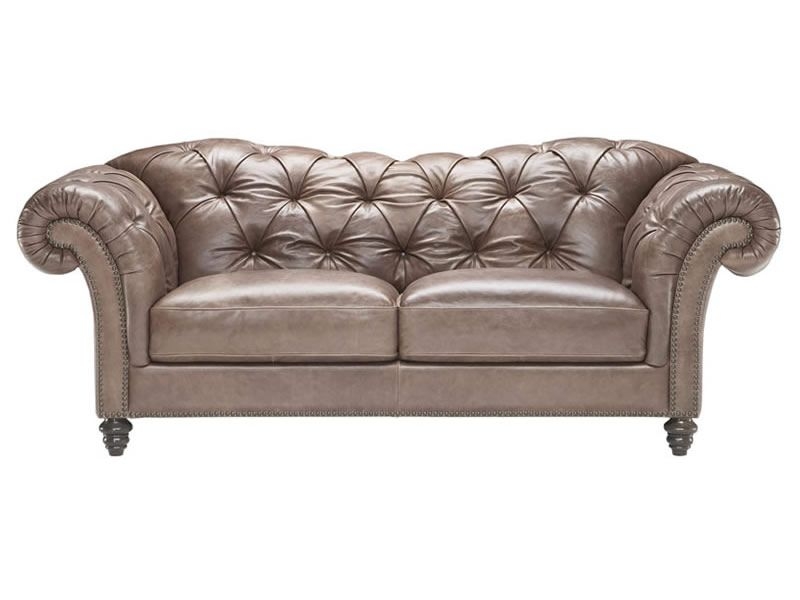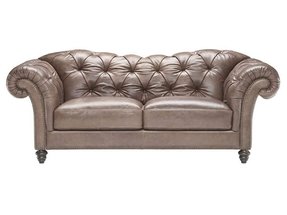 This is a traditional sofa whose upholstery integrates leather covering with nailhead trim. The leather has a fine brown color and elegant patterns on the backrest and armrests. The well-padded sofa can conveniently seat two or more people.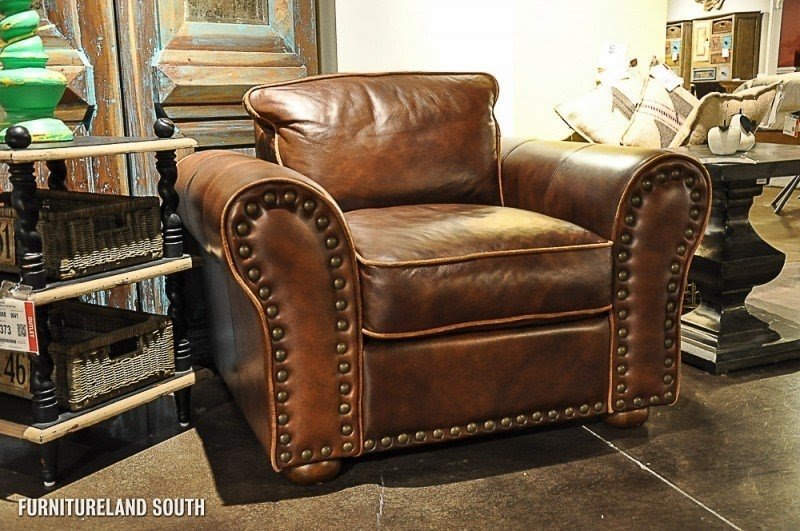 Capacious leather upholstered armchair with nailhead decorations is the perfect chair for collapsing in front of the television at the end of a long day. Chunky bulbous feet support the bottom, giving that little extra touch of elegance.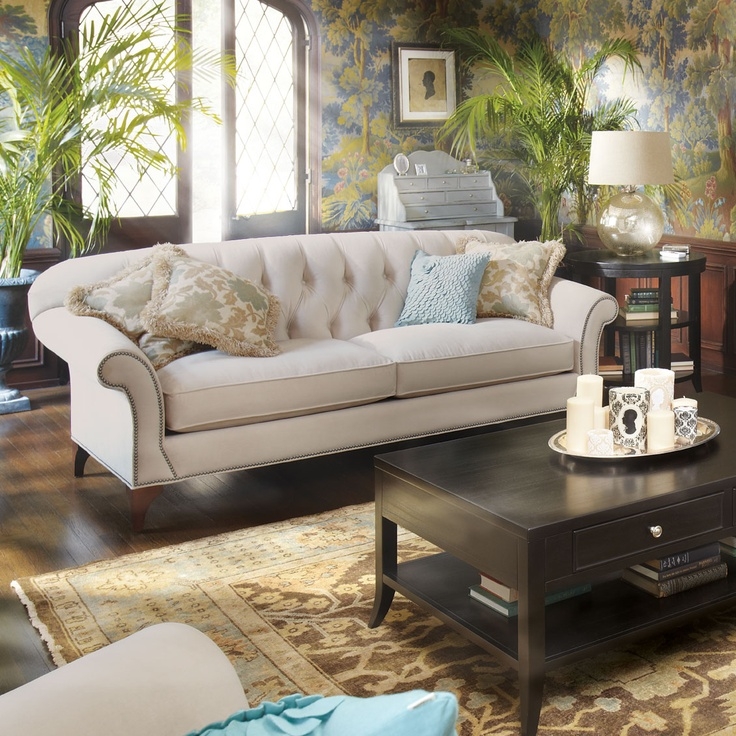 3 Hearts Style Studio Blog| Preston nailhead trim with tufting sofa.  I've got my eye on this one!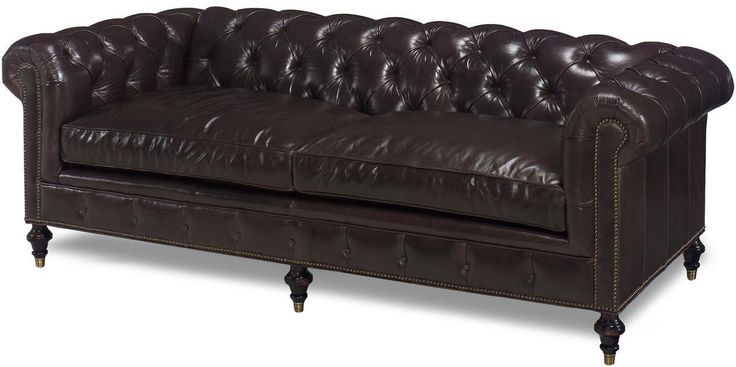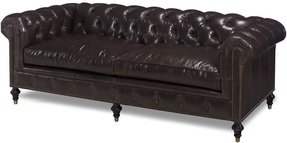 This kind of element is a very solid, comfortable and supportive sofa that features solid arms with decorative nailhead trims. It assures high level of comfort thanks to its seat cushions. The whole element is covered with leather.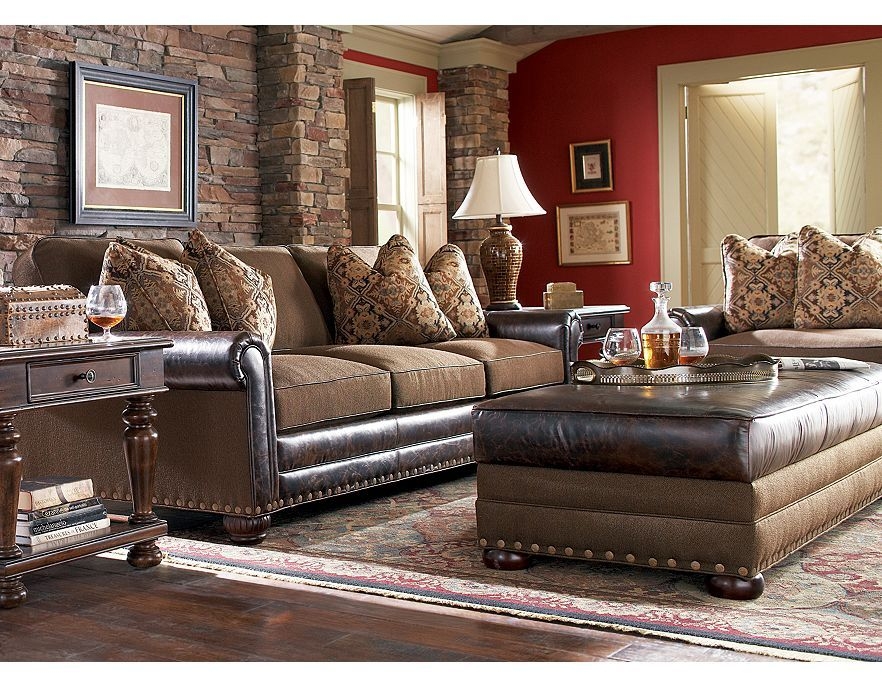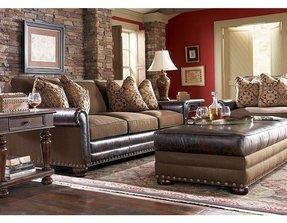 Made of solid wood construction with a beautiful leather upholstery sofa are a living room decoration and an extremely functional furniture. Nailhead trim adds a whole of an unusual style, making the interior gaining elegance.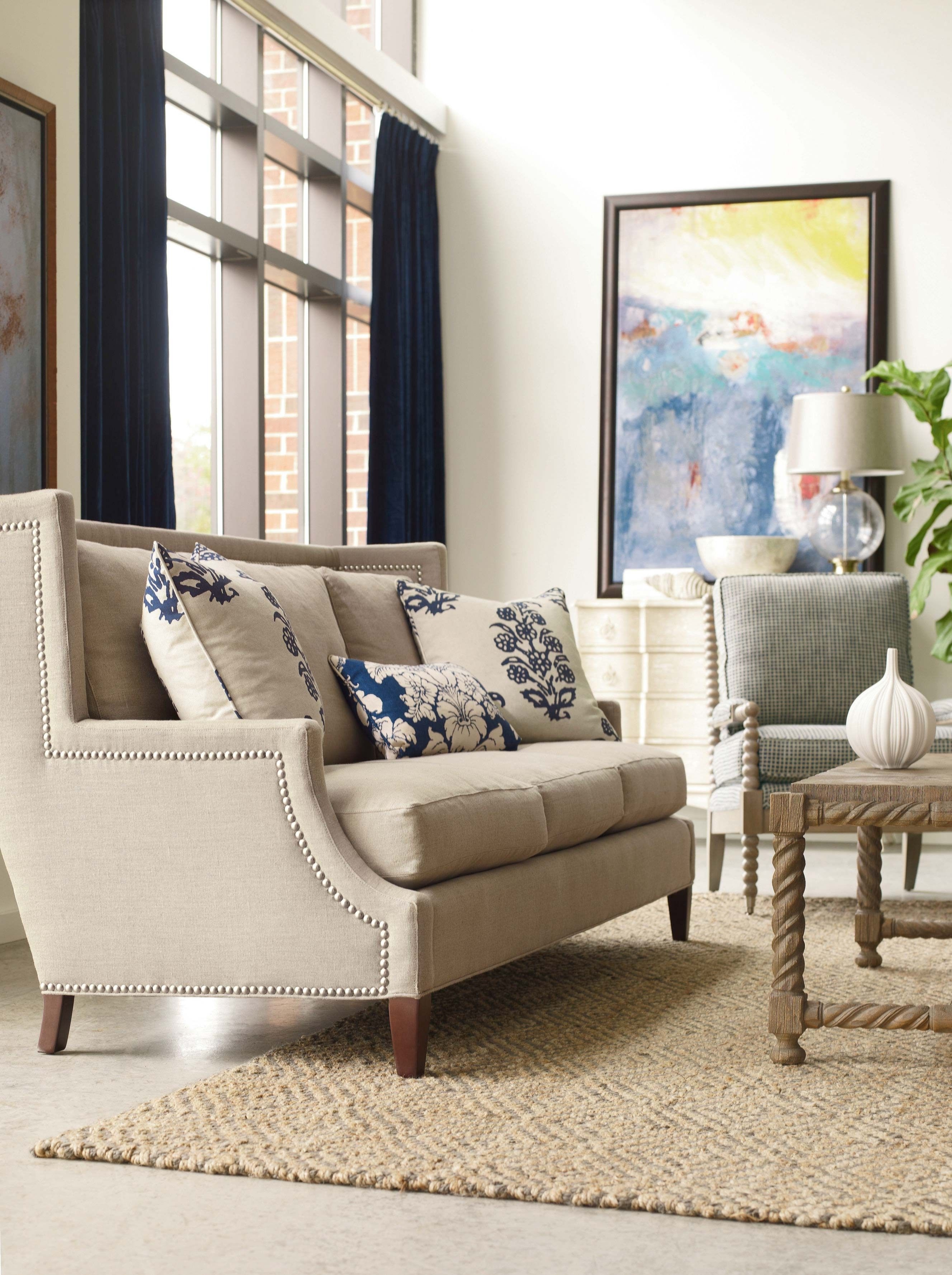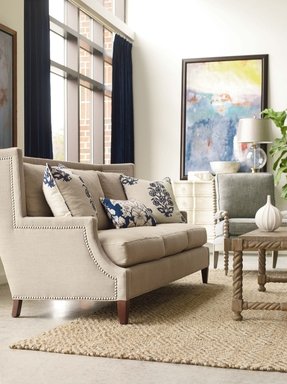 A fashionable addition for contemporary living room, which works very well with neutral decor. The sofa is characterized by a wood frame with tapered legs, off-white upholstery with nail head trim, and generously padded cushions.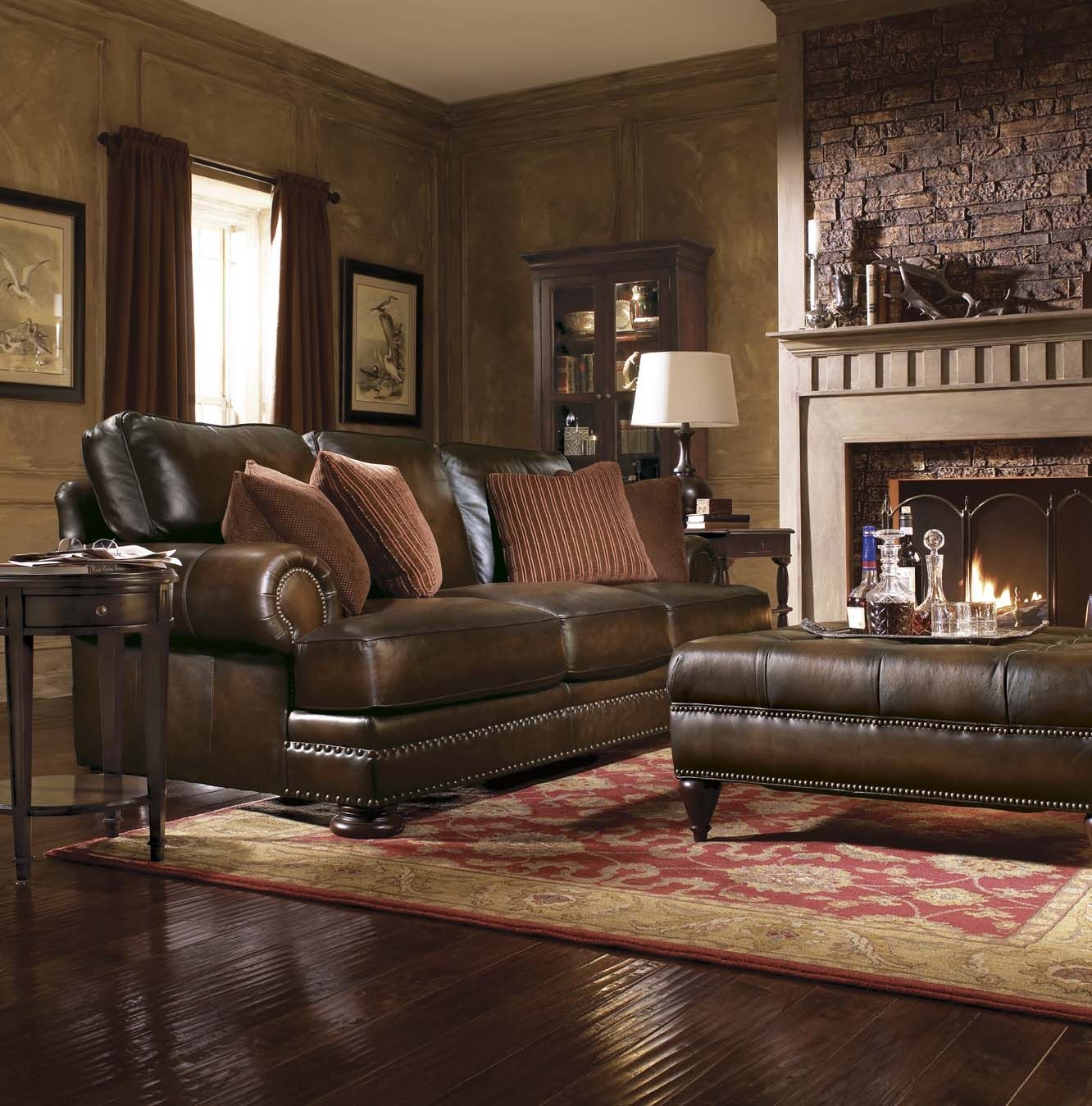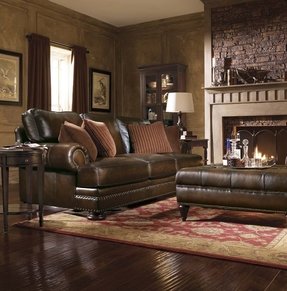 Make a grand impression and add elegance to the living zone with this sofa. It features the rolled arms, nailhead trim accents, leather upholstery and plush cushions. Invite your friends and enjoy extra seating comfort.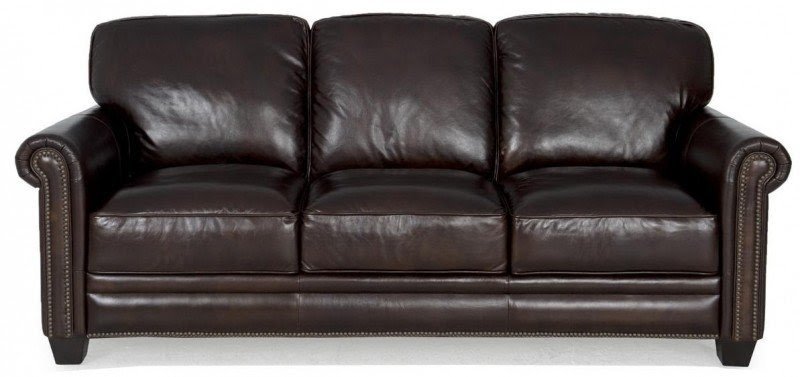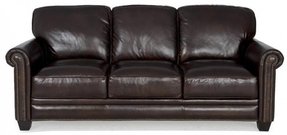 7888 Dark Brown Leather Sofa with Nailhead Trim by Futura Leather at Pilgrim Furniture City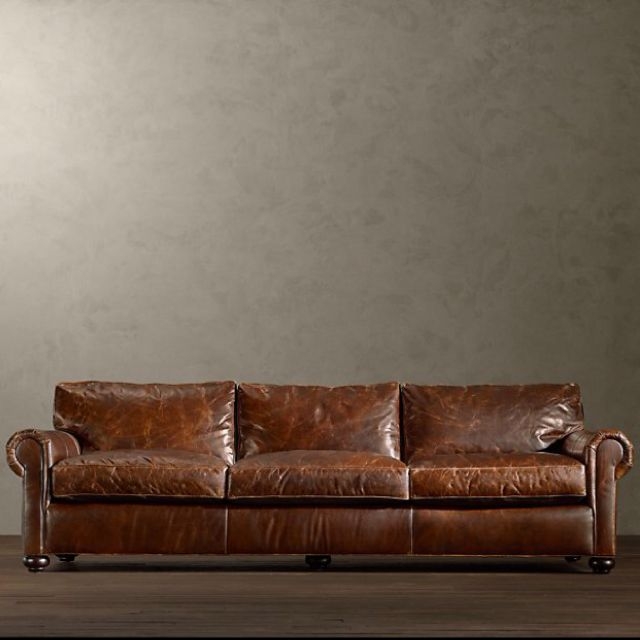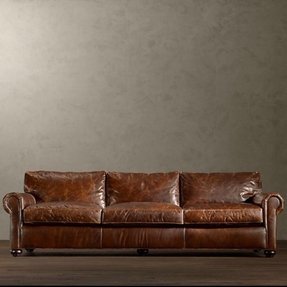 Durable and very comfortable sofa covered with leather in nice espresso finish. This luxurious element of furniture features soft cushions in backrest and seat areas. Wooden frame includes five legs for better stability.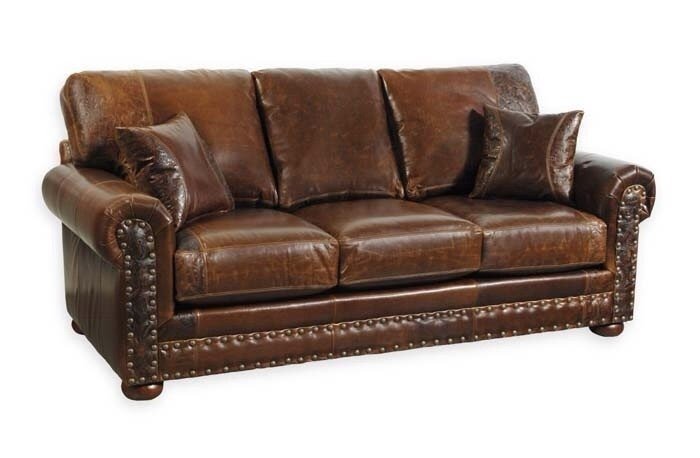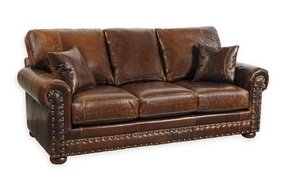 Comfortable sofa with distressed, genuine top grain leather finished in brown color. Its lower part and arms also include decorative nailhead trim. Soft back and seat cushions provide good level of comfort.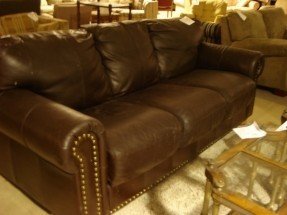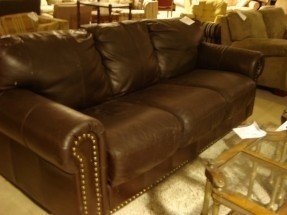 great leather sofa with wonderful nail head trim for $95 (needs to be ...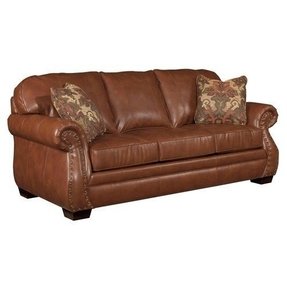 Home > Living Room > Sofa > Ridley Ridley Sofa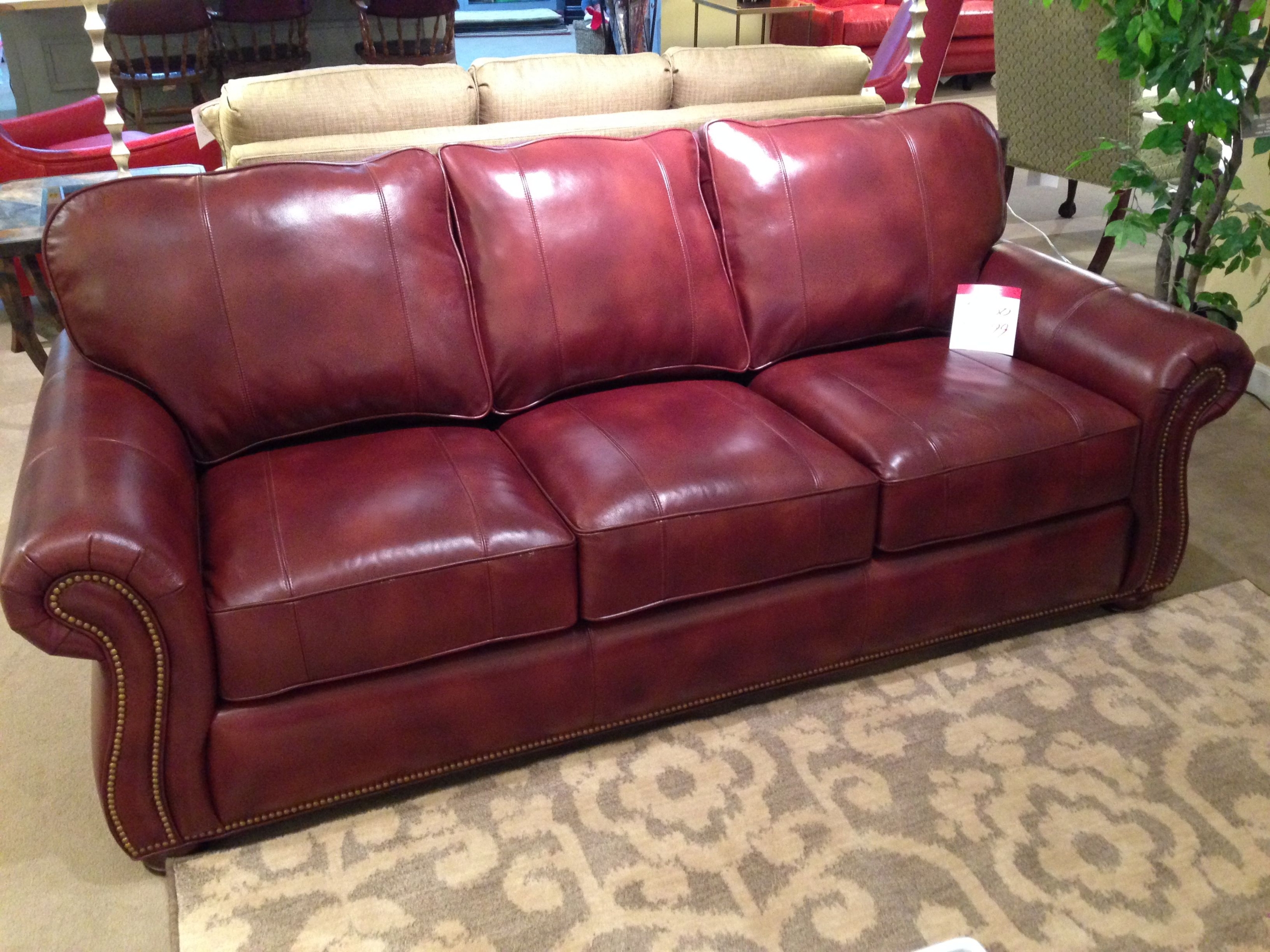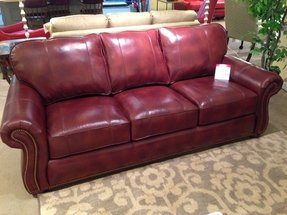 Leather Sofa with Nailhead Trim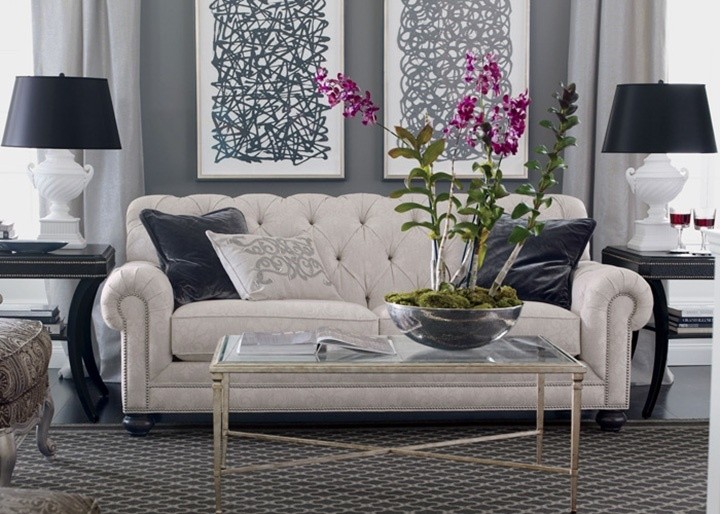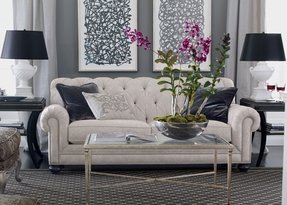 Black and white – how many times have you heard it's a great combination? Well, sorry to repeat that, but just look at this amazing leather sofa and black decoration Luxurious, the rich vibe in your house guaranteed!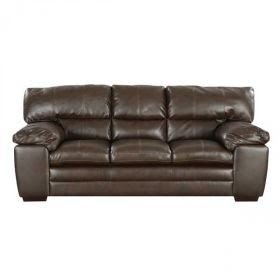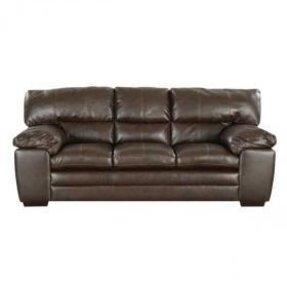 A comfortable sofa in a classy design. It features high quality leather upholstery in a beautiful espresso color. The piece features soft cushions and wide armrests for better comfort. The sofa will suit interiors with classic decors.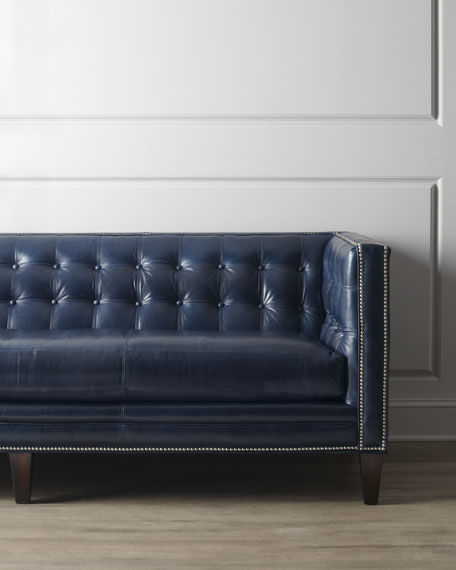 The beautiful design of this stylish leather sofa with nailhead trim impresses and brings elegance to the decor. Finished in navy blue color looks exceptionally stylish, and robust frame adds the whole structure of strength.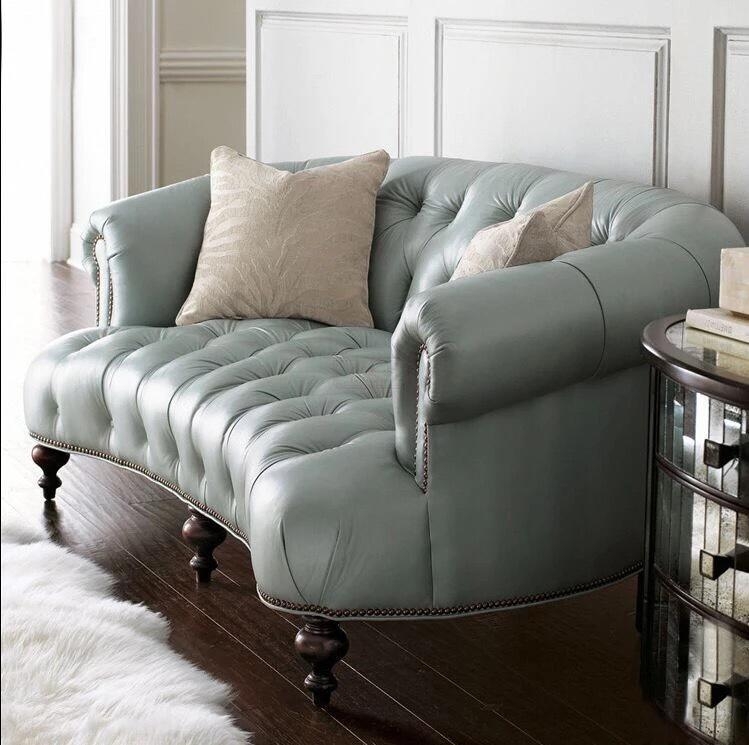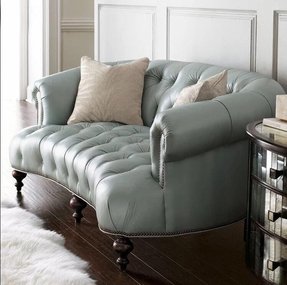 7500 Faux Leather and Fabric Sofa with Rolled Arms and Nailhead Trim - Becker Furniture World - Sofa Twin Cities, Minneapolis, St. Paul, Minnesota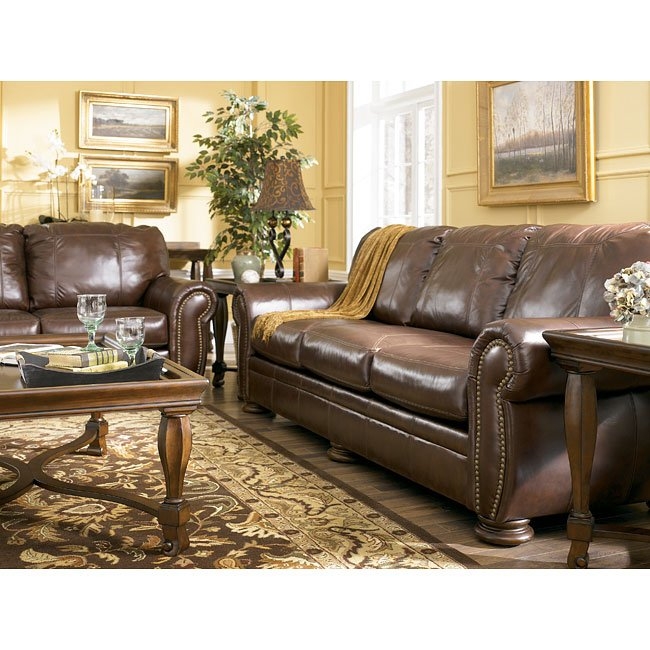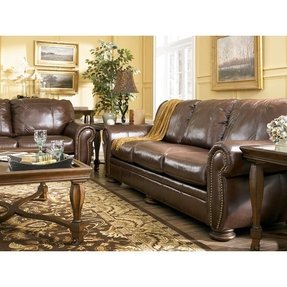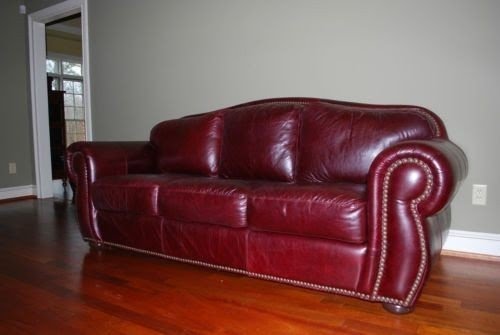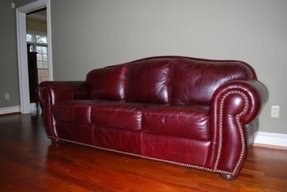 LEATHER SOFA WITH NAILHEAD TRIM MINT CONDITION LARGE COUCH - WINE ...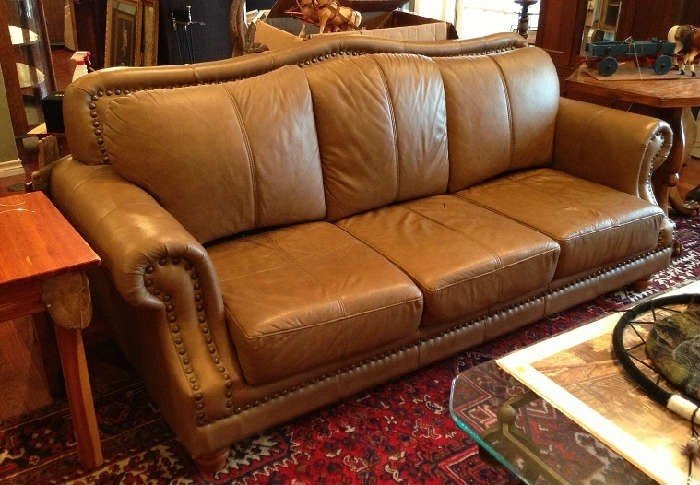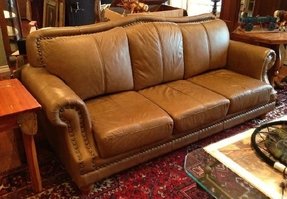 Phenomenal sofa with antique finish. It is upholstered with high quality leather and reinforced with decorative nail heads. It has 3 places to sit. Elegant design for the living room and others interiors according to taste.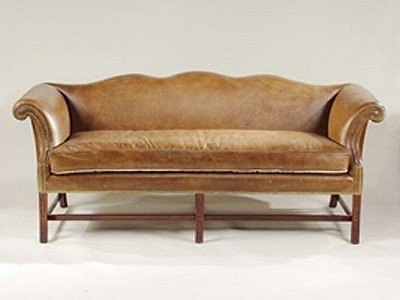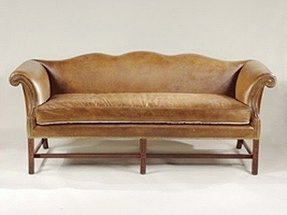 An beautiful sofa in an extraordinary design. It features a graceful silhouette with a decorative edge and rolled armrests. Light brown, leather upholstery is characterized by a plain texture. The sofa is supported on a wooden base.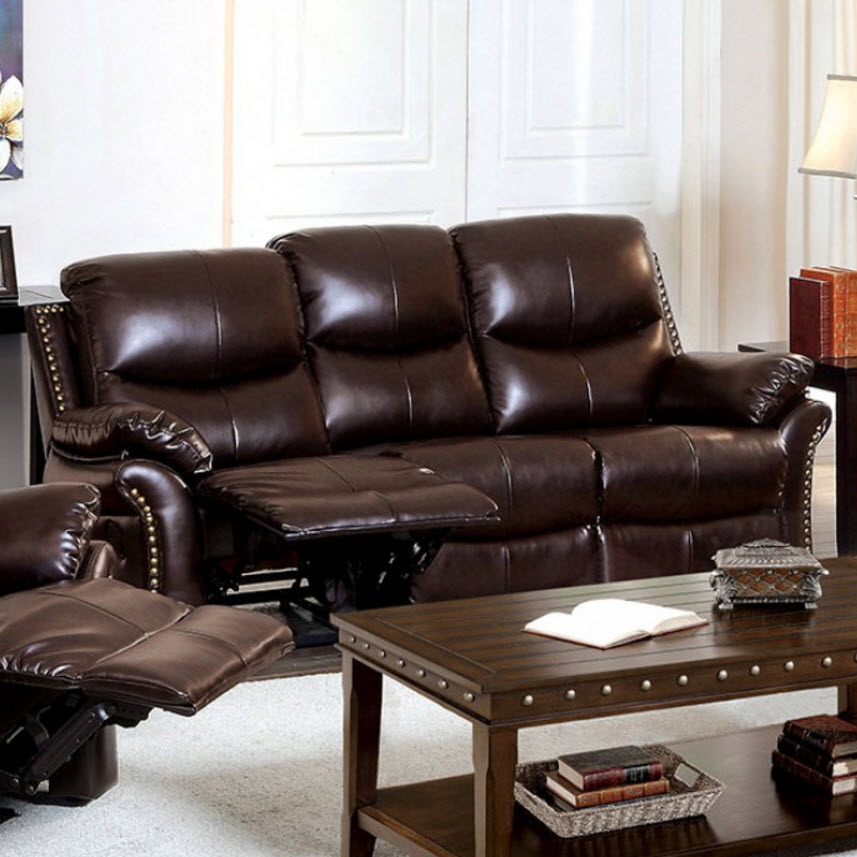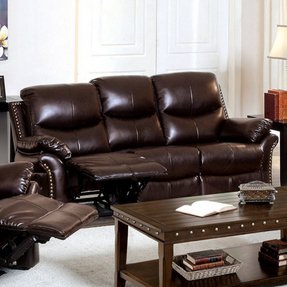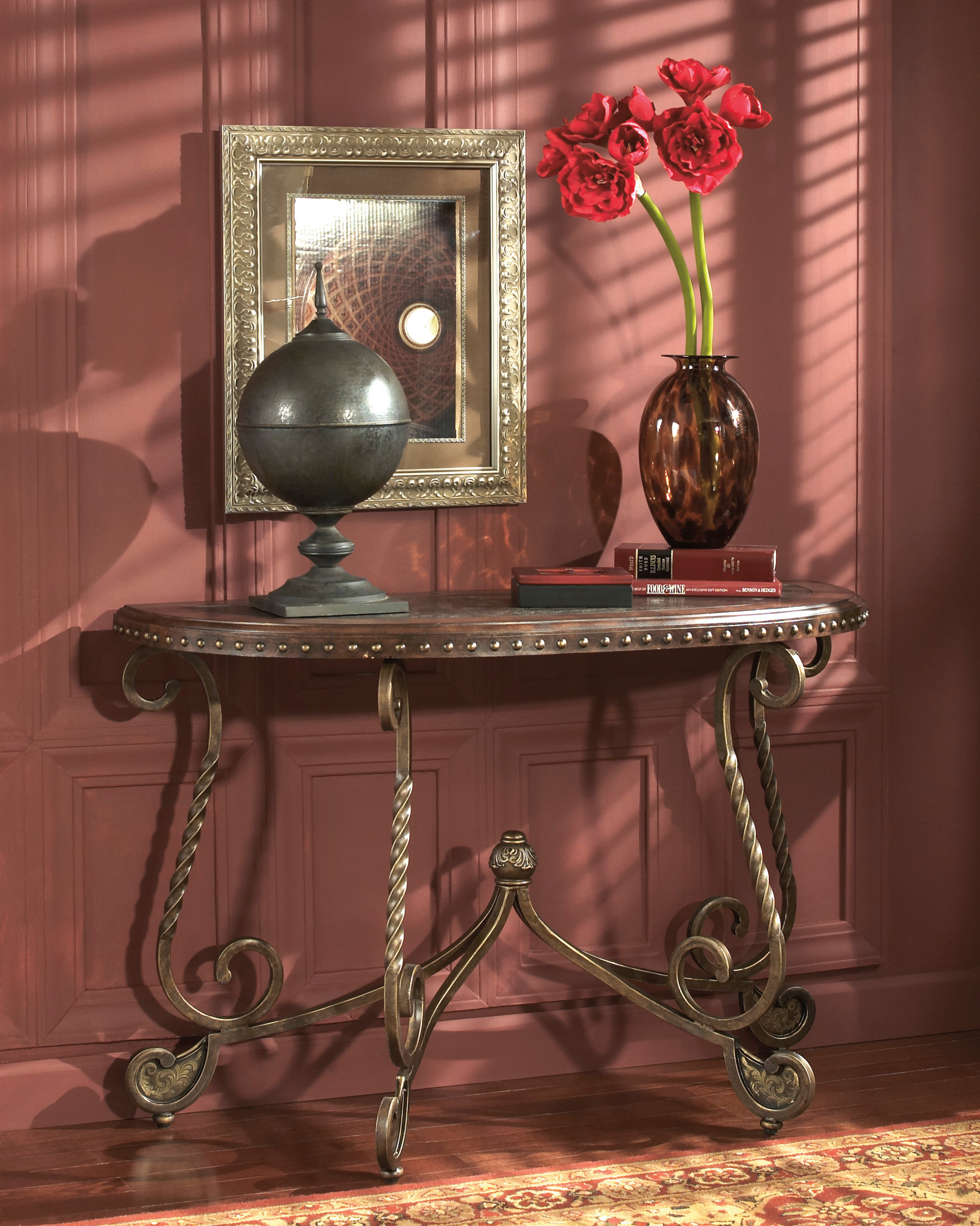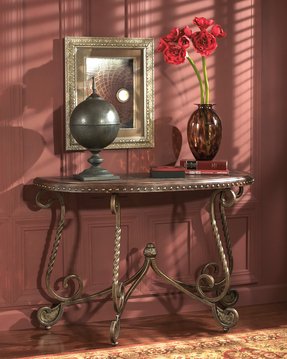 This ravishing table features a hand aplied finish, extravagant swirly base and oval top; its design takes your interior to the realm of elaborate traditional styling. Etched metal details beautify the edges of the top and legs.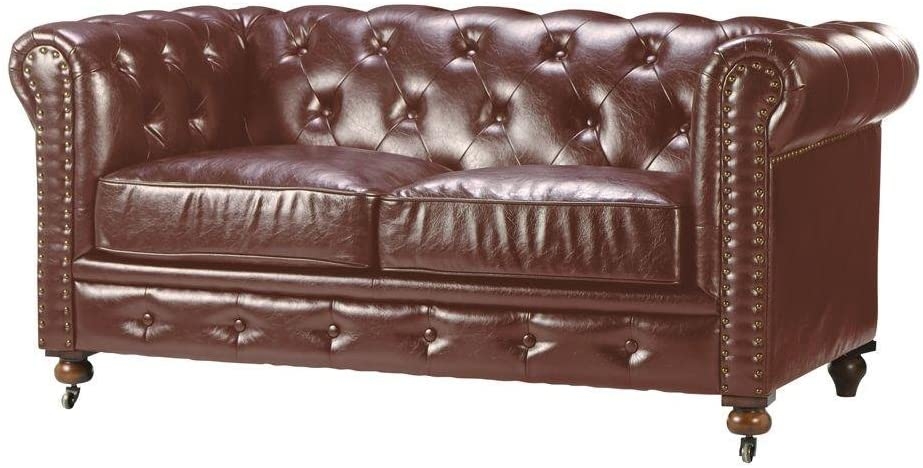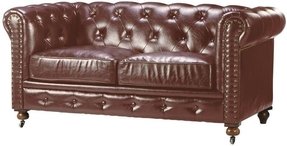 This tufted loveseat is available in five color options to choose: black, blue, brown, grey velvet and natural linen. It has got a sophisticated design and very comfortable seats.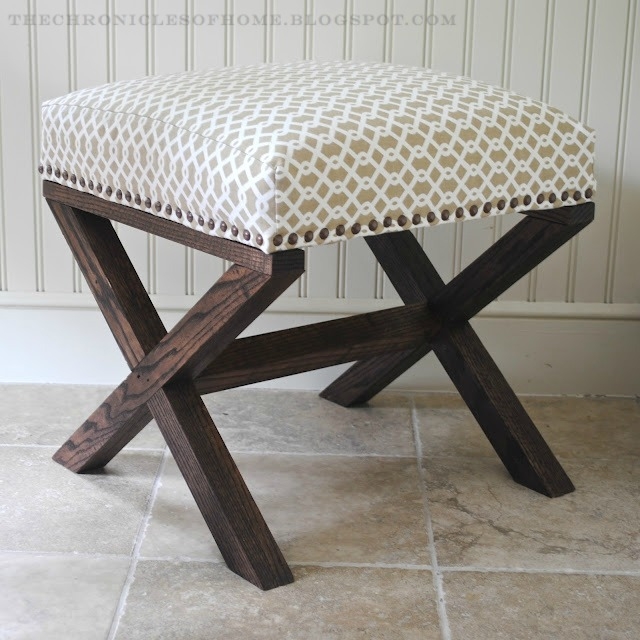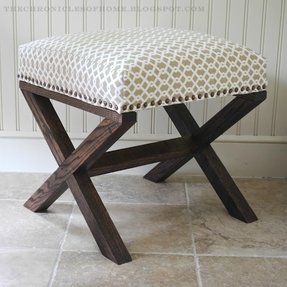 If you're looking for a cute little addition to your living room, take a look at this handmade, DIY x-leg ottoman with a cushioned top and a nailhead trim. Easy to make and bound to spice up its surroundings with its rustic look.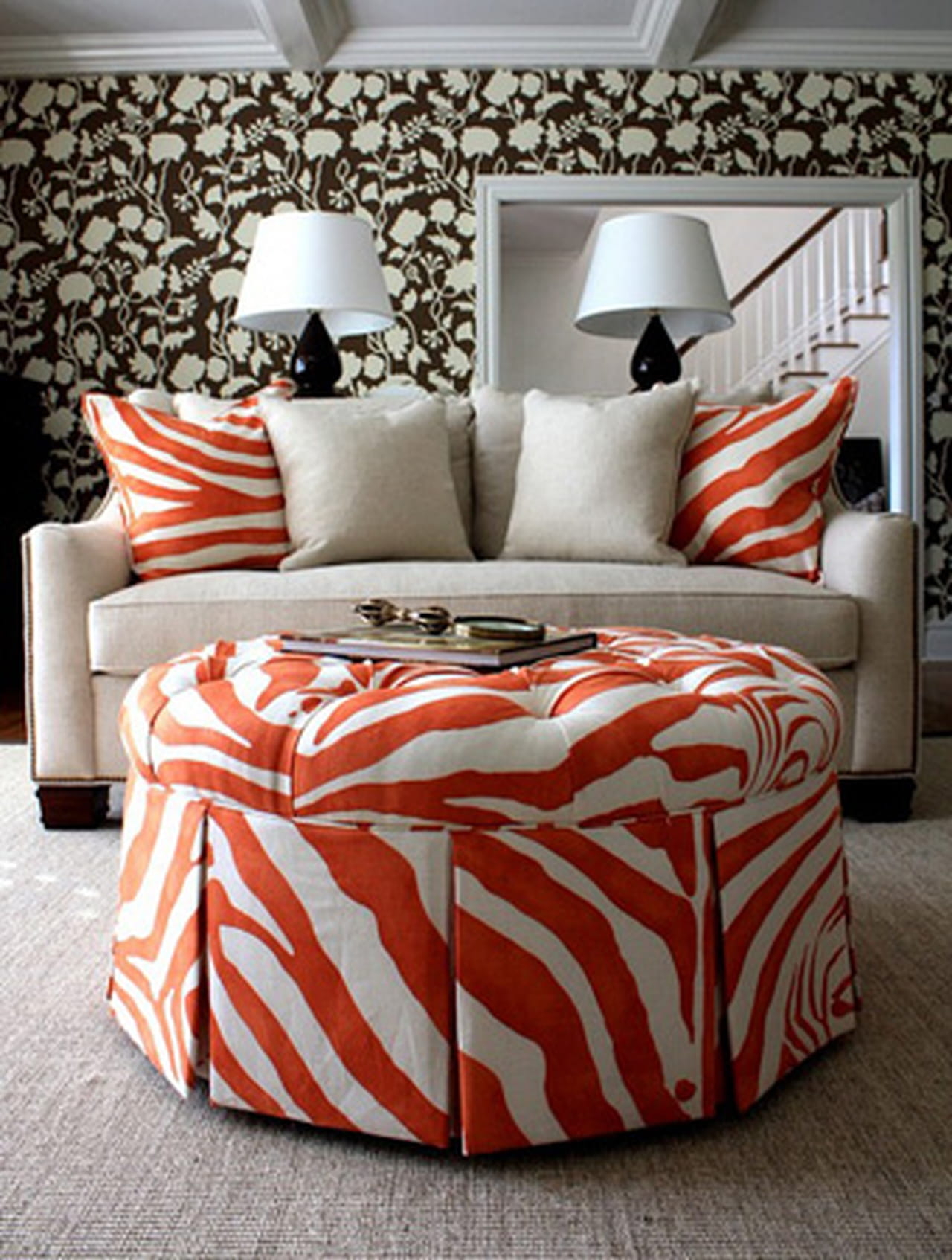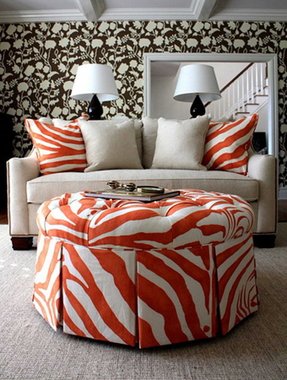 Round ottoman decorated with interesting pattern. It is upholstered with nice touch fabric and finished with ruffles. Perfect as coffee table or extra seating in all kinds of interiors as needed.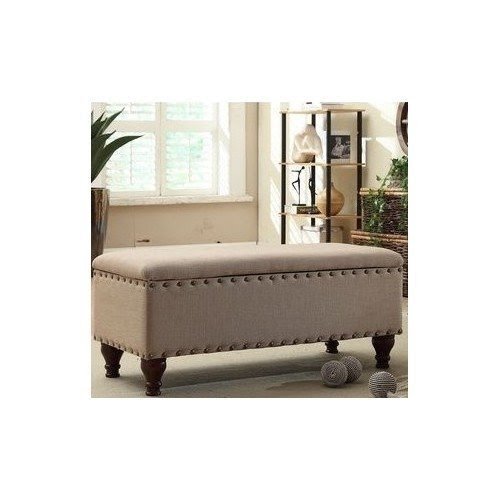 Entry way storage bench. Contemporary design storage bench with stylish nailheads at the top. The bench may be used as a comfortable place to sit or as a storage to help you keep your room tidy. Storage area protected behind safety hinged lid.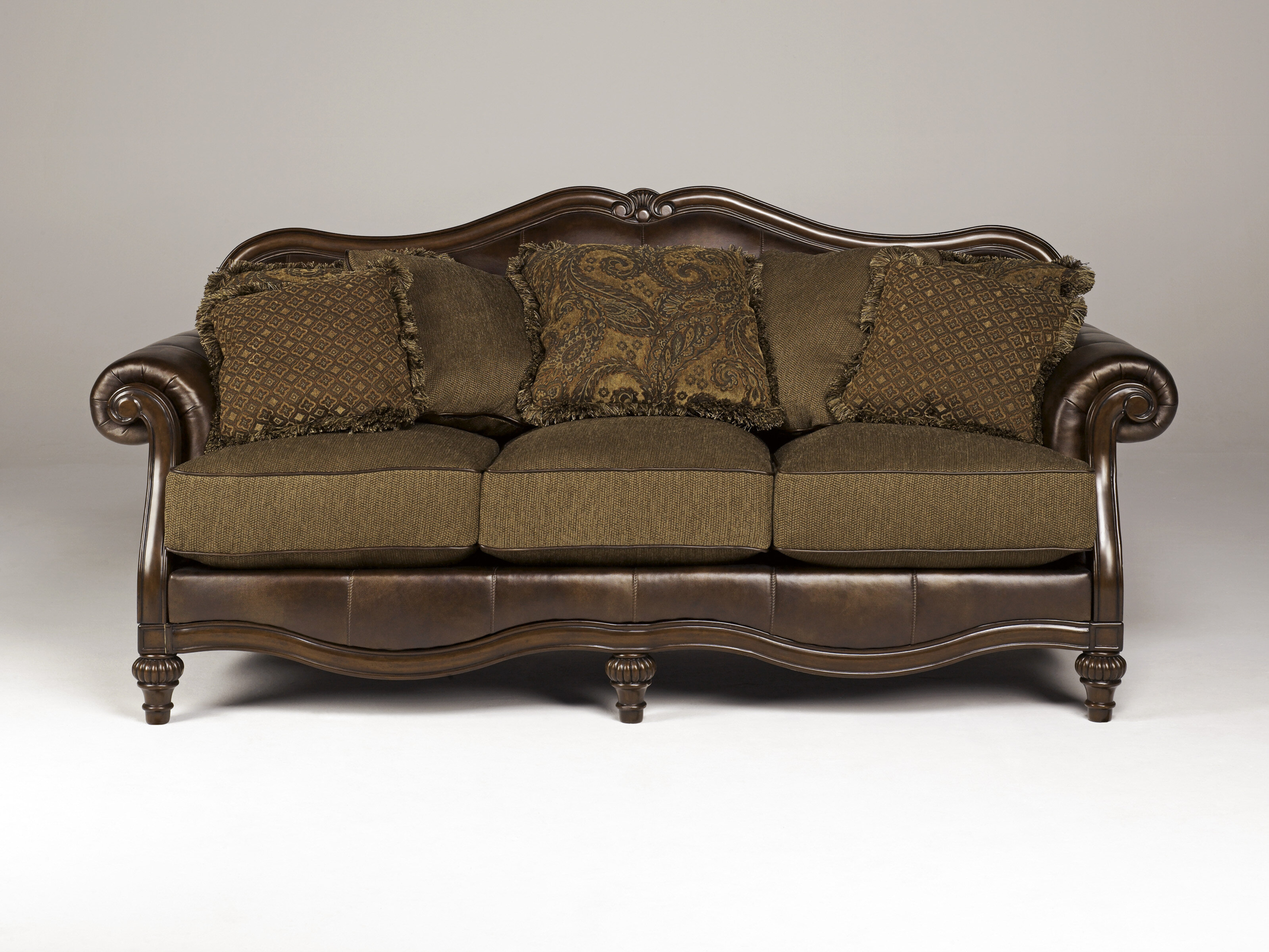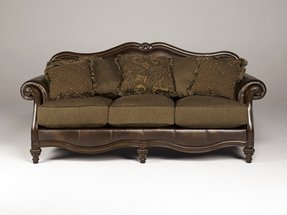 An elegant comfy rustic style sofa with a wooden frame and low brown bun feet. It features a front bottom and fronts of rolled out arms with nailhead trims. It has very thick back pillows and seats. Upholstery is of leather imitation in warm browns.