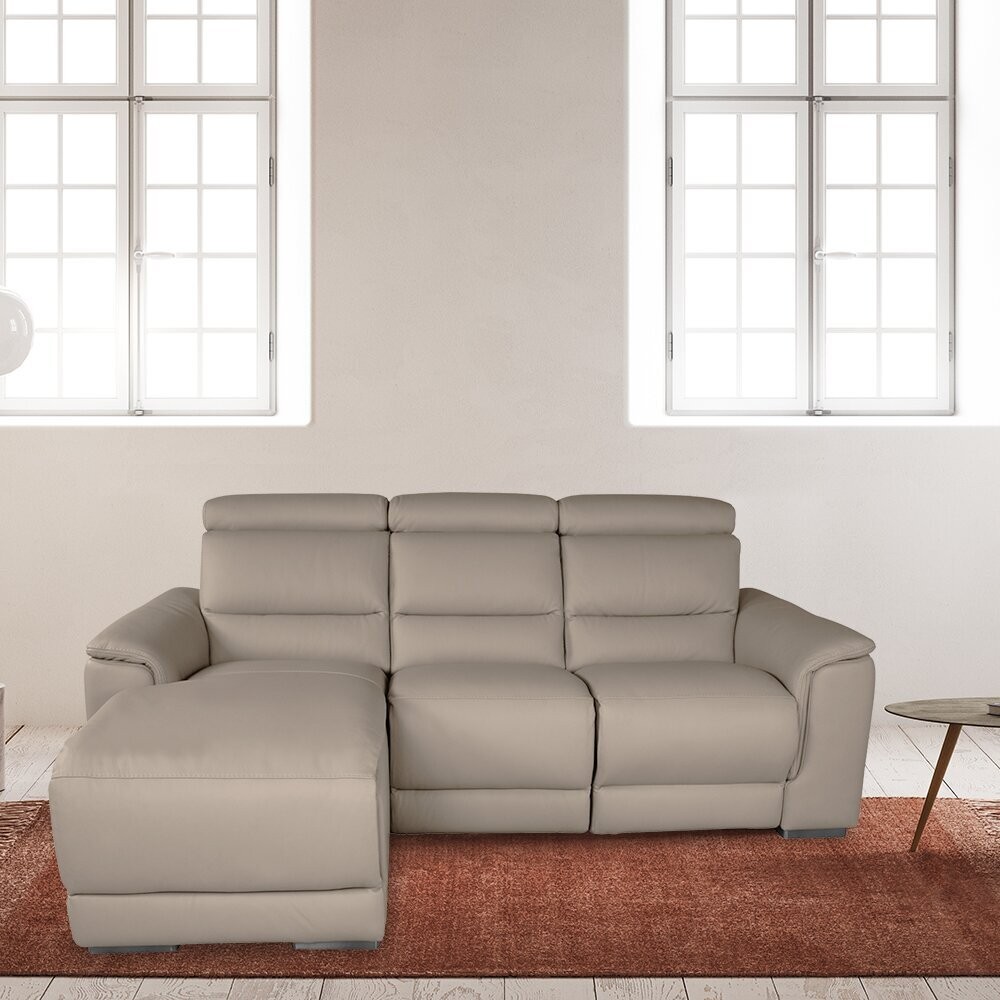 Genuine Leather Small Sectional Sofa With Recliner

What we like: Includes matching chaise for additional space and comfort
What we don't like: Genuine leather means this piece demands a high price point
If you're after a classy, elegant, and cozy sofa but have limited space, this leather sectional is an excellent option. It adds a touch of refinement to your living room without taking up too much space.
Made from premium Italian leather, this sofa offers maximum comfort and a luxurious appearance. The recliner and adjustable headrests mean you can customize each seat to your exact preference.
This sofa comes with a chaise providing additional sitting space. The sofa is available in beige or white and coordinates with numerous interior design styles and color schemes. It is easily accessorized with patterned cushions.
Corner Symmetrical Small Reclining Sectional

What we like: L-shape allows this sofa to fit snugly in the corner of your living room
What we don't like: The modest design may not suit all living rooms
This corner sectional is a classic small space reclining sectional sofa with a modern touch. With its symmetrical design, this is a five-seater sofa but takes up minimal space, allowing you to make maximum use of the room. The sofa is built with a solid wood frame, ensuring it is sturdy and long-lasting.
An appealing feature of this L-shape is the microfiber and microsuede upholstery. This modern fabric adds to the comfort of the sofa but is also very easy to keep clean. You don't have to worry about minor spills or splashes during family movie nights. The power reclining option allows you to kick back and relax with ease.
$1699.99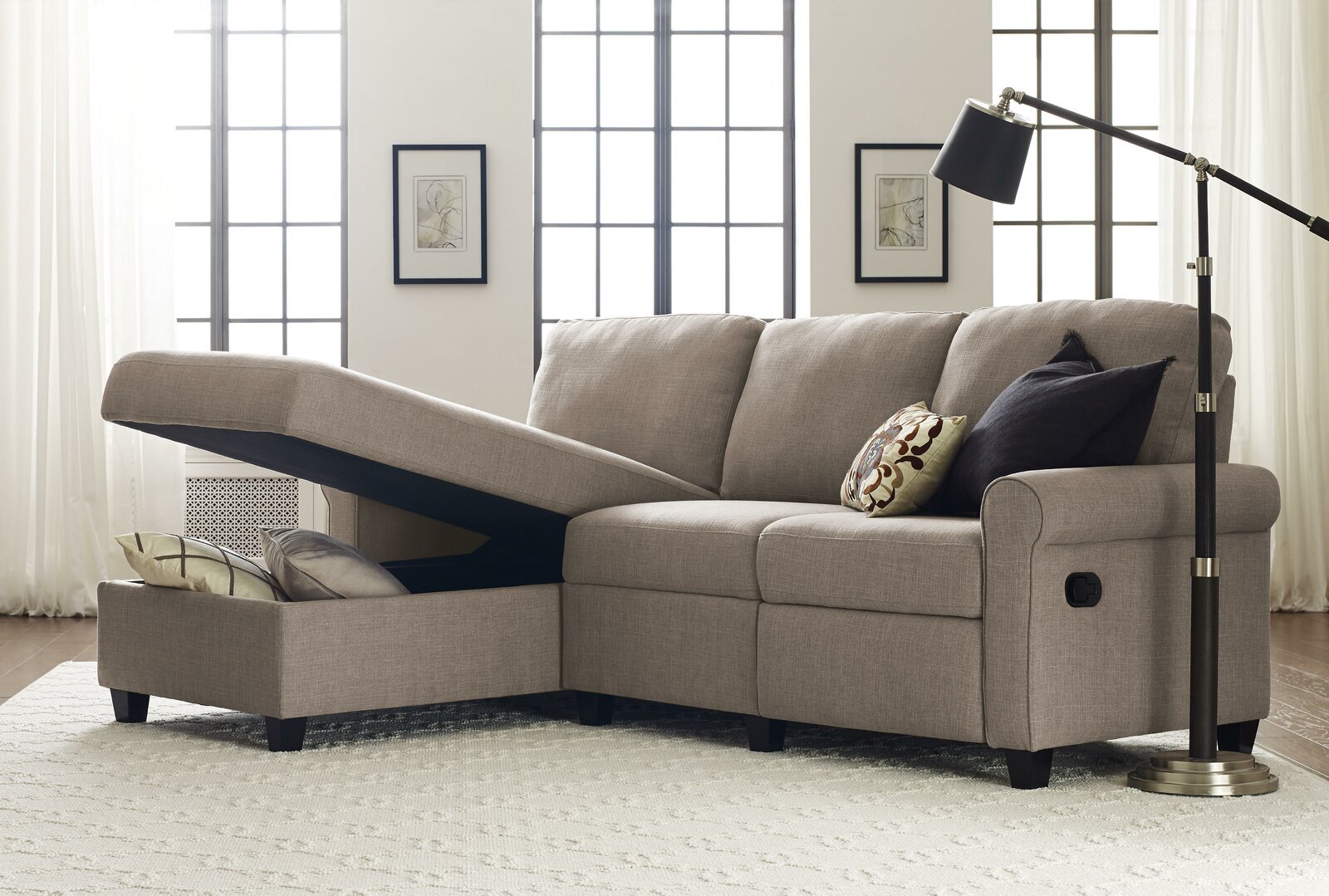 Apartment Size Reclining Sectional With Sofa and Chaise

What we like: Includes storage to maximize your small space
What we don't like: Not comfortable for seating more than two people
If you're seeking a compact reclining sectional for your apartment, opting for a model with built-in storage is a must. This small sectional with recliner measures 36" H x 89" W x 62" D and has a narrow seat depth of 28", making it perfect for small spaces.
Although advertised as seating three people, the narrow depth and size of the sectional is more suitable for two people if you're looking to sprawl out and get comfortable. One person can lounge in the reclining sofa seat while the other enjoys the extra room provided by the chaise.
Hidden storage space beneath the chaise allows you to conveniently store board games, blankets, and other items out of view to avoid cluttering your apartment.
$1268.32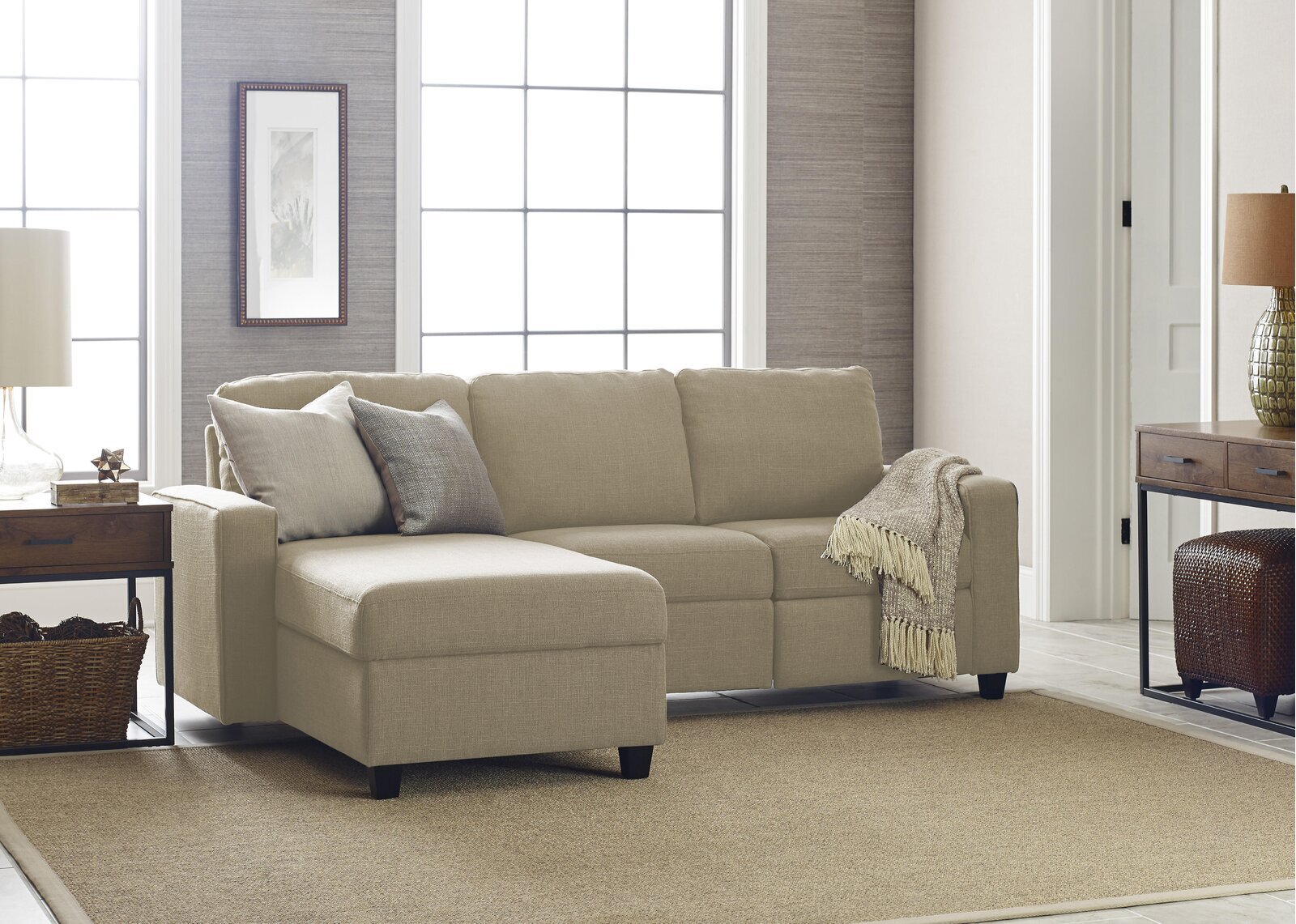 Reclining Sofa and Chaise With Storage

What we like: Ideal apartment size sectional sofa with recliner
What we don't like: The back of the sofa doesn't recline
If you've been struggling to find the right size and shape sofa for your apartment or game room, this recliner may be the solution you've been looking for. It is a neat, multifunctional lounger with chic contemporary features. This recliner has a modest, sleek silhouette and has a polyester finish, making it suitable for modern and traditional spaces. The easy-care fabric provides durability and stain resistance.
It is available in beige, oatmeal, and gray, making it versatile and easy to accessorize. Blankets and cushions can transform this sofa into a living room centerpiece when it's not in use. The built-in chaise not only provides an additional footrest but also doubles up as a storage area to keep throws, pillows, and other accessories.
$1019.99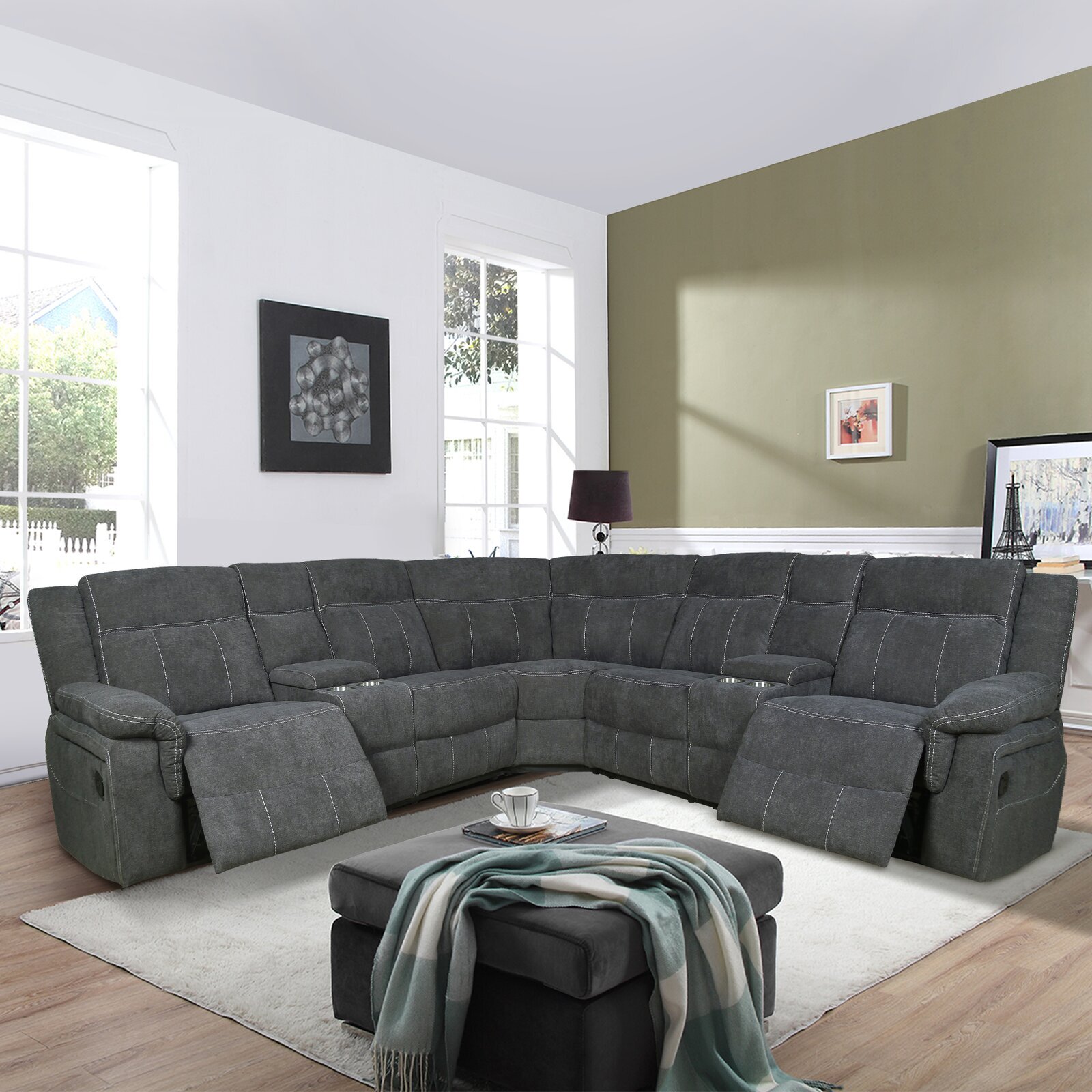 Shallow Seat Depth Reclining Corner Sectional

What we like: Super shallow seat depth allows for a larger sectional in a small space
What we don't like: Reclining function is not as sturdy as other models
Selecting a corner sectional with a shallow seat depth is a great solution for those hoping to host large gatherings despite a small living space. This design lets you tuck the sofa into the corner of the room and make the most of your floor space without compromising the length.
This sectional can comfortably seat up to five people and is available in three different colors so you can match the aesthetic to your existing interior design. The foam seat cushions ensure a comfortable experience, whether you're watching a movie or catching up with friends over a glass of wine. The reclining sectional's soft material is also stain and tear-resistant, making it an excellent option for homes with children or pets.
$2749.99 $3409.99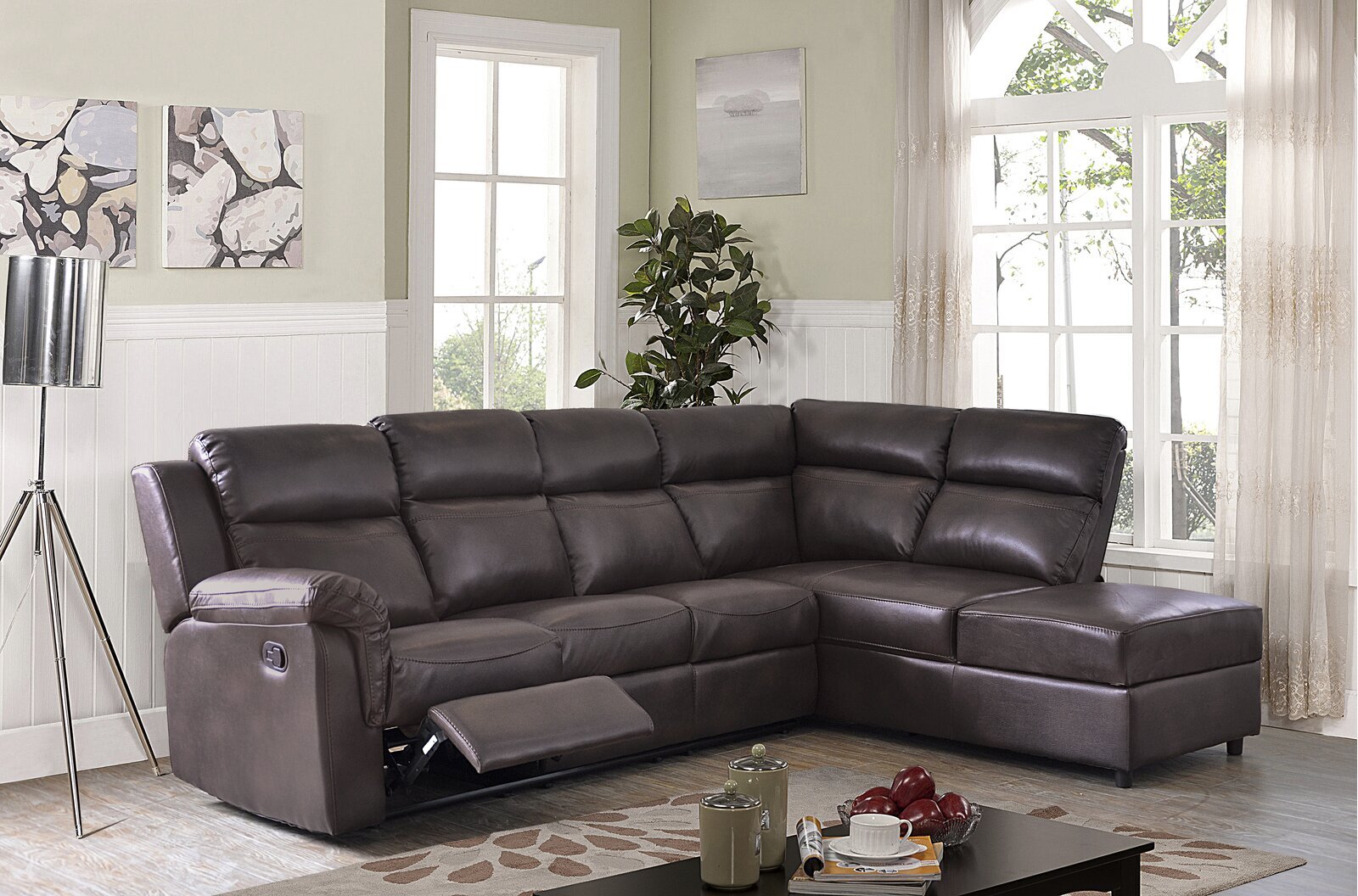 Right Facing Reclining Corner Sectional

What we like: Contemporary, easy to clean upholstery material
What we don't like: Bigger depth than many similar models
If you're in the market for a right-facing corner sectional, a contemporary model with easy-to-clean upholstery can offer the perfect gathering space for family and friends in your home. While this corner sectional is relatively small, measuring 37" H x 96" W x 64" D, it has a much wider seat depth than other models on this list.
It offers storage space beneath the seats and one reclining seat for relaxing during a movie or while sipping your coffee. This right-facing small sectional reclining sofa is ideal for a modern apartment or loft because of its contemporary box arm and chic rounded wooden legs. Though you get the style benefits of a luxury leather aesthetic, the upholstery material is polypropylene/olefin, making it extremely easy to clean if it gets scuffed or dirty.
$1669.99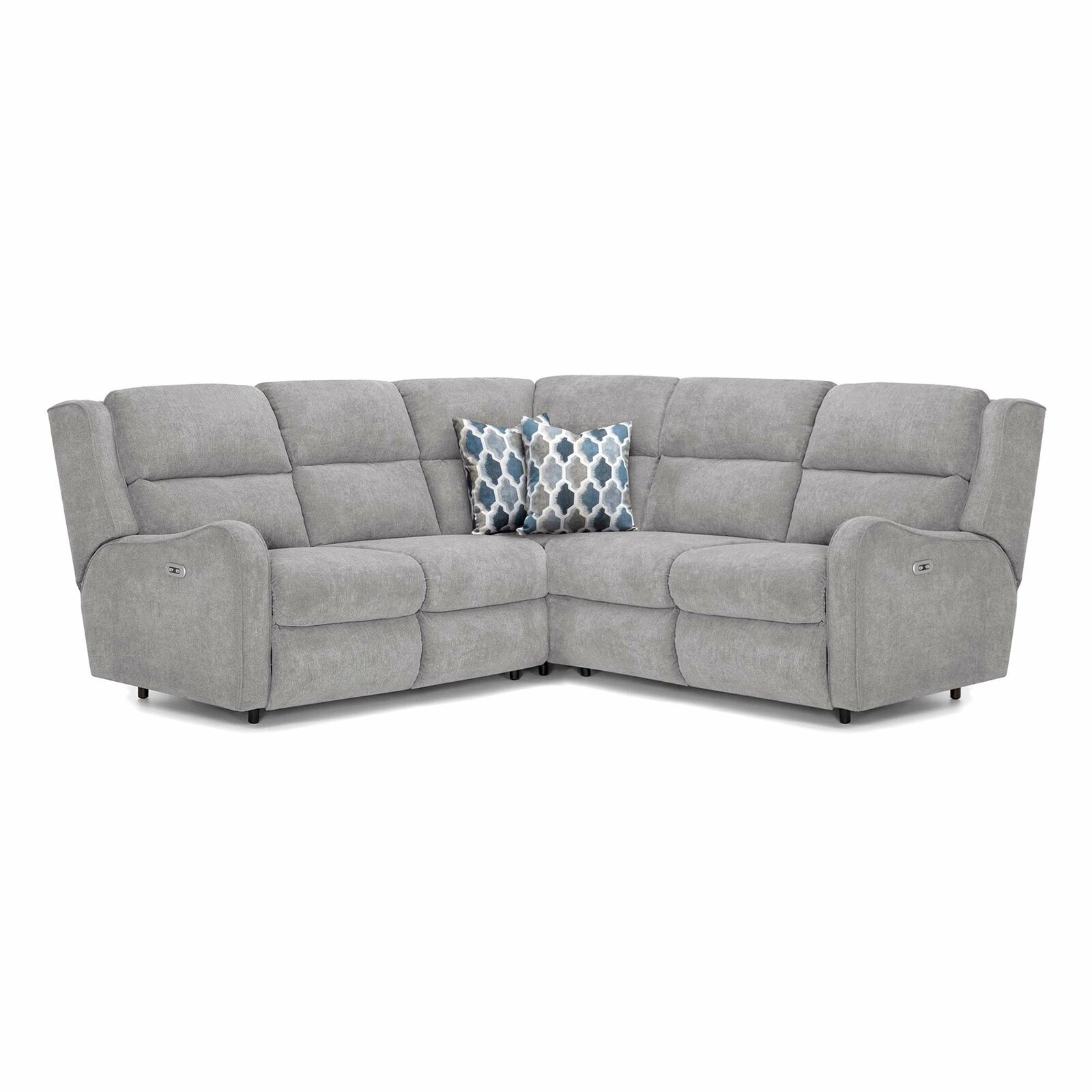 Symmetrical Reclining Corner Sectional

What we like: CopperFuse seating material is hypoallergenic and adds comfort to the sofa
What we don't like: Corner shape and dual recliners mean you can't fit in a coffee table
The ash-colored, symmetrical, L-shaped loveseat offers a unique look for your living room. The polyester blend upholstery contains CopperFuse seating gel, which gives the sofa cooling properties and helps keep it clean and fresh. This is highly beneficial if your home tends to get hot throughout the summer months.
Although this is one of the larger sofas on our list, the symmetrical design ensures it takes up minimal space. The sofa can comfortably seat four to five adults, making it a great option for small families. It uses a power reclining function, allowing you to adjust the foot and headrests on both reclining sections at the push of a button.
$1649.99 $1739.99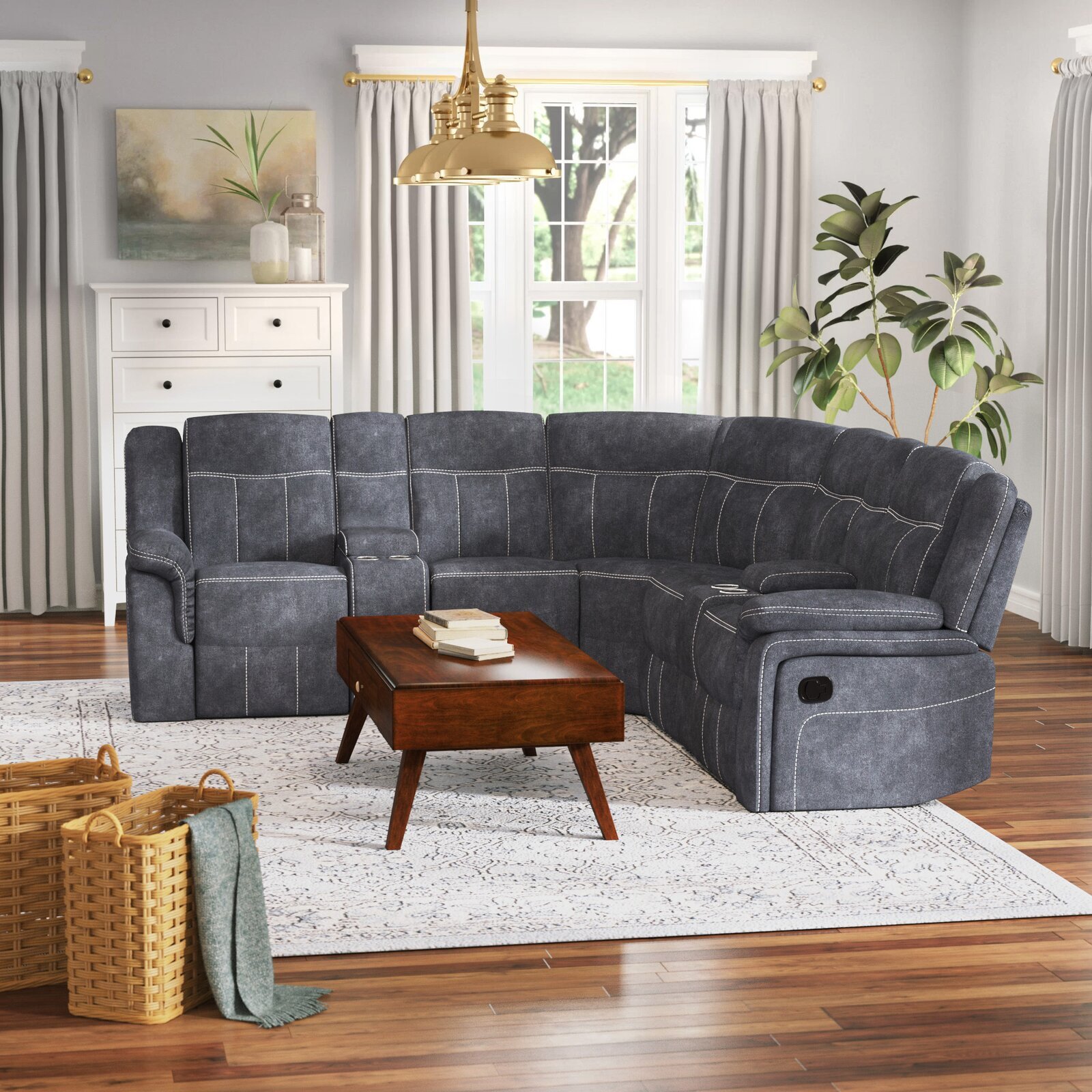 Small Sectional Couch With 2 Recliners

What we like: More than one seat with a footrest
What we don't like: Not as roomy as it appears
For homes with a small entertainment space, a sectional sofa with two reclining seats is the best way to ensure everyone can kick back and relax together. The sectional has a shallow seat depth of 21" making it suitable for small spaces. The two end seats of this model recline manually, with a pull-lever on either outside edge. The left and right loveseats feature cupholders for sitting with a drink or storing your remotes.
Choosing a small size doesn't mean sacrificing comfort, thanks to the plush chenille fabric and firm, cushy backrests that offer incredible support.
$2949.99 $3782.5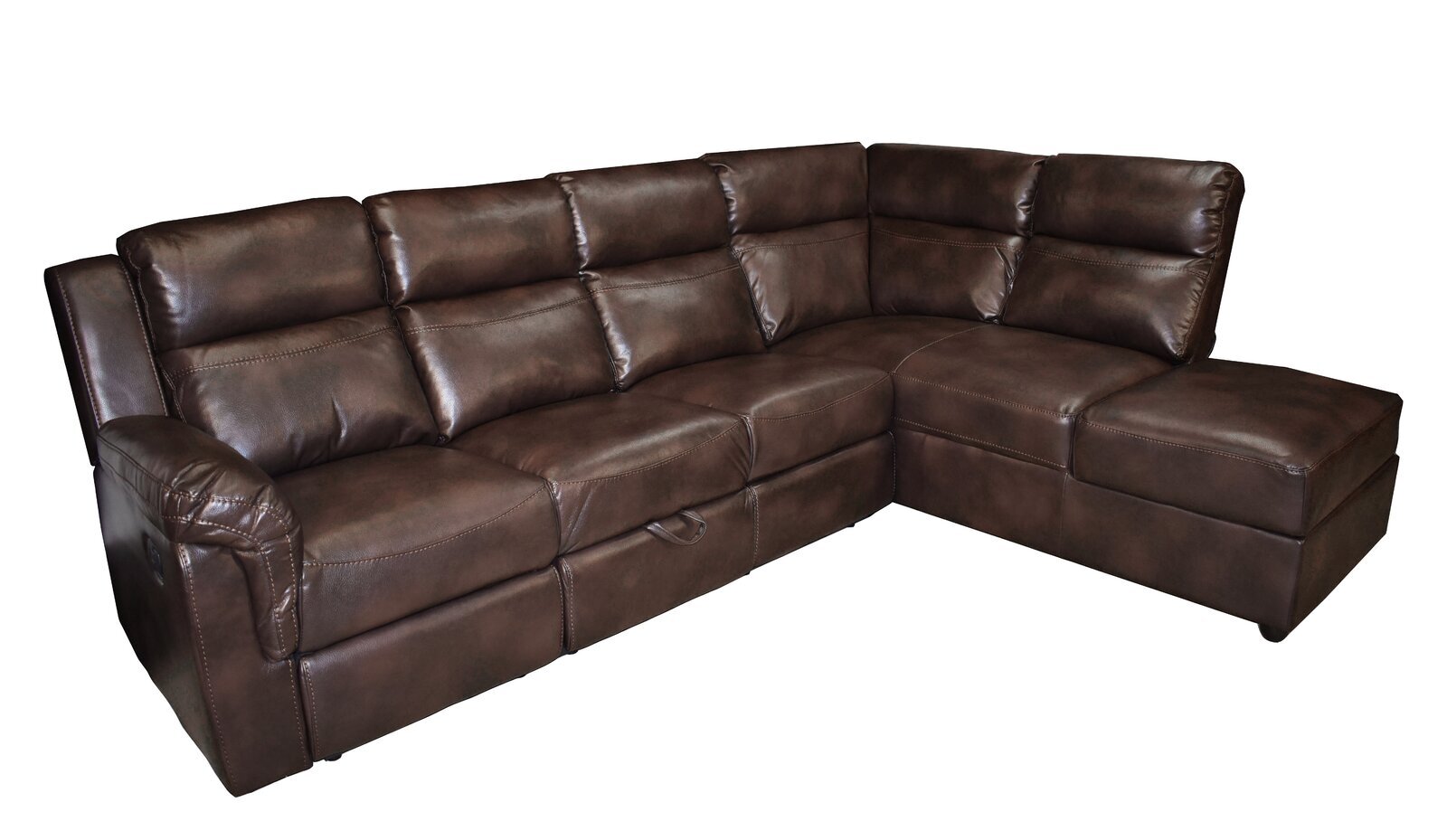 Right Hand Facing Corner Sectional With Storage

What we like: Includes ample storage and fold-out drinks holders
What we don't like: Not all seats are reclinable
This six-seater sofa is one of the most spacious options on the list. However, its compact L-shaped design ensures it can fit neatly into the corner or against a wall. This sofa includes an ottoman which can be used as an extra seat and to store spare cushions or blankets. There is also additional hidden storage space under some of the seats, providing the perfect place to keep remote controls, magazines, or books.
If all seats aren't occupied, the back of select cushions can be pulled forward for use as an armrest and cup holder. The spaciousness, comfort, and features make this the perfect sofa for hosting sports get-togethers or home movie theater nights.
The polypropylene and olefin upholstery give this sofa a classy finish but ensure it is durable and easy to clean.
Reclining Sofa and Chaise

What we like: Extra deep seat depth for maximum comfort
What we don't like: Built-in armrest and cupholders restrict seating capacity
When shopping for reclining sectional sofas for small spaces, you don't need to sacrifice comfort to find the right-sized sofa. This compact linen sofa and chaise comes with 35" extra deep cushions for an irresistibly comfortable seat. Not only is this sofa comfortable, but the iron frame and spring base ensure it offers support and durability, keeping you cozy for as long as you sit.
This sofa is designed for entertaining and movie nights. It has storage space right next to drinks holders, enabling you to keep snacks close at hand. The built-in chaise allows you to put your feet up and doubles as an extra seat if you have guests around. At just over 96" wide, this sofa is an excellent compact option for a small game room or an apartment.