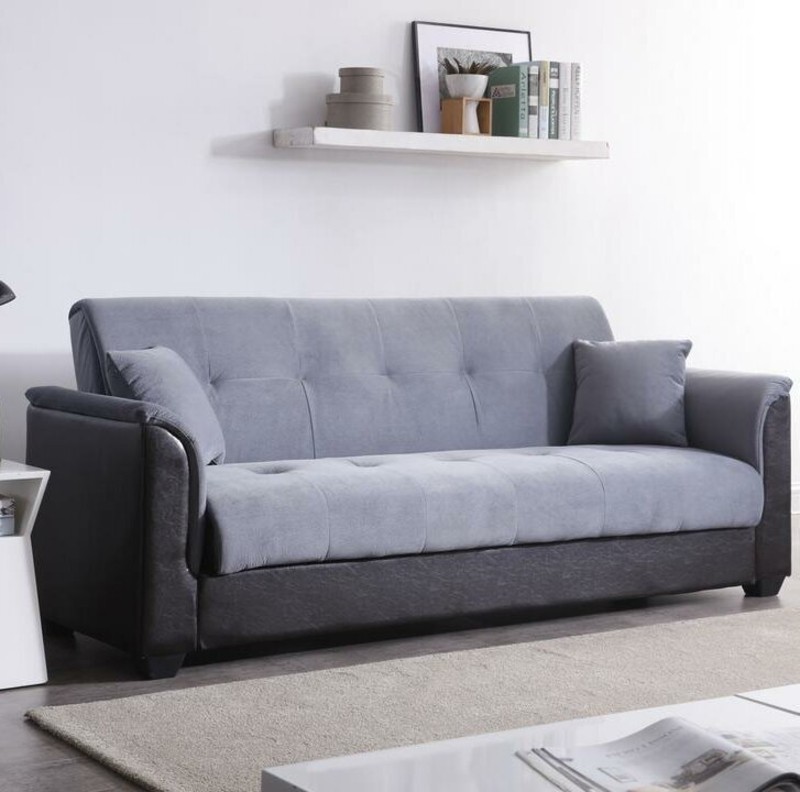 Avah 84" Round Arm Sofa

What We Like: Transforms into a full bed
What We Don't Like: Relatively low weight capacity
The Avah round arm sofa offers a contemporary look for your living space. Due to its versatile design, it is a fantastic addition to virtually any room. One of the most useful features of this sofa is that it transforms into a fully functional bed in seconds. However, despite the solid wood frame, it can only safely support 300 lbs., potentially limiting the number of guests that can use the sofa bed.
The piece is crafted from a solid wood frame, foam filling, and easy-to-clean polyester upholstery. The sofa comes with three throw pillows, and they can be accessed by lifting the seat. There is additional couch storage space alongside the pillows, allowing you to store bed linens.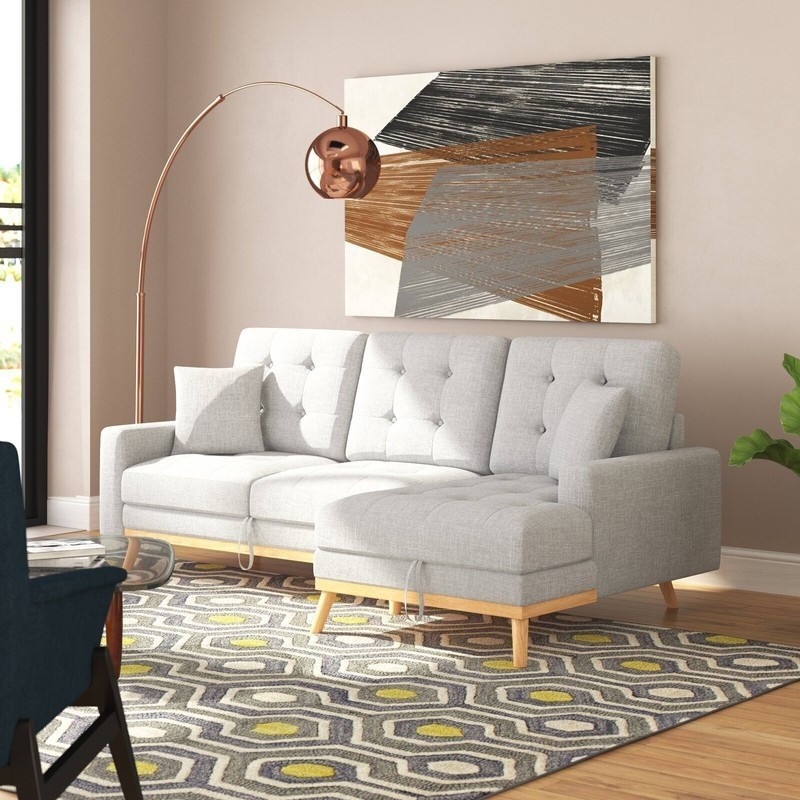 Fairbank 91"

What We Like: Minimalistic design with ample storage
What We Don't Like: The cushions are too firm for some people to sleep on
The Fairbank fabric sofa with a chaise is designed as a 2-seater but can hold three people comfortably. With a linen-blend upholstery and foam-filled, tufted cushions, it is a firm, supportive sofa. The chaise provides the perfect surface to put your feet up, but it can also offer a stylish sleeping arrangement for guests.
The cushions can be easily pulled out next to the chaise to create a double bed, capable of supporting up to 600 lbs. Simply lift the cushion on the chaise using the convenient tag to find all the storage you need for bedding supplies.
Wooden legs, a clean design, and bright materials give this storage sofa couch a modern and trendy look that's perfect for living rooms, lofts, or guest bedrooms.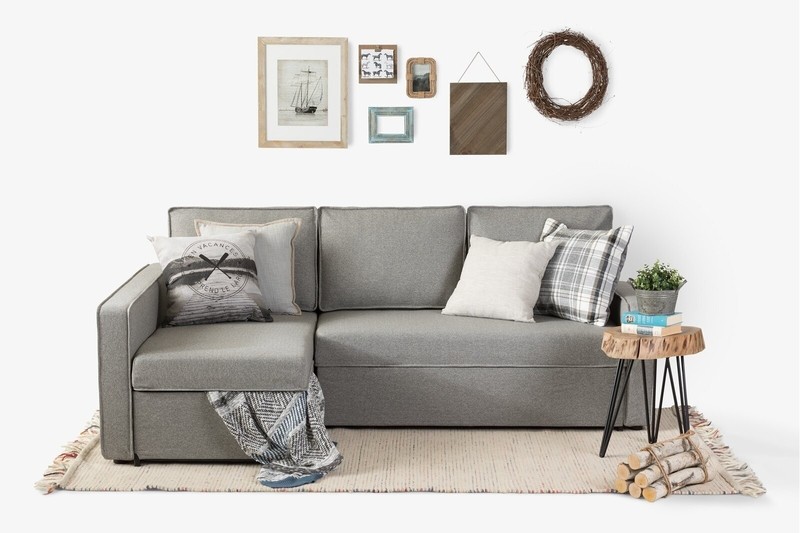 Live it Cozy Reversible Sleeper Sofa & Chaise

What We Like: Can be converted to a queen-sized bed for guests
What We Don't Like: The basic design may need accessories to add to the visual appeal
This reversible sleeper storage couch may not have a unique design; however, it is available in three colors making it easily adaptable to any room. Adding some floral, patterned, or colored cushions and a throw could completely transform the sofa into a stylish piece.
The sofa can be folded out into a queen-sized bed for hosting guests. Alternatively, the L-shaped chaise and pull-out section provide additional legroom for snuggling up on movie nights.
This sofa is durable and low maintenance with square arms, a manufactured wood frame, and polyester upholstery, making it ideal for family homes. Storage space can be accessed easily by lifting the cushions and offers enough space to keep a range of items, from electronics to DVDs and gaming discs to extra throw pillows.
$1169.99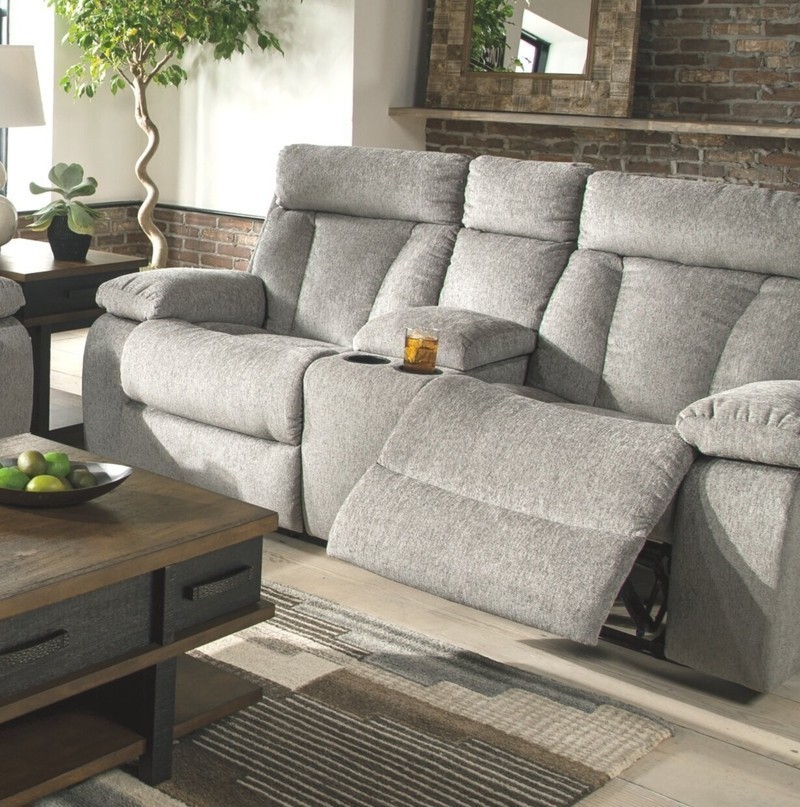 Evelina Pillow Top Arm Reclining Sofa

What We Like: Drink holders, storage space, and USB ports are located in the center console
What We Don't Like: The storage compartment is relatively small
The Evelina pillow-top arm reclining sofa is one of the most comfortable storage couches on our list. The plush cushions are designed for maximum comfort, and the double recliners ensure you can find the best viewing angle for your TV show binge or sporting event. With drink holders and USB ports in the center of the sofa, you don't even have to move to enjoy a beverage or charge your phone.
If you're looking for a lot of sofa storage for bedding or seasonal clothes, this may not be the option for you. However, for sofas with storage compartments, this is an excellent choice. The storage space is located just underneath the middle armrest and is ideal for storing books, remote controls, and other small devices. It also works perfectly as a snack tray.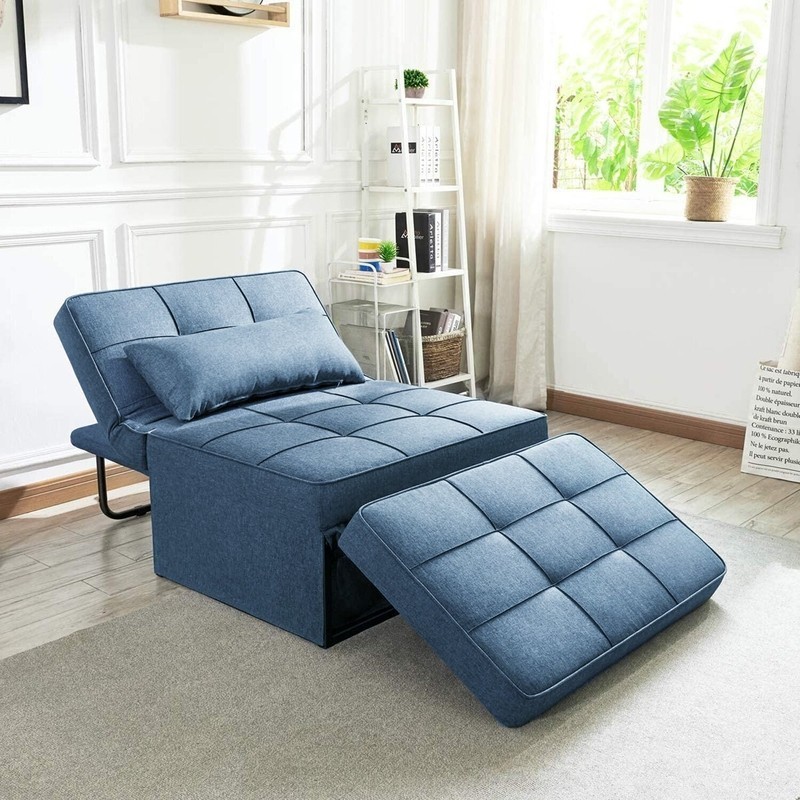 Chaliyah Armless Sofa Bed

What We Like: A versatile and cost-effective sofa with plenty of storage
What We Don't Like: The lack of arms compromises the comfort level
If you're in the market for a small sofa with storage underneath, the Chaliyah armless sofa bed is an affordable option. Its size means that it can't hold multiple people, but the product engineering allows you to adjust it into several different modes. The Chaliyah can function as a regular chair, a reclinable sofa, a fold-out bed, and a backless and armless storage box.
Despite being relatively lightweight, the Chaliyah has a weight capacity of 450 lbs. Due to its versatility, it can be transported quite easily if you need an extra bed on your travels.
The frame and leg material is metal, ensuring it is durable.
$385.99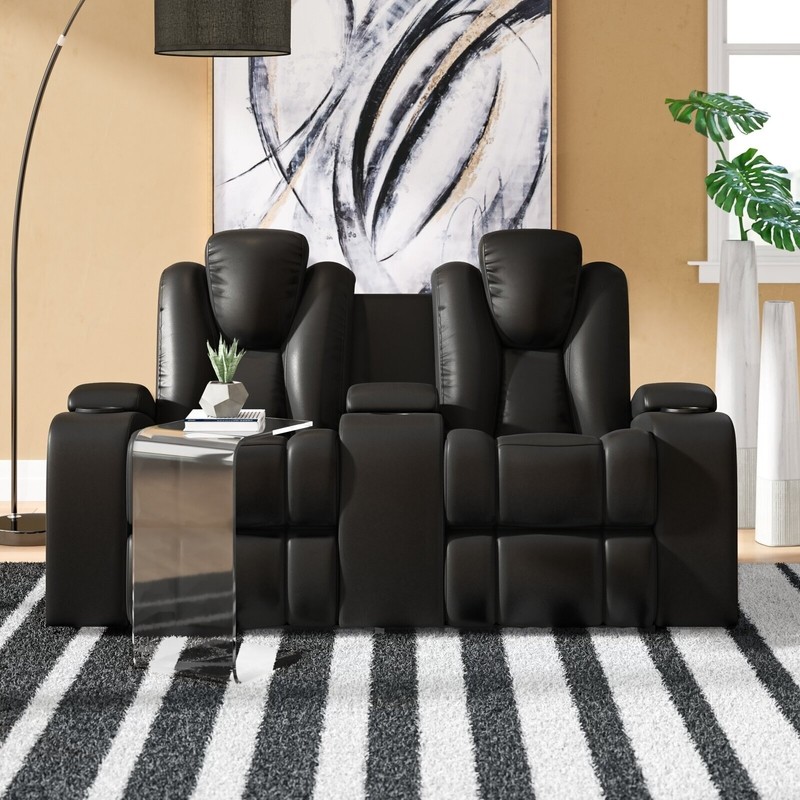 Fionn Faux Leather Pillow Top Arm Reclining Loveseat

What We Like: Unique design and adjustable headrests make this an extremely comfortable storage sofa
What We Don't Like: It is quite expensive for a 2-seater sofa
The Fionn reclining loveseat is the perfect addition to your modern or classic living room. It is also ideal for a home cinema, game room, or bachelor pad. Although this is one of the more pricey sofas with storage on our list, it is packed full of technology and boasts some cool features.
The reclining and adjustable headrests are controlled electronically by using a set of buttons along the armrest. The buttons are nestled in the frame for the conveniently positioned cup holders, where they can be triggered with ease to find the most comfortable position. Next to the buttons, you'll find a USB slot to charge your phone or smart device.
This is a classy-looking sofa with a faux leather finish and adds value to a room as a stand-alone piece. There are also 3-seater and single-seater models available if you want a complete sofa set with storage.
$2499.99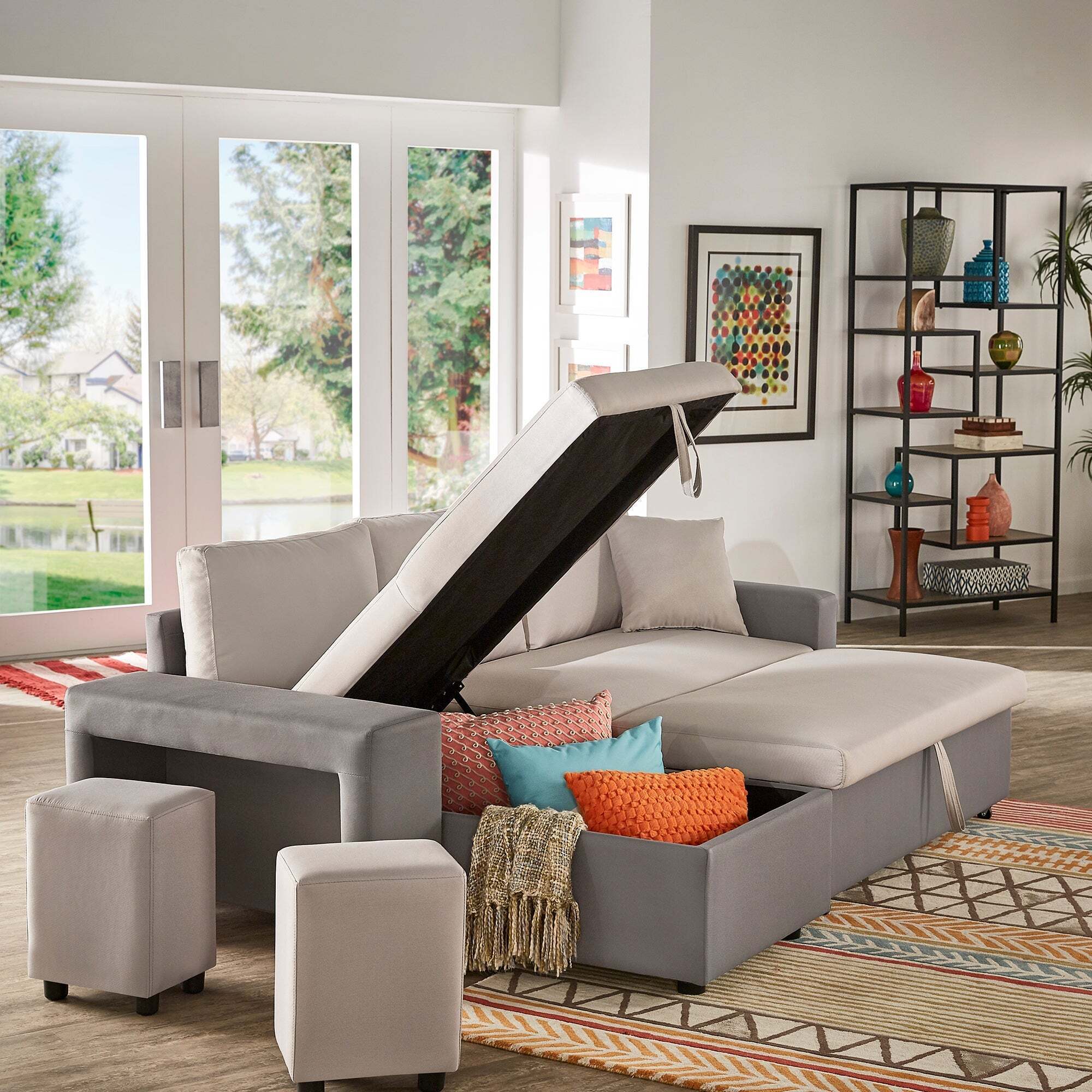 Lorca Two Tone Convertible Sofa

What We Like: Very versatile sofa with storage space and additional cubic stools for seating, resting your feet, or holding snacks and drinks
What We Don't Like: It has multiple components making it tricky to reconfigure your space
When it comes to purchasing a sofa with storage underneath, the Lorca is impressive. Although it may require some assembly, it has several great features, including two ottomans and multiple organizational compartments. The cubic stools fit snugly under one of the armrests, and the L-shape means you can kick your feet up and enjoy a more relaxing time on your couch.
As a modern sofa with storage, this piece is well designed and built. It has comfortable cushions and a sturdy wood frame, so you can expect it to last many years. The 2-tone fabric offers a subtle contrast, ensuring the sofa blends with the aesthetic of the room.
As well as being a sofa with storage compartments, the Lorca doubles as a fold-out bed, making it even more versatile.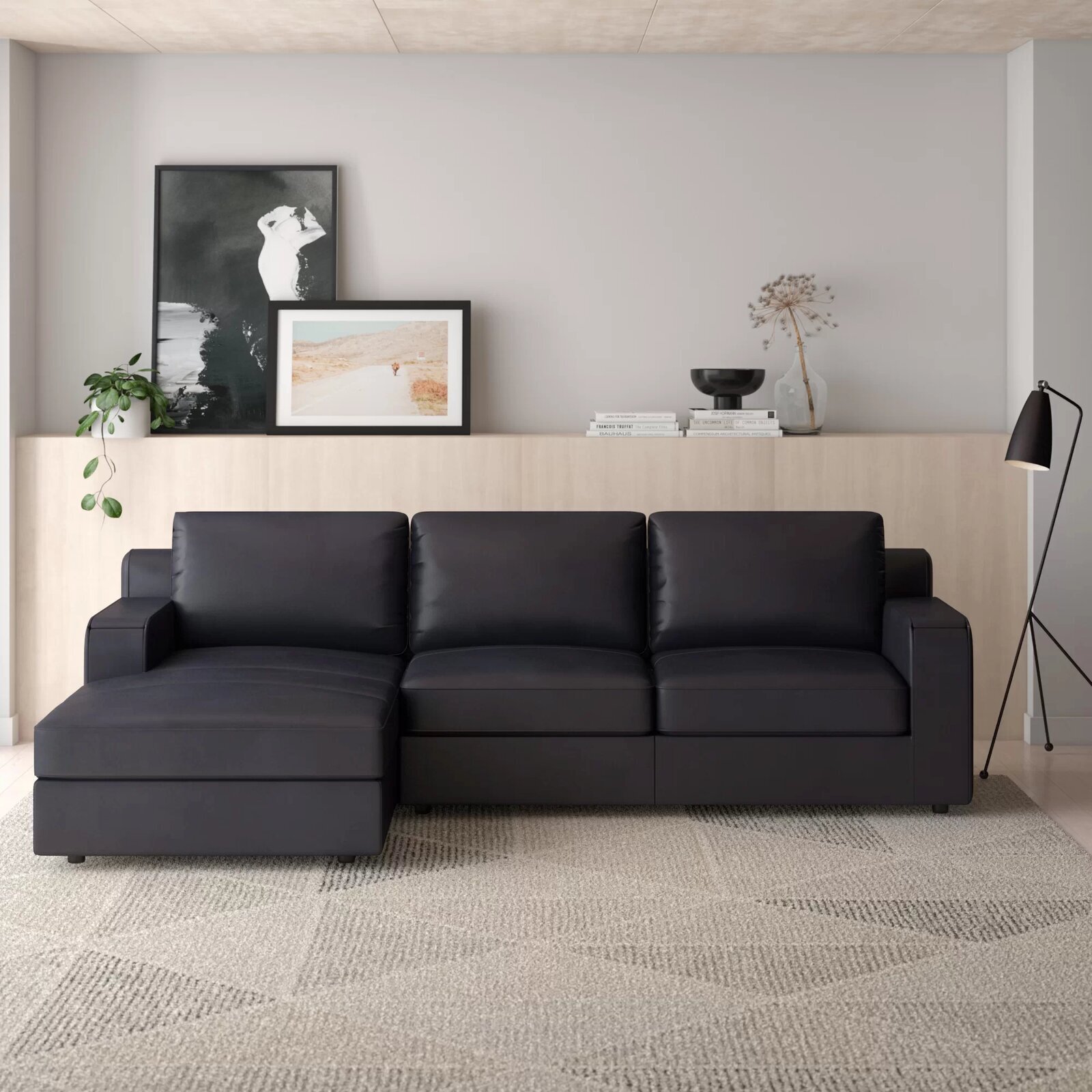 Halley 109" Sectional

What We Like: Quality design with genuine leather upholstery and a memory foam mattress
What We Don't Like: Very high price point
The Halley Sectional sofa is a luxurious piece of furniture built from quality materials. It is an L-shaped couch with a chaise that provides an additional sofa and storage room. The real selling point with this piece is the quality build. It has a solid wood frame, giving it a clean silhouette and plenty of support. The foam cushions and web suspension ensure it can hold up to 900 lbs.
This sofa also doubles as a fold-out bed. While sofa beds are generally reserved for guests, the Halley has a memory foam mattress, so you'll be tempted to take your naps in the living room. The metal frame underneath the couch has a simple opening mechanism, allowing for an effortless bed setup.
If you're after a high-quality sofa with storage and don't mind spending some extra cash, the Halley sectional L-shape couch is hard to beat. What's more, it comes with a 1-year warranty.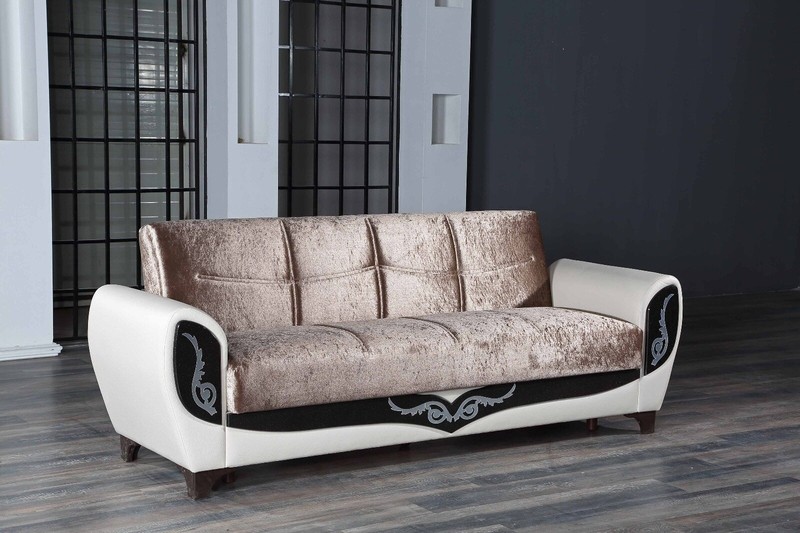 Dereham Flared Arm Sleeper

What We Like: Classy design makes it a wonderful addition to a fancy living room.
What We Don't Like: Firm cushions make it a little uncomfortable for sitting and sleeping.
When you think of storage sofas, you likely imagine a rudimentary furniture piece with large removable cushions or a couch with drawers installed underneath the seats. The Dereham Flared Arm Sleeper defies this logic with its stunning tufted upholstery and sleek design. What's more, it is reasonably priced, making it a great addition to your living room.
The framing is made from solid manufactured wood, and the walnut legs contrast beautifully with the white and brown linen-blend upholstery. The sofa is UV and stain resistant, ensuring it has lasting power. It can be easily folded into a bed with a weight capacity of 1,000 lbs.
The Dereham has two easy-to-access storage compartments beneath the seats, which are ideal for storing extra cushions or bedding. It also comes with a 1-year manufacturer's warranty.
$1399.99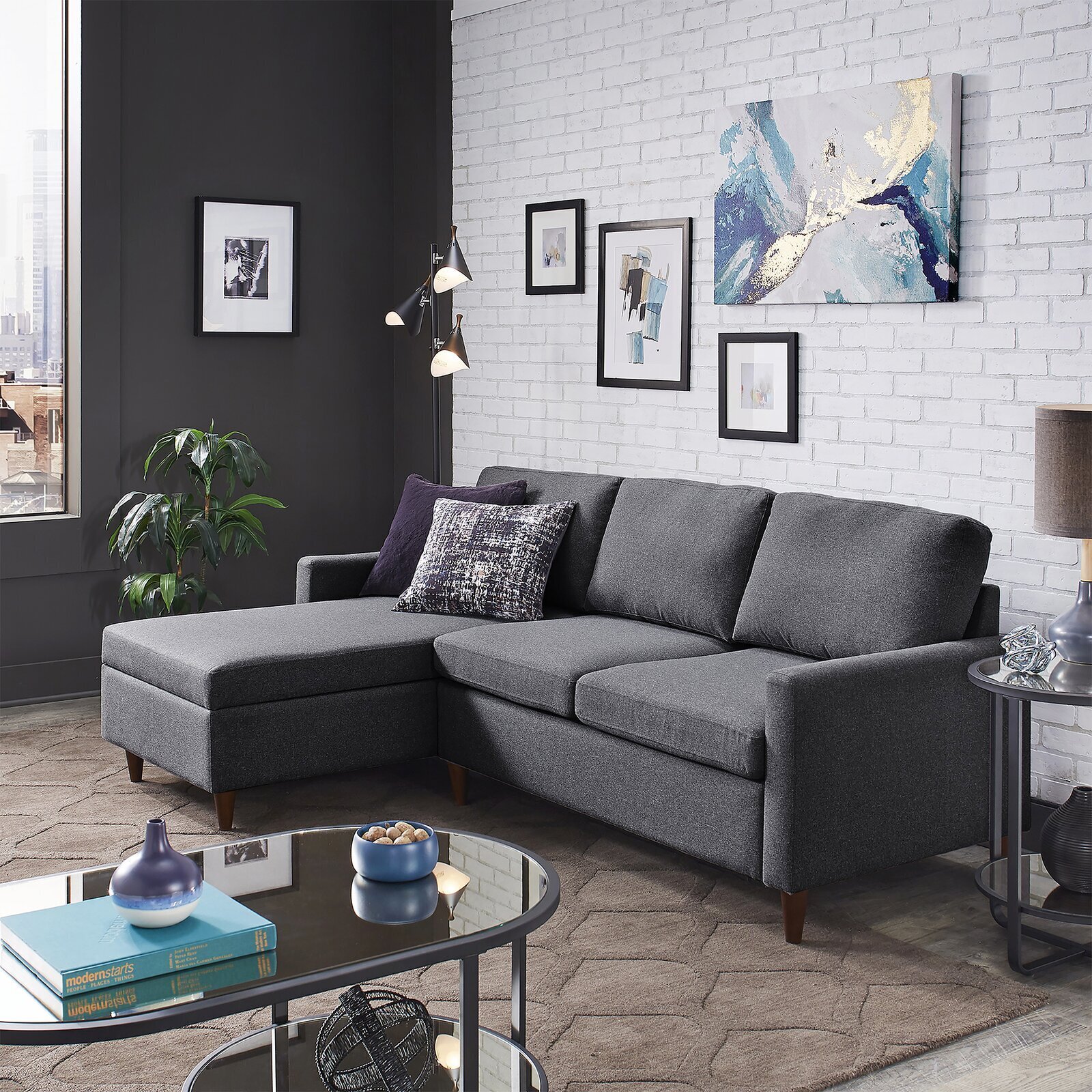 Debrah Reversible Stationary Sofa & Chaise Sectional

What We Like: Lightweight, affordable, and practical sofa that can be folded into a bed
What We Don't Like: Bland design may not suit certain homes
If you're looking for a modest but practical settee with storage space, it's hard to go wrong with the Debrah Reversible. It has all the features you desire in a sofa bed, with enough room to seat three people, ample storage space inside the chaise, and a solid wood frame.
While the sofa won't blow you away aesthetically, it is available in a range of neutral tones, meaning it can be matched to multiple color schemes. The walnut tapered legs give the piece a stylish finish. Add some contrasting cushions to bring out the best in this sofa.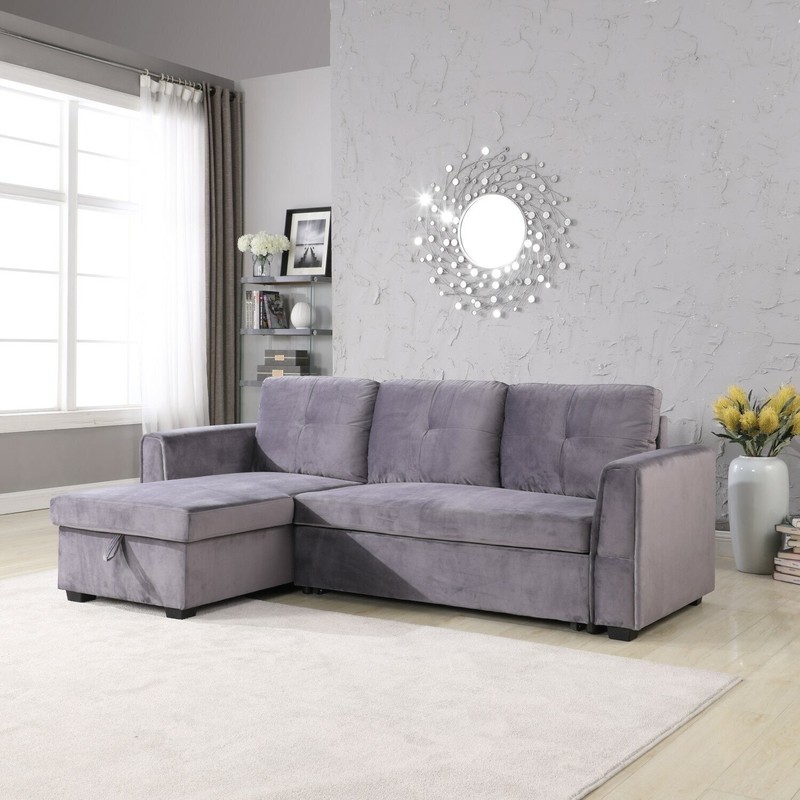 Nelda Velvet Round Arm Sleeper

What We Like: Plush sponge tufted cushioning makes this a very comfortable couch with storage underneath.
What We Don't Like: Legs are made from PVC, which may be less durable than solid wood.
The Nelda Round Arm Sleeper is one of the most elegant couches with storage on our list, with its velvet upholstery finish. While the legs are made from PVC, the frame and inner components use solid wood and metal to provide sturdiness. It can hold up to 500 lbs.
Although this isn't a sofa with drawers, it boasts one of the largest storage spaces of any piece on our list. The entire elongated section of the L-shape contains storage space underneath the cushion. It can also be folded out into a 2-person bed.
$949.99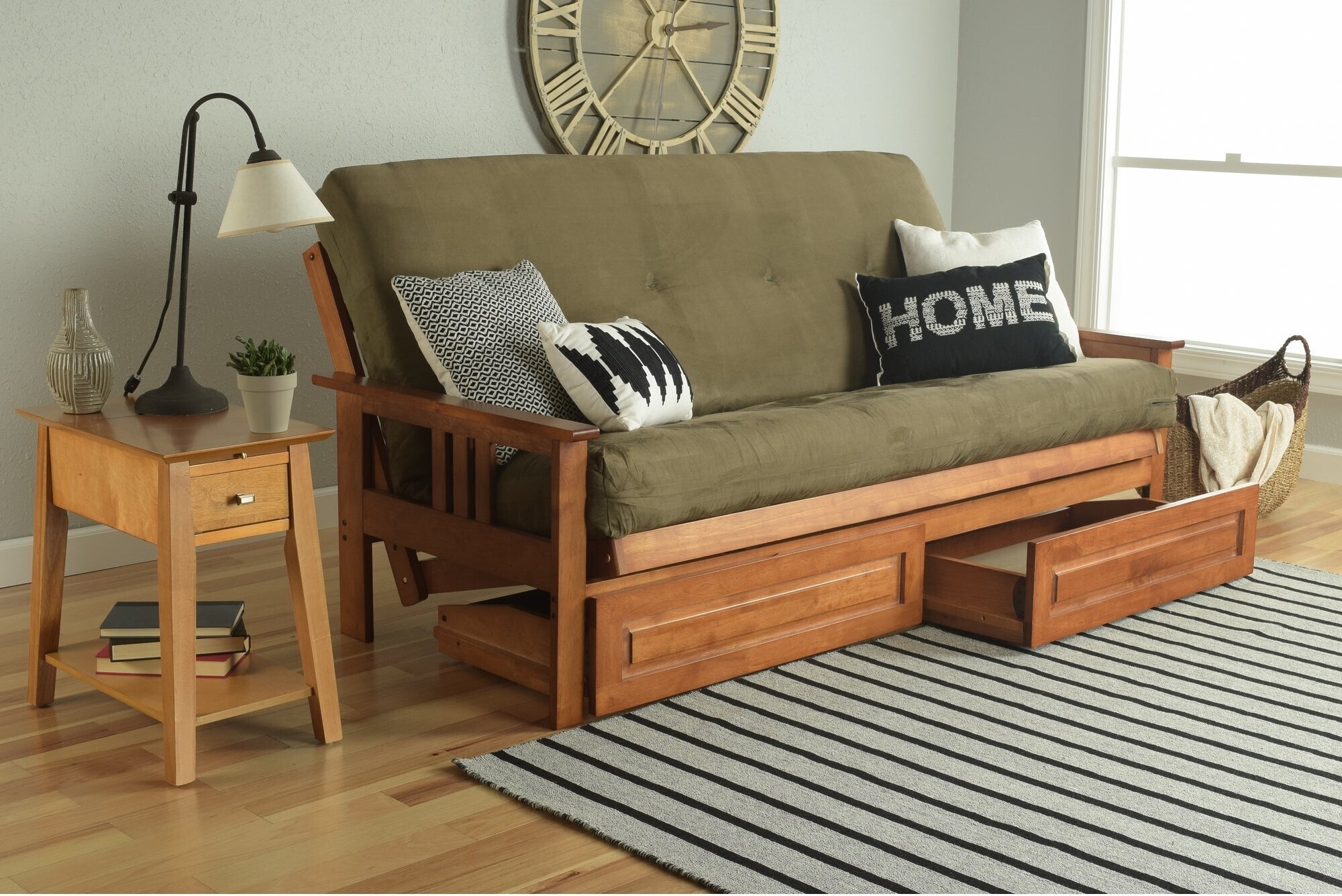 Porch and Den Kern Storage Futon

What We Like: Budget-friendly adjustable sofa with drawer storage.
What We Don't Like: Can be challenging to assemble and set up without help.
The Kern Futon is an excellent small sofa with storage at an affordable price. It is made from solid wood and includes a full-size frame, giving you excellent support as you sit or lie. The suede mattress is very comfortable, but it comes in various fabric options, giving you a variety of choices.
The clean lines and honey oak finish make the piece very versatile and allow it to be matched with most home decor. If the sofa isn't stylish enough to be the main feature in your living room, it is an excellent option for a den, porch, or spare room.
You'll find plenty of storage space in the drawers underneath the futon. These are also made from solid wood and are suitable for holding various items, from bedding to kids' toys.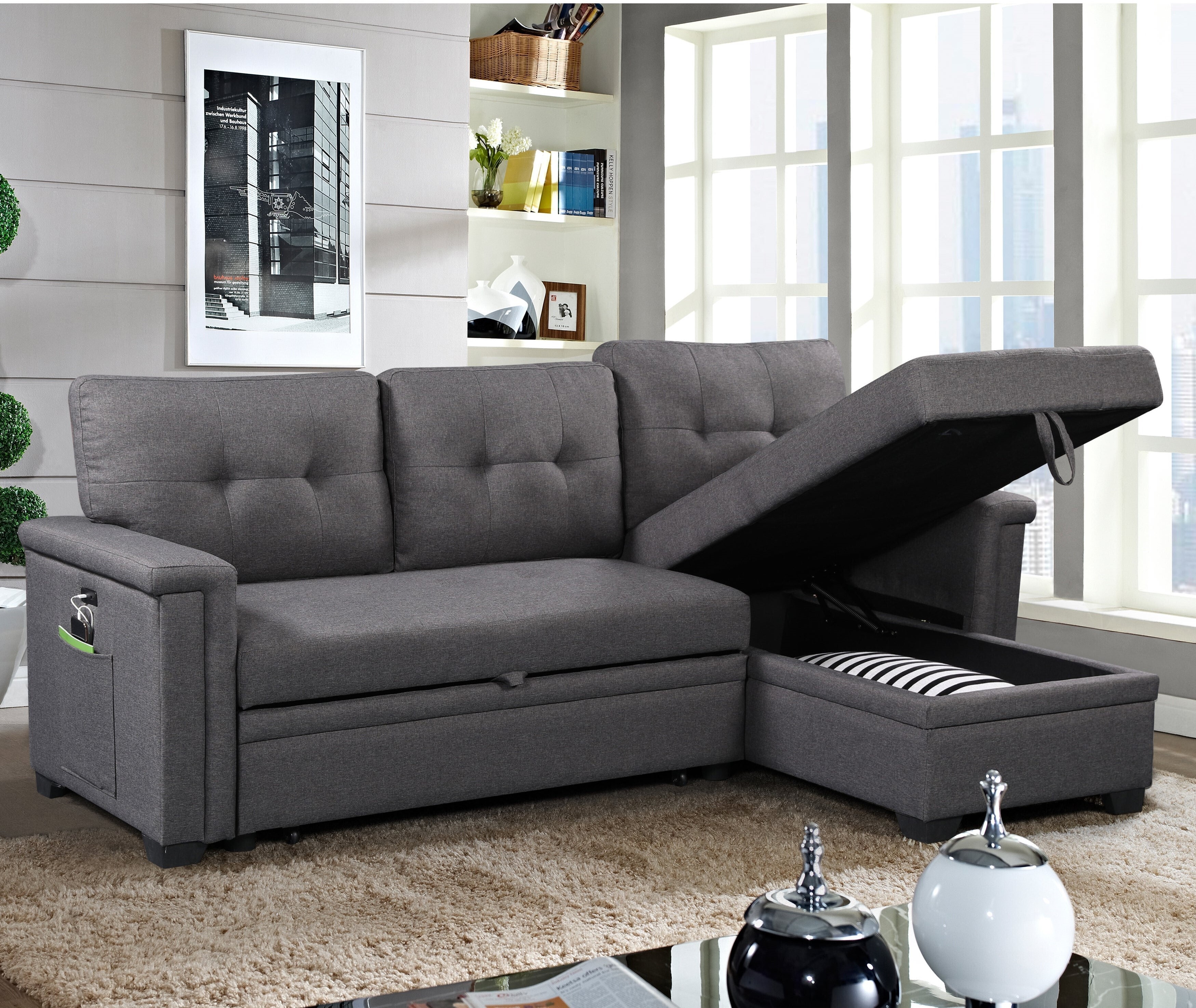 Ashlyn Reversible Sleeper Sofa

What We Like: Contains useful modern features, such as USB phone charging ports
What We Don't Like: Foam-filled seat cushions can make it uncomfortable for sleeping
The Ashlyn Reversible Sleeper is a great option for homes that lack space for a spare bedroom. As well as being a stylish sofa, it can be converted into a double bed and contains storage space to hold all the necessary bedding materials and equipment.
If you don't plan on having guests very often, the Ashlyn is an excellent couch. The pull-out function can be used to give extra legroom, and the side of the piece contains storage pouches for holding magazines, books, or remote controls.
A cool feature of this sofa is the USB charging ports. You can plug your cable directly into your sofa to charge your phone or tablet, giving you even more comfort as you relax.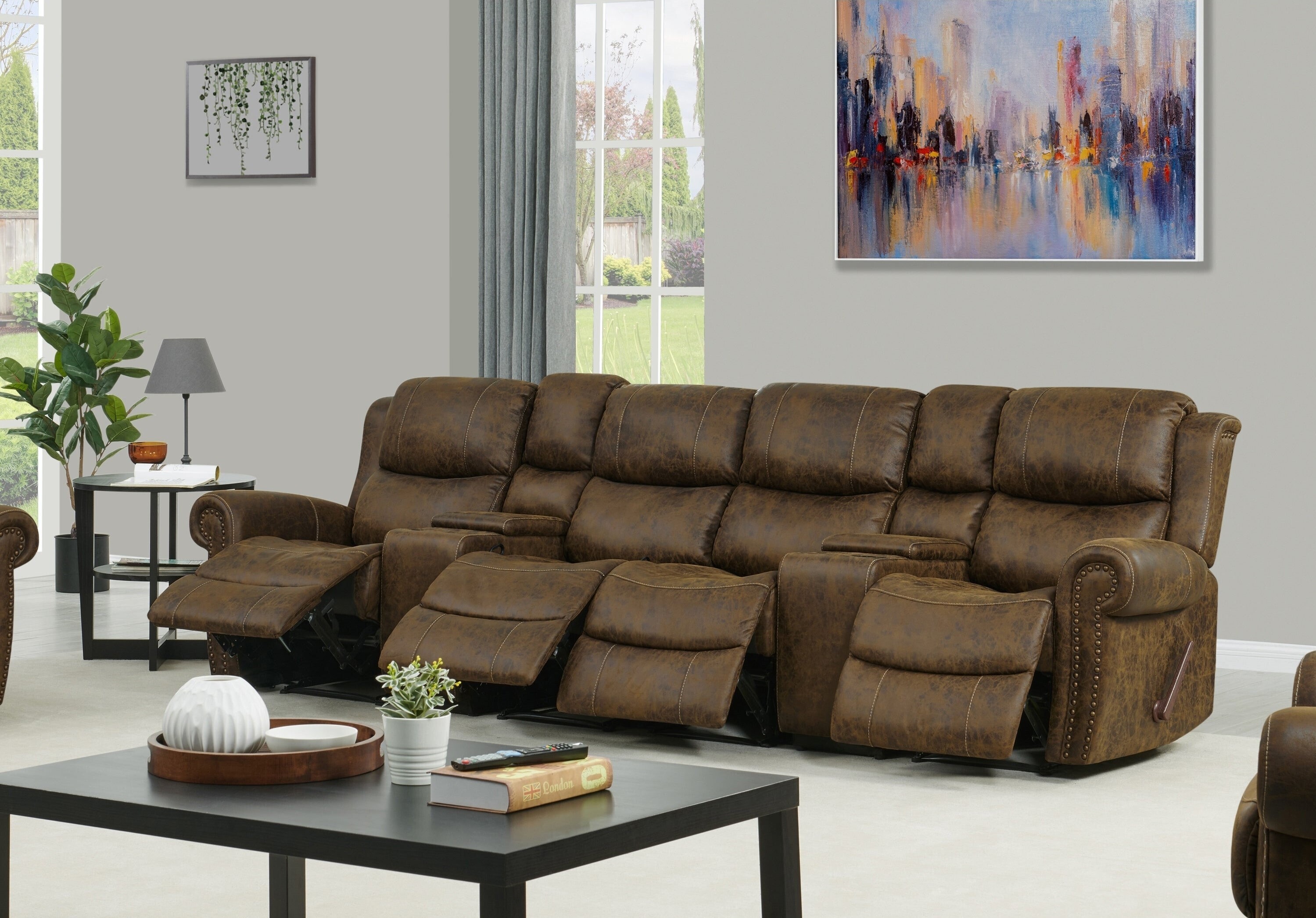 Copper Grove Wels Recliner Sofa

What We Like: Spacious sofa that can fit the whole family
What We Don't Like: Limited storage space in two center consoles
If you're part of a large family, many sofa beds with storage are simply not big enough to cater to the household. The Copper Grove Wels Recliner is by far the biggest sofa on our list. As well as seating four people comfortably, each person has access to a center storage console. Although these spaces aren't too big, they store remote controls, phone chargers, books, and magazines.
The sofa comes in either saddle brown or latte tan in faux leather. The upholstery is stain resistant, making it easy to keep clean. One of the greatest aspects of this sofa is how comfortable it is. Each cushion is filled with a mixture of high-density foam, polyester fiber, and sinuous springs to create a cozy fit.
Compared to similar products of the same size, this sofa is quite reasonably priced.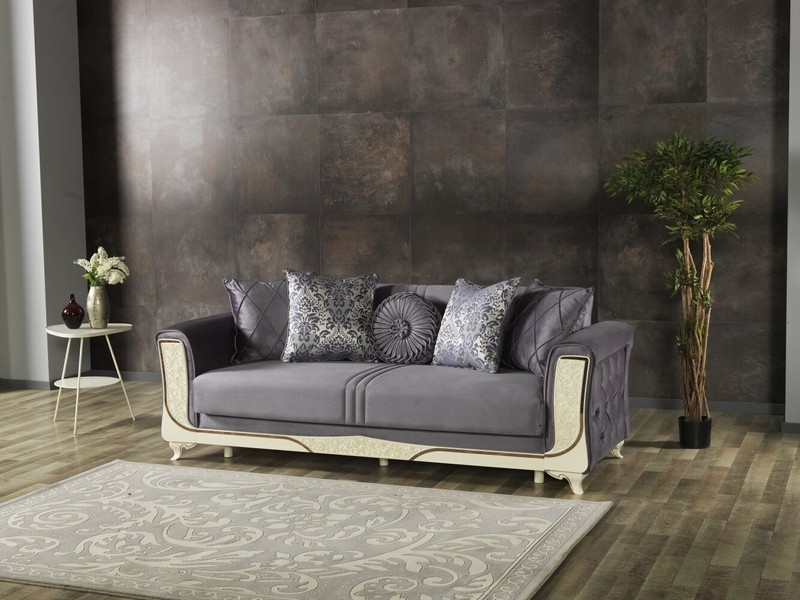 Eggers Square Arm

What We Like: Unique and classy design, suitable for being the centerpiece of any room
What We Don't Like: High price point for a relatively small sofa
The Eggers Square Arm is truly eye-catching and is the most unique and sleekly designed sofa on our list. It is created with elegance, ensuring it makes a big style statement in your living room.
Not only is this sofa gorgeous, but it is highly practical. The tufted linen upholstery oozes class while providing ample back support. The seats contain hypoallergenic filling for those who are sensitive to certain materials. This filling also makes for a more comfortable night's sleep if you choose to convert it into a bed. Its sturdy frame supports up to 1,000 lbs.
The Eggers sofa comes with decorative pillows, adding to the stylish nature of the piece.
$1899.99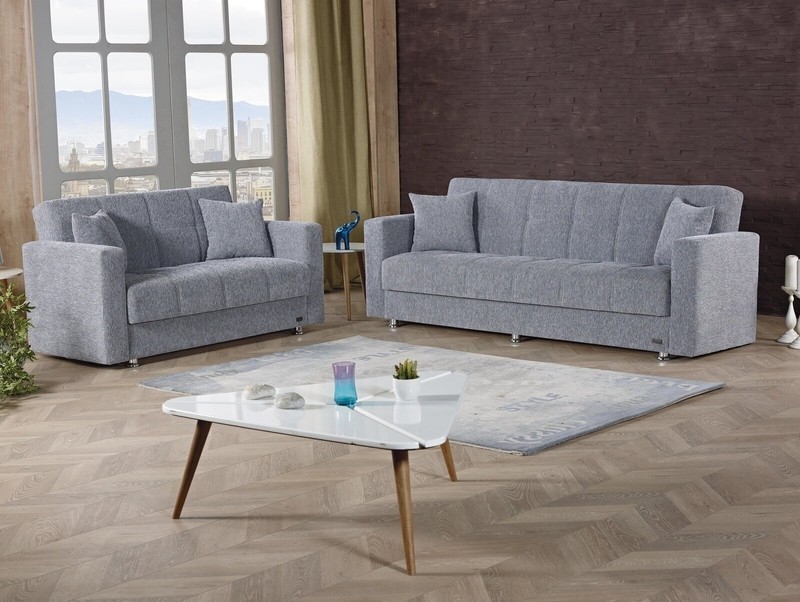 Rousselle Twin Convertible Sofa

What We Like: Durable and easy to clean couch with storage at a relatively low price point
What We Don't Like: The coil spring foam base means it isn't the most comfortable sofa
Many people in the market for sofas with storage space are looking for affordable yet functional furniture to double as a bed in a spare room or offer additional seating in the living room. The Rousselle Twin Convertible Sofa is ideal as it combines a modern aesthetic with durability and multifunctionality. It is not only a small couch with storage, but it is also a fold-out bed.
The sofa is finished with Chenille upholstery. This material is easy to clean, meaning you don't have to worry about accidental messes or spills. It is built using solid wood and contains coil spring foam and metal components, meaning it is a long-lasting furniture piece.
The interior storage compartment is 7" H x 18" W x 72" L, offering ample space to keep guest bedding and linens. Or add low line boxes or baskets to store smaller items.