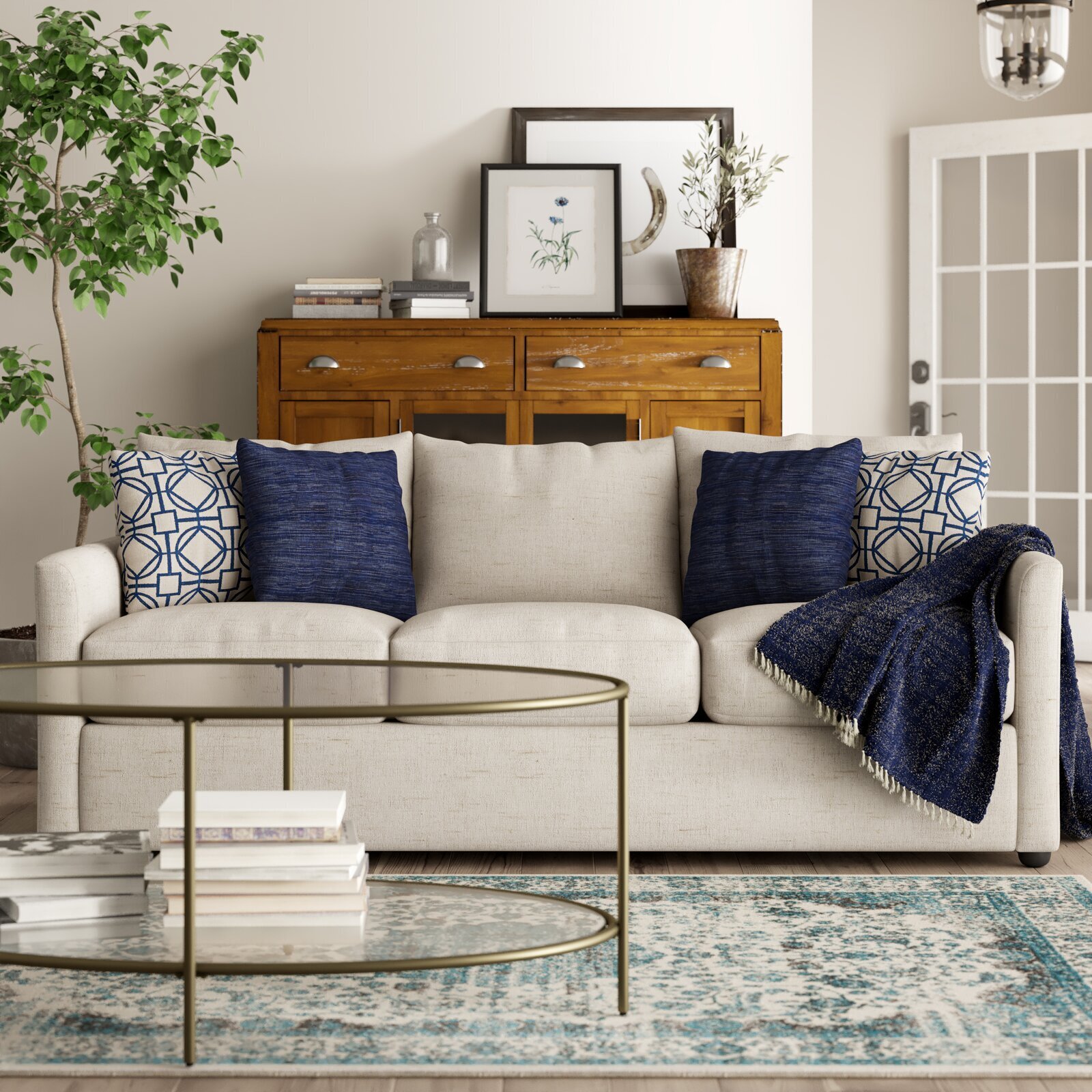 Caillinn 85" Sleeper Sofa Bed

Give anyone who pops over for the night a real treat when you open this lovely model and show them the massive sofa bed inside. If you didn't know this attractive sofa had a bed within, it would blow your mind. It doesn't look like there would be nearly enough room, but remove the cushions and behold, a bed fit for a king.
Plus, even if you never use the bed feature, it is still a huge sofa that easily seats three, and is plush, great for movie watching, game night, and even those wonderful naps on a lazy day. Add some throw pillows to complete the picture. And it comes in plenty of upholstery styles and colors.
What we like:
● Large Size
● Stylish
● Reversible cushions
● 750 Lb. weight capacity
What we don't like:
● Expensive warranty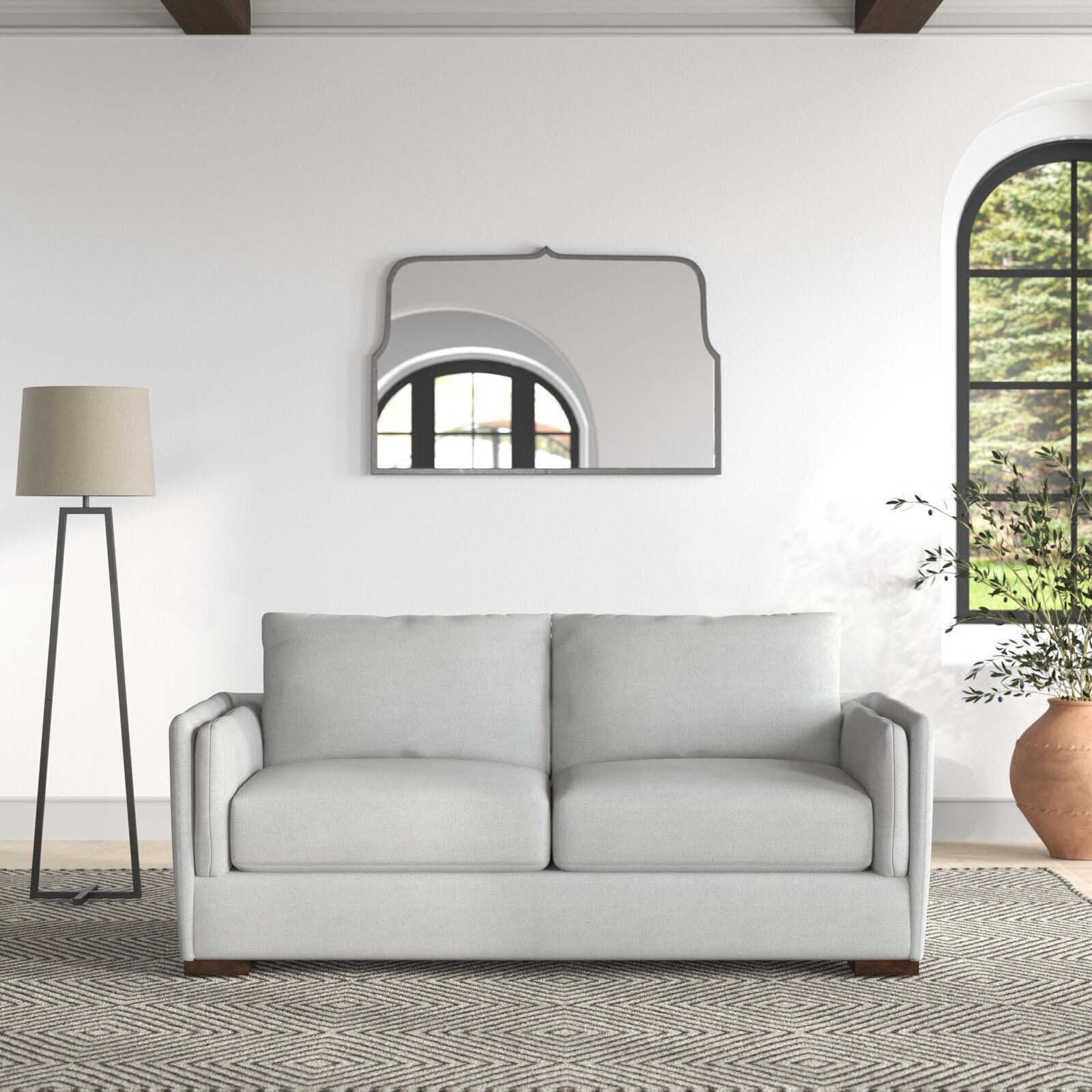 Brice 79" Square Arm Sleeper Sofa

For a mixture of style and symmetry, the Brice Sleeper is a perfect choice. It has plenty of aesthetic charm, and of course a very comfy bed within. It features a two-cushion design, while comfortably seating three, and the cushions are reversible. And the thin armrest pillow can be removed if you wish to decorate it differently.
It can be difficult to find the right sofa, much less the right pull-out sofa bed if your home has a contemporary design style. This is no longer true if you put one of these tasteful Brice Sleeper Sofas in your den, living space, or even your bedroom if you have the option and need.
What we like:
● Large size - seats 3
● Contemporary Style
● Solid Construction
What we don't like:
● Thin arm rests
● Low to the ground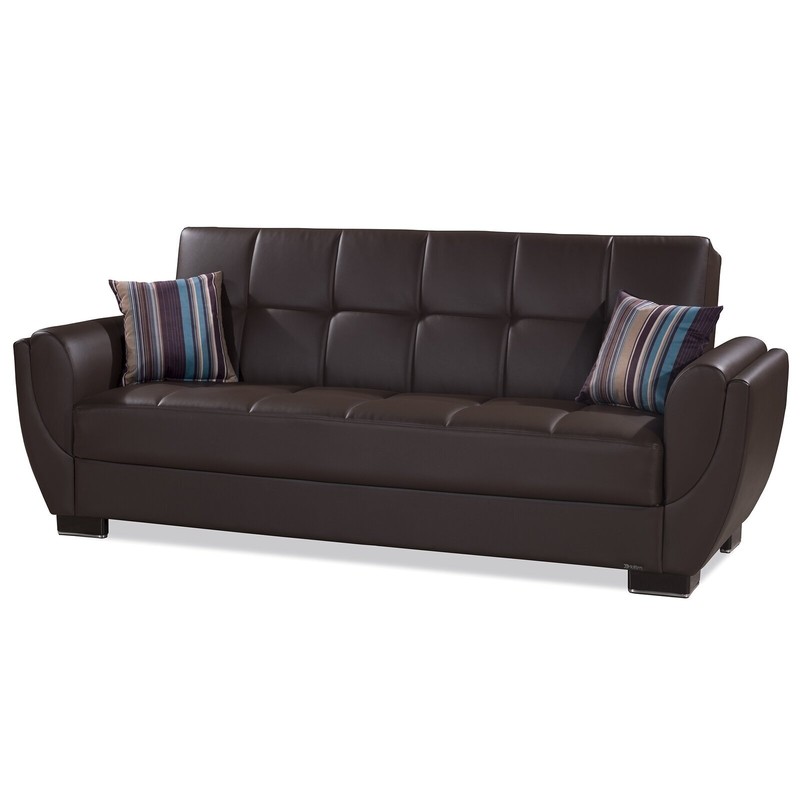 Katerina 93 5" Round Arm Sofa Bed

A touch of the modern with a hint of the classic, this round-arm sofa bed shows with pride that the best of both worlds can be achieved, and it looks amazing in the process. One solid cushion on the seating area and the backing ensures no one has to sit in that uncomfortable crack, and the tufting is plush and has a coolness to the touch you will love.
It only comes in leather, but that is perfectly fine, because looking fabulous is only one of its features. It seats 3, has a huge, full size foam mattress within, and can support up to 850 lbs of weight from your guests. Looks, quality construction, and the lovely feel of leather; you can't go wrong with this pull-out sleeper choice.
What we like:
● Long seating area
● Leather
● Stylish
● High weight capacity
What we don't like:
● Limited color options
● Full size mattress vs. Queen
$1099.99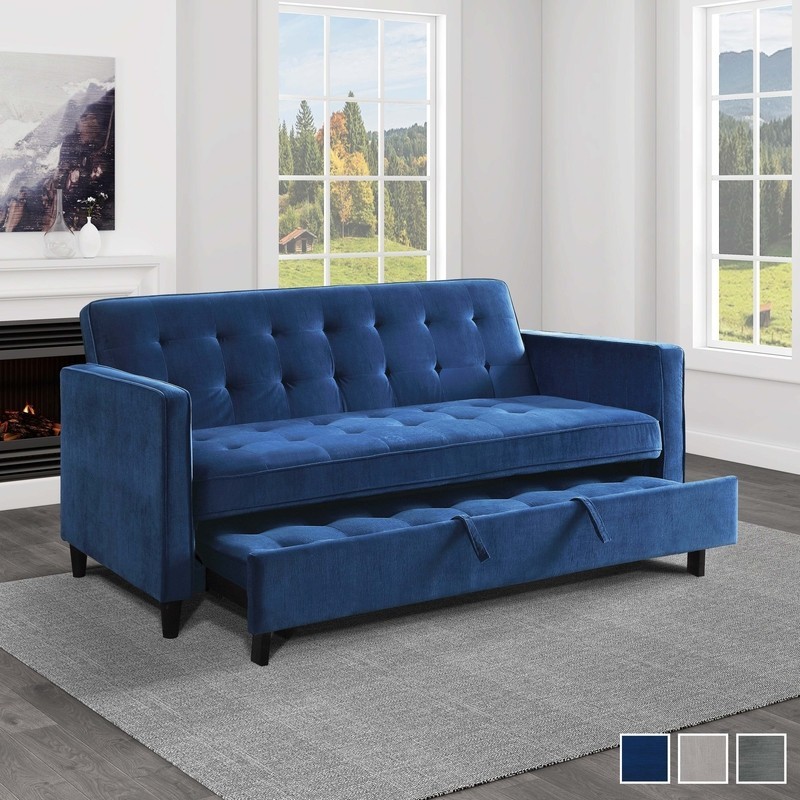 Tiquan Convertible Sleeper Sofa

A true pull-out design, this feels more like a trundle bed than a sleeper sofa, but we assure you, it is both. The convertible design hides a mattress below the seating area and pulls out with a simple tug on the sliding mechanism. The seat, the hidden mattress, and the back all connect to give you a large sleeping area that is tufted and very plush.
It is easy to set up, easy to put away, and when not sleeping on this sizable bed, feel the ultimate relaxation that comes with sitting on such a tasteful seating option. Its look is simple by design to fit well in your modern home, and it comes in upholstery colors that will match your décor with ease.
What we like:
● Simplicity of use
● Large bed
● Convertible
● Microfiber Upholstery
What we don't like:
● Limited colors available
● Assembly Required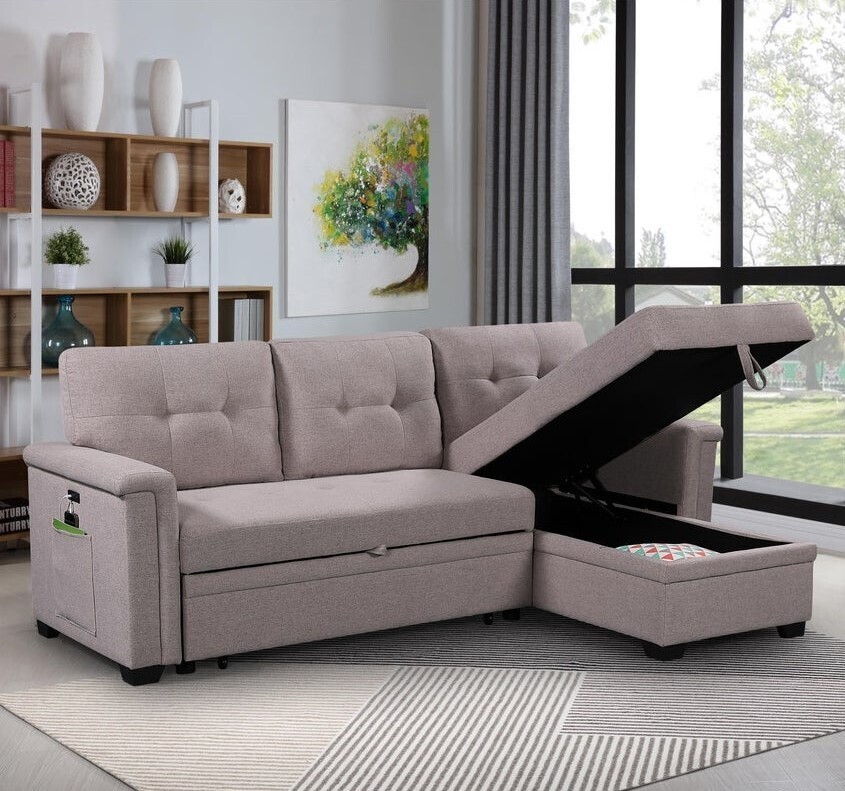 Ashlyn Reversible Sleeper Sofa with Storage Chaise

Where do you store those things you use the least? For most of us it is an out of the way place like the garage or the attic. And we would imagine extra bedding that is seldom used has a special home as well. Well, we have a different idea for those sheets and blankets that are brought out only when guests visit your home. It is called a storage chaise.
Everyone loves a chaise lounge, but until now, it was not a feasible part of a sleeper sofa. Now with design innovations and the use of foam mattresses for sleeper sofa beds, you can have your comfortable modern couch, your chaise lounge, and sleeper, all in one. It's a relaxation trifecta that guarantees a good night's sleep.
What we like:
● Chaise lounge
● Storage space
● Innovative design
● Very Long
What we don't like:
● Only in Gray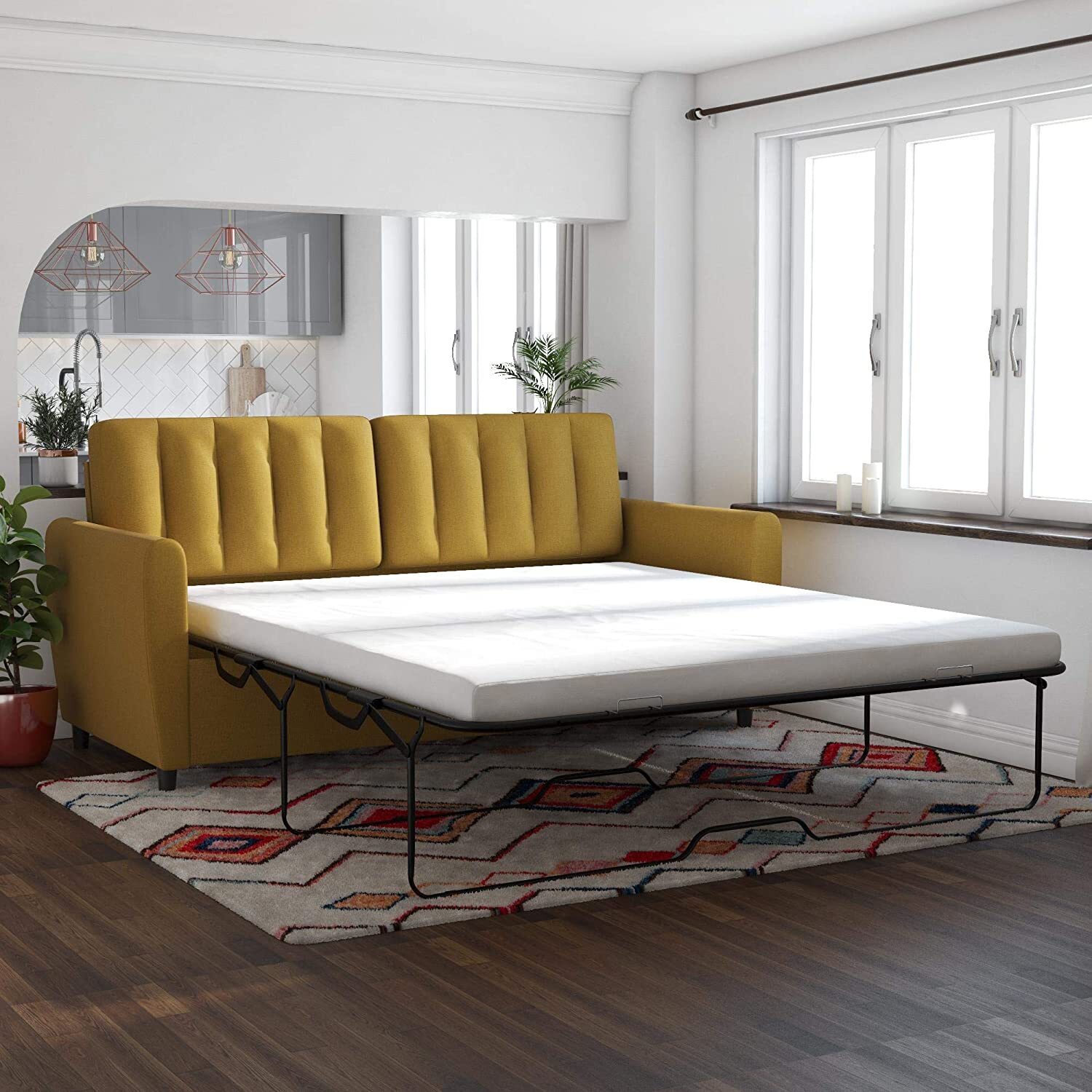 Novogratz Brittney Sleeper Sofa

An incredible way to give your home a touch of style that most sleeper sofas can't quite match, this model has the comfort you crave with the look you need. The cushions are overstuffed and tufted in strips, not squares, which is uncommon and quite an attractive idea. And the arms are rolled, not squared.
The mattress hidden within is accessible with a simple to operate spring mechanism revealing thick memory foam that is just what you need for your perfect restful night. Never stress again or fear the spring mattress of the past. The memory foam option is the only way to sleep and you will appreciate the feel of the foam as it conforms to your body perfectly.
What we like:
● Thick memory foam
● Tufted back cushion
● Plenty of colors
● Tall Seat Height
What we don't like:
● Cushions not reversible
$950.36 $1113.99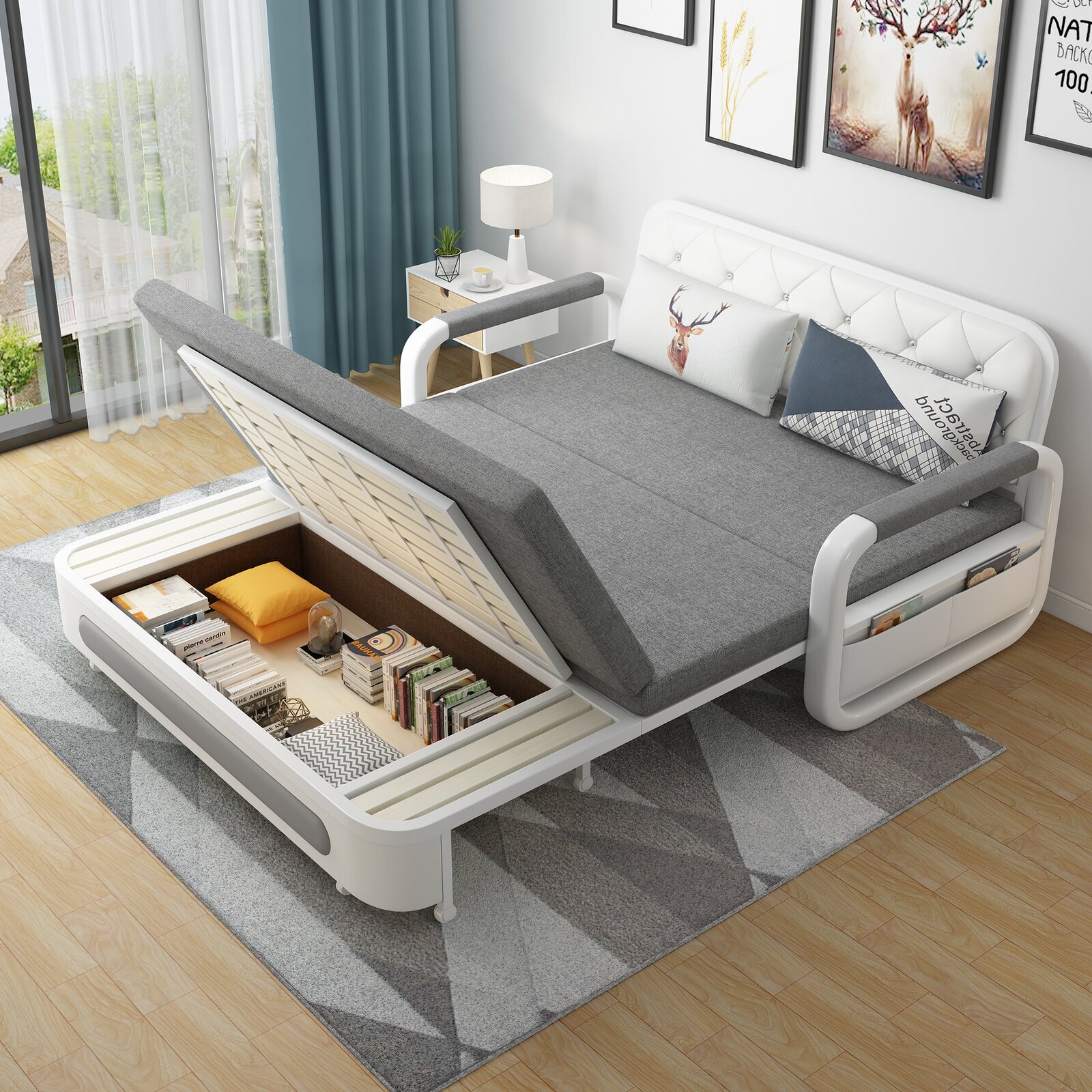 Michigan 50 3"

More a loveseat than a full-sized couch, this model gives innovation a whole new definition in the world of seating. It is perfect for two people to sit comfortably, but looks nothing like you are used to with those old-style loveseats. It features both a plush cushion set and a steel frame with leather wrapping.
The sleeper draws out with a simple slide mechanism which also gives you access to a monstrous storage area below the foot of the bed. Store anything and never fear it will be damaged under the weight of the person sleeping. This bed supports two people with ease and ensures plenty of sleeping pleasure.
What we like:
● Innovative design
● Solid Construction
● Ease of Use
● Huge Storage Area
What we don't like:
● Cold look of steel
● Low to Ground
$949.99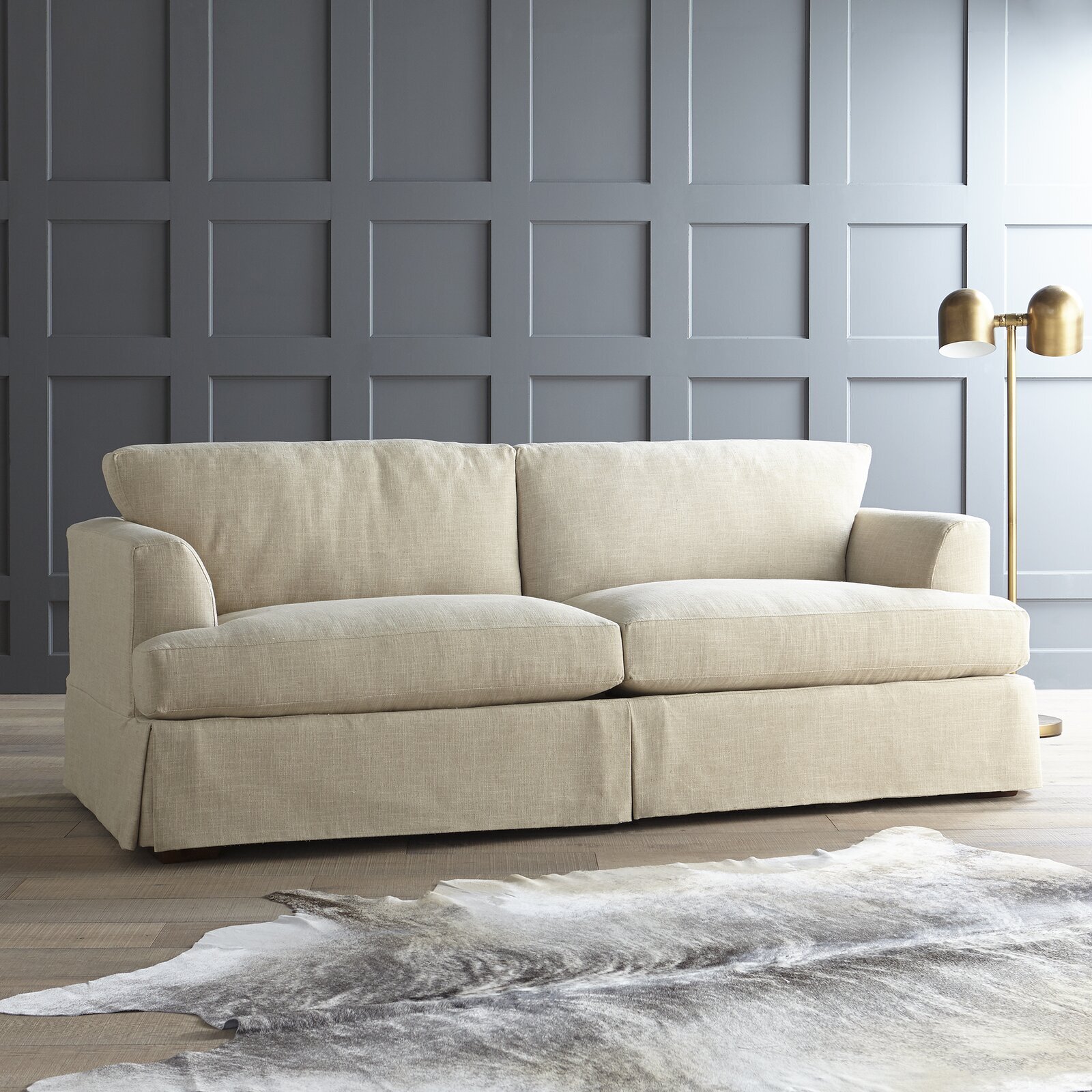 Indie 93" Slipcovered Recessed Arm Sleeper Sofa

Beware…for once you sit on this wonderful couch, you might never want to get back up. Yes, it is that good. With reversible overstuffed cushions that are upholstered to perfection and the huge size, you may never need the bed within. But you will be even happier when you try it out, if for no other reason than the ease of use pulling it from its hiding spot within.
This model will wow everyone who sees it when they enter your home, and they just might want to stay a little longer when they are enveloped in the softness. And that is before they open it up and discover a memory foam mattress that will have them catching z's before they know it.
What we like:
● Down Fill Cushions
● Deep Pocket Design
● Very Long
● High Quality
What we don't like:
● There is nothing we don't like about this sofa!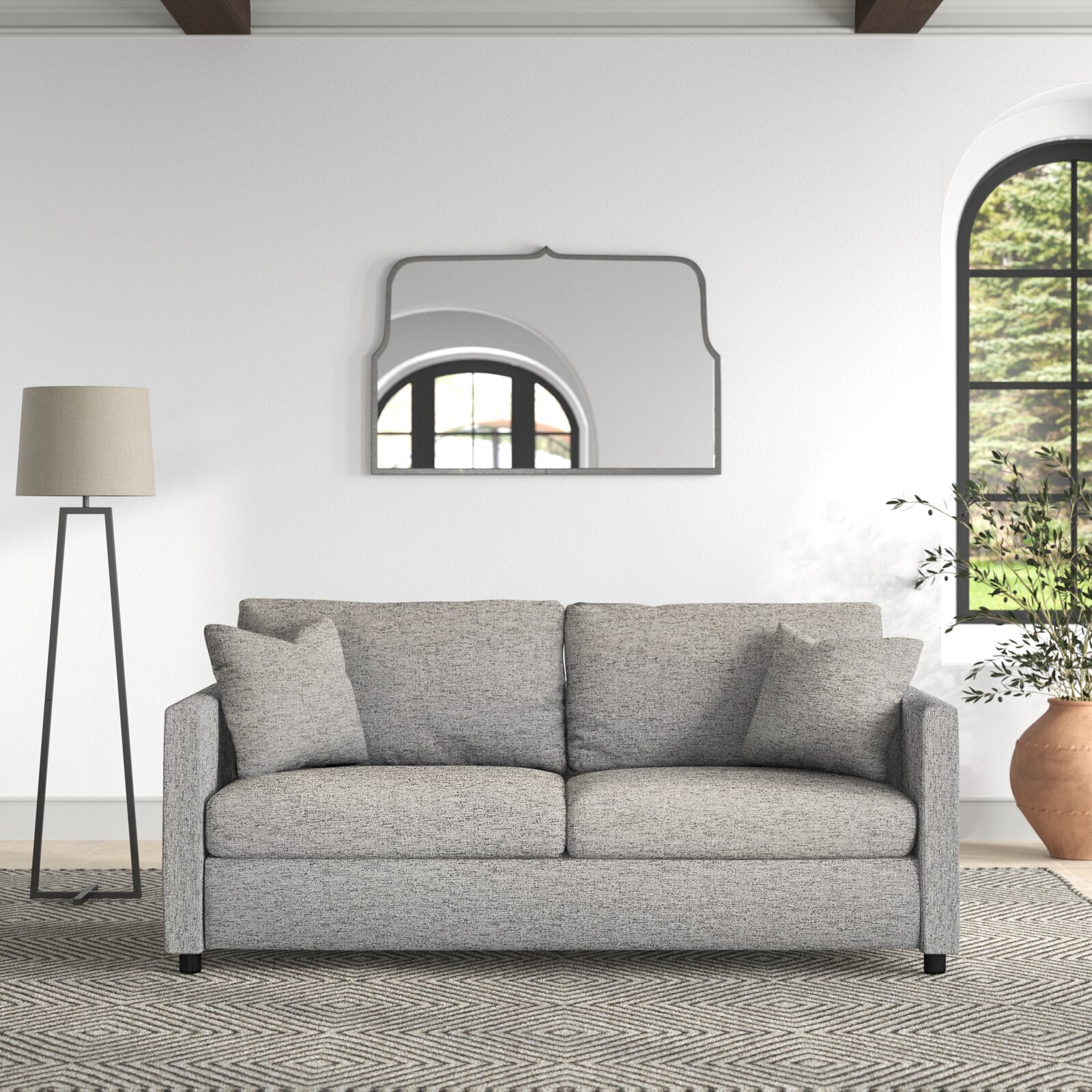 Alia 75" Square Arm Sleeper Sofa Bed

One common problem with modern sleeper sofa concepts is the arm rests. They are often too thin to be comfortable. But not on this lovely sofa option. The Alia has square armrests that are wide enough to put your arms on comfortably for your entire sitting time without any ill effects. And they don't take away from your sleeper bed space.
It has a very relaxed look that isn't too impersonal, yet doesn't throw off the aesthetics of the room, and comes in neutral colors that will not clash with your décor. All pillows and cushions are thick and fluffy and totally removable. And the queen-sized bed is ready to accommodate your guests. A perfect blend of relaxing style and modern appeal.
What we like:
● Comes with matching throw pillows
● Queen-size bed
● Thick cushions
What we don't like:
● Only seats 2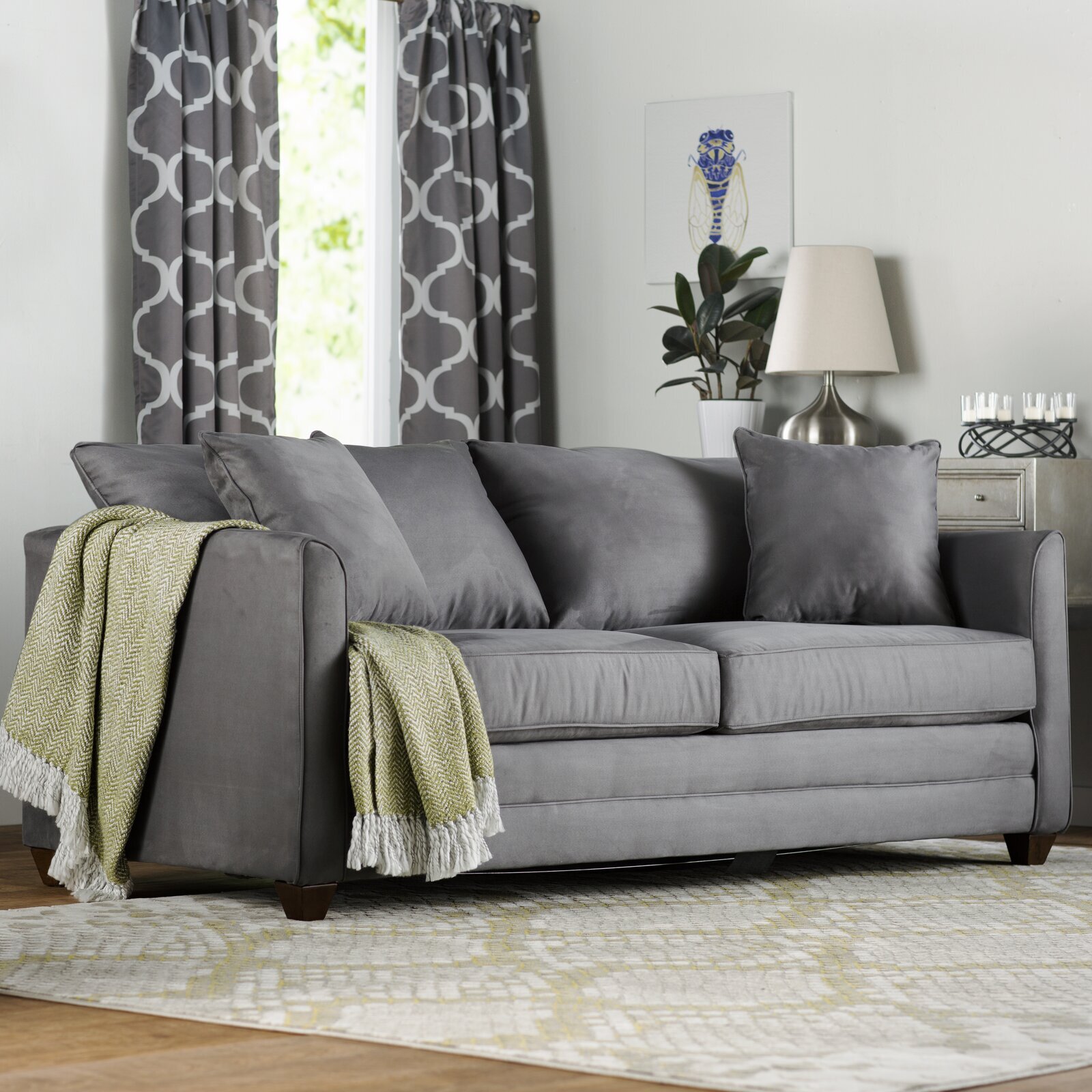 Zaine 77" Square Arm Sofa Bed

This beauty is simple enough to fit in any home, modern enough to not clash with your contemporary look, and comfortable enough to appease even the pickiest of couch enthusiast. It features a solid construction capable of handling about 300 lbs. of weight, and the upholstery is hand stitched to ensure quality.
The sleeper function is easy to operate, giving your guests a queen size bed for the night, although it has one flaw and that is the mattress. The mattress that is included is an innerspring, which has the probability of poking your guests after repeated use. We recommend swapping it out for a memory foam counterpart if available.
What we like:
● Queen bed
● Quality design
● Versatile size
What we don't like:
● Only handle 300 lbs
● Innerspring mattress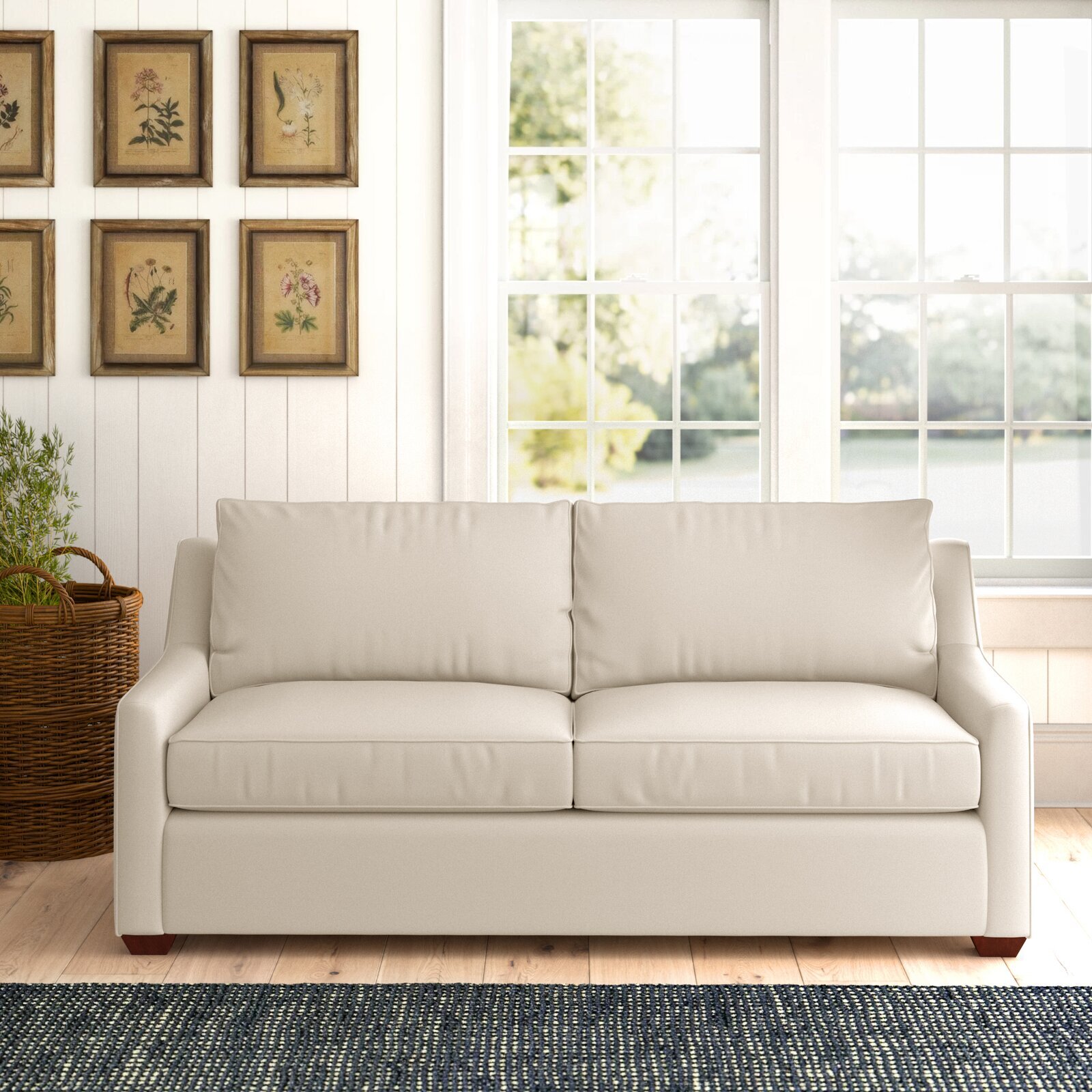 Swifton 72" Recessed Arm Sofa Bed

This model might take some getting used to because of the short arm rests. Although because its arm rests are almost nonexistent, it means you have extra room to stretch out without impediments, which is great for napping when the sofa is not in its bed mode. And the comfort of these plush cushions will help to lull you to a peaceful sleep.
Once open and pulled out, you have a bed fit for a king and queen. This design is both compact and convertible, with removable back cushions and plenty of space for two adults. And you can be sure the modern feel of this model will agree with your decorative scheme. Especially since it only comes in gray and white.
What we like:
● High Quality
● Low arm rests
● Plush upholstered cushions
What we don't like:
● Not very large overall
● Limited colors
$1452 $1605.99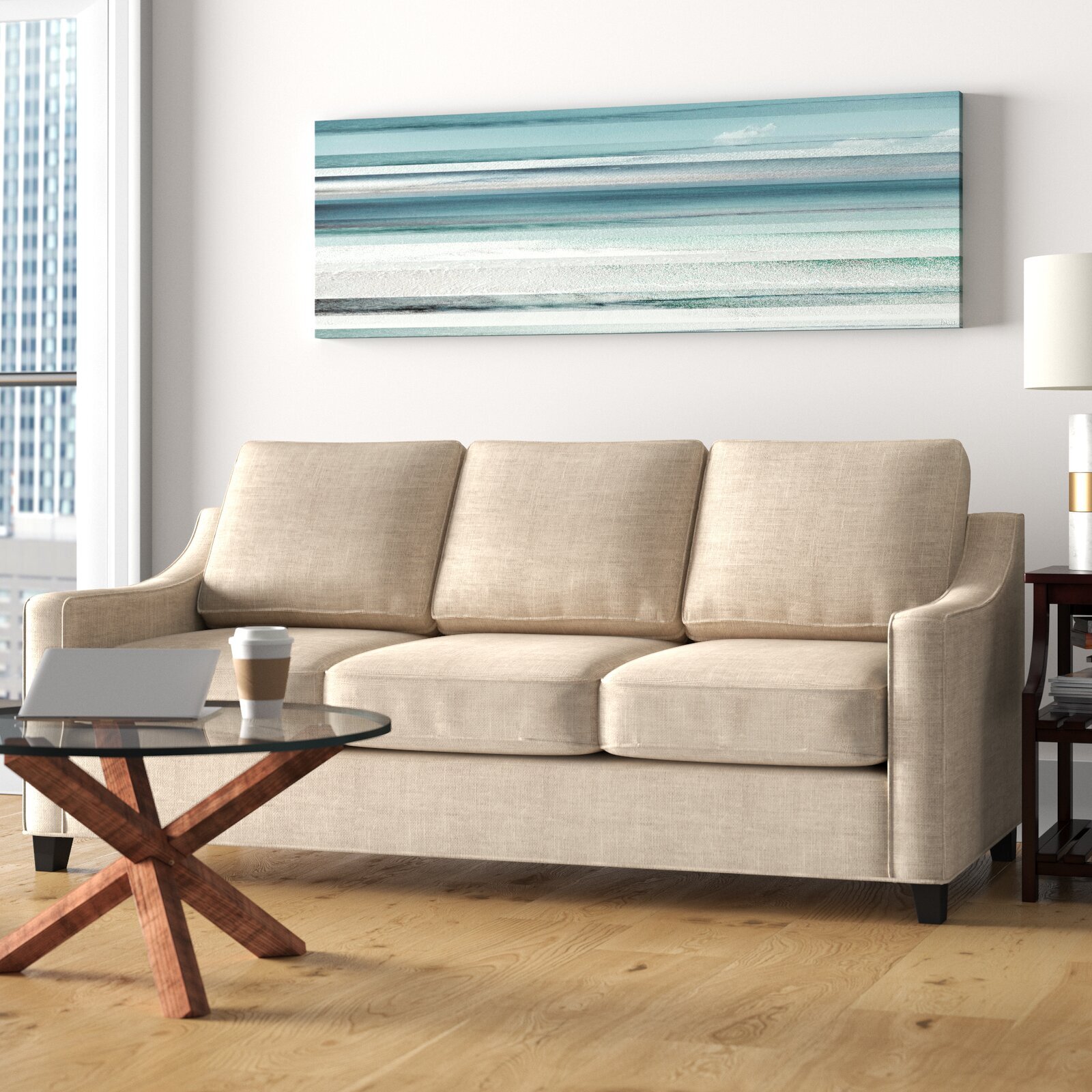 Clark 82" Square Arm Sofa Bed

Lets start with its most wonderful feature and that is the wide array of upholstery colors it is available in. Upon ordering one of these contemporary sofa beds, you can choose from 15 different colors, meaning you are sure to find one that matches your décor flawlessly. And what says "modern home" like adding a new furniture piece that aids in the symmetry of the space.
The square arms swoop up to meet the back of the sofa where it has three overstuffed pillows, which pair with the three cushions to give you a relaxing seat you will love. All the cushions are reversible and the unit can withstand up to 900lbs between the three people sitting on it. A wonderful sleeper sofa option indeed.
What we like:
● 900 lb weight capacity
● Seats 3
● Plush cushions
● 15 color options
What we don't like:
● There is nothing we don't like about this sofa!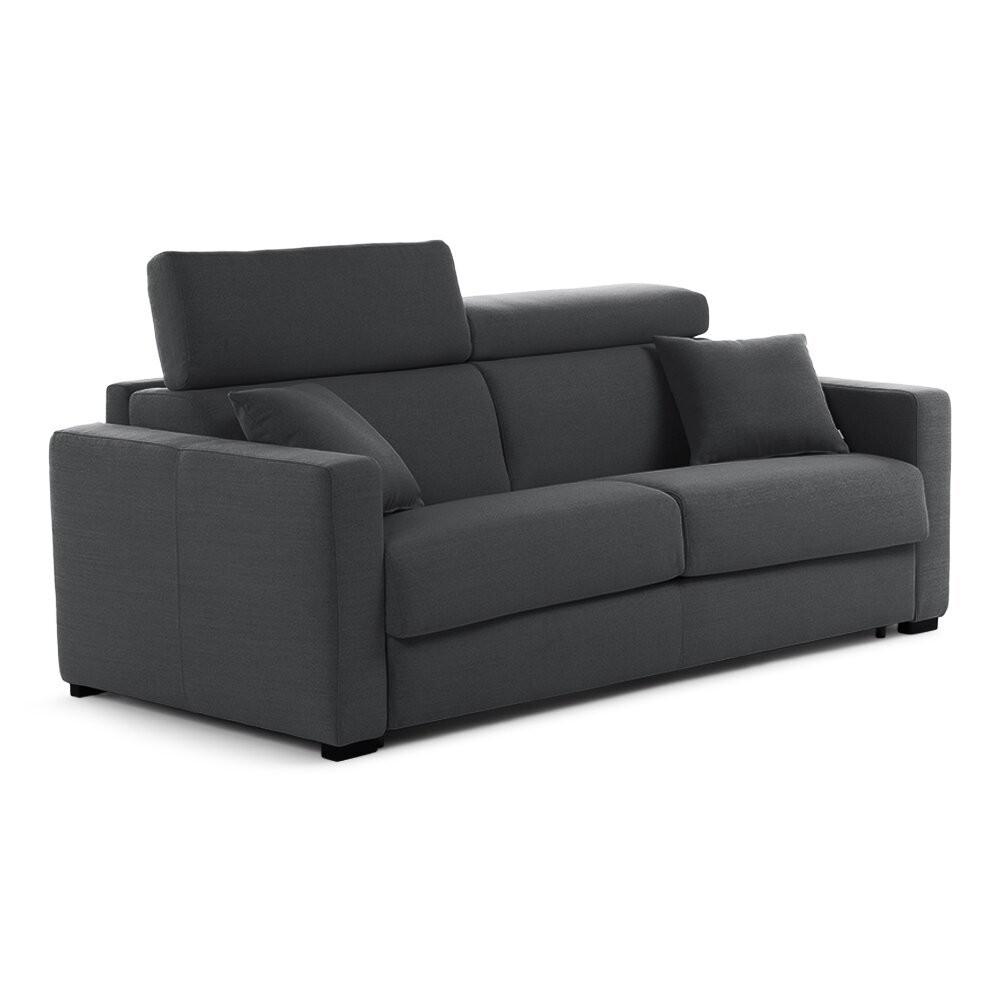 81" Square Arm Sofa Bed

A sofa with limited frills, this is the embodiment of contemporary simplicity. The arm rests and the back are the same height, which works perfectly with the custom designed cushions, and attached headrest cushions ensure you are well supported. The seating cushions are thick and filled with quality foam, with two throw pillows to bring the look together nicely.
The ratcheting headrests and the seat backs cascade beneath the convertible bed with a simple pull of a strap, and they are hidden beneath the sleeper. And the steel tube construction of the bed frame and springs can support up to 800 lbs. with ease. Add the comfort of the included mattress and you are ready to take a trip to dreamland.
What we like:
● Simple style
● Convertible design
● Ratcheting headrest
● Support 800 lbs.
What we don't like:
● Mattress is thin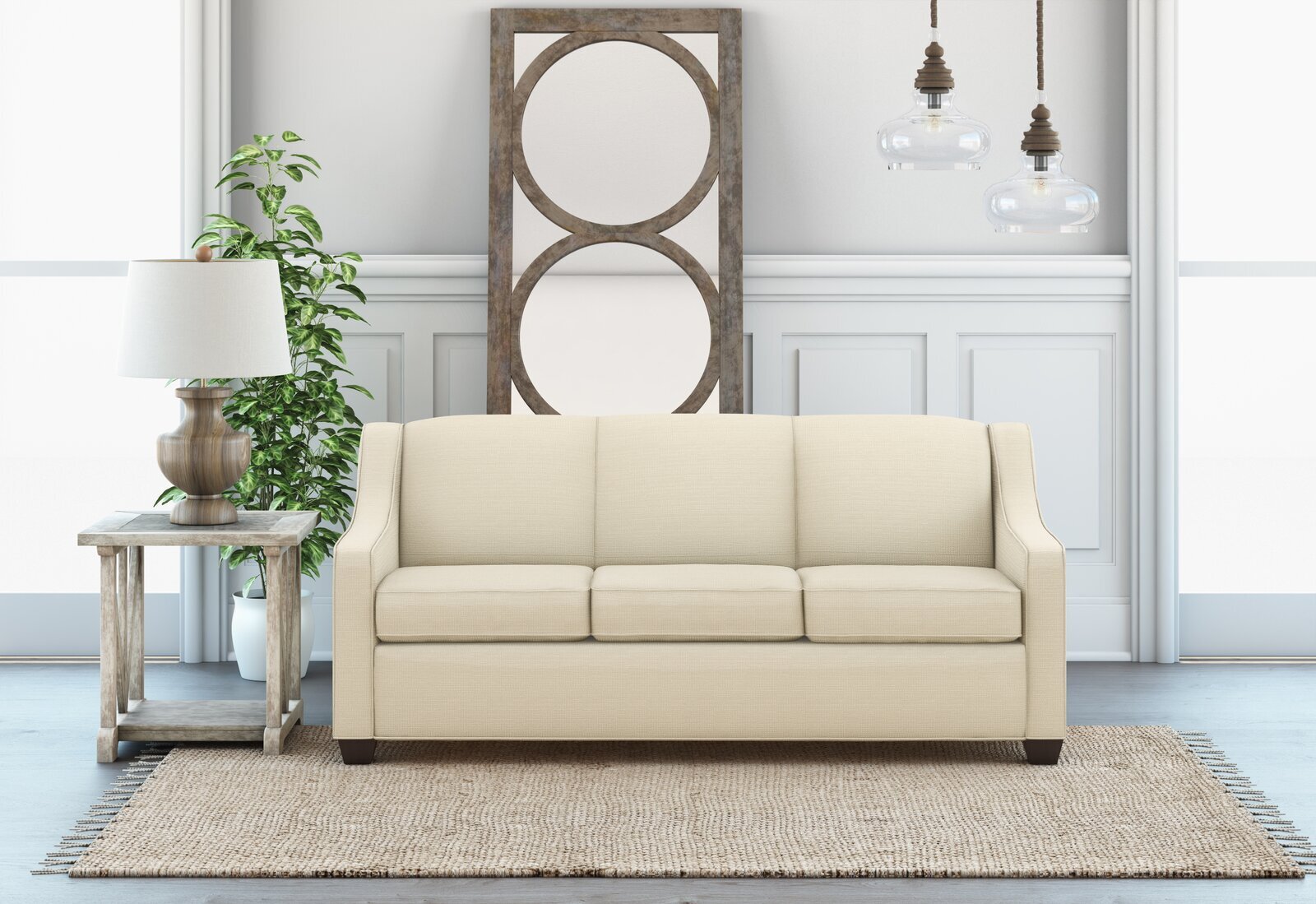 Phillips 76" Sofa Bed

In the world of furniture, two very important variables are key to ensuring the happiness of many owners, and that is comfort and price. But getting passed those, there are two other notions that are gaining in popularity: the safety of the materials so you know it won't hurt your family, and the sustainability of the materials lets you know you are doing your part for the planet.
The Phillips Sofa Bed is designed to factor in all 4 of these ideals. Of all the sofa beds on this list, it is by far the most eco-friendly. The materials are made of recyclable products and sustainable fabrics, but this doesn't mean it sacrifices comfort. Far from it. The cushions are incredibly soft and it is well-constructed, capable of holding up to 800 lbs of weight.
What we like:
● Environmentally friendly
● 800 lb weight capacity
● Reversible cushions
● 23 color options
What we don't like:
● Nothing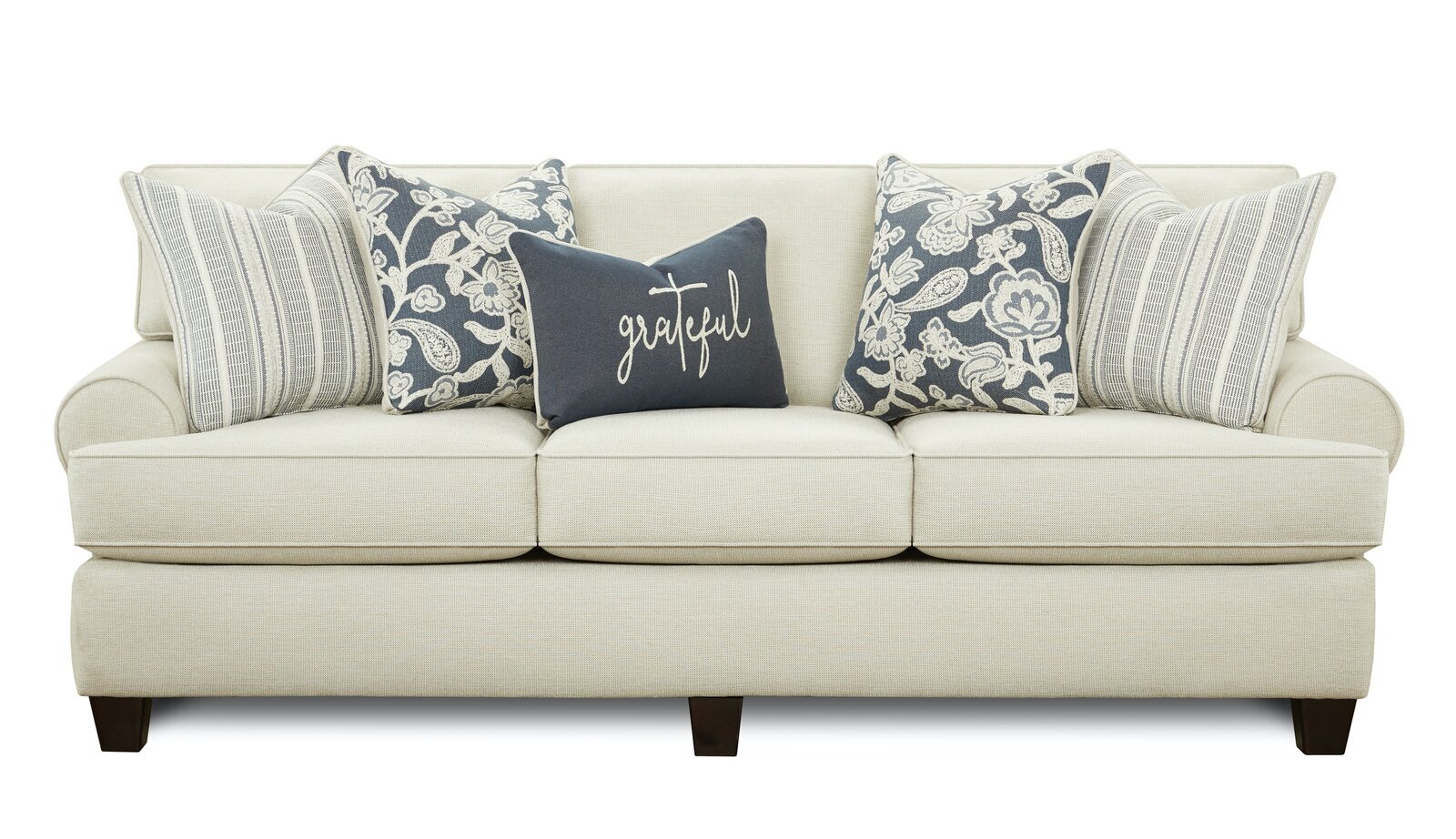 Patternson 88" Round Arm Sofa Bed

A perfect blend of the old and the new, this contemporary gem is a thing of beauty with a style you will appreciate every time you feast your eyes on its elegant lines. A wide sofa seating area can accommodate 3, but if you get close, 4 will fit pretty well, which works for its 750 lb capacity. The three cushions almost beg you to seat 4, based on their different sizes between the ends and the middle.
All cushions are reversible and removable, and with a few throw pillows to add to the charm, you might never actually sit on it but admire it from a distance. It is that attractive. But the look is only half of its worth. Take off the cushions and open the spring-loaded queen bed and you are ready for guests, or when the wife sends you to the couch when you've been naughty.
What we like:
● Lovely style
● Large width
● 750 lb capacity
● American Made
What we don't like:
● Nothing
$1429.99 $2174.99