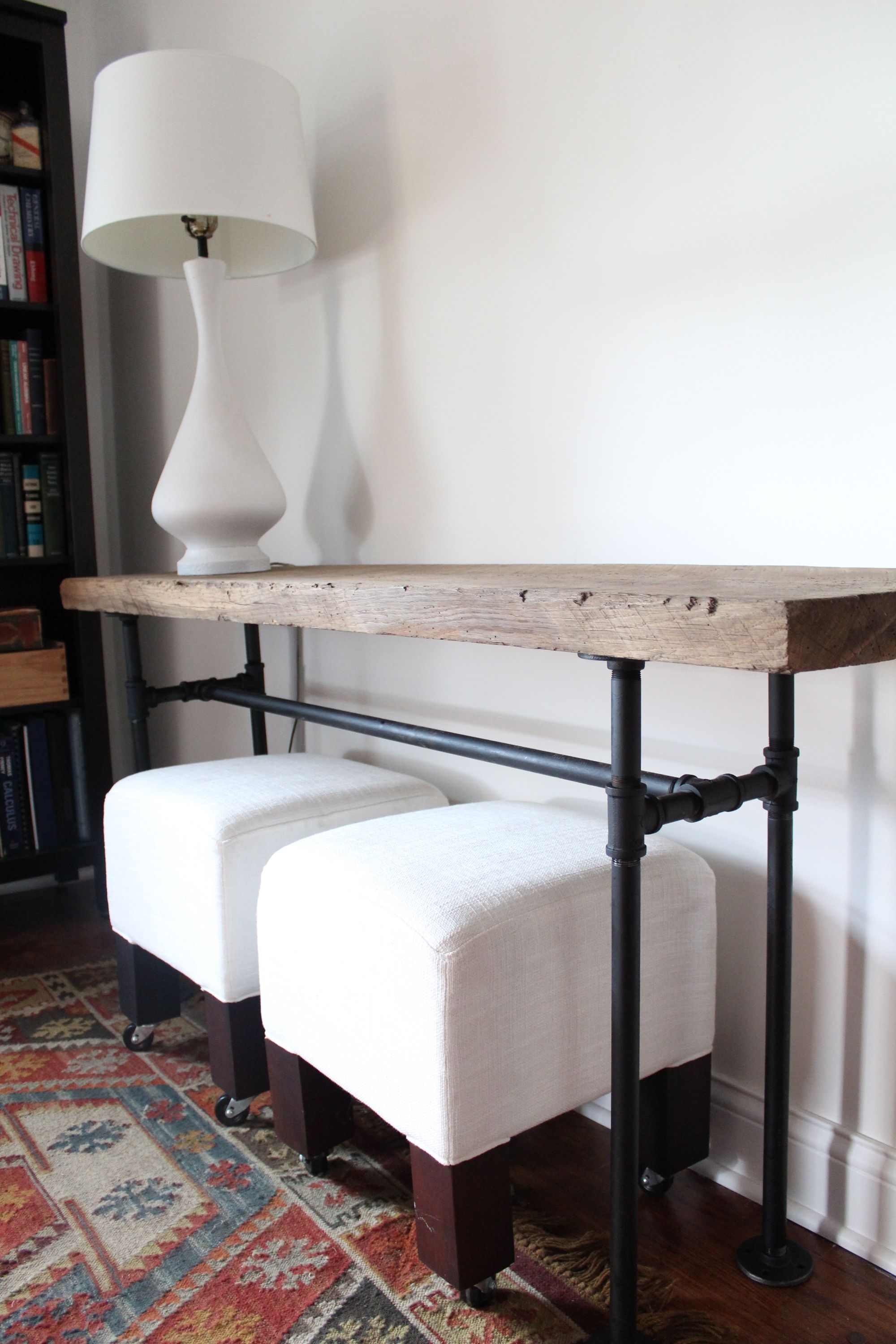 A console table in a rustic design, perfect for a living room or an entry hall. It features a minimalist design with a simple, metal base and a top made of a single, wooden plank with all the natural imperfections left.

The foyer is always hard to be decorated because of the very limited space, which elimanates the ideas of having a table there. This wooden narrow table, inspired of the window sill, is a good place for small decorations.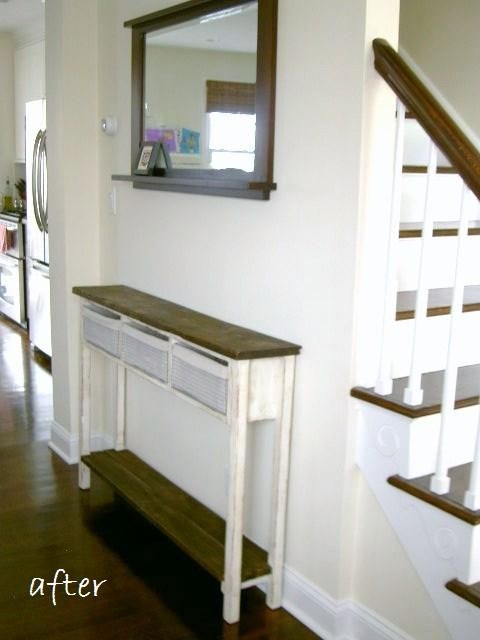 This super-skinny console table constitutes a perfect example of a DIY construction. An ideal choice for any narrow passages, like corridors or hallways. It will create a good display point for your treasuries.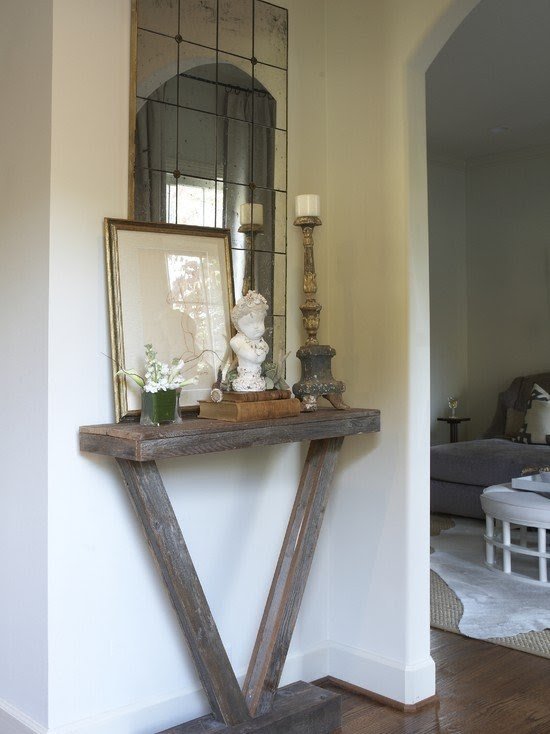 A simple and narrow but sturdy contemporary entry table crafted of thick pieces of solid wood with a distressed grey finish. It has a thick rectangular base, a V-shaped support and a quite long rectangular top.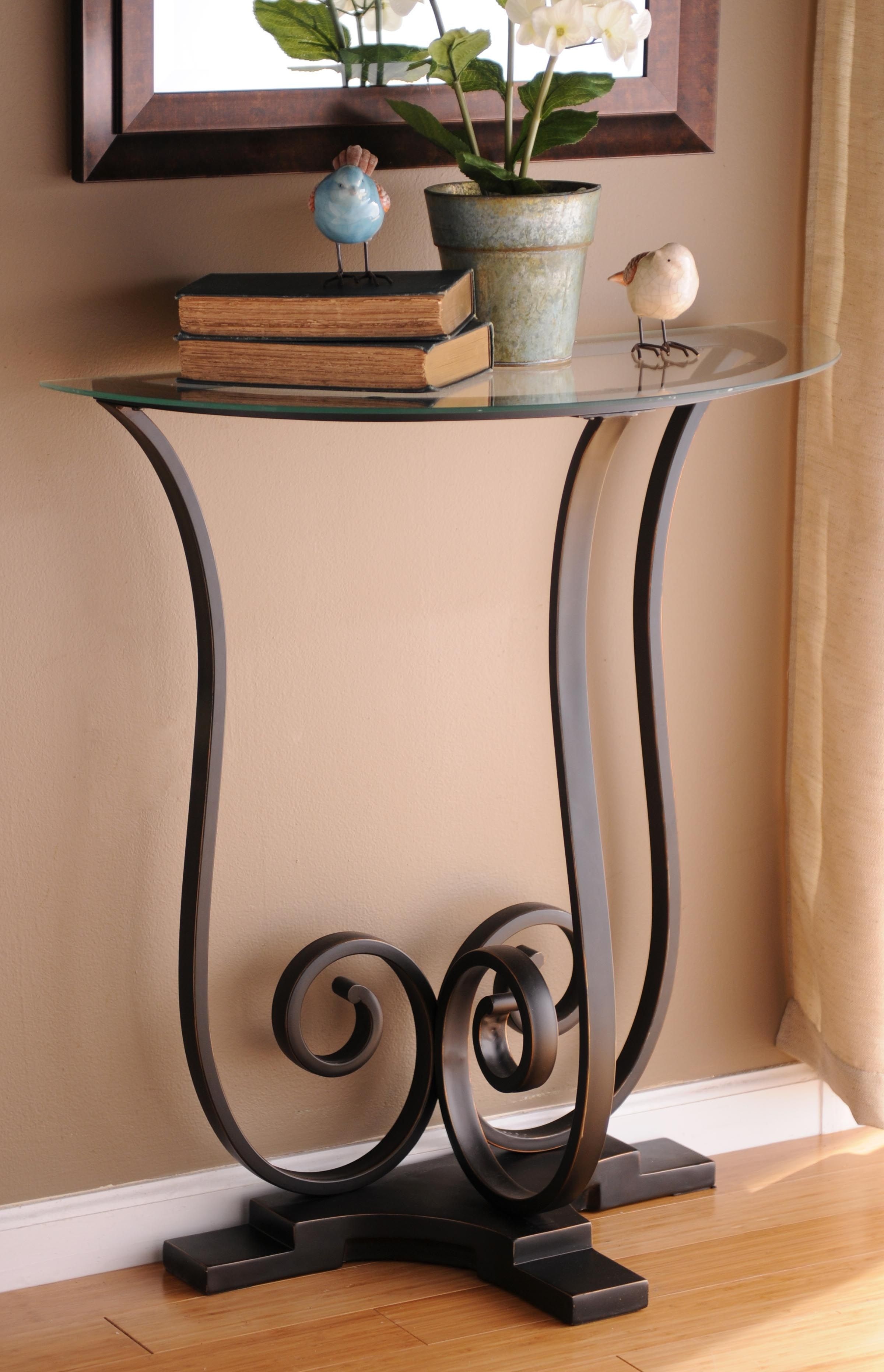 The smooth and highly impressive construction of this captivating half round entry table is the perfect combination of iron construction with a subtle glass top. The whole brings to the decor a unique, refined style.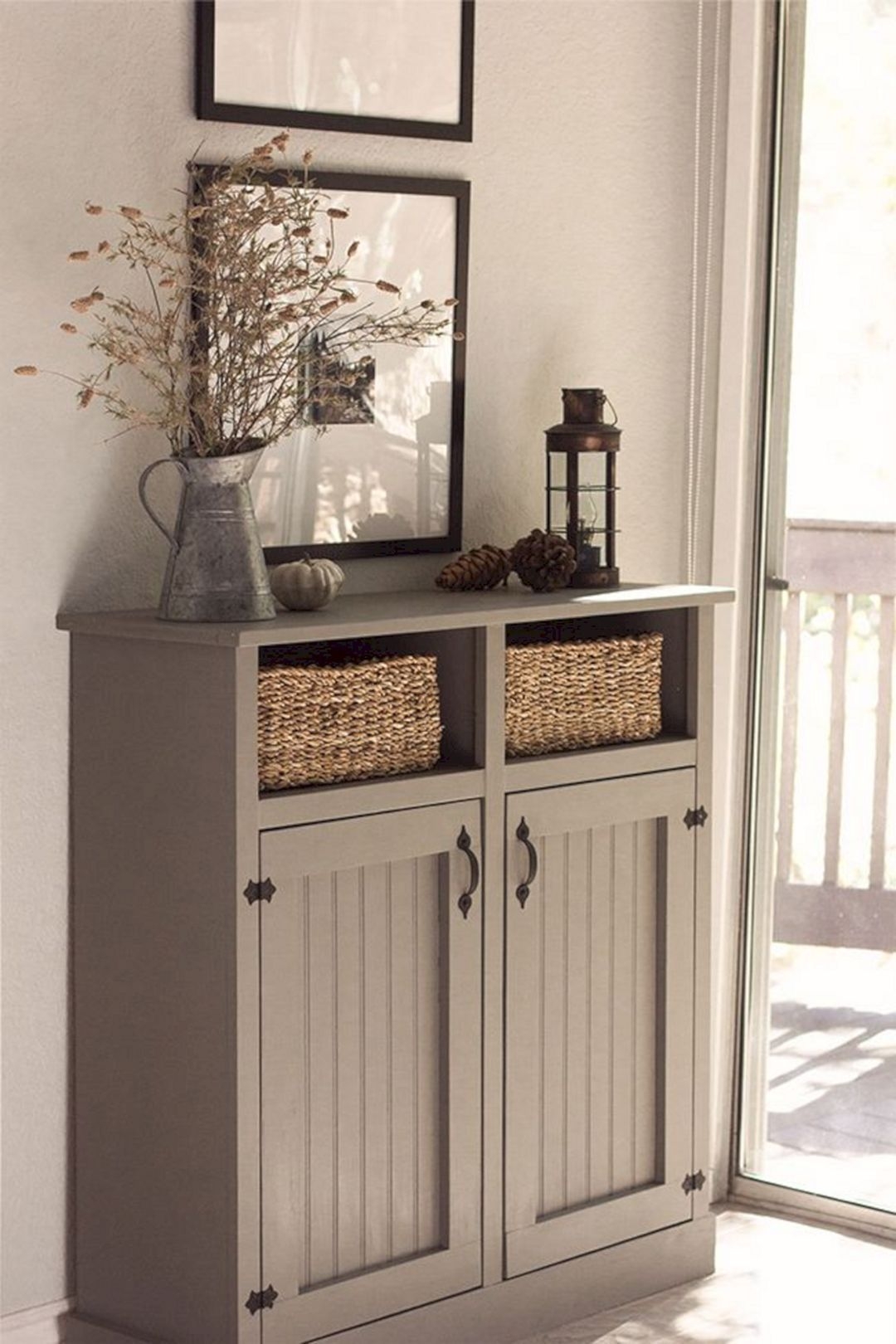 Storage cabinet for hall and entryway applications. This wooden element of furniture is finished in white color and features durable, decorative and practical hardware. Lower part includes storage compartments with doors and upper part includes two shelves.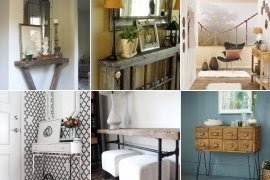 A pair of faux distressed heavy corbels and a 2-inch by 12-inch by 6-feet semi-weathered and finished board make a nifty sideboard that does not take up a lot of floor space. Mount on railroad siding for an early American look.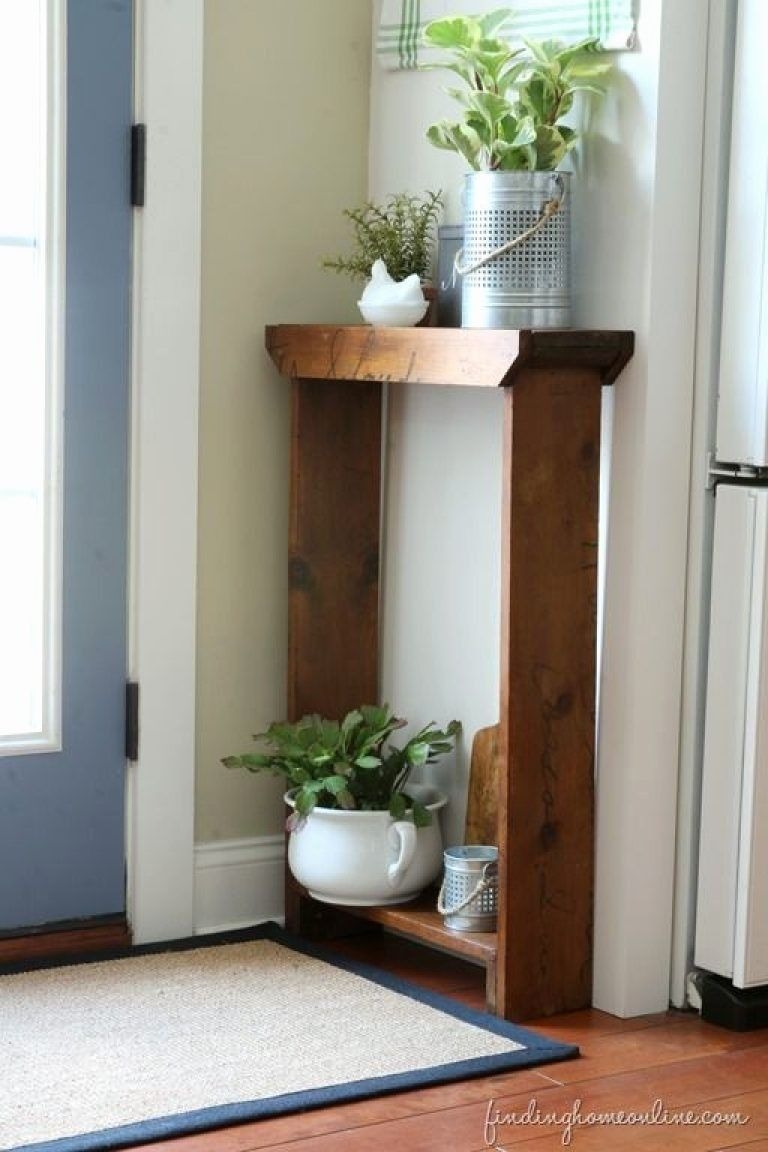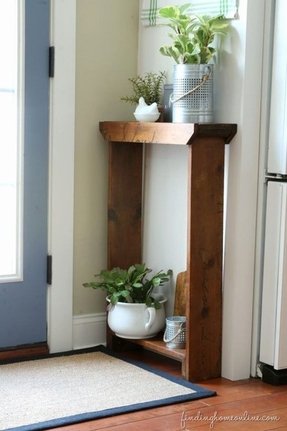 Entryways are always a challenge, especially small ones. This dark wood stand fits perfectly in that unused nook, creating a place to put decorator items or plants. Alternatively, it can act as a phone stand or a place for keys.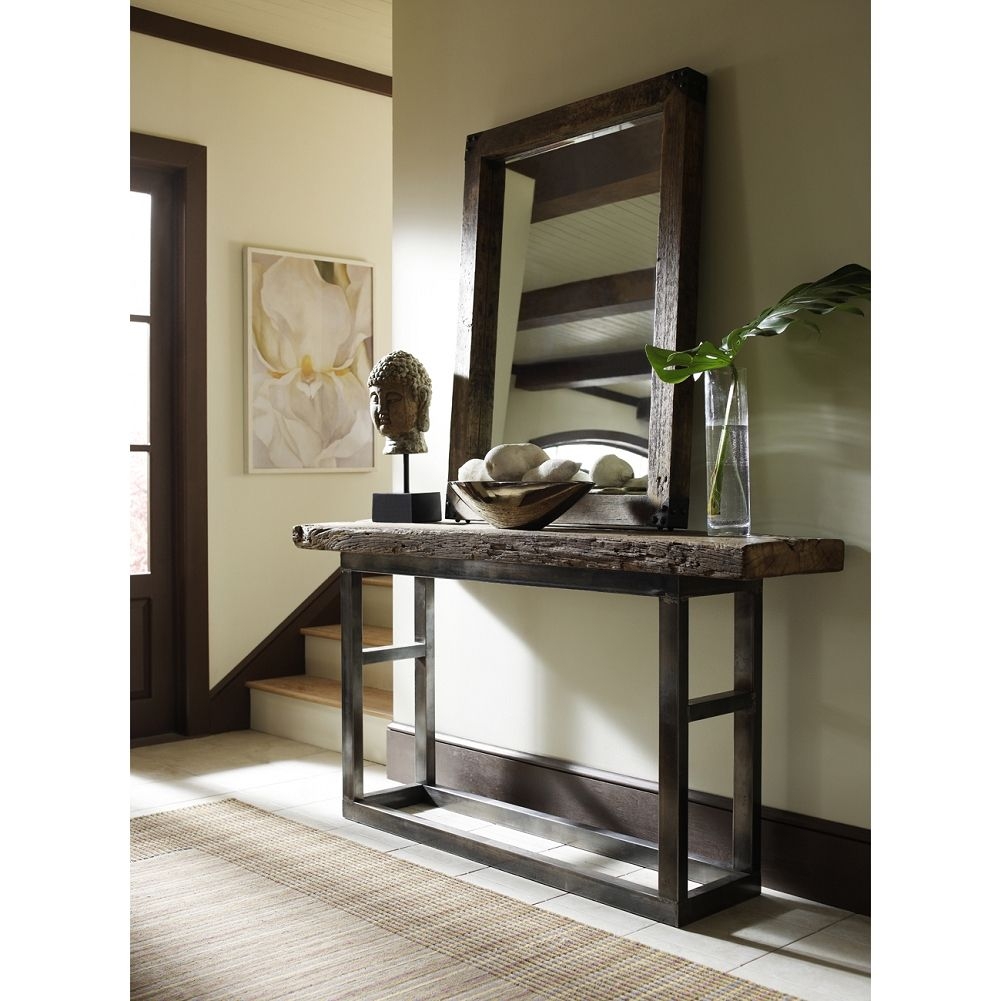 The contrast of the rough wood top with the sleek, modern chrome legs make this hall table quite the conversation piece. In addition, it's sturdy enough to support a mirror, likewise framed in heavy wood, as well as other decorations.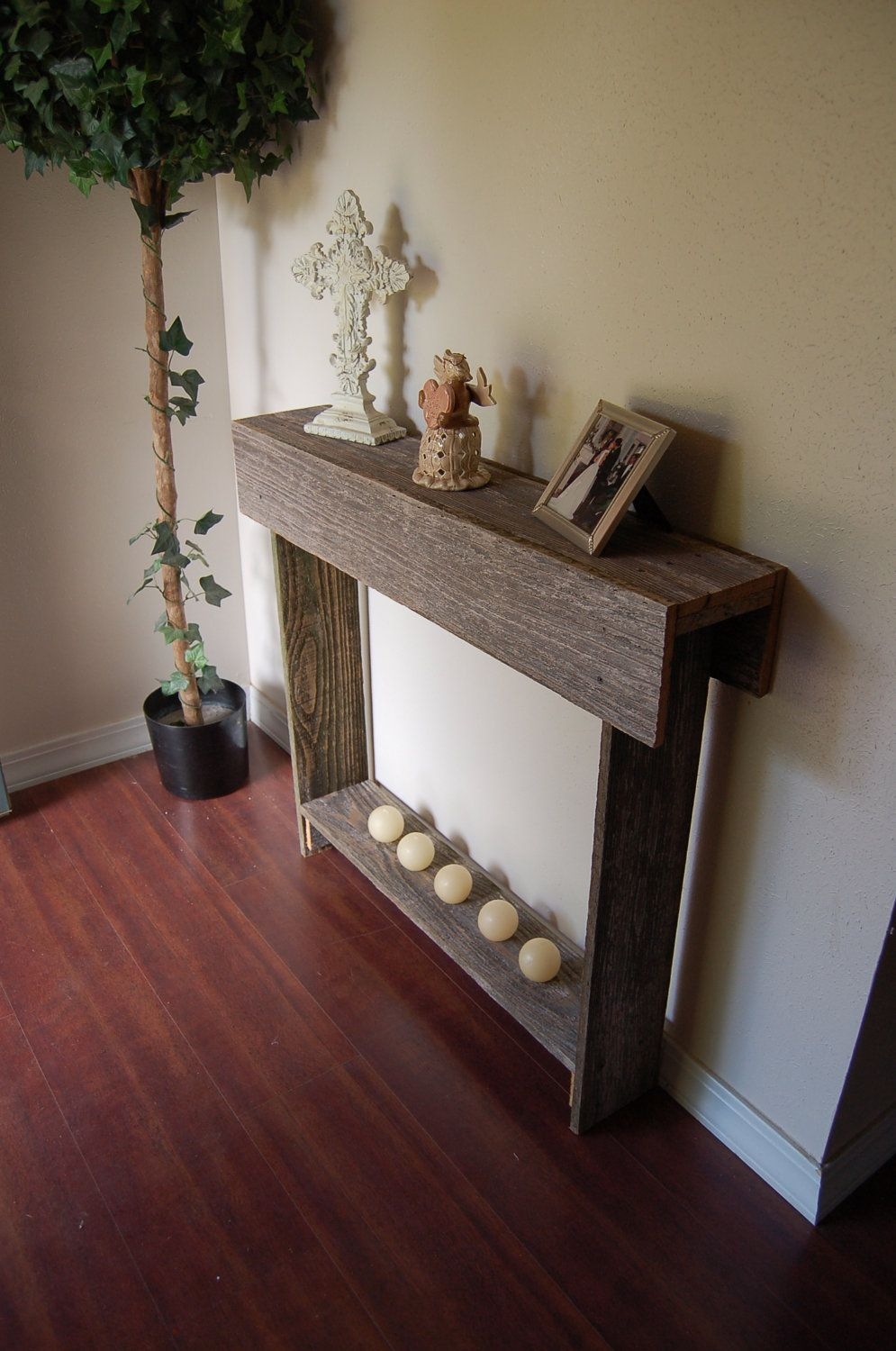 Wood Console Table Skinny Entry Table Small Table by birdcottage, $99.00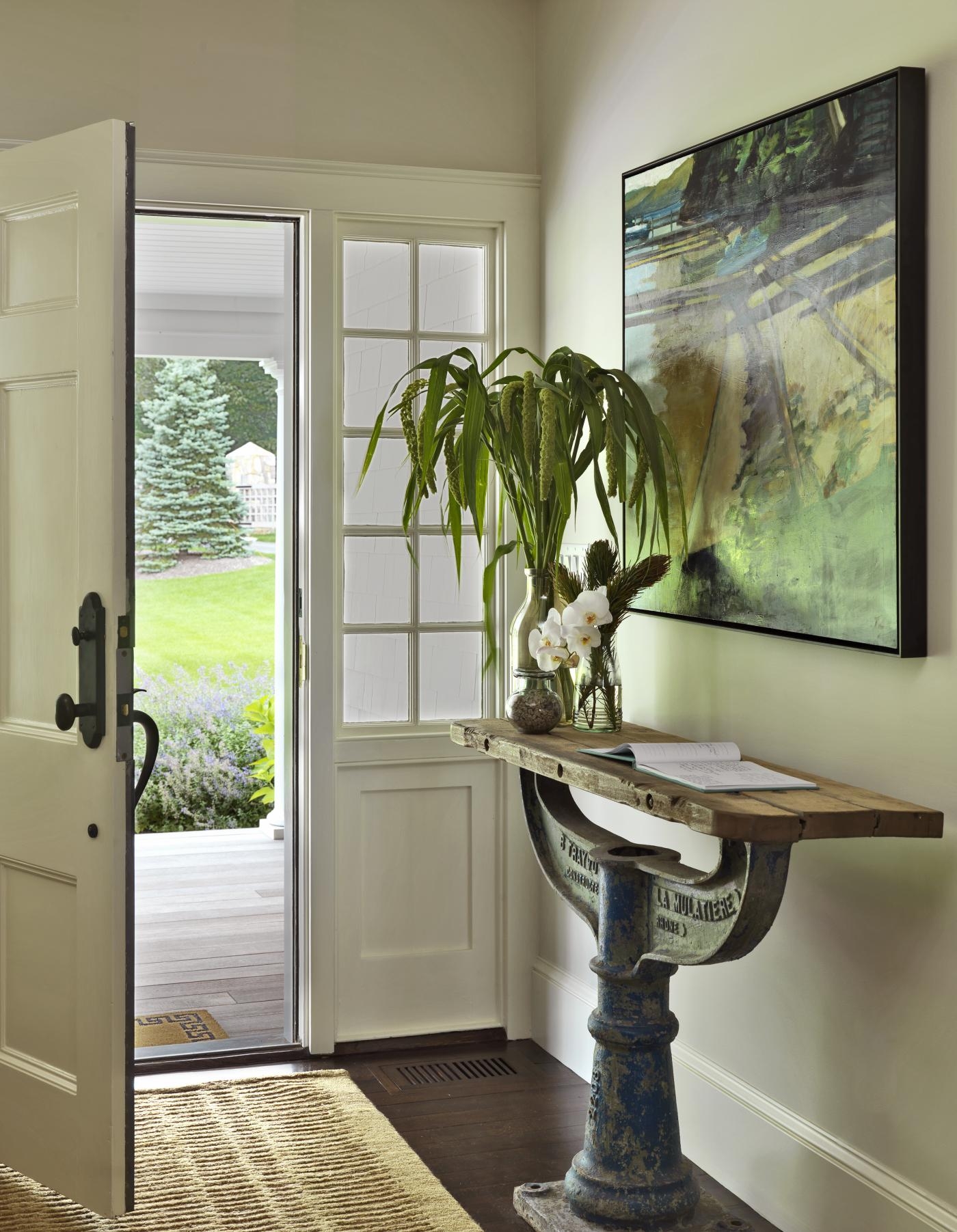 Standing in the entryway, this small console table will be a smooth-looking and convenient accent, which will help your organize better your space. Ideal to put a flower vase on it or expose your favourite photos.
Entryway / Console Table with Shutter Front Drawers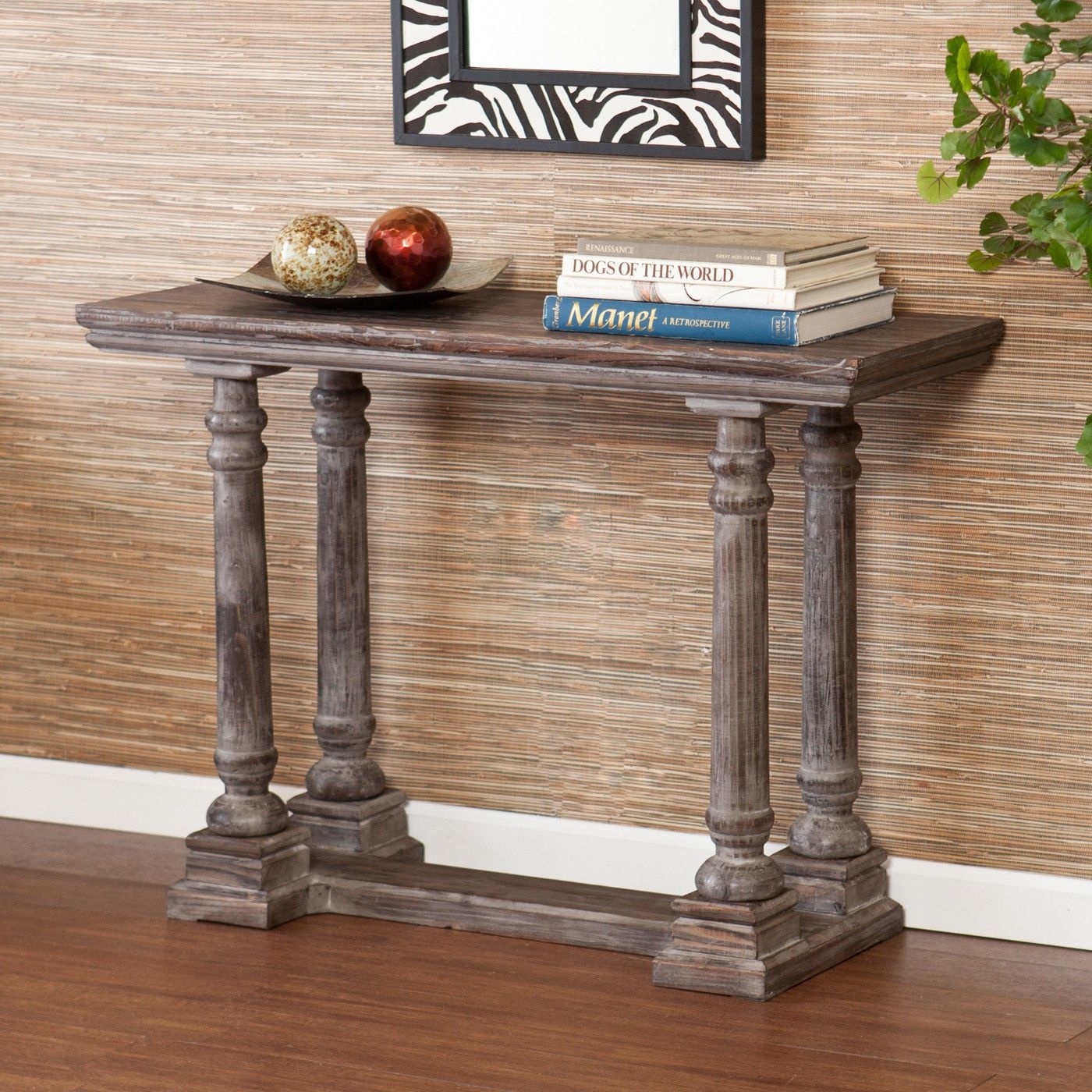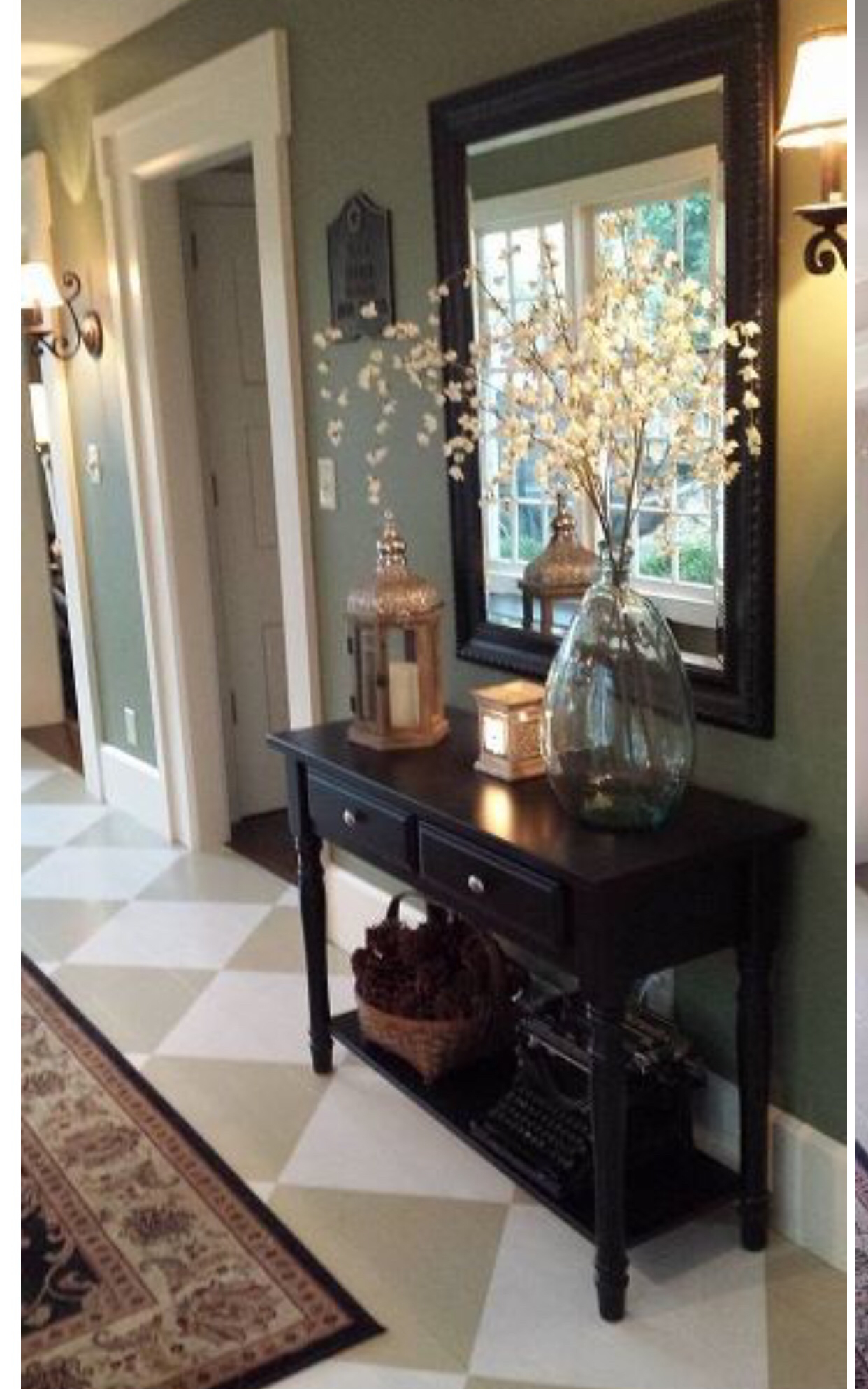 The entrance corridor is the visitcard of the house.To get a good exposure, think of black, wooden with hand-styled elements a hall table with mirror. Table is perfect for plants, or candles. And mirror is made in the same style, with black craved frame.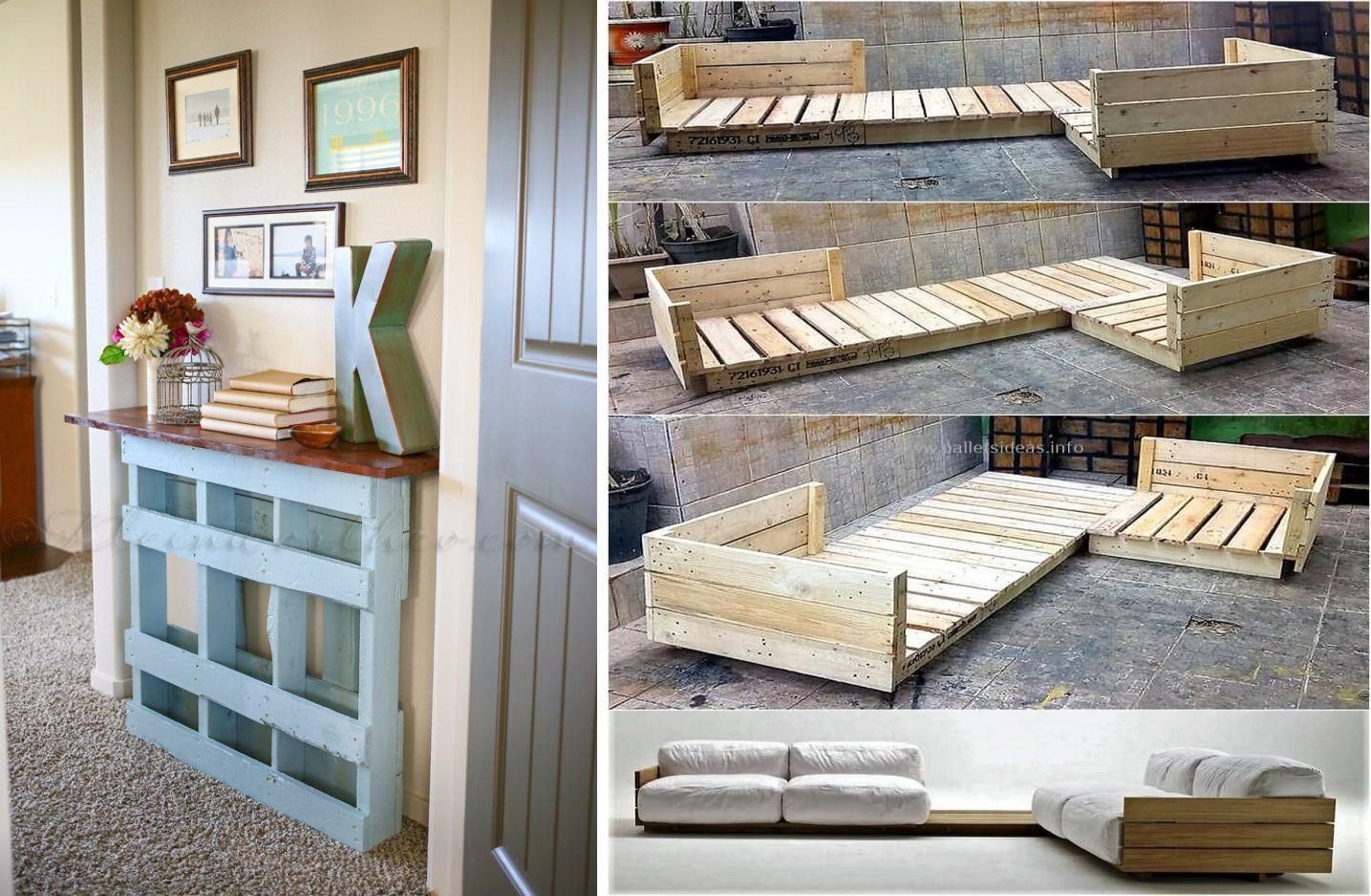 Console table for all kinds of interiors according to taste and need. It is made of wood in two shades. Base is reinforced with solid supports. Rectangular top has large usable surface. Simple form and functional design.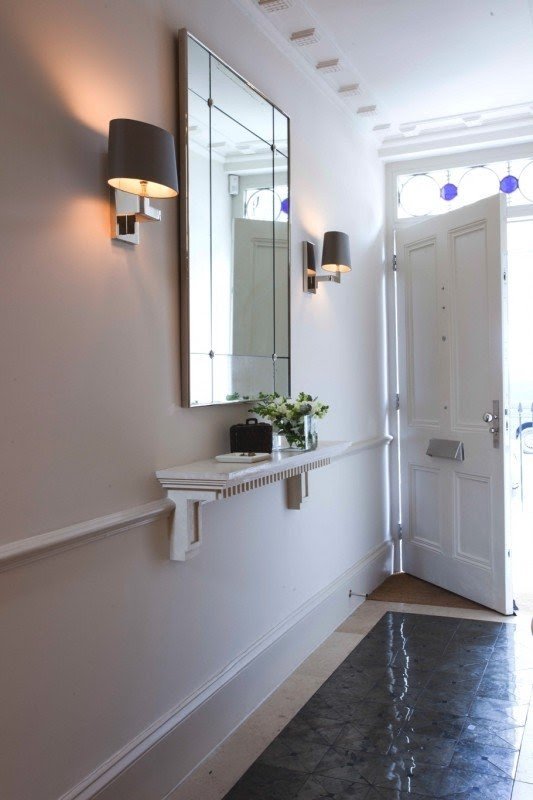 no hall table or lamp - mirror for touch up before leaving - lamps to warm the way in and out - mirror to reflect the light from the room at the end - fresh flowers on arrival - coat closet on other wall to hold all the uglies - possibly surrounded by boo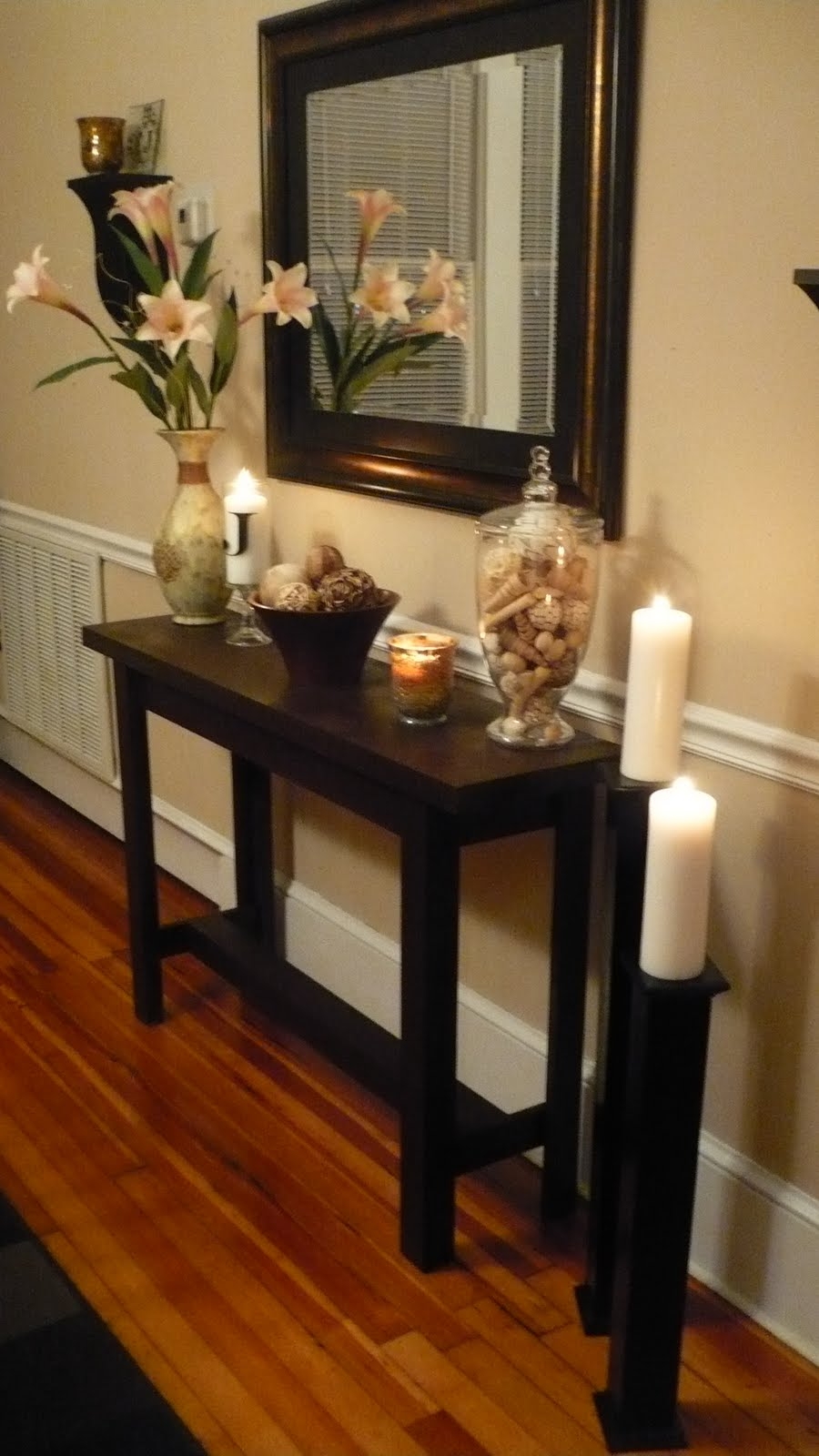 Definitely doing this for an entry way or small wall area....I love the storage for wine corks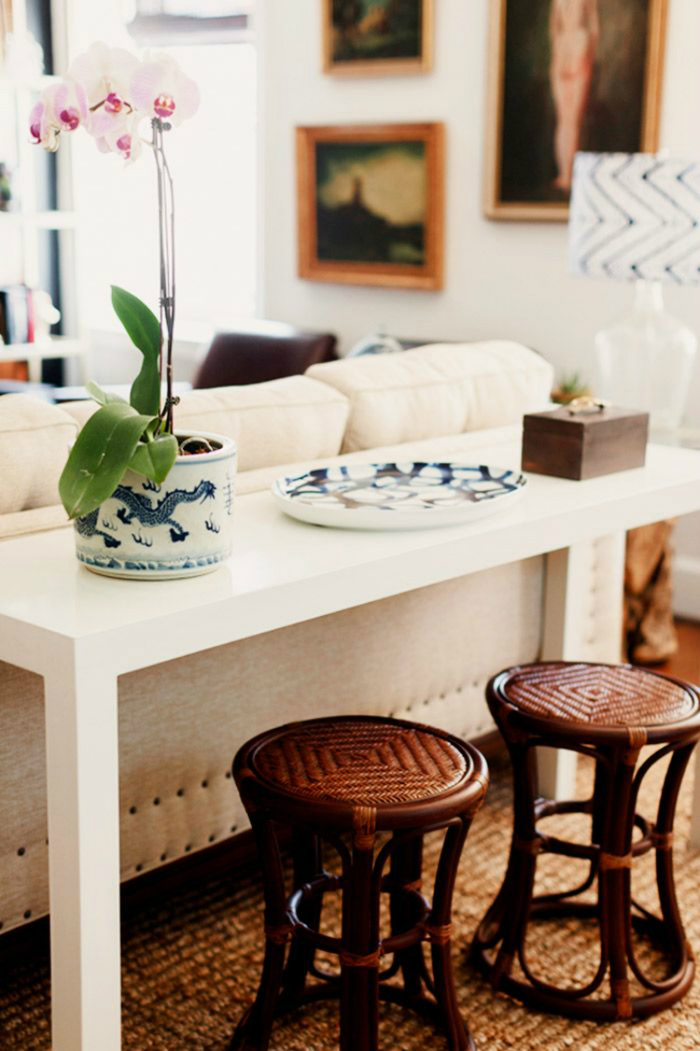 The most common use for a console table is as an entry table in a foyer, making it a place to stash, keys, mail, a purse, etc. But a console table does a marvelous job of filling up any stretch of empty wall. We also love to use them to abut the back of a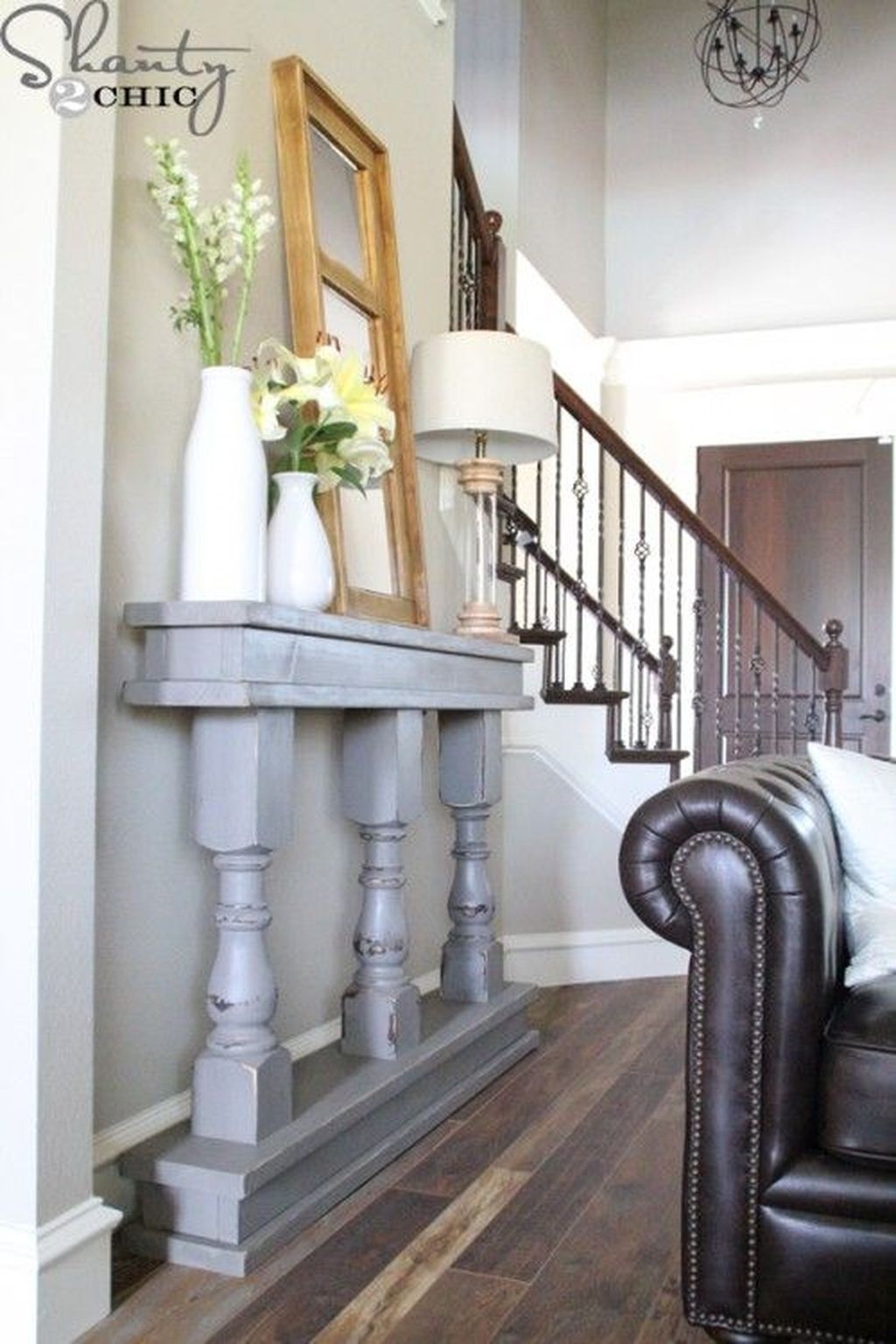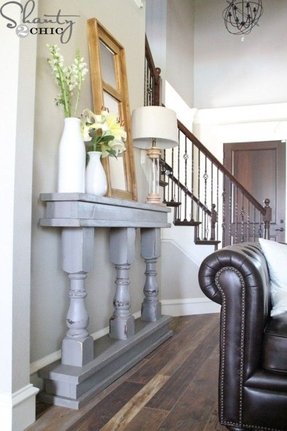 If you don't have enough space at your entryway or drawing room, you should choose the console table with distressed finish. It's perfect to display books, flowers and much much more.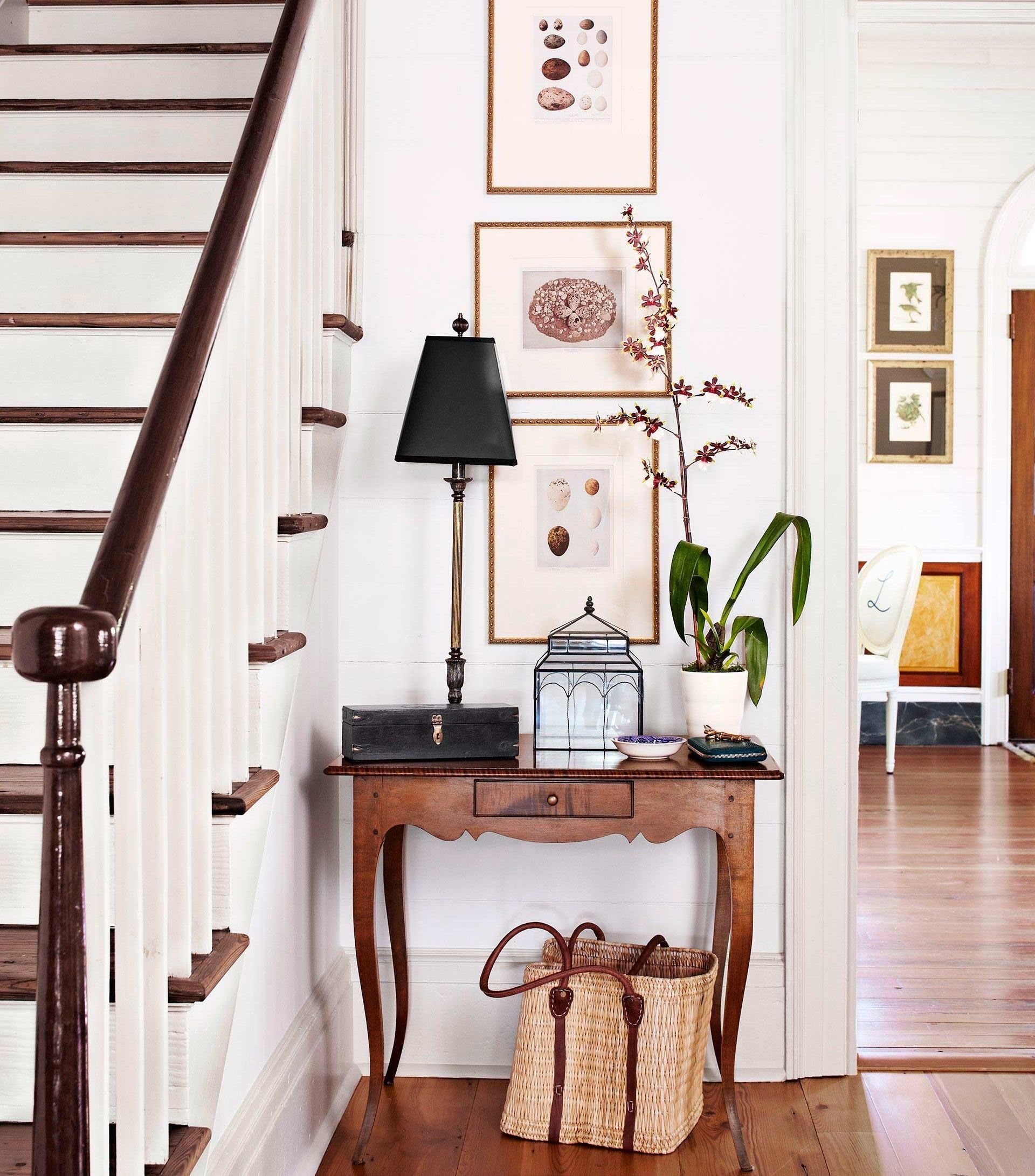 I'm going to need a lot of stairs in my next home ... apparently I like a lot of looks just for this area of the home (maybe I'm just trying to fill the void since I currently don't have any, ha)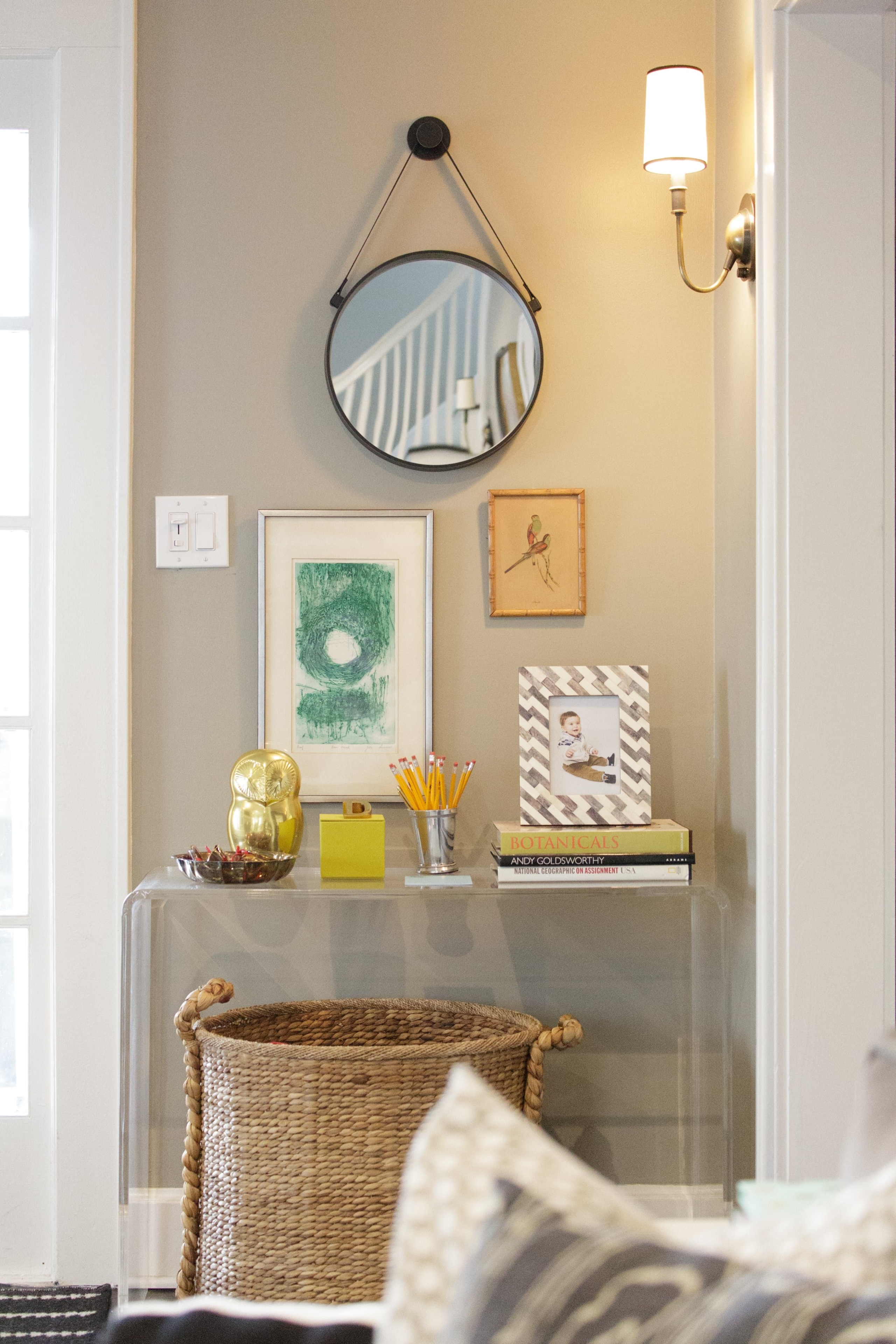 Reeve Mid-Century Console - for my entryway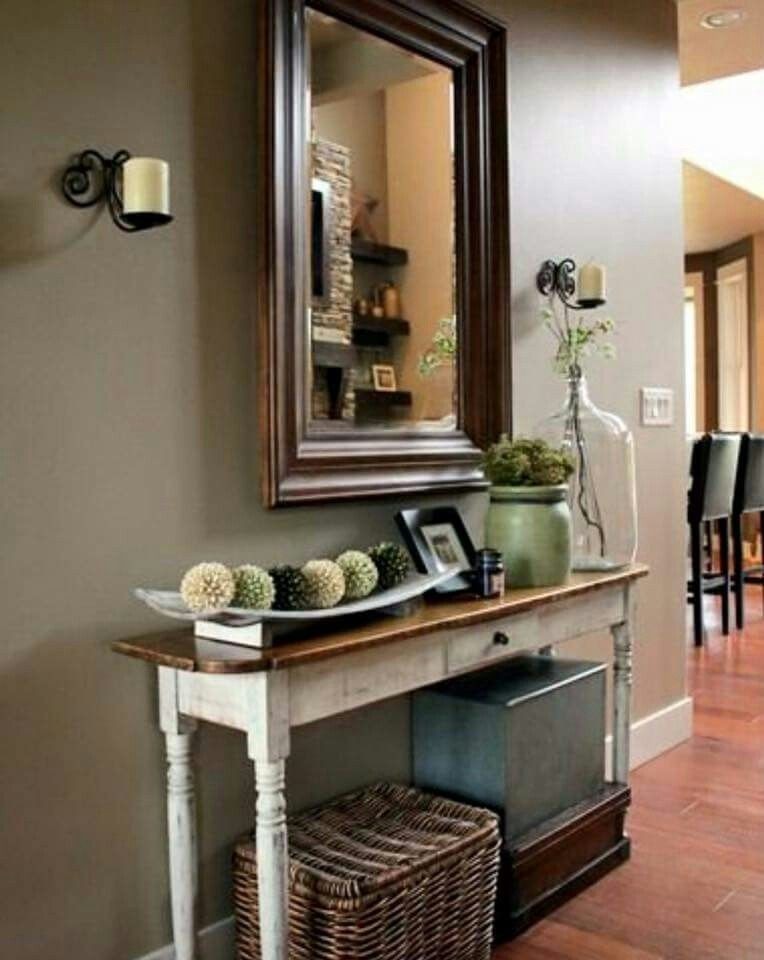 Thanks to this fashionable console table you will be able to save space in your narrow hallway. It's made of wood and covered in a distressed two-toned finish, including a small drawer with a metal pull knob, and neatly turned legs.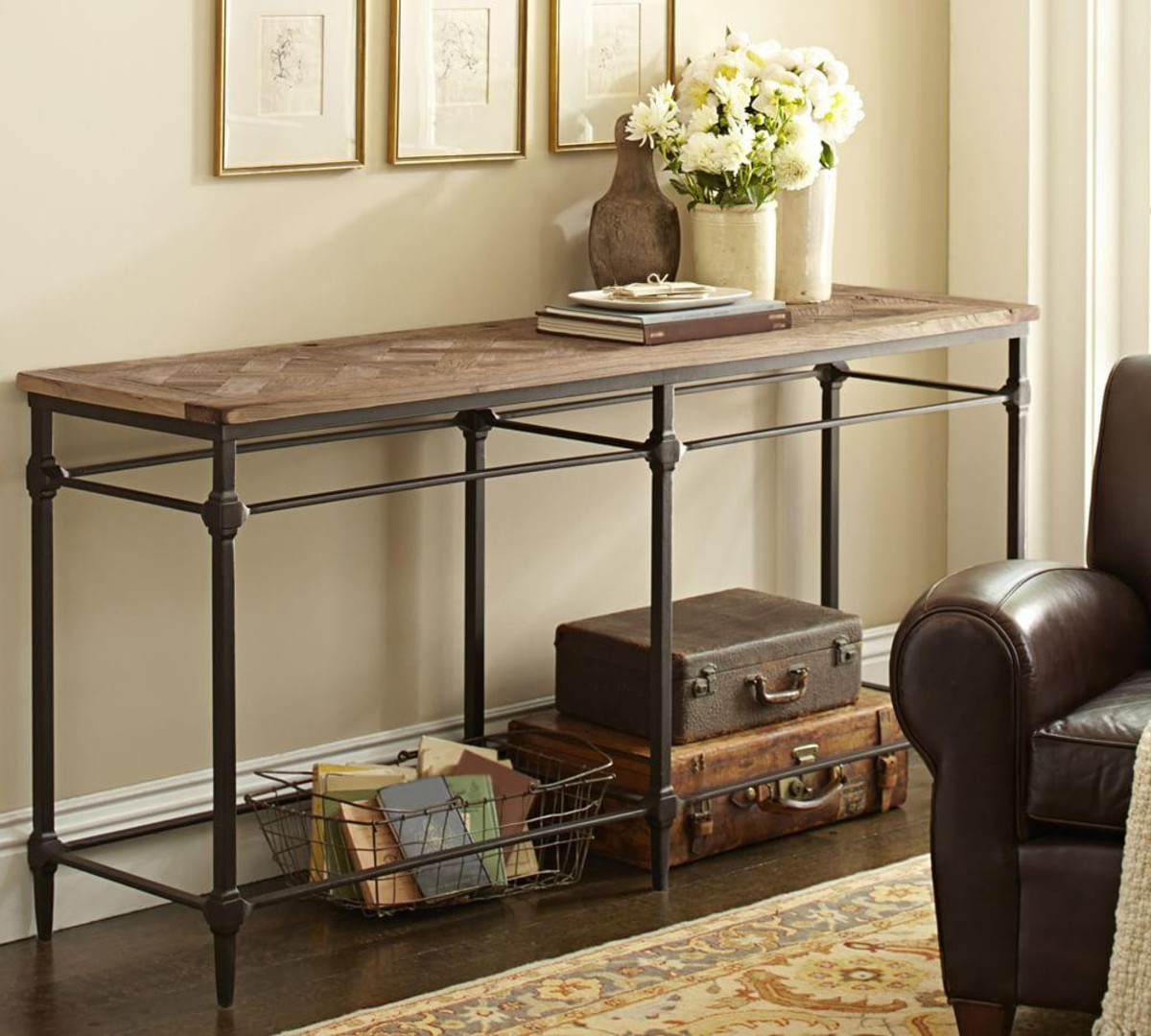 Hall Tables, Entry Tables & Hall Console Tables Pictures Of Entryway ...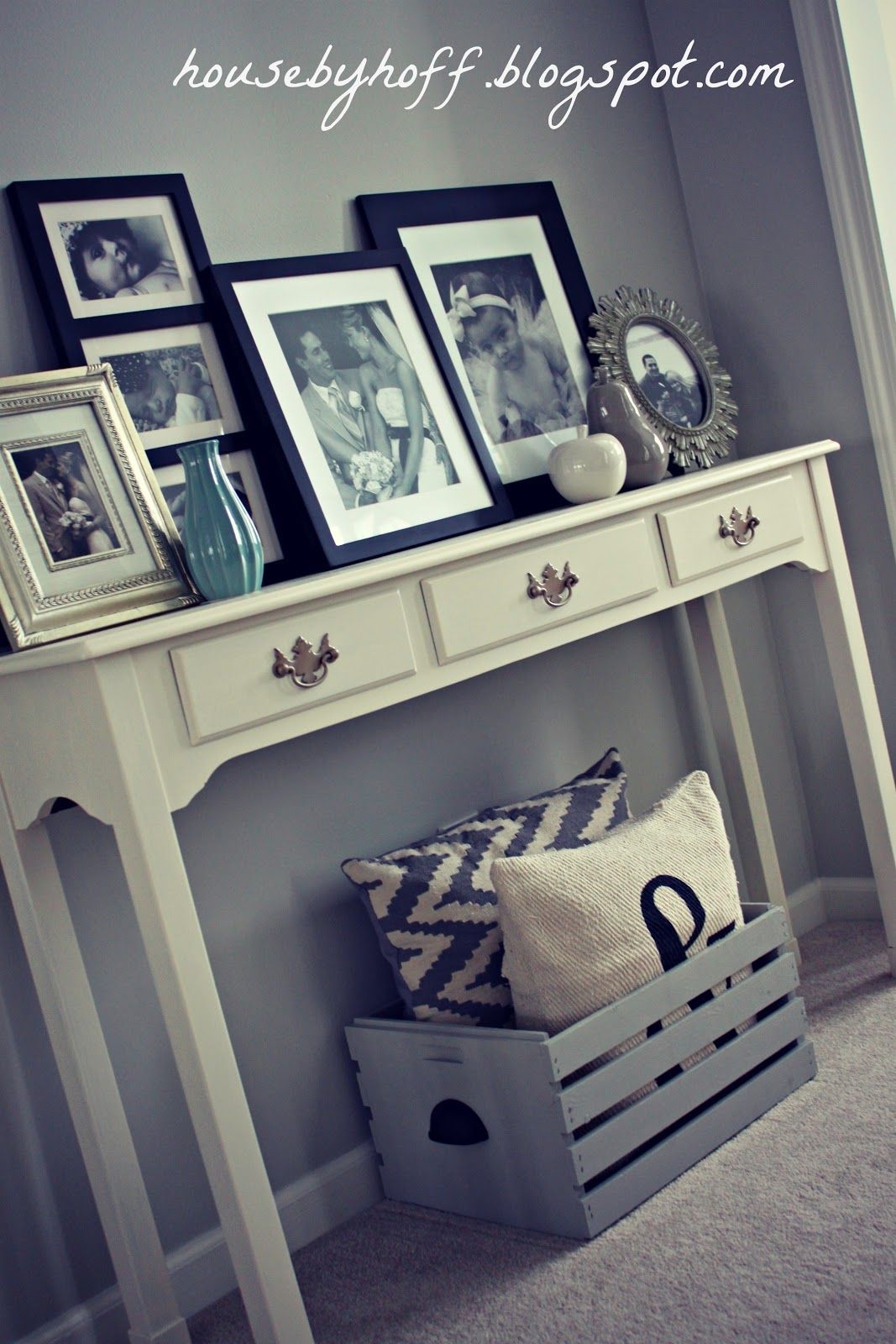 This beautiful console table is a really versatile piece of furniture, that can fit into both traditional and modern interiors. It enchants with ornamentally designed drawers. Perfect for an entryway some living room niche.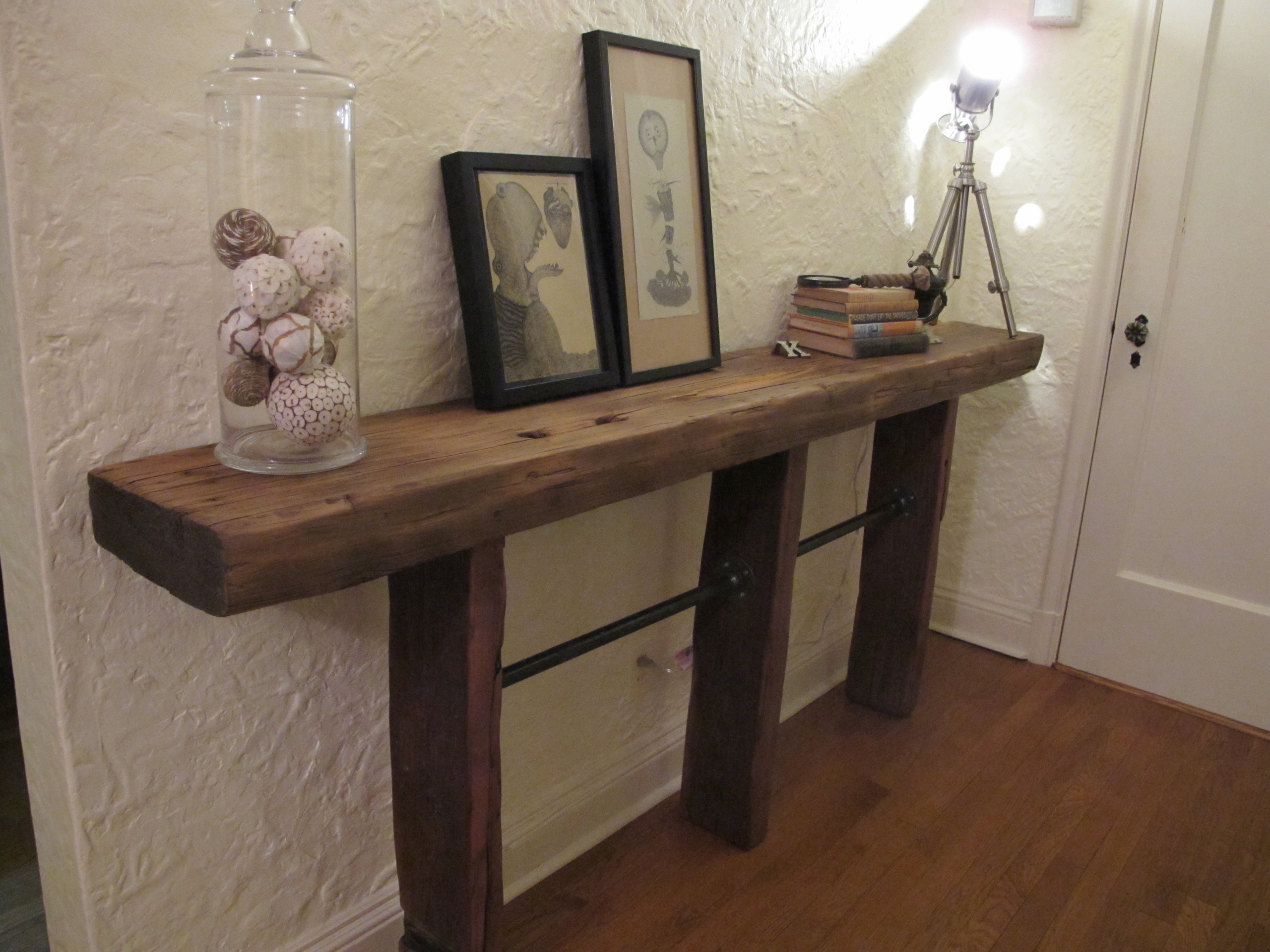 i could make this for almost nothing with leftover railroad ties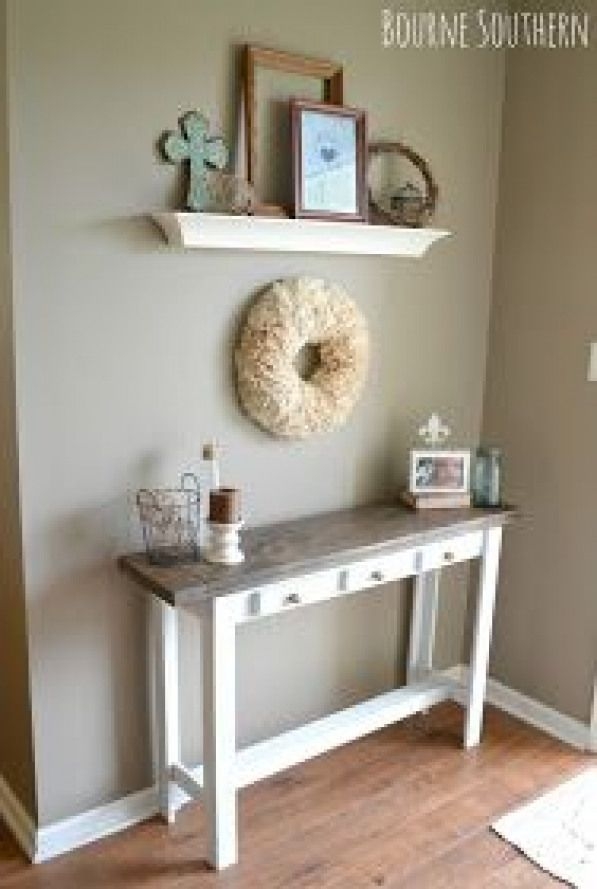 Bourne Southern: DIY Entry Table Under $30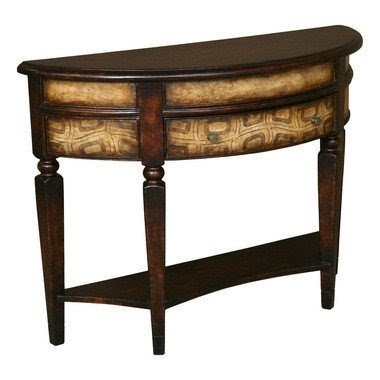 ... _3097-w380-h380-b1-p10--traditional-side-tables-and-accent-tables.jpg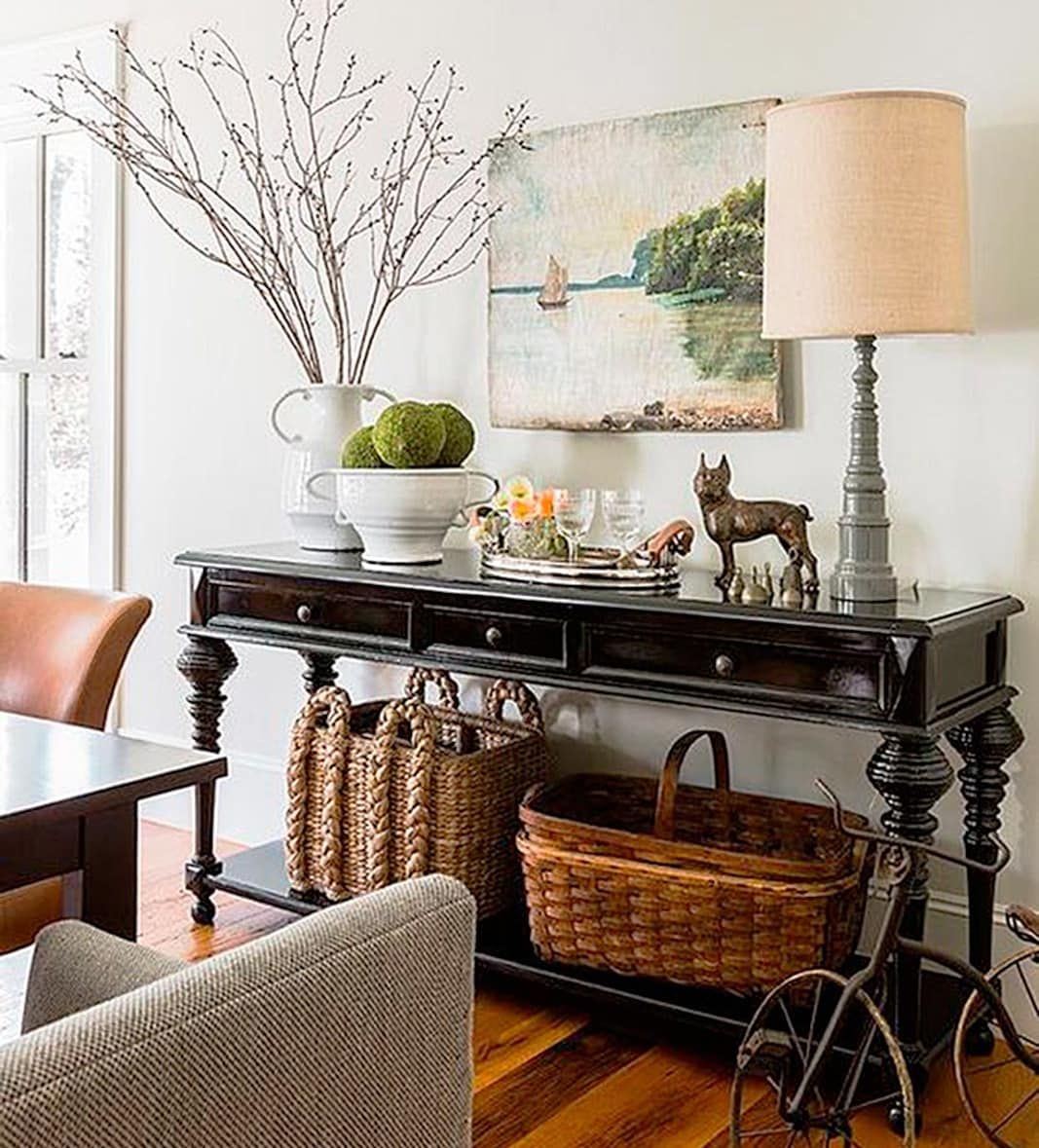 Console styling: Branches or Botanicals. One of my favorite things from nature to add to any vignette are branches. In any season, they are tall and sculptural and reach up high into vertical wall space adding organic appeal. But anything botanical works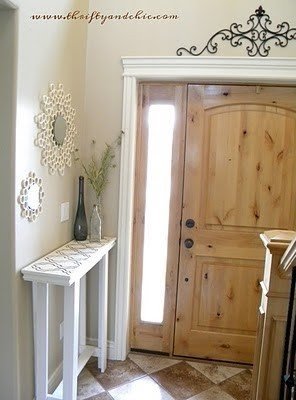 #table, #tutorial Thrifty and Chic - #DIY Projects and Home Decor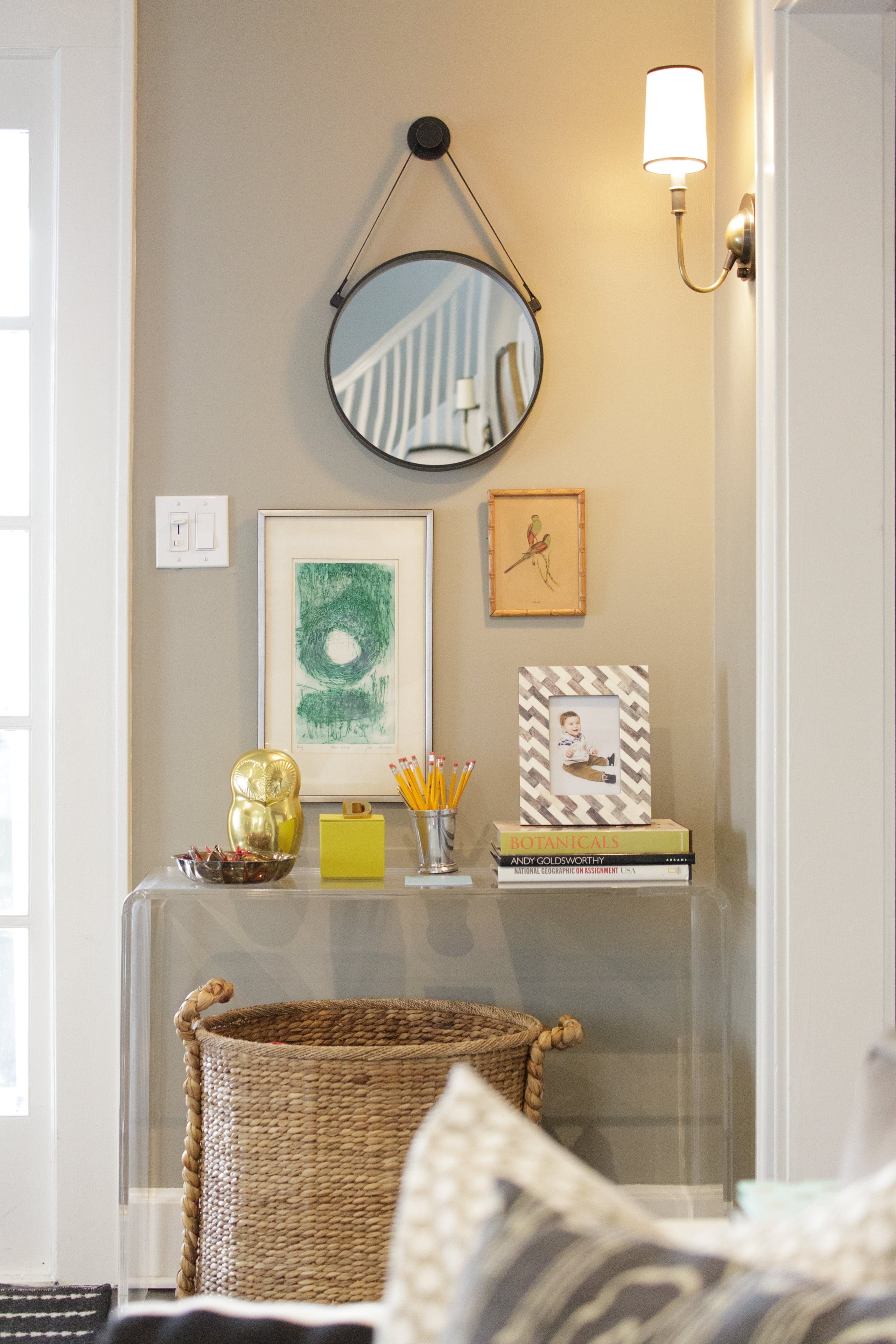 Hometalk :: Apartment Entryway Progress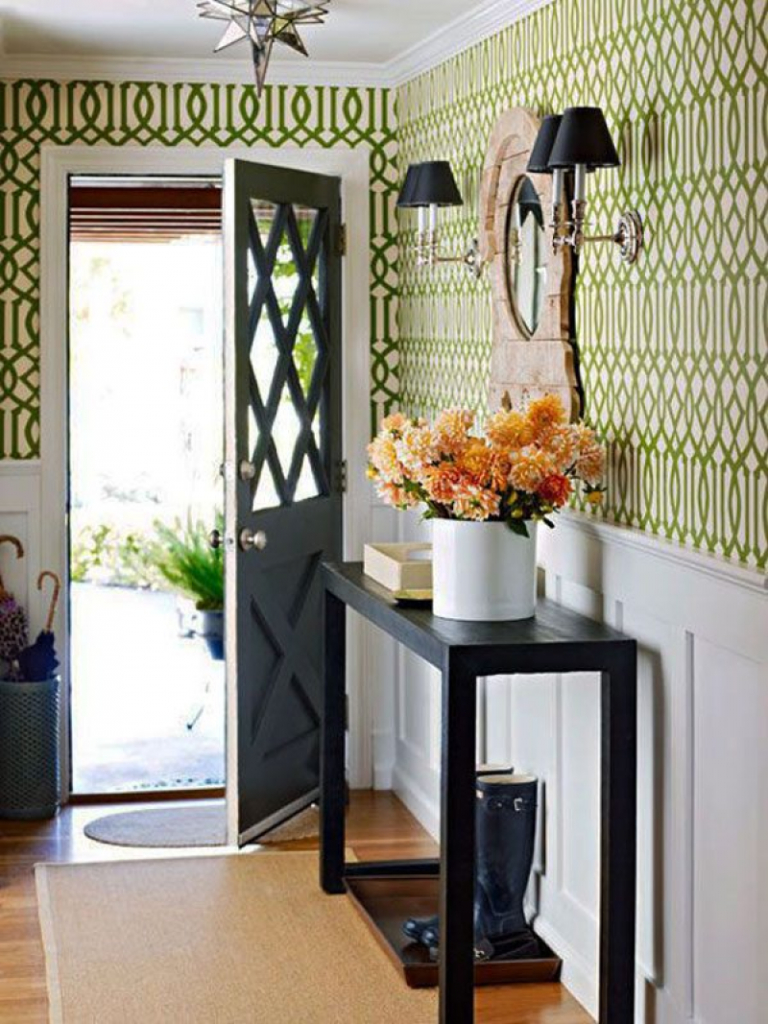 entry console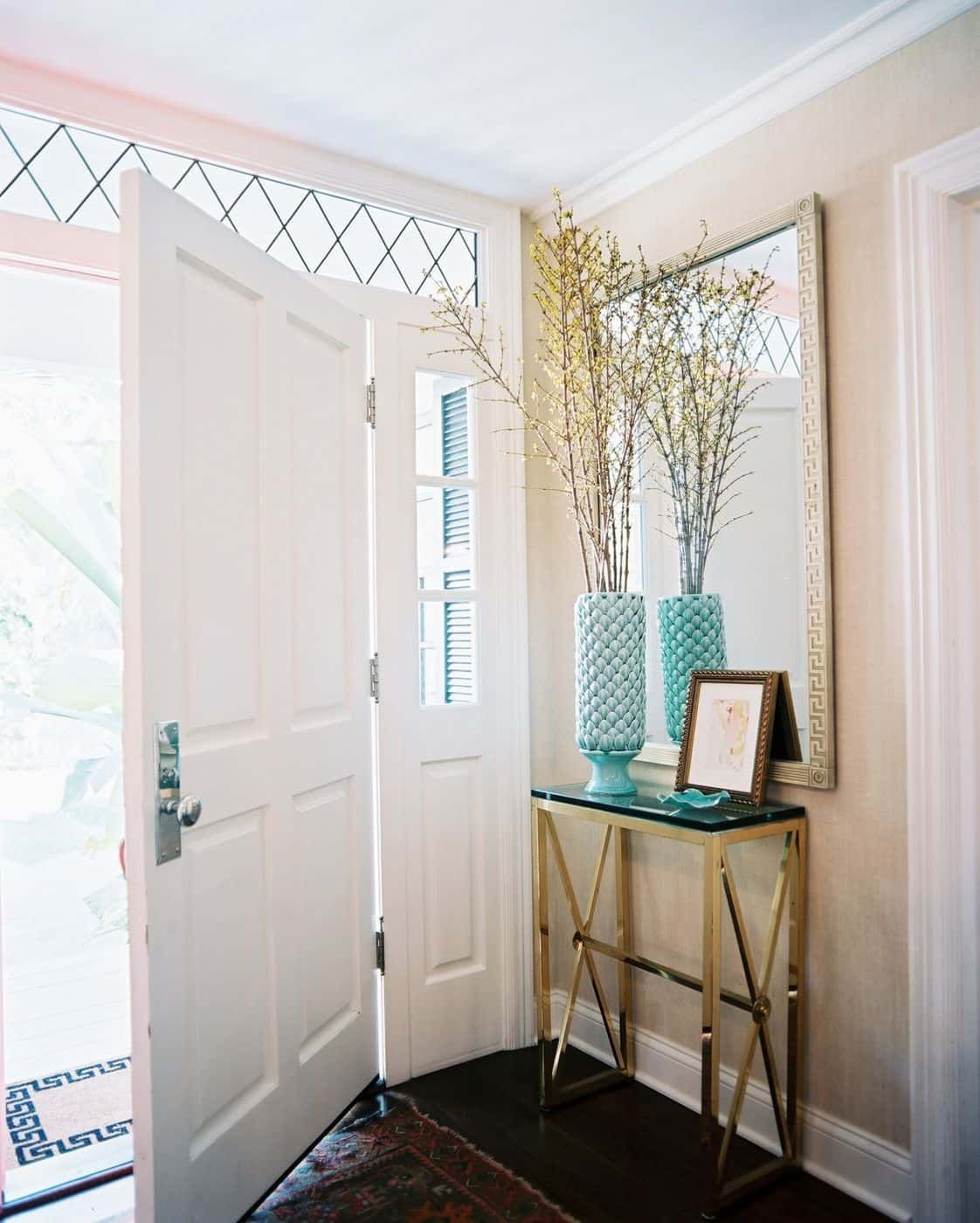 Foyers & Entryways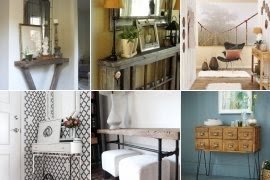 Entryway Table Decor - -- love this whole look!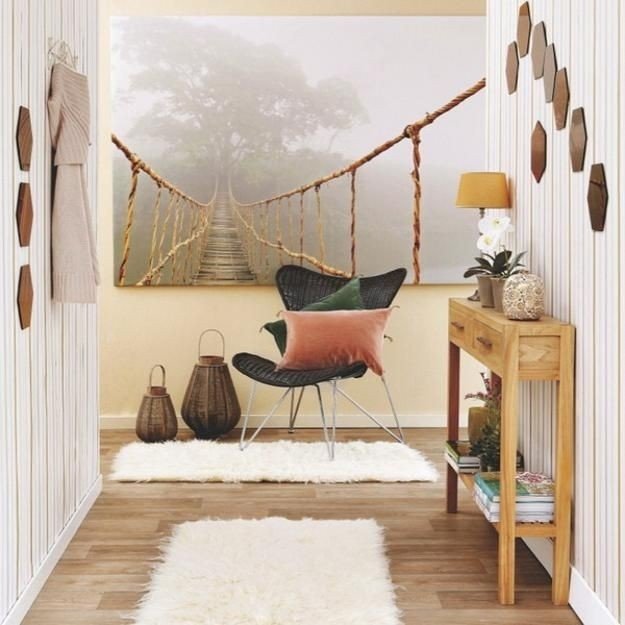 What an excellent setup for an entryway. Very homely and cosy. The furniture perfectly complements each other and the floor and walls fit in perfectly. The huge painting also makes the room look very spacious!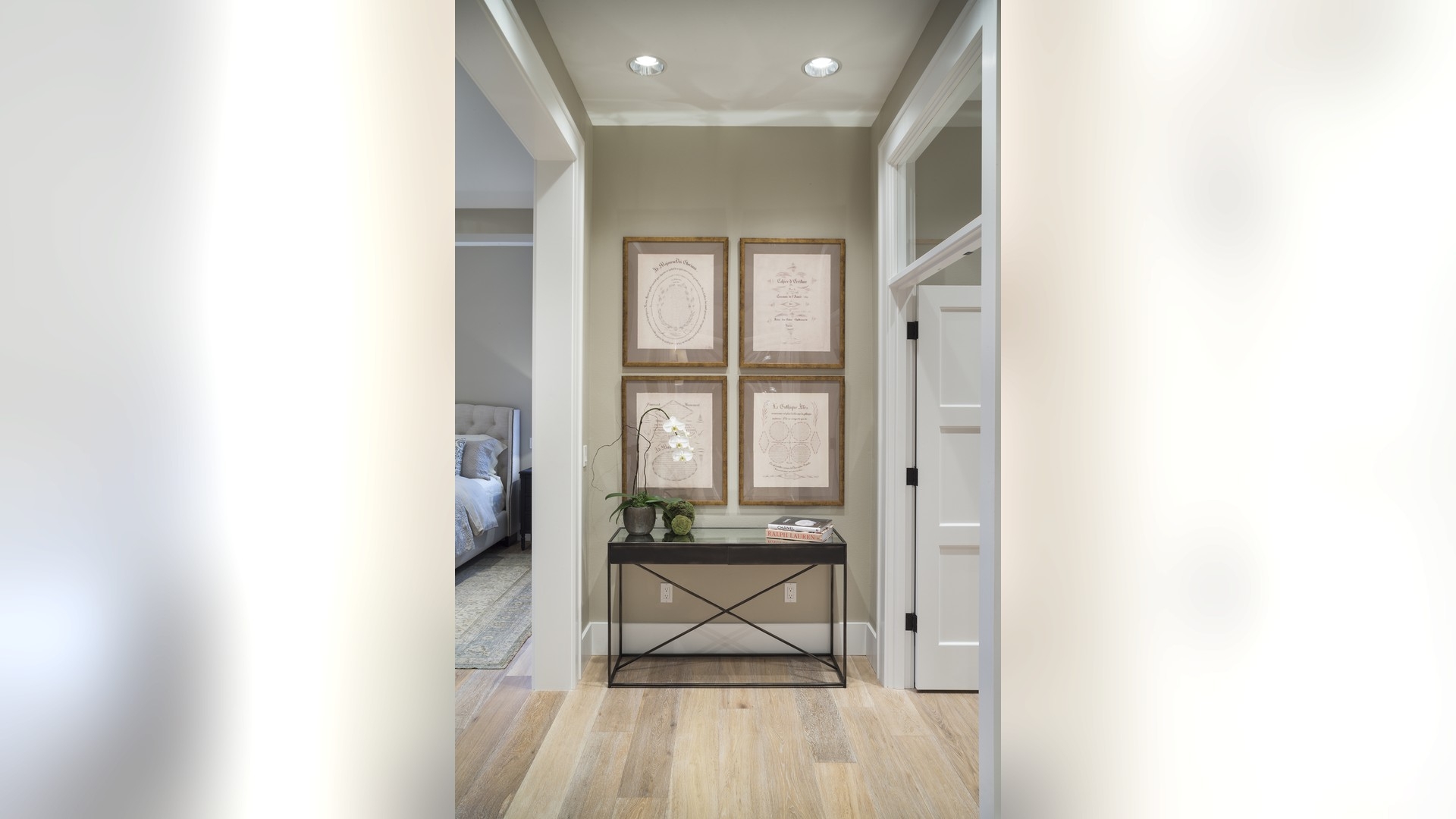 Transitional Interiors. I really like to simplicity, elegance, and statement this small spot makes.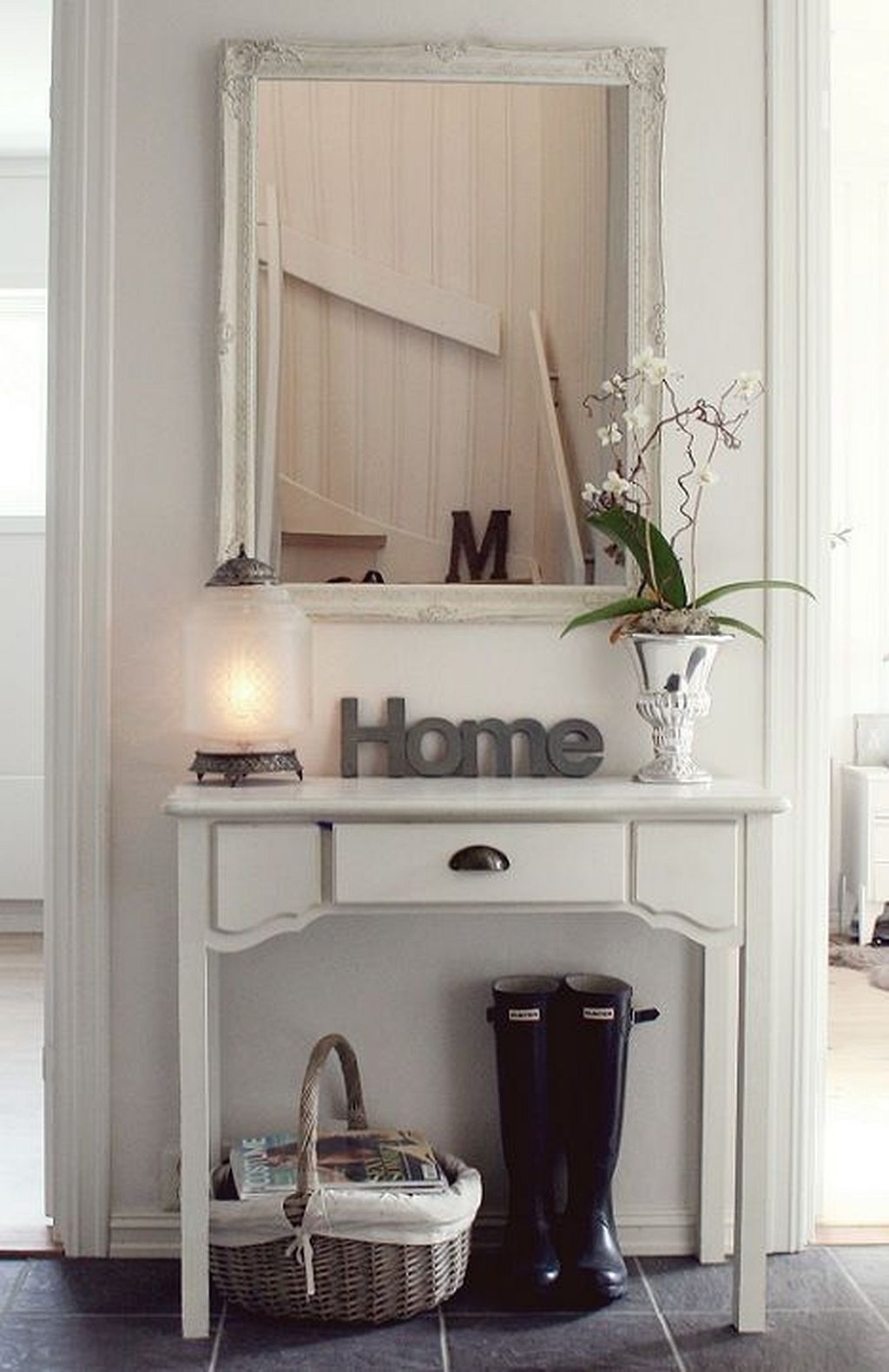 Inspiration... Table like this (for bins w/ scarves) with a square ottoman to push underneath (for shoes).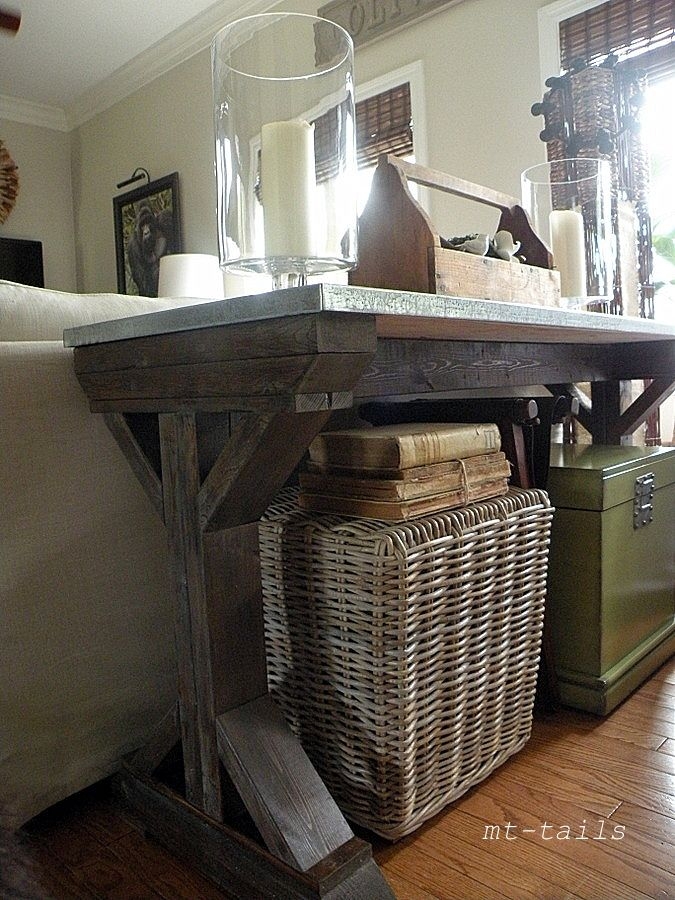 You have some spare space behind your couch? Check out this base farmhouse console table, that you can fully do-it-yourself! Made from old, stain wood would fit every rustic space in your home. Lots of storage space as a bonus!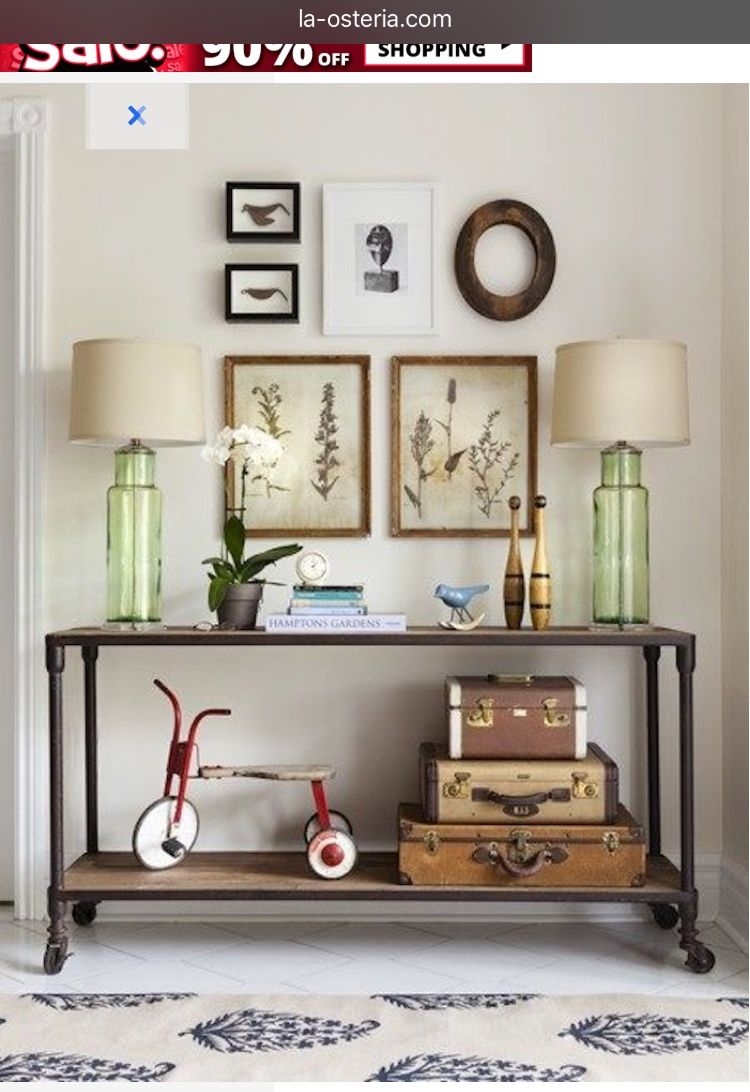 This foyer goes charming vintage with a wheeled industrial table and ...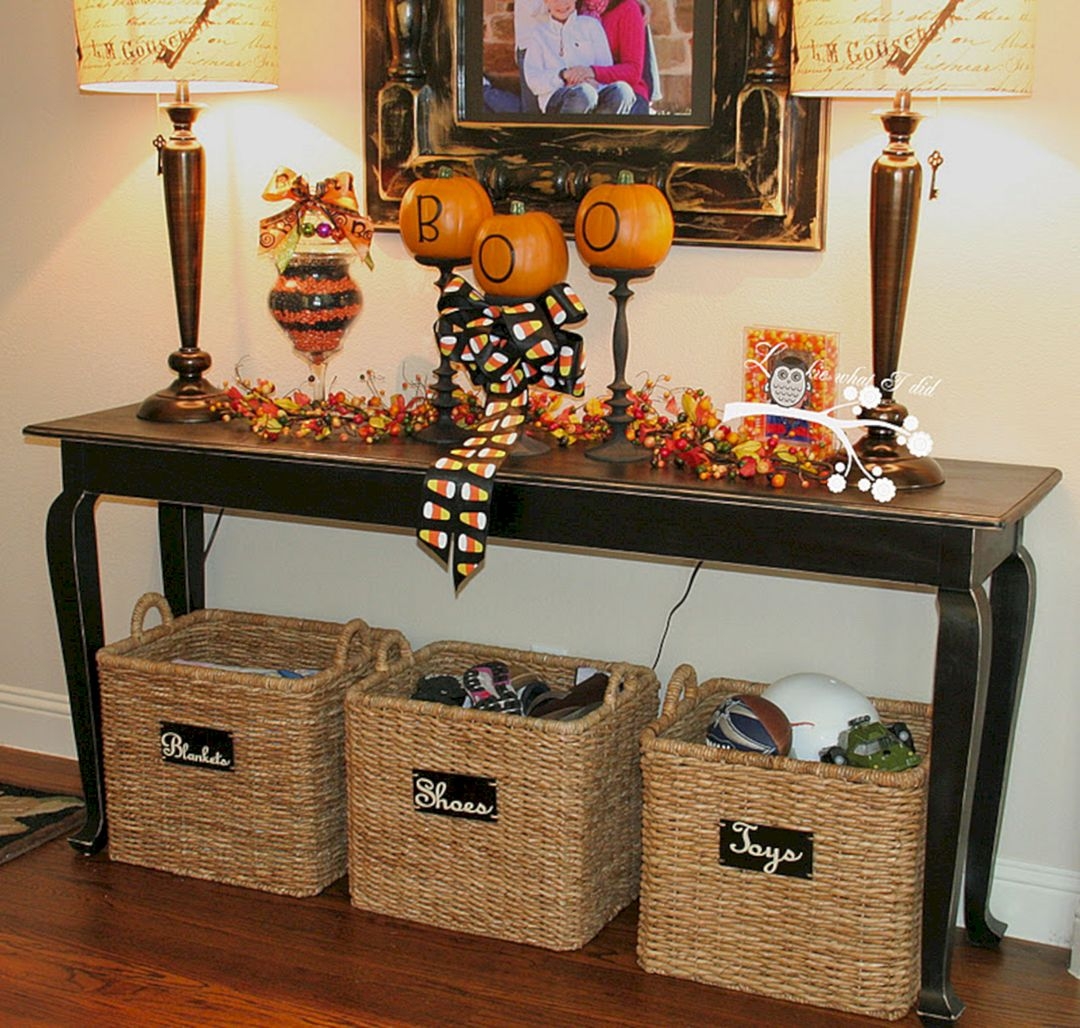 I like the 3 baskets by the entry. good place to put your shoes instead of on a rug scattered all over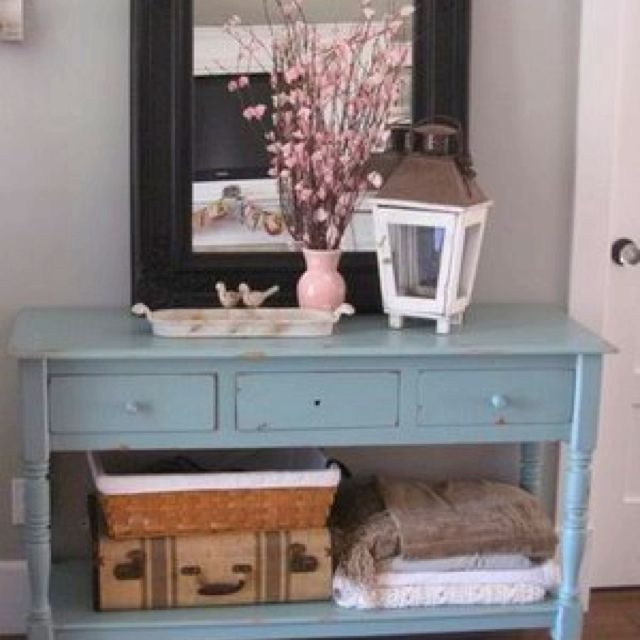 Entryway Design - lantern on the table, framed art and blankets folded in baskets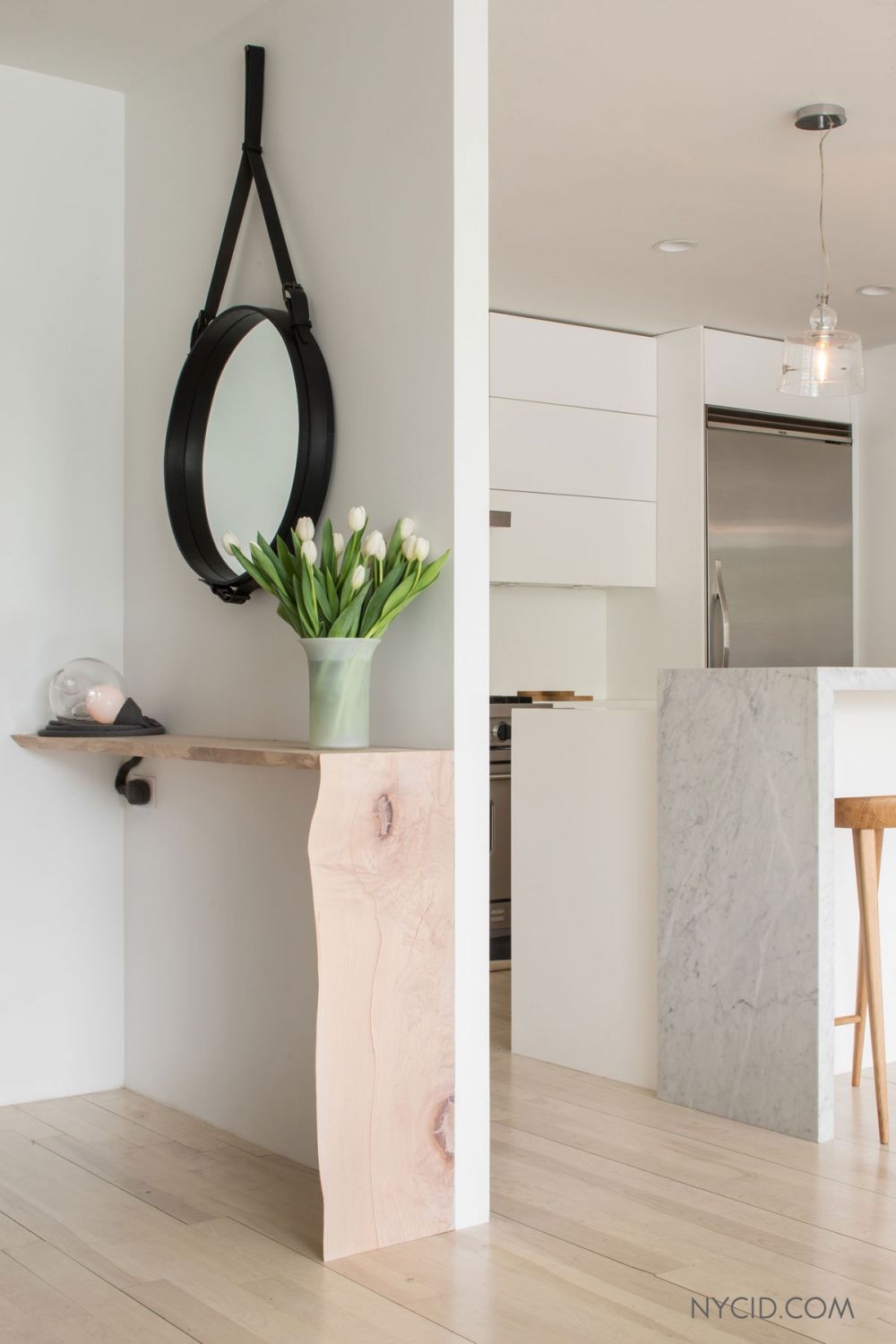 A Modern Duplex in New York Citys West Village in main interior design Category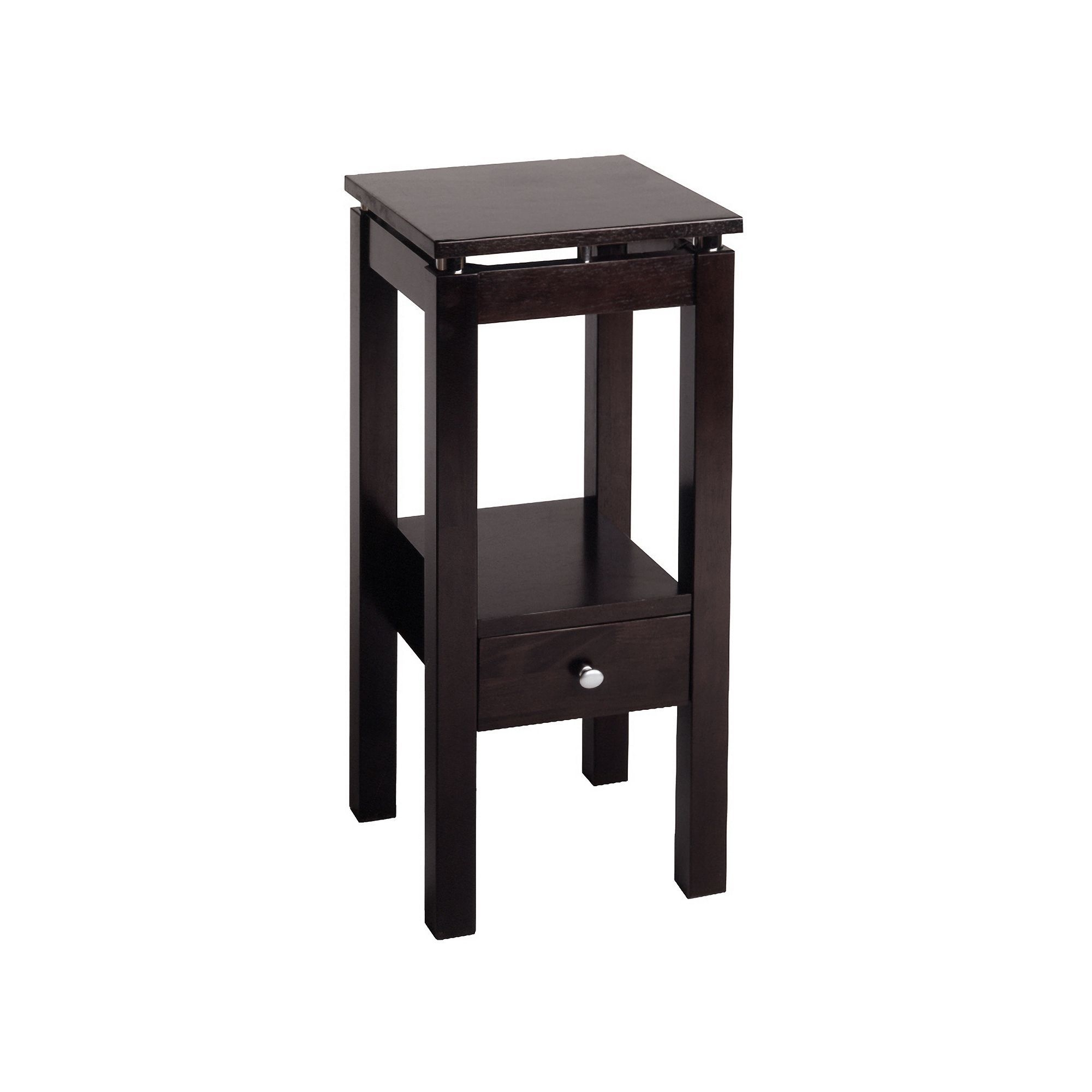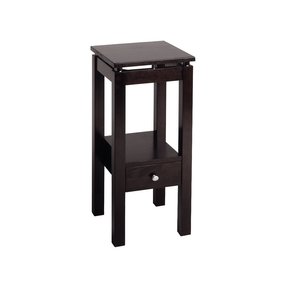 Phone stand fitted with open shelf and drawer for storing personal items. It is completely made of wood. Neutral design for all kinds of interior. Received very good recommendations from satisfied customers.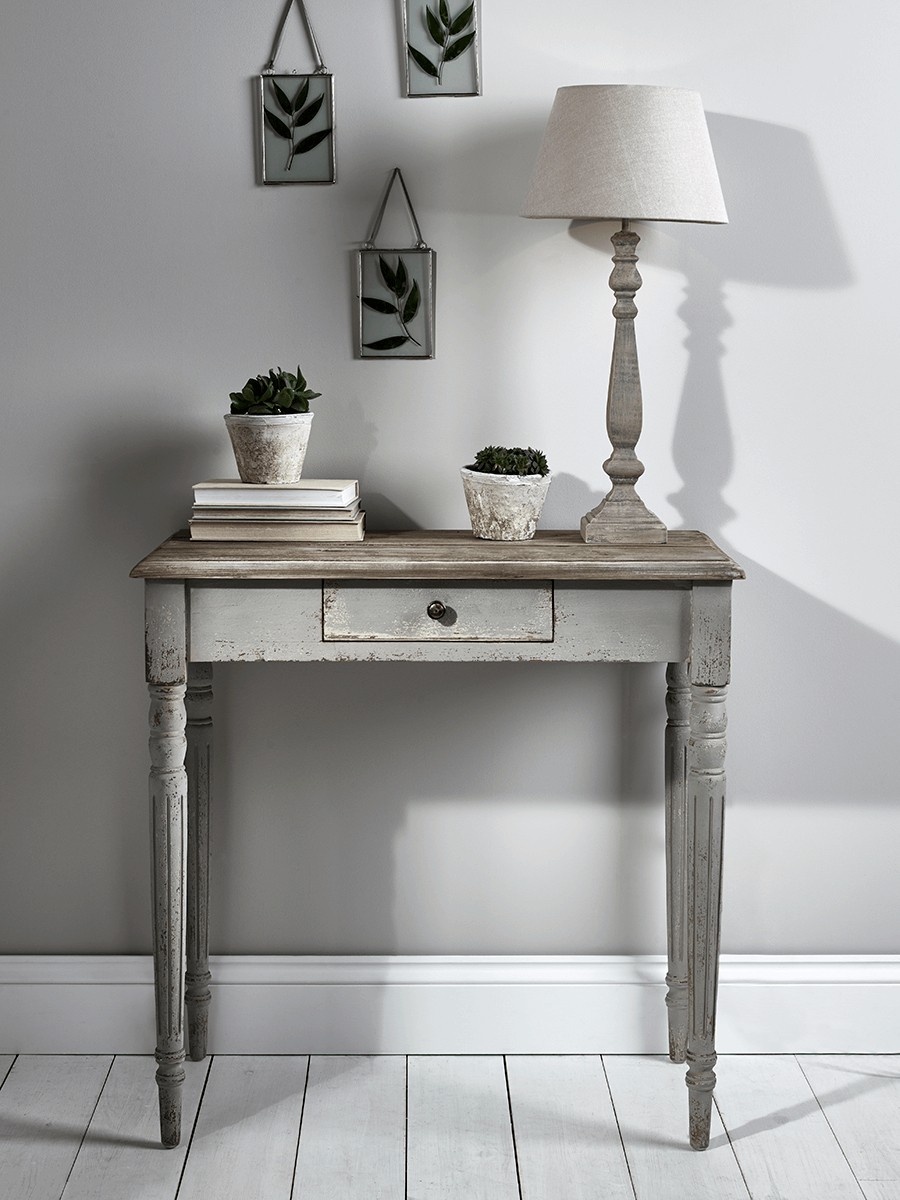 Console Tables, Small & Narrow Hallway Console Tables with ...