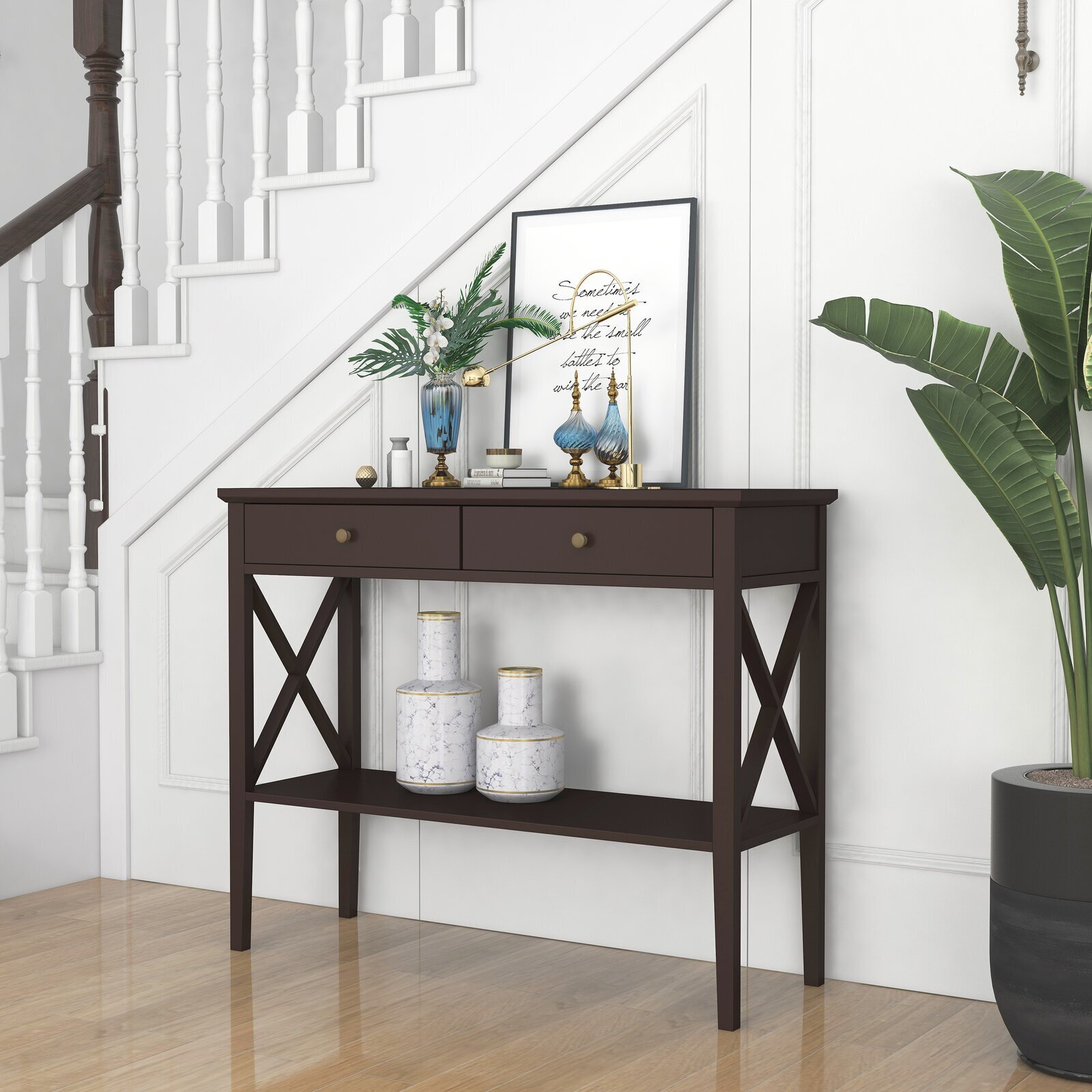 Traditional small entry table
ChooChoo
Just under 40" in length and less than 14" in width, this small entryway console table consists of versatile wood and metal accents, available in black, white, or espresso.
$167.99 $175.99
Designer Advice:
Its neutral finishes and, especially, the x-shaped design on its sides make it an unmissable choice in traditional entryways. Be sure to further emphasize this style's characteristic coziness and sense of familiarity: for example, make the most of the top surface and shelf to display some picture frames and plants.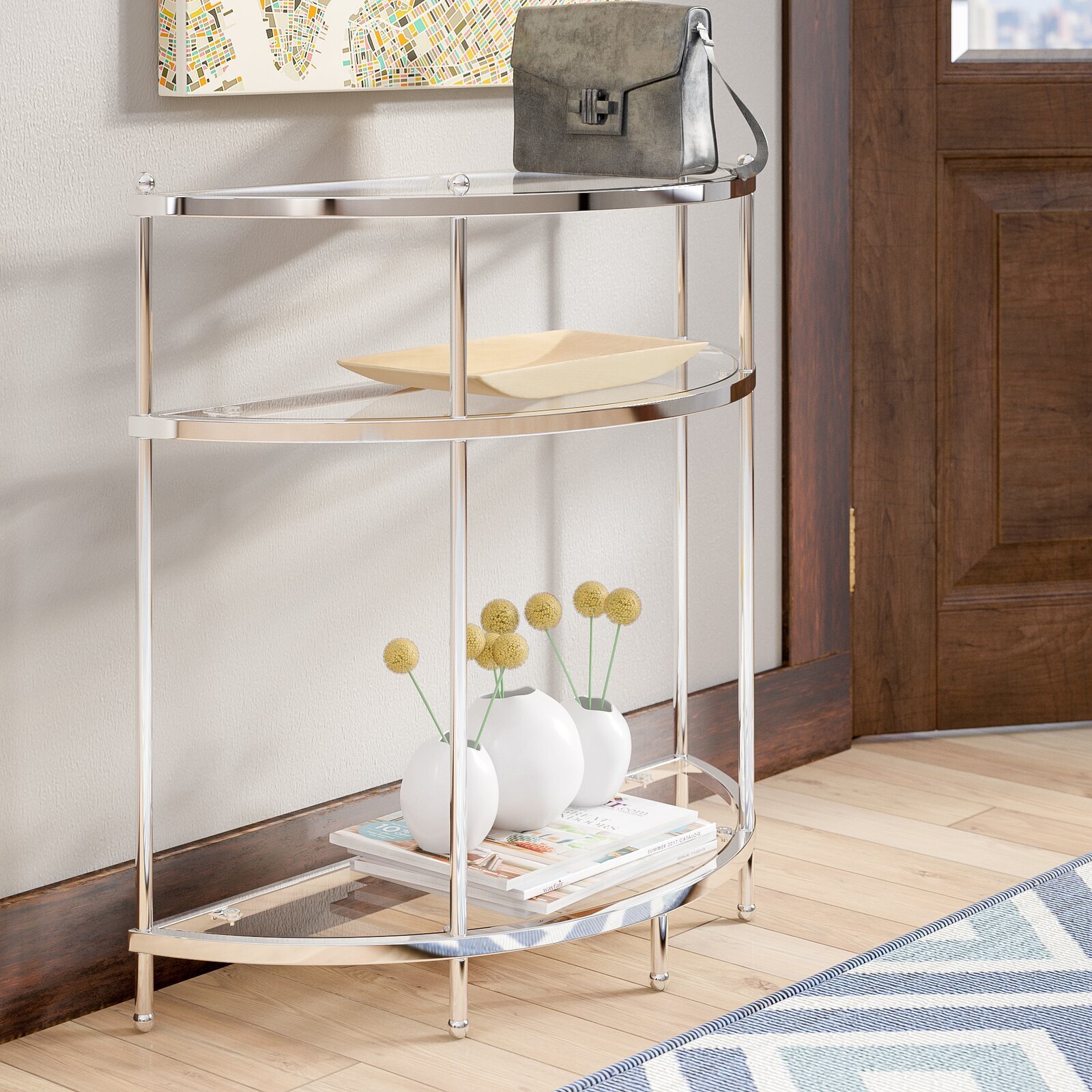 Contemporary narrow entryway table ideas
Mercer41
Instead of the usual rectangular designs, this 31" small entryway console table will surprise you and your guests with a charming half-circle silhouette. Its chrome frame holds three glass surfaces for additional open storage.
$151.99
Designer Advice:
Sleek but subtly nostalgic, this console can add a cozier feel to your contemporary interiors. Plus, the combination of see-through glass and a rounded design will allow you to make a particularly small entryway look wider and airier.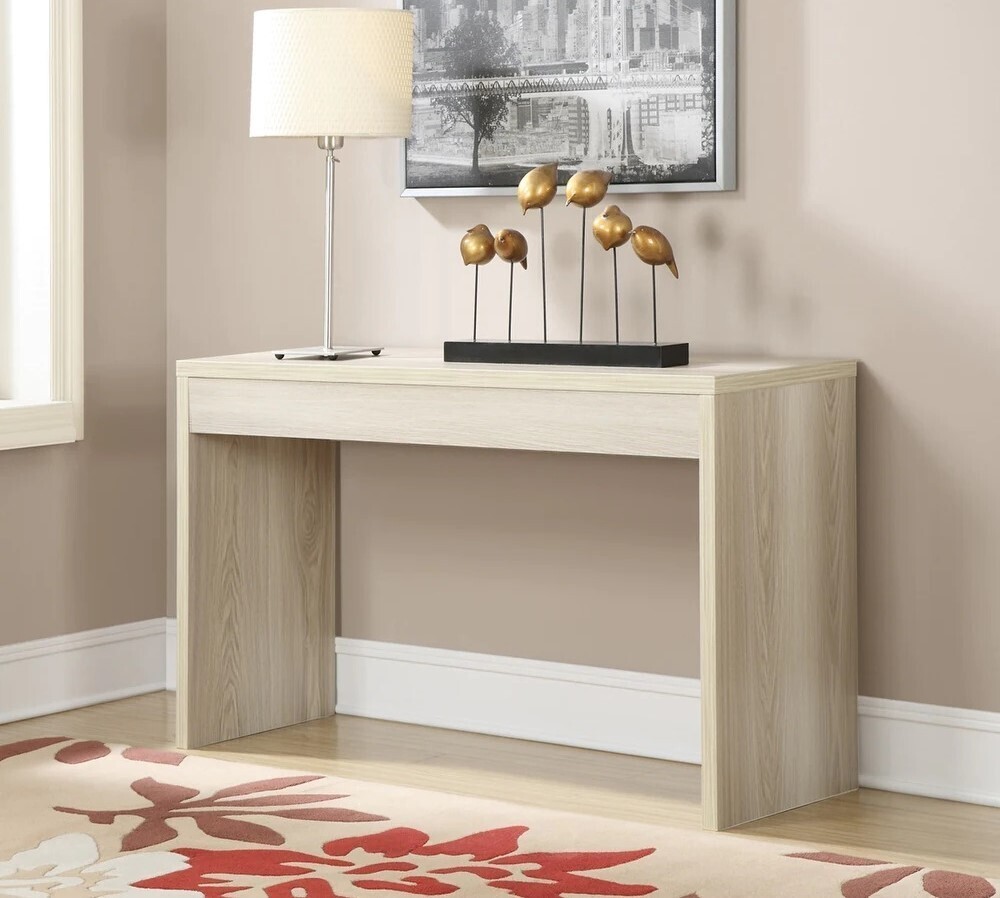 Transitional small entryway console table
Thanks to the possibilities offered by this 48"-long entryway console table, introducing the same colors as your living room's palette will be easy peasy: it's available in ten different finishes, from rustic barnwood to faux marble!
Designer Advice:
Its sleek design and familiar surface can help you nod to both modern and contemporary interiors. However, because this table doesn't include any drawers nor additional shelves, you should only consider it if you're planning on storing a small selection of items.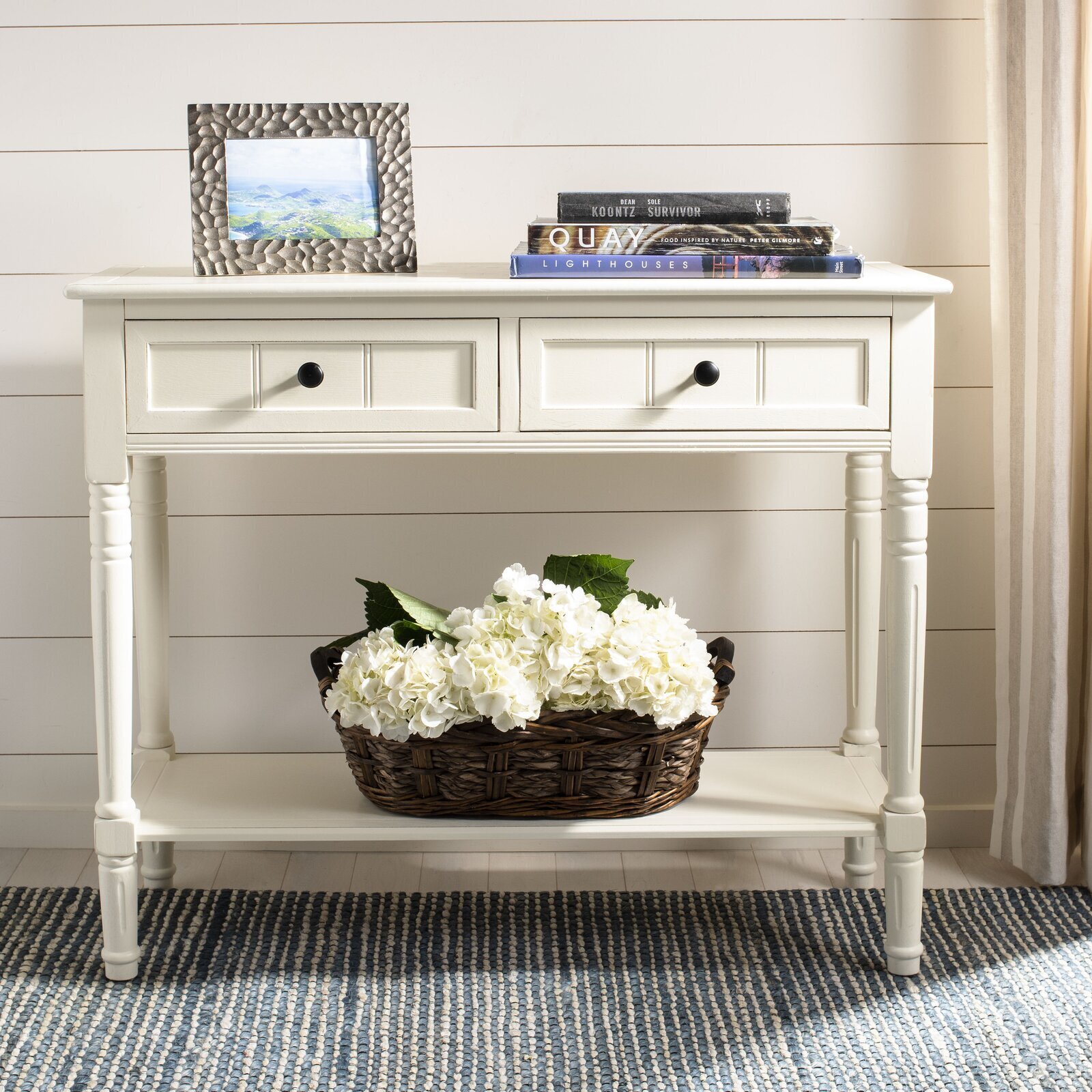 Shabby chic small entryway table
Breakwater Bay
Available in distressed cream or black, dark cherry, red and vintage gray, this small entryway console table measures less than 36" but packs a ton of storage space in its compact design.
$213.99 $396.99
Designer Advice:
While its decorative legs already do a good job of introducing this feminine style, we recommend picking the light cream finish to fully embrace shabby chic decor. Even better, decorate the table with some pink or red flowers and other charming items.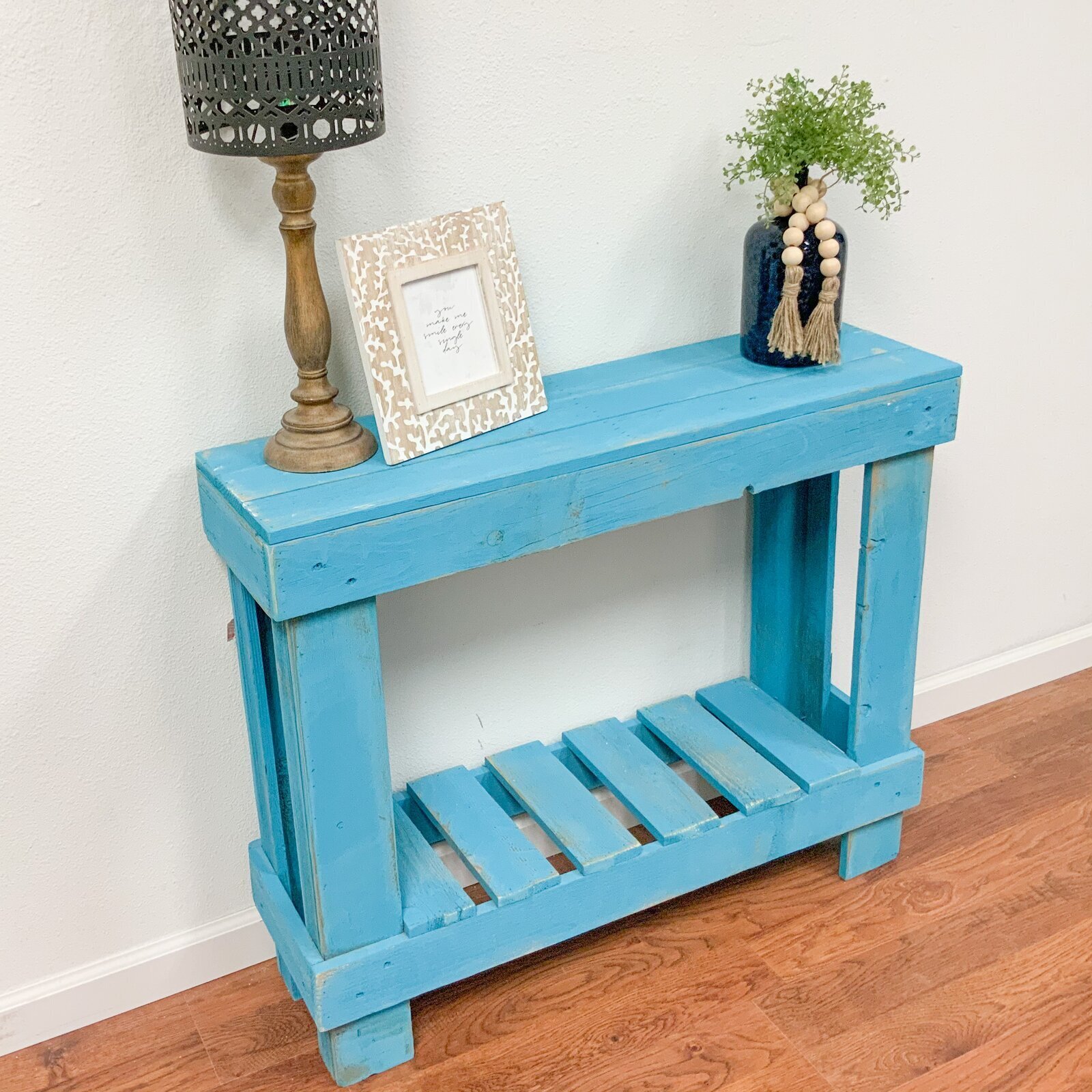 Coastal entryway table small space
Mistana™
36" in width and only 11" in depth, this space-saving entryway table gets extra sustainable points as it's made of reclaimed wood. As well as offering additional storage space, the slatted bottom shelf emphasizes the casual charm of coastal interiors, much like its distressed look.
Designer Advice:
It's available in a combination of different finishes, but the turquoise and white design with a light brown top are the most adequate to enhance your favorite beachy vibes.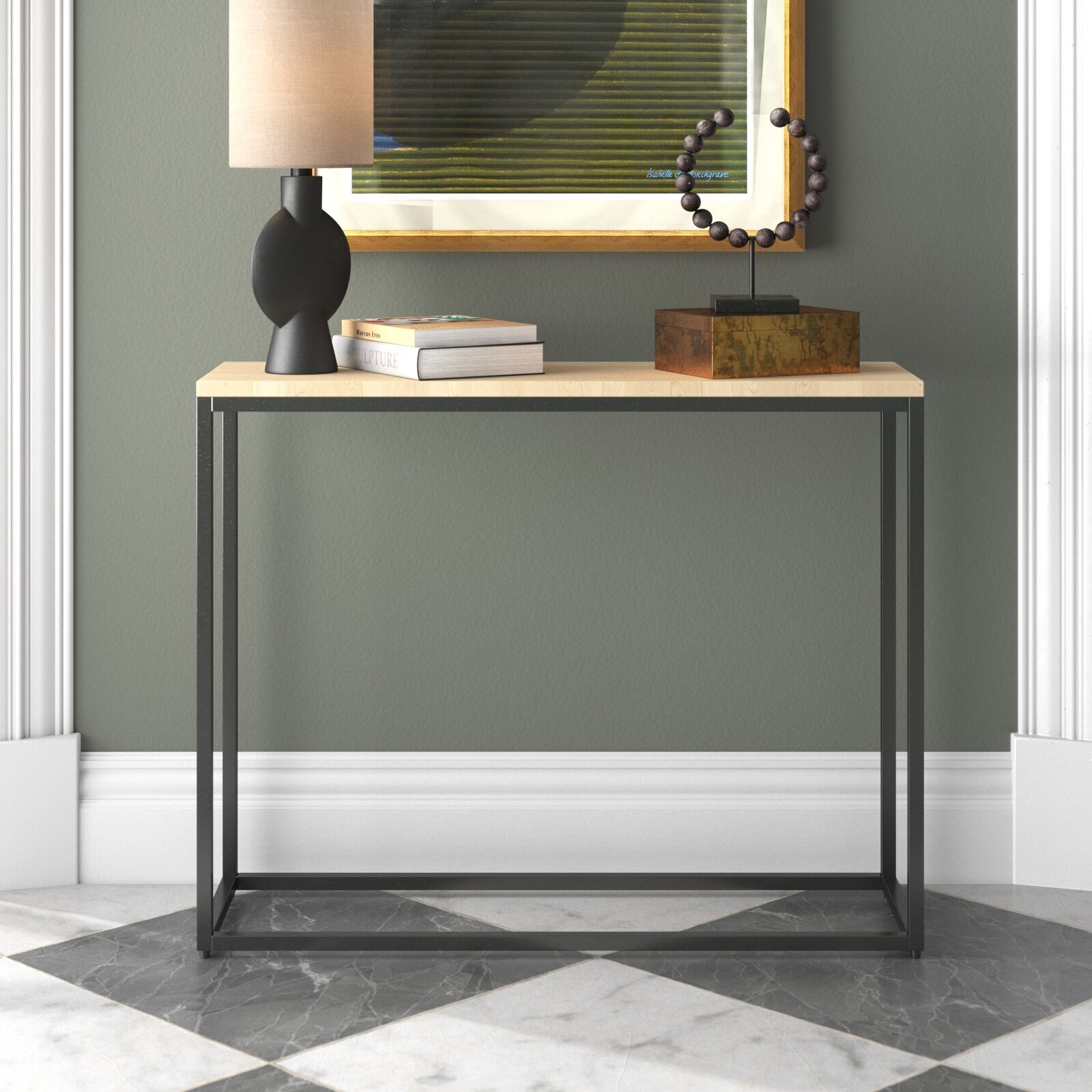 Industrial small console table for entryway
This small entryway console table is the embodiment of industrial decor, with its natural wooden top and the powder-coated metal frame. As it's only 12" in depth, it'll work in fairly narrow entryways, too.
Designer Advice:
It doesn't include any storage beyond the top surface, so you can only really use it for your essentials and to display a couple of decorative elements. After all, industrial interiors tend to be quite minimalistic, so this shouldn't feel like a compromise.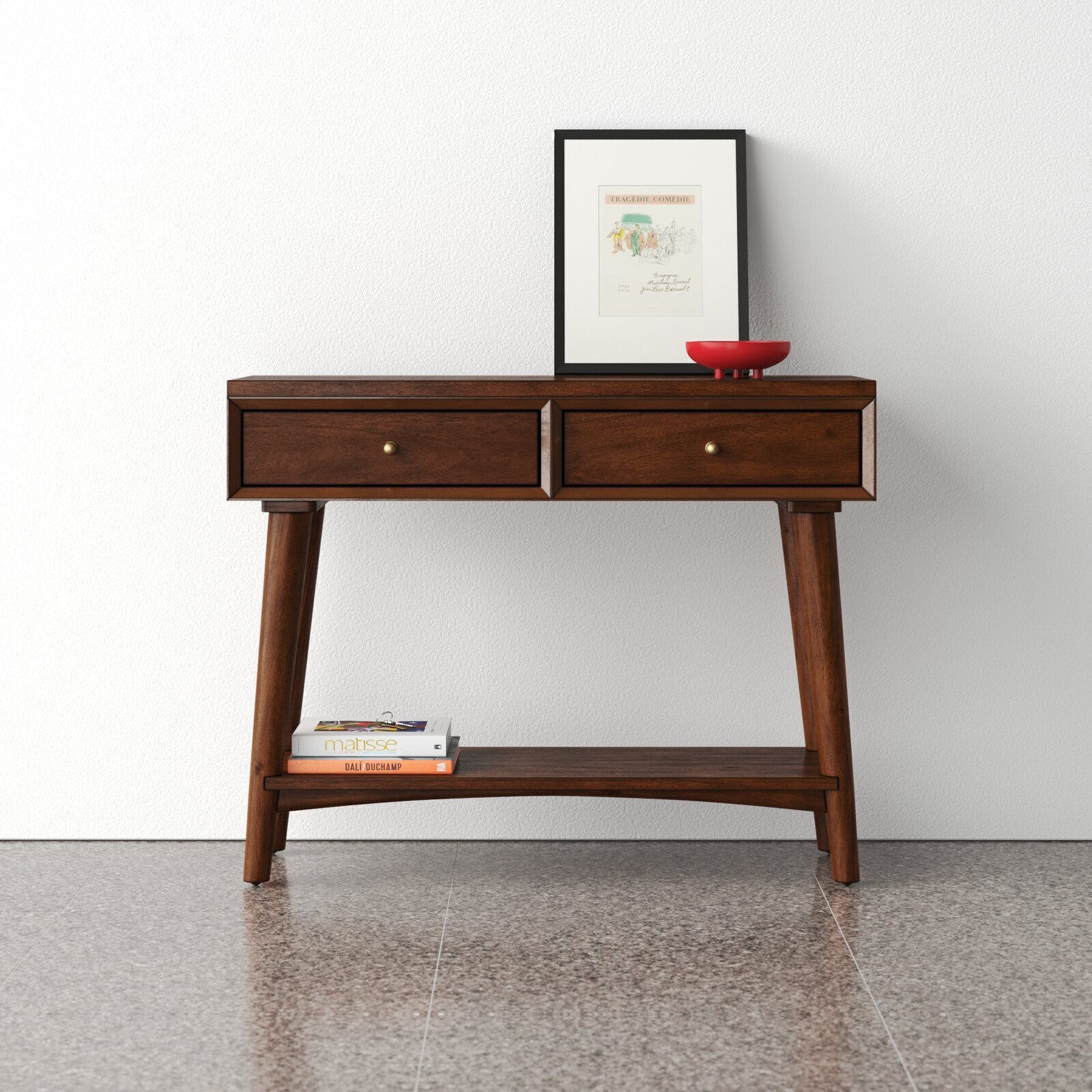 Mid century modern small entry console
Available in four finishes, this entryway table is slightly longer (42") but reassuringly narrow (14"), and its two spacious drawers are ideal for practical items that wouldn't be too aesthetically pleasing to display.
Designer Advice:
From the thin horizontal design to its tapered legs, this table is a monument to mid-century modern decor, especially if you opt for the acorn or walnut finish. You can then balance it by displaying some decorative items (like a vase or tray) in lighter colors.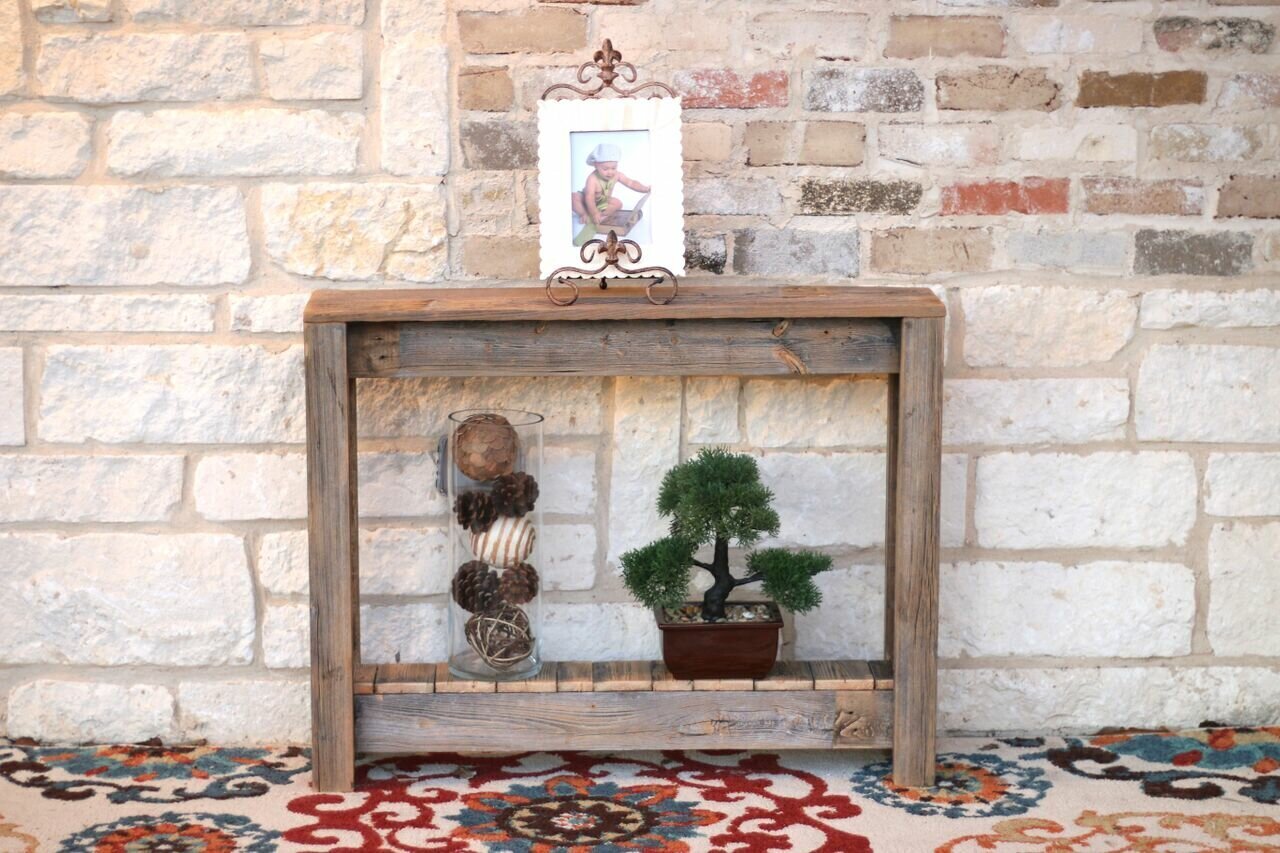 Rustic entryway small table
August Grove®
While the height and depth stay consistent (28" and 8"), this small console table is available in two different lengths, which allows you to really match your entryway's layout: 36" or 46". As if that weren't versatile enough, you get to choose among five romantic finishes, too.
$76.99 $81.99
Designer Advice:
To add to the rustic feel of its wooden design and slatted shelf, consider the natural option. You can then include some elements that nod to the countryside, from flowers to animal-shaped decor.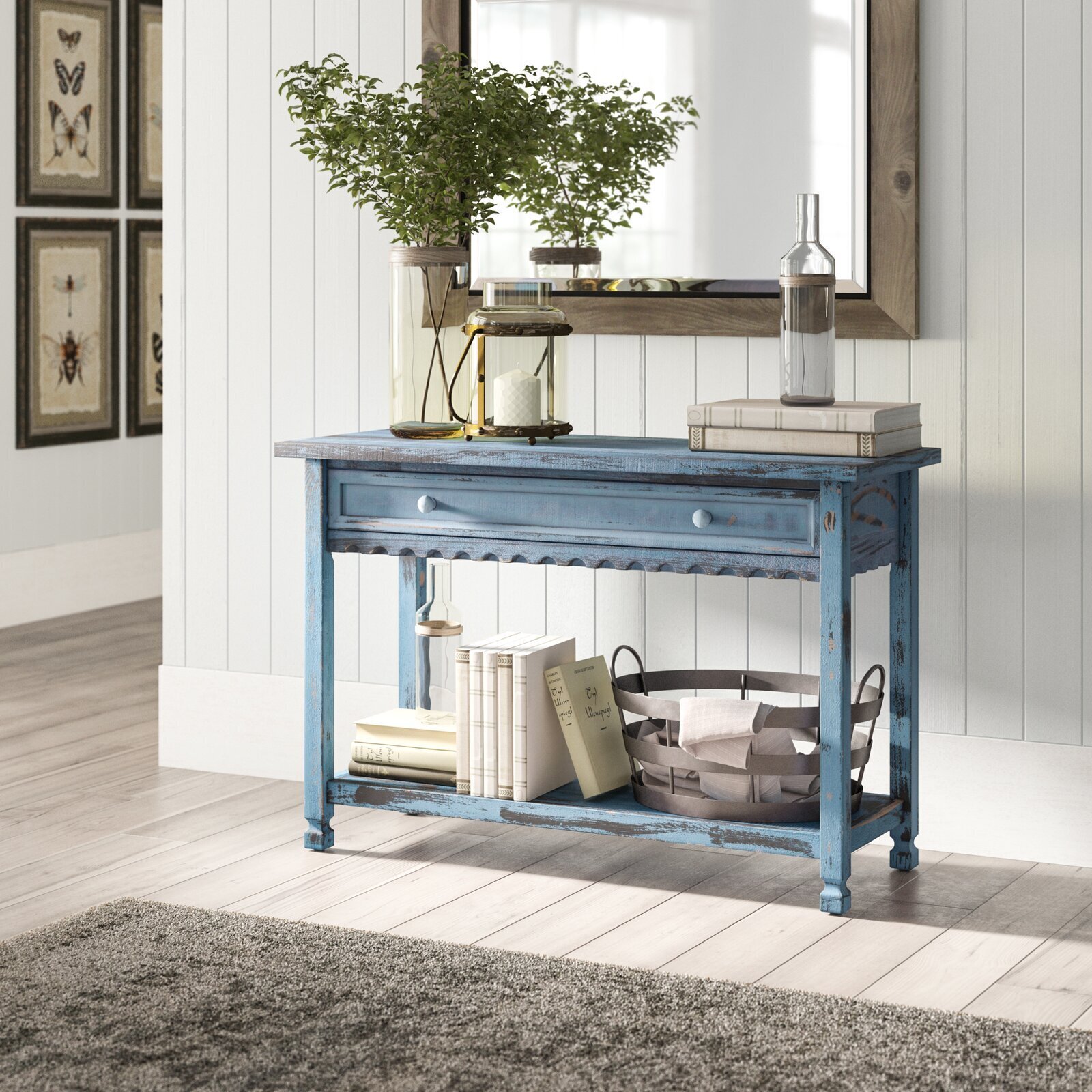 Unique small entryway tables in a French country style
Whether you opt for blue, white or red, you'll obtain a dramatic distressed finish that will immediately inspire a rustic but sophisticated feel.
Designer Advice:
While most entryway tables include a couple of smaller drawers, this model consists of a single, longer one that makes it particularly handy if you were planning on storing larger items. Be sure to add a vase full of fresh flowers to further celebrate this countryside-inspired decor!