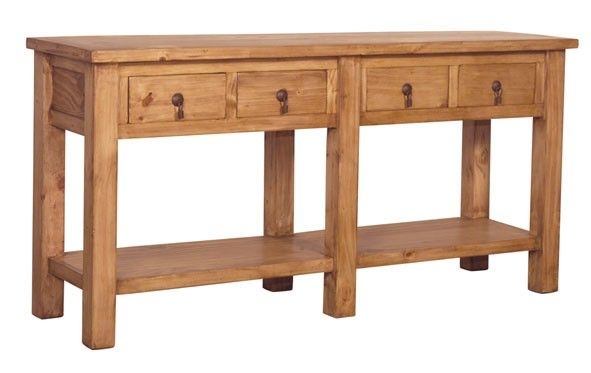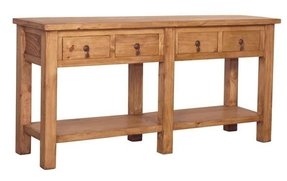 Mexican rustic pine console table rustic console tables
This table will not disappoint you - for sure. Made of solid pine wood, complemented by traditional accents. It consists of two symmetrical analogous parts - two drawers each one. Rustic pine console table has very tipical design for South America countries.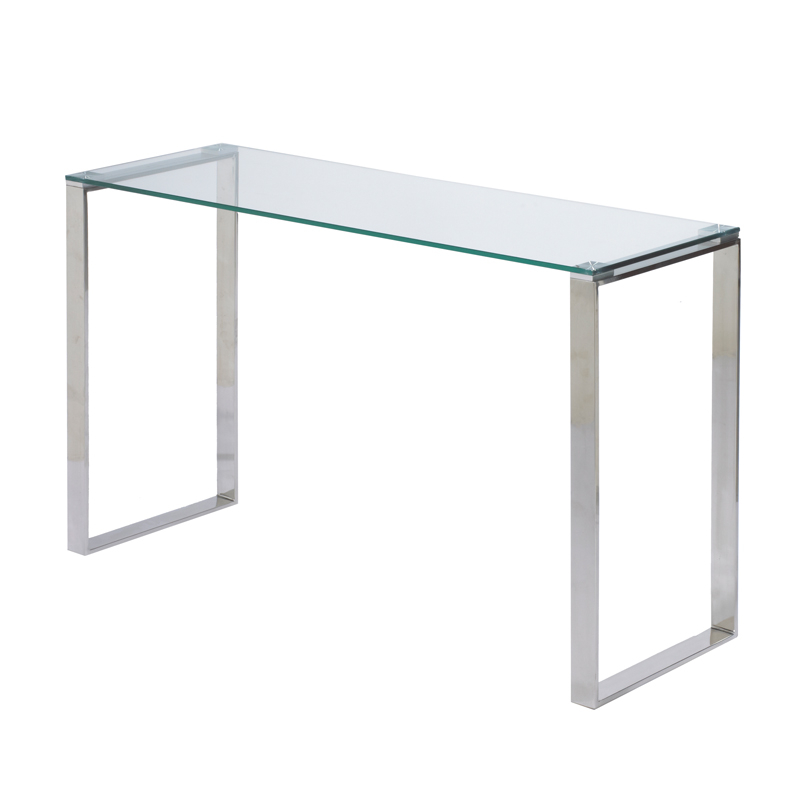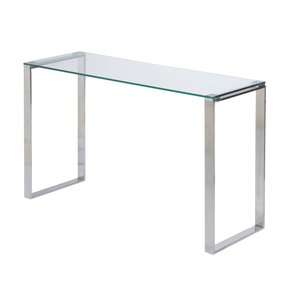 A simple console table in an ultra-modern design. It features a base made of polished stainless steel and a top made of tempered glass. It's a narrow piece so it will be ideal for an entry hall or as a decoration of a living room.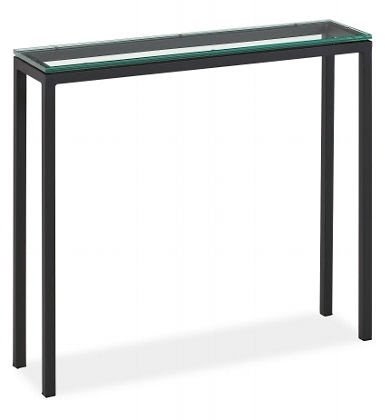 This narrow, glass top console table looks really minimalistic. Simple form of construction, black table legs and green/clean glass table top. Could be used in living room, kid's room or even in your kitchen to store spices and small items.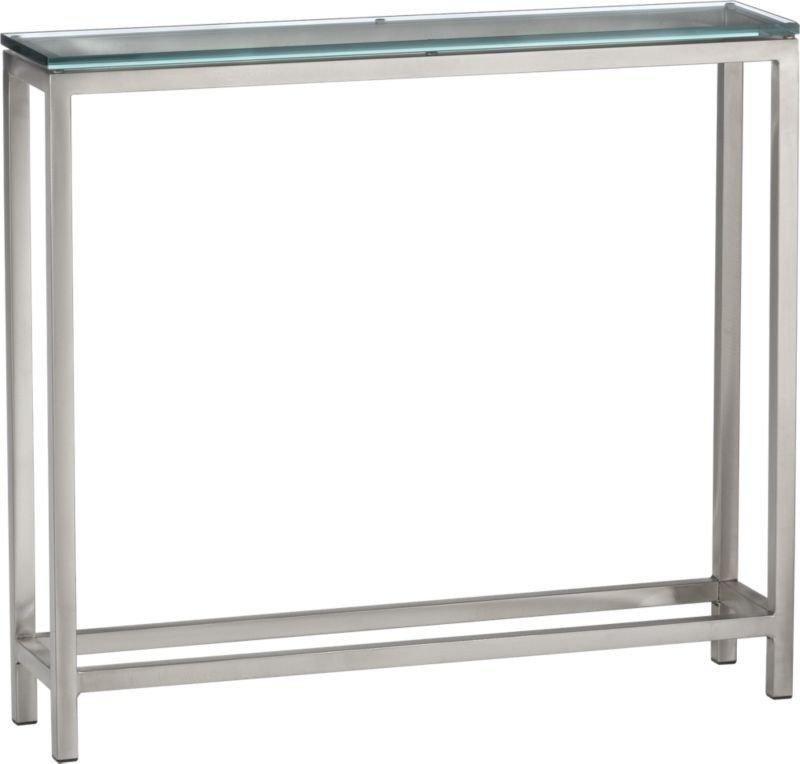 Being a perfect fit for small spaces. It comes especially helpful when you want to display your favorite accents in a cramped living room, dream of a vanity in a petit bedroom or need a storage surface for some bits and pieces in your hallway.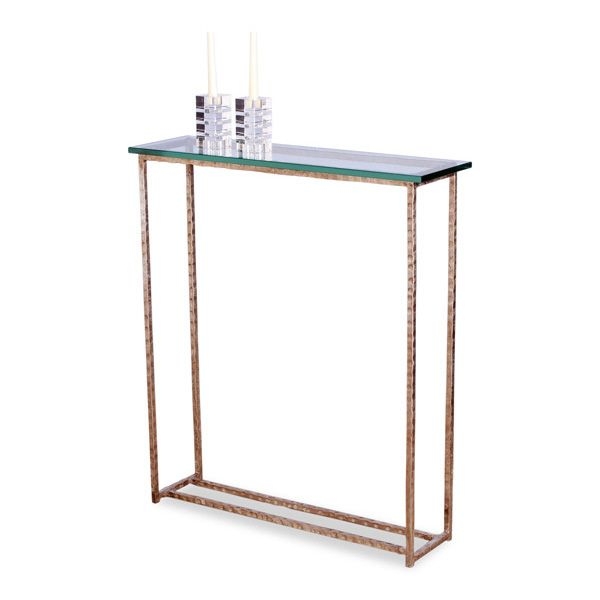 A simple, narrow console table that will be a nice accent of your entry hall or your living room. It features a basic structure made of brass with a bronze finish and a glass top. Its universal colors and design will suit every room.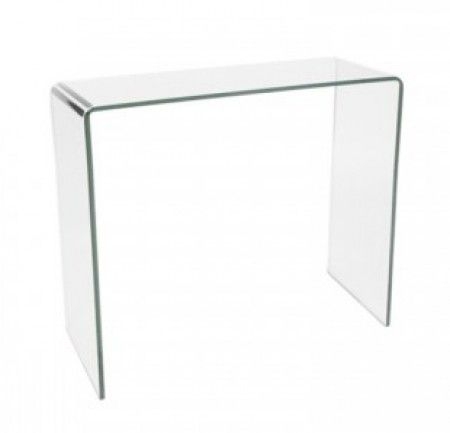 A minimalist narrow modern console table looking like a staple. It's manufactured of clear tempered bent glass. It has 2 rectangular legs joined with a rectangular top. Edges and corners are gently rounded.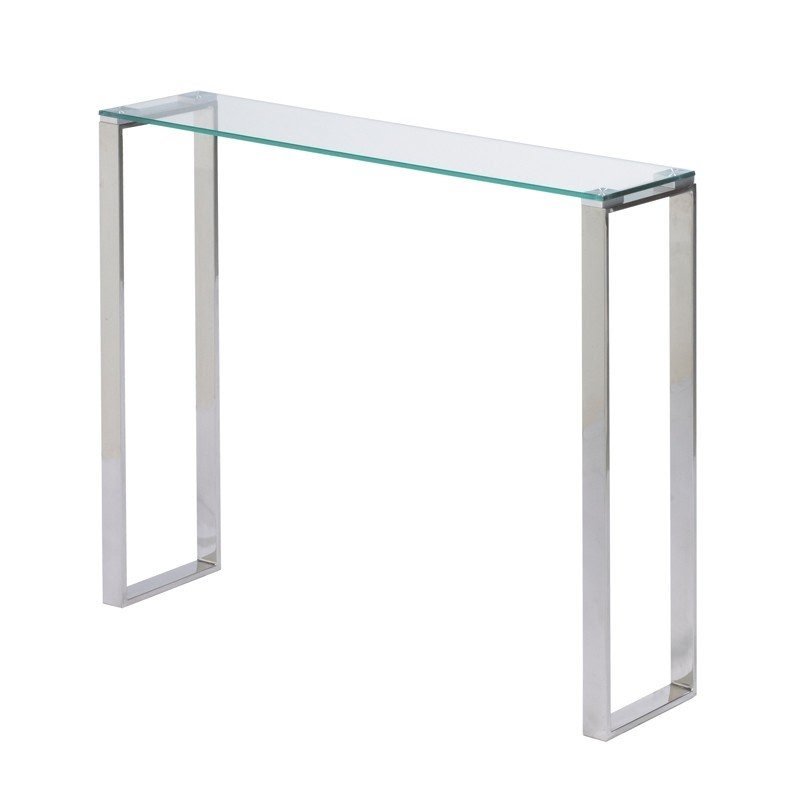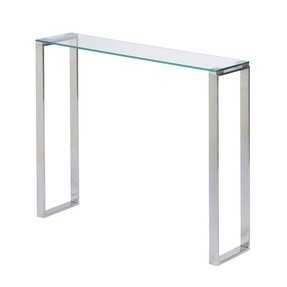 Gem Glass Narrow Console Table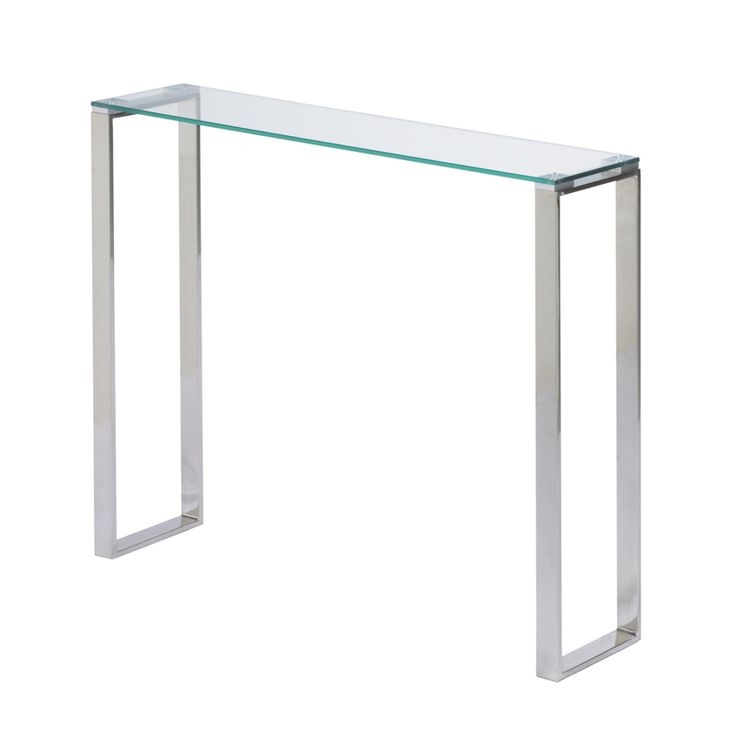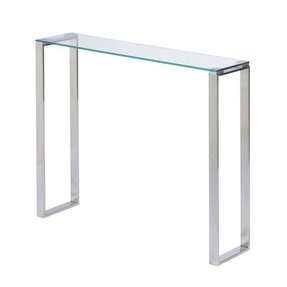 Narrow Console Table Chrome and Glass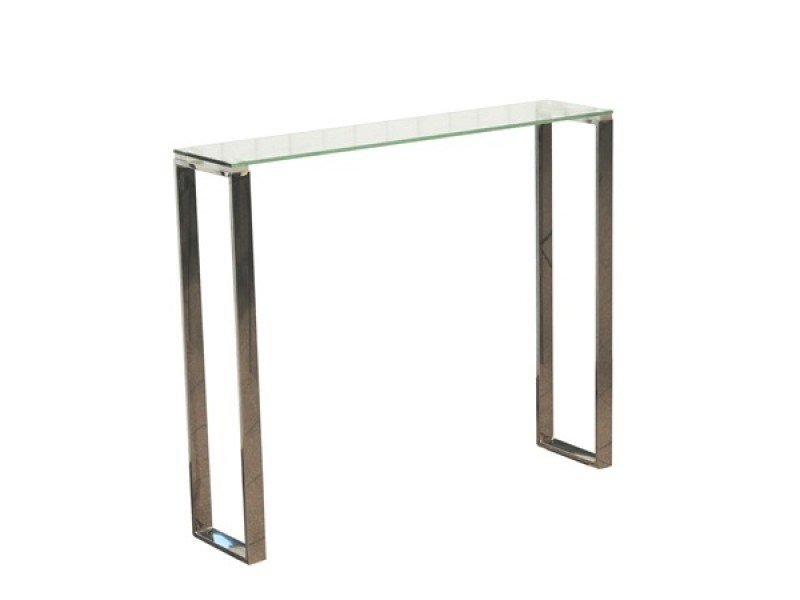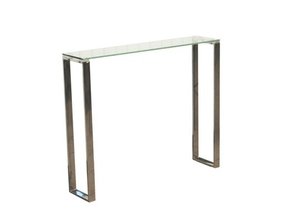 Gem Narrow Console Table 36"W x 8"D x 29.5"H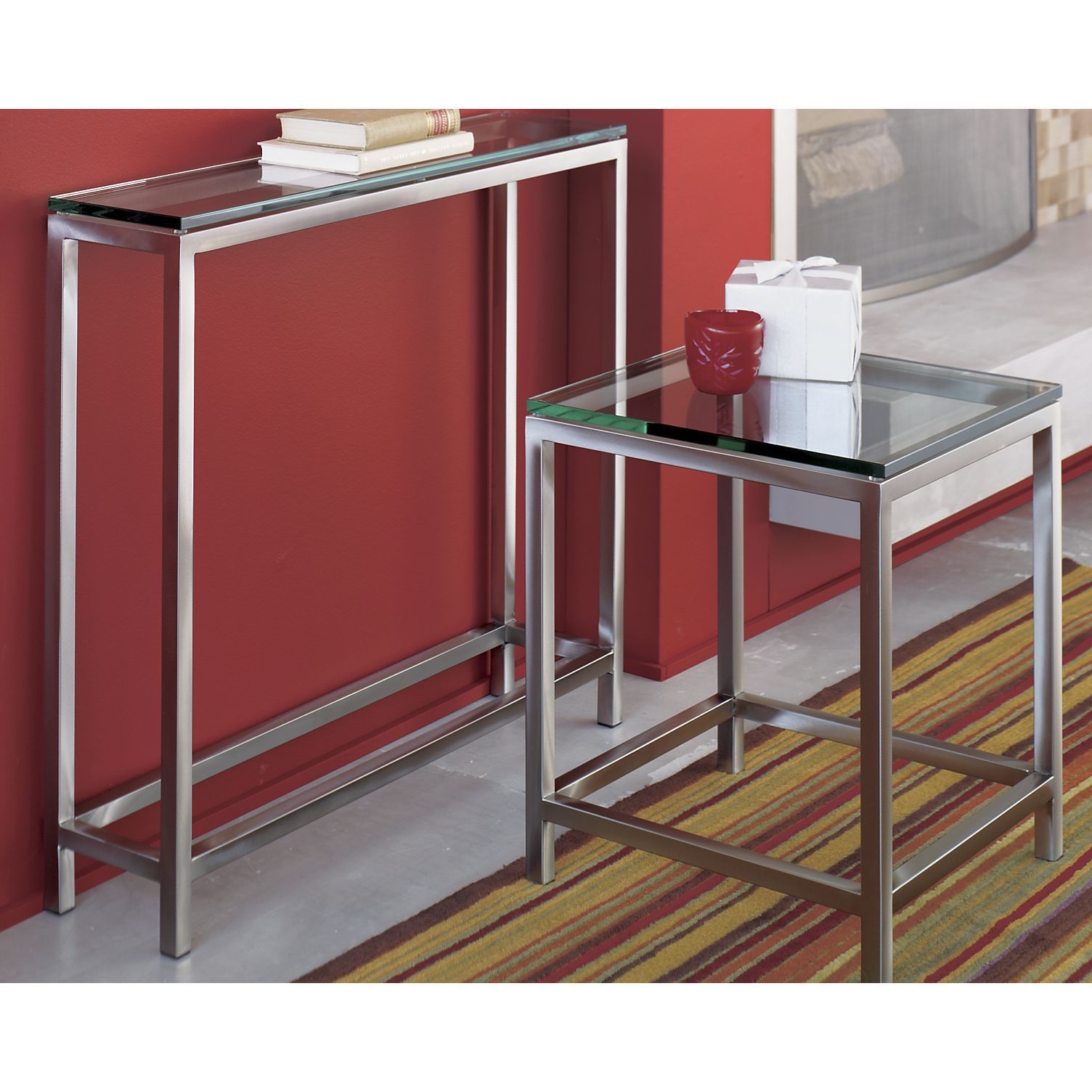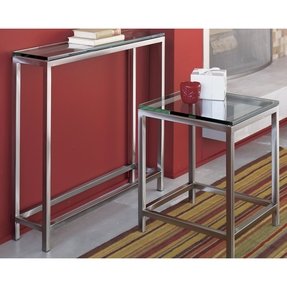 Era Console Table - Crate and Barrel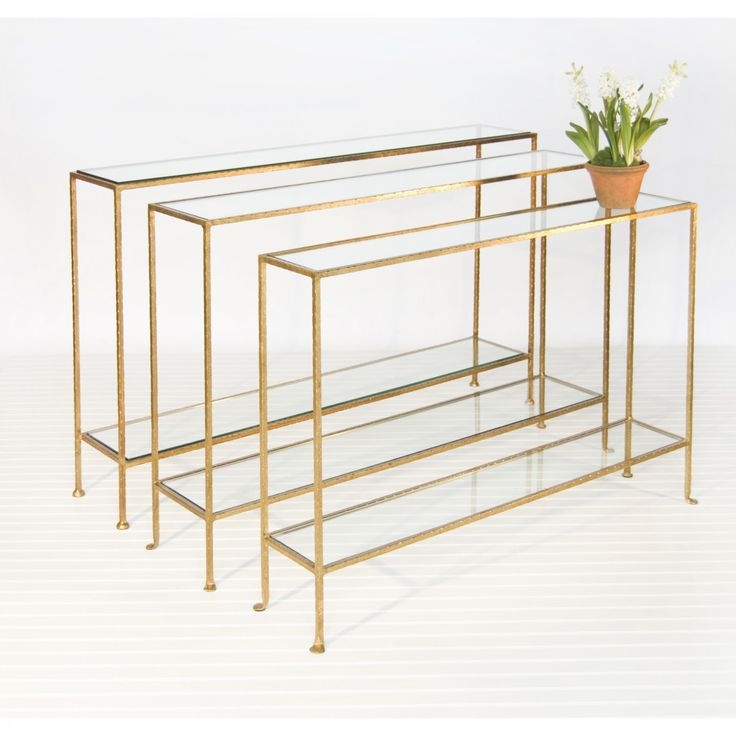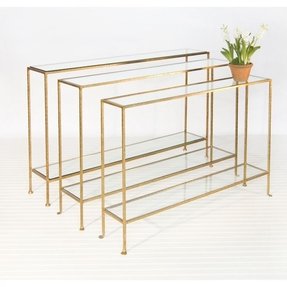 Elegant Woodard Skinny Glass Console on Charlotte & Ivy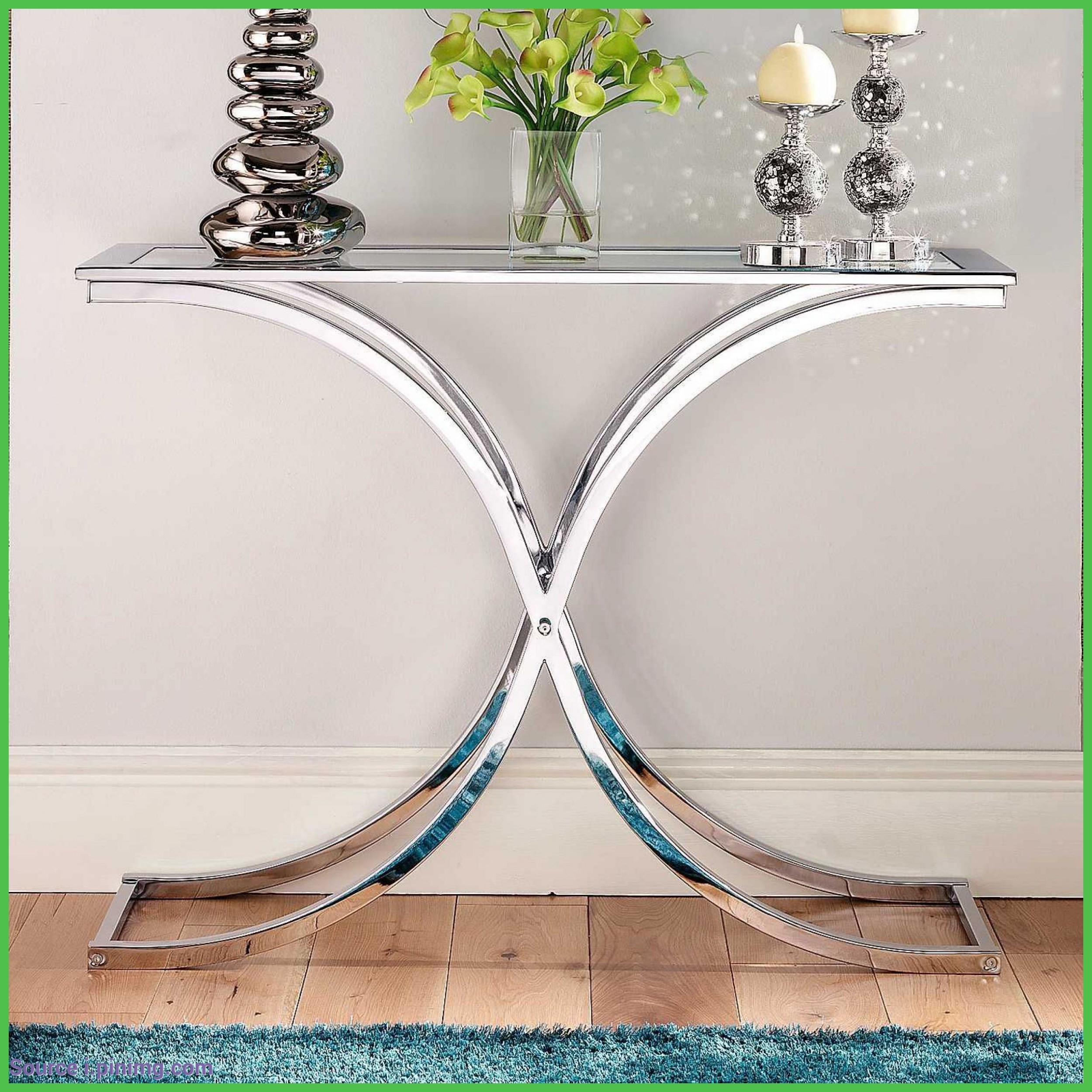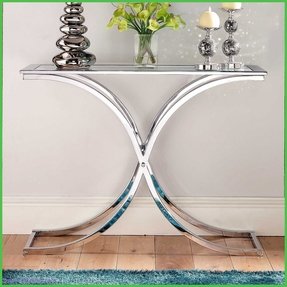 The glamor style can be full of mirrored reflections that imperceptibly enlarge your interior. The glass and chrome console table has un-coordinated legs bent together like the feet of the ballerina in the dance. Everything from a glass, chrome, and mirror.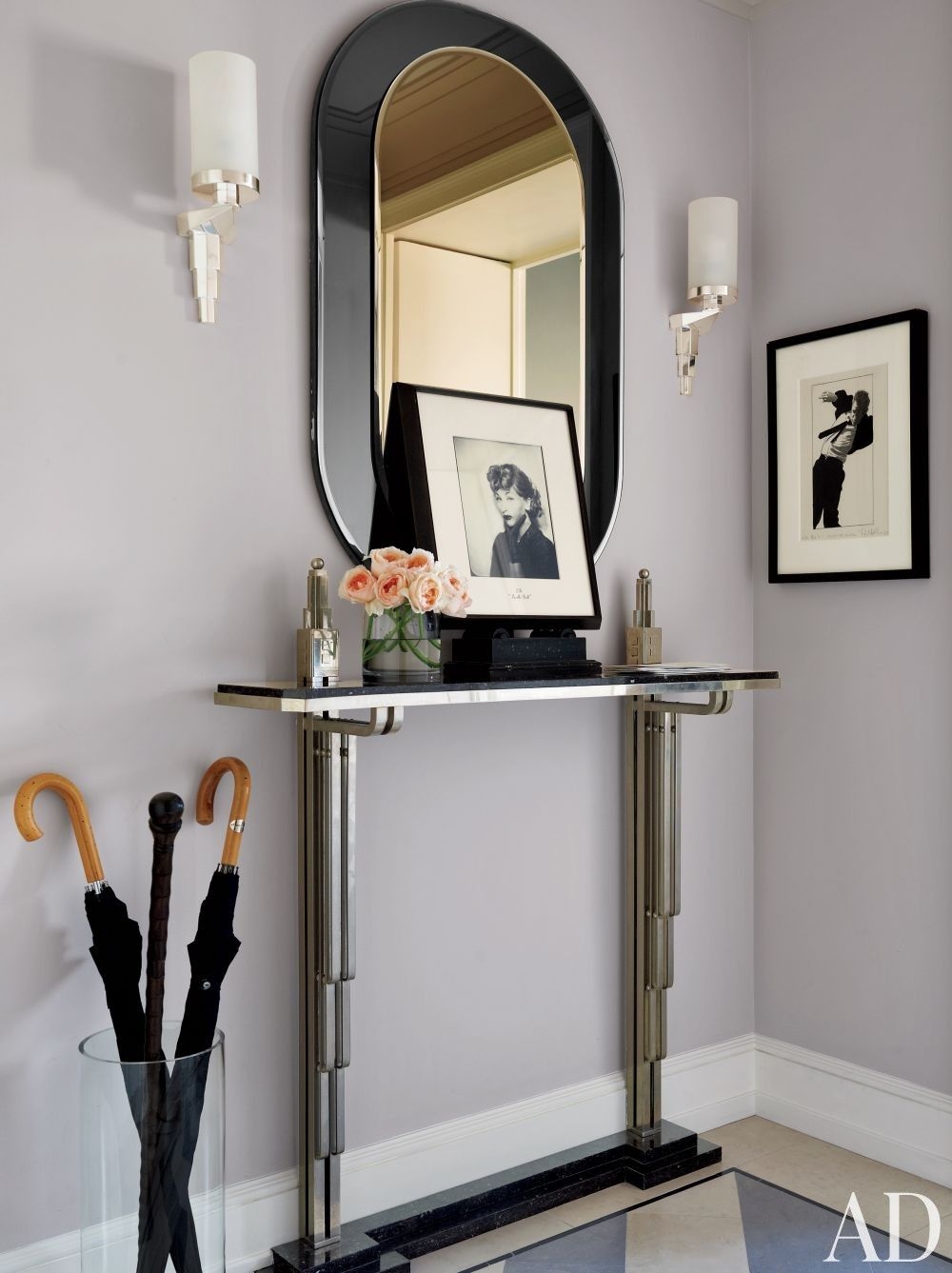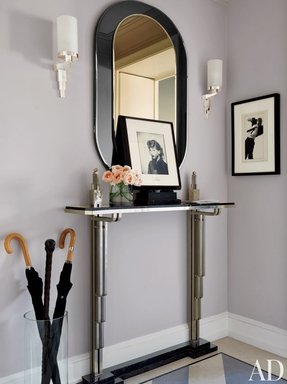 The elegant vestibule of a New York penthouse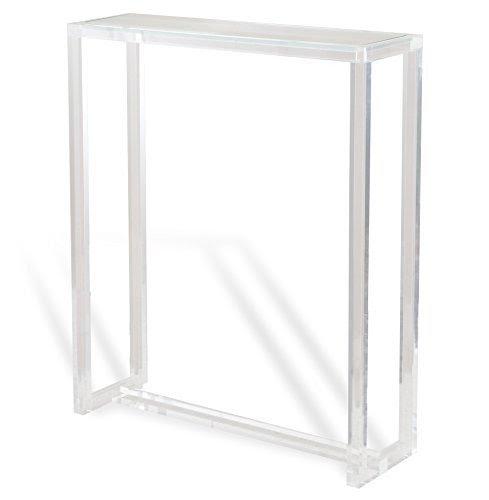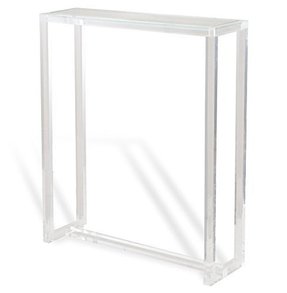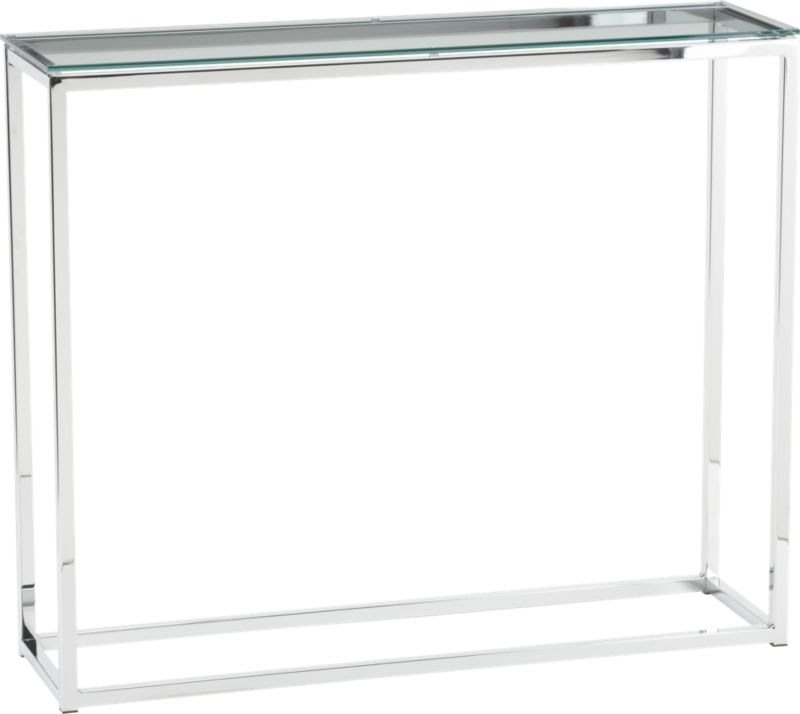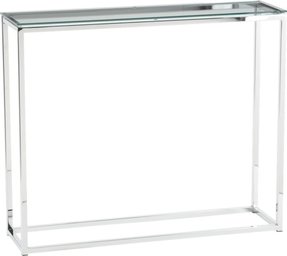 CB2. Next to front door. Mirror above. Styled with small vases.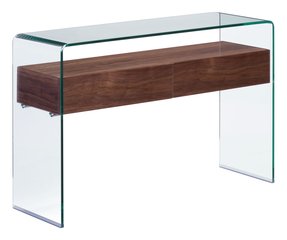 Zuo - Shaman Console Table - The Shaman is everything you could want in a functional and beautiful console table. The clear bent glass top and sides lend modern sophistication, while gracefully suspending a natural walnut shelf. Concealed within the shelf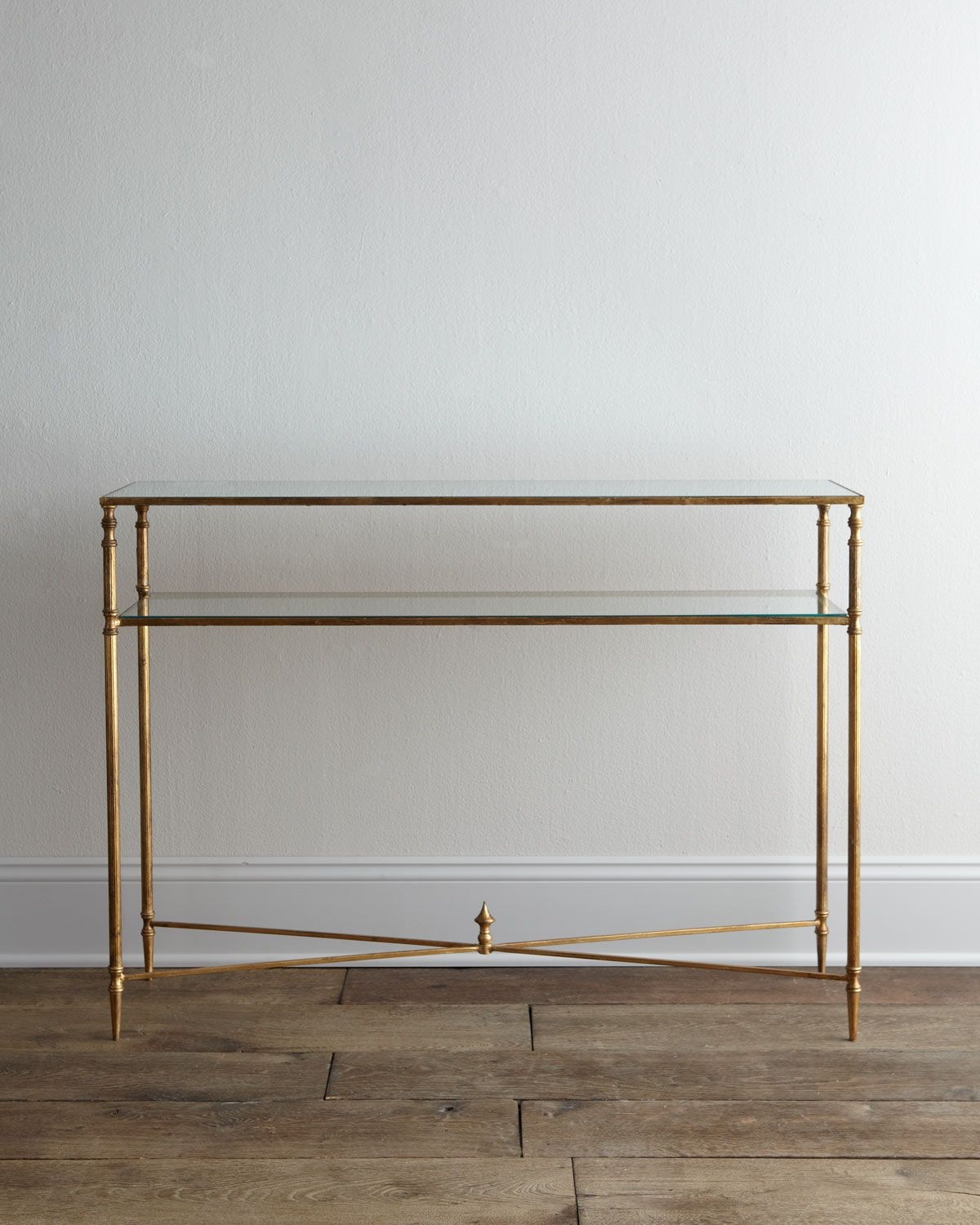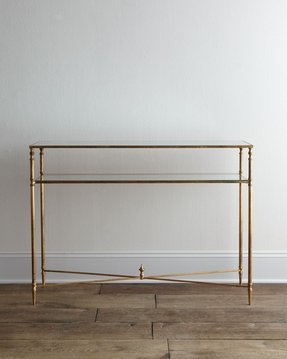 Barstow Console - for behind the sectional in the den $449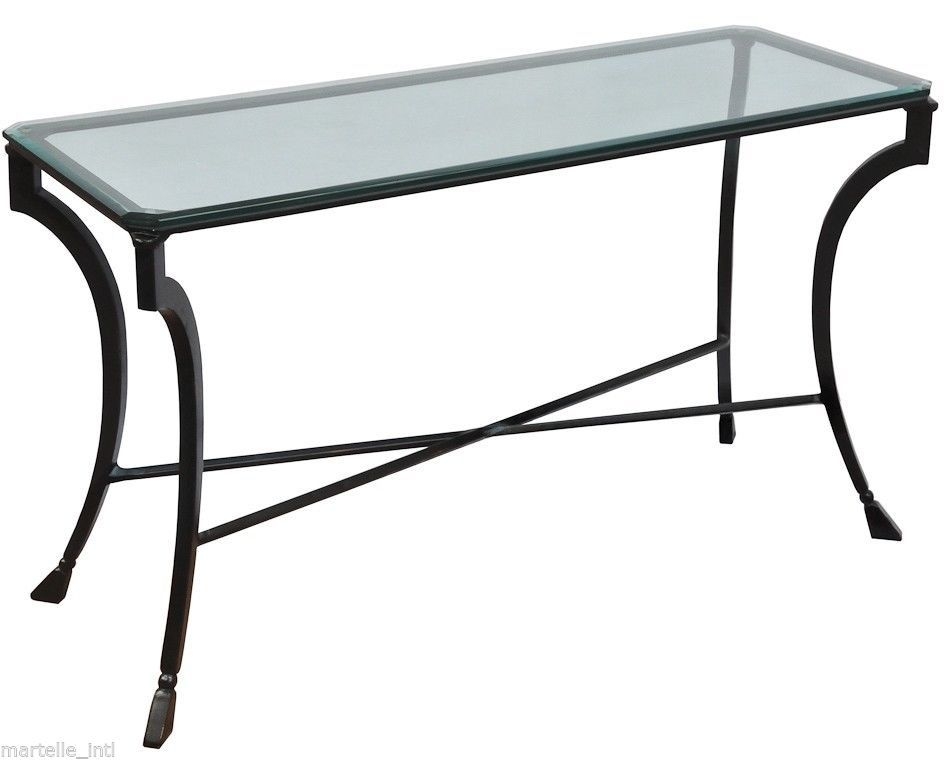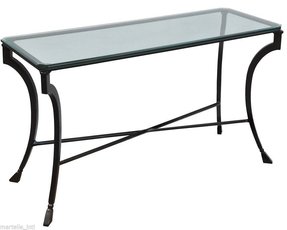 A stunning combination of iron and glass - this console table is a nice option for both the modern styled and vintage-looking interiors, while the rectangular shape makes it easy to put near the wall.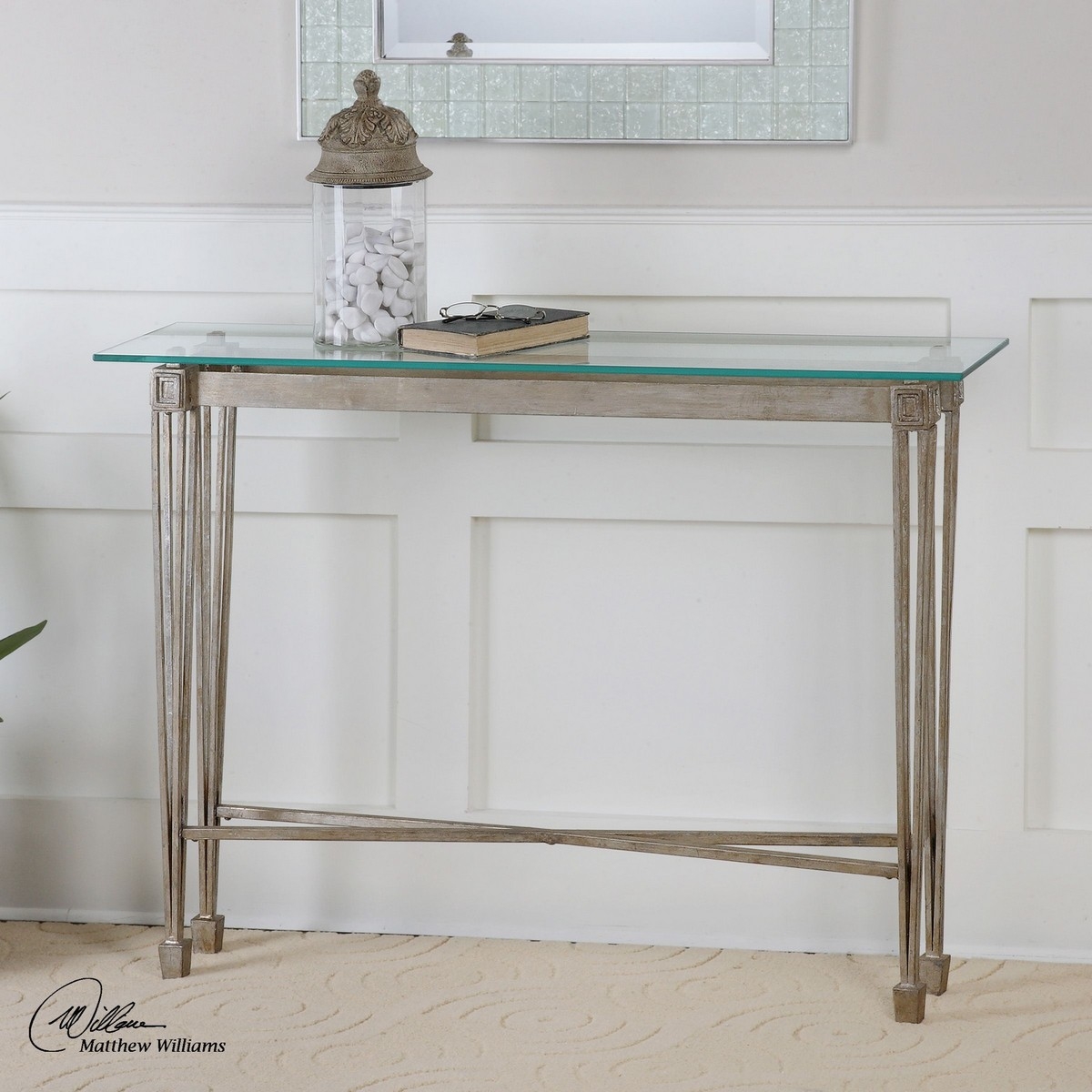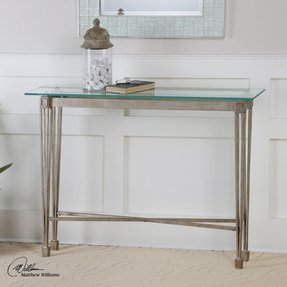 Narrow for entry hall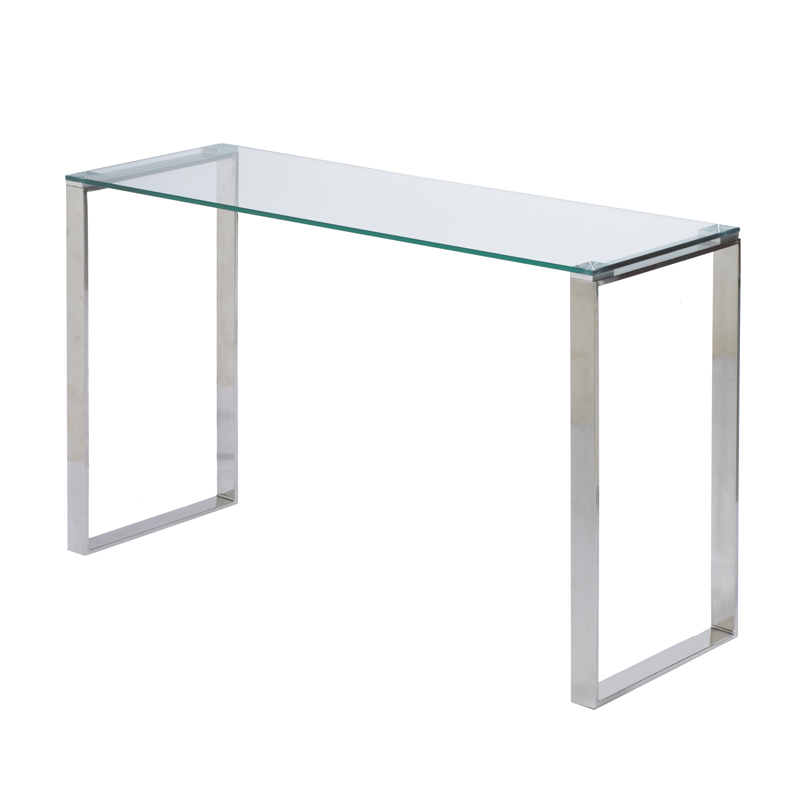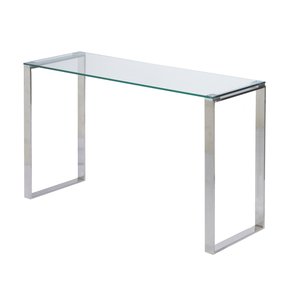 gem console table gem console table material tempered glass top with ...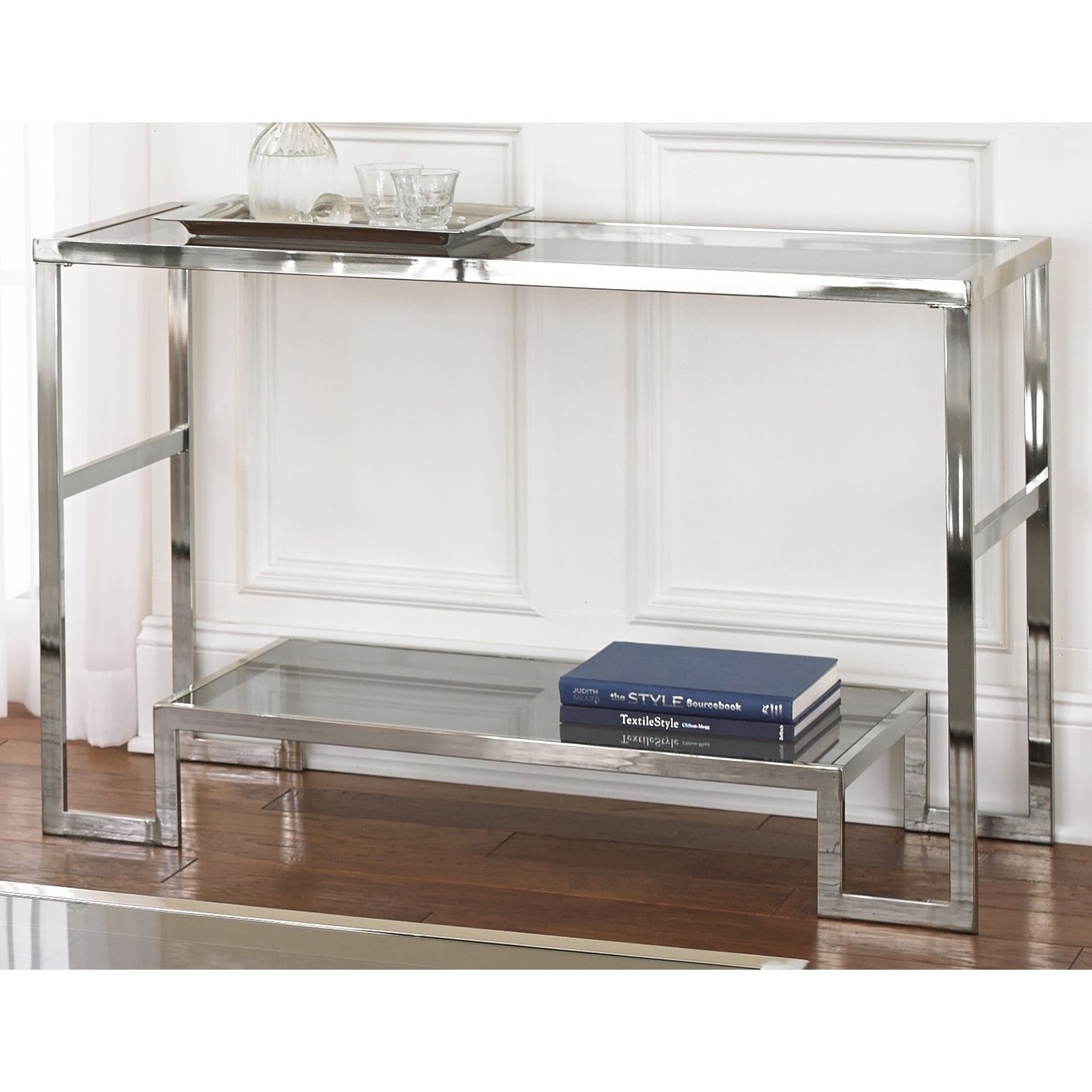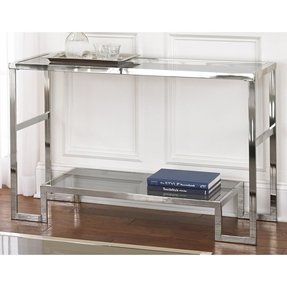 Contemporary Modern Chrome Metal and Glass Sofa Console Table - Narrow Side Table for Living Room - Hall Entryway Table - Hallway Furniture Cordele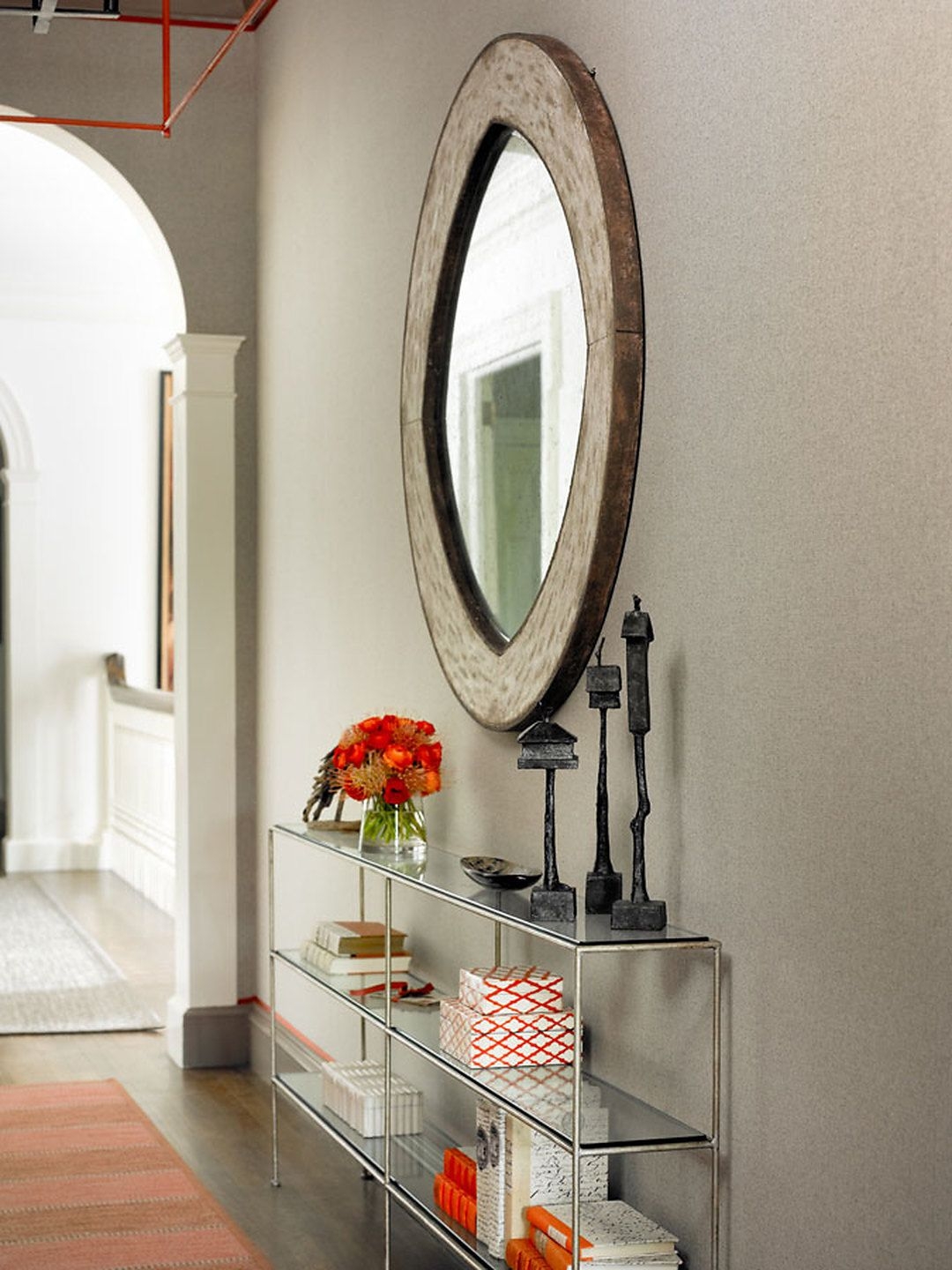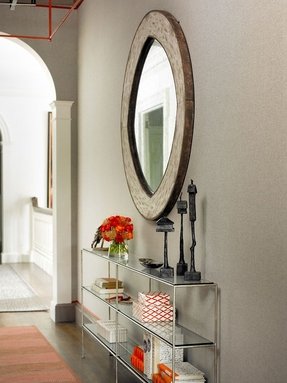 The beautifully displayed narrow glass console, coupled with the Wooden framed mirror, breaks up the passage way visually opening it up. Thoughts by Annika Nott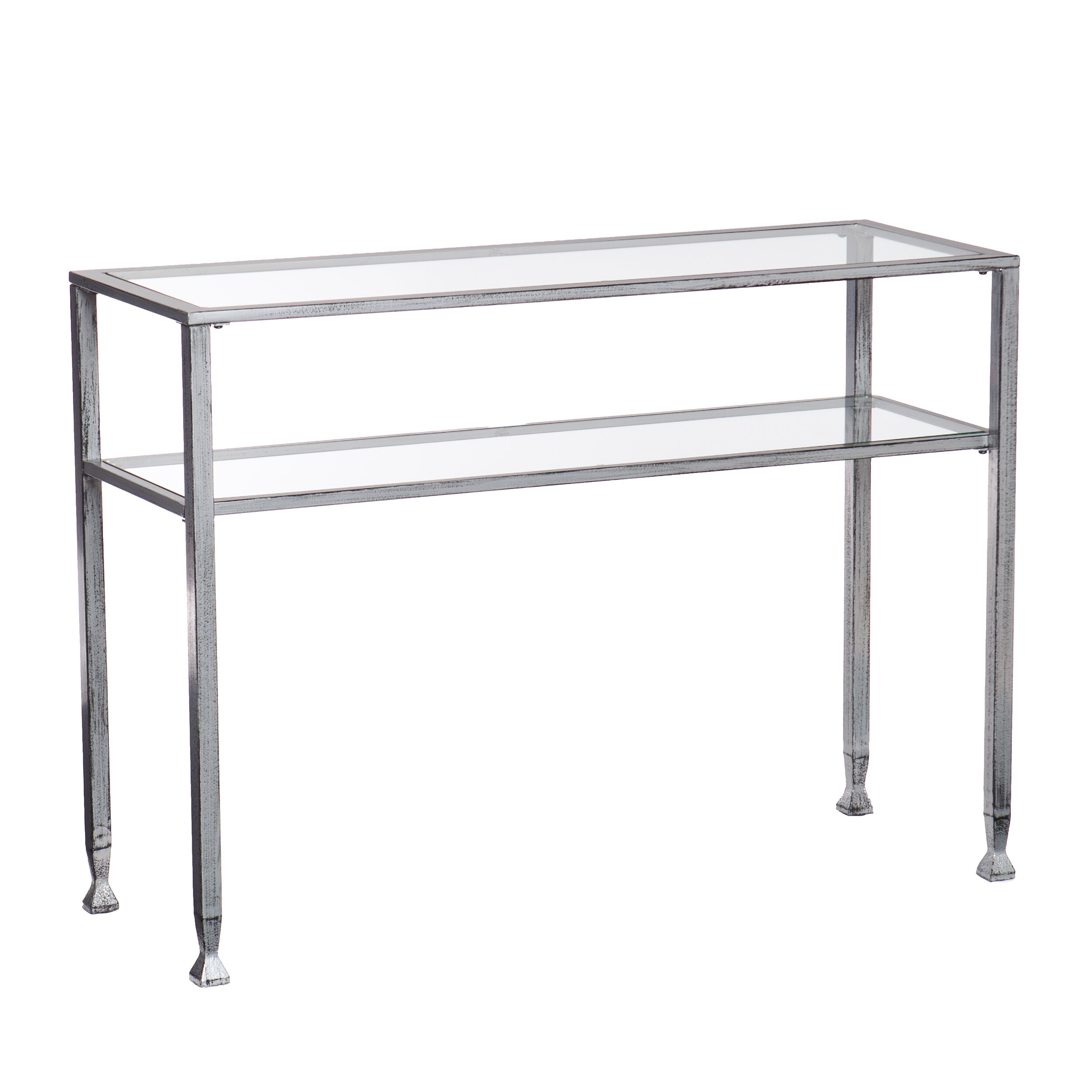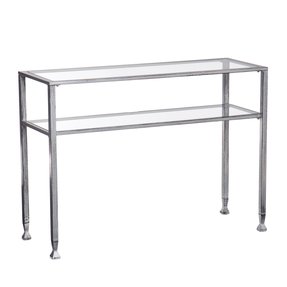 Often, we do not have an idea for the hallway. You can easily solve this with a fantastic, simple - but very modern narrow glass console table. To create it there was used distressed silver metal and glass. It presents 2 tops - lower and main one.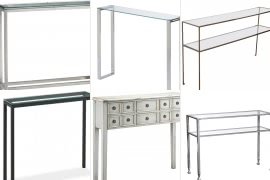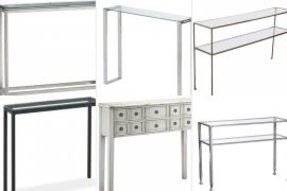 We make custom pieces everyday. This is a Custom Nash console incorporating solid hammered steel legs and 3/4" glass. The narrow profile is very popular.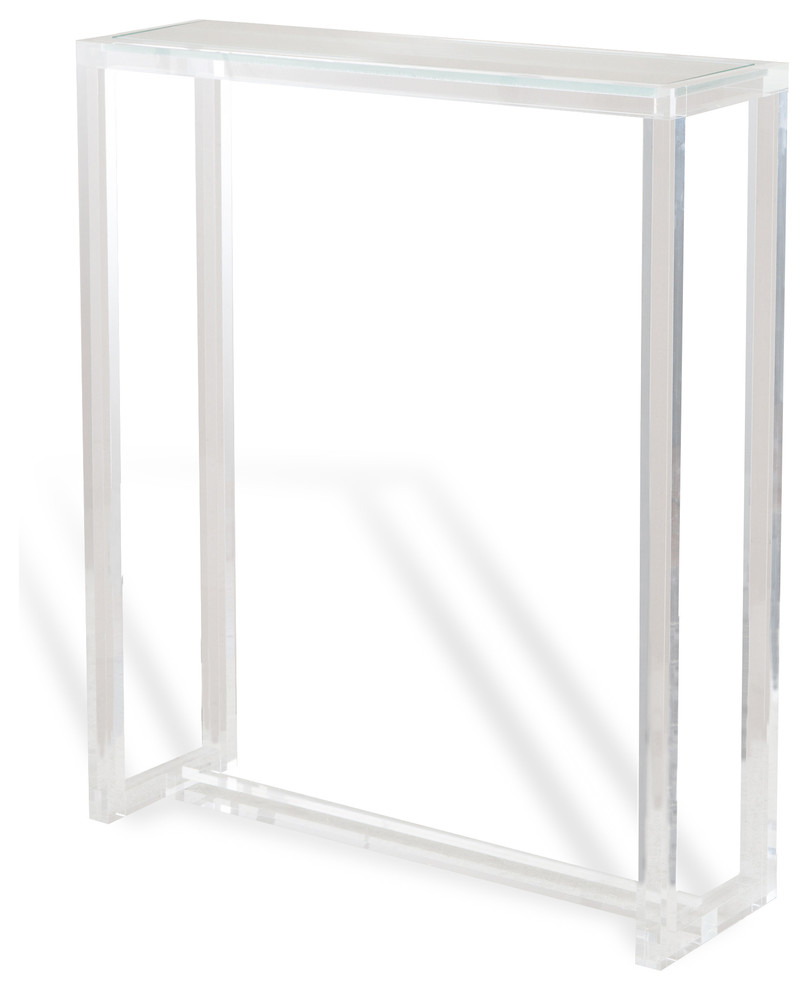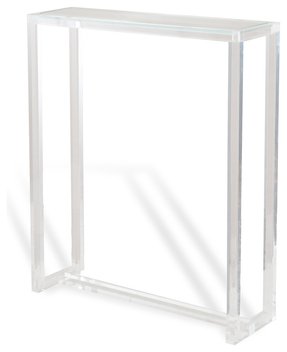 If you're looking for a light, airy console table with plenty of space and function, the answer is clear. Crafted from acrylic and glass, this delightfully tall and modern table is a great piece for display and clutter control. #kathykuohome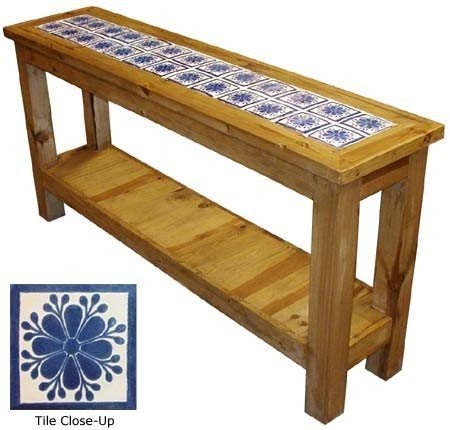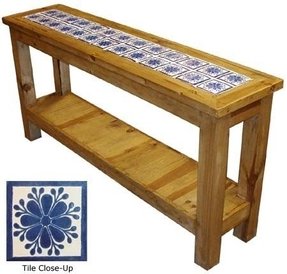 Rustic piece of furniture. This console table features a narrow rectangular top and lower shelf. It stands on four thick legs that provide stability and support. The top includes attractive tiles that show a decorative blue pattern on white background.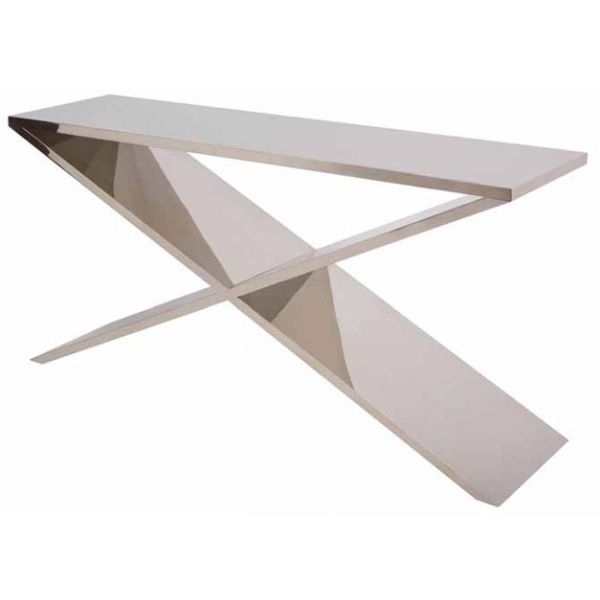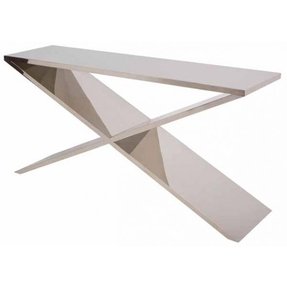 A narrow console table in a modern design that is perfect for small apartments or narrow entry halls. Made of stainless steel it's a durable and solid piece of furniture. It's in a neutral color that will match every style.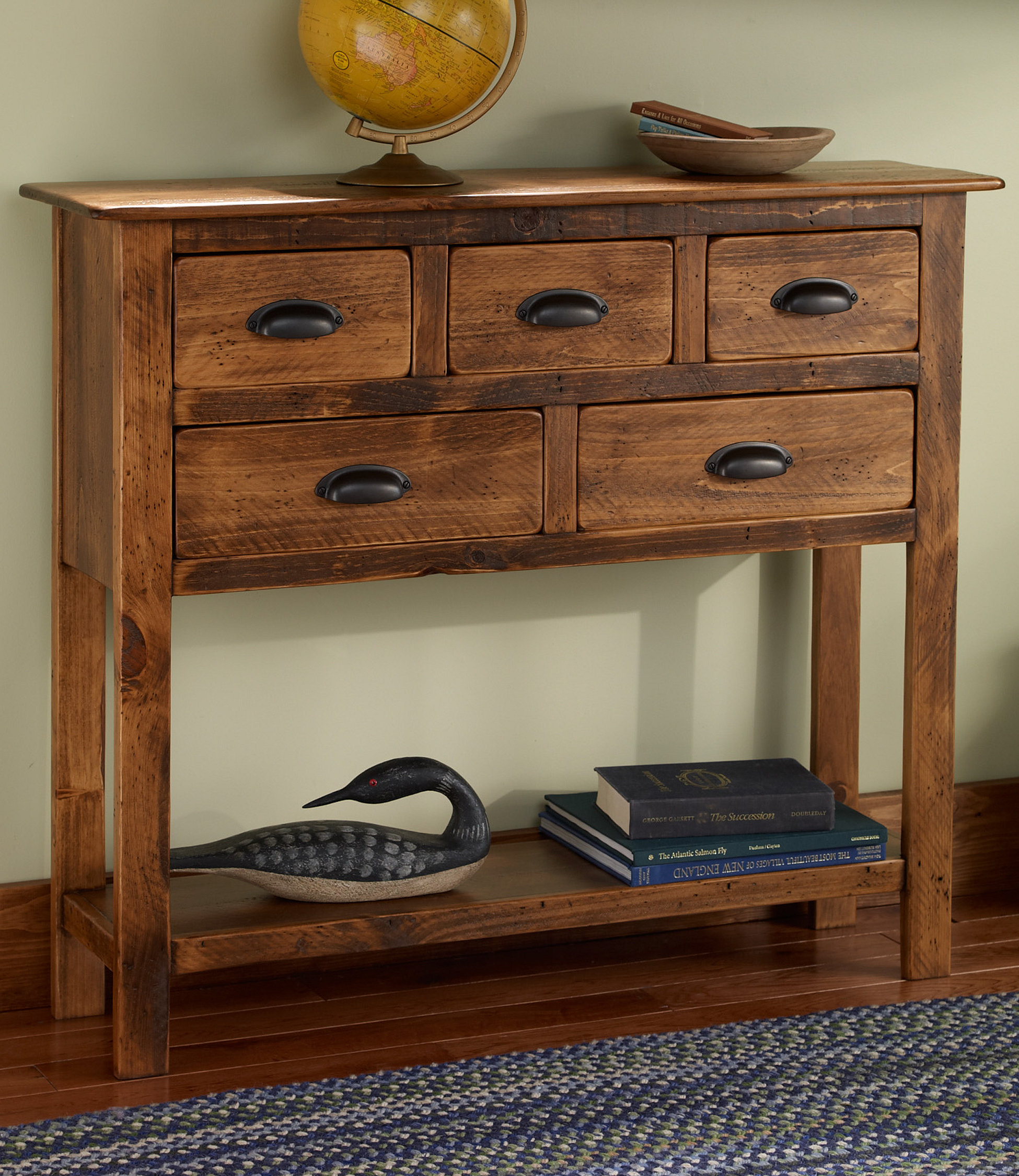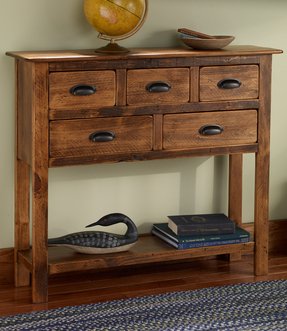 The rustic wooden console for the antechamber. The drawers are situated in two lines. They are ideal for storage the little items: ex. keys. This kind of furniture could be also used in the living room.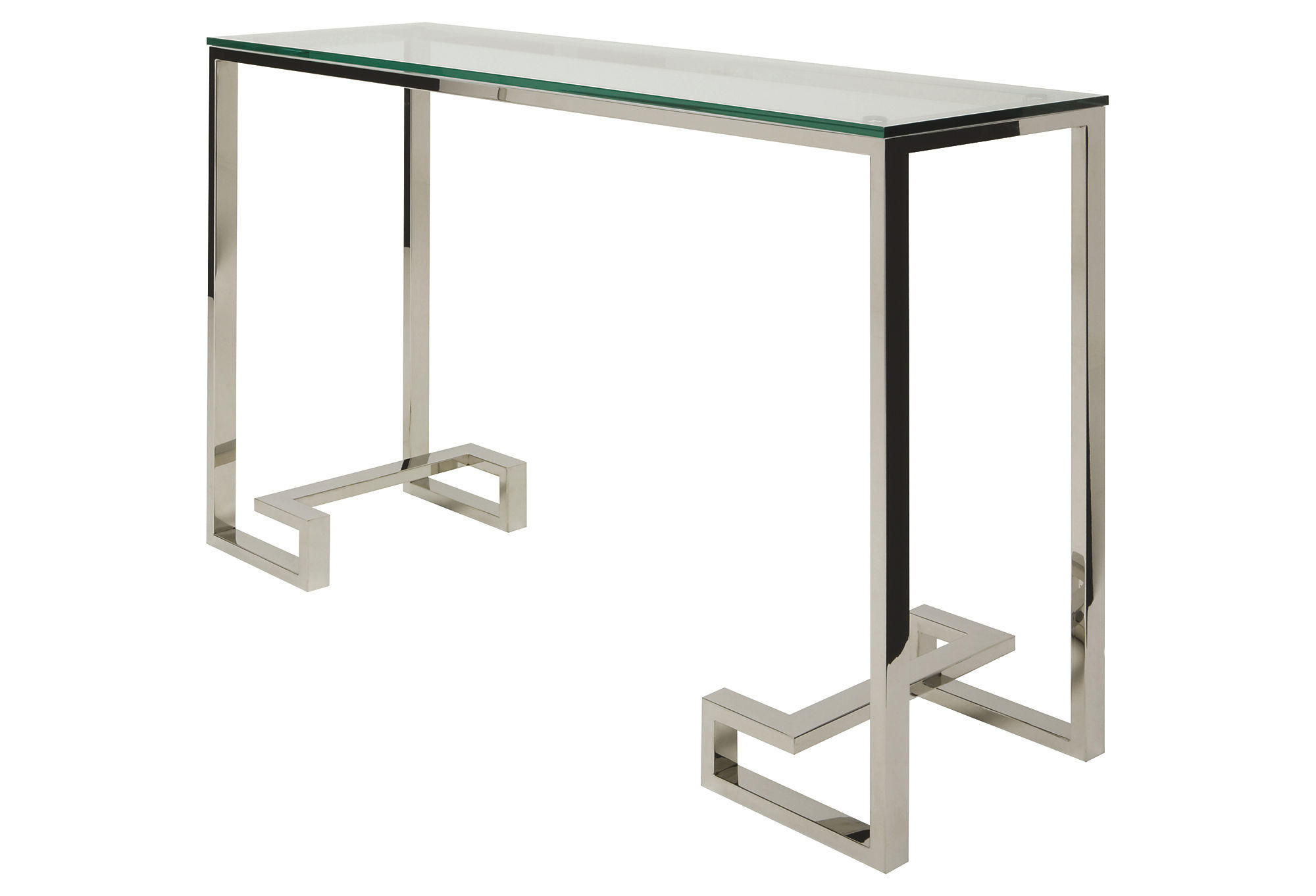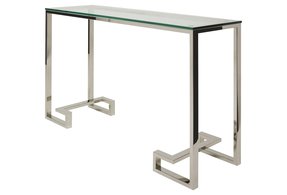 Tessa Console, Silver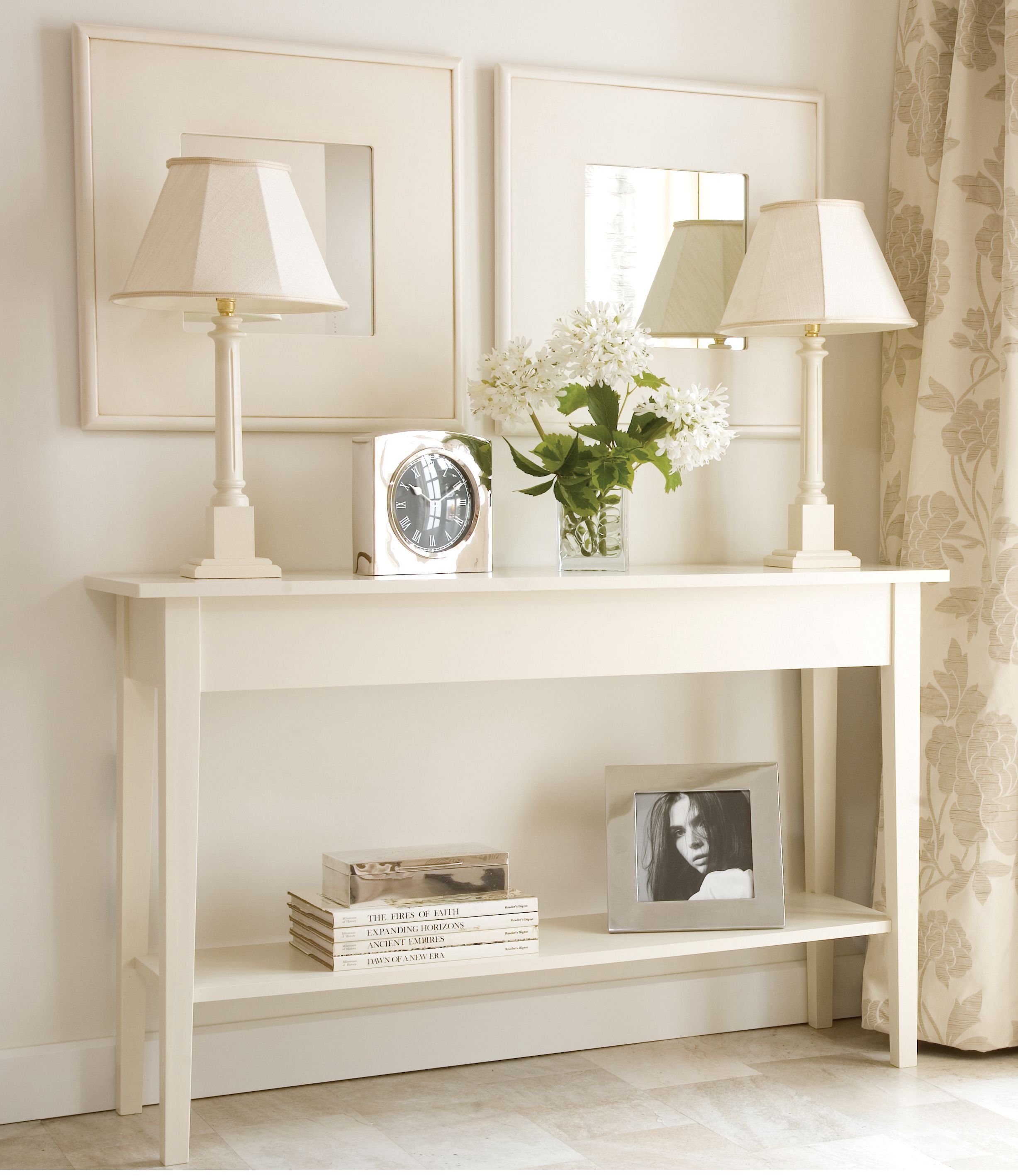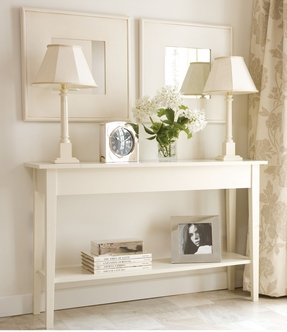 Tuvan large narrow console table with shelf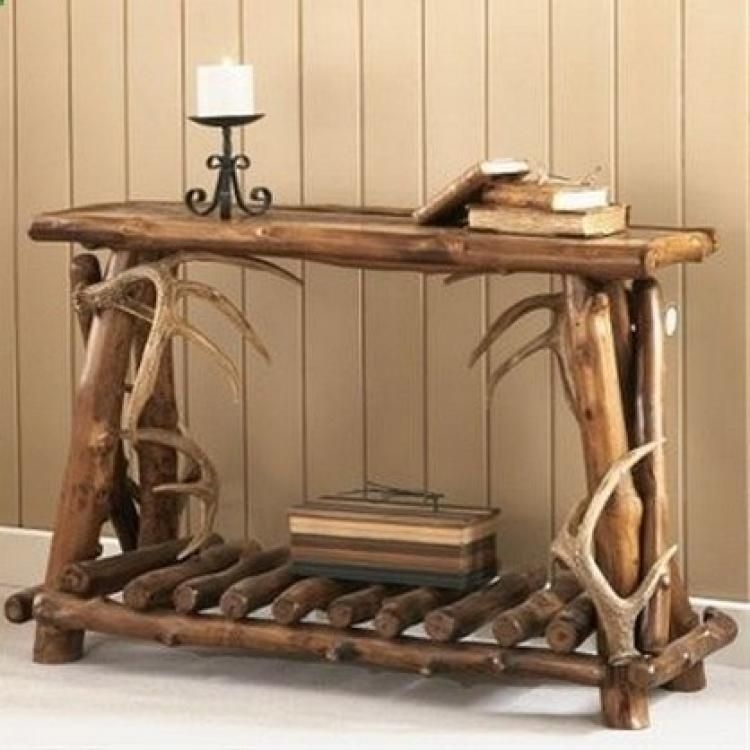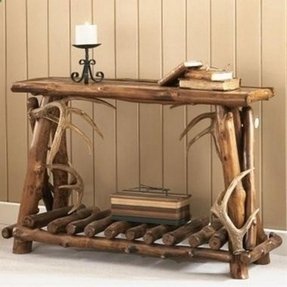 Console table in rustic style. Construction is made of wood. It has open shelf for storing needed stuff. Elegant and functional accent for any interior as needed.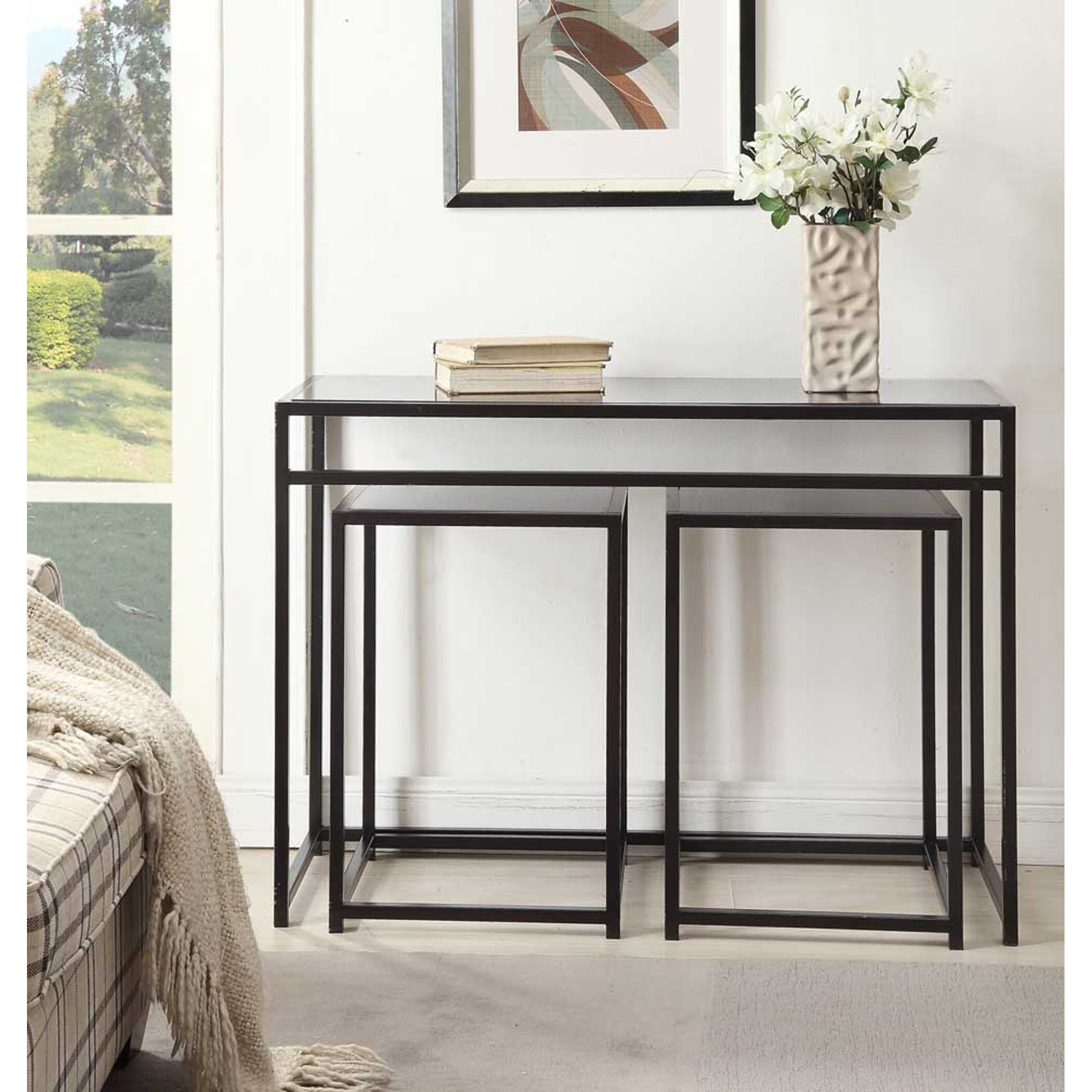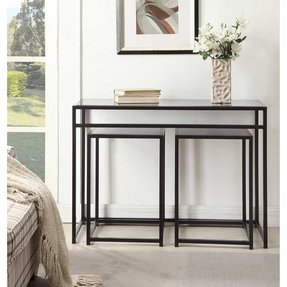 Glasses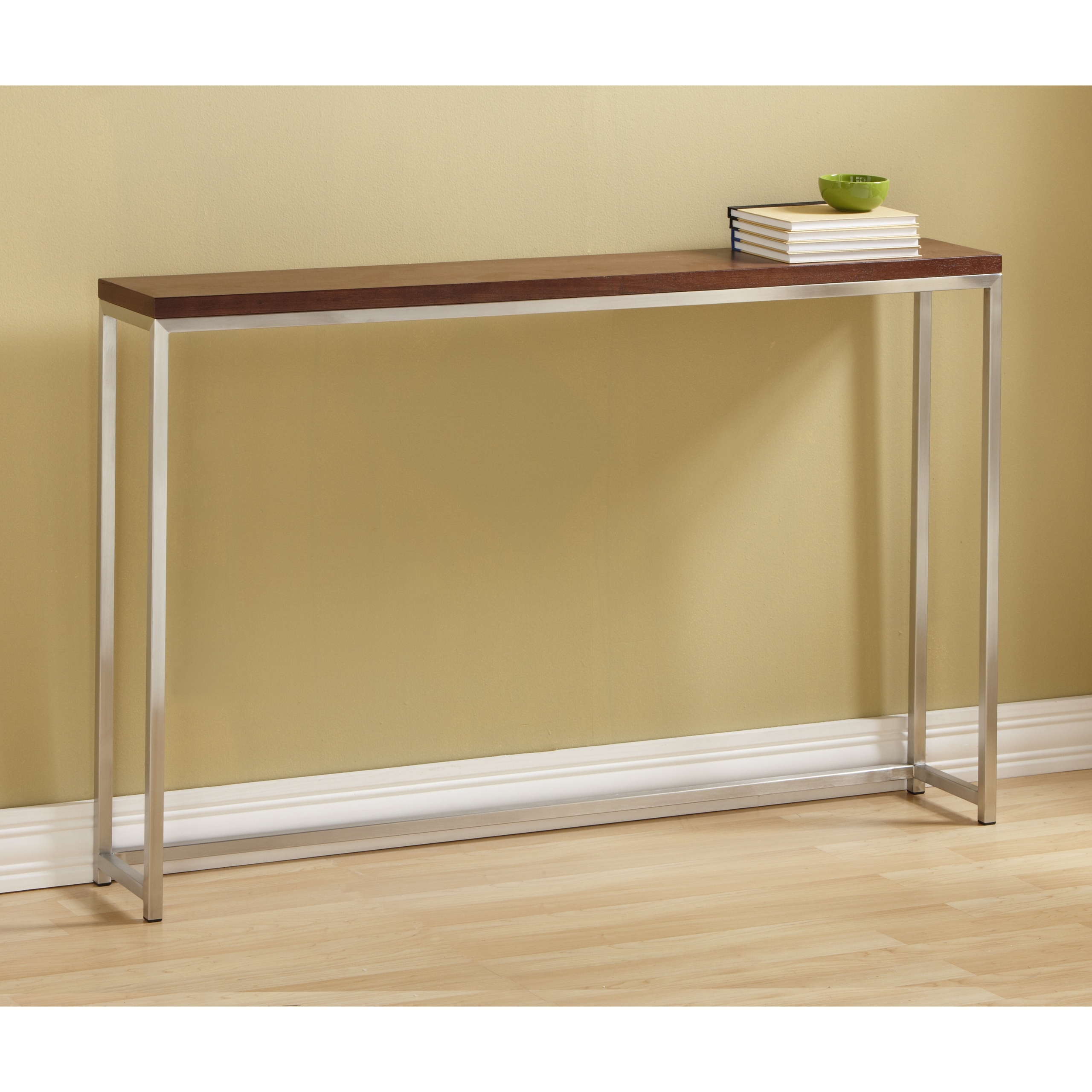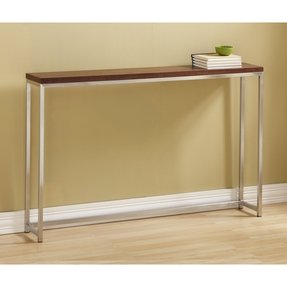 Entryway? Not sure about the bar in the back.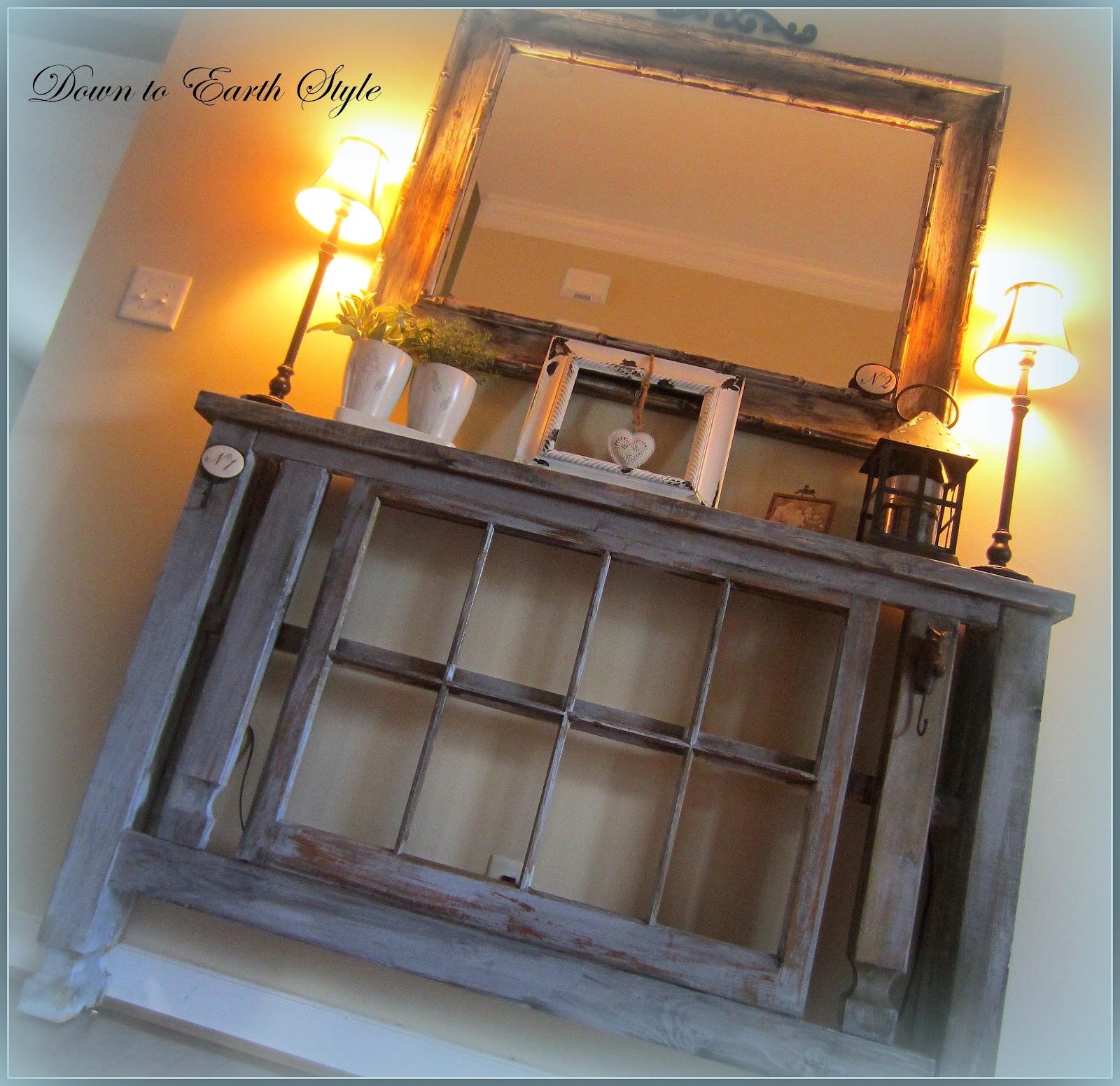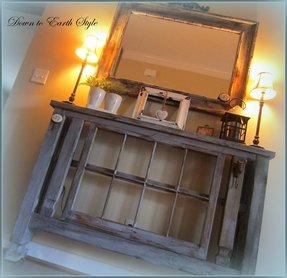 DIY Entry Table Or Mantel Piece Using Upcycled Materials - All Natural & Good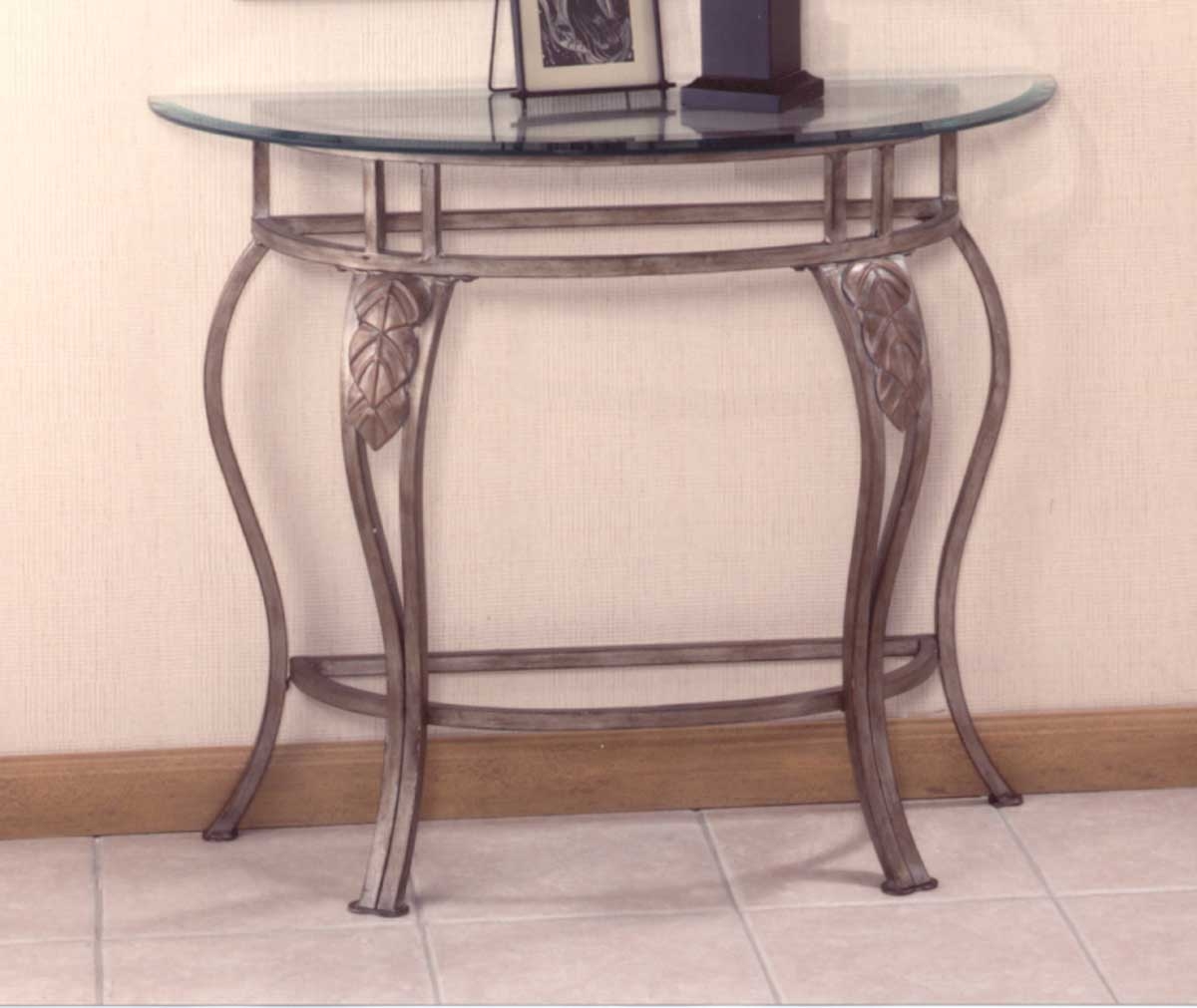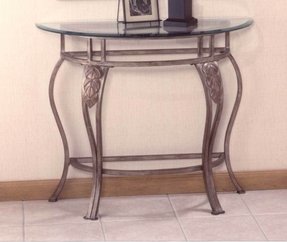 This Sophisticated Console Table with Demilune Glass Top offers very stylish and space-saving improvements for antique interiors, mainly hallways, entryways, and bedrooms. Crafted from wrought iron, the table is very durable and eye-catching.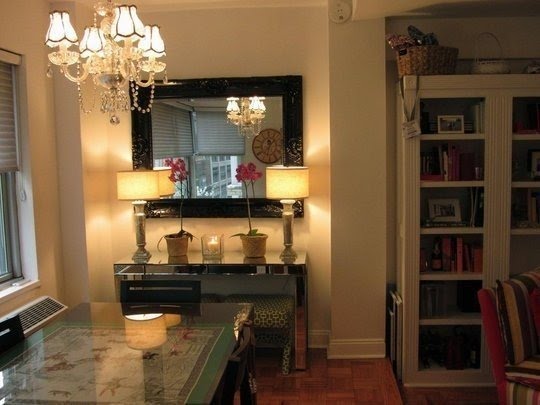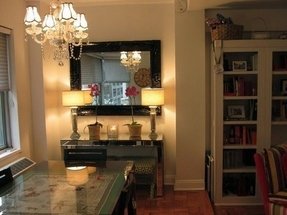 Love this idea for dining area with more narrow table. Also love the ambient lighting.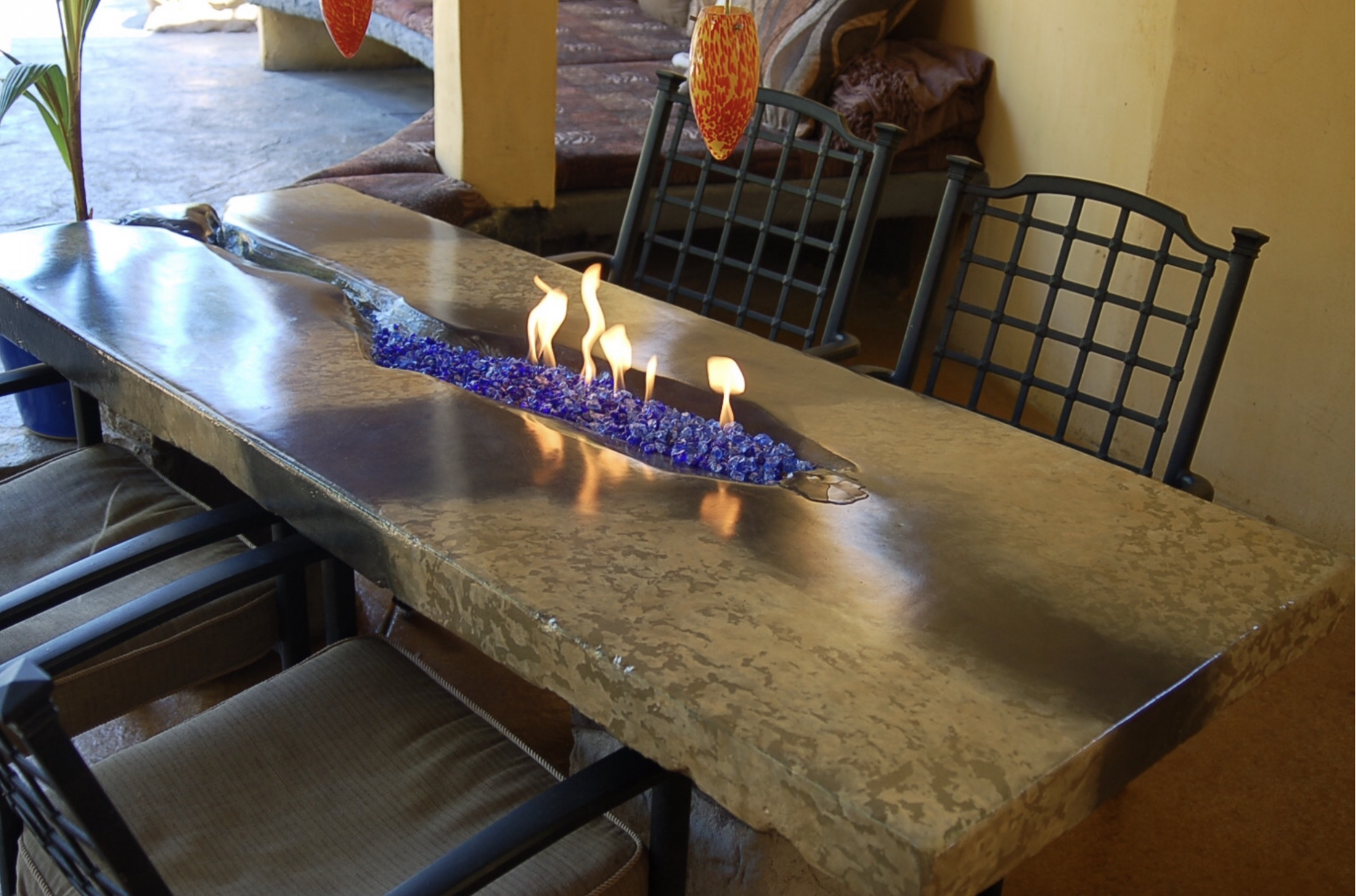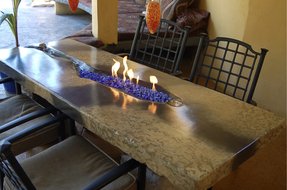 An interesting contemporary table featuring a rectangular top of polished concrete (in beige shades with greenish undertones) with an irregular elongated channel intended to fill e.g. with glass aggregate and oil fuel. It has sturdy legs.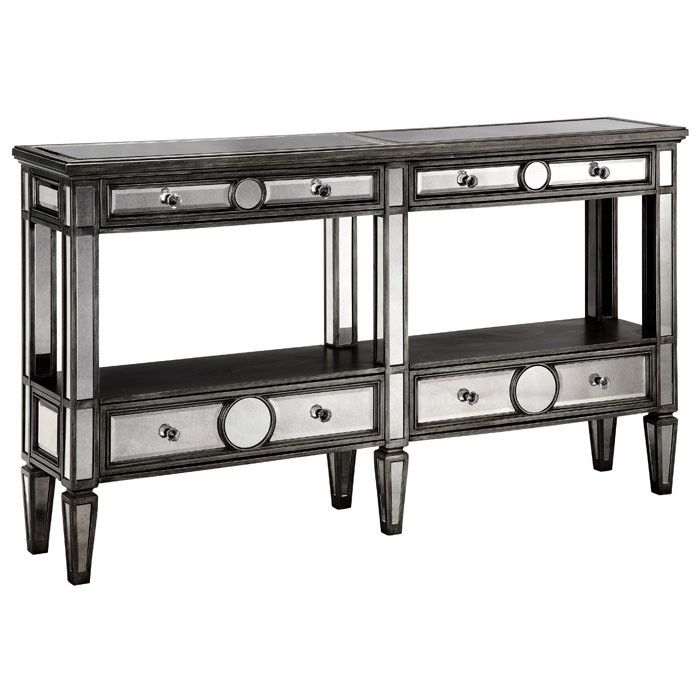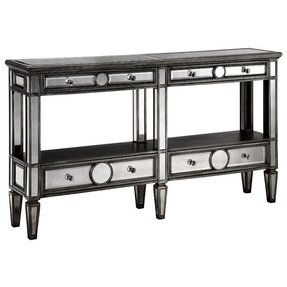 The perfect accent for your living room or entryway decor, this glamorous 4-drawer console table showcases crystal hardware and mirrored accents. Product: Console tableConstruction Material: Wood, mirrored glass and cut crystal hardwareColor: Silver a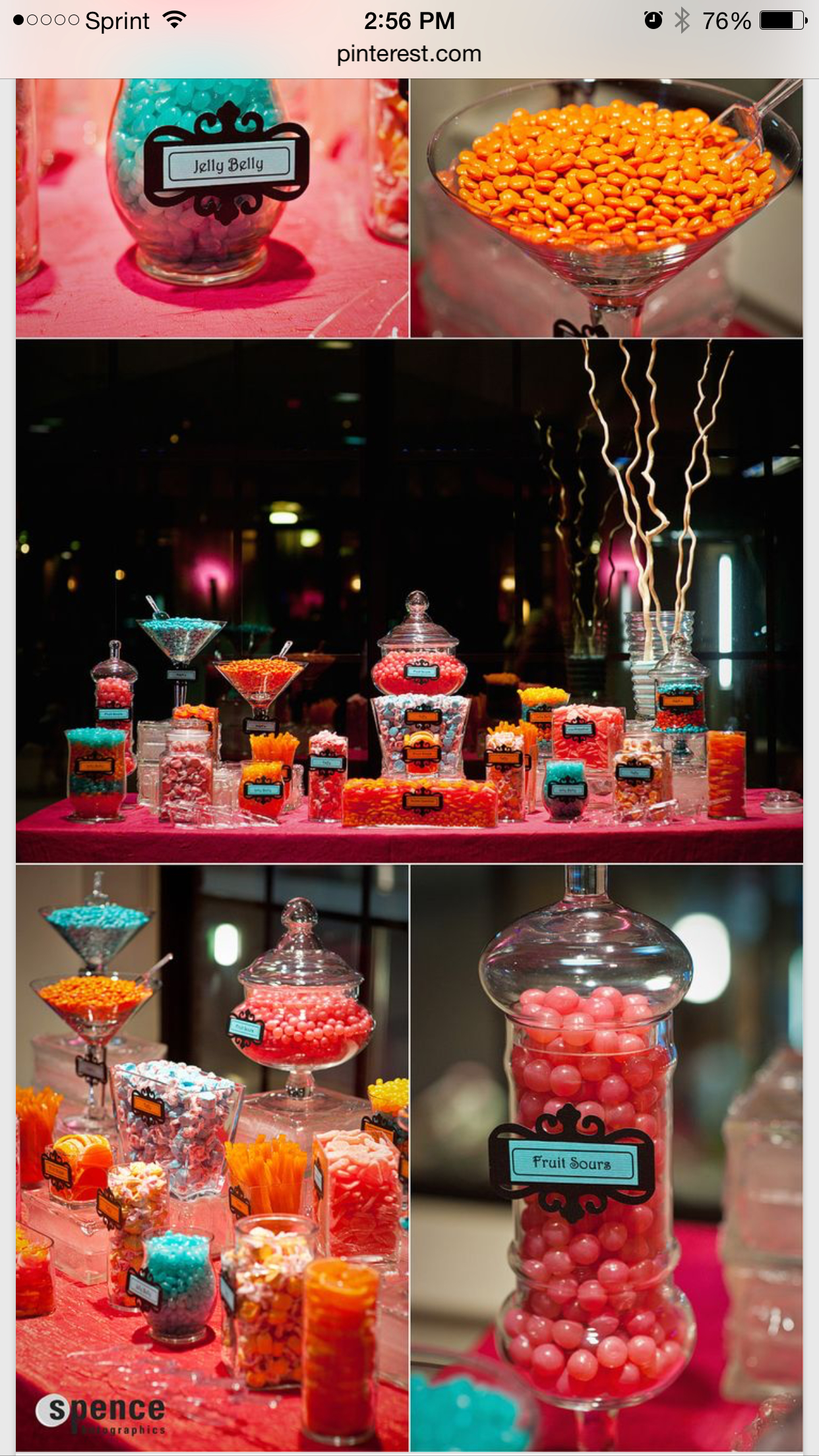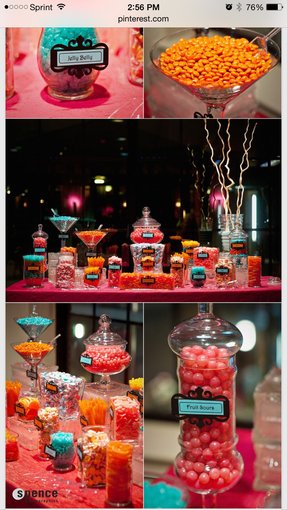 Pretty contemporary glass containers for e.g. sweets. They're manufactured of clear glass and differ in sizes and shapes. Some of them have stems or decorative lids with handles. They all are adorned with decorative label frames of dark metal.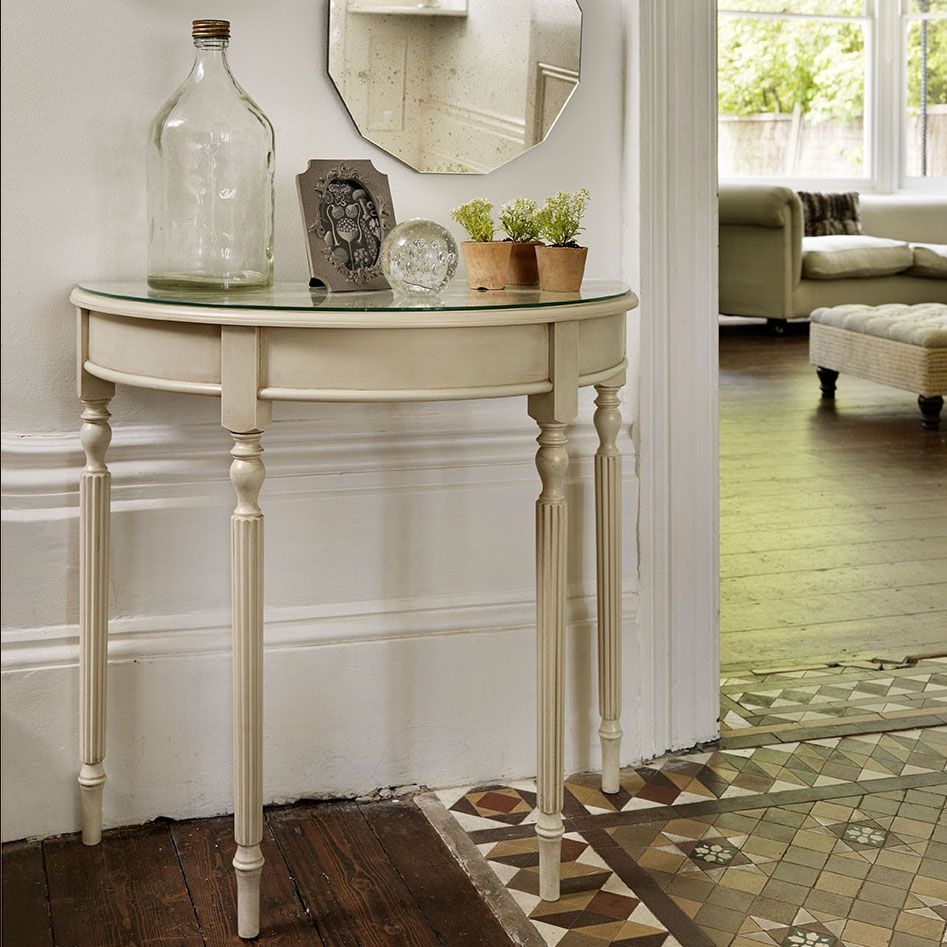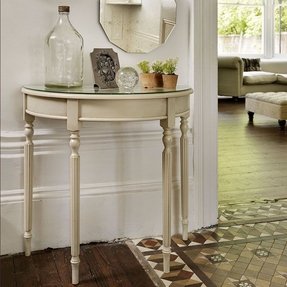 Narrow Tables for Hallway for Complete Living Room Ideas: Breathtaking Interior Design Ideas Hallway With Demi Lune Table Feat Glass Table Top Also Rustic Rugs On Hardwood Flooring Ideas ~ Hallway Inspiration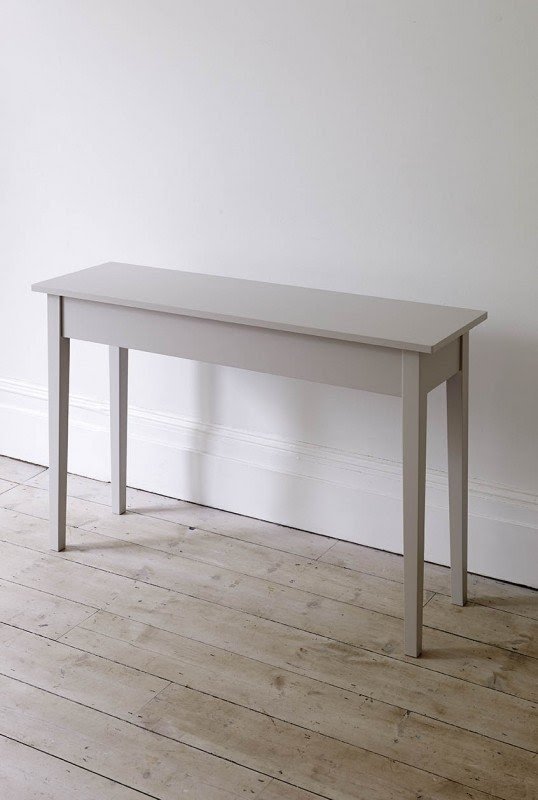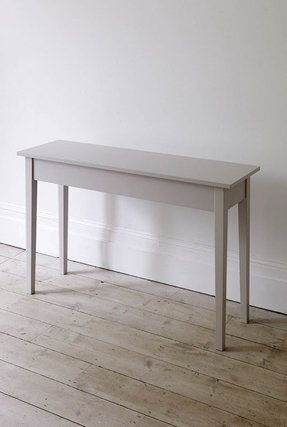 ... are here: Home » All » Tables » Tuvan large narrow console table