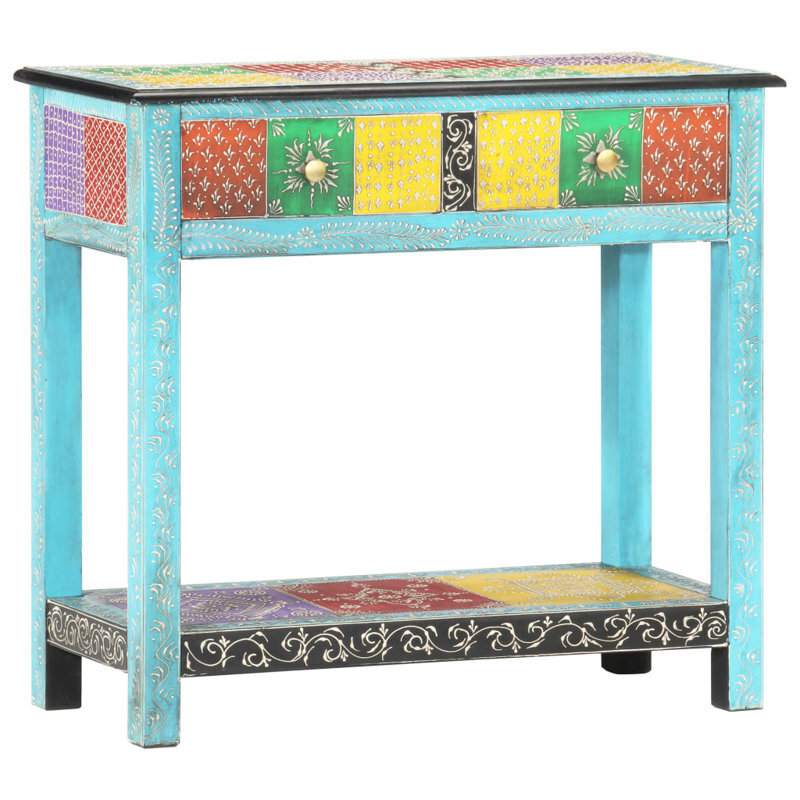 Multicolor Painted Console Table
Bungalow Rose
Brush stroked with red, yellow, green, purple, blue, and black, this painted entry table is anything but boring. Resistant to scratches and stains, it features two drawers with gold knobs and white swirly paintings.
Designer Advice:
Hand-painted console tables with bright hues look the best in Southwestern and Retro styles. Its rainbow hues allow you to get away with setting this table in a yellow hallway or in front of a red accent wall. Sit textural elements like a woven rattan or wooden bowl, on top of this table, to separate the bright hues and décor.
Merchant links are sponsored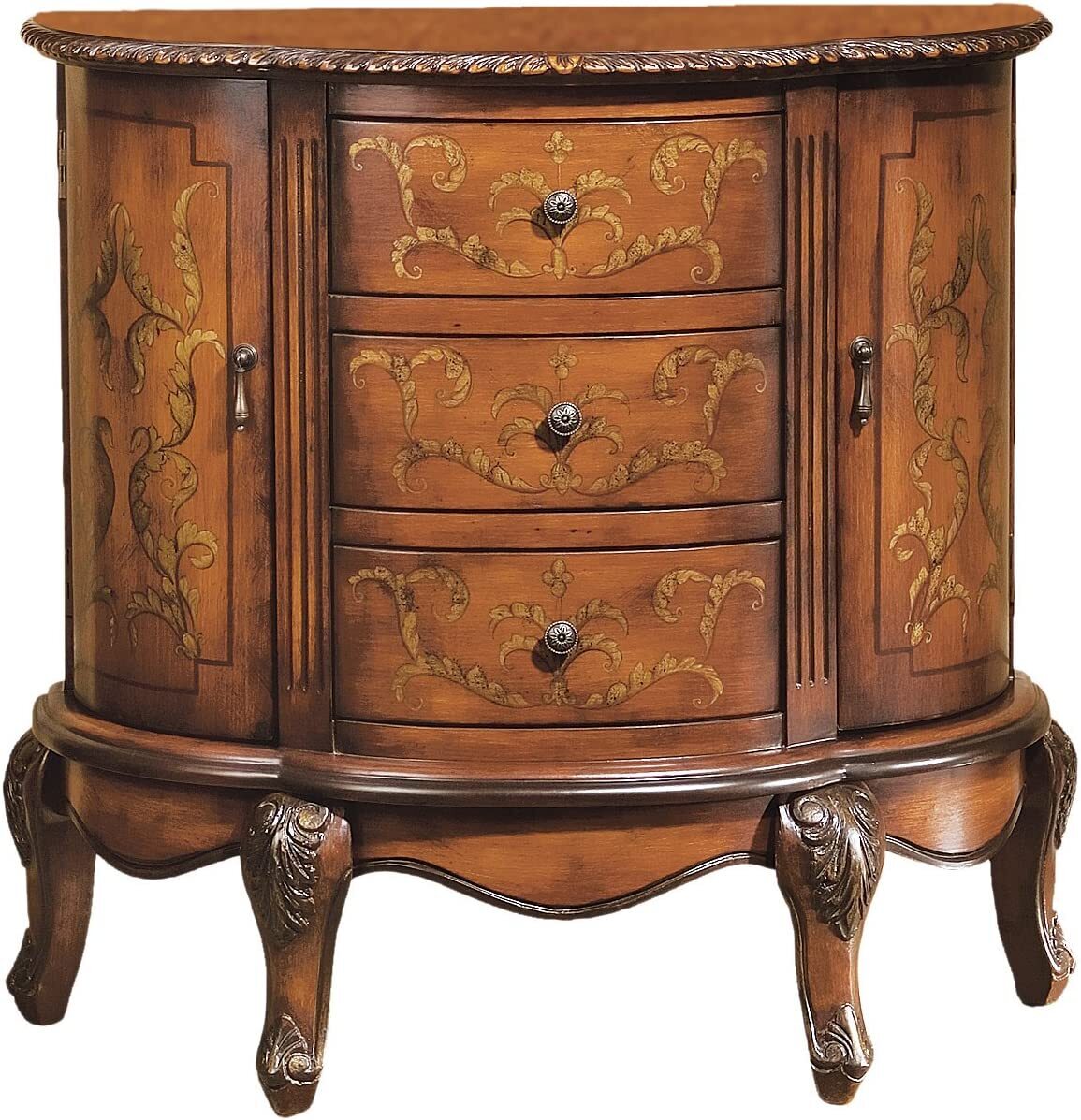 Painted Console With Cabinets
Design Toscano
Grand with its heavy build and warm brown hue, this hand-painted entry table is crafted with a curvy apron and Queen Ann legs. It is decorated with a carved leaf tabletop trim and painted gold leaves on its rounded front.
Designer Advice:
If you need more storage space in your foyer, a painted entry table with cabinets is the way to go. This half-moon table with cabinets has a heavier appearance and looks great on a short wall and in open floor plans. Because it has cabinets, it will restrict space, so we don't recommend placing it in narrow hallways.
Merchant links are sponsored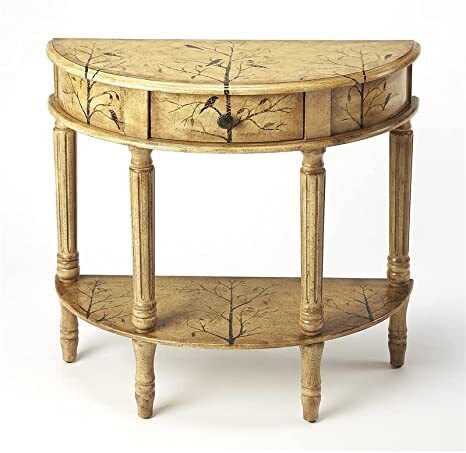 Half Round Hand Painted Console Table
BUTLER
Made of poplar wood and MDF, this entry table is painted in two colors: winter forest with trees and rubbed coffee hues with floral details. It comes with four straight column legs and a drawer with a soft knob handle.
Designer Advice:
The airy design of this hand-painted console table makes it work well in small spaces. With its column legs and thin and open shelf design, it is best to decorate it with small plants, stacked books, and slender lamps. One drawback is its narrow frame cannot hold heavy or many items.
Merchant links are sponsored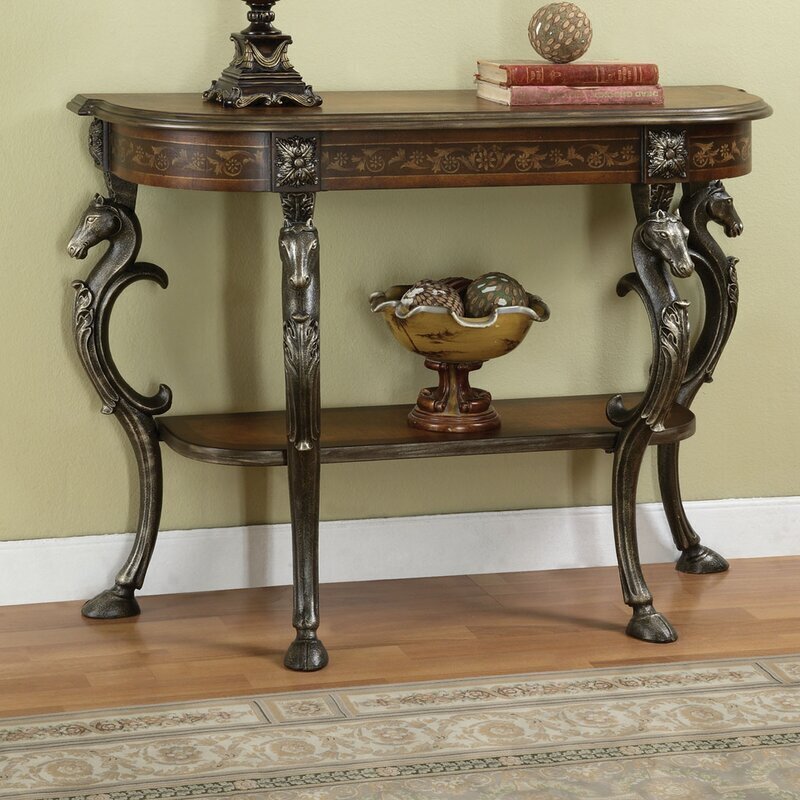 Ornate Painted Entry Table With Shelf
Astoria Grand
This hand-painted console table has a horse head and hoof cast legs and a floral motif on the table border. It is designed in a half-moon shape with rippled trim and an antique gold finish.
$304.99 $640
Designer Advice:
The horses carved into the legs on this painted console table helps establish its farmhouse theme. Its warm mahogany wood shelves are a fine match in rooms with warm yellow, beige, and ivory paints. The lack of drawers and cabinets makes it a poor choice to hide clutter but a great choice to display decorative pieces.
Merchant links are sponsored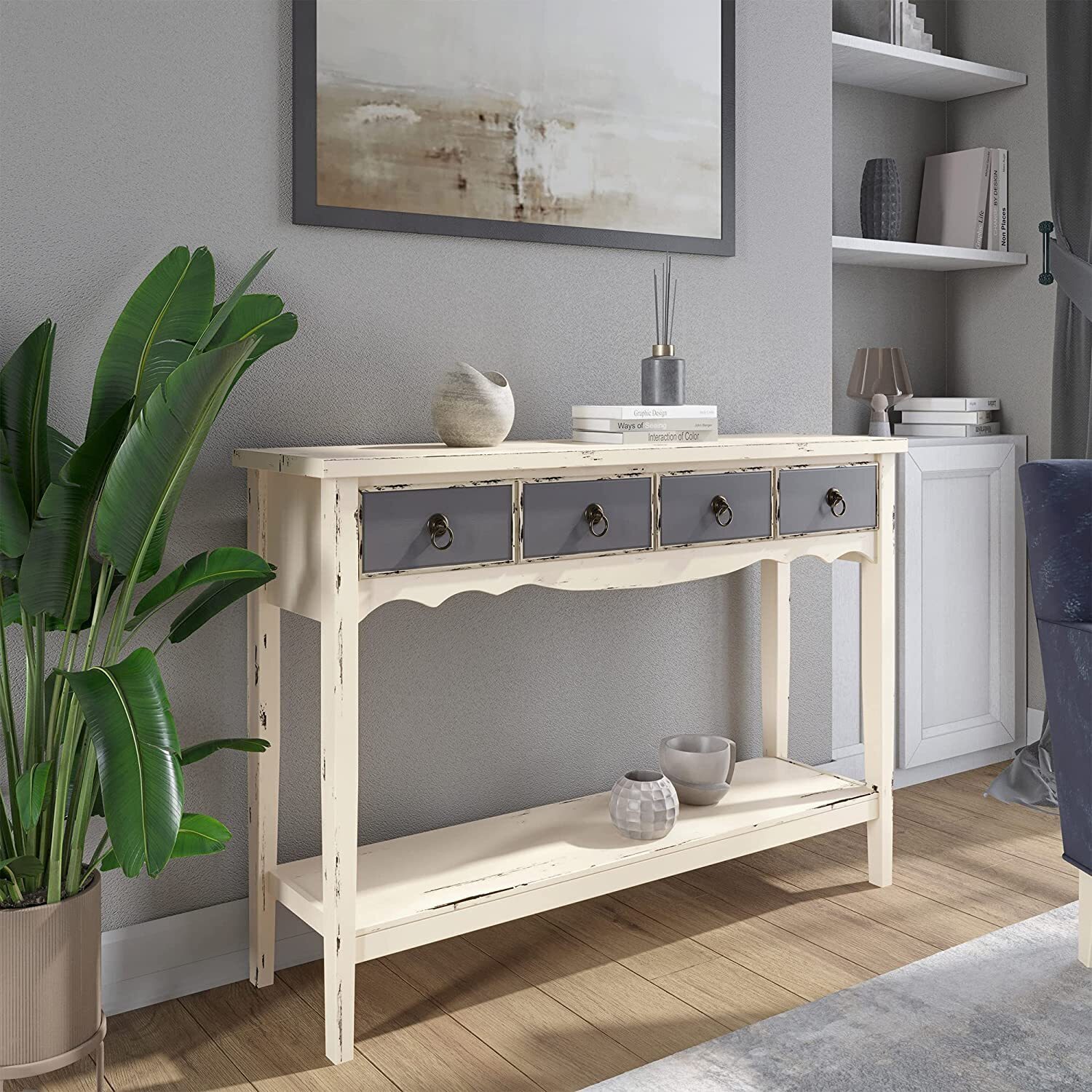 Vintage Painted Console Table
Belleze
From the distressed paint to the brass ring hardware, this hand-painted console table shouts antique. It has a two-tone finish of off-white and gray, four drawers, and a long lower shelf for storing baskets.
Designer Advice:
Long and thin hand-painted console tables are perfect for hallways with limited space or living rooms with lengthy walls. This one, in respective, offers an antique touch with its distressed painting, which looks stunning in shabby chic trends. The gray drawer fronts blend well with light gray walls, carpets, and hardwood floors.
Merchant links are sponsored