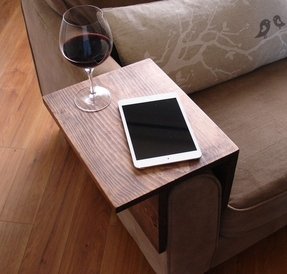 Simply Awesome Couch Sofa Arm Rest Wrap
Rest your arms, lay your phone or set a wine glass on this couch-side tray table: great when your sofa has wide, but soft armrests. It gives the optimal support and hard surface to set things on it with no risk of wobbling.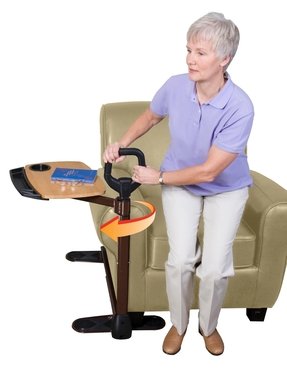 This type of product is a special tray designed for use with sofas and armchairs. It has got a special handle that assures support and balance for sitting and standing motion. It height adjusts on the level of 26-32 inches.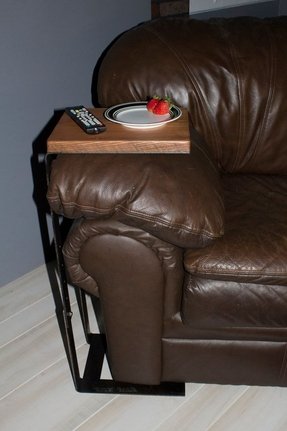 Sofa Tray Tv Tray Couch Tray Arm Rest
Contemporary design for a handy sofa TV tray made out of a wooden frame crafted out of black-painted oak wood with an unfinished surface on top, which provides a useful space for placing a snack or a remote.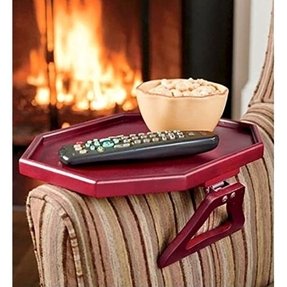 Are you dreaming of some unique and practical equipment for your house? Then, you're gonna enjoy this amazing armchair table! Check it out now and bring some extraordinary functionality to your place.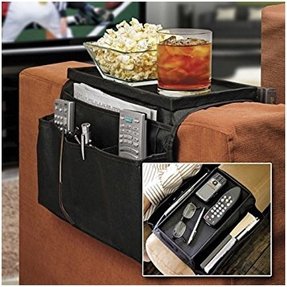 Couch Organizer with Food Tray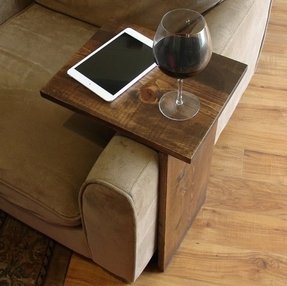 Sofa Chair Arm Rest Tv Tray Table Stand
A useful L-shaped tray table stand for sofas and armchairs. It's handmade to order of brown-stained solid wood. It can be leant against armrests with its shorter part while its longer part rests on the floor. It has non-marking anti-slip pads.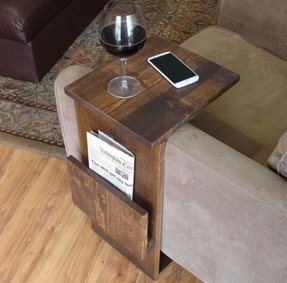 Sofa Chair Arm Rest Tv Tray Table Stand
Sofa tray made of wood. Includes rectangular top and magazine holder. Suitable for each standard sofa. Great for serving drinks, snacks and more. Received many positive recommendations from clients.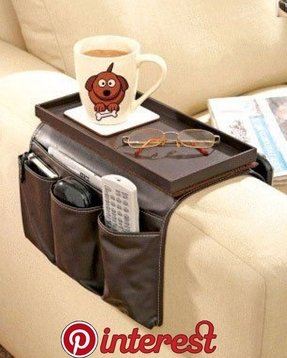 A very simple, but useful elements used with sofas or armchairs. It is an organiser for remote controls with a cup holder in its central part. It is created for use on arms of sofas or chairs. It is made of luxurious faux leather.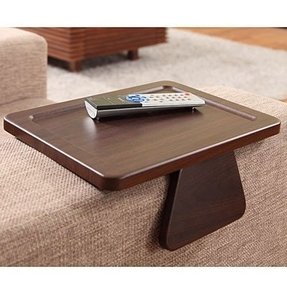 Sofa Arm Accessory Table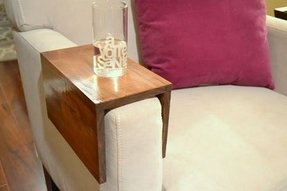 Simple do-it-yourself custom couch sleeves. I don't have a coffee table, so I always have to pull out a TV tray or hold my drink while I'm on the couch. Stain it to match the room it is in.
Simply Awesome Couch Sofa Arm Rest Wrap
This hand-made armrest tray table is a solid wooden element that provides flat surface for snacks, drinks, etc. It also includes a special storage slot for TV remotes, phones, etc. It perfectly matches arms of different sofas and armchairs.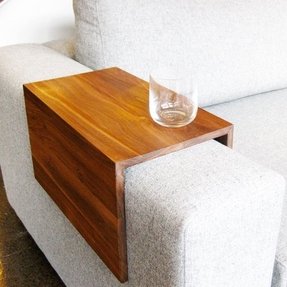 Couch Arm Wrap Solid Wood Reclaimed Wood
A very functional and designer sofa arm tray - coffee table placed on the side of the sofa. Made of natural solid reclaimed wood using traditional methods of joining wood. It adapts to the armrest and provides a functional space for a book or a glass of wine.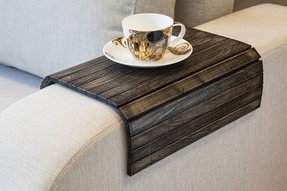 Sofa Tray Table Vintage Black Tv Tray
The wood in the rooms adds warmth and coziness, so this great tray table for a sofa or armchair is a great solution. Simple design with excellent practicality delights and works great in any decor.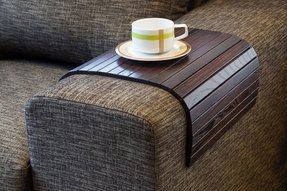 Sofa Tray table brown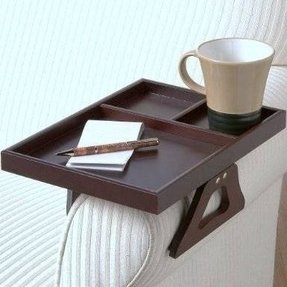 ... cart company profile home products trade leads sofa arm rest tray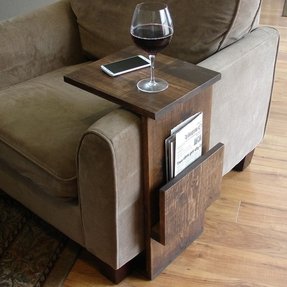 Sofa Chair Arm Rest Tv Tray Table Stand
Sofa console table with magazine holder on the base. It is completely made of wood. Perfect for serving drinks, snacks and more. Suitable for each standard sofa. Functional accent for any living room.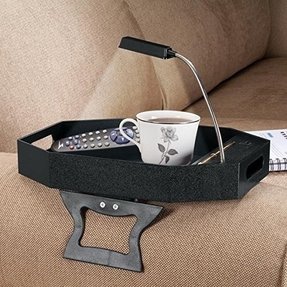 It is a clip table that has got a LED light, black finish and is fantastic for your sofa arm. This tray is perfect for your cup of coffee, remote control, book and other. You need to have it.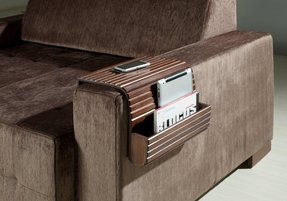 Couchmaid Organizer Original Sofa Tray Walnut Multi by SoffittaUSA, $89.00

A simple tray that provides space for small items. Its durable wooden construction is able to swivel 360 degrees. It also includes a functional cup holder for drinks. Its yellow color looks very interesting.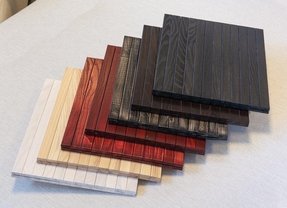 Sofa Tray Table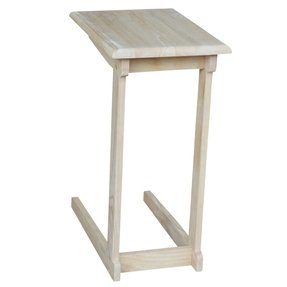 Sofa Server Table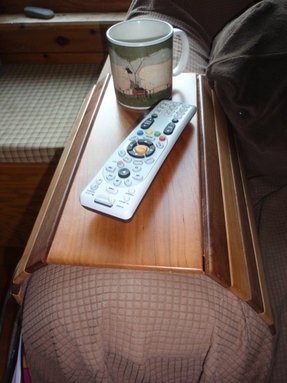 Tray, Couch armrest tray, Sofa cover,,gift for her and him,Sofa arm ...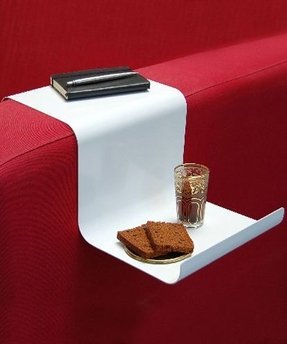 Tired of knocking over drinks and sandwiches you keep putting on your sofa's armrest? Never lose a bacon and peanut butter sandwich to a dirty floor again with the SofaHanger, a stylish tray designed to hang right on your couch's arm.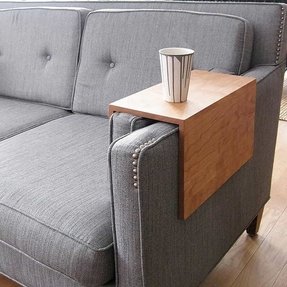 Couch Arm Wrap - SOLID WOOD custom arm drink rest laptop table for straight arm sofa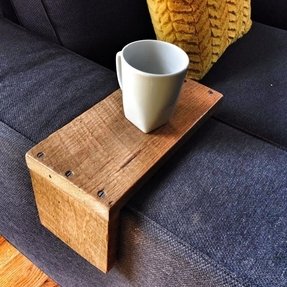 Sofa Tray Table Ikea: IKEA Kivik Couch Update Behind the Scenes of ...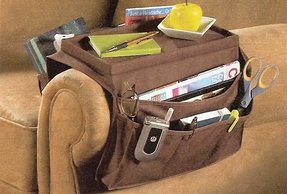 Details about SOFA/CHAIR ARM CADDY - BROWN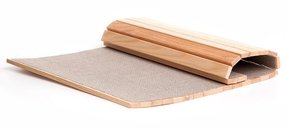 Sofa Tray Table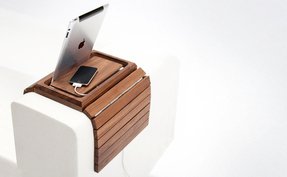 embrace-by-spell.jpeg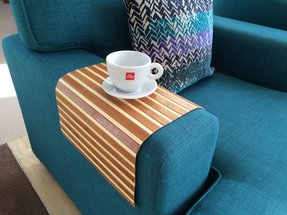 Sofa tray made of natural bamboo wood and featuring stylish design. Additionally, it's very flexible, which makes it easily adjustable to almost any surface. It's a great idea for a simple Christmas gift.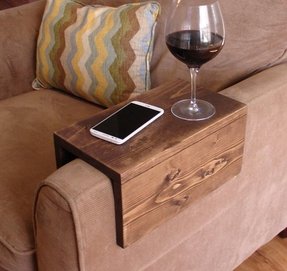 Simply Awesome Couch Sofa Arm Rest Wrap
Hand made wooden arm tray suitable for sofas and armchairs. This simple, rectangular element of home equipment provides a practical space suitable for serving drinks, holding phones, etc. Durable wooden construction is resistant to excessive wear.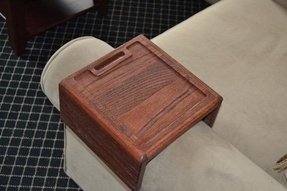 Solid Oak Couch Arm Wrap Caddy with Smartphone Slot. A great idea to ...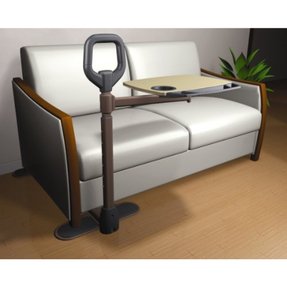 Tray Table Sofa Chair Cane Back Knee Lift Assisted Aid Assist A Medical Mobility
This sofa arm tray is a practical combination of a swivel tray and ergonomic safety handle makes standing and sitting easy and safe. It includes an ergonomic grip handle that provides support in and out of any couch, chair, or recliner.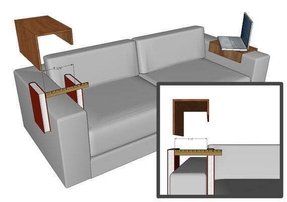 Roll Arm Couch Wrap - SOLID WOOD custom arm drink rest laptop table ...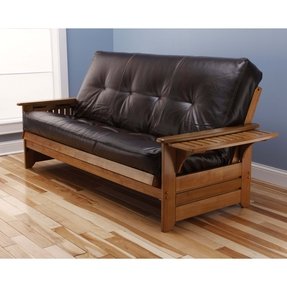 This futon merges comfort and unpretentious design with luxurious accents: the innerspring mattress, filled with comfy foam, is padded with bonded leather, and the frame is constructed of solid wood in honey finish.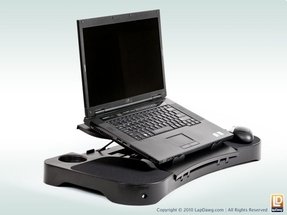 This convenient laptop desk provides effective laptop cooling thanks to a USB powered fan, while also providing multi functional applications. The desk folds flat, and includes an adjustable mini-tray and felted both left and right mouse pad areas.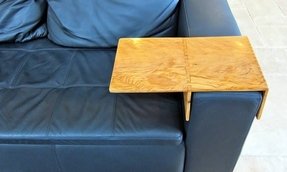 sofa arm tray table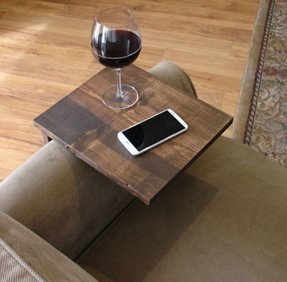 Sofa Chair Arm Rest Tv Tray Table Stand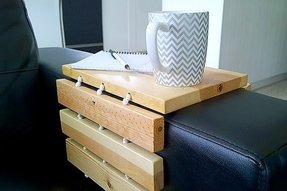 Couch Tray Made From Reclaimed Wood
An aesthetic practical couch tray for hanging on flat arms of sofas or armchairs. It's DIY-made of rectangular laths of reclaimed wood in natural shades. It has a wider top. Laths are joined by means of robust white ropes of natural fibres.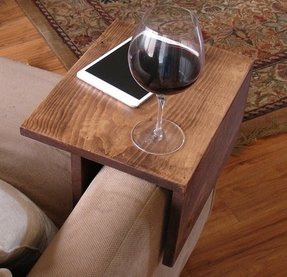 Couch Sofa Arm Rest Wrap Tray Table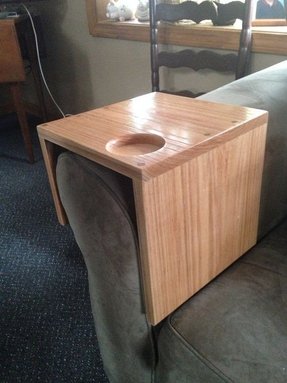 Solid Oak Couch Arm Wrap with Cup Holder! Customized to your couch! on ...