Our Choice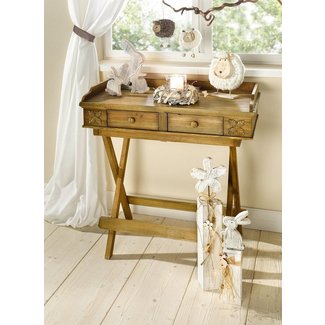 Foldable TV Tray
This solid oak wood butler's tray can serve as a portable dinner surface or TV stand in your limited-space apartment. It can support up to 60lbs of weight. The two functional drawers provide storage for remote controls and other small electronic devices. It's extremely easy to set-up or store away by expanding or collapsing the foldable legs. It's compliant with safety standards for proven stability.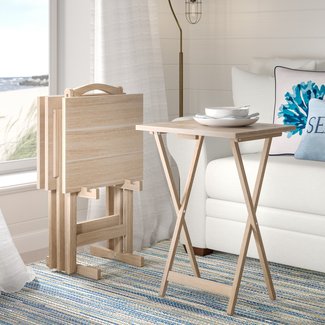 Ingleside 5 Piece Acacia Tray Table Set
Enjoy the genuine and environment-conscious qualities of this convenient table set of 5. It's crafted from a sustainable acacia hardwood, which is durable and long-lasting. The high density of this wood is proven to withstand the demands of weighted products without compromising the stability or surface structure. It comes with a stand for keeping it handy near the sofa in a neat and compact manner.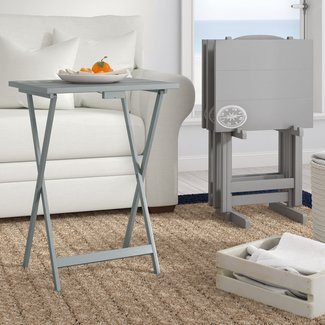 Caldecott Compass Tray Table Set
Add a coastal vibe to your lake vacation spot with this wooden compass-embellished table set. Its grey finish with a hint of dirty blue falls perfectly into a seashore colour scheme. The stand features a built-in ergonomic handle, and the tables fold-up with singular manoeuvre, allowing easy-breezy transportation and set-up any time you want to enjoy your morning coffee or breakfast in the natural setting of your open terrace.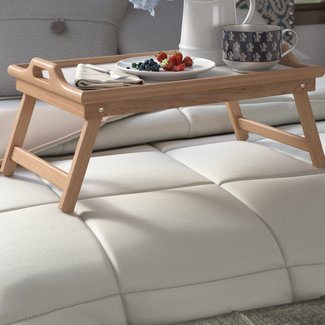 Annapolis Breakfast Tray with Handles and Foldable Legs
This wooden tray is a great breakfast gadget to surprise your loved one with a freshly brewed tea and pancakes delivered right to the bed. The foldable legs promote easy expansion and storage in your pantry room. The melamine covering of the serving surface protects the product from accidental spills, and wipes clean with a damp cloth. It doesn't require assembly so you can enjoy its serving benefits upon arrival.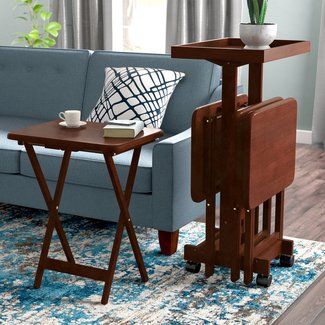 Palko 6 Piece Snack Tray Table Set
Add portable functionality to your home with this tray table set sporting a modern silhouette. It's available in two colours, walnut and natural beech wood that will complement various shades of brown and grey, as well as black and white furniture. The tabletops feature rounded corners softening the overall look. The removable tray adds a fancy touch to the set, allowing creative people confined in smaller flats to use it as a permanent side table.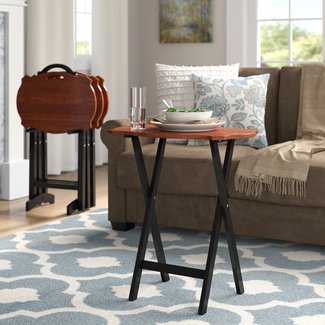 Elvin Serpentine 4 Piece Tray Table Set
This abstract-shaped tray table set of 4 is crafted from durable solid and manufactured wood as well as wood veneers. The sturdy stand is enhanced with a wooden handle for effortless mobile arrangements and storing. The generous angle of the legs assures the table remains stable and supports your food and drinks while you kick back and watch your favourite Netflix show in a comfy setting.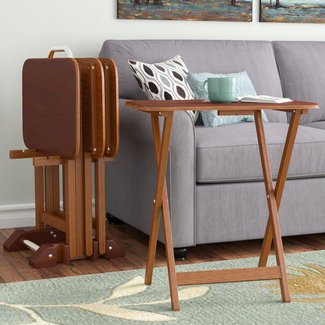 Berne 5 Piece Tray Table Set
This is a versatile serving furniture for lovers of traditional style with a modern twist. It features a clean-lined curved shape and a dark cherry finish to warm-up your decor. The semi-gloss surface magnifies its fashionable appearance so you can treat it as a decorative accent furniture displayed besides the sofa. In case you want to clear the area, collapse the tables, attach them to the stand, and carry it away using the built-in shiny silver handle.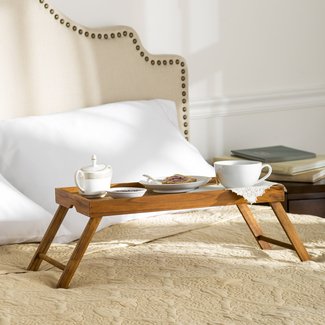 Wayfair Basics Wooden Breakfast Tray
Differentiate your breakfast experiences by serving food to bed utilising this simple pine wood tray. This light-weight piece accommodates a basic breakfast set of a medium plate, cup of coffee, glass of water utensils and napkins. Ideal for creating a romantic atmosphere on Valentines day or easing the food consumption process for your child during sickness. You can even use it as a tray for your medium laptop on your work-from-home days.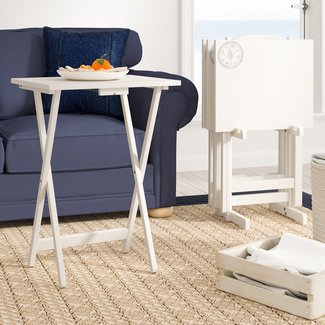 Ally 5 Piece TV Tray Table Set with Compass
This nautical-inspired TV tray set presents a sleek tall form in a pale grey finish enhanced with a compass stencil on each tabletop. The neutral shade makes it suitable for virtually any colour palette but it will look exceptionally good near bright canvas sofas, navy accent walls, wicker baskets, marine-embellished pillows, and ceiling lamps hanging low on knotted thick rope strings.