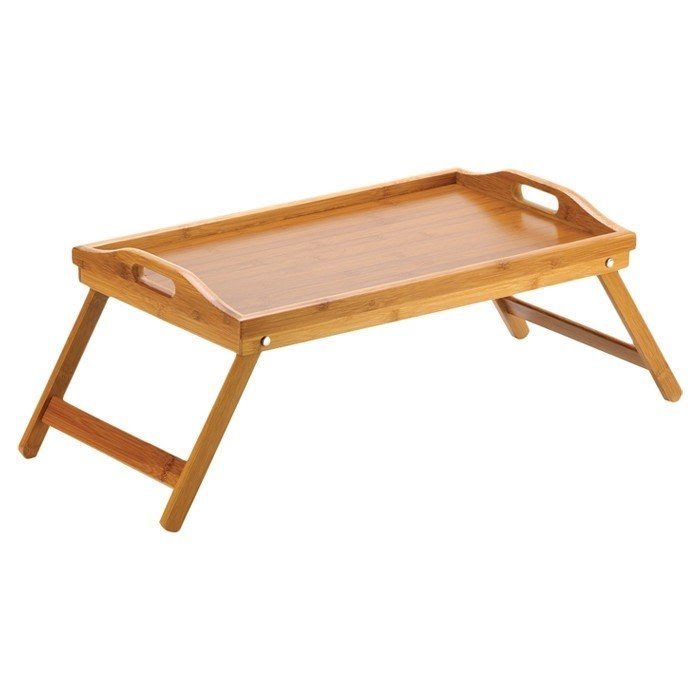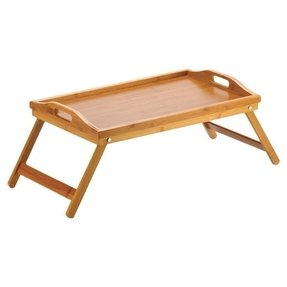 Lap TV Tray
This is made of bamboo fold-out tray is a great way to give breakfast in bed. The robust design and convenient design makes it easily can be moved and given its excellent meals even while watching TV.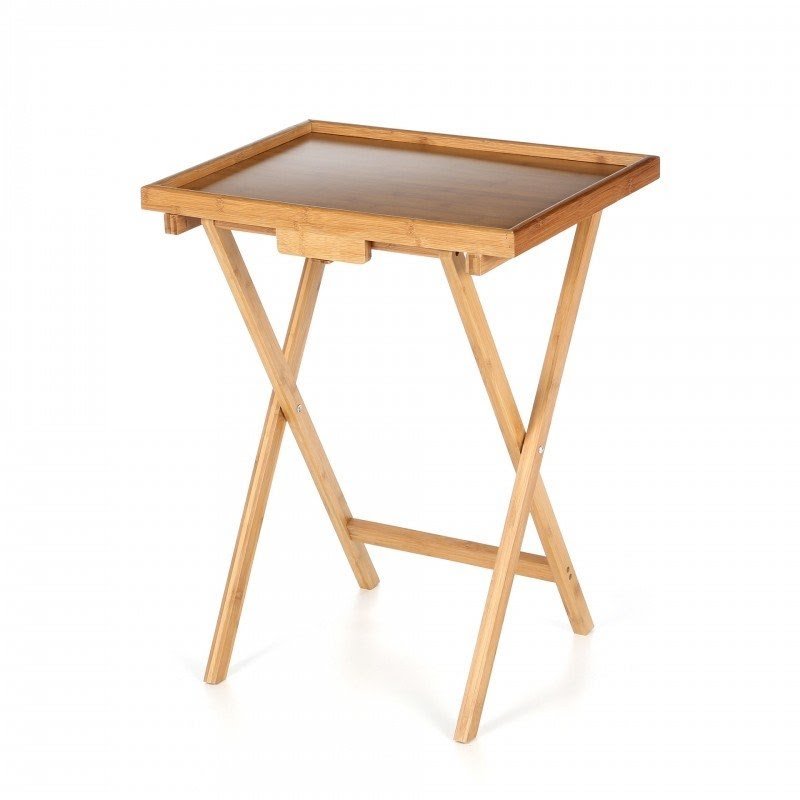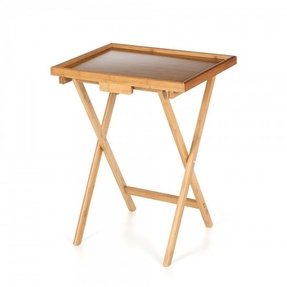 Lipper International Bamboo Folding Tv Tray Table With Lip
This kind of product is a tray table that is ideal for use in a TV room. It has got a solid frame that provides support and stability. This frame has got a folding construction, so the table can be stored without taking too much space.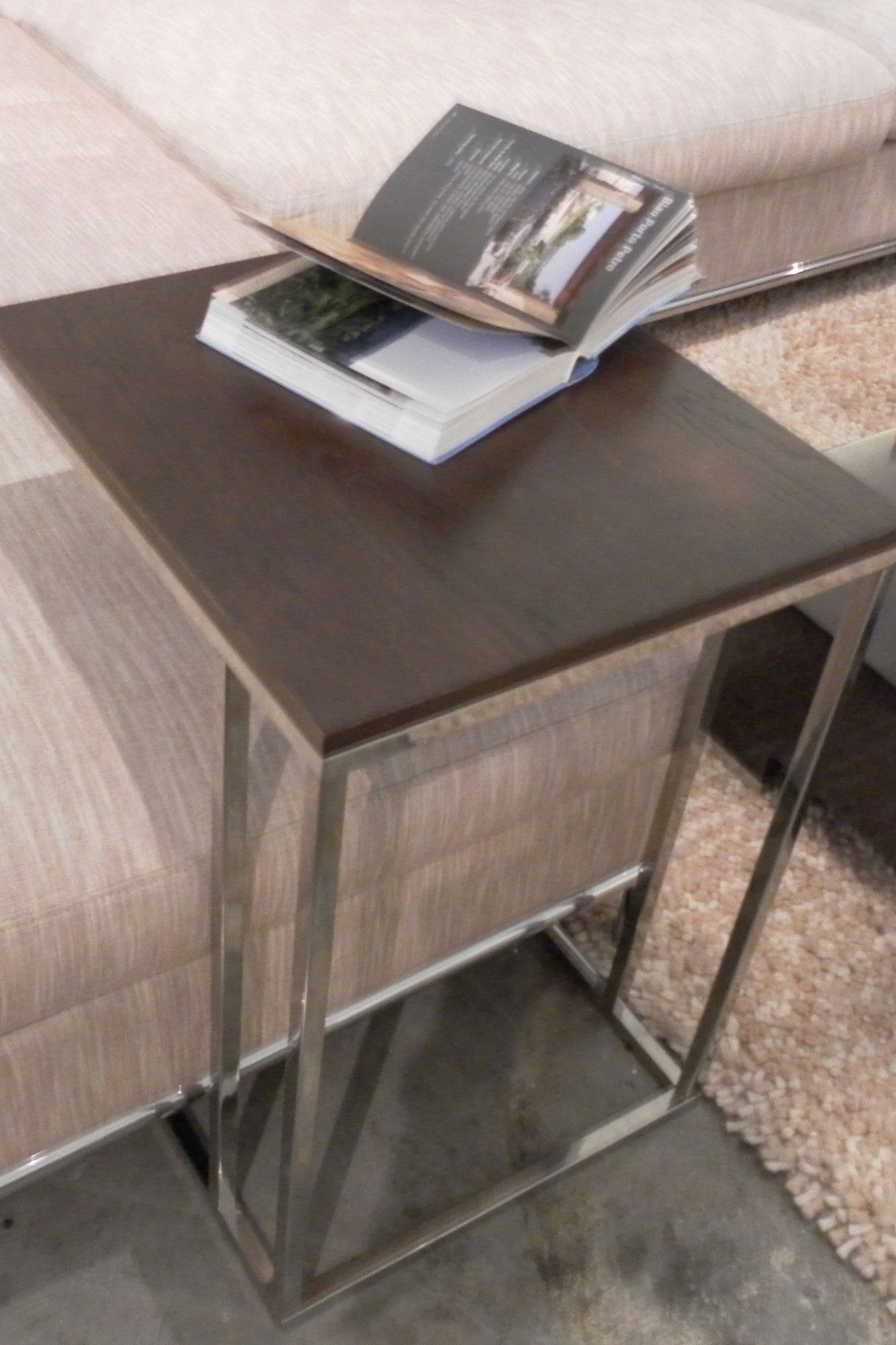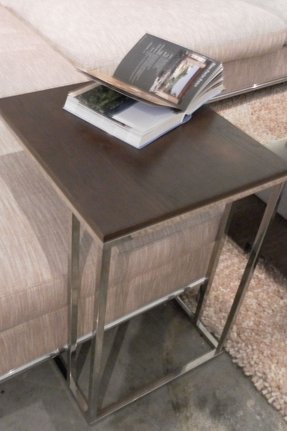 Smash Tray Table
Simple rectilineal table with a polished steel frame. A flat U-shaped foot enables to slide it e.g. under a bed. Two straight legs are placed in 2 corners but 2 other ones in the middle of the frame. A rectangular top is of brown-finished fibreboard.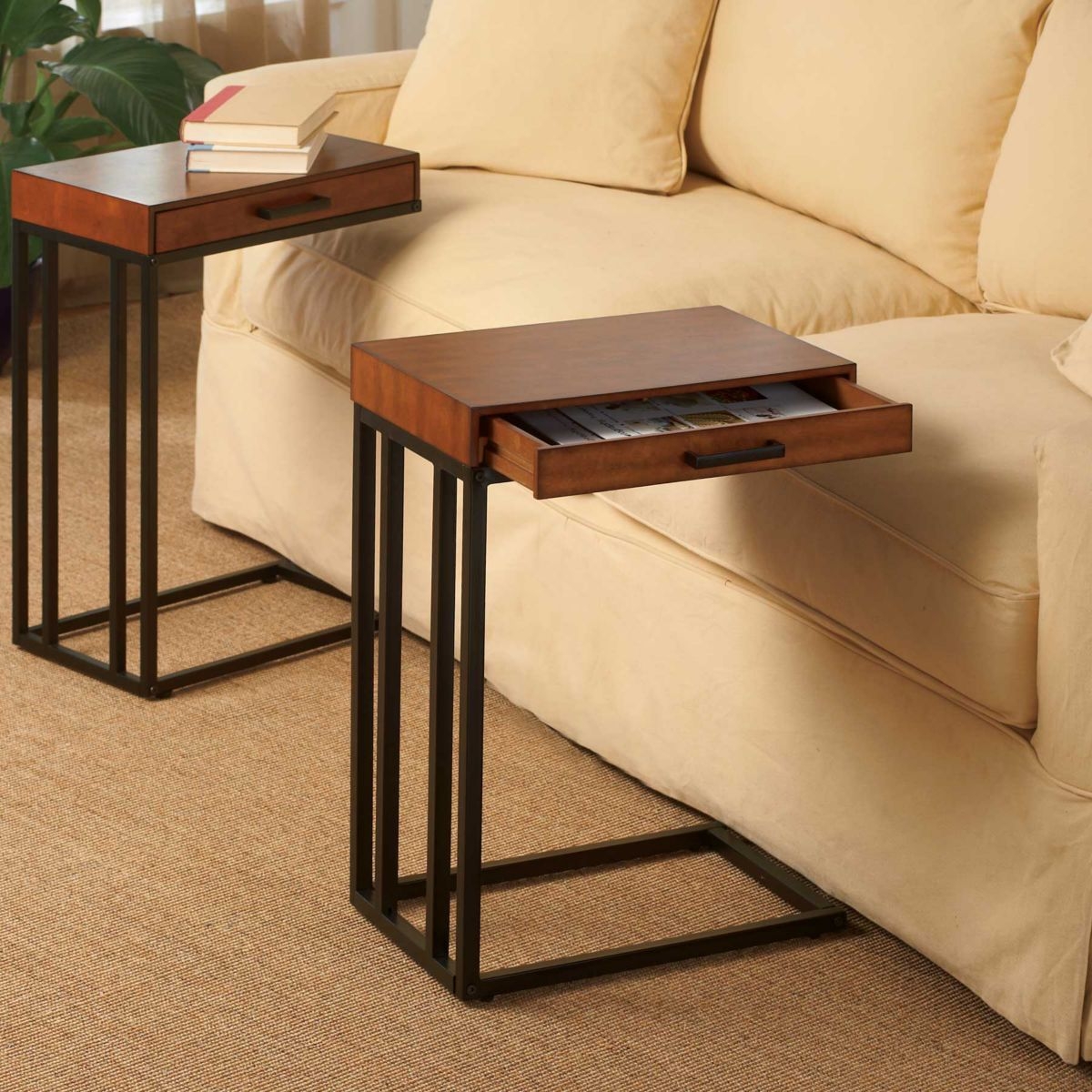 I wouldn't hesitate to suggest that someone buy this tray table with drawer for their home. It's not only very useful (especially for snacks, or laptop) but it looks stylish too.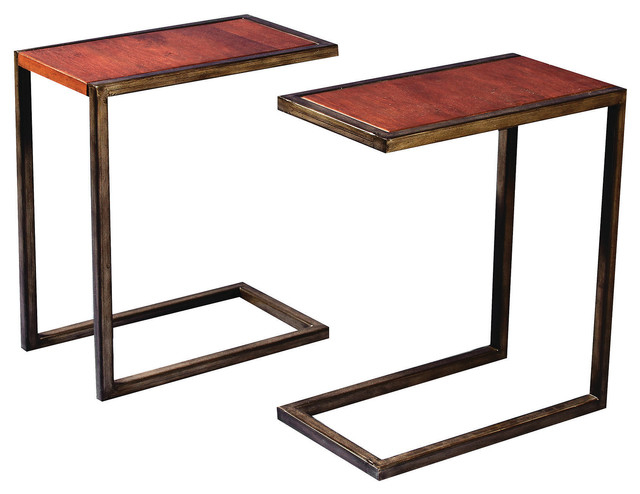 The robust steel construction of these spectacularly designed tv trays makes them an exceptionally original and functional interior design element. Beautiful contemporary styling captivates and brings to the decor a cozy atmosphere.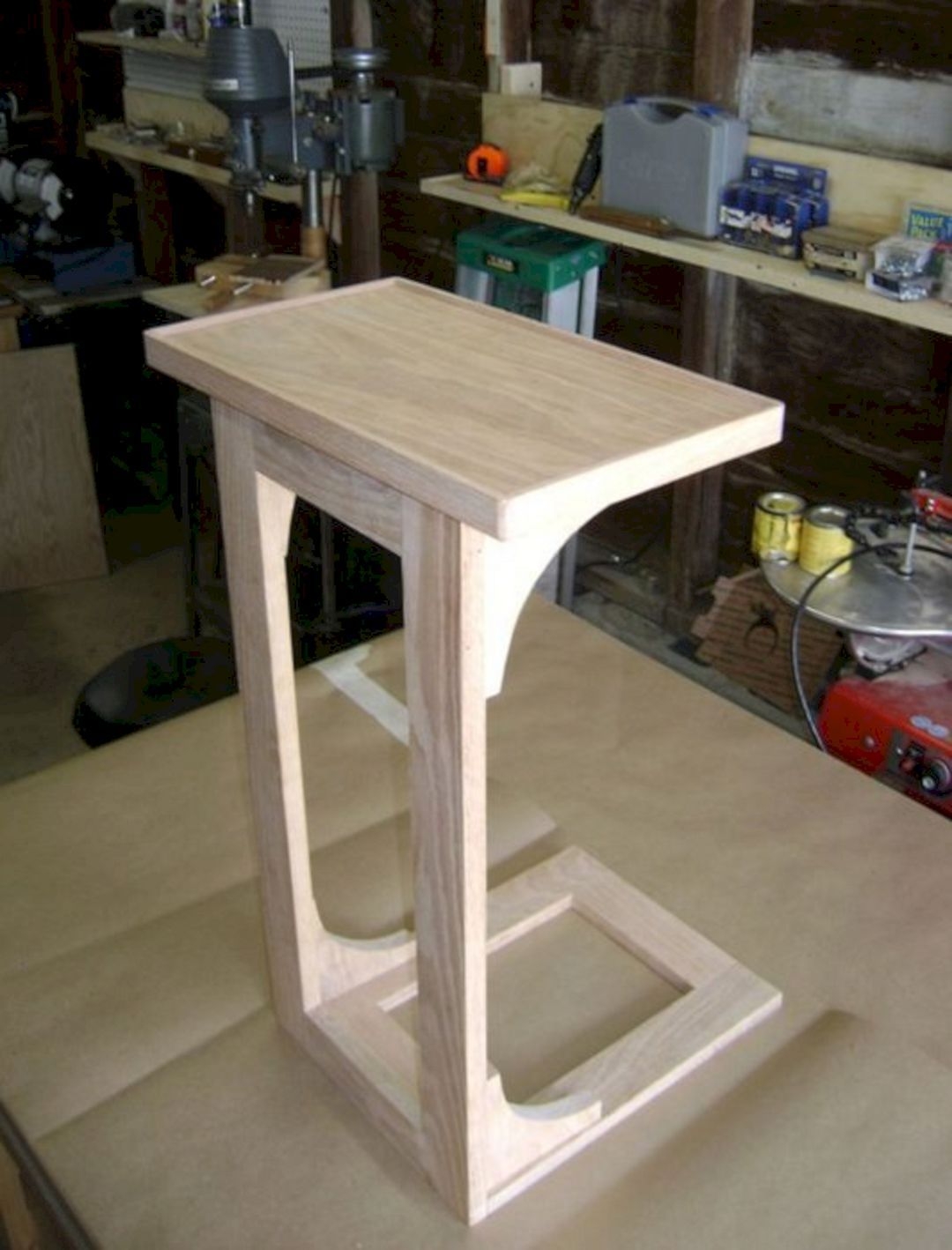 Taller version of a TV tray - to make eating, working with laptop etc. easy without leaving the couch. Constructed entirely of solid blocks of wood. But I kinda miss wheels here - the flat base isn't the most practical design.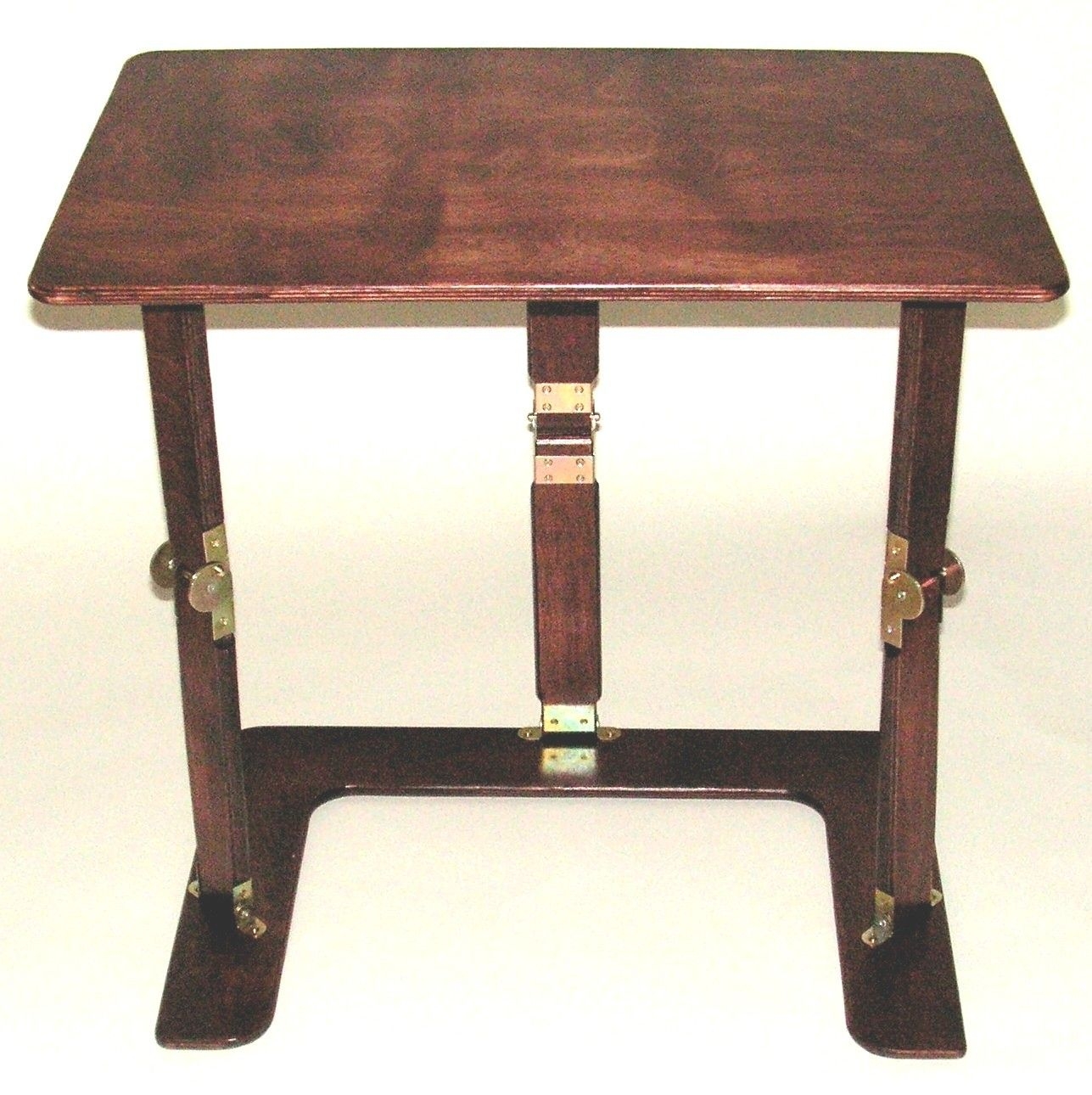 ... › Shop › CouchDesk™ Folding Tray Table by Spiderlegs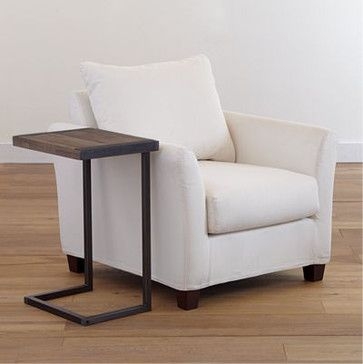 This simple TV tray, thanks to ingenious bracket design can be set in a way so that the brown wood top floats over the couch or armchair seat. Besides, the metal base piece doubles as end table or laptop desk.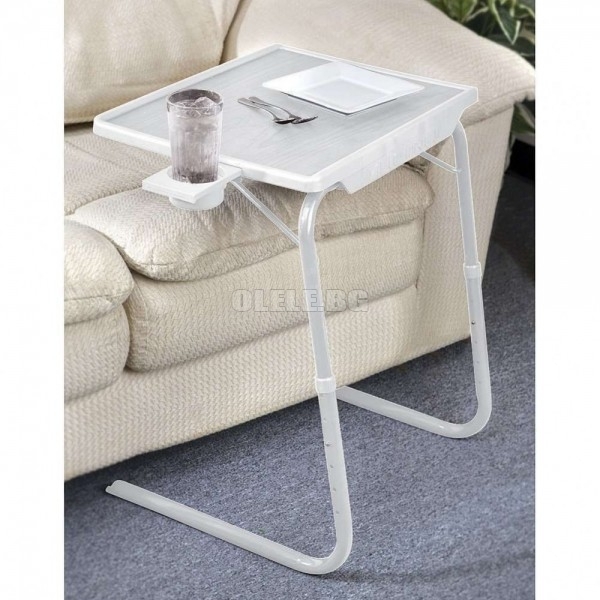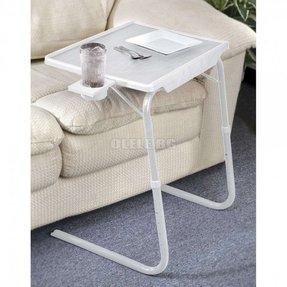 Thanks to this small table, you are getting a portable, compact, durable and functional addition for indoor use. The table stands on a tubular white-finished metal frame that supports a matching top with 1 built-in cup holder.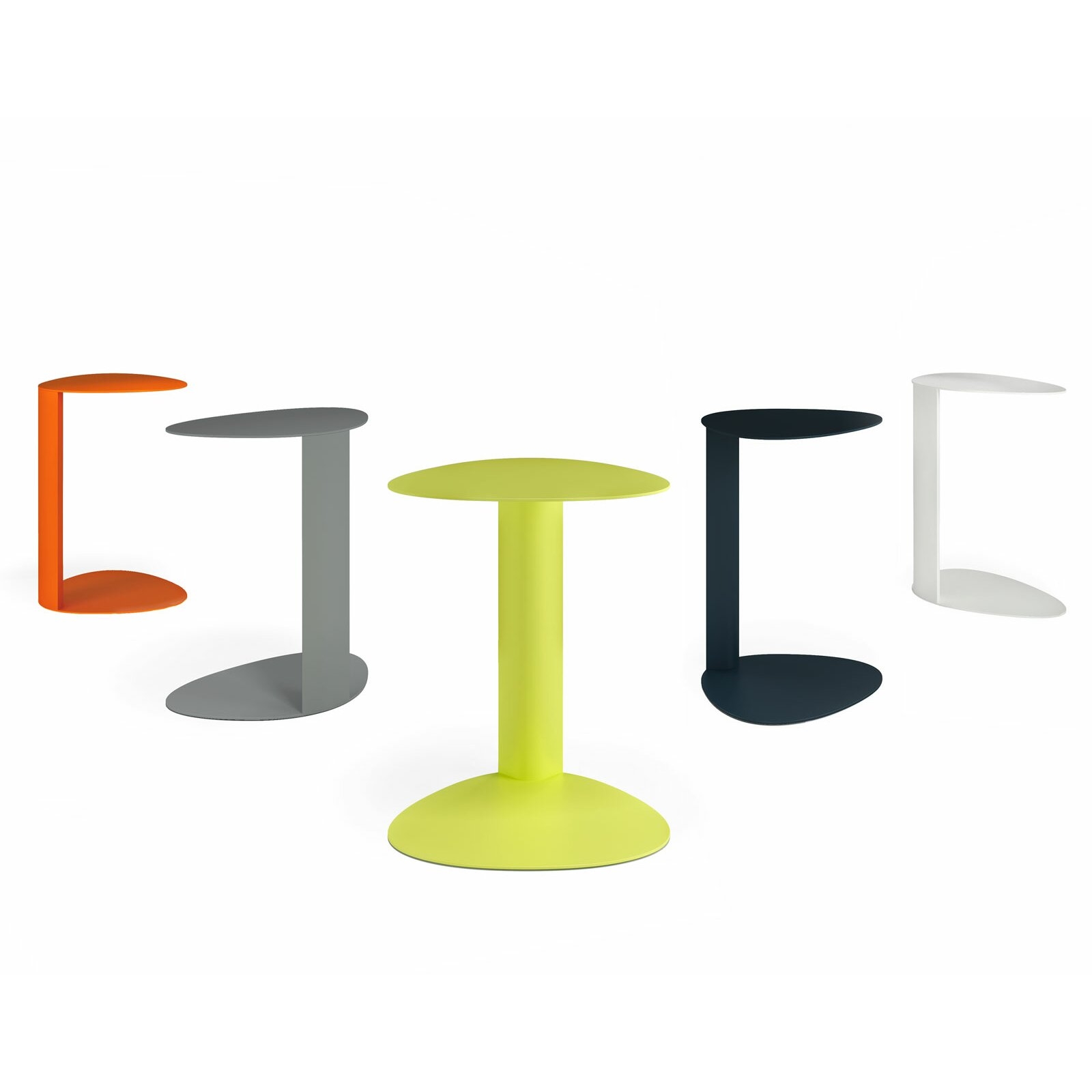 Although they look like colorful stools for children, it is the latest design of the basics sturdy flat TV trays. The top is shaped like tears, as well as asymmetrical bottom. They come in many pastel colors.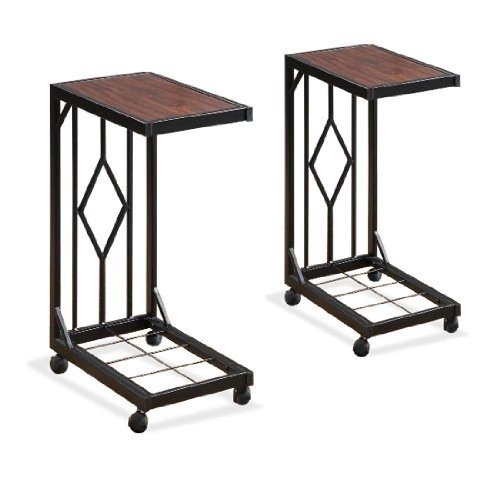 Cool practical side tray tables. A rectilinear frame is of black-finished metal. It features a rectangular wheeled base with a wire shelf and a single-ended suppport with vertical and diamond metalwork. A rectangular top is of brown-finished wood.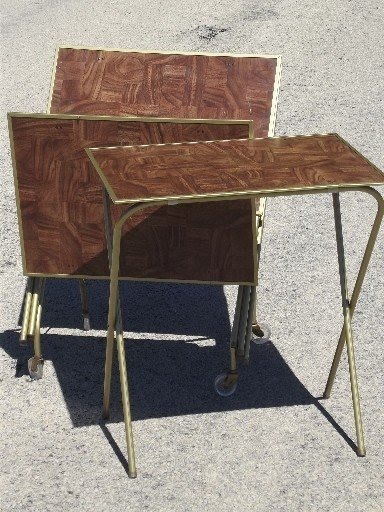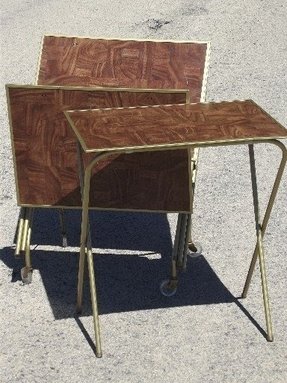 ... prontoShip many sizes amp easy to choose from custom Sturdy TV Trays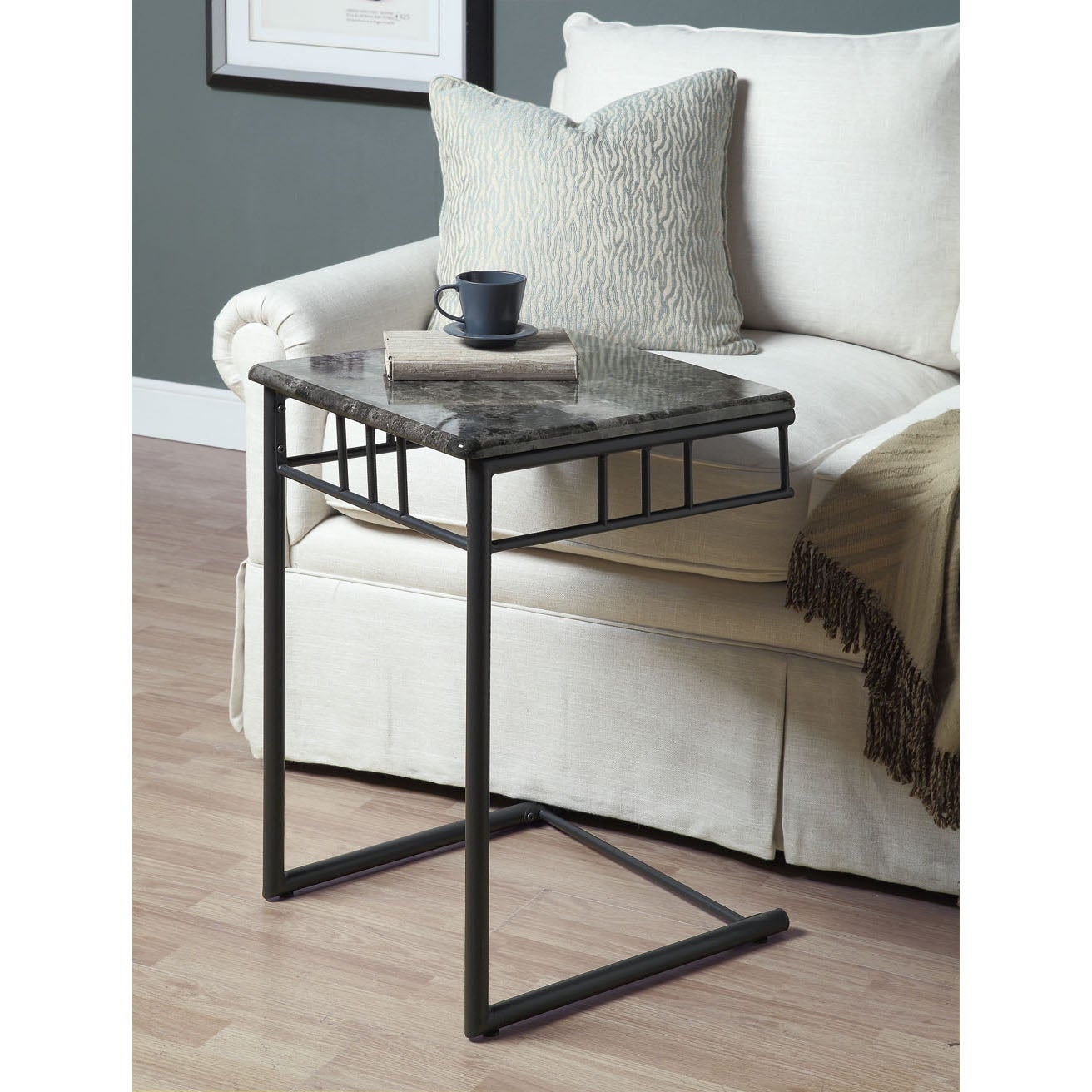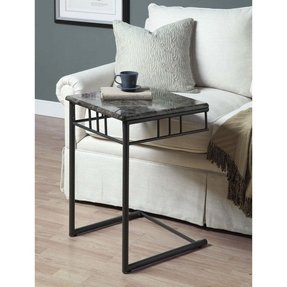 This lovely little table for snacks to great addition to any living room or bedroom. Based on a solid steel base is finished with laminated top. Beautiful details and stable design make it easy to use.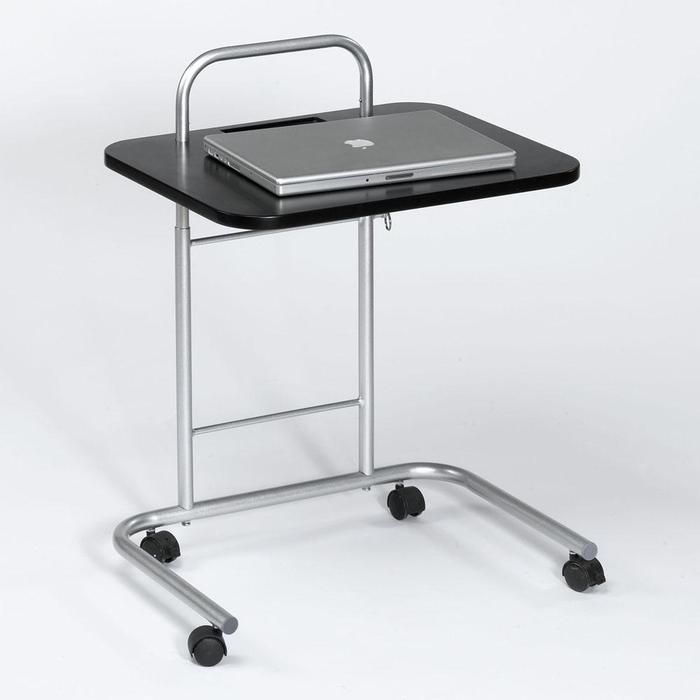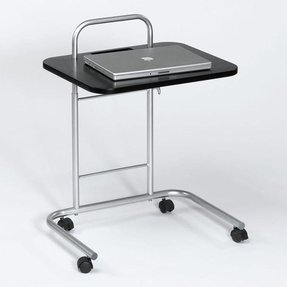 A functional and mobile caddy desk that is height-adjustable, and equipped with 4 caster wheels. The frame is made of silver powder coated metal, supporting a matte black carb compliant wood top.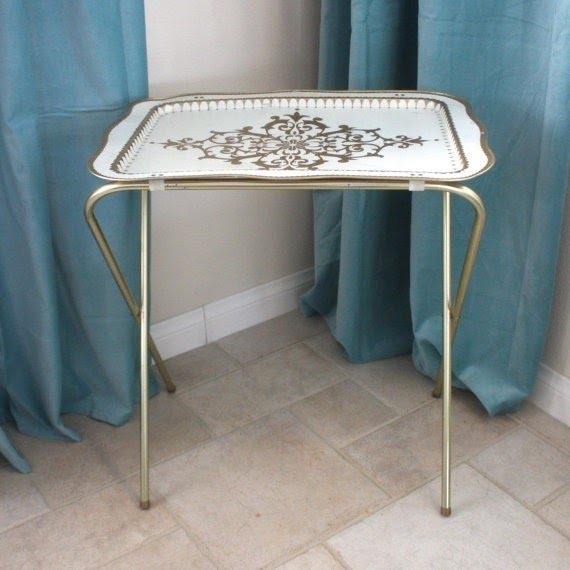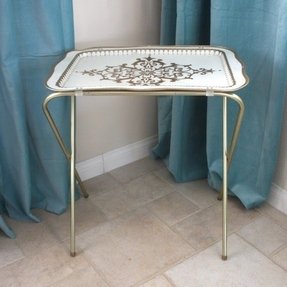 Set of Four Vintage TV Trays - Florentine Pattern in White and Gold ...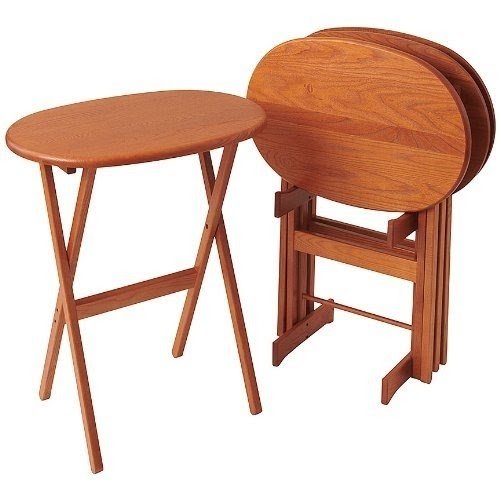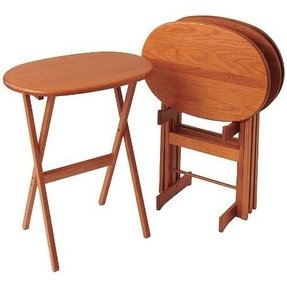 It is a set that includes four tray tables for your living room and family room area. They have got a golden oak finish, solid ash hardwood construction and great quality. You need to have this set.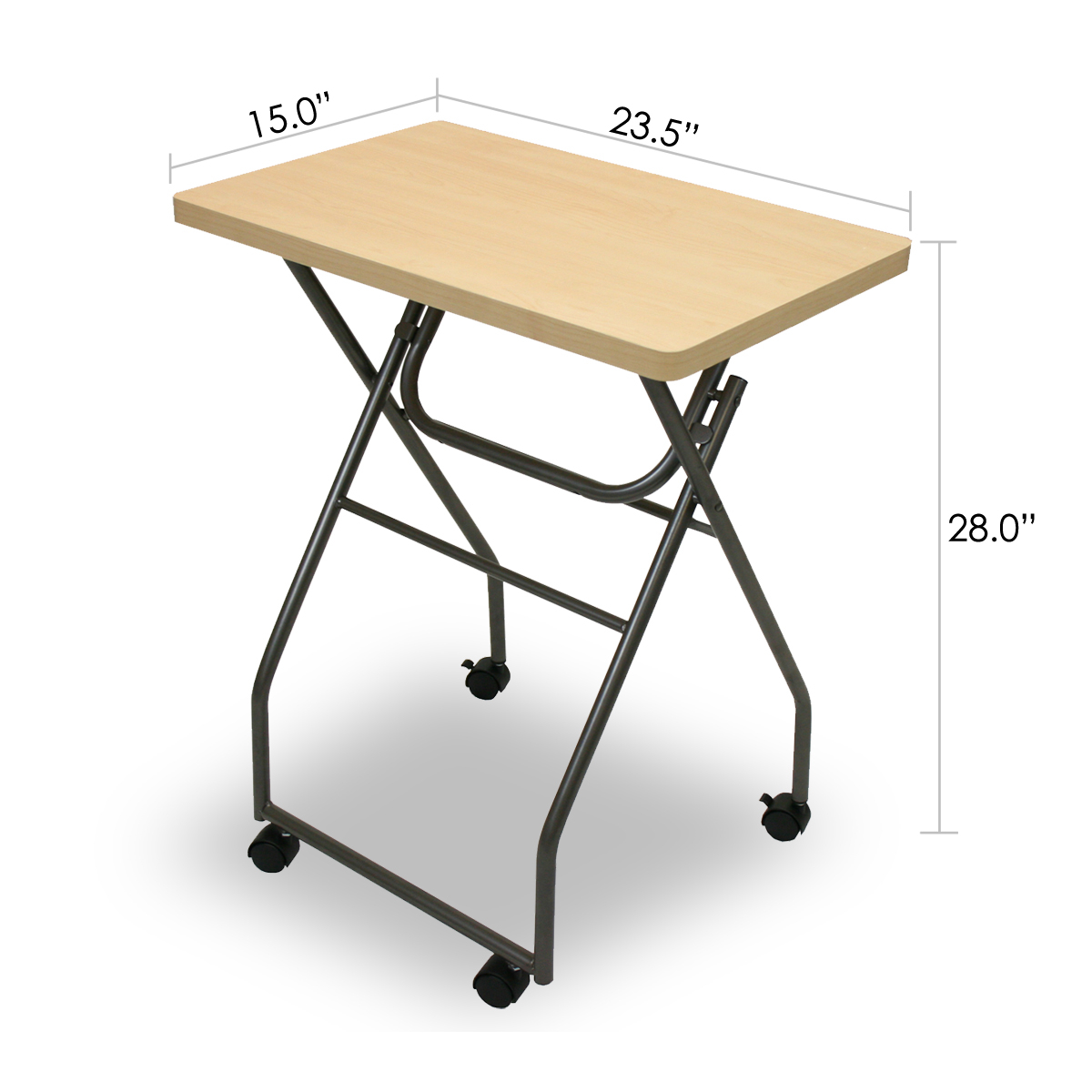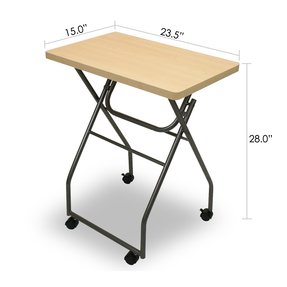 Folding TV Tray Dinner Tables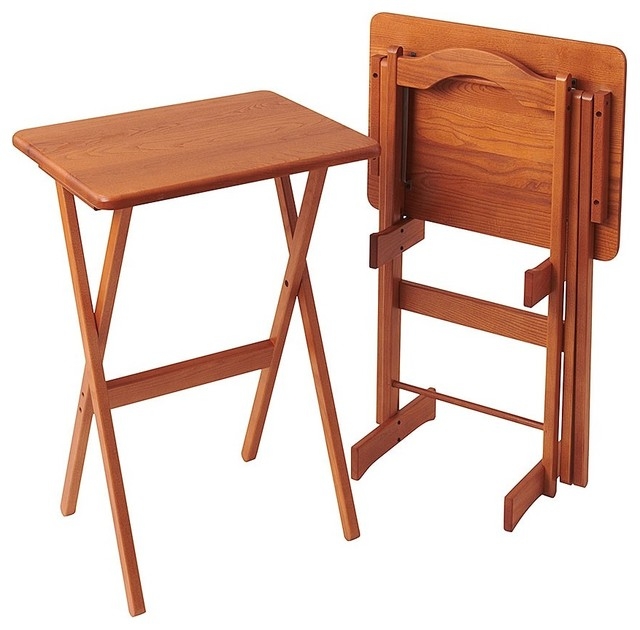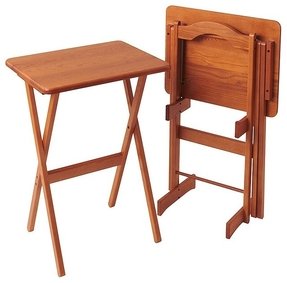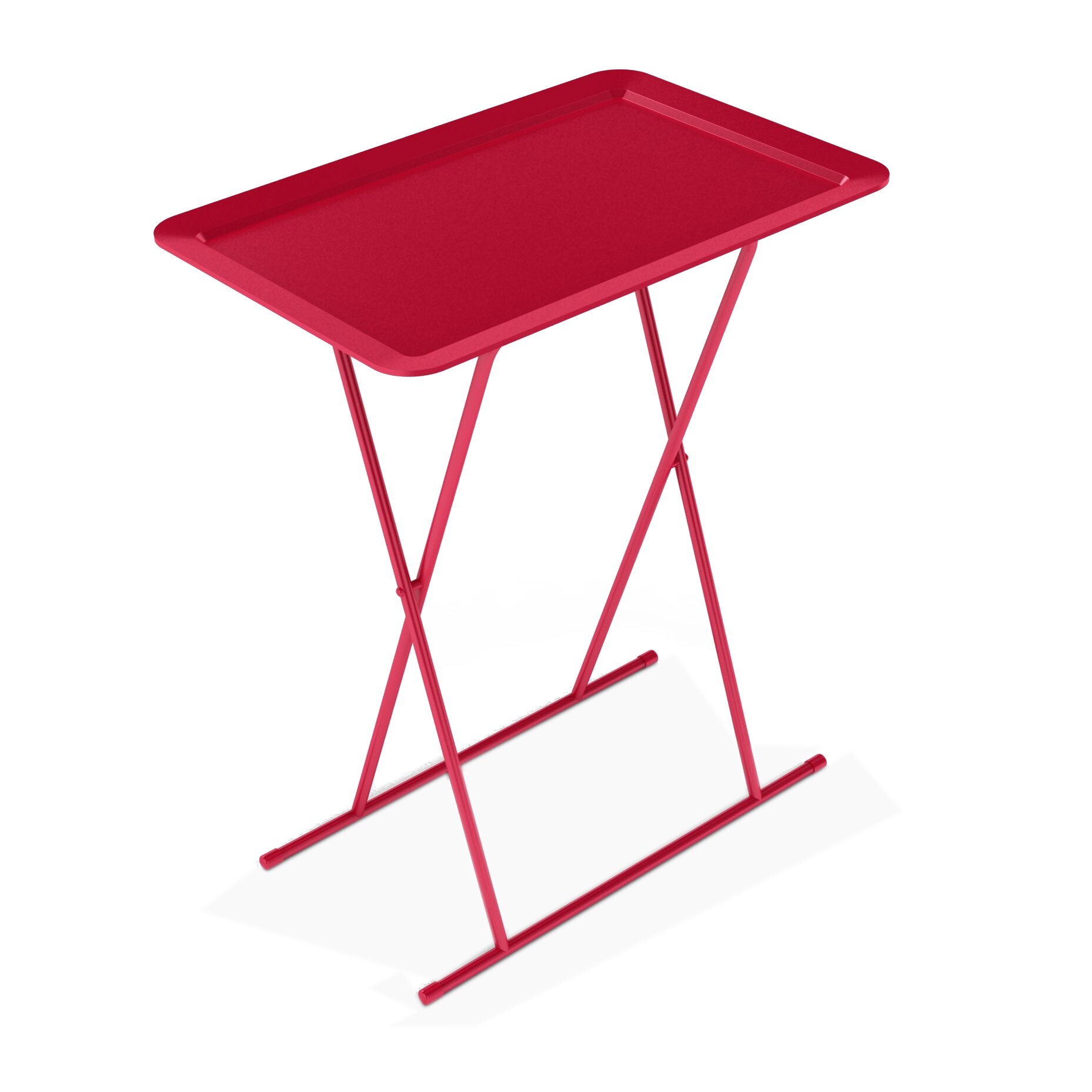 Atlantic Folding Snack Trays (Set Of 2) | Shopping - The Best Deals on Coffee, Sofa & End Tables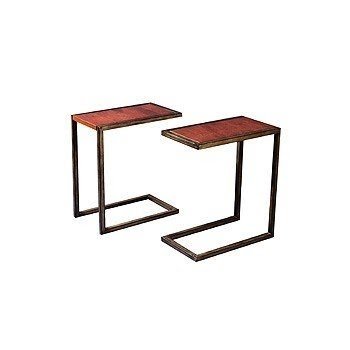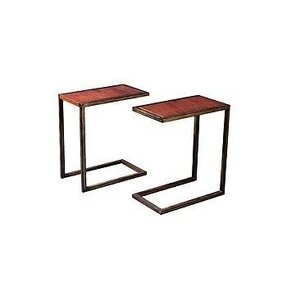 ... Furnishings > Living Room > Accent Tables > Copenhagen TV Tray Table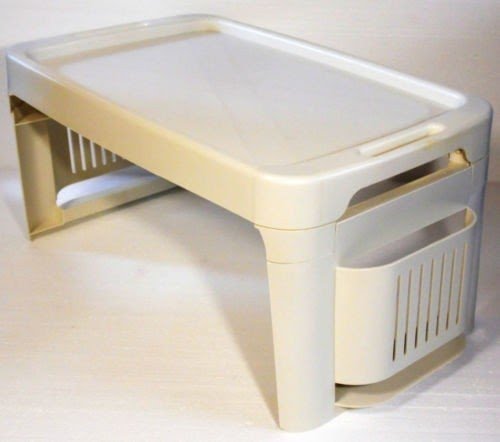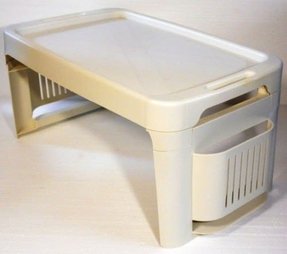 Made of solid material, the lightweight tv tray is a great combination of beautiful design and interesting details. The foldable form makes it easy to fit, easy to store and can be used as a snack or laptop.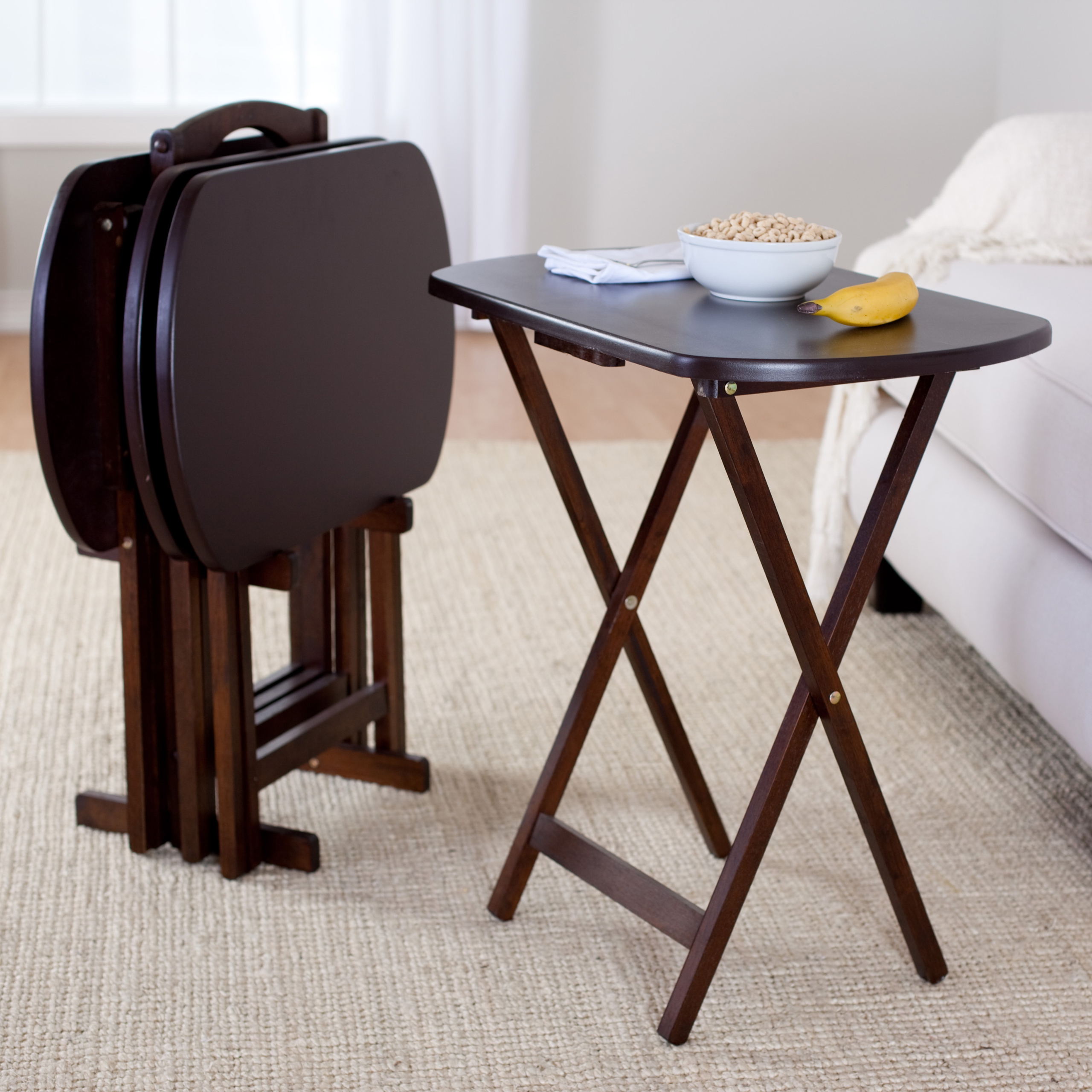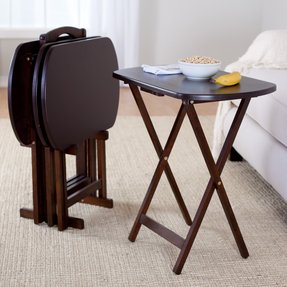 Tell me what house doesn't need a sturdy tv tray. This Winsome piece of furniture has a dark walnut wood finish and classic folding construction. In general, it was made of on-warping MDF wood. Features a stand with a handle for easy storage and movement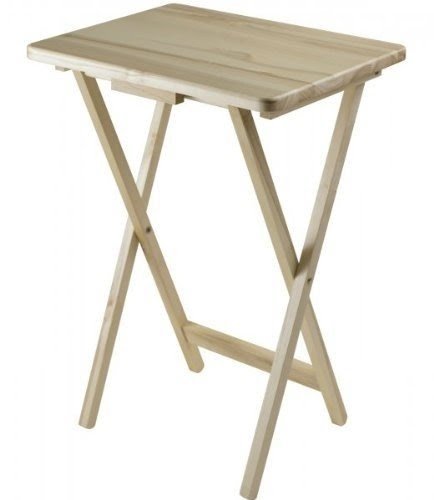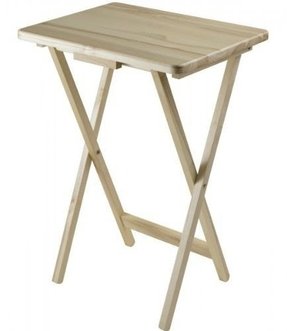 Crafted from solid wood in a natural finish, this handy little tray can be a great companion for watching TV. It has criss-crossed legs for stability, and it can be easily folded for storage or transport. Measurements: 26"H x 19"W x 14.5"D.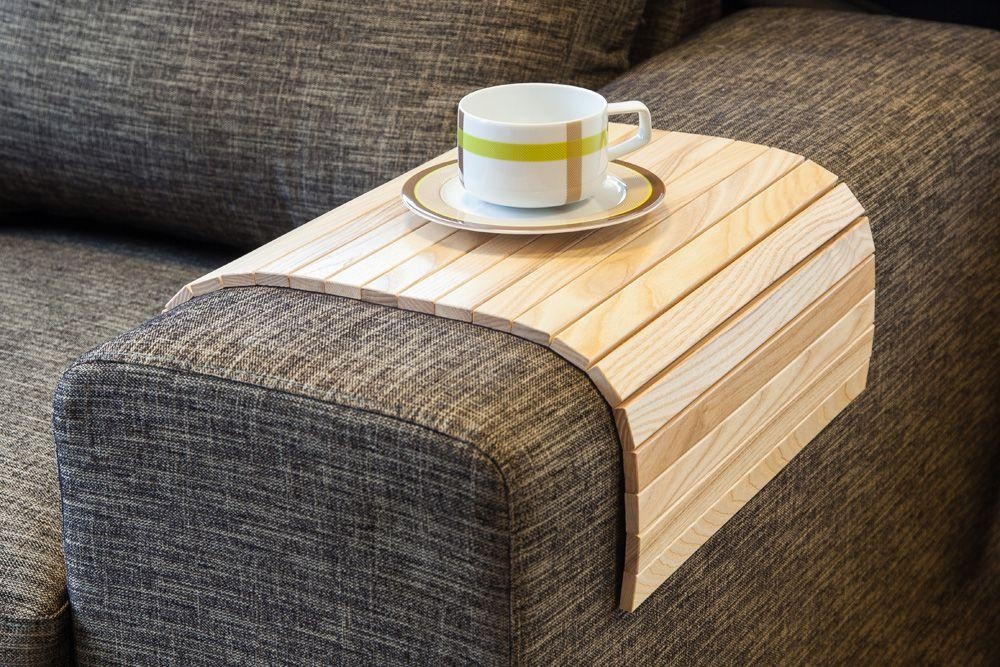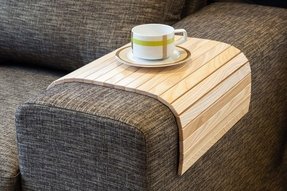 Practical & good-looking over-the-armrest wooden sofa tray. Folds away when not needed, adjusts to all the sofa curves and flats when on duty. Comes in natural finish & a couple more. A smart alternative for end table.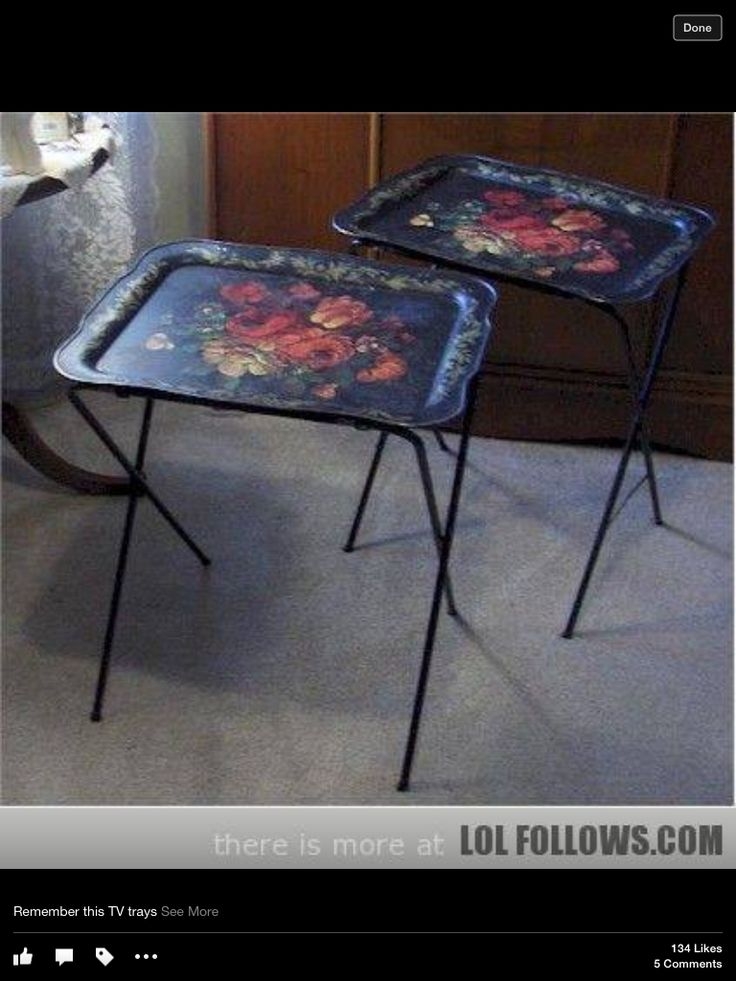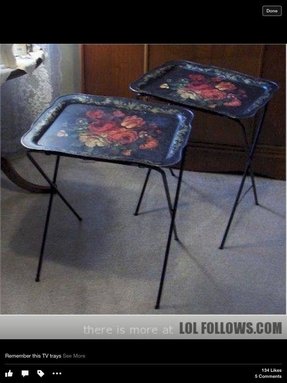 TV tray mounted on crossed legs and reinforced with solid supports. It is made of metal and finished with floral theme. Perfect for serving snacks, drinks or as laptop table. Elegant accent for all kinds of interiors.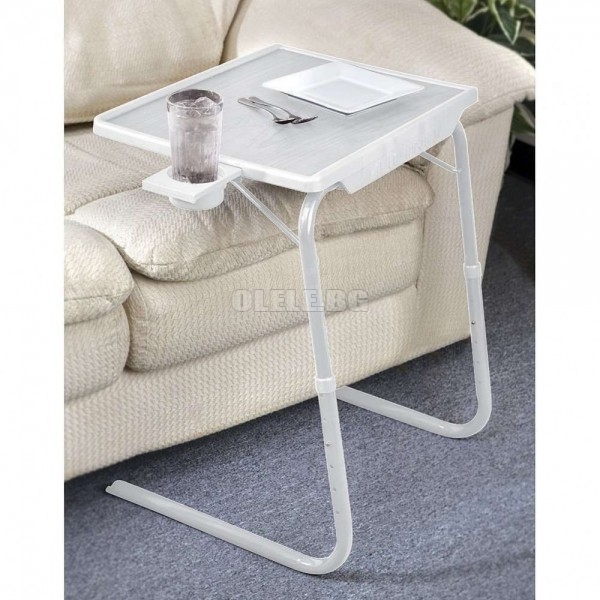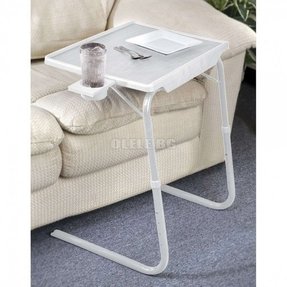 It is a simple and solid portable folding table that can be used as a desk and as a place to rest your laptop. It has got a cream and white finish that fits perfectly to any style and décor.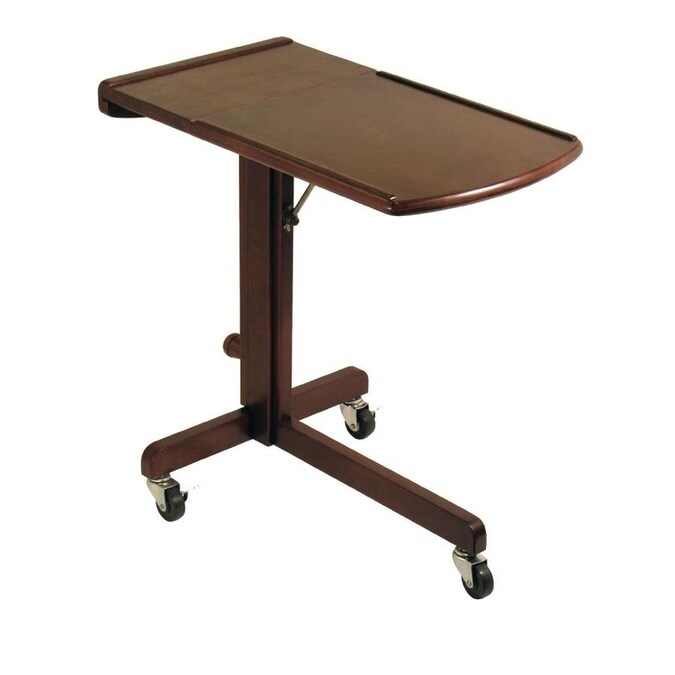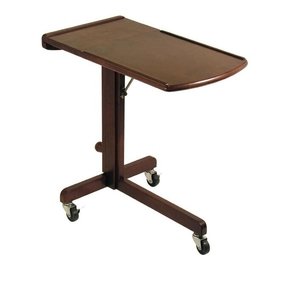 ... Office Furniture > Desks and Hutches > Adjustable Wooden Laptop Tray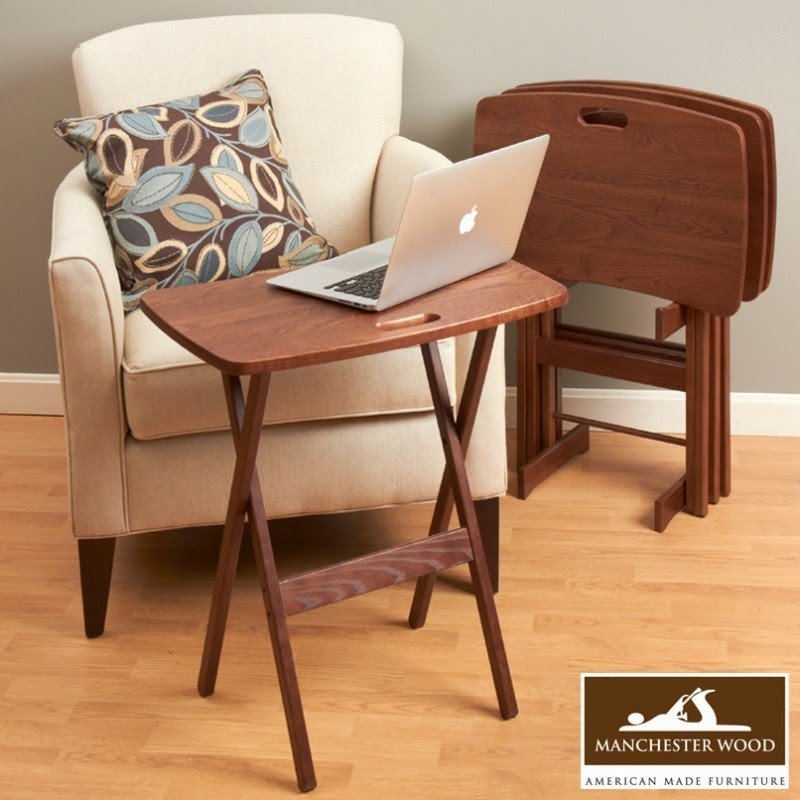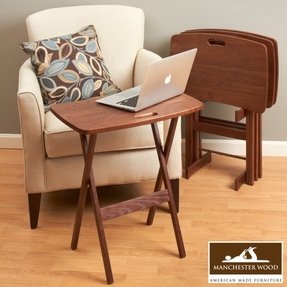 Folding laptop table made of wood. It is mounted on crossed legs and fitted with hole on the top for carrying. It folds flat for easy storage. Handy gadget for each home. It is very well appreciated by customers.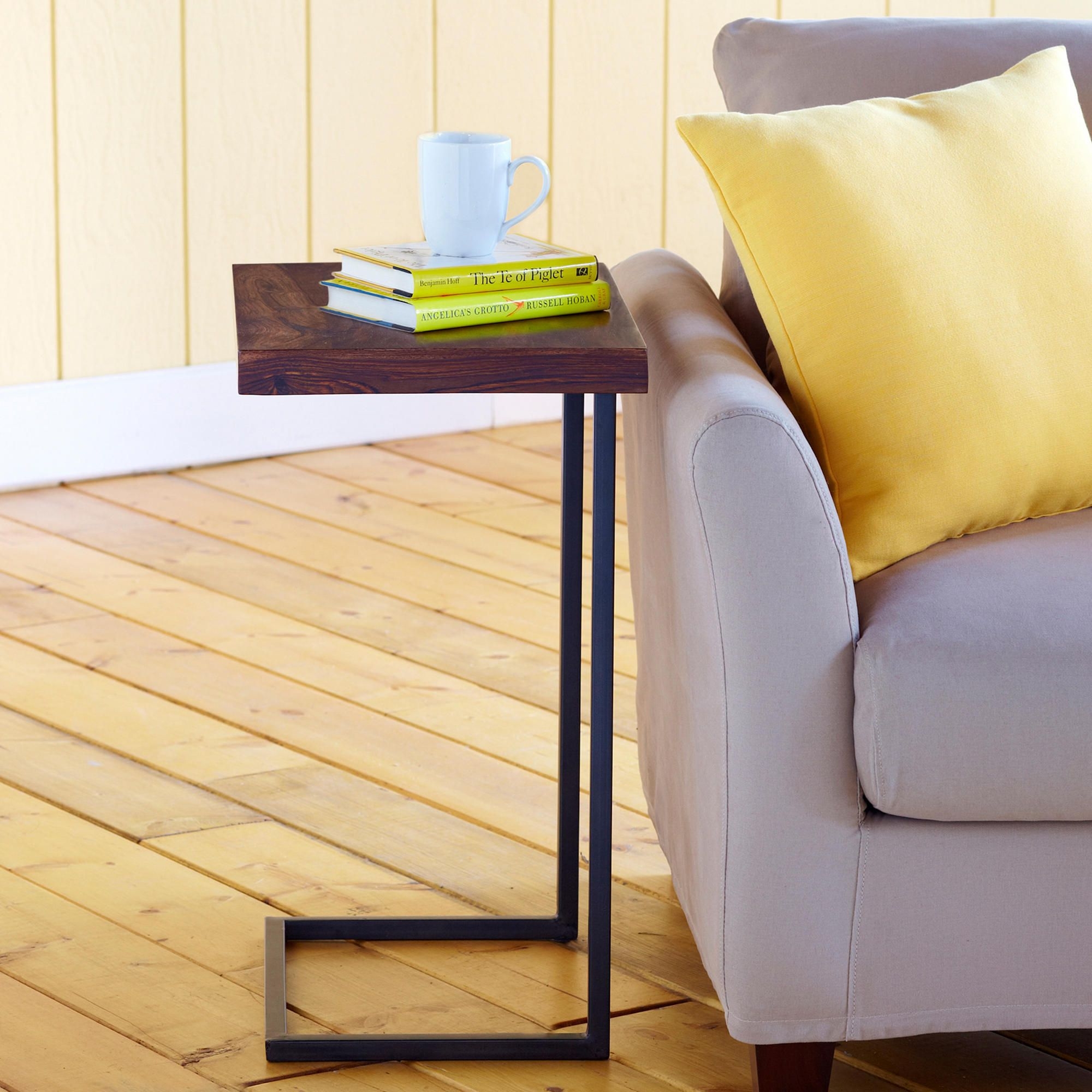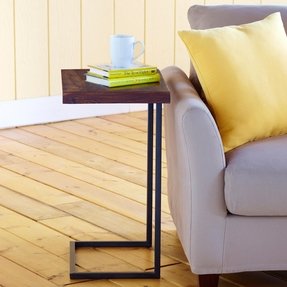 Add a functionality into your living zone and choose the laptop table with modern design. It features the metal and sheesham wood construction. It can be used as an end table or nightstand. It brings the simplicity and durability into any home.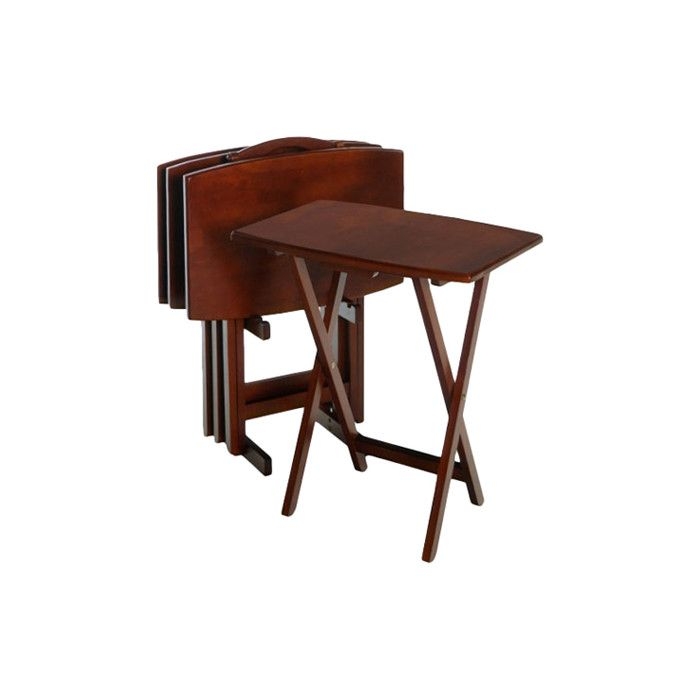 FoundFeatures: Four TV tables with wooden tops and sturdy legs Upright foldable storage stand Walnut finish Regalia collection it at Wayfair - Regalia TV Table Set with Stand 82- and free shipping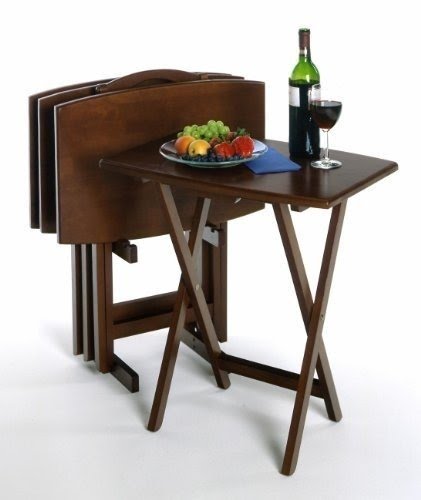 Crafted of espresso-finished wood, this TV tray with criss-crossed legs brings functionality to any decor. It's lightweight, durable, and beautiful; and you can easily fold it for storage or transport.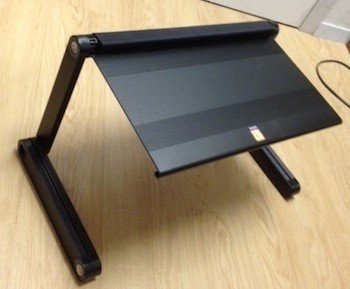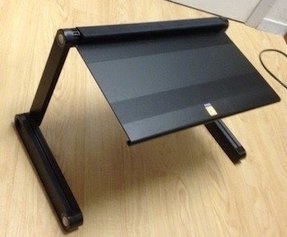 LapDawg's X-4 Laptop Table is Unique And Useful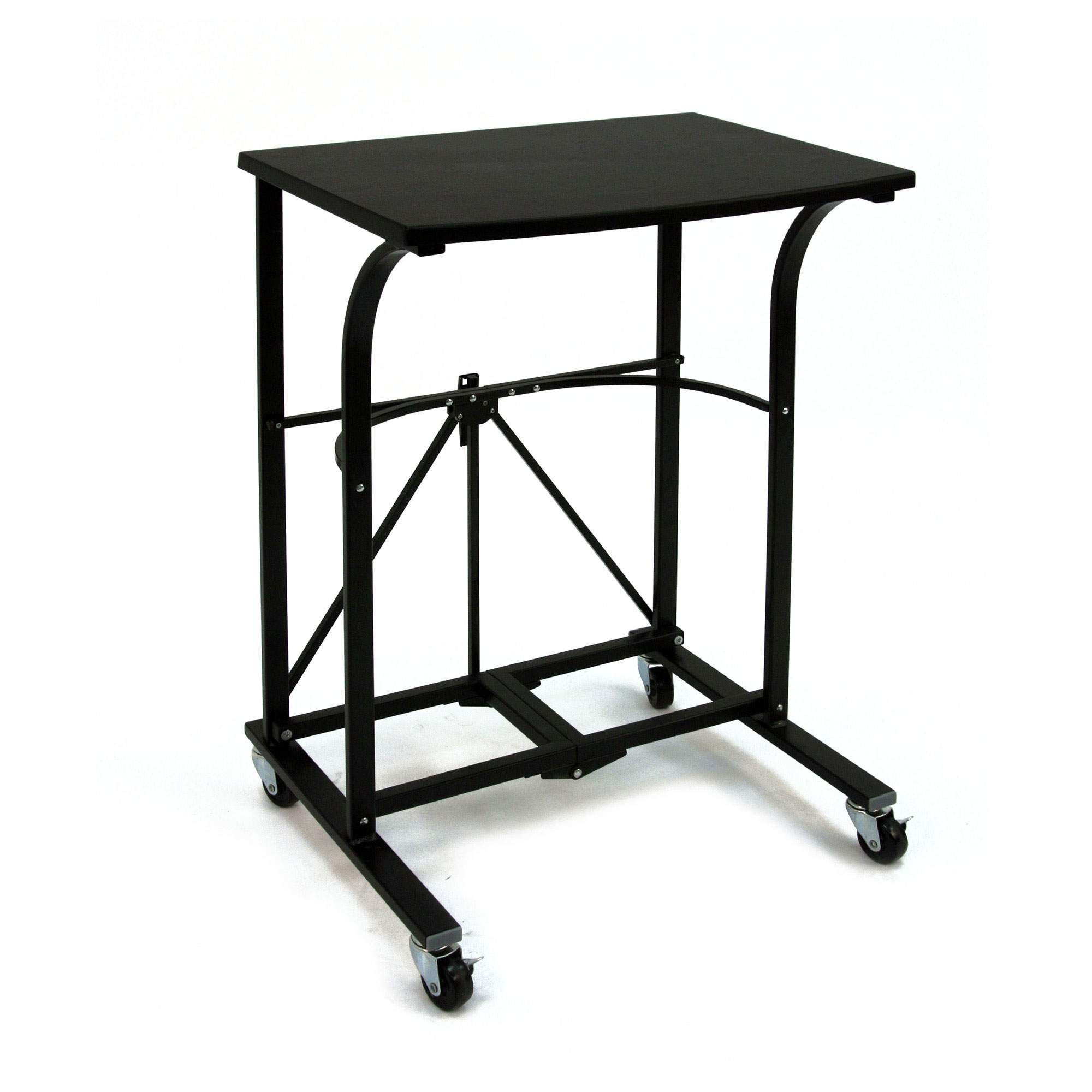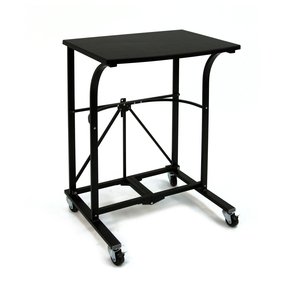 Go for this foldable laptop trolley that comes constructed of durable, powder coated steel frame and comes with swivel wheels for easier transportation, making it a must-have for any respecting interior.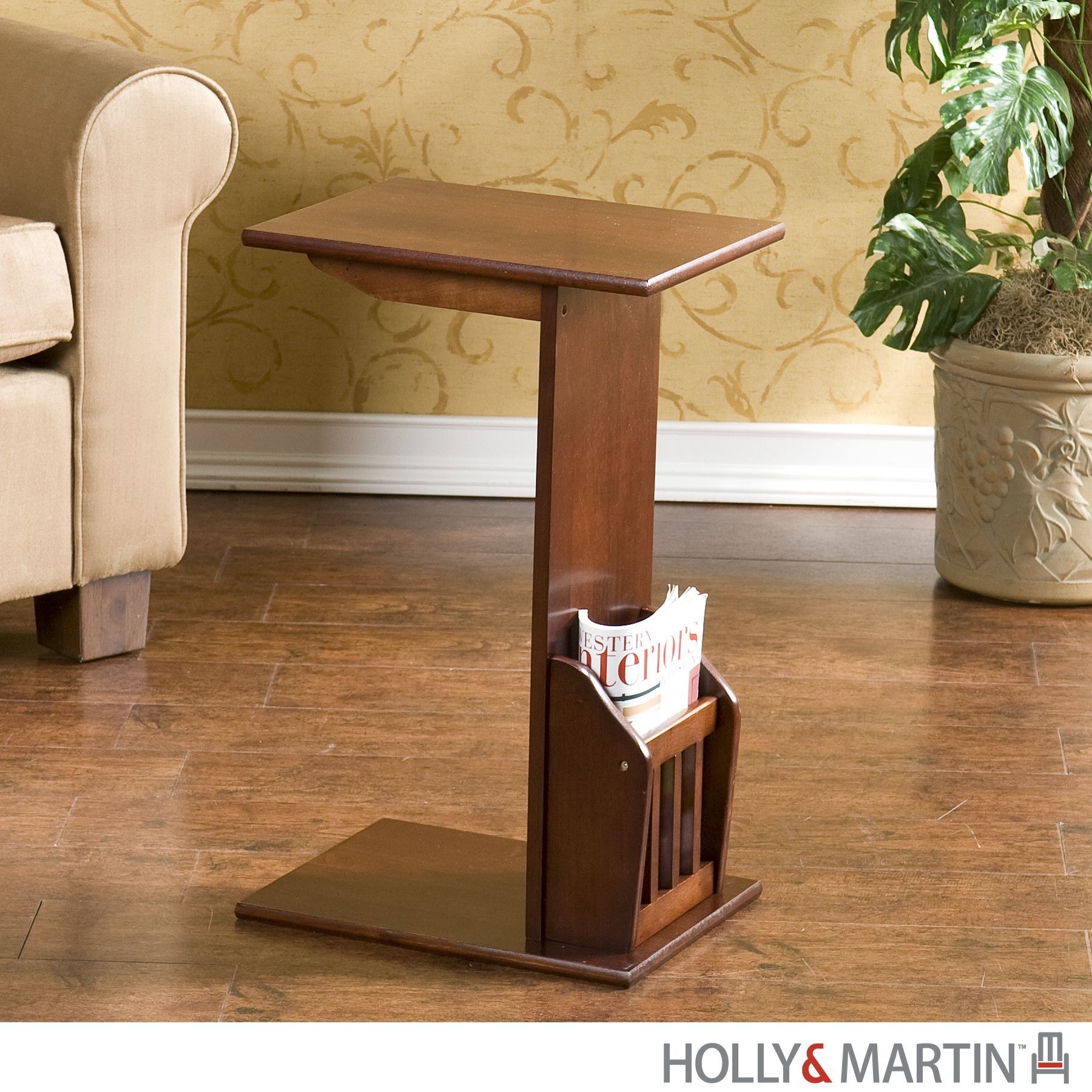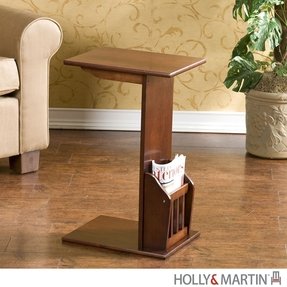 This kind of product is a tray table with a magazine holder. Its size is not very large, so it fits perfectly into small rooms. It is a table that has got a solid wooden construction that is resistant to wear and damage.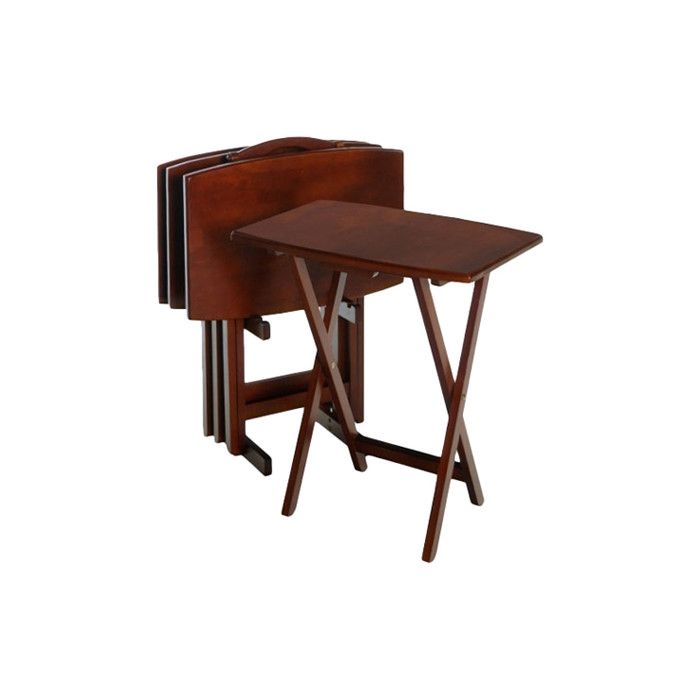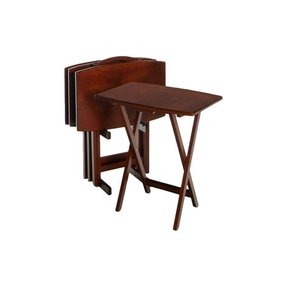 Lightweight, functional and portable - those TV dinner trays fold easily for transport and storage. Made of sturdy wood, each tray offers a stylishly-shaped top, and criss-crossed legs with stretcher for stability.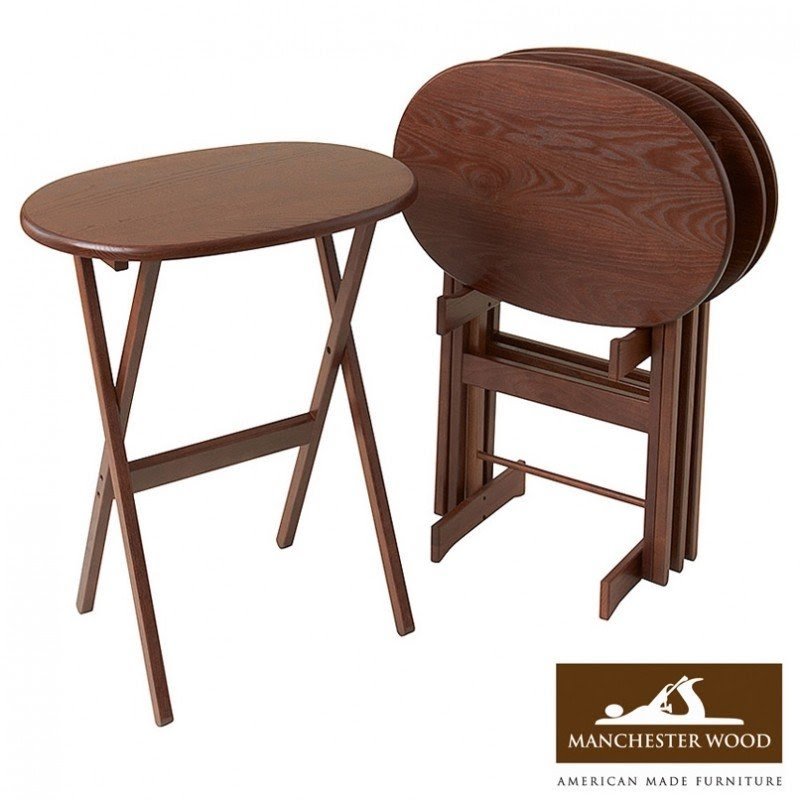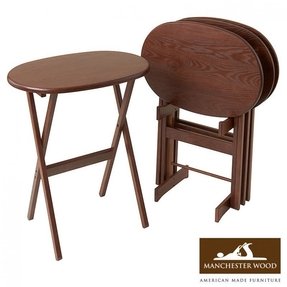 A folding table tray can be an essential item at home. Perfect for playing cards, eating dinner, doing work, or providing more table space for big family gatherings. The Oval Folding TV Tray Tables bring style with a sturdy solid wood construction. Produc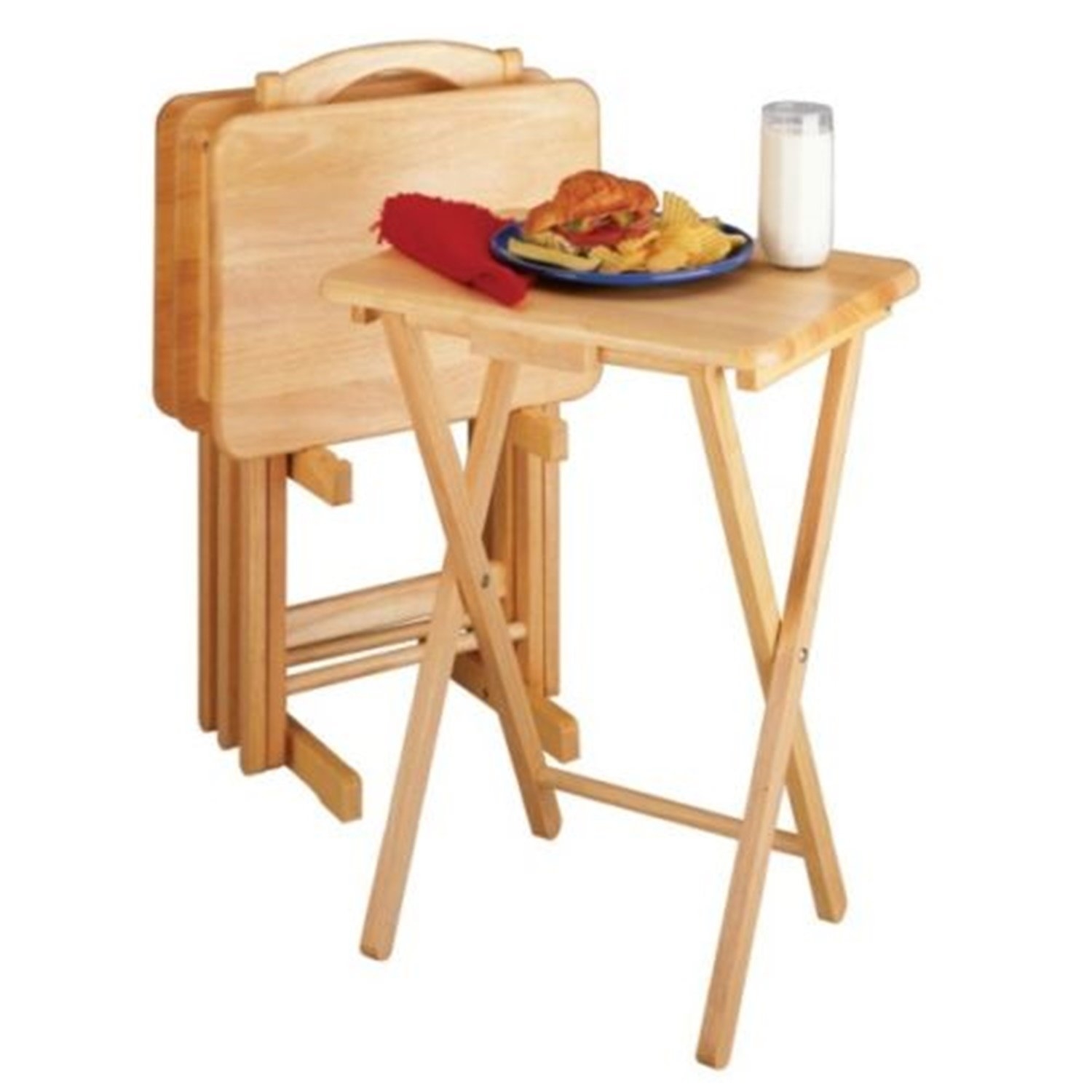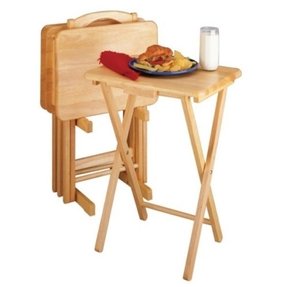 Kitchen: Country Style Wood TV Tables in Natural - Set of 4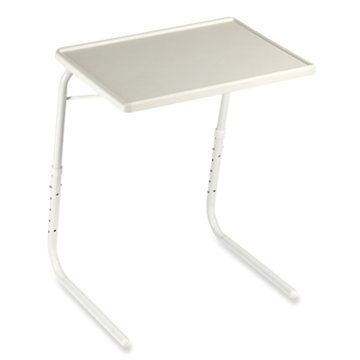 Sometimes we have the most comfortable armchair in the world, where we work or learn, but we do not have space for a desk anymore. Then a white, slim sturdy tv tray comes in relief, which can be added without any obstacles, with adjustable metal white legs.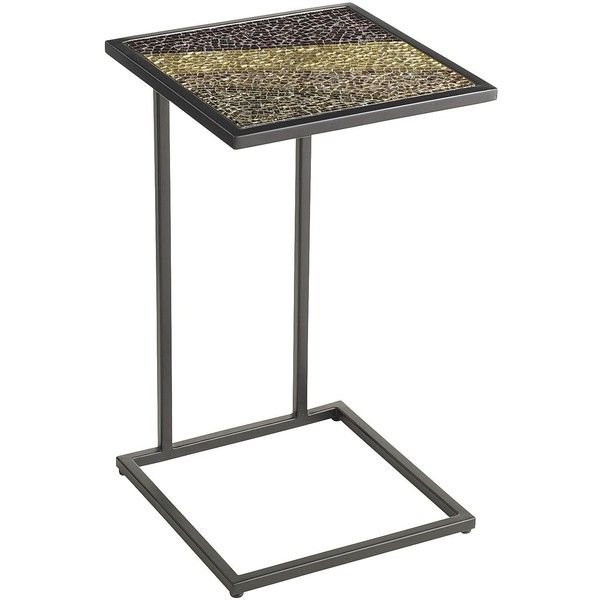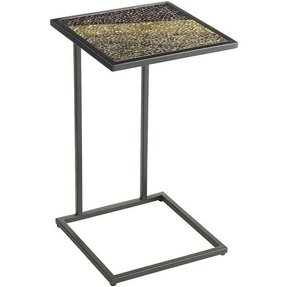 A compact TV tray that will, surely, come in handy around a house. It's made of durable steel, with a square flat base that easily slides under sofa, and a reversible top that is decorated with a beautiful mosaic.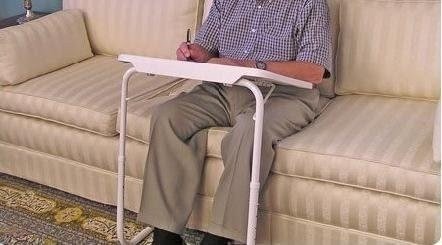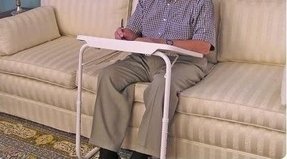 Adjustable Tray Table for TV, Couch, Bed, Porch or Garden. Adjusts & Folds Easily, Excellent Space Saver. For all Ages & Environments, Senior Friendly. Very Popular with Assisted Living, Elderly or Disabled. White. by EV. $25.00. Great size of 28.5 x 20.2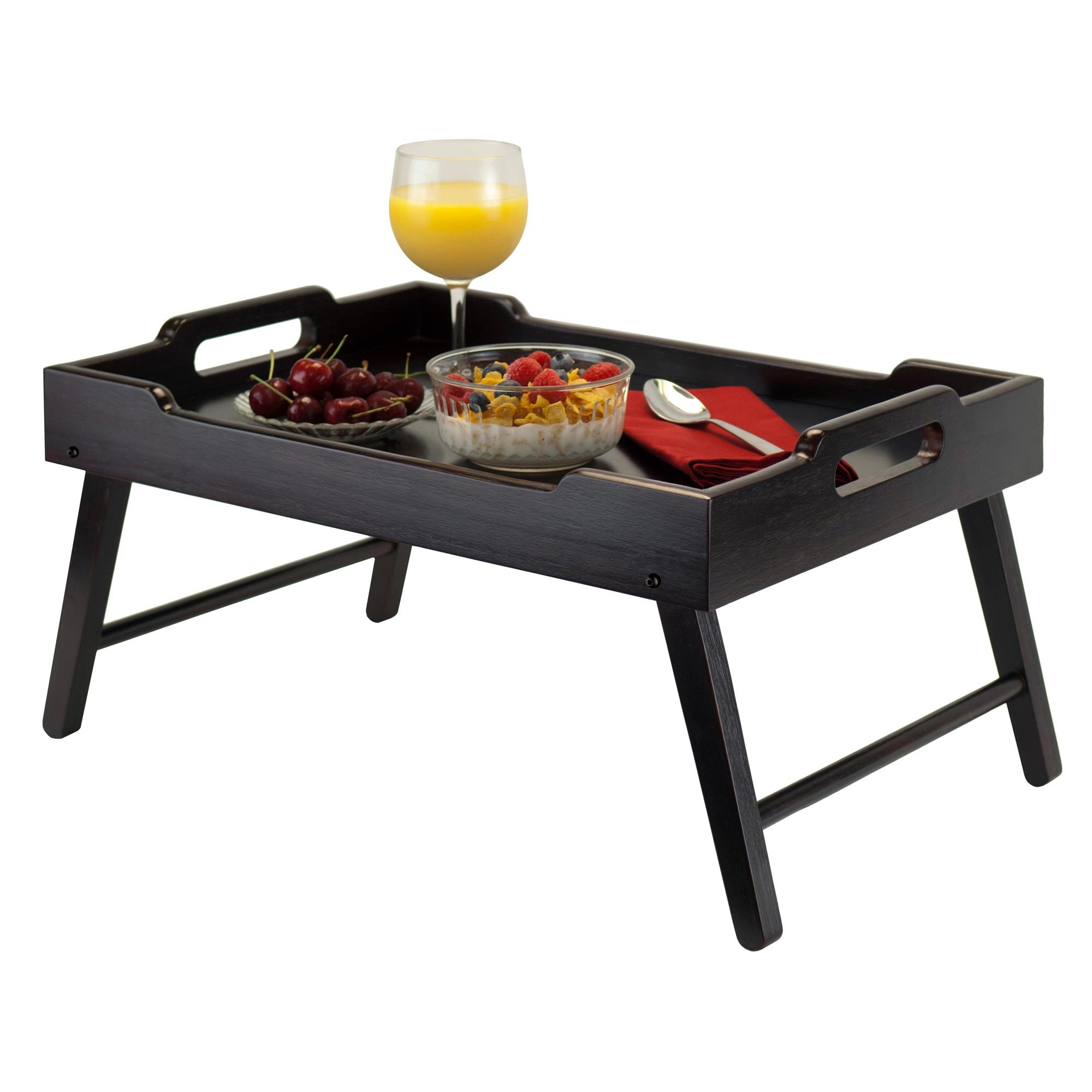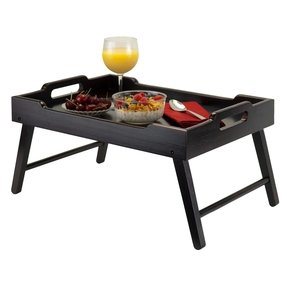 Bed tray with dark espresso finish, folding legs and handles. Thanks to use of folding legs storage of the tray is very easy. Additionally, it features nice classic design which should appeal to majority of people.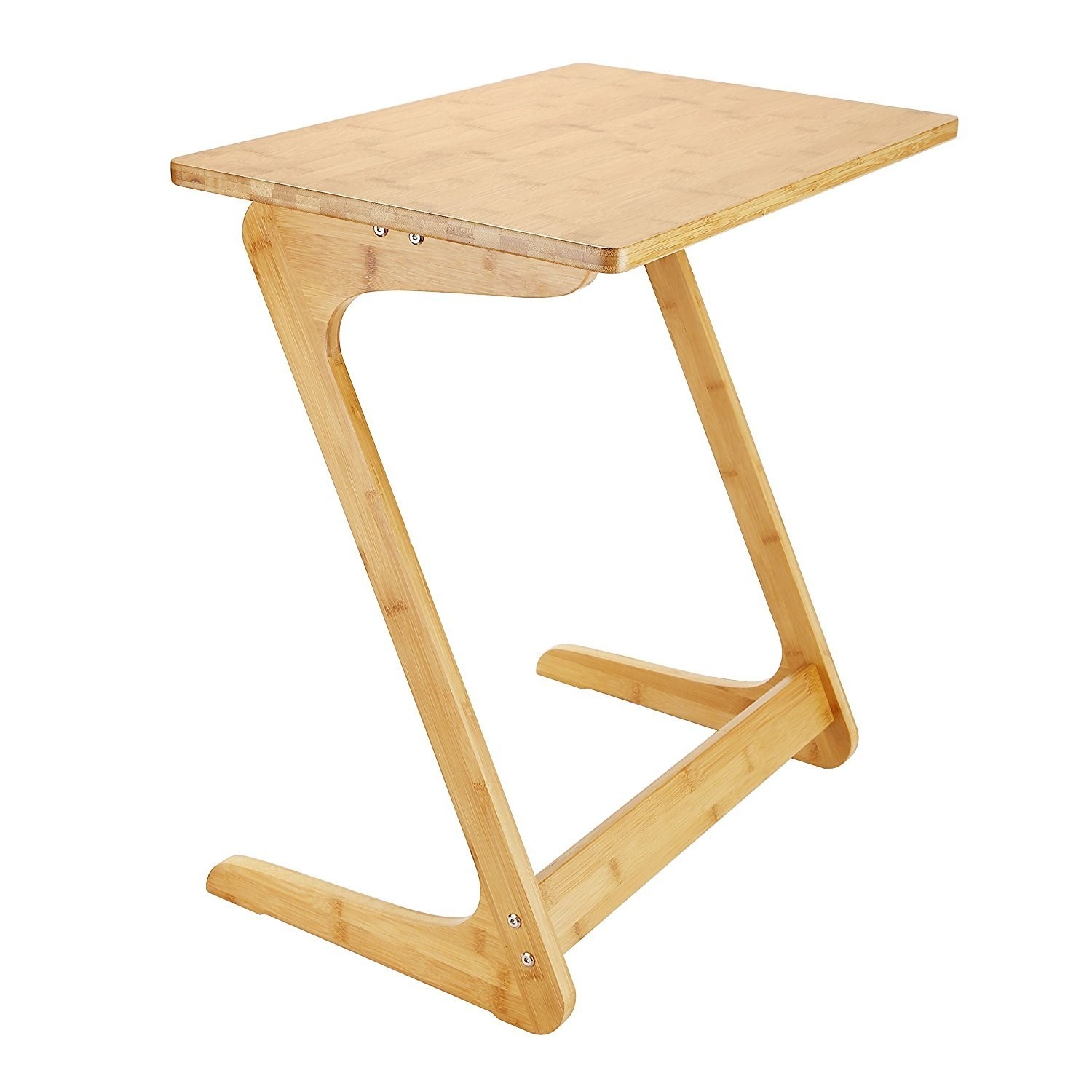 Top 10 Best TV Trays in 2020 - The Double Check