Console Table and Mirror Set
It's no doubt that console tables are a lovely addition to have in any entryway. For one, their slender design allows them to fit snugly in tight spaces while providing a landing place for your daily essentials, such as keys and loose change. On another note, a console table can set the tone for your home and add a beautiful accent to the setting!
But what if you throw a mirror into the mix? Indeed, there's no better way to wow your guests from the moment they step inside than with a console table and mirror set.
Not only does a mirror create the illusion of a larger and brighter room, but it can also make your entryway even more functional! Who wouldn't want to catch one last glance before heading out the door?
With that said, here are ten types of hallway table and mirror sets that will surely transform your space for the better.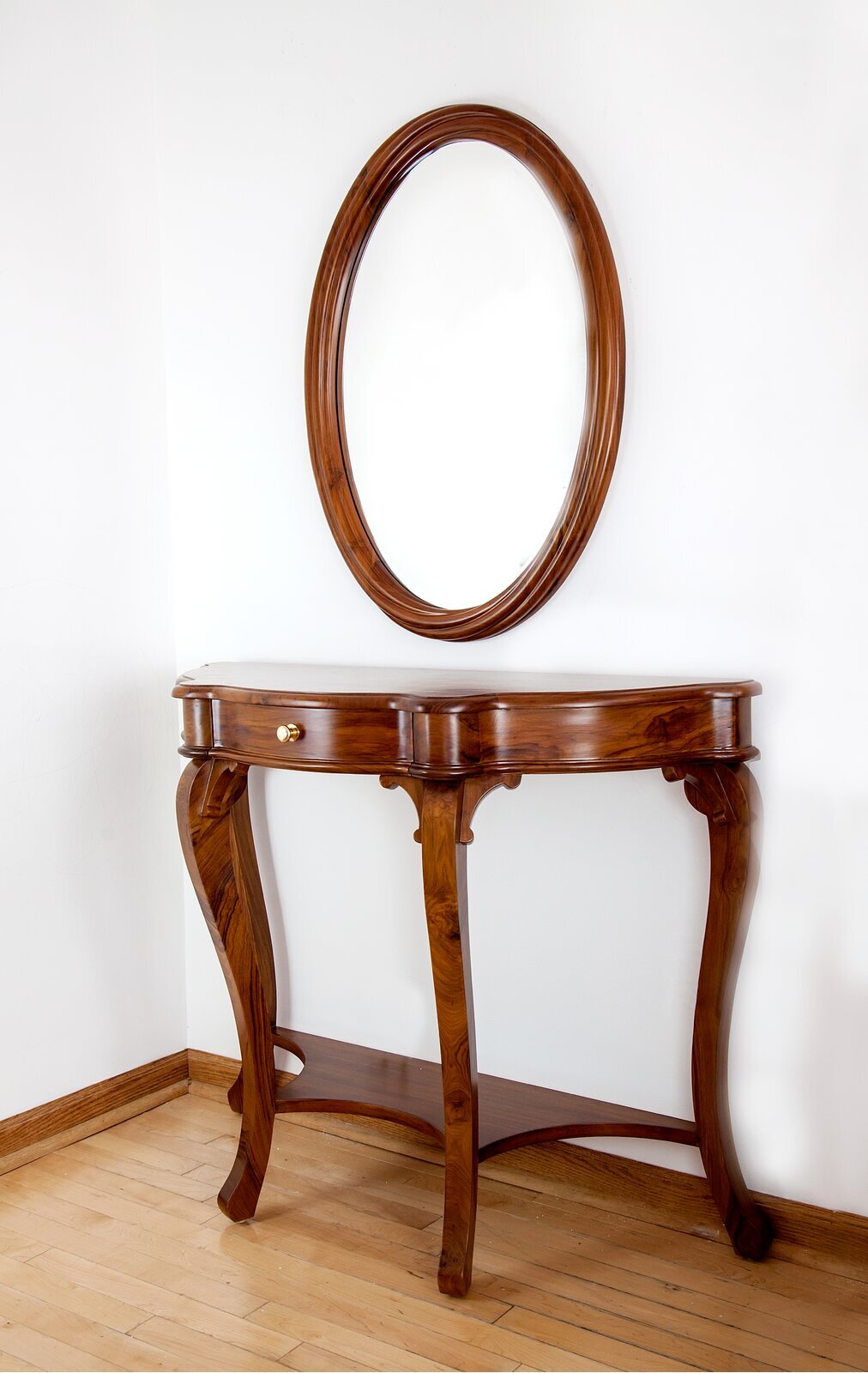 Console table with mirror in traditional style

Want your foyer to exude a warm and inviting vibe? If yes, look no further than a console and mirror set with a classic design element!
With curved details, beveled edges, and a rich, glossy finish, these attractive pieces of furniture have a timeless appeal that never goes out of style!
Typically made from solid wood, a traditional table and mirror set is one of the sturdiest options out there, and thus it can be passed down from generation to generation.
As for styling your elegant console table, an ornate lamp will definitely add to the cozy old-world charm!
$4399.99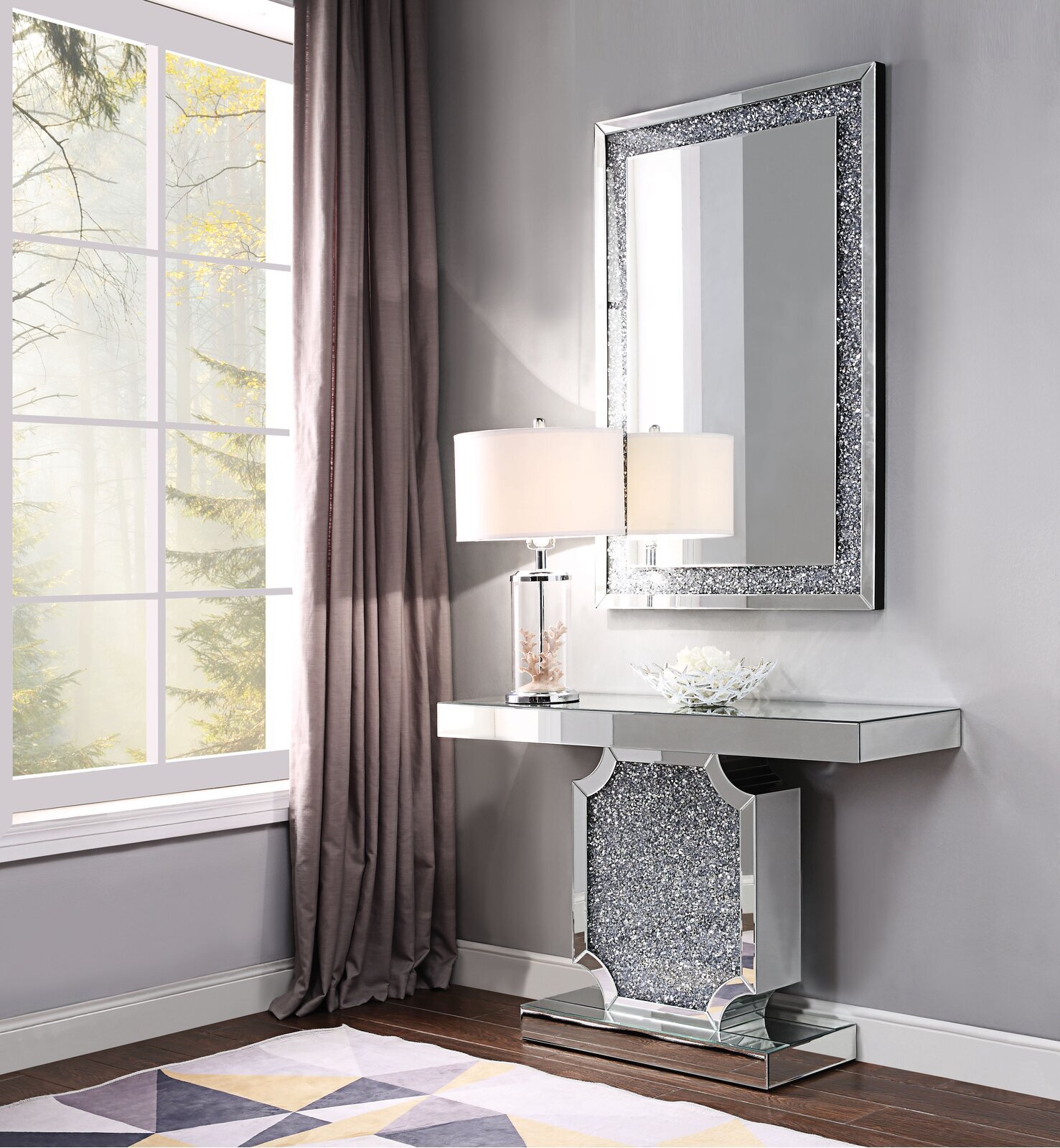 Console mirror and table set with mirrored finish

If you feel like your entryway is looking a little bit too drab, consider jazzing it up with mirrored furniture. Yes, we're talking about a mirror-covered console table with mirror set!
It's trendy, attention-grabbing, and super useful to say the least.
Since mirrored surfaces are naturally reflective, your space is bound to be brighter than ever! Plus, they can visually expand the room, making them a perfect choice for smaller hallways!
Worried about their durability and maintenance? Fret not because these sets are fairly scratch-resistant and easy to clean compared to other materials, such as wood and metal.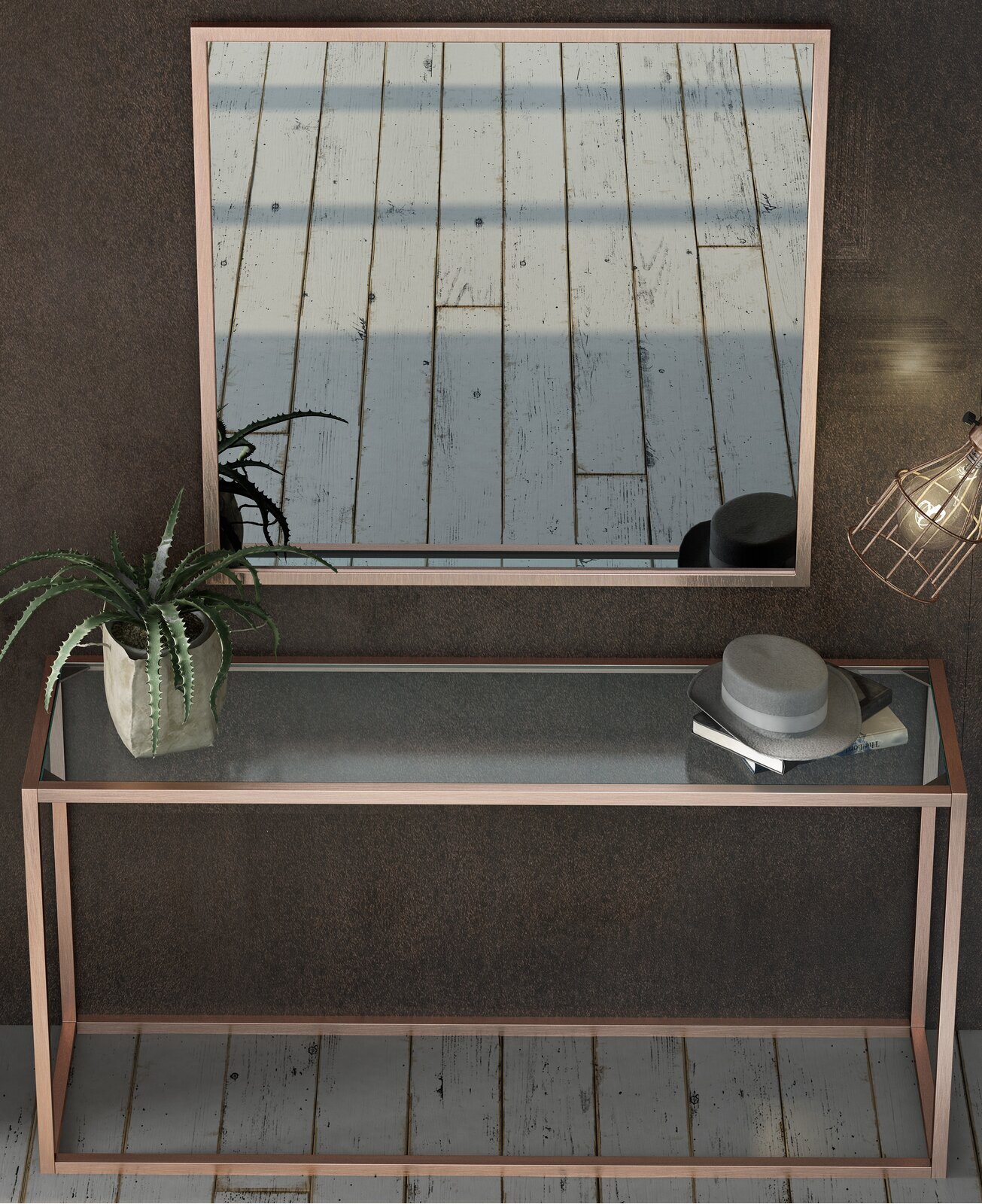 Minimalist mirror and table set without drawers

Although simple in form, a minimalist entryway table and mirror set can create a pleasing focal point in any interior design scheme, be it contemporary, Scandinavian, or traditional!
Furniture pieces in this style boast a streamlined and unfussy look with a dash of modern appeal.
The best part is, they're available in wooden, metal, and glass versions, so you can choose according to your liking and needs.
Most minimalist sets don't include any storage compartments, which could be a dealbreaker for some. However, they're great for making a stylish statement when paired with a couple of decor items, such as books, plants in beautiful vases, as well as a decorative bowl or tray.
$2599.99
Modern console table and mirror set

Similar to minimalist designs, modern console table and mirror sets are all about clean lines and simplicity, the main difference being that they incorporate geometric shapes and abstract patterns as well.
Panel, oval, diamond, and art deco mirrors all deliver a stunning visual impact, especially when combined with contemporary entryway tables.
Since these accent pieces of furniture stand out as a centerpiece on their own, it's best to keep the decor at a minimum so as to not compete with the set.
$1029.99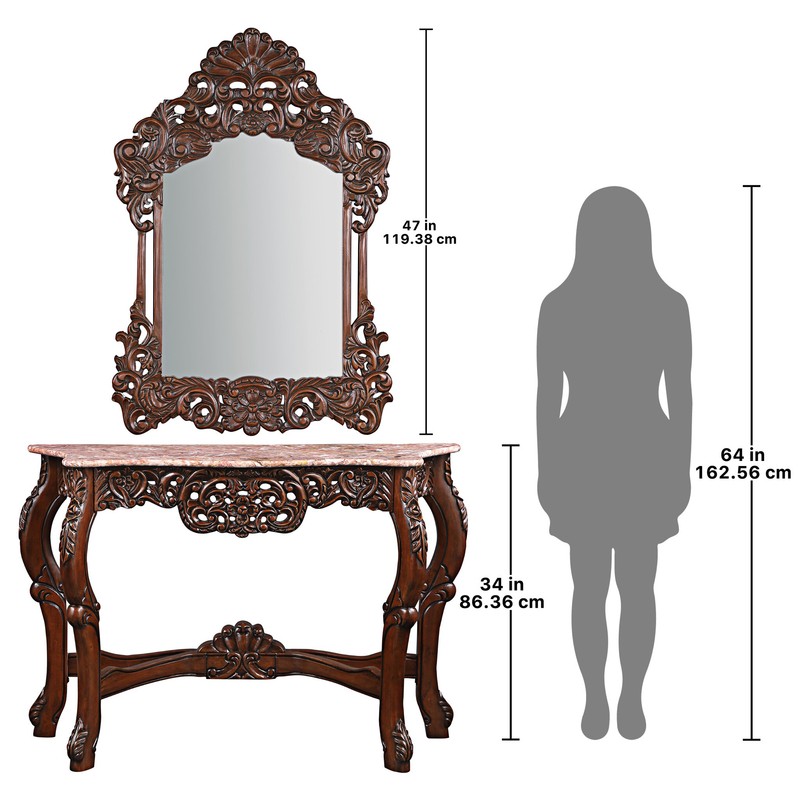 Console table and mirror with intricate carvings

Are you planning on furnishing your historic abode, but can't decide which direction to go in? How about a French-style console table with matching mirror that oozes royal charm and magnificence?
Featuring highly ornamental scrollwork, antique accents, and solid wood construction, these console tables and mirrors are the epitome of function and opulence.
To achieve an even greater sumptuous look, go for a table with a marble top! Also, don't forget to throw in a few antique accessories to make your space feel more personal and balanced.
$1596
Stylish yet compact console mirror set

Of course, not all entryways are large, open spaces. Some happen to be very narrow with walls on both sides, while others are right next to stairs, which can be tricky to decorate. If this is the case for you, then your best bet would be a space-saving hall mirror and table set!
Remember, just because it is small doesn't mean it has to be ugly and plain-looking.
There are plenty of design options when it comes to small-scale console tables and mirrors. For instance, there's industrial with a mixed-material silhouette, a slim traditional piece with a bottom shelf, as well as a contemporary console in a demilune form.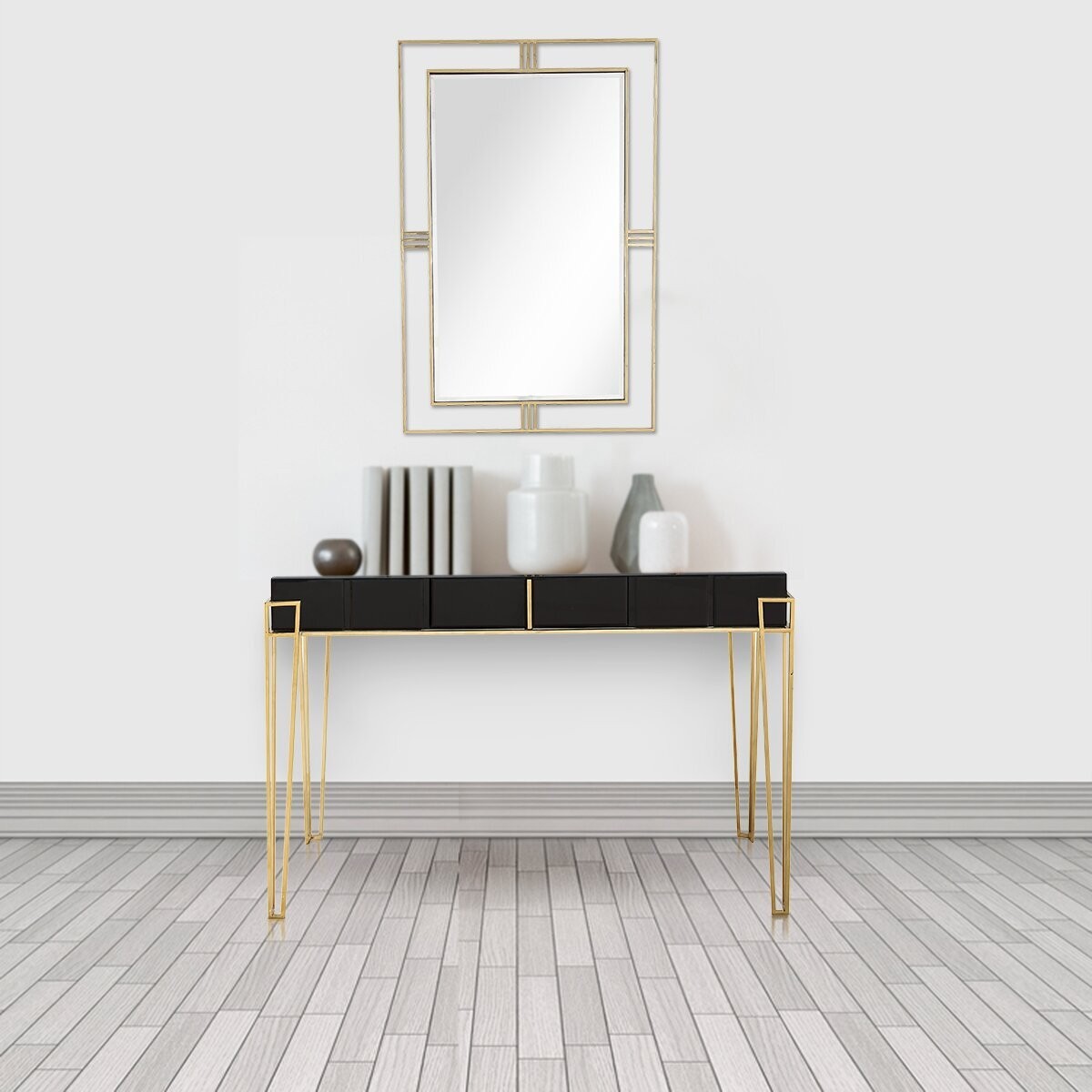 Gold console table and mirror set

Prefer something a bit more glamorous? There's no reason not to pick a foyer table and mirror set in gold!
Shiny and refined, it can add a transformative touch to your entryway and instantly catch everyone's eye when they walk through the door.
What's more, you can choose between a golden set that takes on a more sleek, minimalist approach or one with an elaborately carved frame. Either way, they all make a grand focal point!
To prevent your space from looking too busy, set it against a neutral backdrop, such as white, gray, or black.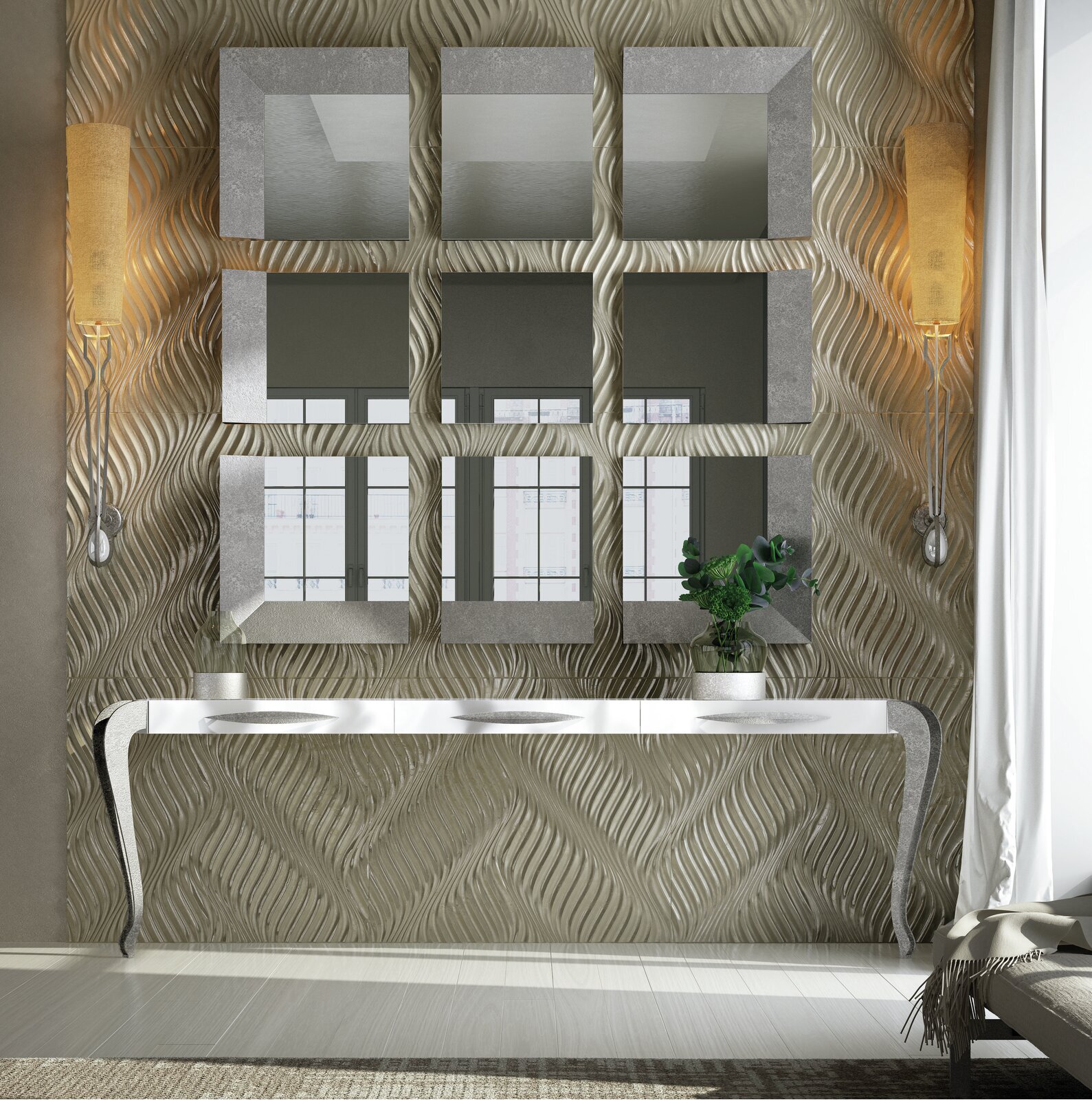 Extravagant entryway table and mirror set with a luxurious feel

What better way to flaunt your fine taste in furniture than with a luxurious hallway mirror and table set!
Much like glam-style, these upscale pieces of furniture are designed to stick out and grab attention with their bold appearance. They're distinguished by their complex, sculptural, and extravagant aesthetics. Because of that, they don't need to be decorated in order to make a splendid statement.
In terms of materials and finishes, chrome, nickel, gold bronze, and marble all lend an elevated feel.
Nevertheless, luxurious tables and mirror sets are often relatively large and therefore require a spacious location.
$2850 $5699.99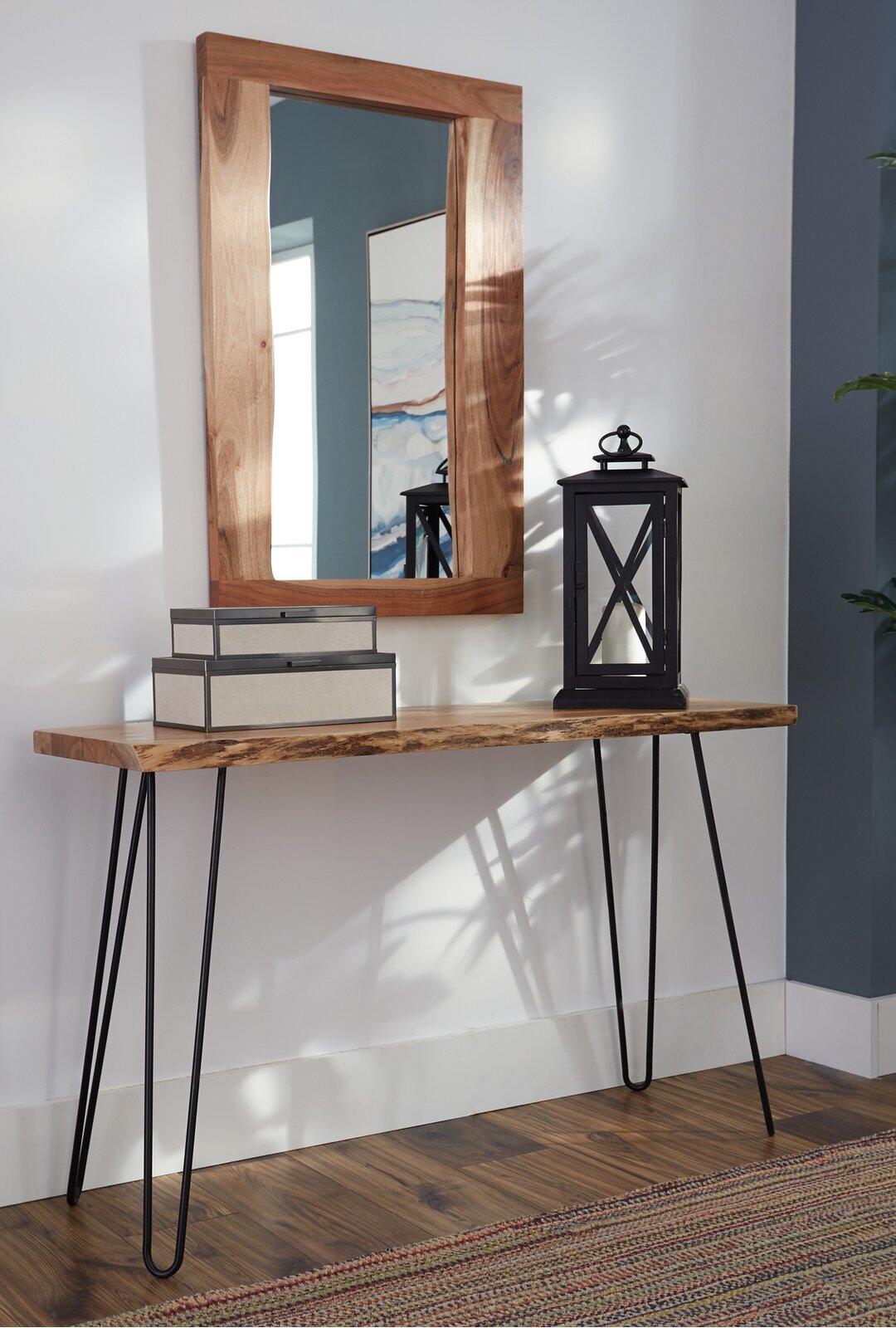 Accent table and mirror set with a modern industrial flair

Hoping to give your entryway some warm and cozy character? Consider a modern industrial set!
With distressed wood elements and metal accents, foyer console table and mirror sets in this style are nothing short of visually pleasing. Together, the modern details and industrial touches create an eye-catching piece despite its minimal look.
On top of that, these console table and mirror sets are fairly easy to care for. All you need is a damp cotton cloth! You can, however, treat the wooden surfaces with furniture polish from time to time to reduce scratches.
$549.99 $654.98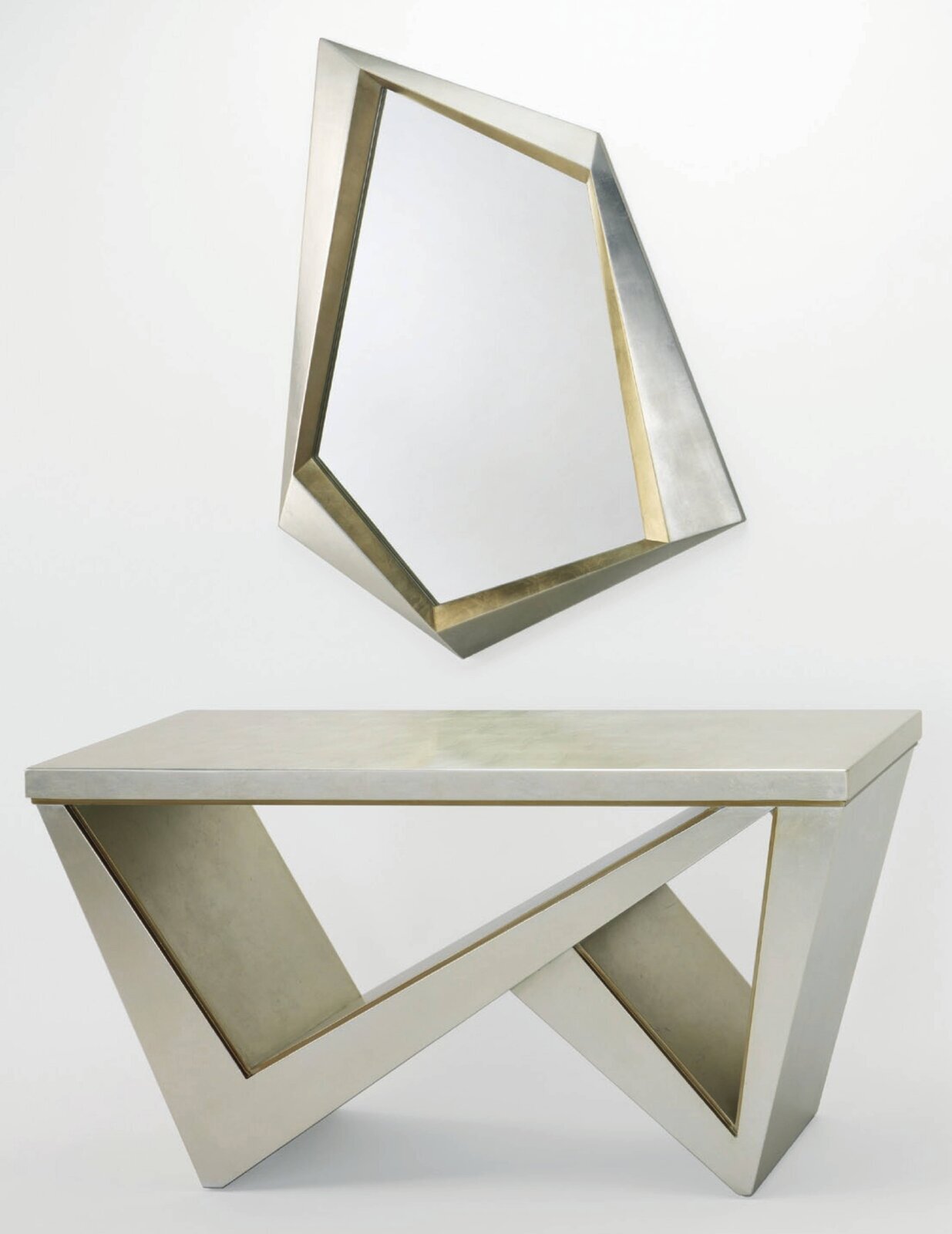 Abstract and avant garde hallway table and mirror

Don't be afraid to take the unusual route with your furniture if you'd like to create an impressive wow factor that leaves a lasting impression!
In this case, an abstract console table with matching mirror set is the way to go! Besides, it is guaranteed to give your home a unique edge!
As their name implies, these types of console tables and mirrors feature a striking abstract design that places emphasis on lines and shapes. Needless to say, they're functional, original, and could easily be mistaken as objet d'art!