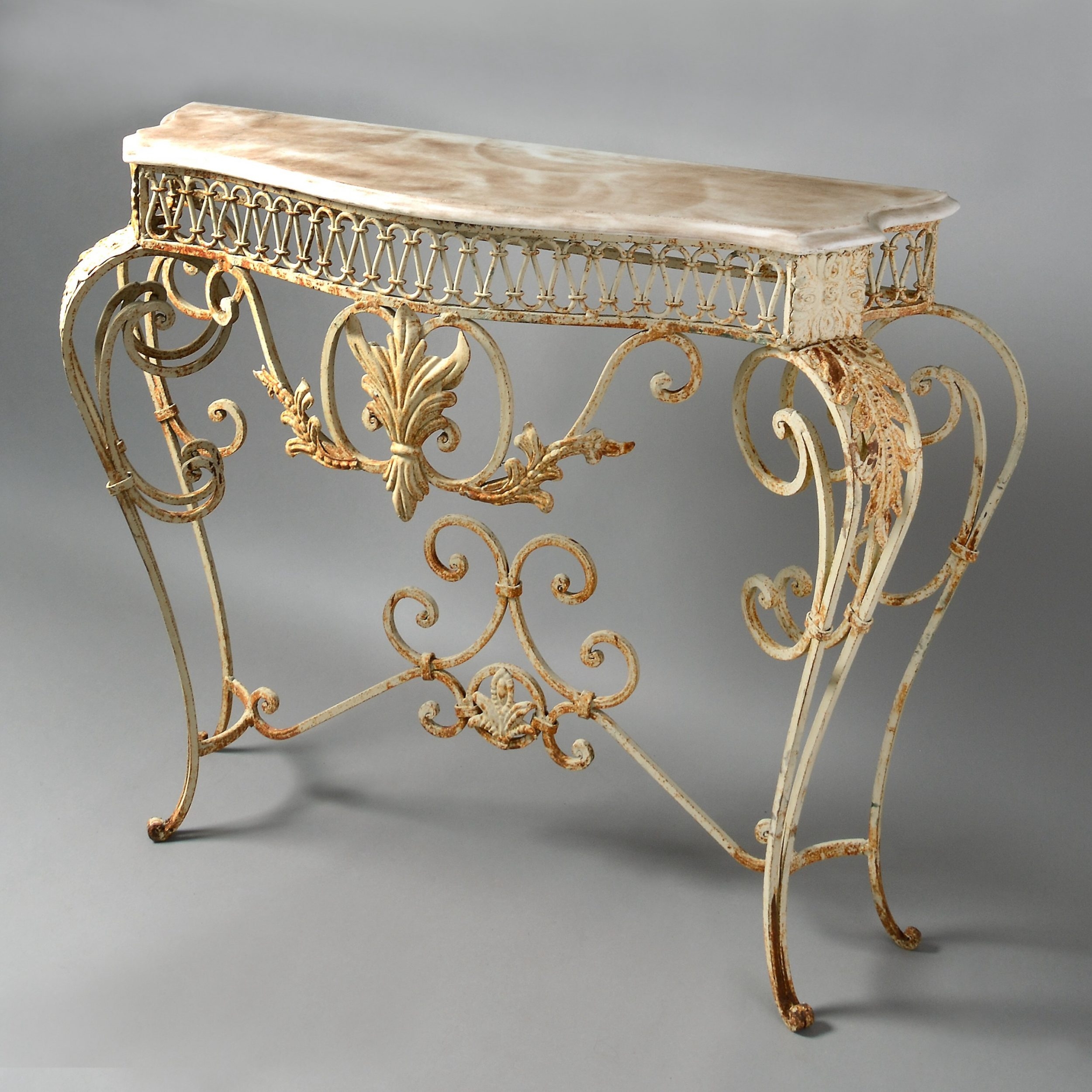 This 19th century inspired console table drips in opulence. Elaborate metal base with loads of swirls and adornments supports the marble top which is no less luxurious. The finest piece of furnishing from France.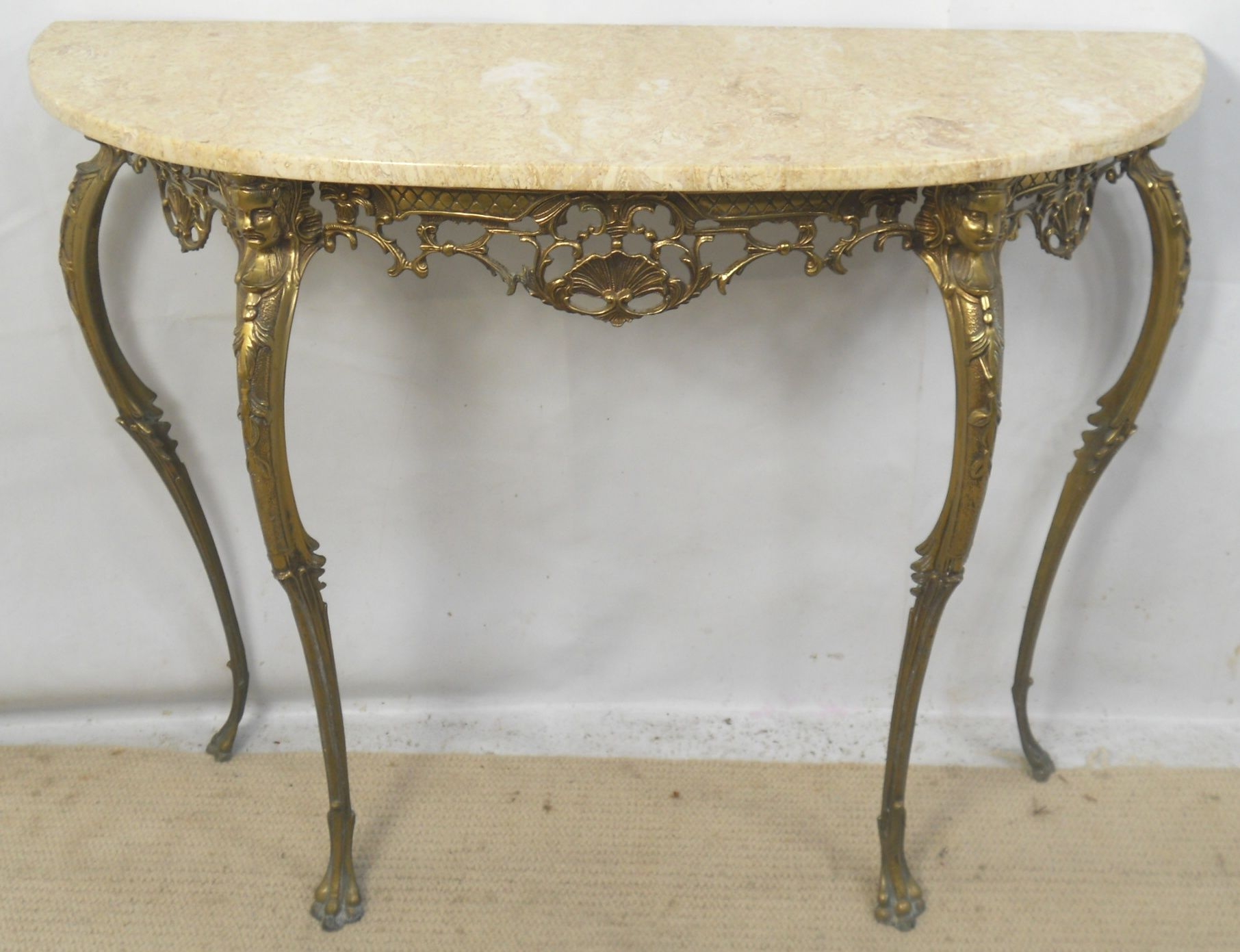 Delicate brass legs support this marble semi-circular tabletop to create a memorable hall table. The bracing surround just beneath the marble top is a fine filigree. The tops of the legs are ornamented with formal faces, including detailed neckcloths.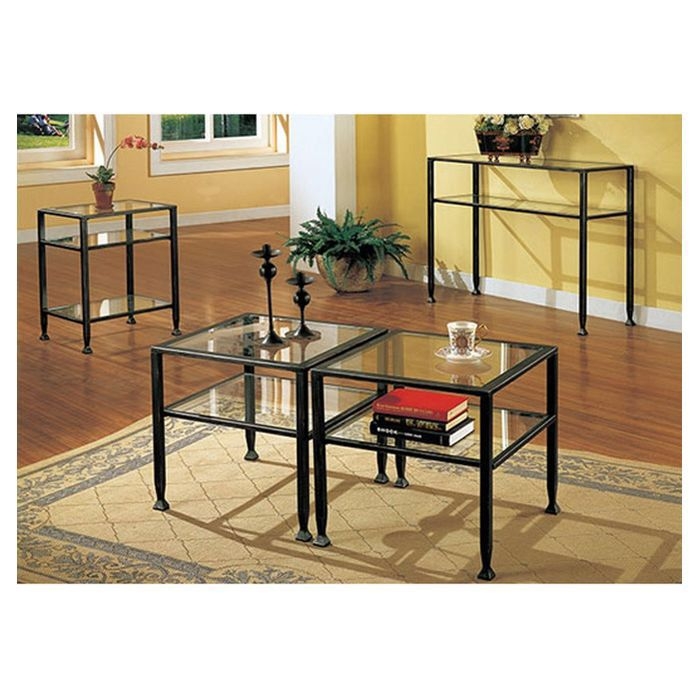 A stunning antique console table featuring unusual supports in the form of big greyhounds! They're sitting on a thick U-shaped base. A rectangularish top of grey marble and 2 drawers rest on dogs' heads. A mirrored back panel has fluted side edges.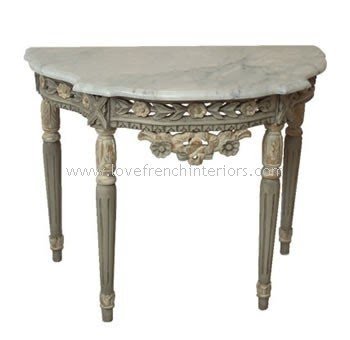 Spencer console table with an antique appearance. The top is made of marble and has a dominant semi-circle shape. Beneath the marble top is a floral design that spans around the perimeter of the marble top. The table sits on four narrow legs.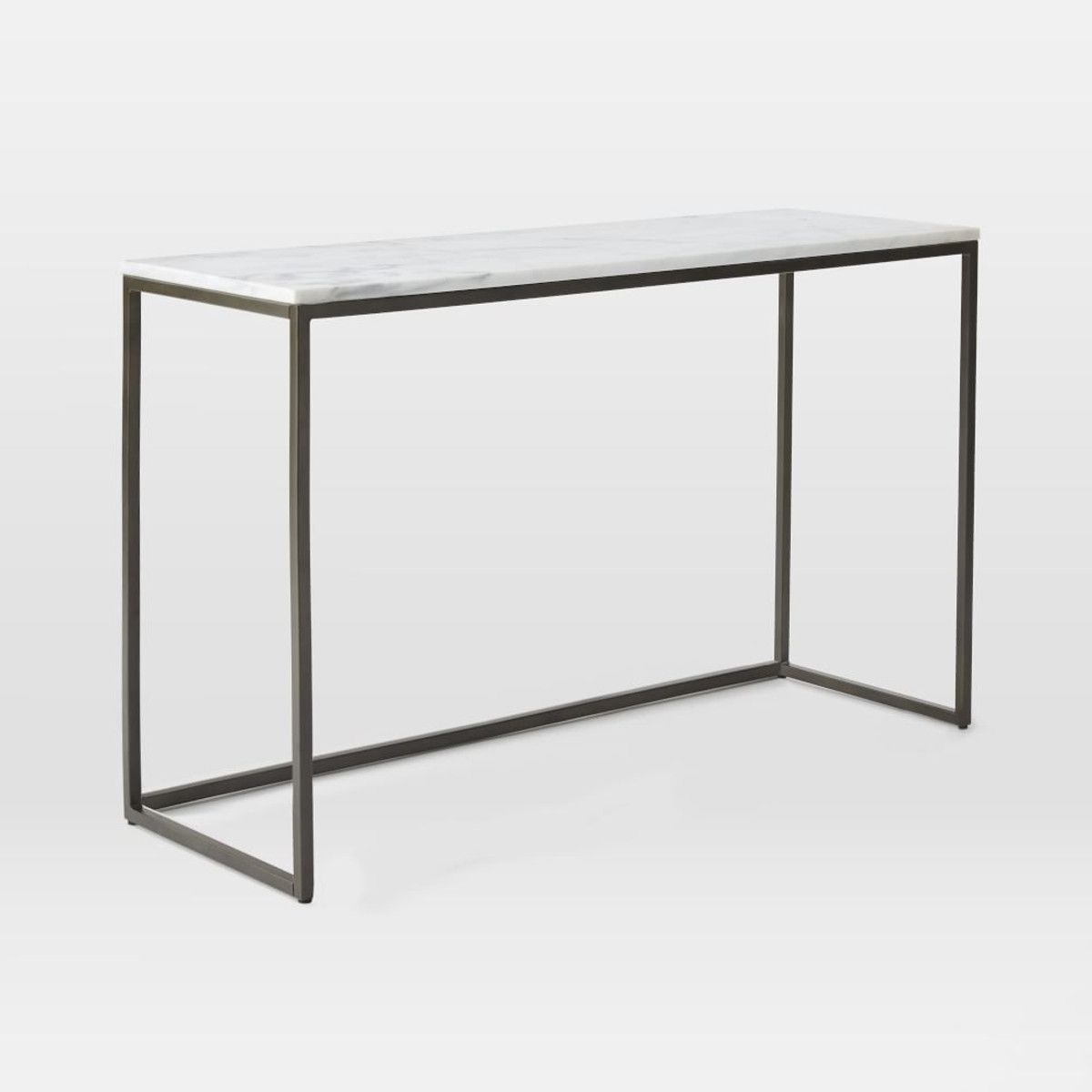 Simple lines and attractive design are the most important features of this console table. Its solid and stylish antique bronze frame provides support to a rectangular marble top finished in neutral white color.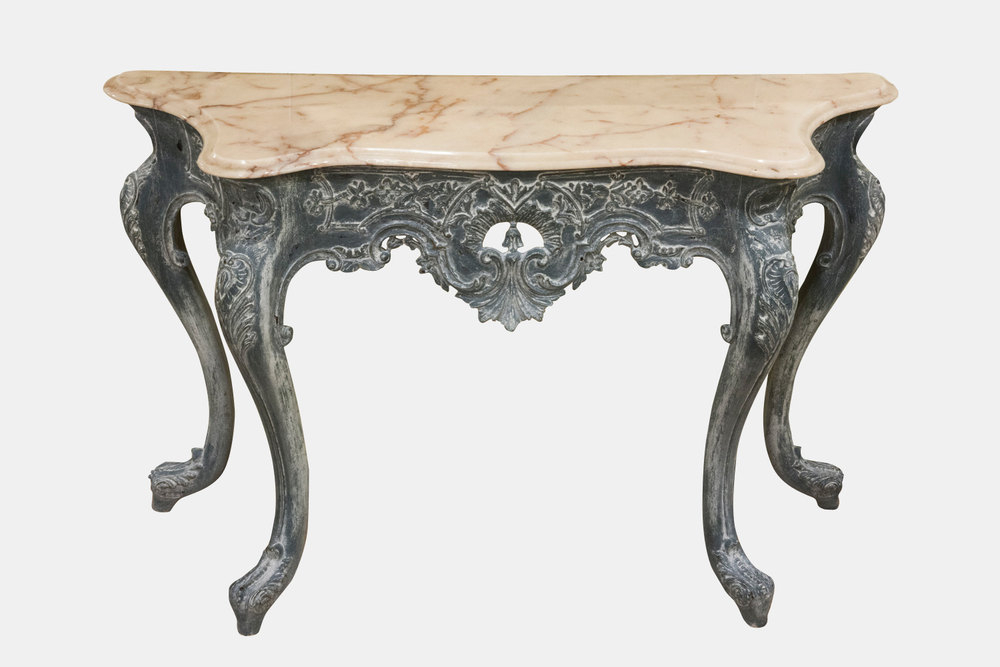 Marble tops add enormous elegance. Especially with late 19th century console table with scroll acanthus feet and cabriole legs. It has French origin. Who knows if this table was not in possession of Napoleon descendants? Marble has a caramel tint.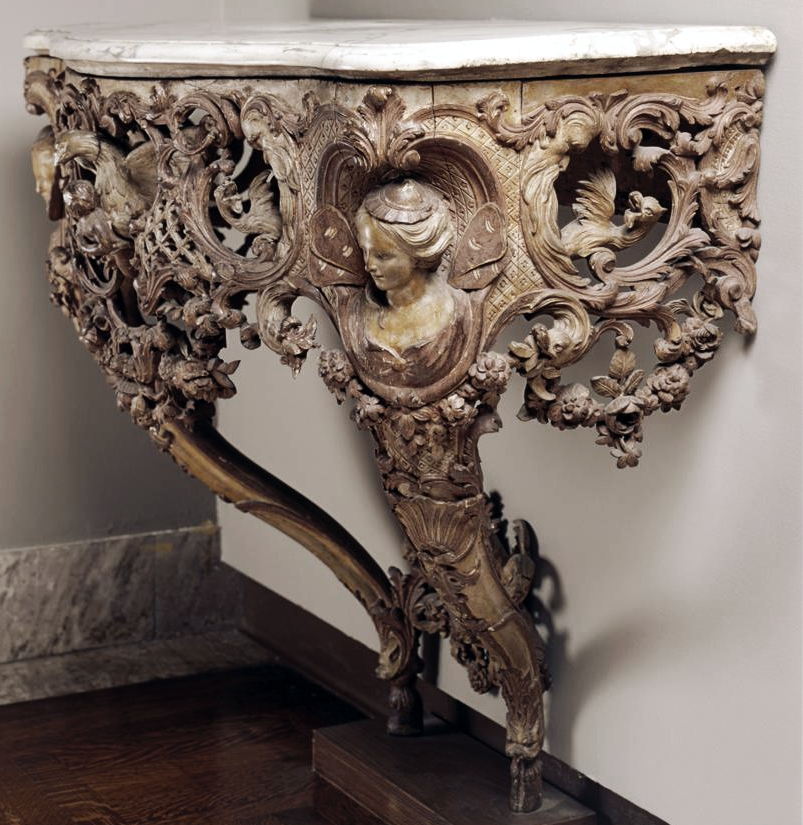 Marble top console table that's perfect for a luxurious, grand mansion. Highly-detailed, richly finished piece of art, no doubt about that. If you want to get yourself something that will hold the attention of your guests, this console table is perfect.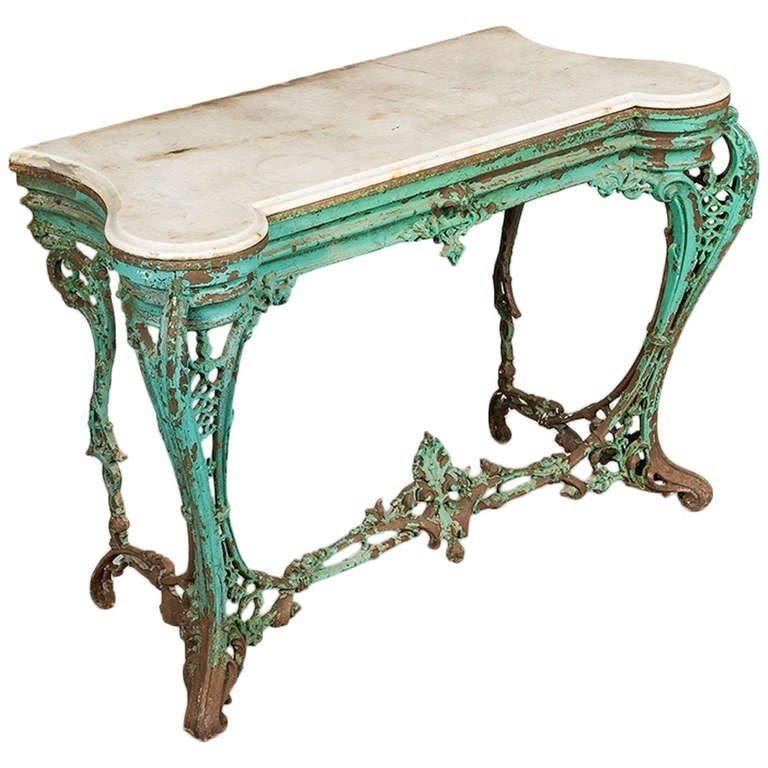 Cast Iron Console Table with Marble Top |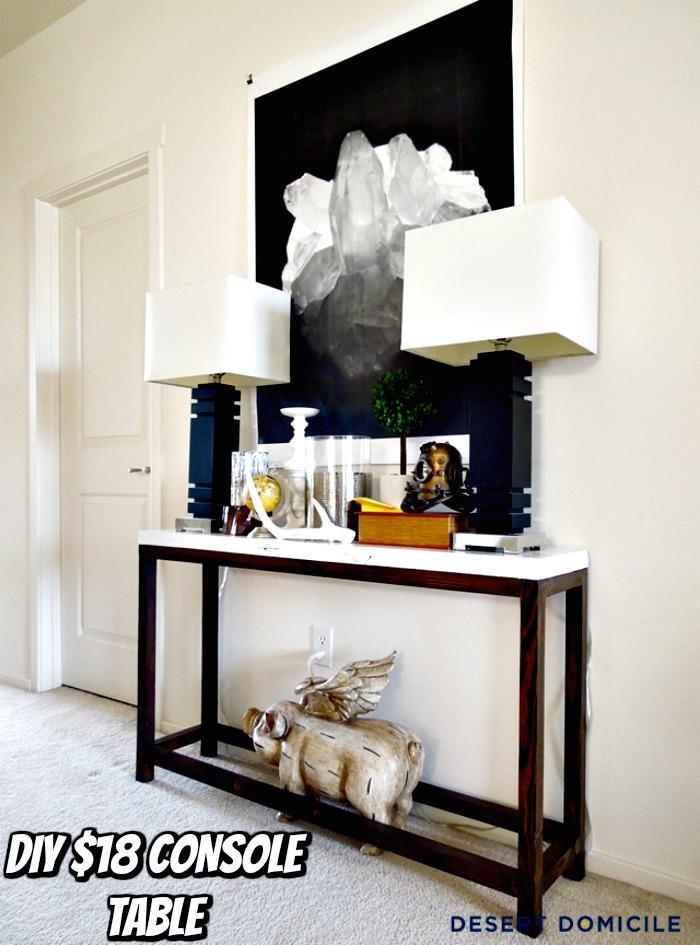 A table fixed to a wall with its marble top supported by consoles or front legs broadly : a table designed to fit against a wall. That is a console table, with wooden base, painted in dark brown. It was made by the owner, who didn't spent more than 20 dolars.
Marble is one of the most luxurious materials you can use to design your house, no doubt about that. Just take a look at this marble top console table – doesn't it look just rich? Highly-detailed, it will become the focal point of your entryway.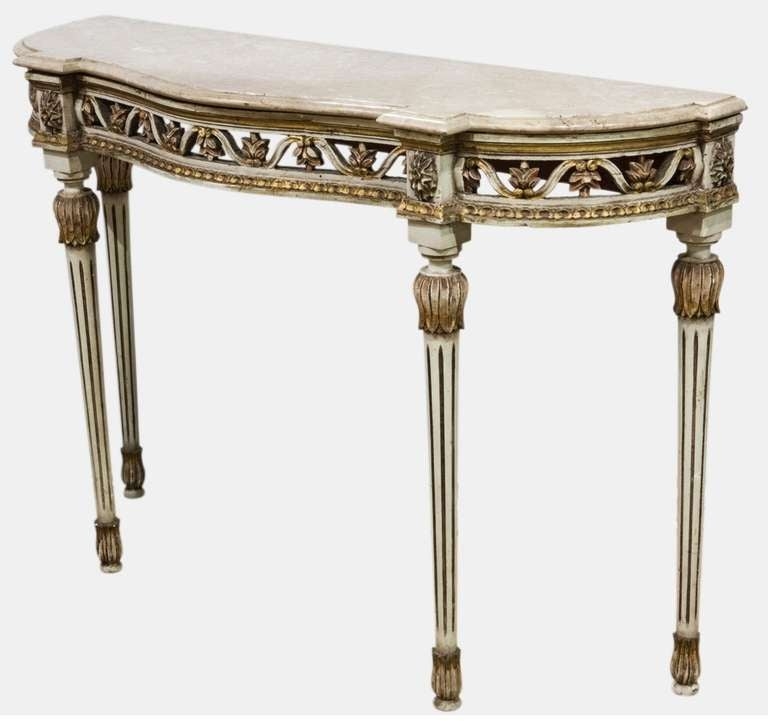 Italian Console Table Marble Top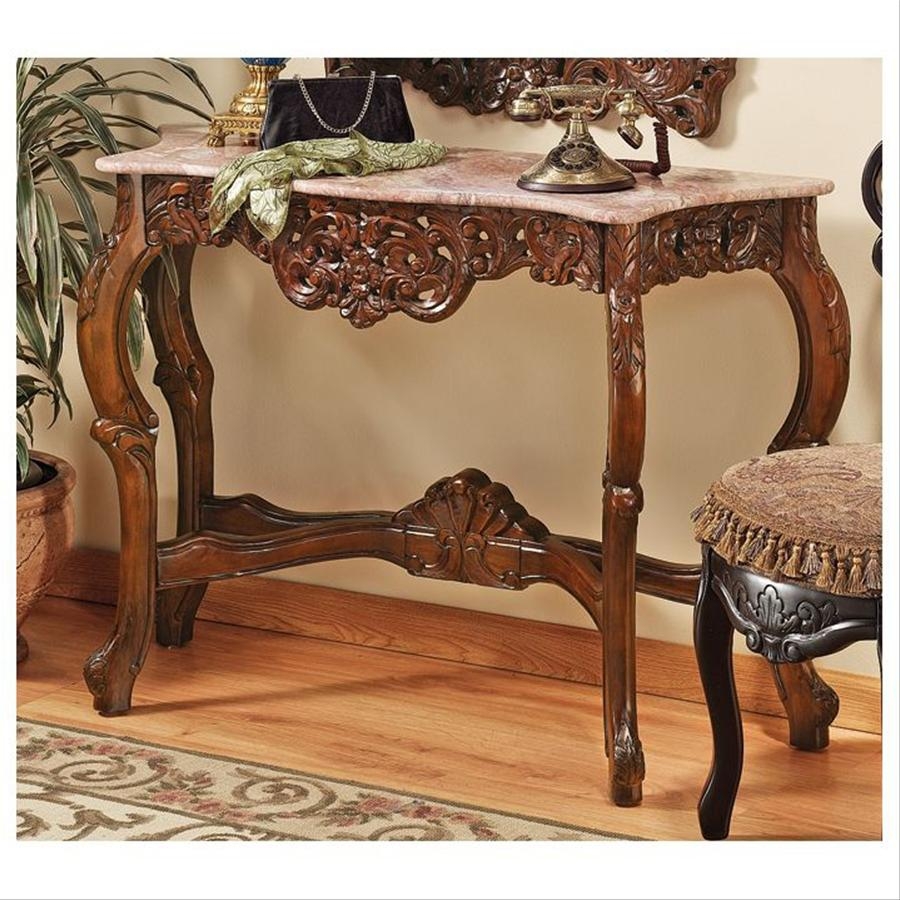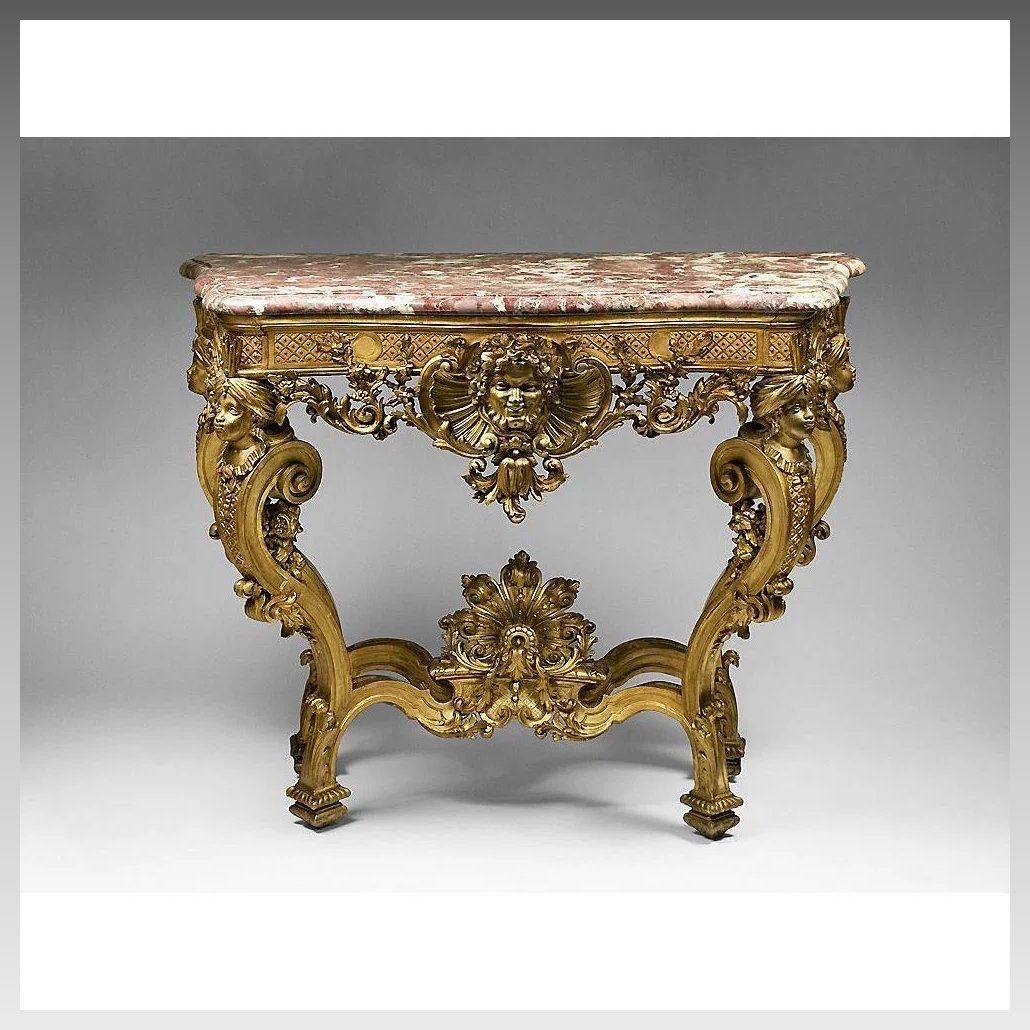 Gorgeous 18th century console table with intricately carved, gilded base and marble top. The finest example of German Rococo design. If I could afford a similar historic piece I'd be the happiest person on Earth!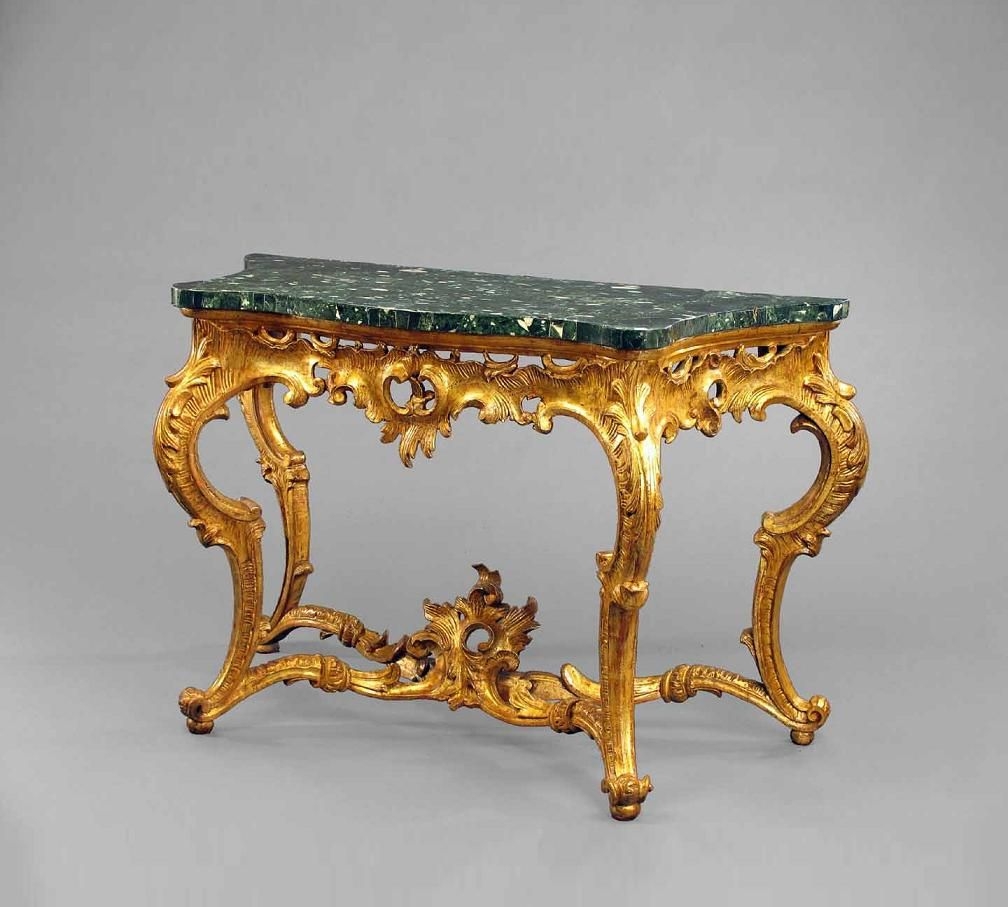 With the rococo design straight from the 18th century this console will instantly become the most admired and worshipped piece in your interior, due to its stunning marble top and the gold, intricately carved base.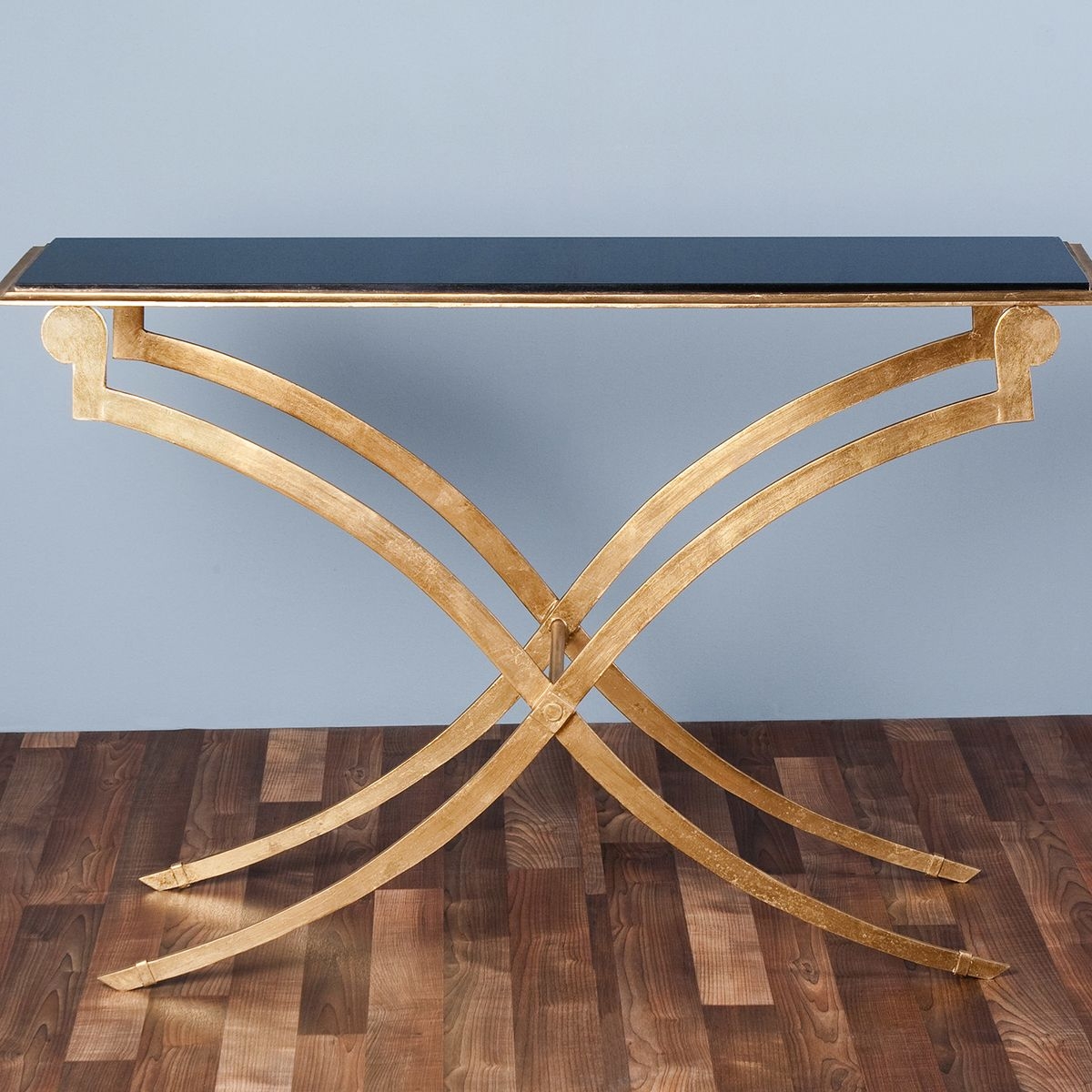 Madison Console Table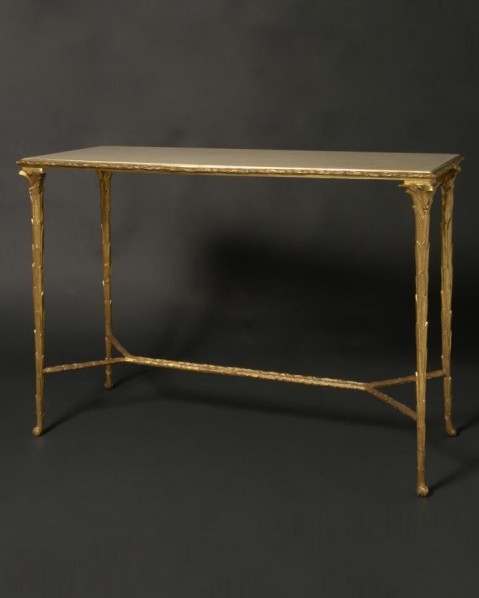 Gorgeous look for an antique, regency console table with a marble top and a sophisticated backdrop. The golden coloring of the ornate frame nicely complements the wooden base and gives the piece an exquisite detail.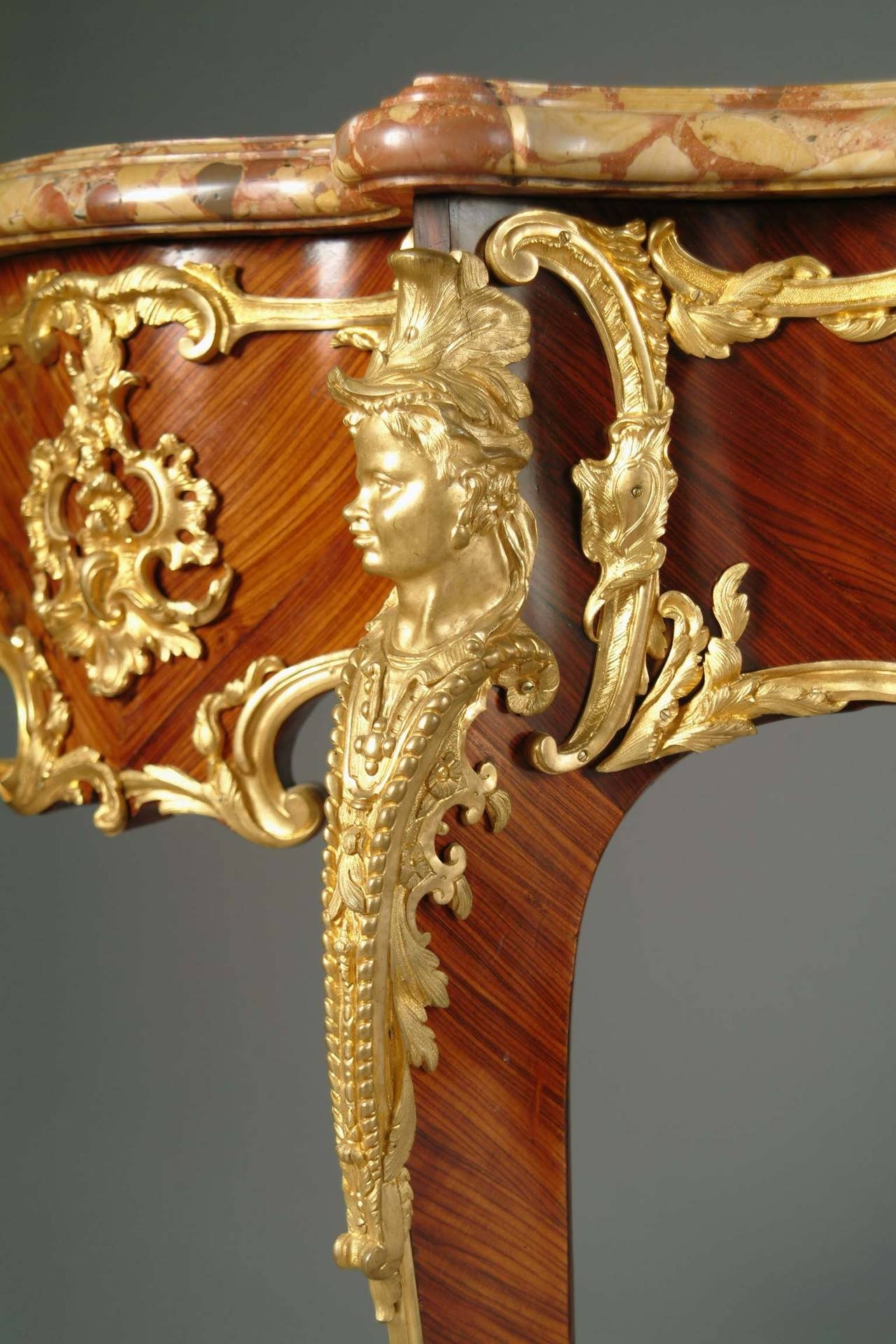 French Louis XV Style Ormolu-Mounted, King Wood Console Table with Marble Top | From a unique collection of antique and modern desks and writing tables at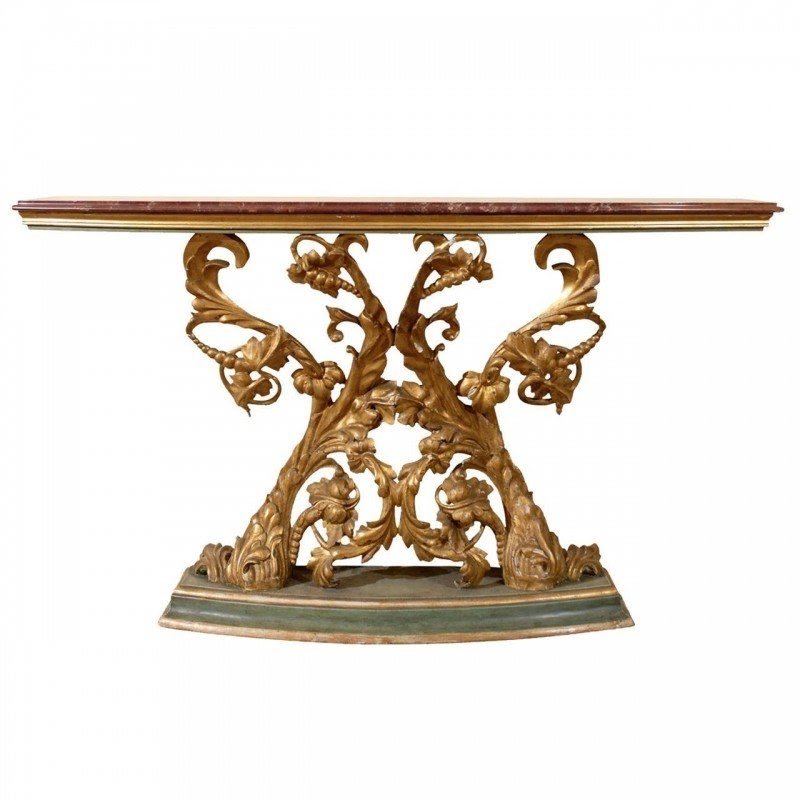 A fine piece of old-fashioned craftsmanship in shape of an Italian console table with a narrow design that makes it perfect for smaller interiors. It's a stunning combination of a marble top and gilt hand-carved base.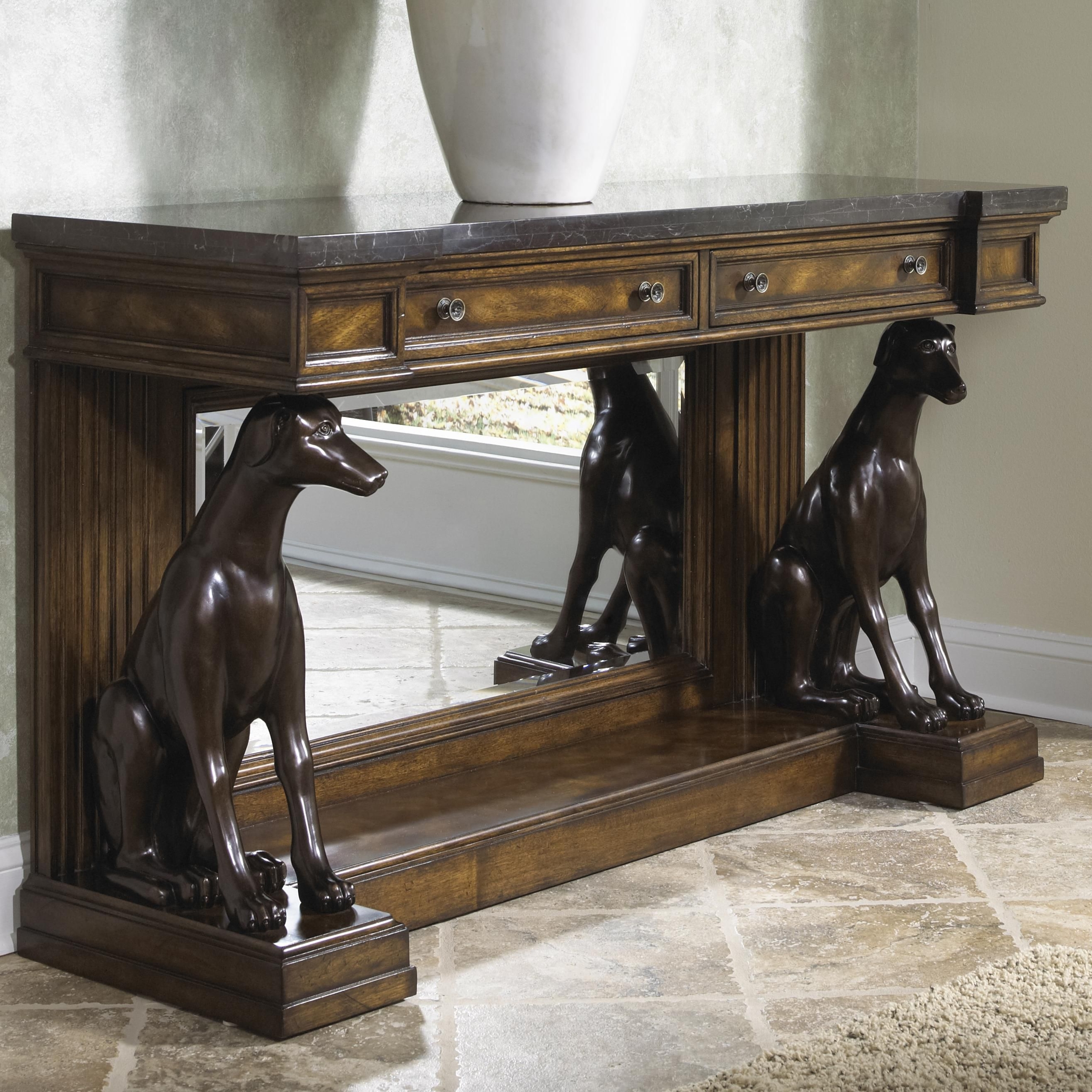 Two grayhounds stand sentinel on either side of this antique console table. Sculptural design and premium wood construction with sleek sheen finish give this marble top piece the finest centerpiece features.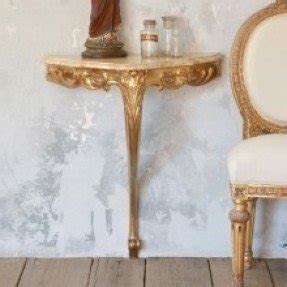 Make your home snazzier and filled with ancient glamour, thanks to this breathtaking console table that will also allow you to save some space. It comes with a wall-mount design, firmly sticking to the wall, while decorating your entryway with old-fashioned pizzazz.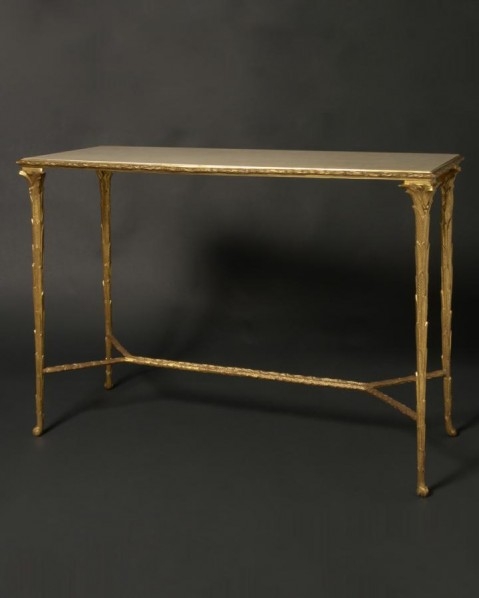 Feel free to marvel at this snazzy console table with a gilded bronze finish. Its design is very appealing, using a smooth marble top for decorations, and long slender legs supported by stretcher for stability.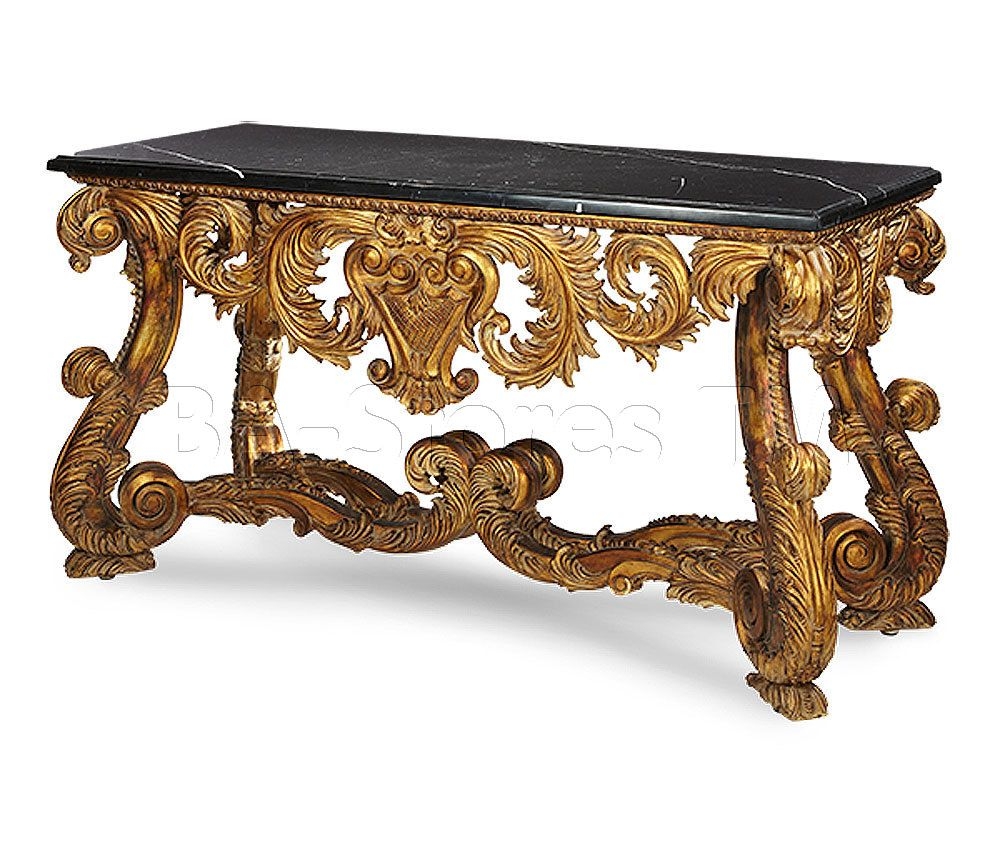 "Michael Amini" Gold Console Table with Marble Top, Discoveries Collection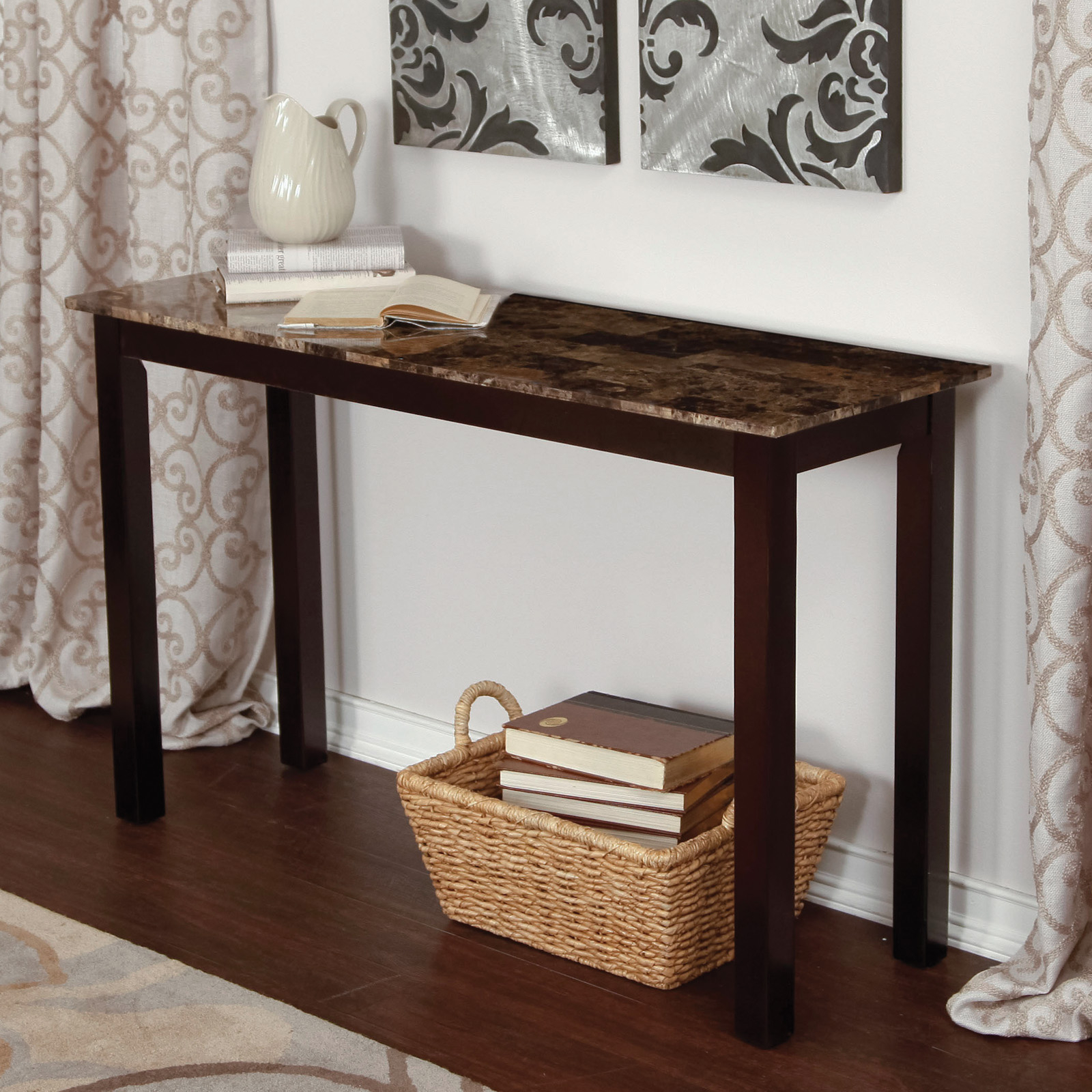 Add style, beauty and elegance to your home with this console table. It has got a contemporary design, faux marble top and rich, dark espresso finish. You will be impressed how beautiful this table is.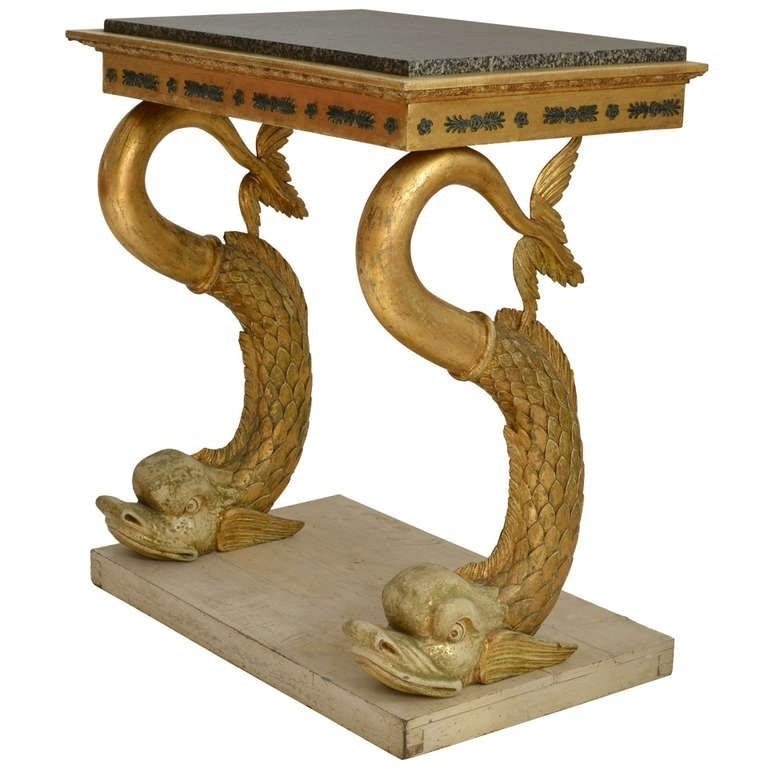 This Swedish Empire style Console Table with Marble Top is a beautiful piece of art that can be also the very convenient addition to your room equipment. The counter made of marble is neat looking. Fish looking legs are a fancy supplement.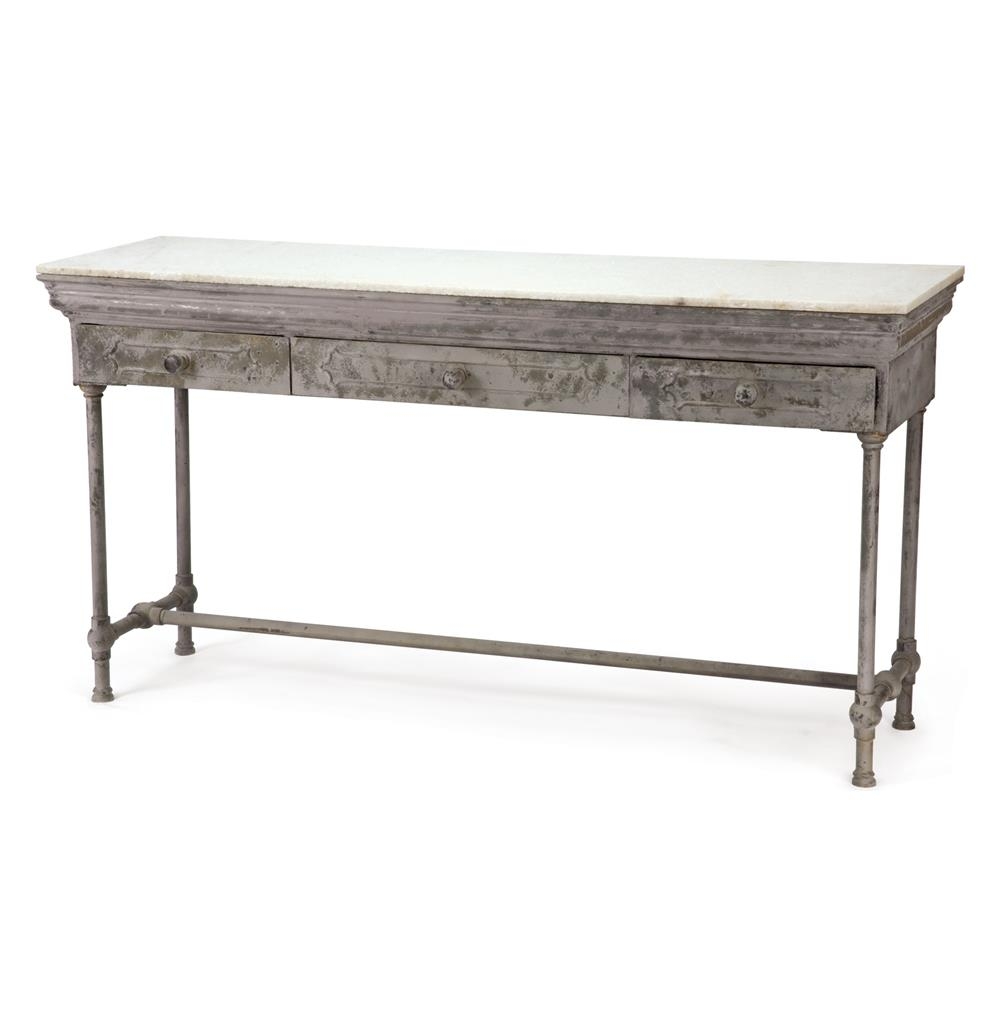 The antique finish of this enchanting console is a beautiful combination of functionality and French aesthetics. The beautiful marble top finish is glamorous and elegant. Practical drawers perfect for storage.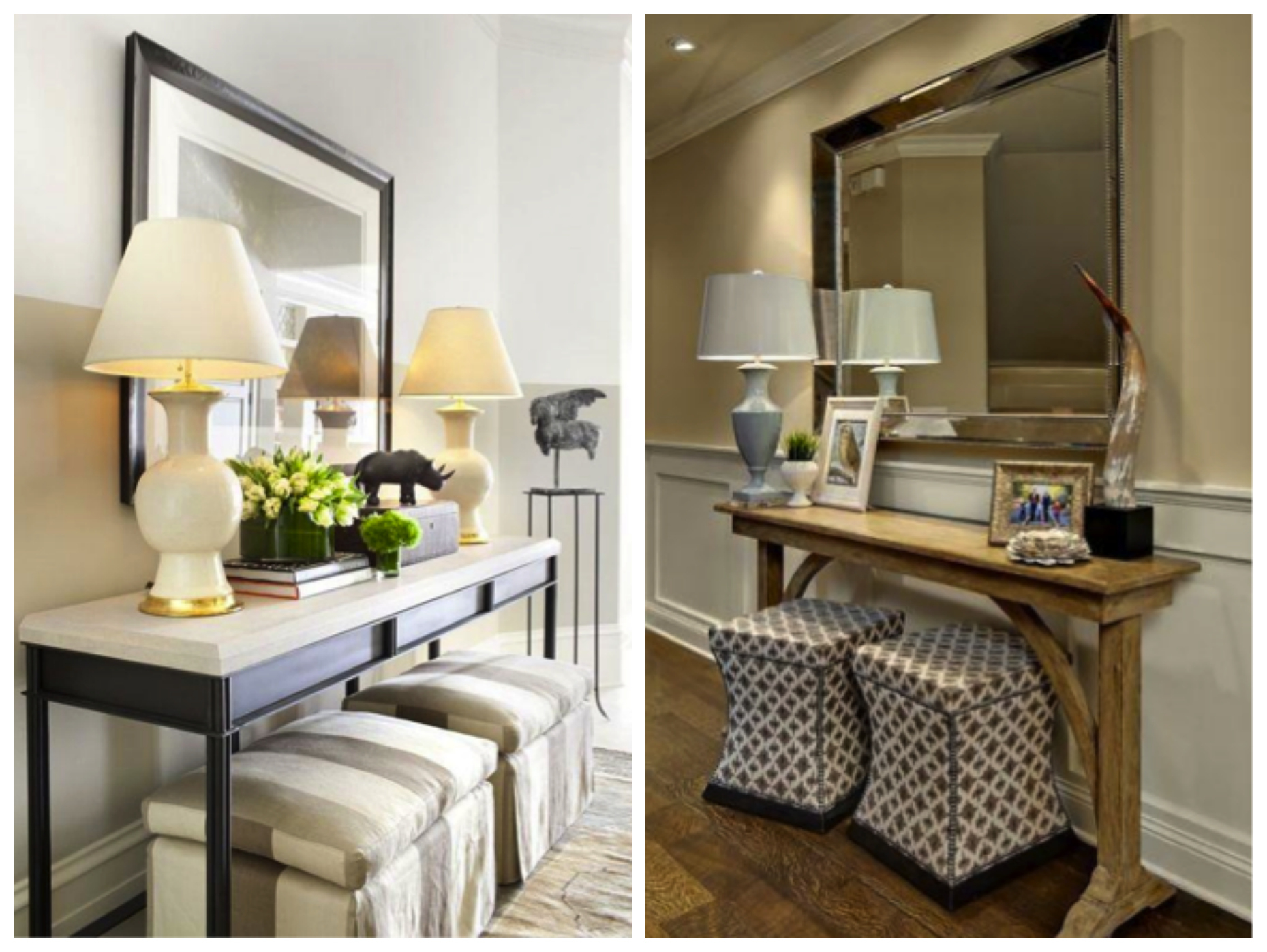 Wonderful authentic 19th century console tables. Such a narrow table has 2 legs so has to be fixed to a wall. Its intricately carved wooden base has a distressed natural finish, legs and apron are curved. A marble top in light tones has wavy edges.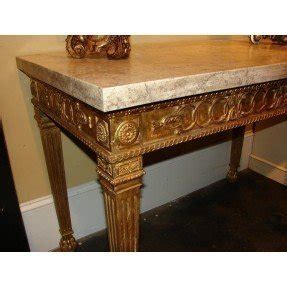 Italian Marble Top Giltwood Console Table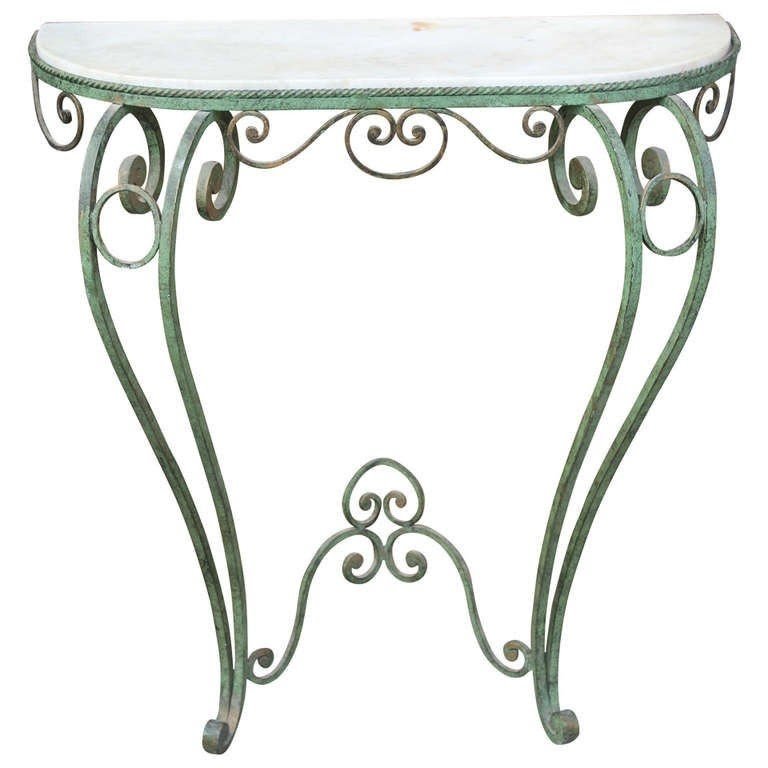 FRENCH ART DECO PATINATED IRON CONSOLE TABLE WITH MARBLE TOP, circa 1940's #ArtDeco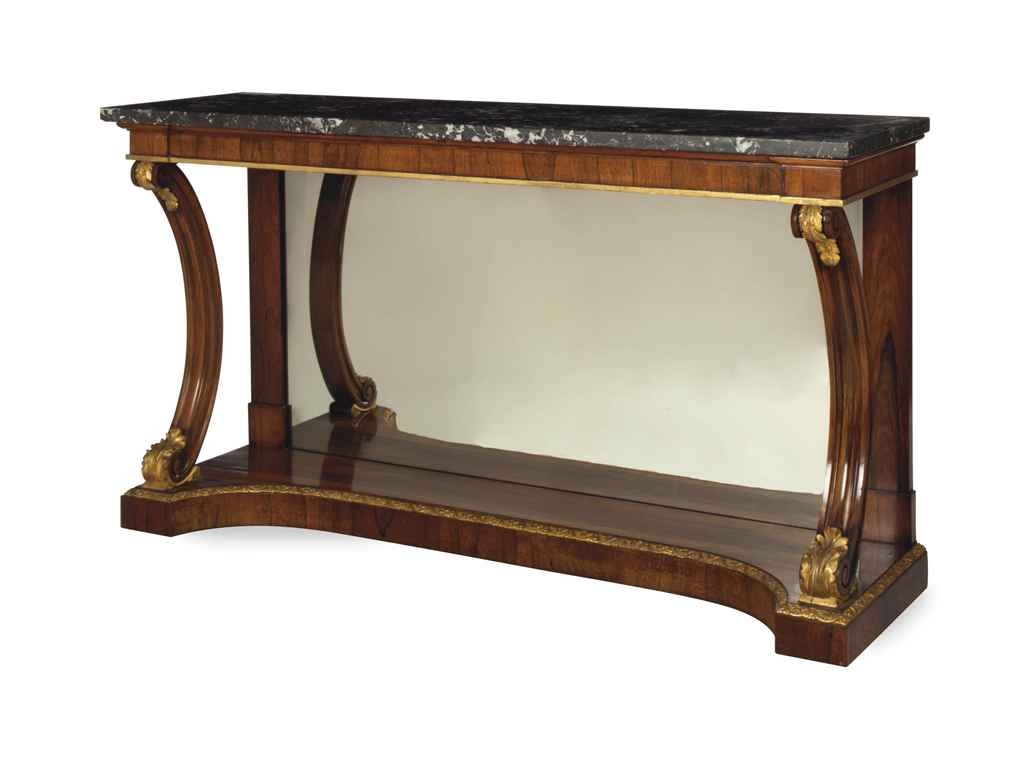 Console table with durable and decorative marble top. This wooden table includes solid, curved legs that assure strength and stability. The whole table plays practical and decorative roles in any home design.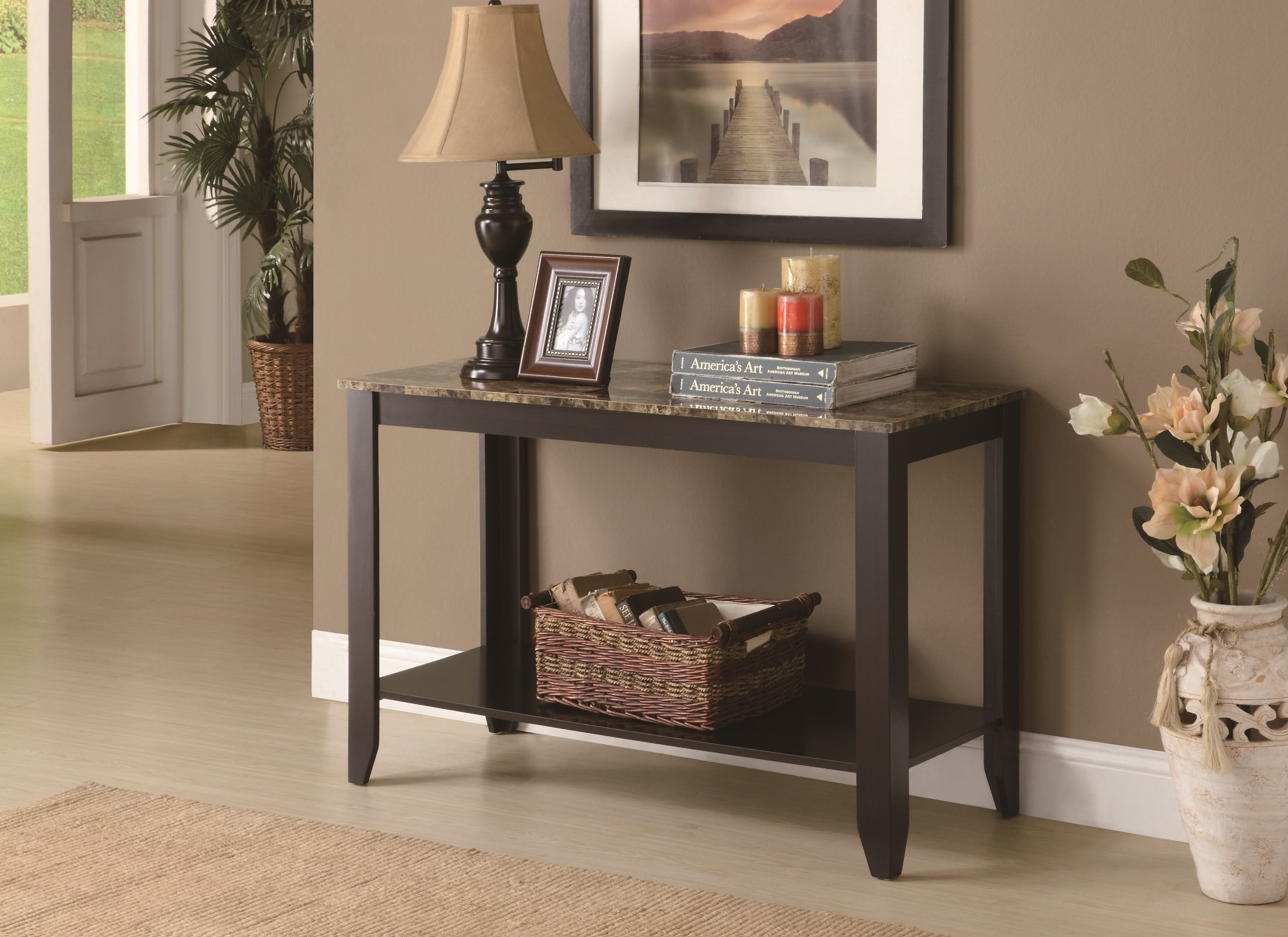 Featuring a lower shelf that offers additional space for storage or display and with the beautiful cappuccino finish this console table is a nice option to put in the corner of your living room or to grace your entryway.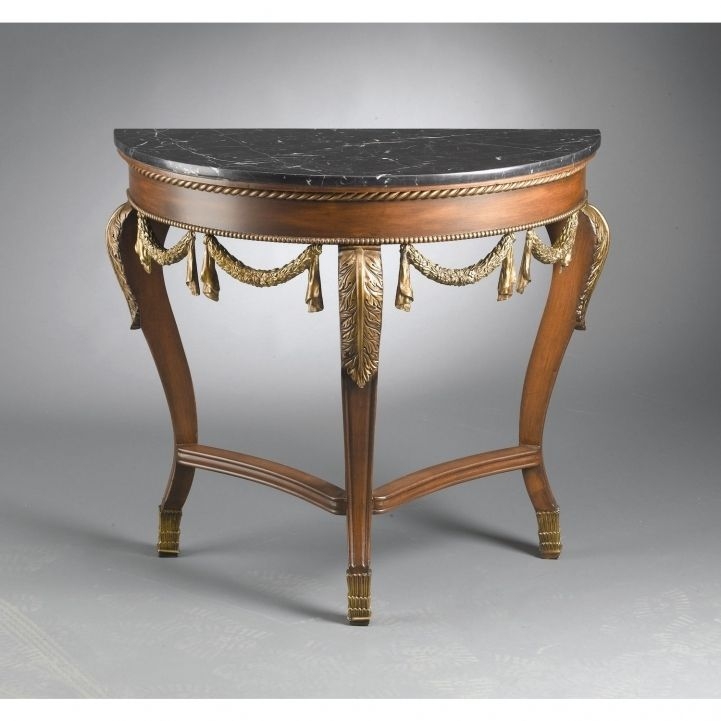 AA Importing Console Table with Marble Top in Medium Brown, $428.99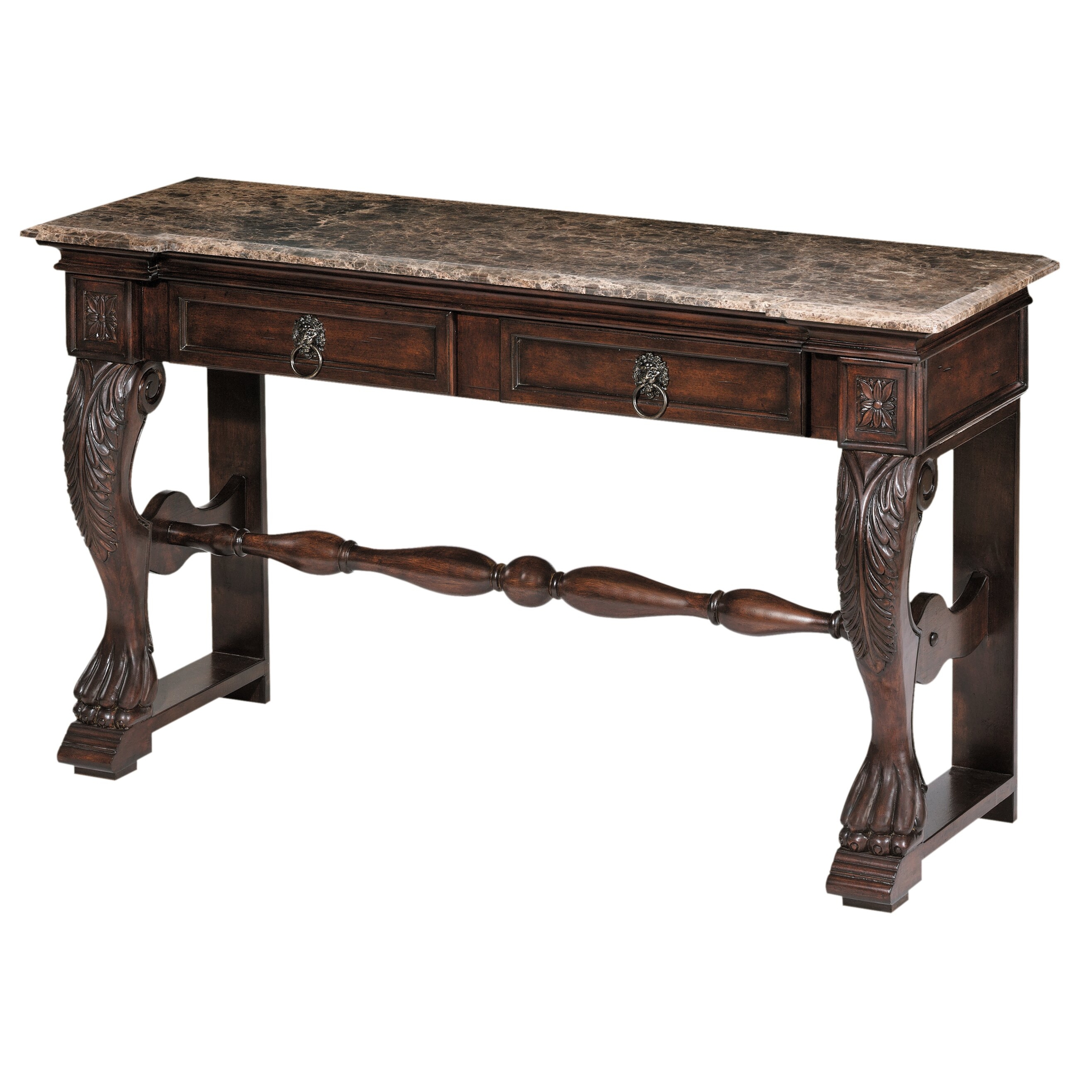 Traditional Carved Console Table with Marble Top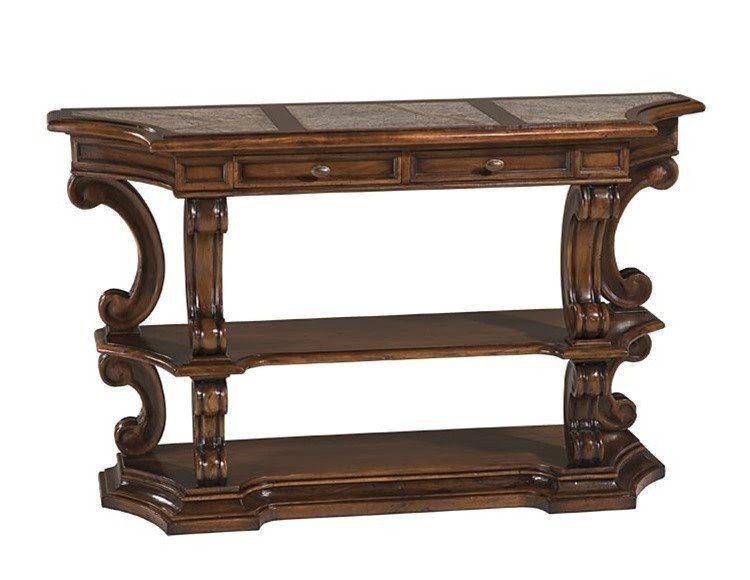 Console w Marble Top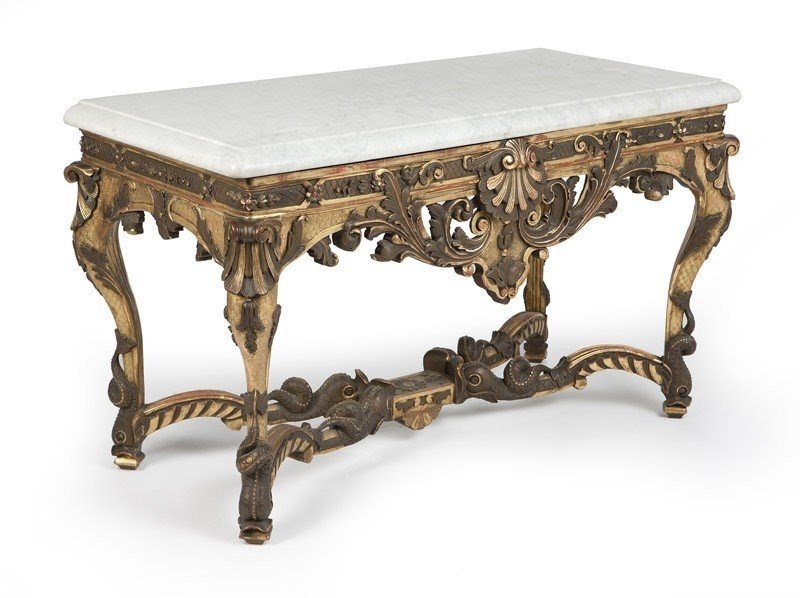 Don't deny yourself a delicious hint of royal opulence and luxury - this elaborate Rococo-style console table hits all the marks with its eye-candy carvings, giltwood construction and elevated marble top.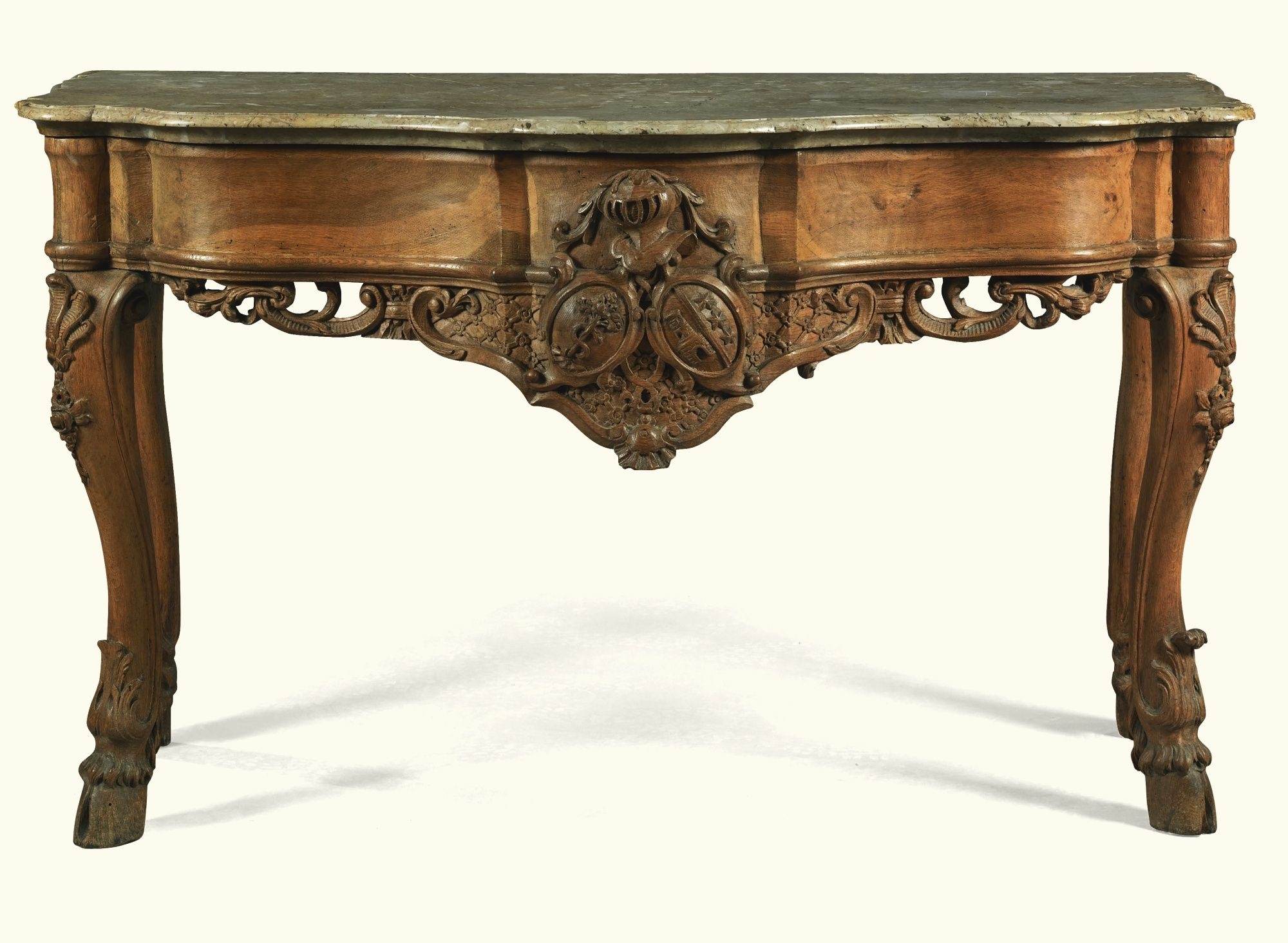 A Rococo carved oak console table with marble top South Germany, circa 1750 the moulded shaped marble top above a conforming plain frieze above a trellis ground pierced and carved armorial apron, on shell carved cabriole legs on hoof feet Sotheby's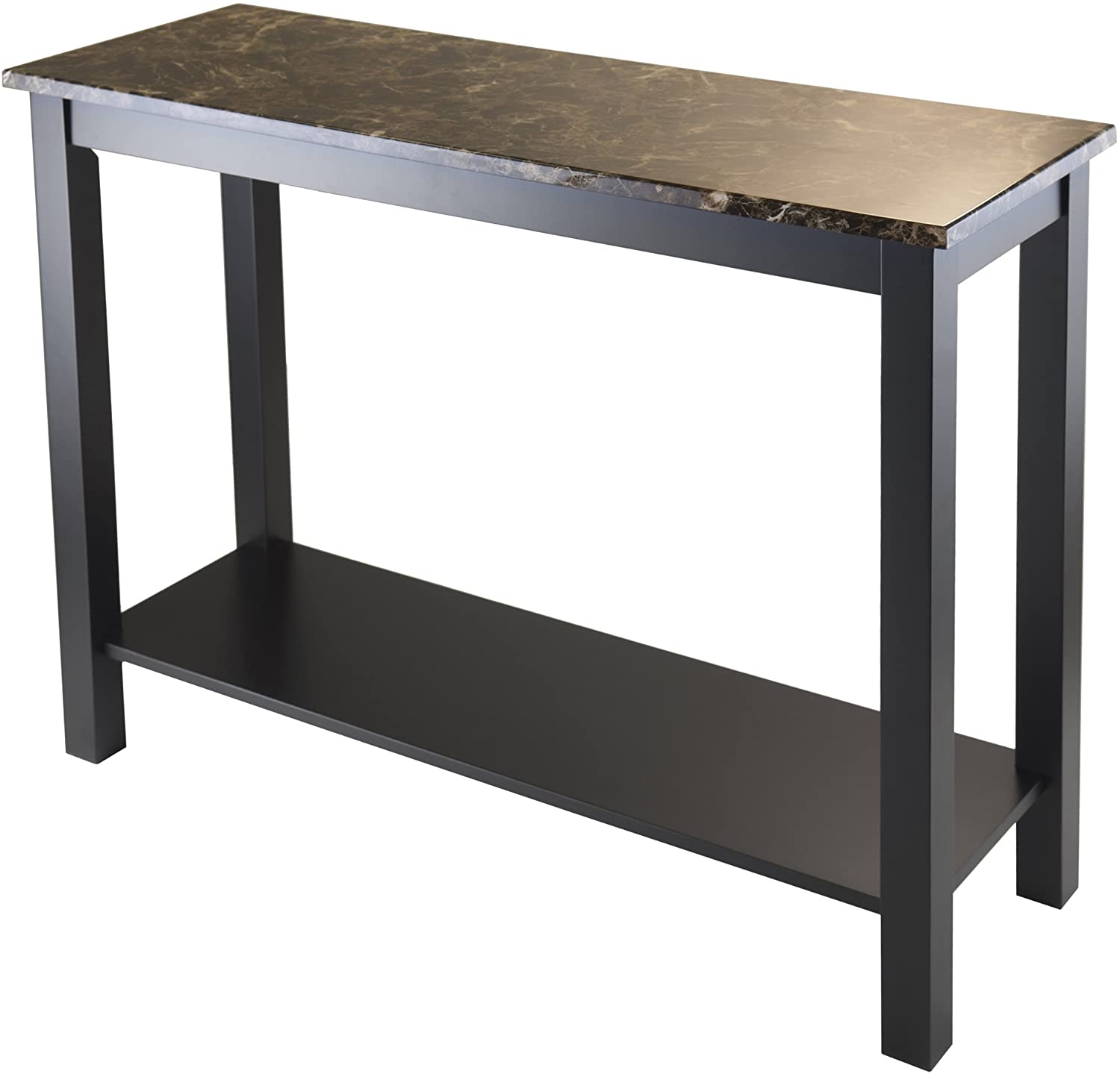 A simple, neutral style and color that match any decor. This table is created for use in halls and other indoors. It features a frame made of solid wood in a black color. Another feature of this product is its faux marble top.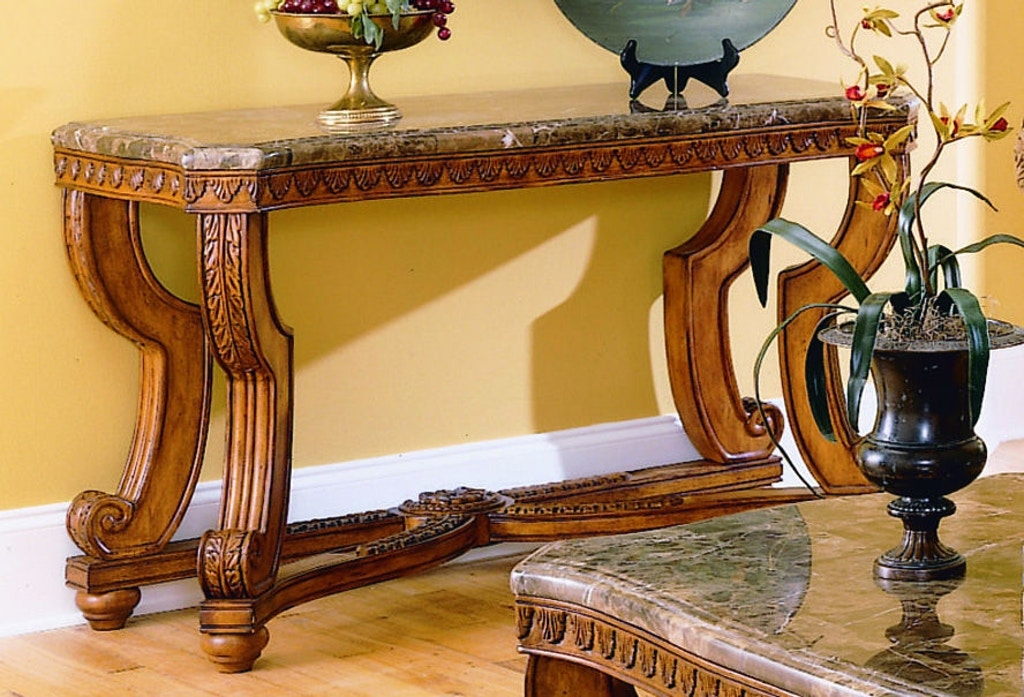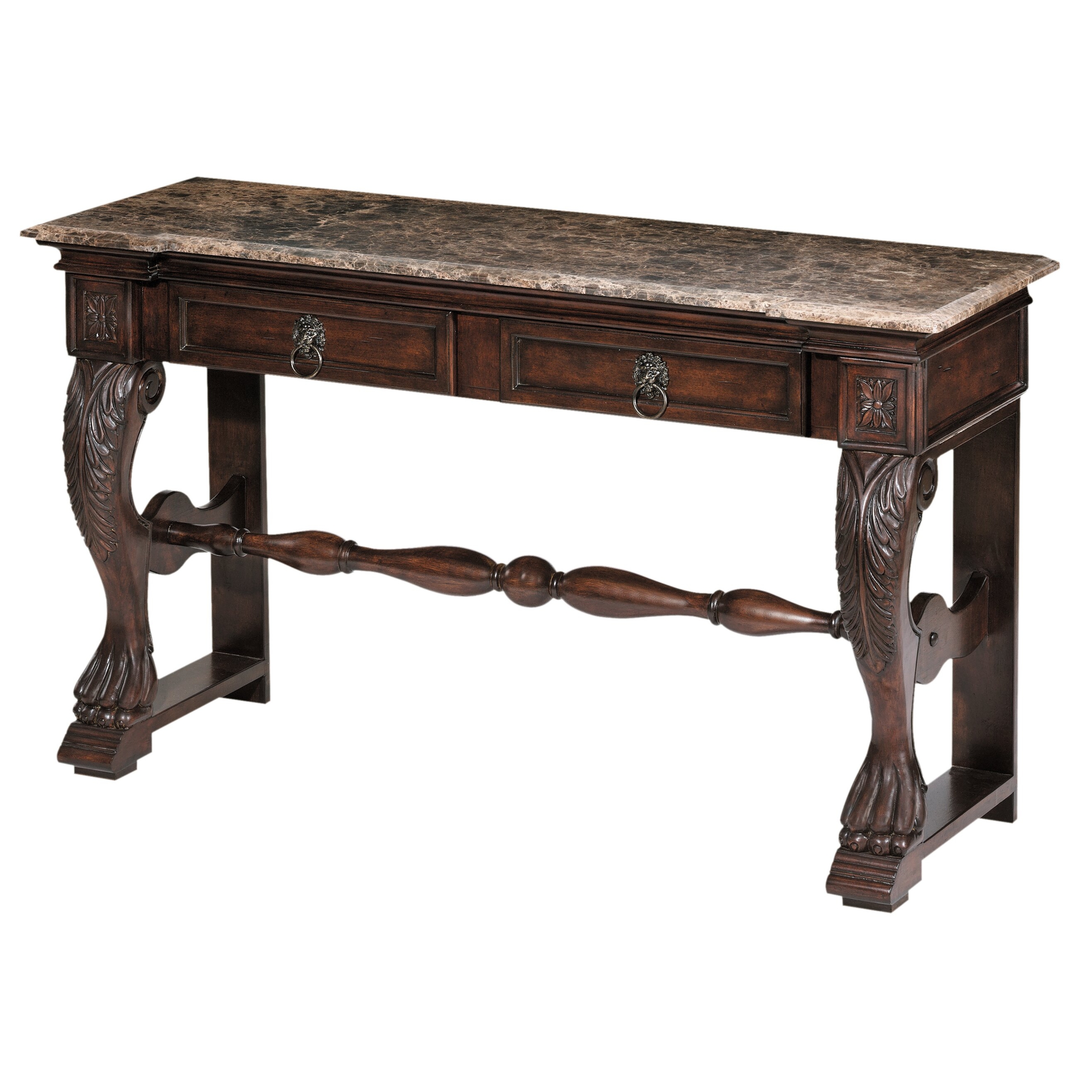 Stein World 22240 Carved Console Table with Marble Top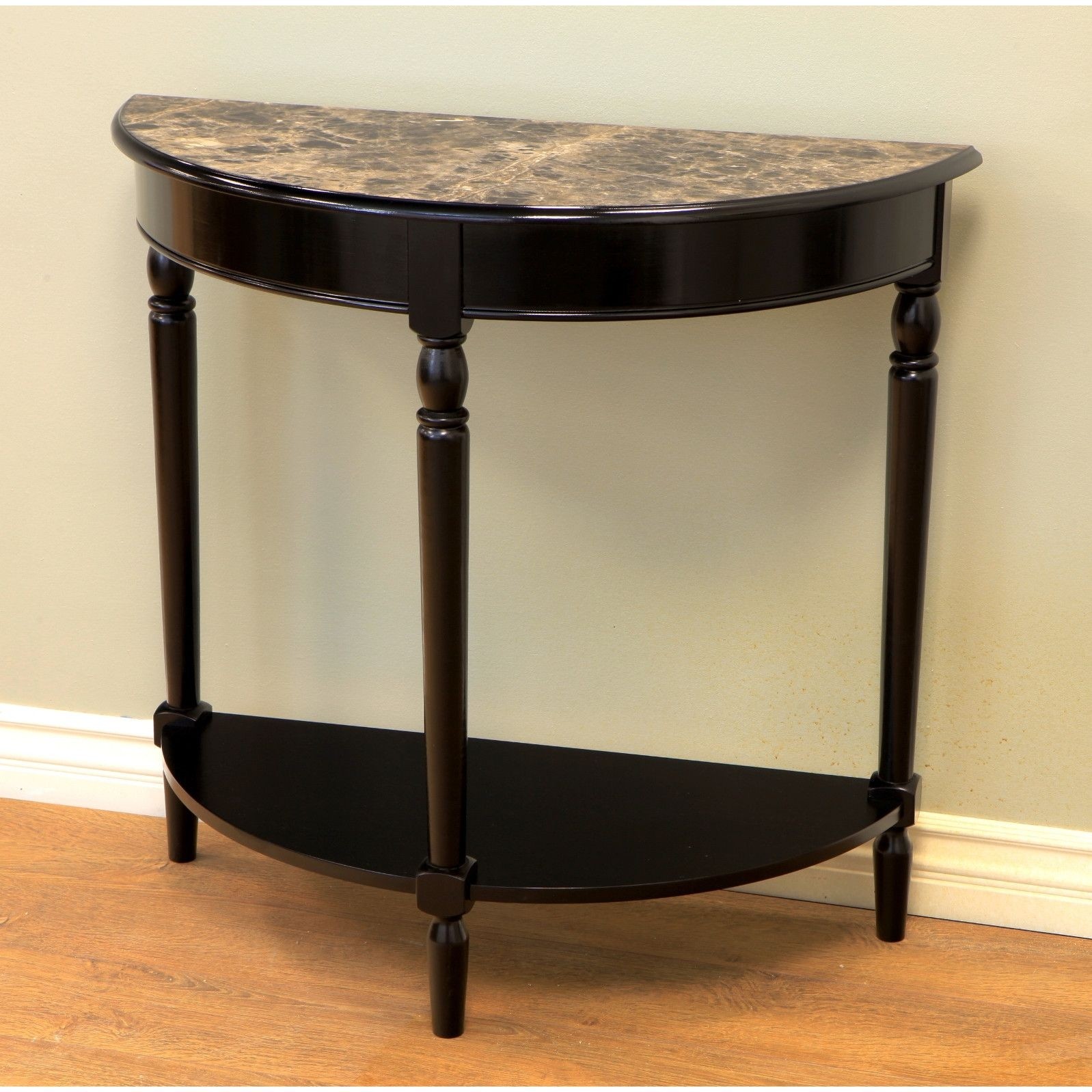 This beautiful table in the hallway was covered with artificial marble by what looks very impressive. Stylish finish makes it all very beautifully presented in any interior and decor.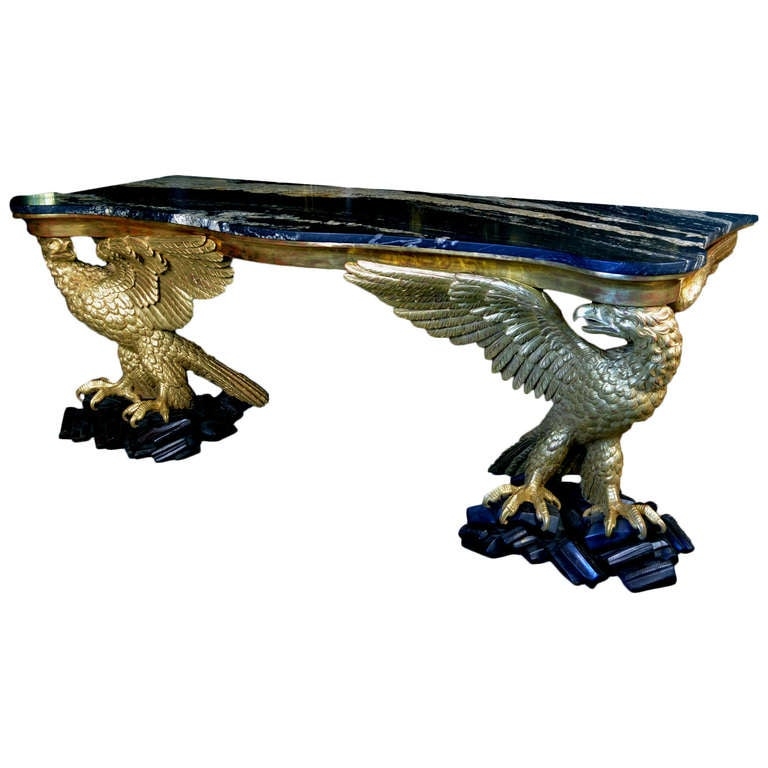 Monumental Carved & Gilded Mahogany Console Table with Marble Top | From a unique collection of antique and modern console tables at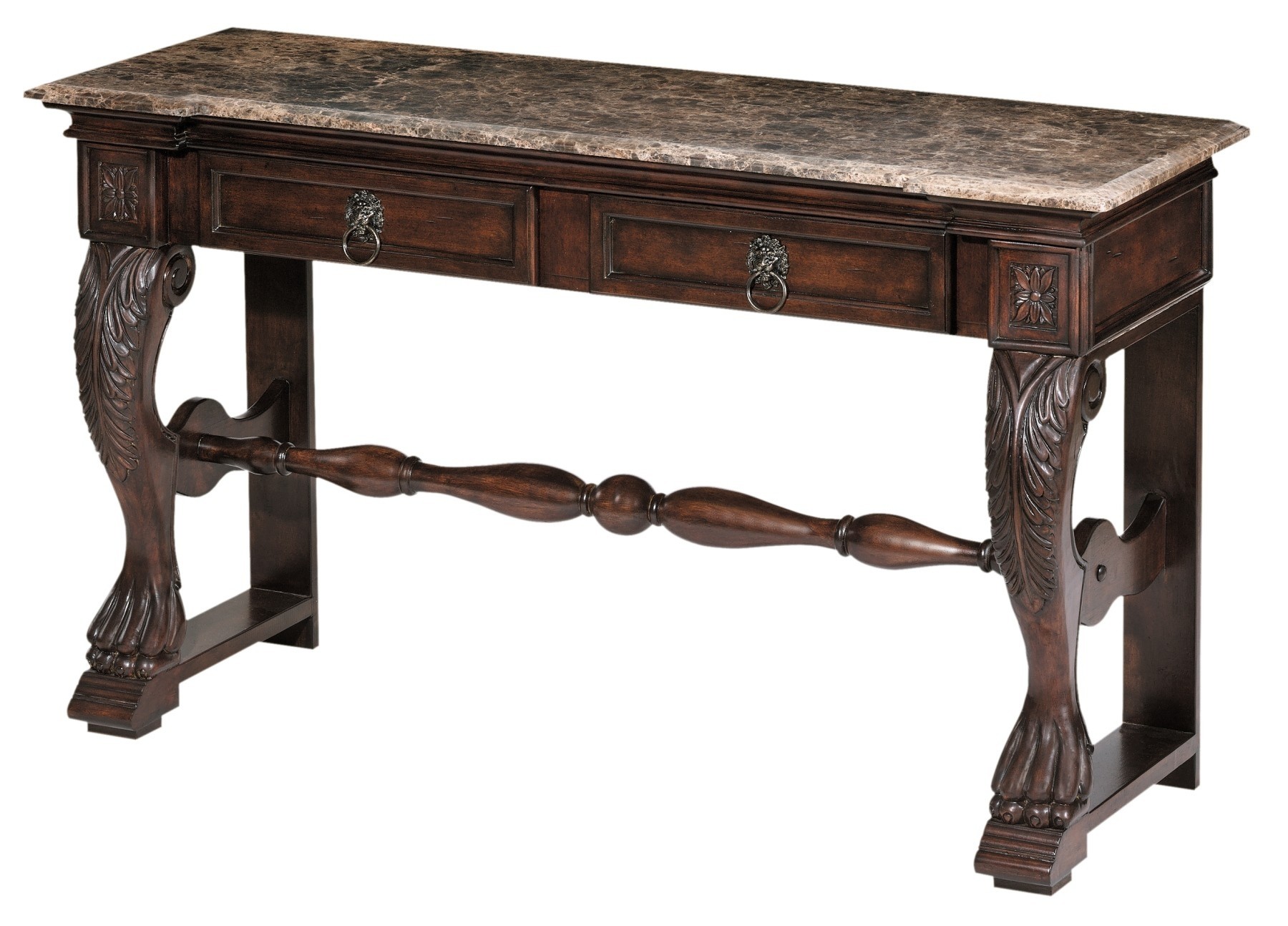 Carved Console Table With Marble Top, 22240, Stein World