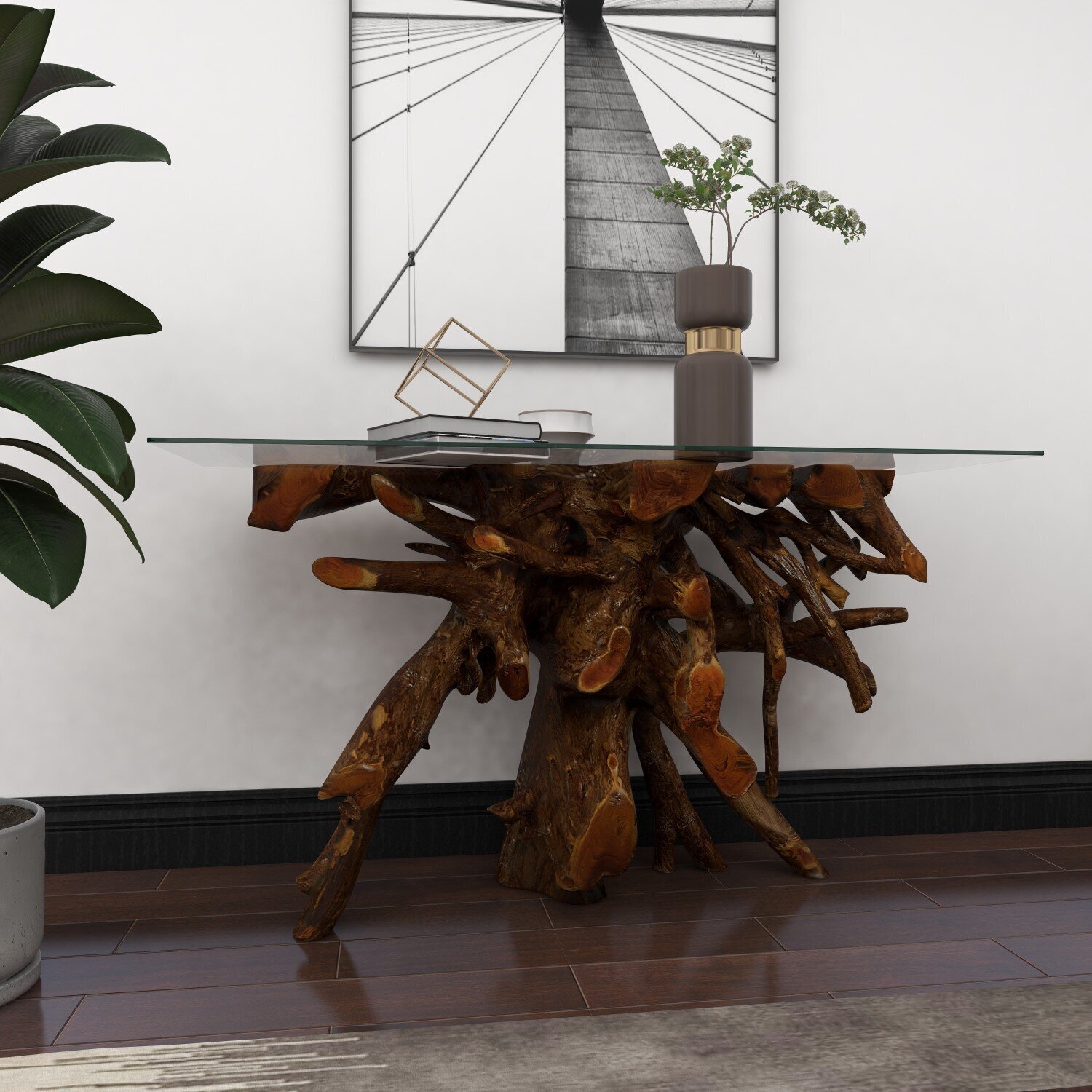 Driftwood Entry Table
A solid piece of 54" by 16" tempered glass sits on top of this driftwood entry table. The 30" high base is made from solid teak driftwood, and together with the glass top, the table weighs 165 lbs. The base is delivered in one piece and only requires setting the glass top in place.
Designer Advice:
Using glass for the tabletop on this driftwood entry table is ideal. It lets you showcase the wood without blockage and gives you a flat surface to arrange items on top. The base of this table fills the entire area under the glass top without leaving room for decorative baskets. Hang a woven wicker framed mirror above the table to relate to the natural wood and glass elements on this gorgeous table.
Merchant links are sponsored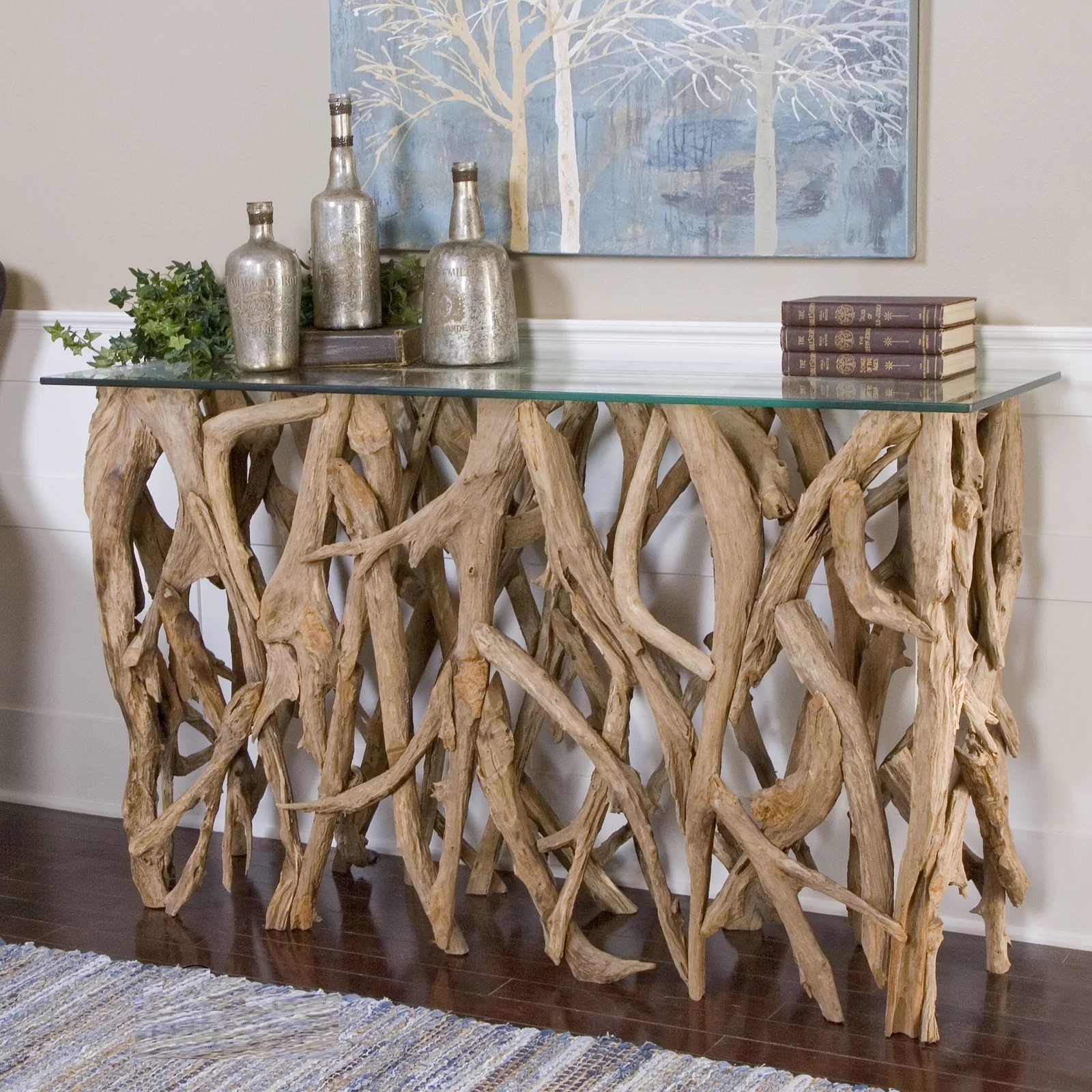 Reclaimed Driftwood Console Table
Reclaimed driftwood sticks are bonded together to create the base on this driftwood console table. The glass top is 0.5" thick and has rounded and slightly beveled edges. It measures 59" long by 17.72" deep and stands 34.6" tall. Assemble by placing the glass on top of the base.
Designer Advice:
At five feet long, this driftwood console table can sit behind most sofas with room to spare. Flank each end of the table with a tall skinny indoor tree set in a wicker basket. Or place a single tall tree at one end and let the branches hang over the top of the console table. Now add a lamp to the other end, and you'll have created the perfect beachy decor style! This stunning driftwood console table can also be left outside in a covered area.
Merchant links are sponsored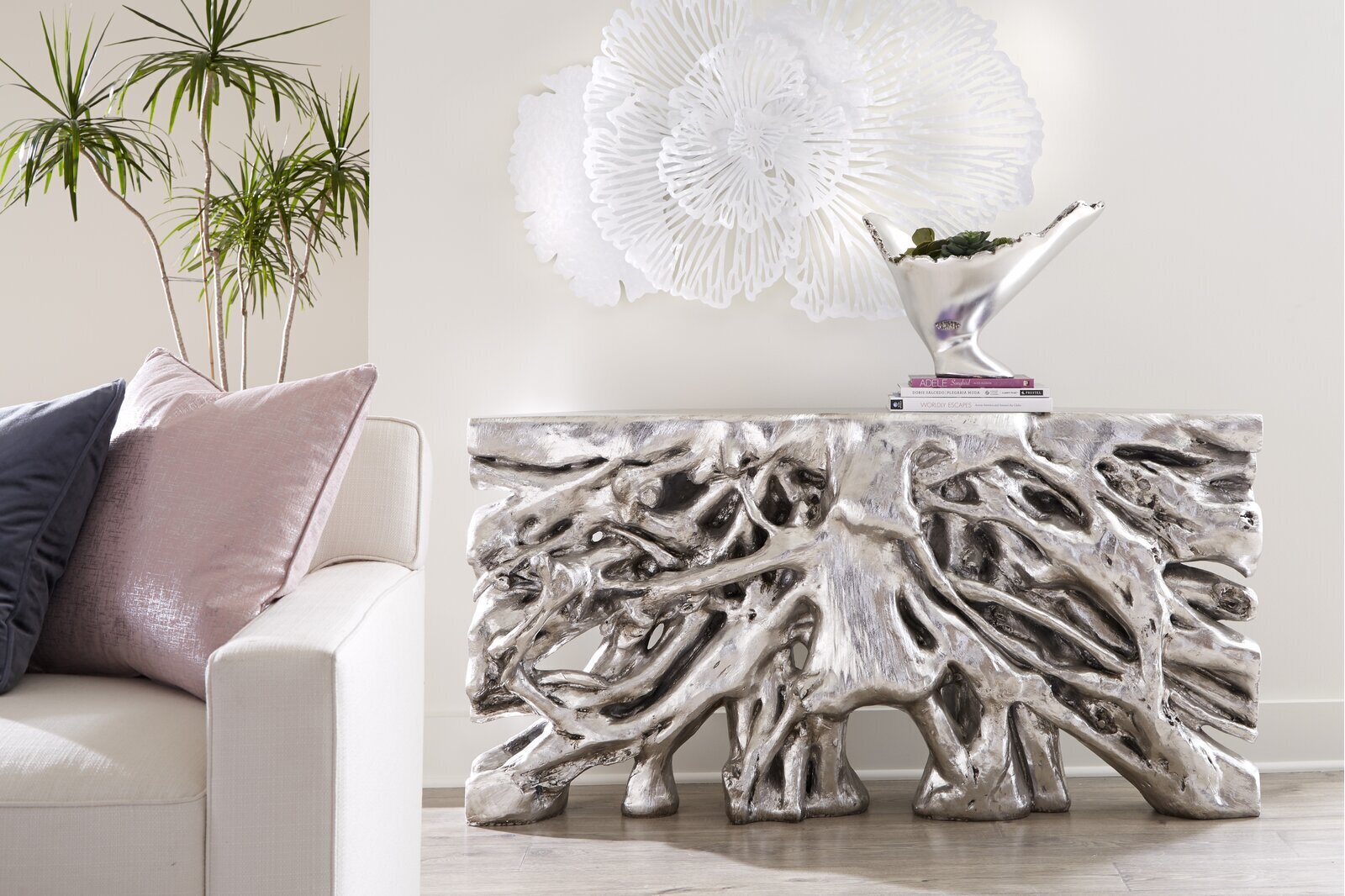 Resin Driftwood Console Table
Measuring 60" long by 11" deep and 30" high, this driftwood console table weighs 72 lbs. It can hold up to 100 lbs and does not require assembly. The table top is a free-form, roughly rectangular shape.
Designer Advice:
Made from resin, this stunning driftwood console table has been covered with a silver leaf finish and is not suitable for the outdoors. Clean the silver by dusting it with a soft cloth. You can also gently wipe with a soft, damp cloth and a small amount of soap. Don't use any harsh chemicals as this may strip or peel the finish.
Merchant links are sponsored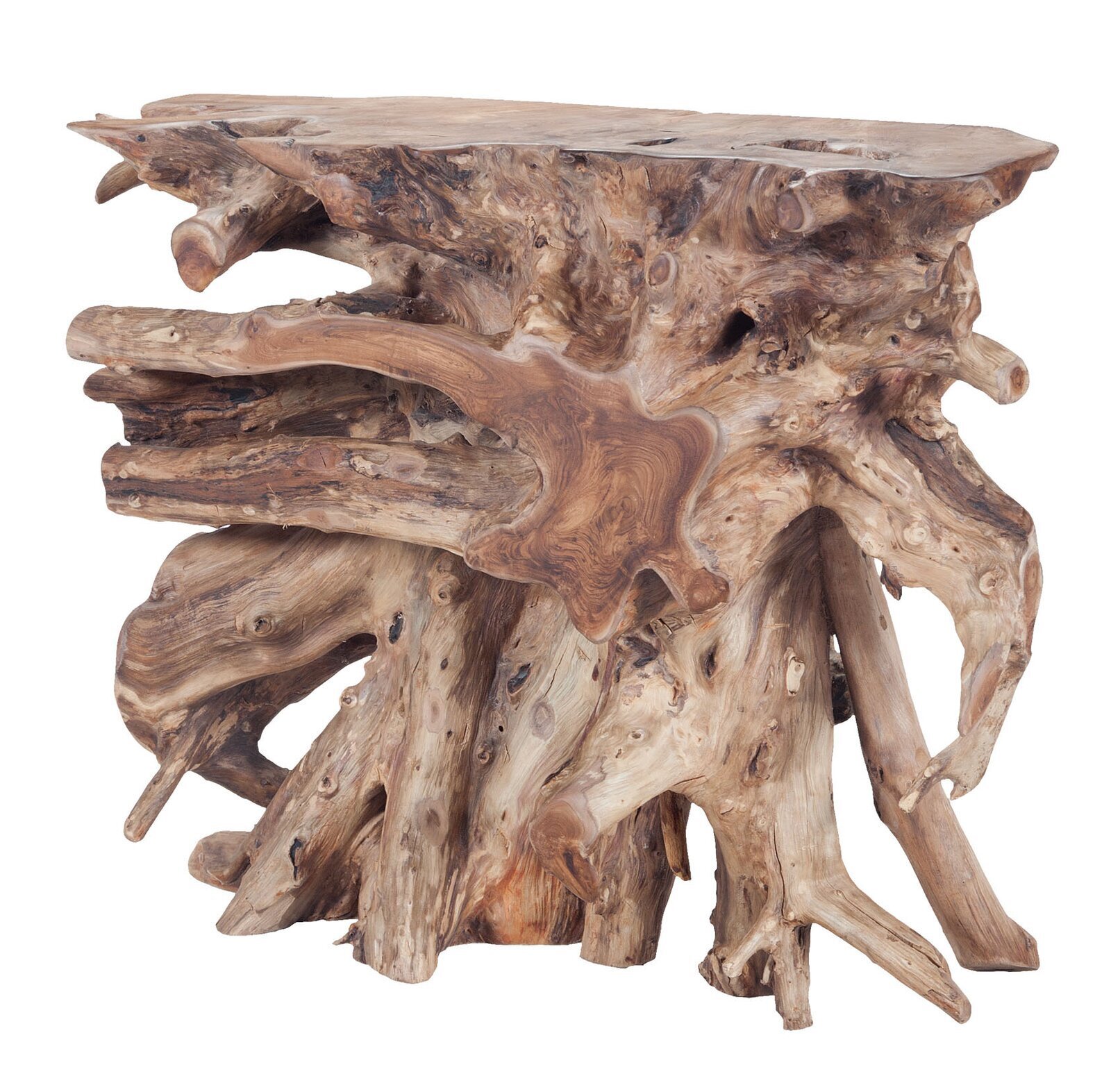 Solid Driftwood Console Table
Crafted from a single, solid piece of driftwood, this table weighs 77 lbs. It measures 31" high by 36" wide and is 13" deep. The teak driftwood is a champagne gold color and comes with a natural finish that can be refreshed by applying vegetable oil.
Merchant links are sponsored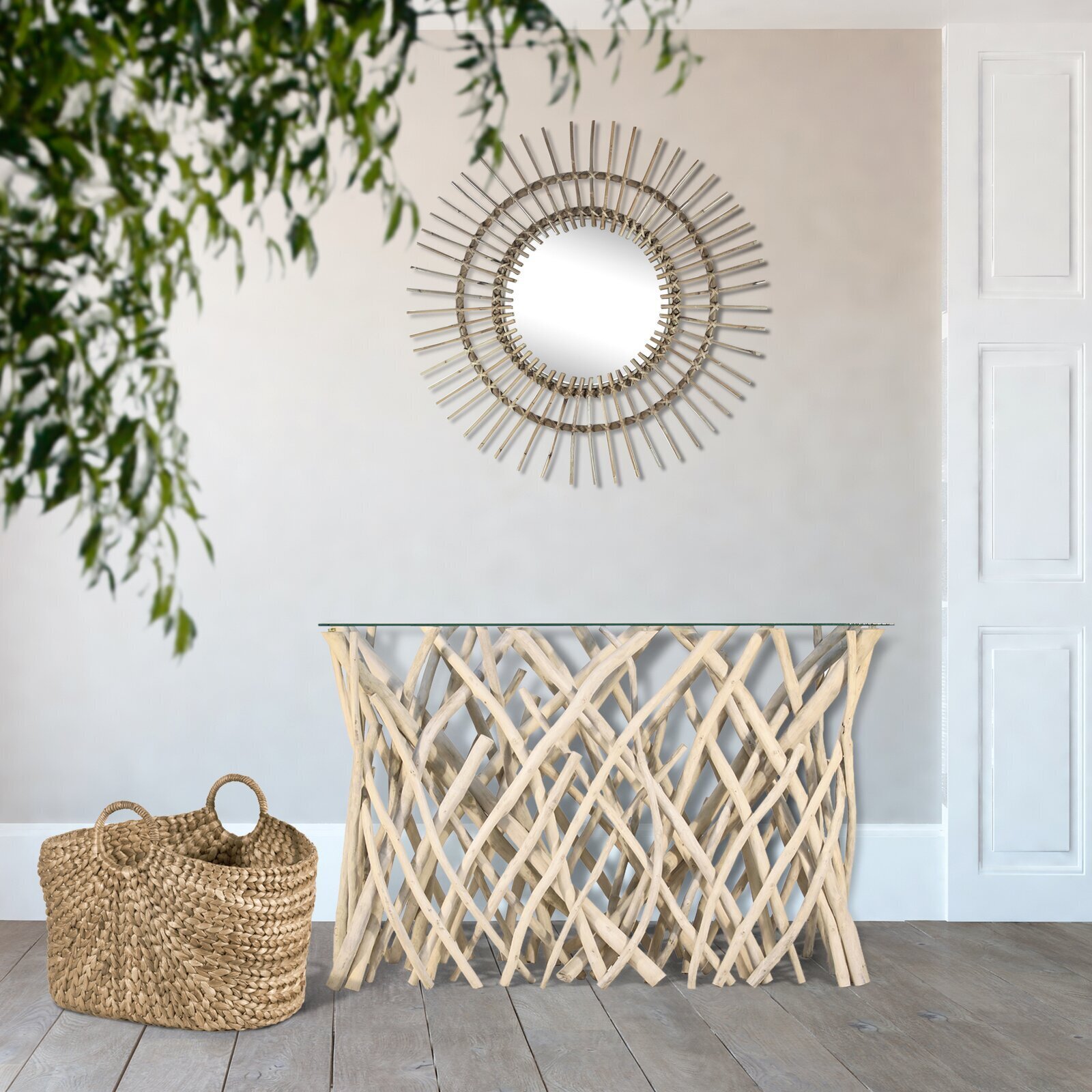 Driftwood Table With Glass Top
Interwoven branches create the base of this driftwood entry table. All pieces are carefully nailed one by one until the table is structurally complete. A solid piece of glass measuring 47" long by 14" wide sits on top of the 30" tall table base. Together, the table top and base weigh 95 lbs.
Merchant links are sponsored