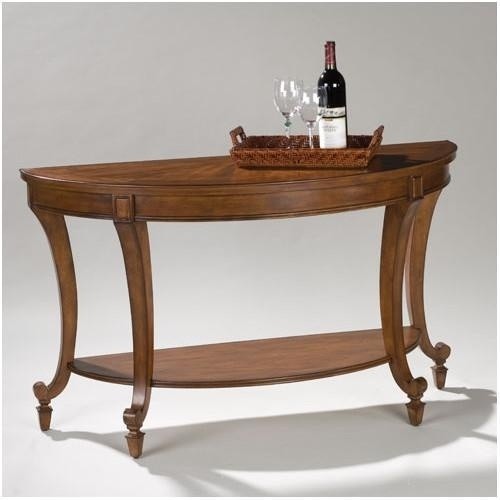 Aidan Demilune Console Table
Pretty traditional semi-oval table featuring 4 angular concave legs with pointy feet. It's top has a reverse diamond pattern and a moulding edge. There's also a bottom shelf. The entirety is made of wood with a brown finish.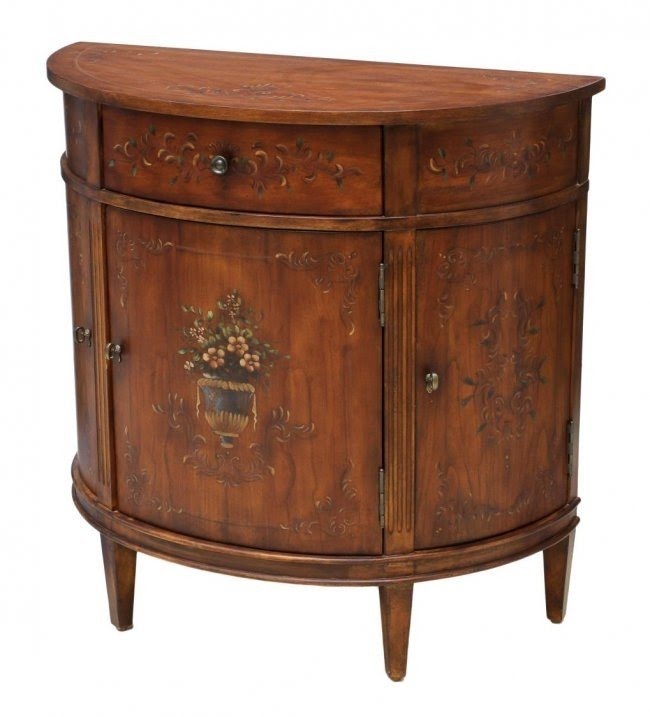 ETHAN ALLEN DEMILUNE CONSOLE CABINET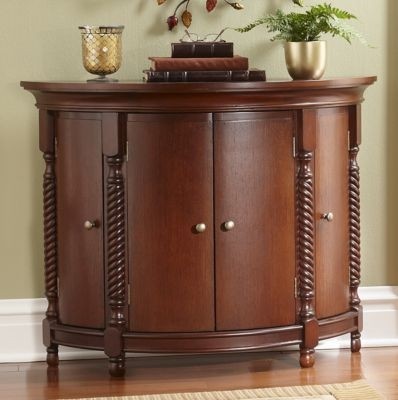 Half oval console cabinet with four doors, including double doors on front, enclosing a large centre cabinet. This one is flanked by two smaller side cabinets. The details include sleek crown molding and attractively embellished framework.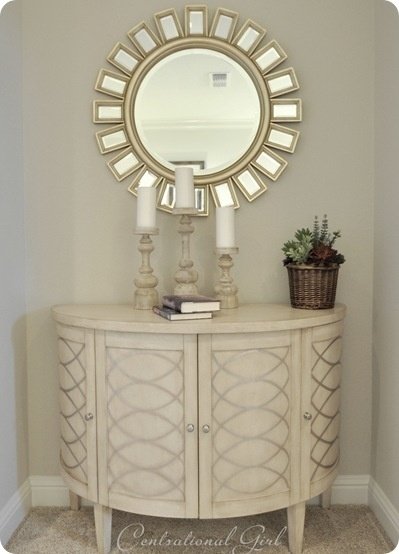 This wonderful cabinet will be a highlight of your bedroom or entryway. It's in a charming demilune shape and it features elegant, silver details. It perfectly matches a posh, starburst mirror and candle holders in natural tones.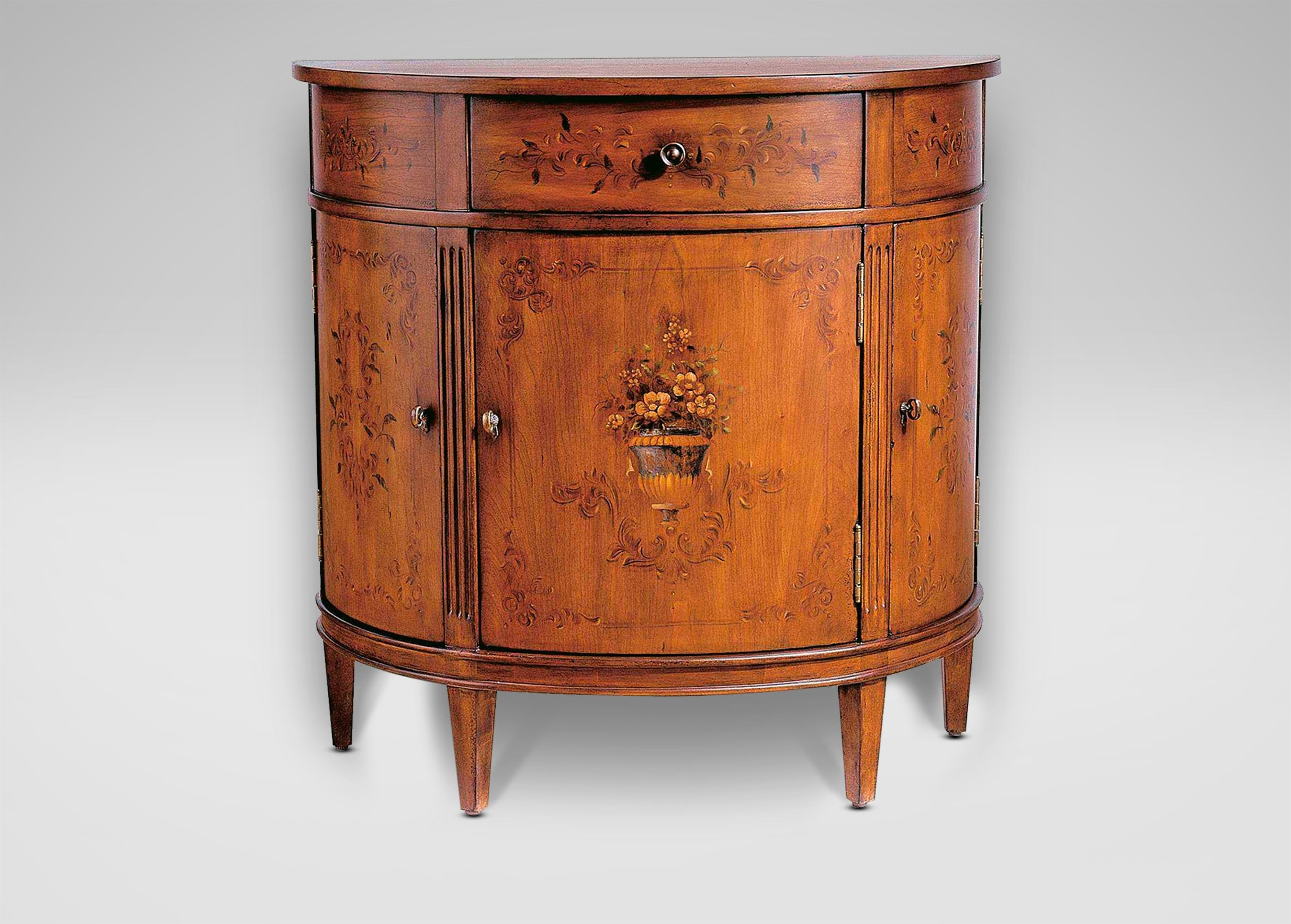 Outstanding mid-century inspired console cabinet with three large closed-door cabinets and three additional drawers. Sitting on four tapered legs, the table is also finished in a glossed light brown stain. It also offers outstanding detailing thanks to its unique floral motif.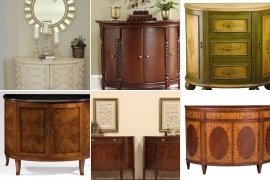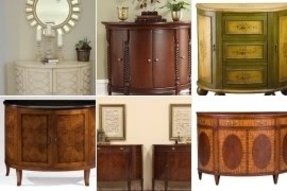 A half-round console cabinet, which embodies the best features of English classical style. Its ornamental finishing, along with curved legs and intricately designed knobs will enchant all enthusiasts of antiques and vintage design.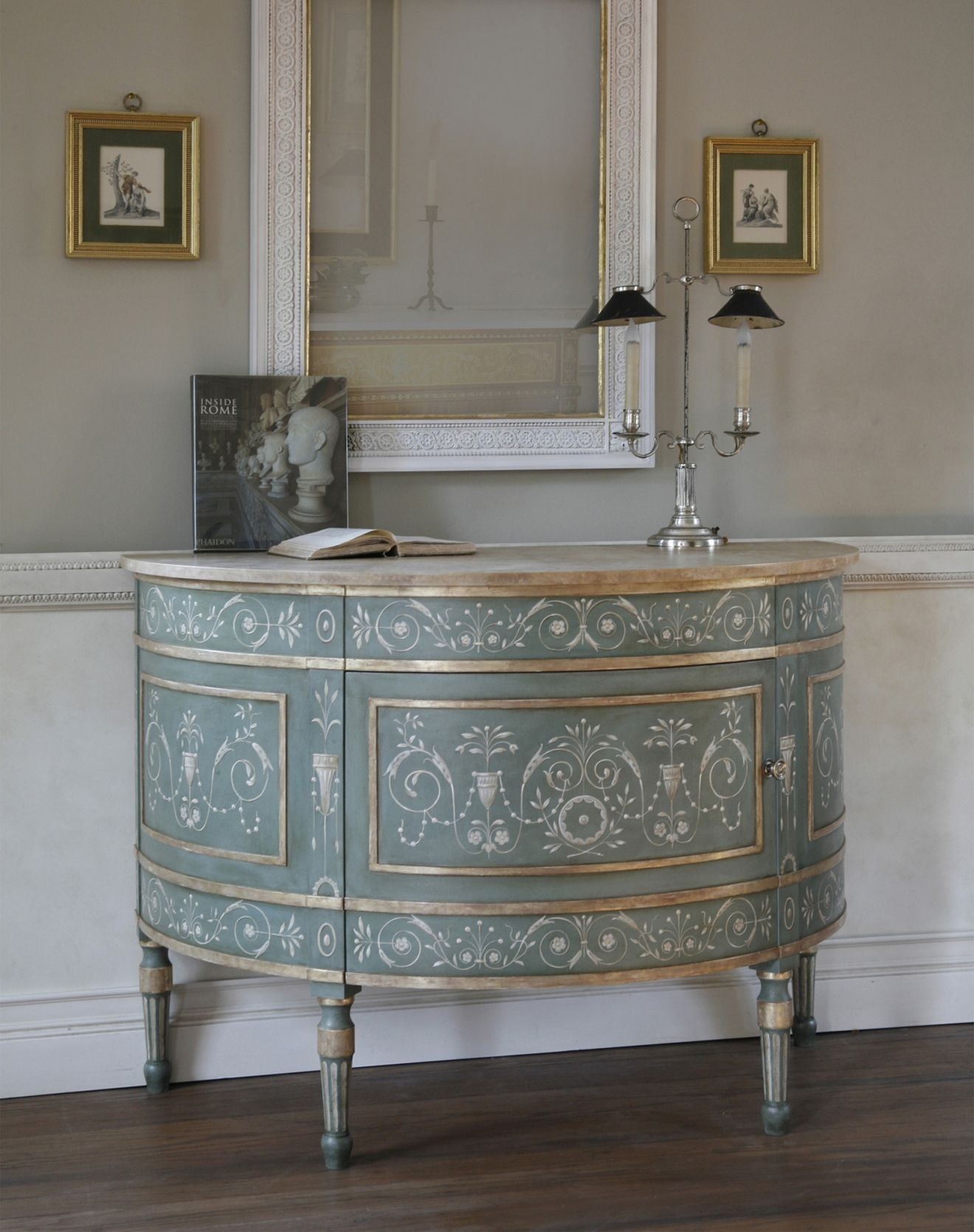 This Italian Demi Lune commode is a neoclassical masterpiece, which delights with its silver patina finish and rich adornment. The combination of silver and brass is not only solid, but also extremely stylish.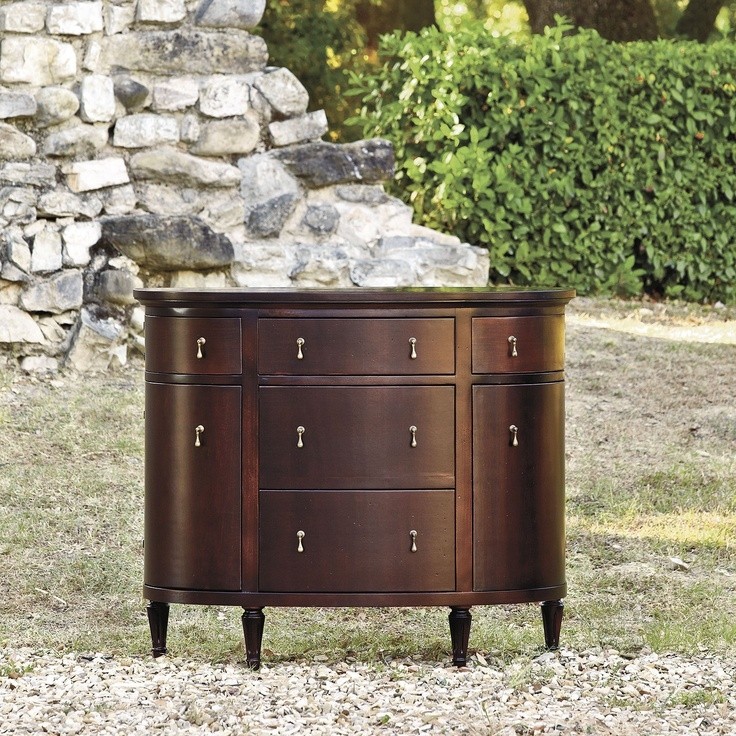 Sitting on four tapered legs and featuring a unique curved design, this outstanding console cabinet is designed to deliver impeccable visual appeal and outstanding storage. The piece offers five storage drawers and two large cabinets, each accentuated with beautiful brass coated metal pulls for outstanding elegance.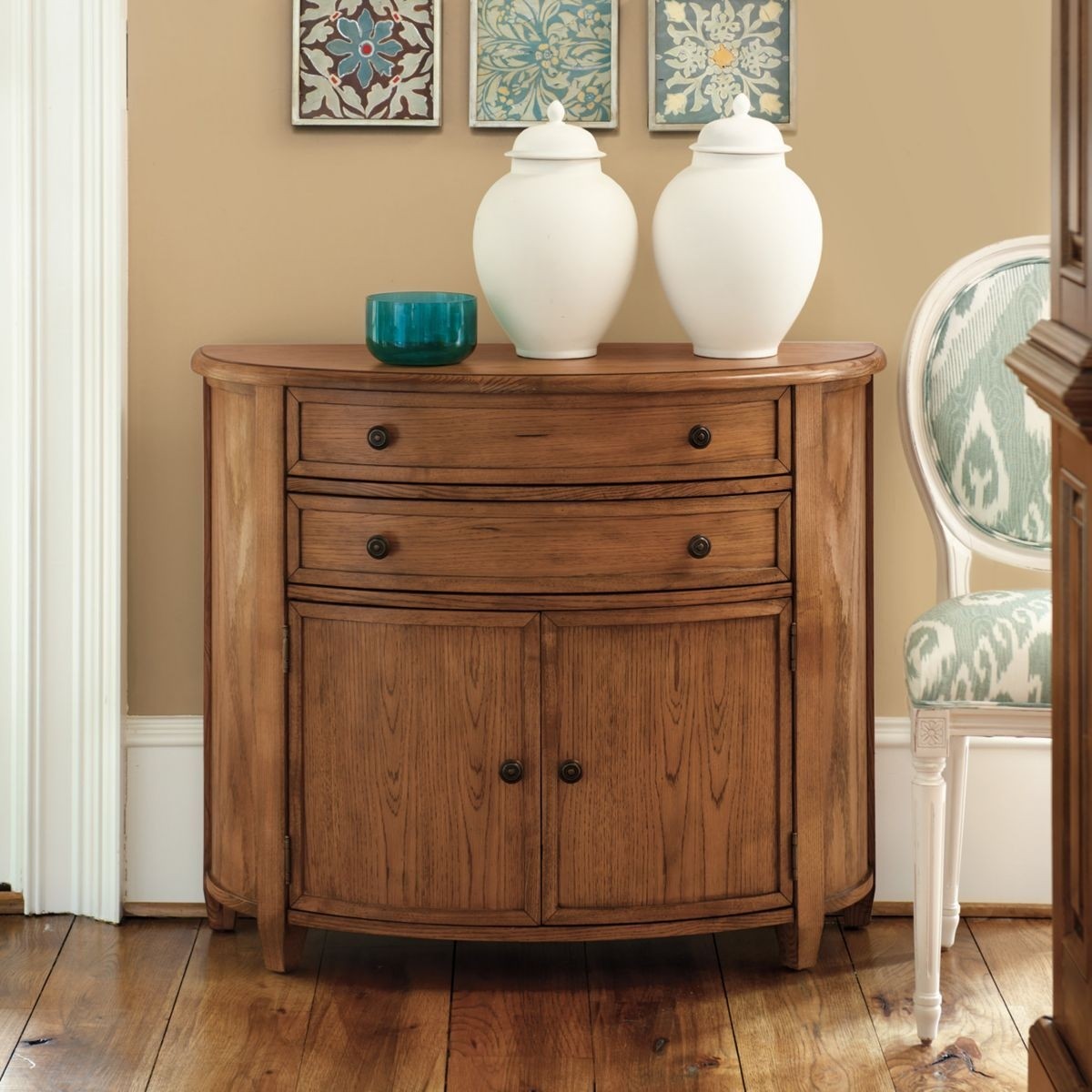 Vintage-inspired console cabinet with a distressed light brown finish and a charming curved design. The piece comes with two large closed-door cabinets at the bottom and two extra drawers at the top. There's also a lot of countertop space for additional storage if needed. Great for the living room or the den.
Stunning console cabinet with a slightly raised curved design and a superb light grey neutral finish. The console table is constructed from wood and offers a combination of closed-door cabinets and drawers for your storage needs. It's also accentuated by minimalist industrial black pulls to balance out the colors.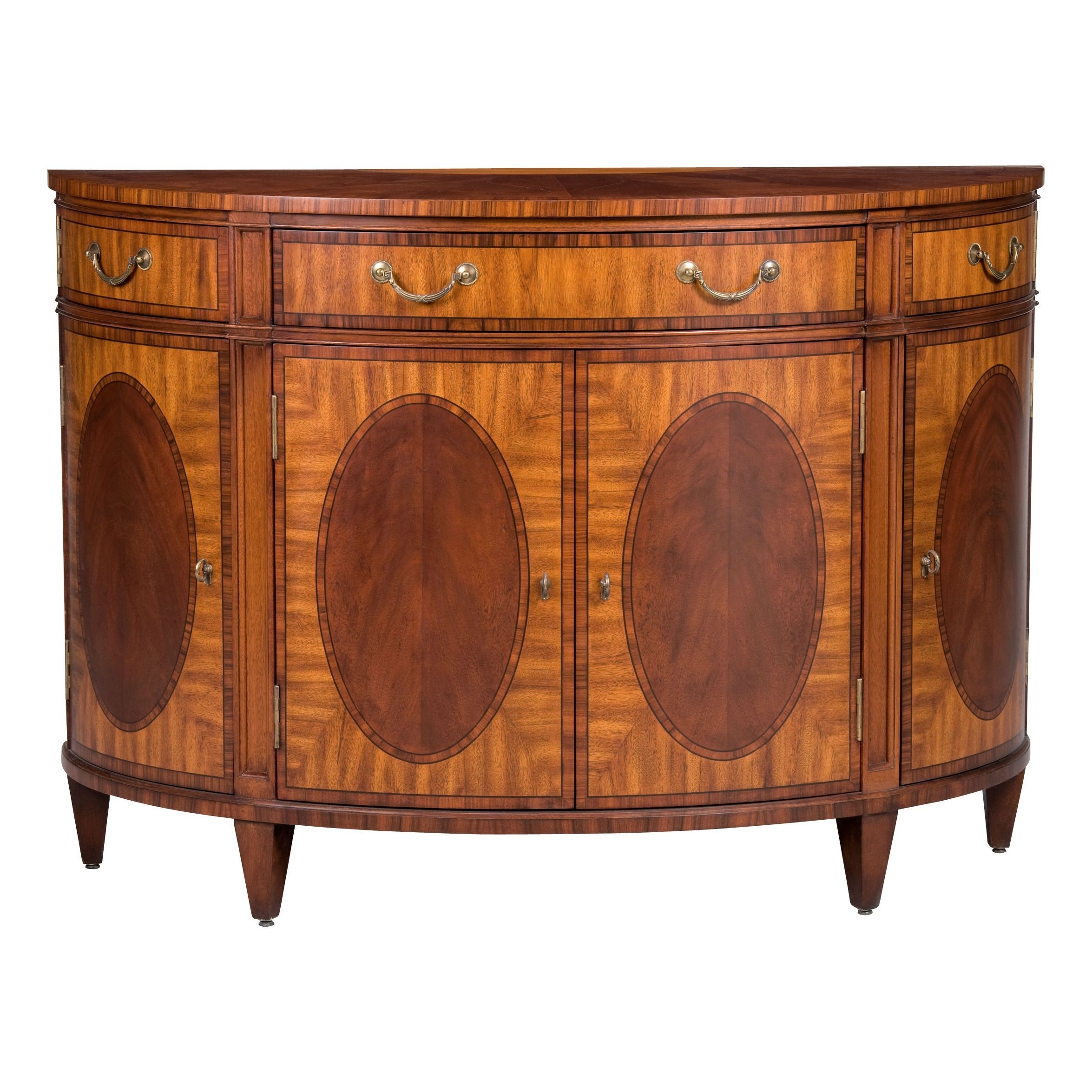 Console table with 3 cabinets in various sizes and 3 drawers on the base. Construction is made of wood and fisnished with interesting pattern. Top has large usable surface. Application in all kinds of interiors according to taste.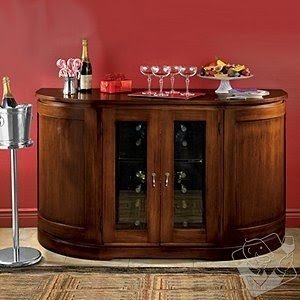 Wine Enthusiast Companies Italian Demilune Bar Cabinet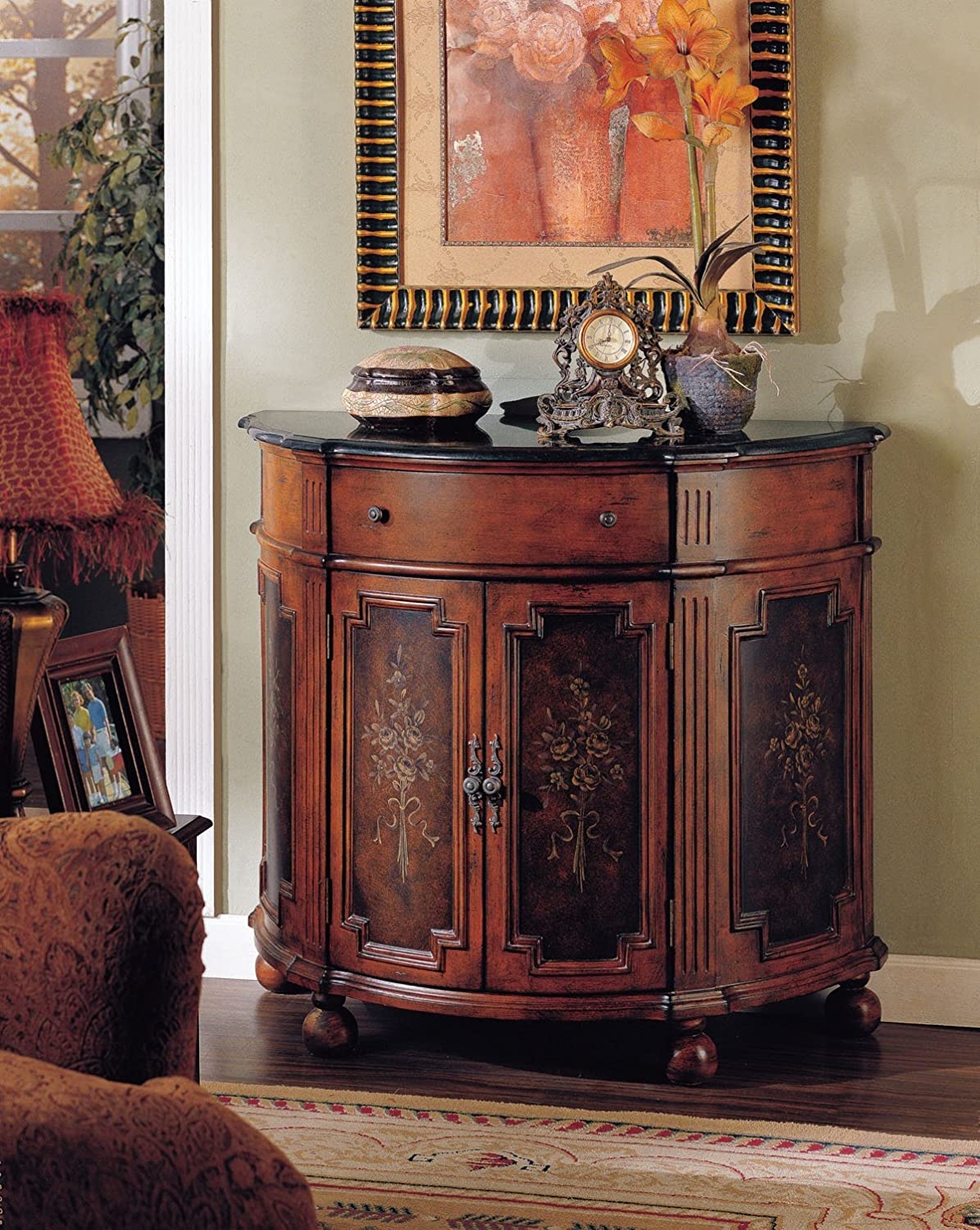 ACME Cherry/Painted Floral Console Cabinet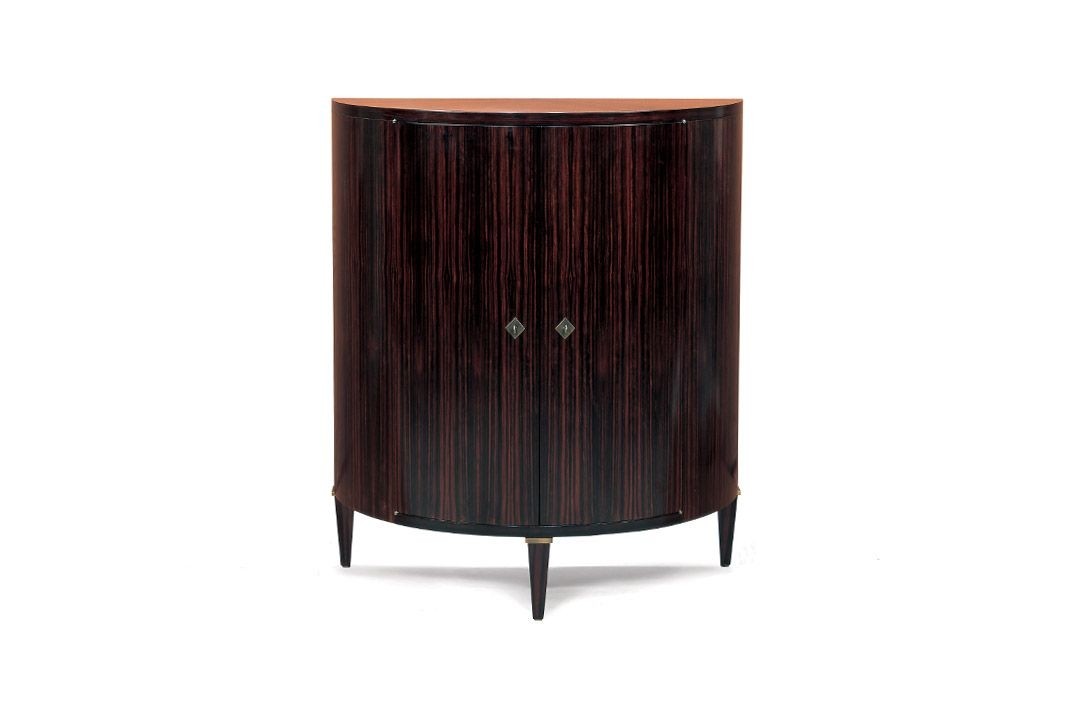 This classic demilune cabinet delights with its high-quality, dark wood finish. Standing on three legs, this stable construction can be a great display spot in your living room or corridor decor.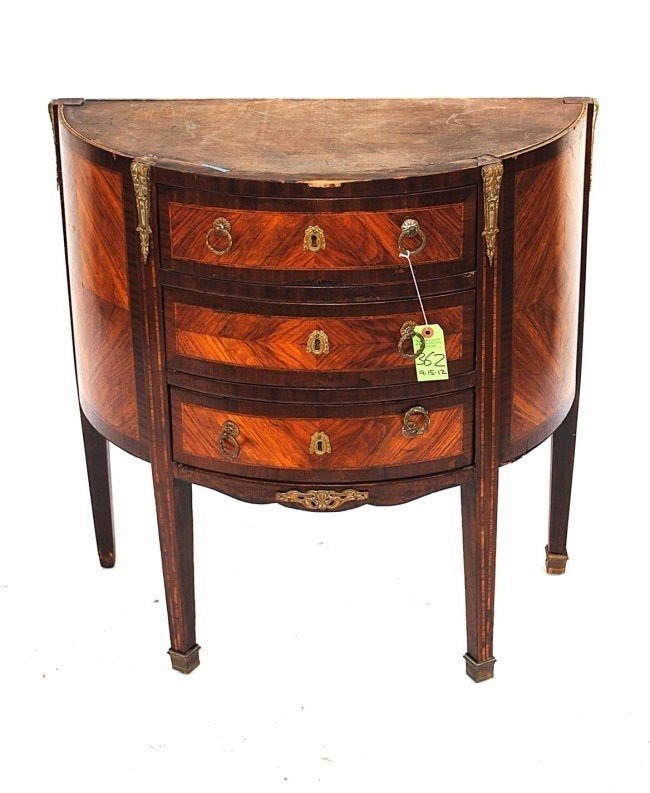 Half round cabinet made of wood with antique finish. Includes 3 drawers for storing needed stuff. Elegant furniture for any interior according to taste.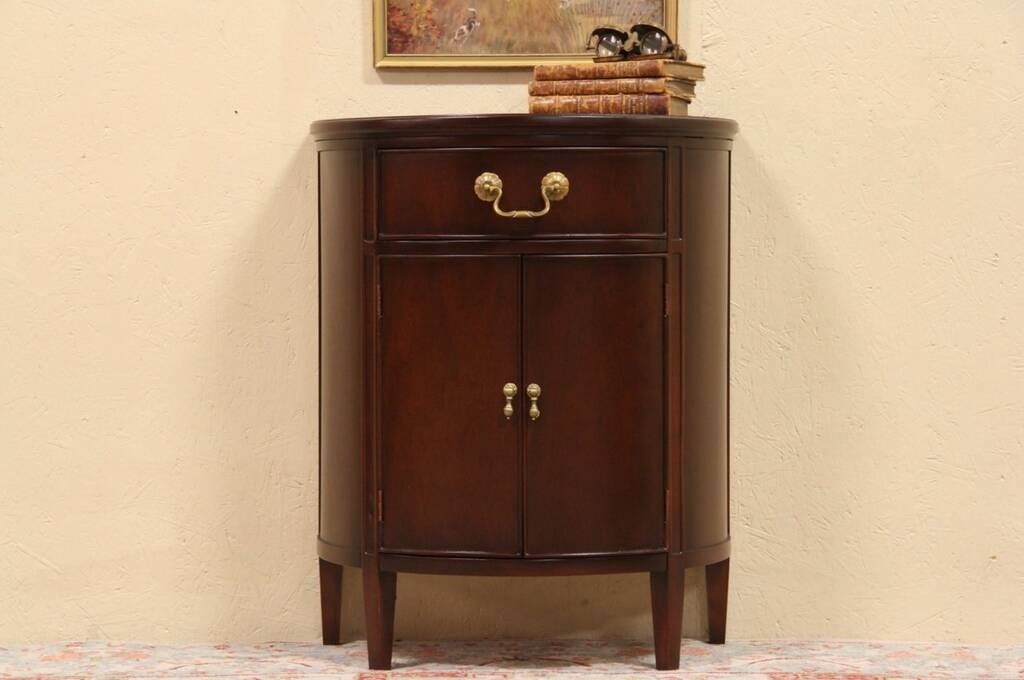 1024__1024____cd__demi2646sm.jpg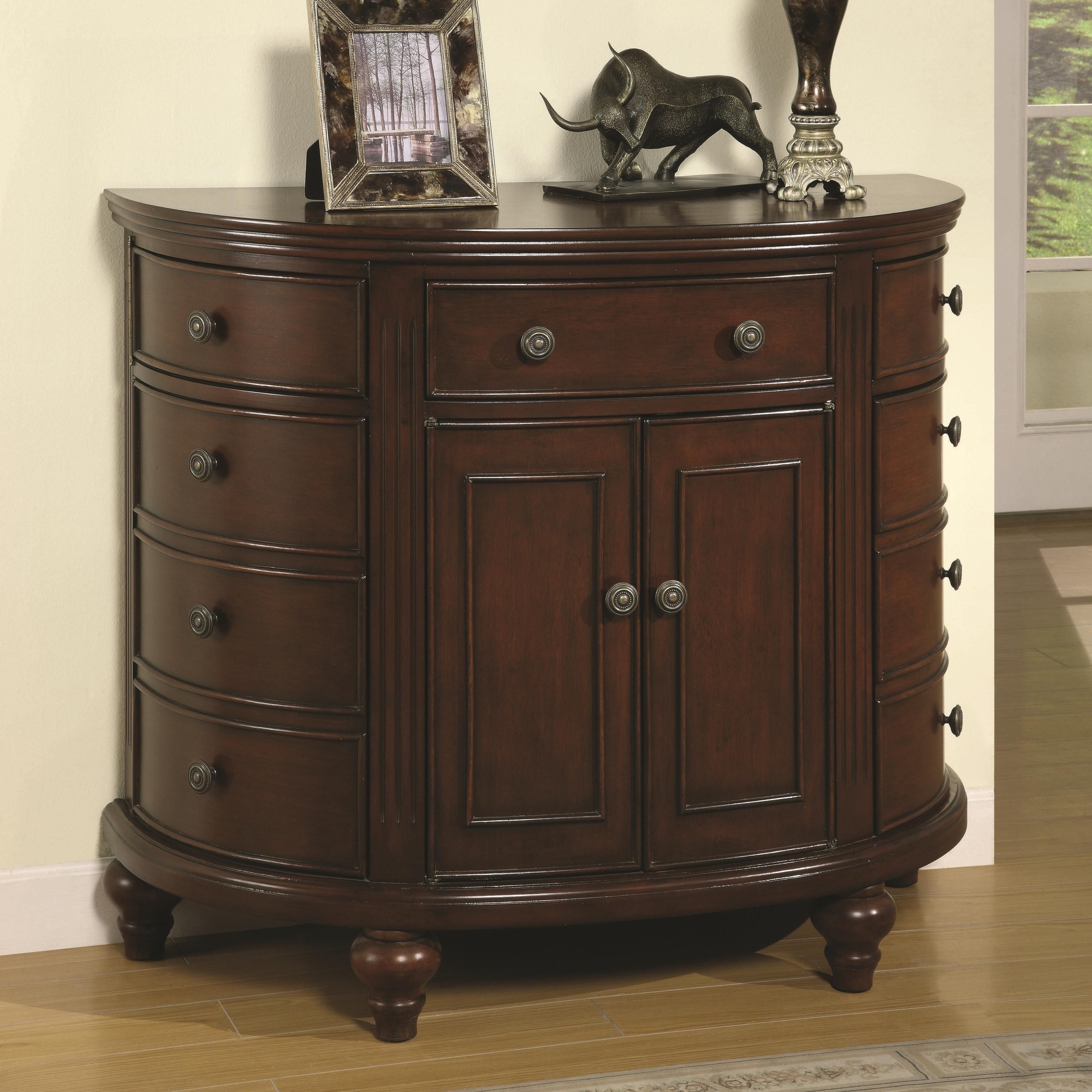 Demilune Cabinet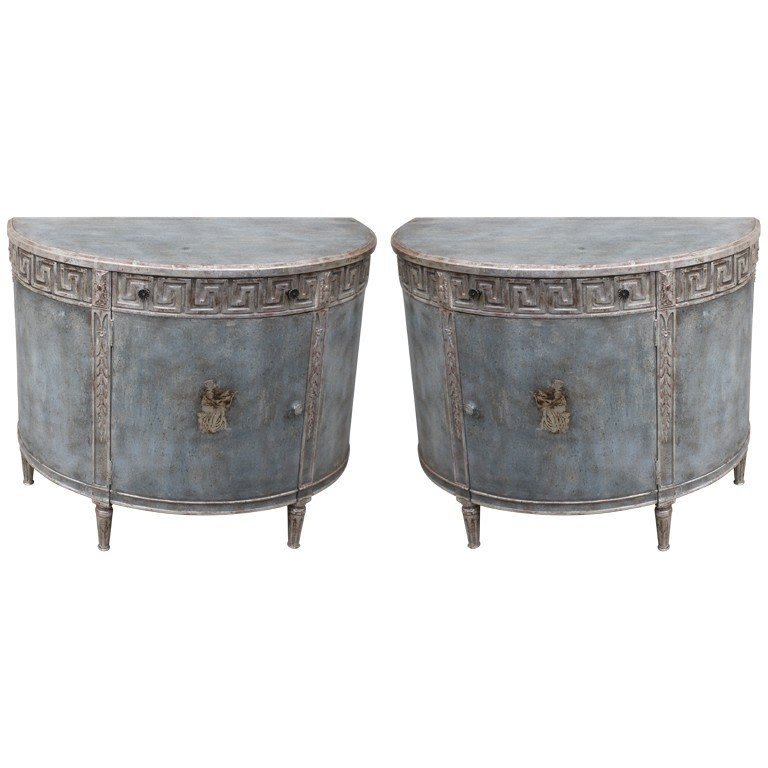 Antique pair of painted Demi-Lune cabinets with an old, distressed coat of silver paint. The old-fashioned design of these cabinets makes them perfect for a traditional, vintage bedroom, sure to give it a rustic detail.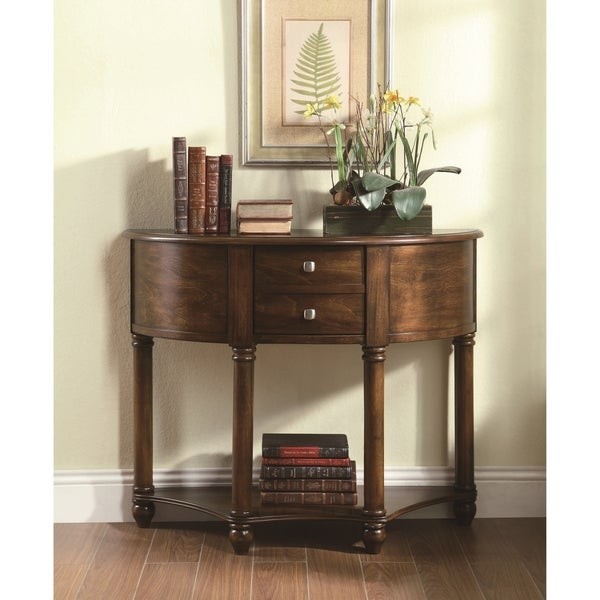 This impressive console is perfect for the living room, hallway or room. Beautifully finished, a drawer and a large shelf. Adorably fit in almost any type of interior design. Curiously carved legs add to the whole class.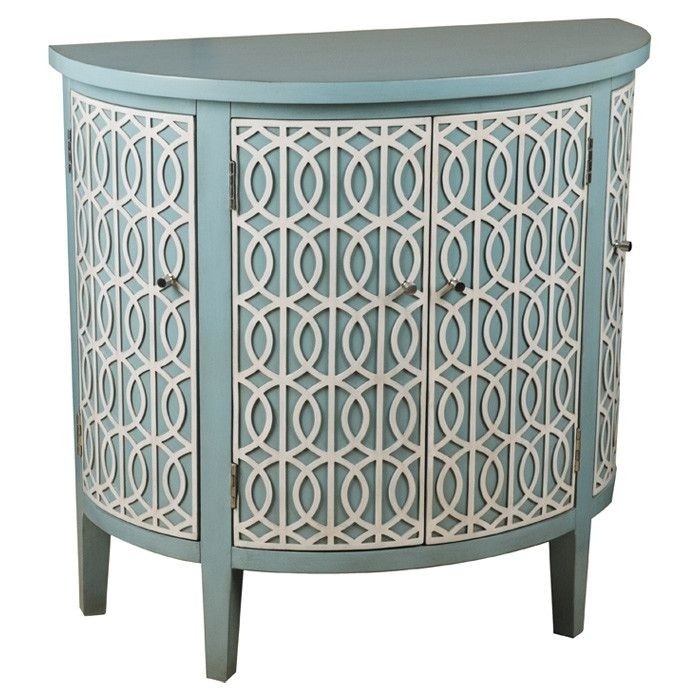 Pulaski Cooper 4-Door Demilune Chest - I would totally love to have this as a liquor cabinet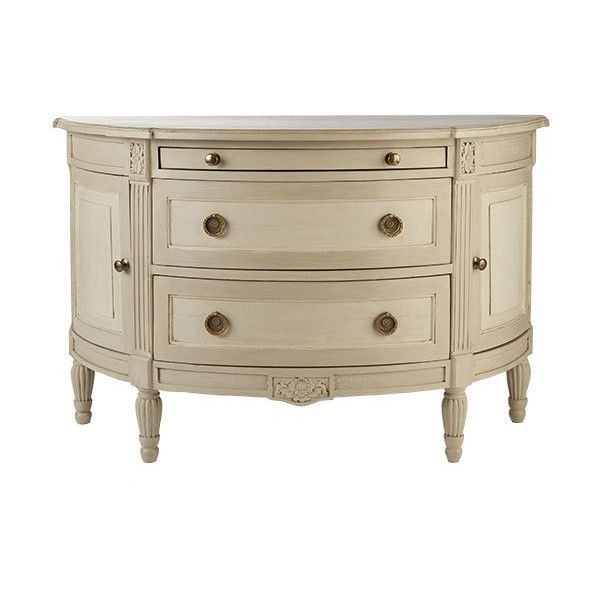 Demilune Console Chest | Chests and Cabinets | Wisteria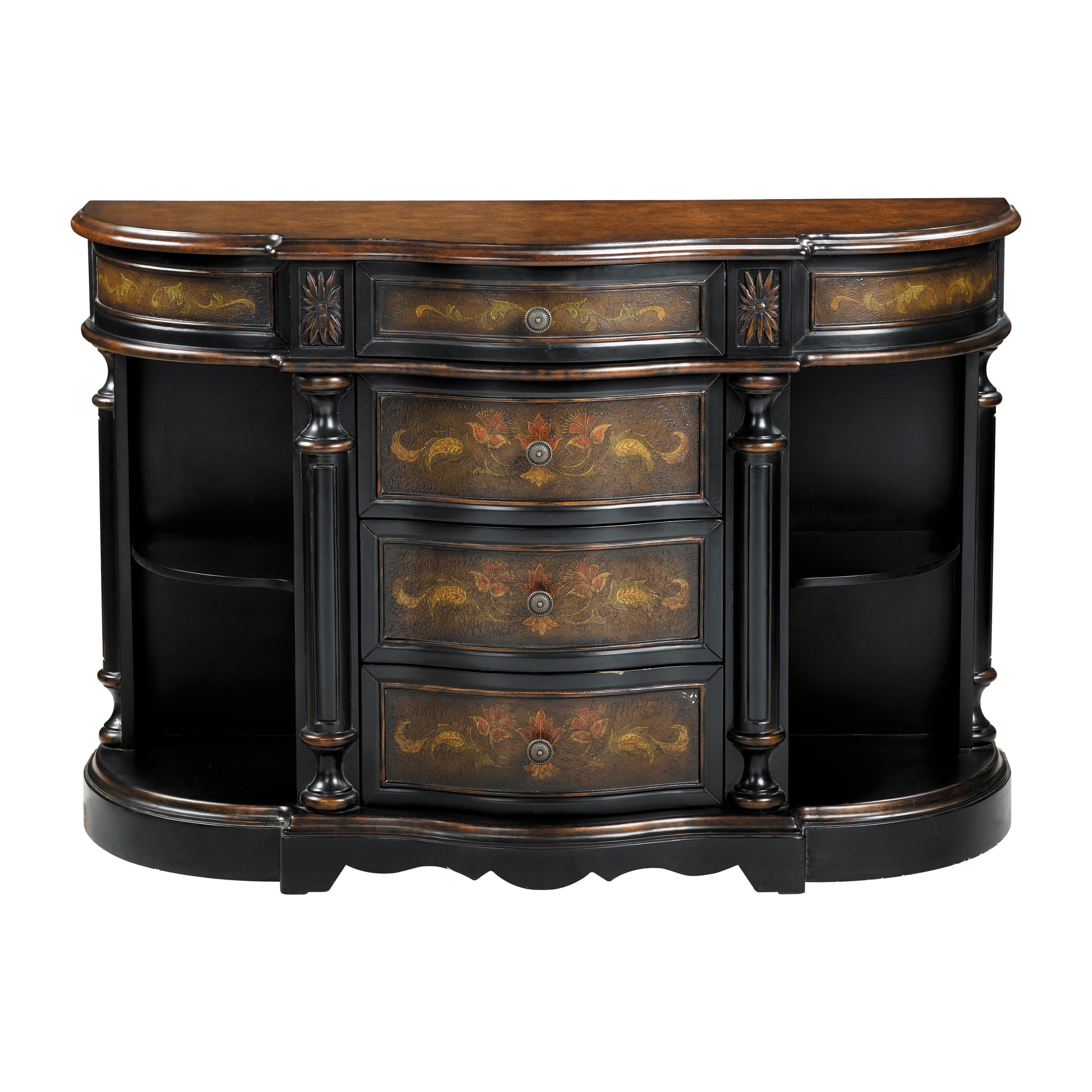 Corinth Demilune Console Table in Black & Olive do you wanna $575.99 dollar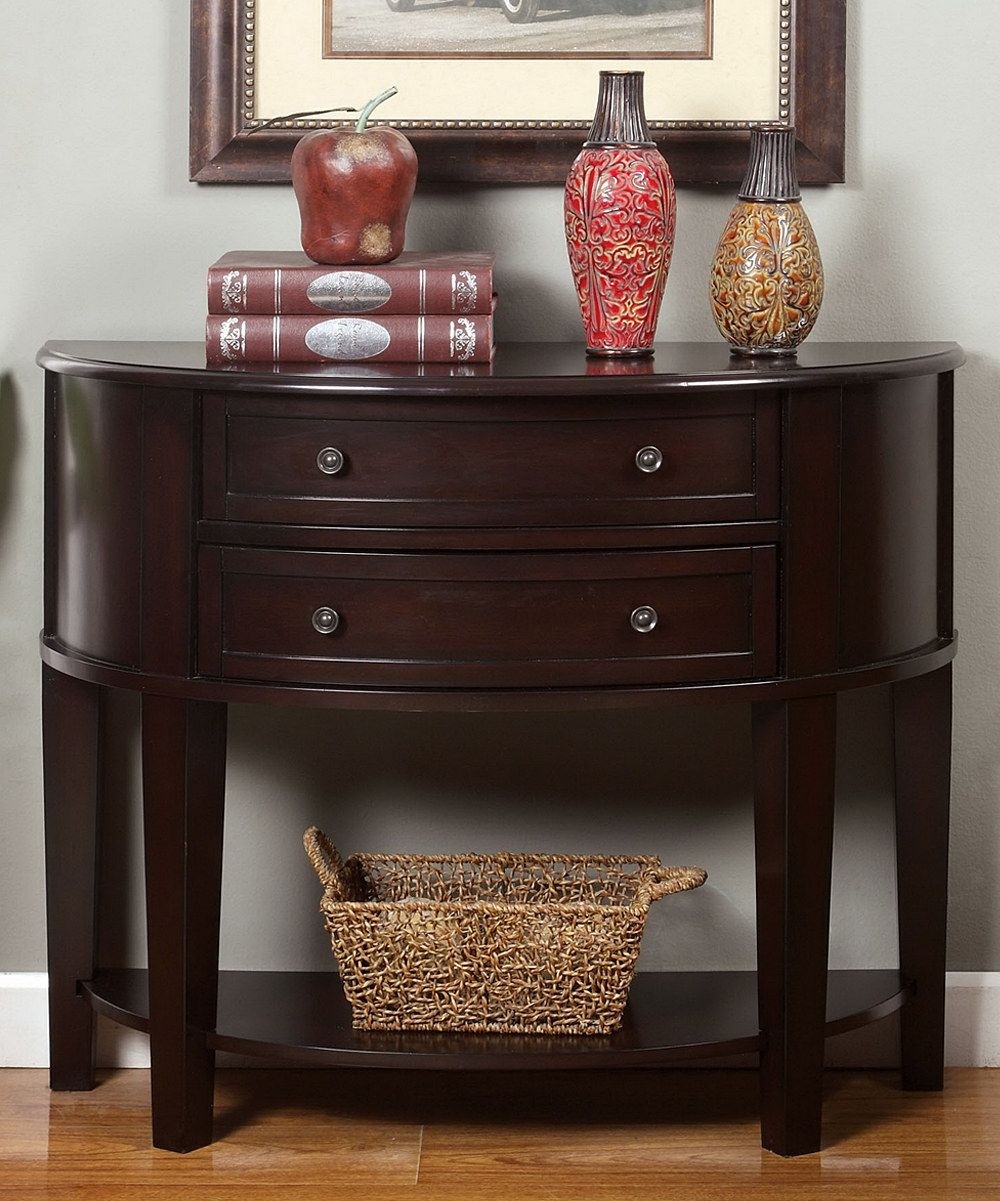 Finished in dark espresso, this characteristic demilune side table constitutes a perfect mix of elegance and functionality. It features 2 storage drawers and a bottom shelf for your stuff.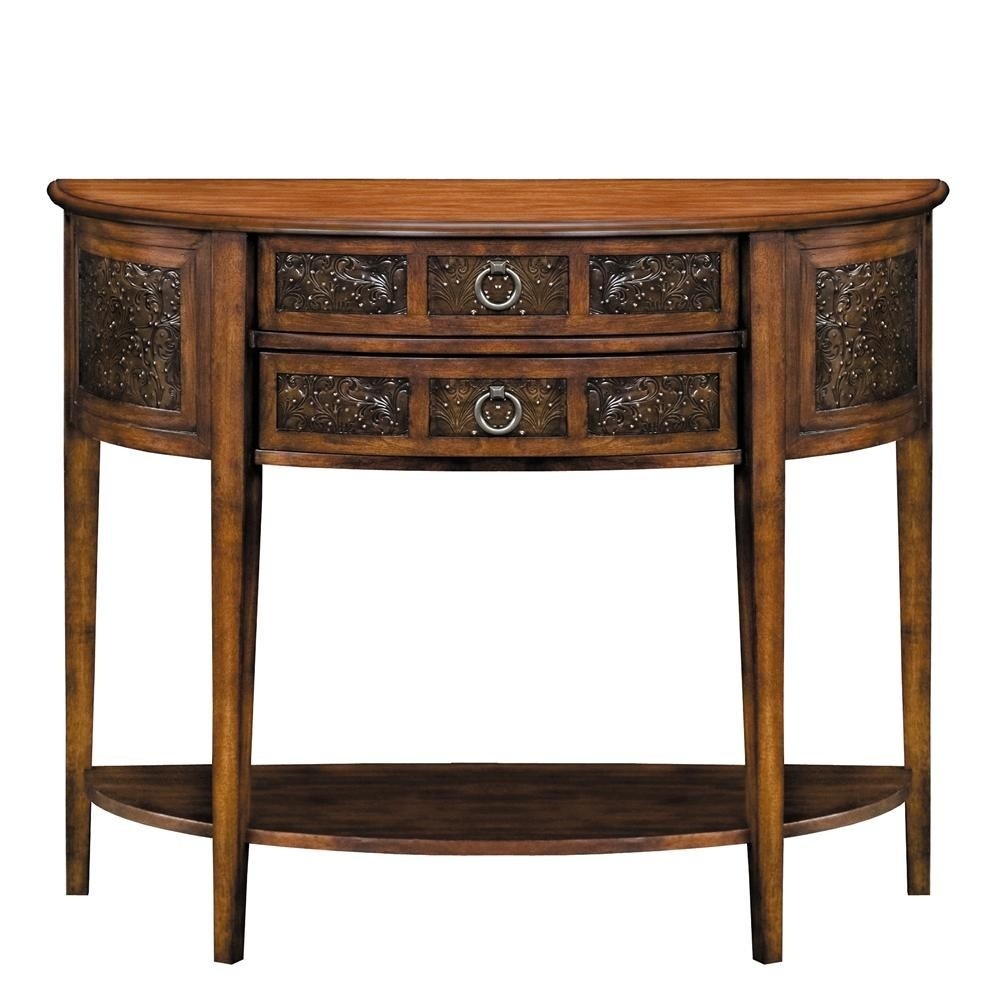 Stein World Furniture: Accent Table Mission Style Demilune Console Table. #accenttable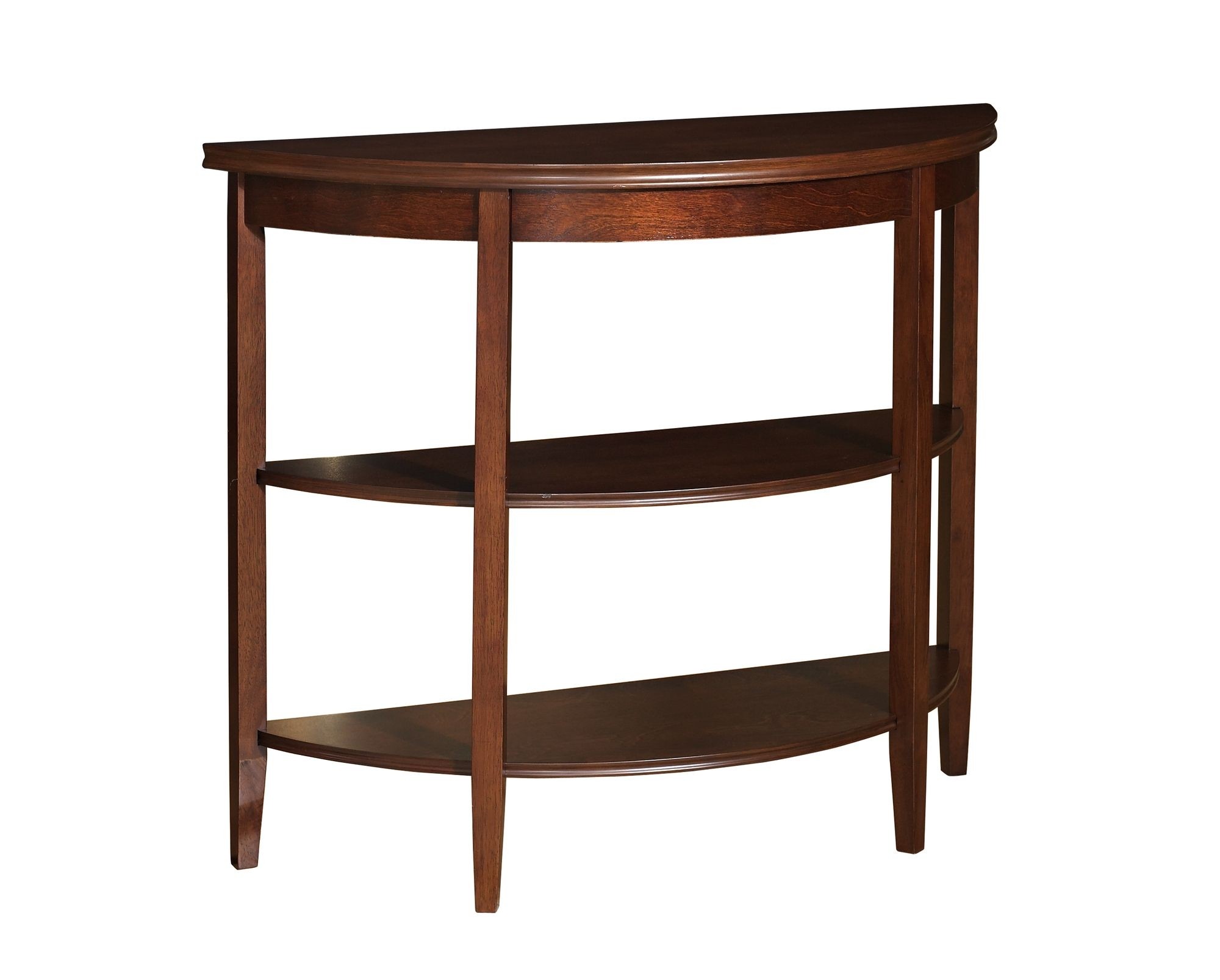 This console table is the perfect solution for furnishing the hall or a large, stylish living room. It is not only extremely elegant and pretty, but also very practical and useful. Just check it out and you will love it.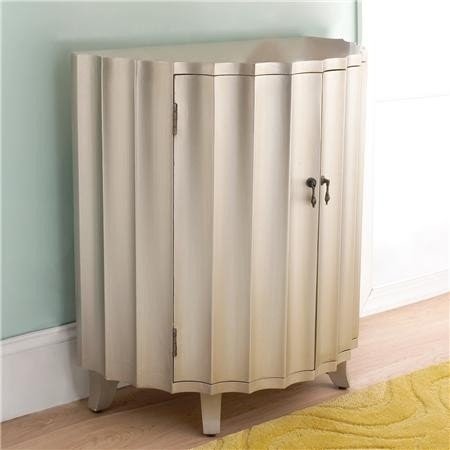 An eye-catching traditional standing cabinet having a semi-round body with an off-white finish. It has 4 short gently curved angular legs and features chanelled edges, sides and doors panels (with dark metal pendant handles).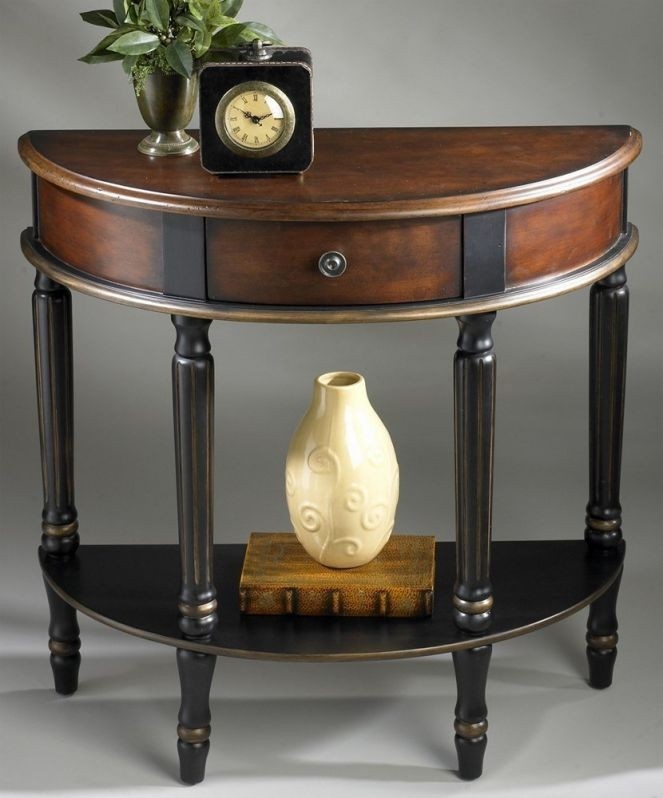 A console table with drawer is such an elegant idea. Add special furnish to hall, drawing room, bedroom or office space.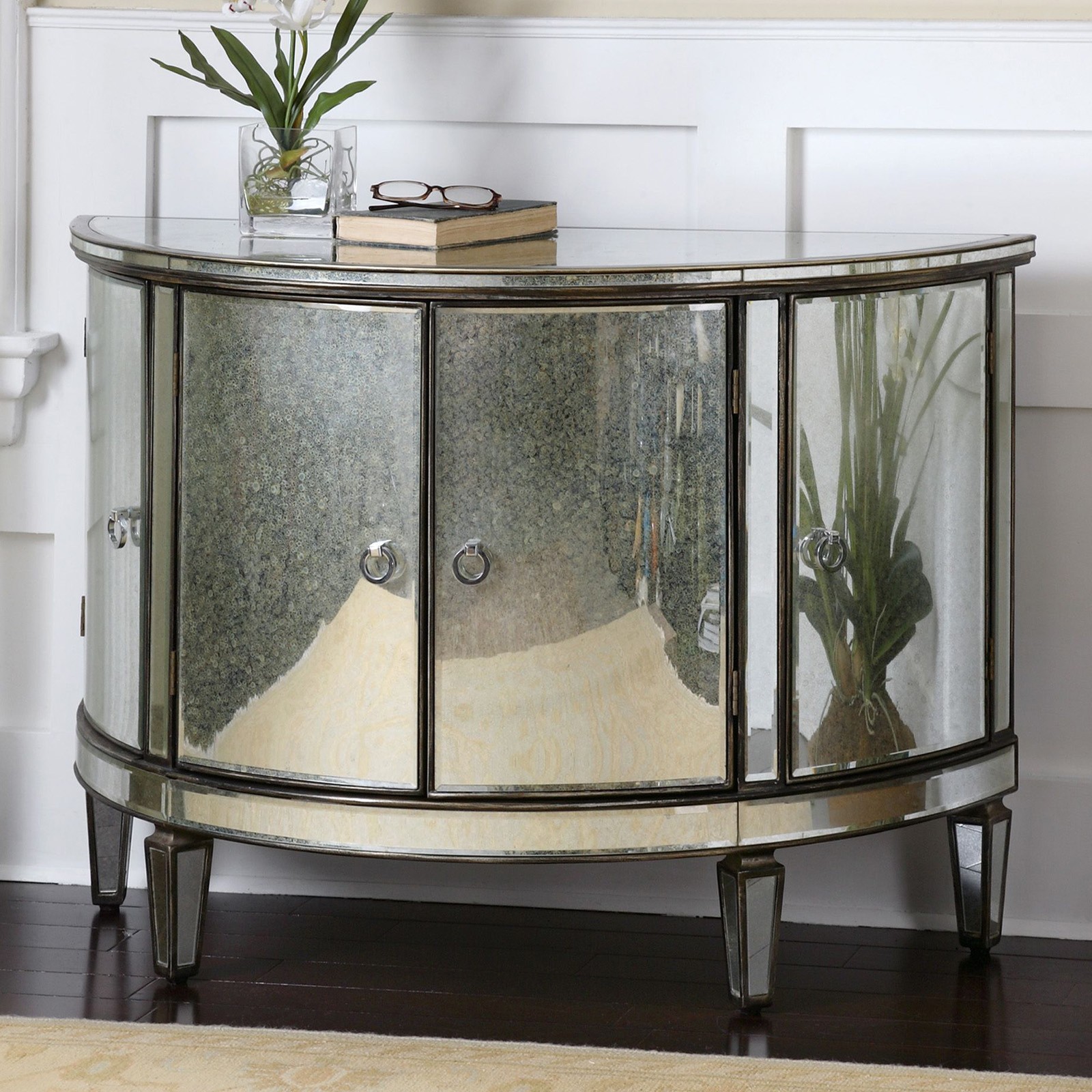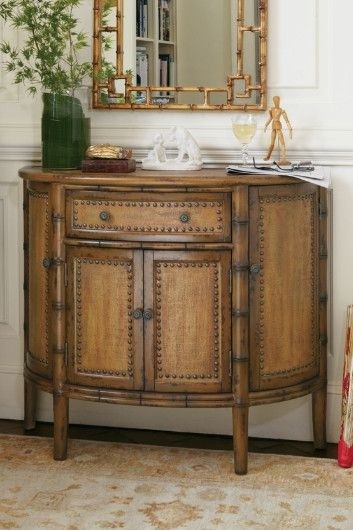 This cabinet in orient style is perfect for using in your hall. Made from wood with metal decoration is perfect addition to orient or rustic decor. Cupboard with doors and drawer hide a lot of space to storage.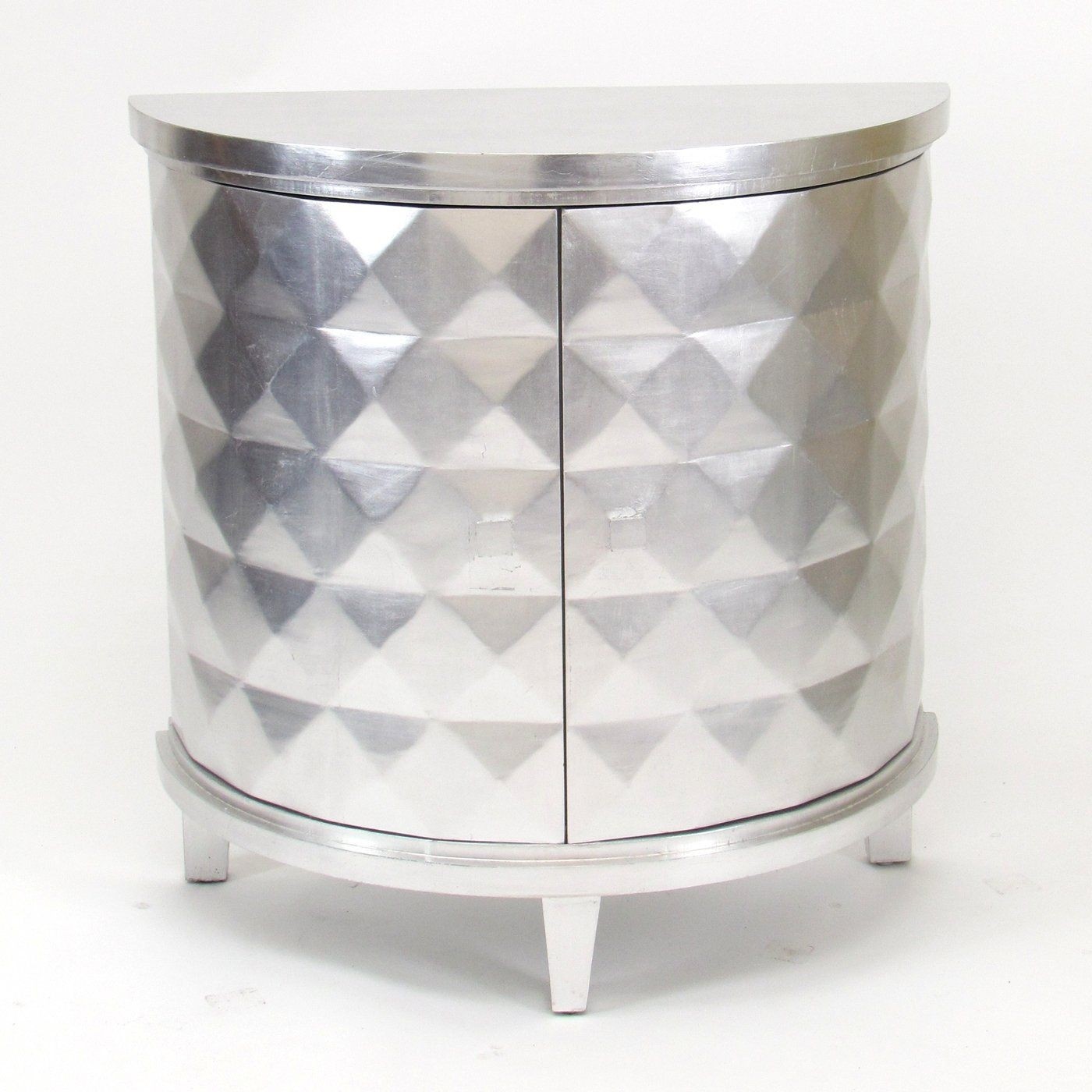 Modern Reflective Console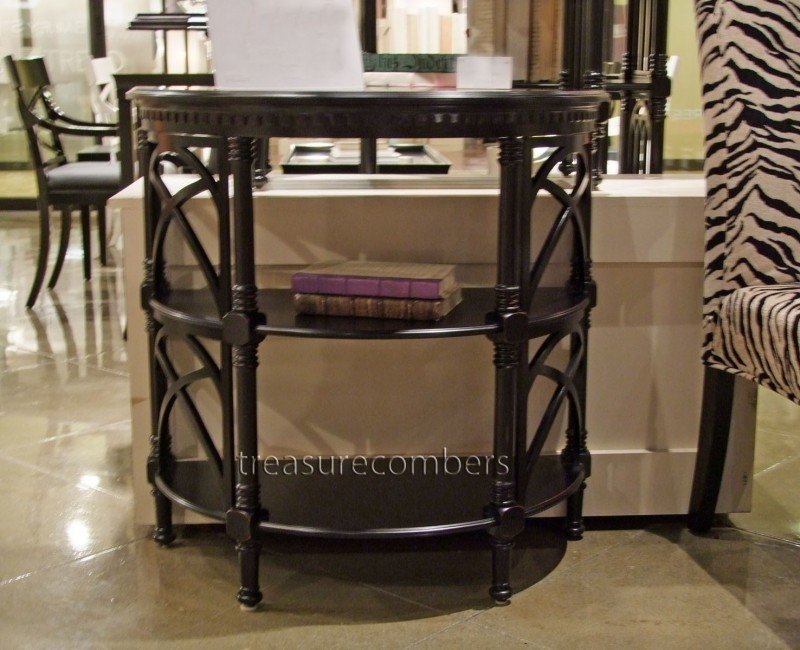 french_demilune_console_table_1.jpg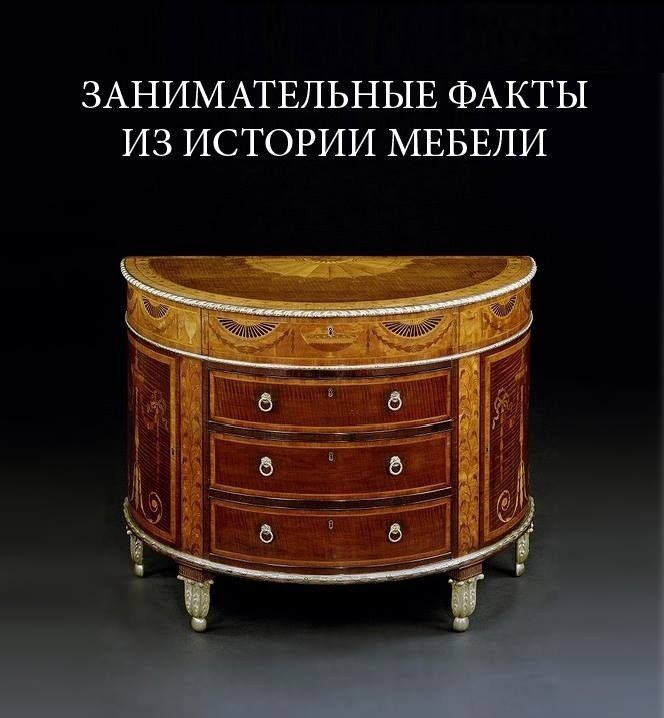 The XVIII- century marquetry commode made of mahogany, oak and walnut. The semicircular construction make it the best to put it next to the wall. The wide drawers will be the perfect place to hide all your accessories.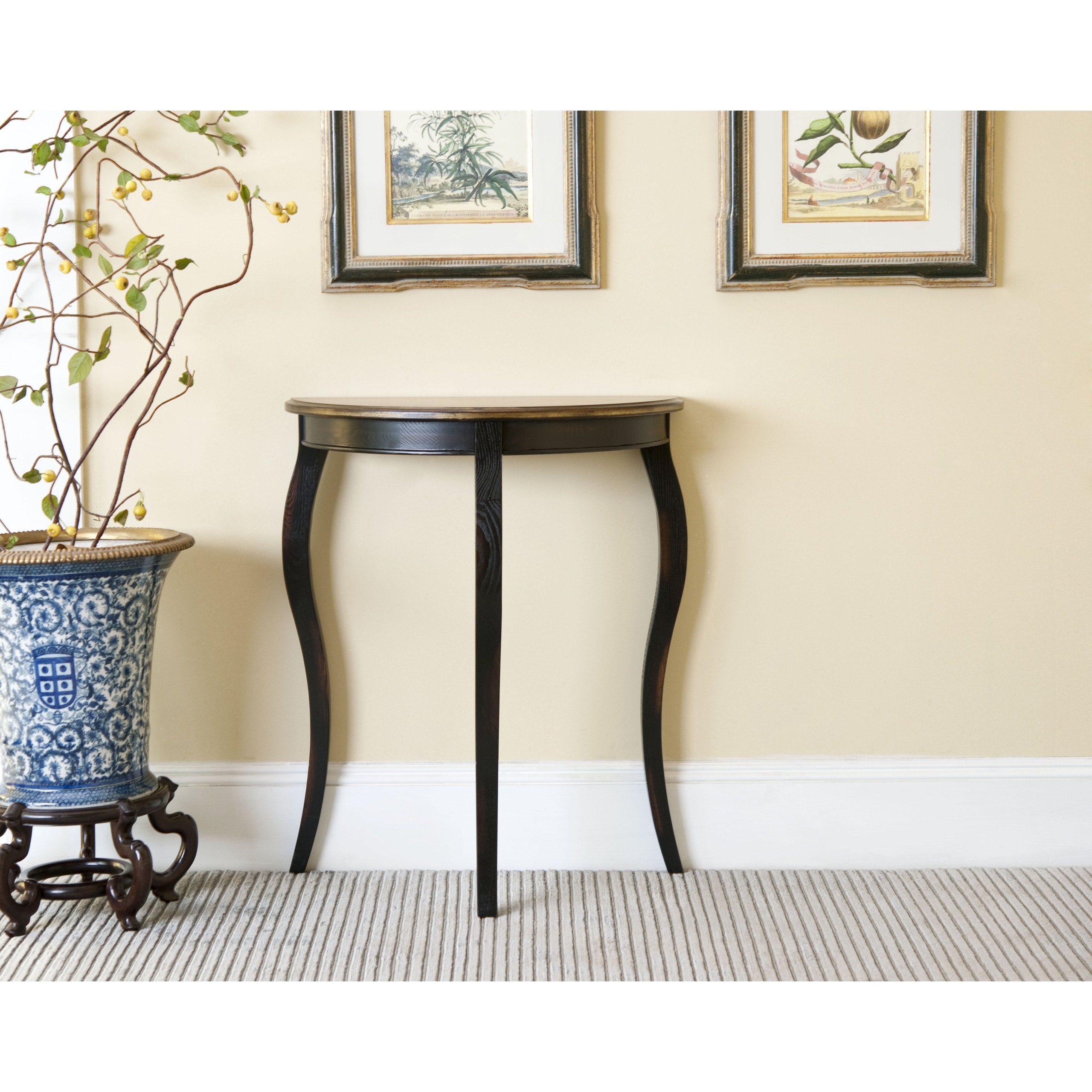 A space-saving piece for entryways and hallways. This half-moon side table is crafted from solid fir wood, and covered in a walnut and rustic black finish. The table rests on four curvy legs, and is perfect for placing next to your foyer wall.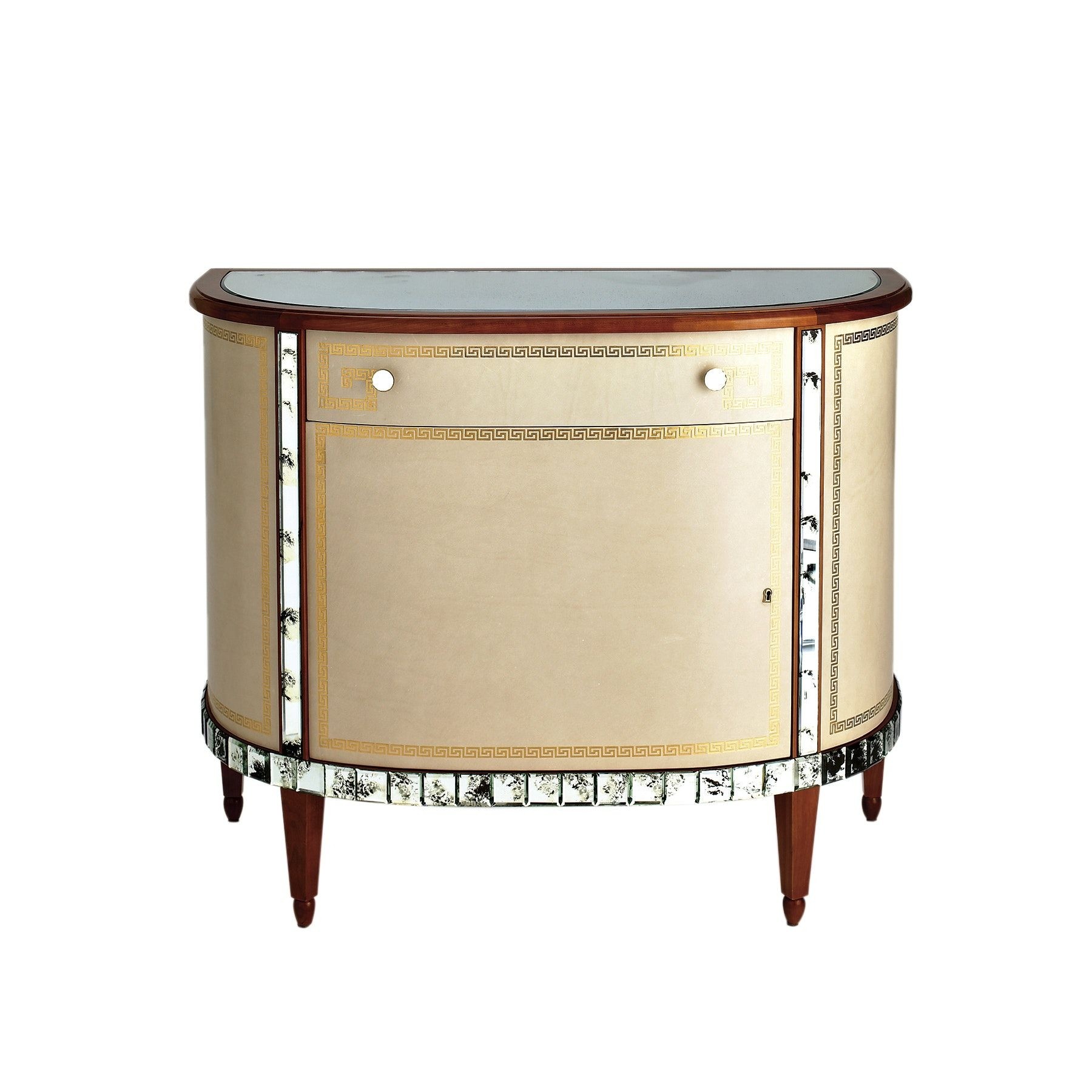 Rebecca Demilune - Dering Hall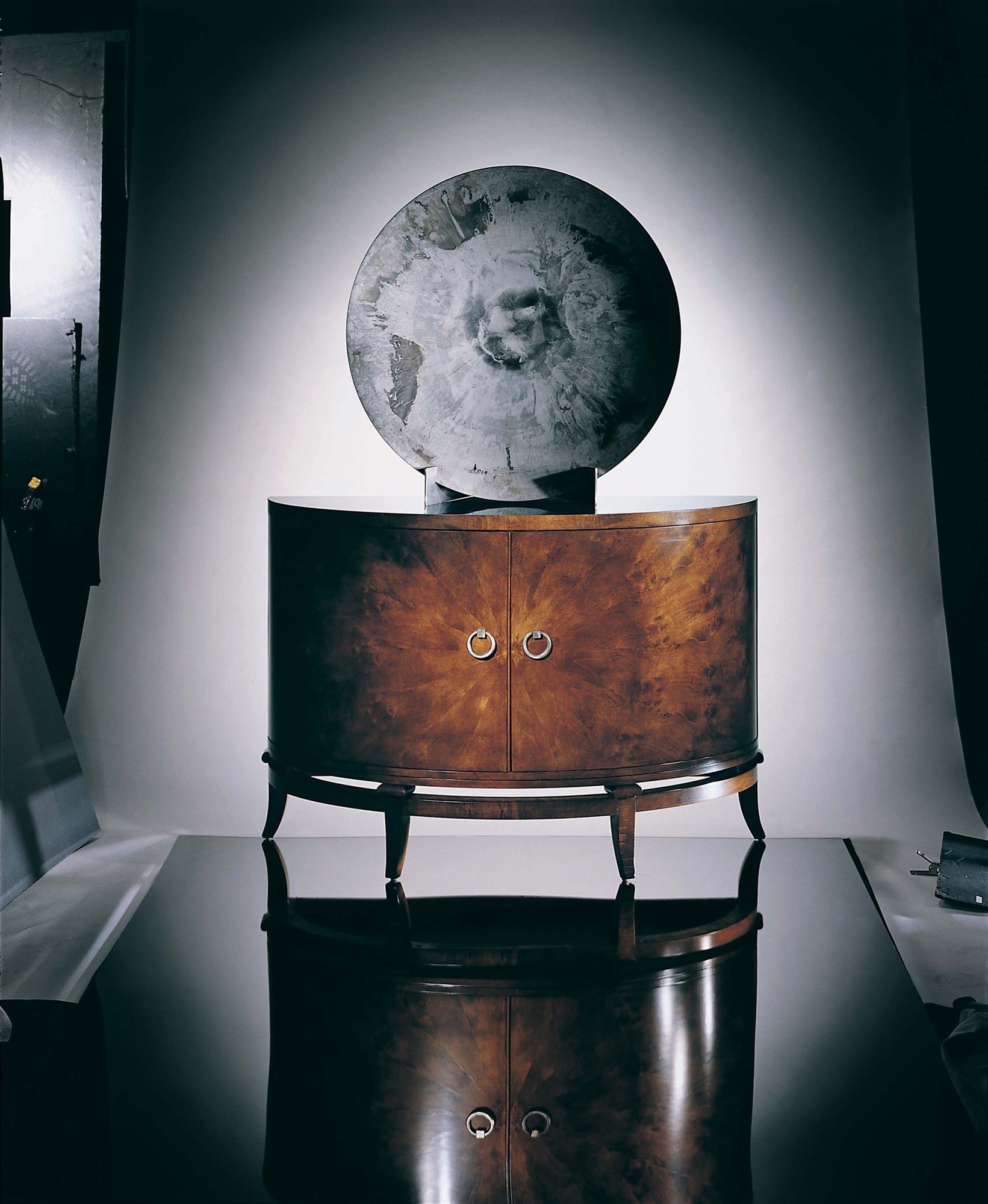 A wonderful console cabinet in the shape of demilune that combines a classy and modern designs. It is made of high quality maple wood in a beautiful, dark color . Behind the doors you will find two fixed shelves.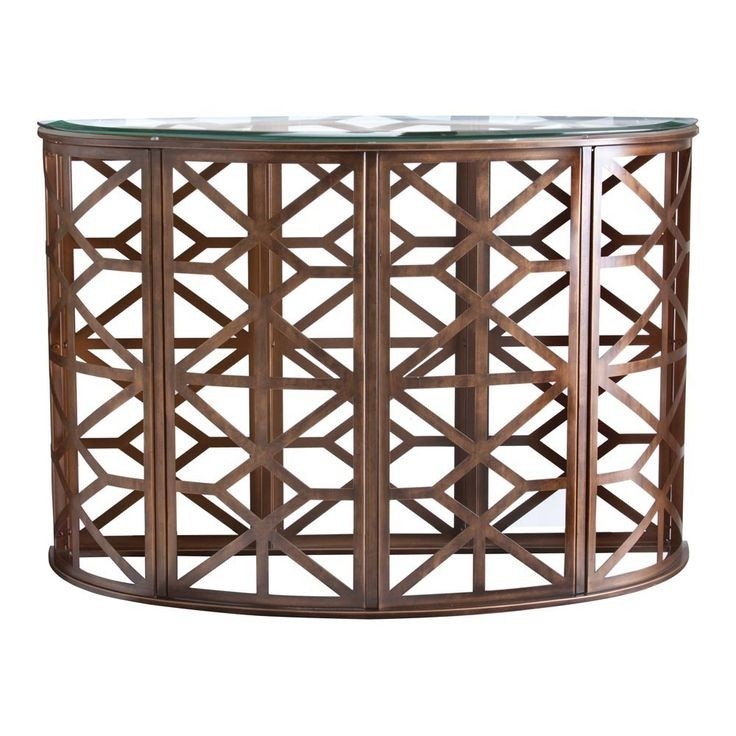 Demilune Console Table for Entryway! Amazing (Bassett)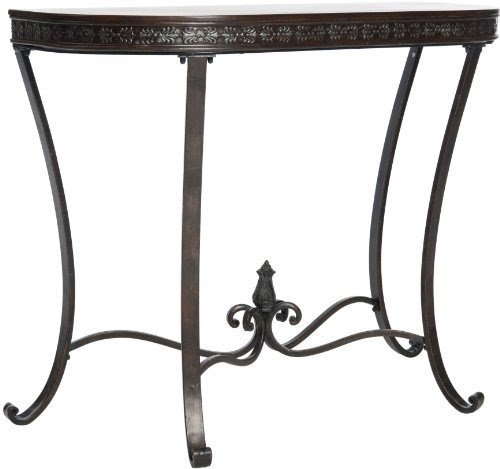 This black console table will comprise a perfect complement for romantic decor due to its exquisite design. It features beautiful, ornate metal frame with antiqued bronze finish, and an oval top made of solid birch wood with decorative carved detailing.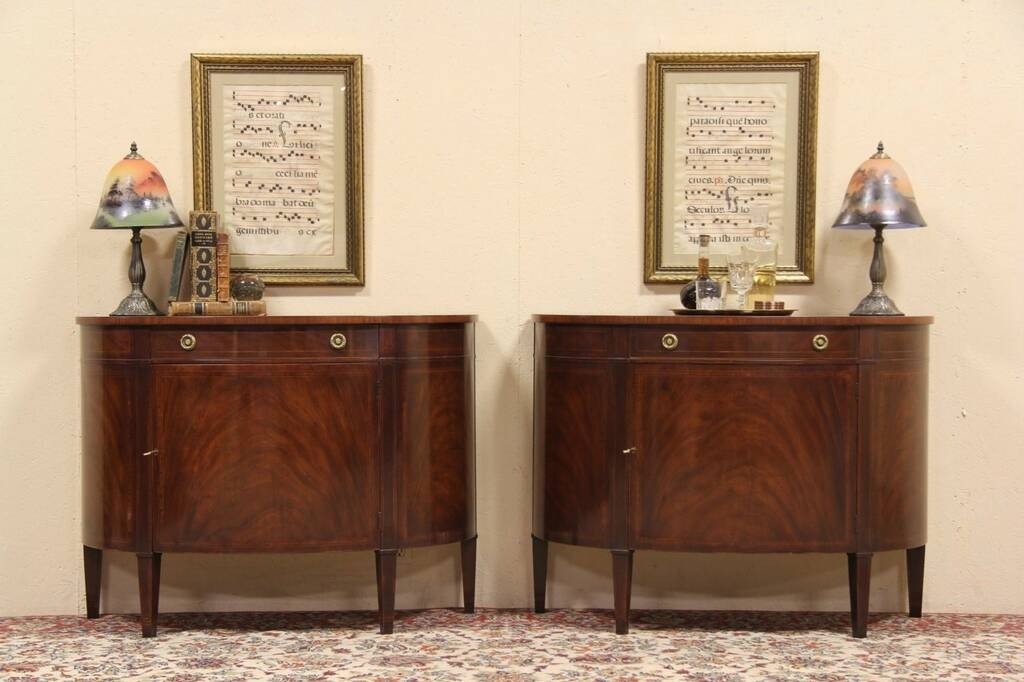 1024__1024____cd__demi2364pr.jpg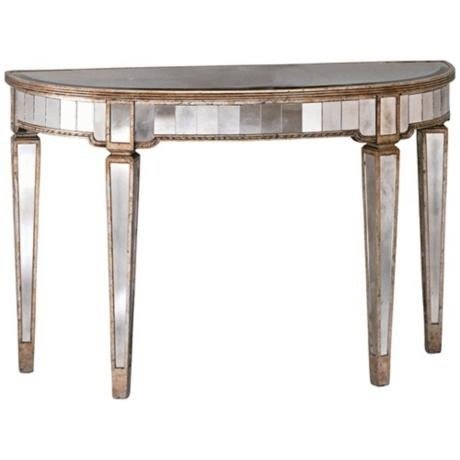 Marietta Mirrored Demilune Console // mirrors for winter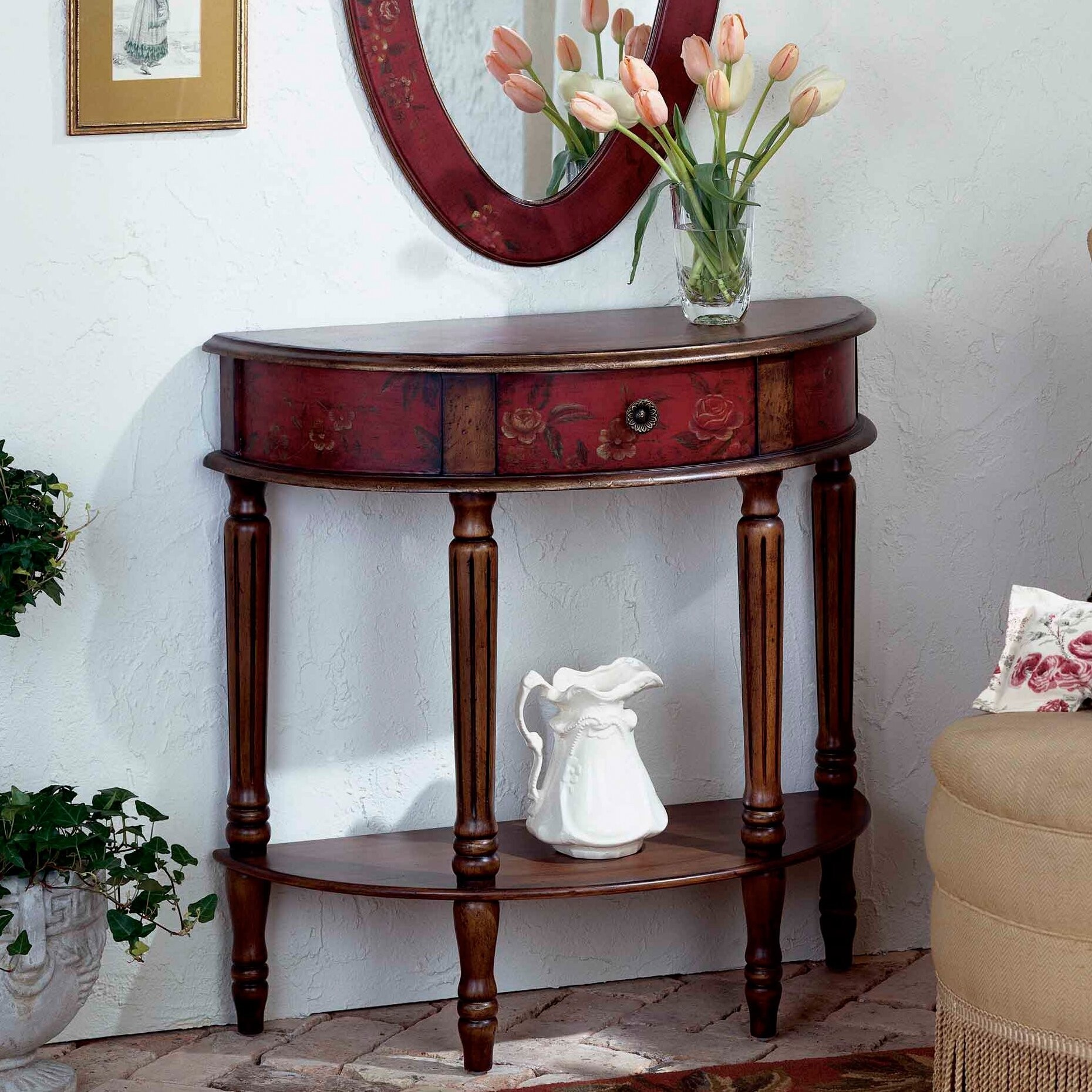 Artist's Originals Demilune Console Table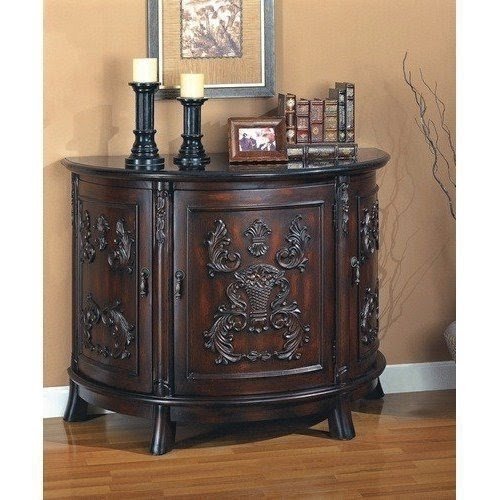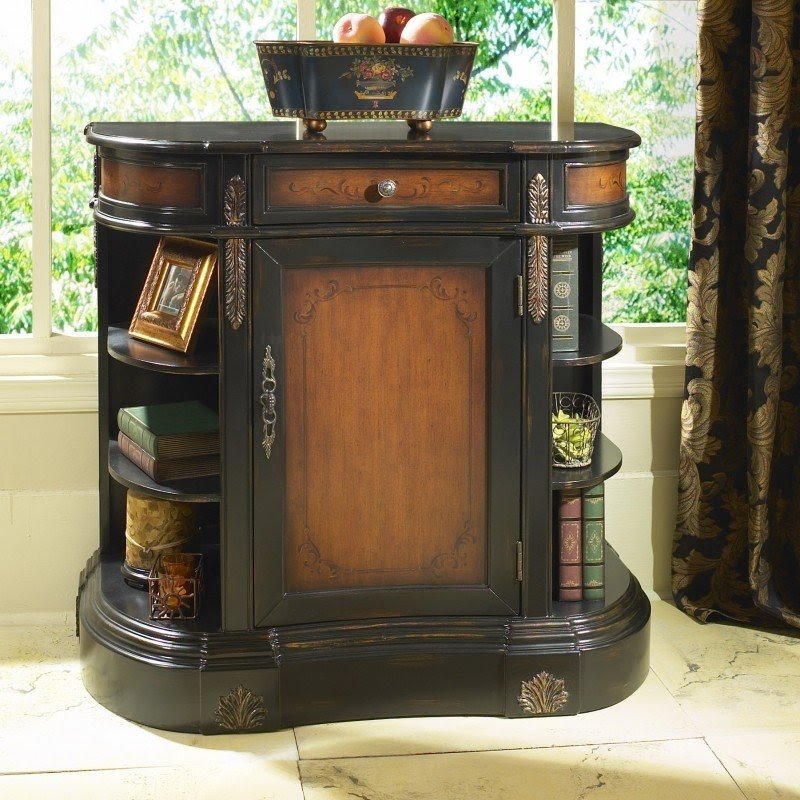 Bedford 1 Drawer Accent Chest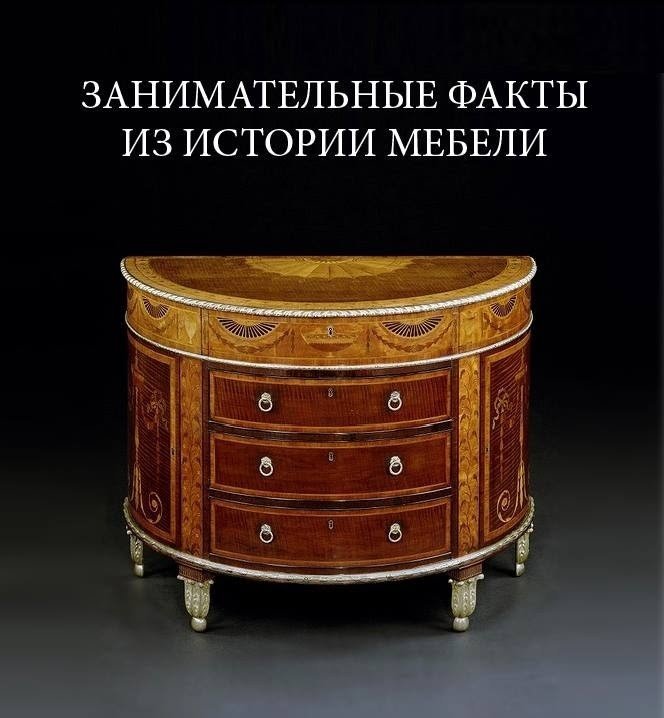 Vtg Italian Venetian Distress Painted Faux Marble Top Demilune Console Cabinet #Venetian