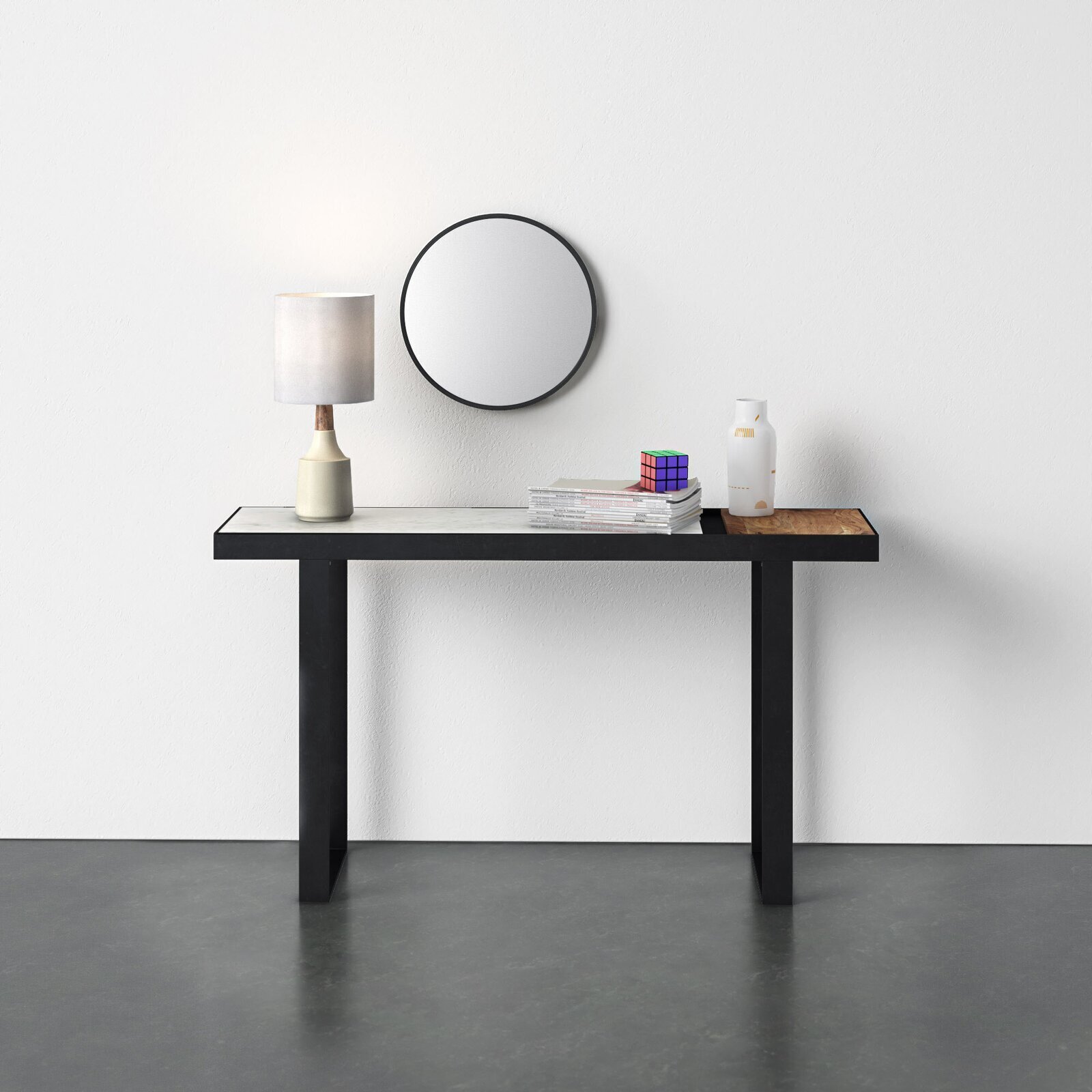 Marble Top Entryway Table With Wood Inset
Three materials are used in this stunning marble top entry table: genuine marble, solid acacia wood and black painted metal. The table measures 50" long and is 14" deep and 28" high. When fully assembled, the table will weigh 91 lbs and can support up to 175 lbs.
Designer Advice:
A small portion of this entryway table is made with warm wood, while the balance is made from cool marble with subtle veining. Contrasting black metal joins the two materials together. Use the two shapes to inform any vignettes you create — a small bowl for keys can be centered on the wood portion, while a single lamp can be placed on the far right. Stack a few coffee table books by the lamp and add a decorative item or two.
Merchant links are sponsored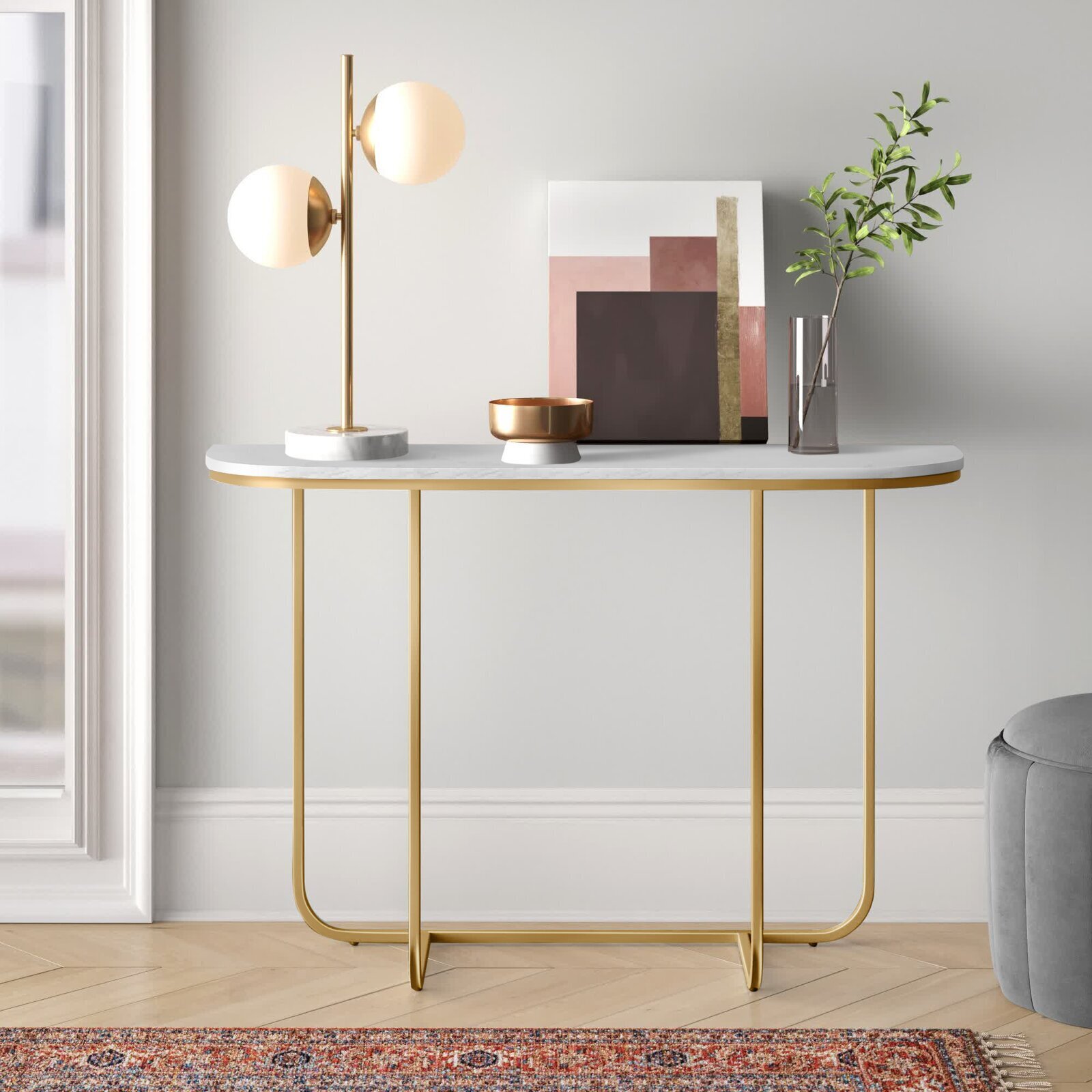 Art Deco Marble Top Entryway Table
Mercury Row®
A gold-plated metal base supports the faux marble top on this foyer table. At 44" long and 30" high, its shallow 12" depth makes it perfect for a small space. The table requires assembly and can support up to 50 lbs. It's also available in a rustic oak wood top and a black metal base.
$142.99 $279
Designer Advice:
Add a little Art Deco flair to your home with this marble top entryway table. As the table only weighs 12 lbs in total, it isn't stable unless attached to the wall with the mounting hardware that's included. If you are considering placing a plug-in lamp on its top, you may want to hide a small spacer between the table and the wall to allow a cord to fall behind the table. This will also allow room for baseboards behind the base.
Merchant links are sponsored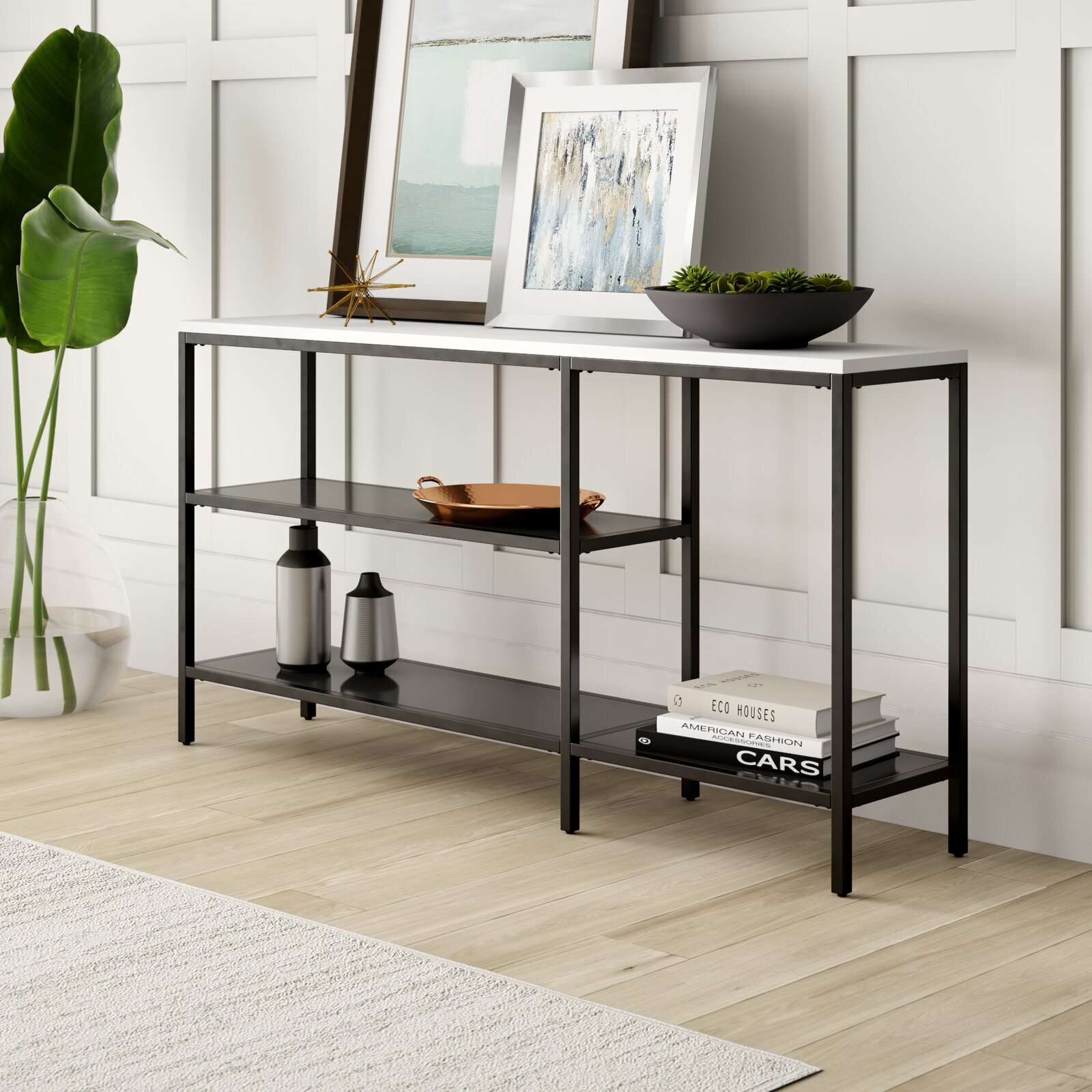 Contemporary Marble Top Entryway Table
Mercury Row®
This contemporary entryway table has a faux marble top that sits on a powder-coated iron in a black finish. The two offset shelves are crafted from manufactured wood and painted glossy black to match the frame. Full assembly is required.
$319.99
Designer Advice:
The offset design of the two shelves gives you interesting styling opportunities. A bottom shelf runs the entire length of this 56" wide foyer table, while a second shelf extends 34.5" long. This creates an 18.75" wide by 21.75" high shelf opening on the left, perfect for displaying taller decorative items. The right side is divided in two by a center shelf. The top shelf can hold items up to 10" high, while the lower shelf has room for slightly taller items.
Merchant links are sponsored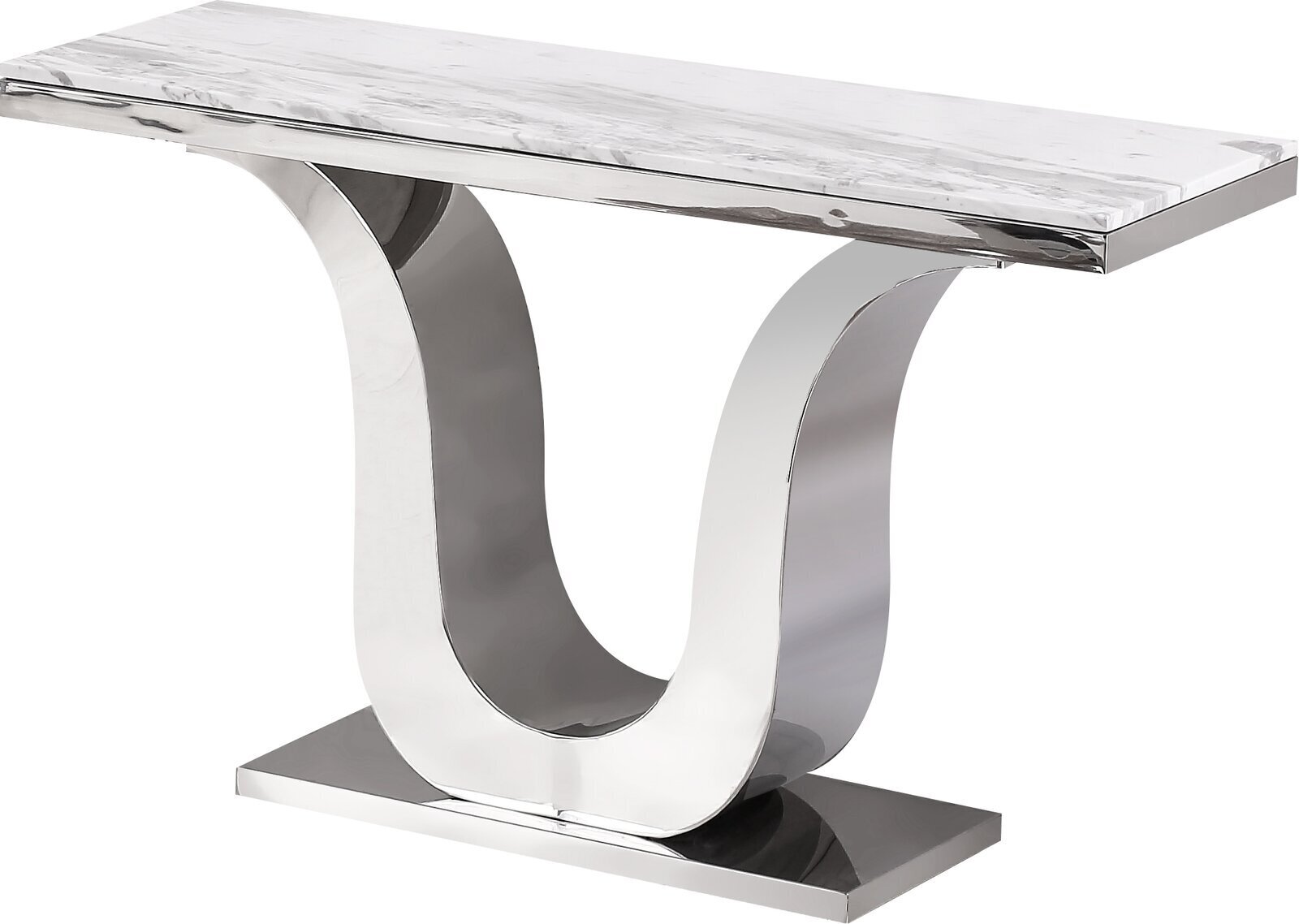 Genuine Marble Top Entryway Table
Everly Quinn
At 50" long by 16" deep and 30" high, this solid marble top entry table weighs 117 lbs. The off-white marble top is 0.5" thick with subtle gray marbling throughout. Made from stainless steel, the base is silver-plated. The top and base come separately and require assembly.
$1239.99
Merchant links are sponsored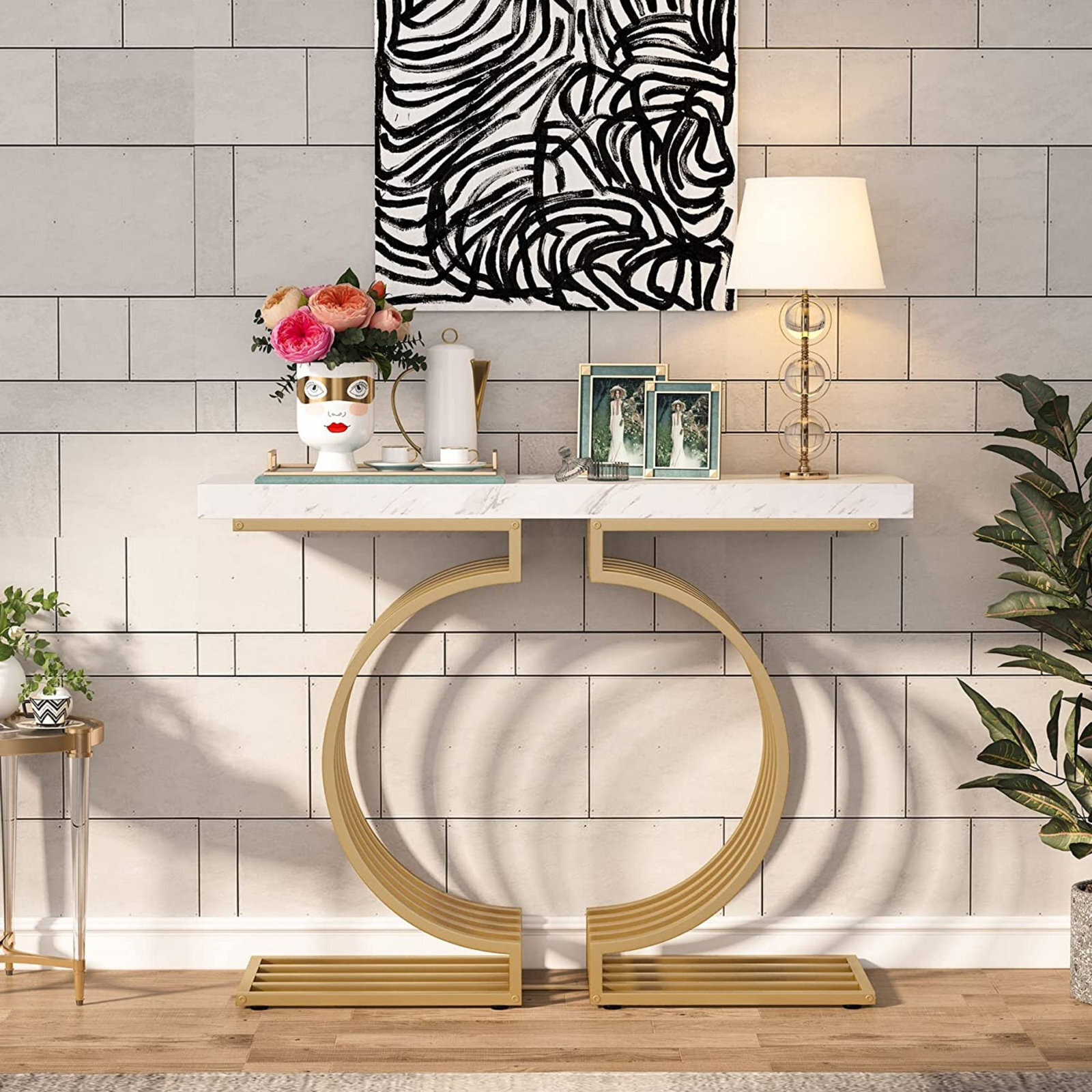 Marble Top Entryway Table With Gold Base
A gold-painted metal base supports this faux marble top foyer table. Its white marble has gray marbling variations throughout the top. The table stands almost 32" high and measures 39.3" long by 11.8" deep. It supports up to 300 lbs and requires partial assembly.
Merchant links are sponsored