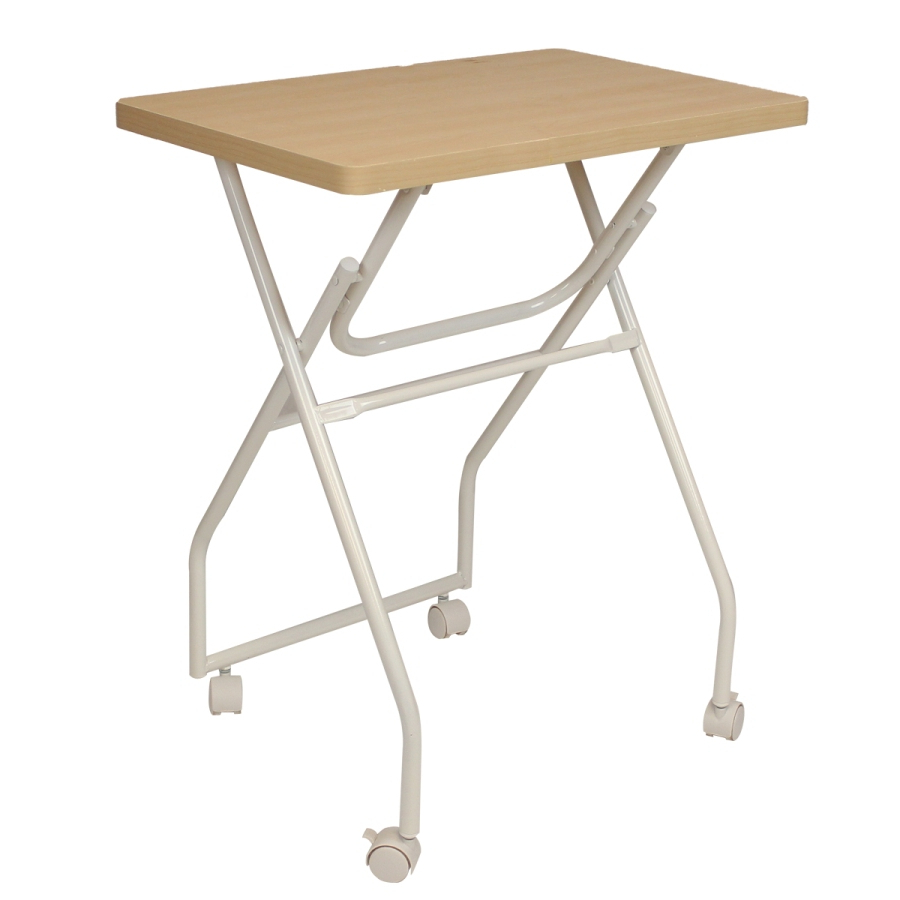 Folding Multipurpose Personal Notebook Stand TV Tray Table
This tray table was designed with functionality in mind. It may serve as a stand for small TV or personal notebook. It has heavy duty metal frame on four wheels - two of them are lockable. The table is foldable.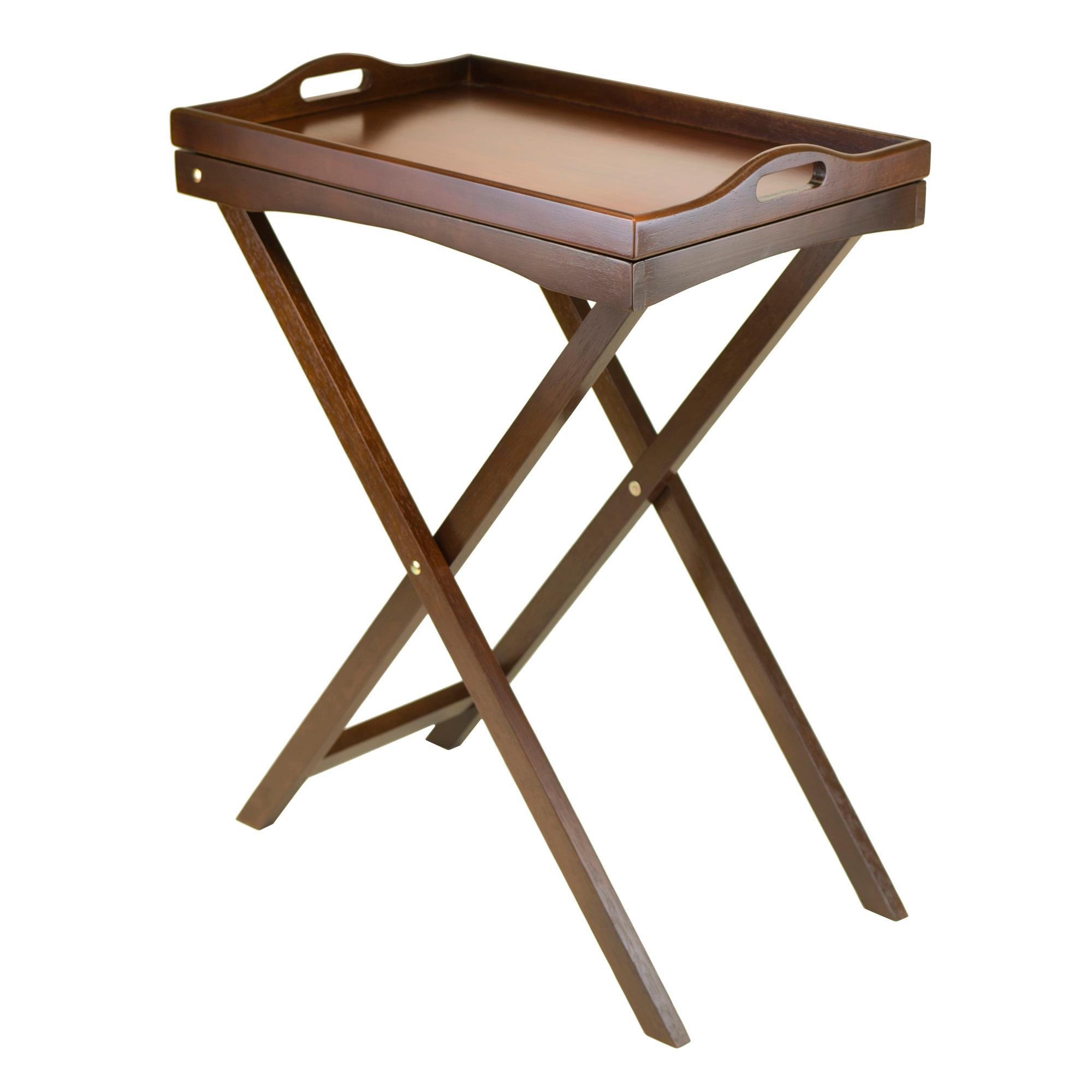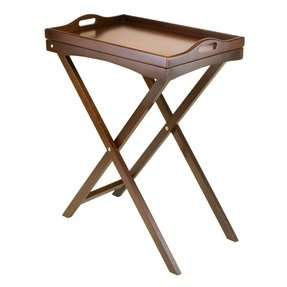 Devon Butler TV Tray
Classic sleek style and sturdy construction are big qualities of this TV tray. It was designed to accommodate snack bowls, juice decanters, and glass tumblers, when placed by your sofa or chair. The legs on the four sides provide balance and portability.
Naturally Organized Tamryn Folding Table (set Of 4)
Easy to move, light in weight and effortless to store - these features make this folding table ideal for serving evening movie snacks. Wood veneers and solids used to construct this foldable table sport dark brown walnut finish.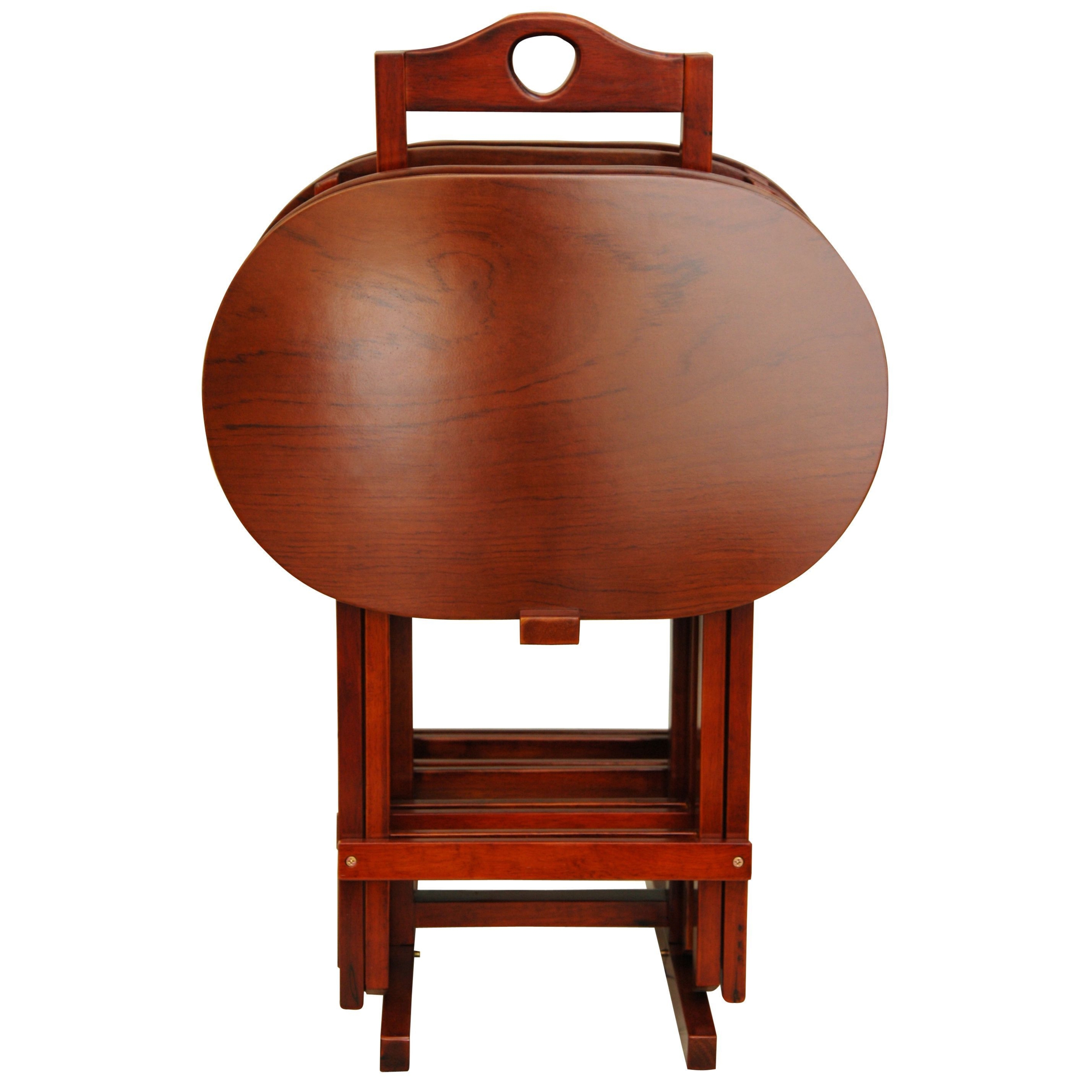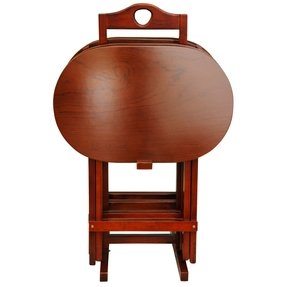 TV Tray Set with Stand
Interesting traditional Oriental style folding tray-table. It's made of solid rosewood with an elegant reddish-stained finish. This practical table has an 8-leg stand with a handle and 4 oval fixed serving trays.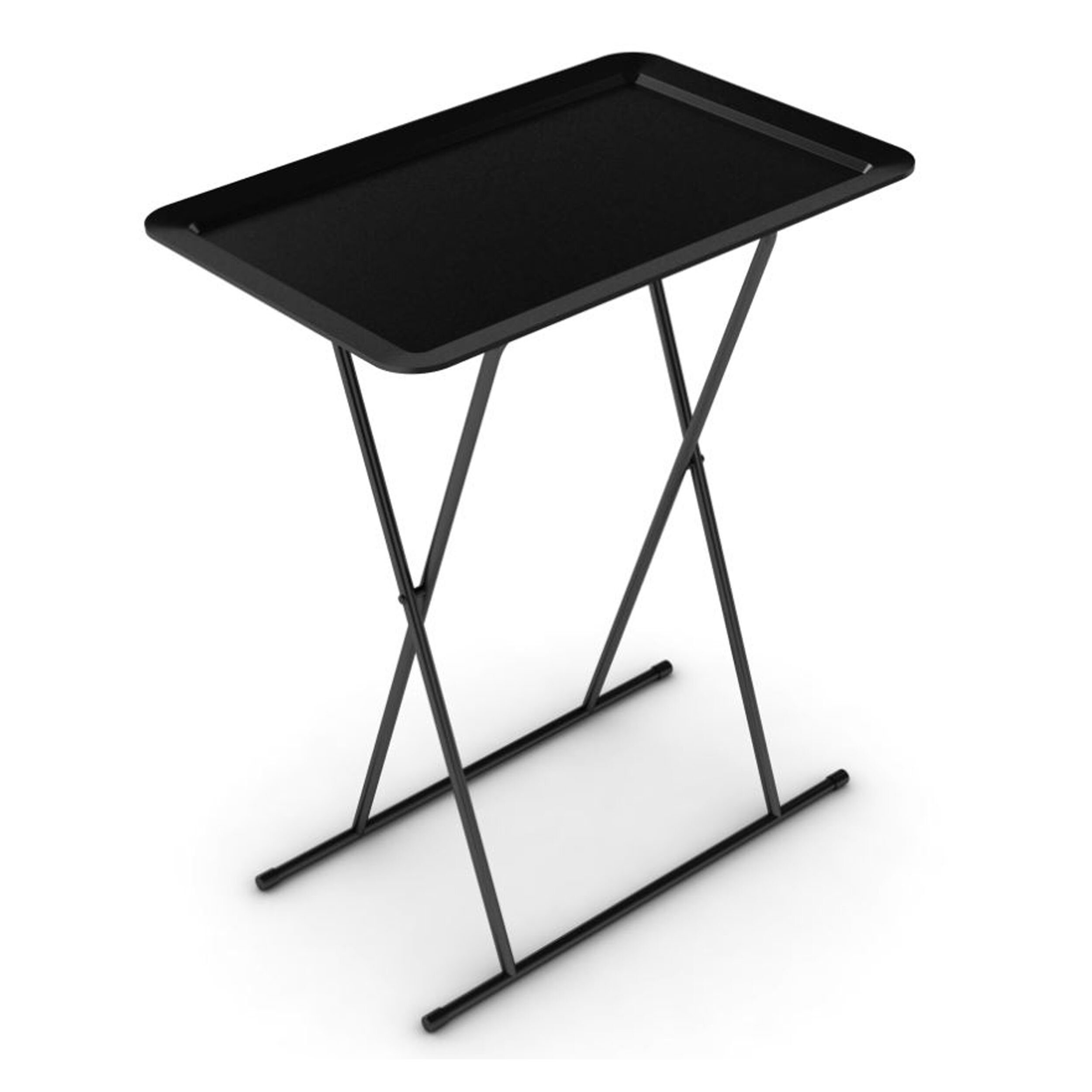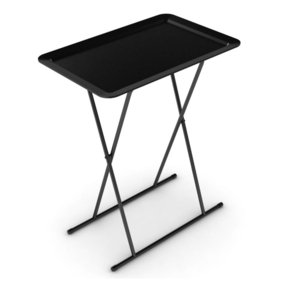 Snack Tray (Set of 2)
This is made of metal simple assembly snack tray is great for parties and other occasions. It is easy to store, and its intense colors add to the charm. The lower finish prevents the destruction of the floor.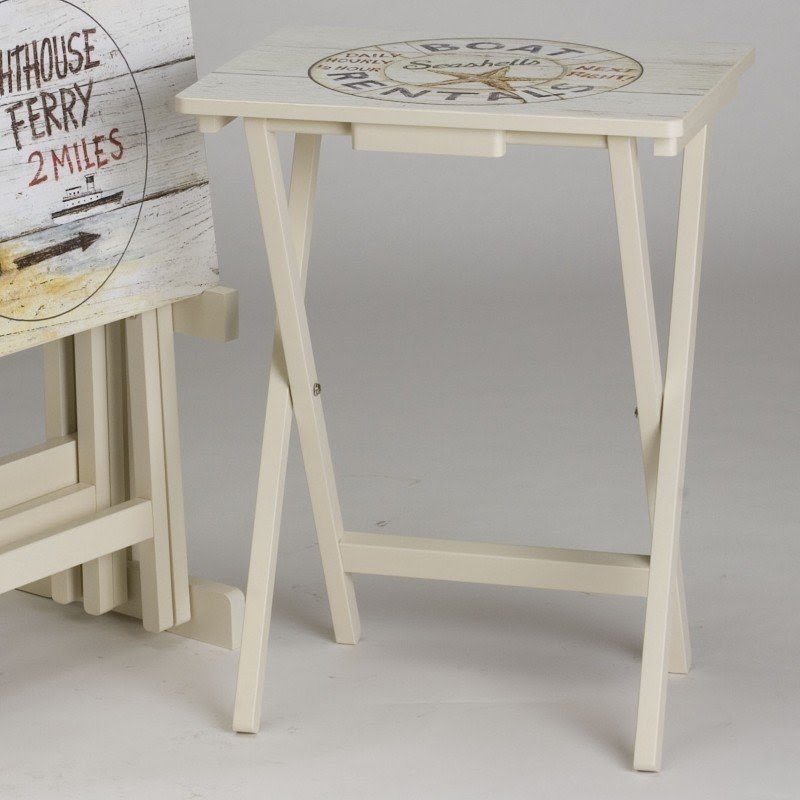 Nautical TV Tray Table (Set of 4)
Cool traditional foldable tray tables with X-shaped stands of grey-finished fibreboard. Rectangular trays look like weathered white slatted wooden boards with colourful graphics concerning attractions of life at the coast.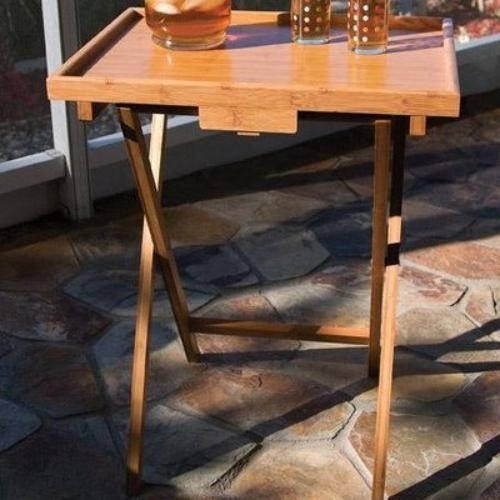 Bamboo Snack TV Tray Table (Set of 2)
It is a set of two fold-out tables, which are made of bamboo. Tables are ideal for distribution while watching TV. They can show ourselves snacks and drinks. They are practical and handy, and for that very nicely and tort look.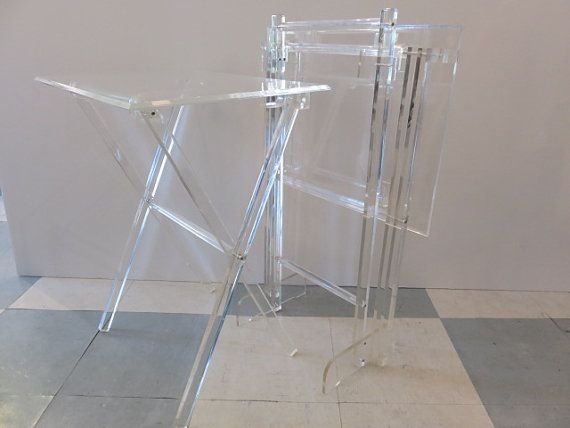 ... of Vintage, Mid-Century Modern Folding Tray/Snack Tables With Stand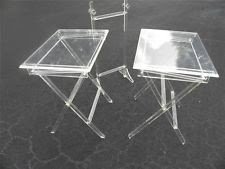 Characterized by transparent acrylic construction, those snack tables are as functional as eye-catchy. Their frames can be easily folded down for storage, and when unfolded, each table is very stable thanks to its criss-crossed legs.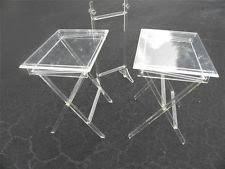 ... SCHRIBE Lucite Acrylic Folding Snack Tables with Stand TV Trays RARE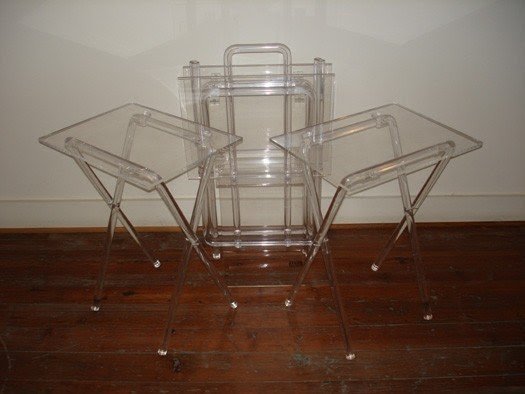 ... Folding Trays w/ Stand please call us at (434) 846-0077 or stop by the
A wonderful snack table in a set of two, that comes with a stand to provide you with ample convenience and functionality. It comes in an elegant and stylish finish that will make it work for both a traditional and modern setting of your home.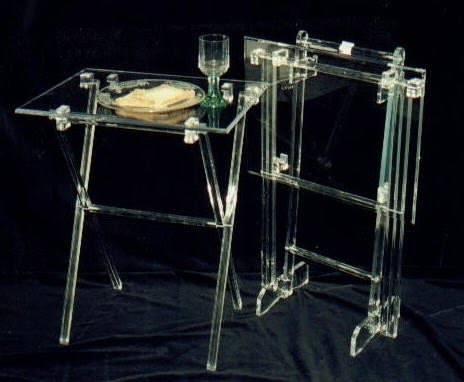 o005 folding snack tables tables are 24 h trays are 15 x 19 x 3 8 with ...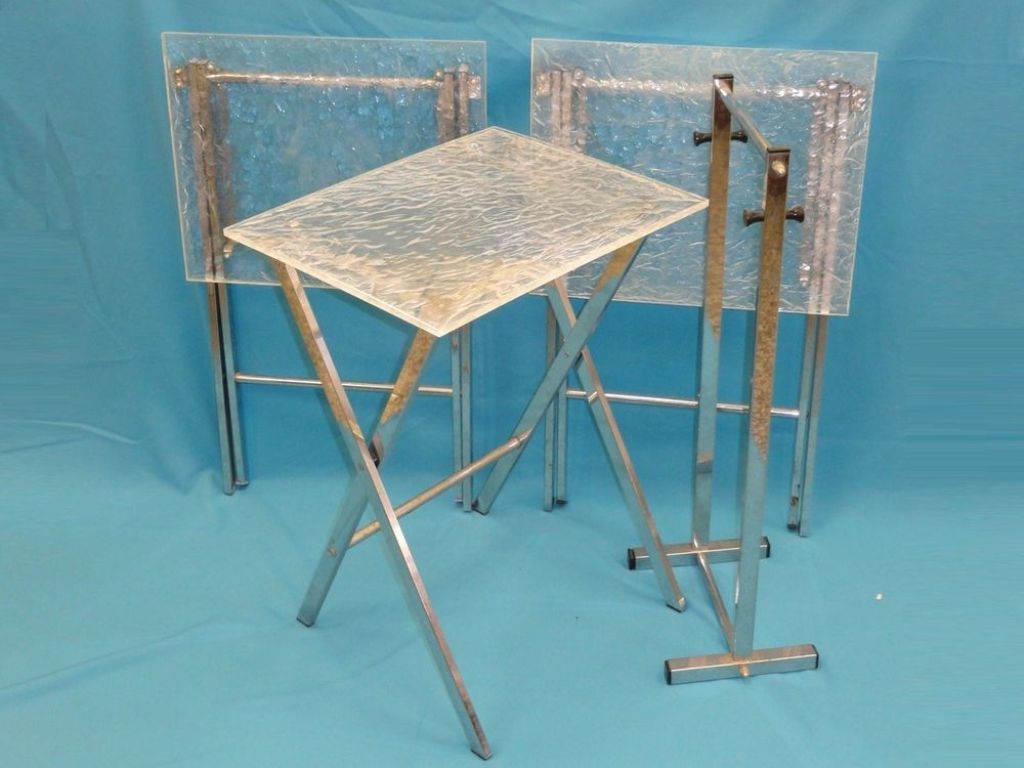 ... MODERN THICK LUCITE CHROME LEG X BASE FOLDING SNACK TABLES + STAND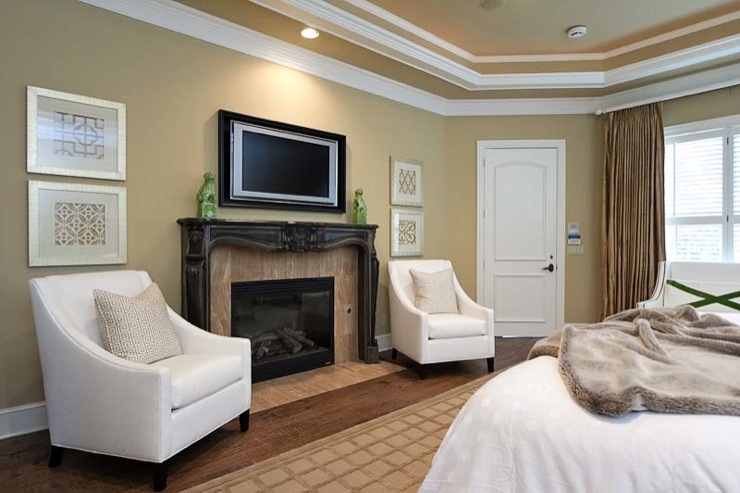 This is a set of folding tables made of durable wood. These elements are designed for use in TV rooms. They are perfect for holding drinks and snacks. They are made of wood that has got a natural appearance.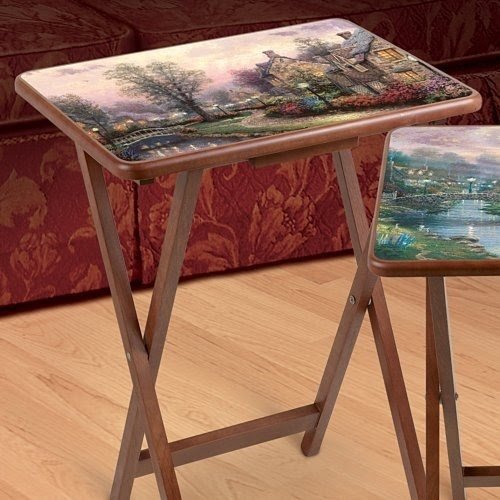 Imagine that when you put appetizers and snacks on a folding snack table with a stand, you do not observe the boring wood floor but beautiful landscapes. These Kinkade landscapes have different dimensions but always present a lush rural environment.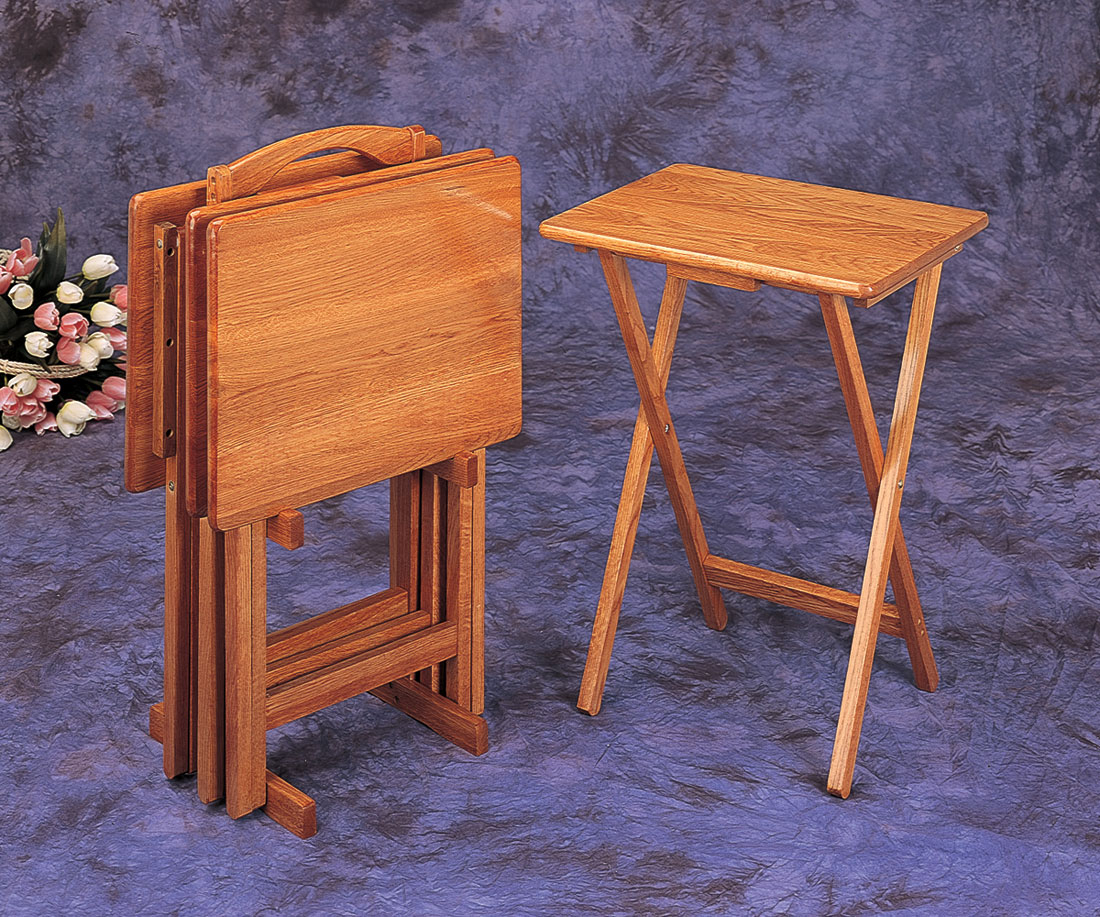 Set of four TV trays featuring natural finish, as well as sturdy, durable and long-lasting construction. Additionally, stand is included and some simple assembly is required. Thanks to the fact that the furniture can be folded it's easy to store.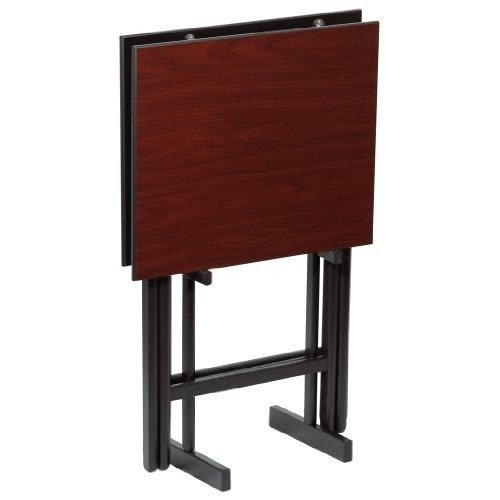 A set of two folding snack tables with a stand - the mahogany finish easily adds class and sophistication and the multi-functionality is simply beyond this world, making it serve as a computer tray, side table or an extra surface space to put your belongings nearby.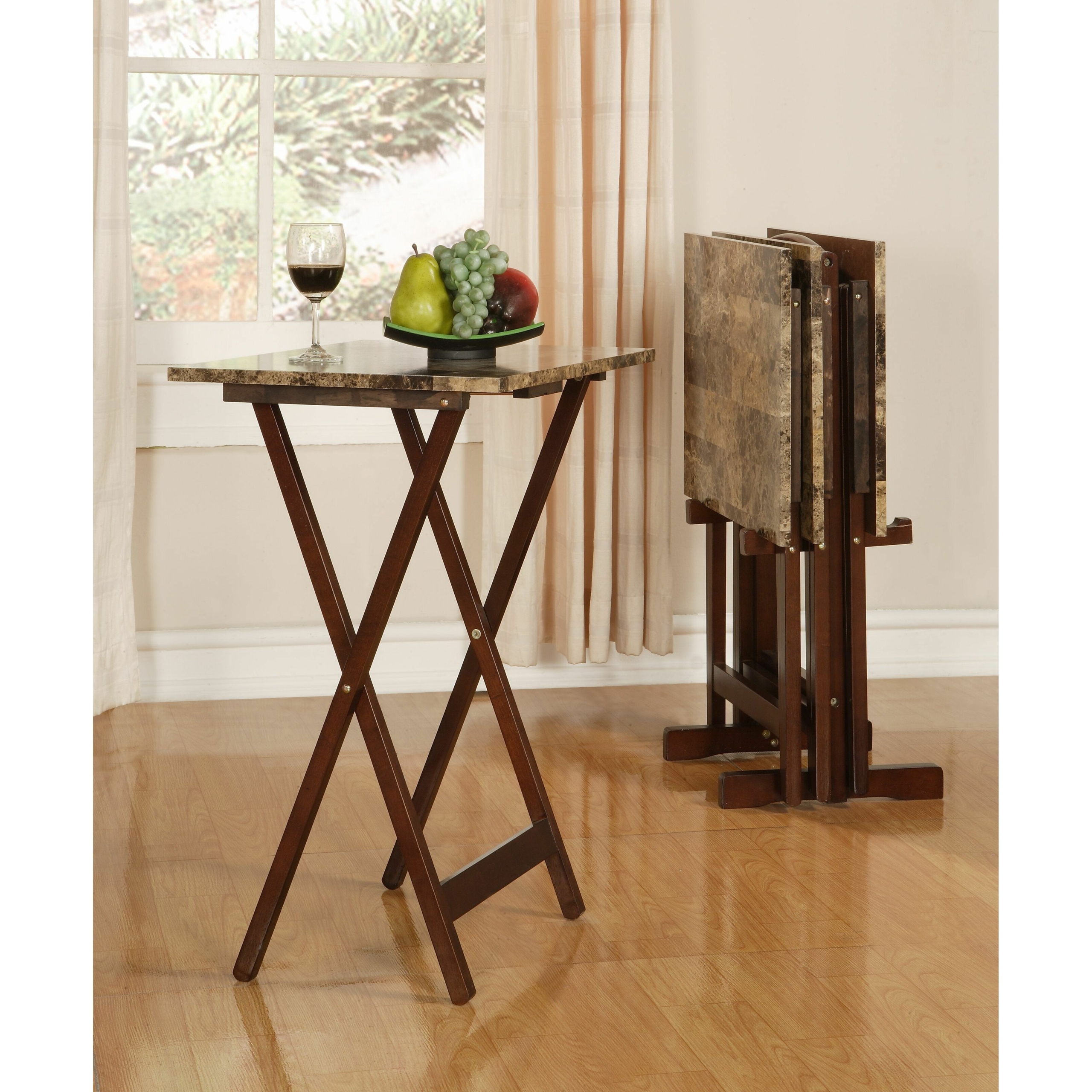 This kind of product is a high quality tray table that has got a top made of brown faux marble. Its frame is made of durable wood. This table has got a folding construction, so it assures a space-saving storage.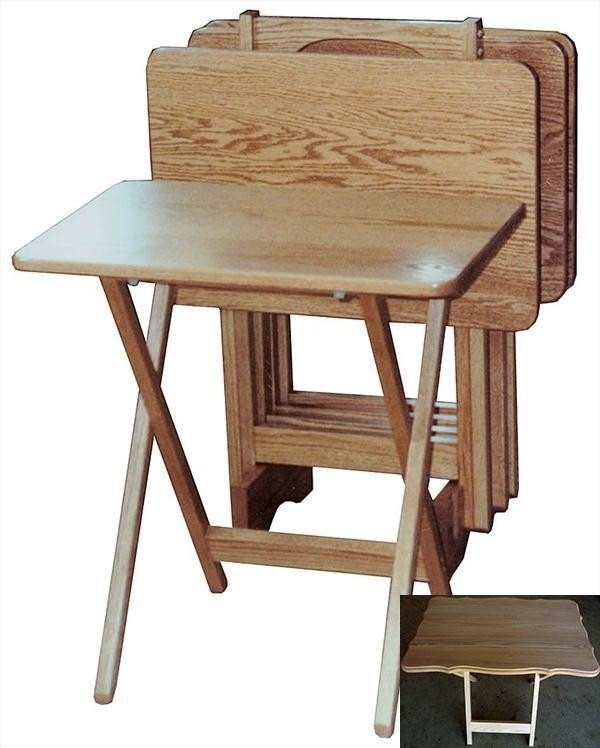 ... folding tv tray table set of 4 by manchester wood a folding table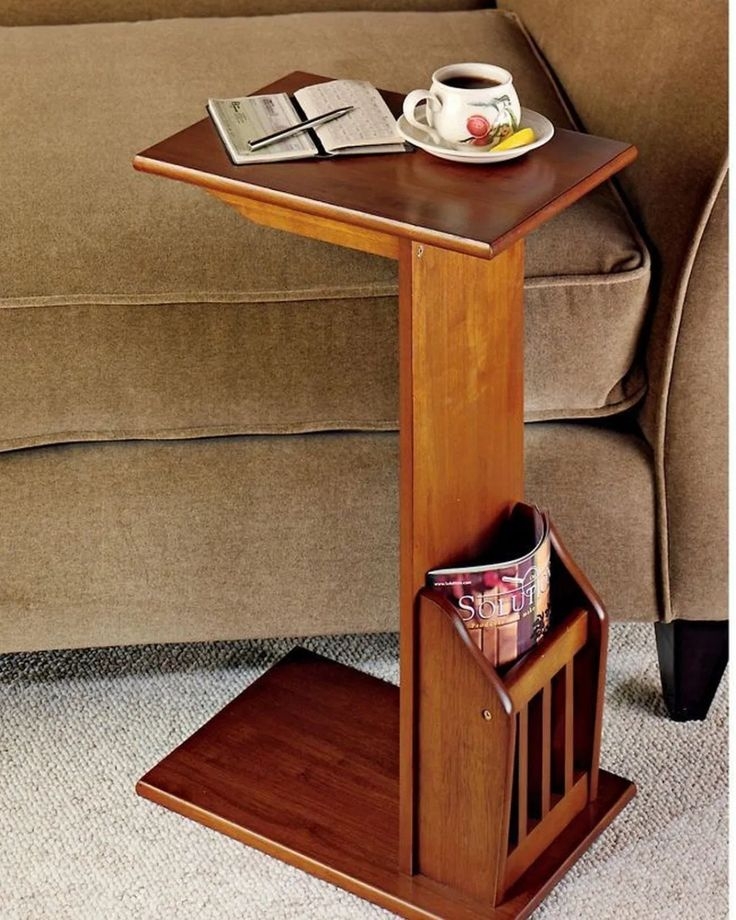 Hand-crafted of espresso-finished wood and gorgeously hand-painted with golden motifs, this TV tray is as beautiful as functional. The tray is stable and durable, and you can easily fold it for storage and transport.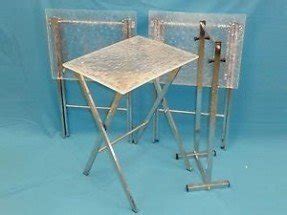 ... MODERN THICK LUCITE CHROME LEG X BASE FOLDING SNACK TABLES + STAND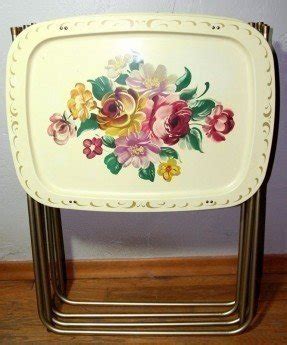 Made of slim material folding tv snack tray is a practical and very tasteful piece of furniture for any interior decoration. The charming details make the whole look perfect. Ideal furniture for living room or bedroom.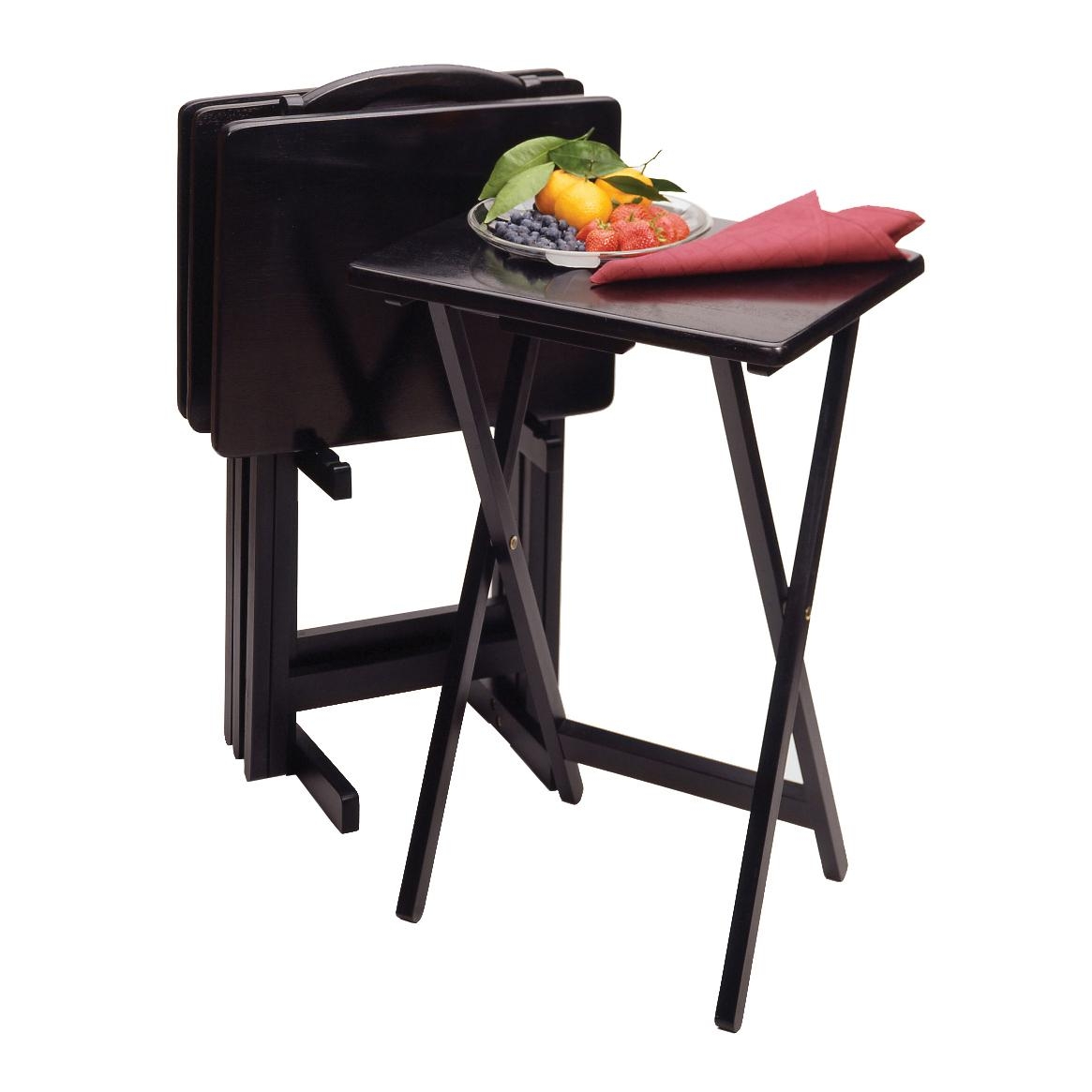 This practical 5-Piece TV Table Set is consisted of four foldable tables and a matching storage stand. Rectangular table tops were crafted from solid beech wood with black finish. Legs are crossed for better stability, and there is a handle for easy transport.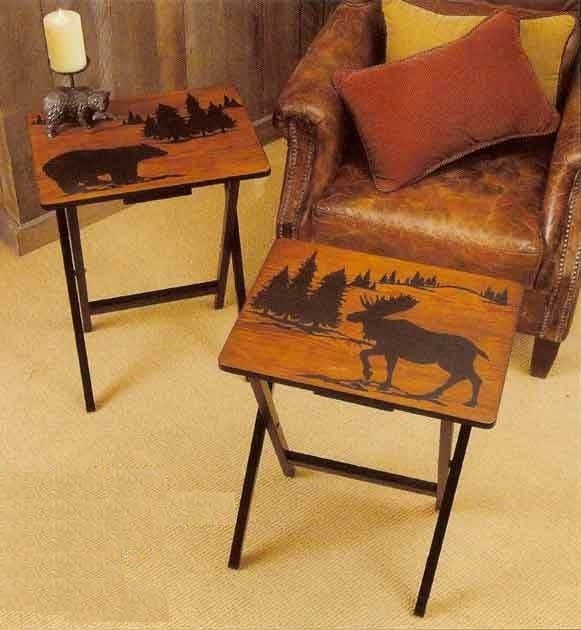 yhst-88493364559015_2271_9001397.gif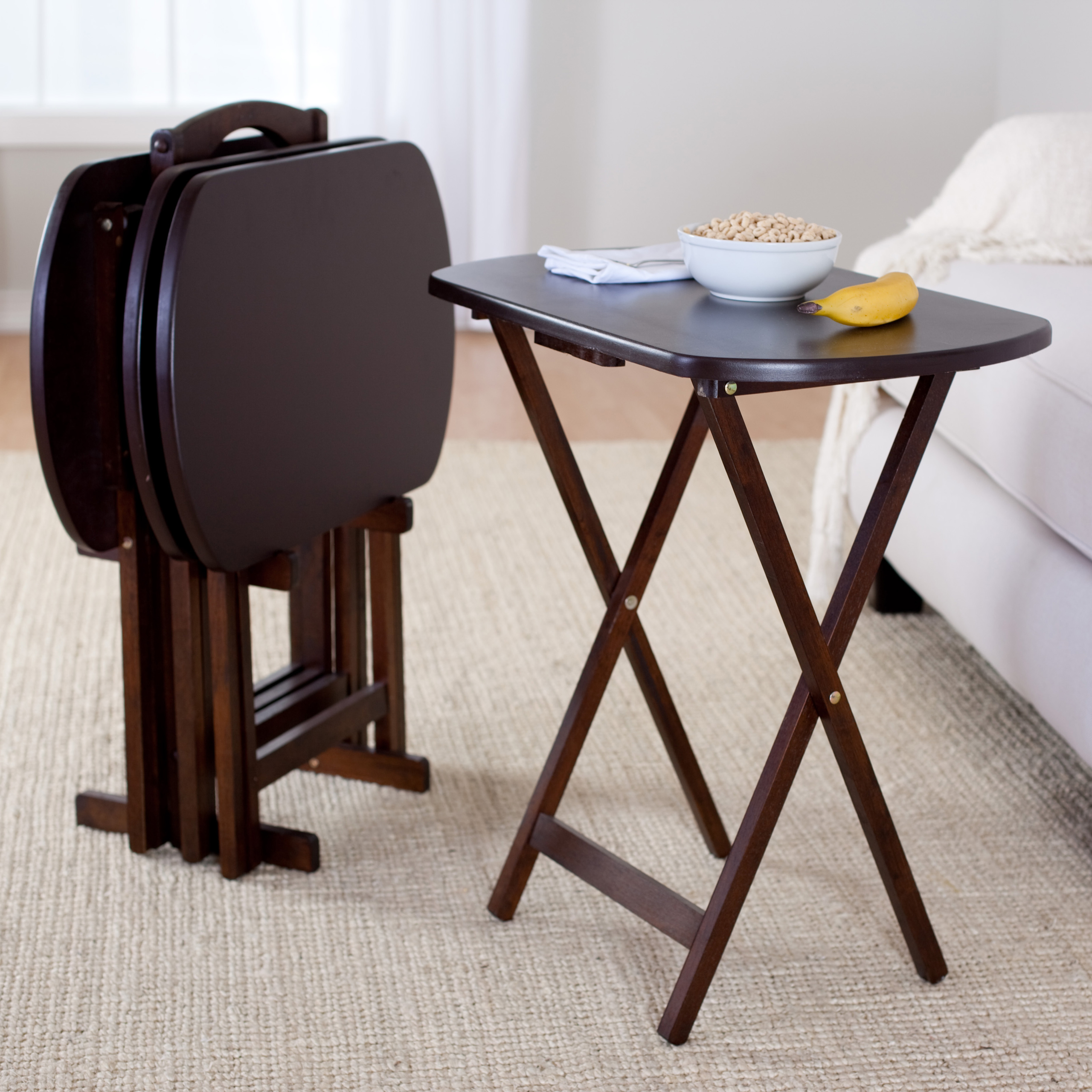 It is a set that includes five folding TV table sets for your living room area. They have got a solid construction and they are perfect for all family and friends. You will be impressed how solid these tables are.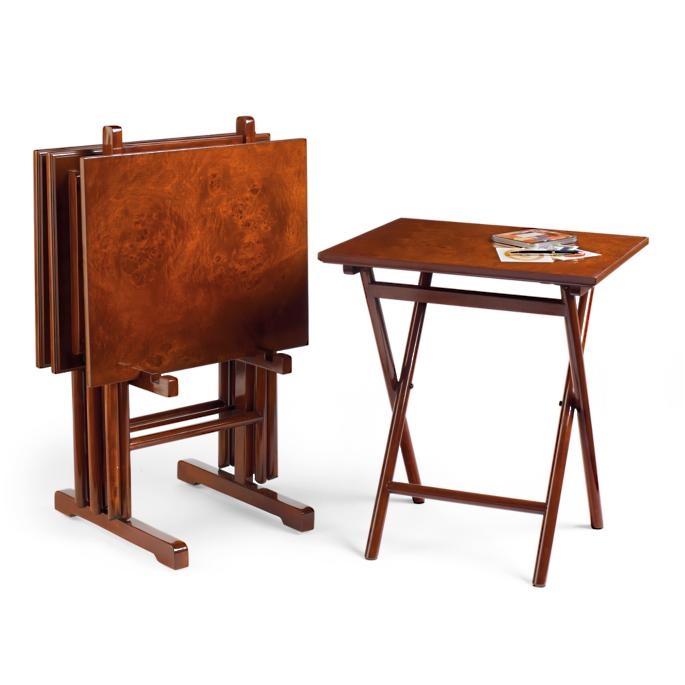 Set of Four Burlwood Folding Tray Tables $400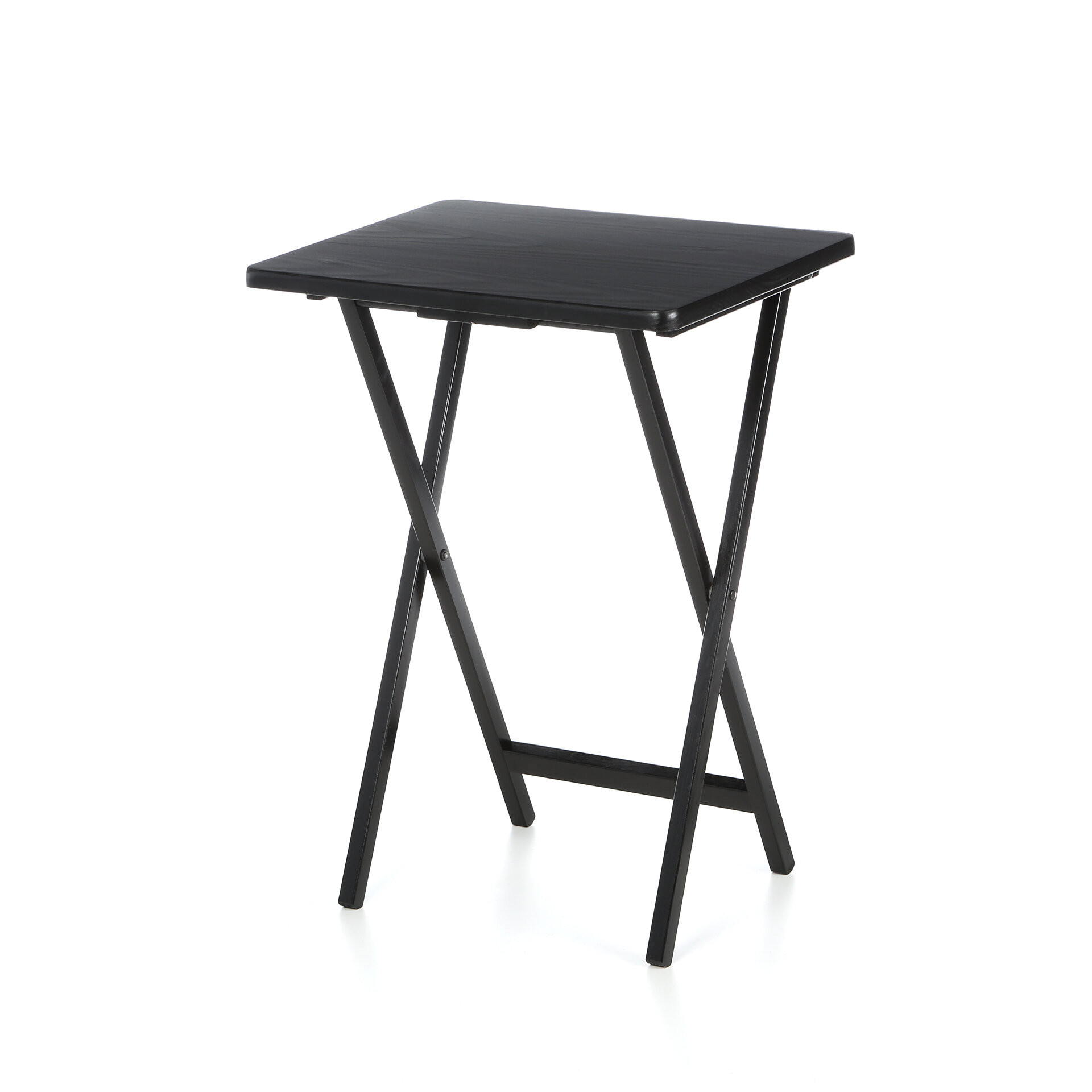 ... Stand Set of 4 Folding table for Movie Dinners snack tables Wood Black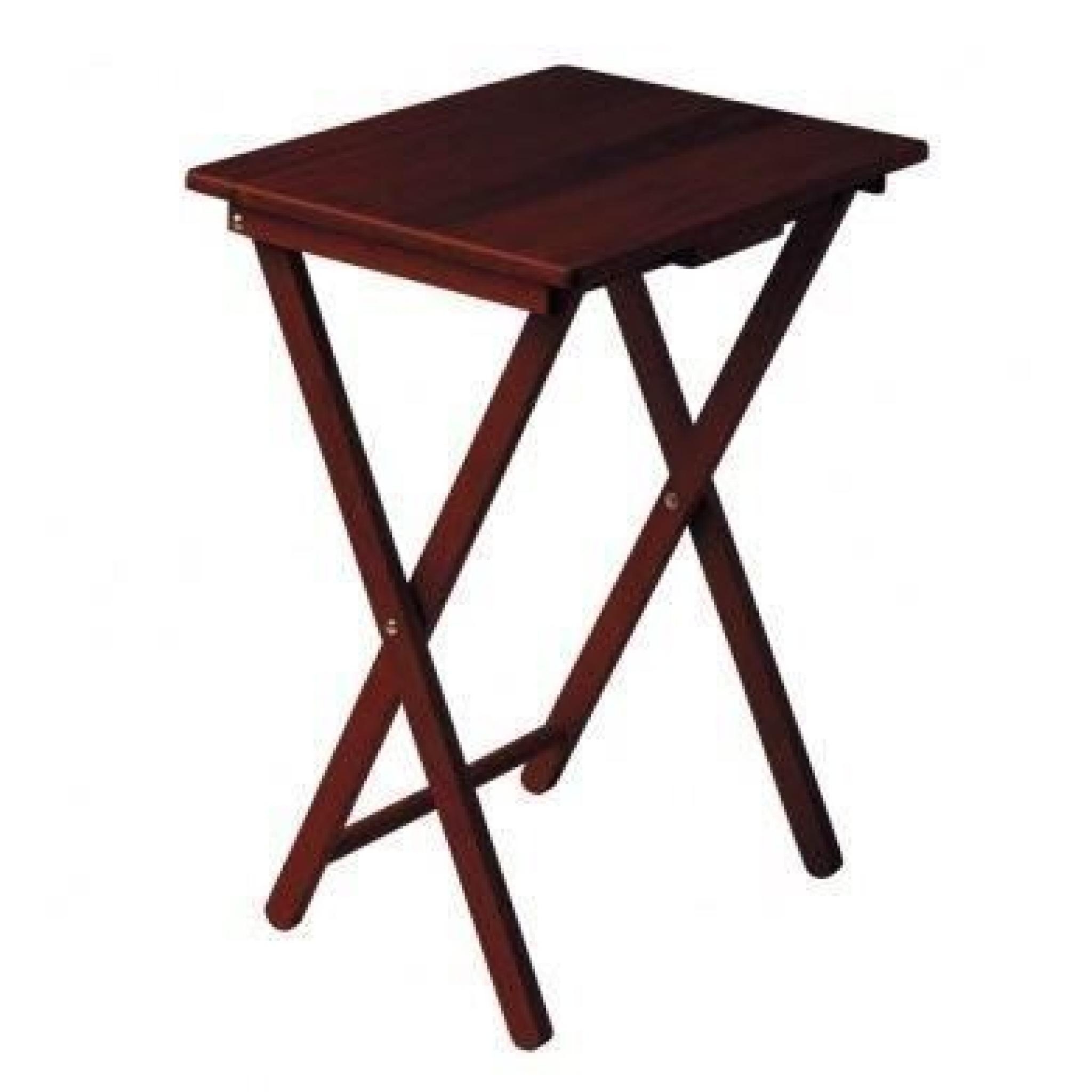 Folding end table for serving snacks, drinks and more. It is made of wood and is mounted on crossed legs. It folds flat for easy storage. Handy gadget for each home.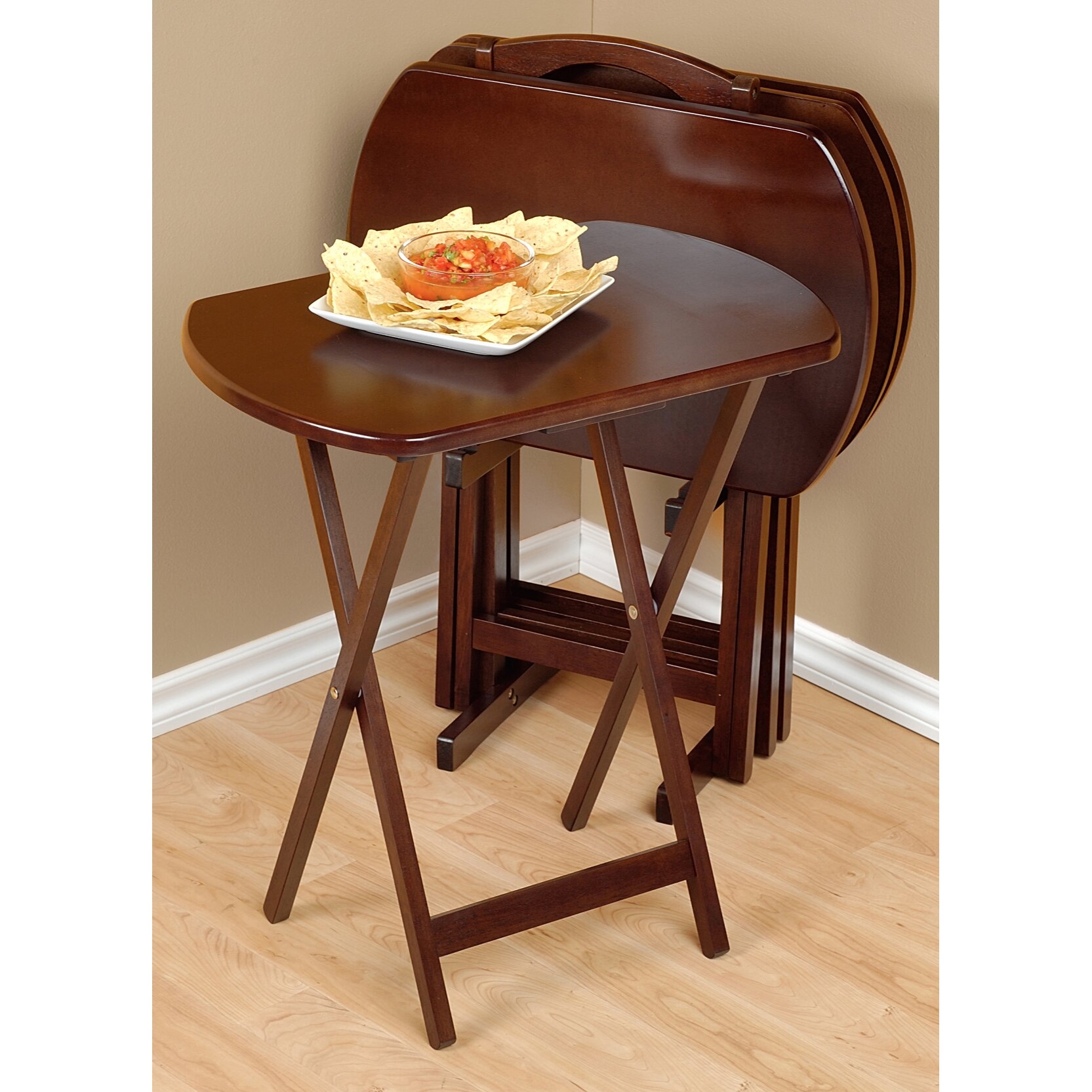 This practical set of four trays on folding legs is the perfect solution for many occasions and uses. Made on the basis of solid wood they are strong and great in any room. Mahogany hue adds to the style.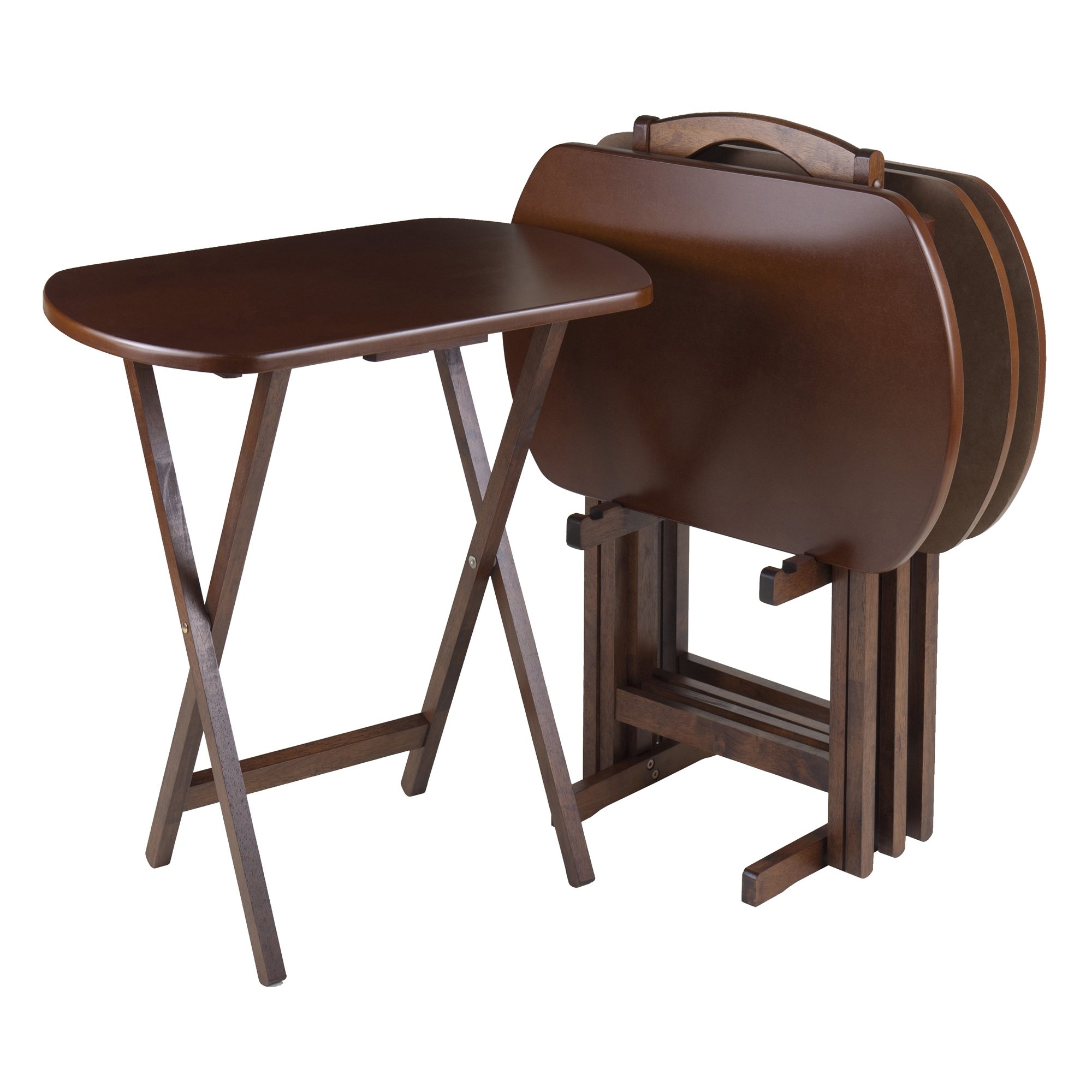 ... TV Tray Set Snack Dinner Table Portable Folding Serving 4 Trays New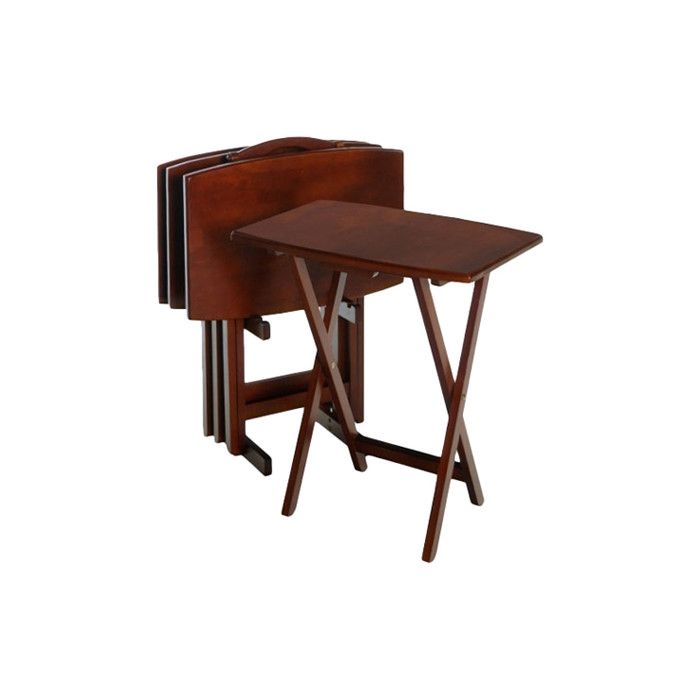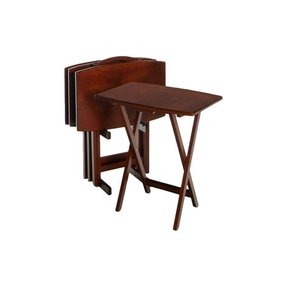 Lightweight, functional and portable - those TV dinner trays fold easily for transport and storage. Made of sturdy wood, each tray offers a stylishly-shaped top, and criss-crossed legs with stretcher for stability.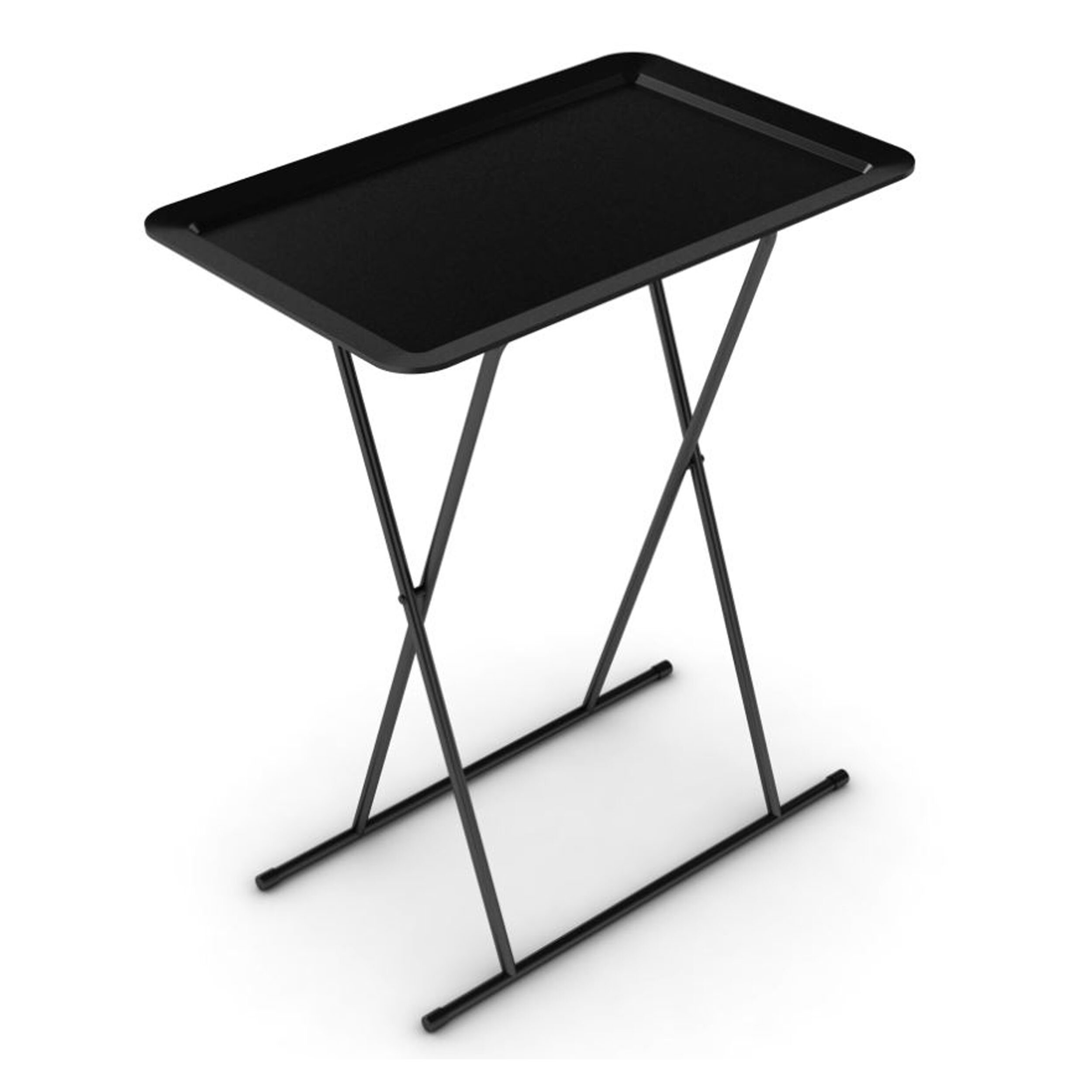 Zoom is not available for this image. mouse over image to zoom in.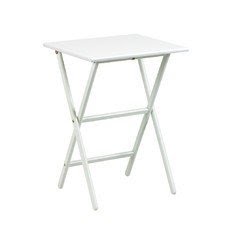 Gate House Furniture Folding Snack Table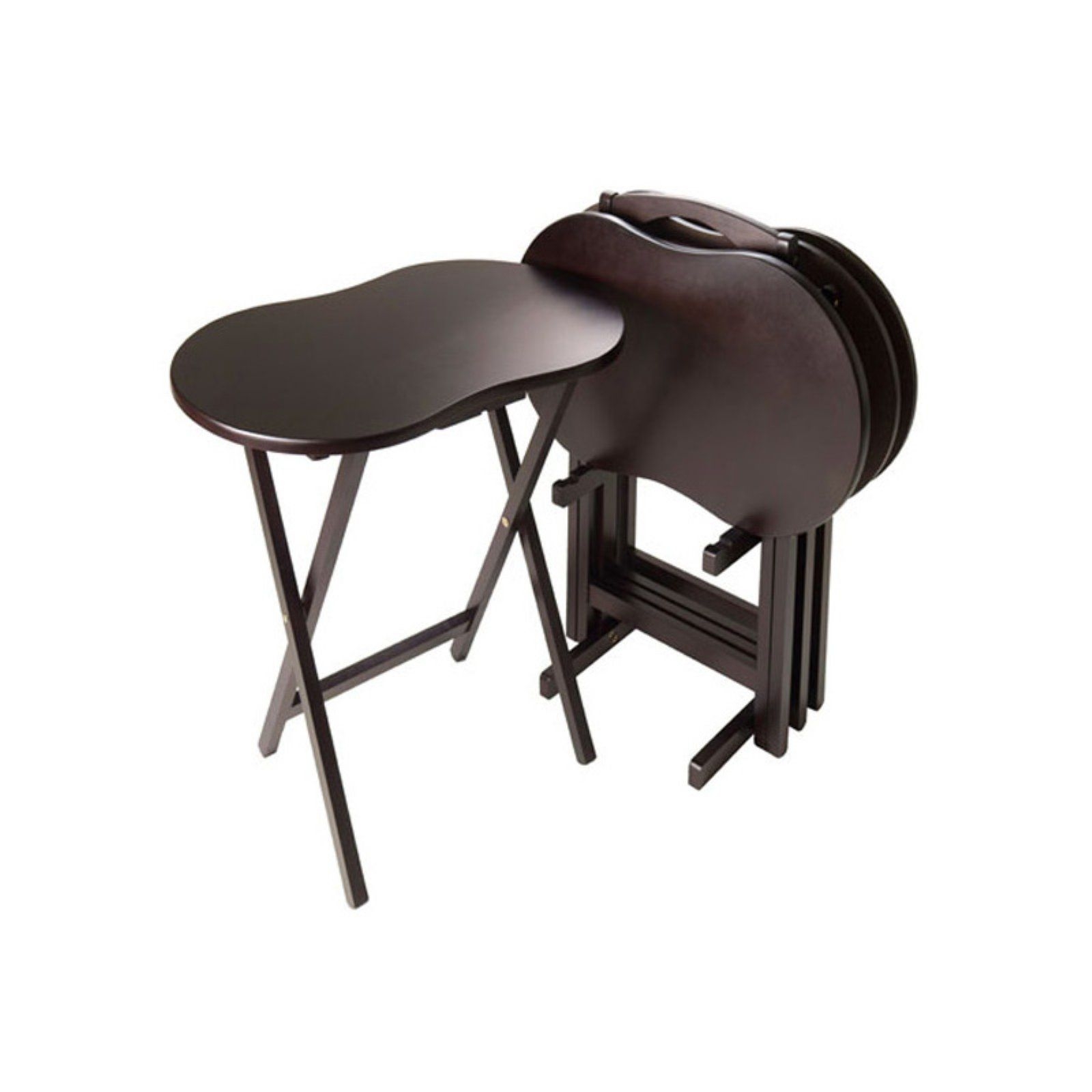 Aesthetic practical portable folding snack tables entirely finished in dark brown. Such a table has thin angular X-crossed legs and 1 simple stretcher of solid wood. A flip down top of composite wood is in the shape of a peanut.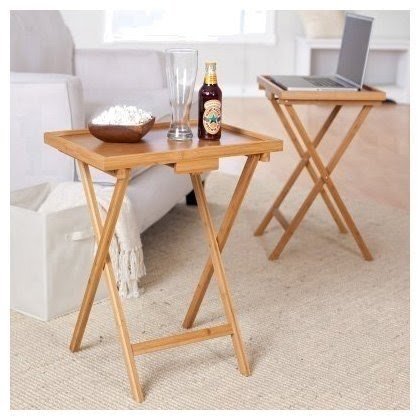 This kind of product is a high quality table that has got a durable construction based on solid bamboo construction. It is a table that has got a small, space-saving size. It measures 20-inch wide by 15-inch deep by 25.5-inch high.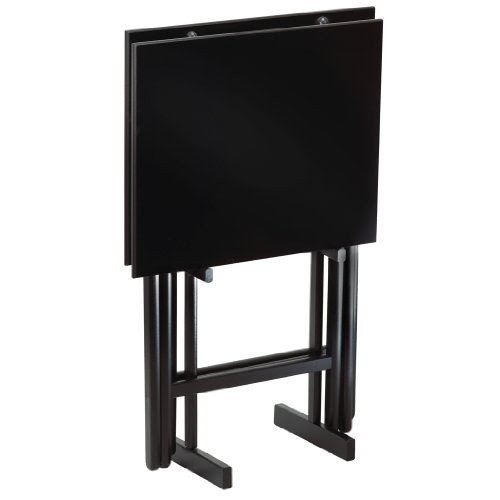 This set of two folding snack tables comes with stands, that along with the legs are made of the hardwood maple. The glossy, black laminate top adds elegance and class and the simple construction allows an easy blend with any possible decor.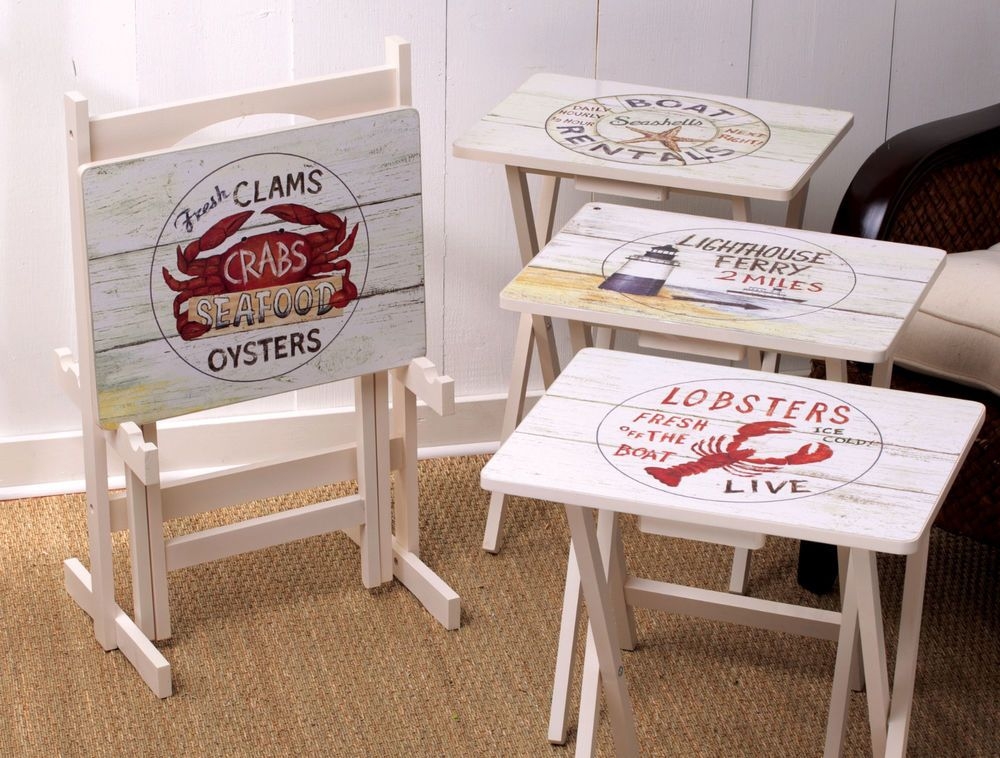 Set of four foldable TV trays. Each of them features white finish and different nautical shore pattern. Whole set is made of MDF. All pieces are sealed with a coating, which helps preserving the original look for longer.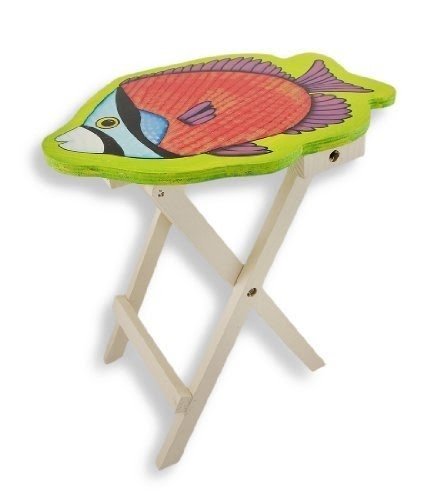 It is the perfect table to the room for a child who loves to fish. It is made of wood, so it is very stable. Deck the other hand, the timber is in the shape of a fish and so it was painted. Everything is colorful and cheerful.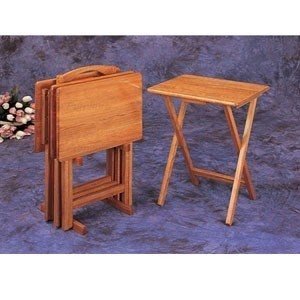 Oak Folding Tray Table Set 5199 (COFS25)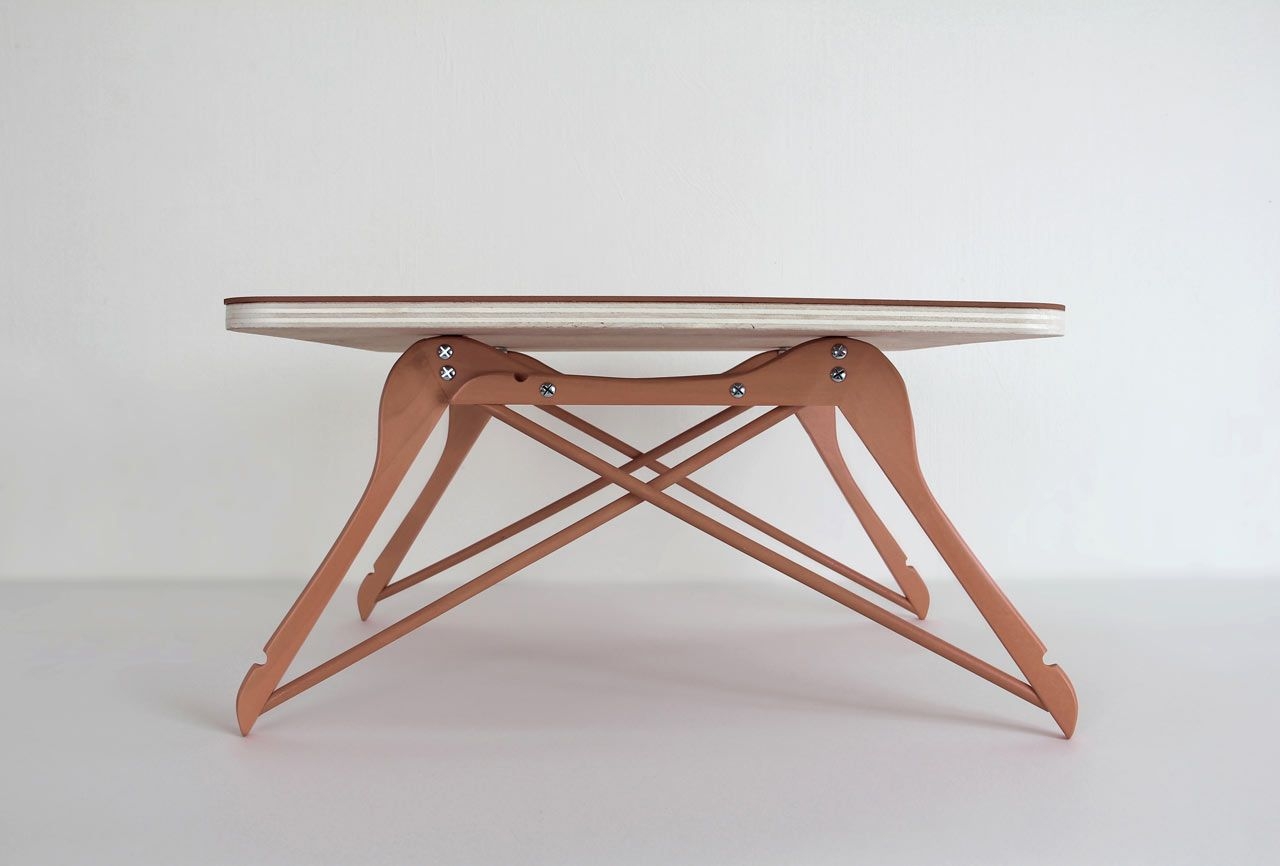 mini table made with wooden coat hangers...cute for a plant stand, etc, in a laundry room.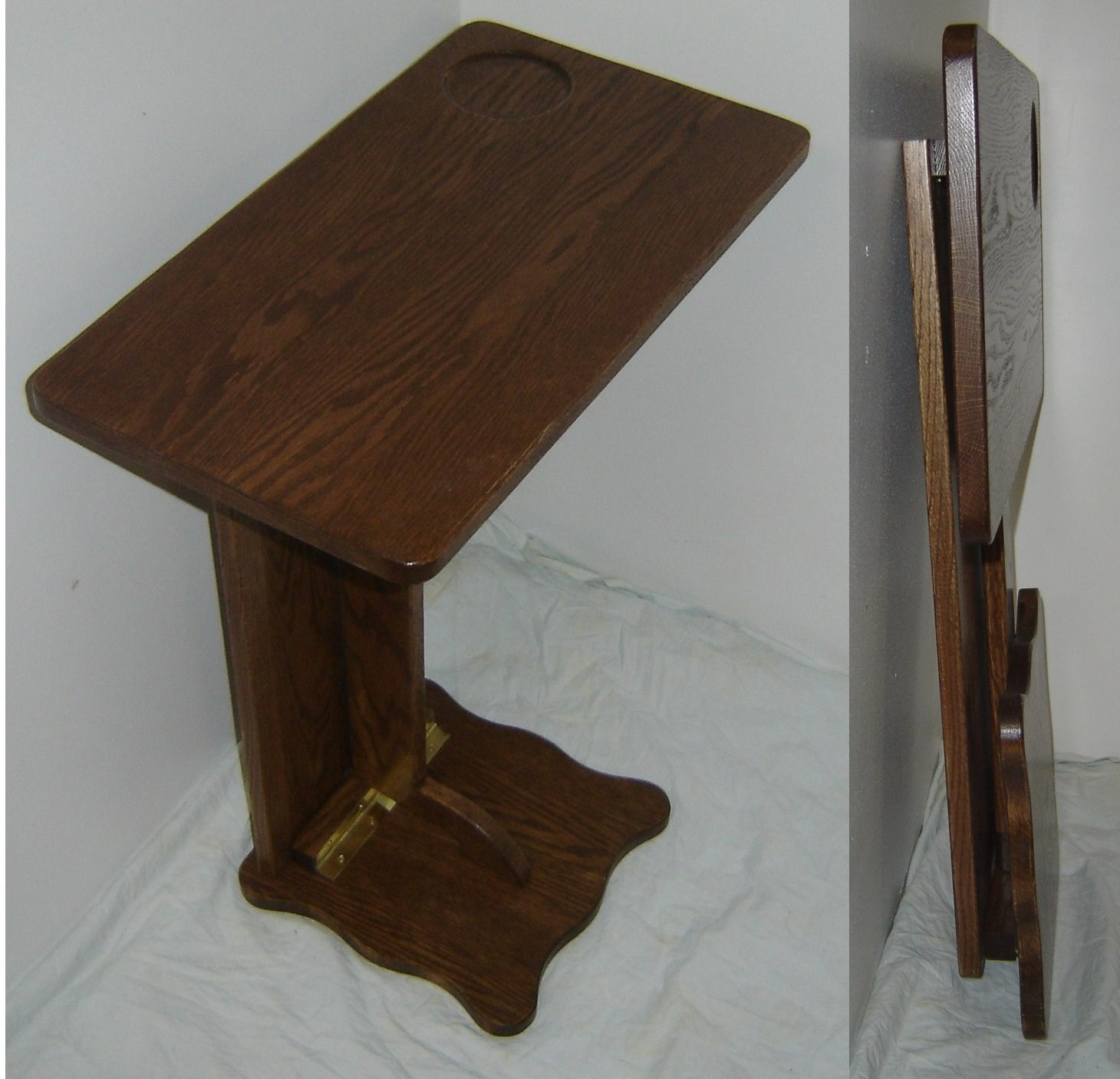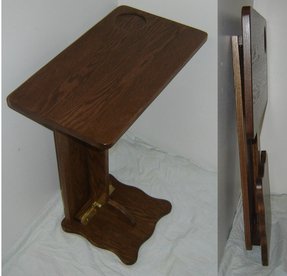 With such rolling tv tray tables, we meet not only in the cinema. Even during a home session, a stand can be pulled up from behind the couch, with a place for a cup with a drink, folding snack table with a stand was finished with dark veneer in bronze.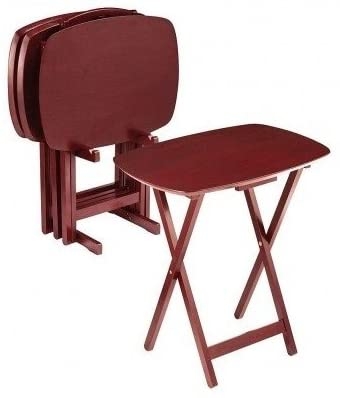 ... Set Oversized Folding Serving Stand Wood Dinner Game Snack Table New