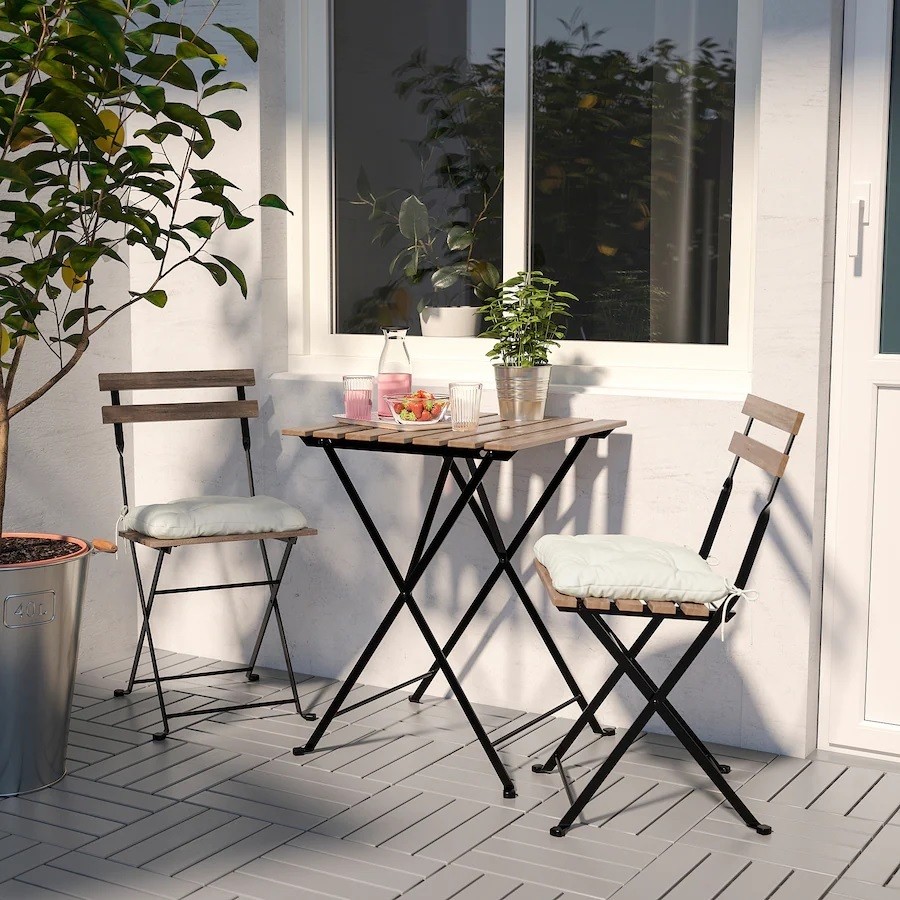 TÄRNÖ Table

Consisting of the iconic metal and wood combination, this charming Ikea folding table adds an industrial touch to the traditional French cafe feel.
It's perfect for small patios or, since it's pre-treated with a weather-resistant wood stain, even actual gardens. For the best results, you should pair it up with metal bistro chairs or models that include a wood element in the same style.
While this table is designed to seat two people comfortably (great for couples who wish to enjoy some meals outside!), you can just as easily gather around it with a couple more friends for an informal catch-up or some drinks.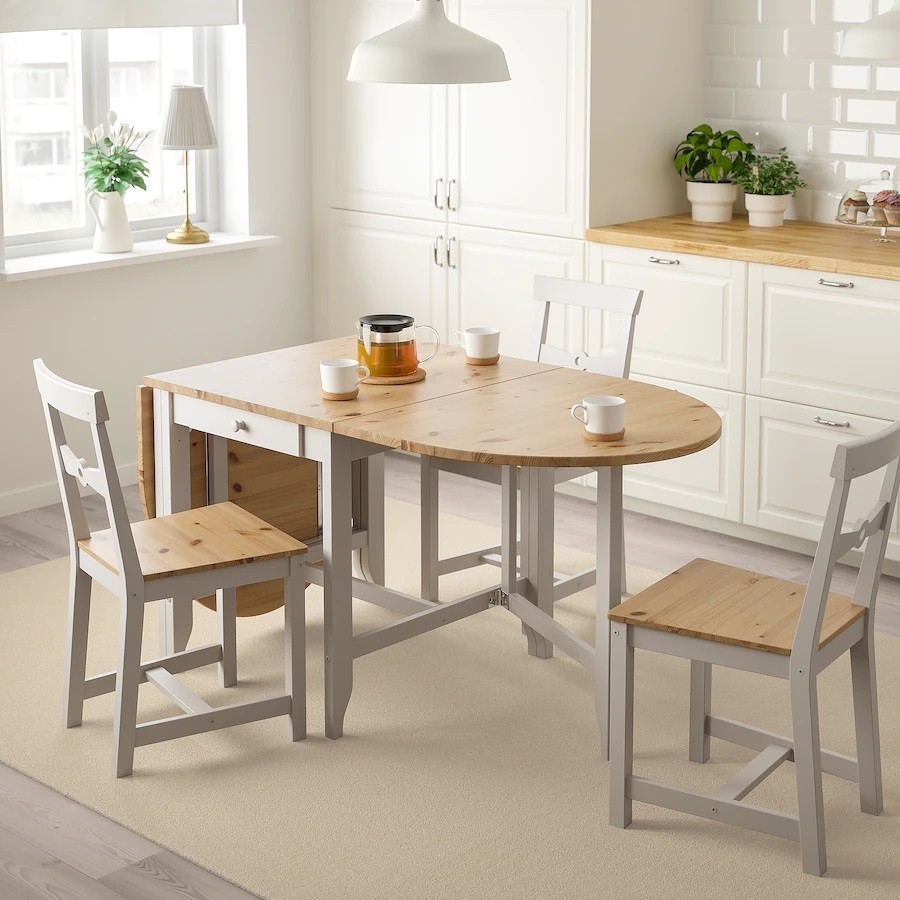 GAMLEBY Gateleg Table

This Ikea folding table is a real game-changer in smaller dining rooms or open-plan living rooms/kitchens.
When its leaves are down, couples can use it to seat comfortably for dinner… as well as to introduce an eye-catching decorative statement, of course! Made of pine, its beautiful light wood finish will work wonders with several styles and especially Scandinavian, traditional, rustic, and farmhouse interiors.
However, whenever you decide to have a few guests around, you can simply open either one or both leaves to welcome up to six adults and a couple of kids.
For added practicality, its surface is water-, heat-, and scratch-resistant, and the frame even includes an adorable drawer that will allow you to keep napkins or cutlery always at hand.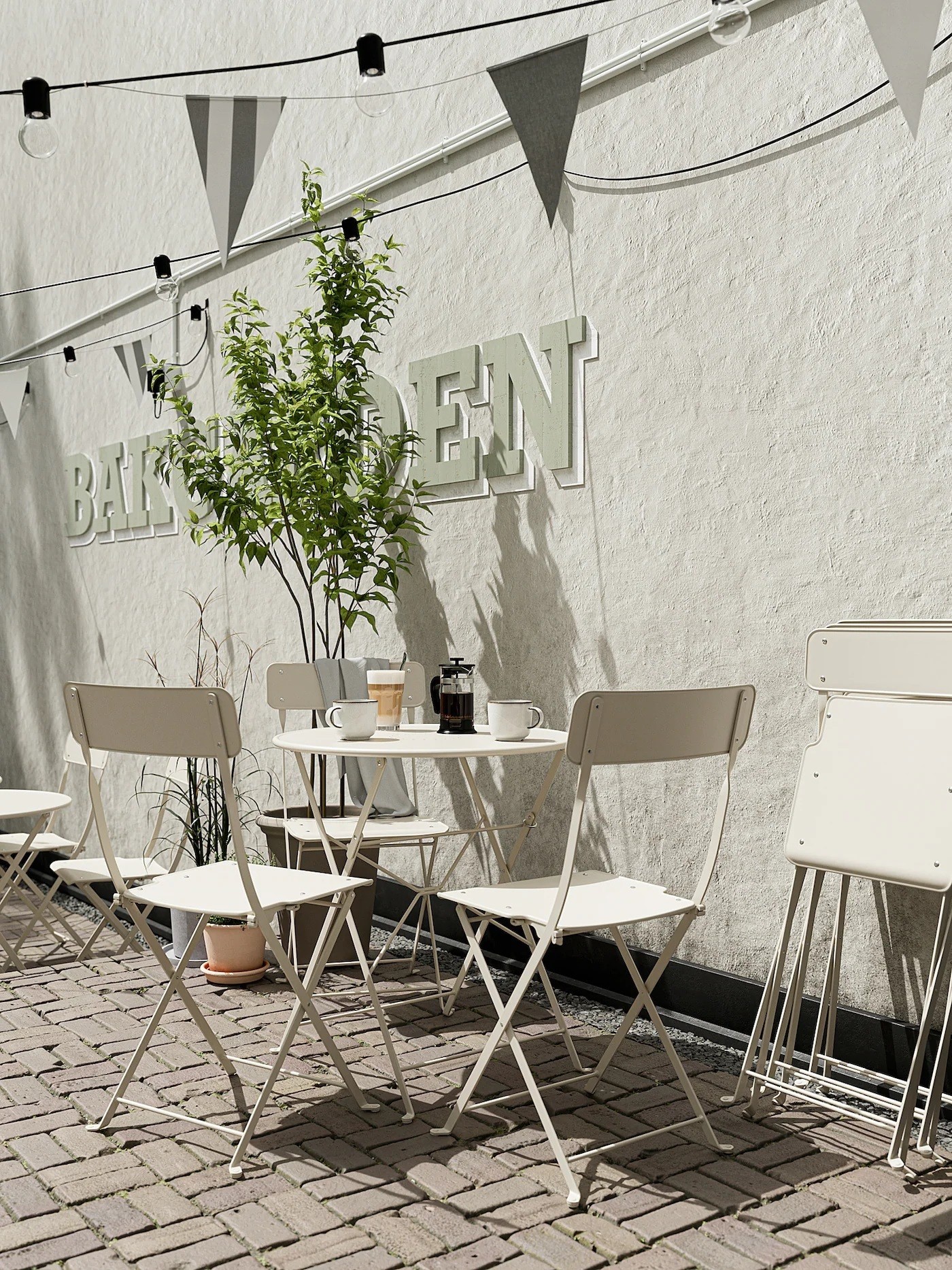 SALTHOLMEN Table

Not all Ikea folding tables are square or rectangular! If you were hoping to experiment with a different shape, we're confident you're going to love this round model.
We especially recommend it for your balcony or small patio: because it's designed to be folded up and stored away by resting it flat against the wall, it's a godsend in narrow settings.
Once again, this table is handy for couples, but you can also use it as a base to gather around it with friends while enjoying a few drinks or snacks.
Made of powder-coated stainless steel, this weather-resistant table is guaranteed to last you for many more years to come.
Why not achieve a cohesive feel by pairing it up with some bistro chairs in the same color?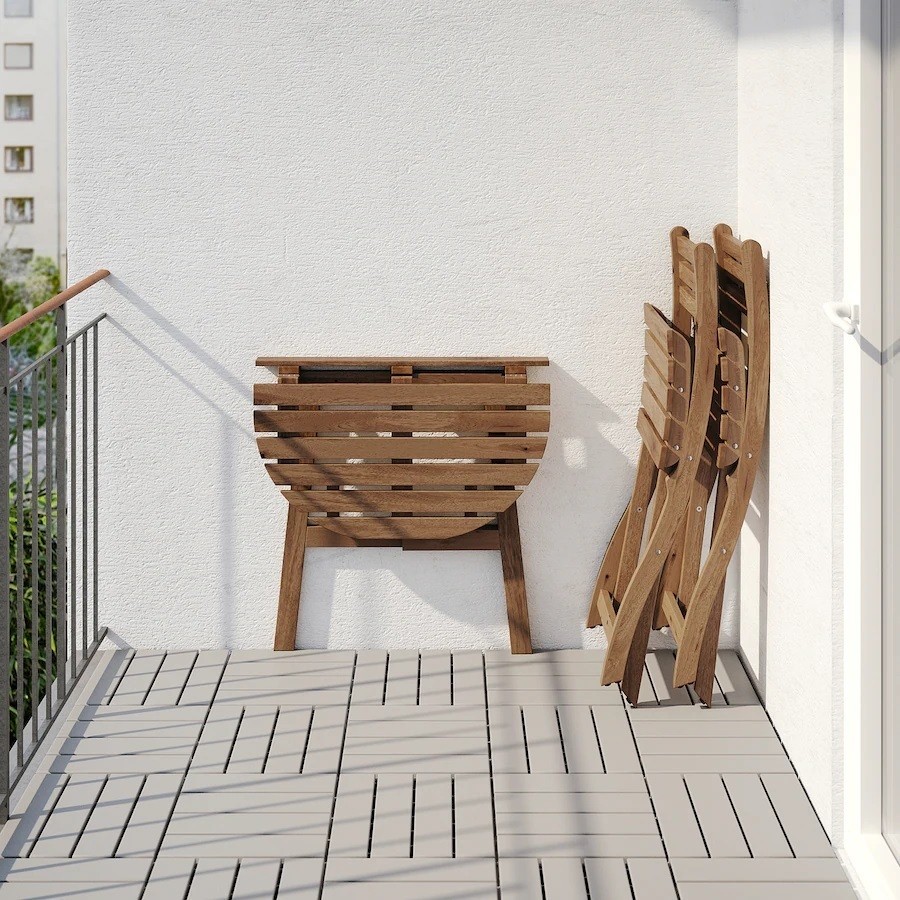 ASKHOLMEN Wall table + 2 folding chairs

This Ikea folding table with chairs is a dream come true if you've ever thought 'my patio/balcony is too small to sit outside'.
Well, get some drinks ready: its wall-mounted design results in less than 18" in width, so we're sure it'll fit in that little corner, too!
But this space-saving set isn't just practical: it's also incredibly stylish and charming.
Made of sustainably sourced acacia wood, it'll work with a variety of decor styles, from traditional to bohemian and Scandinavian.
For added comfort and durability, it even comes with two versatile cushions that can be turned upside down.
This foldable set is the best choice for couples who haven't been making the most of their balcony or patio due to its small size. You'll probably end up eating al fresco every night, now!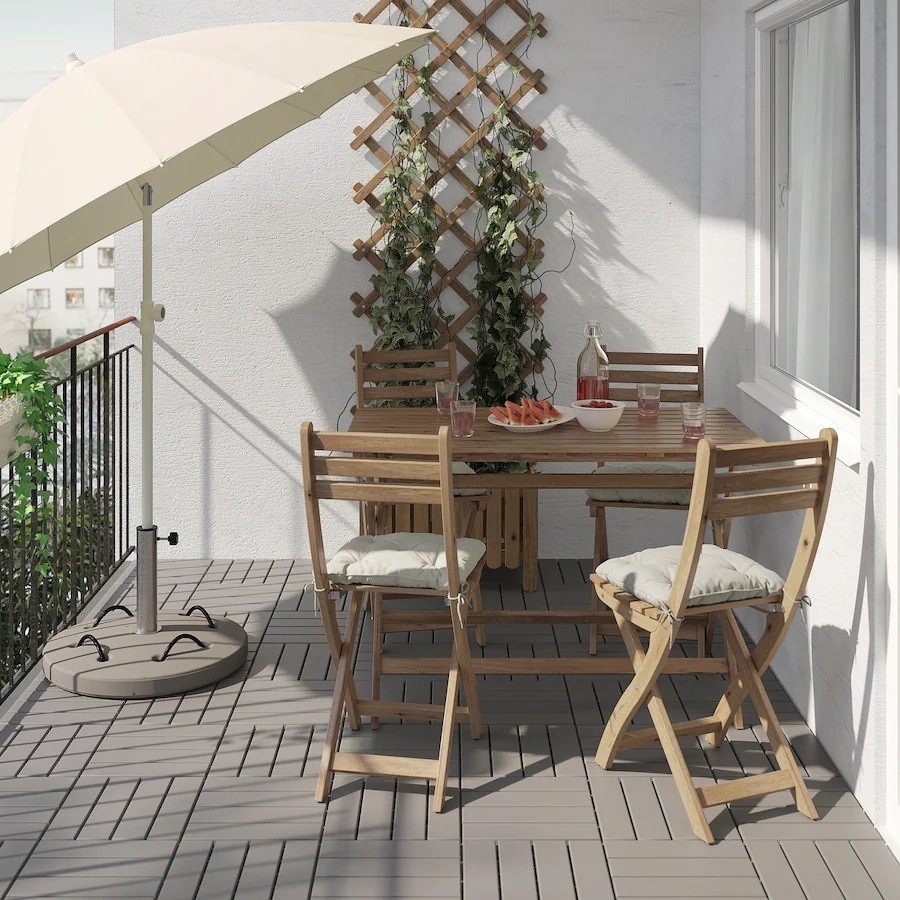 ASKHOLMEN Table and 4 chairs

While this Ikea folding table with chairs will look just as divine in a large garden or patio, you won't believe the wonders it can do in a smaller one or even a narrow balcony.
When it's open, it looks just like a traditional table for four (although, if you have room for them, you can easily add two chairs at the heads of the table to fit a couple more people).
However, once you close it, you can store both the table and the four chairs against the wall in a corner.
This is a practical choice for families as well as couples who tend to have friends round for meals fairly often.
This stunning set is made with sustainably sourced acacia and is pre-stained to resist the weather, which is always handy.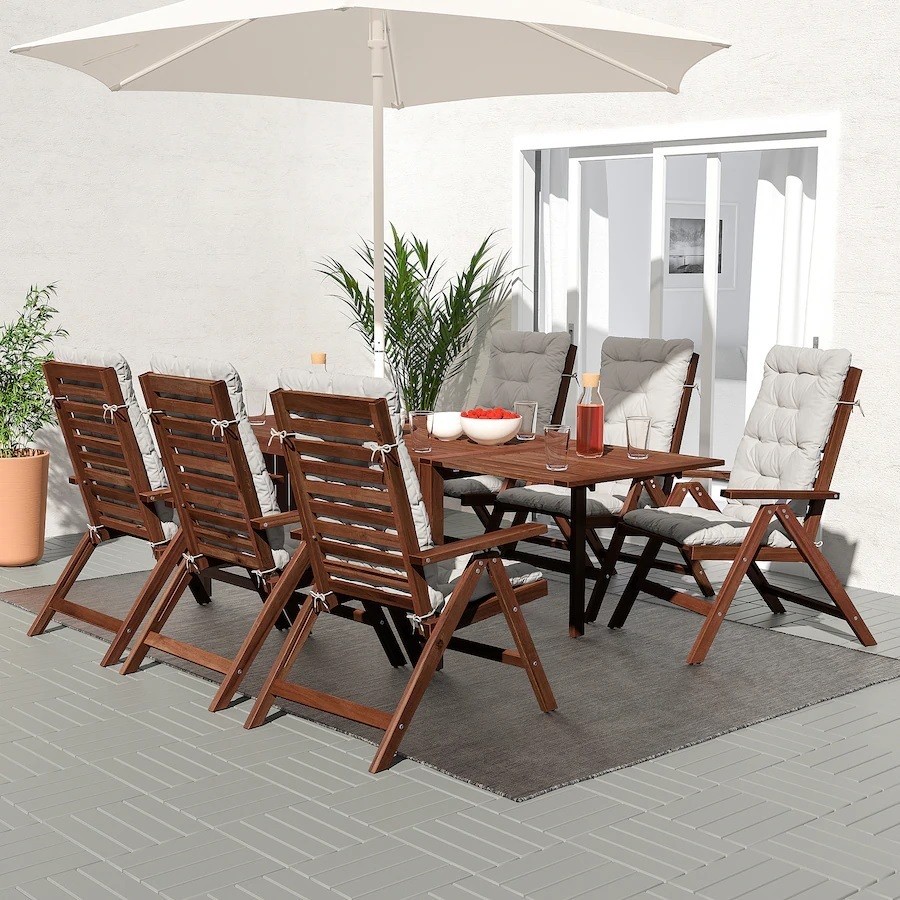 ÄPPLARÖ Table + 6 reclining chairs

If you have a particularly large patio or garden, you might as well make the most of it while ensuring that both the members of your household and guests are super comfy and have plenty of legroom.
This Ikea folding table set is as luxurious as it gets: it starts out as a traditional table for four (ideal for families), but you can decide to open either one or both of its leaves, accommodating six or eight people.
What we think you'll love the most about this sustainable acacia set is the fact that it doesn't come with basic chairs: on the contrary, it includes six recliners for added comfort.
Can it get any better?!
Actually, it can: this set even has a hole in the middle of the table to keep an umbrella in place should the weather get a bit too warm.