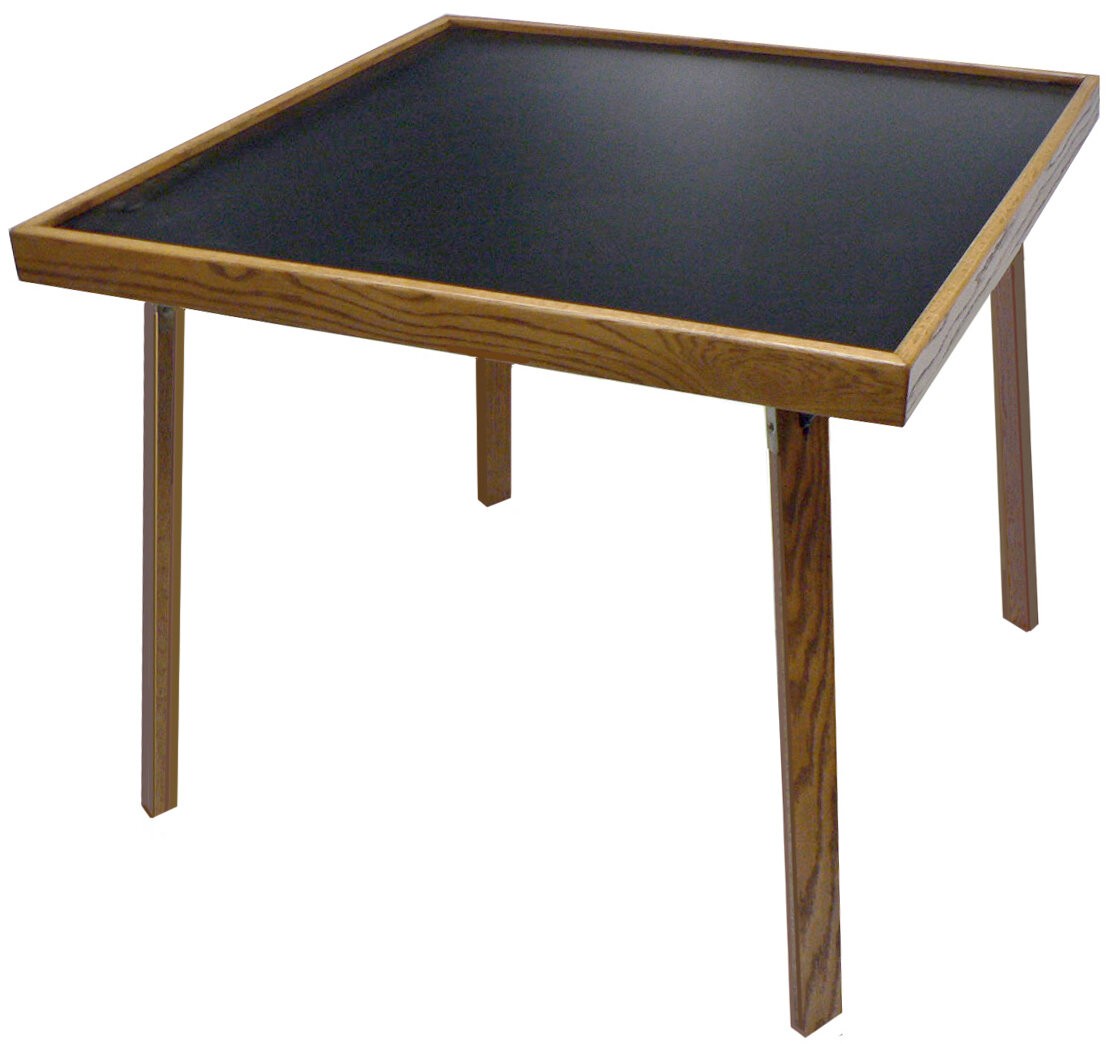 500 Piece 35" Square Folding Puzzle Table with Raised Edge
The gorgeous 500 piece 35" square folding table is made from solid Wisconsin Oak and comes in six different stunning finishes. The melamine tabletop is scratch-resistant and easy to clean. With no assembly required, the perfect table for a family game night is easy to maintain and store, thanks to its folding legs.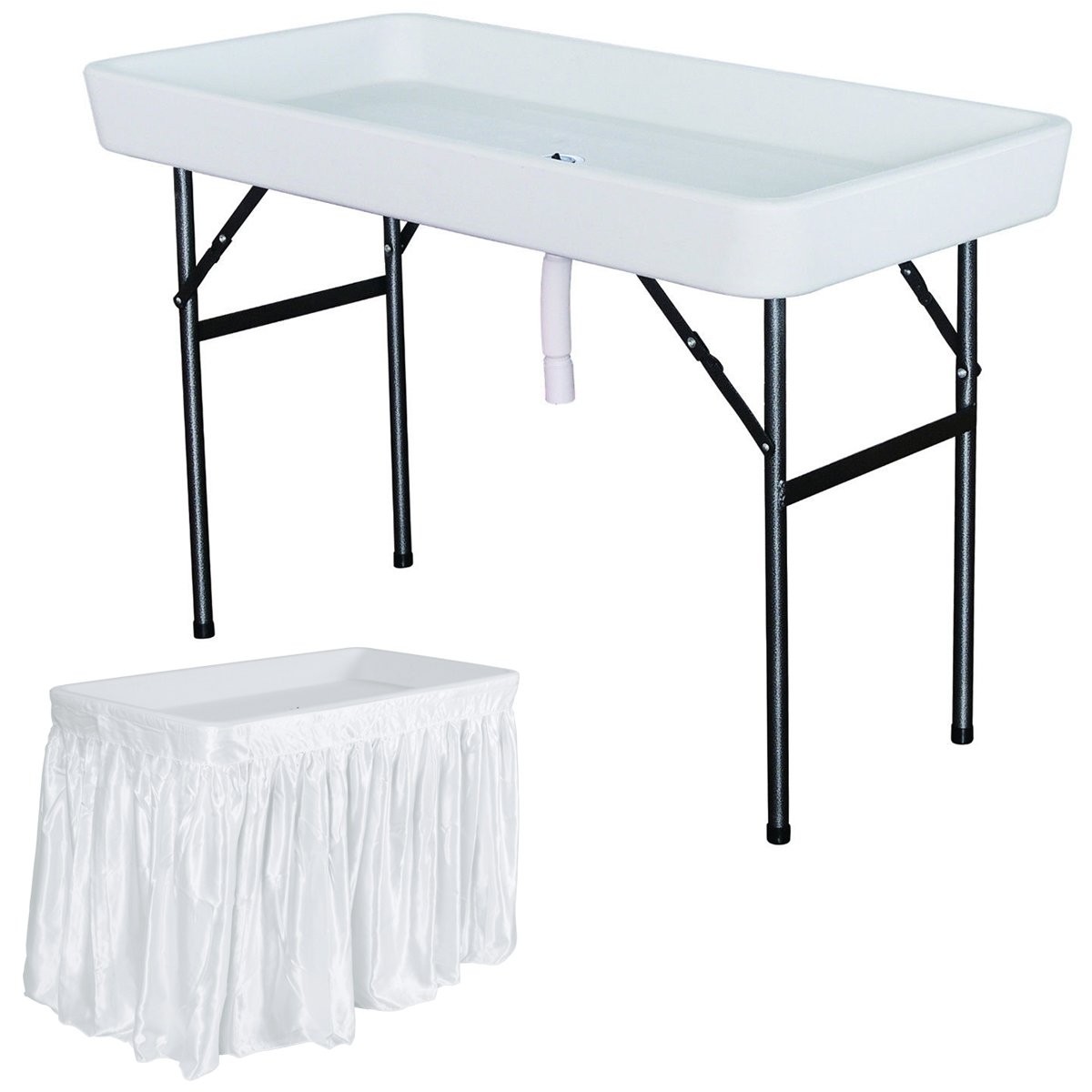 Plastic Party Ice Folding Table with Matching Skirt
This party table is ideal for frequent entertainers. Cleaning up is a breeze with a convenient drain in the center to remove melted ice. Iron legs and a high-quality polyurethane tabletop prolong its life. It can easily be collapsed and stored. The table comes with a skirt to hide the framework and drain tube underneath.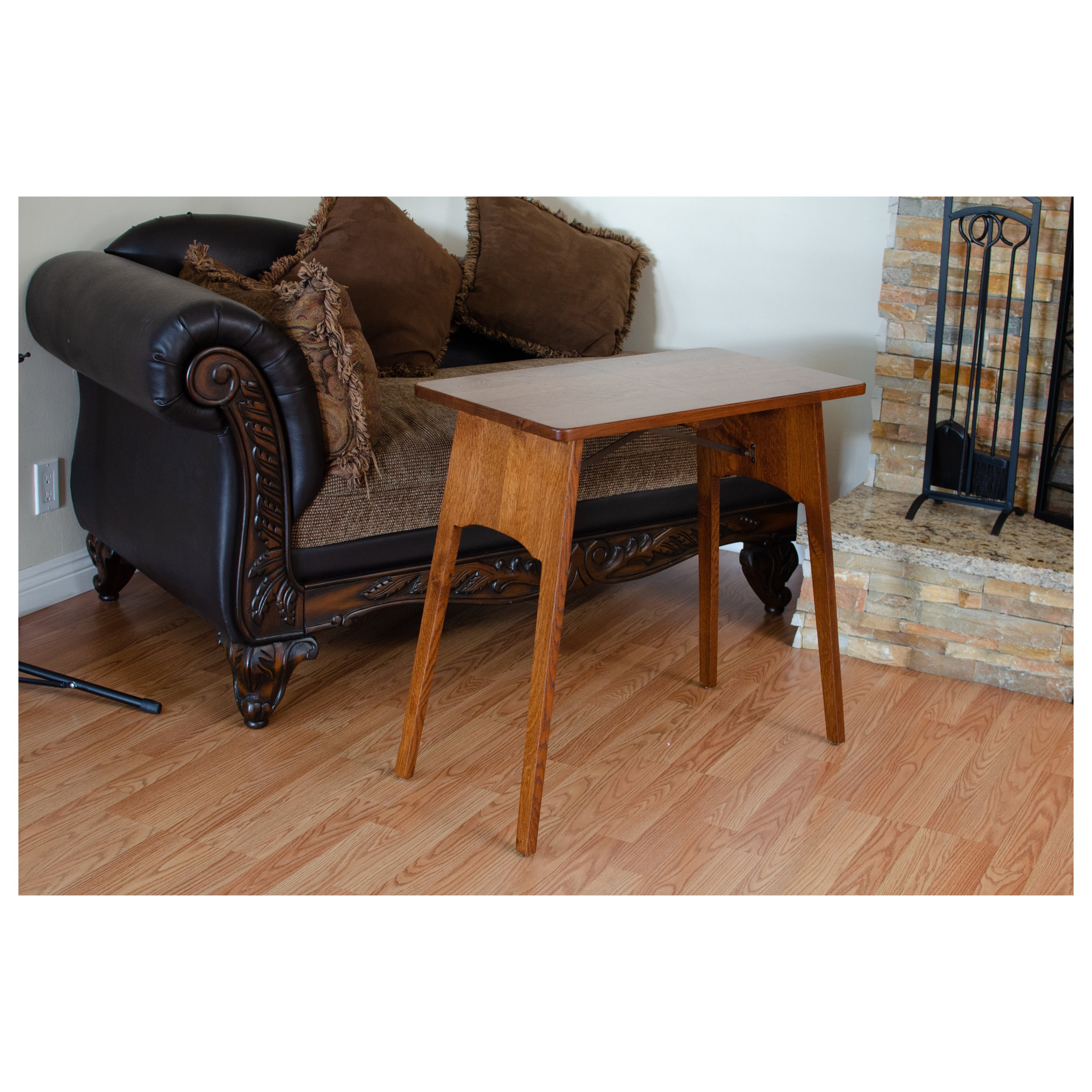 Tudor City Fireside 26" Rectangular Folding Table
The fireside 26" folding table is lightweight and a perfect addition to your compact living space. Crafted from hand-picked oak by skilled American craftsmen, it provides textural warmth with its unique natural wood grain. Use this table to enhance your movie-watching experience as a beverage and snacks station, to play cards, complete a puzzle, or utilize it when working from home.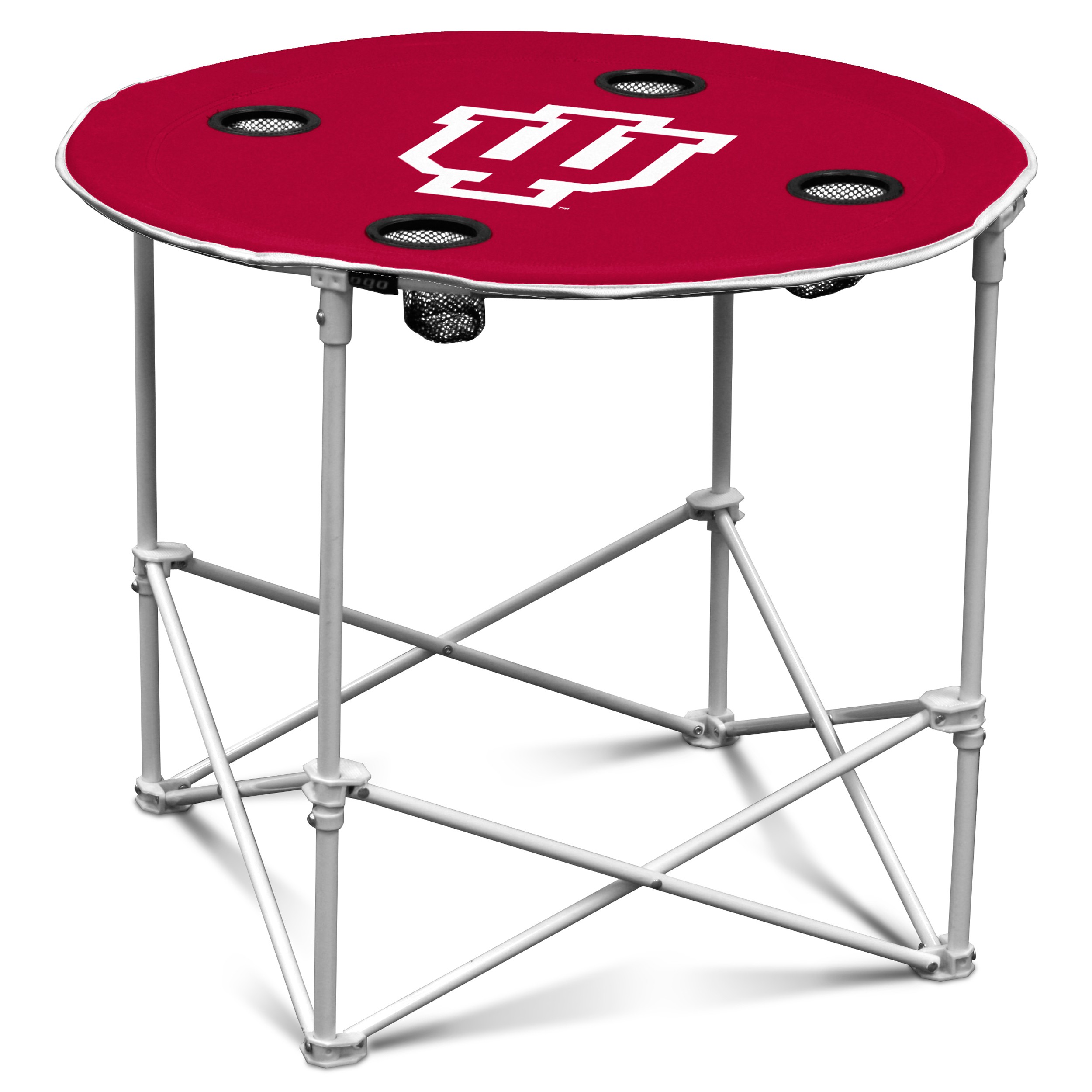 NFL 30" Circular Folding Table
This NFL 30" circular folding table is a football fanatic's dream. Made from 600 denier polyester and decorated with a logo, it features fully functional cup holders, so you can use this table when tailgating, in the backyard, or wherever there's a screen set up to cheer on your team. The durable metal frame uses an umbrella folding mechanism, and it comes with a convenient carry bag for easy portability.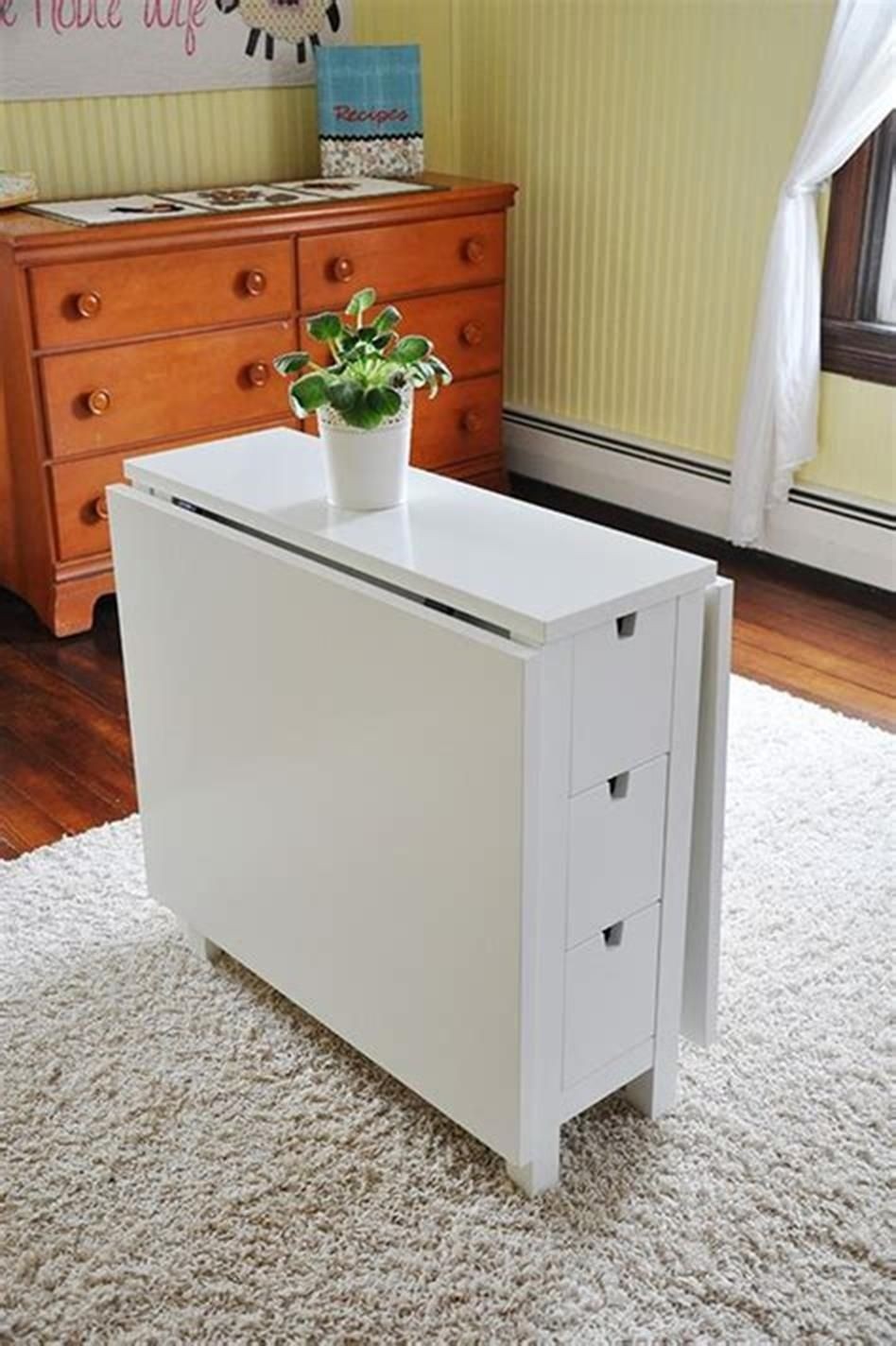 Combine functionalities and try the white table with three drawers. It can be used as a nightstand, working table, cabinet and much much more! It's not only very useful but it brings the simplicity to your home.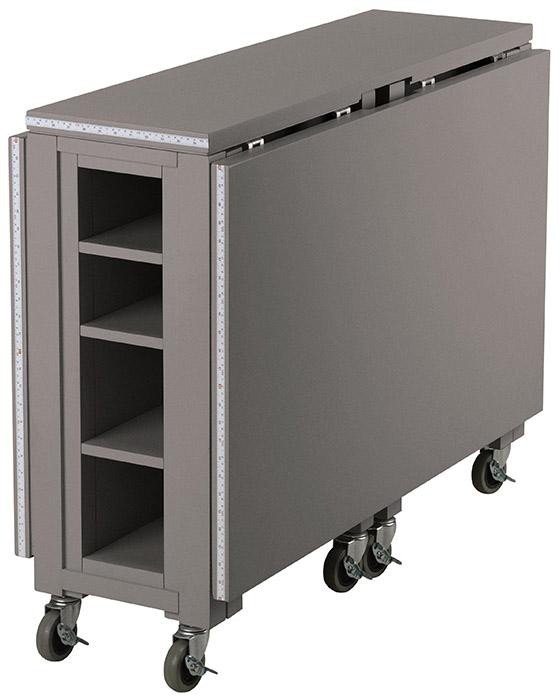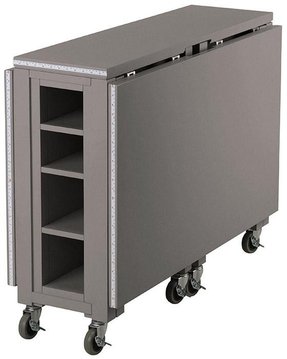 Take-down table with shelves to storage frippery or tools. This table can be used in living room, in workshop during work, bu it will be fit especially to office. Due to wheels table is movable and more useful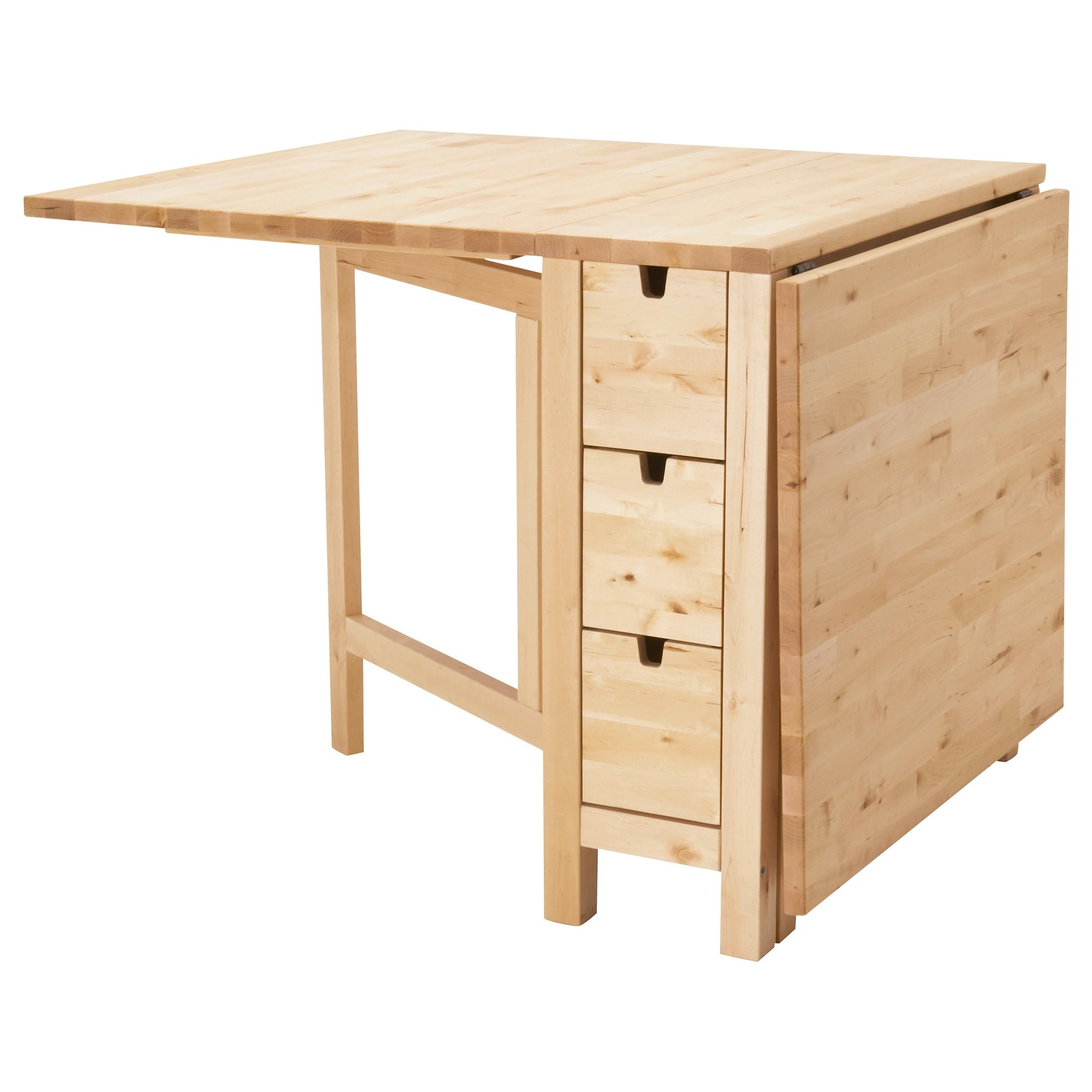 If you're looking for ideas for your sewing room and would like to benefit from the maximum functionality then this piece will prove amazing. It sports the corner design and will be suitable for any sewing machine.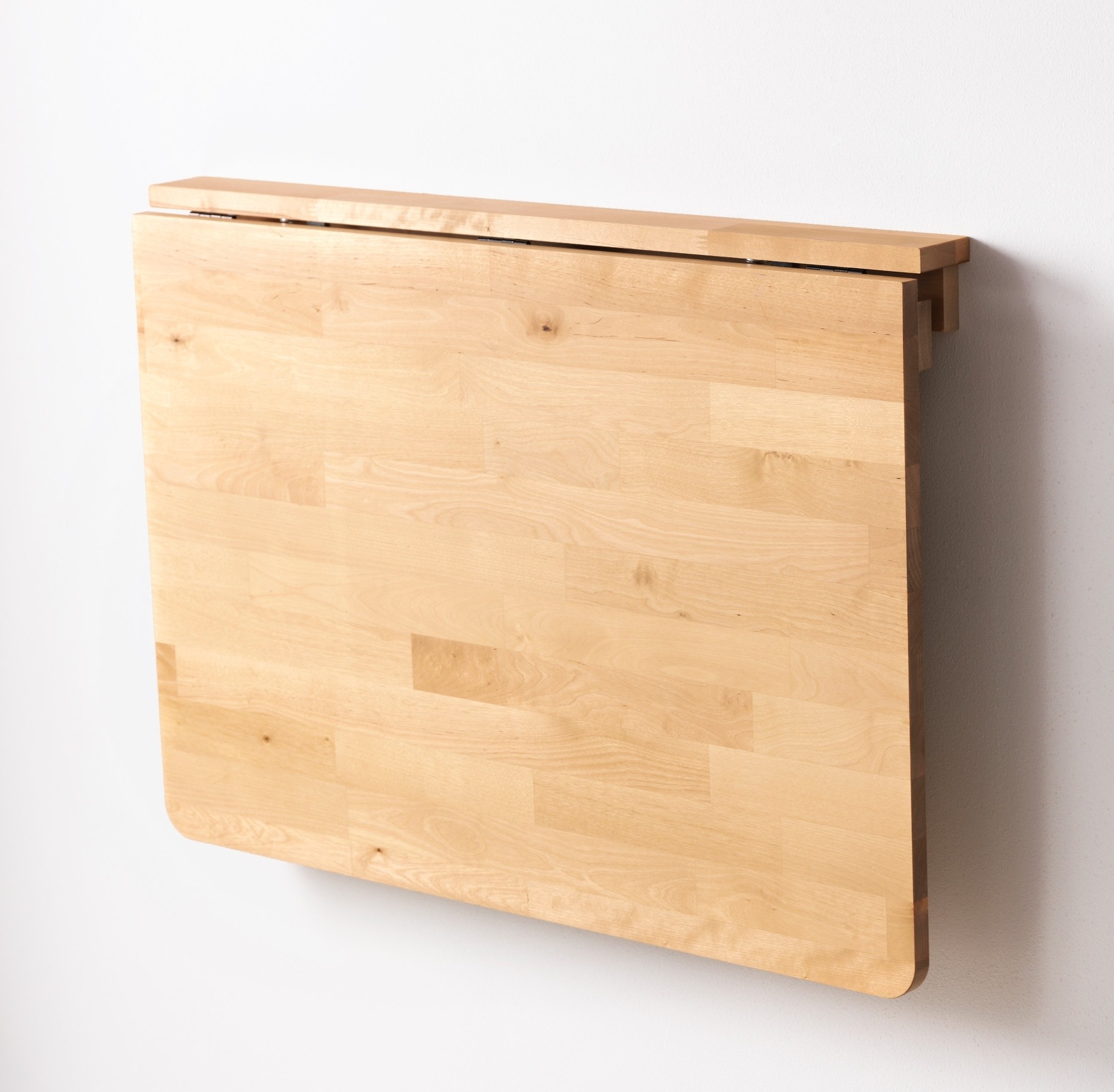 The eat-in kitchen is now available for everyone, with these handy IKEA's wall-mounted drop leaf tables. Durable and eco-friendly, these minimalistic beauties will satisfy the small needs of students and singles alike. These wall-mounts combine ergonomy and practical approach for the best effect.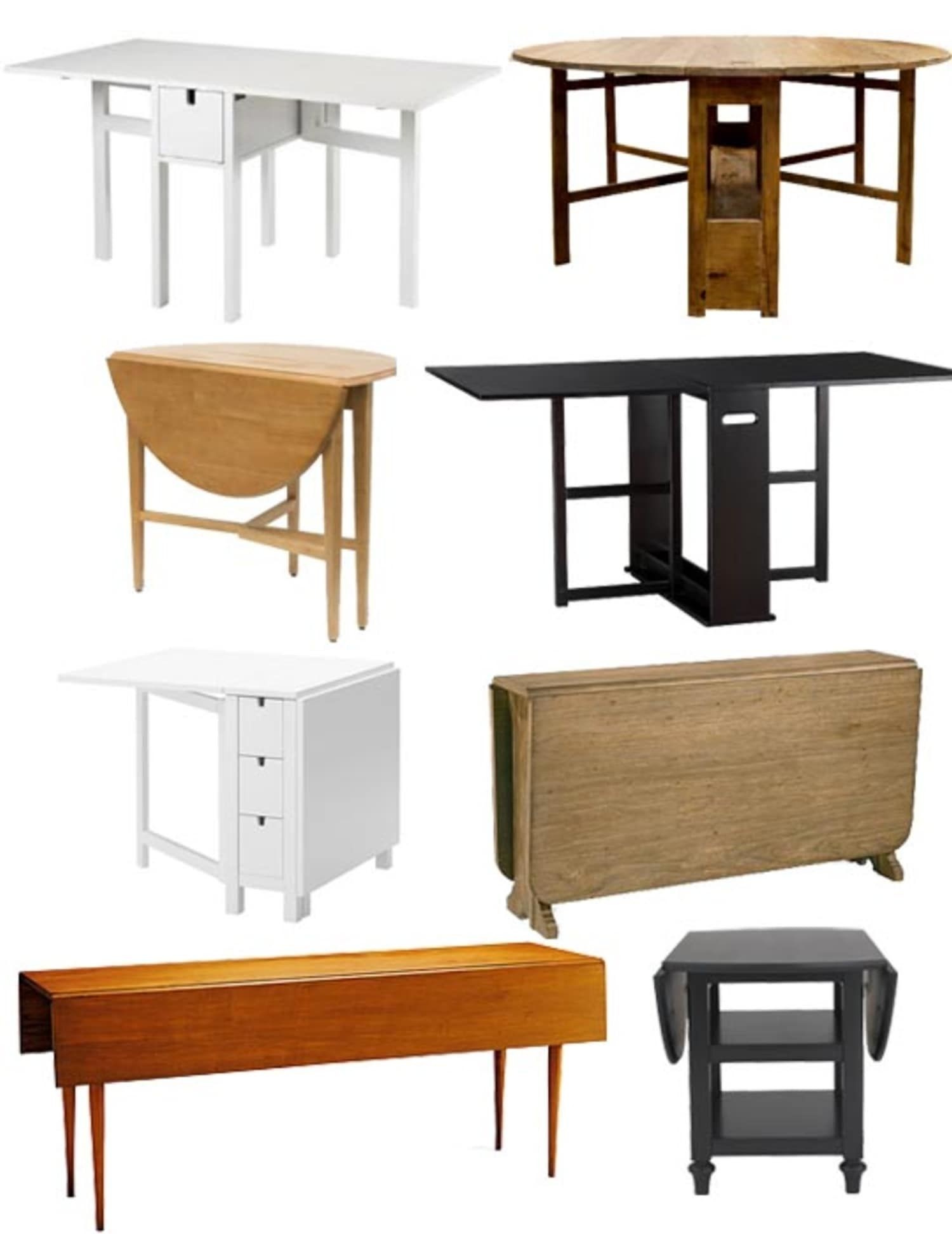 These well thought out, drop leaf and gate leg tables are perfect for small spaces. Easy to disassemble are extremely functional, and robust construction ensures durability. The attractive design of furniture adds interior style.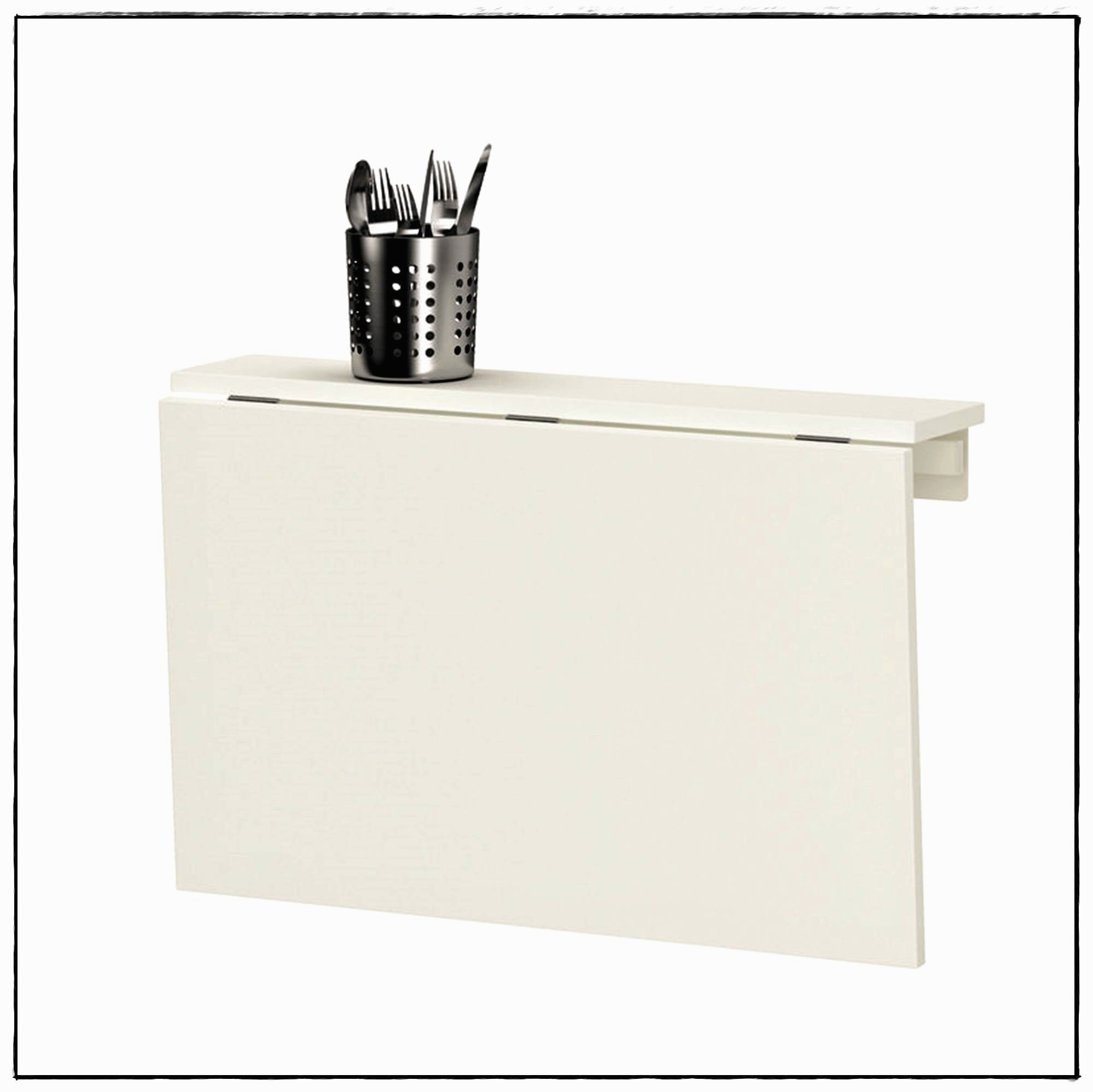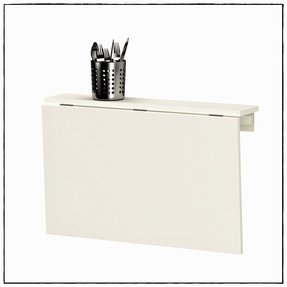 Introduce functionality to a small kitchen - this wall table hangs down when folded (still offering a small shelf surface to display tiny items) and serves as a breakfast table when unfolded. Melamine-covered white surface is easy to be kept clean.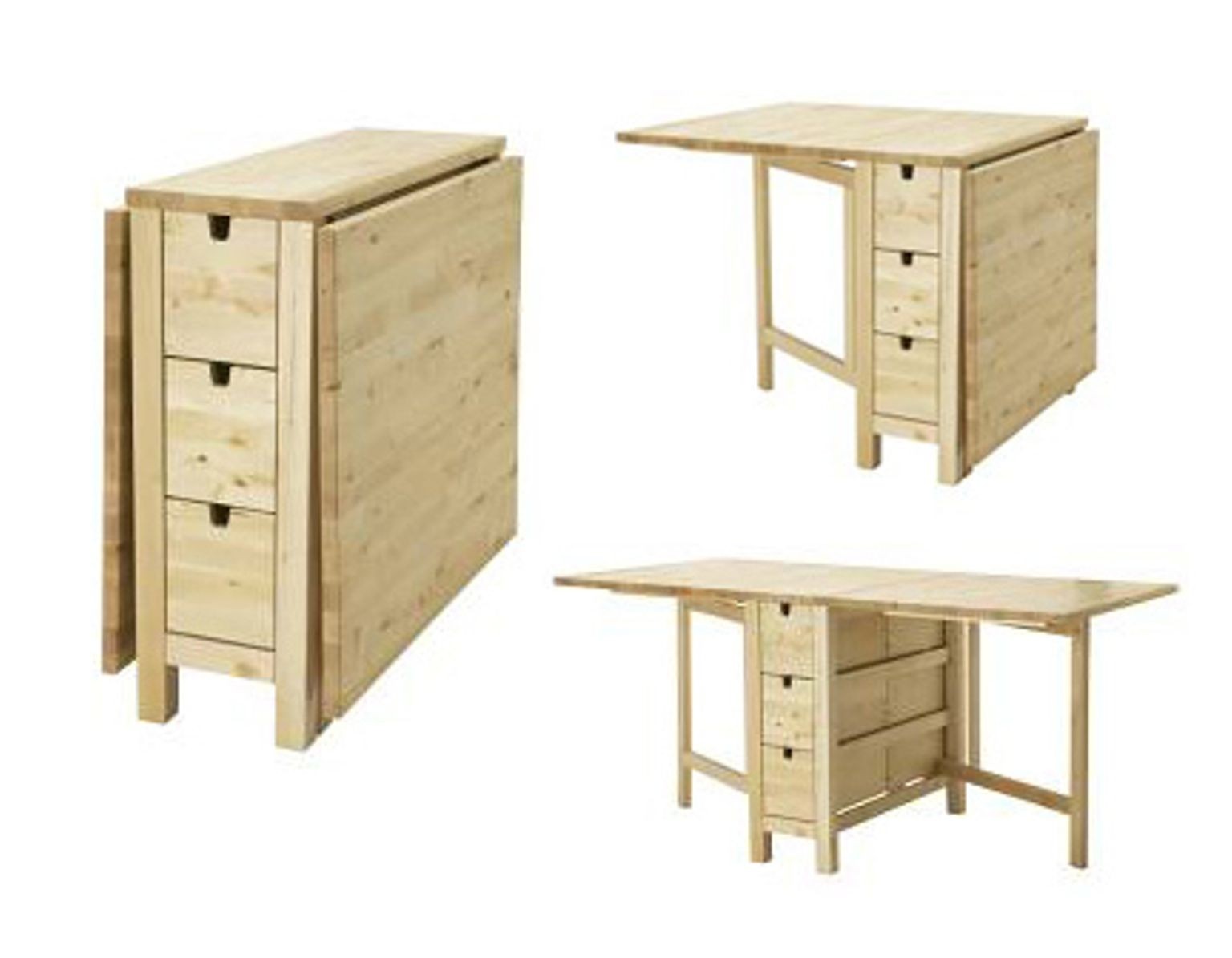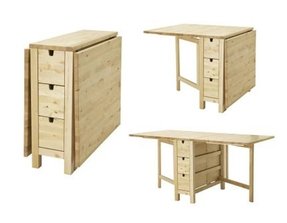 A space-saving work table that boasts of functional design and easy use. It's made of natural-fiinished hardwood, with 6 storage drawers, and 2 large drop leaves that allow you to fold it down into a narrow console table.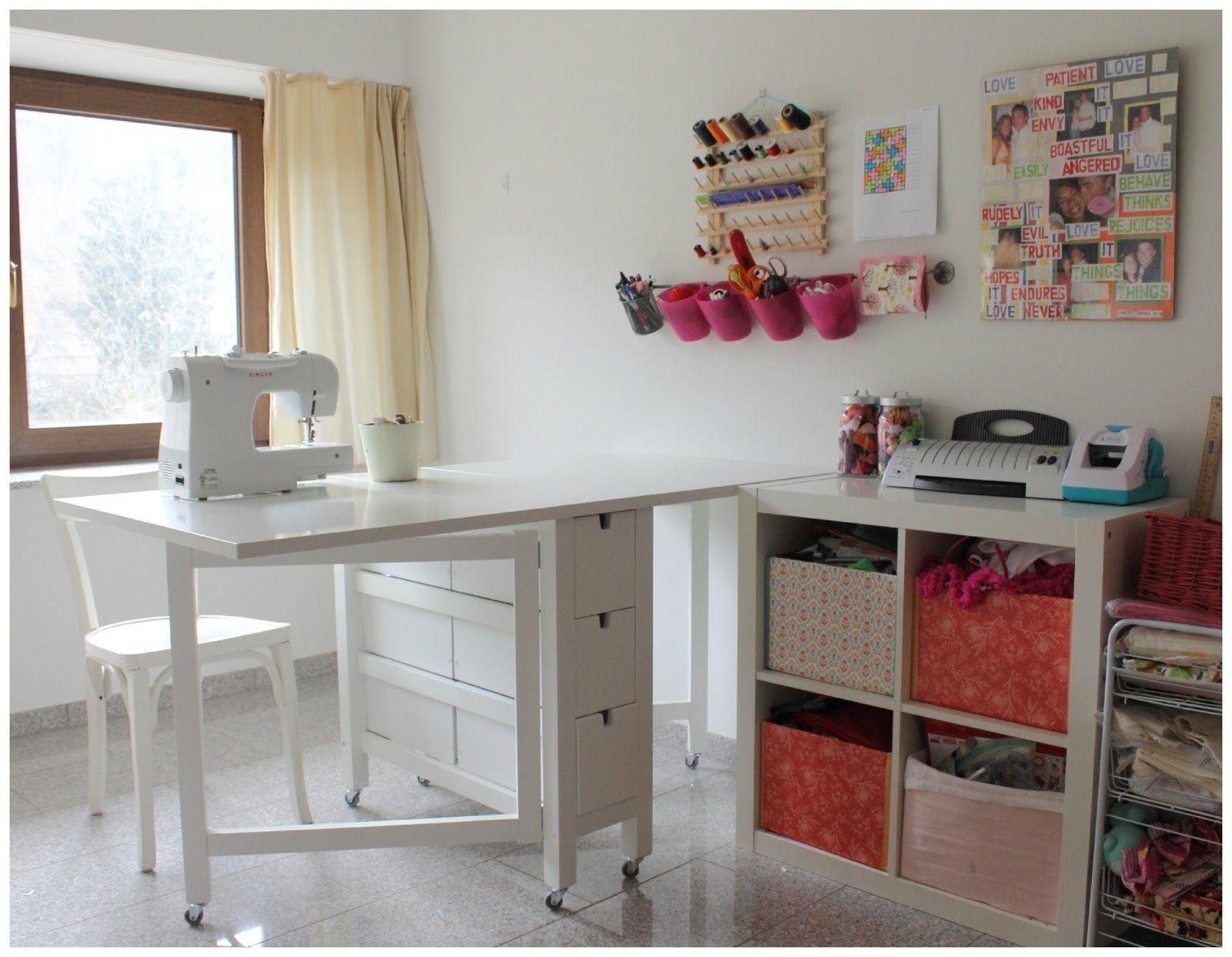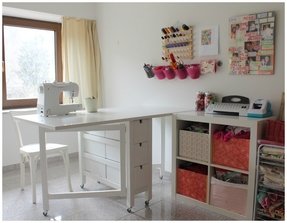 In the room of a young seamstress, there will definitely be a place for a sewing machine. To use the space as best as possible, it can include a white ikea folding table with narrow but long 3 drawers,a spacious top and wheels.All in white,with a bit of gloss.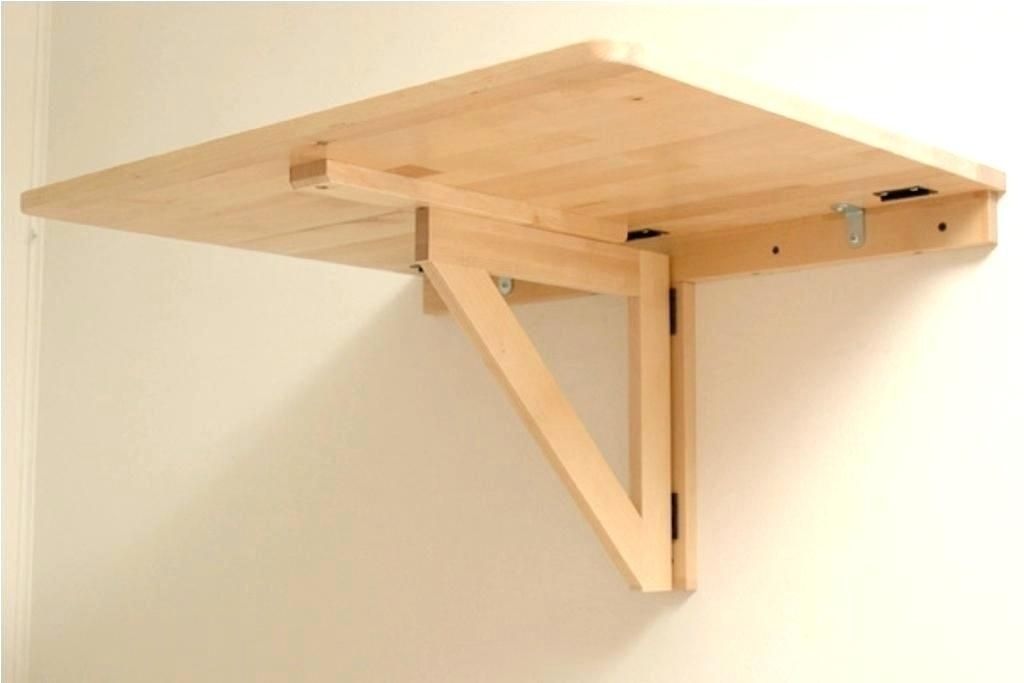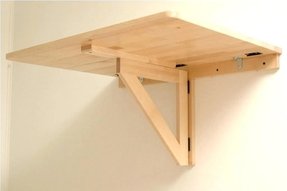 A simple, but useful folding table mounted on wall. Its simple wooden construction assures good appearance and solidity. It provides some space for storage or display of decorations and other items. It can be folded when not in use.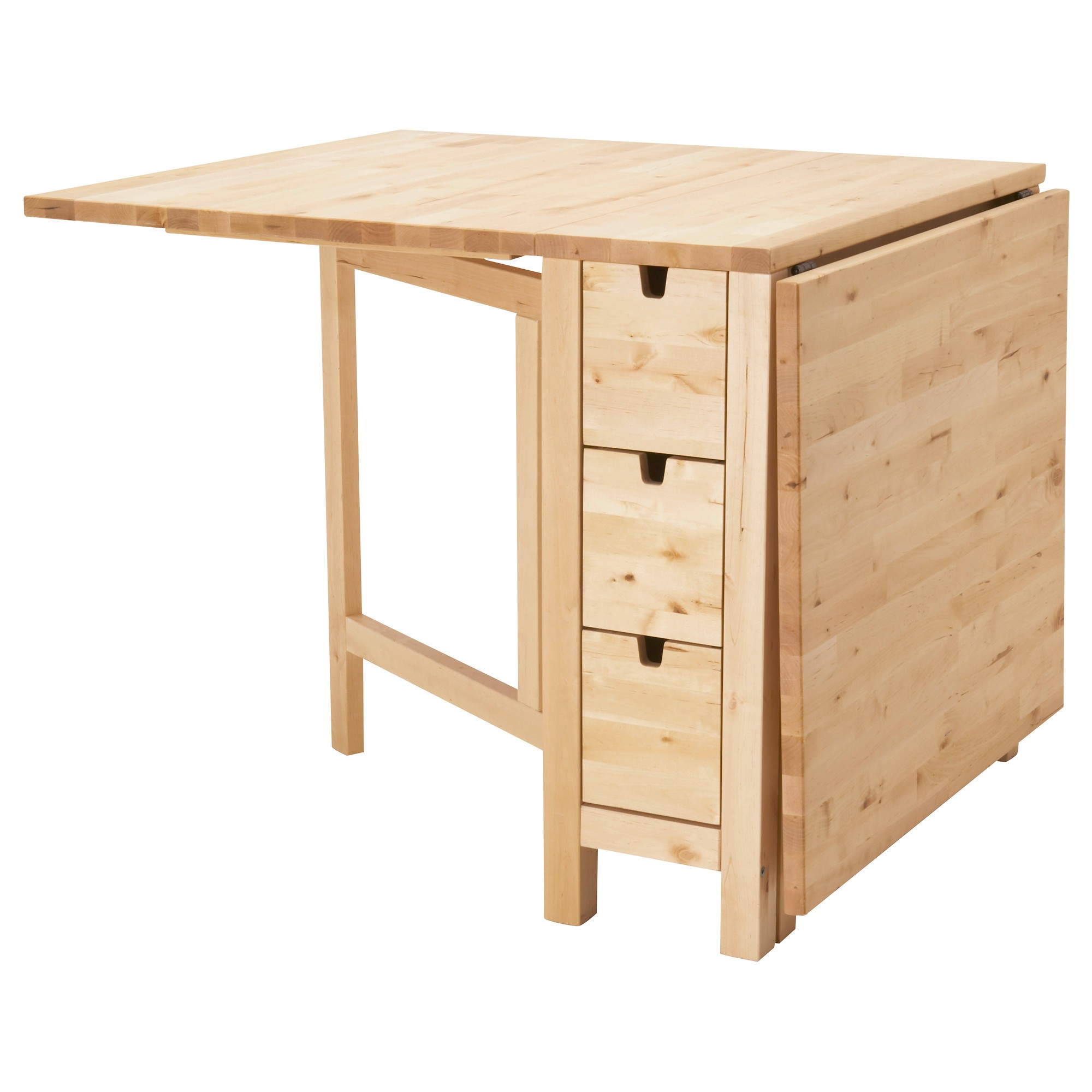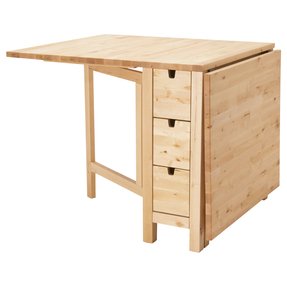 This unique table is crafted from solid birch wood and covered with a clear acrylic lacquer finish. Features 2 drop leaves and 6 storage drawers hidden under the top. You can wipe it clean using a damp cloth and a mild cleaner.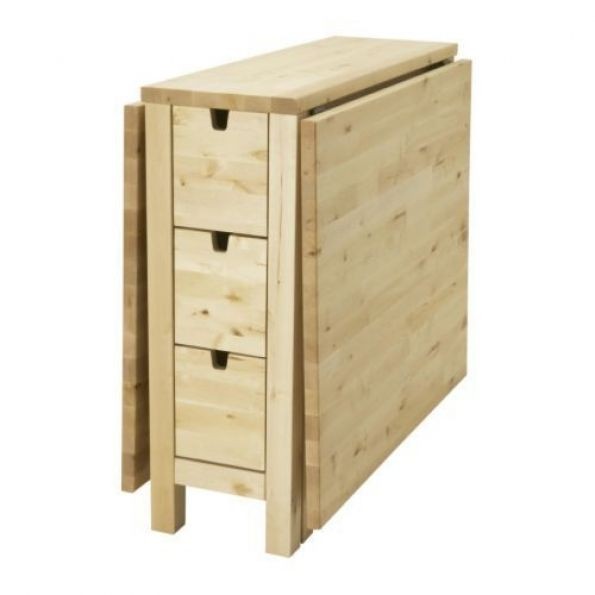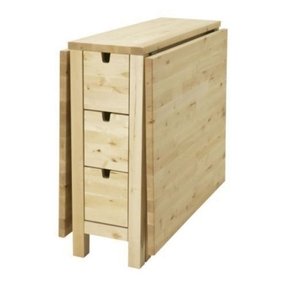 NORDEN Gateleg table IKEA You can store for example cutlery, table ...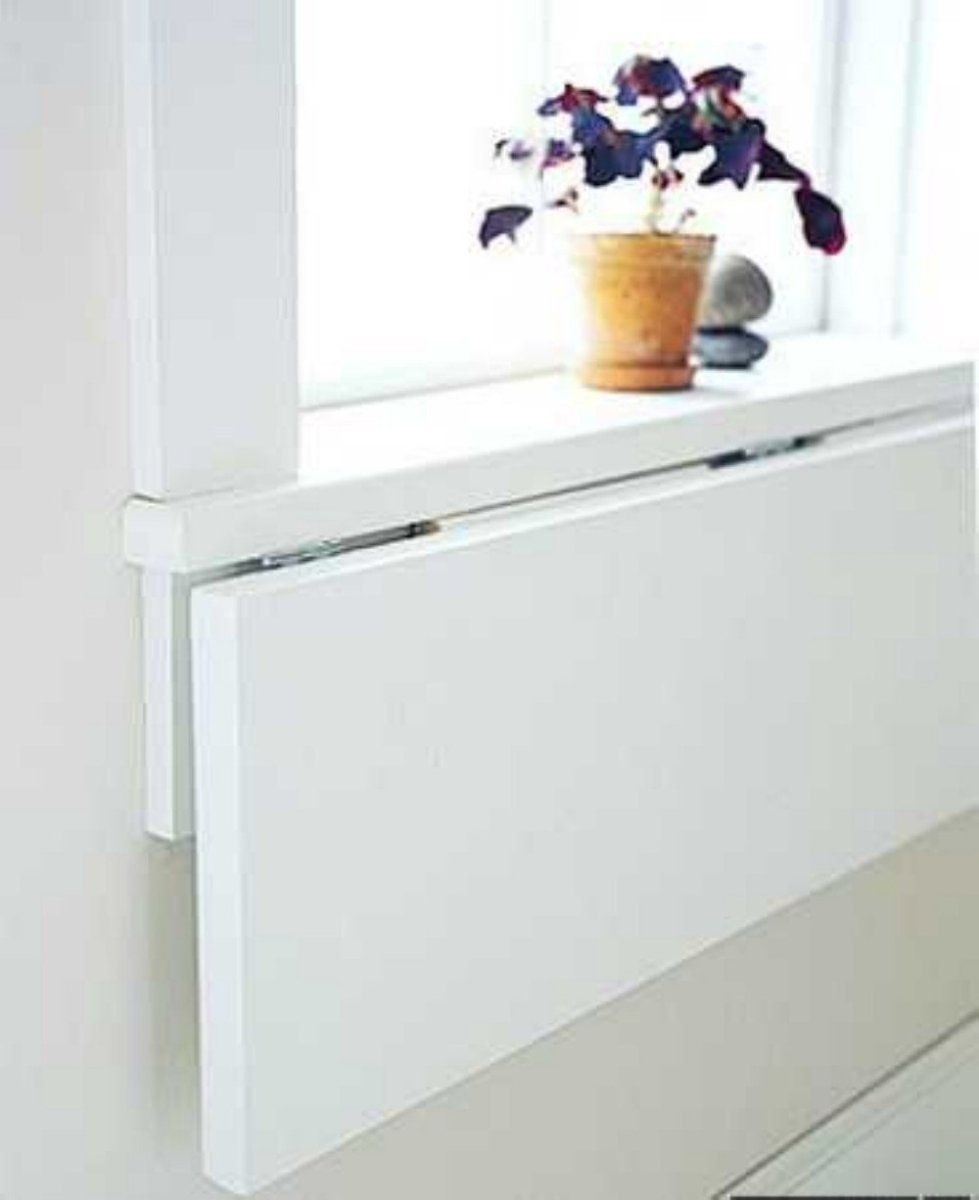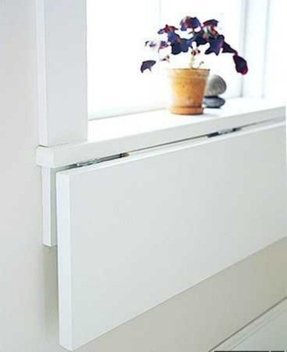 Practical and space-saving folding table ideal for small laundry rooms. This quite large rectangular hinged table can be attached e.g. under a windowsill. It's equipped with foldable supports underneath.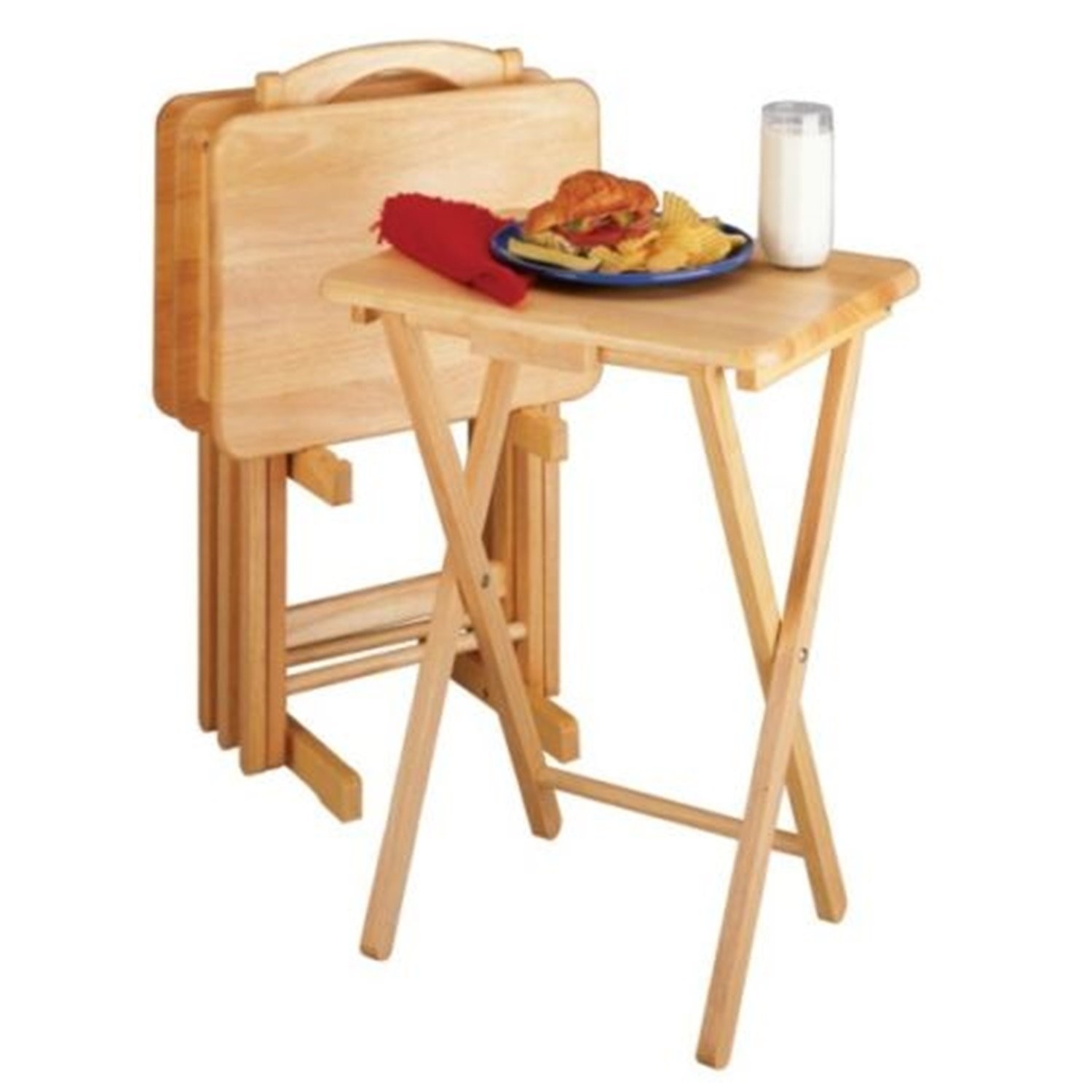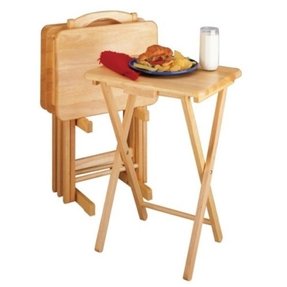 Small snack table with a folding construction that allows for space saving transportation and storage. This table is made of solid beechwood with natural finish. It features a rectangular top with rounded edges.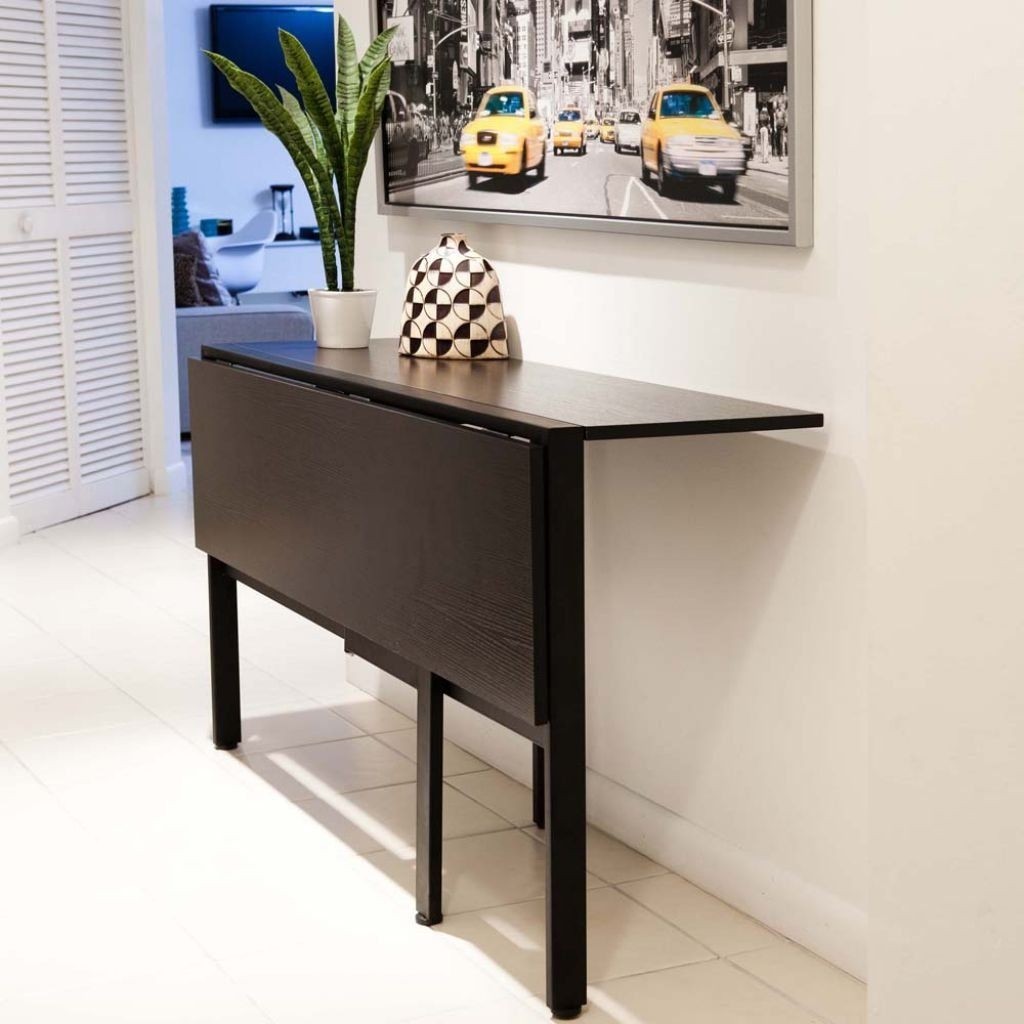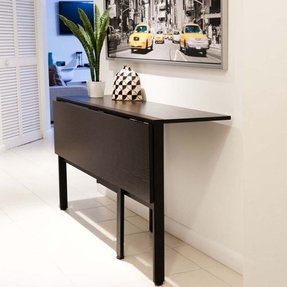 This folding table from IKEA is designed in accordance with the brand's philosophy. It is stylish and practical, letting you save space, which is particularly handful in tiny apartments. Its universal black painting fits well into almost every decor.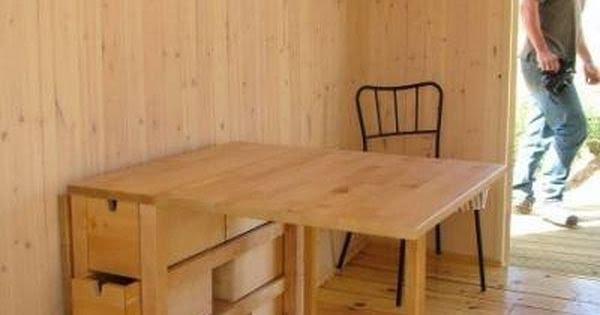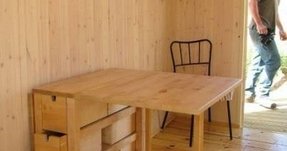 Feast your eyes on this expandable table made of quality wood, perfect for smaller spaces. The table is equipped with a handy storage consisting of several capacious drawers with cut-out holes instead of traditional handles.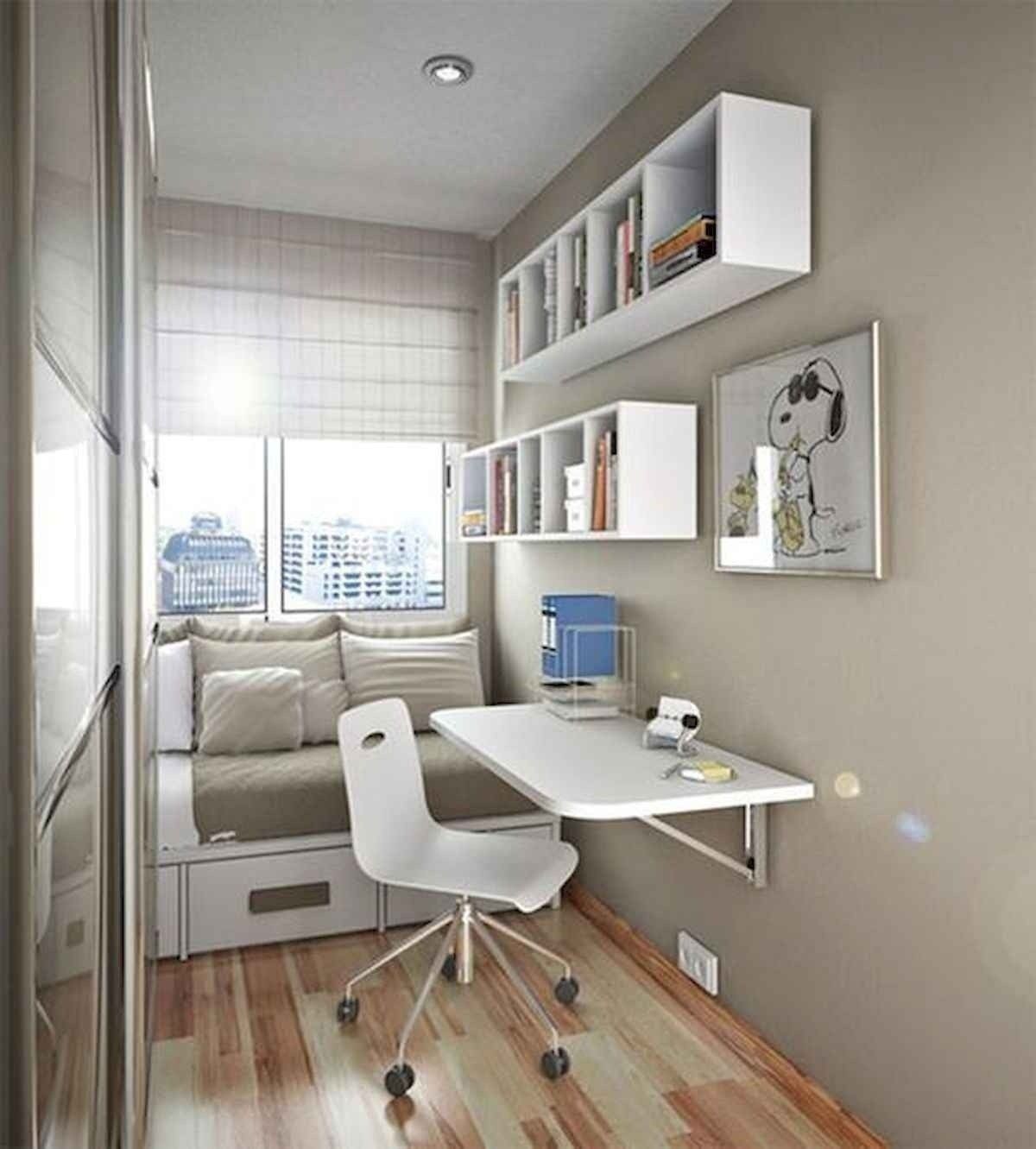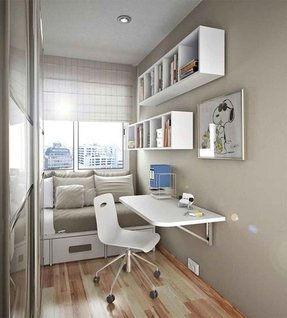 This floating desk and office chair set can be a great solution for smaller spaces. The desk can be installed relatively easy, offering quite a large top that's also easy to clean. The chair has a 5-star base with mobile casters, and a nicely profiled seat and back for extra comfort.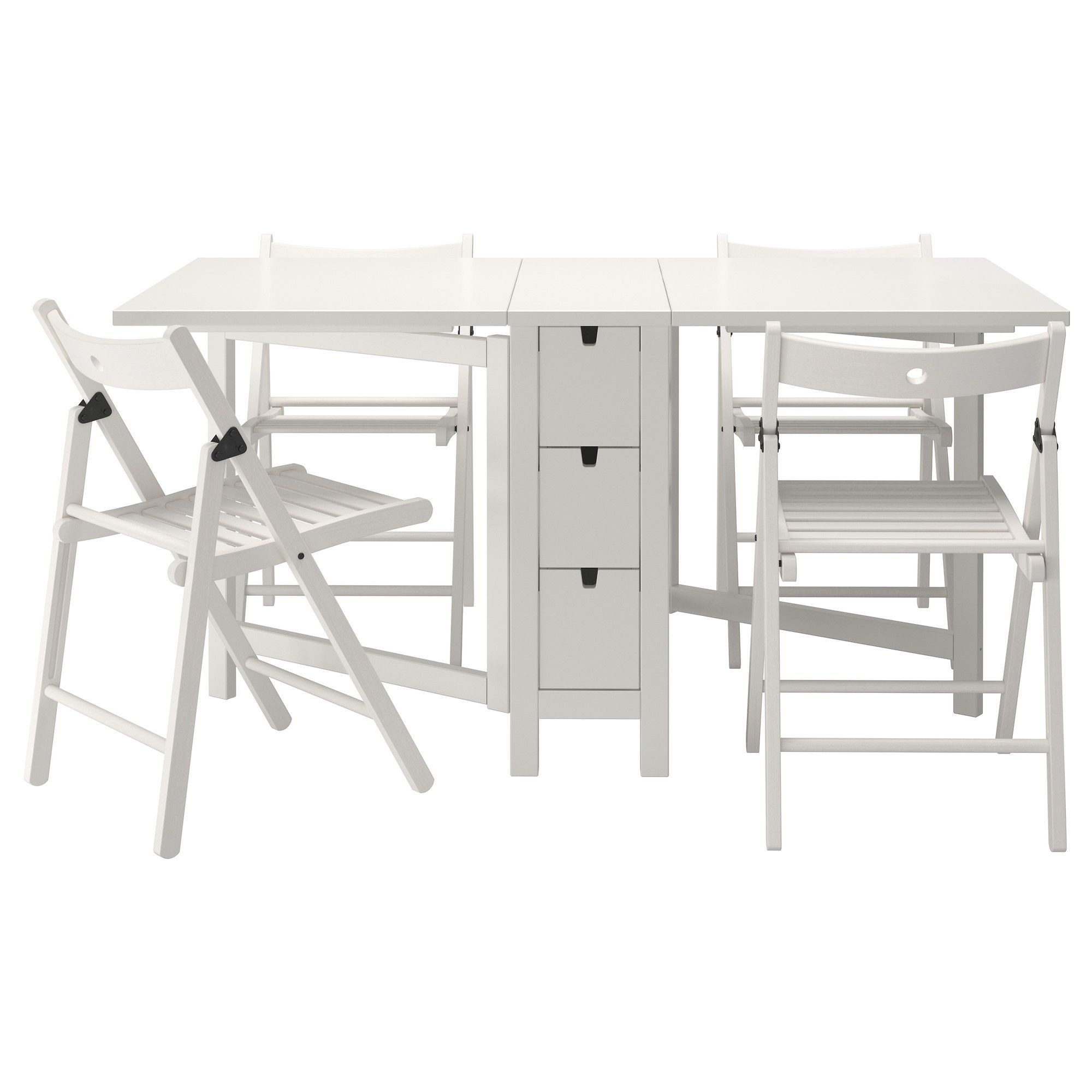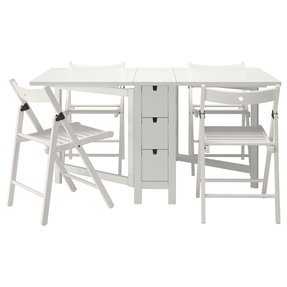 Great dining table for a small eat-in kitchen. NORDEN/TERJE Table and 4 chairs - IKEA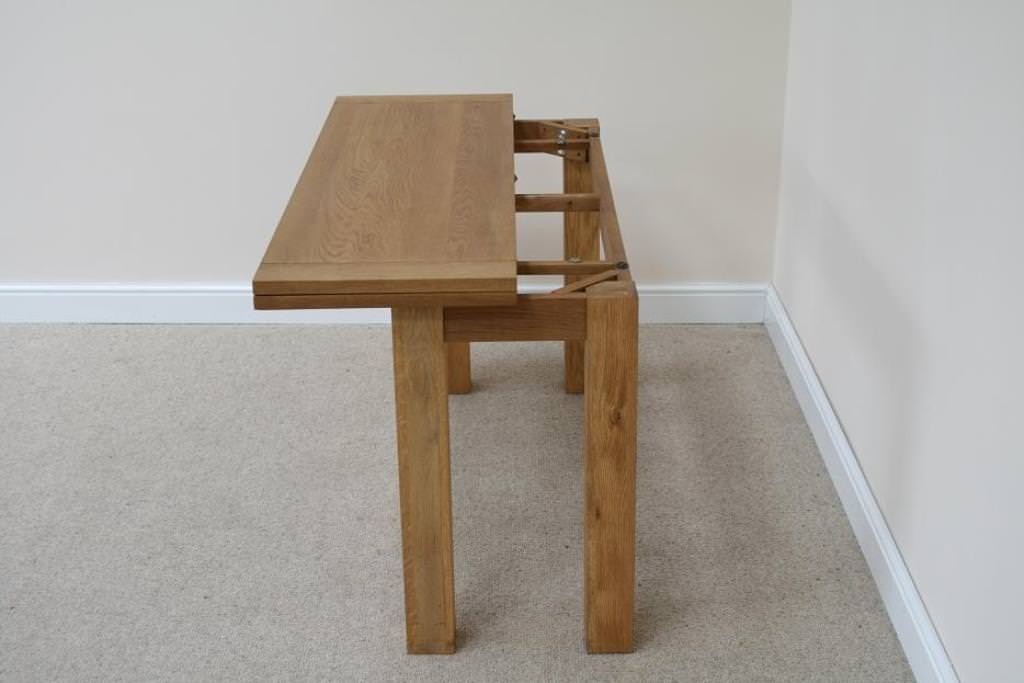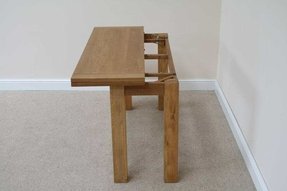 This wooden narrow folding table, constructed using solid oak, constitutes an ideal dining set for narrow spaces. Its simple, minimal style will appeal to contemporary, urban interiors.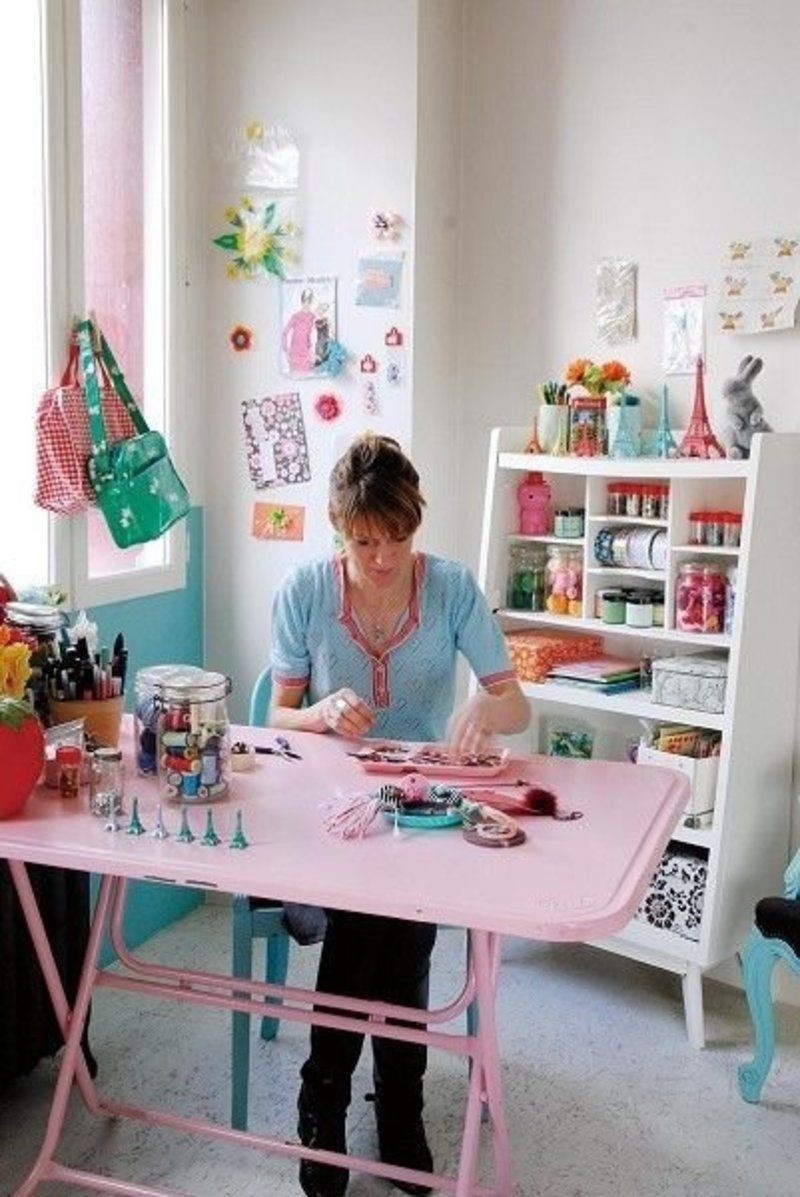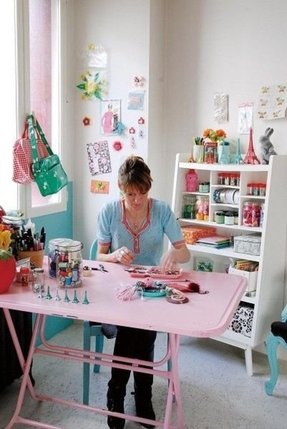 Adorable and cute setup for a hobby room with a sewing kit and materials store all around the room. The room is furnished with a shabby table made out of aluminum with a pink coat of paint and a spacious cabinet in white.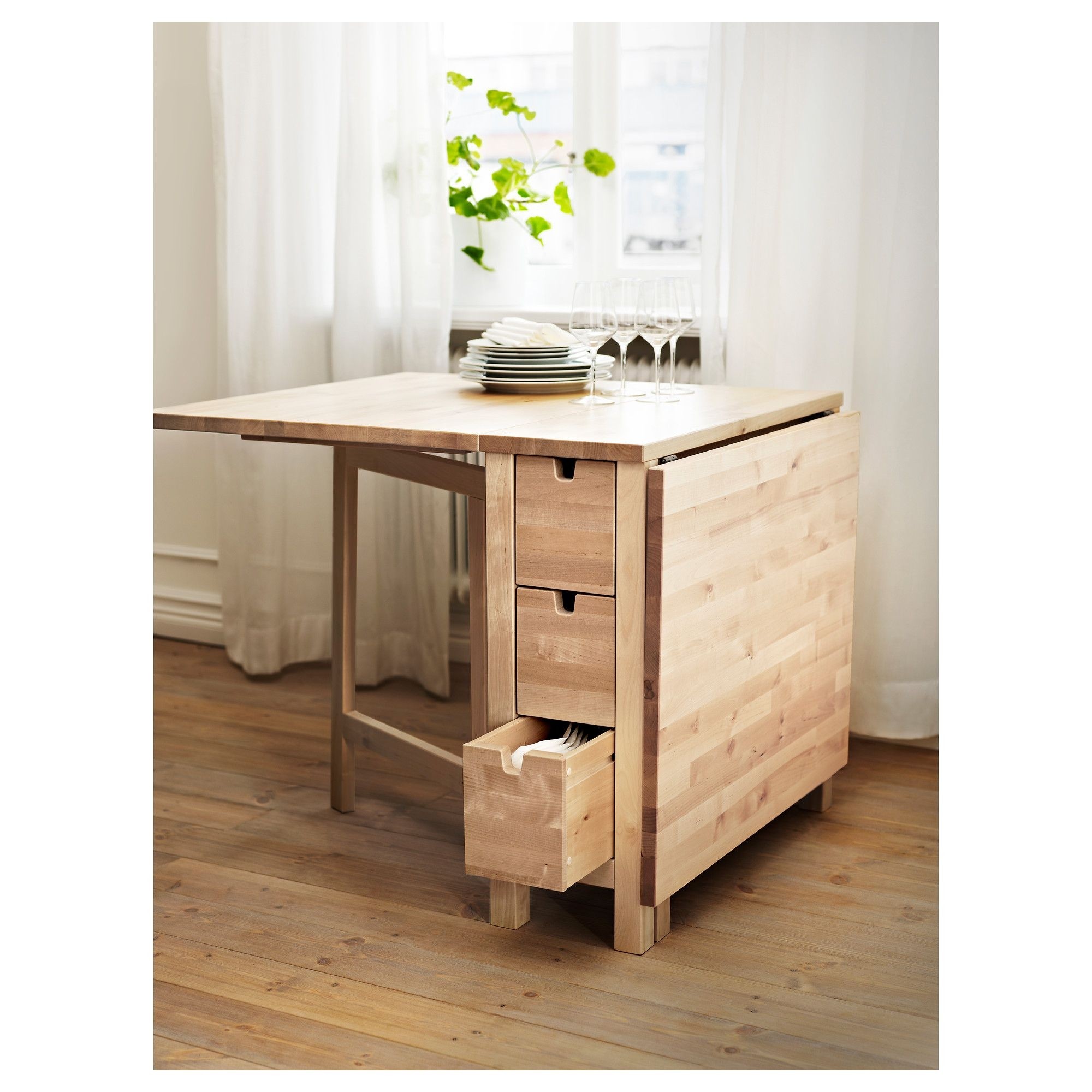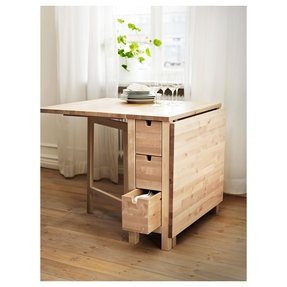 Folding table for space saving in each home. Construction is made of wood. Base is fitted with 3 drawers for storing needed items. Top has large usable surface. Simple form and functional design.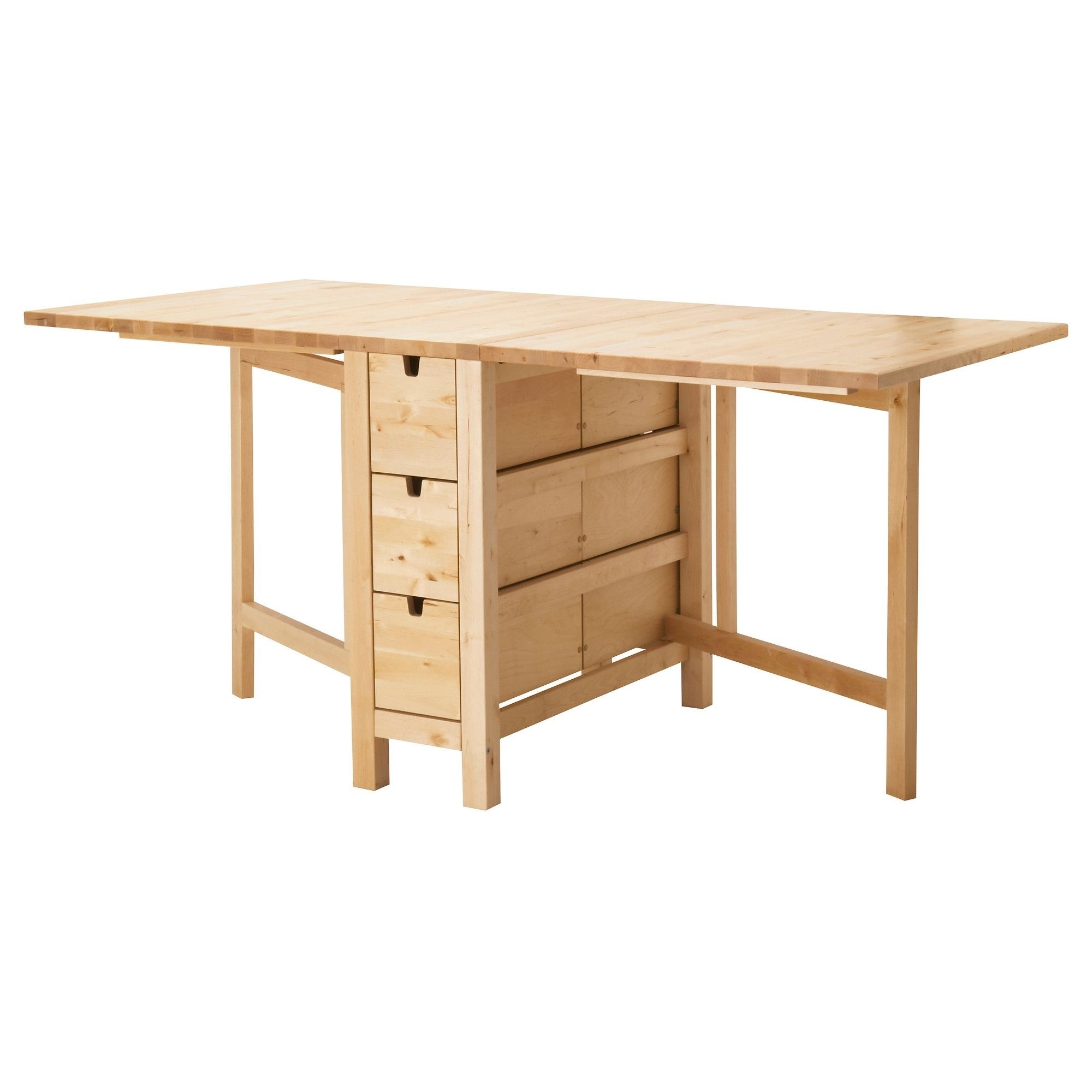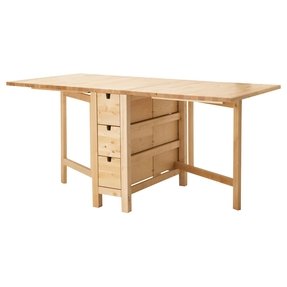 Amazing and durable folding table that allows for space-saving transportation or storage when not in use. It can be used with one or two leaves according to the requirements of user. Its central part includes three small drawers.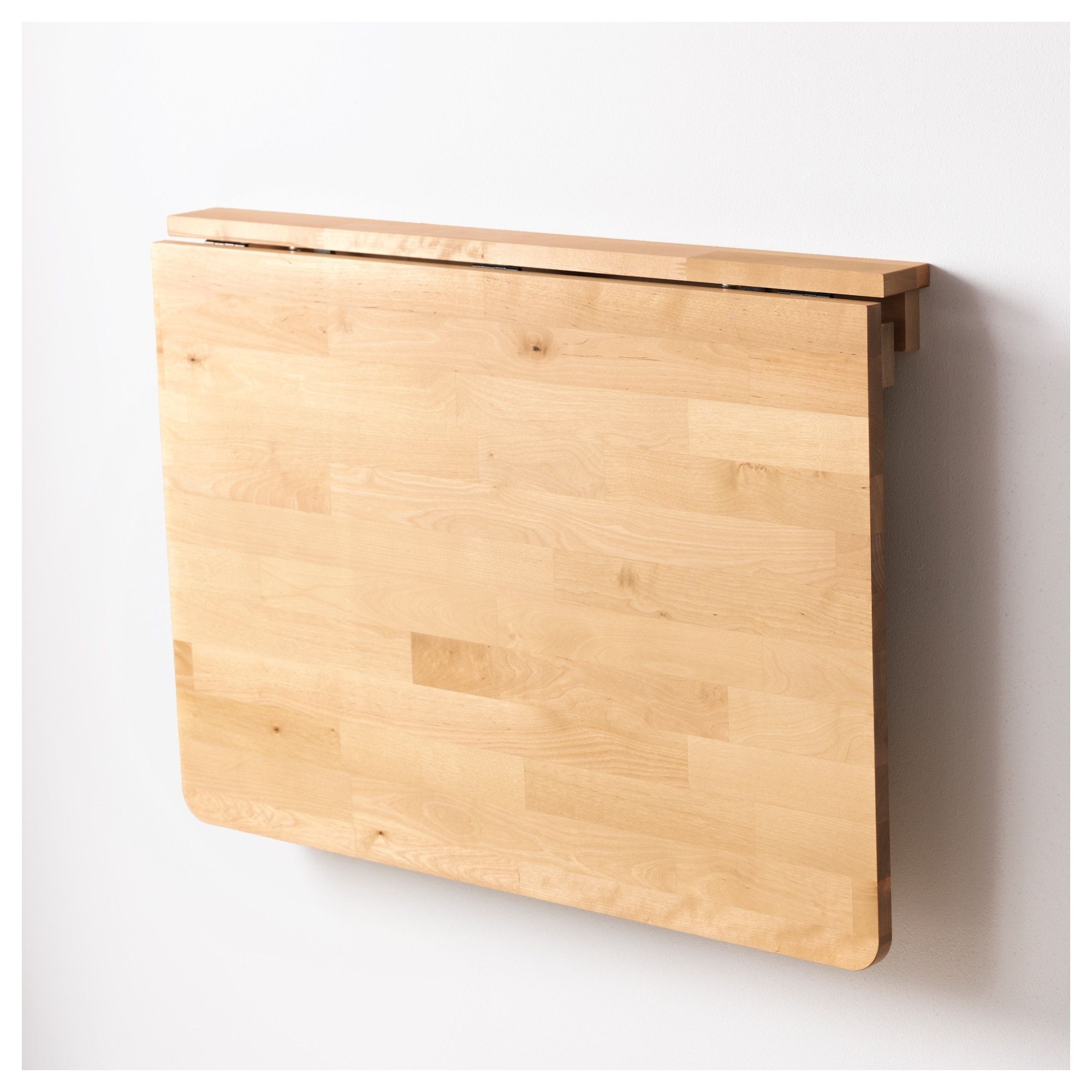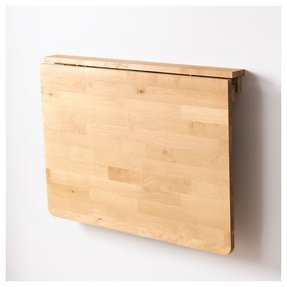 Very practical wall mounted table with a drop leaf construction made of wood. This piece of furniture is a space-saving element that can be folded down when not in use. Construction of this table is long lasting.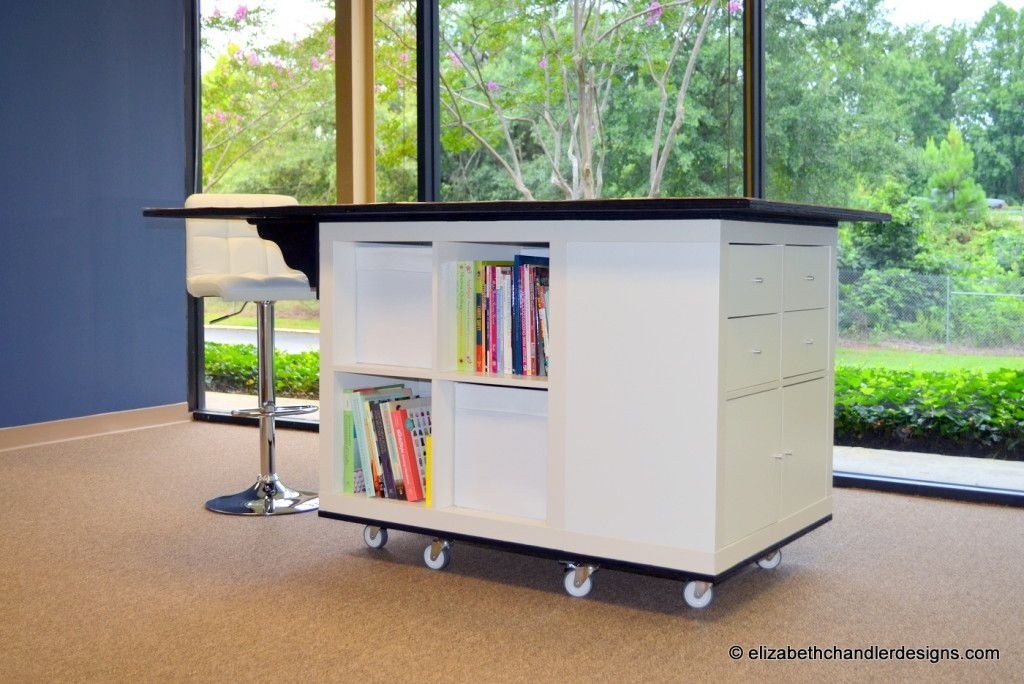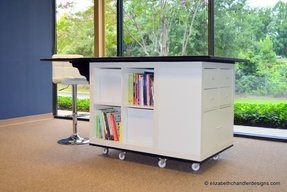 I like this Ikea Hack cutting table best because: there is a lip off one end, so that I could tuck my legs under while sitting in a chair; it has casters; it is pretty darn cute. I would prefer to be able to orient myself along the long side, but the end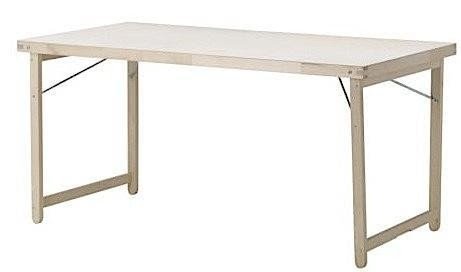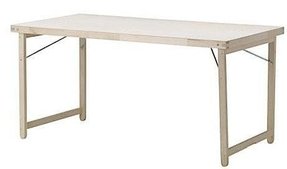 Furniture: Goran Folding Table at Ikea by Julie Carlson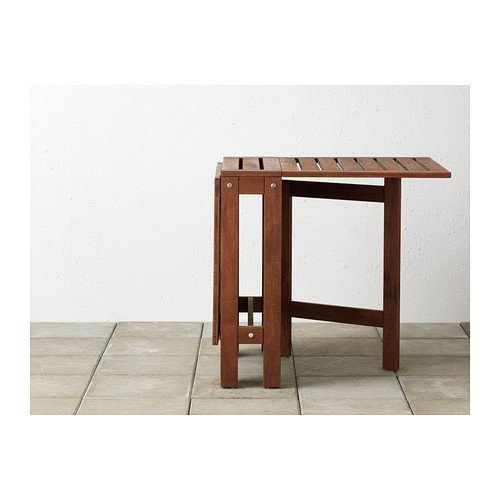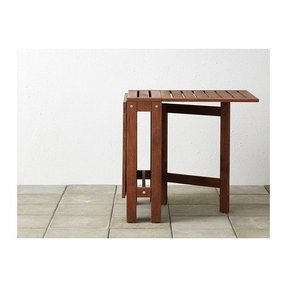 This wooden table offers a very functional drop-leaf construction. Its folding frame allows for problem free transportation and storage. The table is able to seat up to 2 ora 4 people depending on its configuration.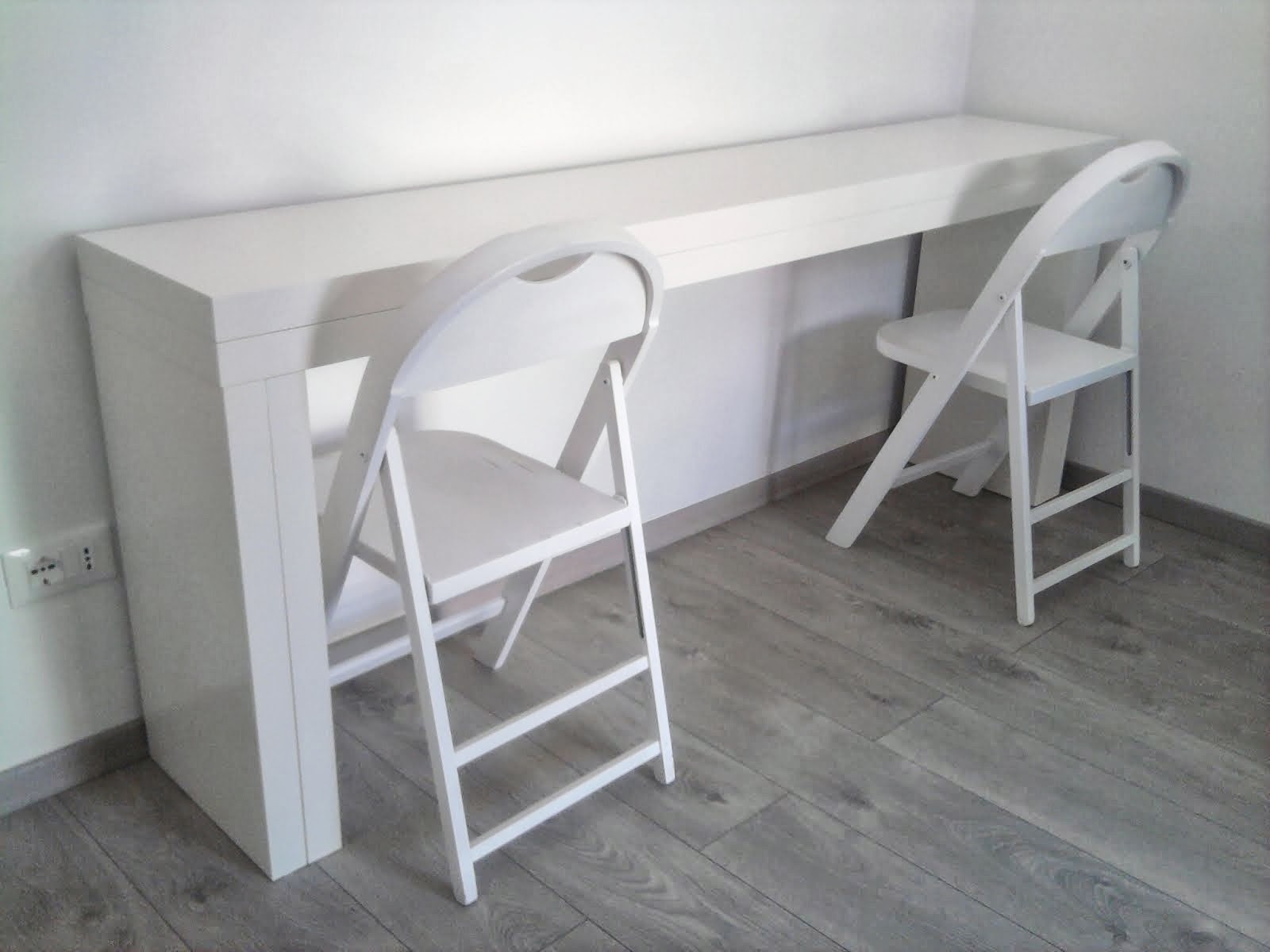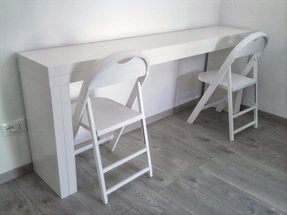 Double it! Malm console becomes a 10 people table | IKEA Hackers Clever ideas and hacks for your IKEA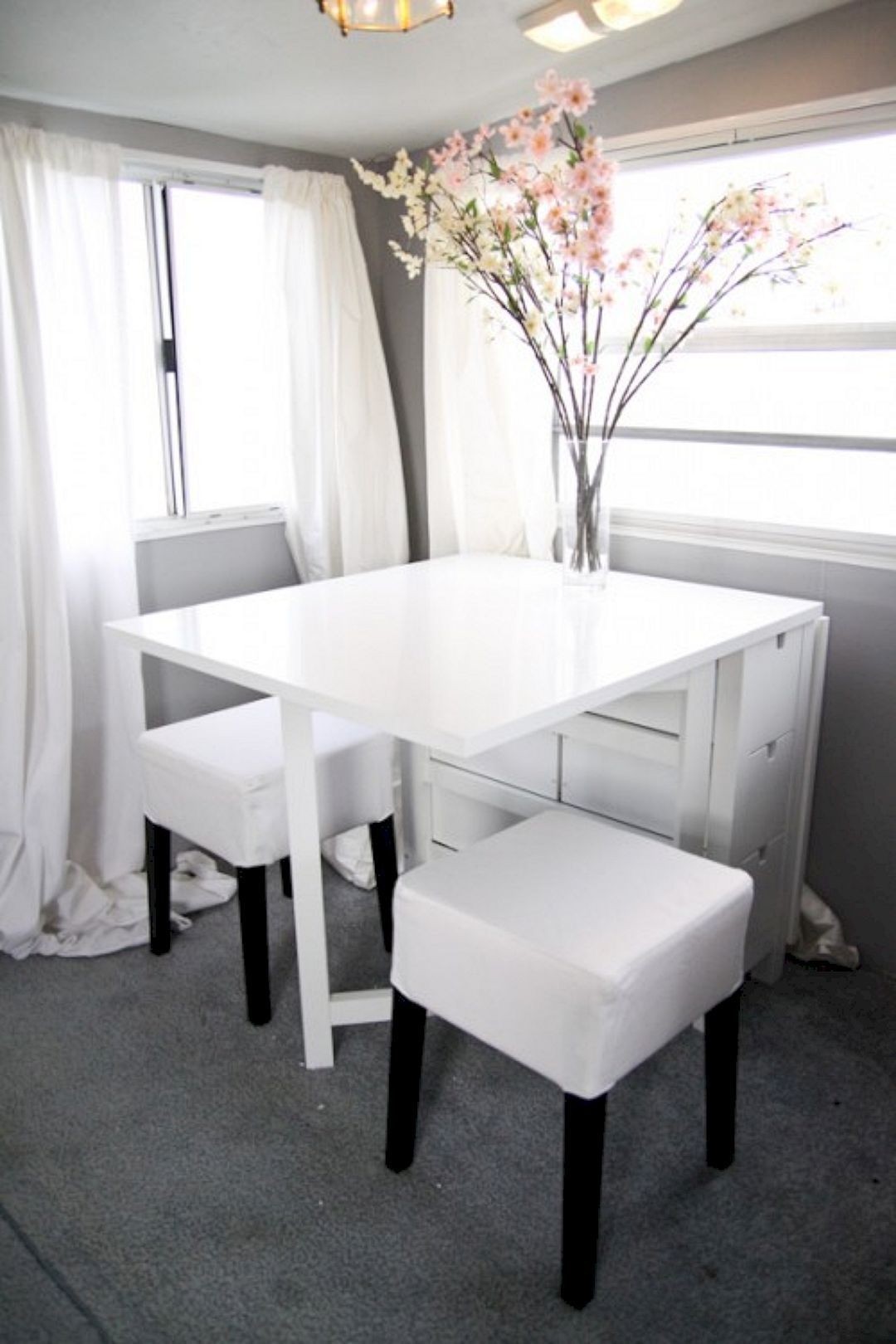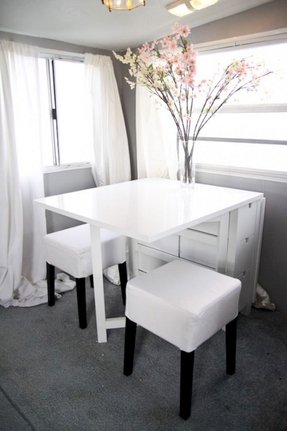 Fabulous 5th Wheel Camper Makeover » Mobile and Manufactured Home Living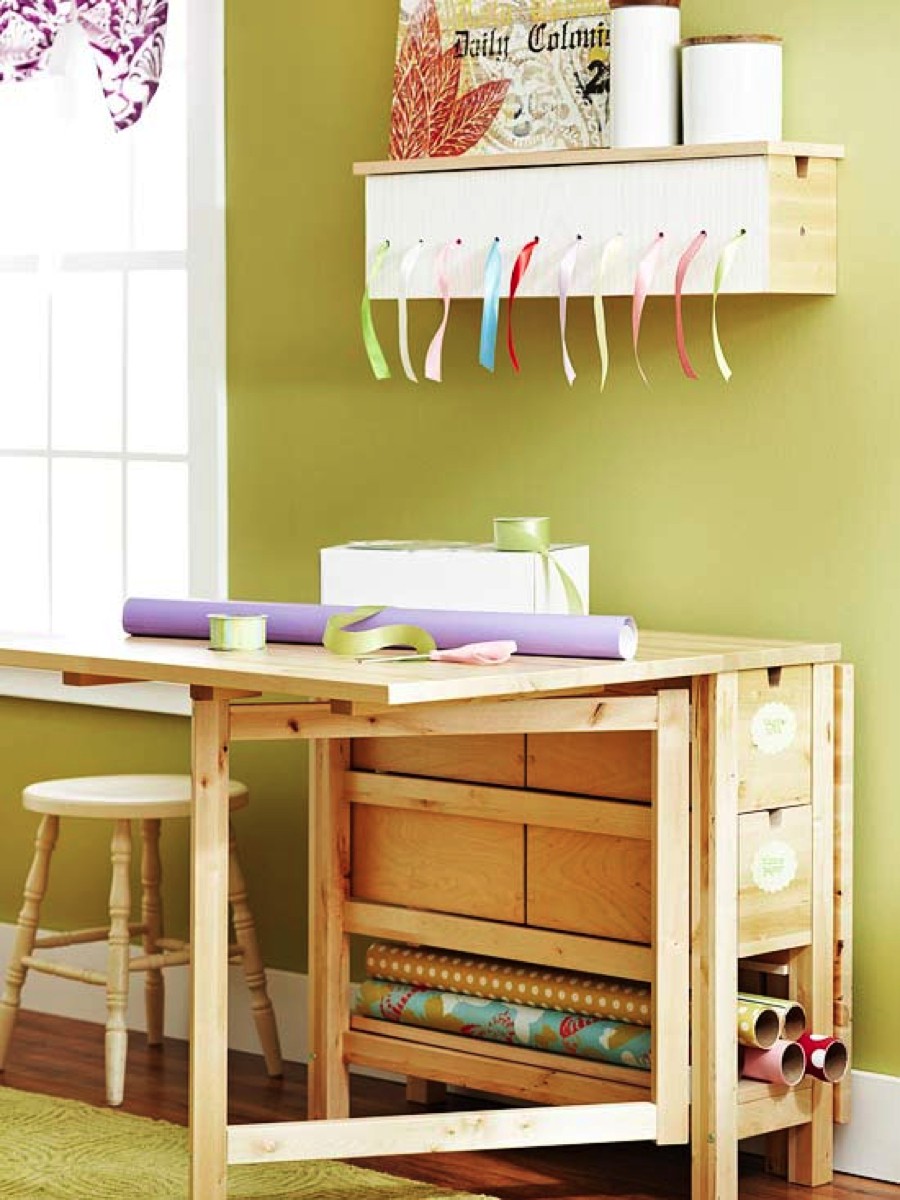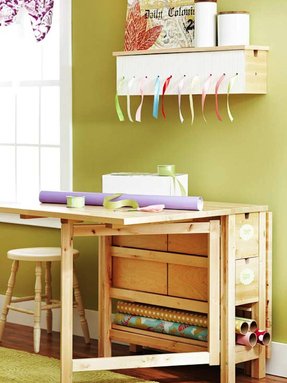 A wrapping/cutting station that remains almost flat to the wall when not in use! Me likey a lot!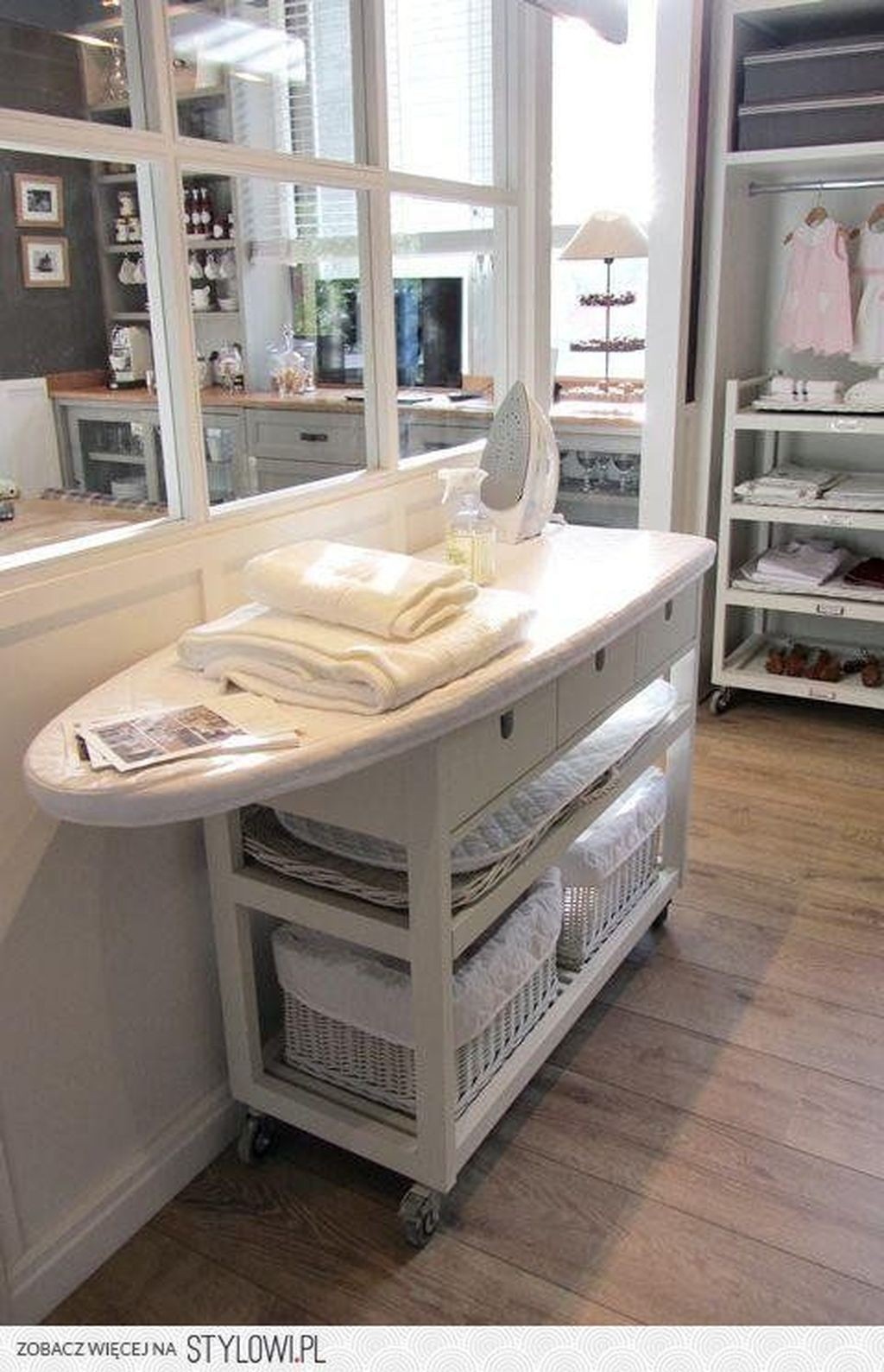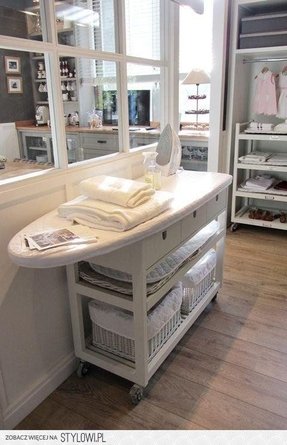 This piece presents a quite practical solution - the kitchen island with an ironing board attached to it. The island has a wooden frame, 2 open shelves, 3 storage drawers with cut-out holes for handles, and mobile caster wheels for easy transport.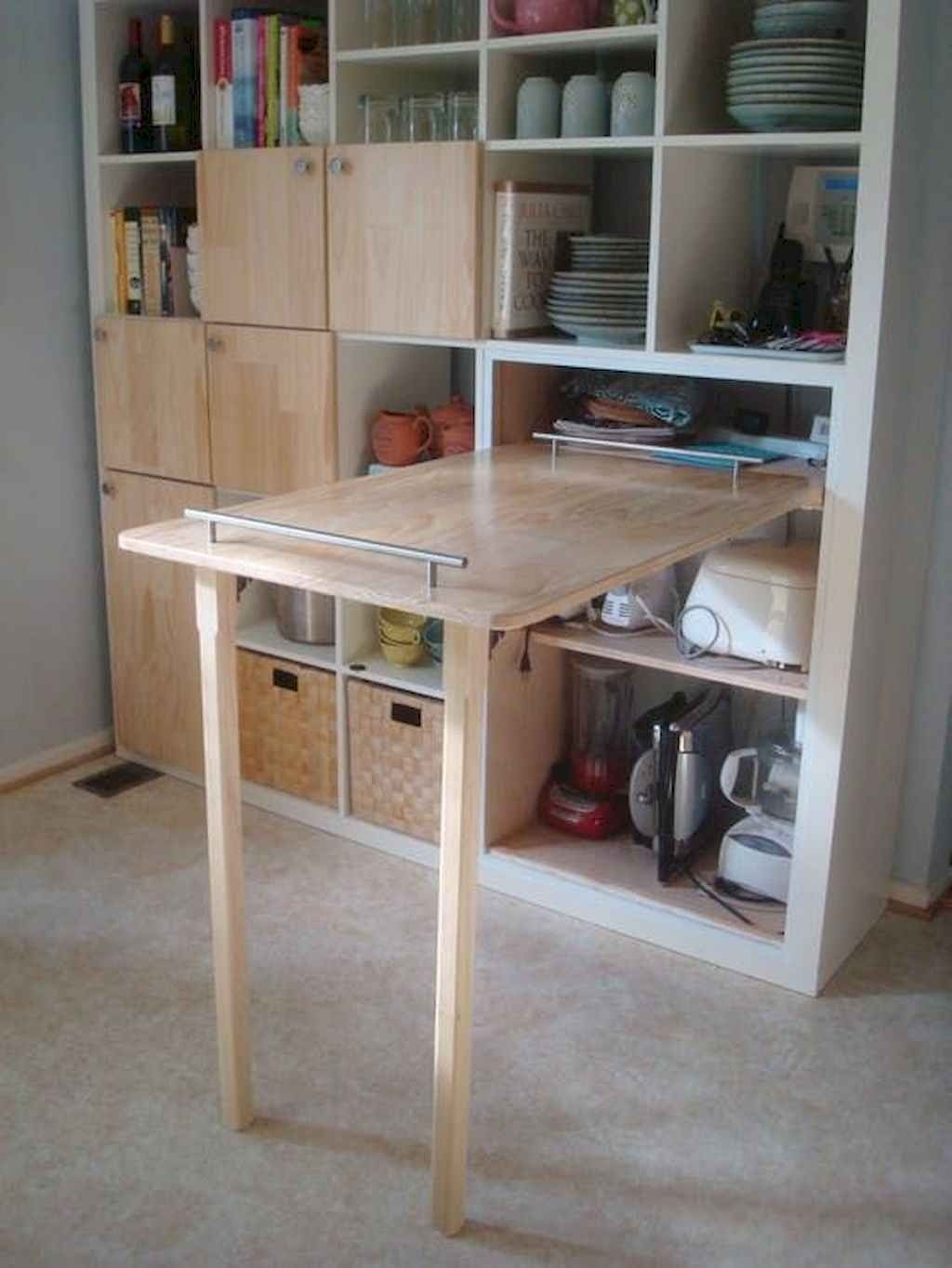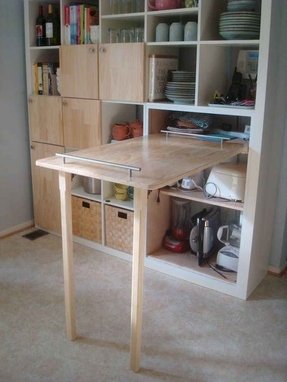 IKEA Hackers: Expedit kitchen storage and counter - great for a small space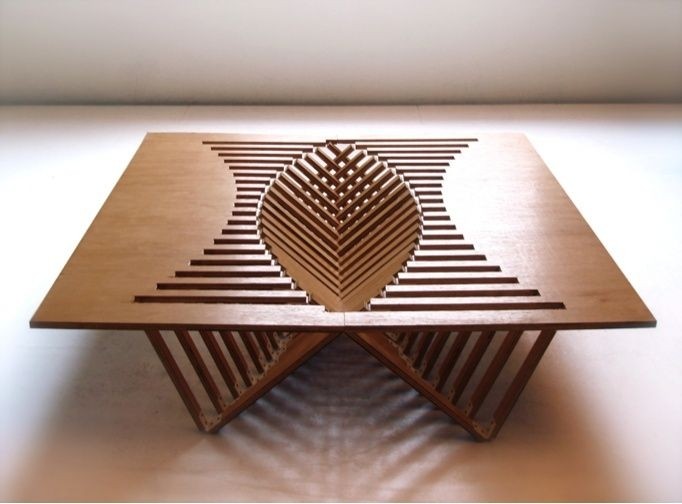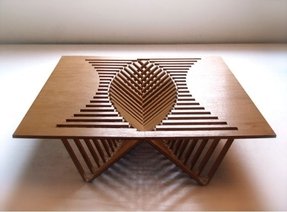 Great idea. If he split it into two slabs (one for structure, another to serve as the tabletop), you could have a more functional tabletop. The one in the picture looks cool though. Rising Furniture: Robert Van Embricqs' Unique Folding Furniture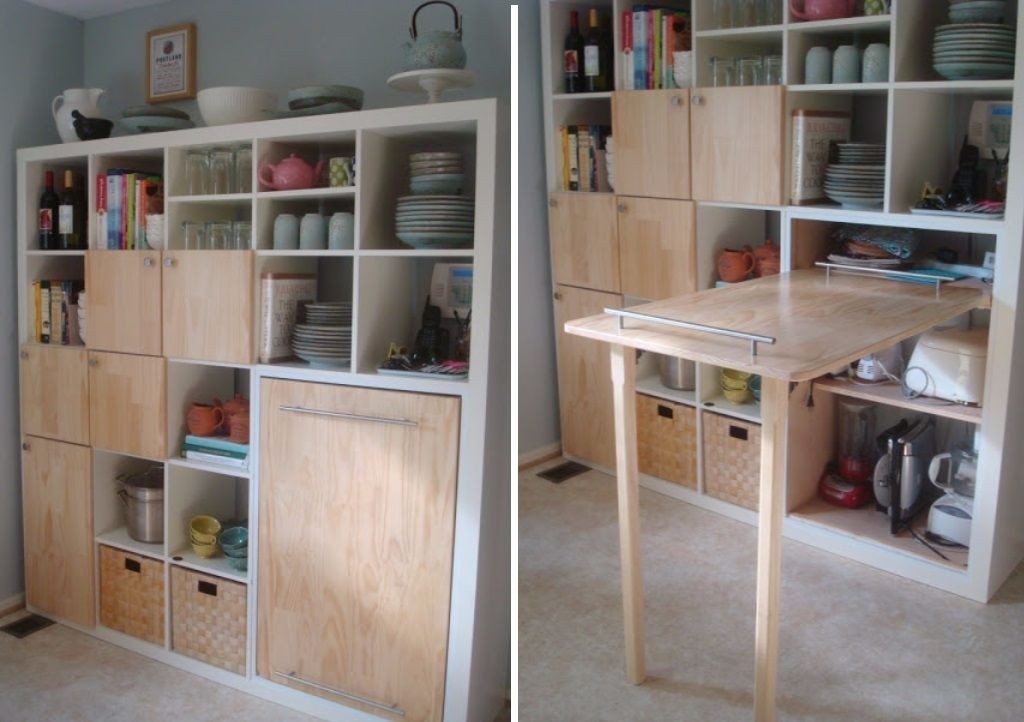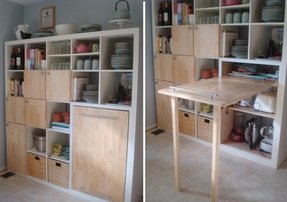 IKEA Expedit kitchen storage and counter - IKEA HACK - bjl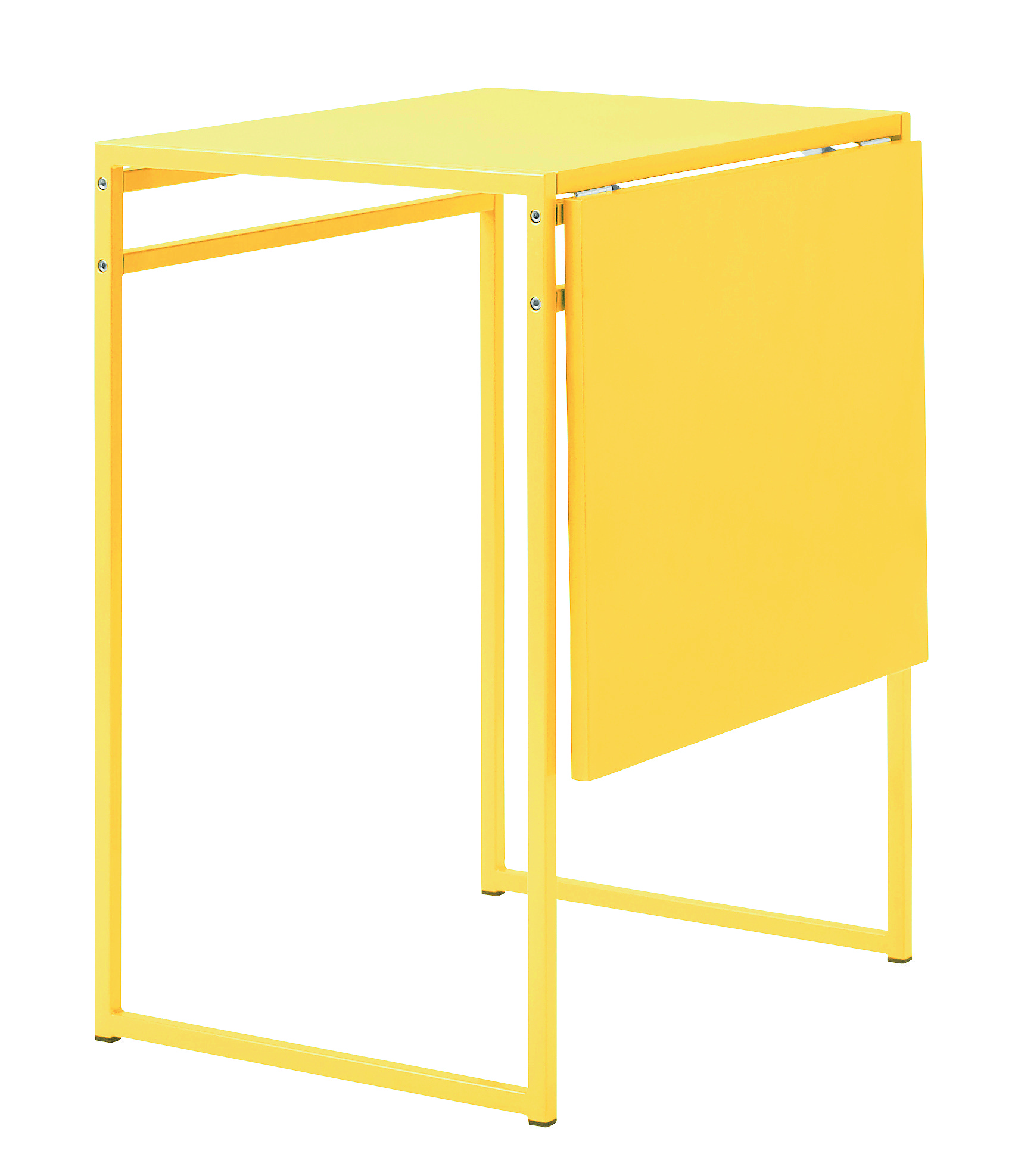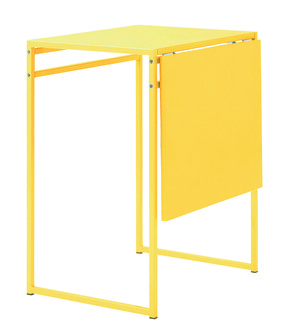 ... table for ikea superb for small spaces ikea s drop leaf table provides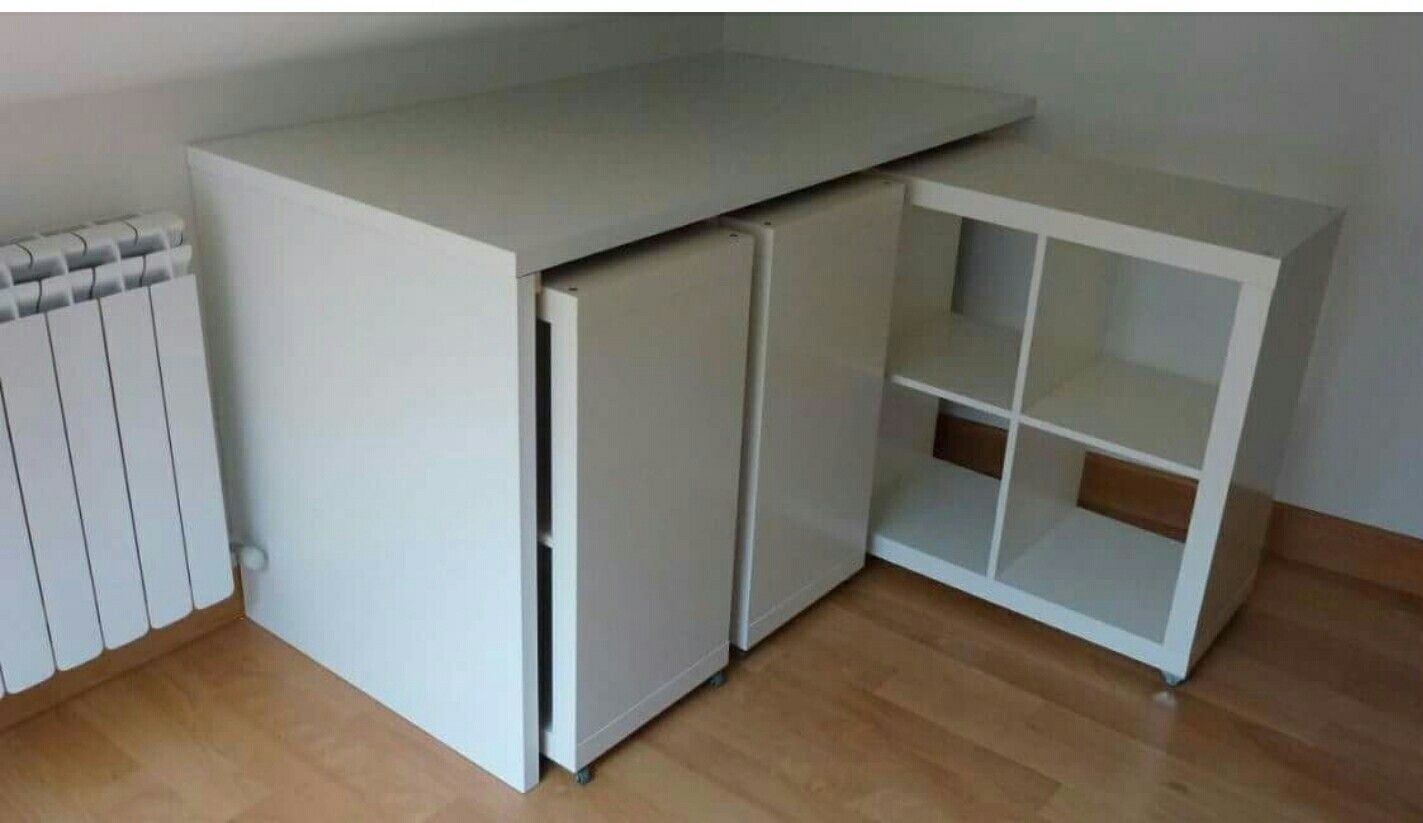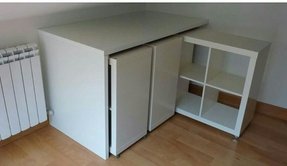 Make a Compact Rolling Library with Two Pieces of IKEA Furniture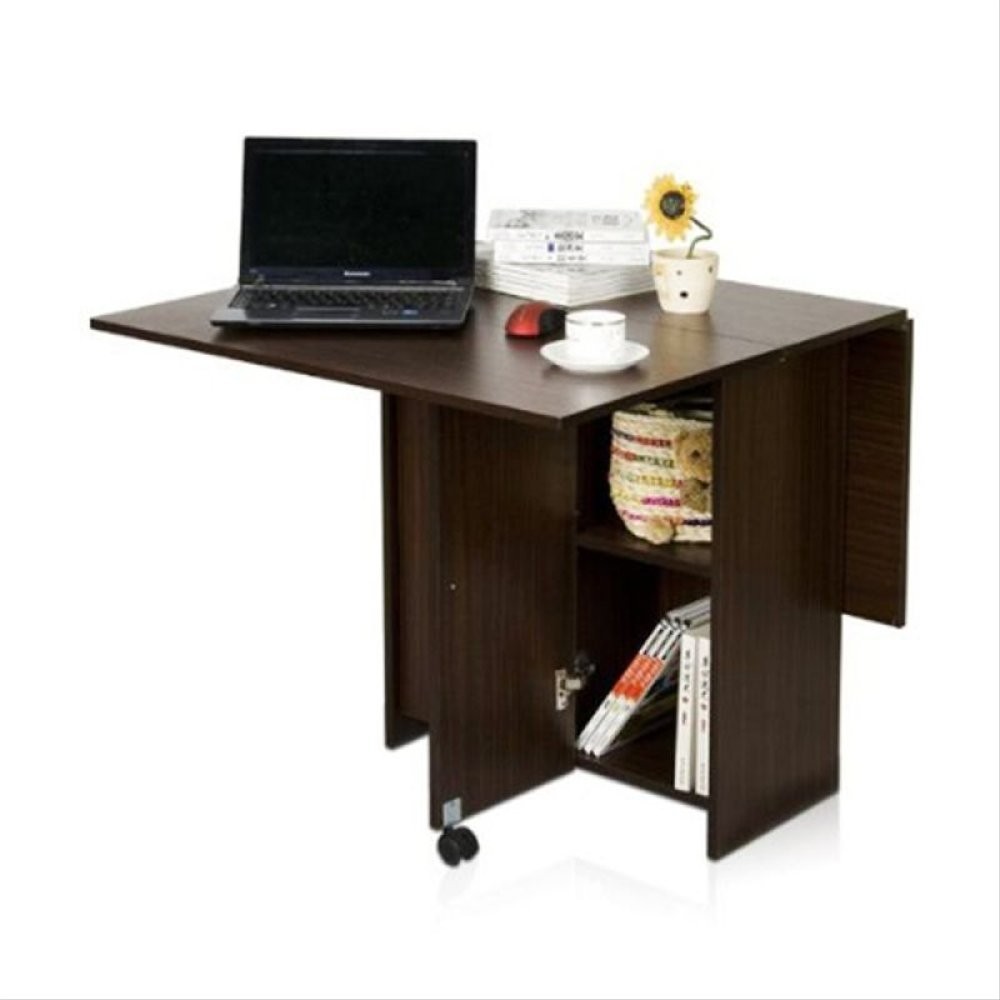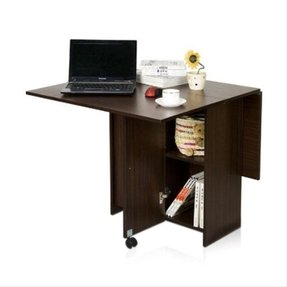 Foldable table IKEA butterfly wind multifunctional storage table table ...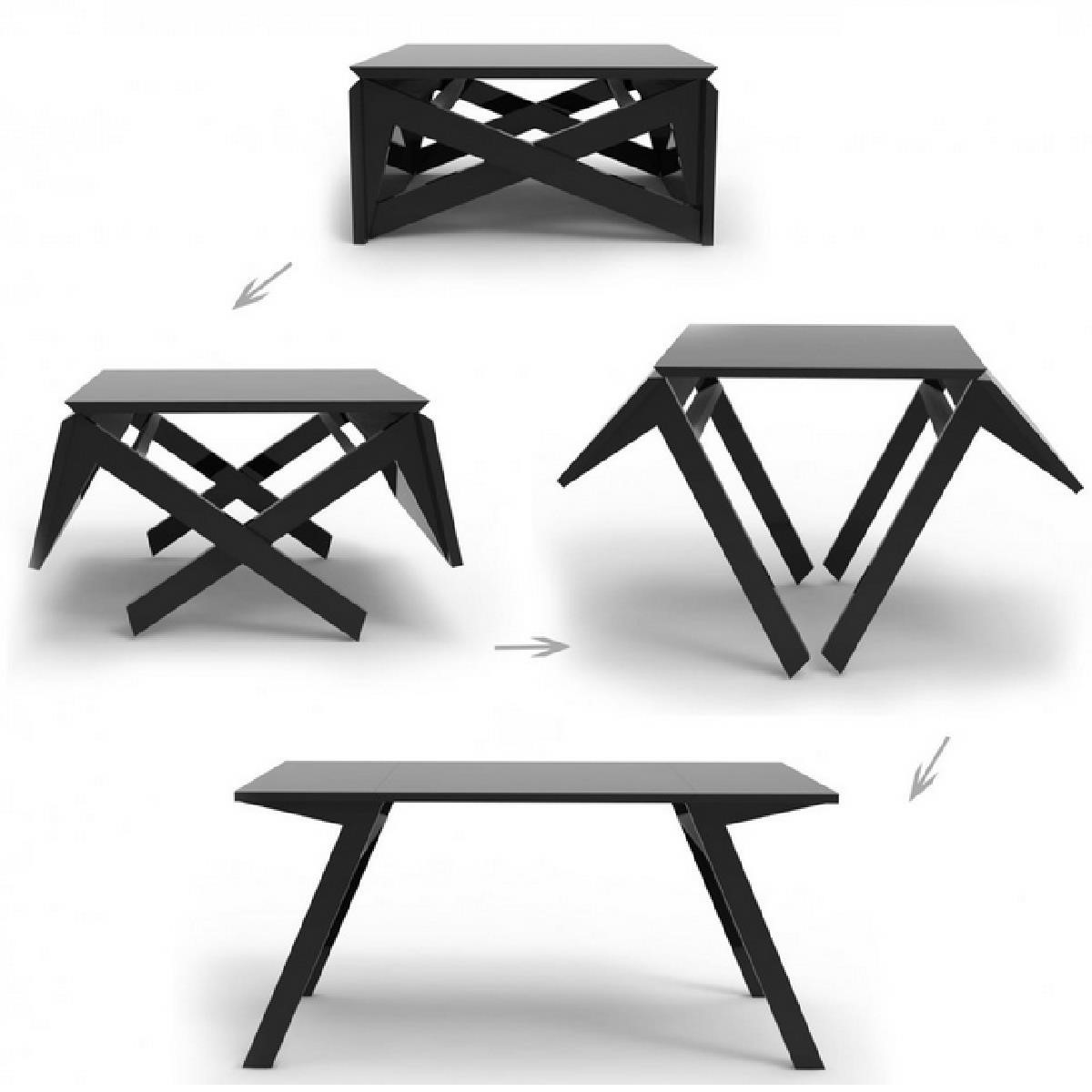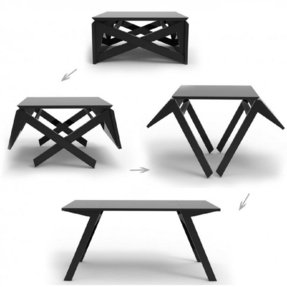 The Transforming Coffee Table. GENIUS!!!! And it's not by Ikea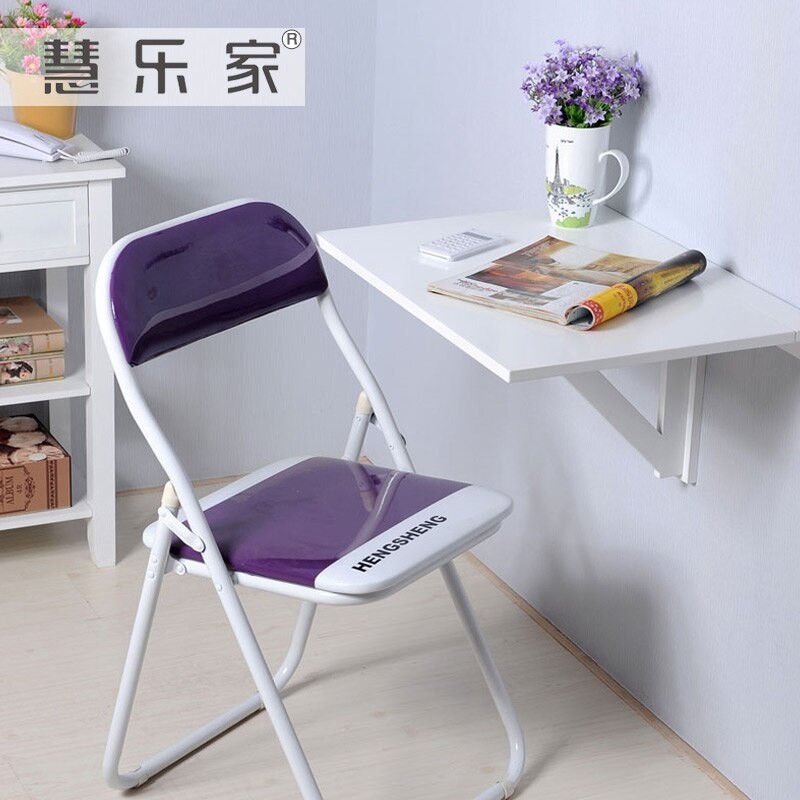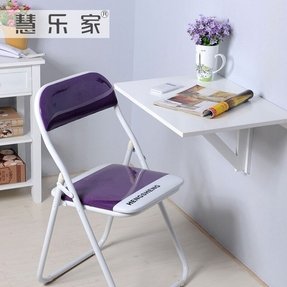 Foldable drop-leaf floating table that may be mounted directly on a wall (saves floor space as a result). It may be your personal tiny desk or a breakfast table. It's available in a few colors: here it's white.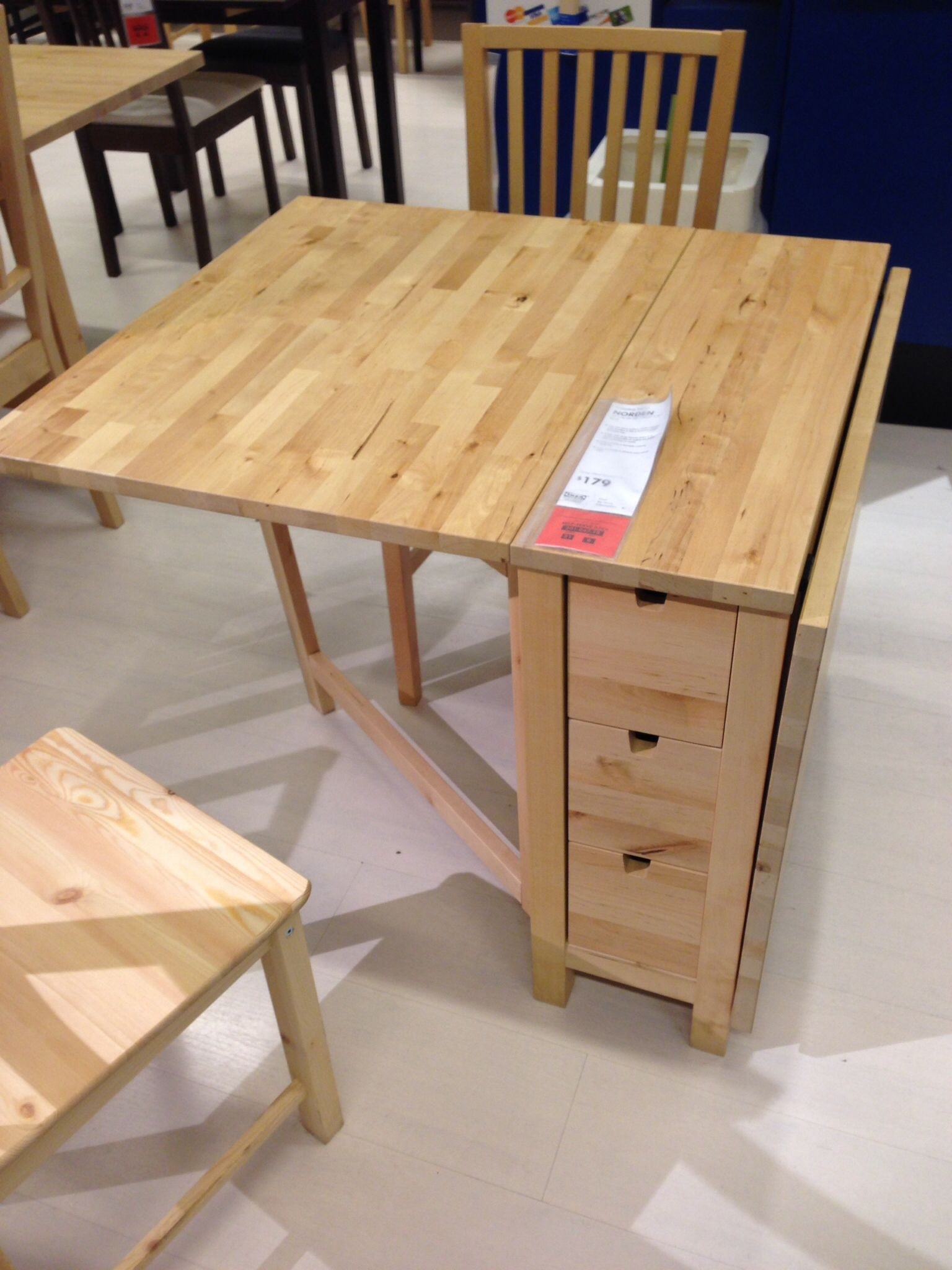 Folding table at IKEA | inspirasi gw | Pinterest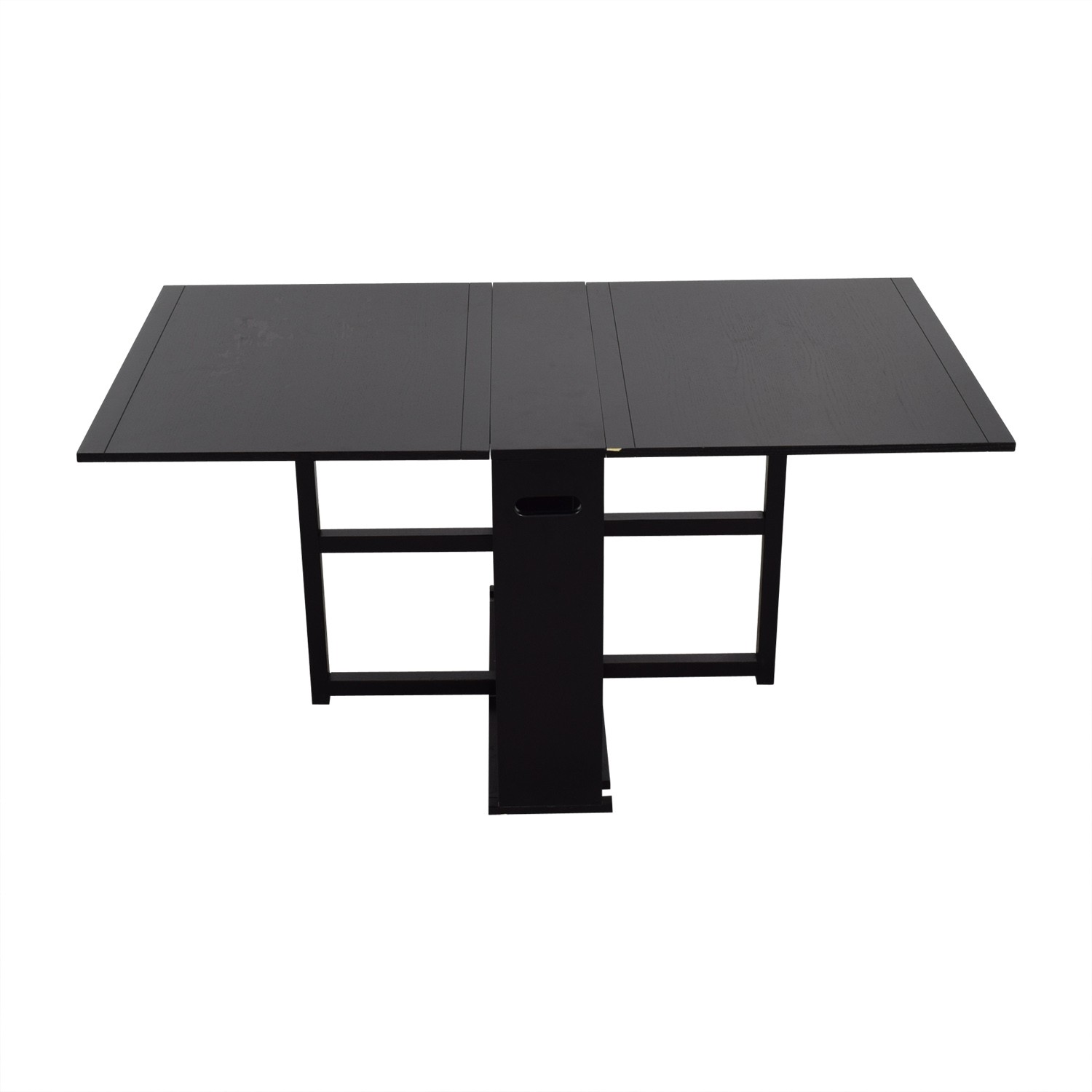 87% OFF - IKEA IKEA Folding Table / Tables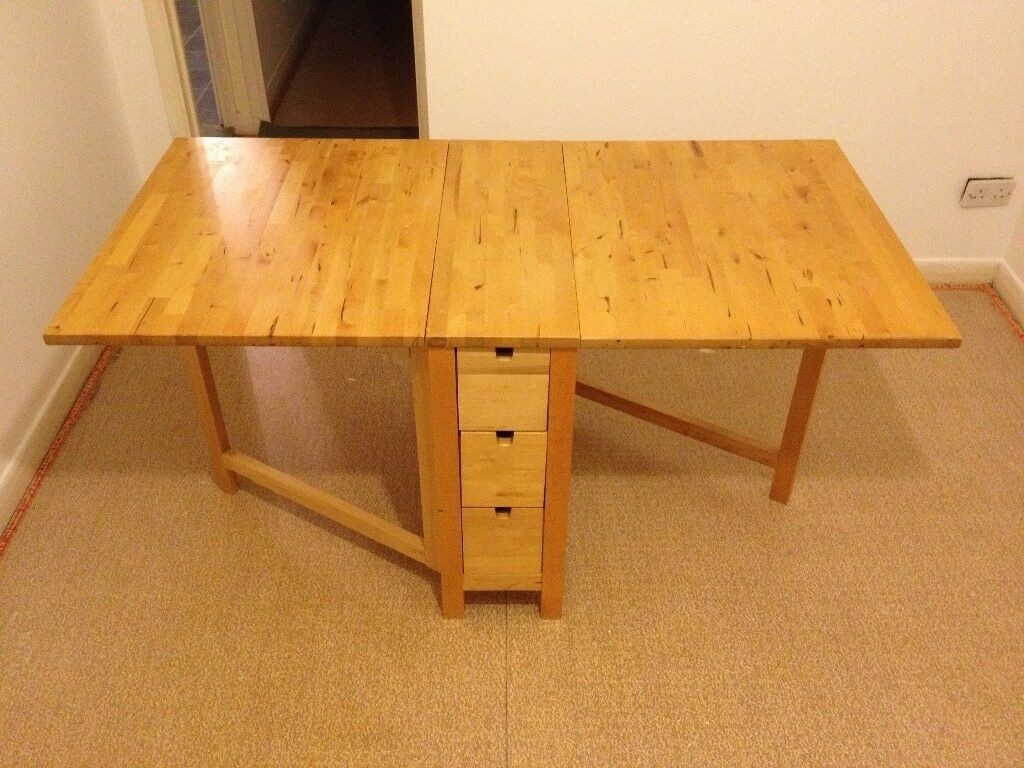 Ikea Norden Solid Birch Folding Table and Chairs | in ...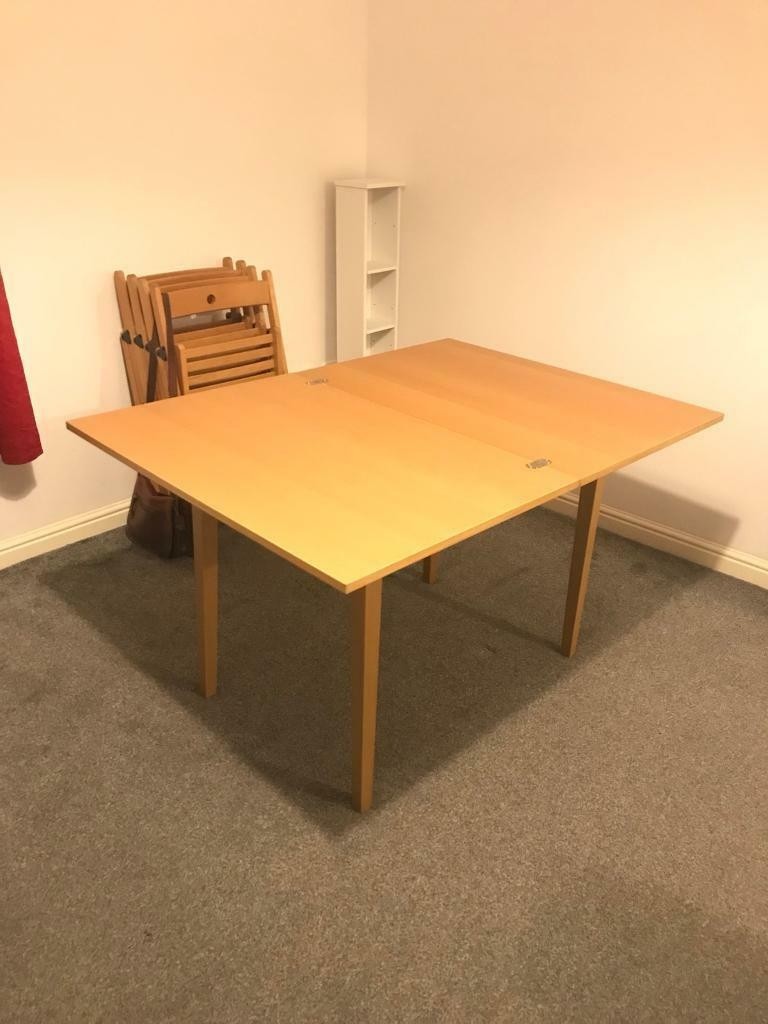 Ikea Folding Dining Table | in Livingston, West Lothian ...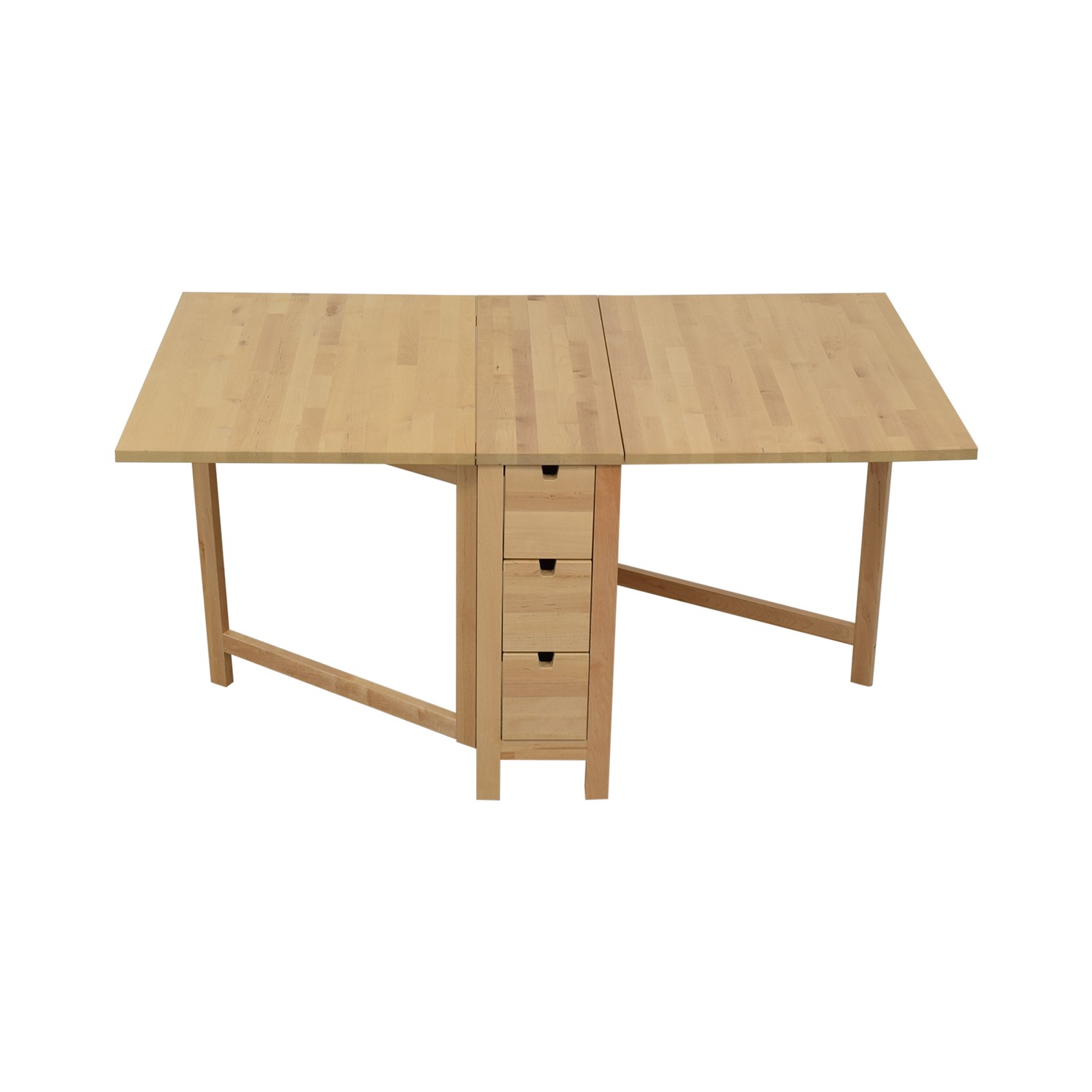 58% OFF - IKEA IKEA Norden Gateleg Folding Table with ...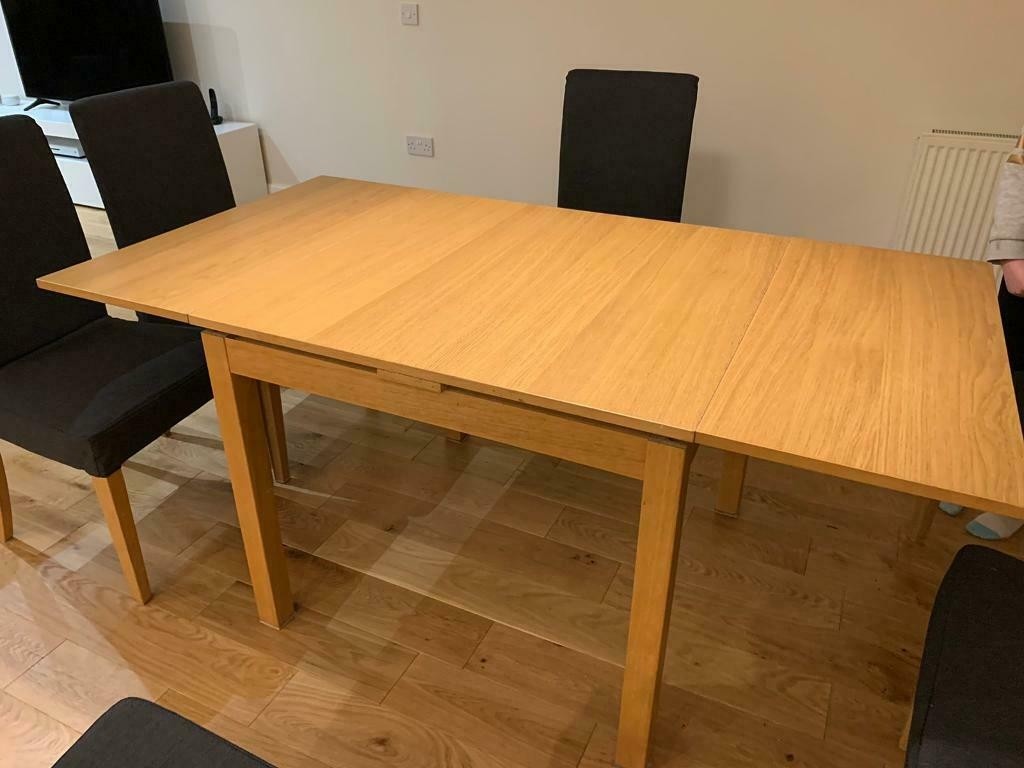 IKEA Folding Table | in Corstorphine, Edinburgh | Gumtree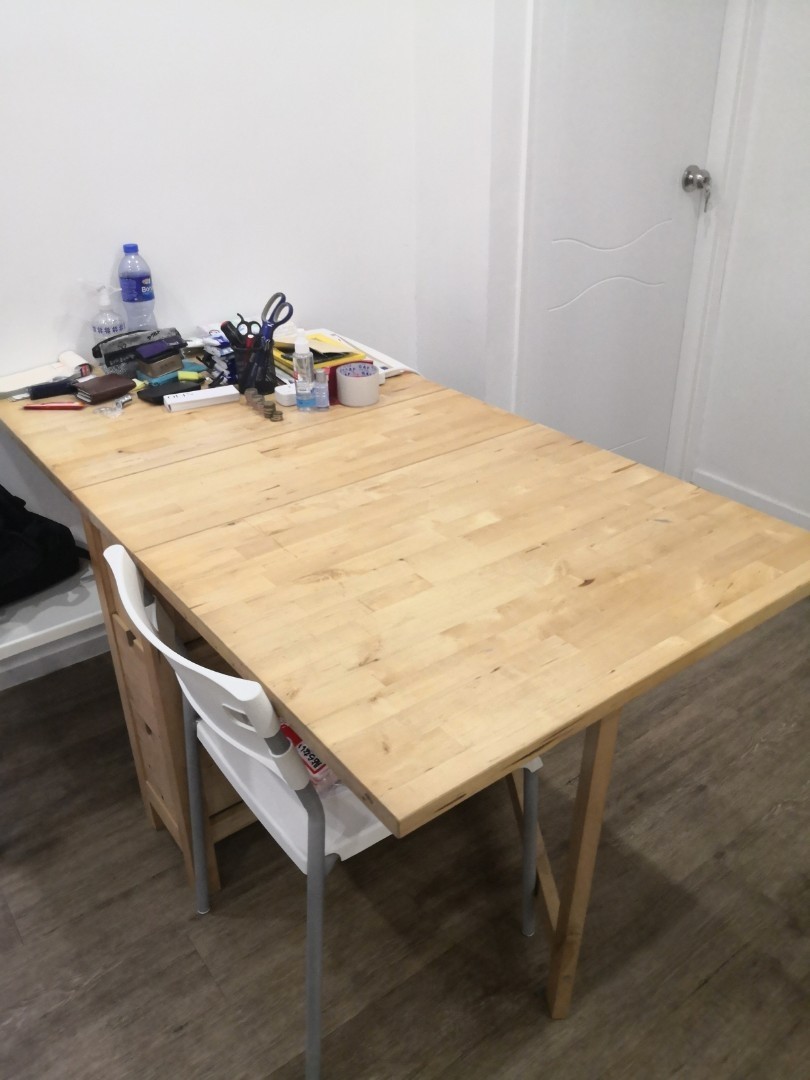 Ikea folding table NORDEN, 傢俬&家居, 傢俬 - Carousell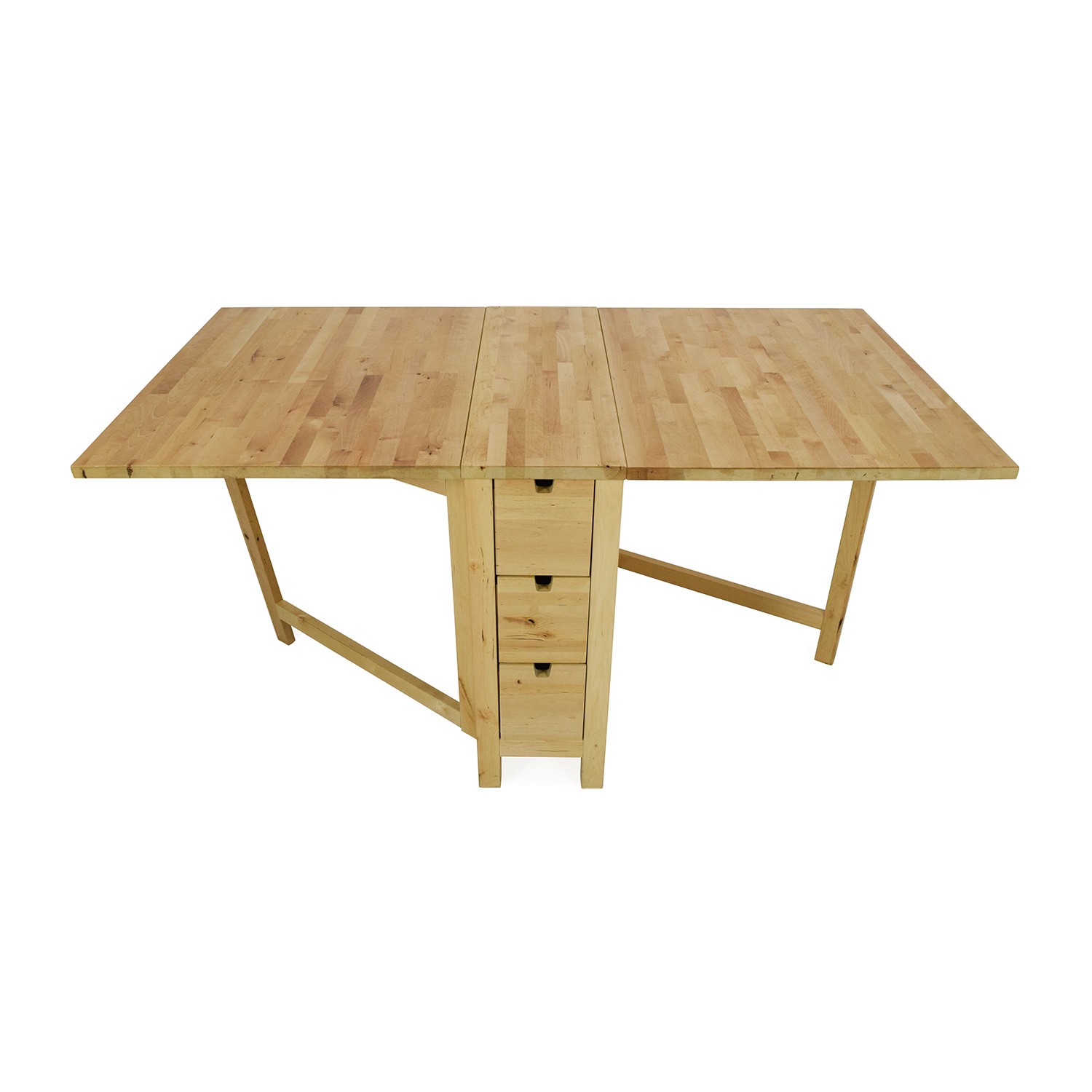 72% OFF - IKEA IKEA Foldable Kitchen Table and Desk / Tables