Clear Acrylic Lucite Plexiglass End Slide Table Lucite
A simple but aesthetic modern side table looking like a square bracket. A bottom foot can be tucked under e.g. a sofa. Its rectilinear body with safe rounded edges is crafted of durable clear plexiglass.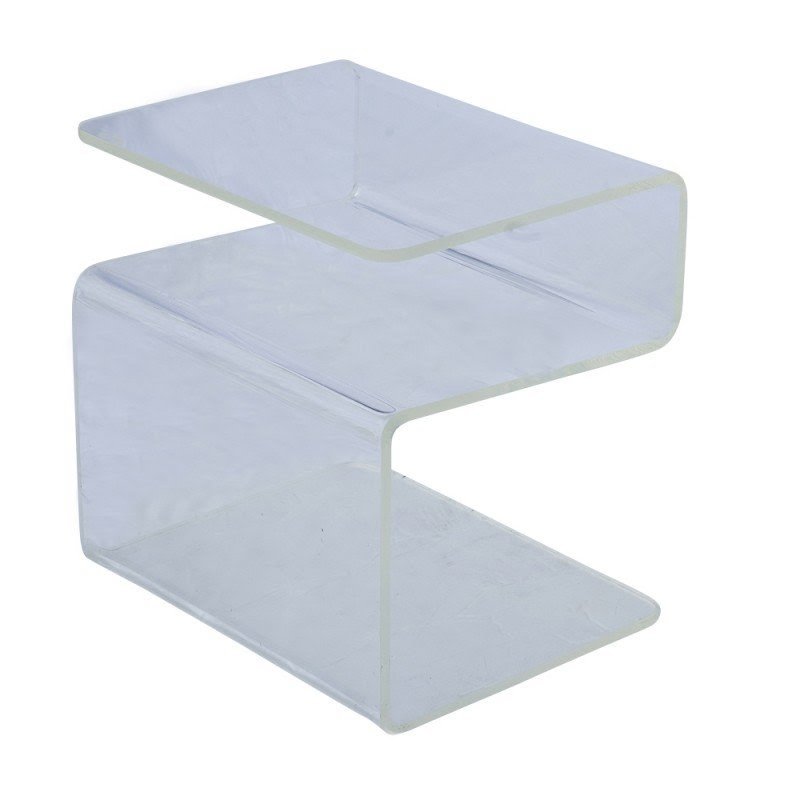 Vintage Mid Century Modern Clear Lucite Side Table
Such a nice, beautiful side table made out of see-through acrylic glass. Perfect for a modern, contemporary living room, bound to give it a unique appearance. Also, doubles as a stylish coffee table!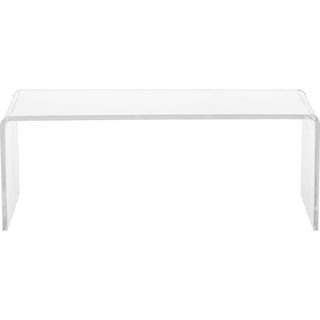 Clear Acrylic Coffee Table
Stylish coffee table made of clear acrylic. Rectangular top offers large usable surface. Modern design for each room. Received a lot of positive recommendations from clients for high quality and good workmanship.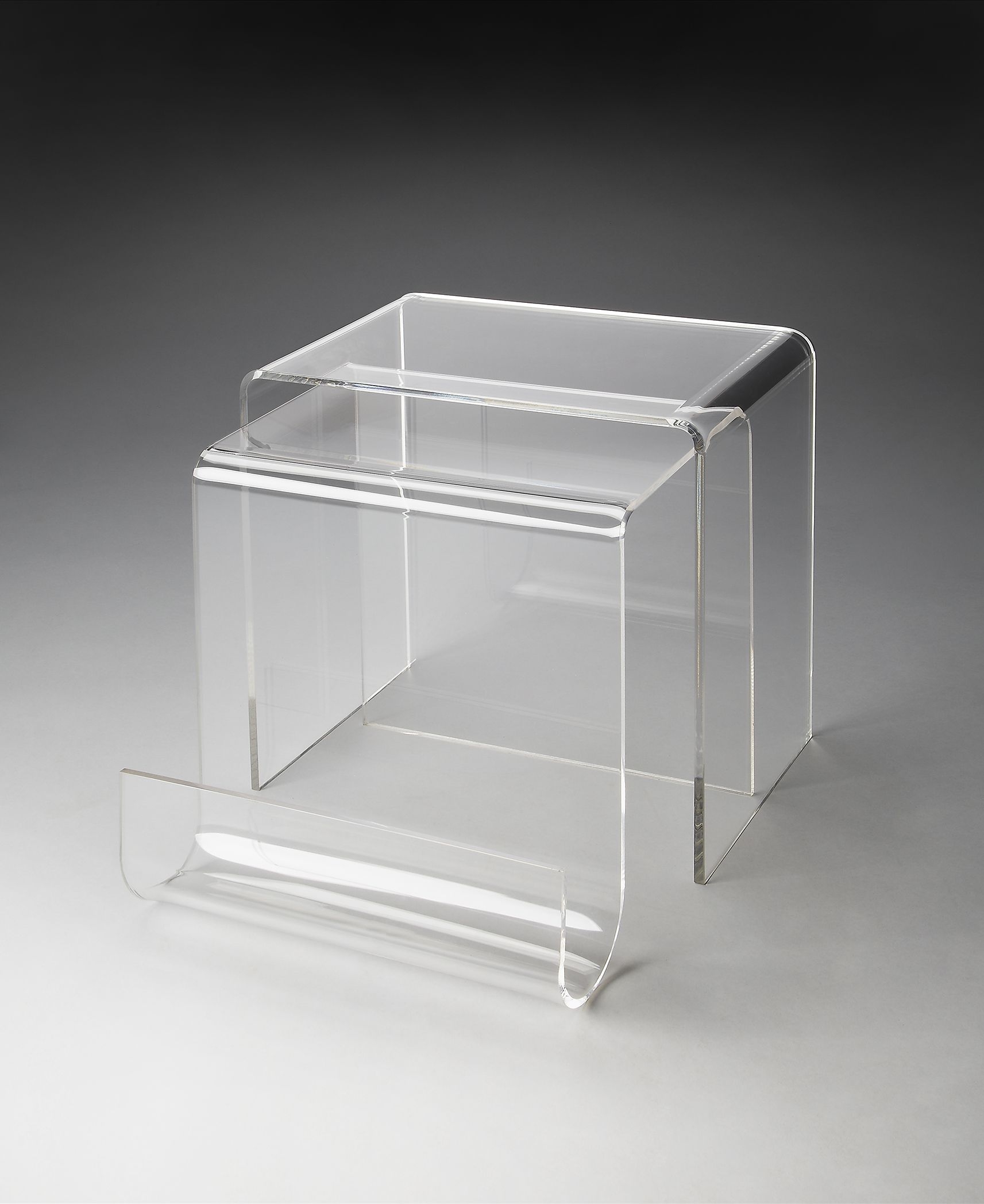 Loft Clearwater 2 Piece Nesting Tables
Pretty novelty set of 2 simple size-varied tables looking like topsy-turvy letters 'U'. A smaller table has a rolled up magazine rack and is tucked under a larger table. They're made of durable clear acrylic.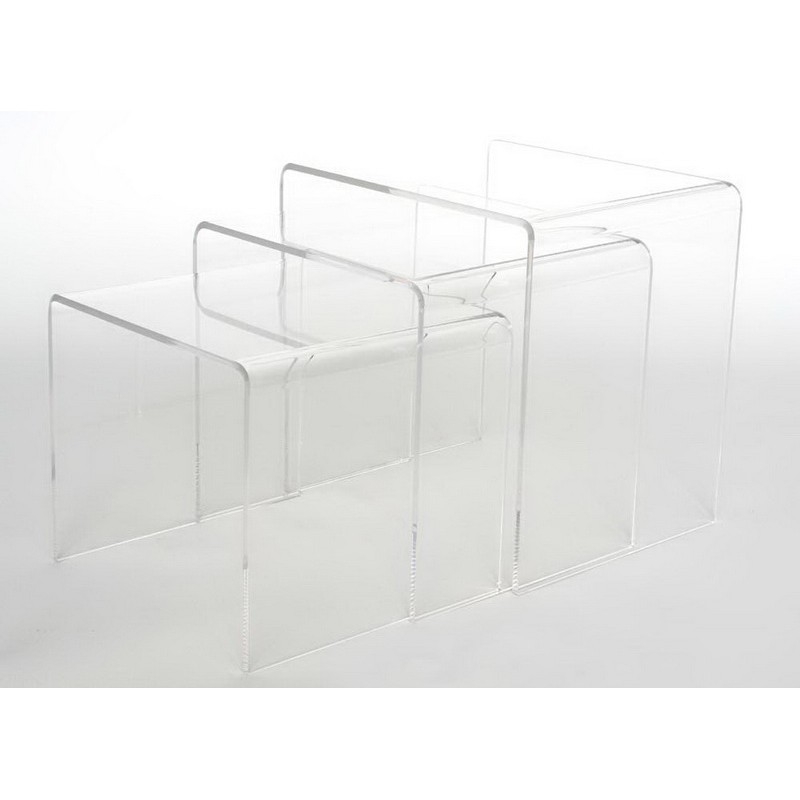 Acrylic Nesting End Tables Set Of 3
A set of three tables that improve the decoration of offices and houses. These functional elements are made of 100% acrylic. The smooth and clear design is perfect for all different interior stylizations.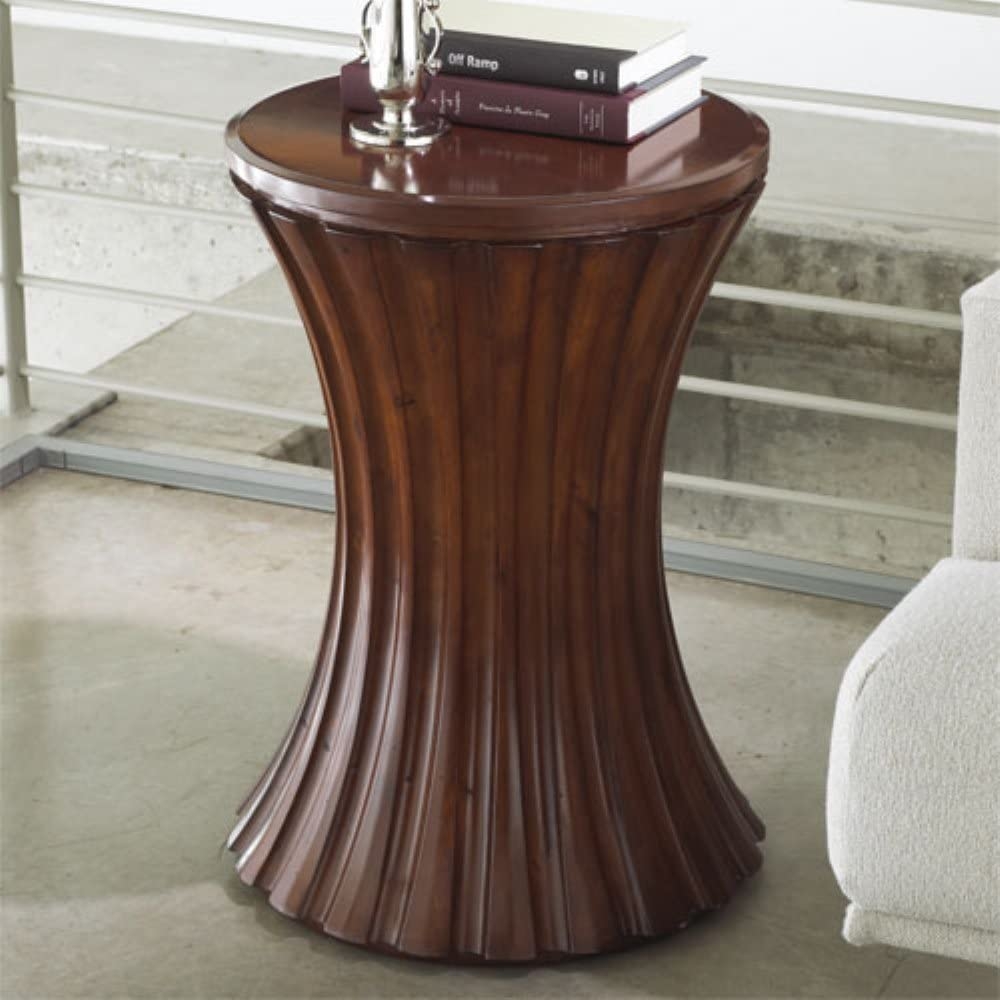 Ventura End Table
Drum shaped end table constructed of wood with brown finish. The sides feature elegantly carved fluted motifs that will enhance the ambiance with a classic vibe. The round top begs to be accessorized.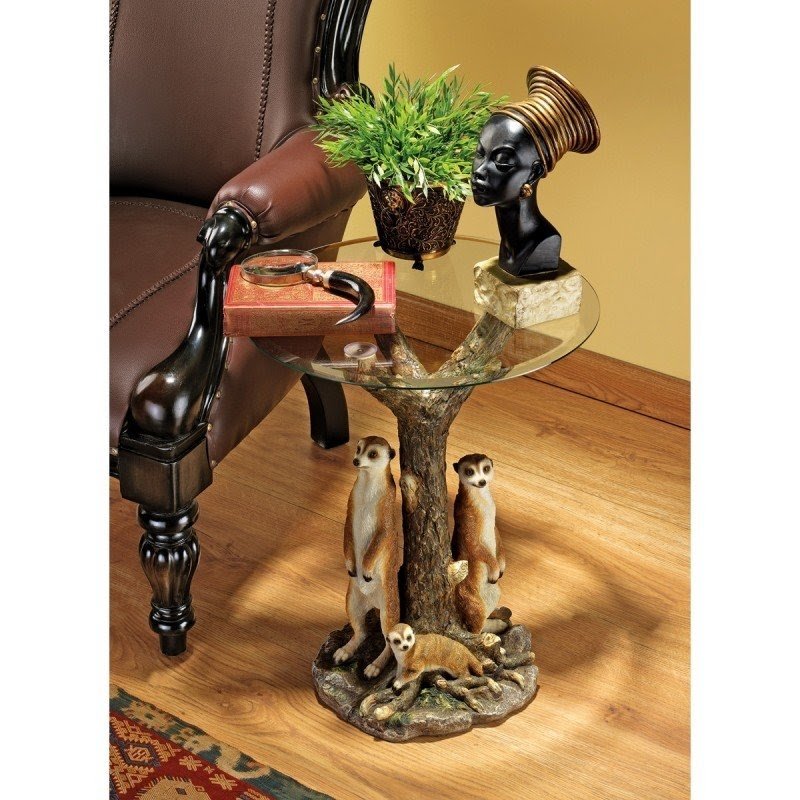 Meerkat Clan Sculptural End Table
Eye-catchy end table with tempered glass top. What makes this piece distinctive, is the sculptural base cast in premium quality resin and painted carefully by hand. Three merkats surround the tree trunk like centre.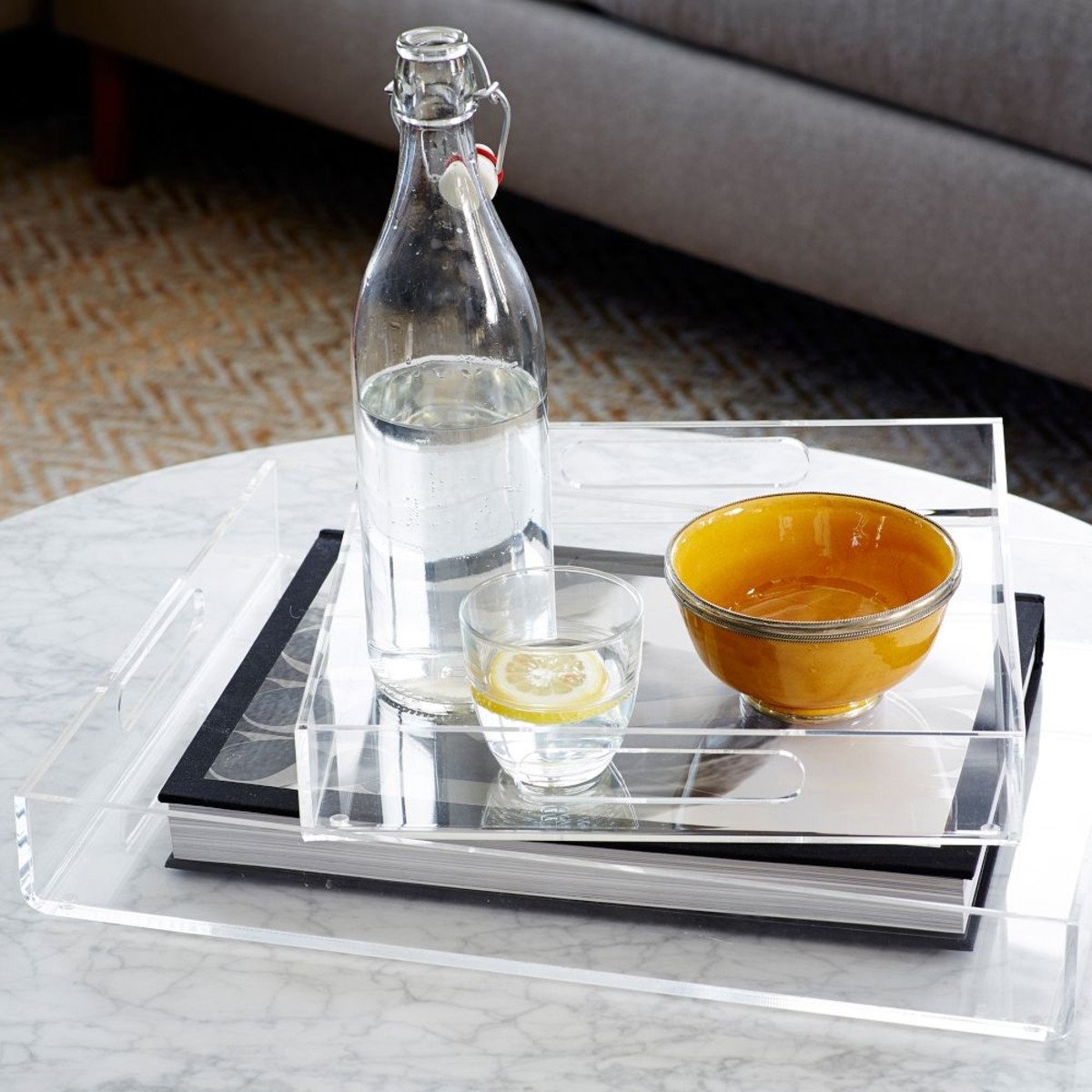 Acrylic trays
These acrylic trays are available in attractive square and rectangular shapes. These clear and versatile elements are very useful and they can be used in any type of room decor. The high level of solidity is an important feature of these products.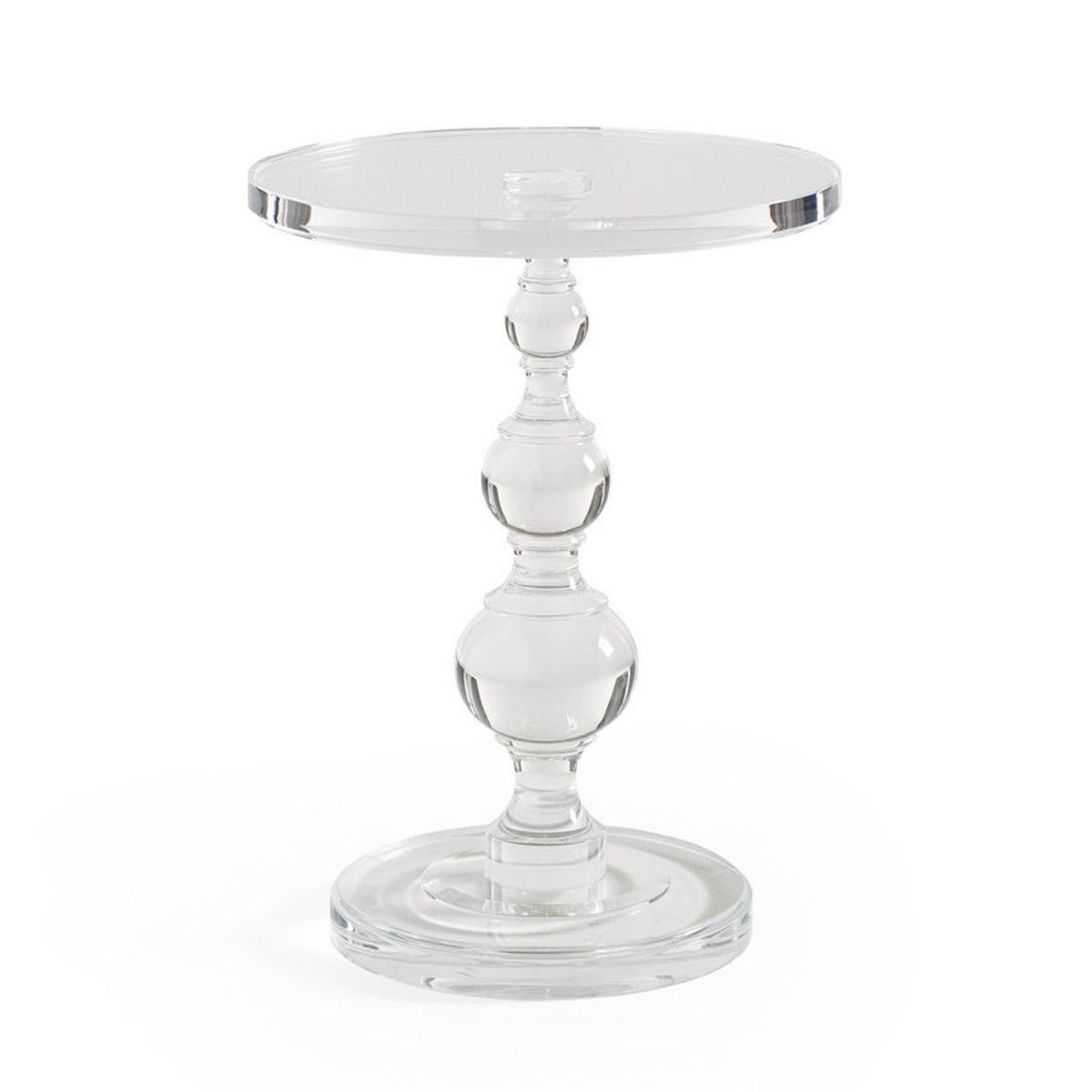 Constituting a truly refined accent in any sophisticated interiors, this clear acrylic end table embodies style and prestige. Thickly poured top registers a contemporary vibe, balanced smoothly by the traditional form of sculpted base.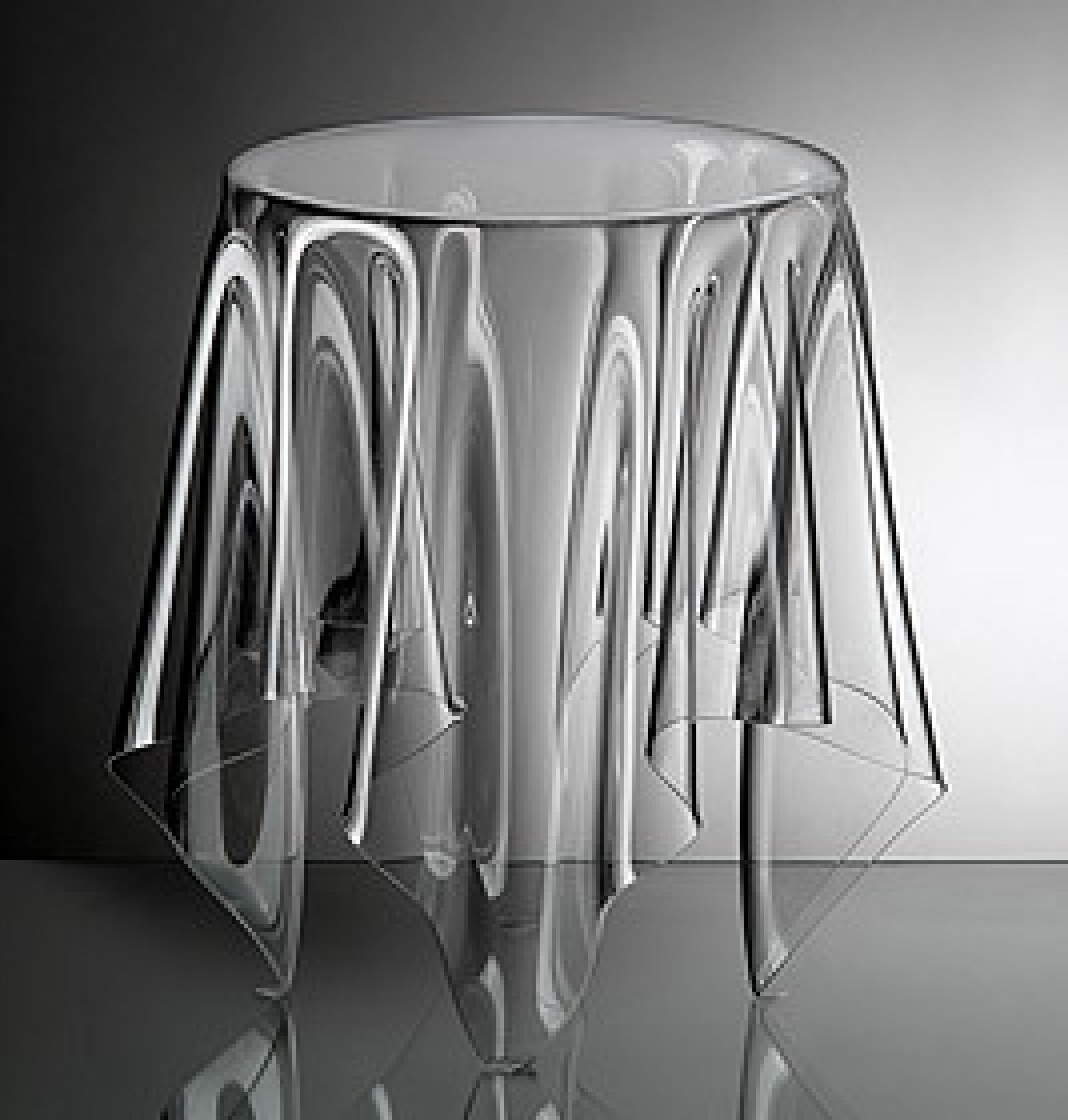 Being a great innovation of modern design - transparent acrylic tables add style and catch the eye of the consumer. This irregularly formed coffee table with round countertop will fit into fresh, futuristic interiors.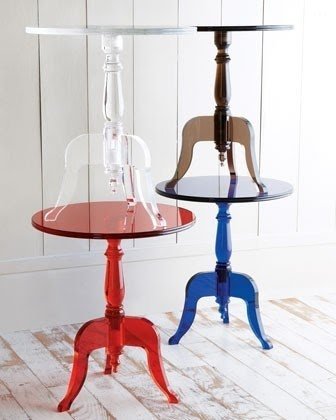 Stylish end table with round top. It is made of clear acrylic and mounted on pedestal base. Contemporary design for all kinds of interiors according to taste and need. Suitable for residential and commercial premises.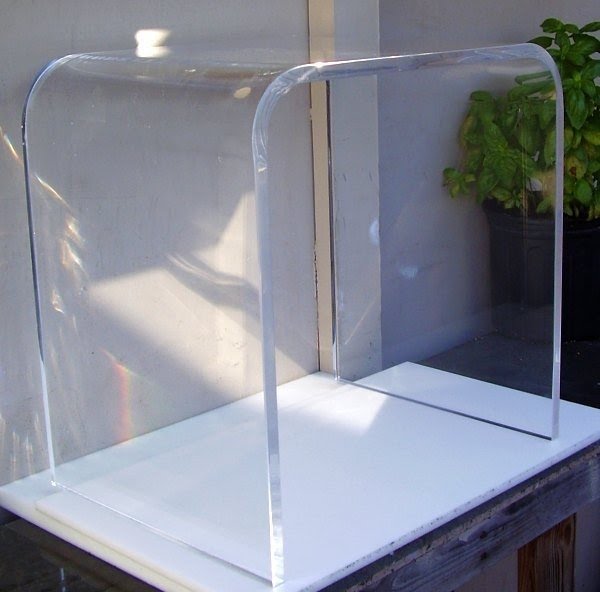 An ultra-modern acrylic end table made of clear, transparent glass. You can use any table, bench or shelf as a base to the glass part. It looks elegant and fancy and it will be a perfect place to display your valuable things.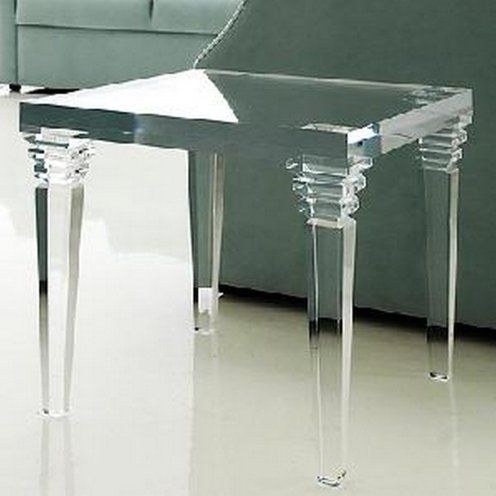 Crystal Acrylic Side / Console Table / Acrylic Coffee Table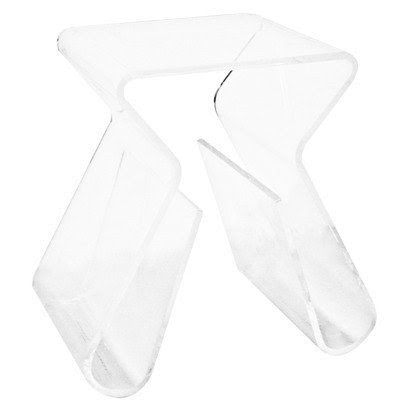 Most often, the top table is made of glass. This time the whole end table, from head to toe, was created from strong glass. You can get the impression that this clear acrylic end table is an ice sculpture. Very glamorous.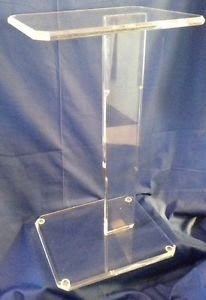 Futuristic clear acrylic/Lucite side table or sofa table. Small Lucite feet support the bottom shelf, keeping the base from crushing carpeting and lending stabilization for the table. Combine with your charging station or remotes, or to support your Alexa.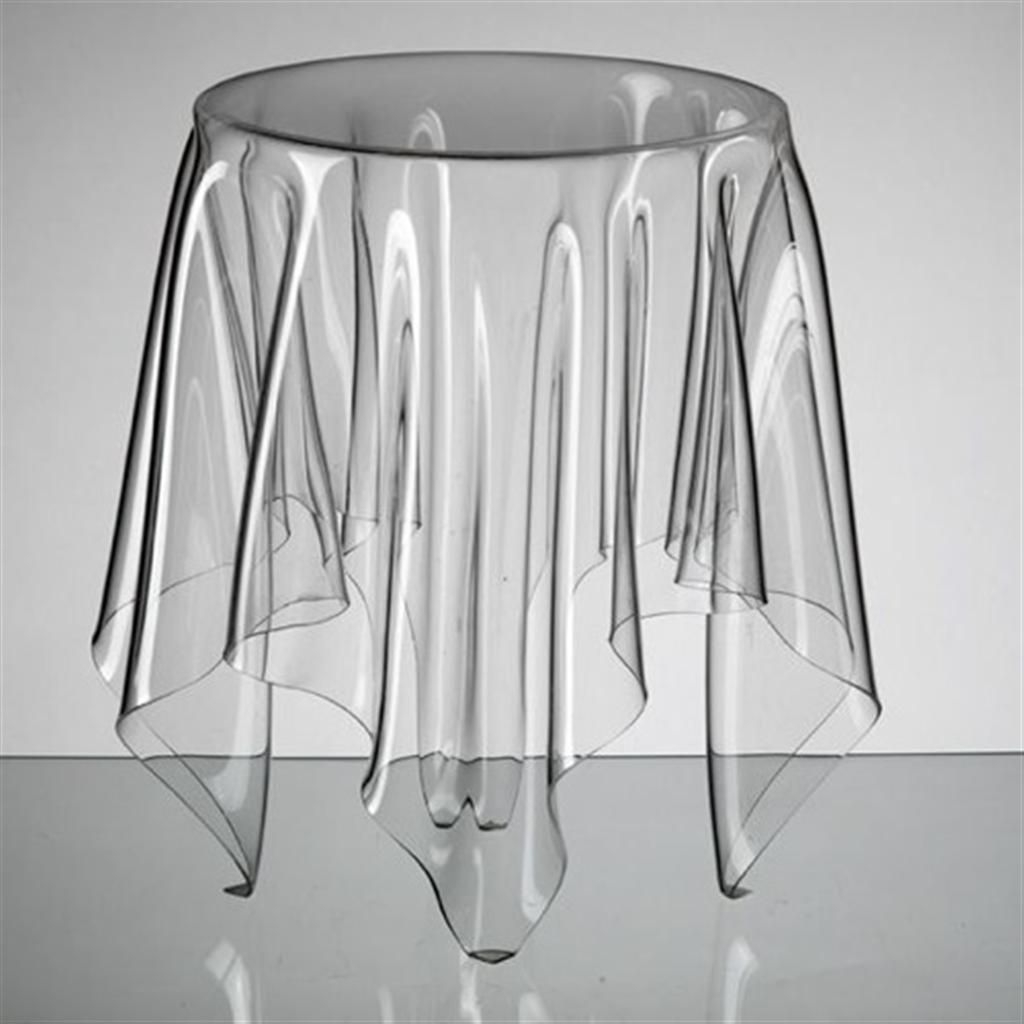 Super modern end table designed using clear cut acrylic. The table also features a unique base, neatly crafted to look like a normal fabric table cover running all the way down. It also comes in a large rounded top for super functionality and style.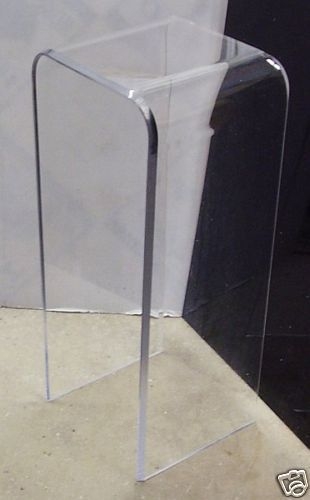 1/2" Clear Acrylic PEDESTAL END TABLE 30" high Lucite #Tables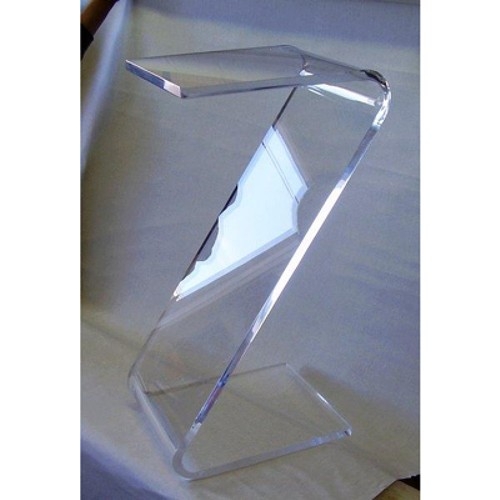 Clear End "Z" Table Lucite Acrylic or Pedestal 29" High | eBay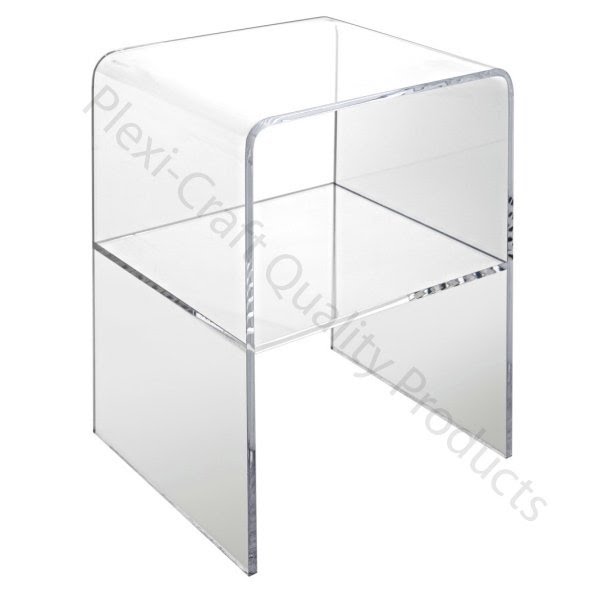 A simple table in a modern design, perfect for contemporary interiors. It's fully made of transparent glass, which gives it a universal character that will easily adapt to any modern decor. It features a single shelf.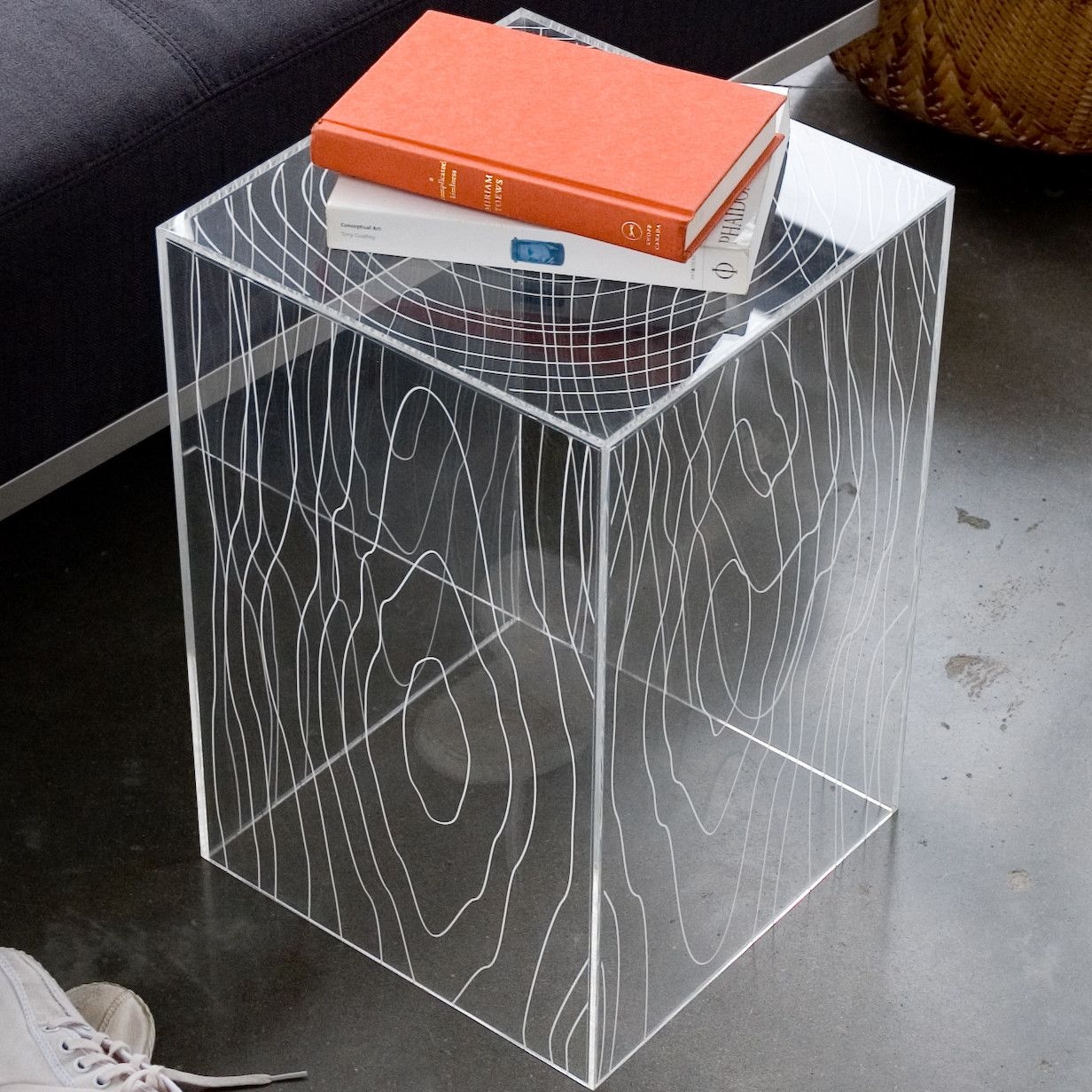 An extraordinary end table in an ultra-modern form. It's a simple cube entirely made of transparent glass with a white, decorative accent. Its universal shape and lack of colors will adapt to any decor.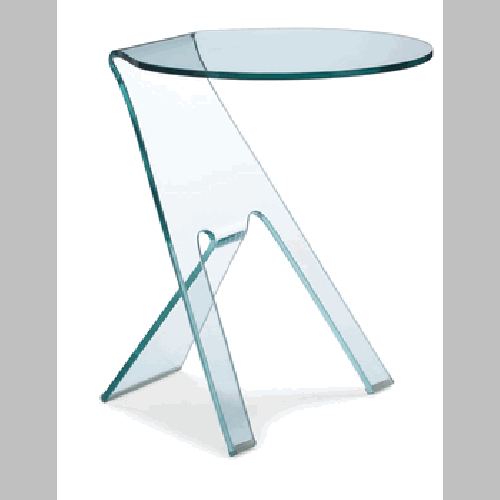 $269 + free shipping acrylic side table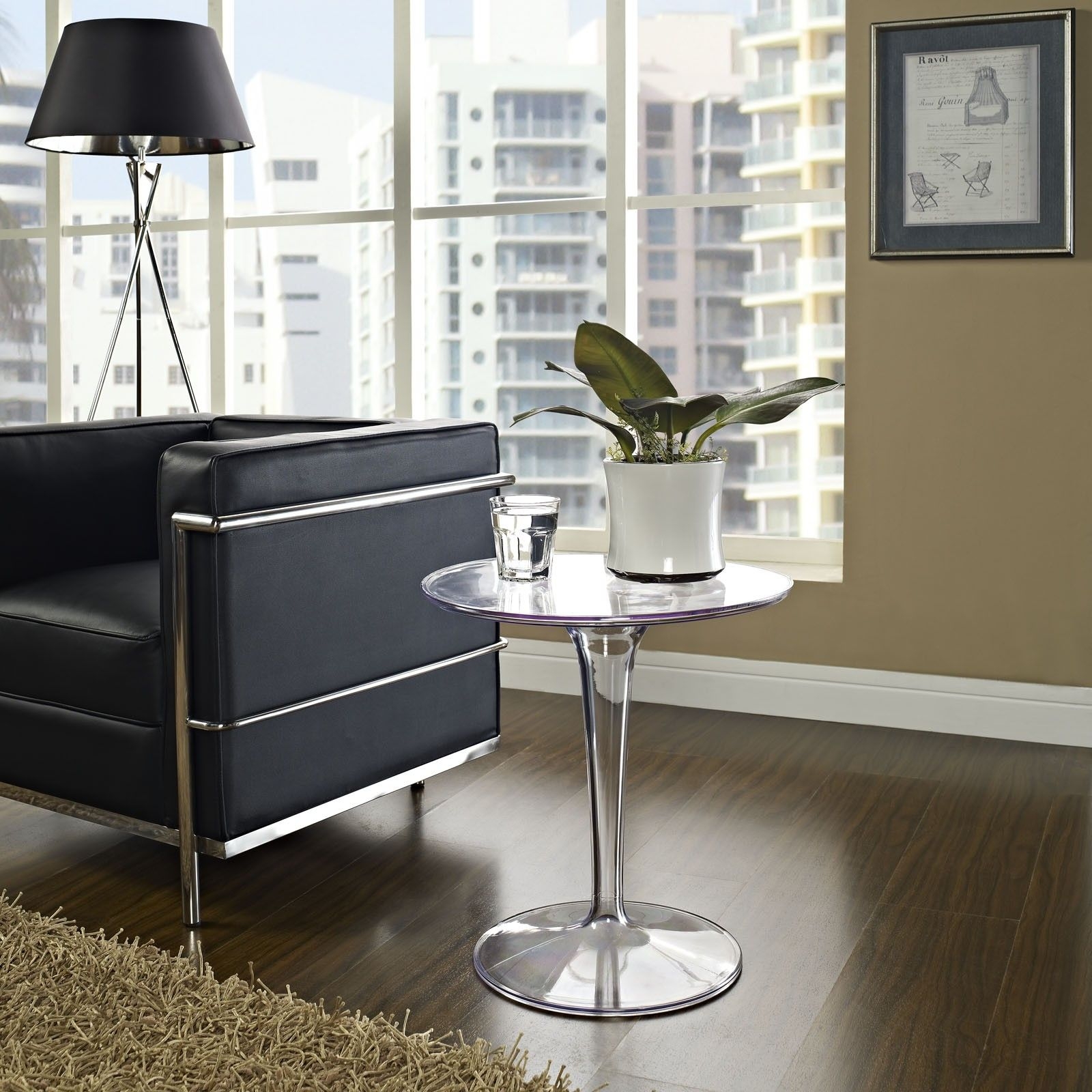 Eero Saarinen Lippa Clear Side End Table - $40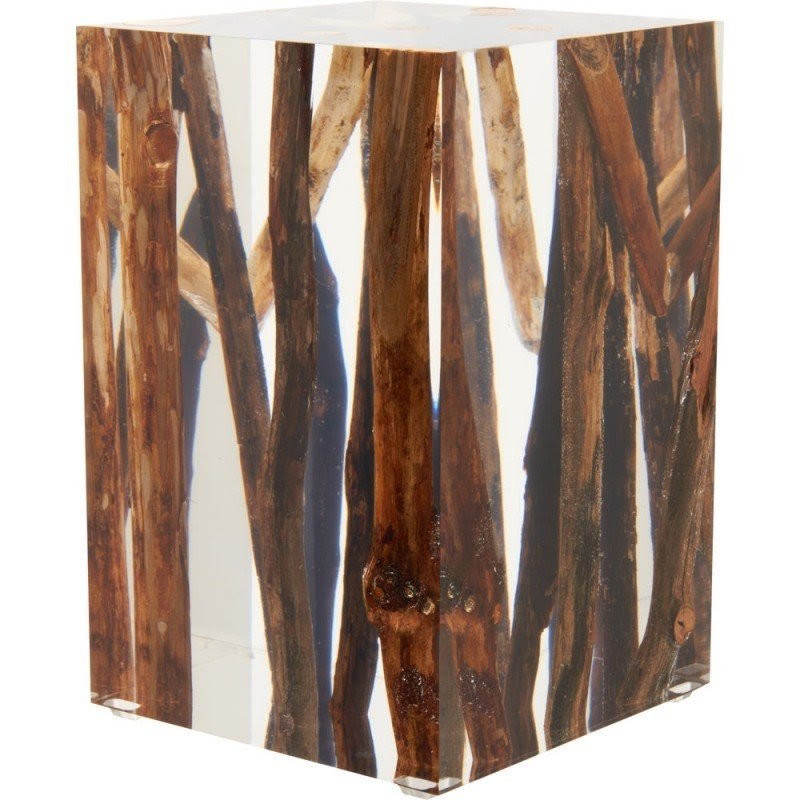 This end table is a proposition for all sophisticated interiors. Wood encased in acrylic may not be the cheapest option, however the final effect proves that it is worth it. A perfect option for all contemporary apartments.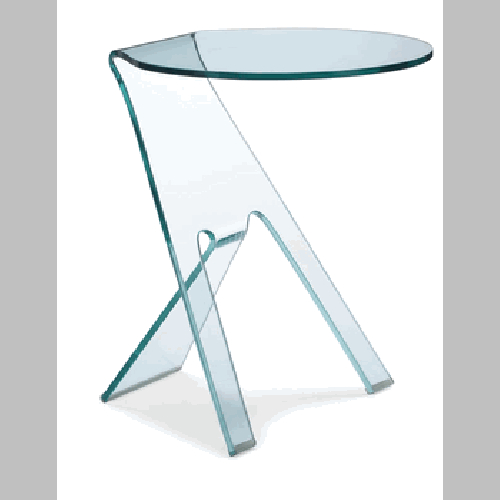 See Through You: 5 Clear Acrylic Tables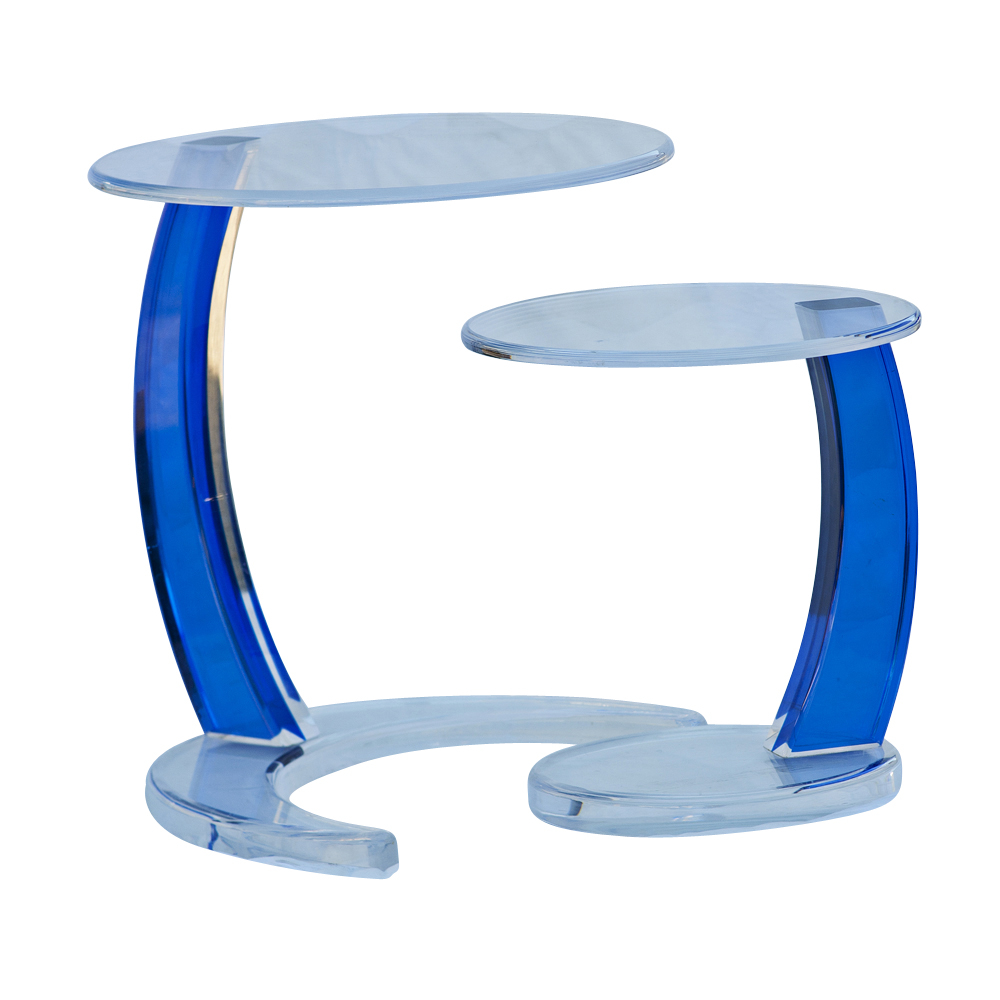 Details about Blue Acrylic Circular Nesting Side Tables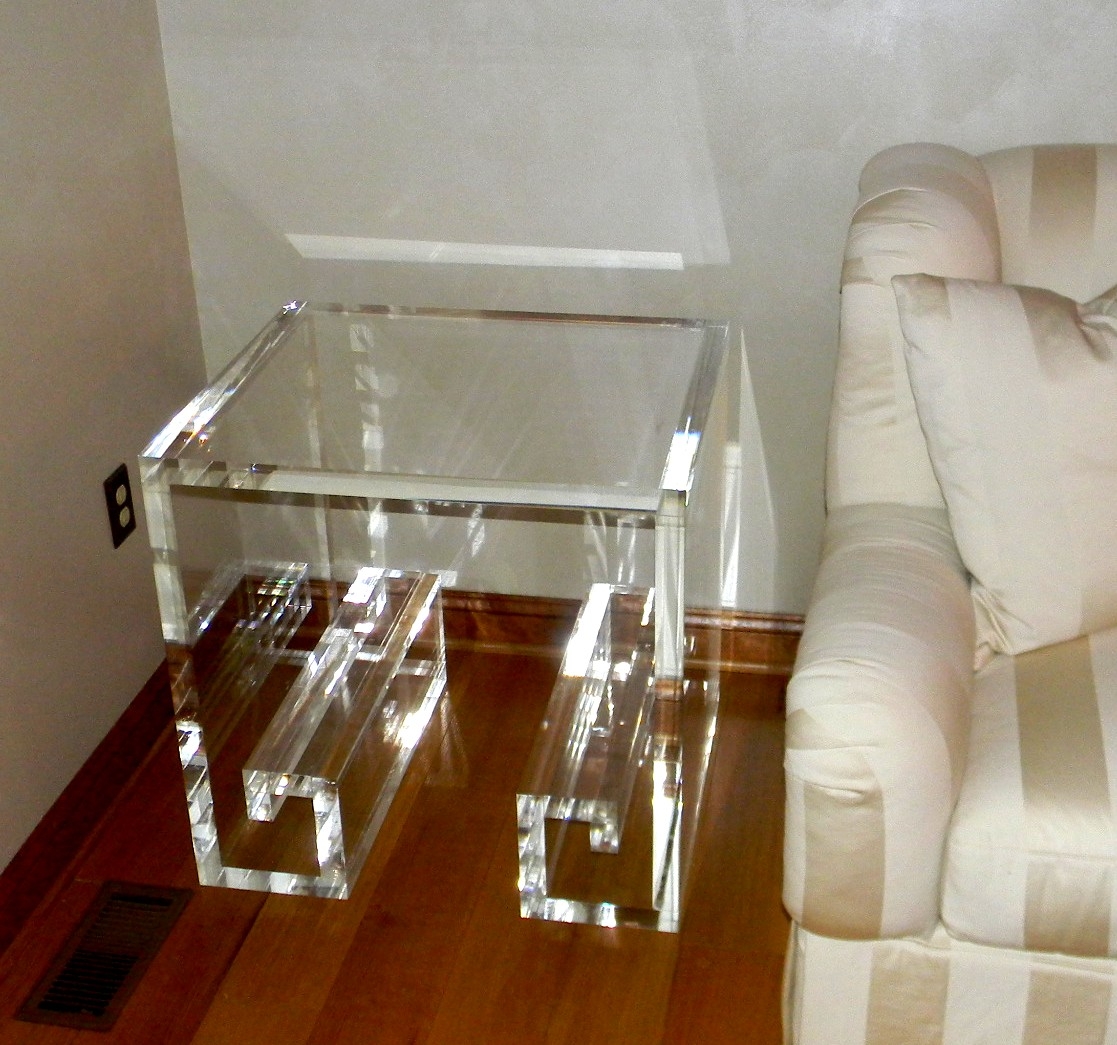 Custom Listing for benglefanjake Lucite/Acrylic Greek Key table - 26" sq x 20" high in 3/8" clear on Etsy, $400.00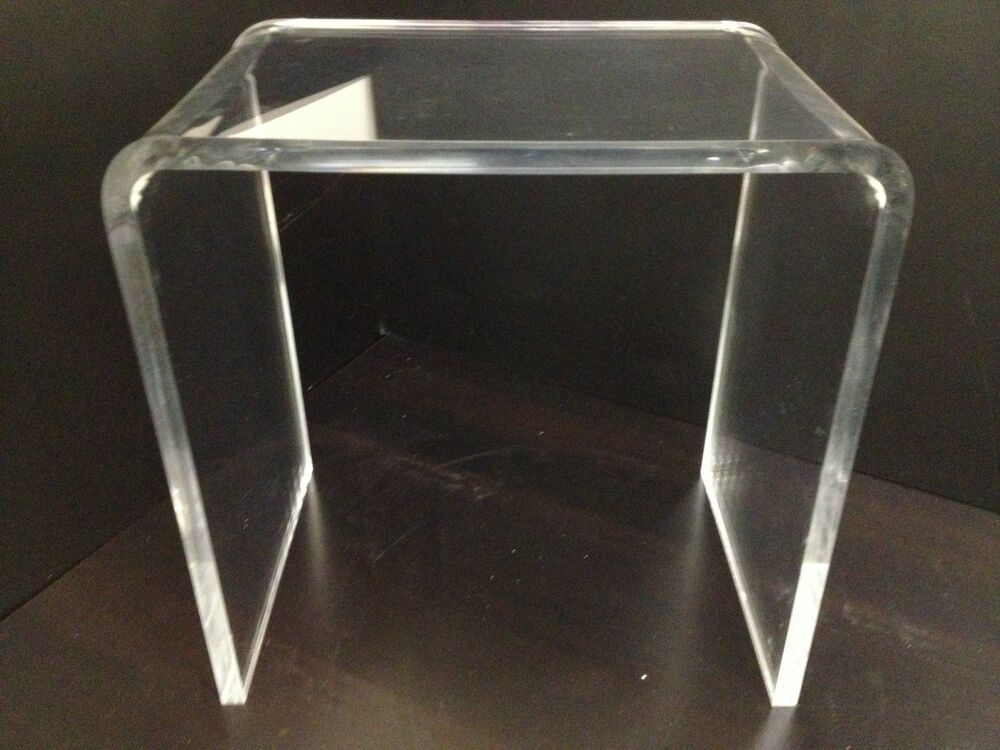 3/4" Clear Acrylic End Table 18" tall x 18" long x 11.75" deep $104.50 from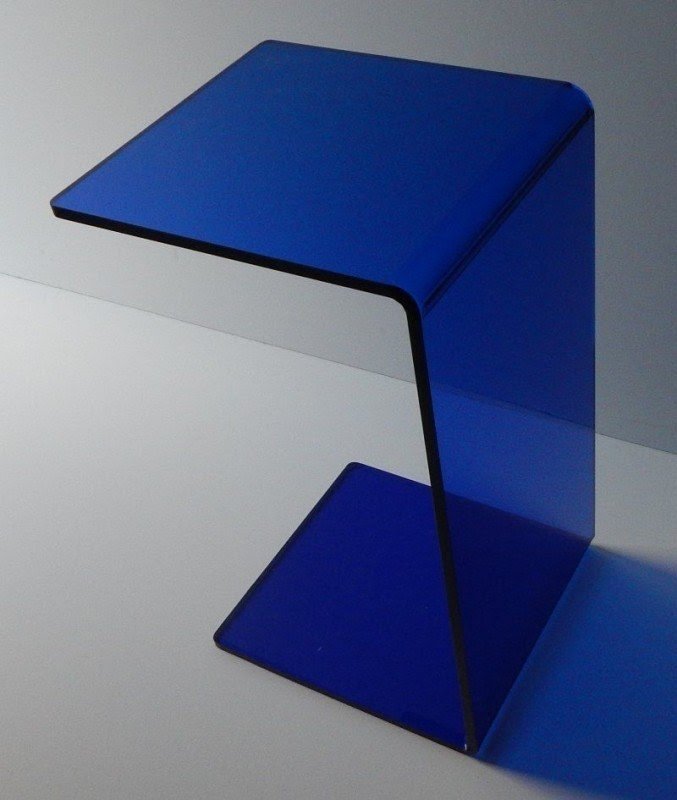 Clear Acrylic Lucite Plexiglass TRANSPARENT BLUE END SLIDE TABLE lucite #Tables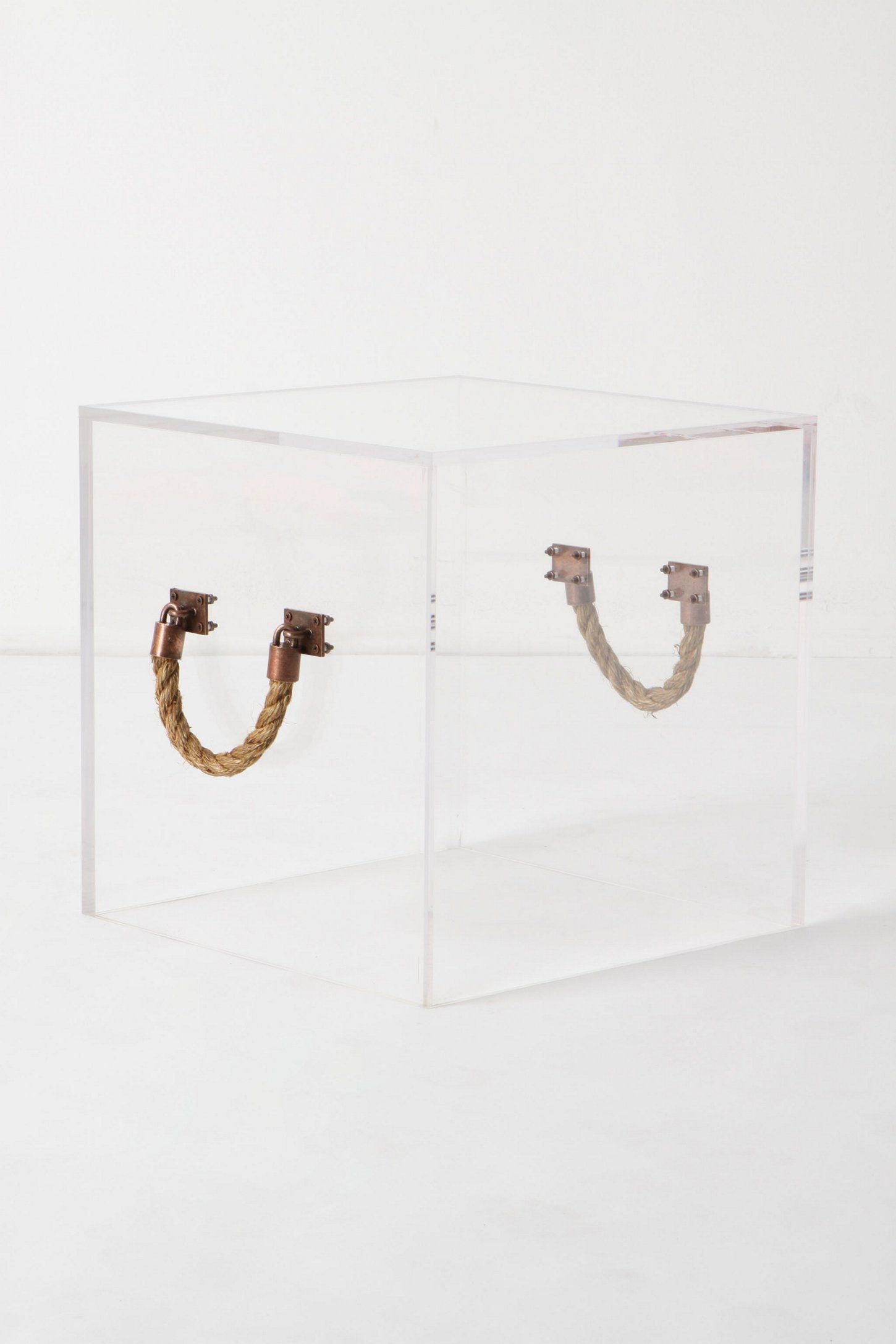 Lucite end table / acrylic trunk with rope handles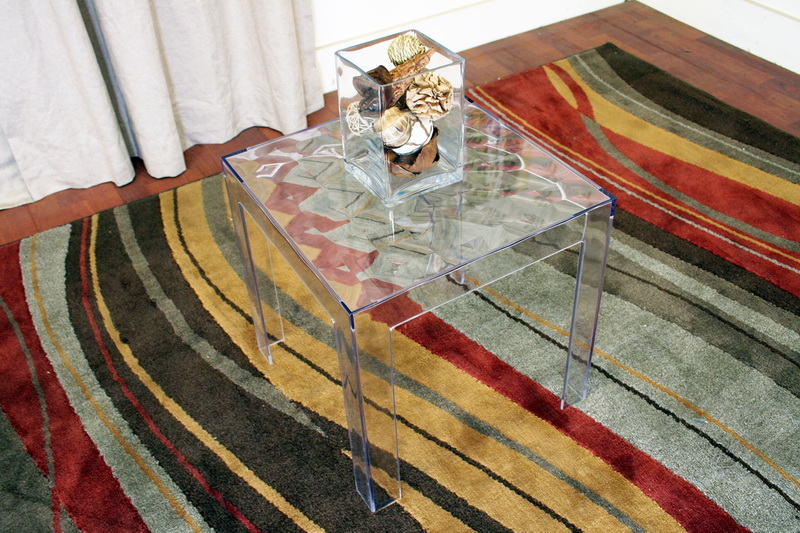 Simple yet eye-catching, this Modern End Table in Clear Finish is designed of durable acrylic, providing only the best level of durability. The table can be a nice addition not only for home but for offices and restaurants, as well.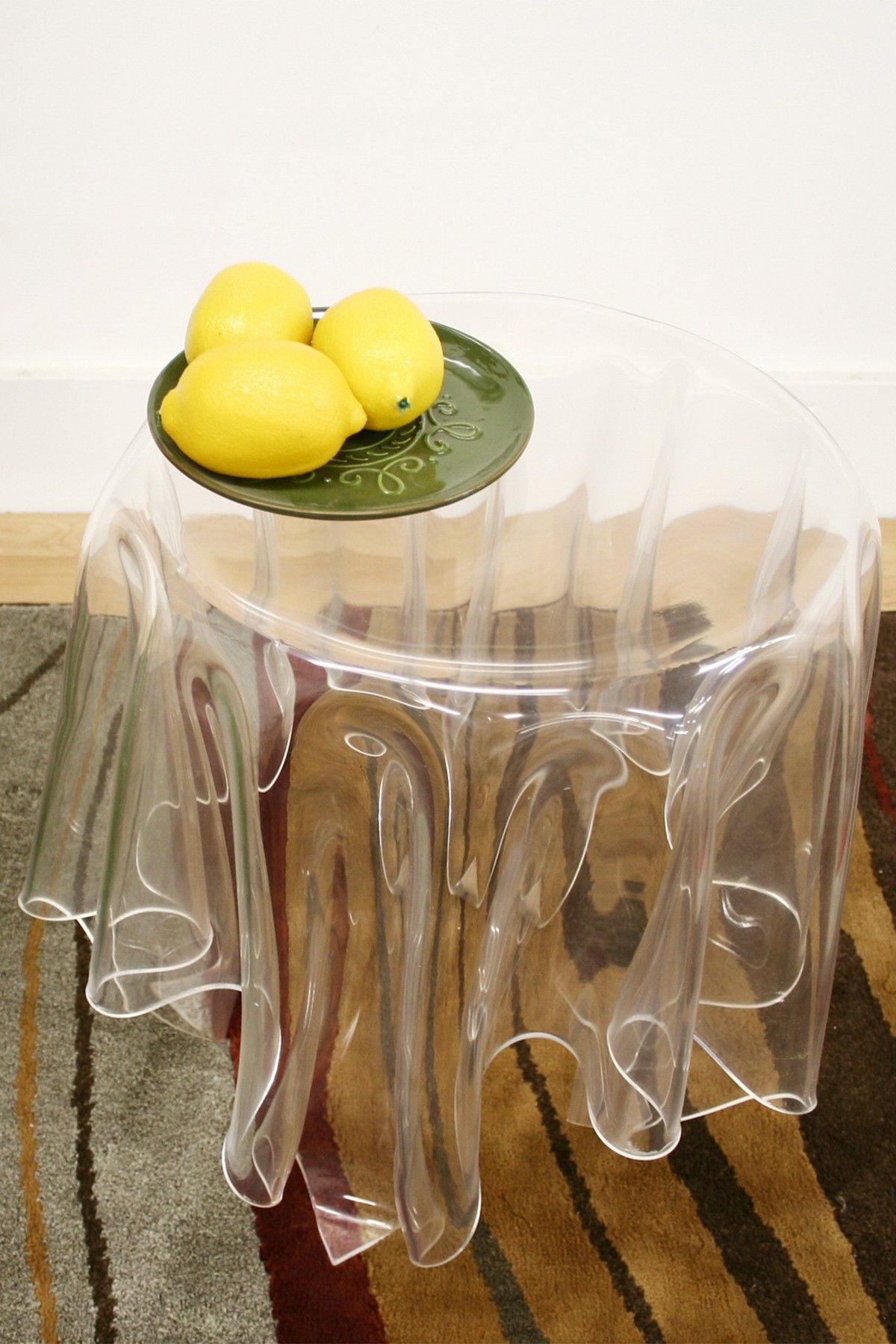 acrylic tablecloth | Wholesale Interiors Blair Clear Acrylic Modern Tablecloth Illusion ...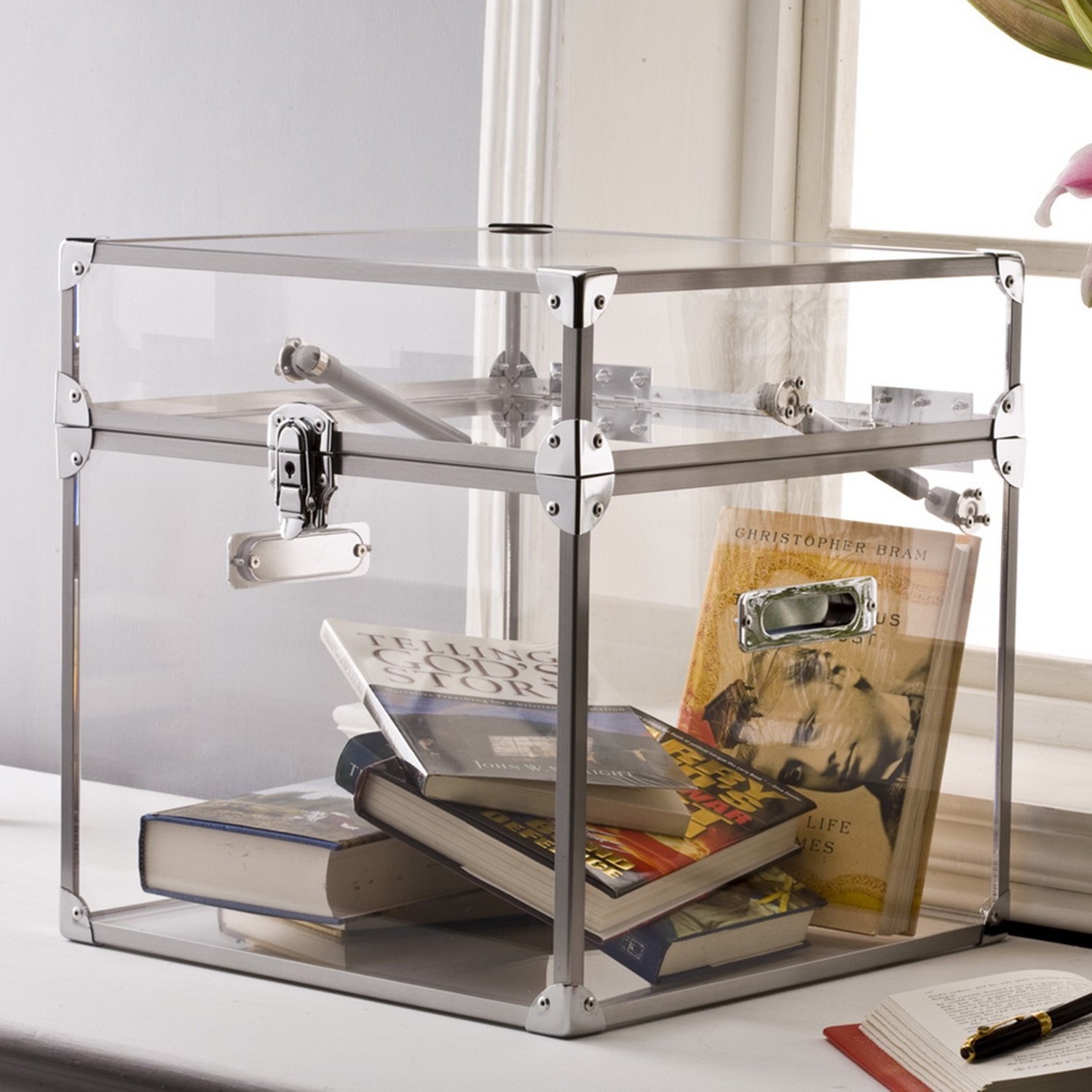 Who doesn't love acrylic trunks? This super creative transparent trunk is also an accent table in one. Hydraulic lifters makes openings and closings super easy and safe. Cool idea as your new books storage space.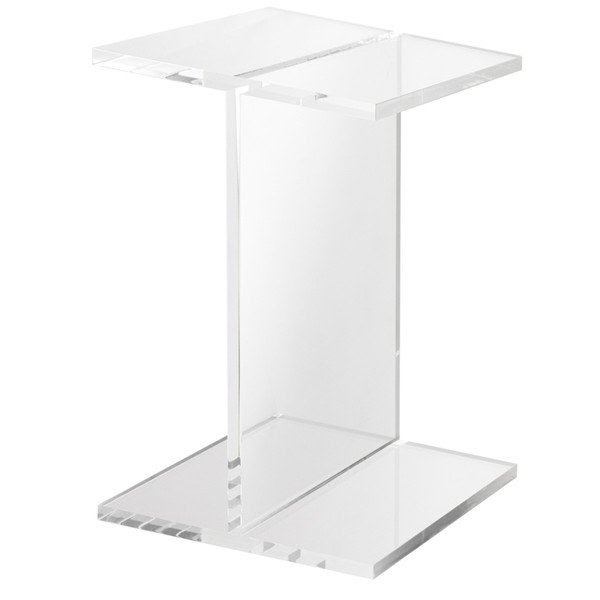 Clear Acrylic Accent Table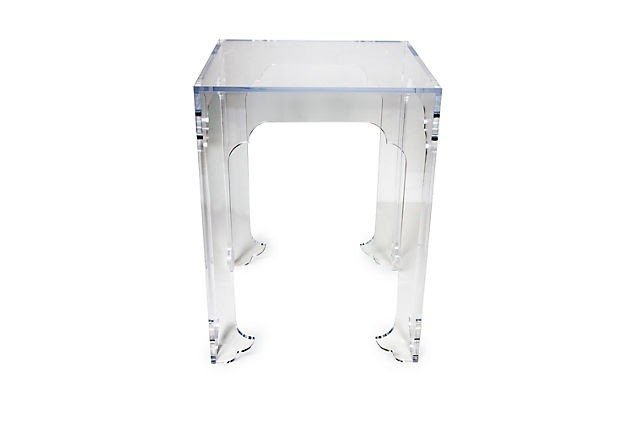 I love clear furnishing and Moroccan style- this acrylic table is perfect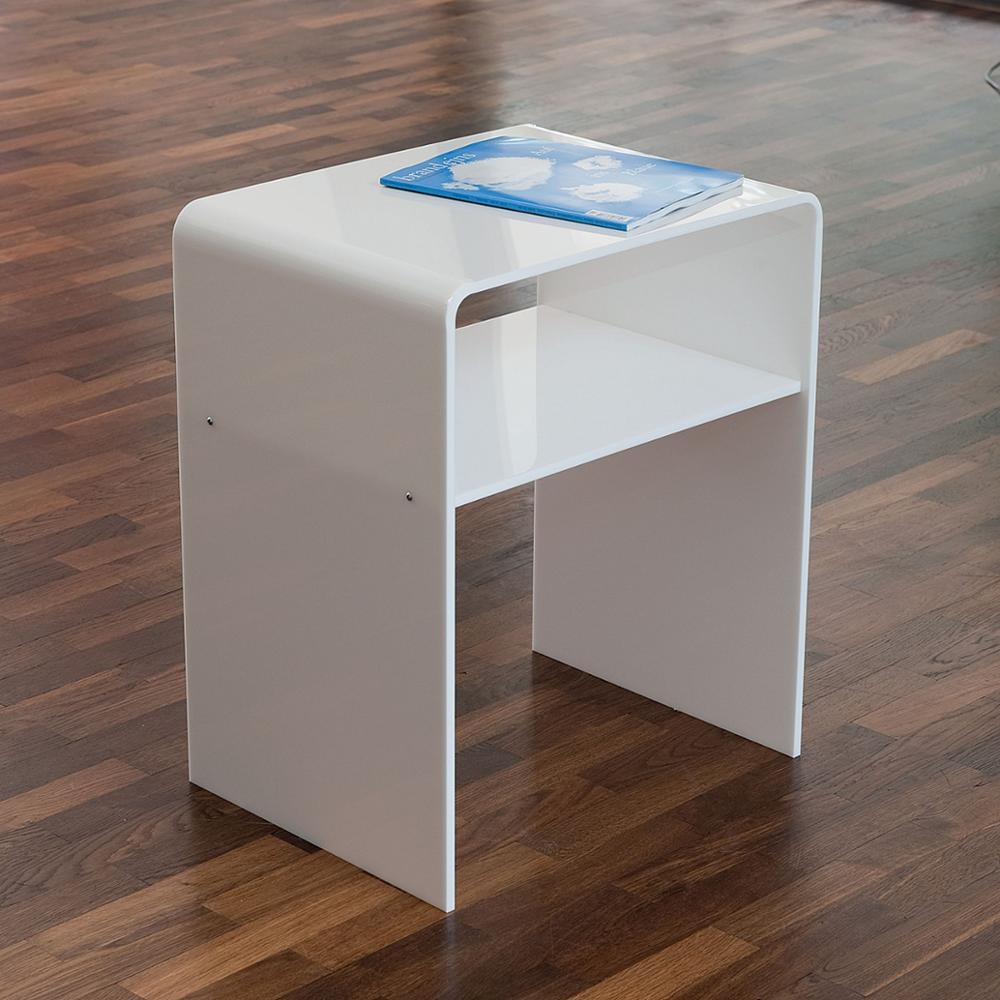 A simple but aesthetic modern end table entirely manufactured of durable white acrylic. It has a rectangularish body with no bottom and 2 full rectangular supports. Its top with rounded edges and bottom shelf are rectangular.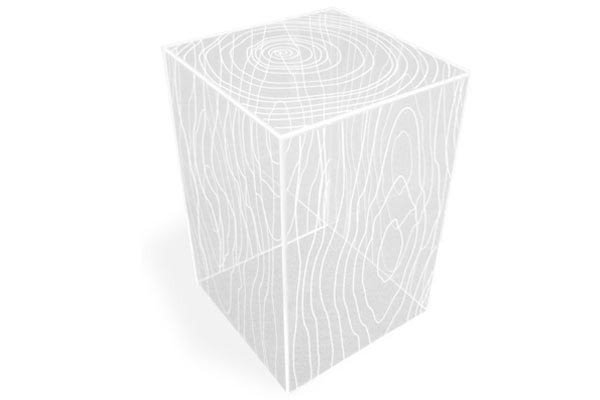 Timber End Table Timber End Table/ Gus Modern Wooden design on clear table! $235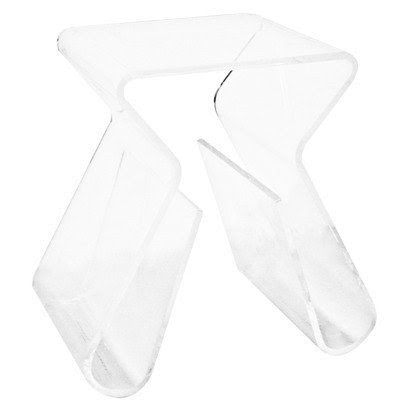 Anouk Acrylic Stool/ End Table at Target! Love!! $119 though, so out of my price range...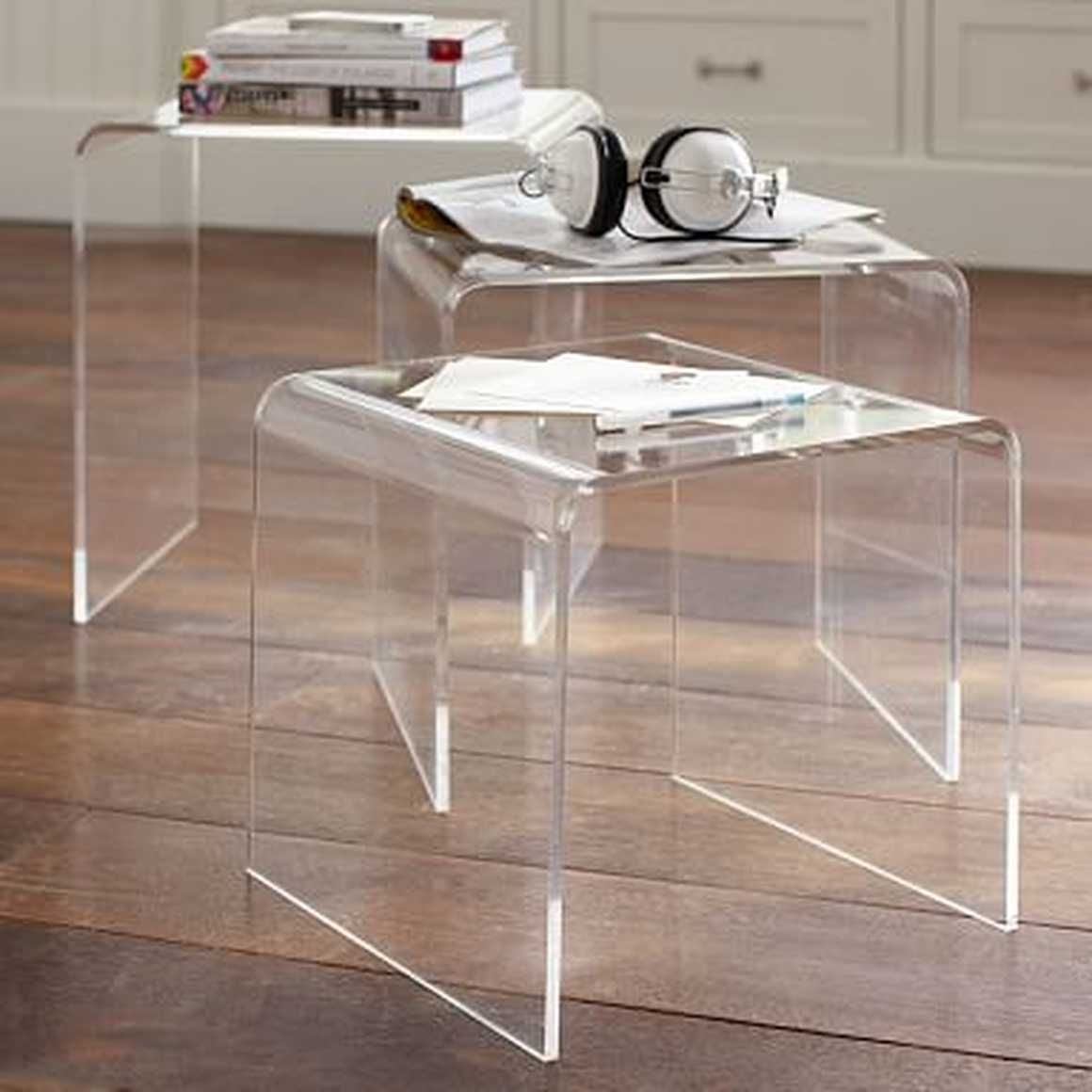 Acrylic Nesting Tables #pbdorm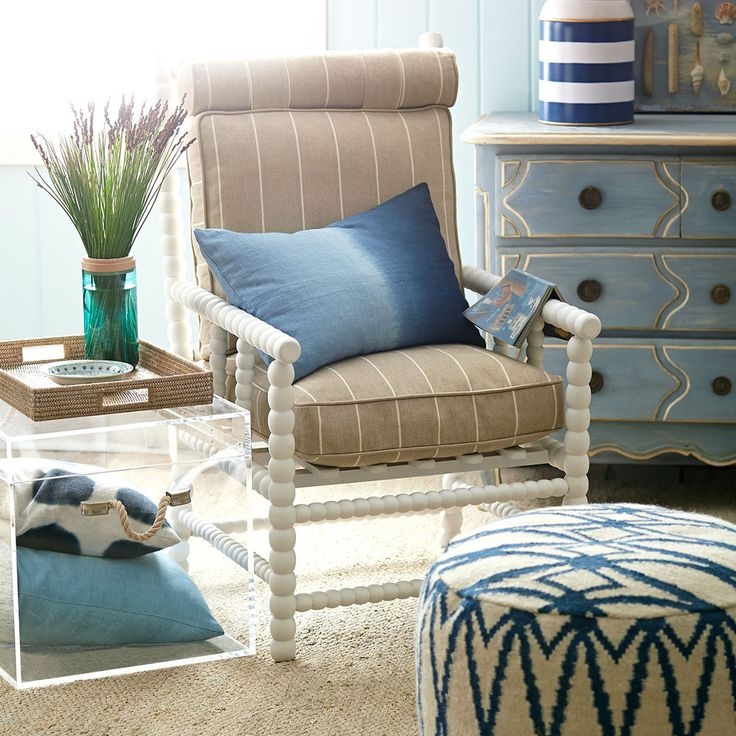 These open arm, open leg chairs will add lightness to the room when the sofa feels so large and bulkly. Also notice the cute clear acrylic end table-- definitely a modern design! The beige is Ok here, it is neutral, we could add a small yellow pillow on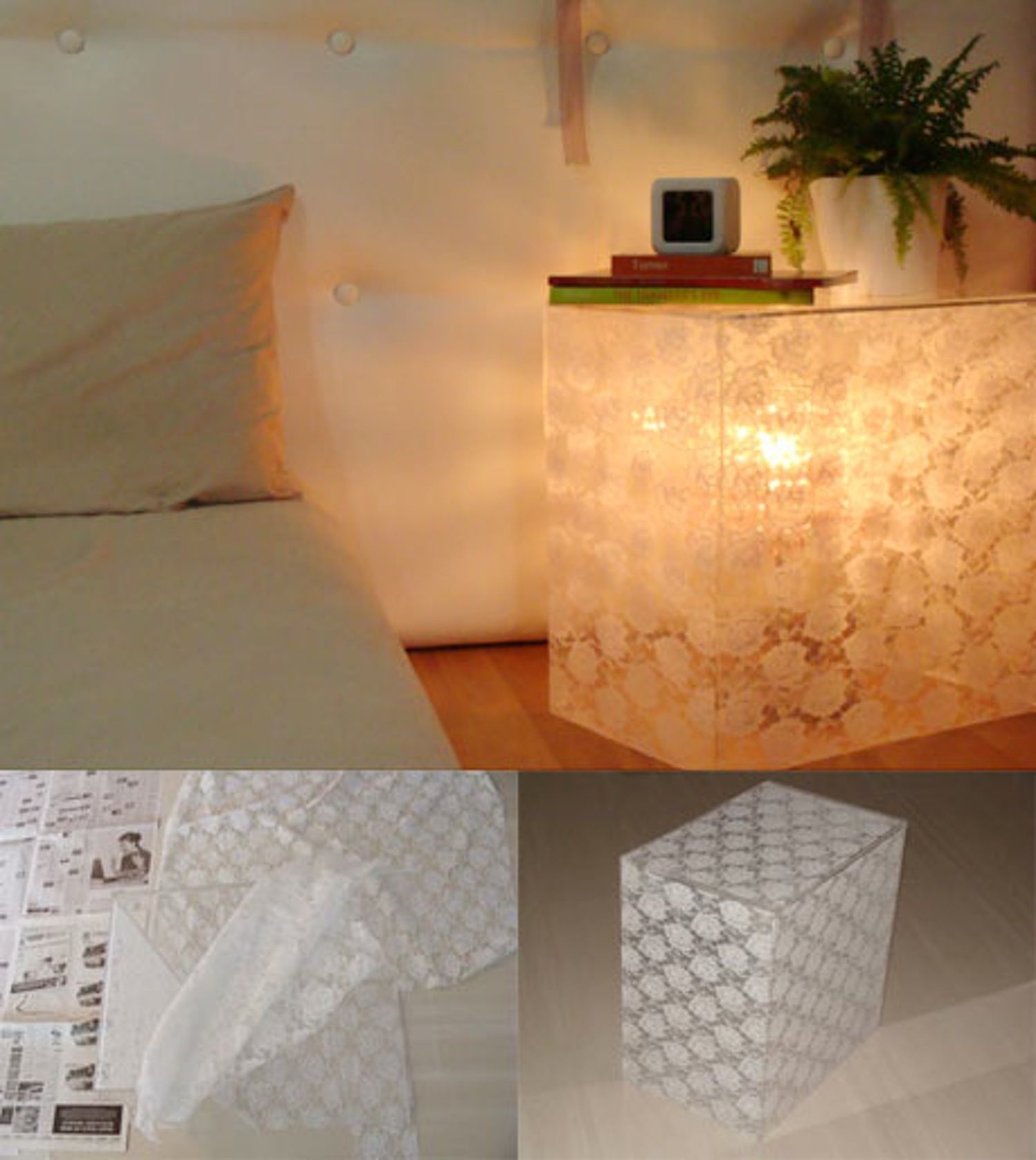 End table made of acrylic and finished with sophisticated ornamentation. Base is fitted with lamp and gives warm tone of light. Stylish addition to the bedroom, living room and others interiors according to taste.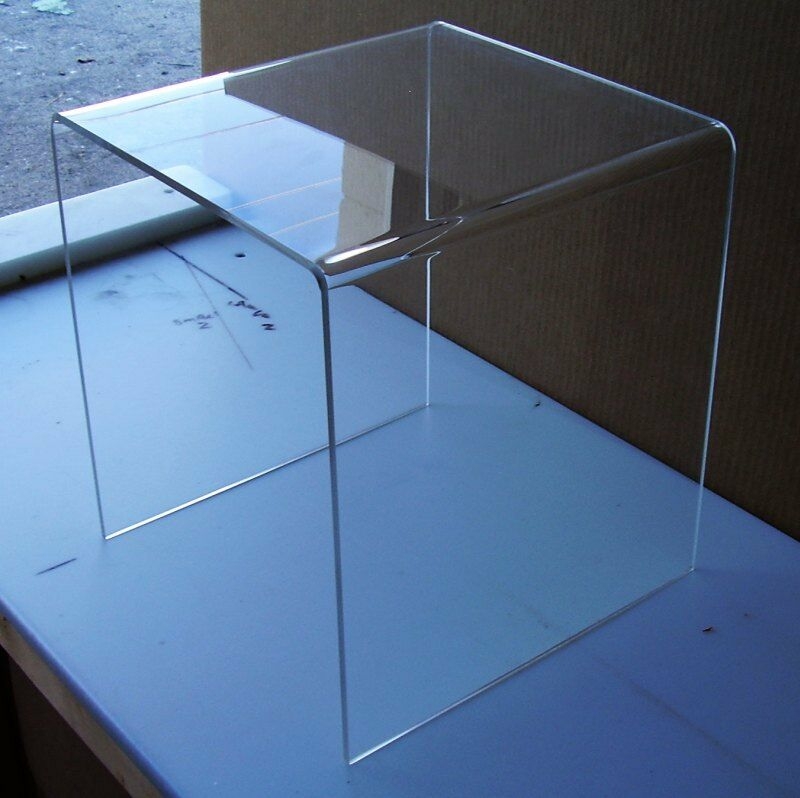 Still think this a pair of these would be GREAT, SUPER, FANTASTIC for the den. Very simple, very classic, very small, great price, can use for a drink or feet! No need to rush, always available, can wait until after we find the sectional. $48 1/4" Cle
1/2" Clear Acrylic PEDESTAL END TABLE 30" high Lucite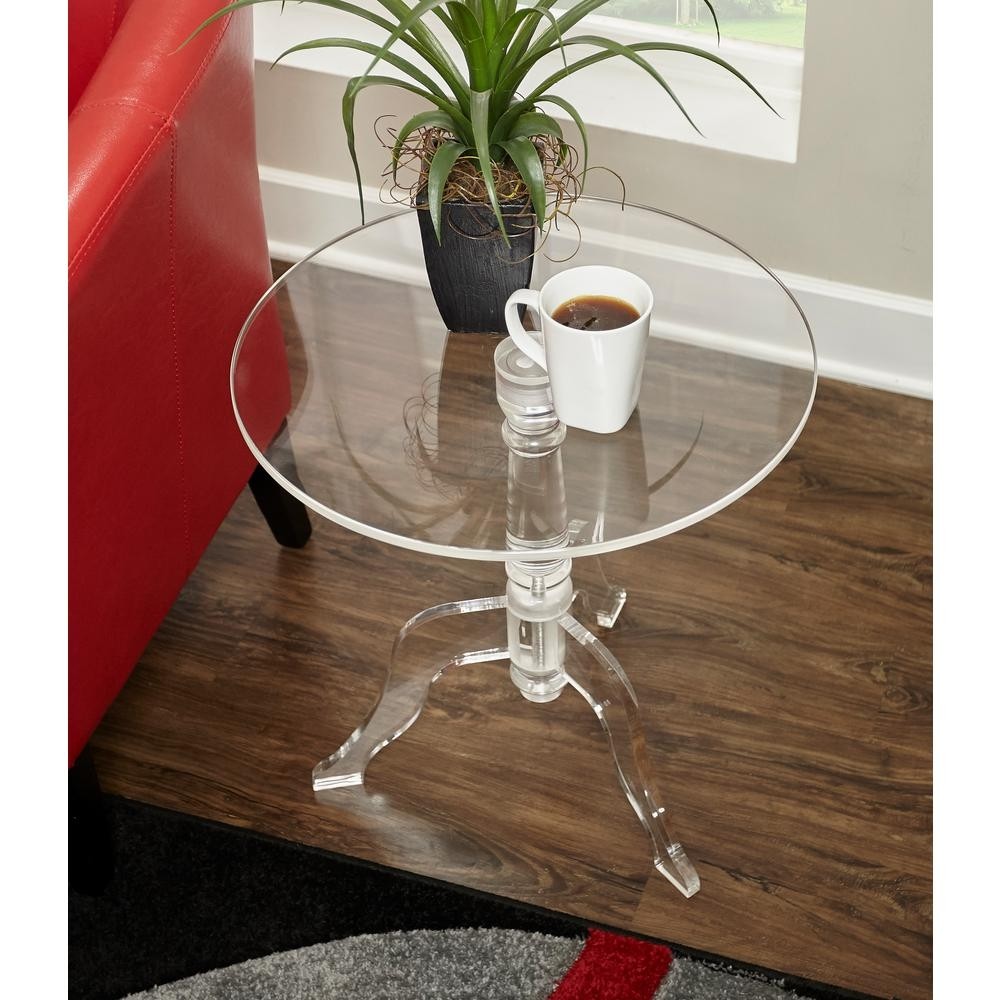 Clear Acrylic End Table-65036ACR01U - The Home Depot