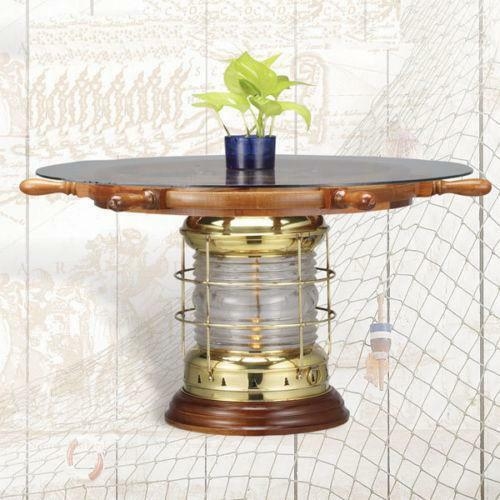 Nautical End Tables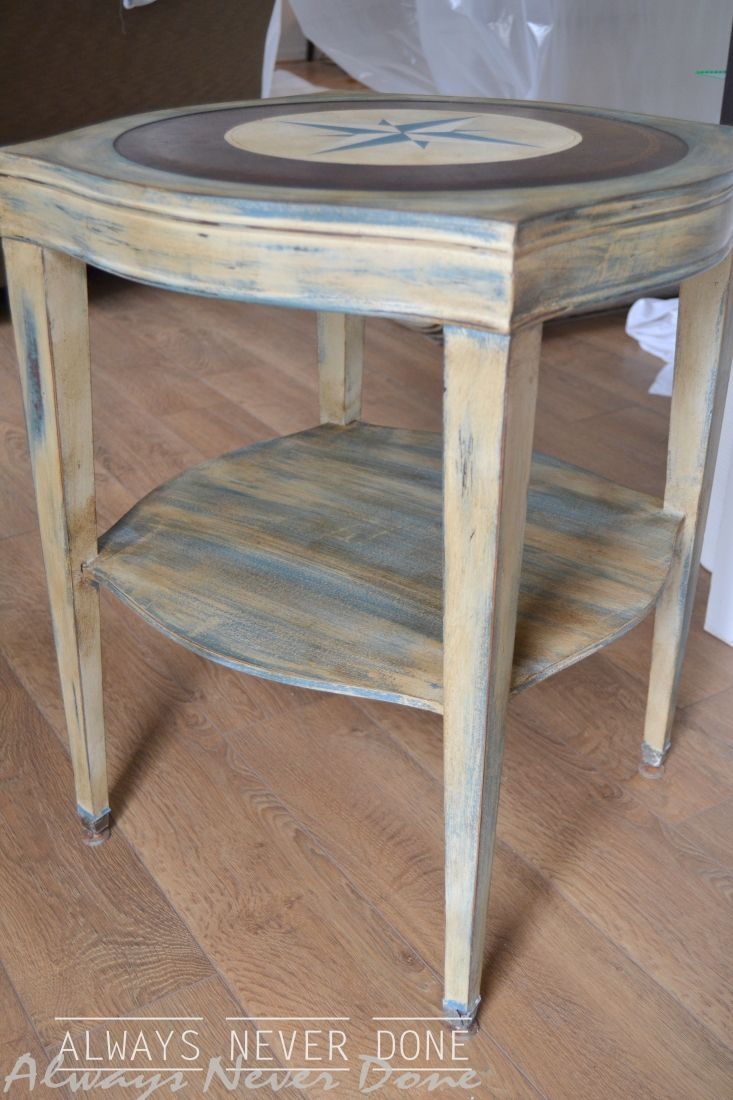 Compass-Nautical-Side Table-Always-Never-Done 8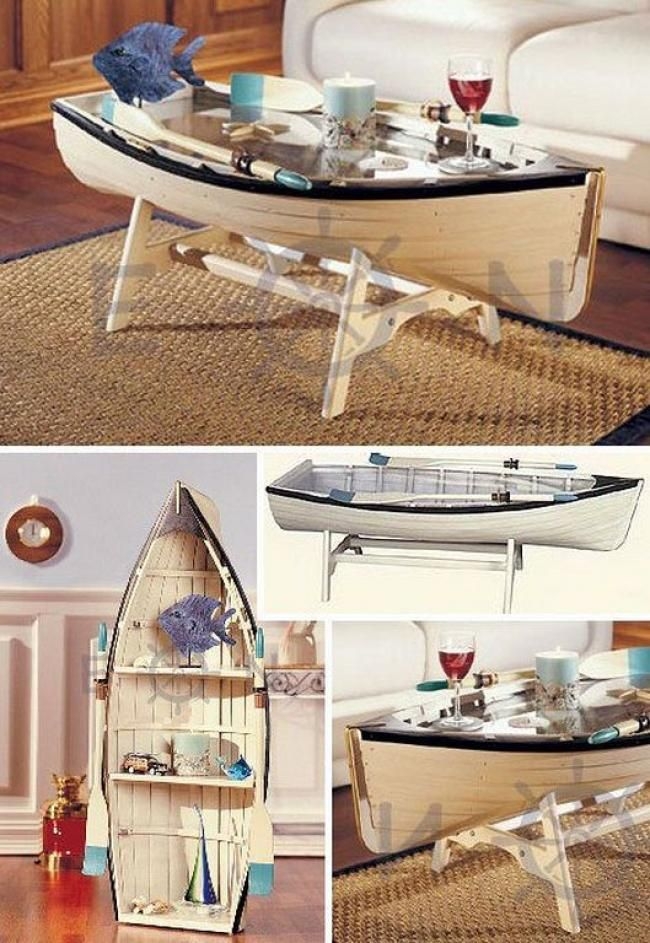 The table features detachable oars – for those REALLY rainy days,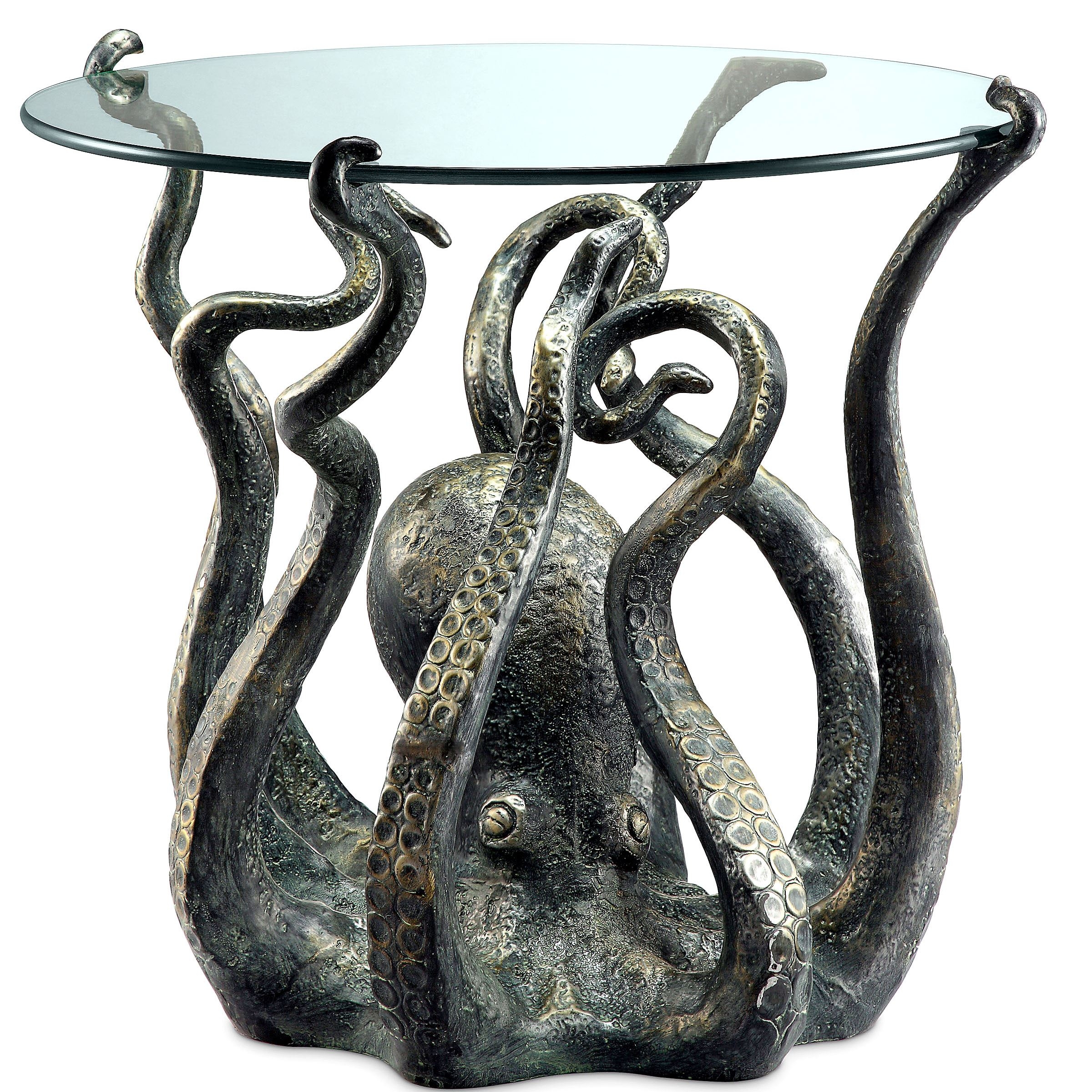 Sculptural octopus base of this round glass top end table creates an immediate way to start a conversation! Some suggest that it is dedicated for a nautical themed nursery, but a stylish front room can be its natural ambiance too.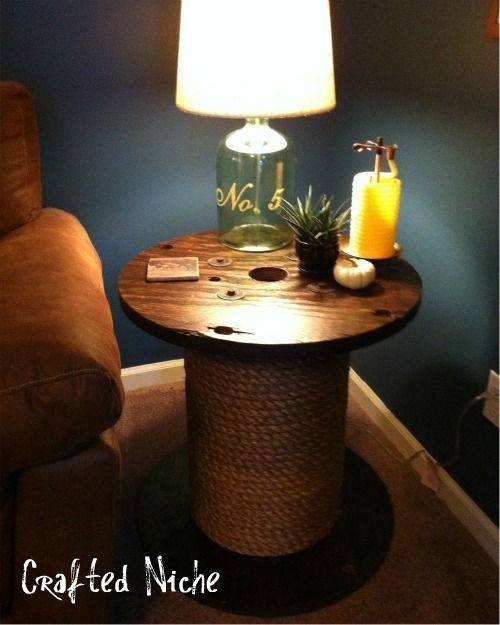 A space-saving solution with vintage accents, this side table is designed of an old spool, and there is still a rope coiled around the frame. A tasteful improvement for vintage decor that is going to fit perfectly in the gap between your couch and wall.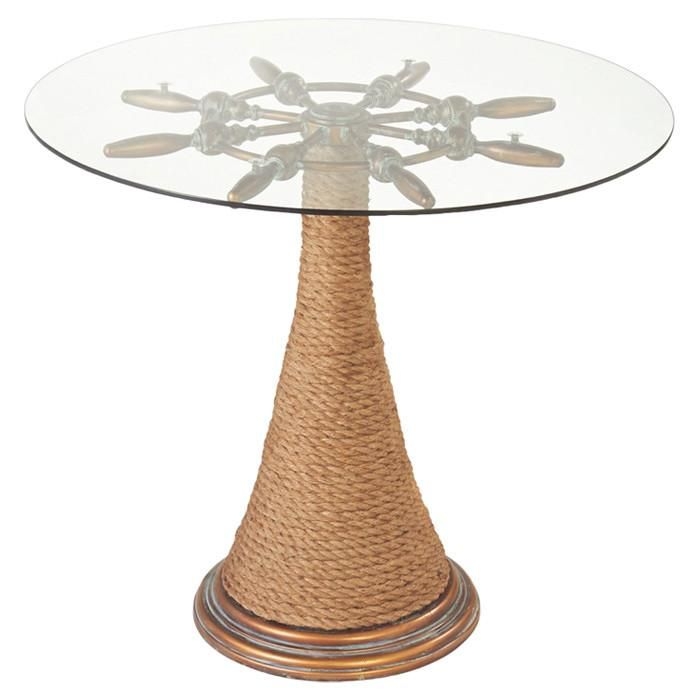 It is a fantastic accent table that has got a glass round top, nautical theme, rope trim base and amazing design. You will be impressed how beautiful it looks in your living room area.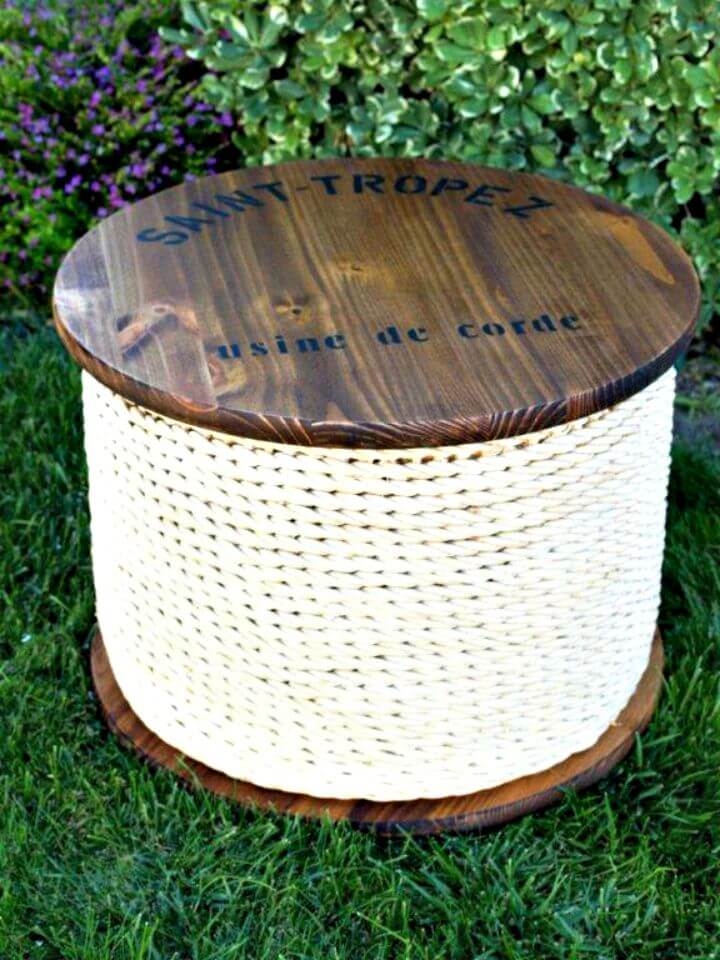 End table in the shape of spool. Frame is made of wood and covered with thick rope. Round top has large usable surface. It can be used as plant stand. Simple form and industrial design.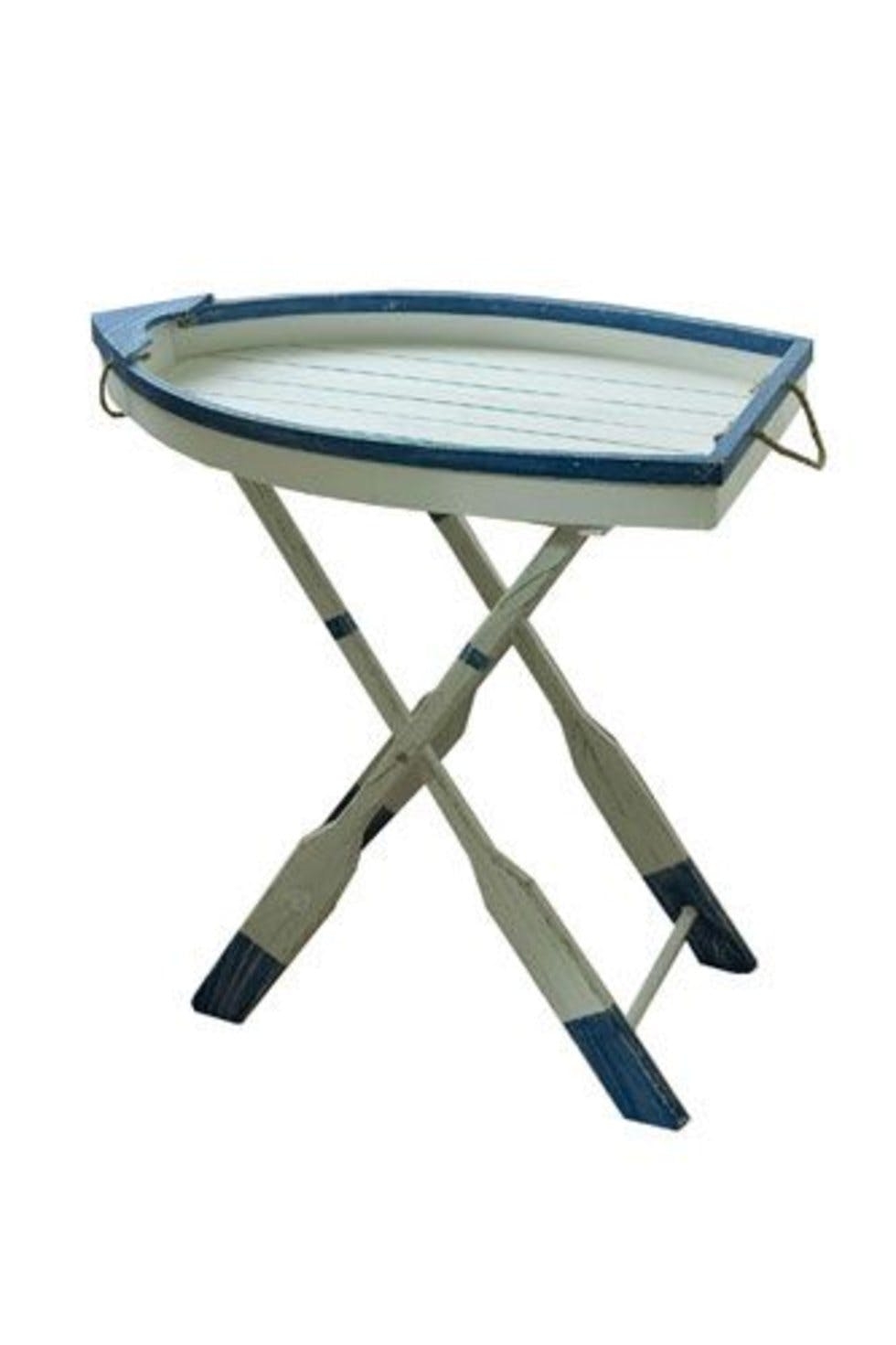 Nautical Themed Wooden Boat Tray Side Folding Table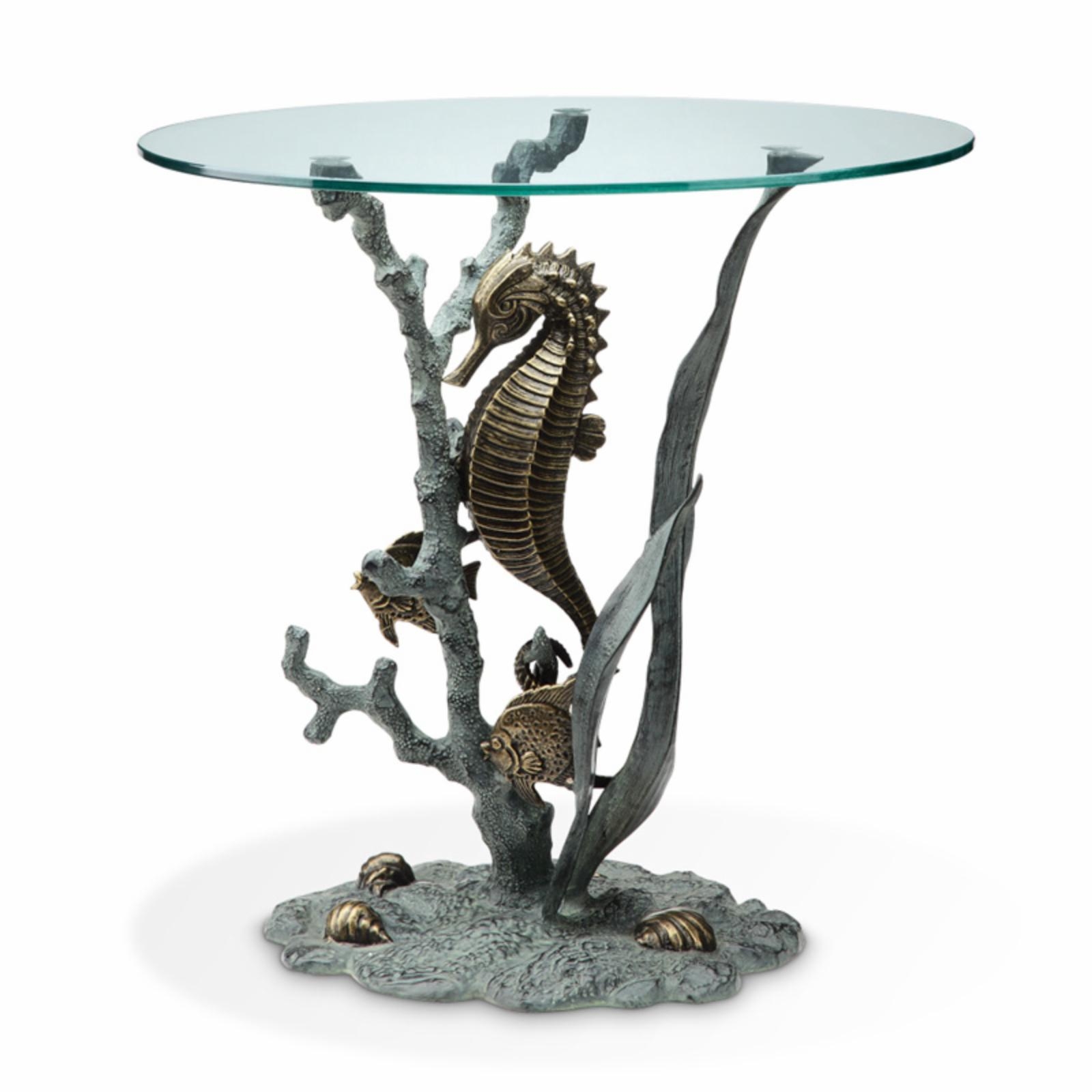 Beauty Of The Sea Accent Glass End Table Ocean Coastal Nautical Mermaid
In case of this outstanding end table, your guest will be stunned in a second. The base uses a gorgeous, nautical theme with fish and a seahorse swimming around intricate seaweeds. The top is round and made of clear glass.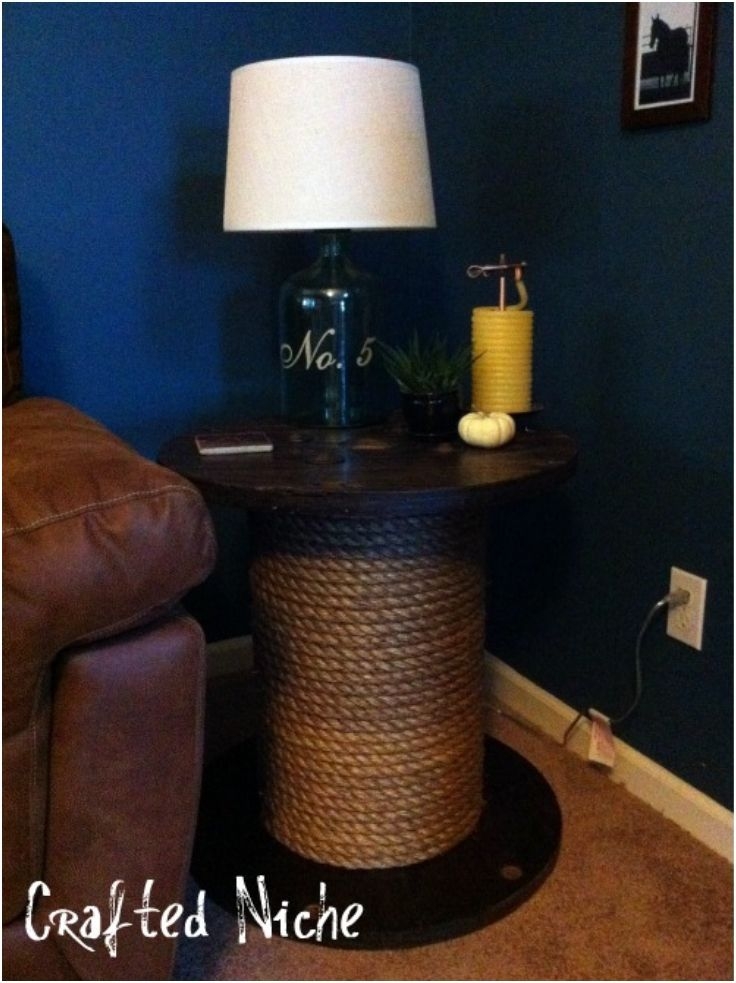 A cool innovative end table in the form of a capstan or a large cotton reel. It's of wooden materials finished in browns. It's composed of a round foot, a thick upright column (entirely wrapped with a rope in light brown shades) and a round top.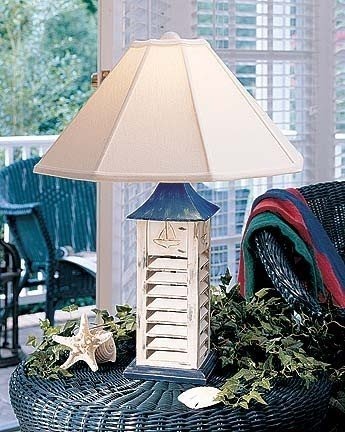 A cool contemporary side table crafted of driftwood with a beautiful finish in mid browns. It features a semi-round frame with a thick semi-column in the middle, has a top, 2 shelves under it and a bit recessed toe-kick.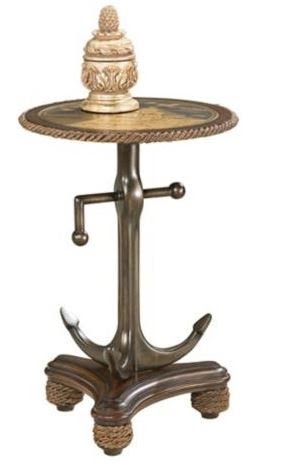 Nautical End Table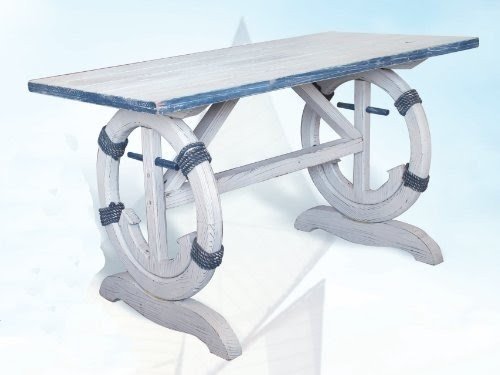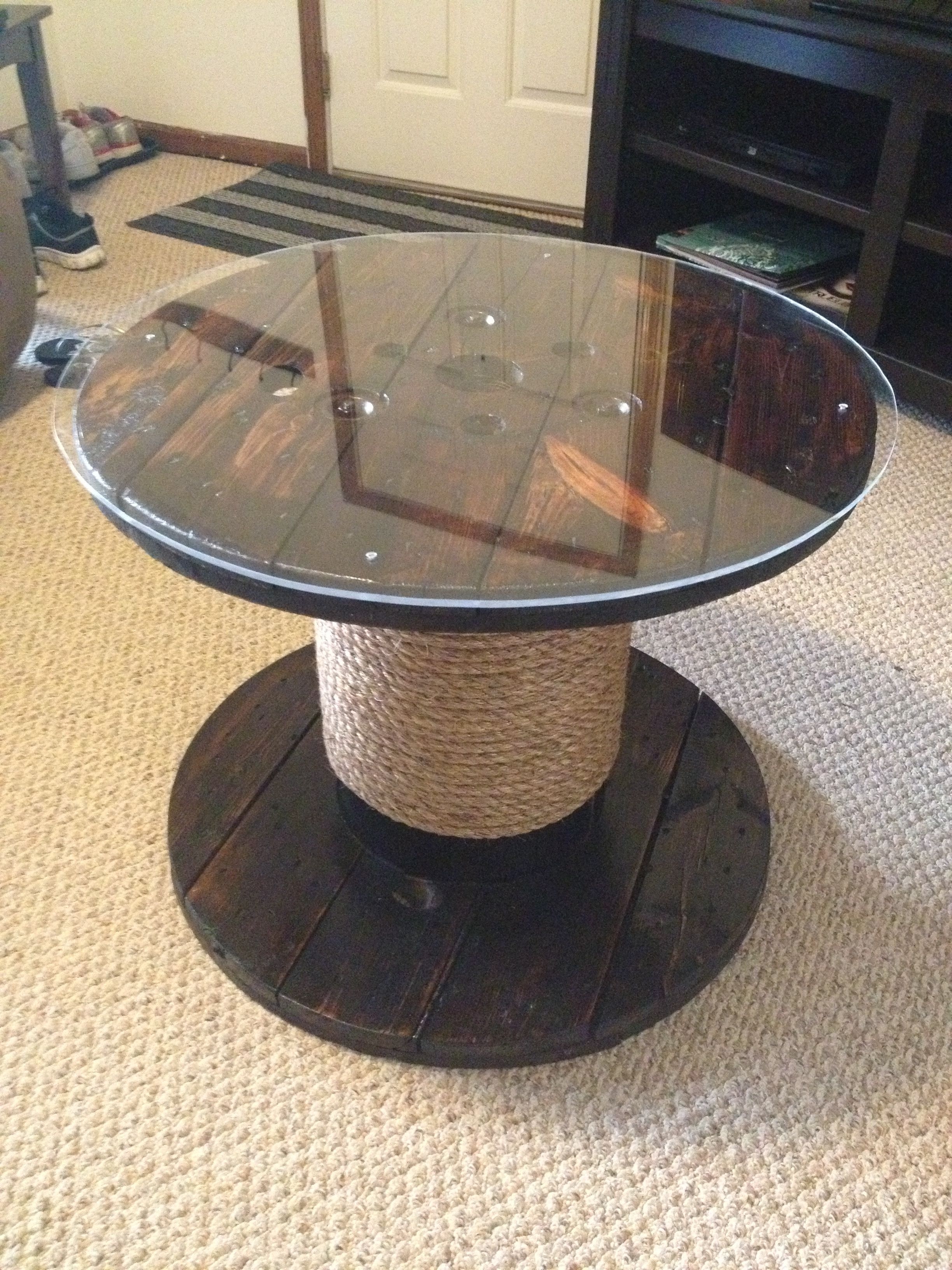 This impressive table is a beautiful combination of a wooden base with a cord ornament and a glass top. The whole made in the seaside style is impressive and beautifully presented in every interior.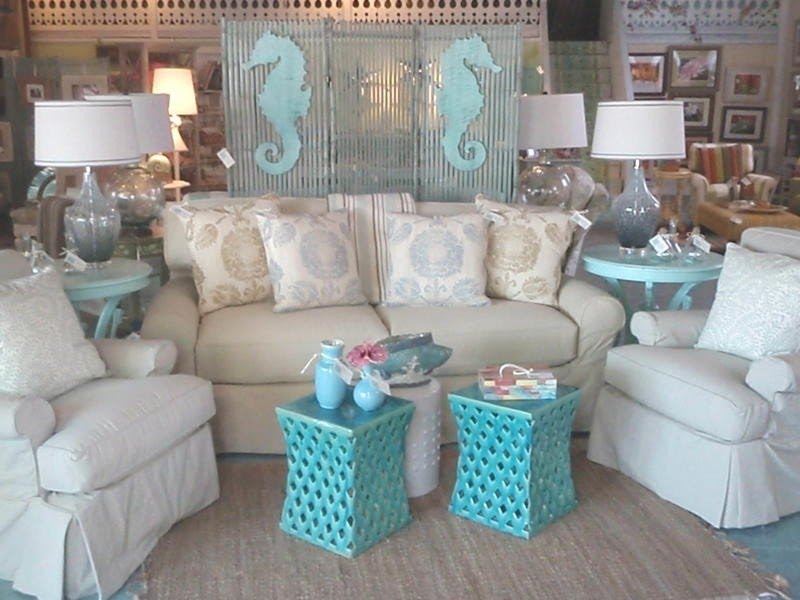 This set of nautical end table enchants with its fabulous, sky blue, openwork construction. The pair can be a vibrant accent in any soft-toned, traditional interior, adding a bit of an eclectic appeal.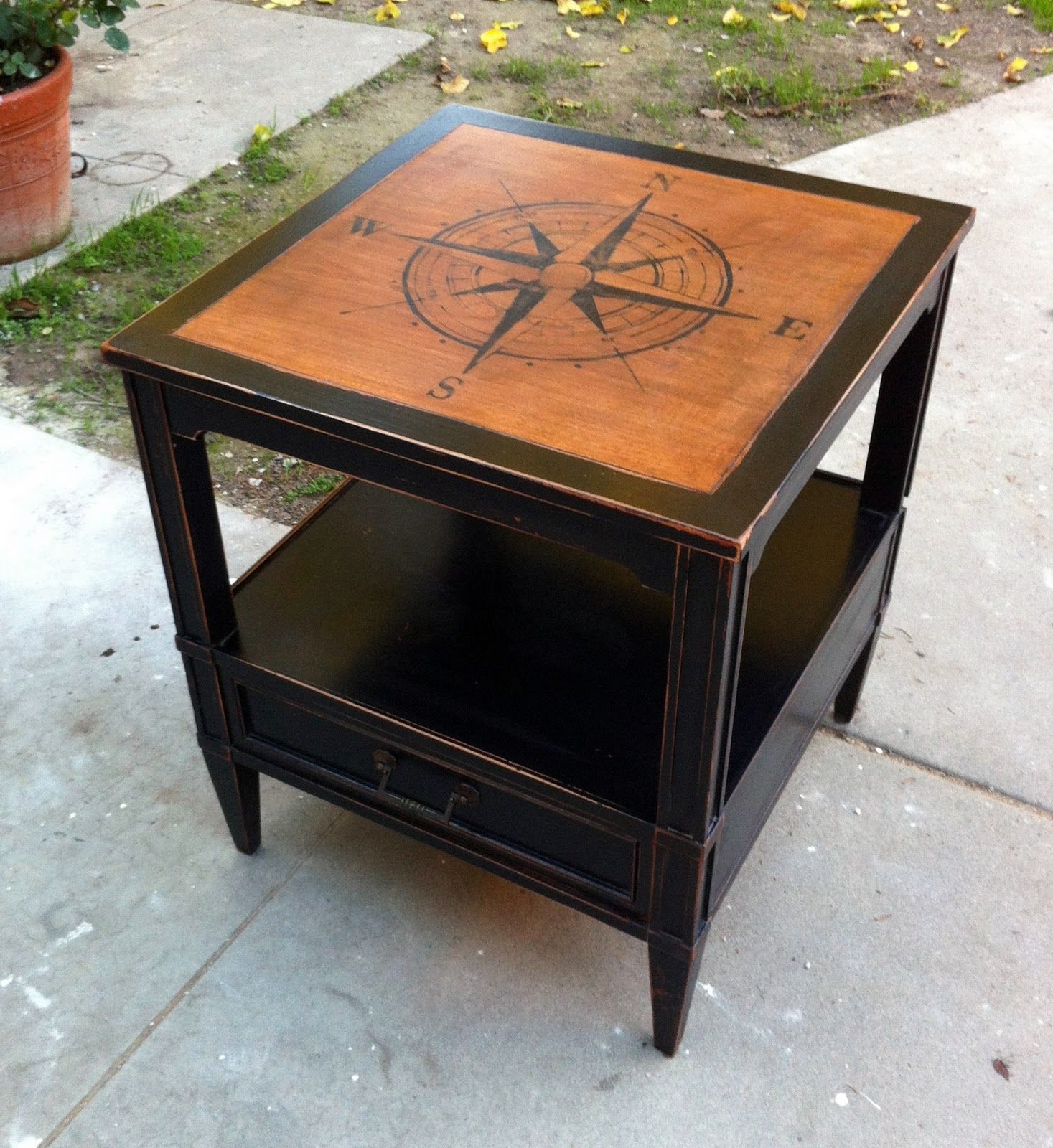 Stylish end table with compass theme on the top. Construction is made of wood in two shades. Base is fitted with open shelf for storing books, magazines and others needed items.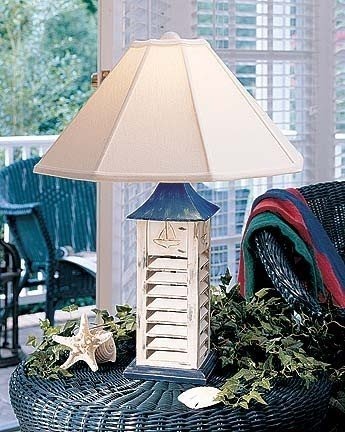 For the lamp and end table I want to make, white with blue base and top, sweet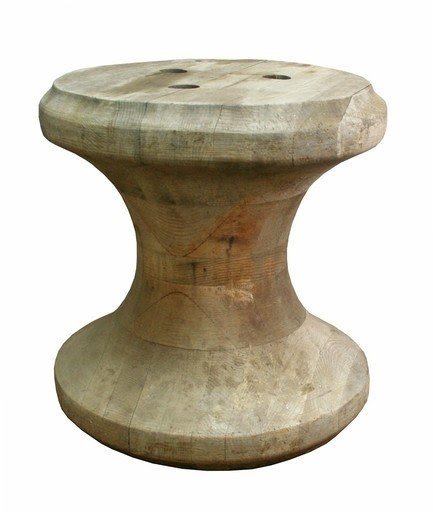 Home / Sold / Nautical Spool Side Table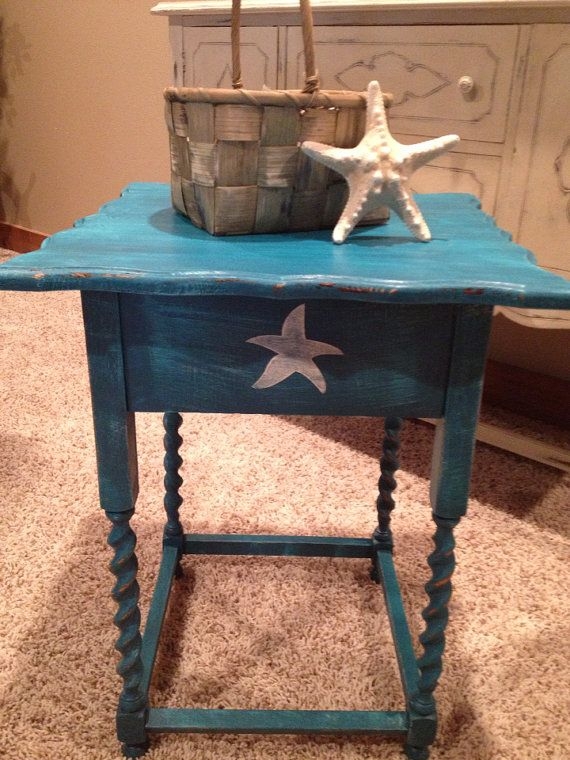 Beautiful Antique Side Corner End Table Hand Painted Dark Turquoise With Starfish Nautical Cottage Chic Shabby Beach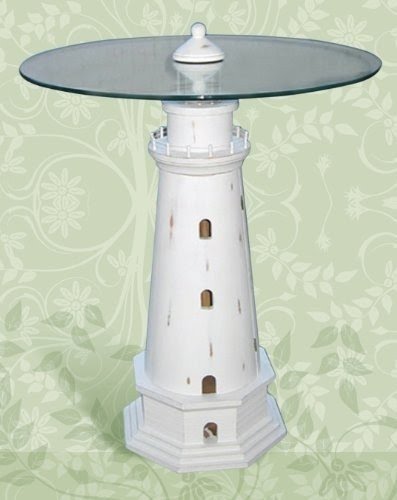 Nautical design for a funky and unique coffee table made with a round, glass top. The frame of the piece is made out of white-painted wood and is meant to resemble a lighthouse, which gives it an unusual, decorative look.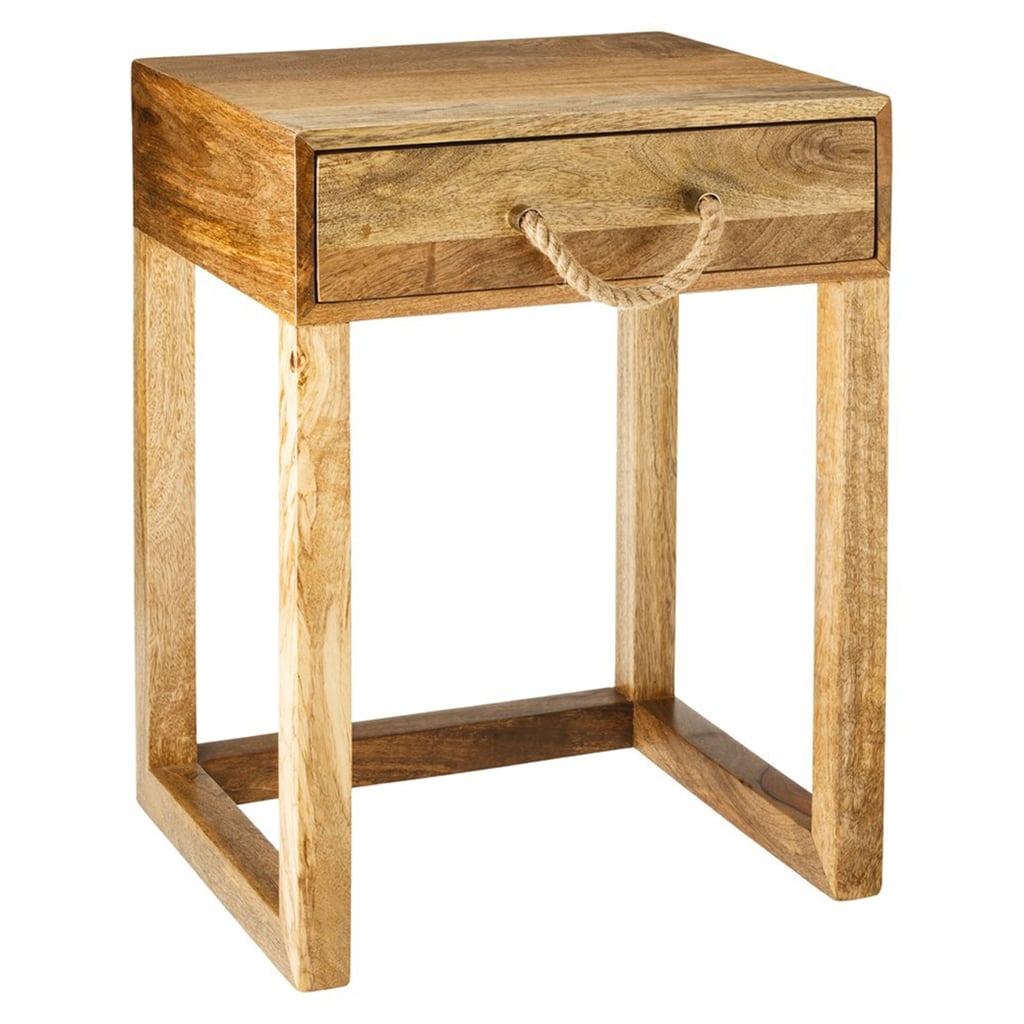 ... / Living / Coffee & Accent Tables / Side Tables & Accent Tables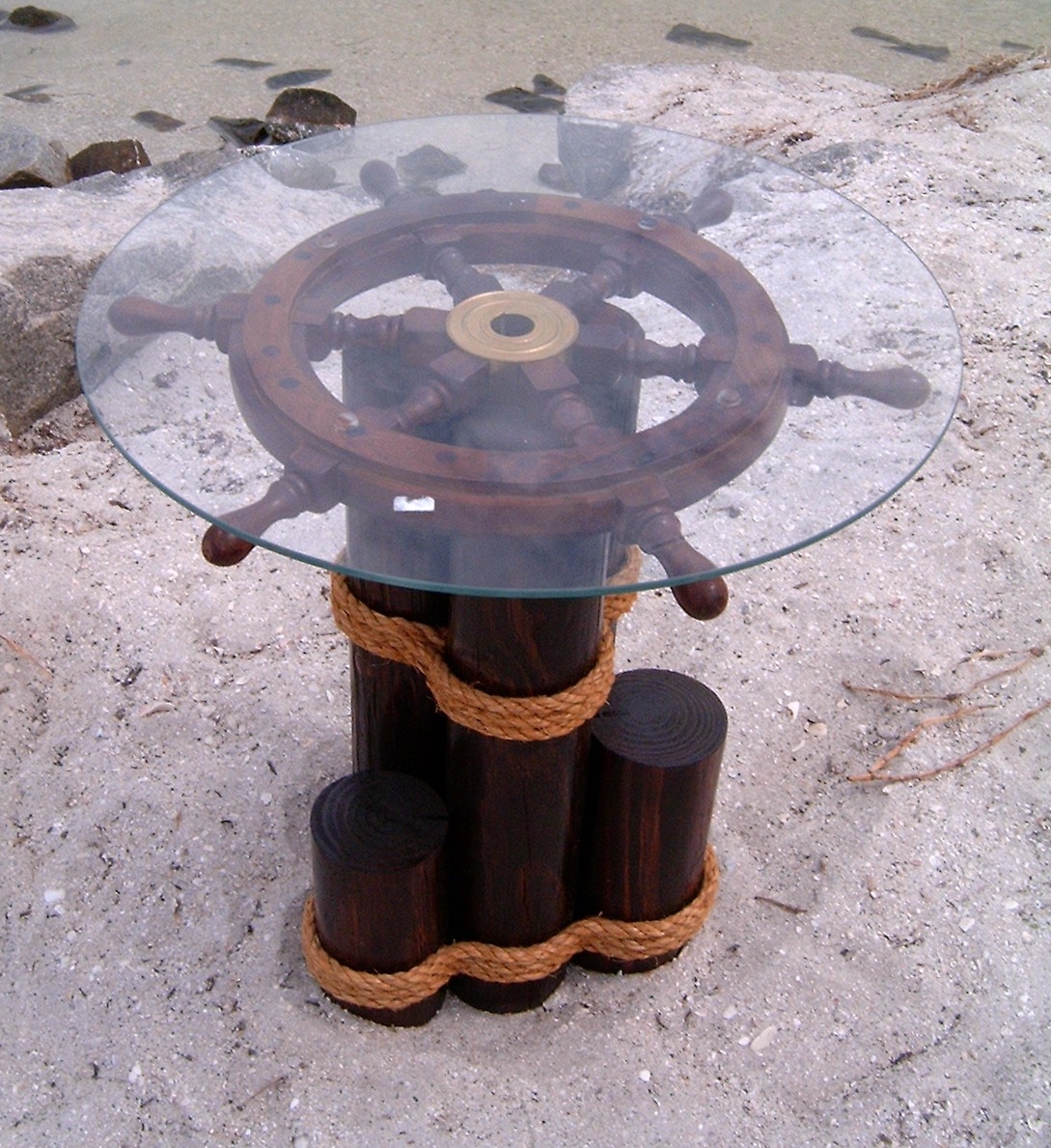 OK, what could be a more appropriate motif for a nautical decor than a ship wheel? Surprisingly, here this seafaring element provides a foundation (together with some hardwood blocks) of an end table, or coffee table with round glass top.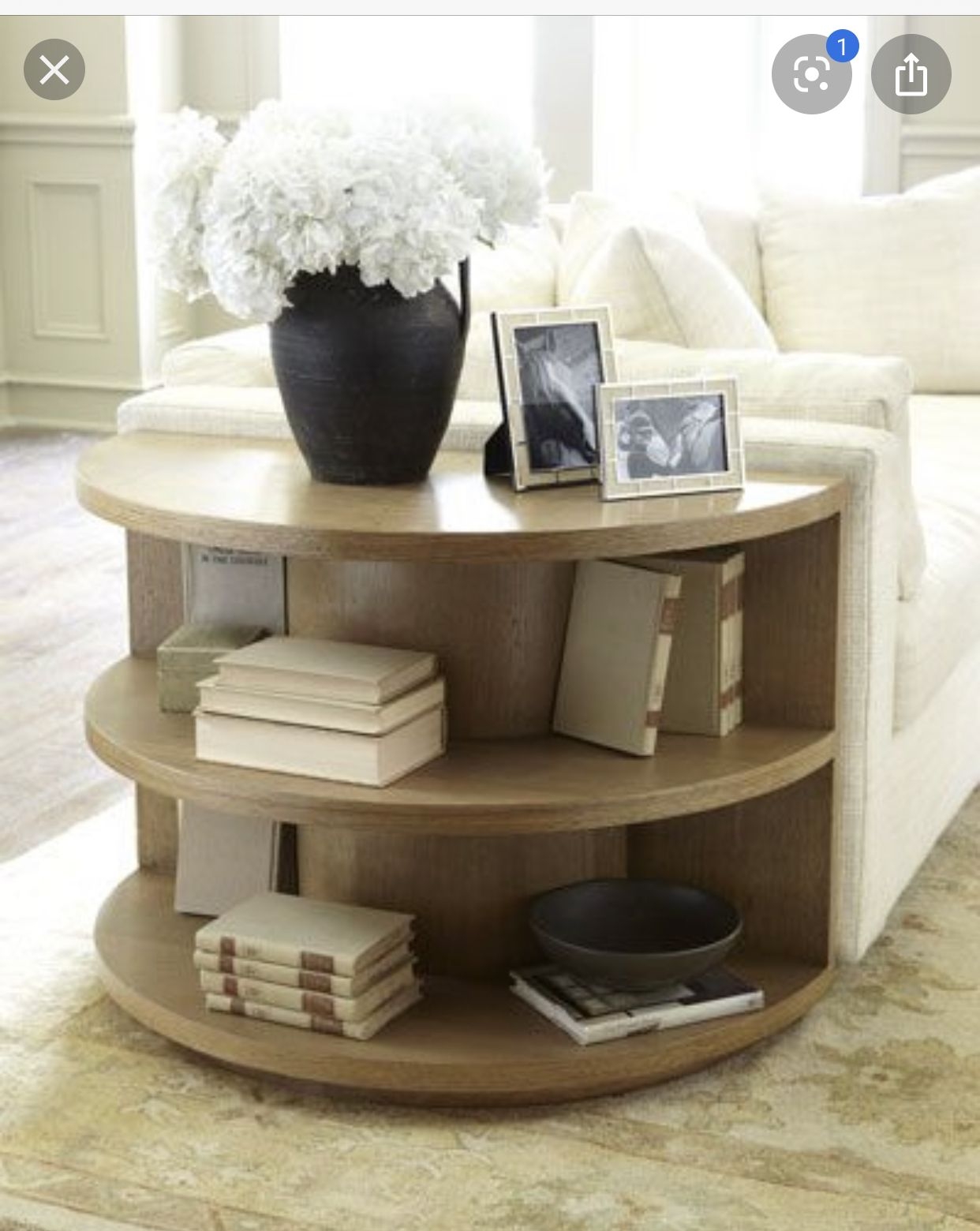 Ralph Lauren Home Driftwood End Table on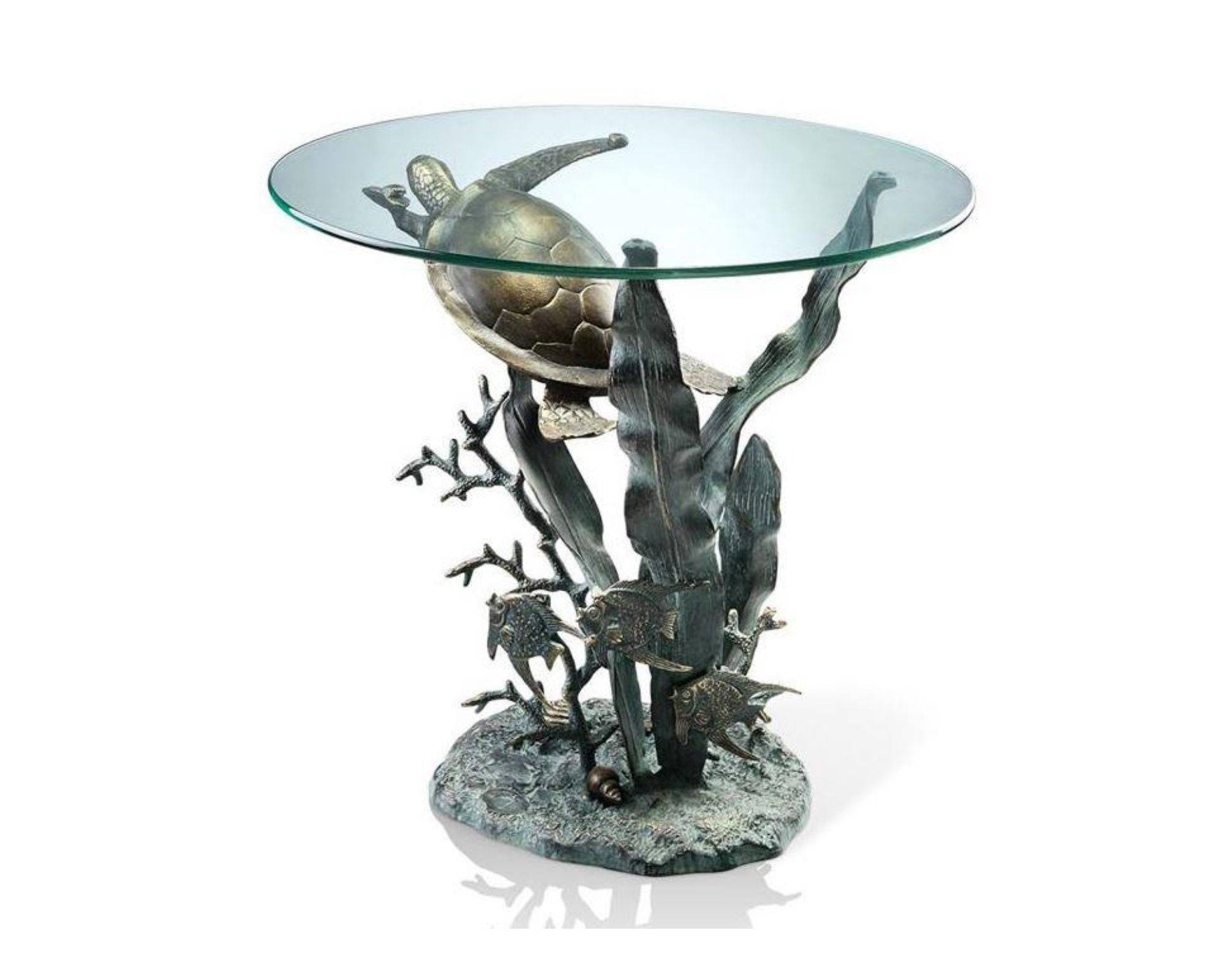 Spi Home Sea Turtle Table
This product is a high quality table that features a solid and decorative round top made of glass. Its base features an interesting and stylish sea turtle base made of aluminum that is solid, but not very heavy.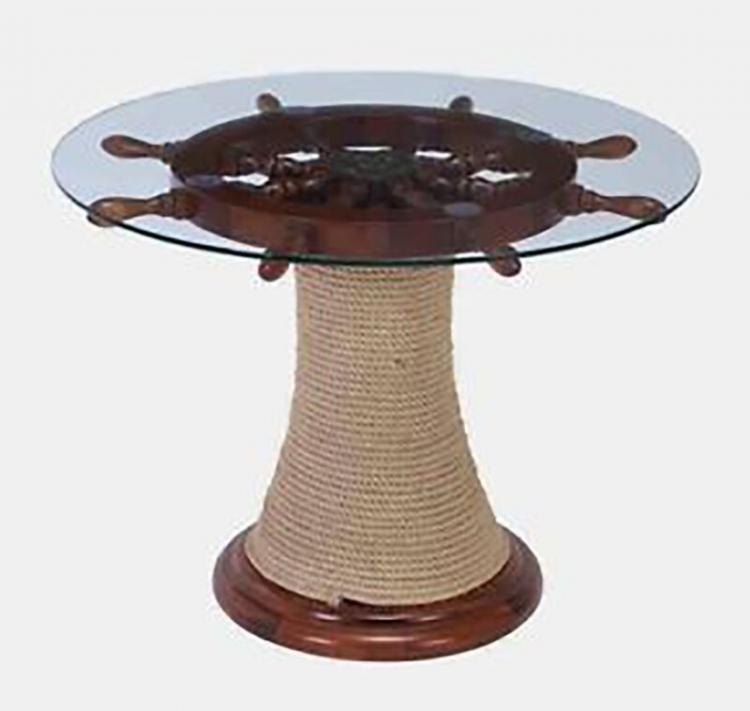 ... PALM Accent Glass End Table Ocean Coastal Nautical Seashore Bahama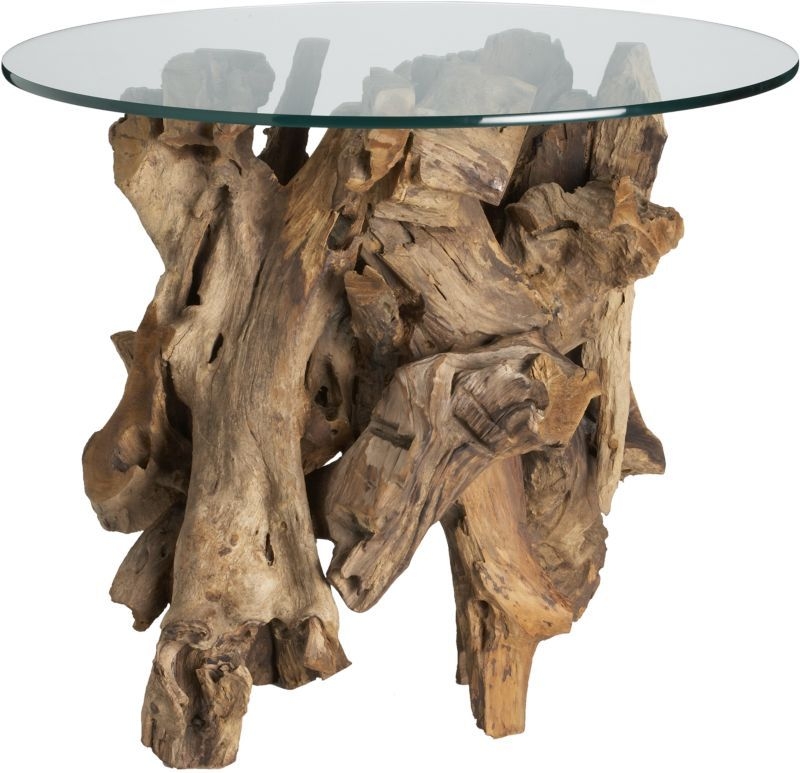 This unique creation has even more unique base - assembled of pieces of driftwood, aged by the ocean waves. The whole base is kiln-dried and artfully composed, and holds a round tabletop, designed of clear glass; forming a spectacular coffee table.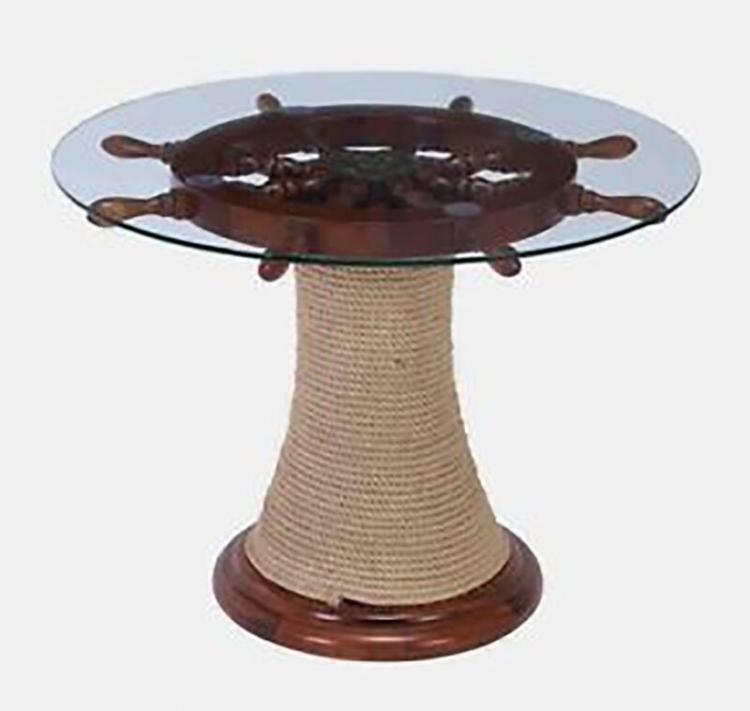 ... -glass-TABLE-w-Ships-Rope-Winding-base-Nautical-Furniture-end-side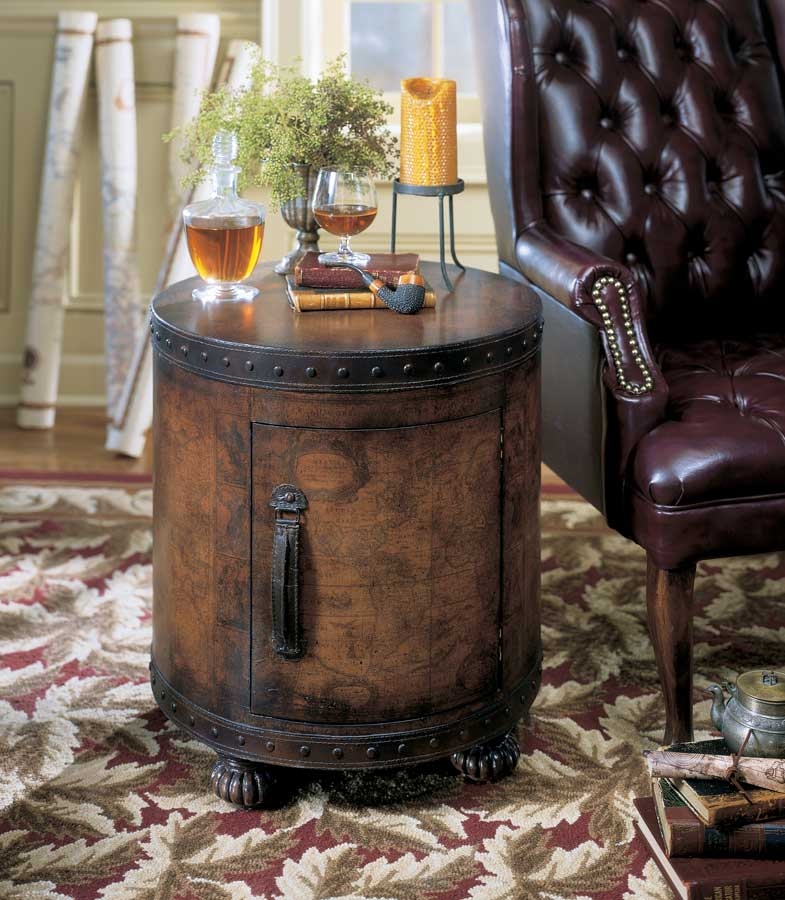 Butler Heritage Side Duffle Table With Old World Map Surface
This kind of element is a very attractive and solid table that has got a durable wooden construction with some metal elements. The full size of this functional and decorative table is 22" H x 20" W x 20" D.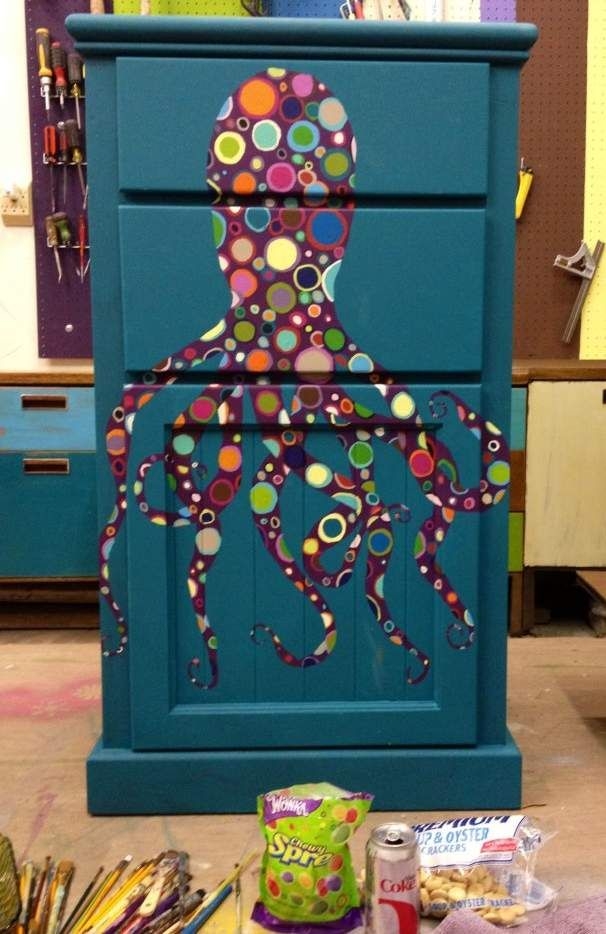 Octopus painted side table.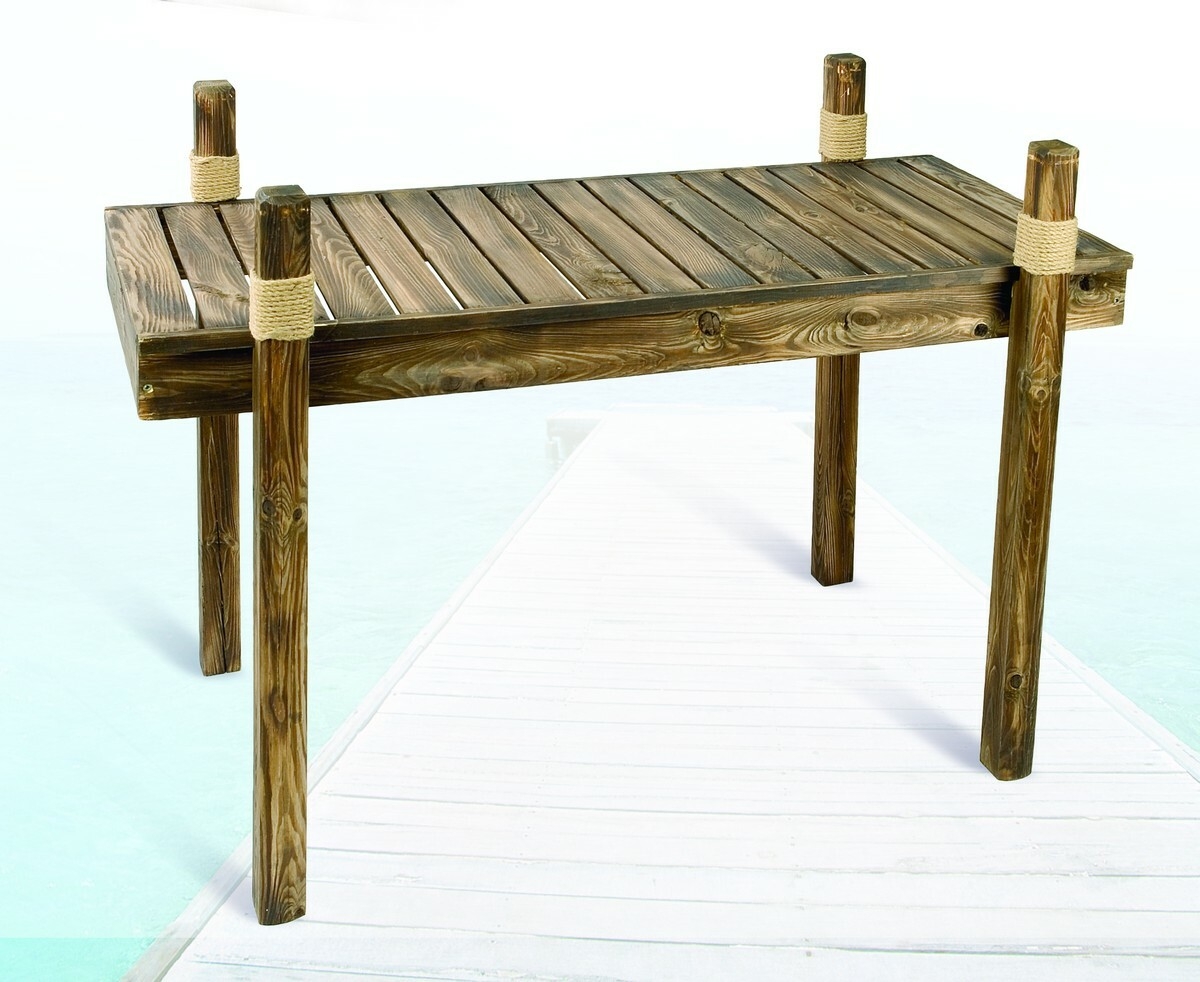 It is a fantastic accent table that has got a solid wood construction, nautical theme, dock theme. You will be impressed how beautiful it looks in your living room area. You need to have it.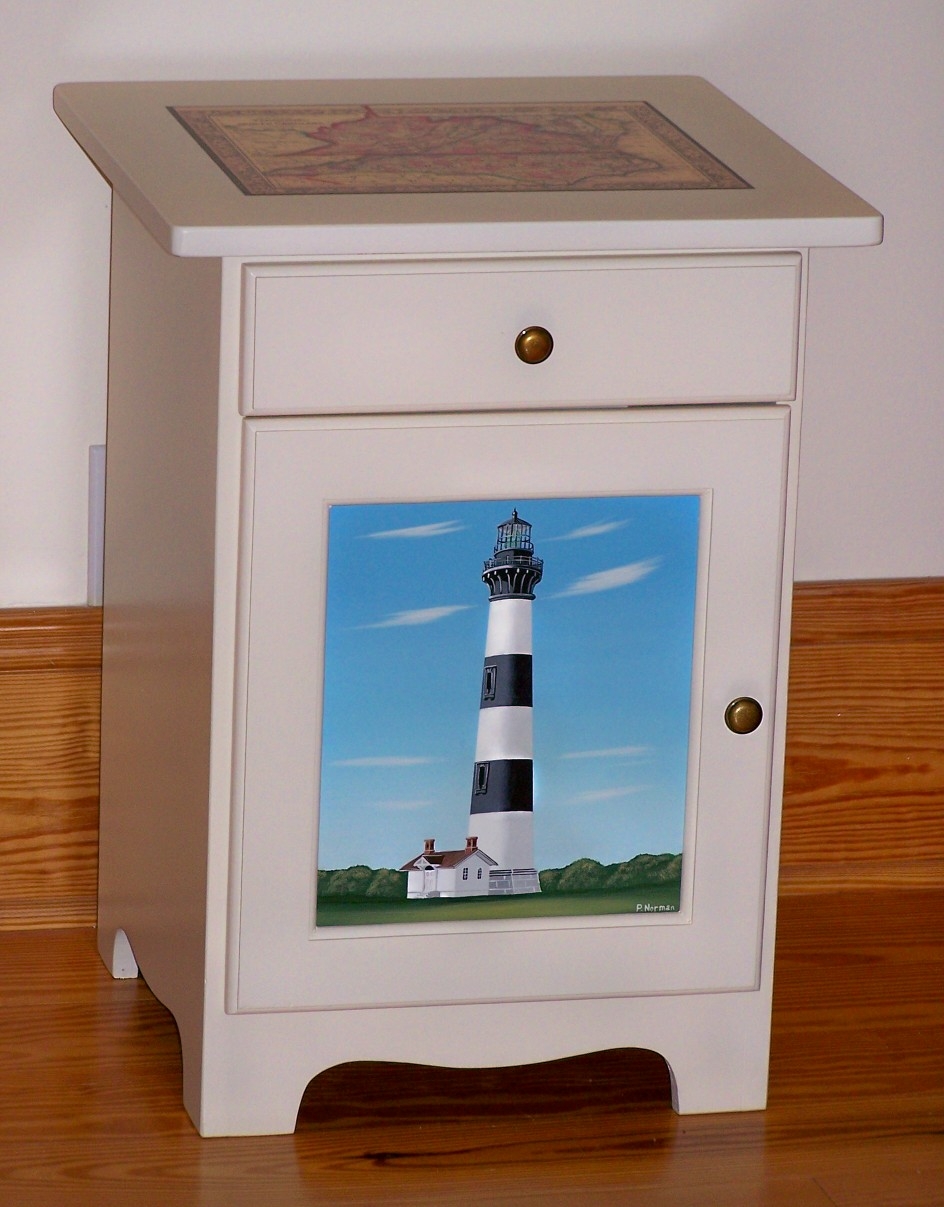 nautical end table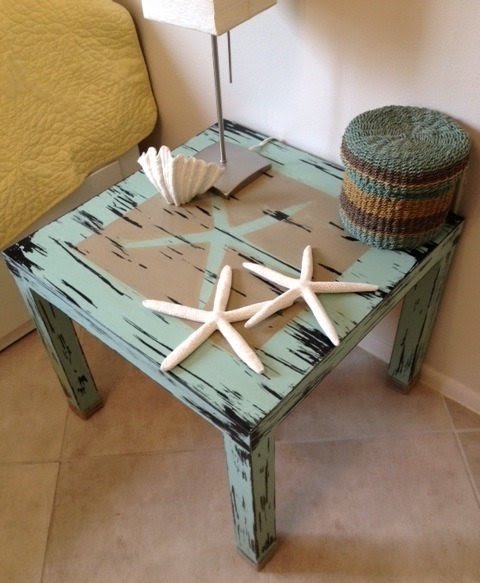 Shabby Chic End Table With Twine Wrapped
Square end table with antique finish. It is completely made of wood and finished with sea theme on the top. Stylish addition to the living room, bedroom and others interiors according to taste.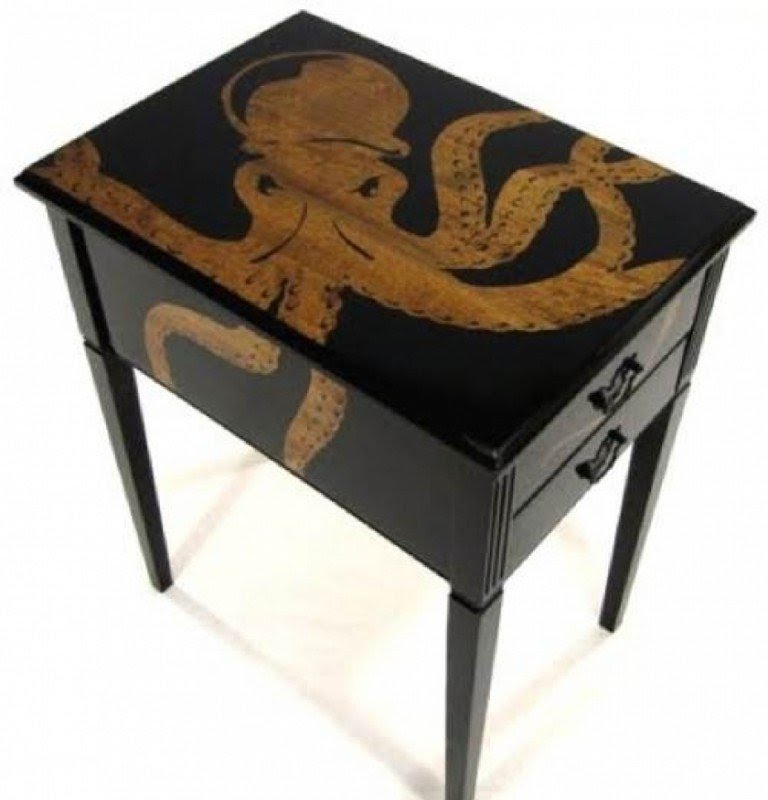 the transformation of this piece is humorously described as follows: Find a solidly constructed antique nightstand, strip that sucker down to bare wood, draw a cool (albeit slightly angry) octopus and transfer to a Frisket. Then stain, mask, paint, lacque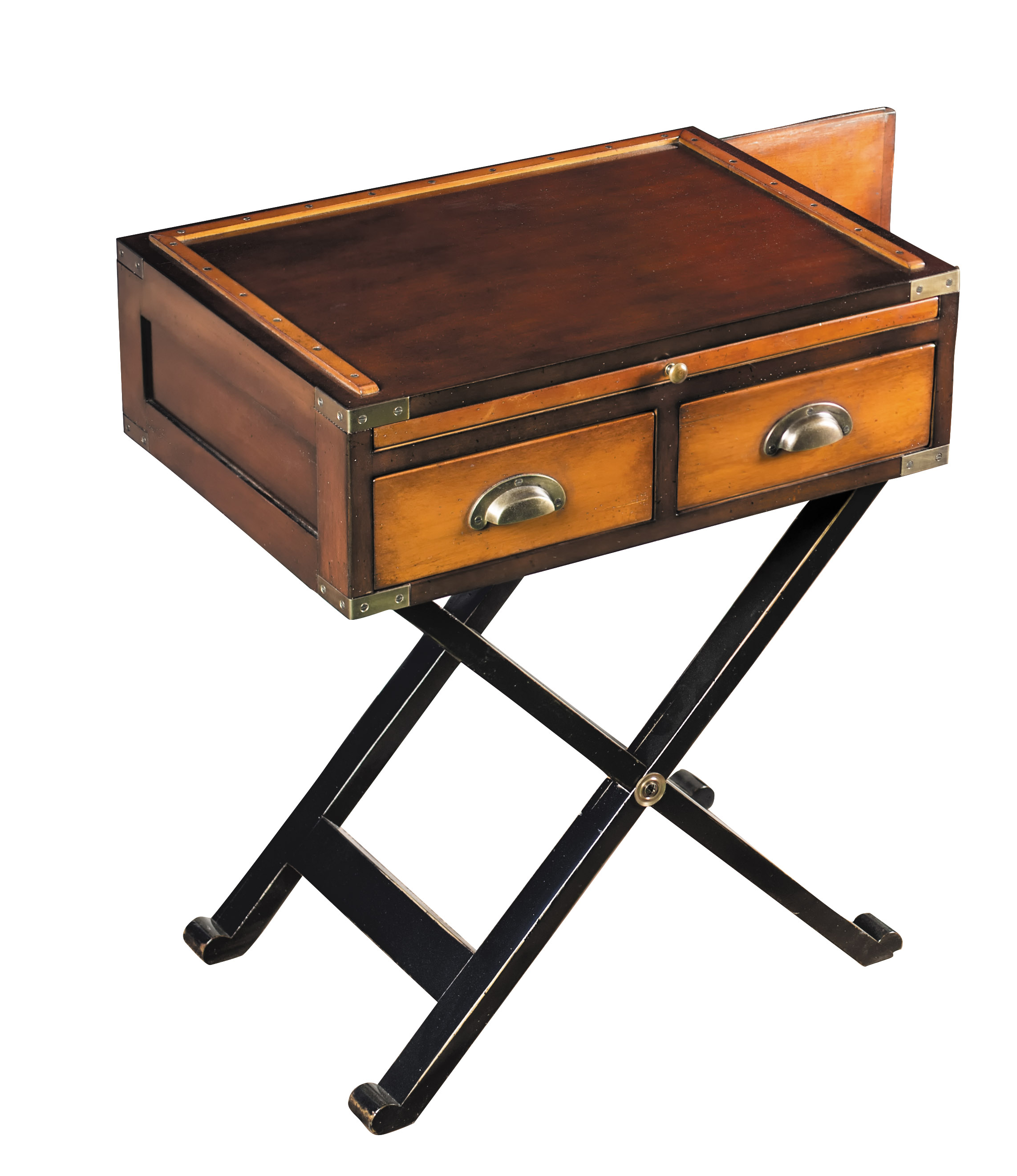 ... MF121, Nautical Military Campaign End Table Antiqued Honey #Nautical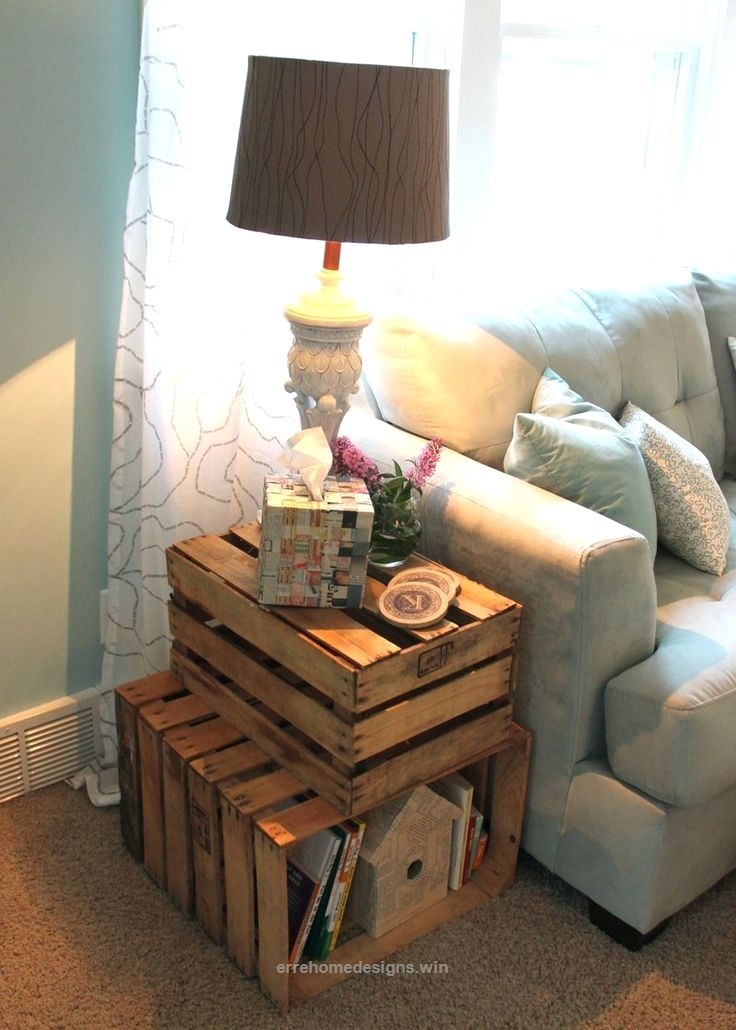 DIY stacked wooden boxes end table keeps nautical theme going in this relaxation setting. Light blue sofa padding brings calm sea waves to mind. Warm light provided by table lamp does the rest of the talking.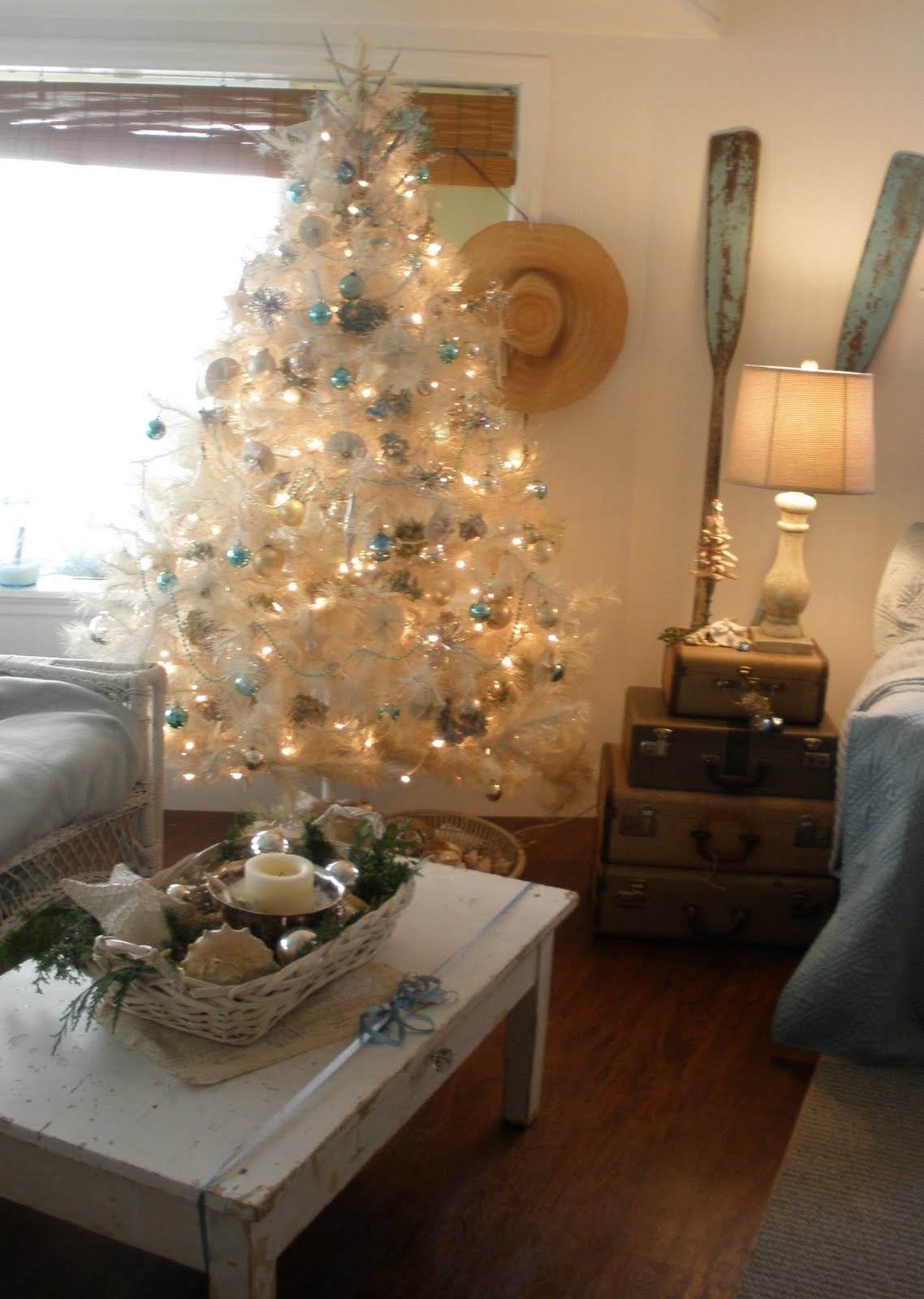 If I actually owened a Beach House and then vacation there during Christmas :o) Beach / Nautical Christmas style.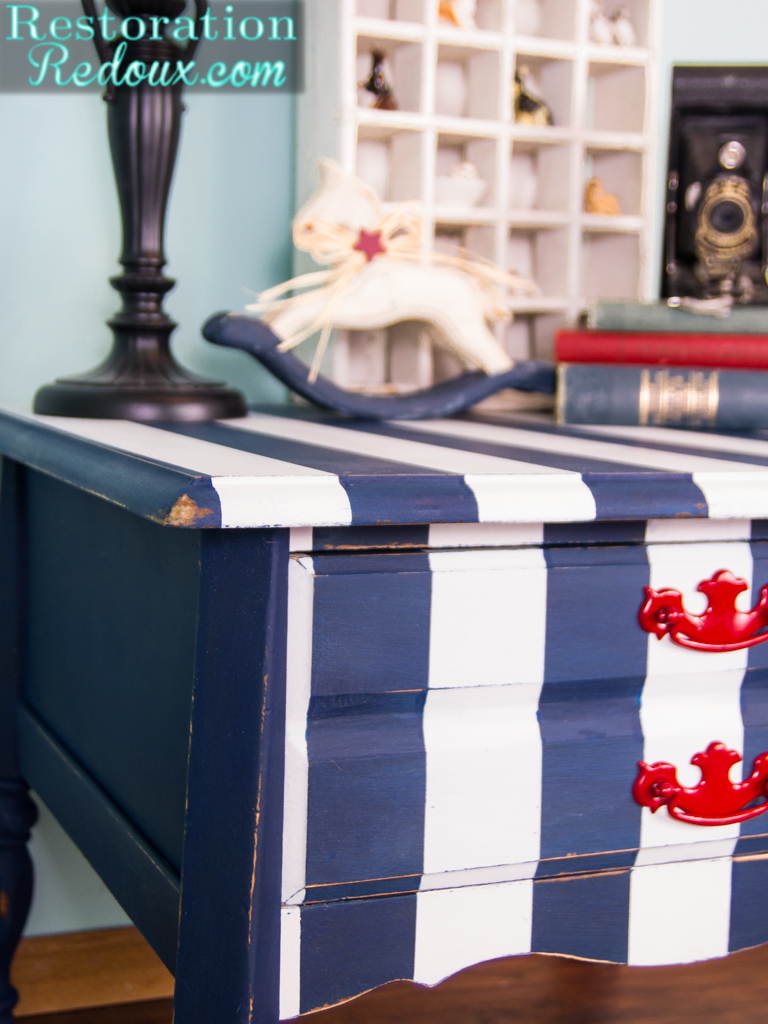 Nautical Red-White-Blue-Side-Table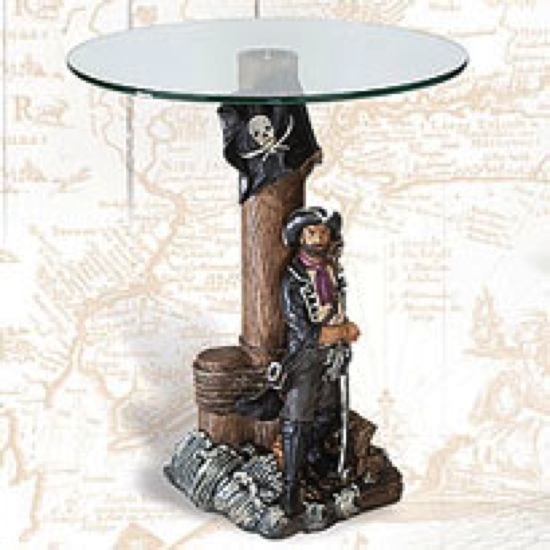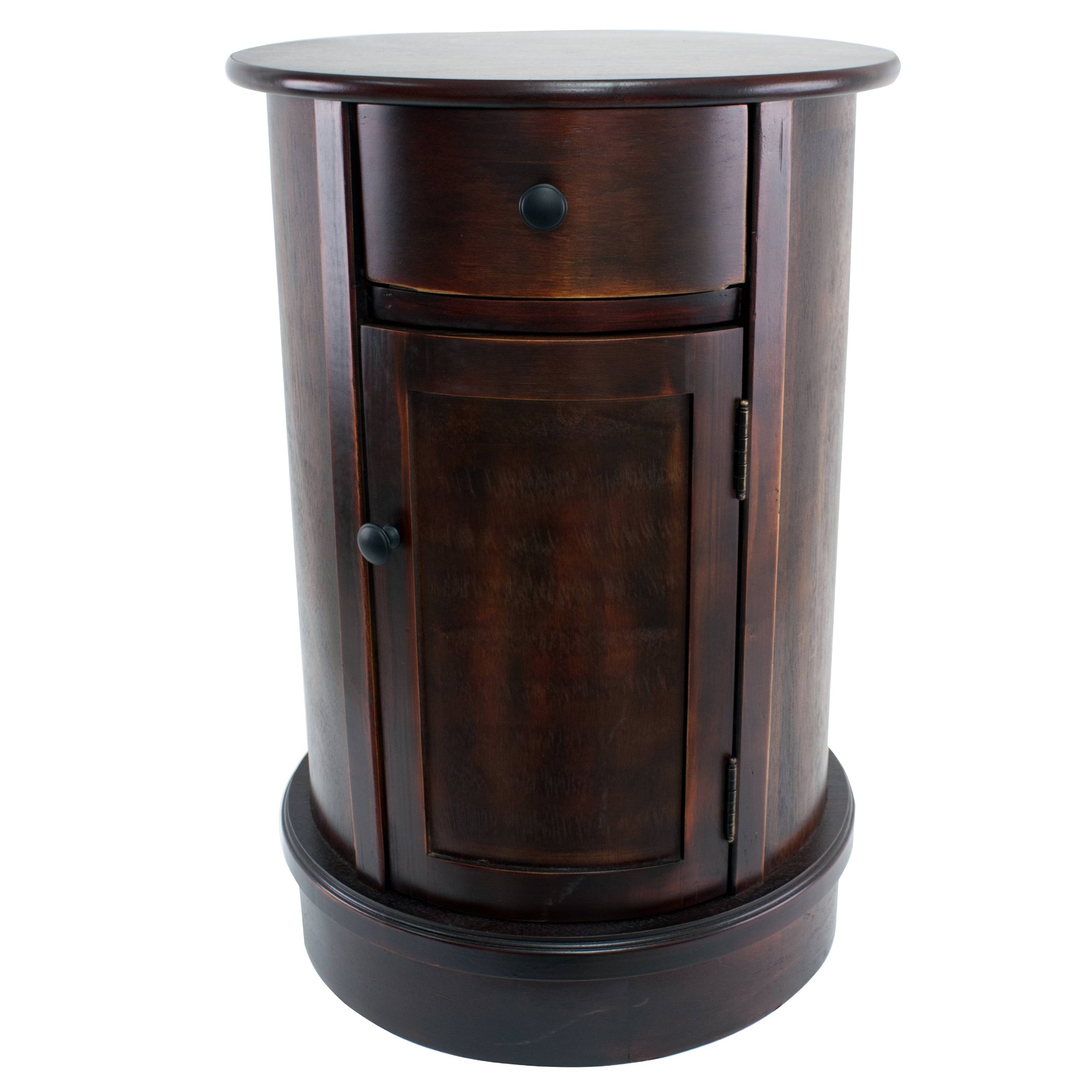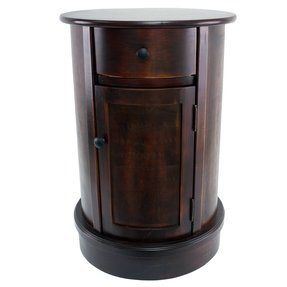 End Table
Functional and easy to fit in any possible corner of your interior, this beautifully crafted end table easily compliments the decor and lets you add some more style. It offers one, spacious drawer and the unique round design.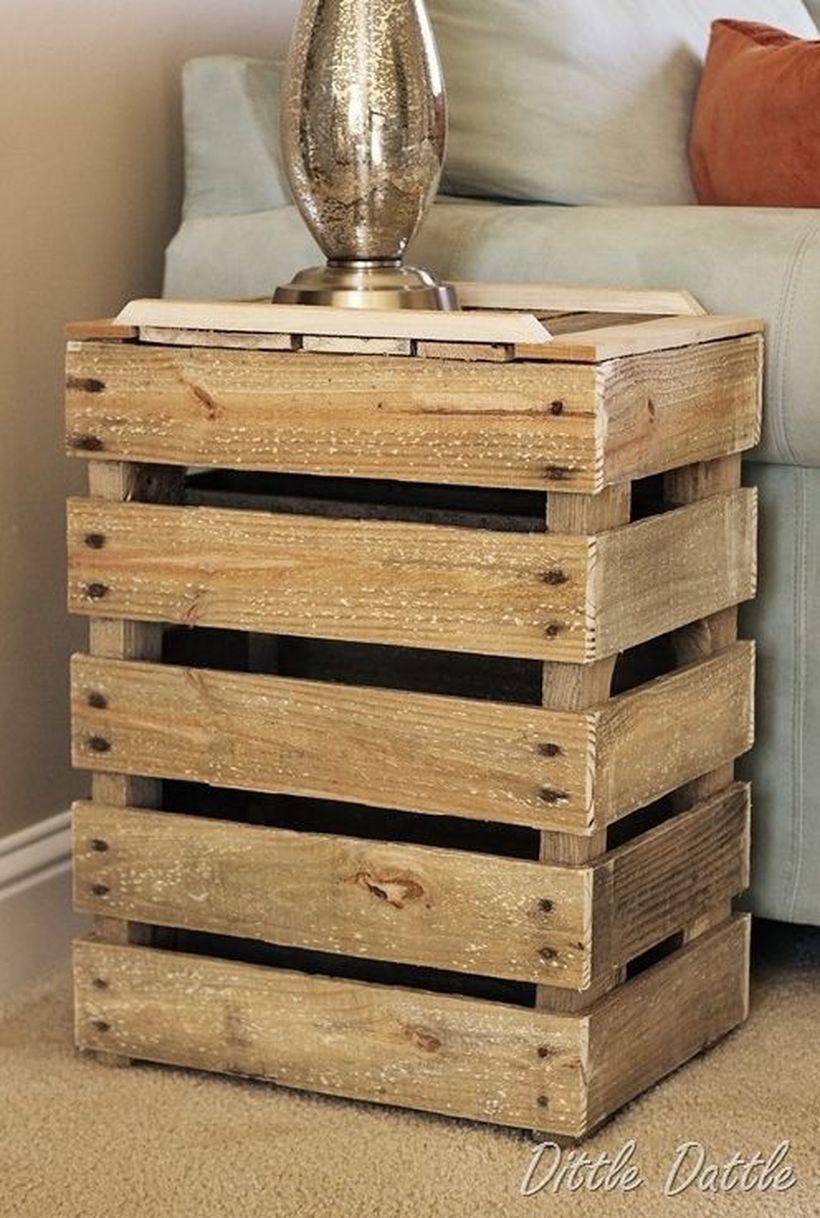 Pallet-Side-Table---Crate-side-Table Modern walnut side table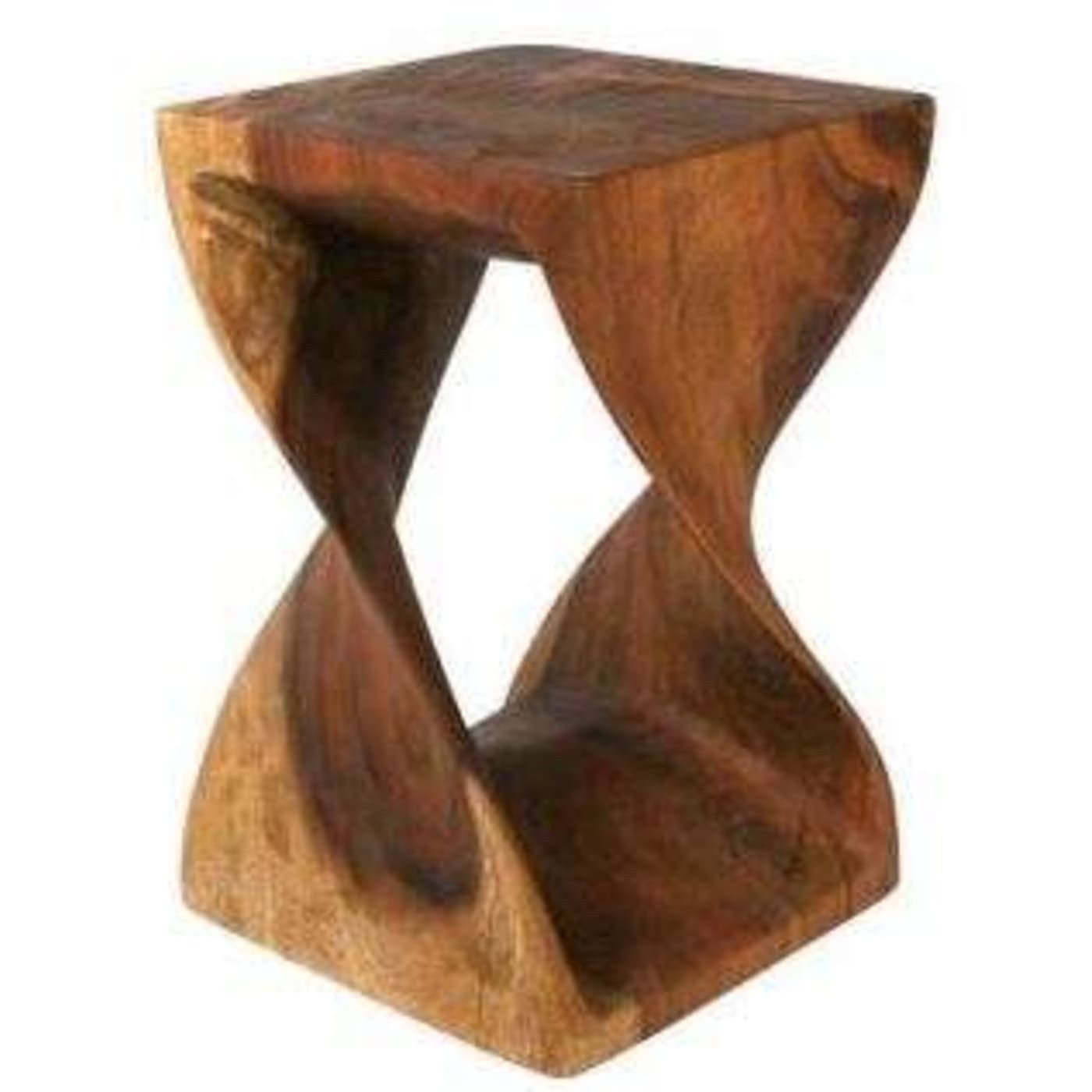 Twist End Table
This is a very interesting and attractive end table. He has twisted legs, which are indeed his only decoration, but very original. The table is ideal for rustic interior. Especcially it is perfect for a livingroom.