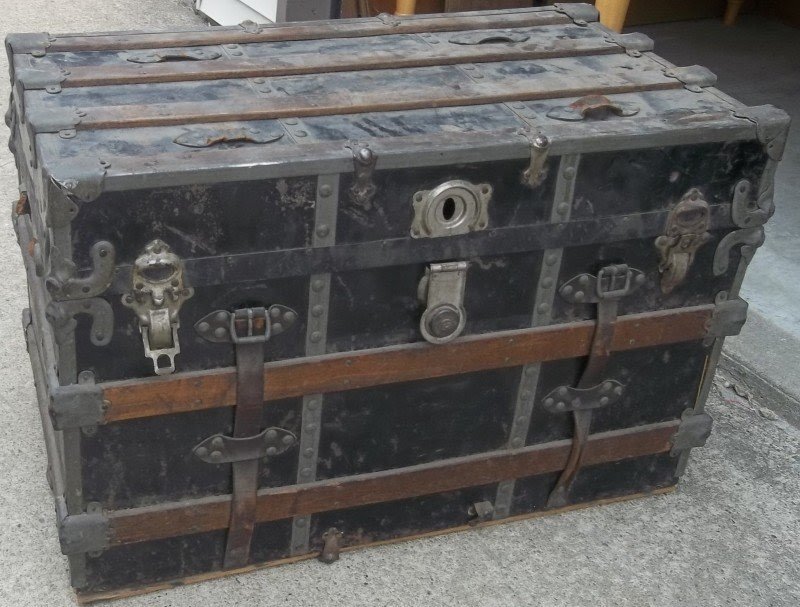 An antique steamer trunk makes interesting storage for all sorts of things, particularly bedding or special collectibles. The tough material, intended for traveling, makes a protective shell around your fine fabrics or other sorts of items that need protection.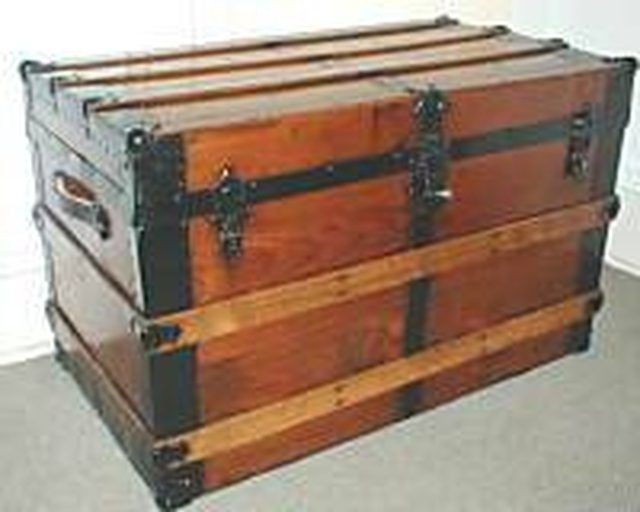 Top quality storage trunk with a compact rectangular design. The piece is made from wood but also features additional metal accents for that unique look. It's also spacious enough to cater for all your stuff and can double up as a seating bench in the bedroom as well.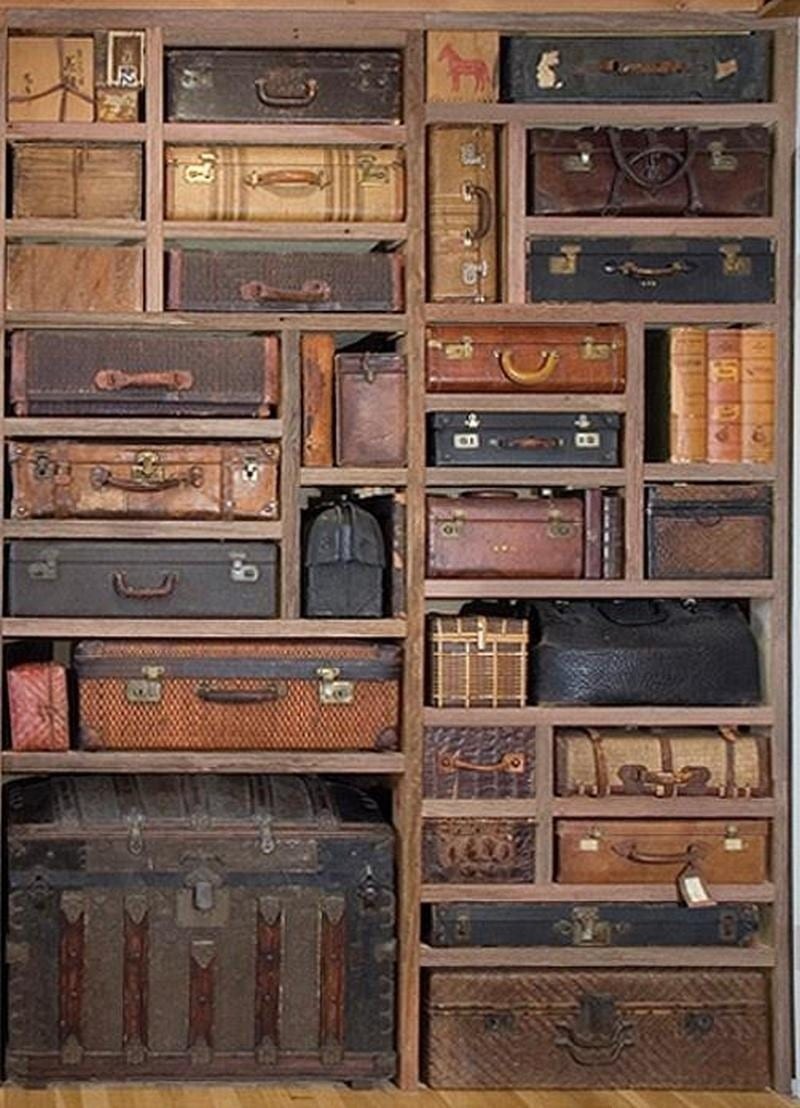 Beautiful antique trunks with that vintage charm that will compliment any farmhouse-inspired décor theme. The trunks are perfect for people looking for portable storage solutions and are available in a wide variety of neutral color tones to choose from.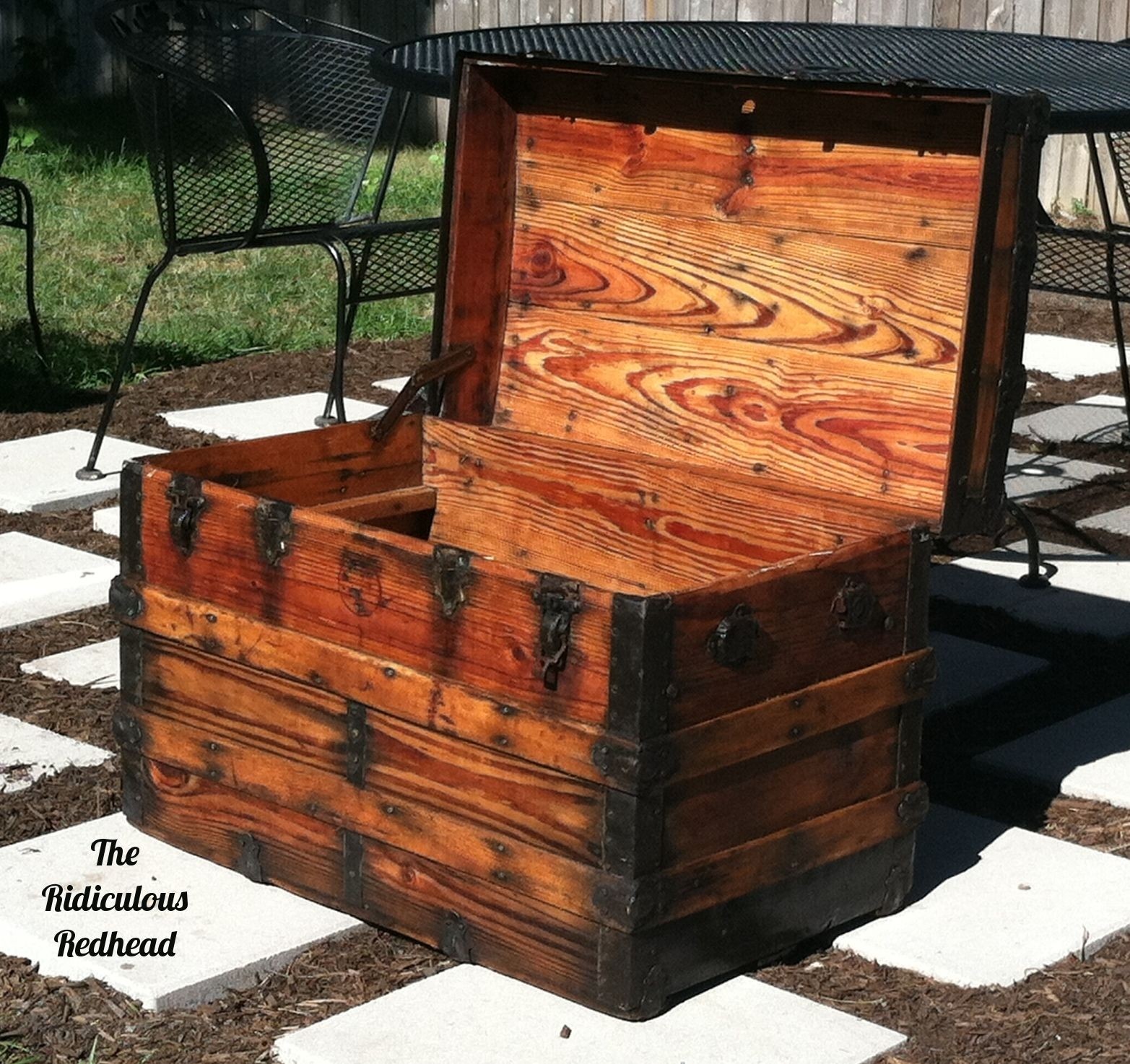 Beautiful antique trunk with a natural wood stain and a vintage look. The wooden box is accentuated with metal, finished in stunning industrial black shades. It's also huge, giving you enough storage capacity for your home.

Extra storage space with a touch of antique elegance. These trunks have a dated feel to them and with their sturdy wooden construction, embellished by equally strong metal accents, they should offer just the perfect place for your valuables.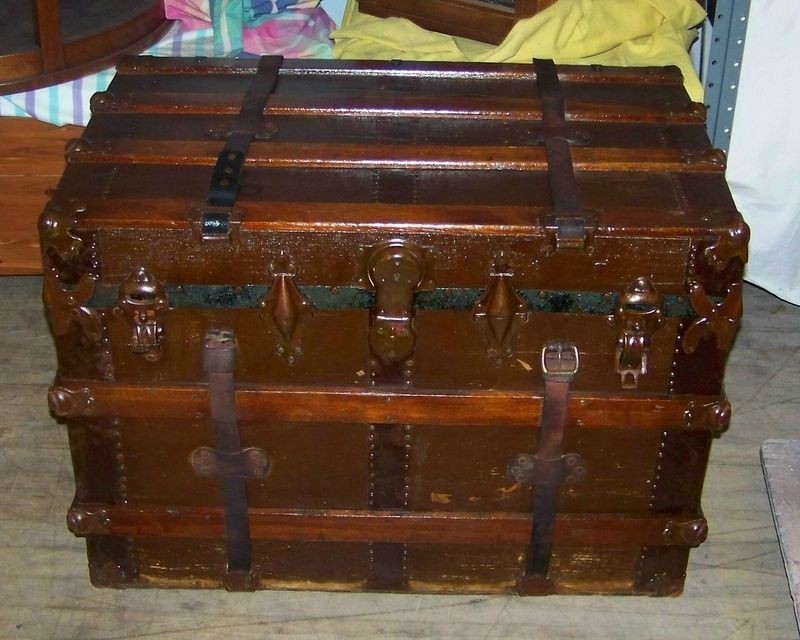 Antique_TrunkSet2 W (700x560, 302Kb)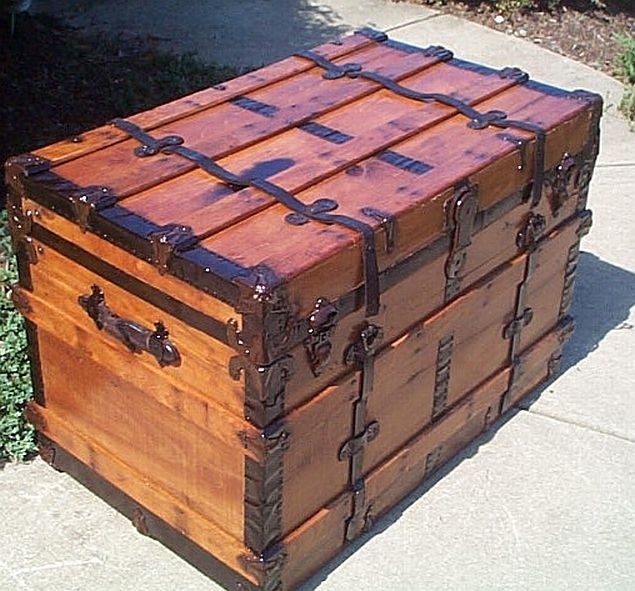 Flat Top Antique Trunk - #282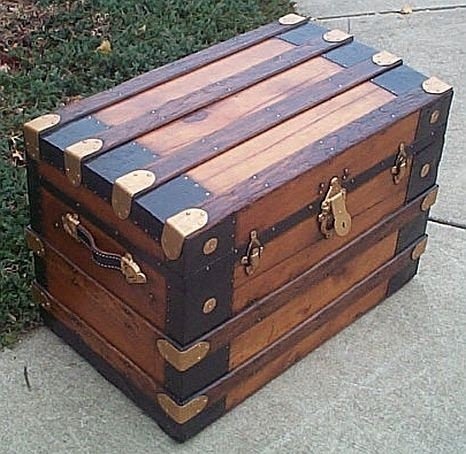 Antique Trunk #253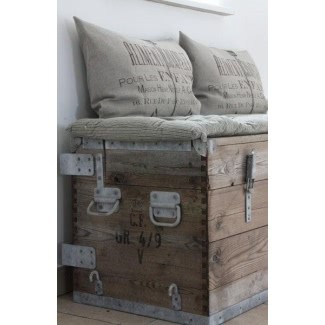 Old wooden trunks do not belong in the basement alone. You can as well turn them into fashionable furniture. This one here has been turned into a charming bench – the addition of grey, cosy pillows was a great decision.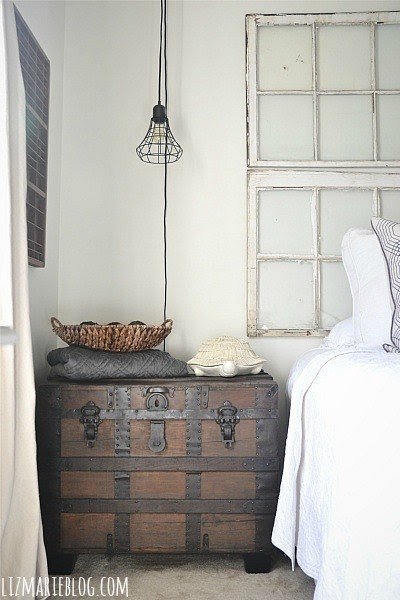 Vintage trunk as a side table... So easy & a perfect way to add a vintage touch to a bedroom!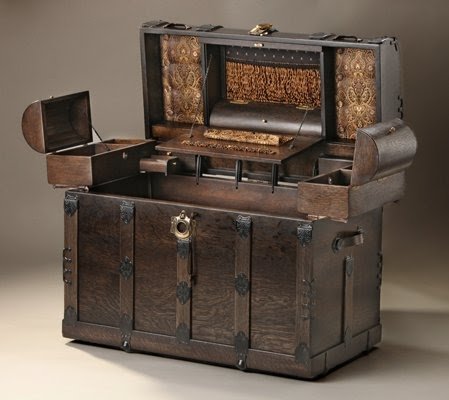 Limited edition reproduction. This trunk was designed after a trunk in the late 1870's that supposedly took its name from a ship called "The Monitor" If you turned it upside down and looked at the hull, the rounded front and rear corners formed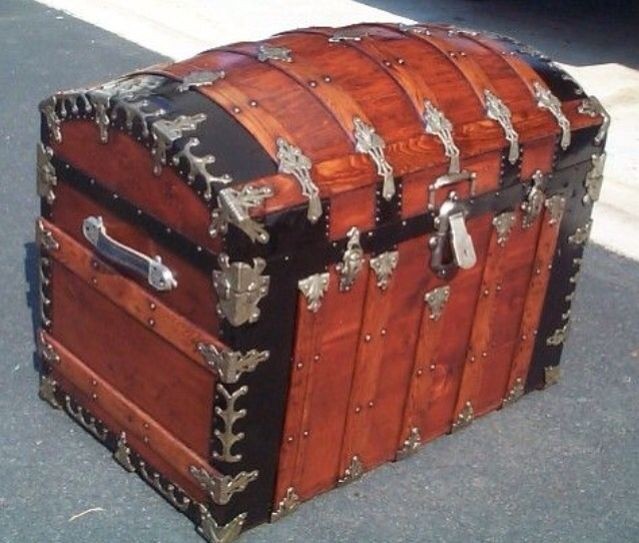 I want an old trunk like this.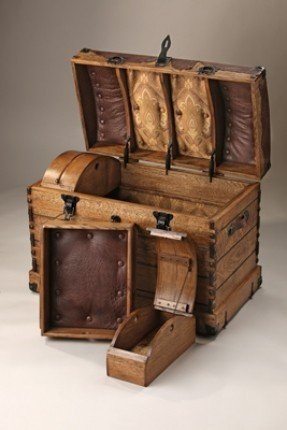 A magnificent trunk that will keepyour precious treasures well-hidden and properly secured. Designed using a steam bending wood method, the trunk oozes with antique accents, crafted of sawn white oak and equipped with a supple ostrich leather top.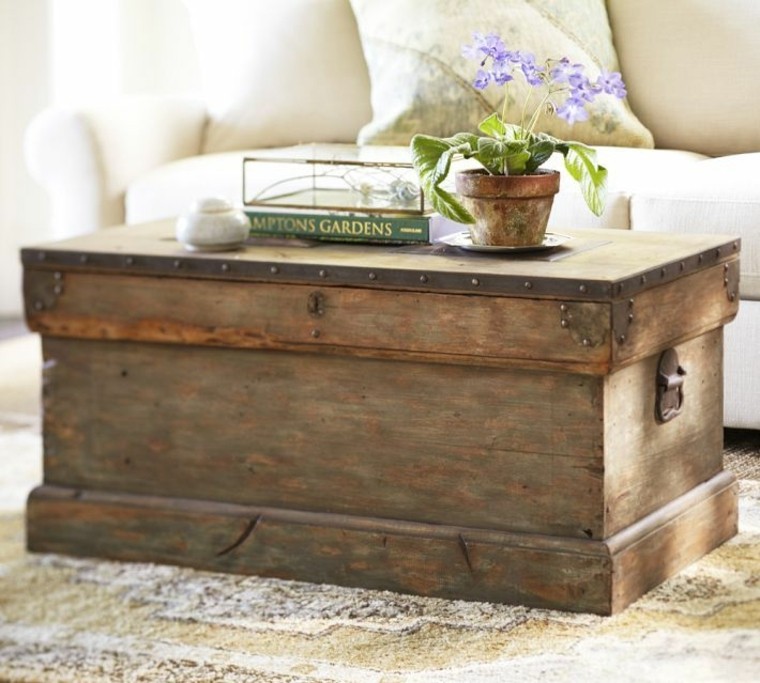 Wooden coffee table that also plays the role of a storage trunk. This element of living room decor offers a rectangular top and durable wooden construction with some metal elements. It looks very original in any design.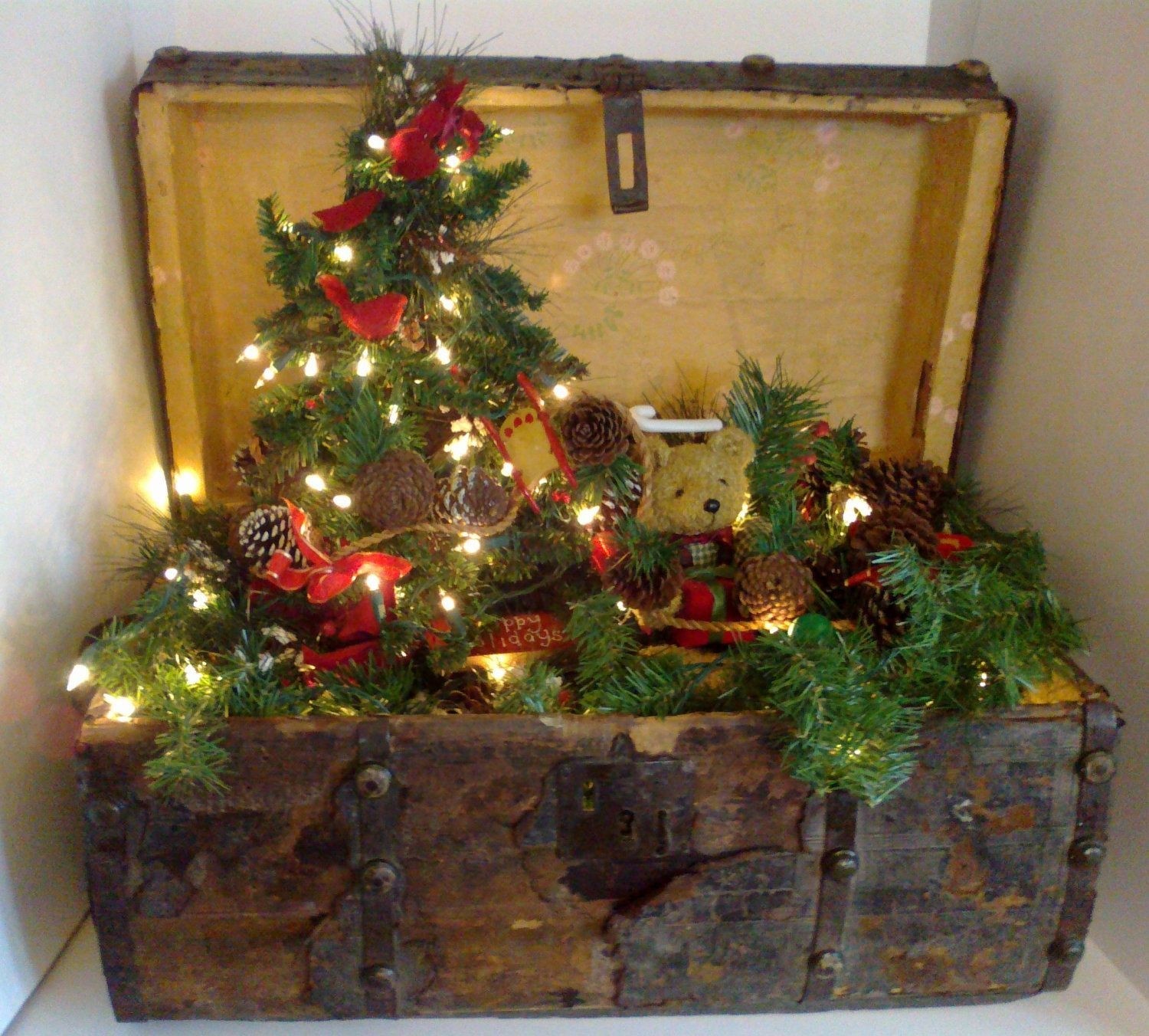 Antique Christmas Trunk with Christmas tree and lights, vintage trunk, Christmas decoration.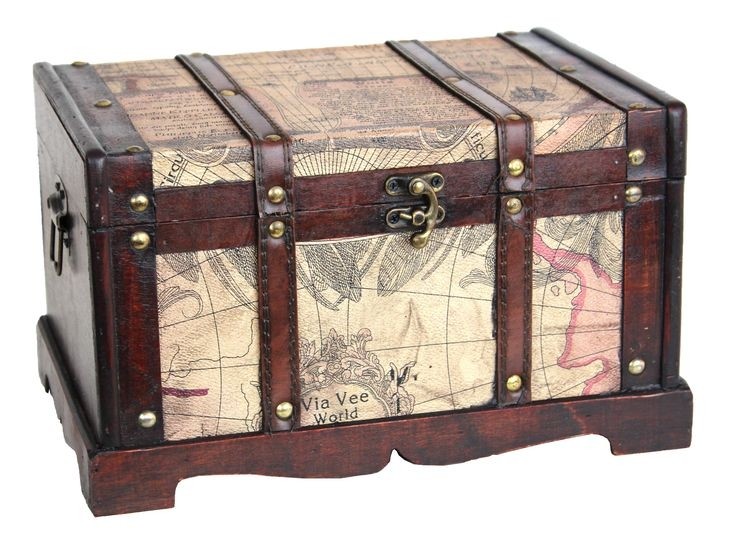 This big wooden trunk in an old world map pattern will easily fit everything you want to store in it - from accessories to letters and jewellery. It is handcrafted and extremely durable, making it a permanent addition to your household.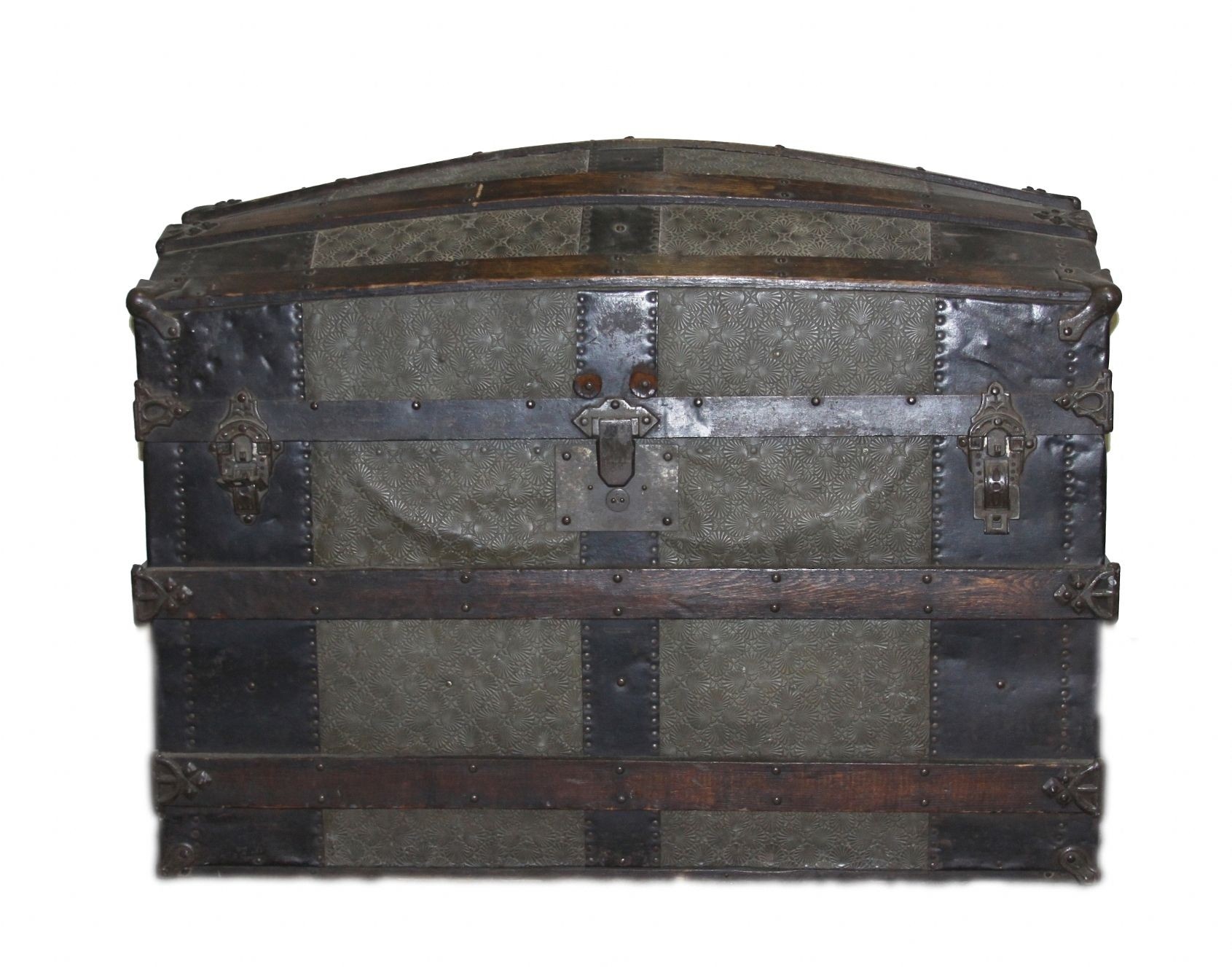 Antique Trunk Collectible9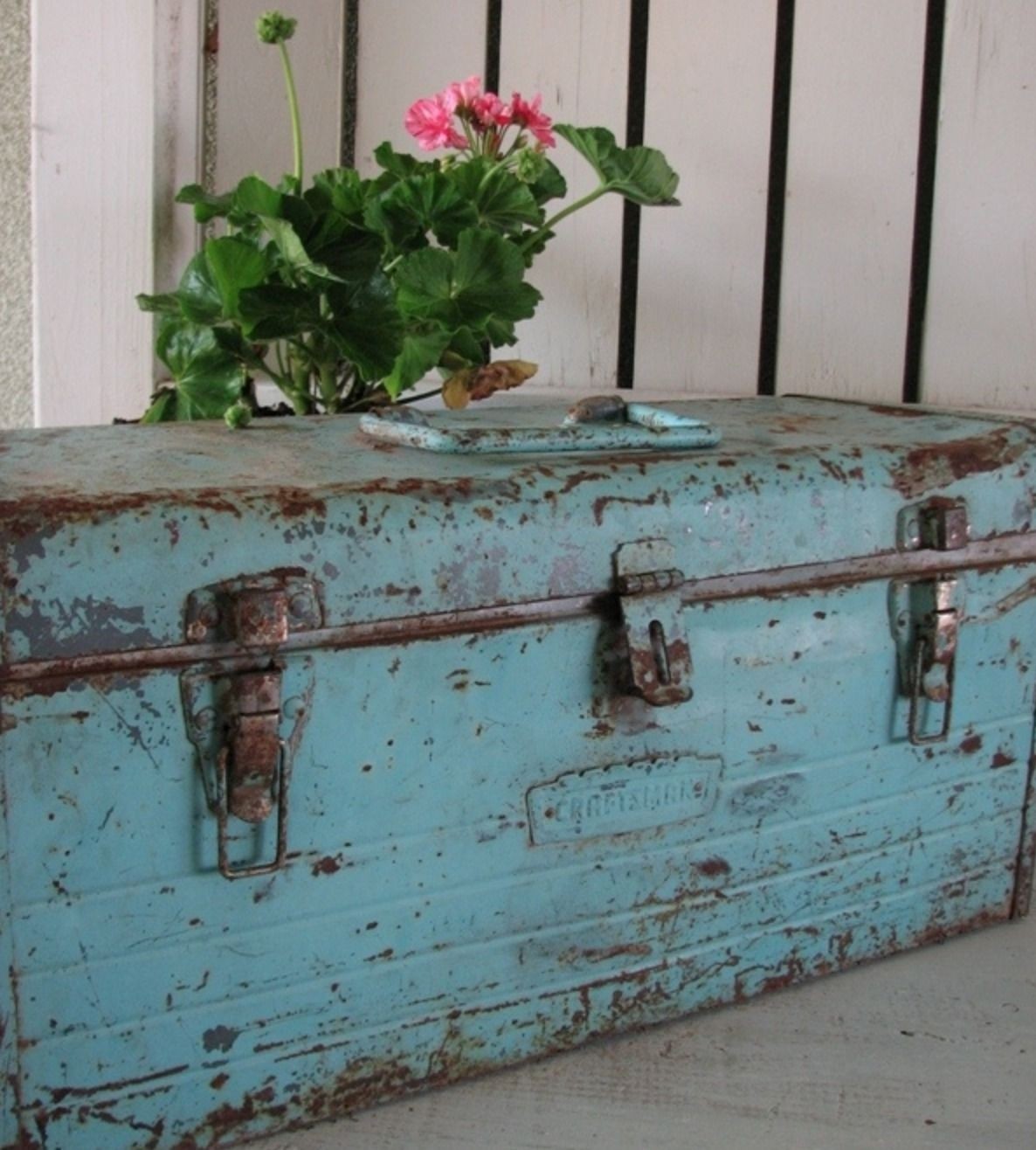 One my favorite things, a vintage metal tool box. I LOVE the color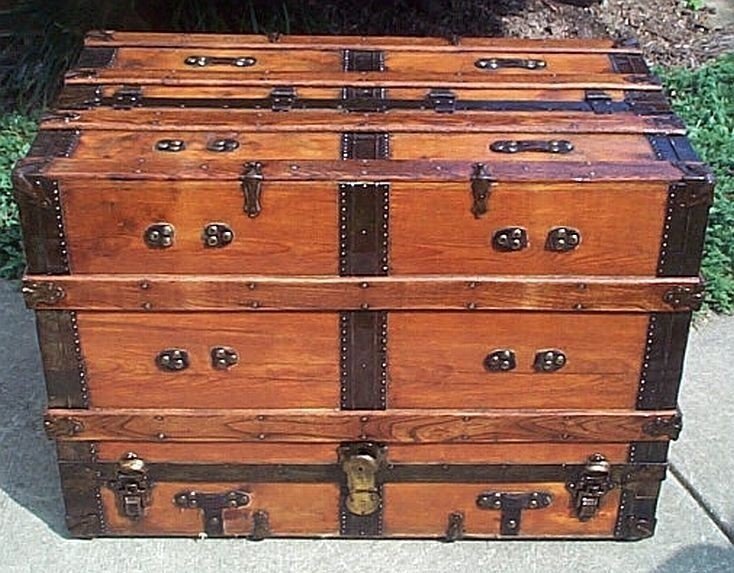 Trunk Fully Restored All Wood 19th Century Antique Theatrical Trunk ...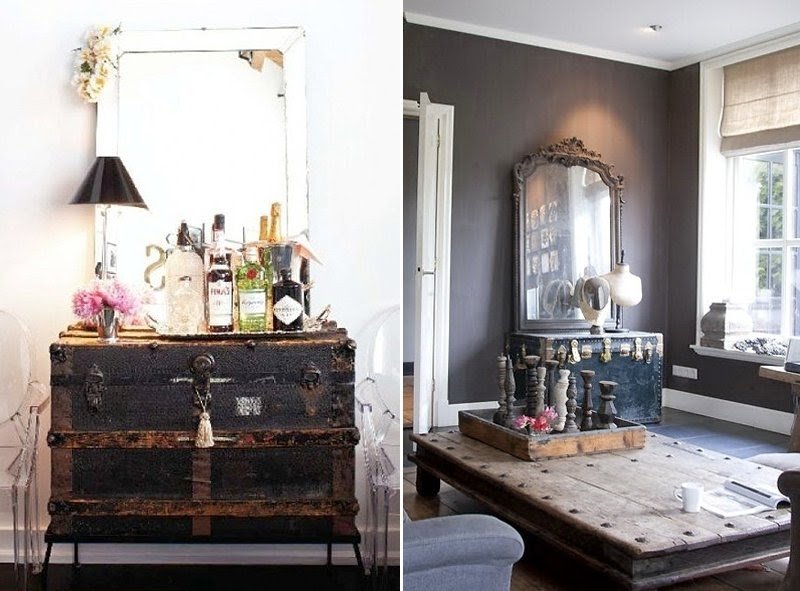 Rustic trunk/storage - cool idea for a in impromptu cocktail buffet!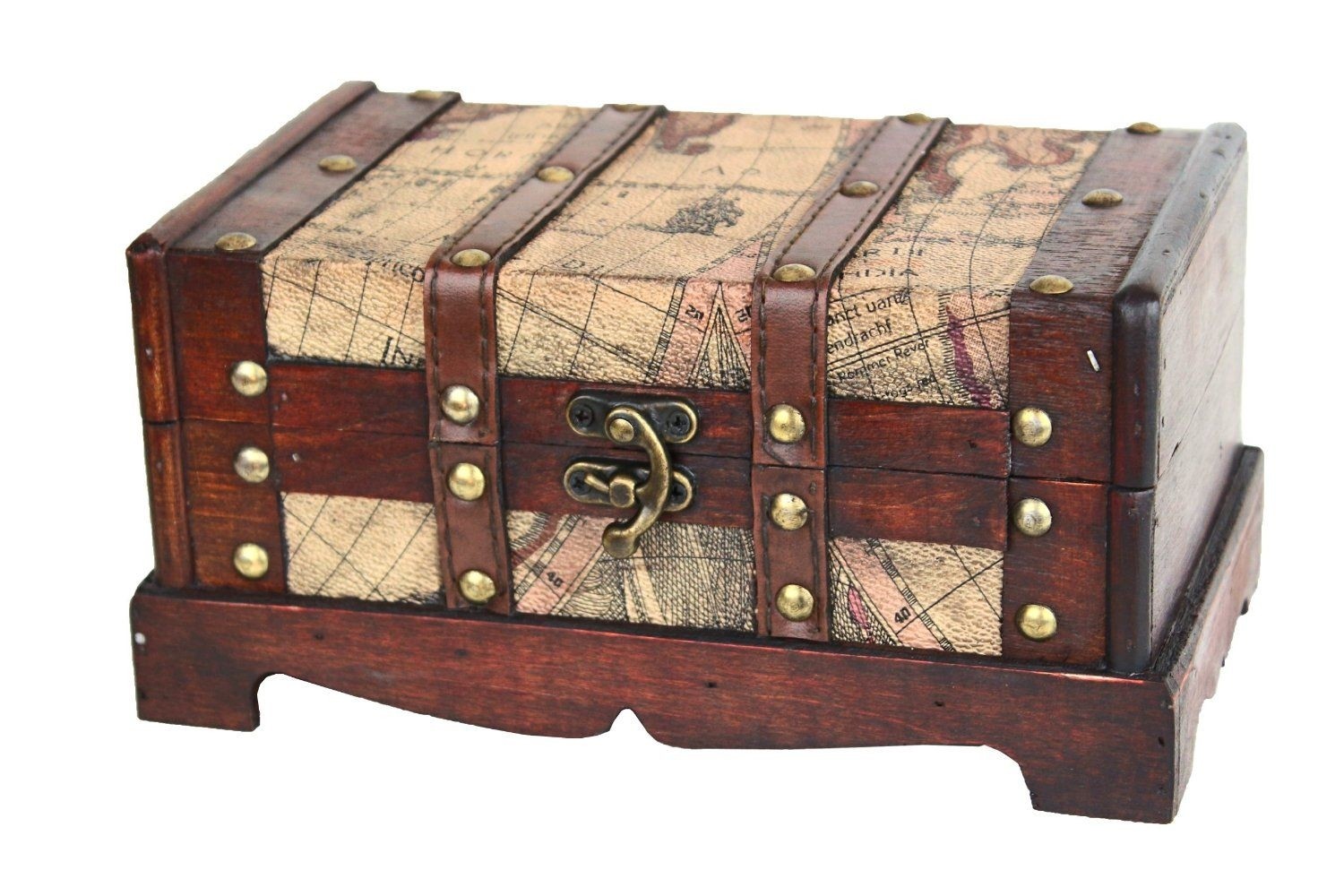 This small trunk is a beautiful accent to your living room or entryway, especially with the old fashioned old world map pattern that contrasts perfectly with the dark wood finish. It will make for a wonderful keepsake box.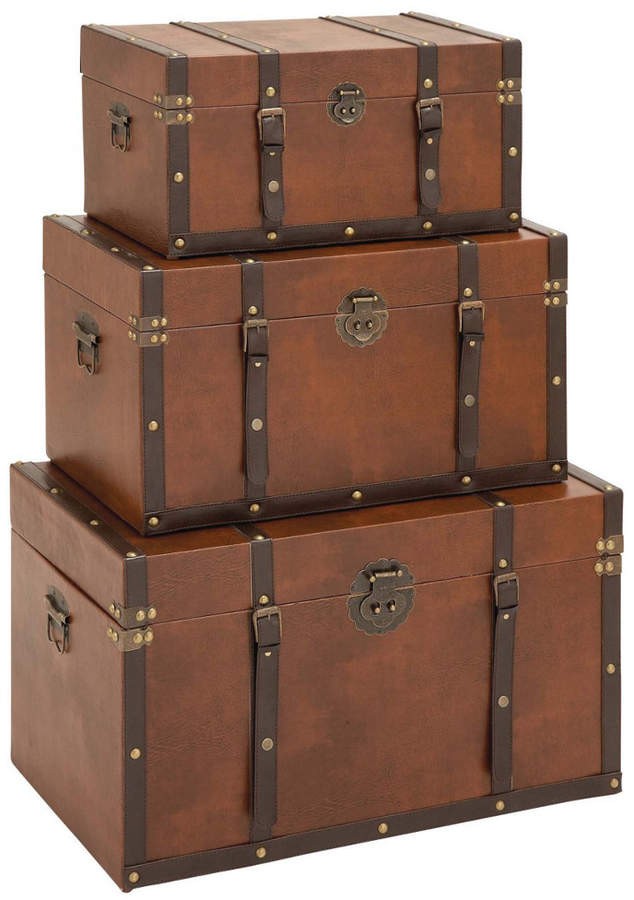 Enjoy the nice, warm look these three trunks give to your interior with their timeless design and the high quality wood construction, making sure they stay with your for years to come, complimenting any traditional and modern decor.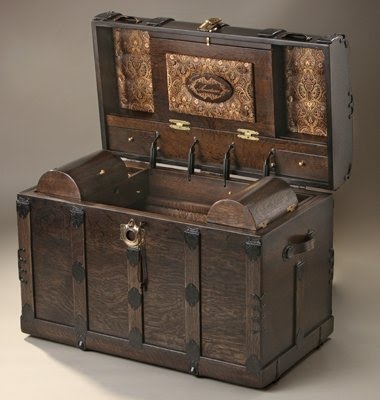 Trunks Antique: Trunk Antique Chest Wooden Boxes-Jackpot!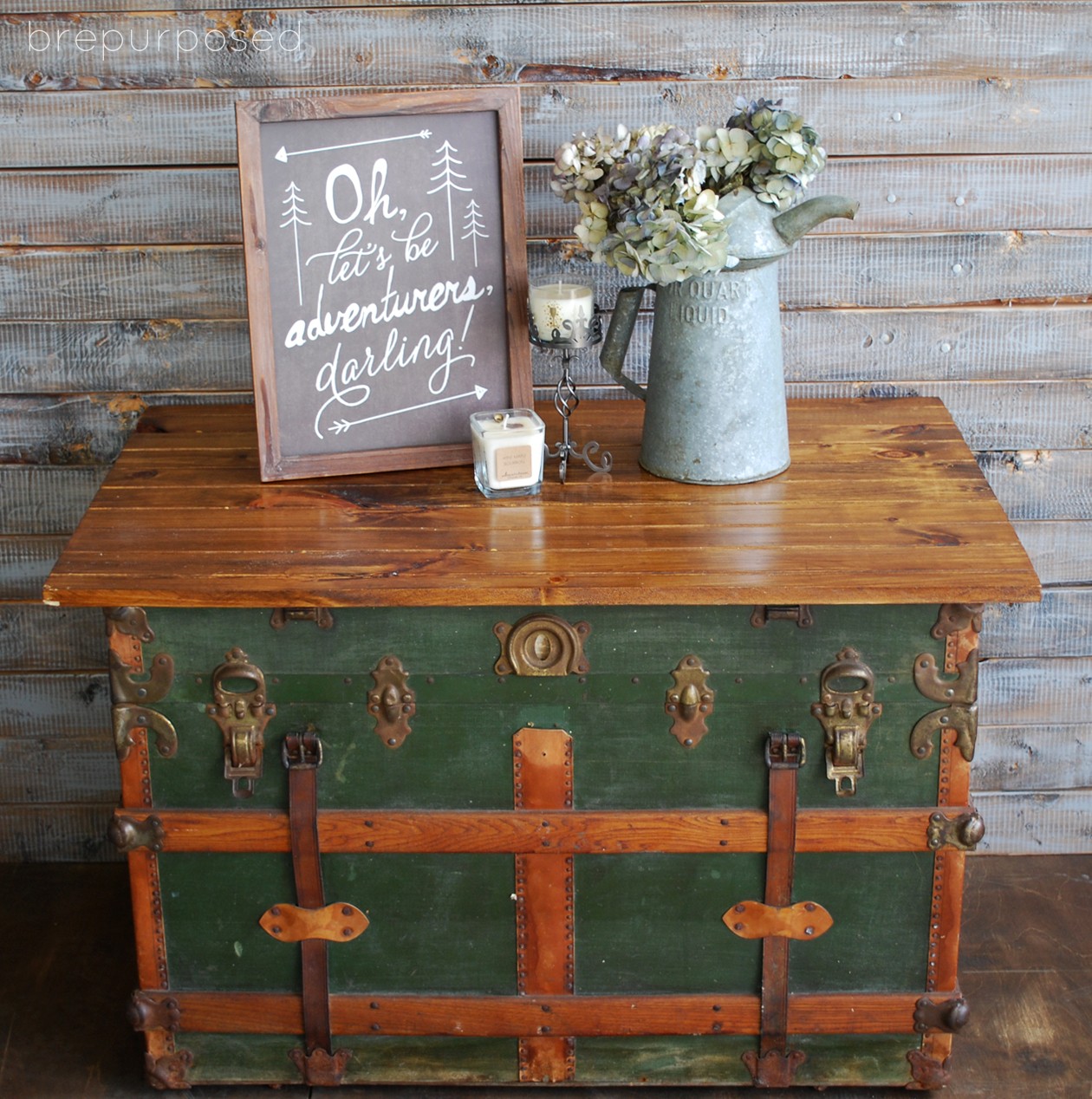 Antique Steamer Trunk Turned Coffee Table :: Hometalk Great place to store extra blankets, pillows and sheets for company.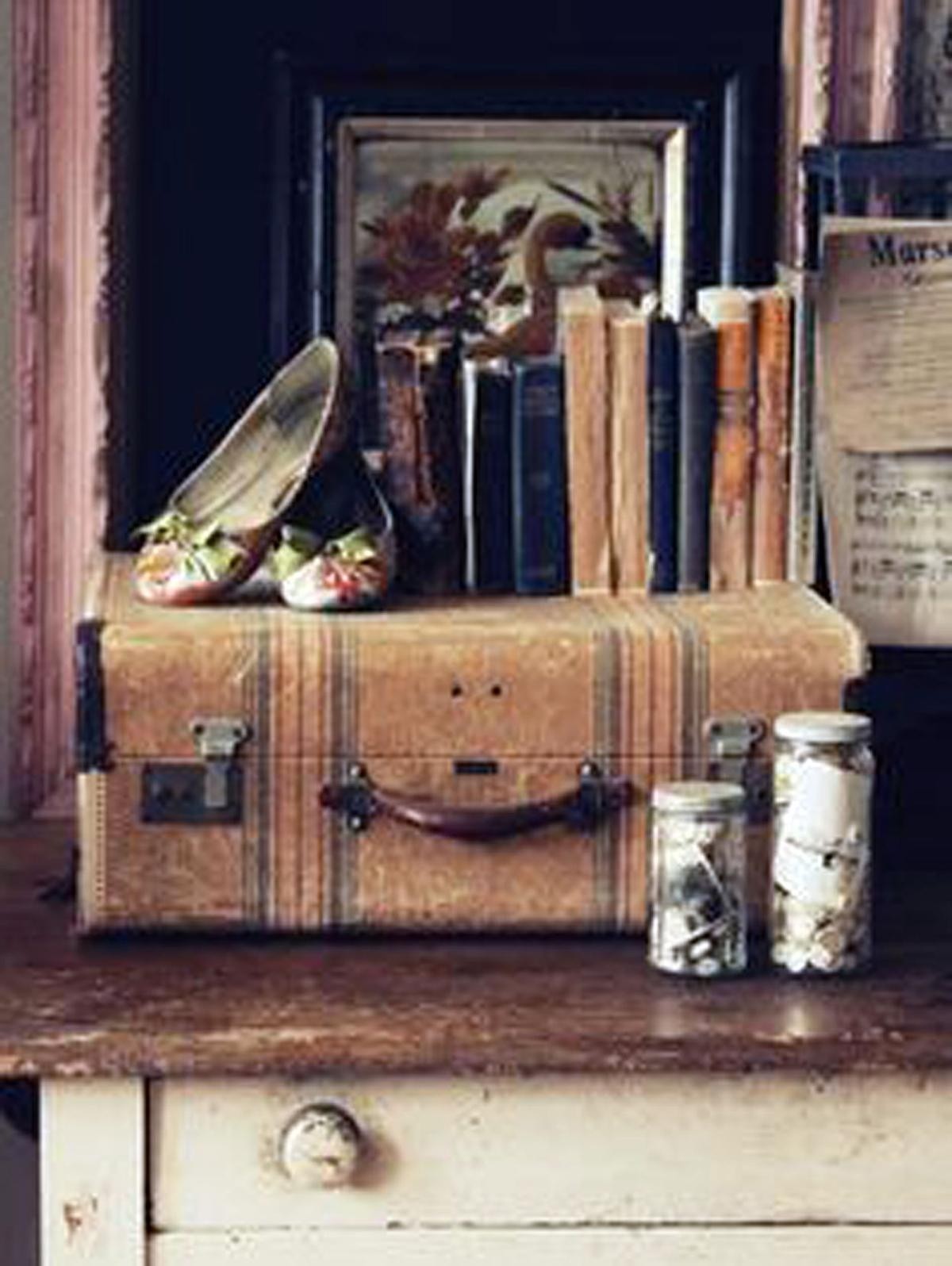 Driven By Décor: Upcycled Home Décor: Giving New Life to Vintage Suitcases (Blog)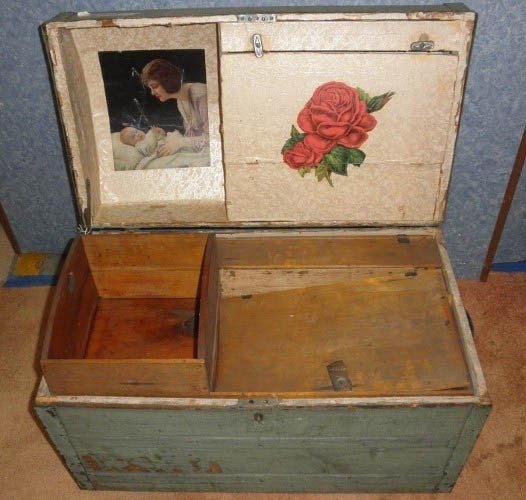 vintage antique trunk with dome lid this great antique trunk with a ...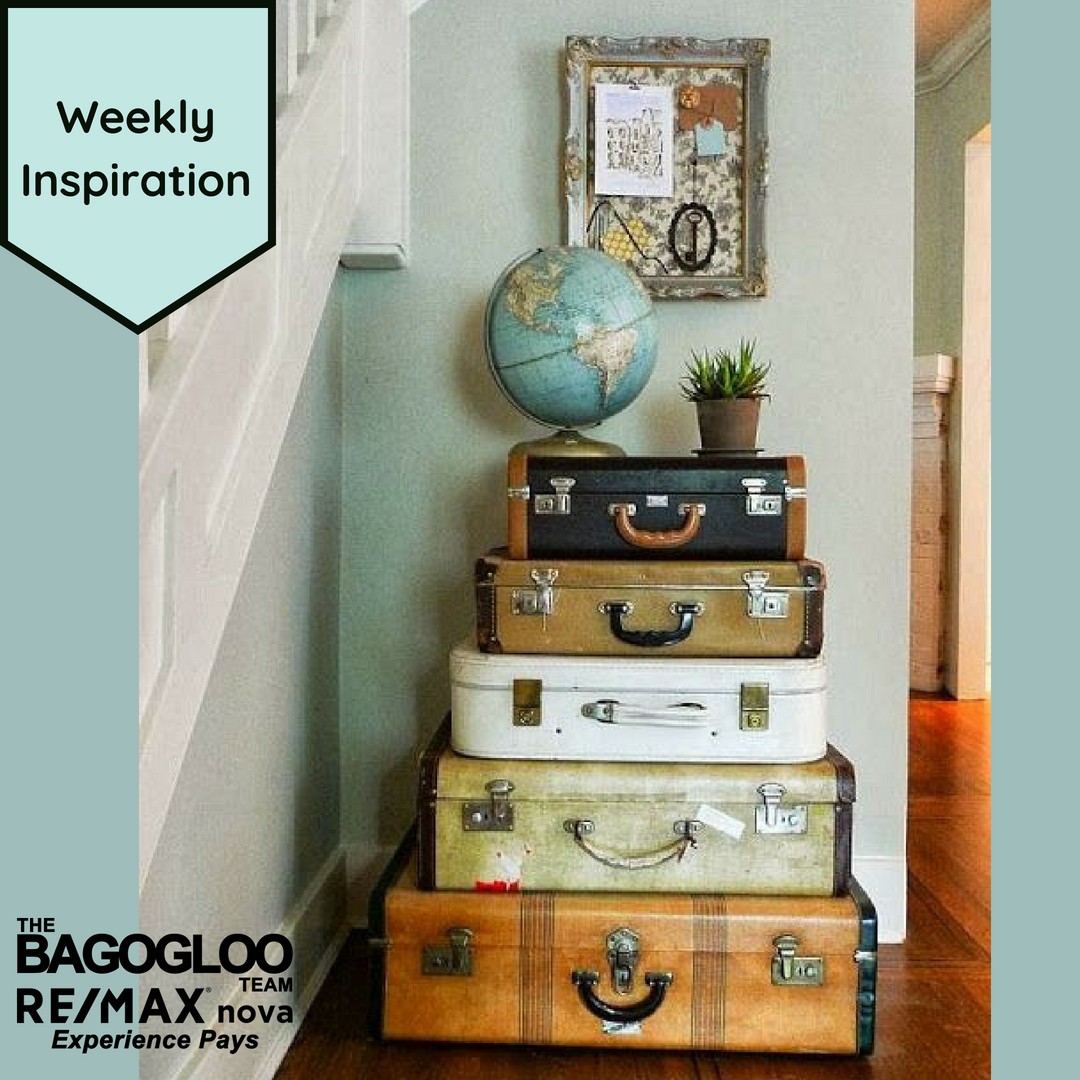 Collecting vintage suitcases for my bedroom as we speak.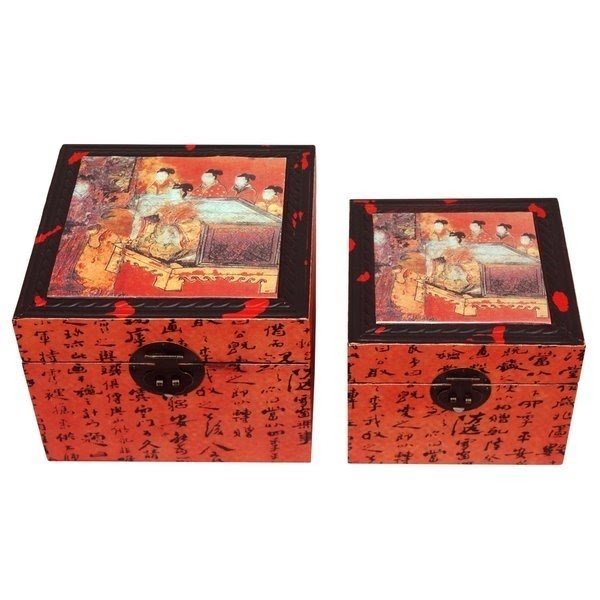 Two delightfully oriental dresser top storage boxes. They are imported from Fuzhou, China and feature distinctive Fujian Province style folk art motifs. Come with the ornate brass clasp that includes a latch for a padlock.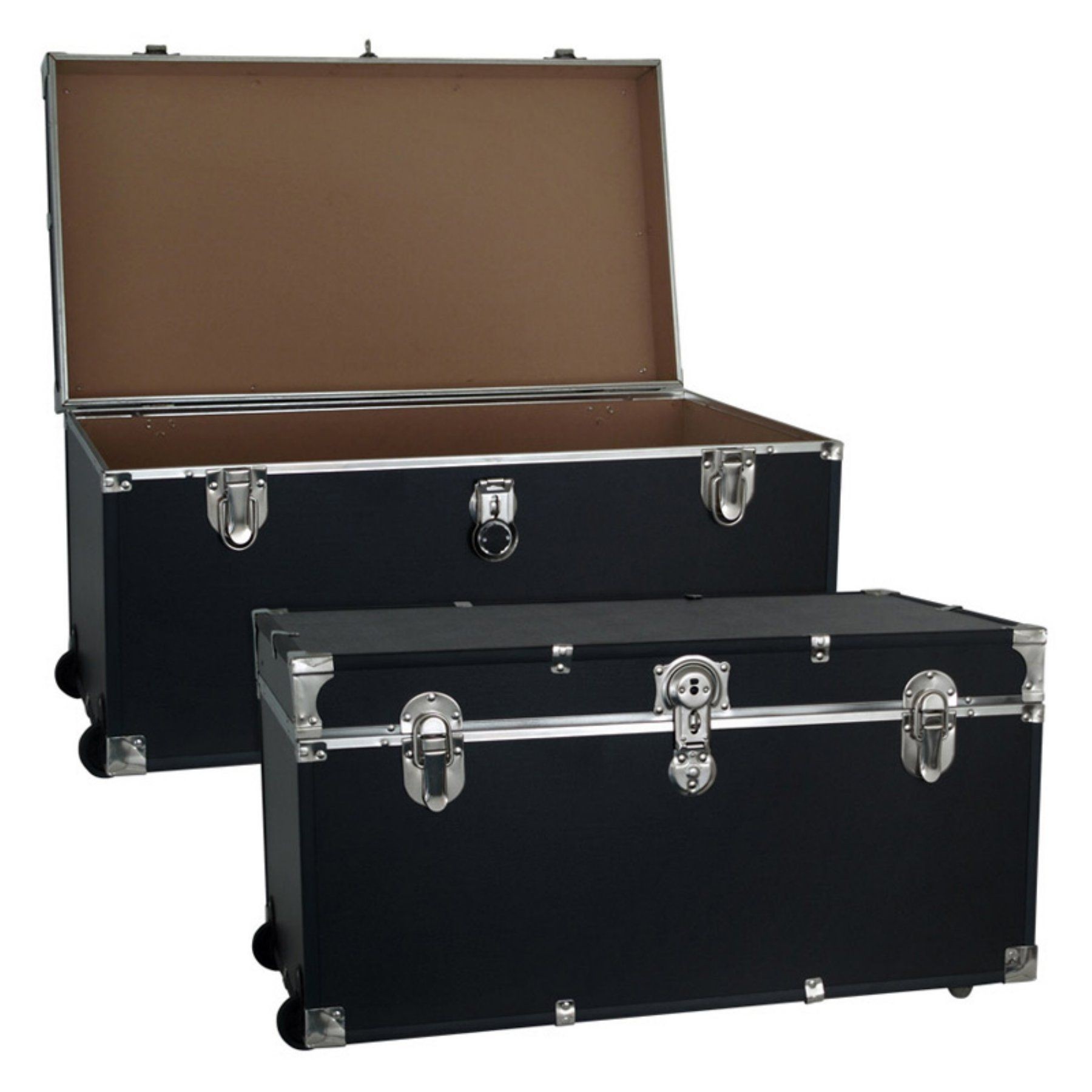 31 inch wide storage box featuring locker and classic black finish. Additionally, it has a pair of casters for better mobility and strong, as well as durable, construction, which ensures durability of the box.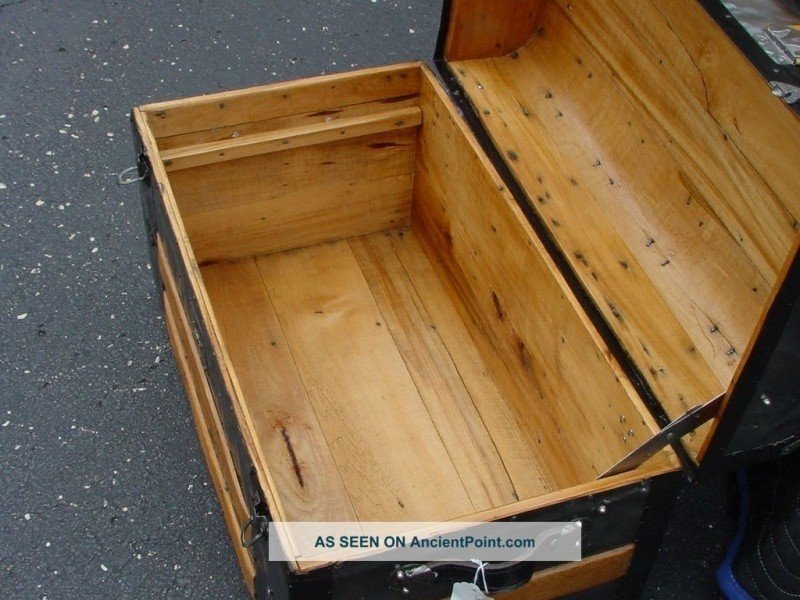 Such a wonderful, breathtaking design for an antique trunk chest with a handy tray. Made to resemble the furniture of the Restoration period. A great vintage, classical element, perfect to replace your cabinet with!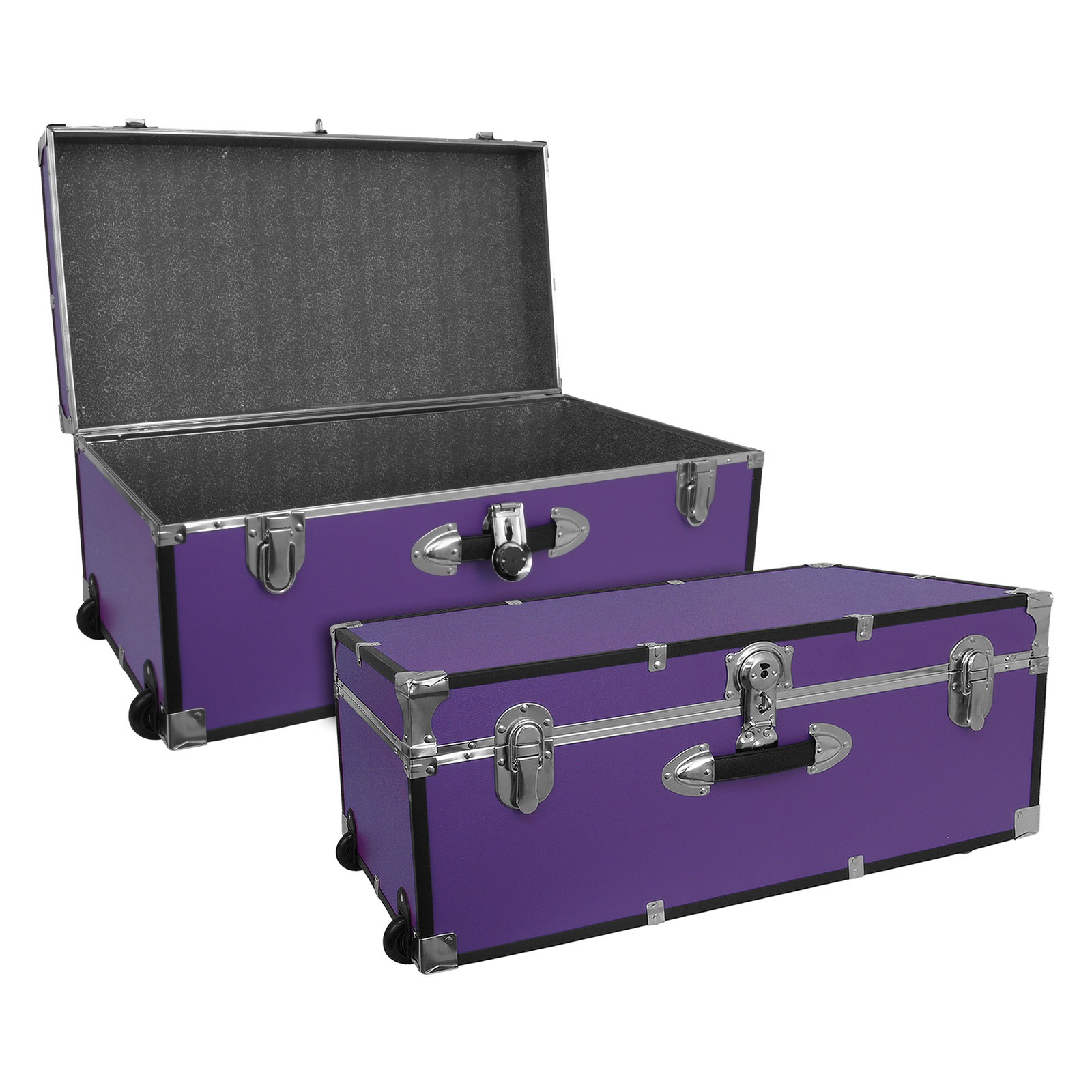 The roomy trunk is a revolutionary way to store your entire collection variety. Made of solid materials is stable and durable. Beautiful finish, practical details, such as wheels or handle and lock perfect in practice.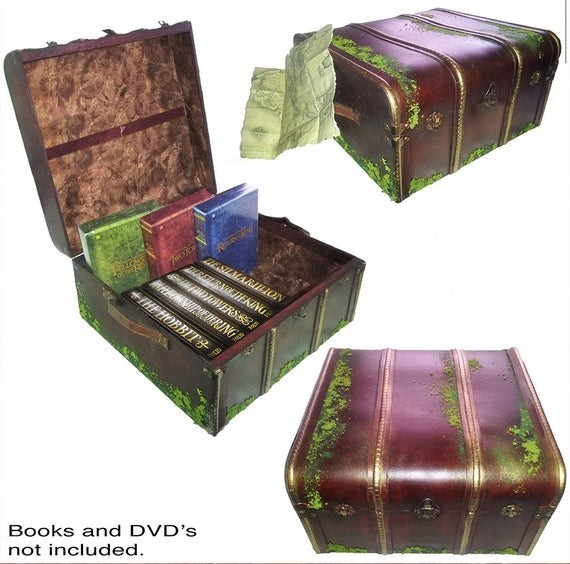 Cool antique storage trunks looking like fabulous trunks belonging to Hobbit from famous Lord of the Rings film. They're made of cedar wood finished in a glossy purple shade with golden and green moss-like accents and have fabric lined interiors.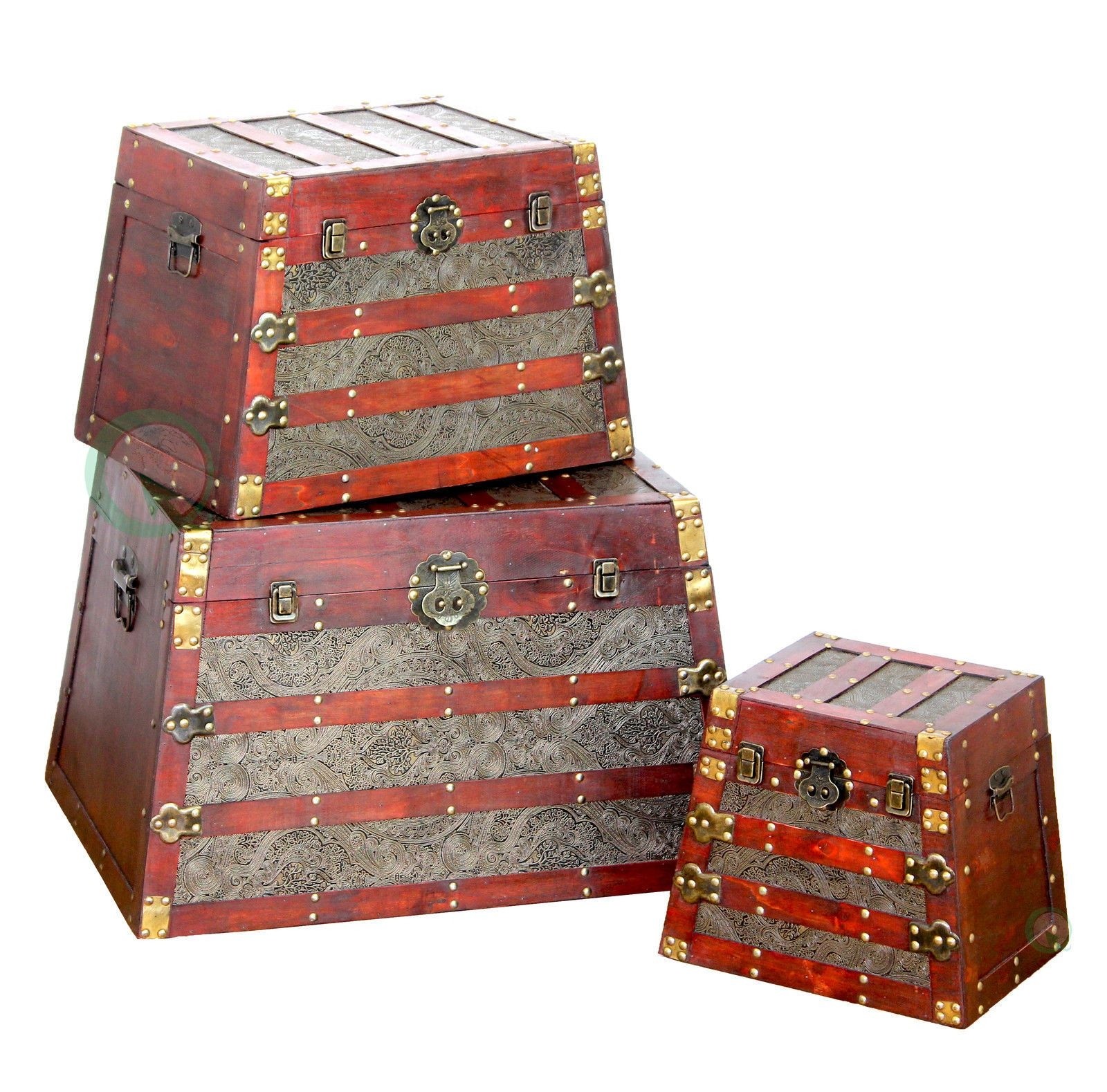 Large pyramid wooden trunk. This unique storage trunk will serve as a great decoration with its old fashioned look or as a storage that will help to keep your room tidy. The trunk has been hand crafted and upholstered in faux leather.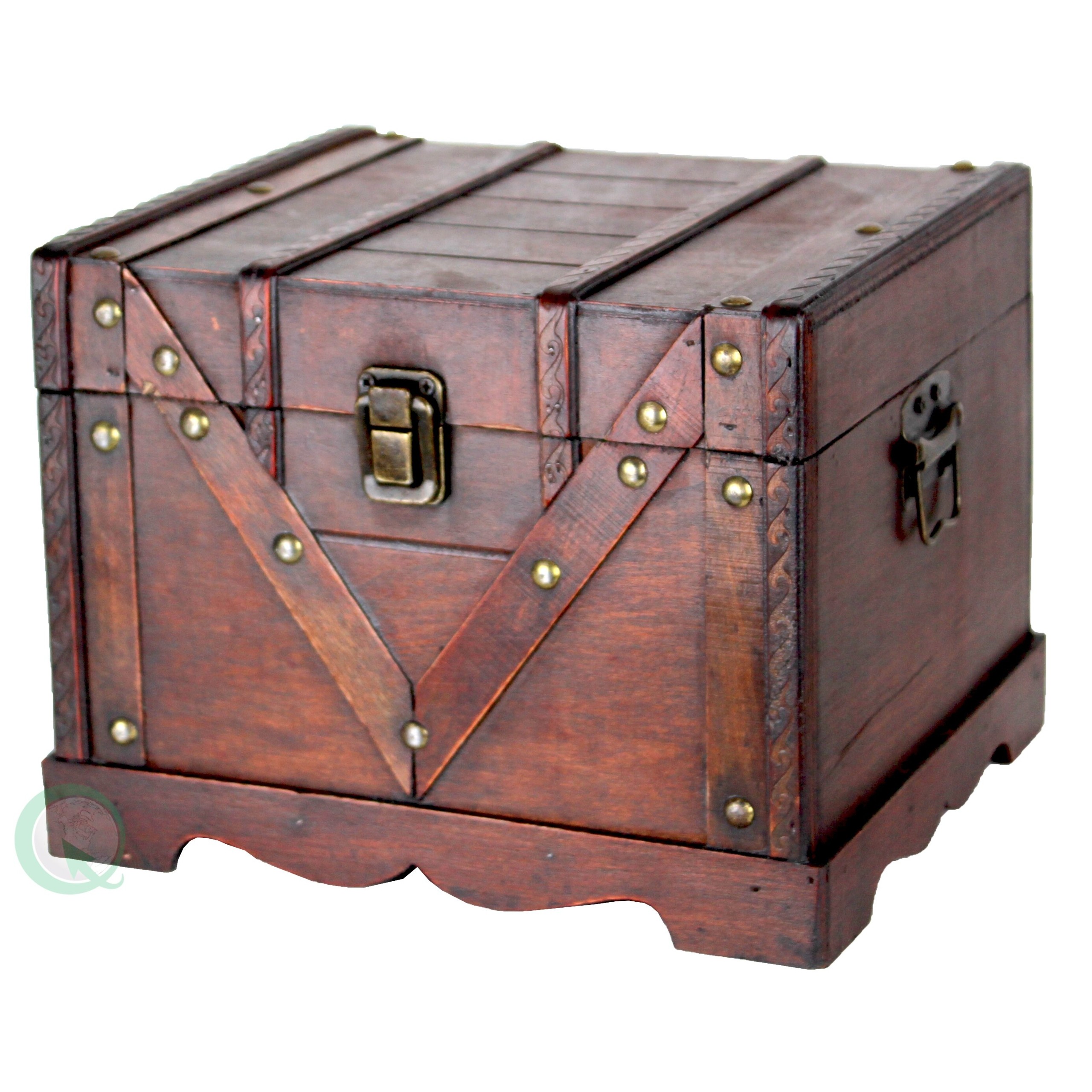 A small wooden treasure box in an old style - a perfect gift idea and a wonderful compliment to your decor, combining functionality with great looks. The old fashioned hardware adds to an antique feel.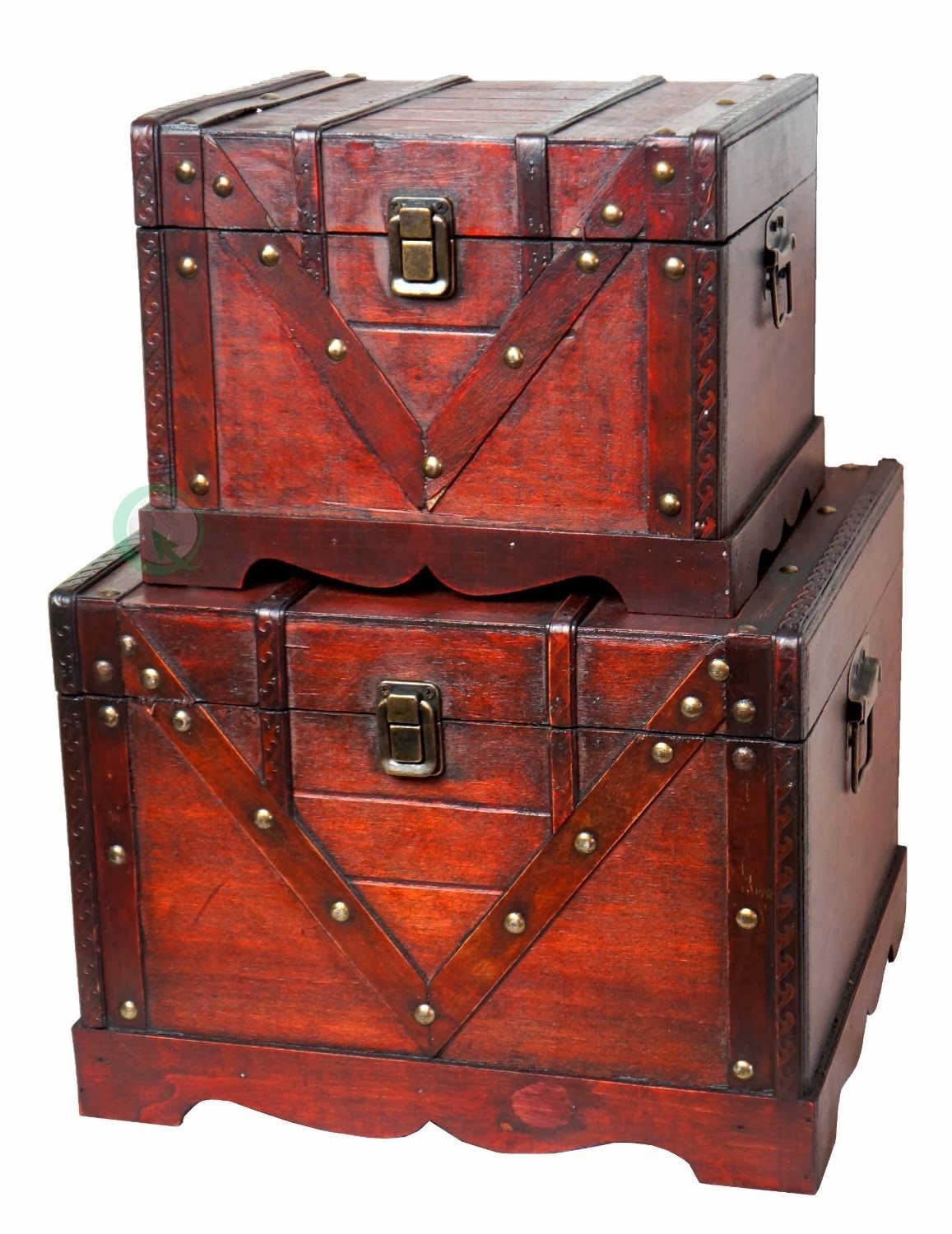 This set of two old style treasure boxes in an antique cherry finish not only make for a perfect storage space but also compliment your interior amazingly, filling any empty place in your home like a charm.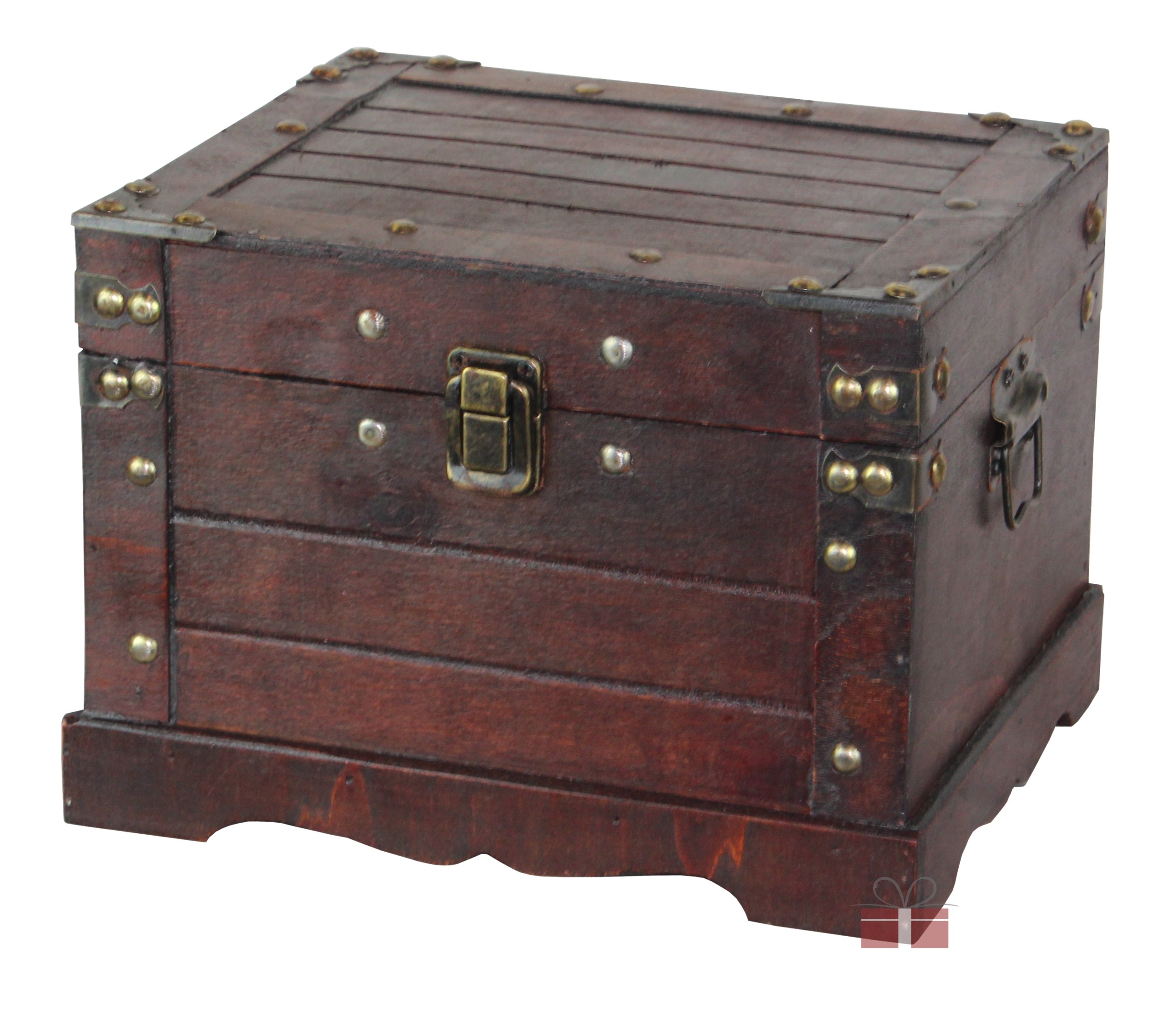 With this amazing chest you will surely be able to enhance your decor, while providing plenty of extra storage space for accessories or blankets. It comes in an old antique style and has beautiful crafting with a cherry finish.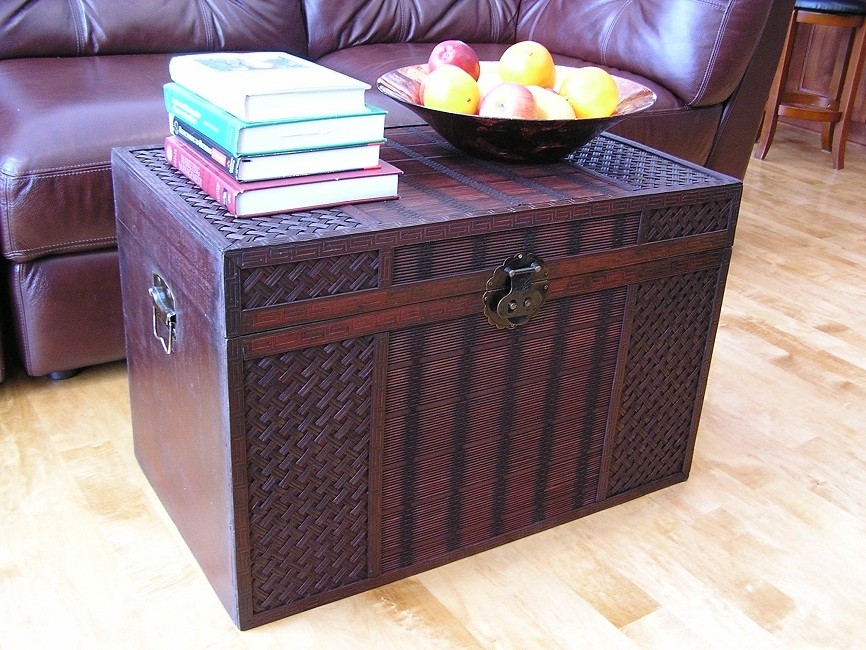 This multifunctional trunk executed in Hawaiian style is a combination of storage features, the coffee table or bench. Cute combination of woven texture and smooth leatherette add it a unique character.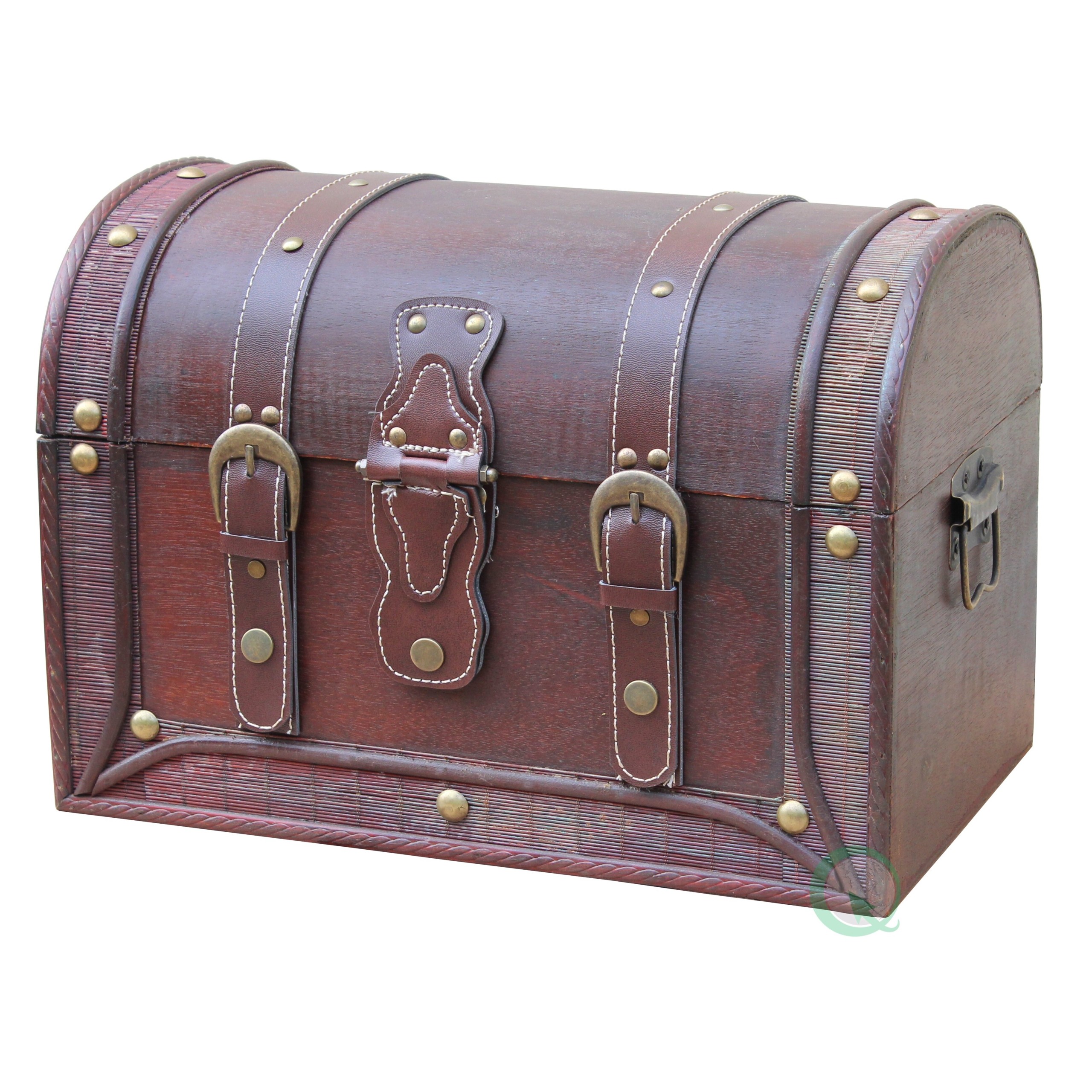 This made from a combination of leather and wood trunk is a beautiful detail to every interior, it is roomy thus accommodate a lot of little things. It is virtually closed and very stylish.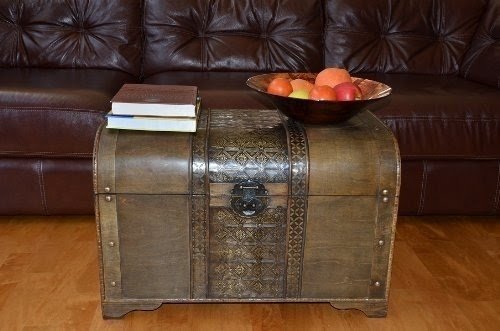 This Magnificent Large Brown Storage Trunk is made in old fashion style in a shape of an antique treasure chest. Along with cedar wood craftsmanship and decorative hardware, the chest ensures an ample storage area and impeccable looks.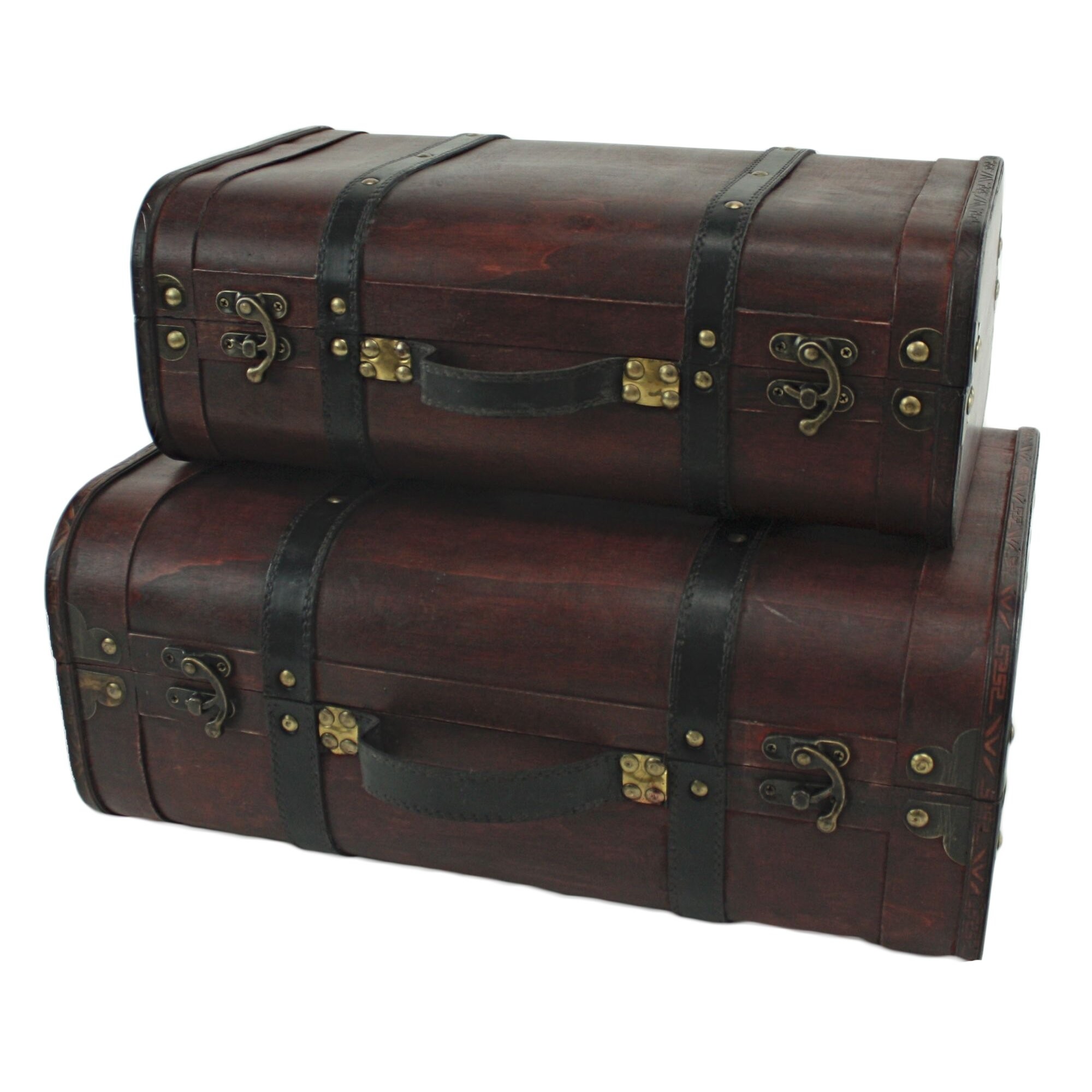 This amazing set of two suitcase trunks is the best solution for both complimenting the interior style beautifully and giving a little more space for you to use to prevent creating clutter in the apartment.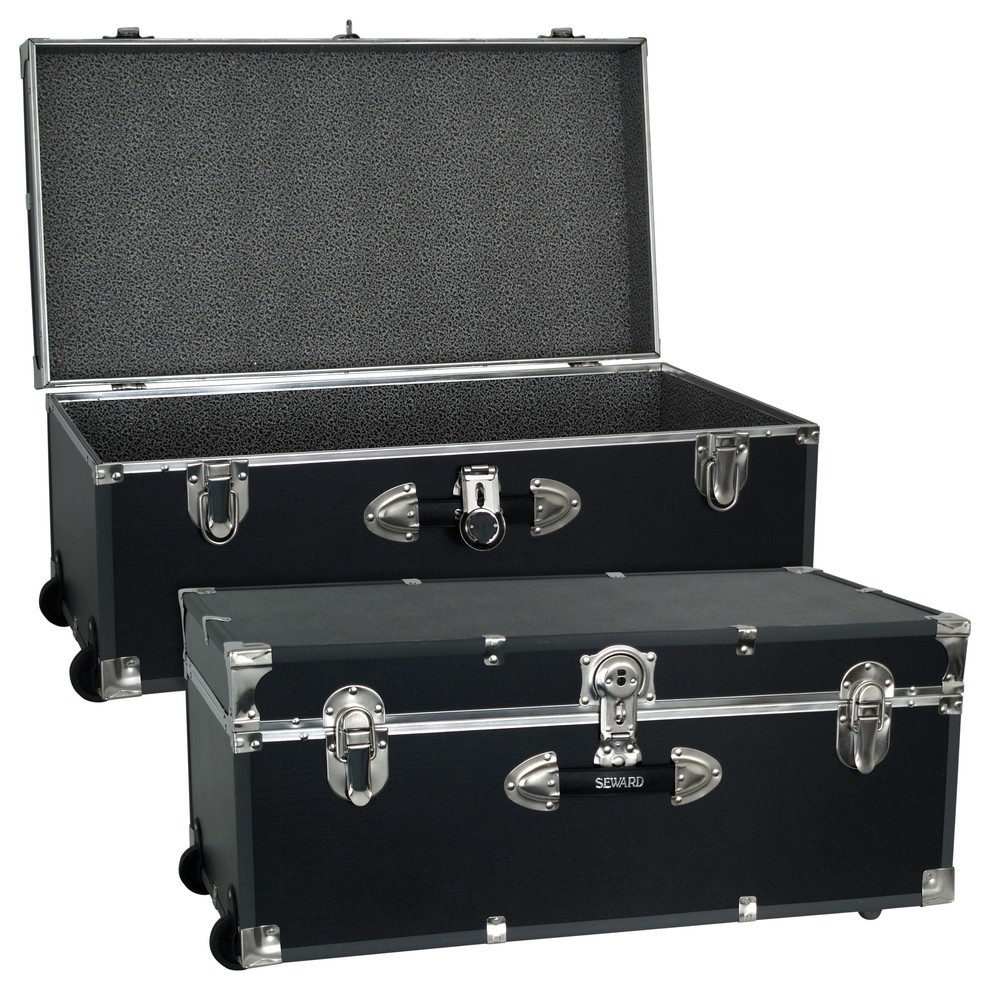 A trunk perfect for college students and anyone else, who likes the combination between the traditional and more contemporary design. Made of heavy gauge vinyl covering and hardwood, it's easy to open by the push button key lock.