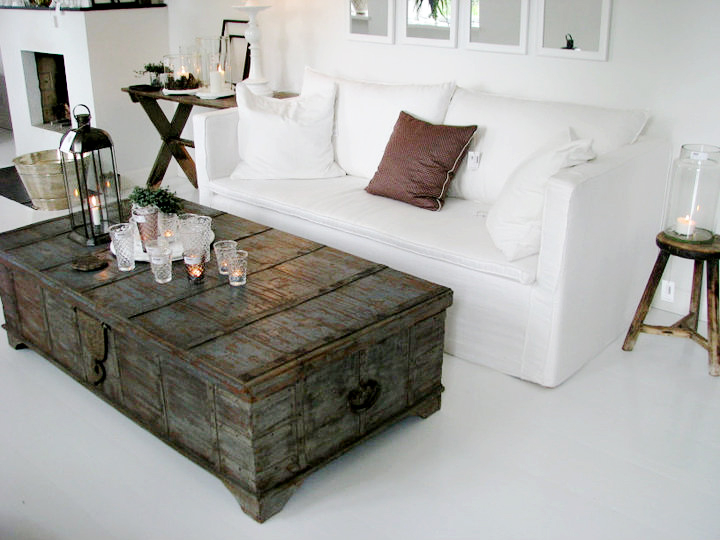 A stark storage chest serving also as a coffee table. It's handmade of reclaimed wood with a distressed finish in greys and browns. It has low angled legs, metal fittings and handles (on shorter sides), a lift top.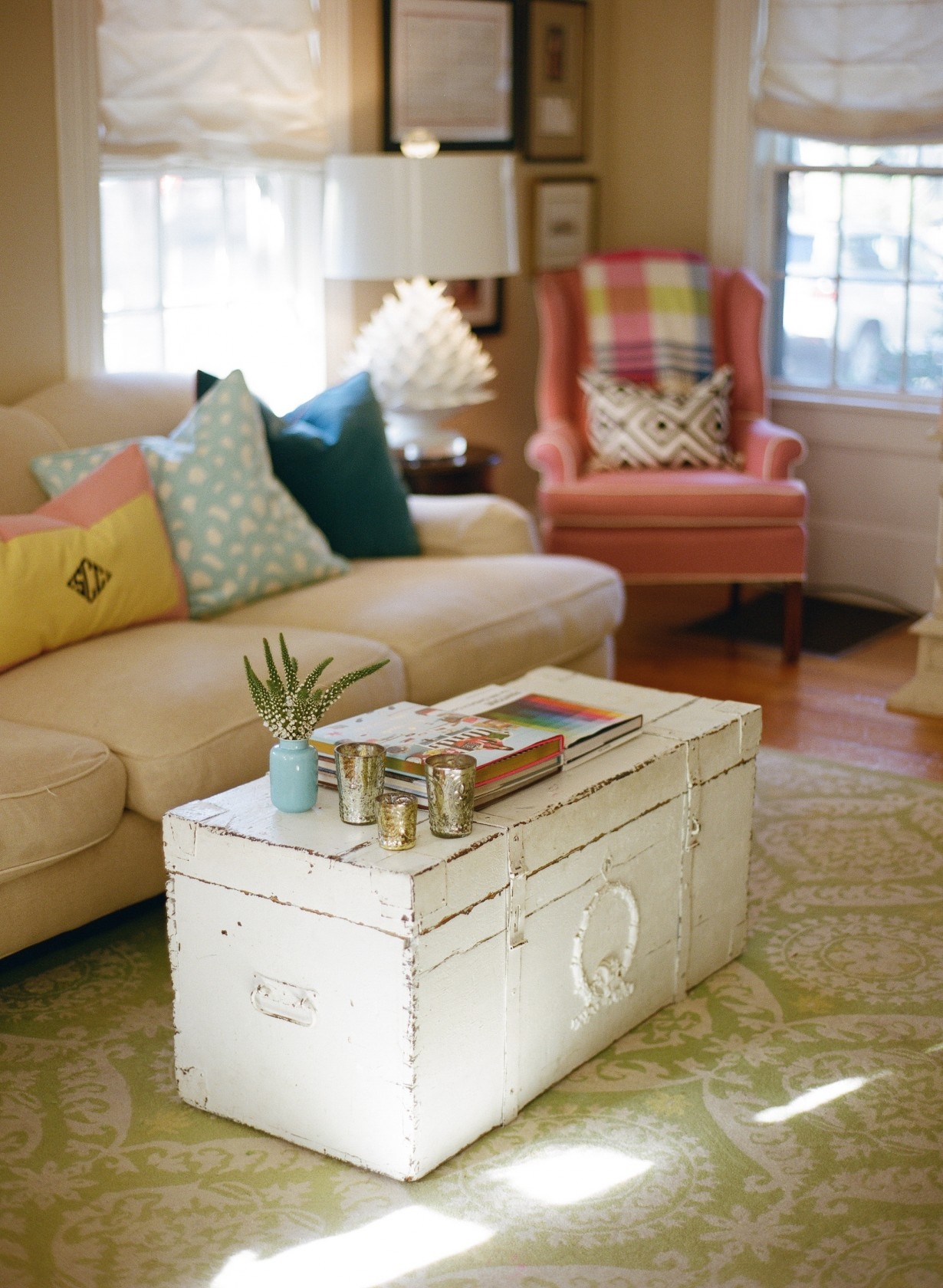 Enchanting with its rustic, distressed appeal, this trunk coffee table will be a fabulous addition to any retro designed living room. Catching the attention of your guests, this small wooden masterpiece will create a great focal point.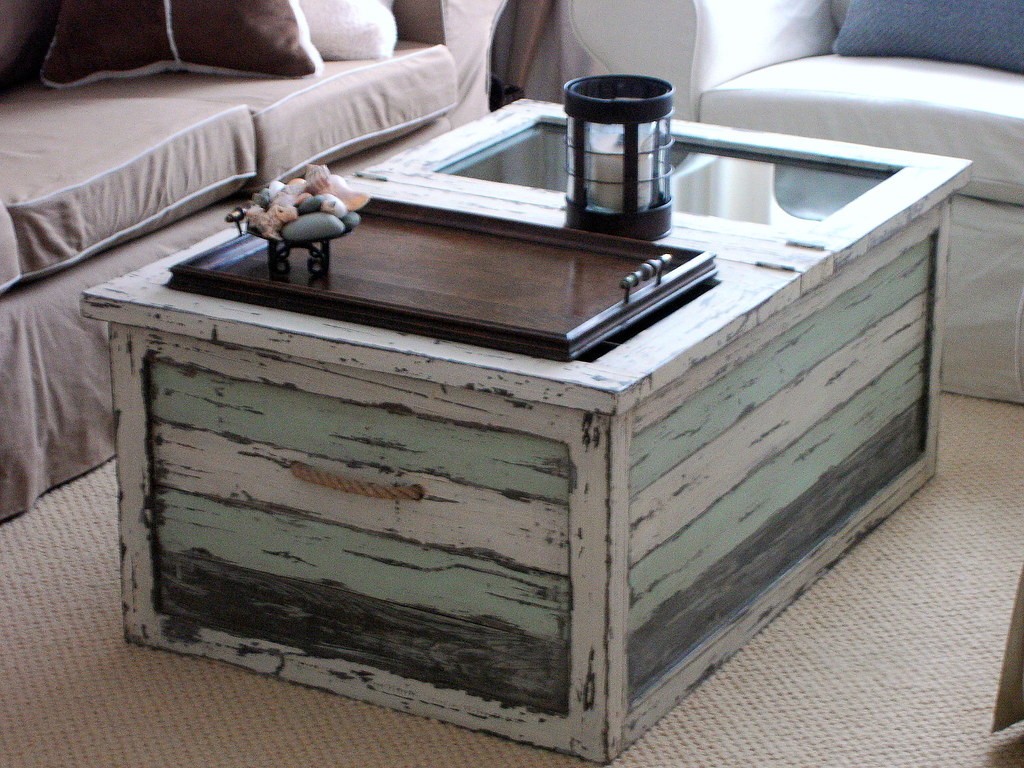 Distressed finish define the shabby chic of this multicolor trunk coffee table. To make the design more unique, a double glass top on hinges is added. Storage compartment inside is therefore easily accessible.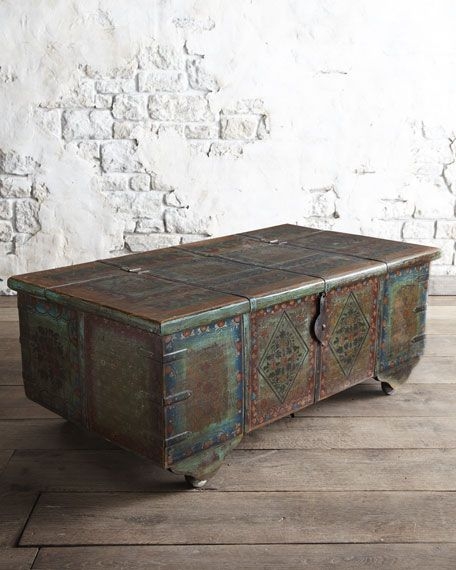 Handcrafted of wood, this stained coffee table enchants with its vintage and oriental appeal. It originates from India, created several decades ago. Each of these items has its own, unique character.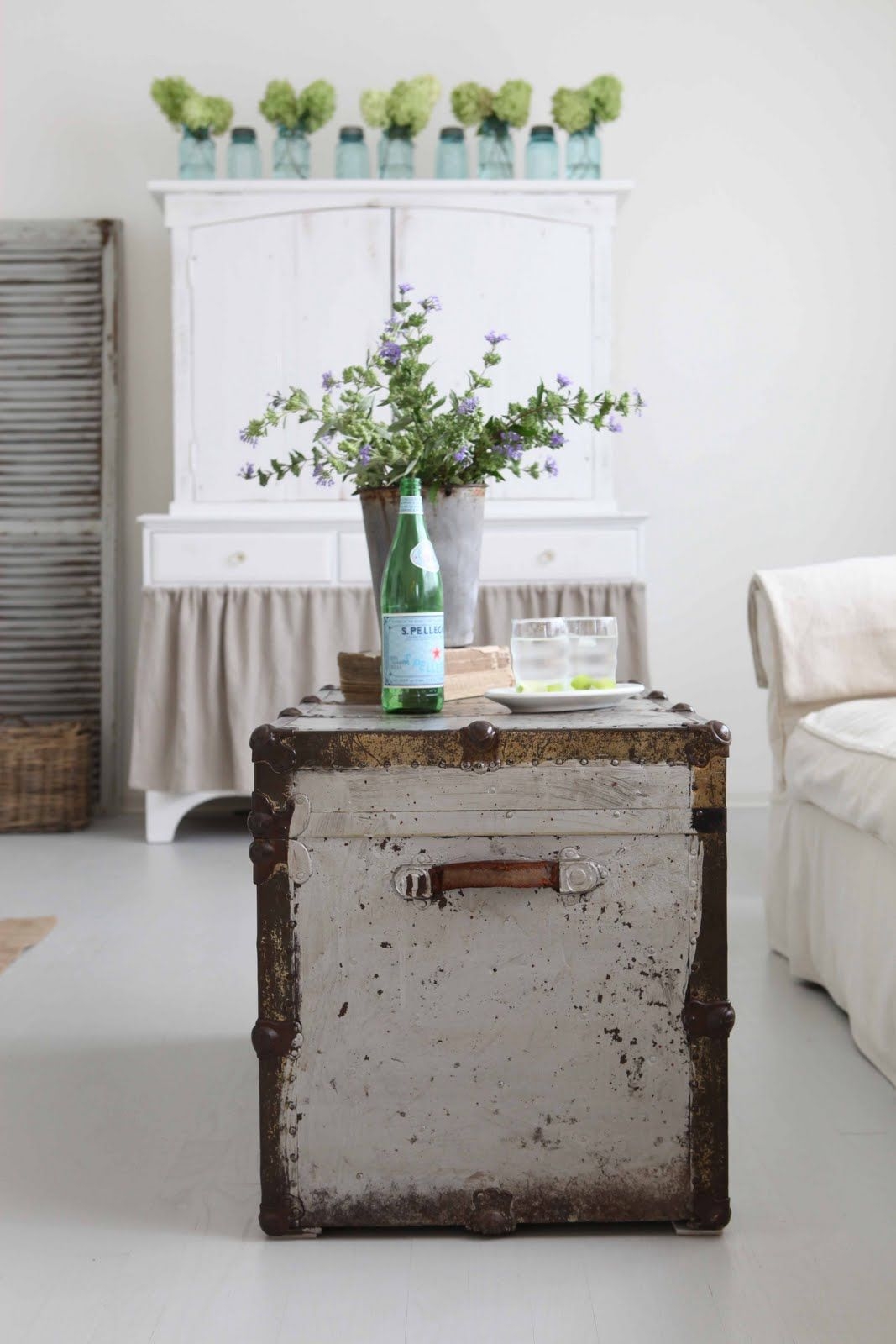 This beautifully made coffee table is a beautiful old trunk, which can also serve as a storage facility. Beautiful design and raw finish will be checked in modern minimalist interiors. Nice styling solution for every decor.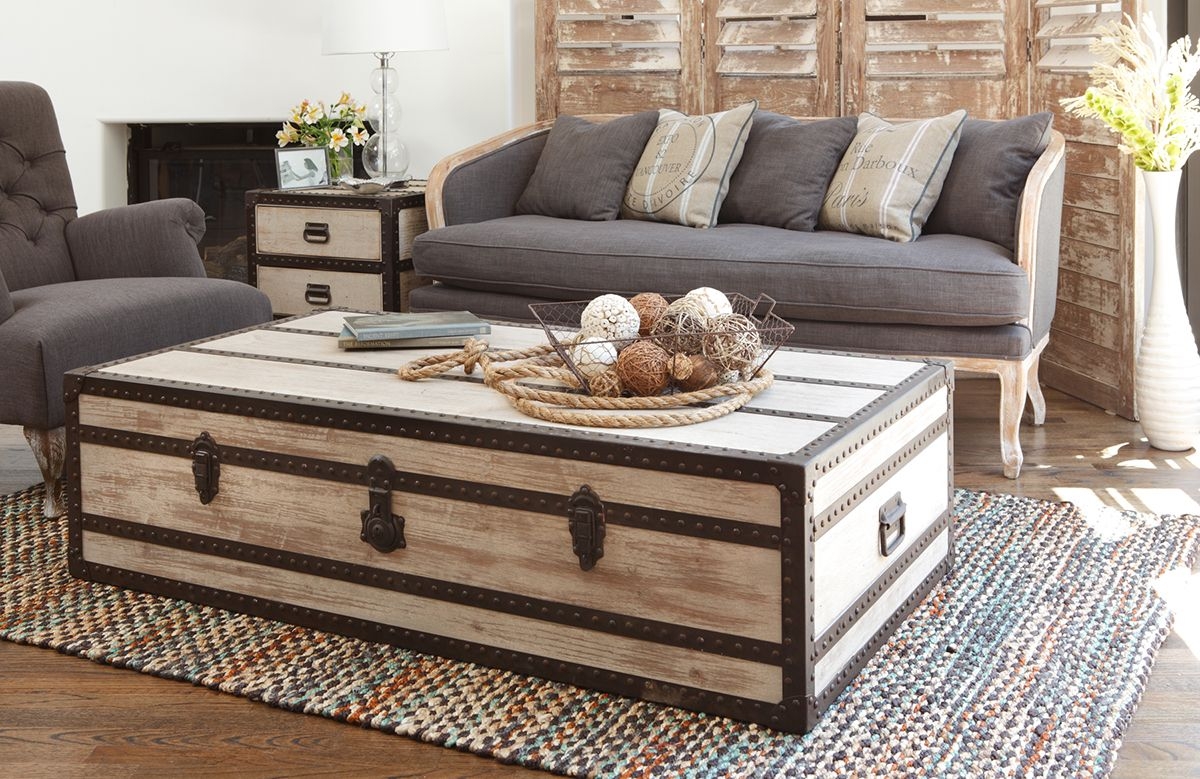 An aesthetic large traditional trunk coffee table crafted of solid wood with a natural finish. It has edges, decorative slats, closings and handles (on shorter walls) of black coated metal adorned with black nails.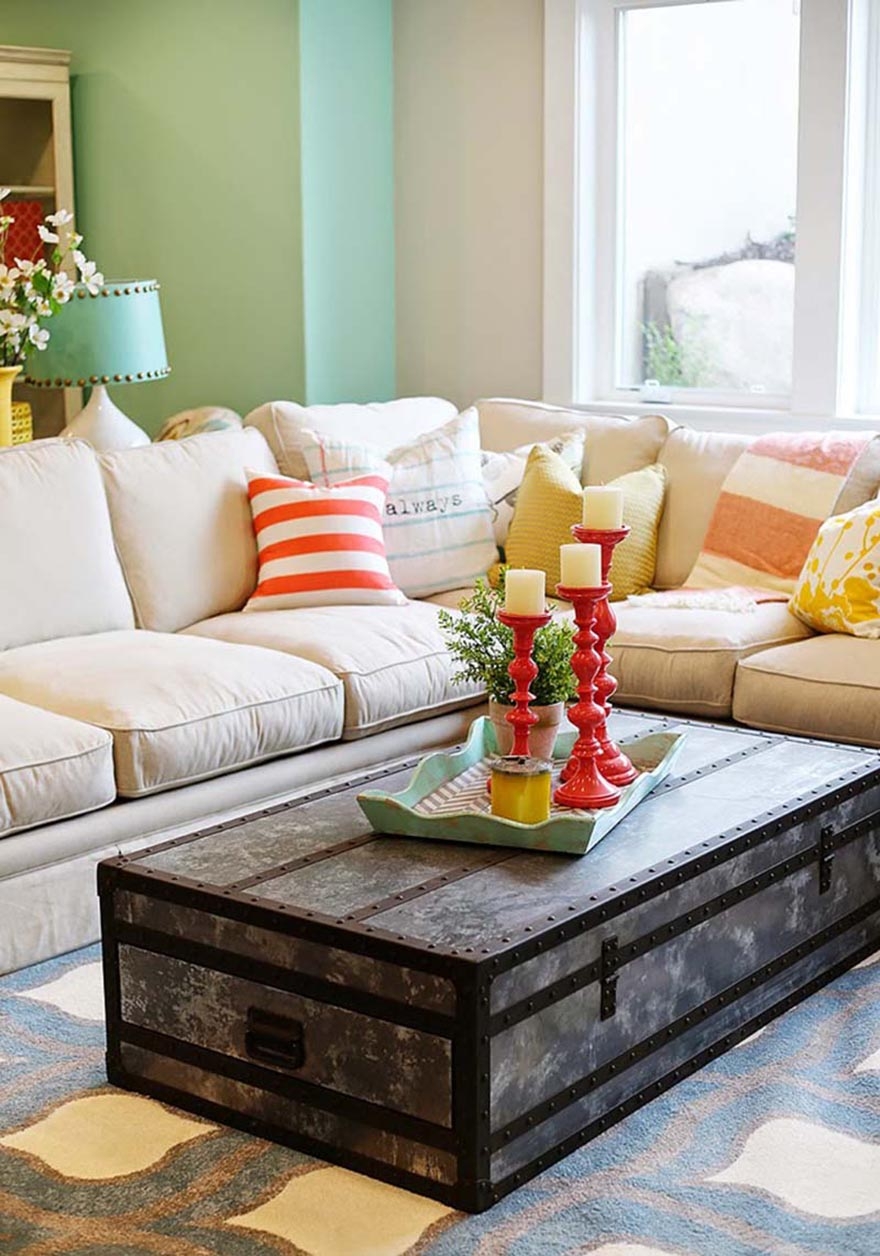 I think that this stylization is great for family living rooms. It includes a coffee table with a rectangular trunk stylization. This solid element offers some black metal elements for support and decoration.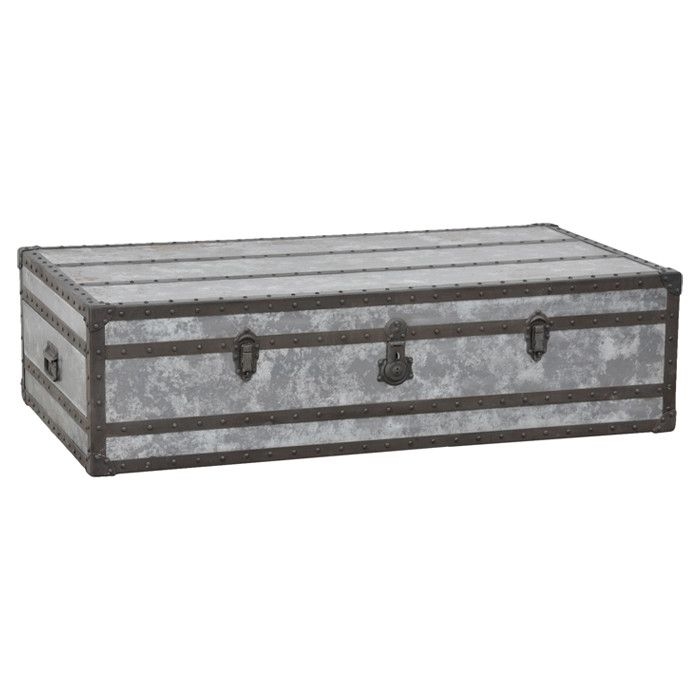 Zuo Modern Civic Center Distressed Square Coffee Table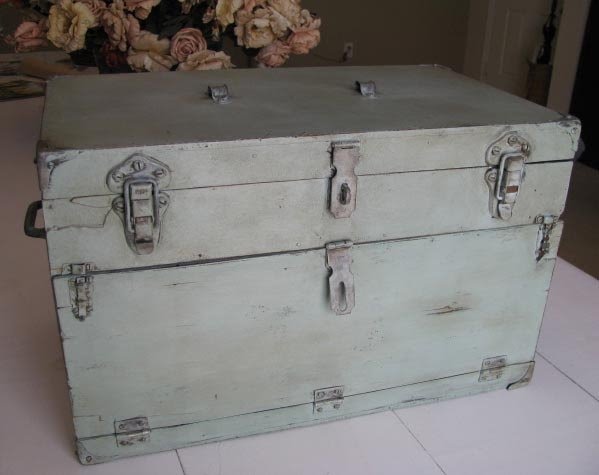 Shabby chic coffee table combined with storage trunk - the style was achieved after some minor renovation measures, e.g. painting with chalk paint sporting a unique pastel duck egg blue shade. Found on interior design blog by Nelda Ream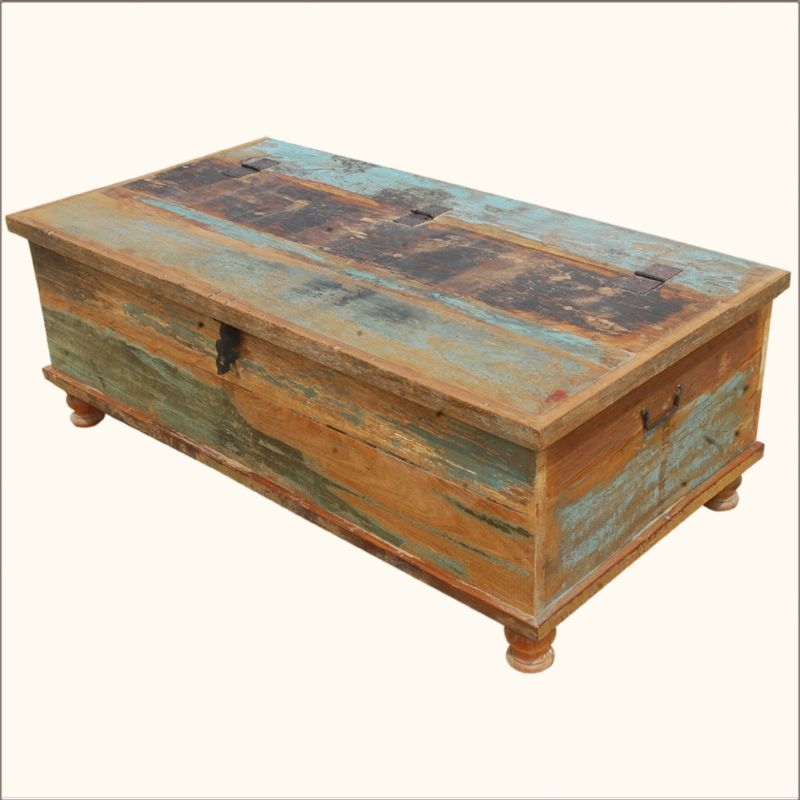 Trunk Coffee Table Reclaimed Wood Distressed Rustic Storage Box Chest ...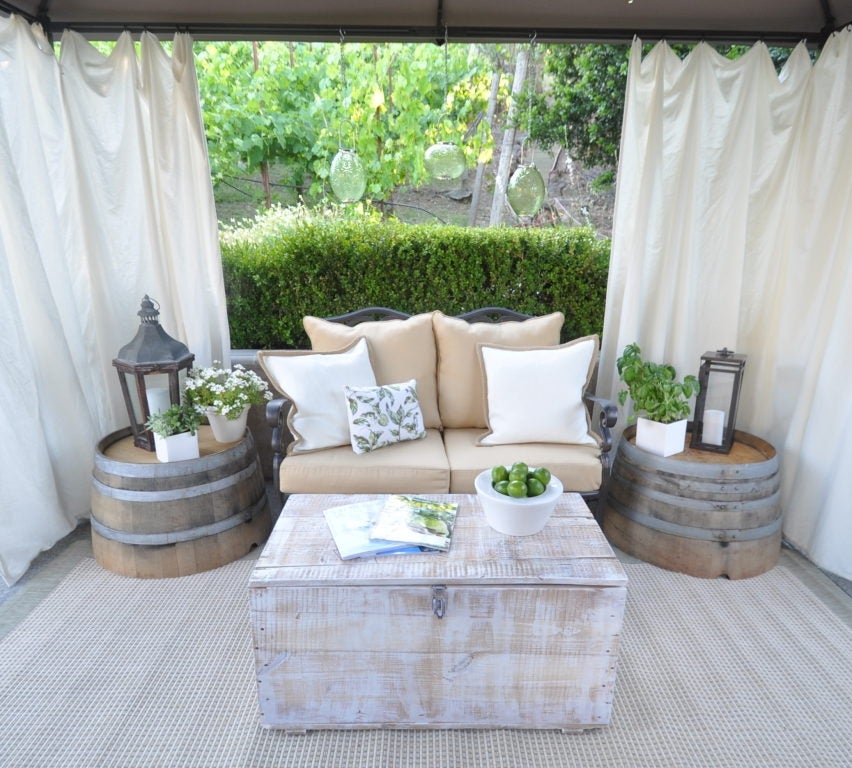 Upgrade your sun room with this old-fashioned, repurposed trunk, made of sturdy wood planks in a distressed finish. The trunk plays a role of a coffee table very well, and has a lift-up lid that conceals a spacious storage compartment.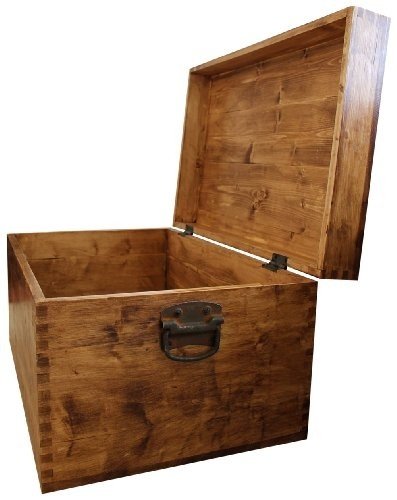 It is a box trunk that has got a Victorian style, solid wood construction and deep storage. It is perfect fr storing your blankets and other. It fits perfectly to any style and decor.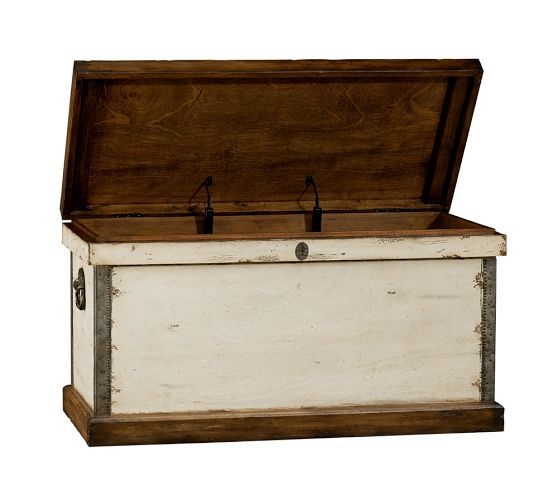 Josefa Distressed Trunk Use as a coffee table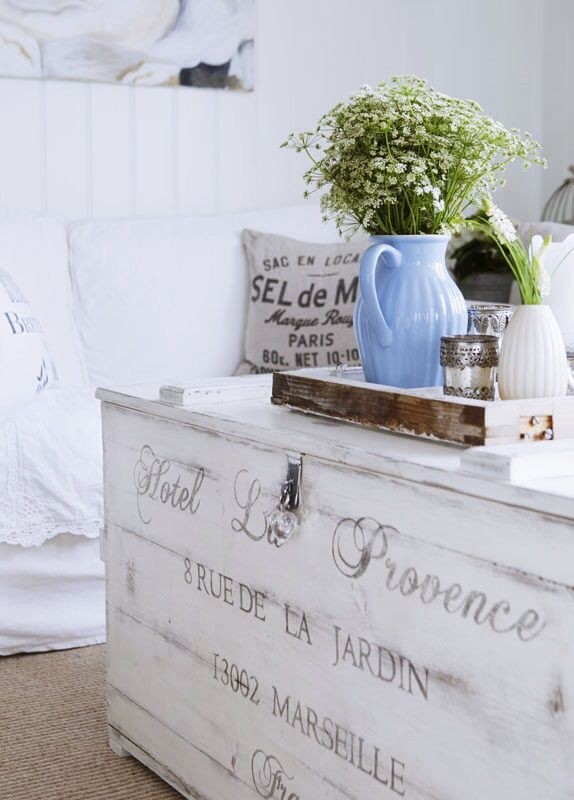 When you decide to organise your space in the Provence style, the distressed trunk coffee table could be a great part of decoration. Even if it isn't really new, it still have the great charm and looks lovely.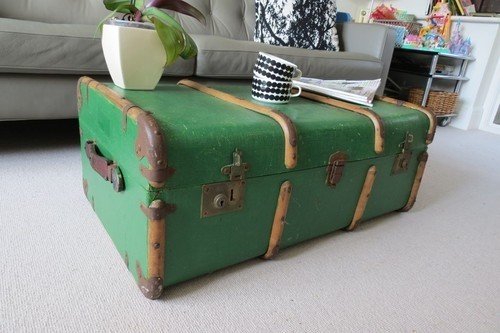 Unusual Green Vintage Shabby Chic Steamer Trunk Chest Coffee Table | eBay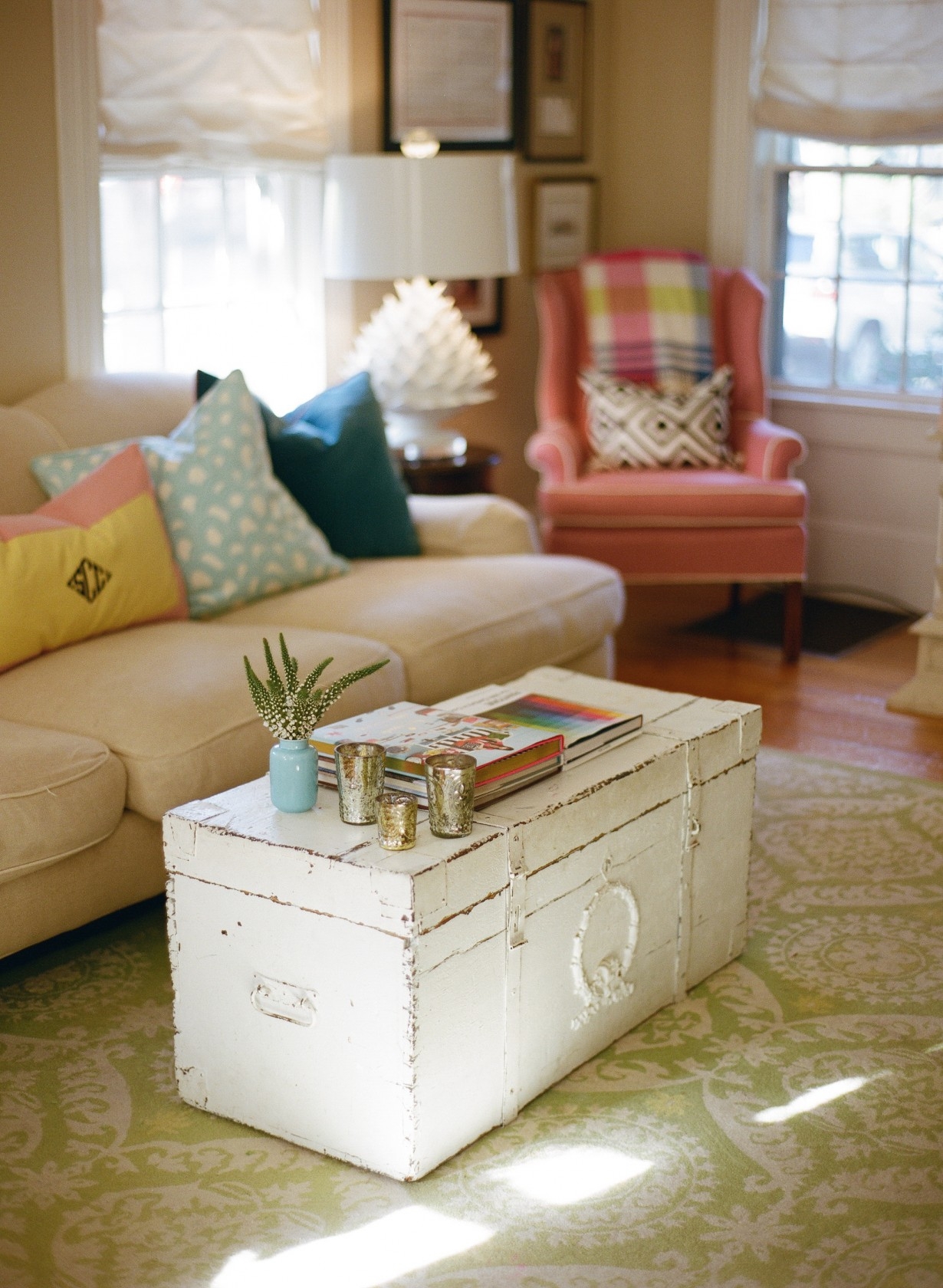 White painted old chest used as a coffee table is a great idea to add an intriguing piece of furniture to your living-room. It has all the original hinges and ornaments but all painted and a little bit stylised for even older.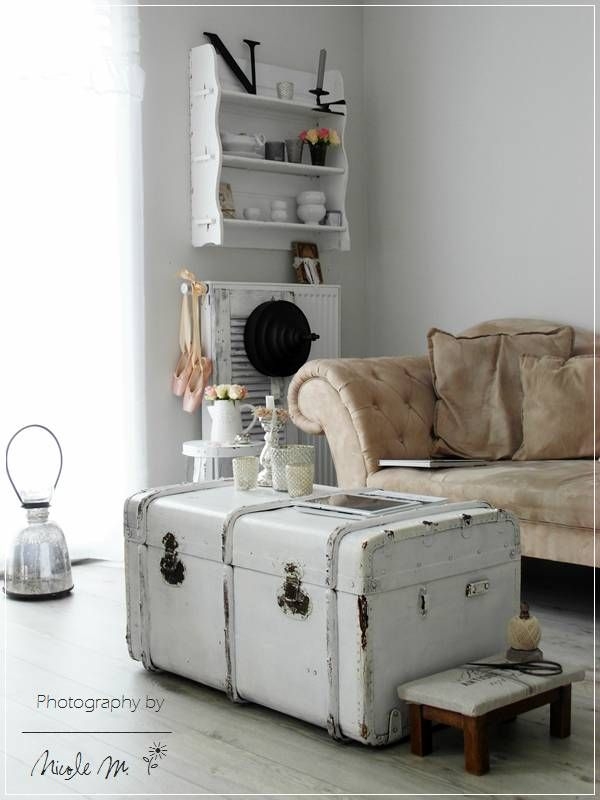 In " La Casa Blanca" which means in Spanish " a white house," there is no president, but there are a lot of white great furniture, like this distressed trunk coffee table with metal rough elements, and black clasps.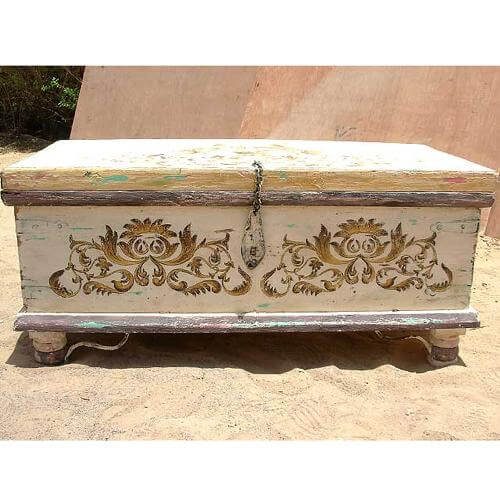 A charming coffee table converted from an old trunk! It's crafted of wood with a distressed finish in creams. It has silvery top and bottom ledges, low round legs, a thick top. Its front panel features a lovely birds design painted in golden hues.
This wonderfully finished cocktail trunk will be a perfect coffee table for all, who look for rustic accents to their interiors. It features a glass top, towering over the hardwood construction with leather and silver leaf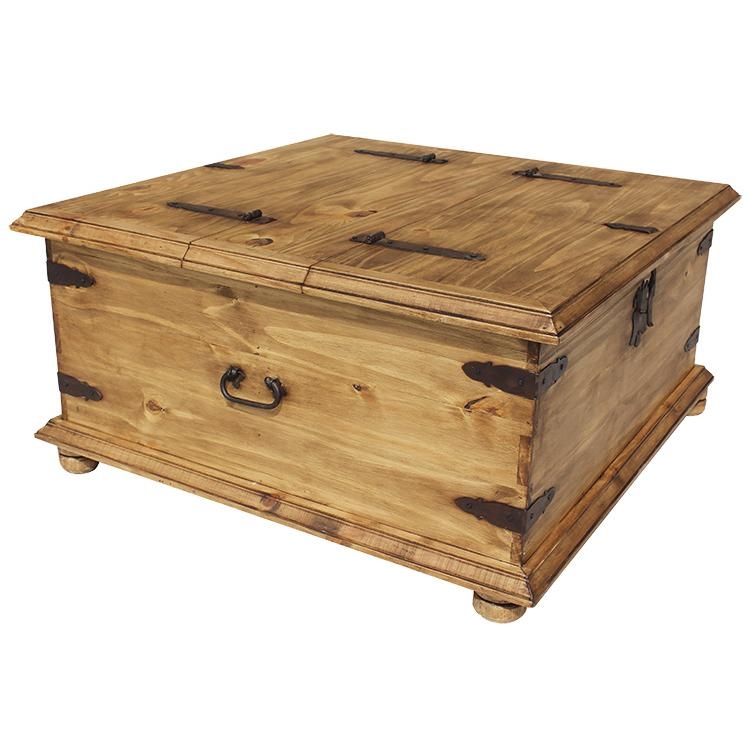 Trunk Coffee Table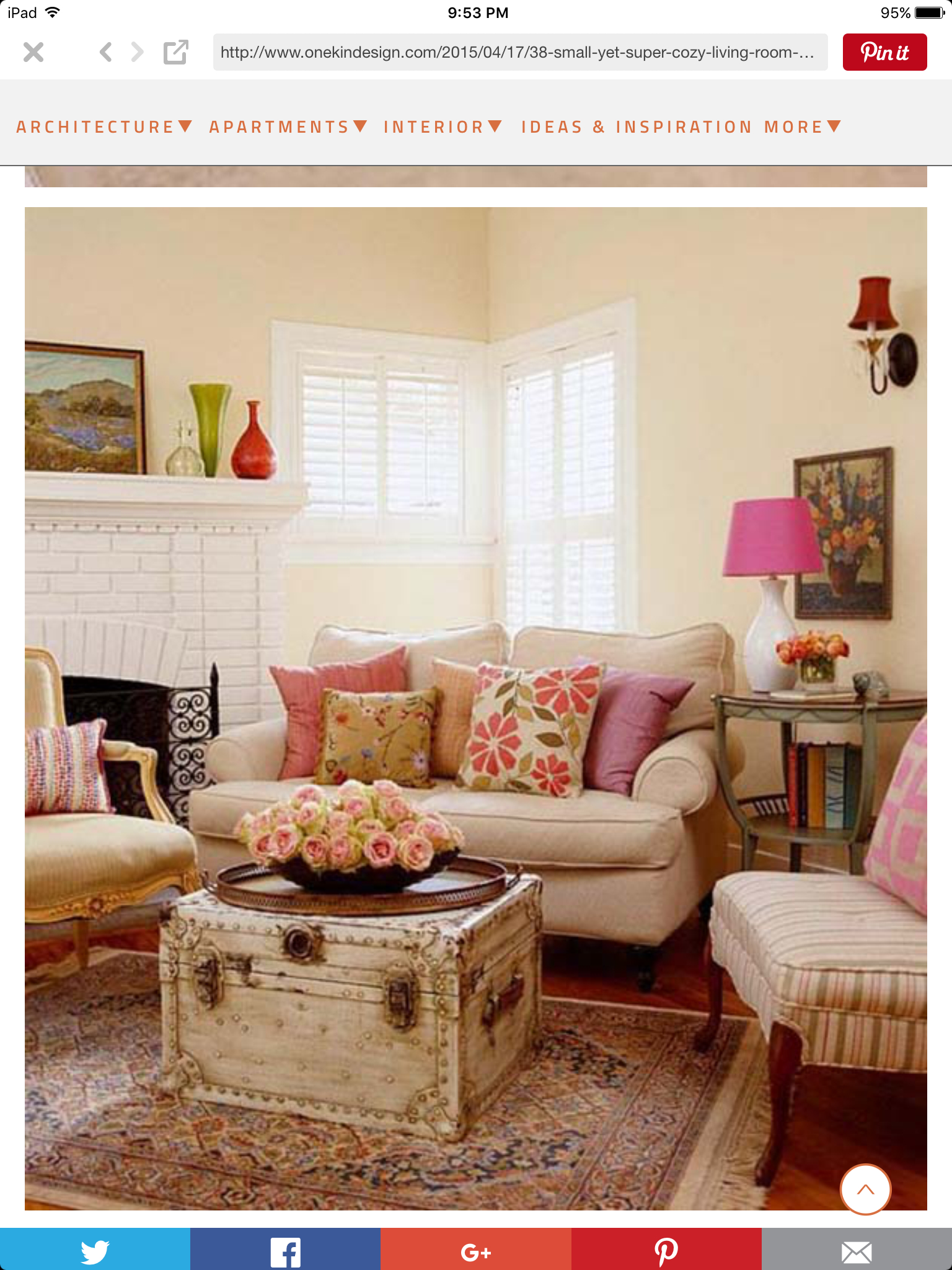 Cozy family room decor idea. As for me, the mix of colours here is just flawless. Those pink, red and green accents should clash, but they don't! Besides, I'd surely go for that distressed trunk coffee table. No doubt.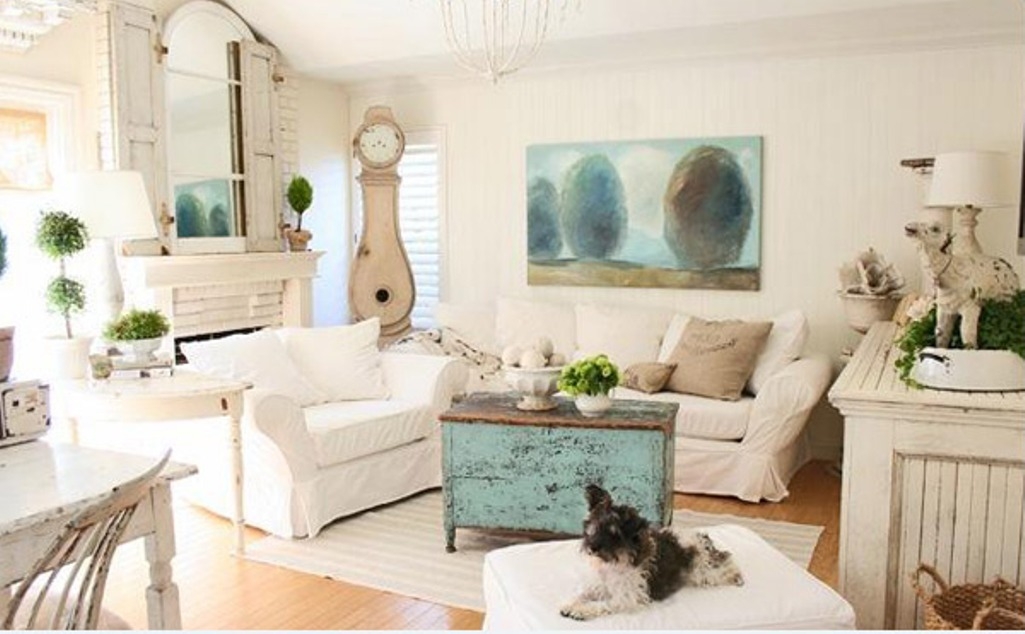 Lovely family room. The turqouise blue coffee table is so pretty. Everything is light and airy.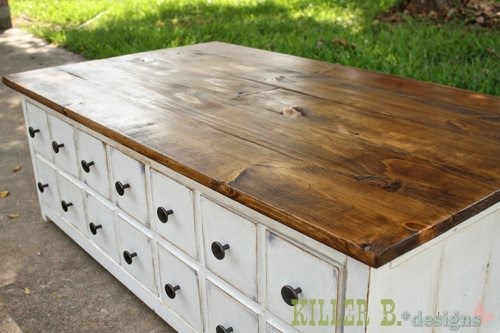 Your country home decor will never look the same, anymore, if you choose this distressed trunk coffee table. Bathed in a two-tone finish, the table features 14 small drawers with black pull knobs, and a large top that can be used in various ways.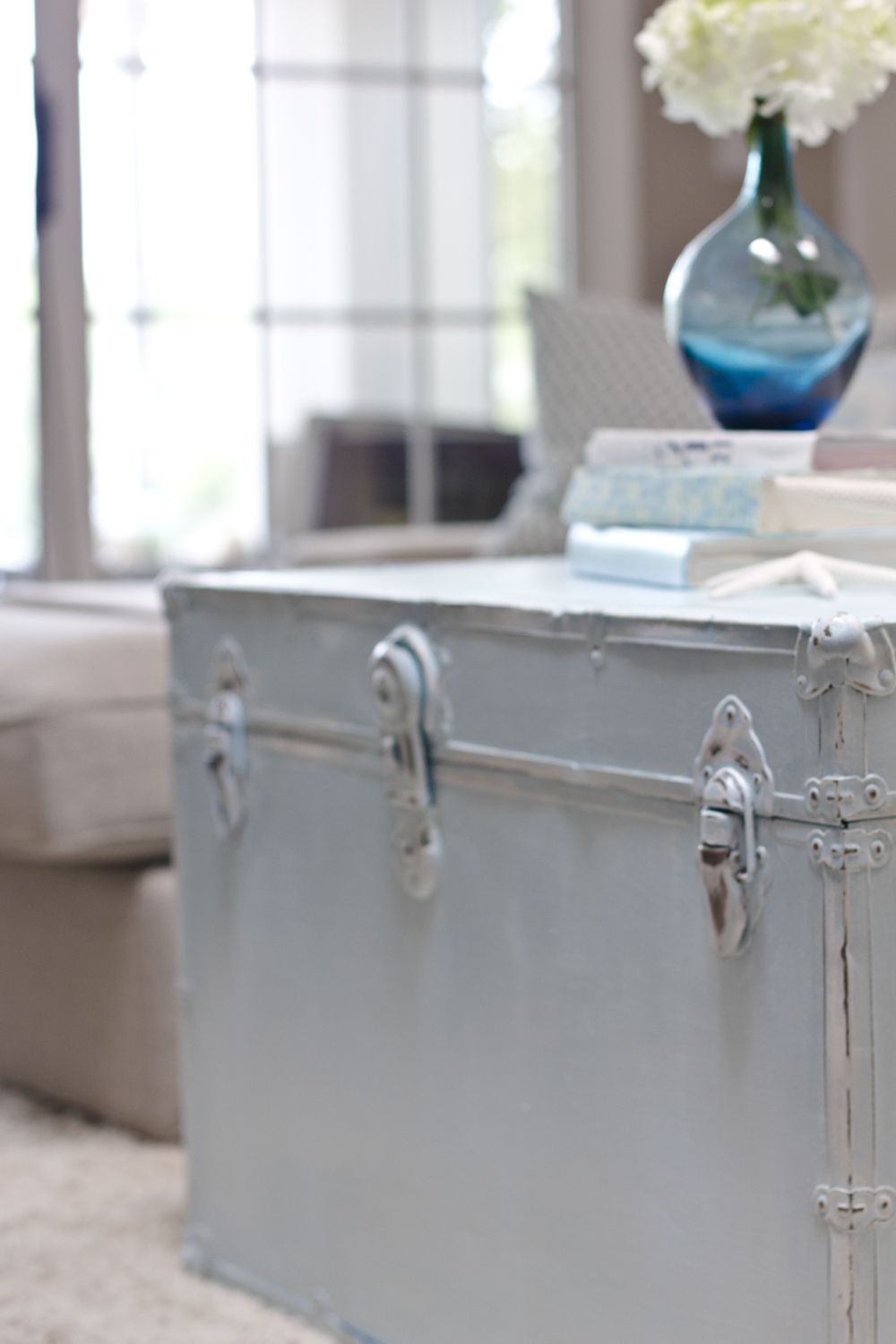 This white distressed trunk serving the role of a coffee table may be an inspiration for all, who want to add their interiors some cool rustic or vintage vibe. Inside you will find enough space for your books, magazines, linens or other stuff.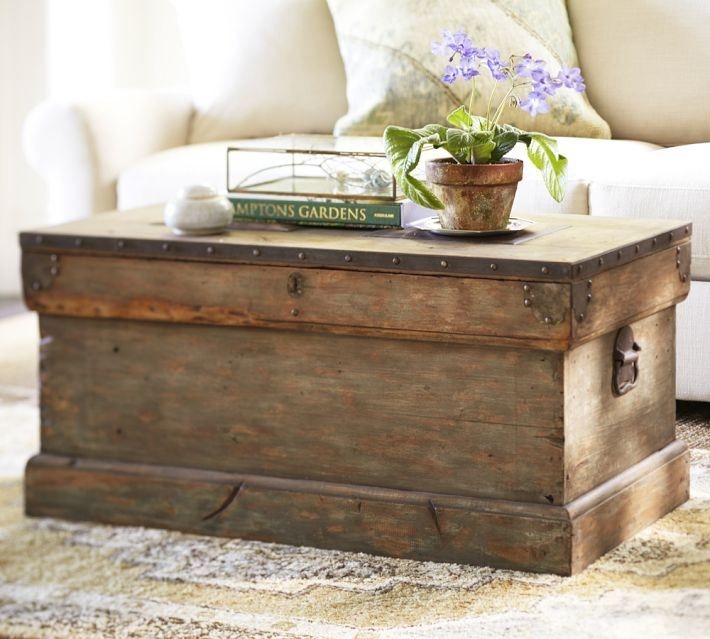 Check it out at Entirely Eventful Day .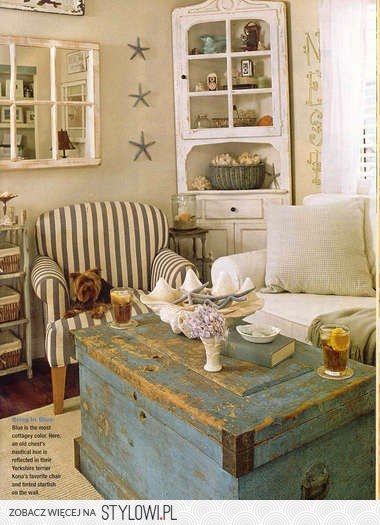 distressed trunk coffee table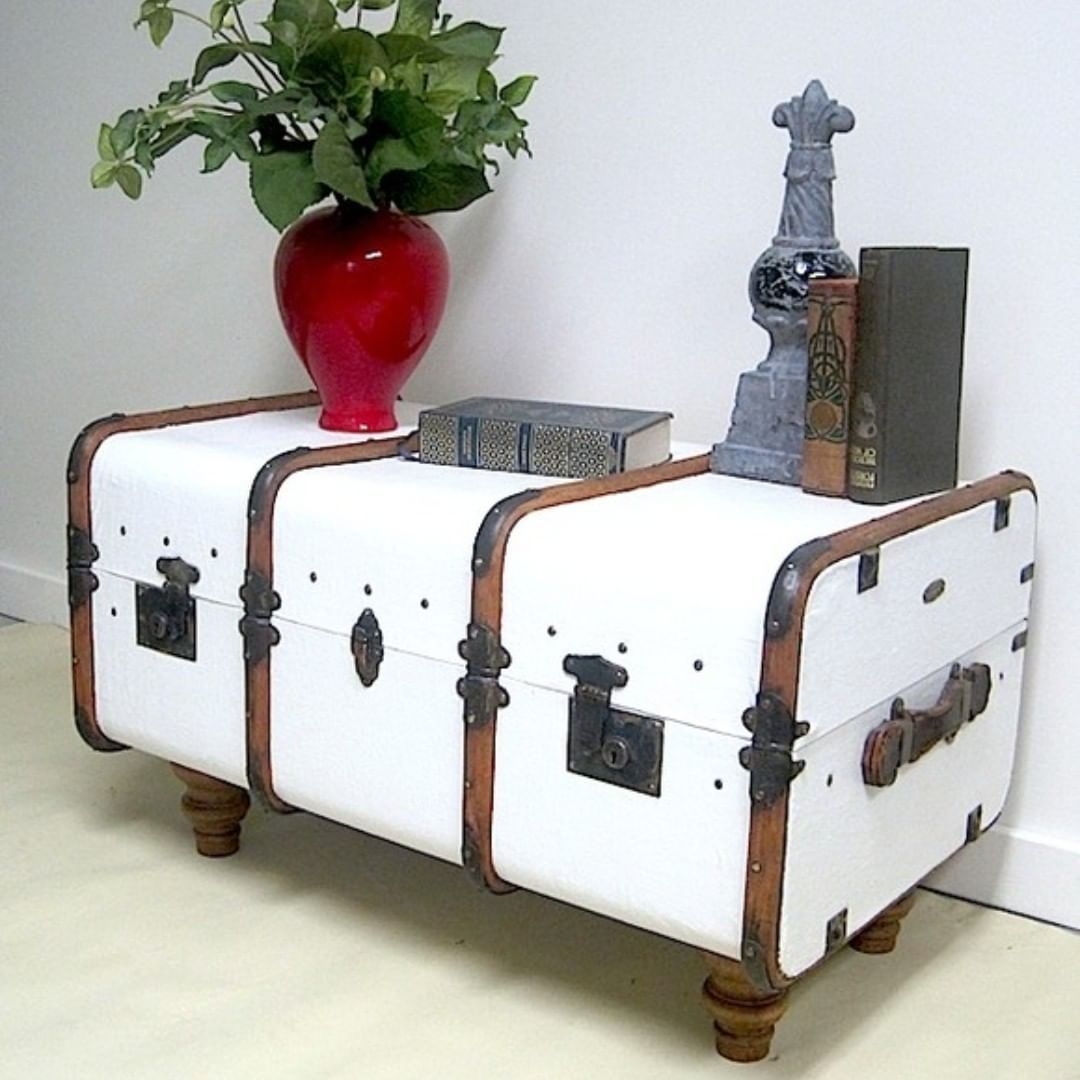 Combine functionalities and style at your home, and choose the antique streamer trunk with storage options. It can be used as an unique coffee table with revarnished wood strapping and white color.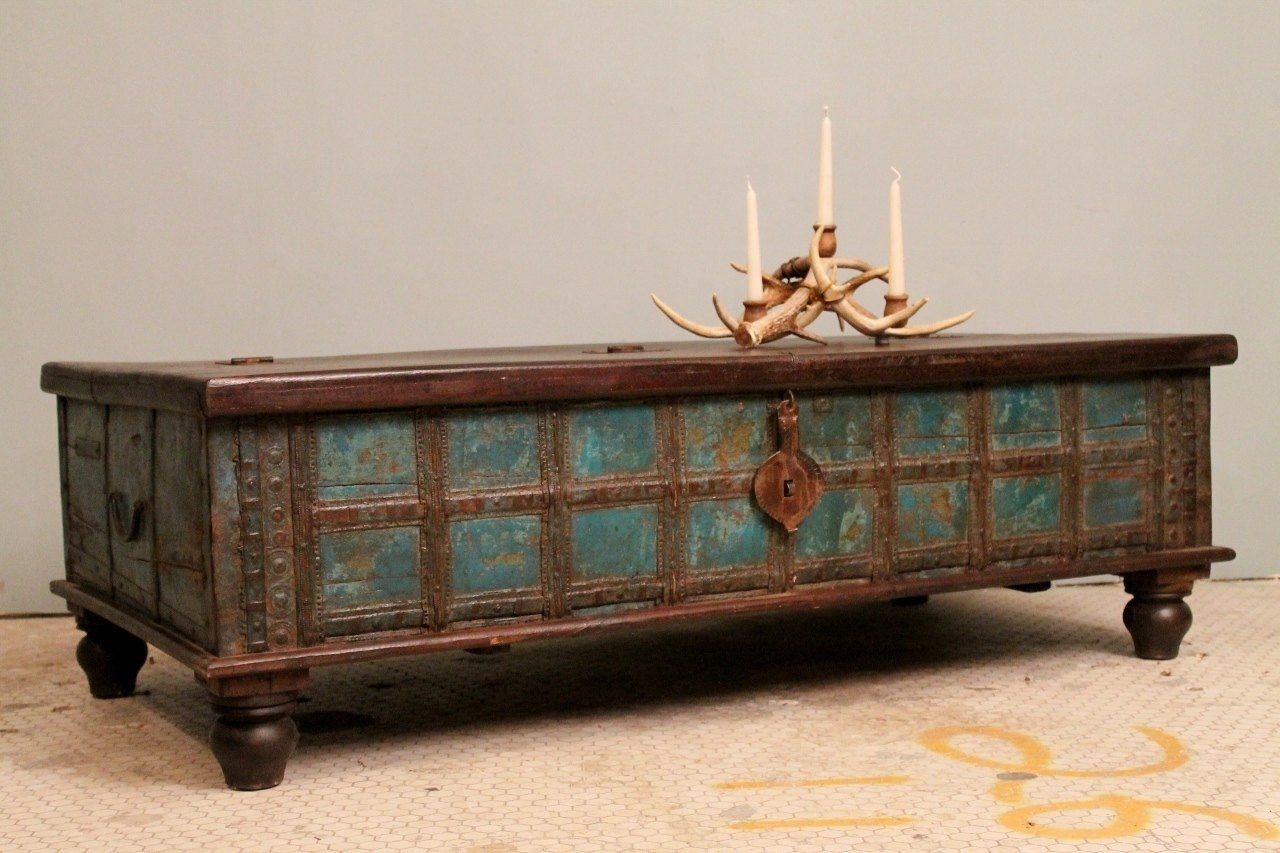 Distressed Blue Antique Indian Wedding Trunk Coffee Table Chest w/ Lock Brass Strapped Teak and Iron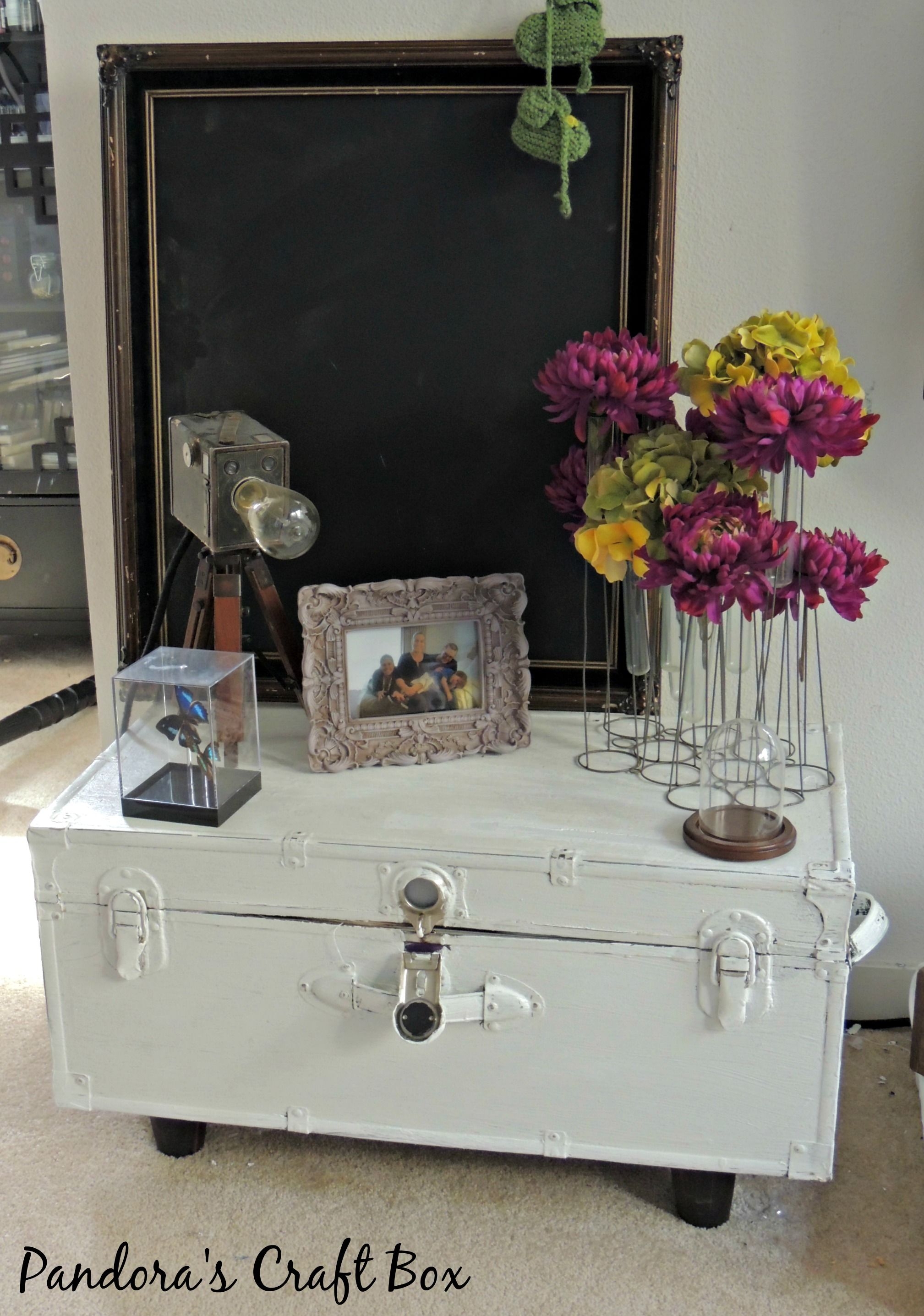 How to chalk paint your trunk coffee table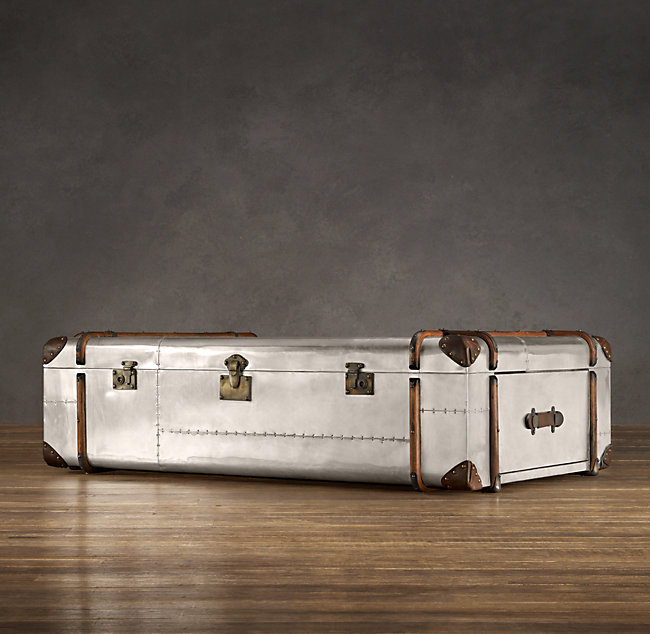 Large coffee table with a nice, decorative and practical trunk stylization. Its metal construction is finished in neutral silver color with some brown metal accents. This table is stylish and provides practical storage space.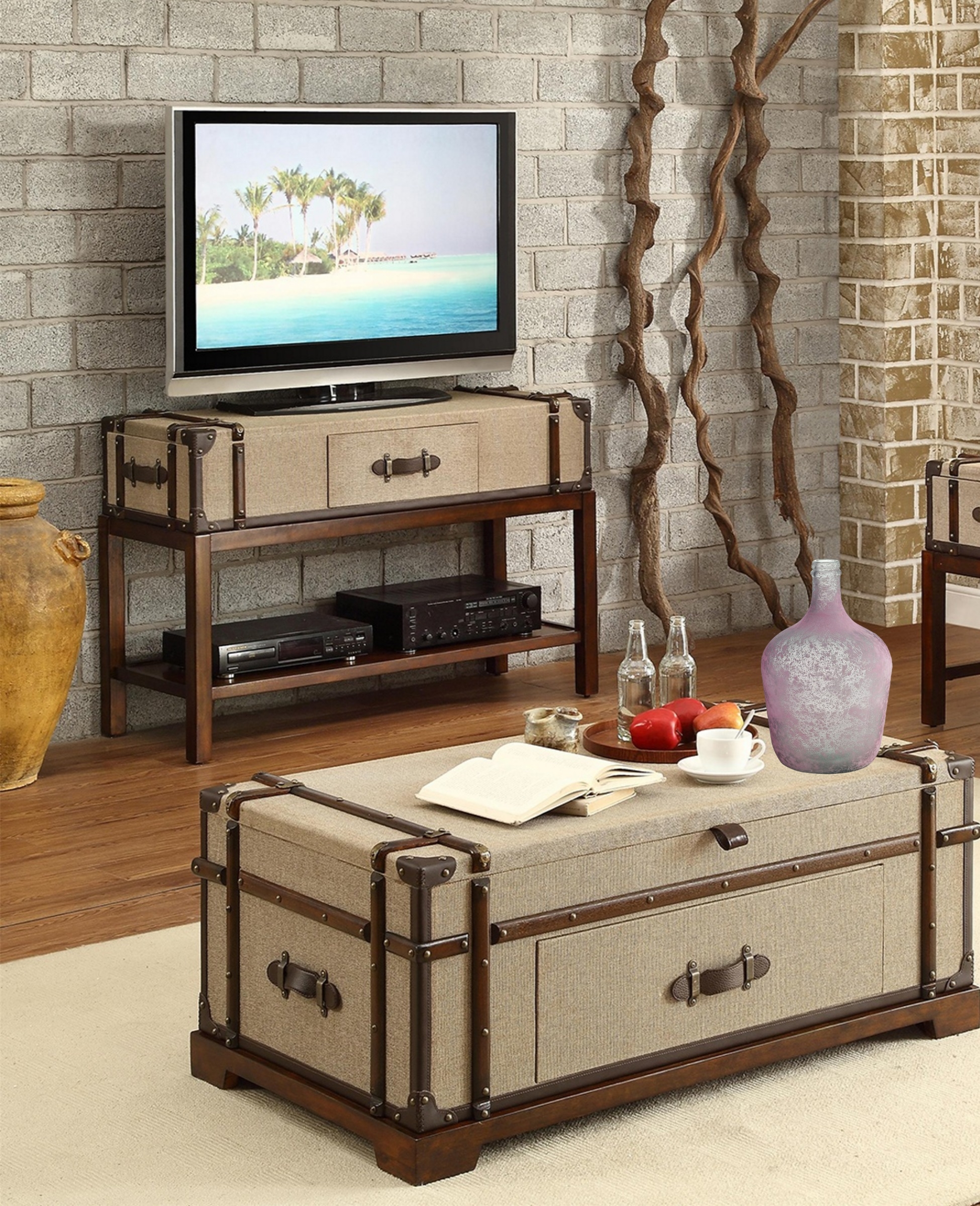 Trunk Lift Top Coffee Table 22603 Riverside | Bon Voyage Steamer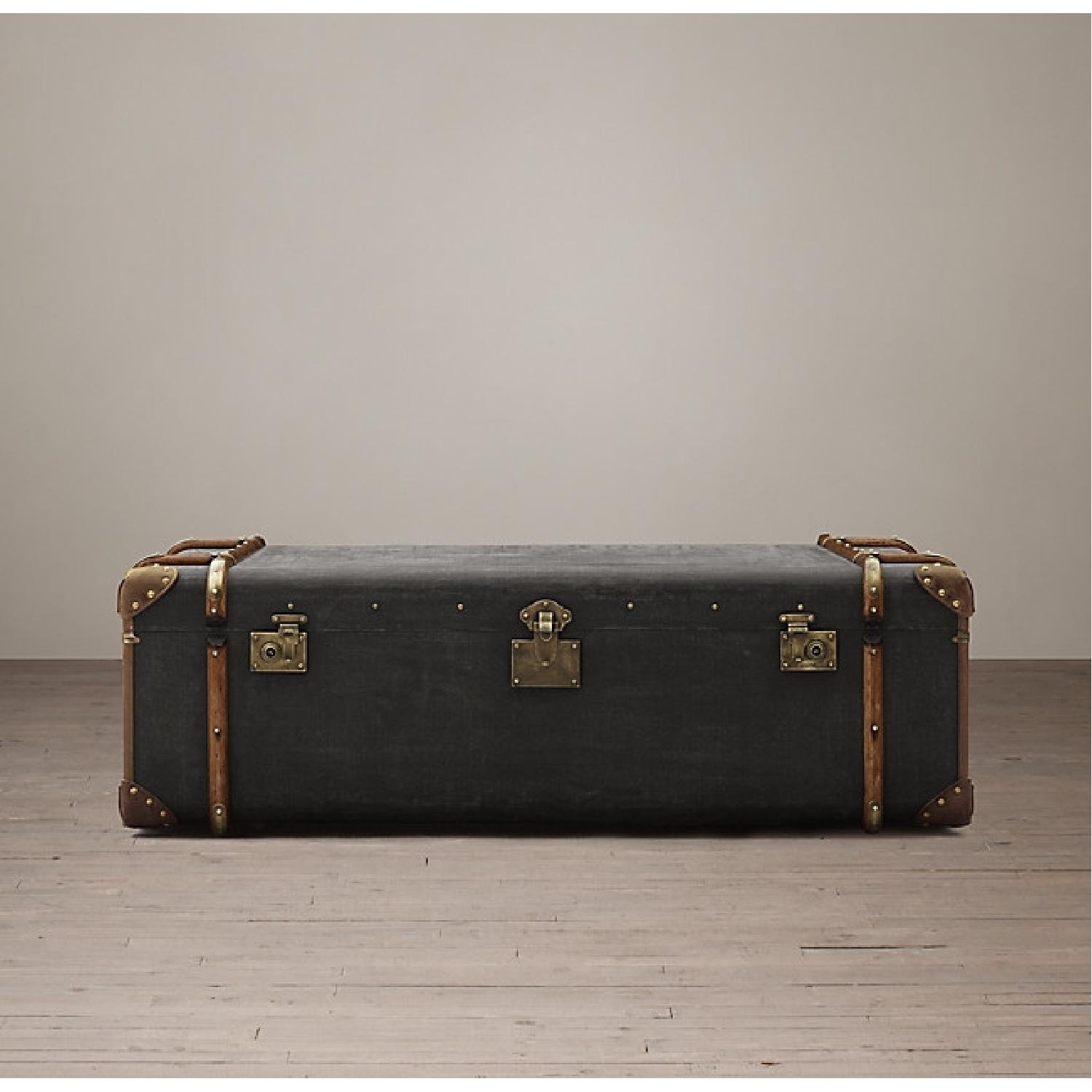 Vintage design for an old-fashioned, retro coffee table made out of an old, large trunk storage, providing an eclectic look. The trunk coffee table makes for a great replacement in any living room, providing a unique detail.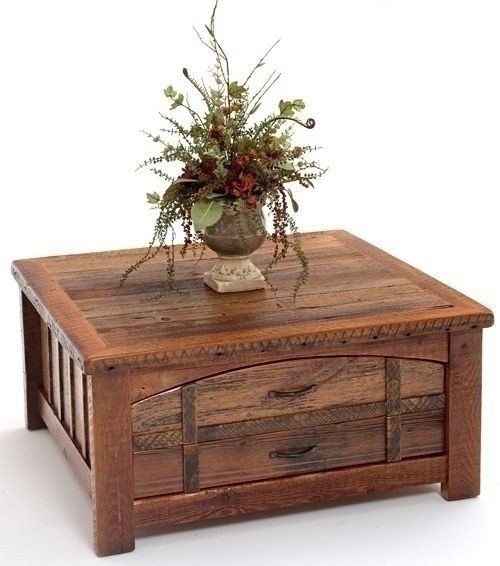 With the weathered wood structure and the sublime design with two spacious drawers this barnwood coffee table sports a design sure to astonish all and perfect for a refined looking household with much style to give.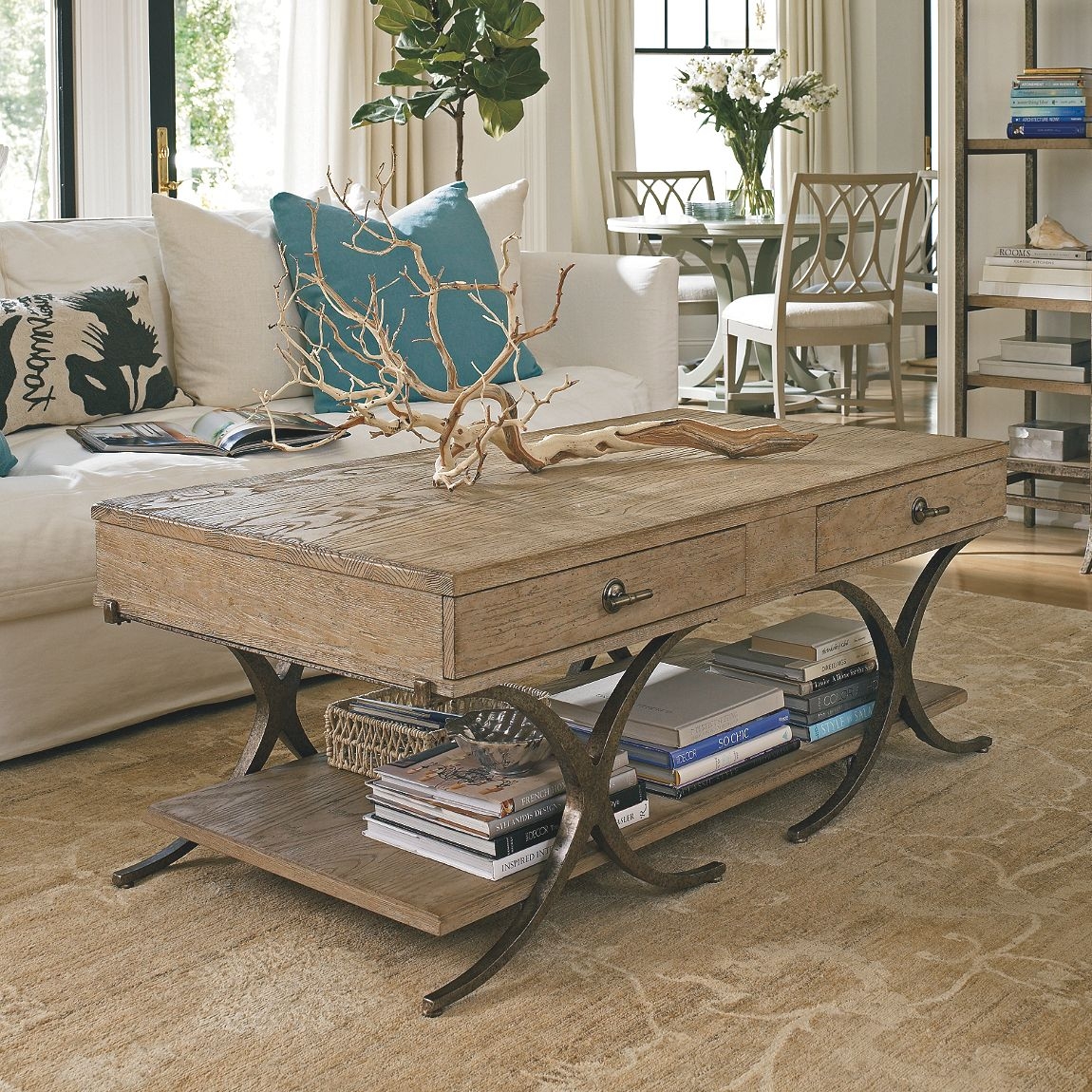 A cool contemporary coffee table featuring 2 pairs of X-crossed legs of bowed metal rods with a bronze finish. Its rectangular top with 2 drawers underneath and bottom shelf are of wood with a distressed natural finish. Drawers have metal T-pulls.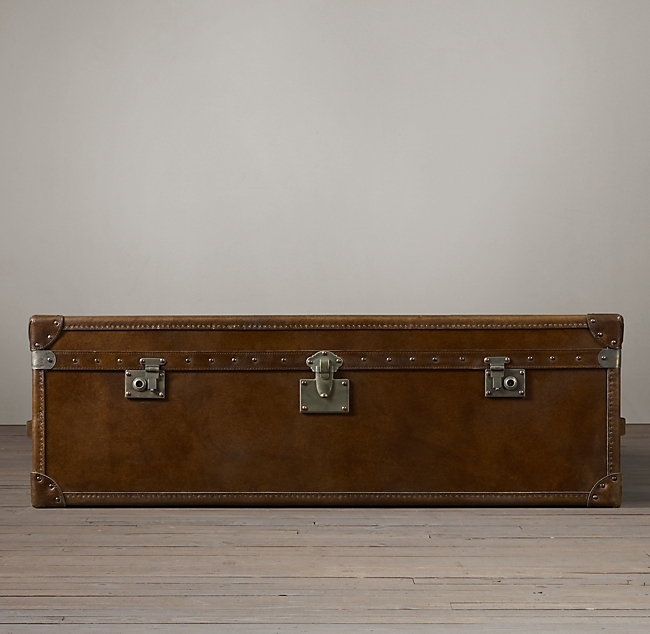 Coffee table in the shape of trunk. Includes capacious compartment for storing needed stuff. Frame is made of wood. It is covered with leather and finished with metal accents.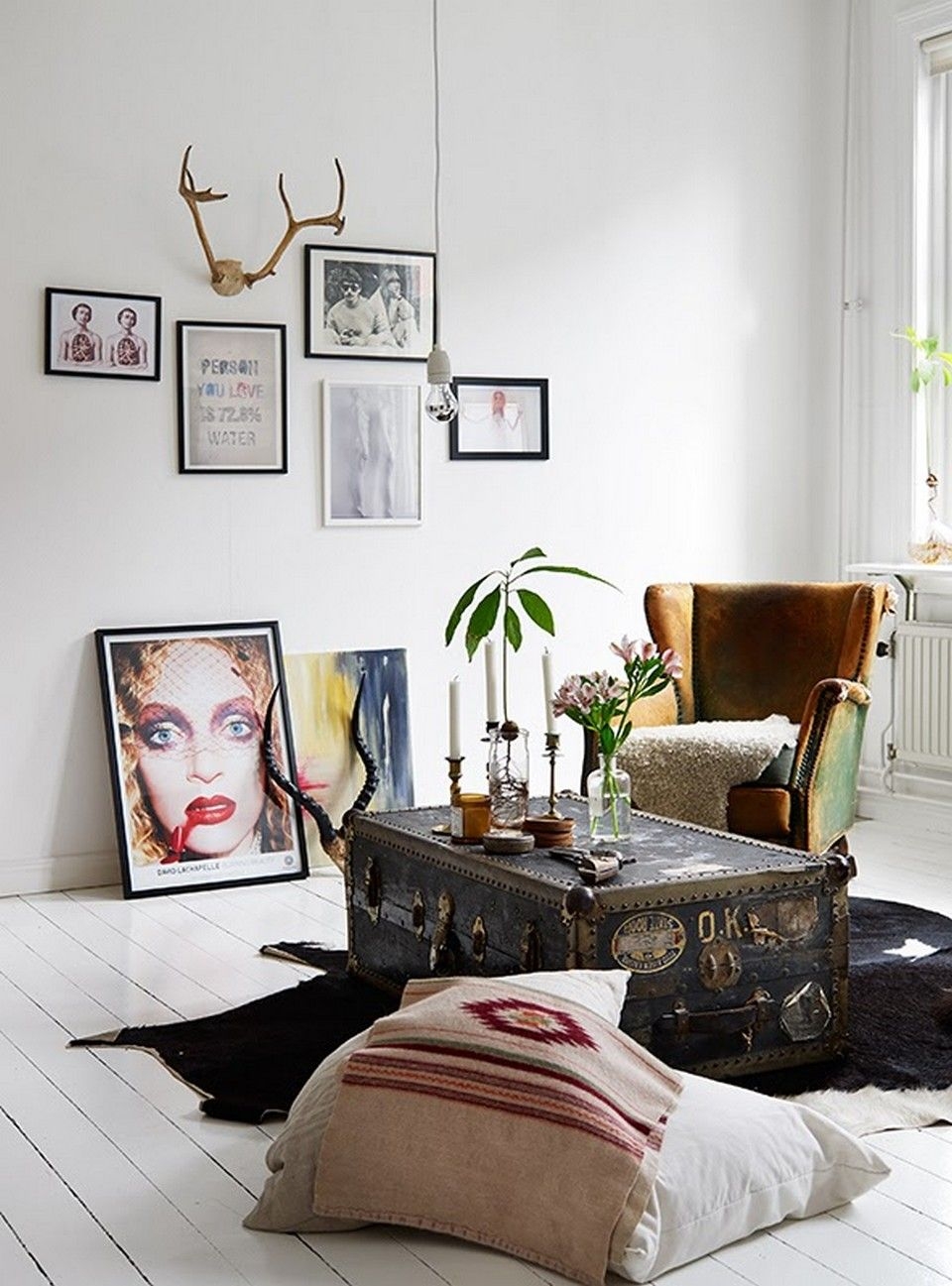 Méchant Design: distressed walls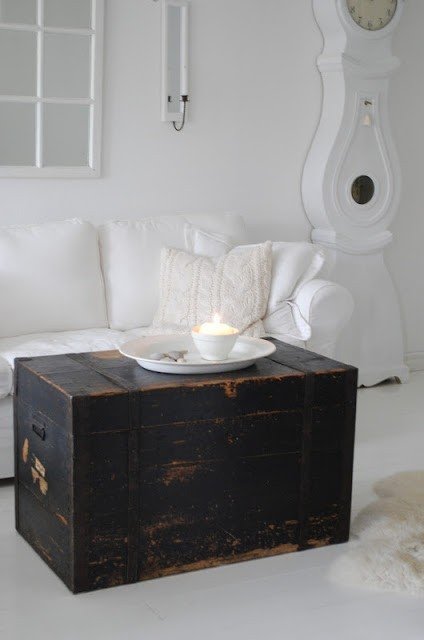 Cottage Chic living room with antique trunk as coffee table. These Trunks were used for luggage in the early 1900's.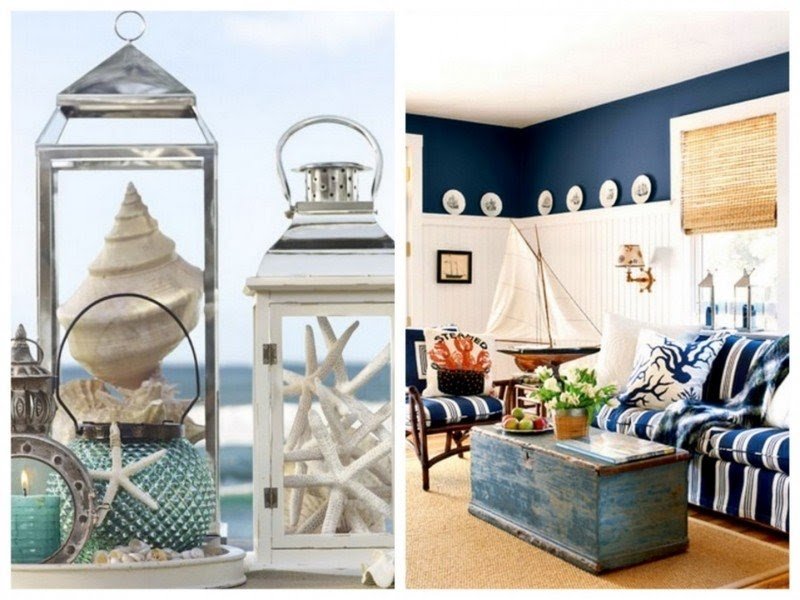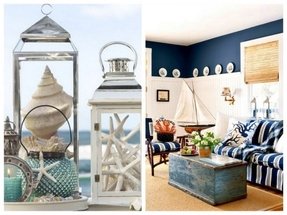 A coffee table that looks like a treasure chest! Made of wood that was distressed, it brings the spirit of the old times. It's in a beautiful color of the sea and it will look great when accompanied by other costal decorations.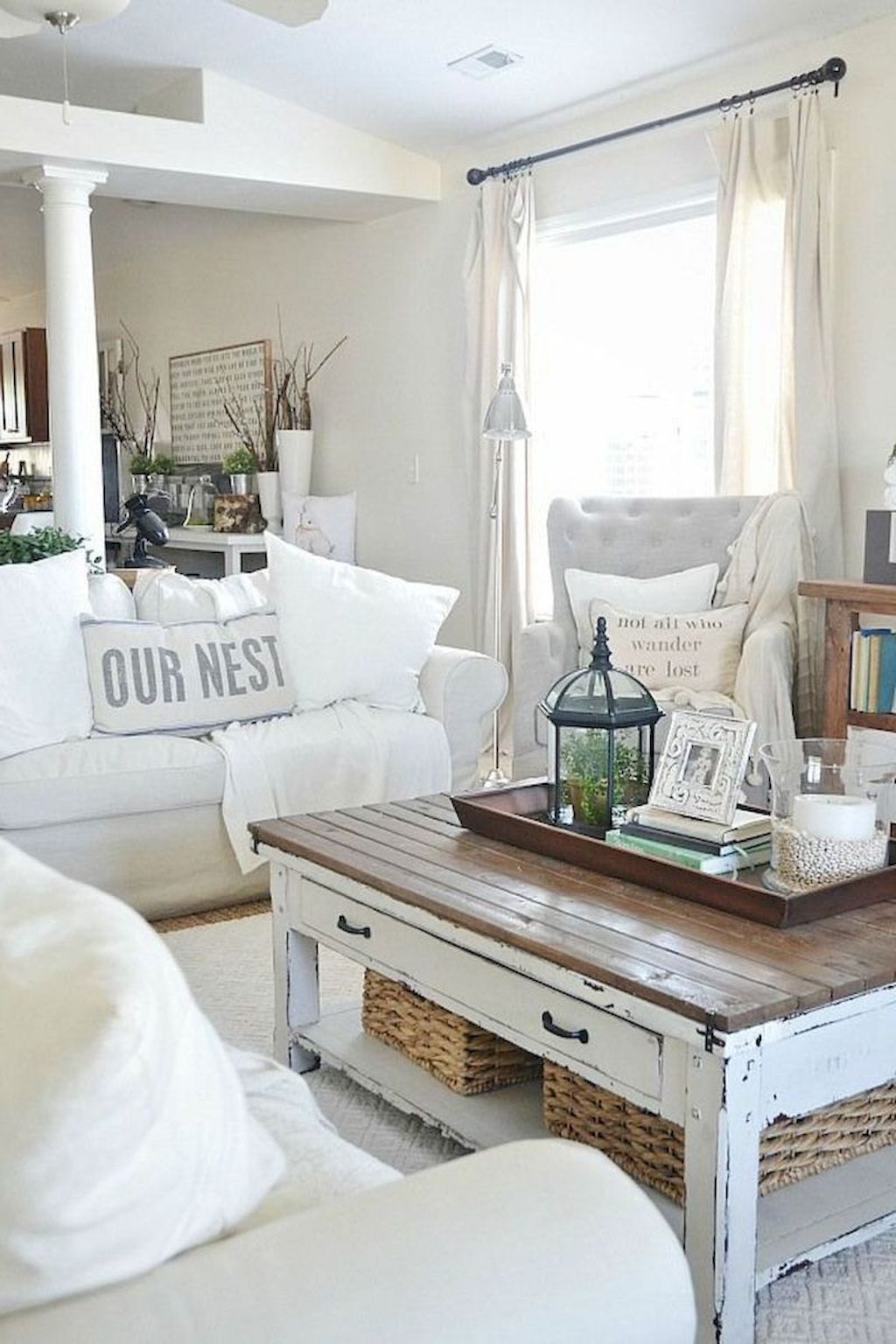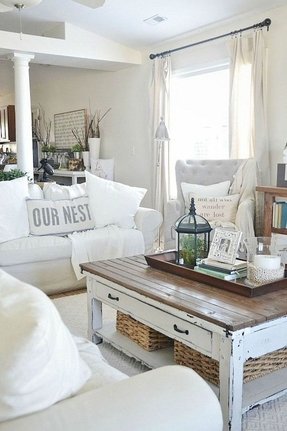 Recent Photos The Commons Getty Collection Galleries World Map App ...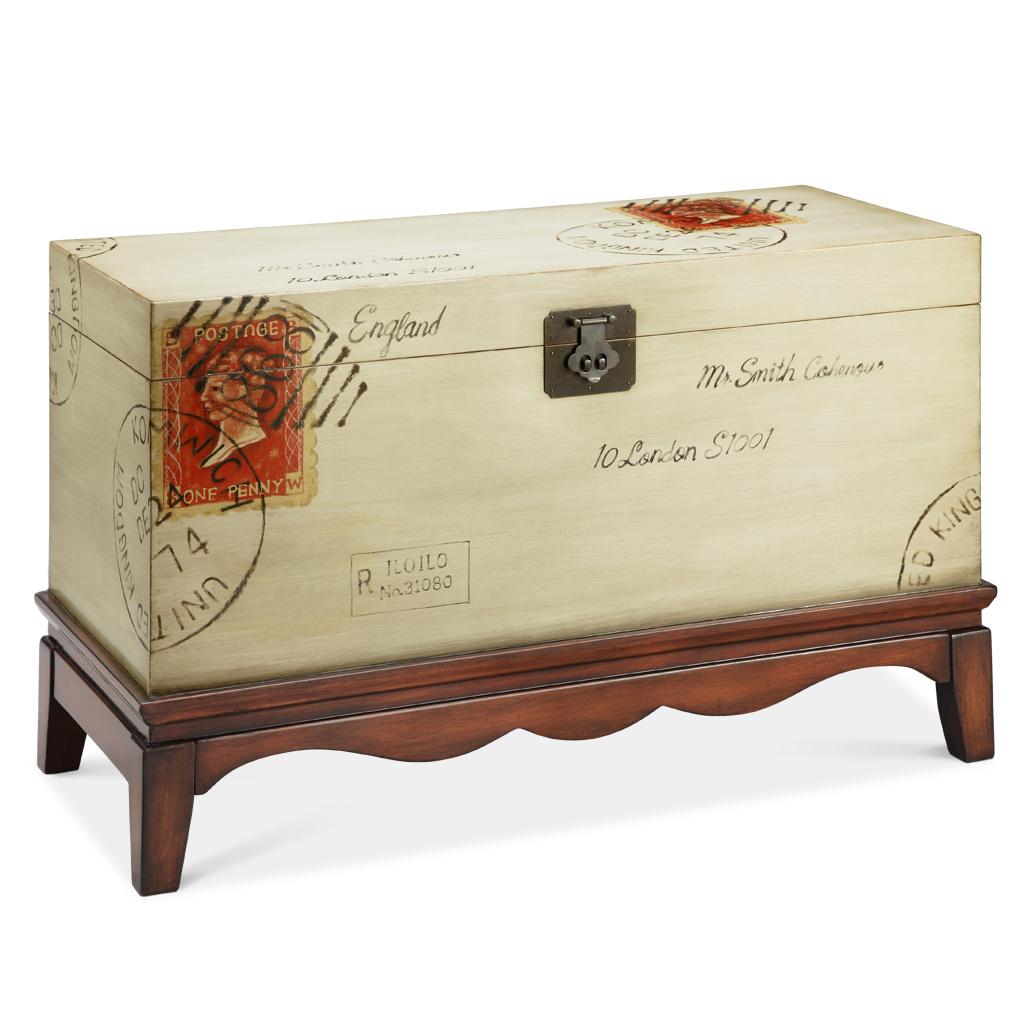 Postage Trunk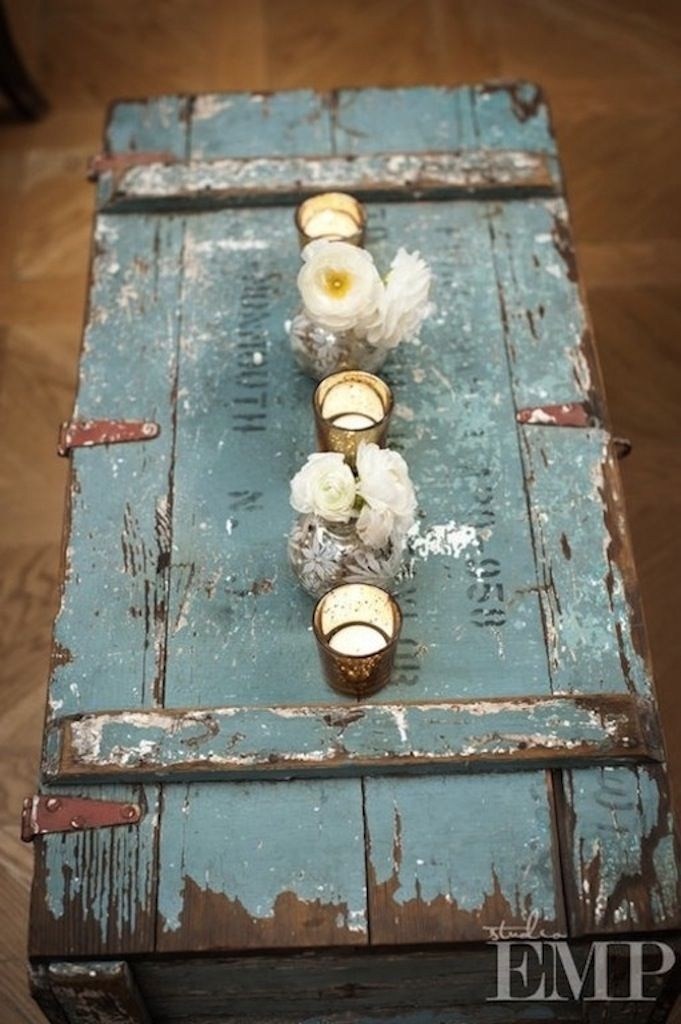 If you are looking for an original coffee table this kind of wood storage trunk in an attractive finish will be perfect. Large capacity and attractive design make the whole can be used in many ways.