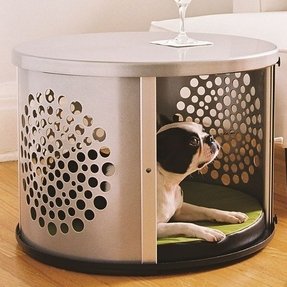 BowHaus Modern Pet Crate
This modern side table in a kennel in one is the perfect solution for your home. Blend beautifully with modern wystrojemn interior, and the metal structure with finesse cutouts and a comfortable seat inside, the interior adds a wonderful character.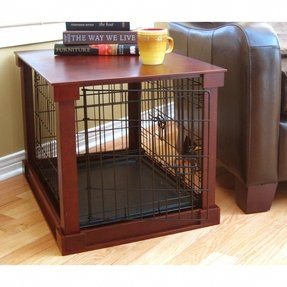 Four Legged Furniture Ronan Dog Crate
Functionality is the key to a good interior, especially if we have pets at home. Combining a coffee table with a cage for our pet - it's a great space saver. A dog crate is made of dark metal, but it absolutely does not interfere with the style of the table.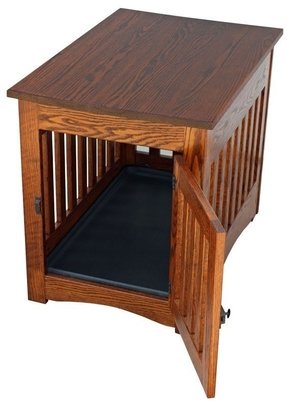 Pictured Above: Mission Style End Table Dog Crate in Oak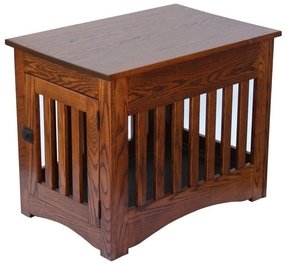 Mission Dog Crate End Table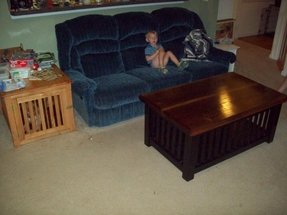 Newest Coffee table/dog crate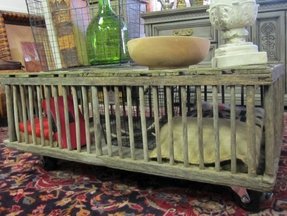 Vintage Finds: Chicken Coop Turned Coffee Table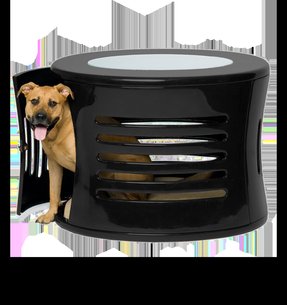 Futuristic coffee table, very modern - black, made to high gloss with modernist, minimalist decorations.And underneath? Your dog hides! Because it's also a dog crate - house. The table has subtle longitudinal cutouts, so the dog can observe everything.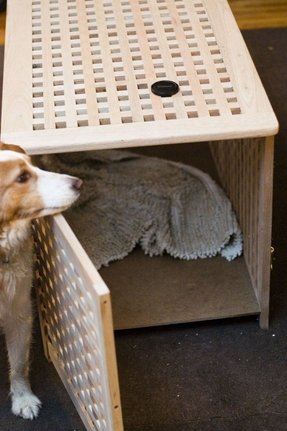 If you have a small space and a small dog to match, you can use this ...
... /68653378/medium-dog-crate-end-table?ref=v1_other_1 I need this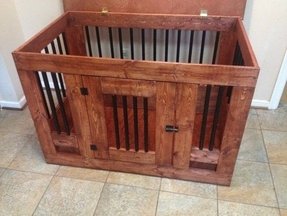 Dog crate end table with chew proof bars by Cre8tivefurniture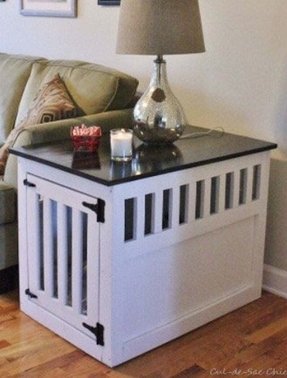 A pretty practical end table and a dog crate in one crafted of 2-tone-finished wooden materials. Its rectangular top has brown tones. A base has a front door with vertical cutouts. Catches and dashy hinges are of black metal. Sides have cutouts up.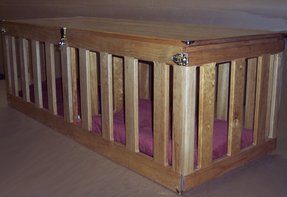 Coffee Table Dog crates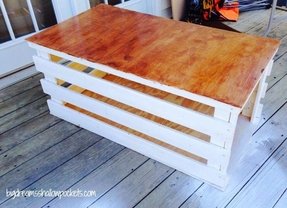 Stylish coffee table with dog crate inside is the perfect solution for any dog owner who wants the house to look smart and pet-friendly. The whole made of wood has been interestingly painted and presents itself exceptionally impressive.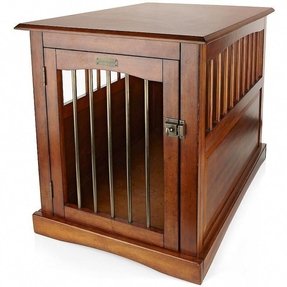 Improvements End Table Dog Crate - Large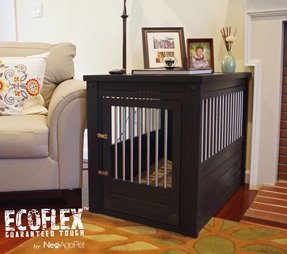 EcoFLEX Pet Crate End Table
Create the perfect place for your pet, while they are indoors. You get both the amazing functionality and stunning style with the versatile finish. It is durable and strong enough to ensure you get many years of great and problem-free use.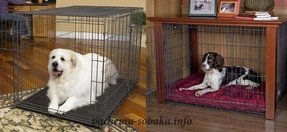 A durable dog crate for indoors, that will keep your dog cozy, offering a comfy place to take a nap. The crate is surrounded by metal wire panels and has a large door for easy access. It's also integrated with a coffe table that's wood-made and covered in a cherry finish.

DIY Modern Pet Crate Coffee Table 2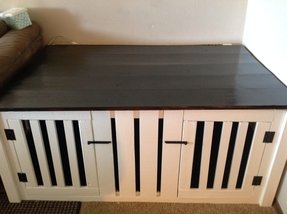 Dog crate in neutral form. Construction is made of wood. Designed for medium sized pets. It can be used as coffee table. Simple form and functional design for each place as needed.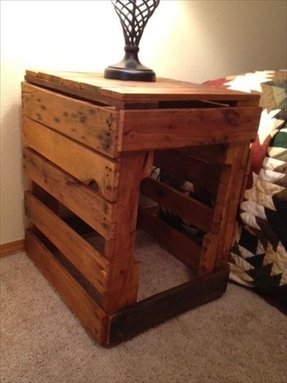 Pallet Nightstand, Coffee Table or Bar Table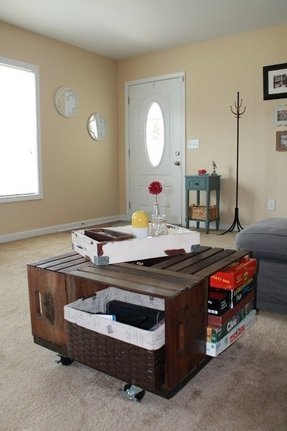 Wine Crate Coffee Table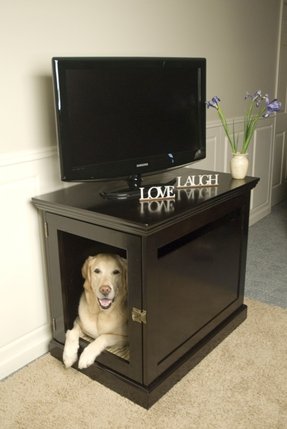 Dogs need proper houses, and this furniture dog crate is an excellent choice. Dark colour and minimalistic finish make it elegant, modern and stylish. It plays a double duty of being a TV stand and a dog house, both at once.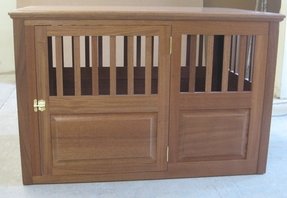 Solid Wood Pet Crate
This sturdy cage for a pet home is a great solution if you want to close your pet in bezpicznym and convenient location. It has a lockable door, and is made of solid and durable wood.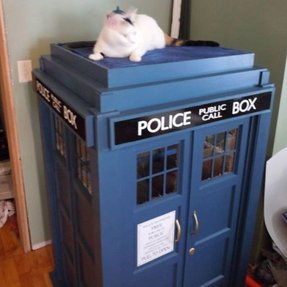 <3 Dr Who cat fort and an crazy wood and glass USS Enterprise coffee table? Nerds rock!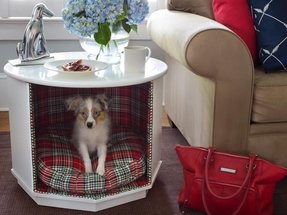 Paint old end table and line inside with oil cloth for easy cleanup.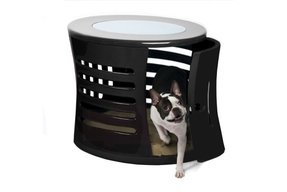 ZenHaus Modern Pet Crate
Modern pet crate. This contemporary and stylish pet crate will be your pet's best friend and add a touch of style into your surroundings. The crate is made from hand-crafted pieces constructed of waterproof fiberglass and features a removable doors.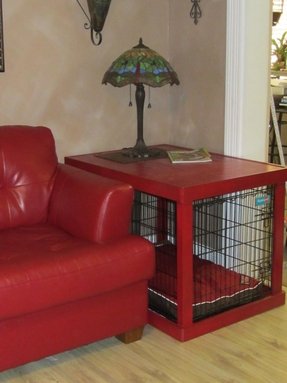 A creative way of combining indoor dog house with side table. This unit has a sturdy frame crafted of red-finished wood and covered with black wire lattice panels. It has a large front door for easy access, and a smooth top for magazines, and decorations.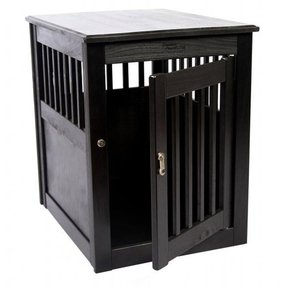 Coffee table dog crate!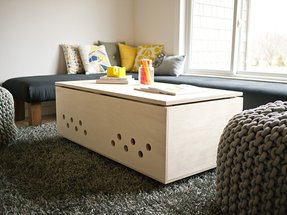 Equal parts crate and coffee table - form meets function!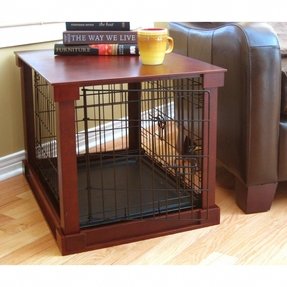 Build a coffee table around a dog crate to look classier and for good ...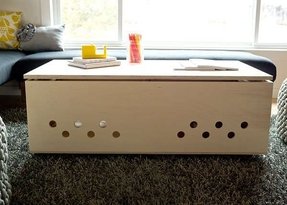 DIY dog crate/coffee table. (Small dogs)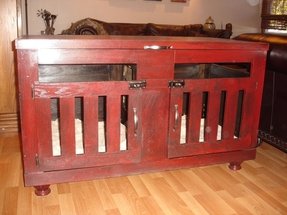 Dog crates I've built and the boys are modeling in them. Dog toys for ...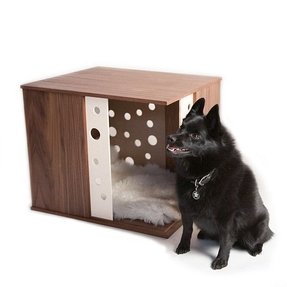 Coffee Table for small dogs. Lovely in Walnut!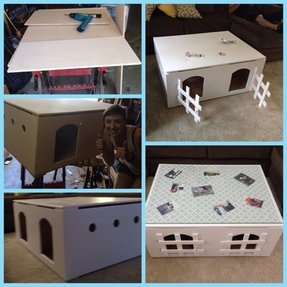 My DIY dog crate / coffee table combo. Love how it turned out! I has plenty of airflow and I can change the table top whenever I want because of the glass top I got for it. Project totaled under $100 not including custom sized glass.
Wine/whiskey barrel table plans/tips?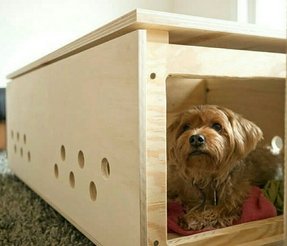 A cool modern coffee table and a ... dog house in one made of wooden materials with a light natural finish. It has a box-like frame, a rectangular lifted top, an entrance on a side and ventilation holes in walls.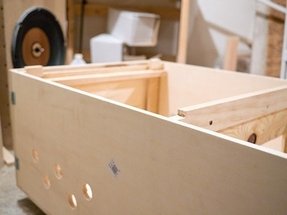 Building and assembling patterned cut-outs and a raised lid for ...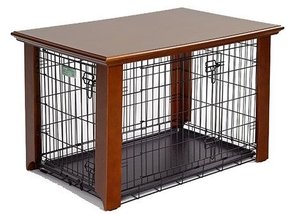 A fantastic idea to make your pup jumping for joy, thanks to this lovely dog crate that you can place inside your house. The crate is made of hardwood in mahogany finish and surrounded with lattice wire panels for ventilation. And it can also be used as a stylish coffee table.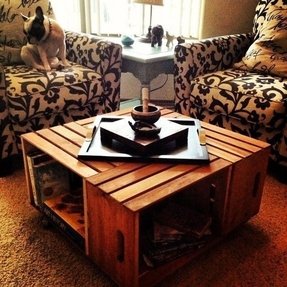 If you love hand-made furniture ar you are eco-friendly, this coffee table will be must-have in your living room. It is recycled of old wooden boxes covered with lacquer. It has shelves perfects to storage books.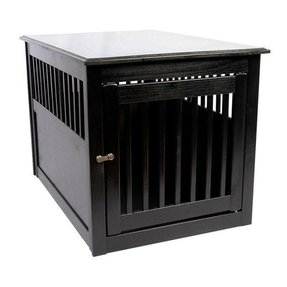 dog kennel coffee table. So what if we did this but with a coffee table so it's double wide?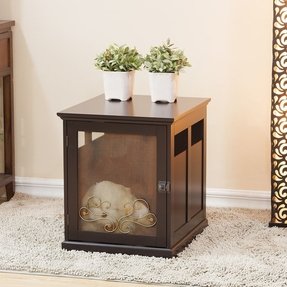 Jax Dog Crate
This cage your pet is the perfect solution for trained dogs. The spacious interior allows your dog to rest peacefully. Ventilation and beautiful design makes it can also serve as a coffee table and a decorative element. Your dog and you'll be satisfied.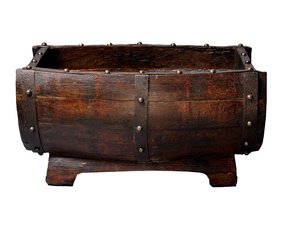 Half-Barrel Planter