Dog Crate Furniture
Dog crates are a vital and necessary item for any dog owner, but finding dog crate furniture that is both stylish yet functional can be a difficult task. With so much choice on the market, there is no need to settle for kennel furniture which does not fit in with your other home décor.
The perfect furniture style dog crate should be comfortable and relaxing to ensure your dog wants to spend as much time in it as possible. Most are made out of wood so are nice and sturdy without being an eyesore, but with a variety of shapes and sizes available it is always best to consider how active your dog is to get an idea of the size you'll need.
Here's a few of the best picks to get you started.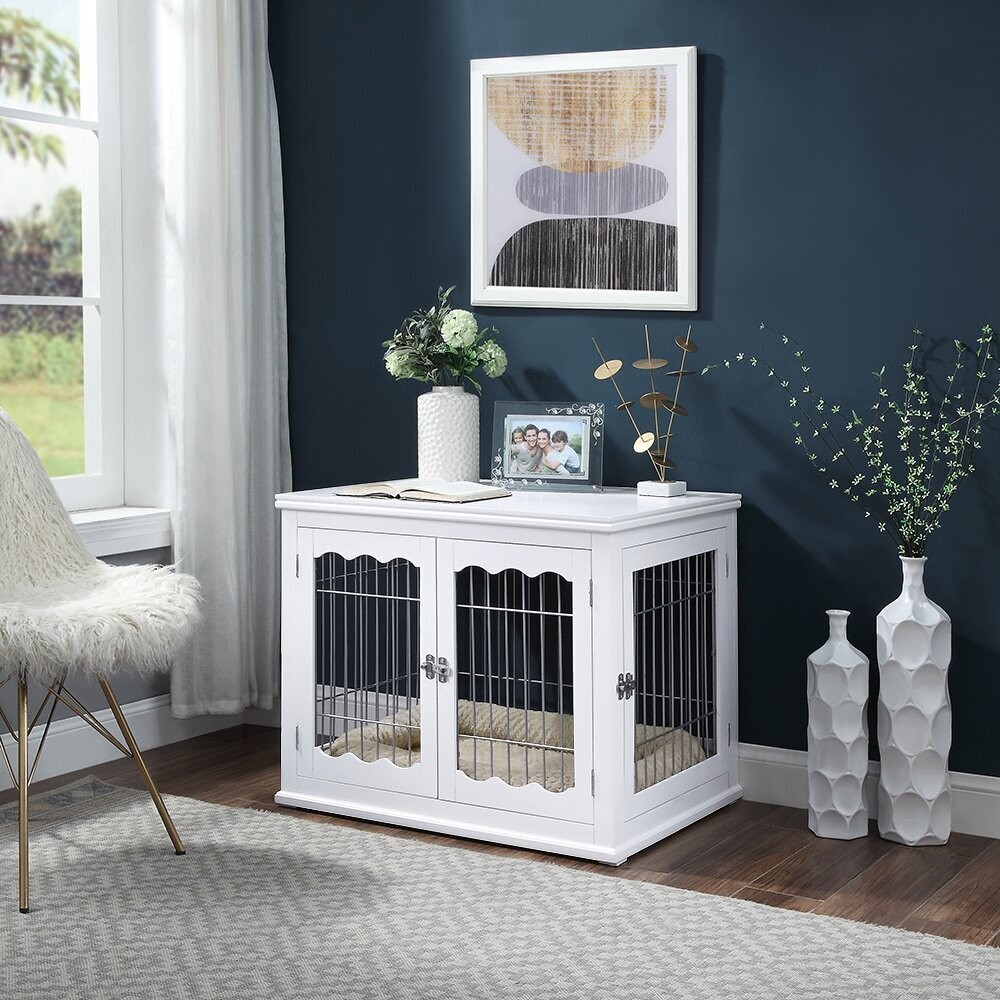 Minimalist Decorative Dog Crate

This attractive dog crate is the perfect pick for those wanting something simple yet refined. Fitted with a padded bed for your dog and double doors, it's the ultimate space for your dog to stretch out and relax or come and go as it pleases.
Coming in two colors, white or espresso, the minimalist wooden finish with wave-style finish at the top or bottom means the crate will blend in faultlessly with a wide variety of décor styles.
$251.55 $269.99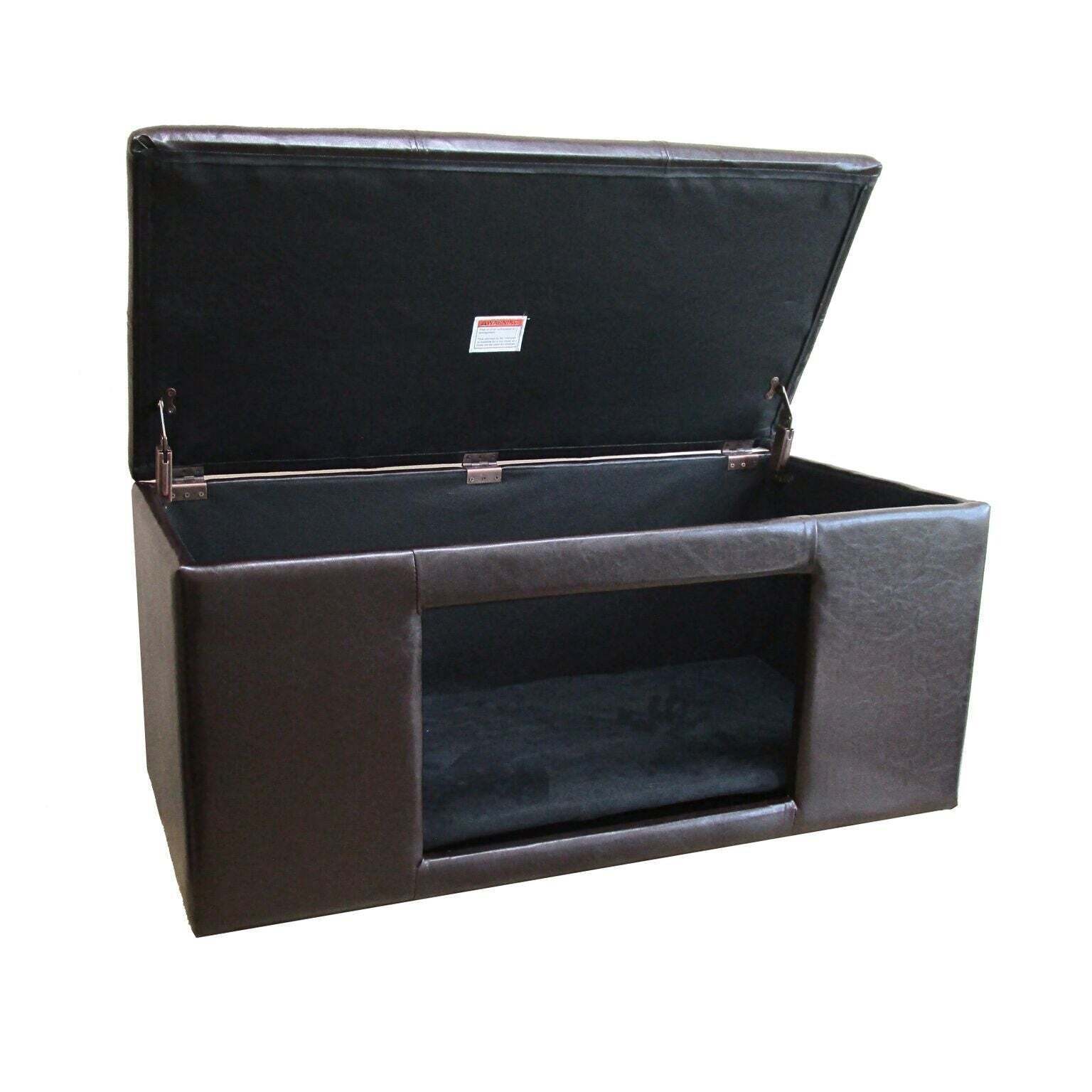 Ottoman Style Furniture Dog Crate

This extremely comfy-looking crate has the advantage of being practical for you and your dog. Designed to be a place of rest for both, you can prop your feet up on the faux-leather top whilst your dog rests beneath.
However, due to the Ottoman-style design, this crate may not be suitable for dogs anxious about being enclosed, although of course there is always the option to leave the top part open if you wish to lounge on the seat part.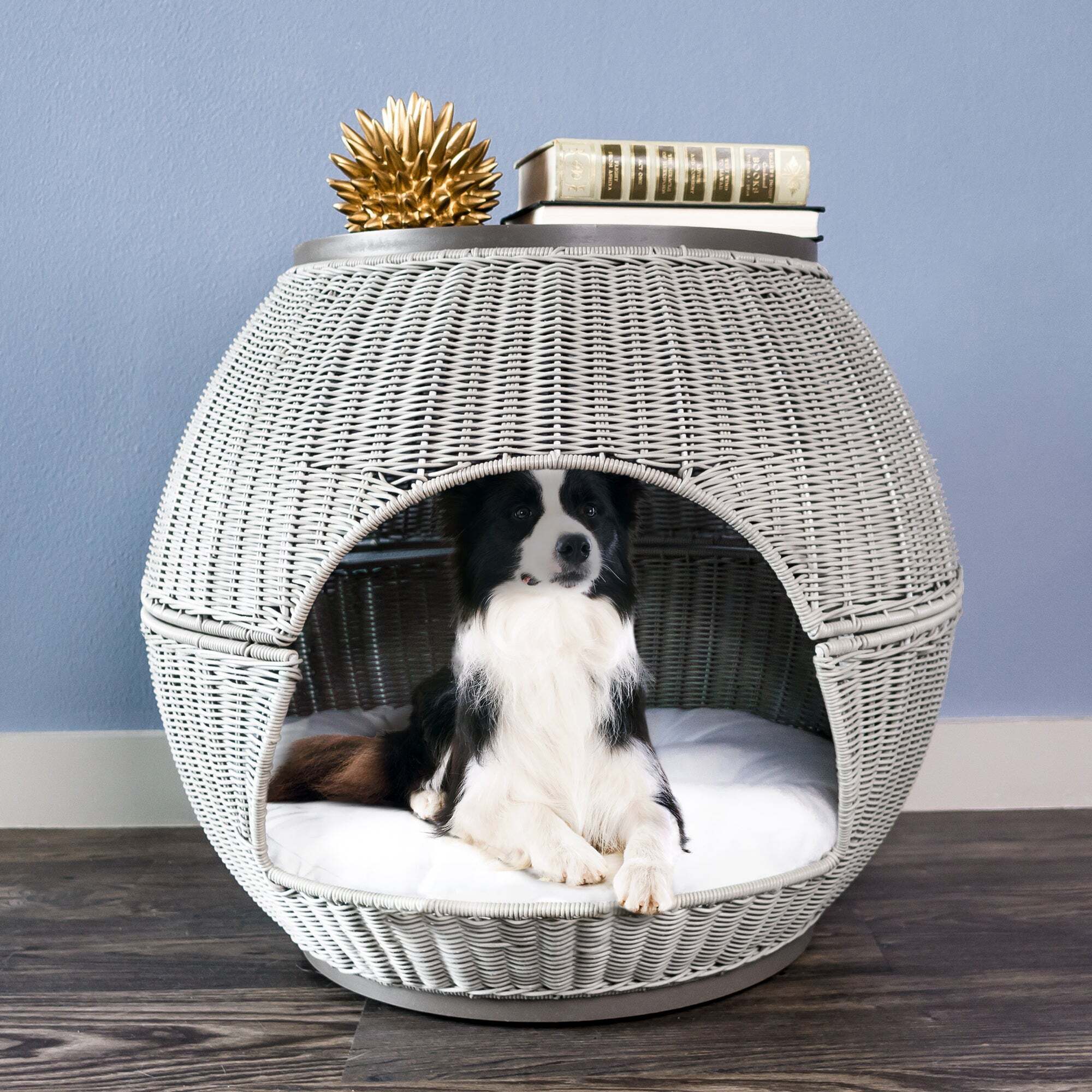 Igloo Inspired Pet Crate

Short on space but big on design? This is the perfect crate for you. Despite its small size, the design has a luxurious plush cushion inside and boasts additional storage on top.
With a rattan-style design that happens to be chew resistant, and a choice of two colors, brown and white-grey, this crate is a good choice if you want something that won't take up too much space but will make your dog happy.
One thing to note is that there are no doors, so you would need to consider if your dog would not stay in at night if you plan to use it as a sleeping space.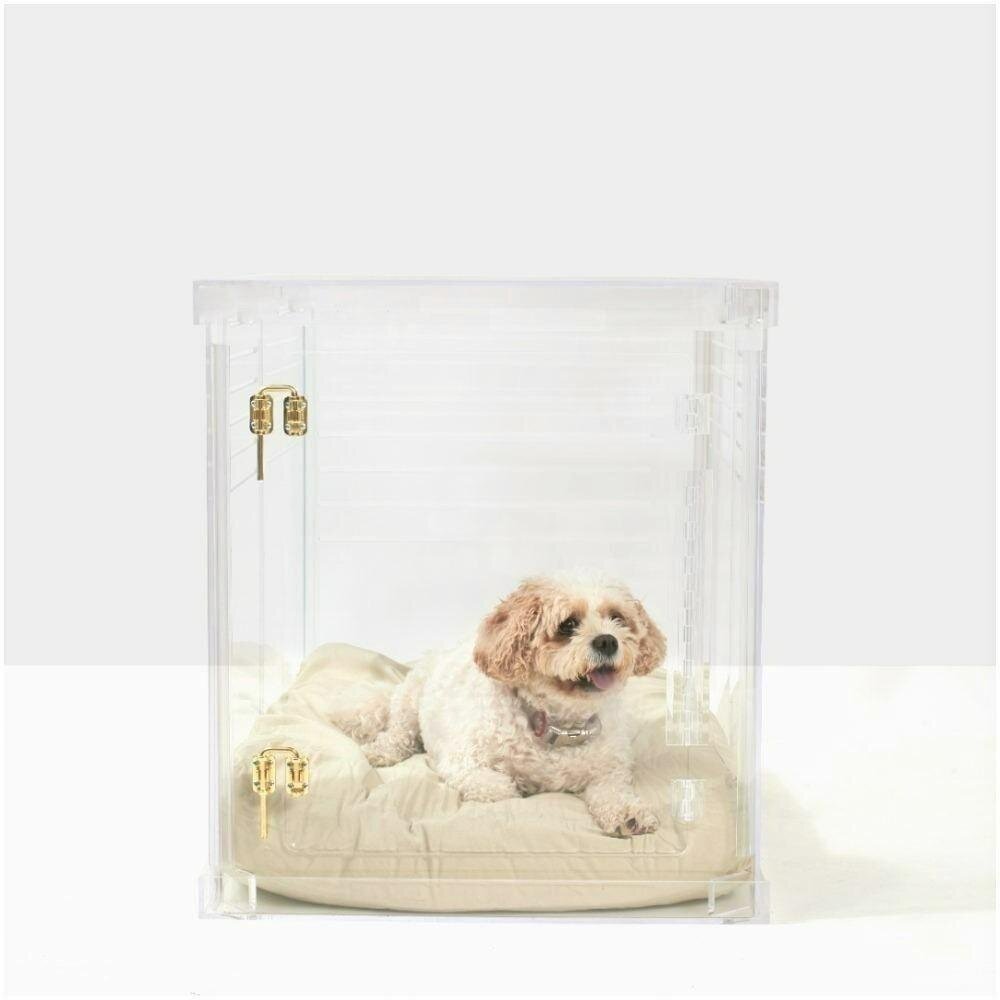 Practically Invisible Pet Crate

Does your décor taste veer towards the simple? Is your beloved dog perhaps a little bit naughty and you want to keep an eye on them? If so, this clear furniture dog crate has granted your wish(es).
You can choose from either gold or silver hinges, but the best feature by far of this crate is the all-round view it offers. Water-resistant and collapsible, you can watch your dog wherever you are. Intended to double-up as a side table, the inconspicuous design of this crate offers many benefits.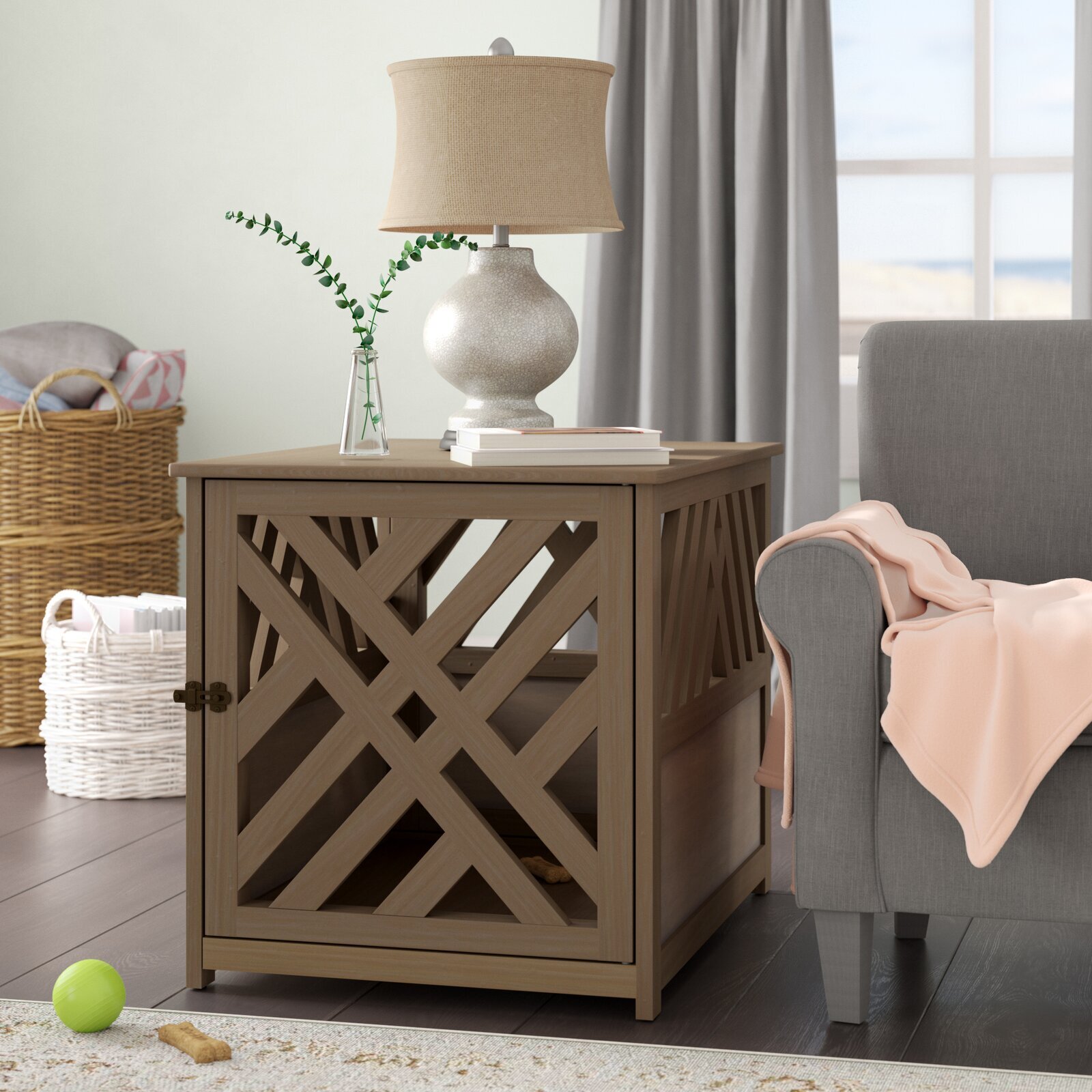 Modern Dog Kennel Furniture

Designed in a carefully neutral shade of wood, this crate would make an ideal end table to place next to a chair or sofa in your living room. The lattice design means your dog will receive plenty of natural light, whilst the lockable latch will give you peace of mind when out and about. As this crate is not as big as others on this list, it is not recommended for large dogs, but small or medium dogs are sure to love it.
$206.36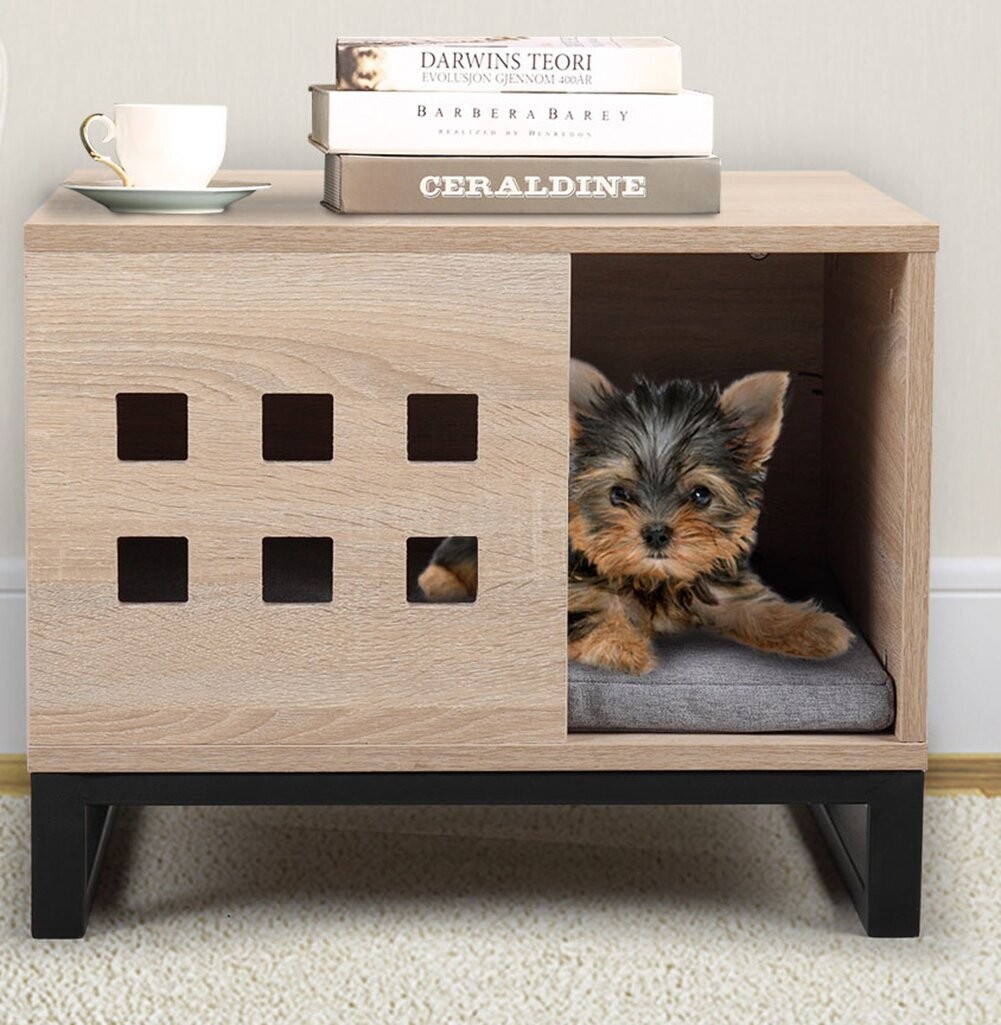 Sleek Wooden Dog Crate

Made from premium steel for durability, this highly-affordable dog crate for small or medium dogs will match your tastes if you are a fan of modern styles. With six squares in the front for style, natural light, and ventilation purposes, the smooth surface on top can be used for storage, too.
The cushion cover is detachable for when you want to wash it. This is a great option for those wanting an affordable option without compromising on style.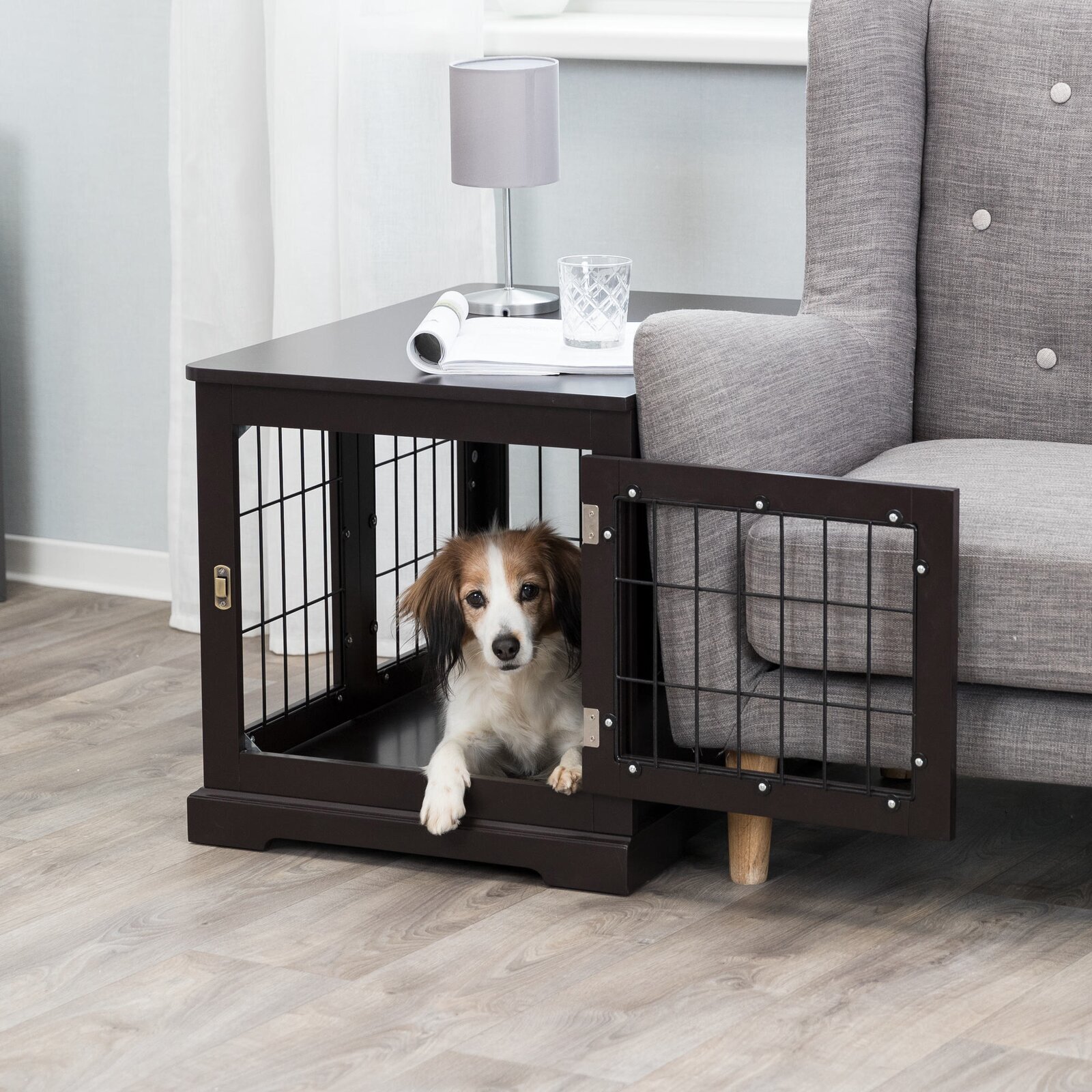 Simple and Sophisticated Pet Crate

Coming in three tasteful colors, this crate is for you if you want something where your dog is fully visible without it detracting from your existing décor. The design is inspired by combining function and style, and the choice of colors means you can blend the crate with your style more seamlessly. Additionally, it comes with a moisture-resistant floor to make cleaning easier if your dog is young or a bit older.
$191.05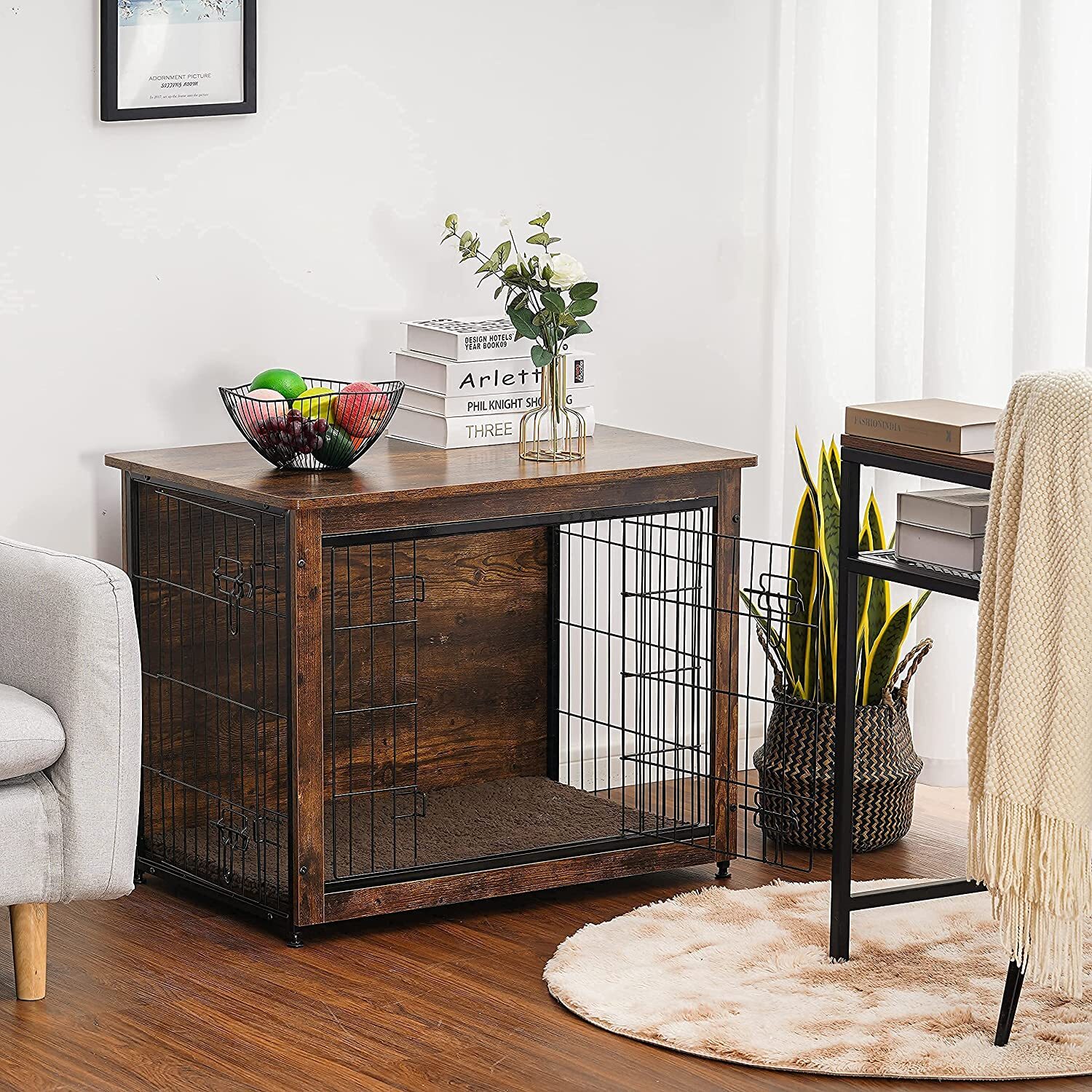 Dark Wood Furniture Dog Crate

If your taste veers towards the traditional, this dark-wood crate is a good selection for you. Small and compact, features include a double-door design and adjustable feet. The flat surface design is amazing for storage purposes, and the construction is chew-resistant. Additionally, the mostly-open design means you can watch your dog doing whatever it pleases and not worry about what it might be up to.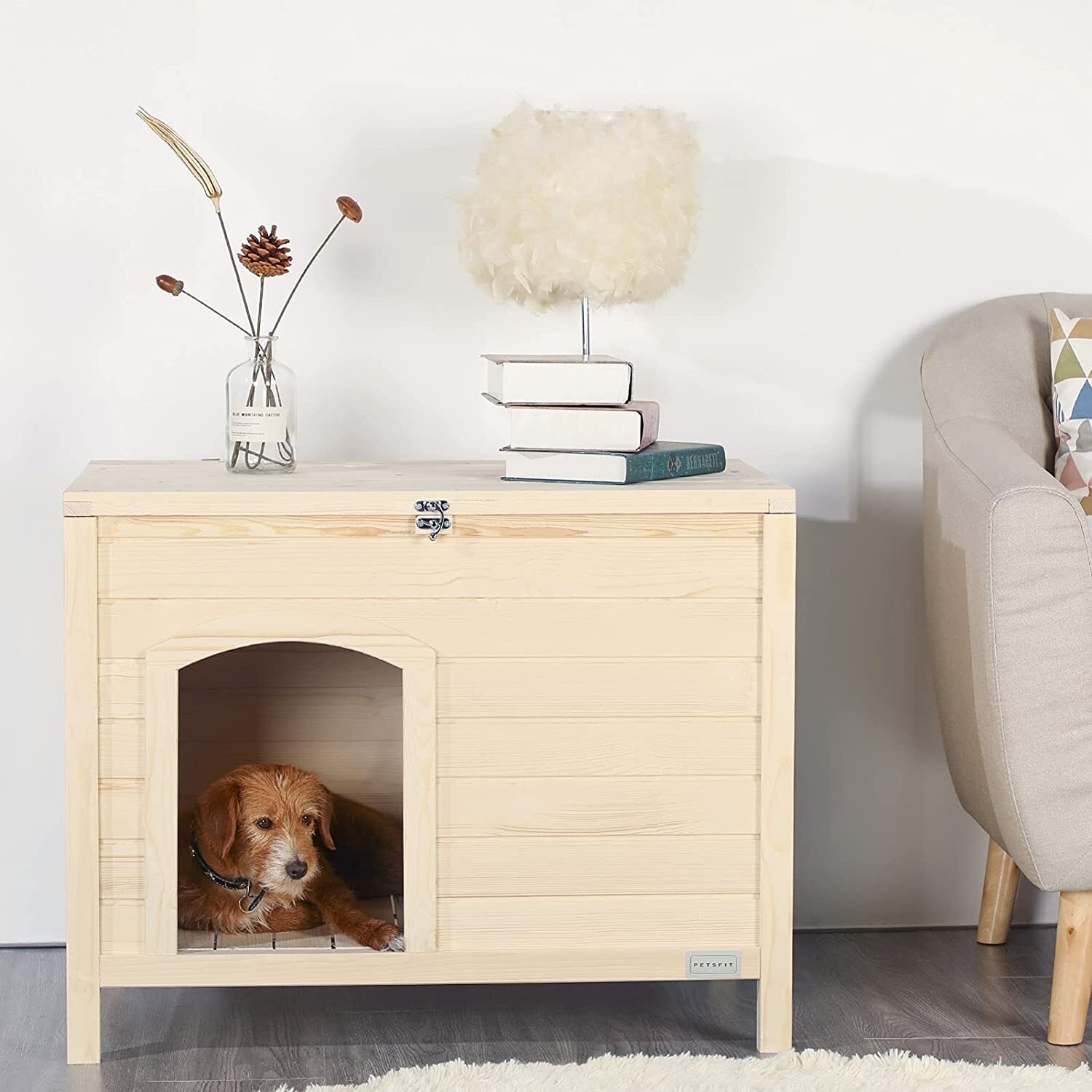 Insulated Log Kennel Furniture

If you like to help the planet, this dog kennel furniture is made from varnish that happens to be environmentally friendly. The lack of cushion means it is practical to clean, and it is also collapsible for practicality purposes.
The door provides a space for your dog to lean its paws out and keep you company. Best of all, the insulated finish will keep your dog nice and toasty during the upcoming colder months.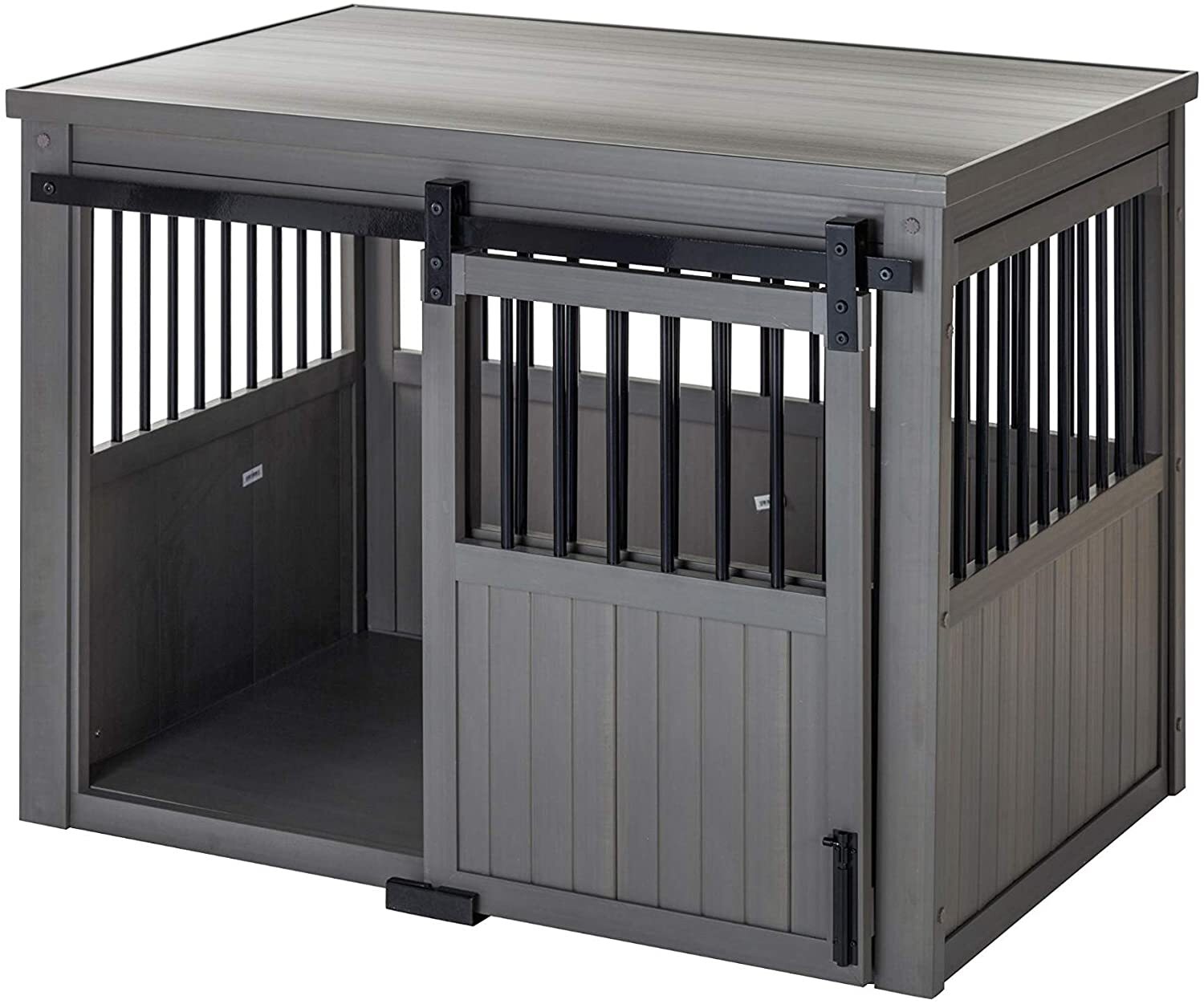 Barn Style Dog Crate

For a more rustic touch, this is a great piece of pet crate furniture to add to your carefully-crafted décor. Designed to look like a miniature barn, the style of this crate is matched by its benefits, which include being made partly of recycled materials and being completely non-toxic. Cozy and chic, your dog will be more than happy to hang out in something that will only add to your living space.
OUR ADVICE Questions & Answers
Dogs need comfortable and cosy crates. They just love them, that's a fact. But you don't have to strike compromises with the style just because you're an owner of a lovely pet. Today, dog crates come in plenty of styles and shapes, and the best of them are designed to fit right into your interior design. That's what we've prepared for you here, all the best examples of furniture style dog crates. Before you pick one, it's good to get to know them better, to be able to buy a correct dog crate.

The comfort of your dog comes first. Depending on the breed of your dog, the size of the crate you need varies. An overly small dog crate will make your dog feel uncomfortable, and may even cause injuries. On the other hand, a dog crate that's too big won't be very cosy, and your dog won't be able to feel at home in it. Ideally, it should be big enough for your dog to be able to freely turn around in it, with around 10 inches of free space from each size.

Now, the design of your dog crate is very important. Not only because a dog crate that's cohesive with the rest of your interior design will look good, but also because your dog will like it more if it matches the surroundings. An out of place, mismatched crate can cause unease. You don't want to upset your dog, so pick one that looks like the rest of your place.

All of the dog crates we've prepared for you here are furniture style, which means they resemble ordinary furniture. They come in all imaginable styles, materials and sizes, to make sure everyone can find an appropriate dog crate that will match the design of his house. It doesn't matter if you live in a modern apartment or a cottage-style house in England, we're sure there is at least one appropriate dog crate right here, perfect for your situation!

Another important aspect of the dog crate is its finish. No sharp edges allowed, for obvious reasons. Dog crates have to be polished, safe to use and easy to operate. That's why the opening mechanism is very important. It has to be durable and firm, for times when you'll want to keep your dog locked inside, for example when someone visits you. However, it also has to be easy to open, for safety reasons – for example, in the case of a fire alarm, you have to be able to unlock it instantly. Rest assured, all of the dog crates we've prepared for you are safe and trustworthy, but it's still good to have things like this in mind and double check them.

That covers the topic of furniture style dog crates – now you're more than prepared to pick a dog crate that's both stylish and practical. Go ahead and look around, we're sure that here you'll be able to find a dog crate that will satisfy both you and your dog!