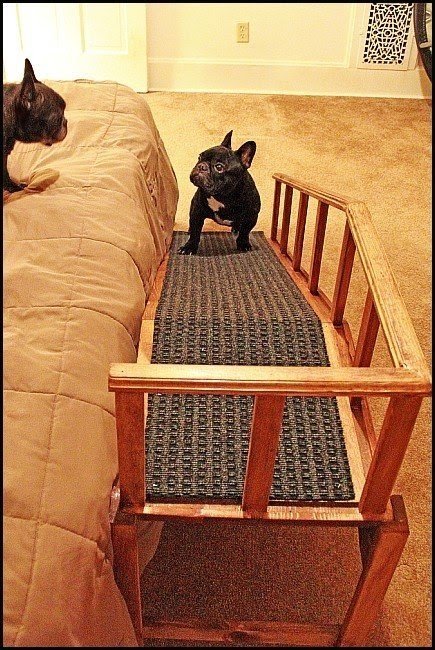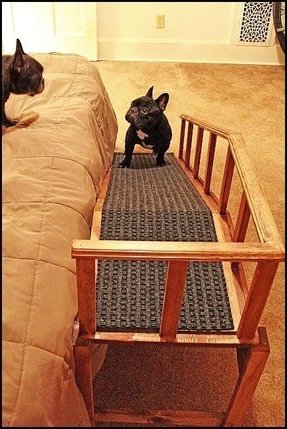 Some dogs might have troubles climbing to the bed, but that's what the dog ramp is for. Reliable wooden construction of the correct height to match standard beds, it's a real life saved for out tiny friends. Pinewood is stylish and pleasant to touch.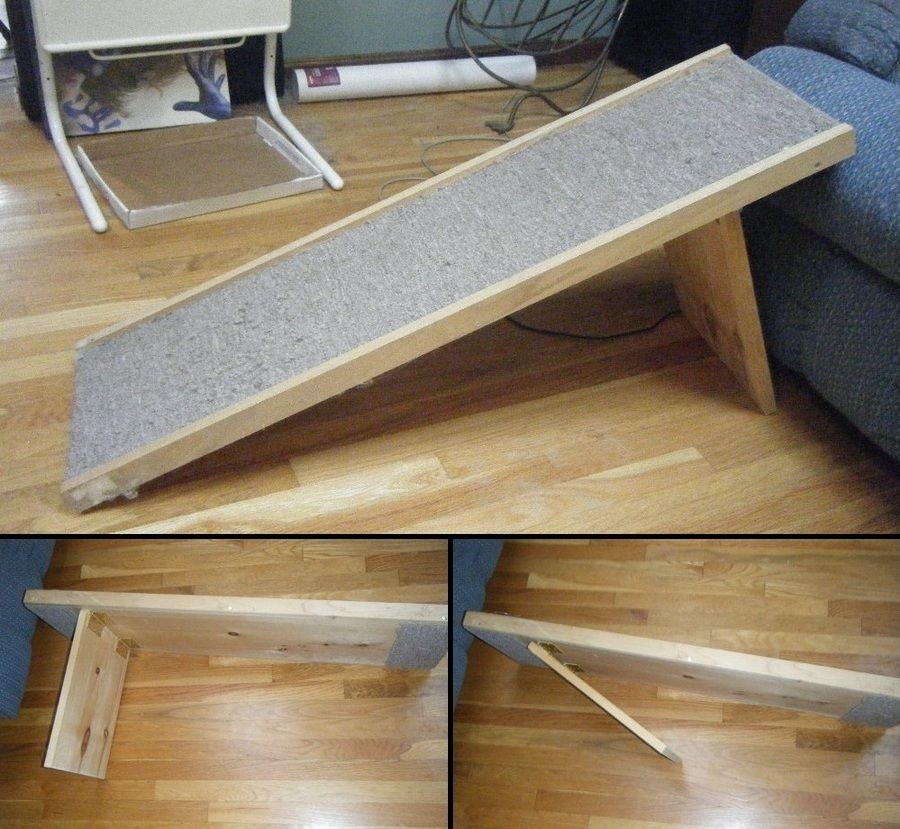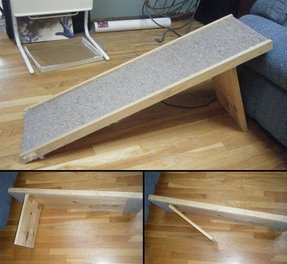 For anyone, who has an older pet and would like them to be able to reach higher surfaces more easily this pet step/ram is the perfect option. It provides the needed amount of stability and durability to ensure that your pet is safe.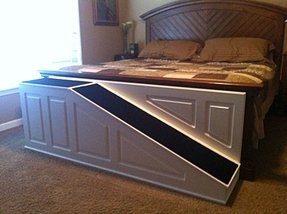 This pet ramp is going to help your four-legged friend to reach higher places. The whole structure is constructed of wood in a white finish, while the ramp's surface is covered by a non-slip material.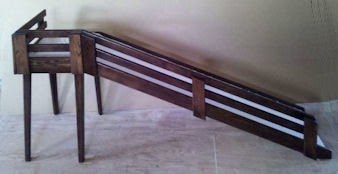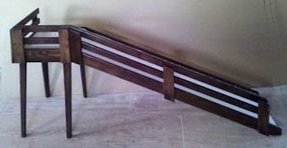 Thanks to this functional ramp your pet will have no trouble with reaching higher spots, like beds, chairs, and sofas. The ramp is easy to set, relatively lightweight, and with a non-slipping surface.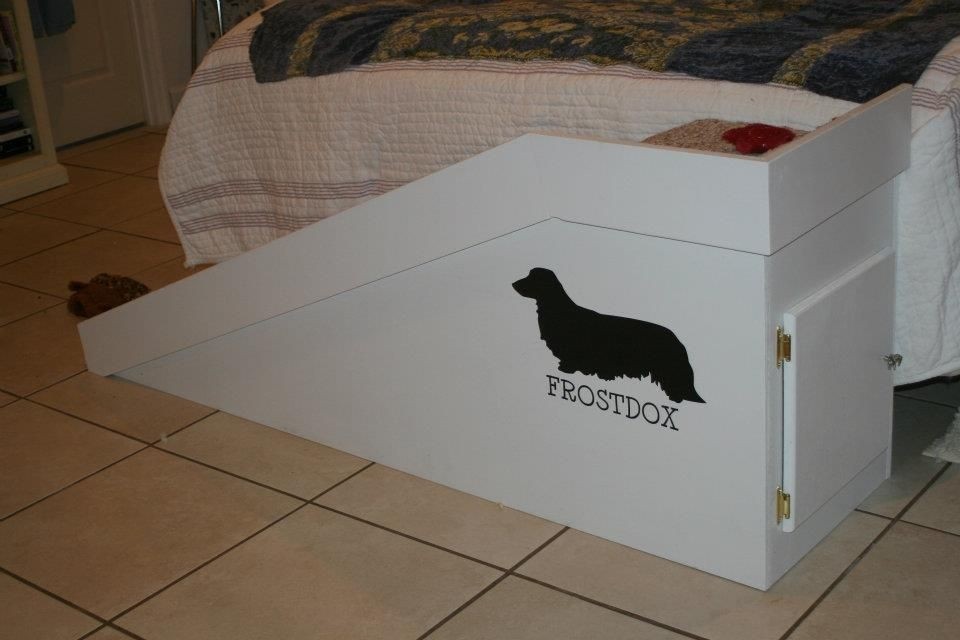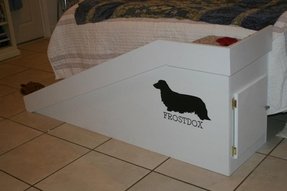 Ramp designed for medium sized dog. It is made of wood and equipped with cabinet. Application in all kinds of interiors as needed.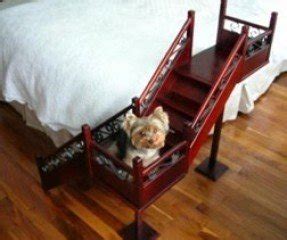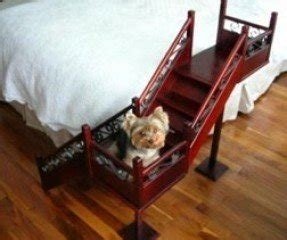 Your tiny pet will be grateful for this functional gadget. A special bed ramp makes the bed accessible for your little dog while retaining the trend-right look of your bedroom: just look at this carved banister and cherry wood finish.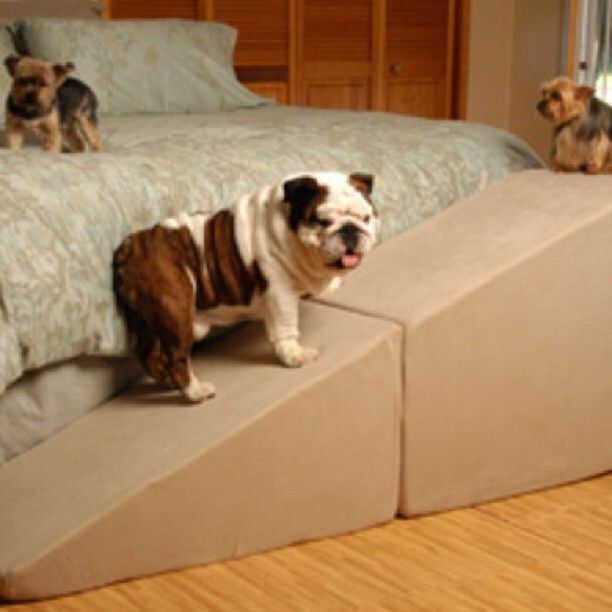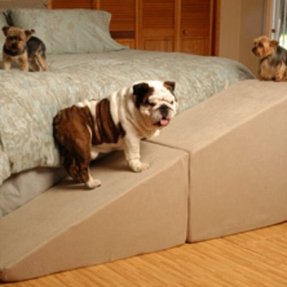 For every small pet out there that has troubles with jumping on a high bed, we have something special. This puppy stairs are made of few separate pieces that can be formed into a comfortable ramp, leading your pup straight up on the bed. The elements are fast and easy to set.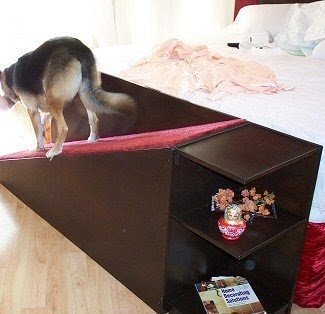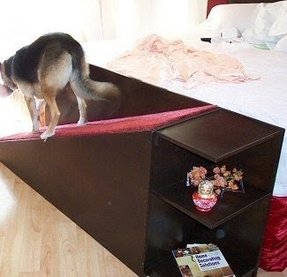 Your quadruped friend is old enough and can no longer jump out of bed the way it used to be. Thanks to the additional panel - dog ramp for bed with a steep but safe panel, and anti-slip red carpet - the dog will come in and go down without a problem.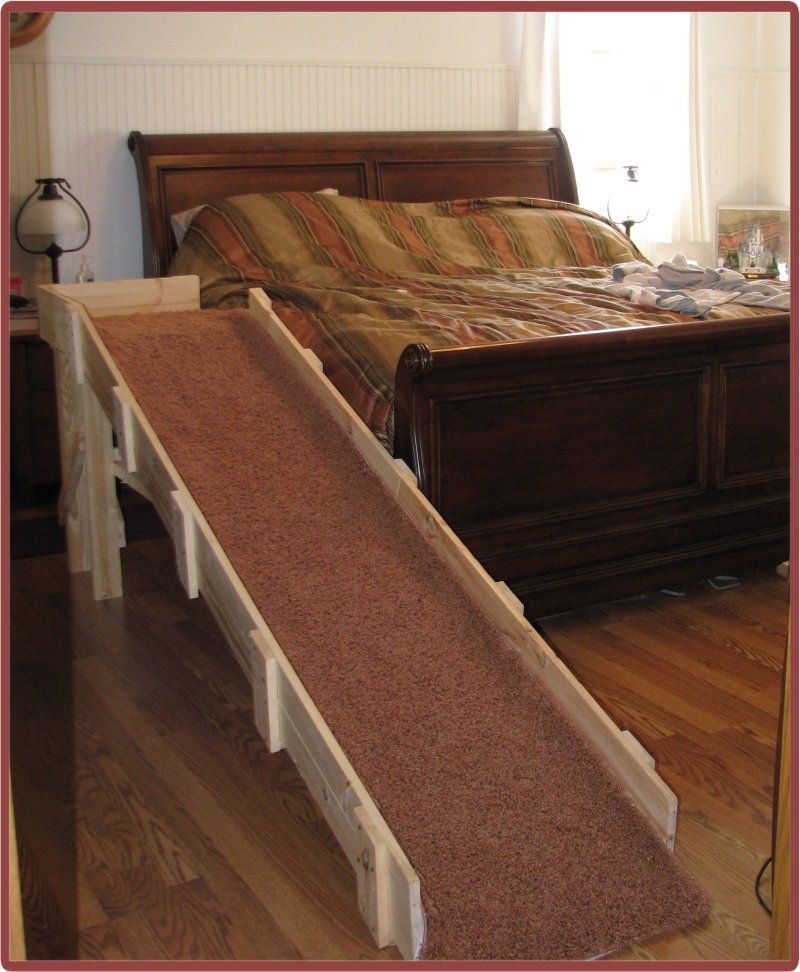 Practical ramp for small, senile or injured pets. A ramp frame is handmade of solid wood with a natural finish and joined with a stool-like platform. It has side rails and its surface is covered with brown carpet fabric.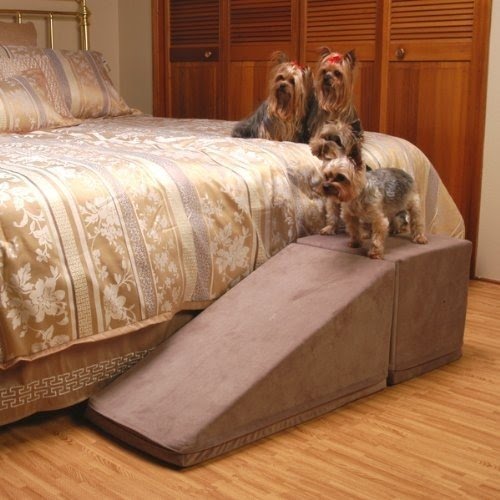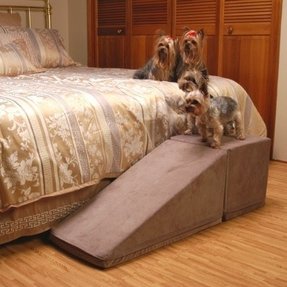 This construction includes a ramp and cube in one piece. It provides access to higher areas for puppies and small dogs. For example it assures access to beds. Its soft foam fill is comfortable and safe for animals.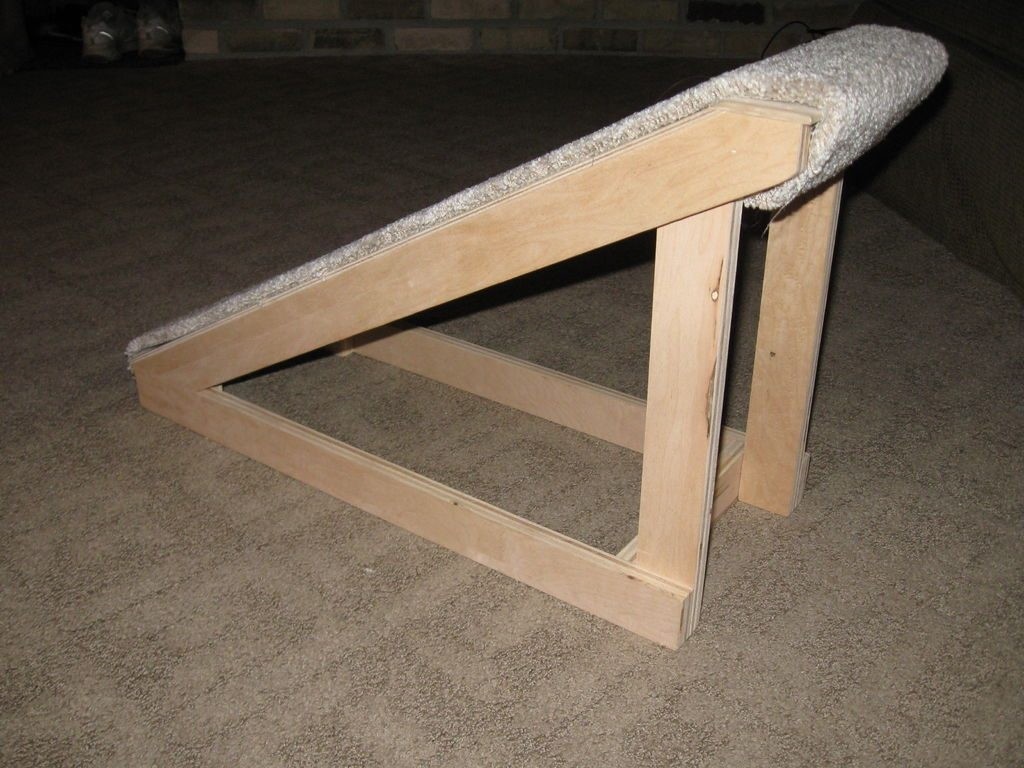 A very simple ramp for dogs. Thanks to this element, small dogs are able to access beds or sofas without jumping or scratching. This element includes a solid wooden frame and a ramp surface covered with gray and soft material.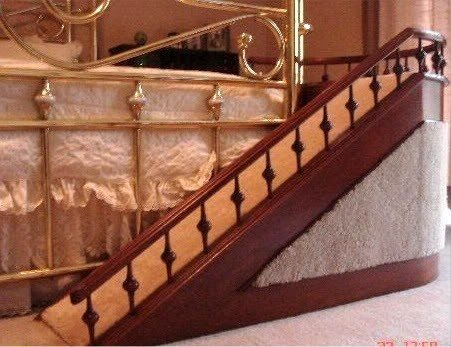 This original, functional and decorative ramp is an item that provides access to a sofa or bed for small dogs. This soft construction includes some wooden elements. It is finished in white and brown colors.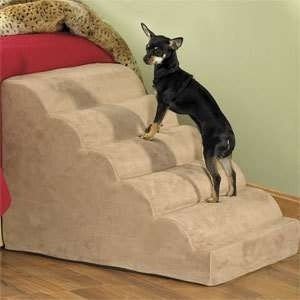 This dog ramp for bed can be a great solution if you like spending the nights with your furry friend. Well-profiled, will allow ageing or small dogs smoothly conquer subsequent steps.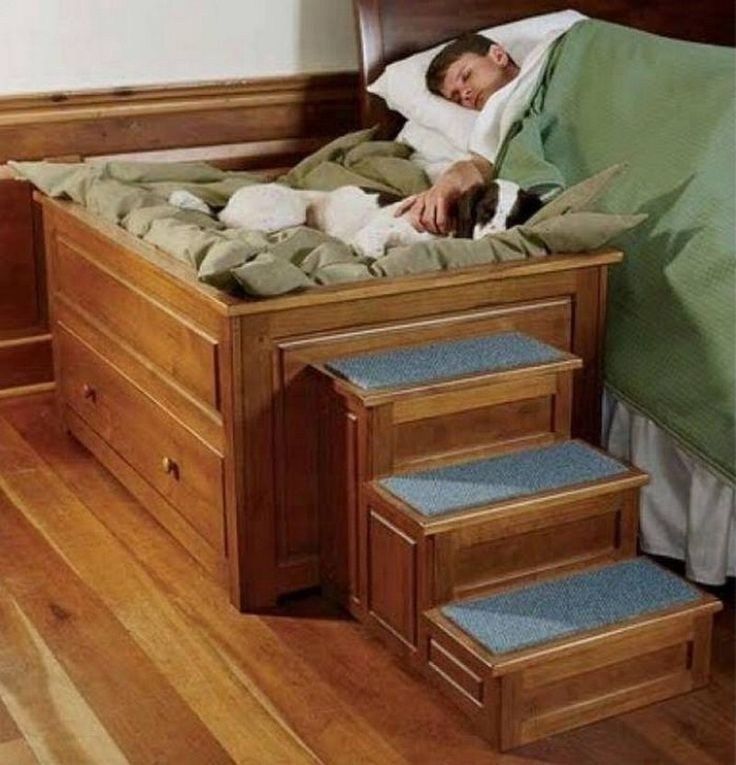 A very original and practical project for pet owners. This bed for dog or cat includes comfortable and solid steps that allow for sleeping on the same level just like human. This bed also includes a lower storage drawer.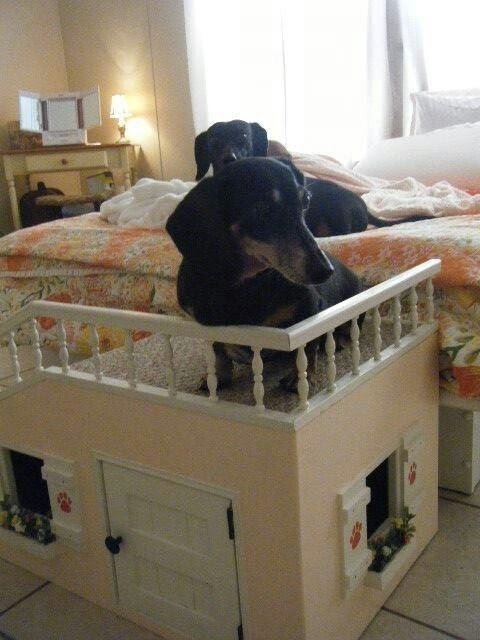 Original, decorative and very useful ramp for dogs. It provides access to a bed, so it is suitable for small dogs. It looks like a small, multi-color house, so it matches any type of interior design and plays decorative role.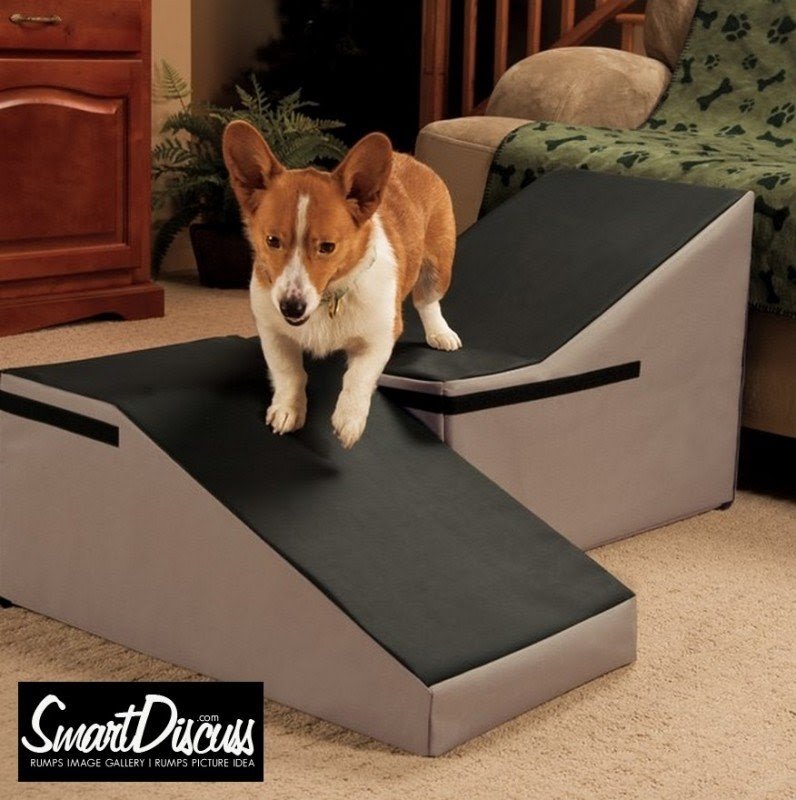 Dog ramp for the living room, bedroom and others interiors as needed. It is filled with high density foam and covered with thick fabric. Designed for small and medium sized pets. It is very well appreciated by customers.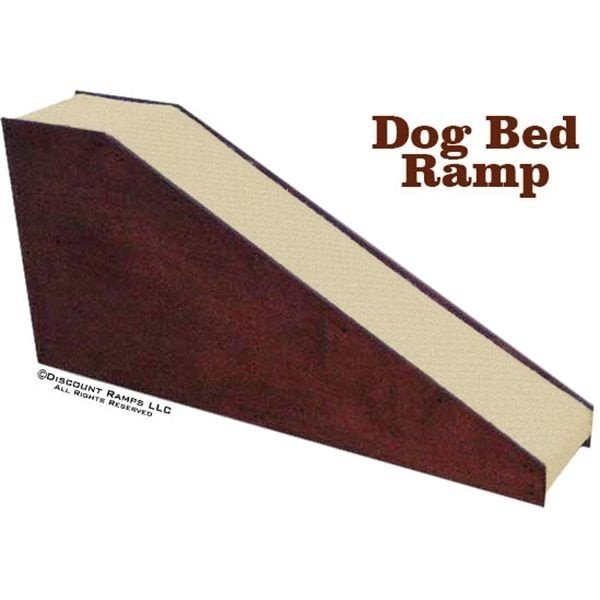 this pet ramp is a great solution to getting your dog up onto the bed ...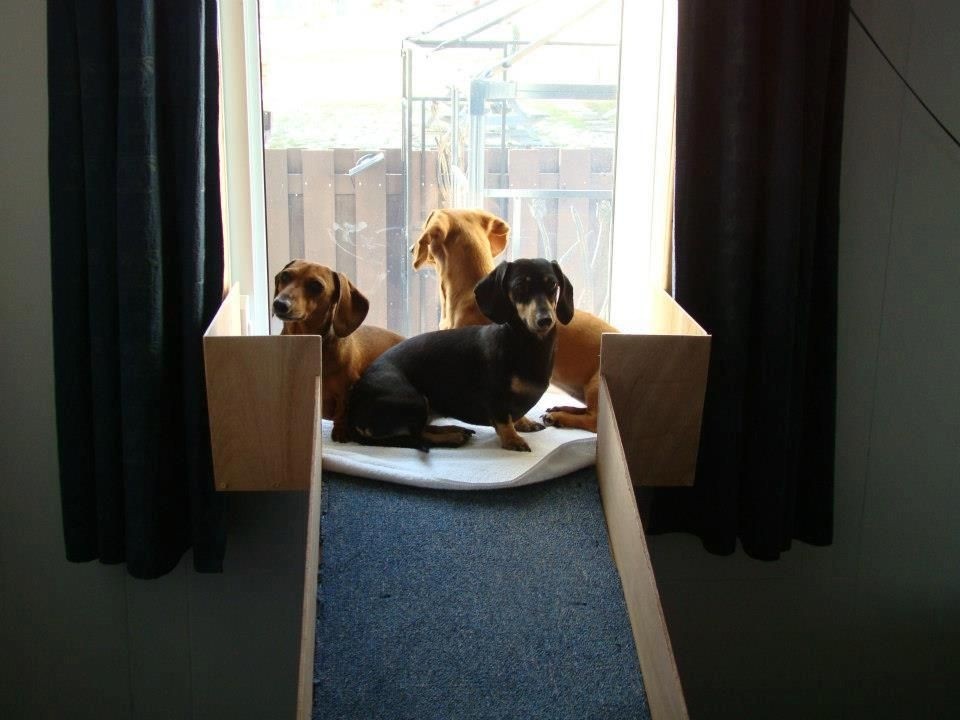 Dog ramp for all kinds of interiors as needed. It is made of wood and covered with thick carpet. Suitable for small and medium sizes pets. Simple form and contemporary design.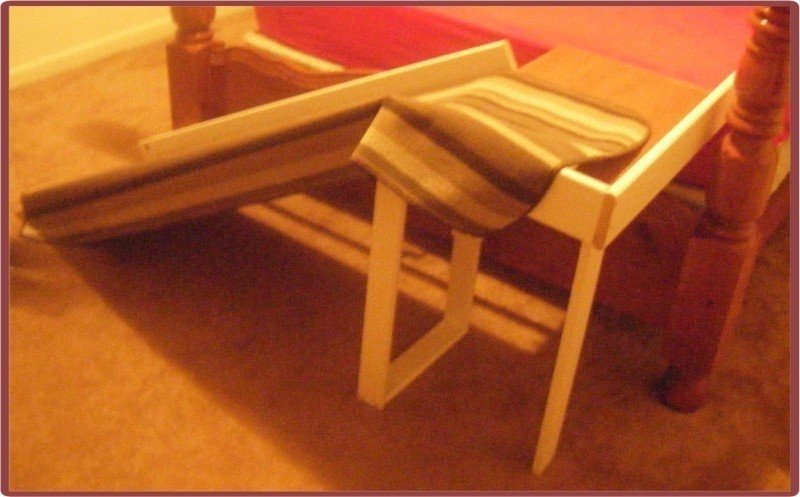 Download Dog Bed Ramp Plans PDF diy wood end table plans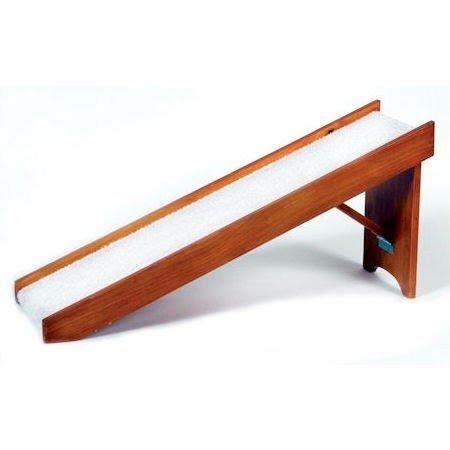 Sofa Ramp for Dogs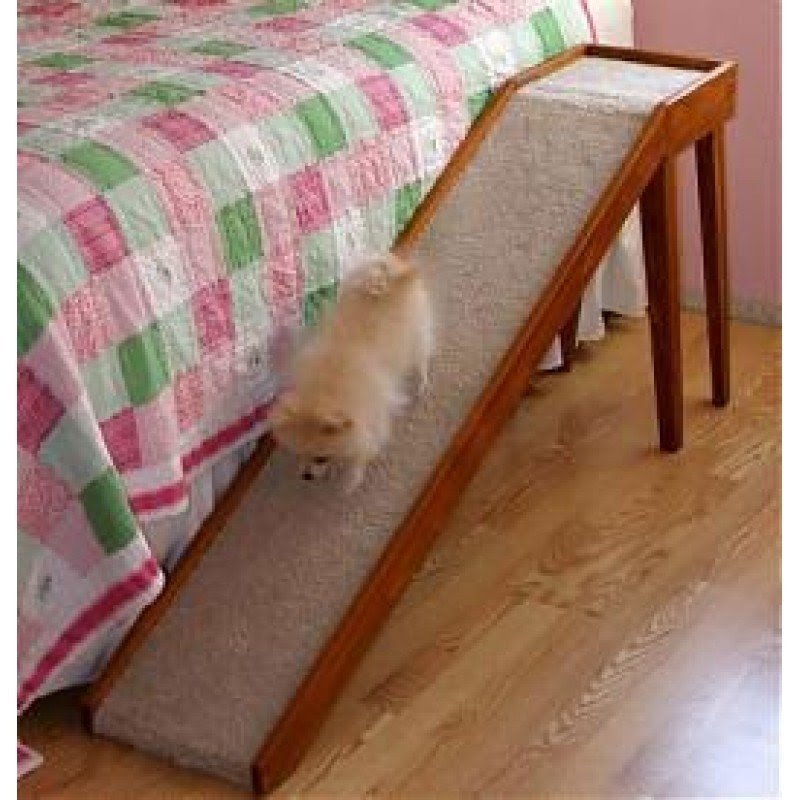 This oak wood dog ramp with beige tan textured carpet can be an inspiration for DIY dog ramp project. Roomy top platform allows for easy stepping on and off the bed. The slope of this ramp is fit for higher beds.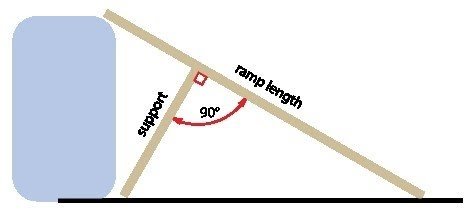 A fantastic helper for your pet, which allows smaller creatures to reach higher spots, like beds, chairs, and sofas. The ramp is entirely made of wood, and has a fixed support underneath, for proper stability.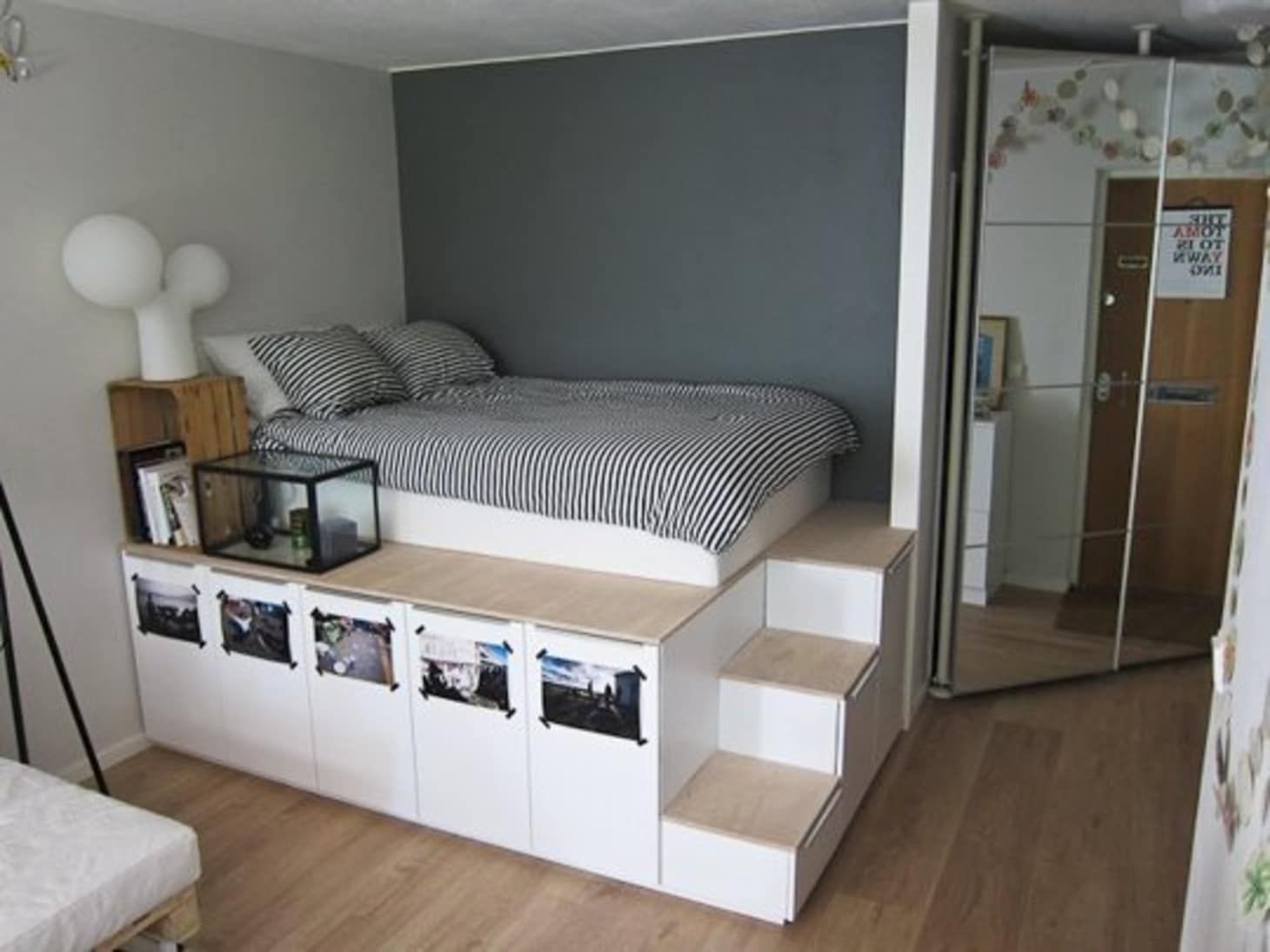 This is the bear idea I've seen this far for a bed with useable storage underneath! I love this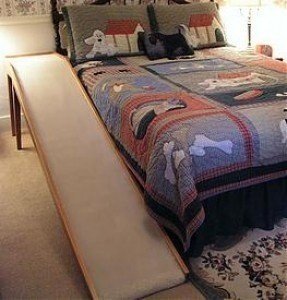 Cat Ramps and Dog Ramps for Beds - Easy Slope, Extra Wide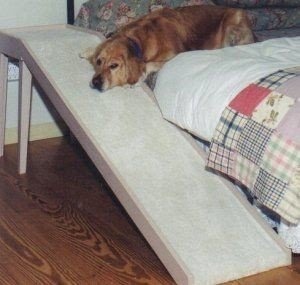 Comfy and creative approach to a bid dog bed ramp, which provides for an interesting replacement to a set of dog stairs, making it even easier for a dog to reach a high bed. The ramp is upholstered with a cotton fabric, making it smooth and nice to touch.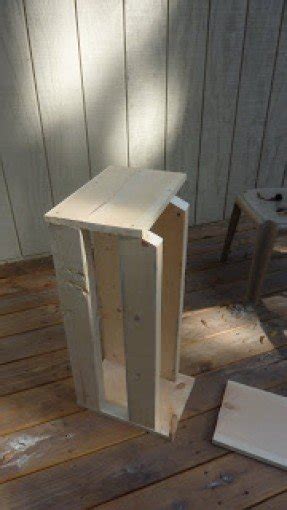 If you had, very young, old or sick pet (especially cat or little dog) you can make his life easier due to this simple ramp to the bed. Ramp doesn't stake a lot of place and it is made of bright, oak wood.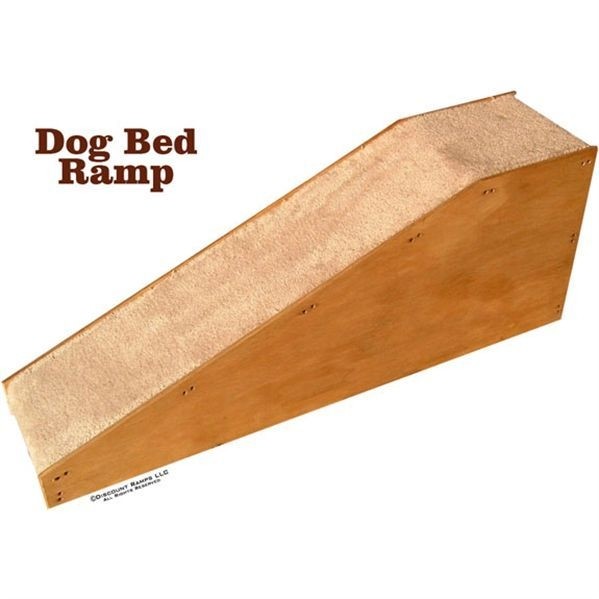 Will My Dog Go Up a Dog Ramp?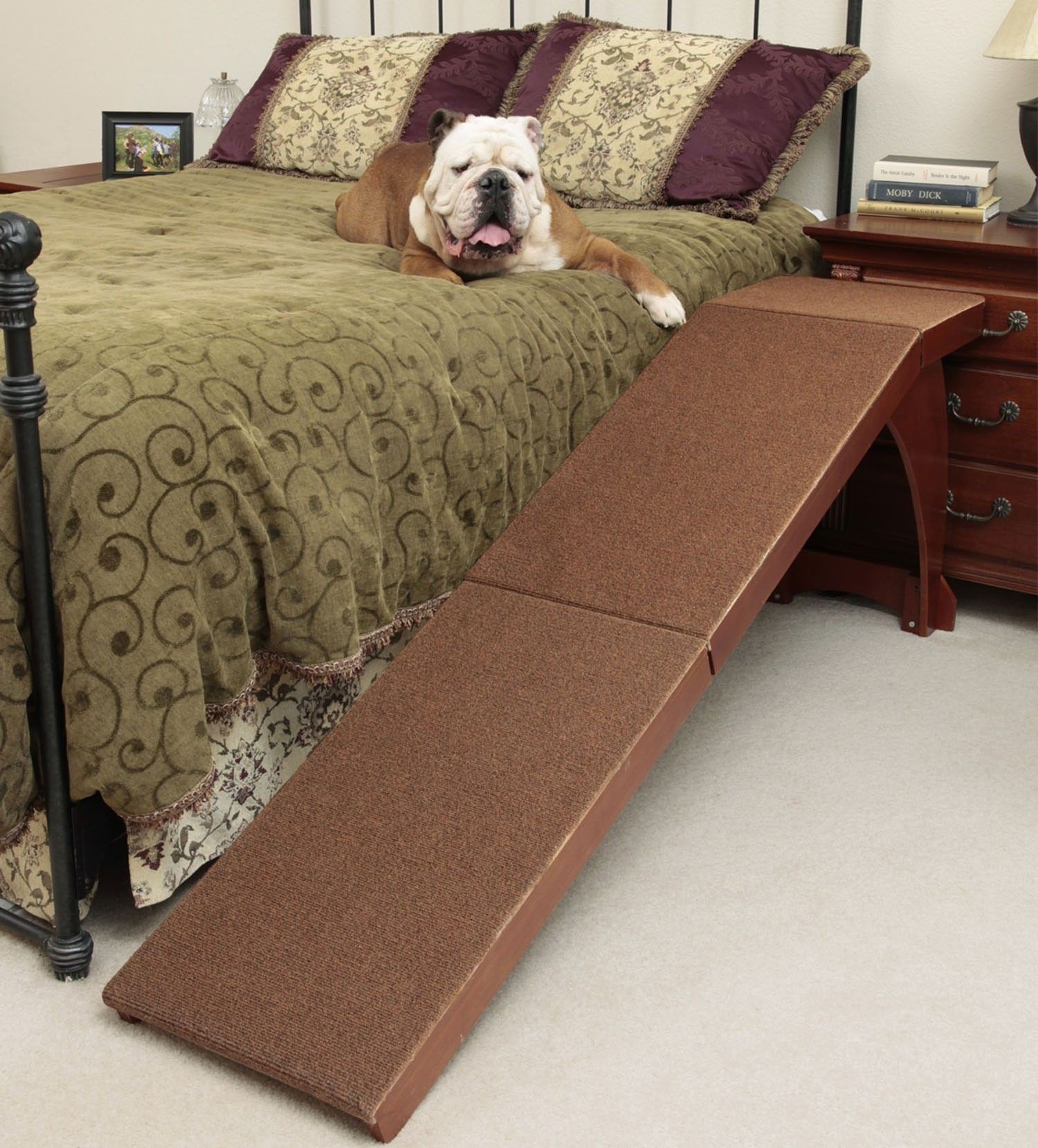 Being an effortless way to reach even the tallest beds, this wooden dog ramp is an adorable proposition for all, who cannot imagine a night without their quadruped friends. Inexpensive, easy to assemble.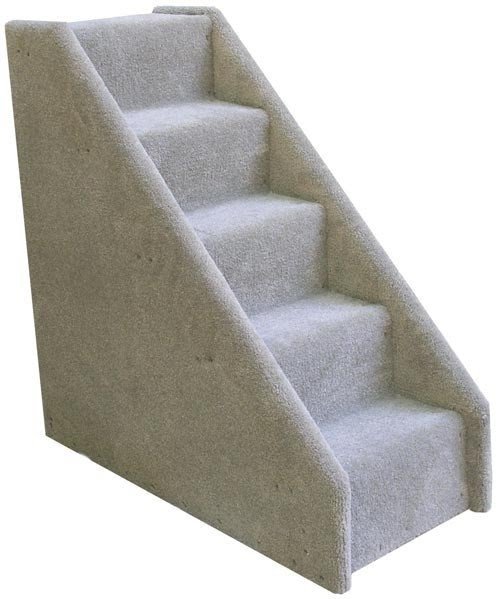 Trust me, your pet needs this tall dog bed steps. They've got six steps and soft cloth upholstery. It's a fantastic product for high beds. If you searching for a high quality pet steps, you should try this!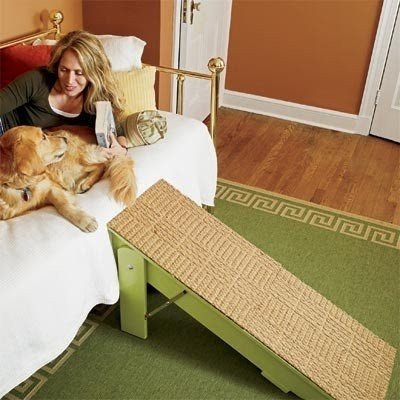 This simple folding canopy ramp is an excellent way to allow your pet to enter higher couches, armchairs or the car. The rough surface prevents slipping, and the whole looks neat and perfectly matches any décor.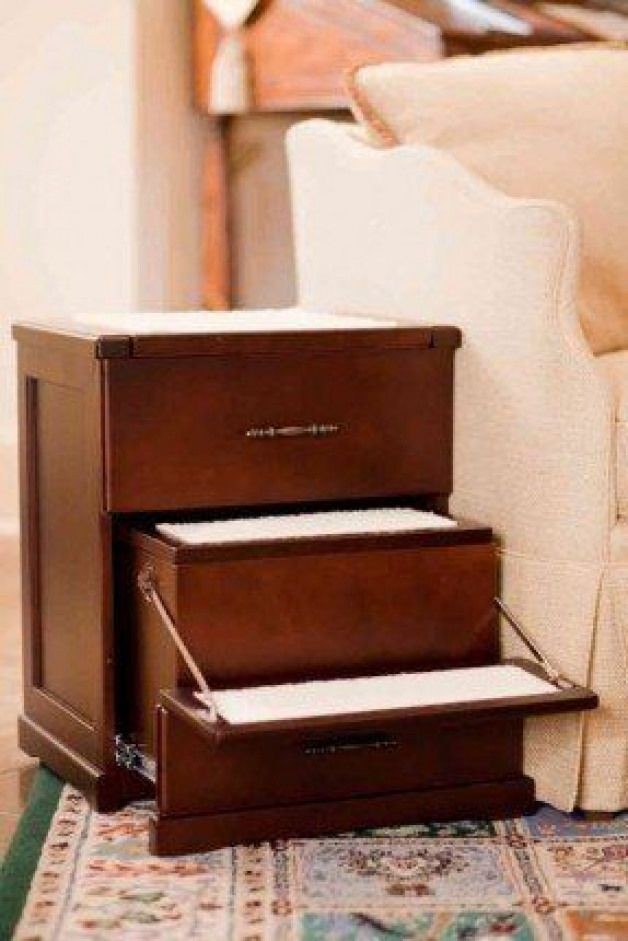 An elegant approach to a set of dog steps for a bed, perfect if you have a smaller dog that can't reach a high bed. The steps are made out of brown oak wood with a polished finish and are fitted with cotton-padded tops.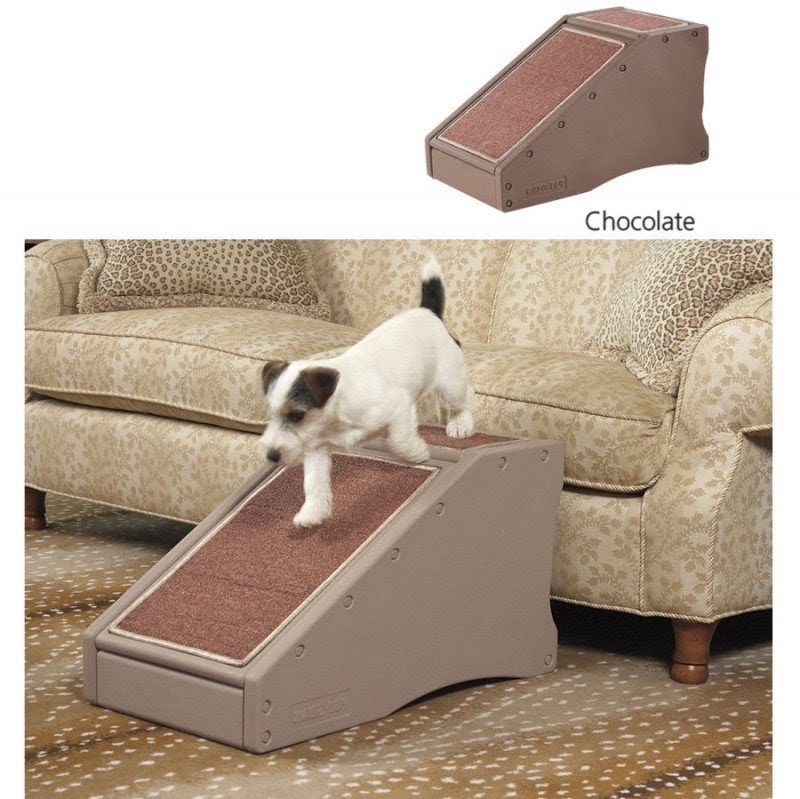 Easy Step Pet Ramp for senior dogs- | In The Company Of Dogs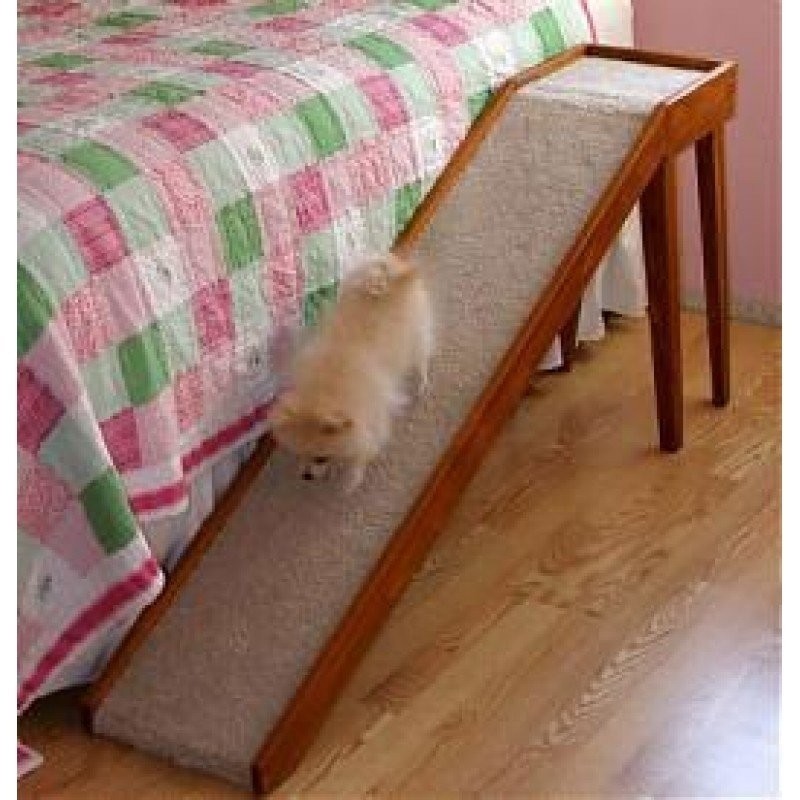 Pet Ramp for Bed - 12in Wide Climber Slope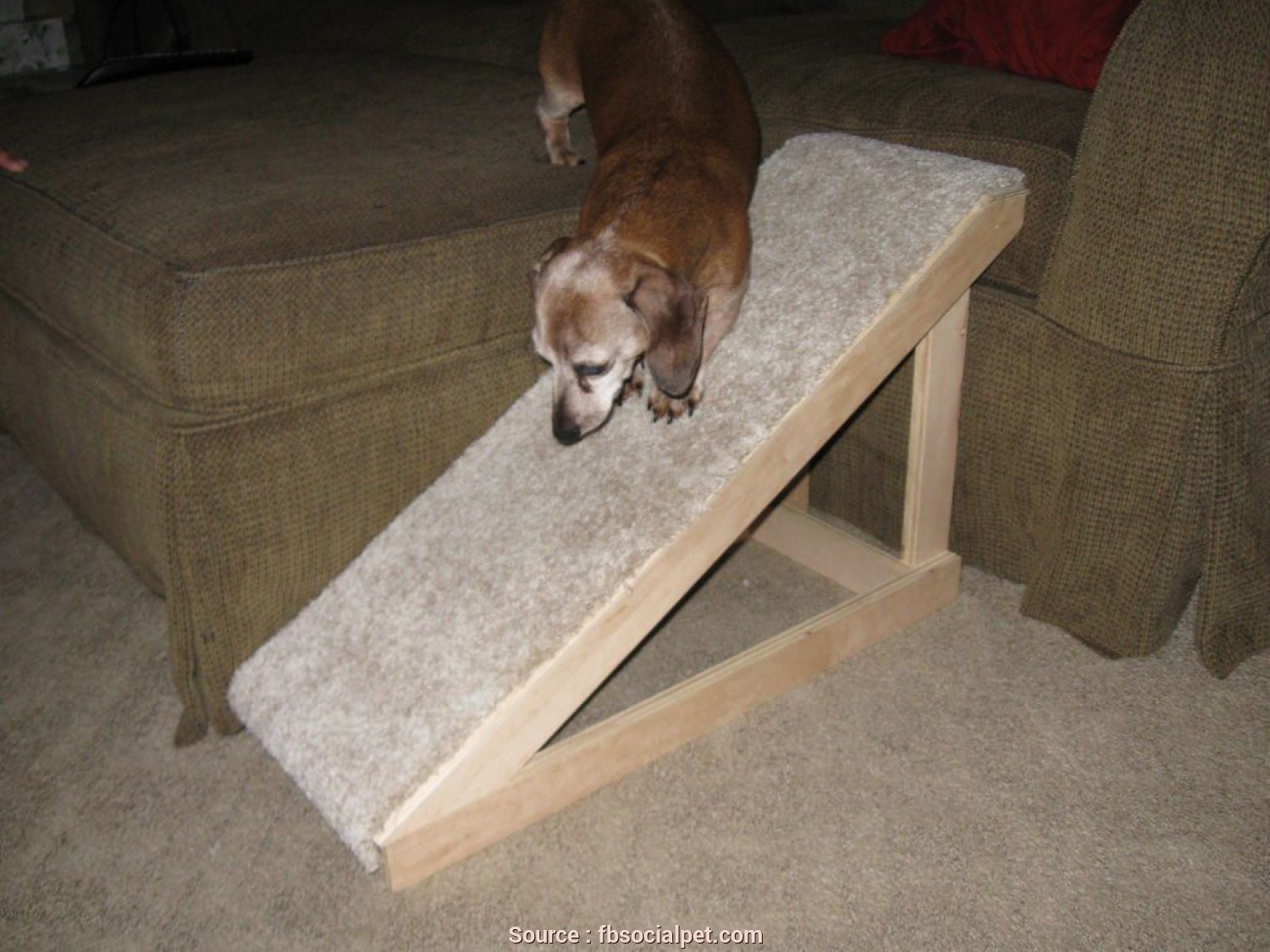 ramp for your dog cut wood boards to the lengths needed for the ramp ...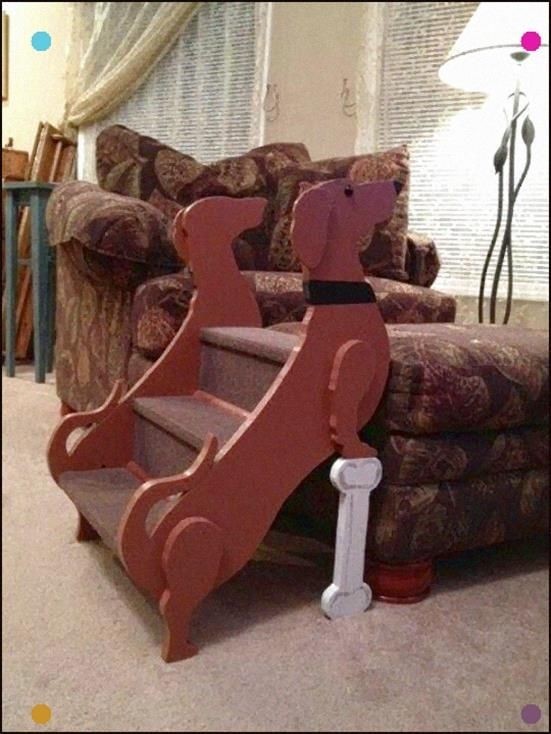 Dachshunds! Omg need this for my dachshunds!!!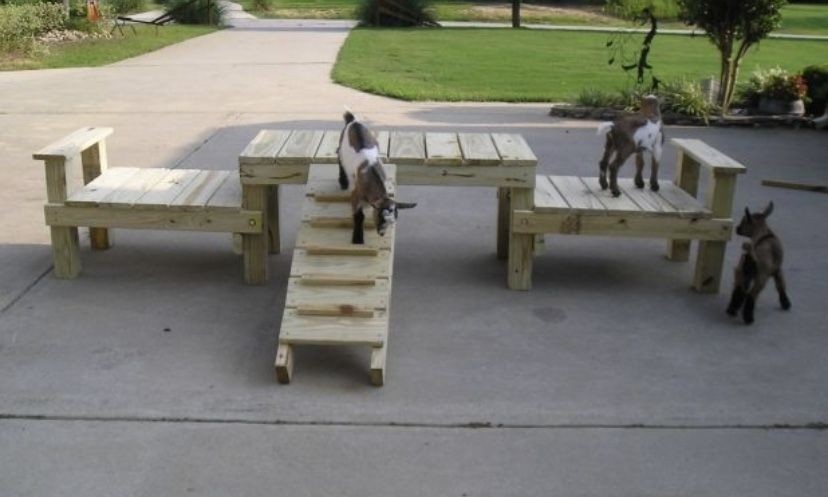 Would love to watch the littles on this.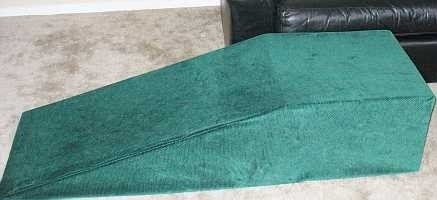 Dog Ramps for Beds or Couches Planning To Build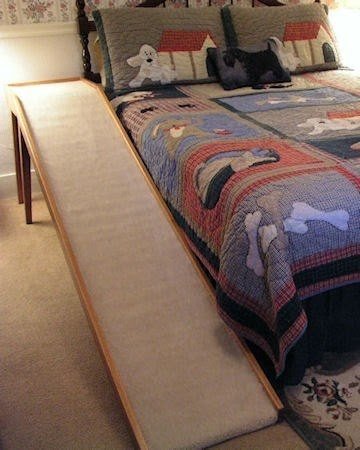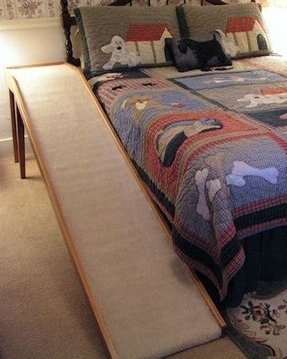 Wide pet ramp to help your older, very young, or small pets to get from the floor to the bed. Even if your pet has its own bed, it will like your bed, with you, the best of all.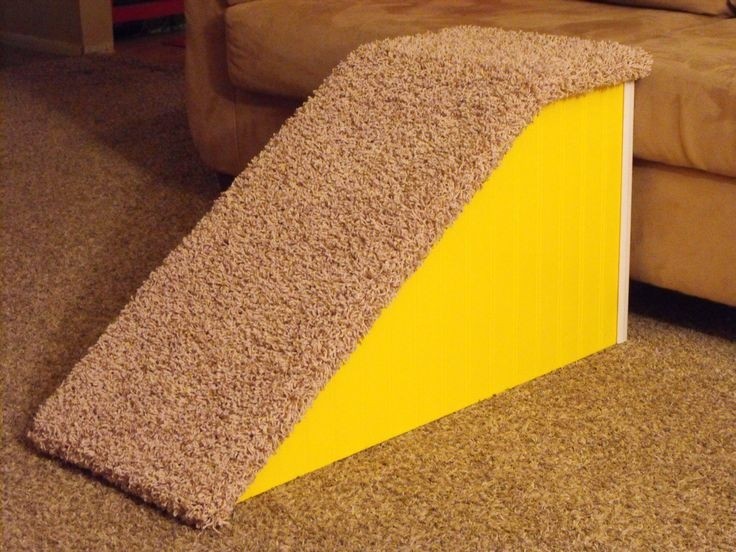 An aesthetic practical portable ramp for pets. It has a wooden frame with a vivid yellow finish and a vertically slatted design. Its upper surface is covered with a durable but soft beige carpet fabric.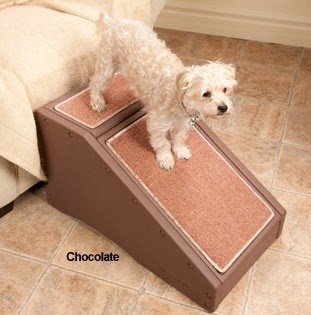 Been trying to find "pet stairs" for the couch and bed for a while. I like the idea of the slope instead of actual stairs; I think my dog would be more inclined to use it -- no pun intended. :-)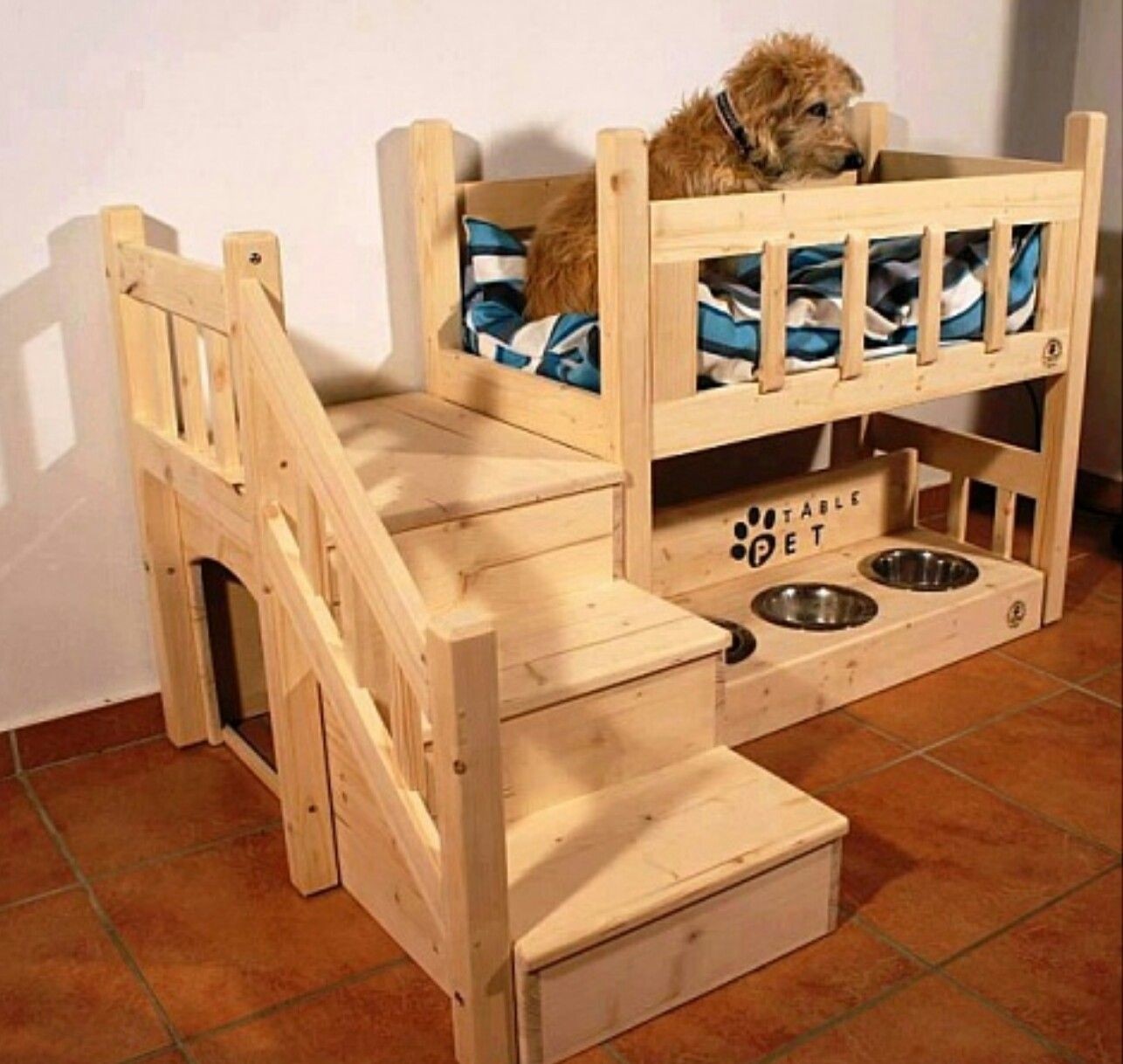 Thanks to this functional bed, your beloved dog or cat will be resting and eating in style. The combo is entirely crafted of natural-finished wood, including a built-in 3-step staircase with a dog house underneath, a dining area with 3 metal bowls, and a top bunk with protective railing.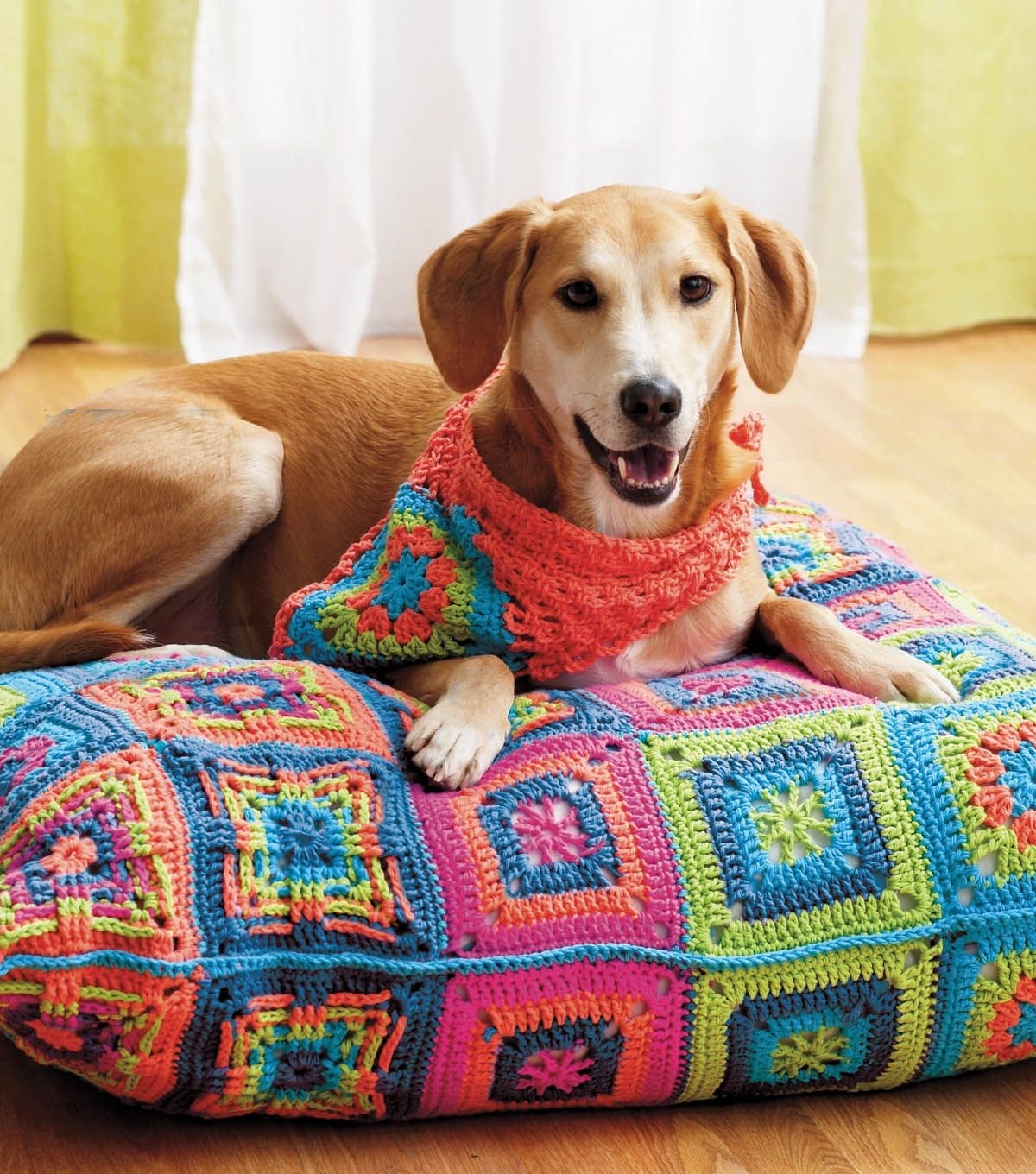 This patchwork square bed for dogs enchants with its vibrant, thick knitting, combining a whole pallete of colors and patterns. A valuable addition both for you and your beloved puppy.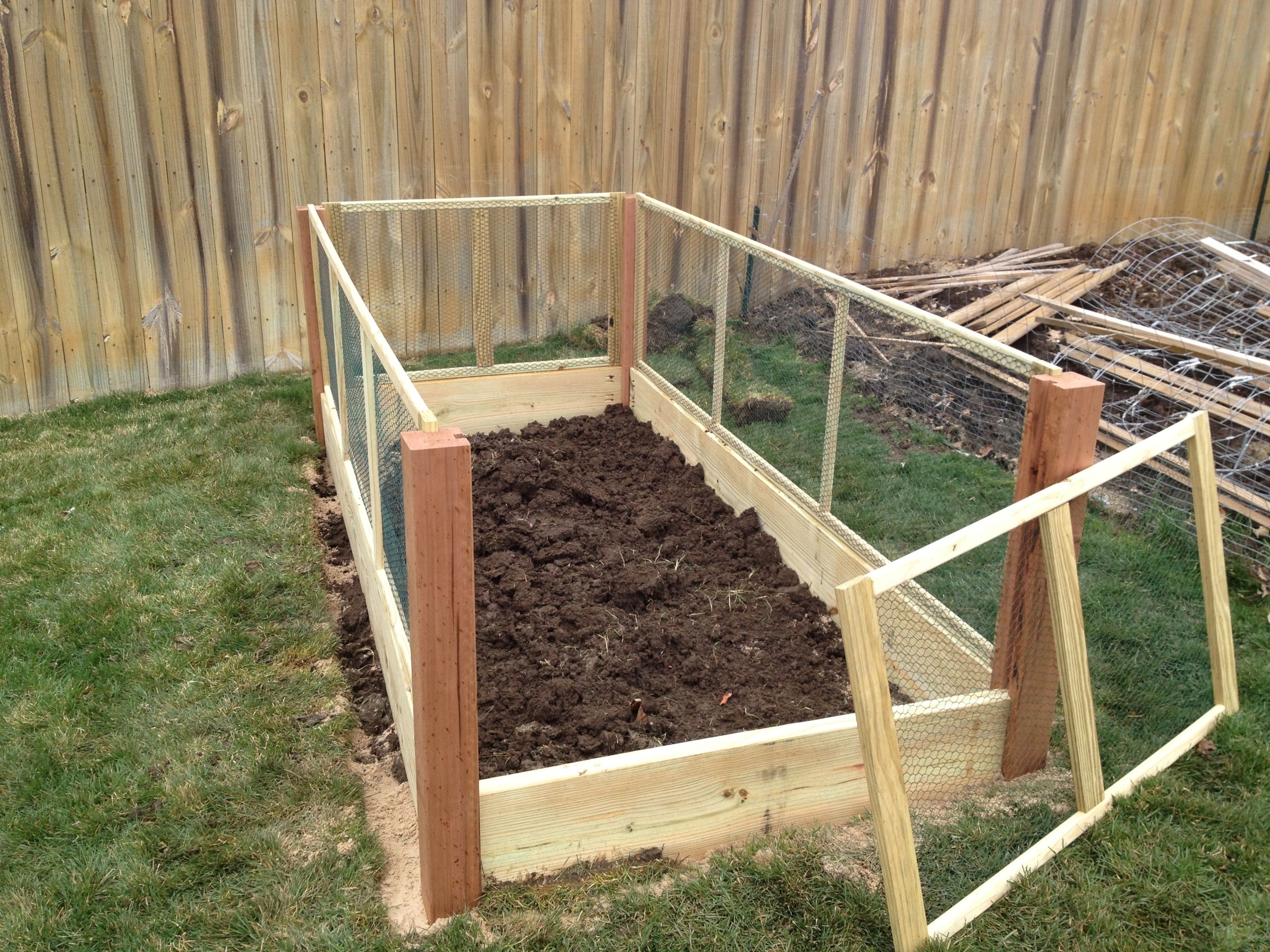 When you have the domestic animals free in your garden, it is hard to keep the out of your flowers. The removal fence panels allows you to reach all the flower beds easily, protecting them from your dog in the same time.