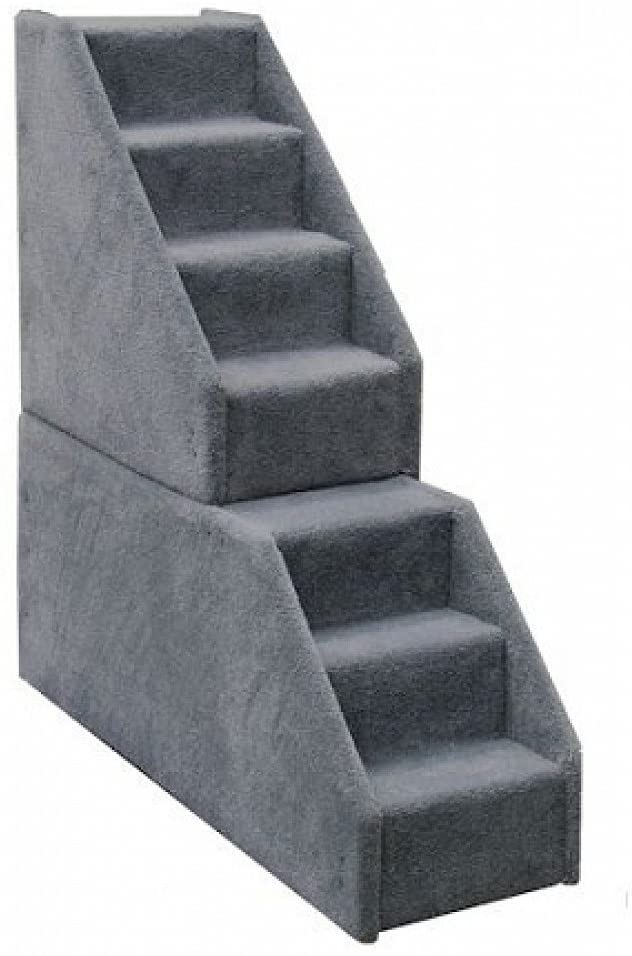 Bear's Stairs™ Mini Carpeted 7 Step Pet Stair
This stylish mini-carpeted 7 step stair pet is the perfect solution for your pet. Allows small dogs go on to higher bed, sofa or armchair. Made on a solid wood construction is rugged and covered with a nice carpet.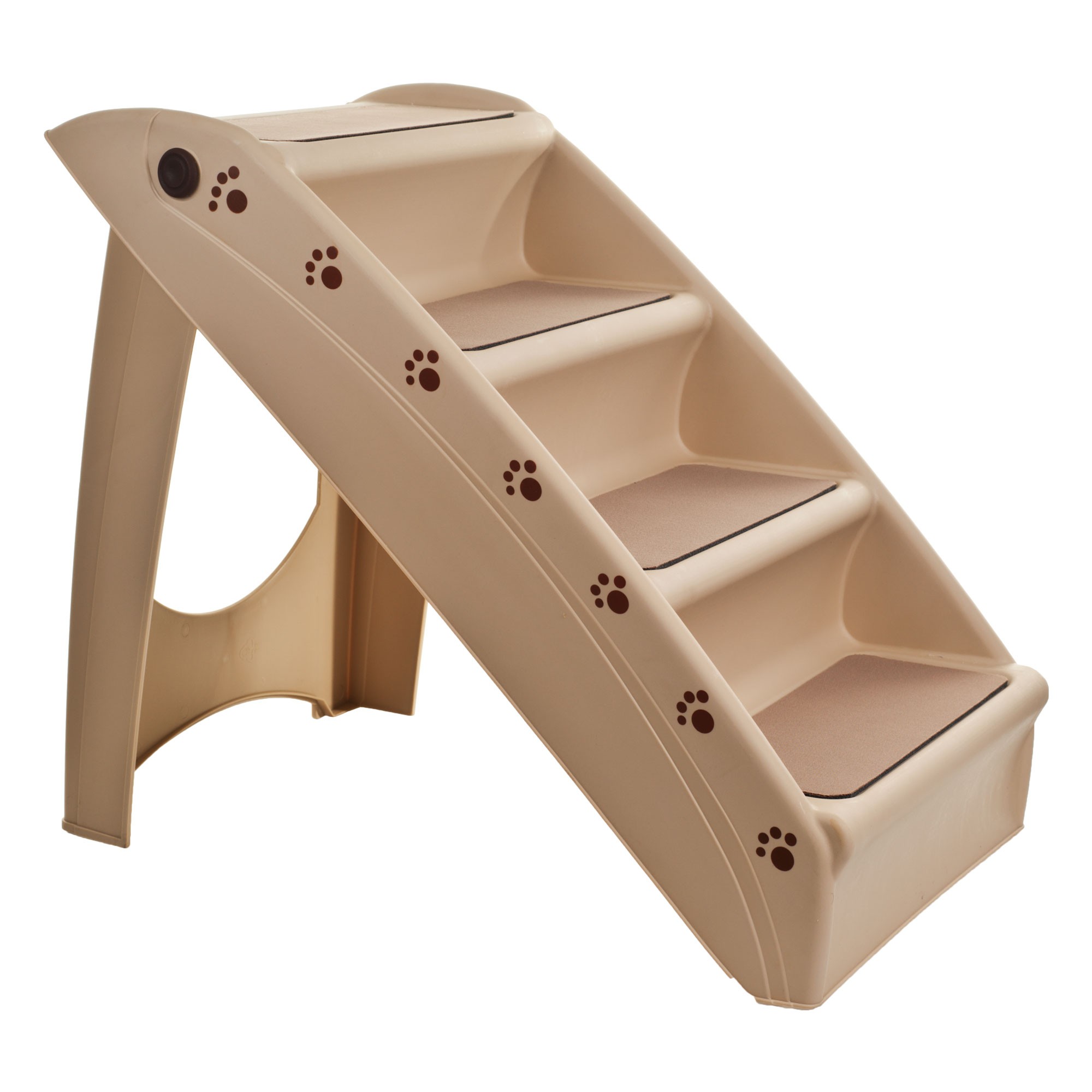 Foldable 4 Step Pet Stair
A practical addition for your four-legged friend. This 4-Step Pet Stair is lightweight and portable, providing 120 lbs of weight capacity. The piece features a durable plastic frame, side rails, and carpeted stairs. Slip- and water-resistant.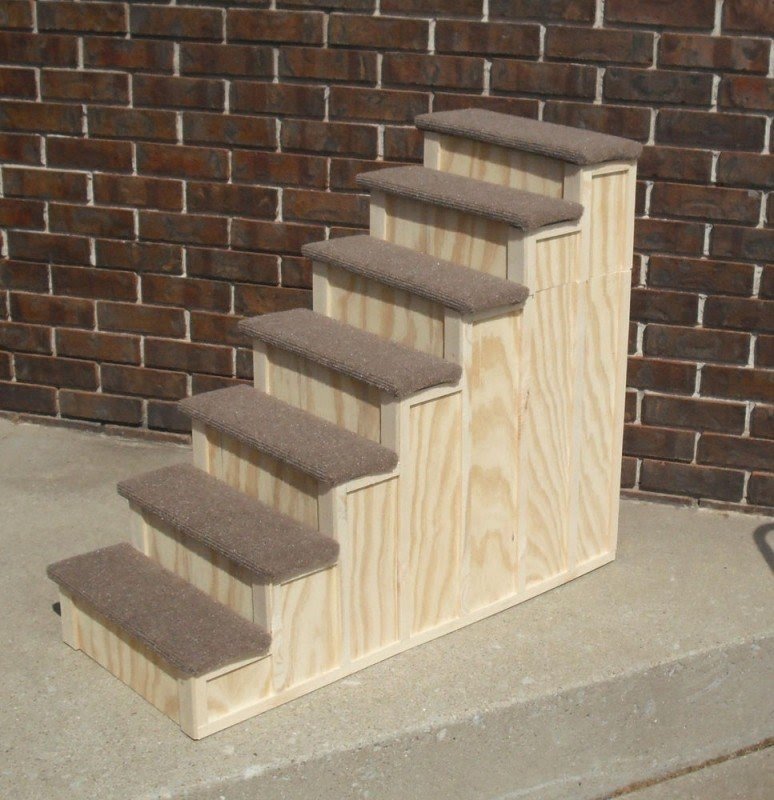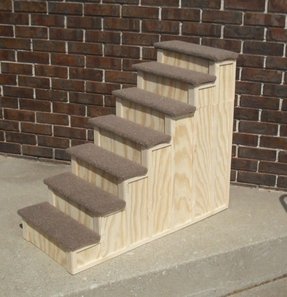 30 X 36 Inch Wood Pet 7 Steps Tall Bed Step Stain Choice Any Size Dog Or Cat
This handmade project presents stairs for pets. These wooden constructions are available in 11 variants of wood and 4 carpet options. The overall dimensions are 30 inch tall x 36 inch deep x 16 inch wide.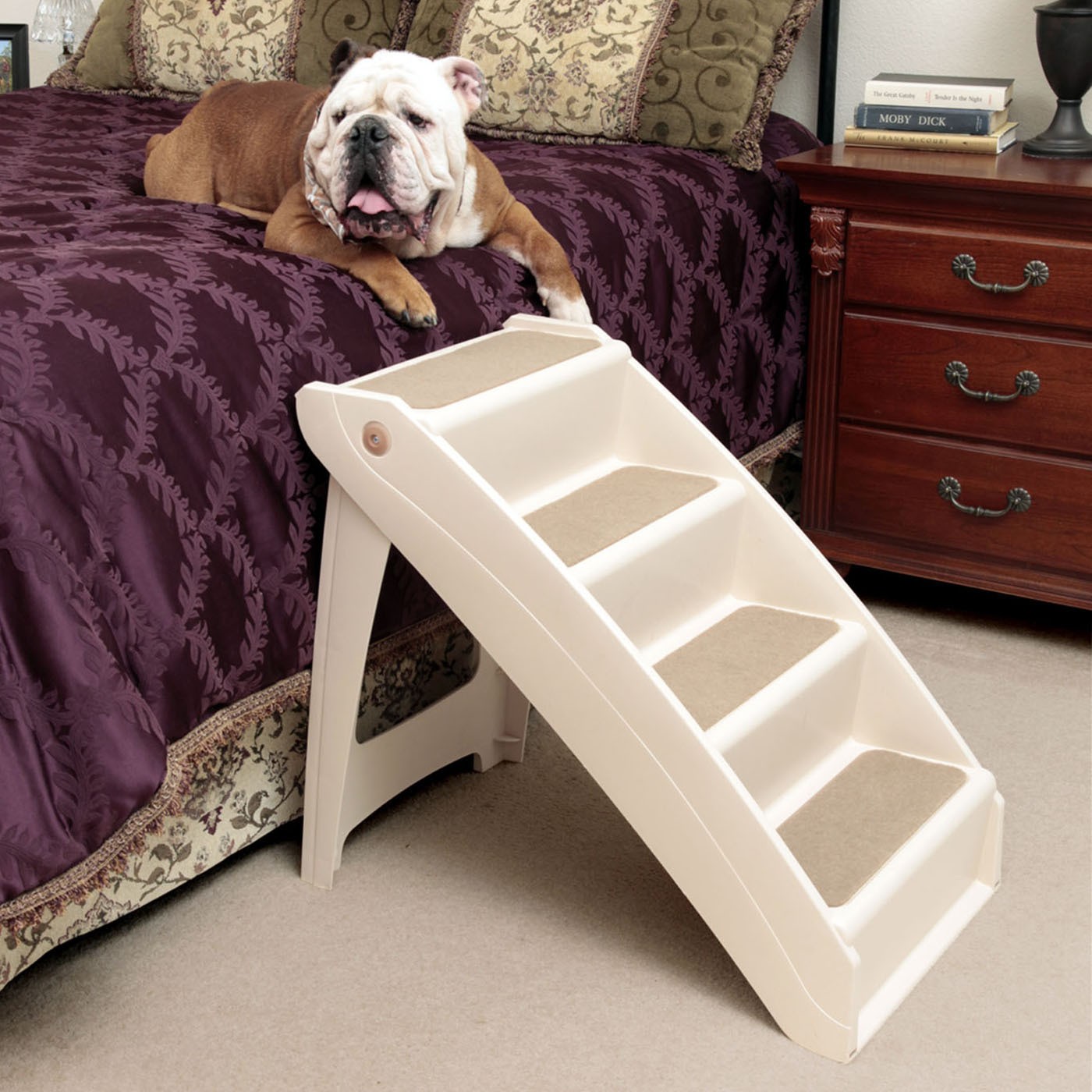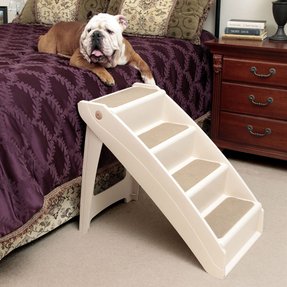 Pup 4 Step 28" Pet Stairs
Aesthetic lovely white plastic stairs helpful for small, old or disabled pets to climb up. It has practical anti-skid pads on each stair. It is lightweight and foldable to easy carrying, transport and storage.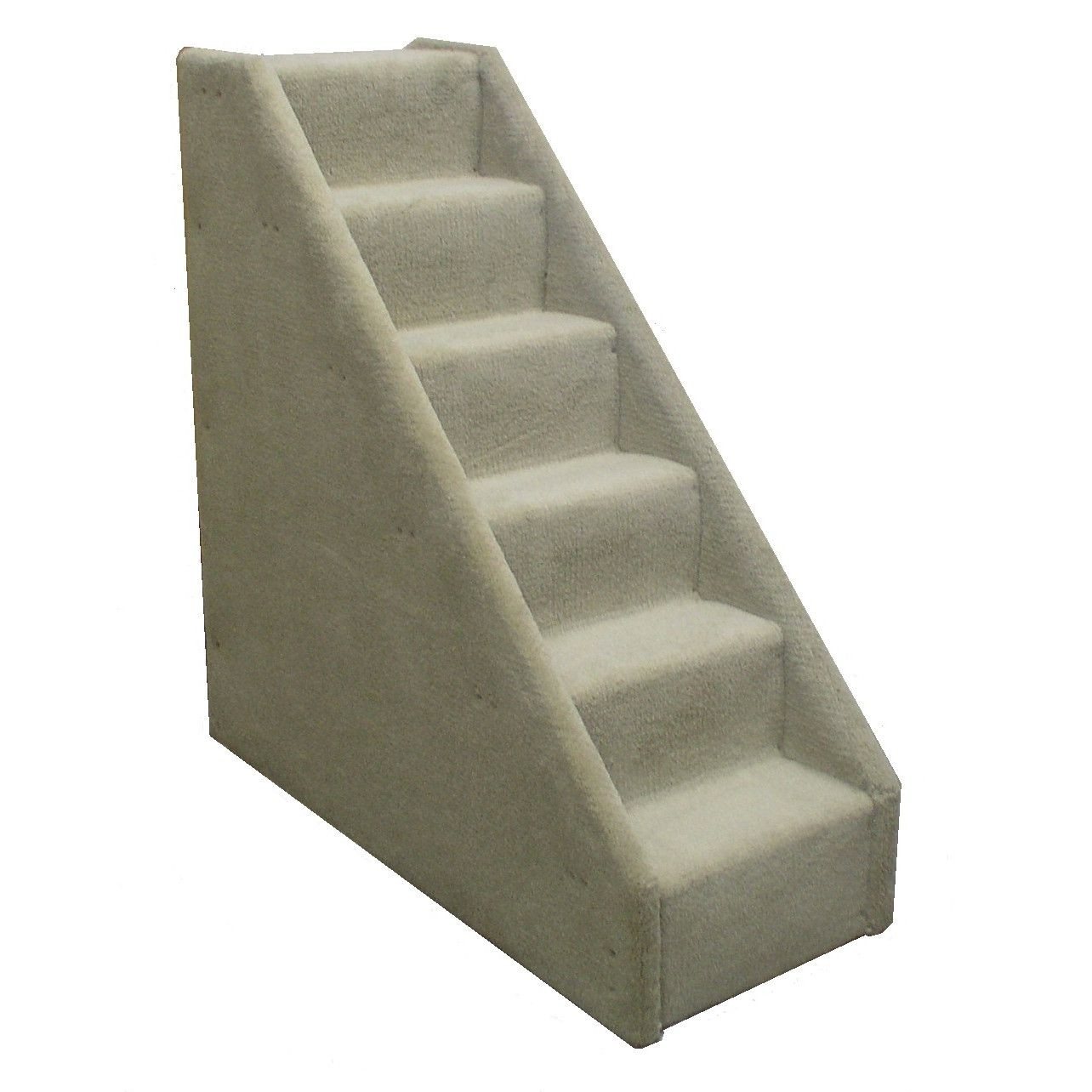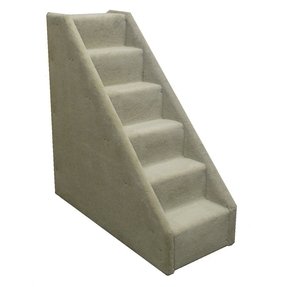 Bear's Stairs™ Mini Carpeted 6 Step Pet Stair
These few steps is a great solution for your pet. It facilitates it to penetrate the sofa, chair or bed without scratching and destroying it. Neutral colors can match it to any interior.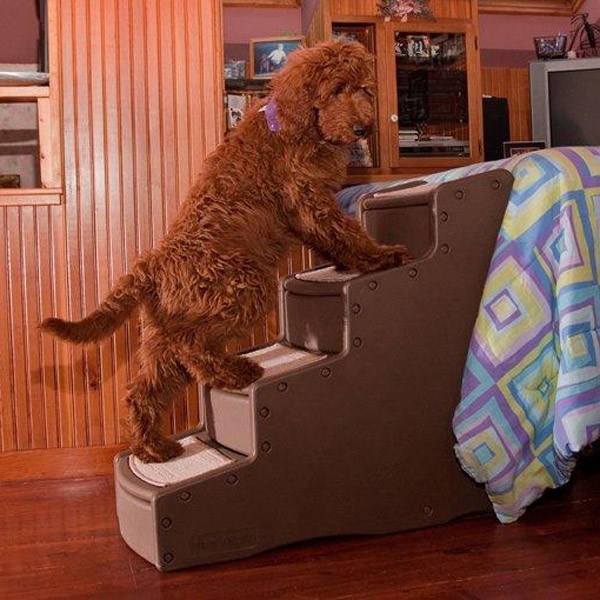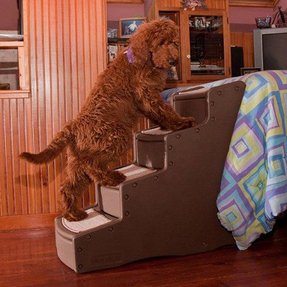 Easy Step IV 4 Step Pet Stair
Perfect four step pet stairs that were made from plastic and upholstered on steps with carpet that provides adhesion for your pet. These stairs were made perfectly for higher beds and cars. Made in easy snap together design.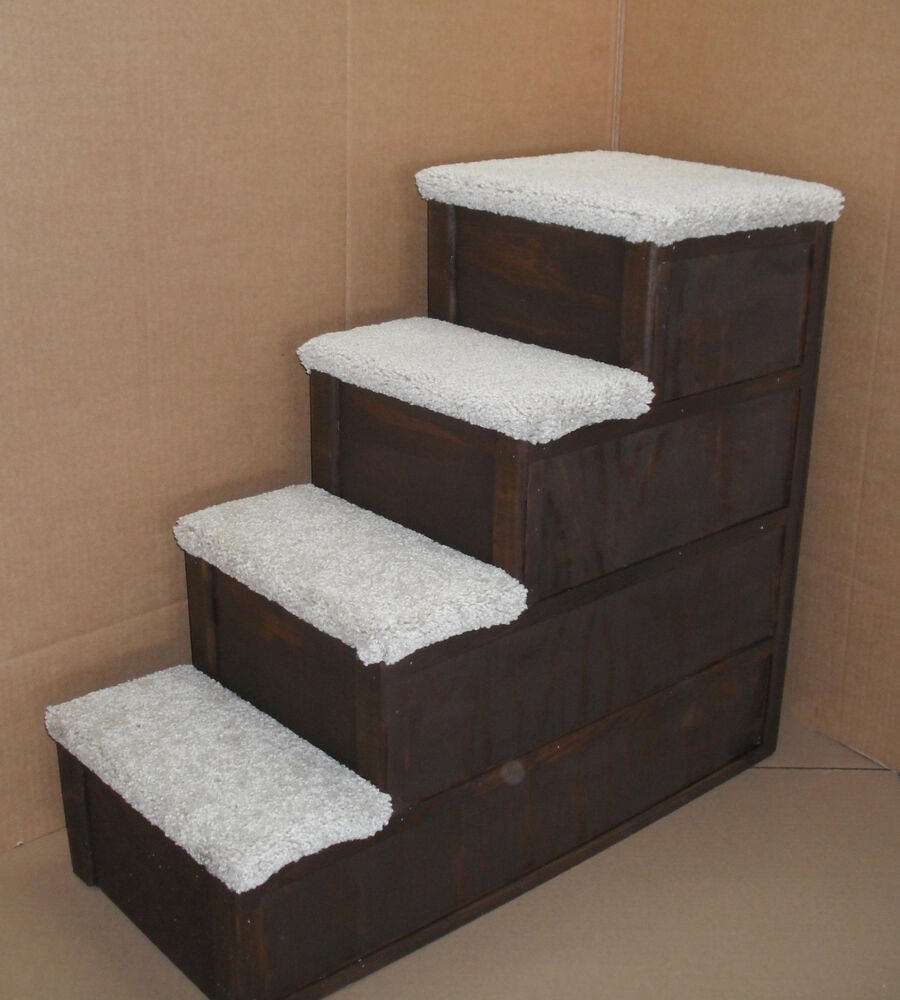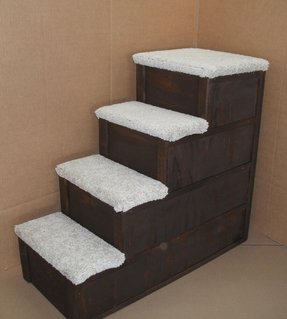 24 Wood Dog Cat Pet Step Large Top Landing Bed Stairs Or Window Seat
Help the animal with short paws reach the couch for you or the bed, for the harness and the rascal. Dogs and cats will enjoy the wooden pet stairs for tall beds finished with MDF board and veneer in an espresso color with anti-slip beige microfiber stages.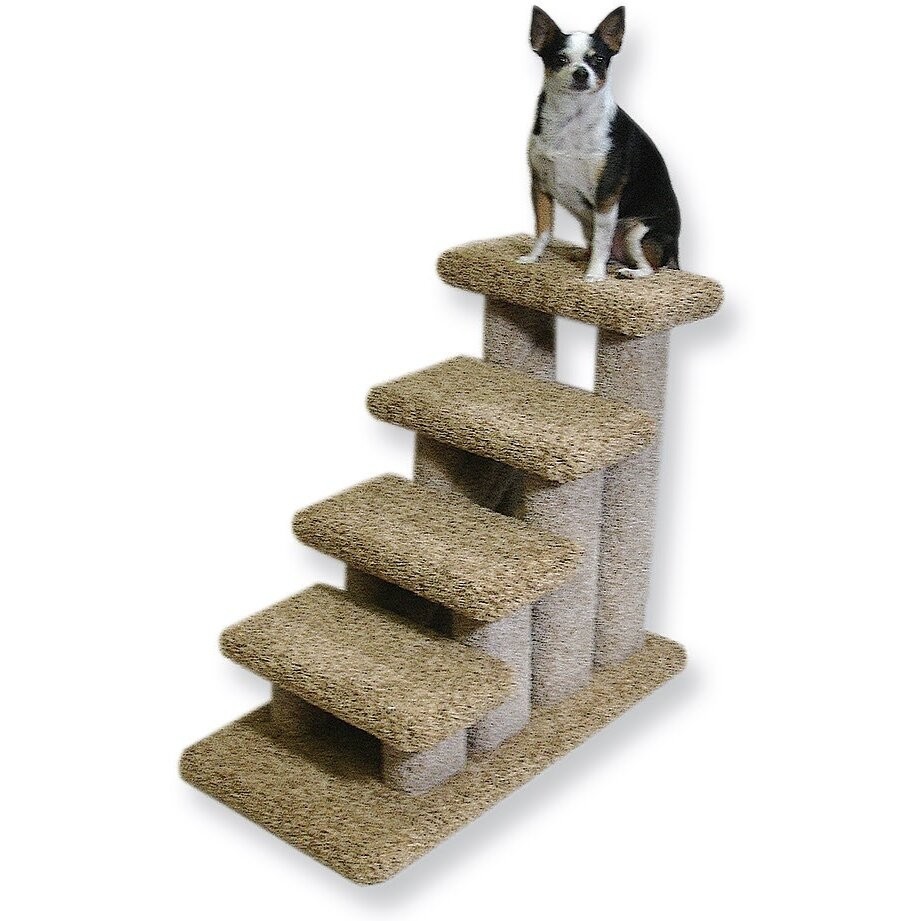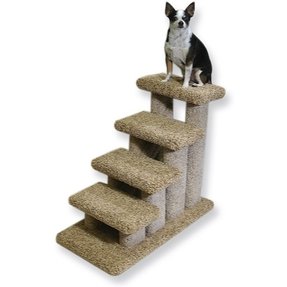 Deluxe Doggie 4 Step Pet Stair
Utilitarian ramp for dogs. It is built from wood for durability and covered with plushy dark beige carpet. It has four sturdy steps on thick pillars that will hold even heavier dogs. Its weight capacity is enormous: it is 350 lbs max.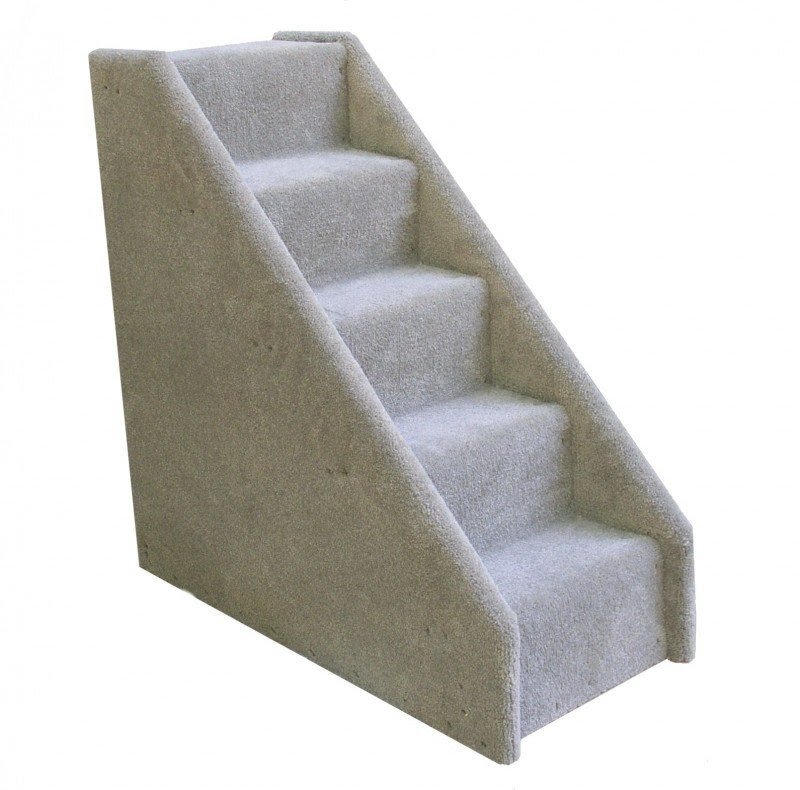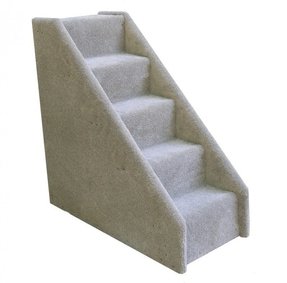 Bear's Stairs™ Mini Carpeted 5 Step Pet Stair
Practical lightweight portable stairs with 5 steps for smaller, older or disabled dogs and cats. Made of plywood covered in grey plush cut-pile spot-cleaned carpet. Full pentagonal sides have rubbery anti-slip feet.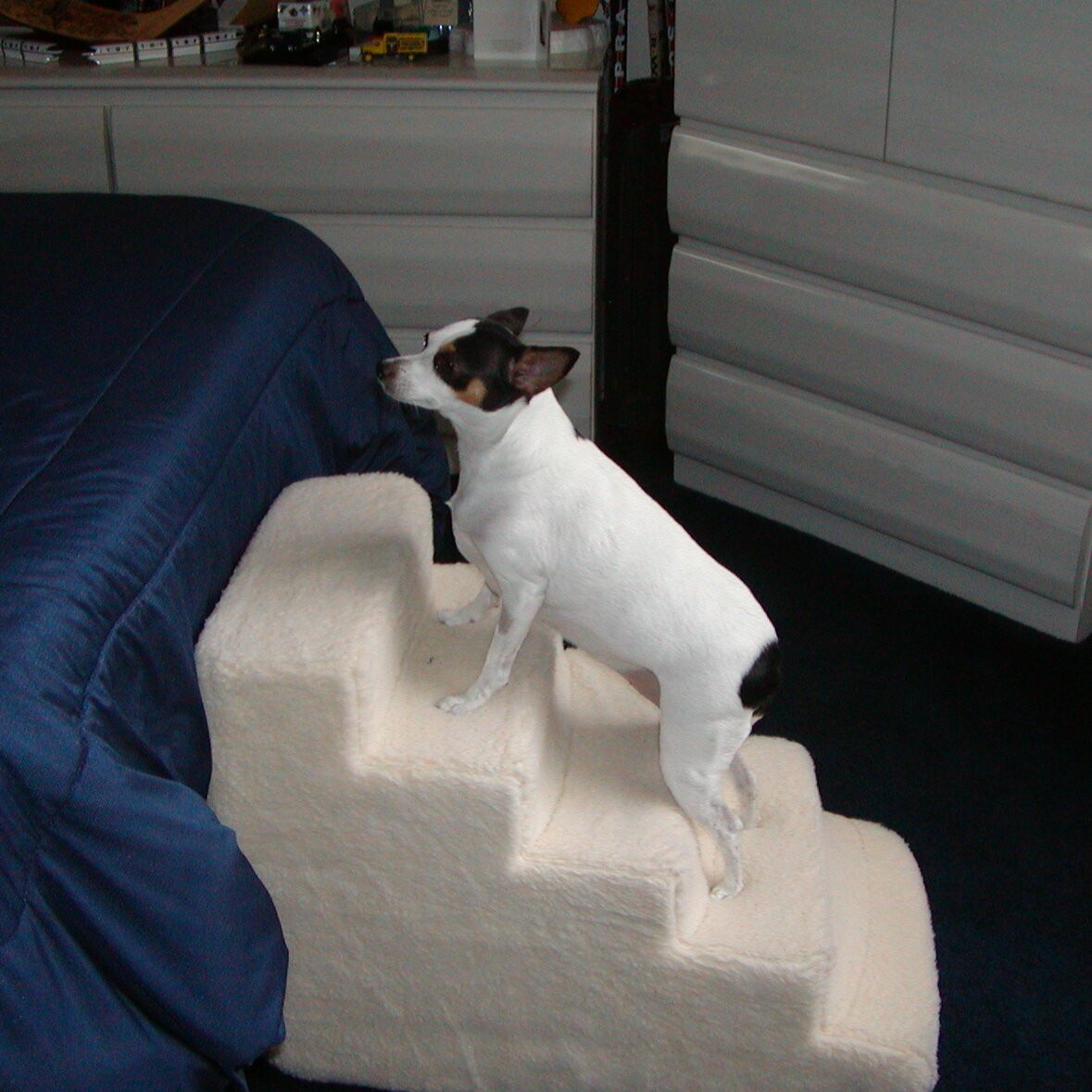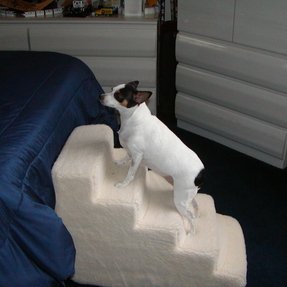 Foam 5 Step Pet Stair
5 step pet stairs designed for medium sized pets. Suitable for dogs and cats. It is filled with high density foam and covered with pleasant to the touch material. It is very well appreciated by customers for functionality and neutral design.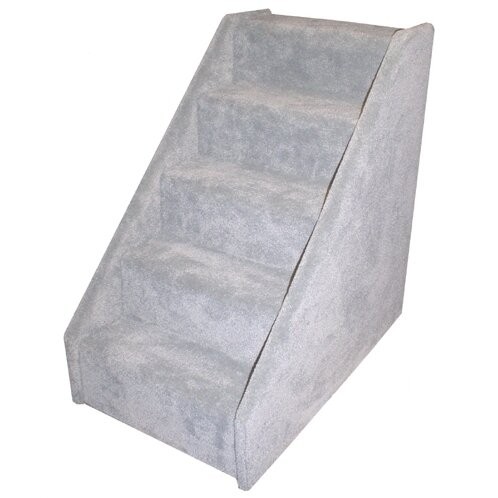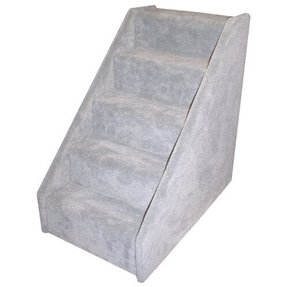 Bear's Stairs™ Midi Carpeted 5 Step Pet Stair
Practical lightweight portable 5-step stairs intended for smaller, older or disabled dogs. It is made of durable plywood covered in bluish plush cut-pile carpet. Stairs have pentagonal sides with anti-slip feet.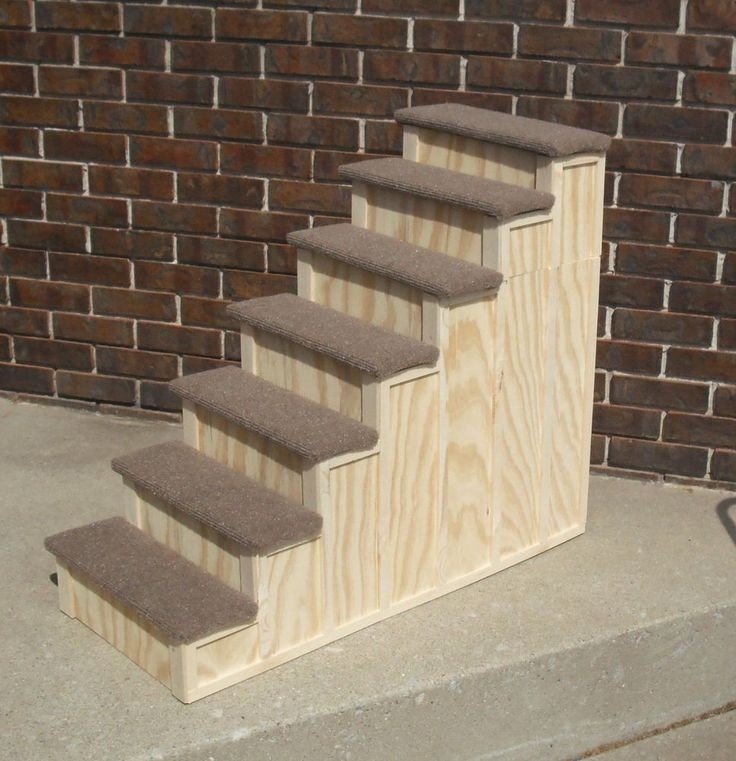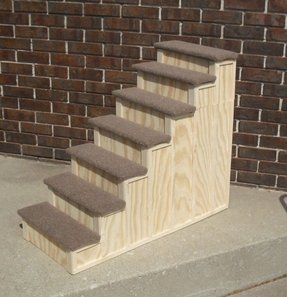 Wood Bed Steps
You can help a small dog - jump into our bed every night. These wooden, quite tall pet stairs for tall beds, were made of pine wood and are totally stable, moreover, they have non-slip pads on gray-colored steps.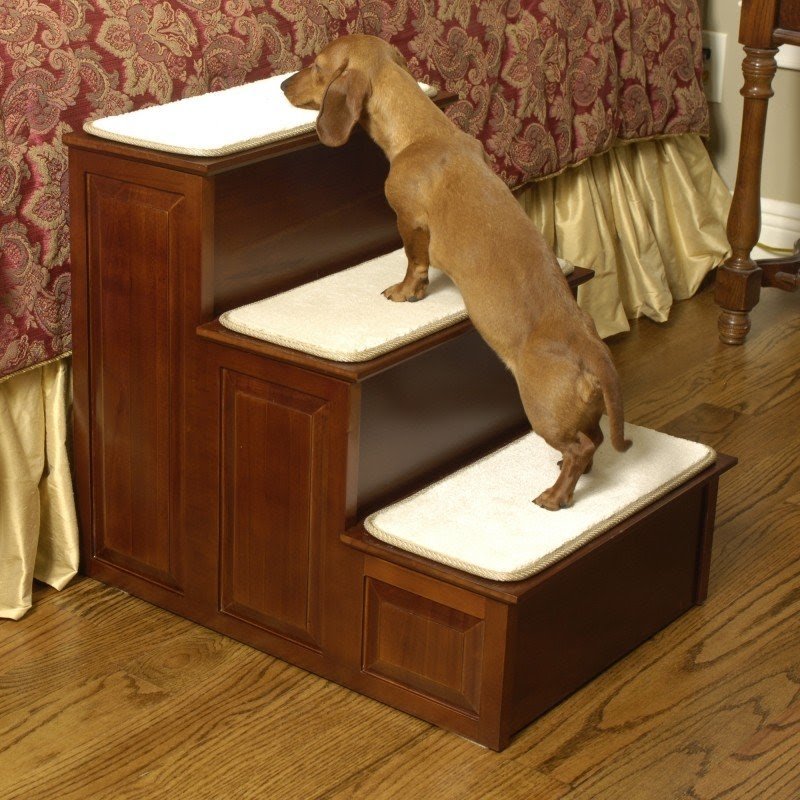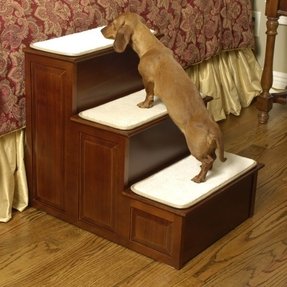 3 Step Pet Stair
Useful pretty stairway intended for old, disabled or small pets. It's made of laminated wood with a cherry-brown finish. It has sides decorated with milling-cut. Steps are lined with durable white carpet fabric with reinforced edges.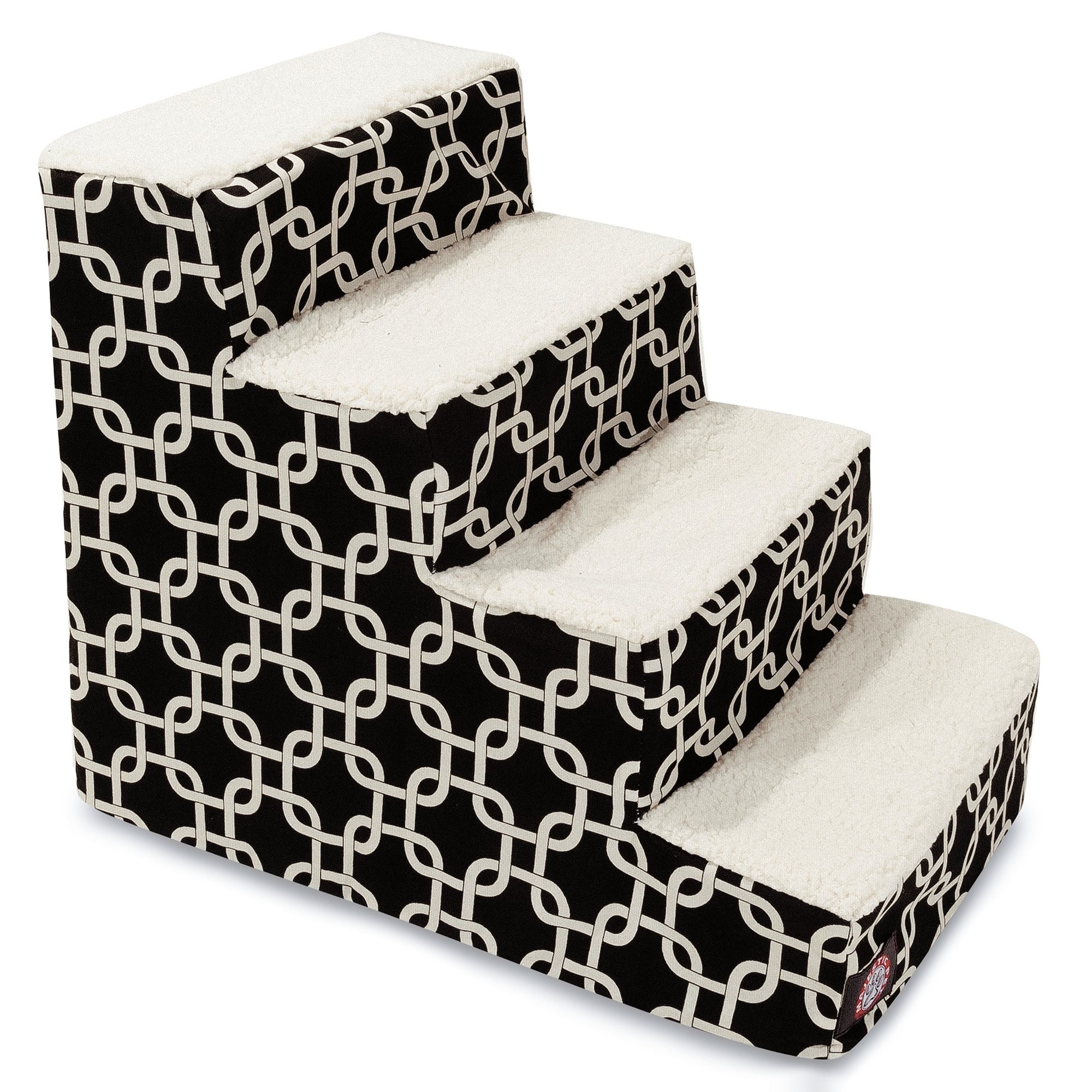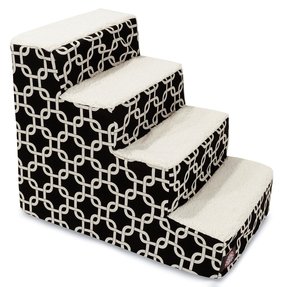 Links 4 Step Pet Stair
This neat pet stair has four stages that make less pet climb on higher chairs or sofa. Beautifully decorated with no unsightly interior, and even provides an interesting decorative effect.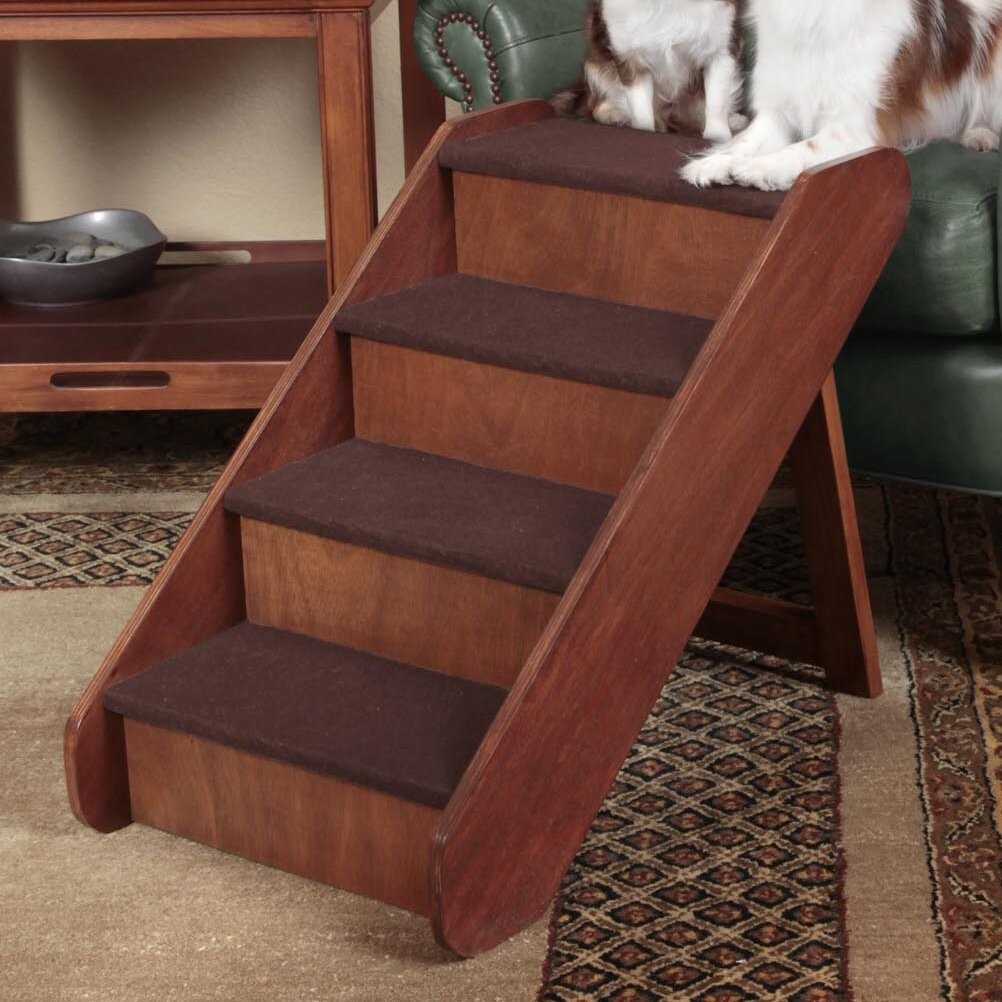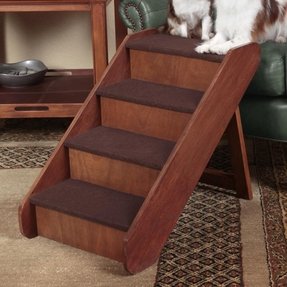 PupStep Wood 4 Step 24" Pet Stair
It is a PupStep wood four step pet stair that is made for helping your puppies. It is perfect for tall beds. You will be surprised how amazing this pet stair is. If you looking for something for your pets you need to but this one.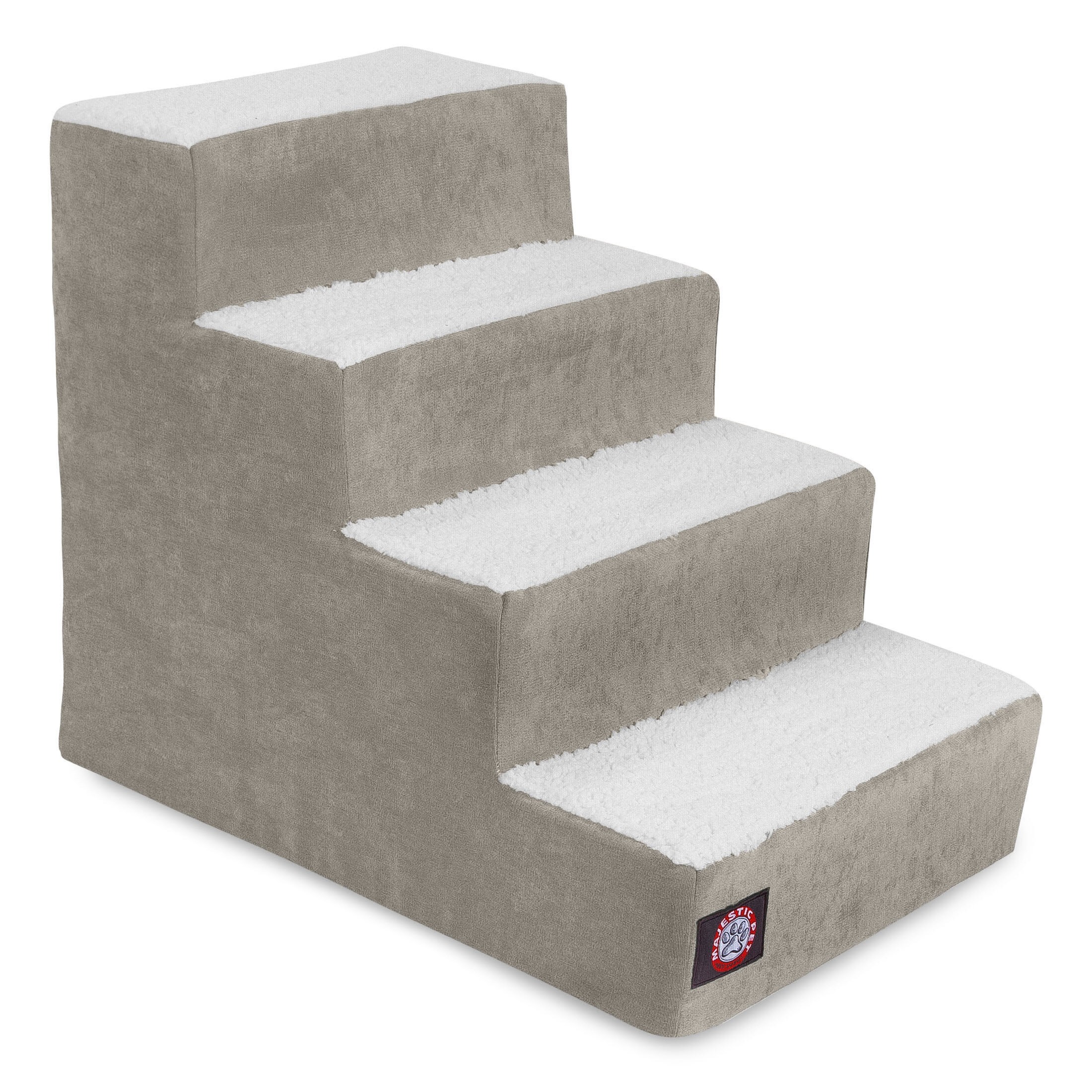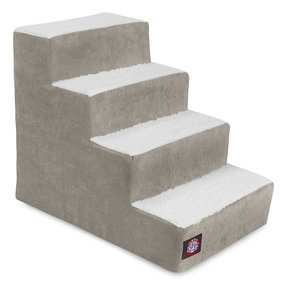 Villa 4 Step Pet Stair
It is a four step pet stair that is perfect for small pets. It is available in five colors: apple, aubergine, navy, orange and vintage. It has got a removable slipcover that is easy to care for and machine washable.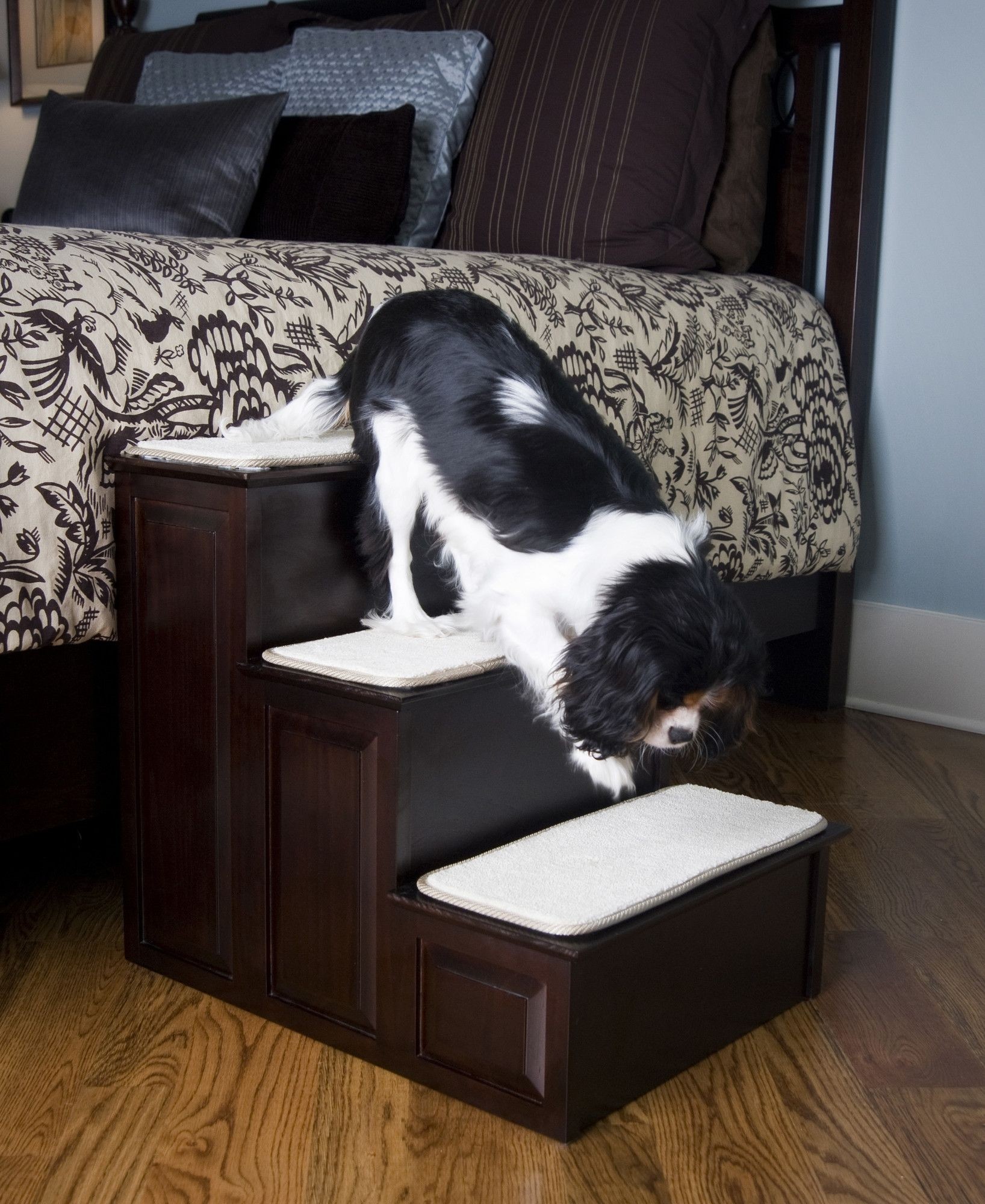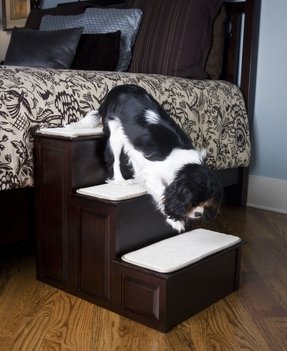 Three Step Pet Stairs in Espresso
Three step stairs for pets. Dedicated to cats and dogs. Construction is made of wood. Stairs are padded with soft material. Possibility to locate anywhere according to need. It was highly praised by satisfied customers.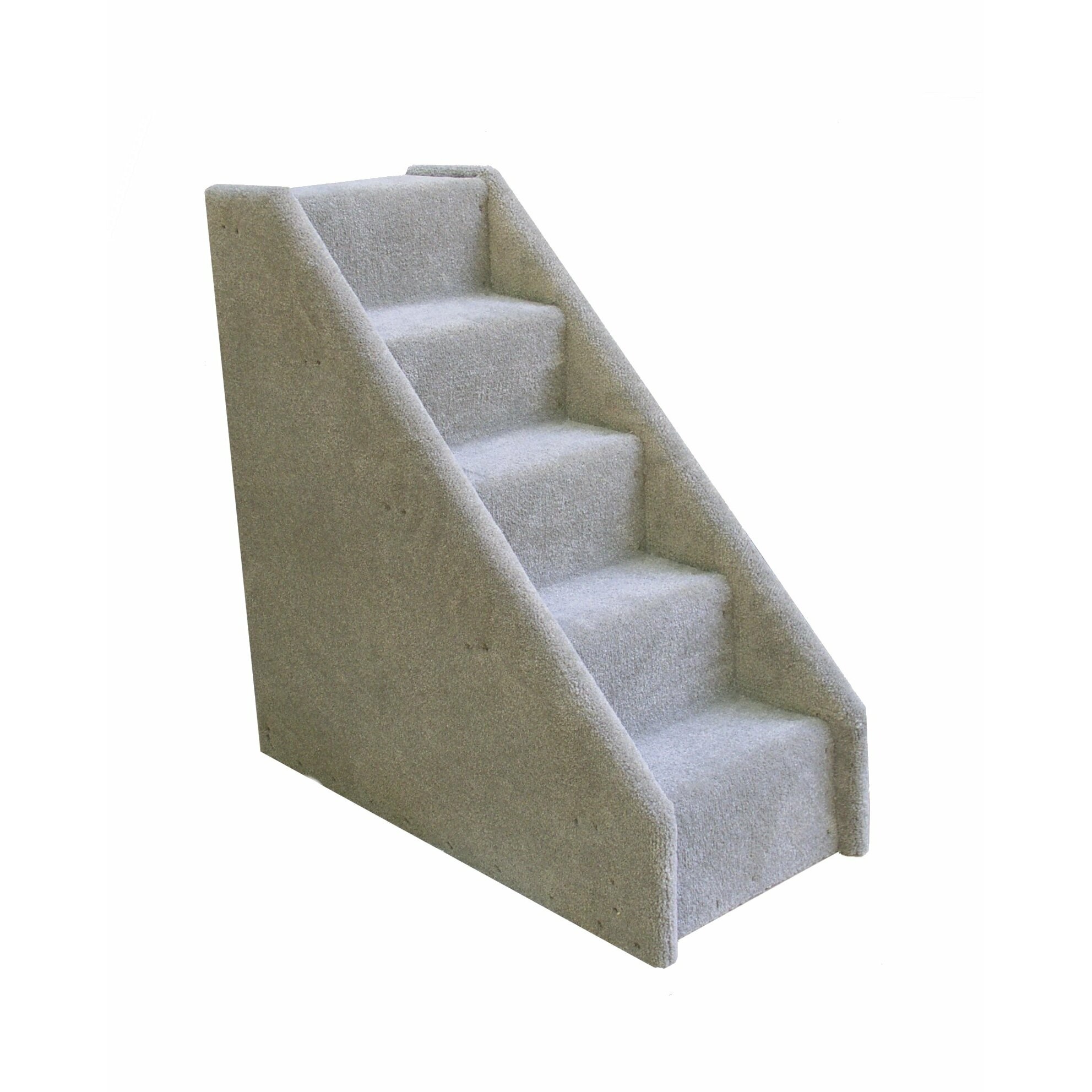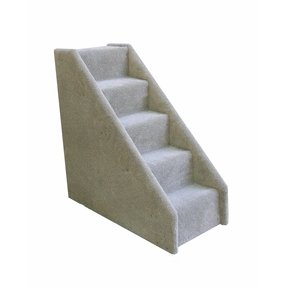 Bear's Stairs™ 5 Step Mini Carpeted Pet Stairs
This stylish mini pet carpeted stair step 5 is the perfect solution for your pet. Allows small dogs go on to higher bed, sofa or armchair. Made on a solid wood construction is rugged and covered with a nice carpet.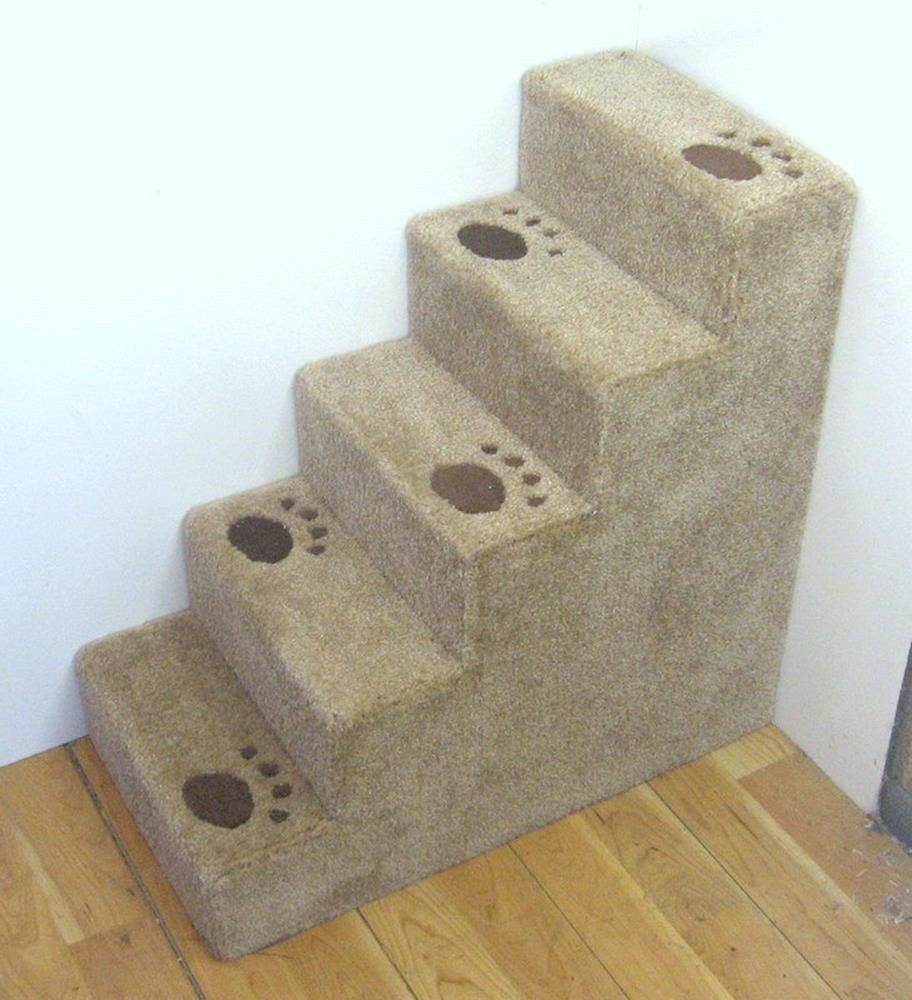 A loving, well-groomed animal is a happy animal. Medium pet stairs for tall beds that will help to reach the high places. Swaddled this time entirely with a soft light-brown microfiber. In addition, they have decorative traces of dog's paws.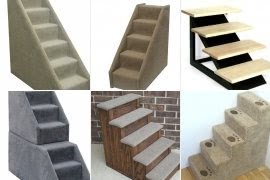 The modern home is also functional - if we have a pet at home - important to help him with pet steps, made of real maple wood, with matte finish and non-slip security, together with heavy duty wrought iron frame. Pet stairs are perfect for tall beds, too.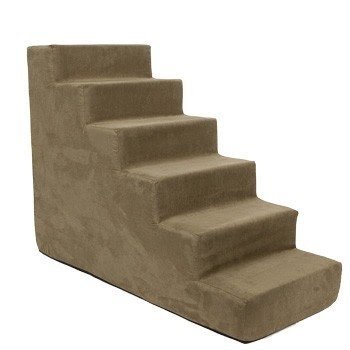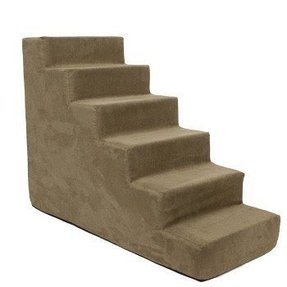 Home Dog Steps & Ramps Animals Matter Too 6 Step Olive Pet Stairs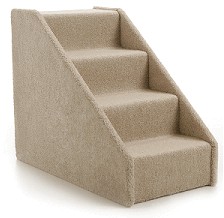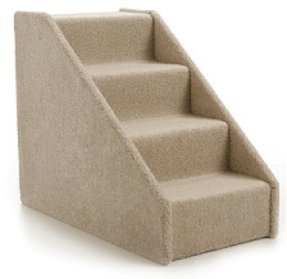 America's #1 Manufacturer of Dog Steps, Dog Stairs and Pet Staircases.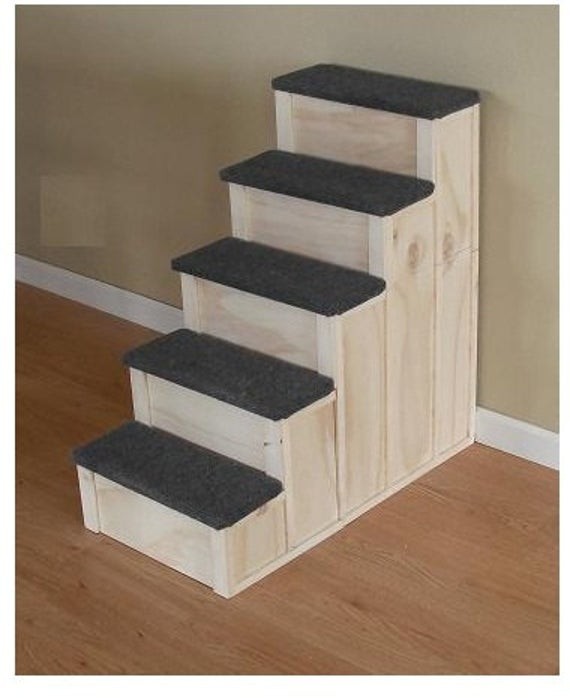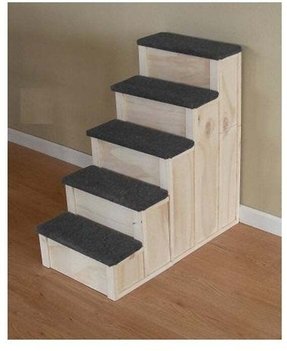 30 inch tall 5 Step Pet Stairs Bed Step Free Shipping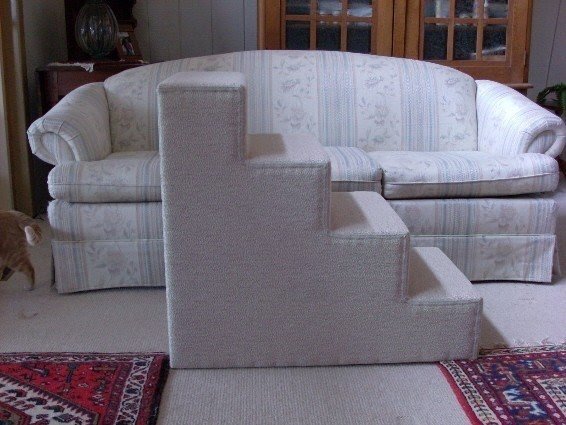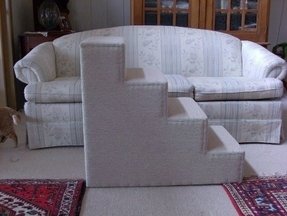 Take care of your pet and buy him dog stairs for large dogs and tall beds, and prevent possible injuries of paws caused by multiple jumps and jumps eg. From the bed. The stairs are made of rigid foam, in this case with a light beige upholstery.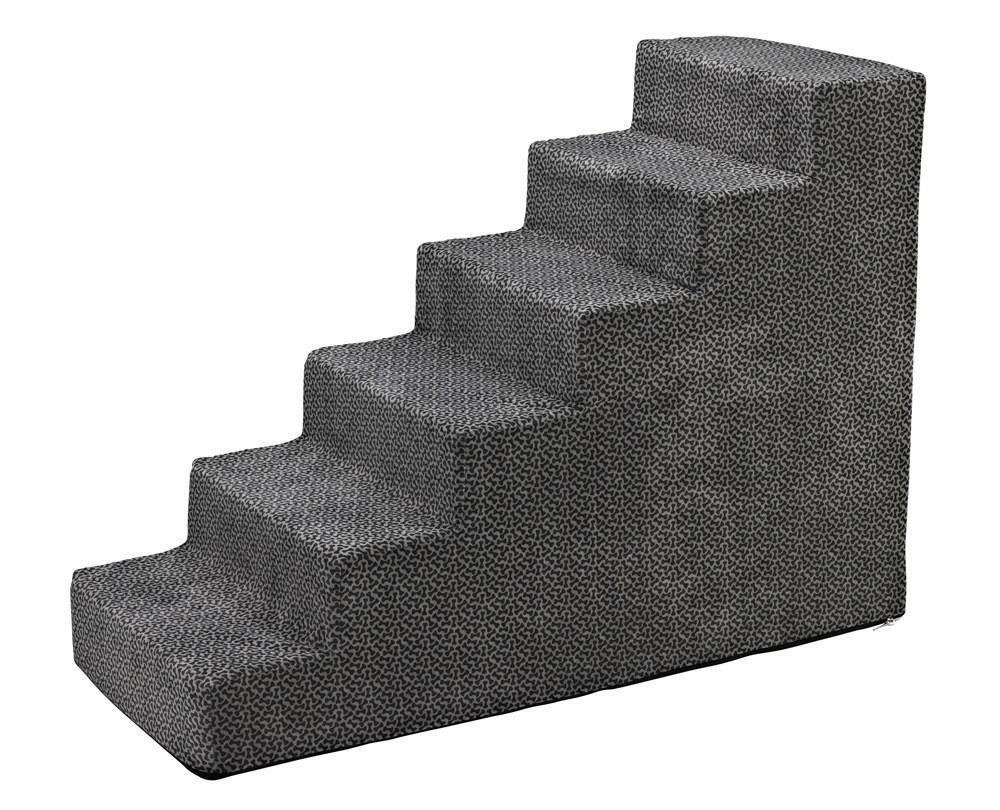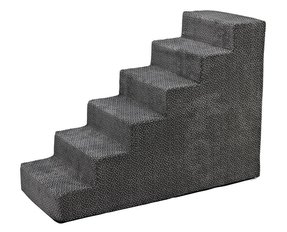 Bowsers Microvelvet Pet Stairs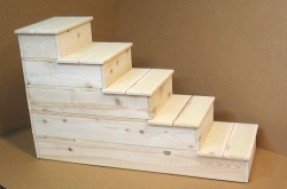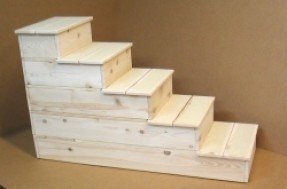 ... too high for their dog like 36 inches too high these custom cedar dog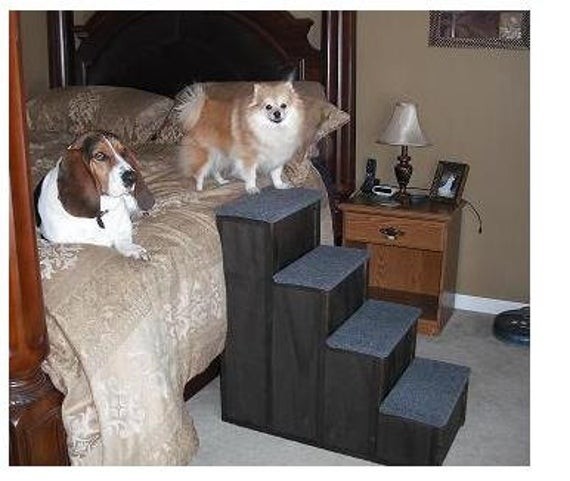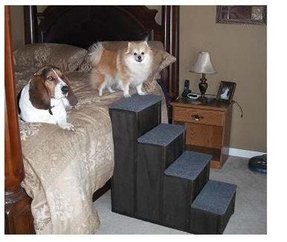 32 inch Tall Pet Step for Tall Beds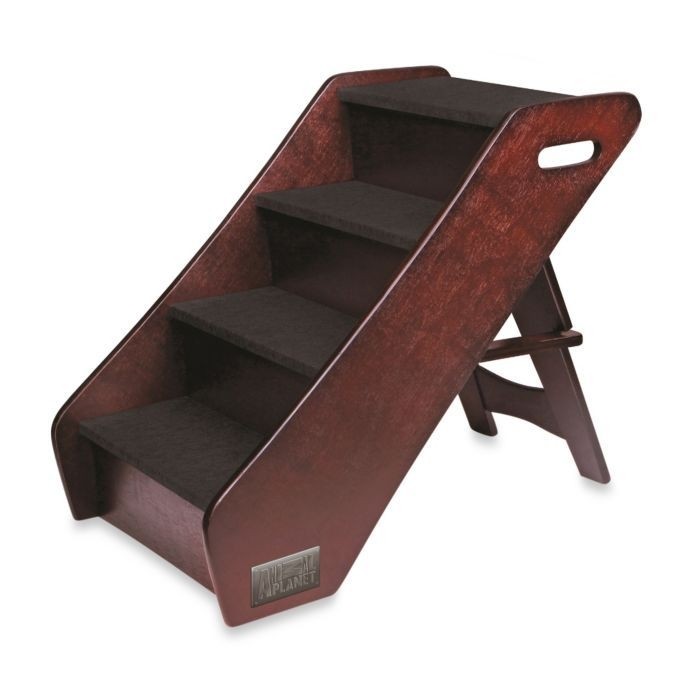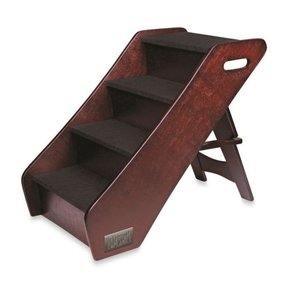 Bed Bath Beyond Skip to content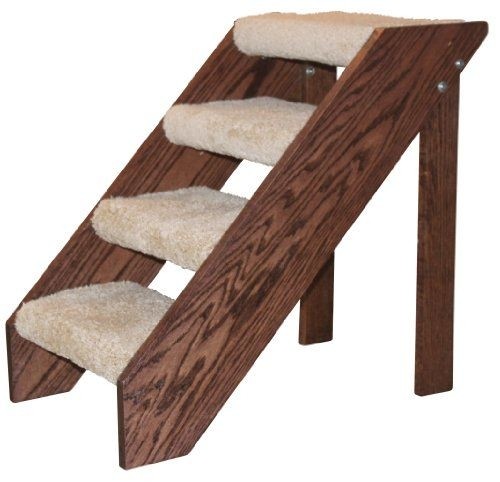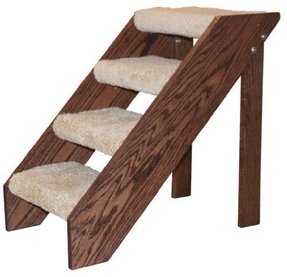 pet supplies dogs beds furniture stairs steps steps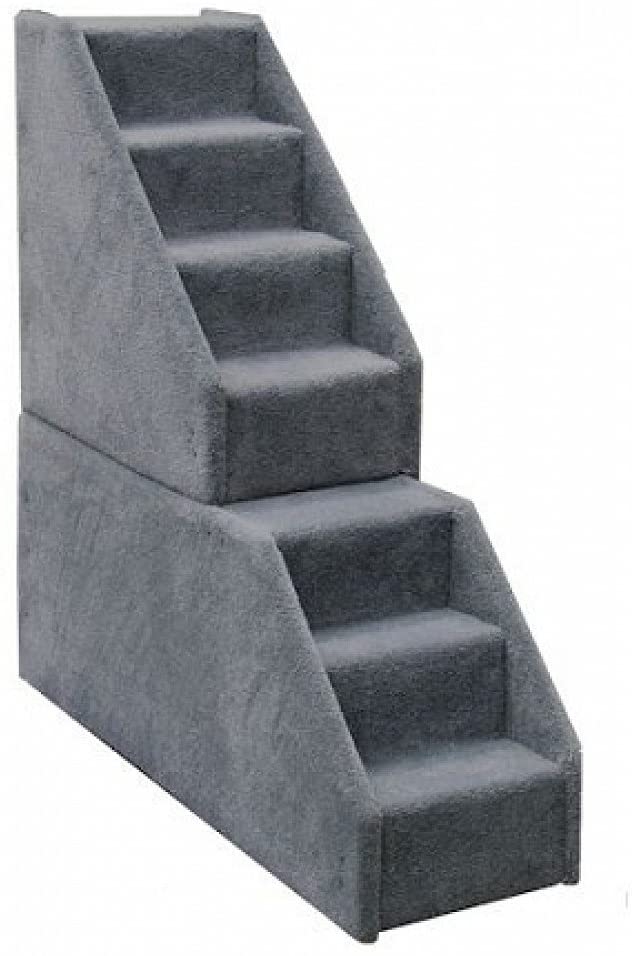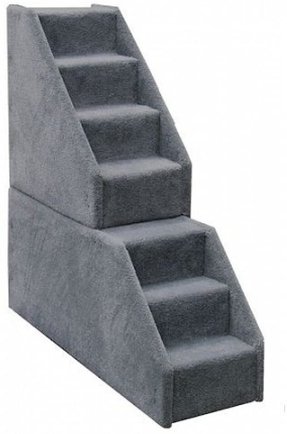 Dog Steps for high bed stairs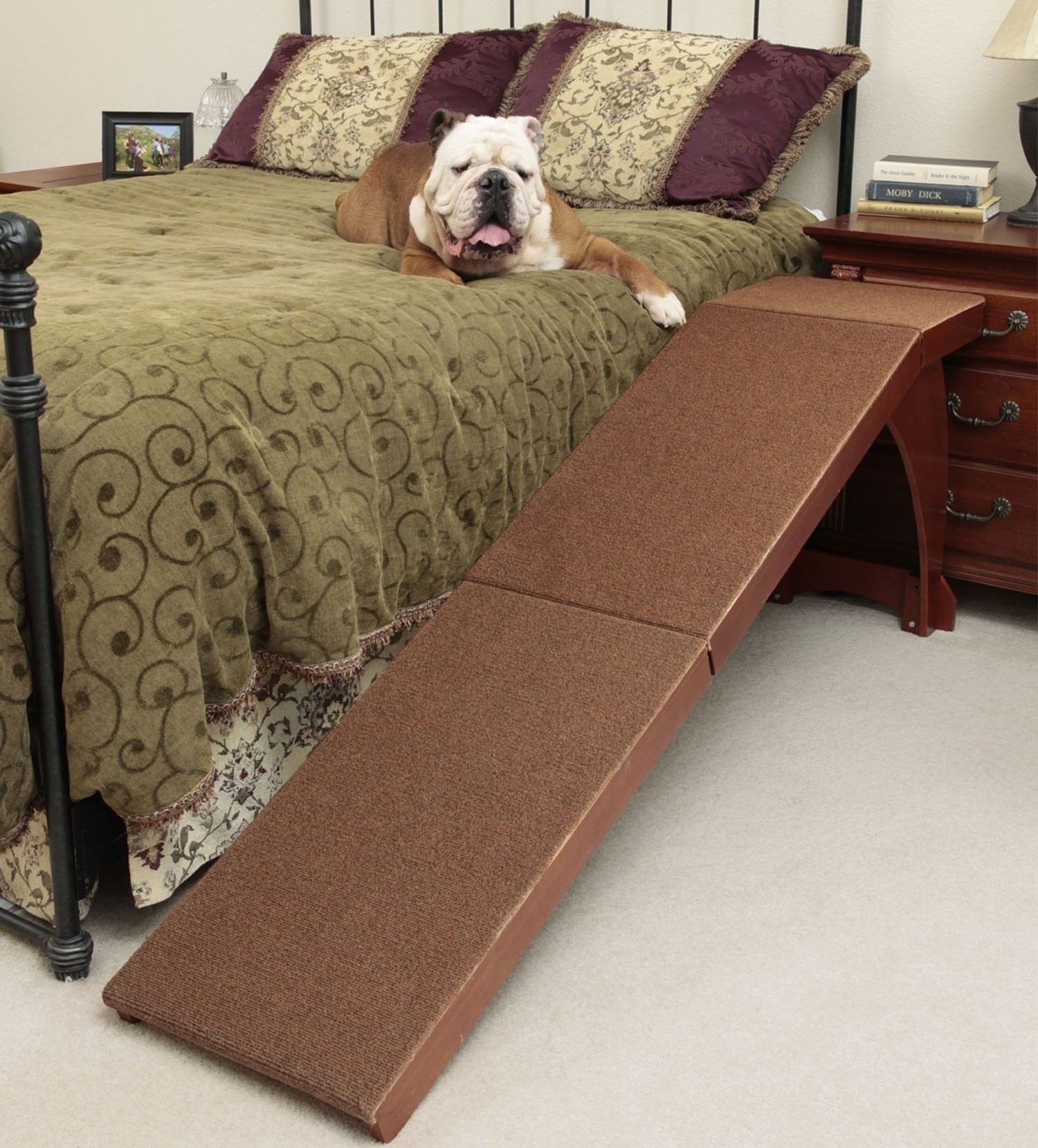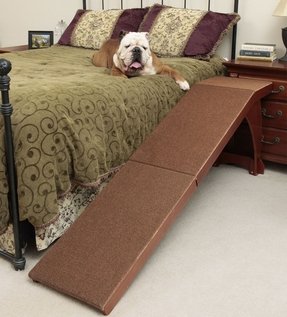 ... Pet Ladder Stairs Dog Ramp 20" Tall Bed Steps Step Folding Portable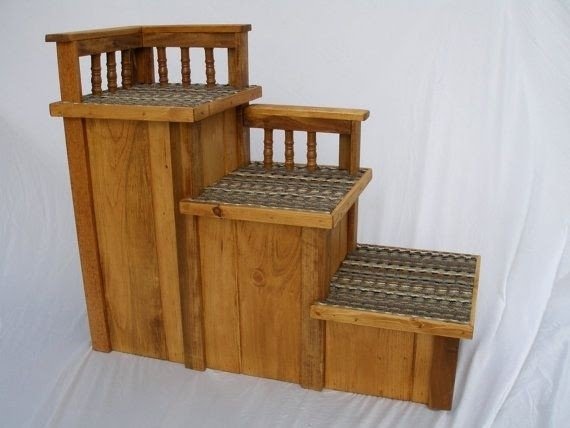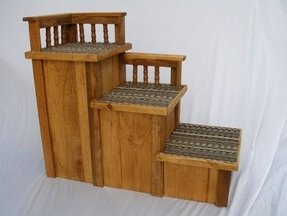 Dog accessories exist in our apartments, so we want them to match stylistically. These pet stairs for tall beds, with three steps with a fairly wide square surface, are made of exotic cedar wood, hence their interesting exotic character.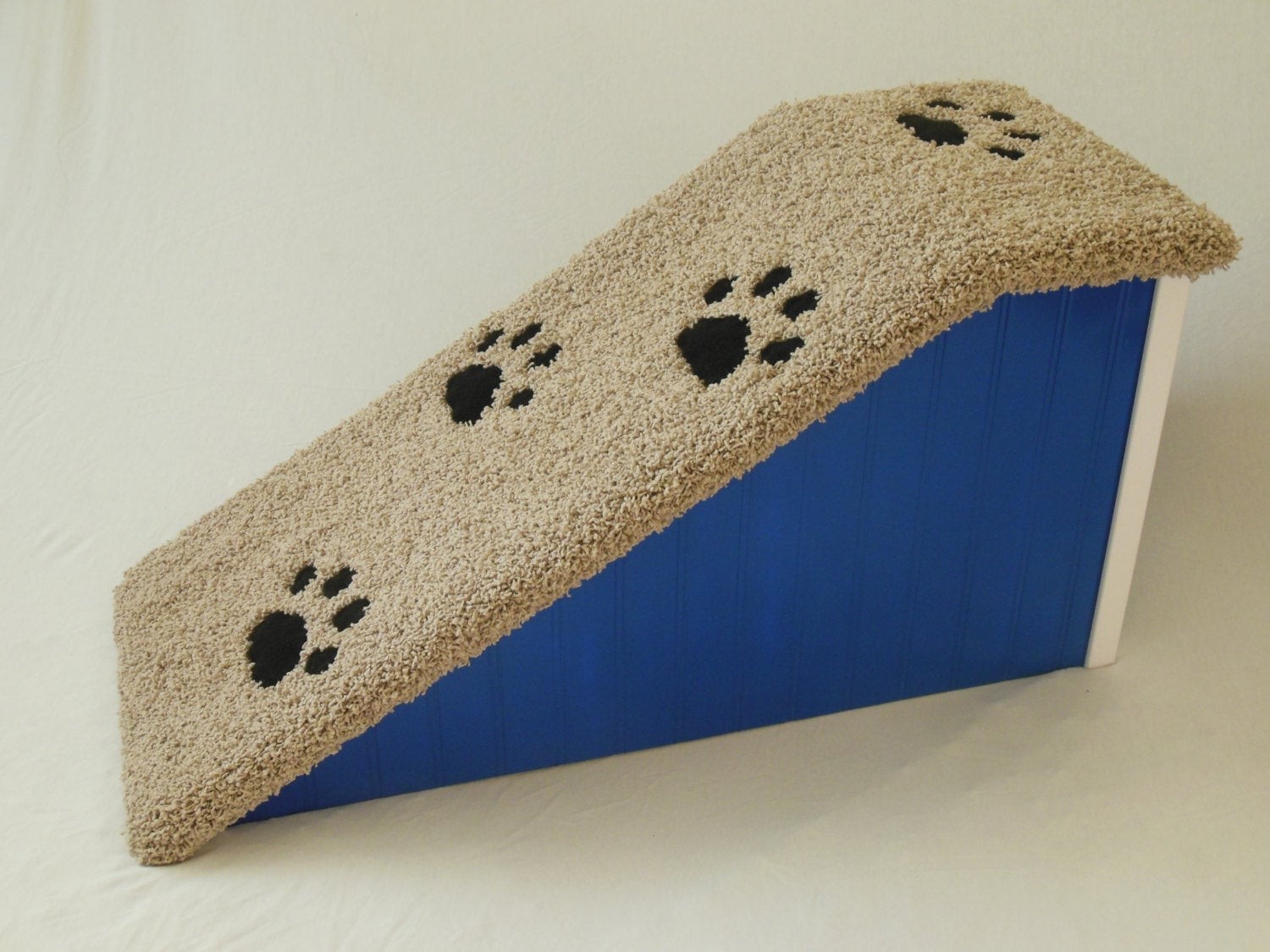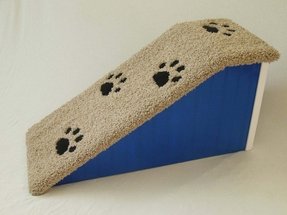 Best Pet Stairs for Tall Beds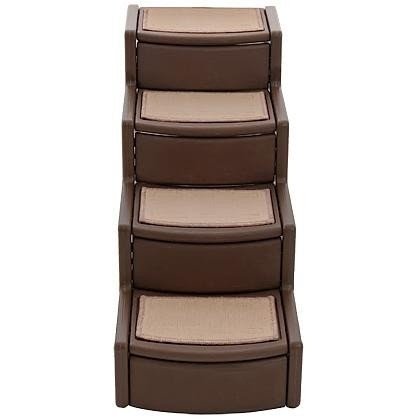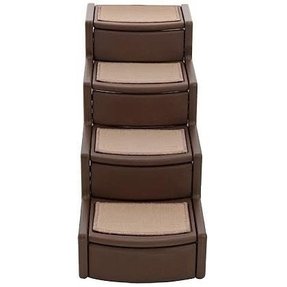 Dog Steps with 4 Steps (Click for Larger Image)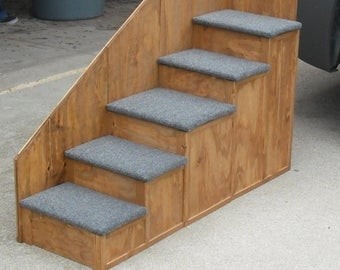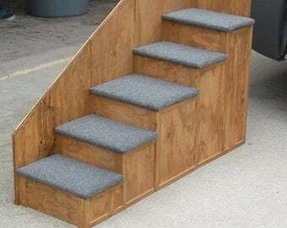 24 tall 48" deep by 16" w ide 5 with side wall Step Wood Dog Pet Steps ...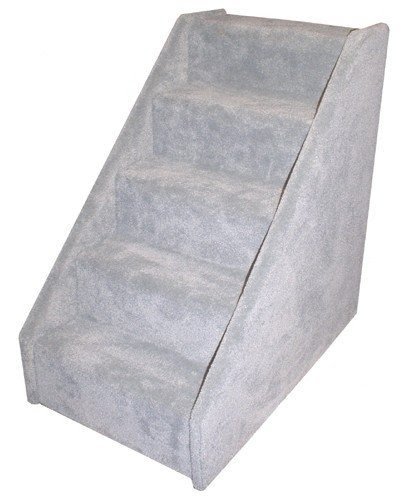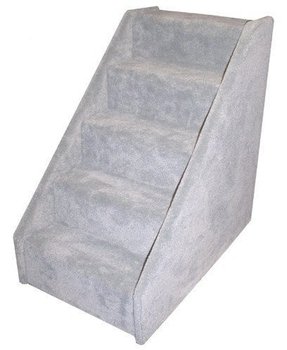 Bear's Stairs™ Midi Carpeted 5 Step Pet Stair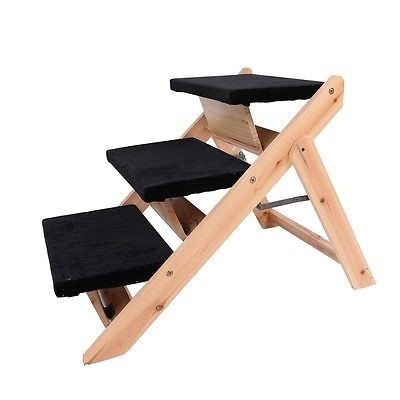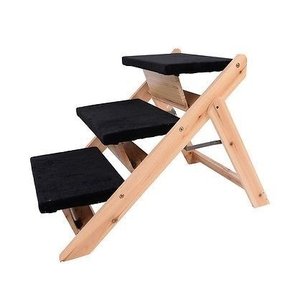 Designed to facilitate the everyday's life of your furry friends, this ladder animal ramp will be a cool gift both for cats' and dogs' owners. Made from solid, bright wood, it has convertible climbing steps.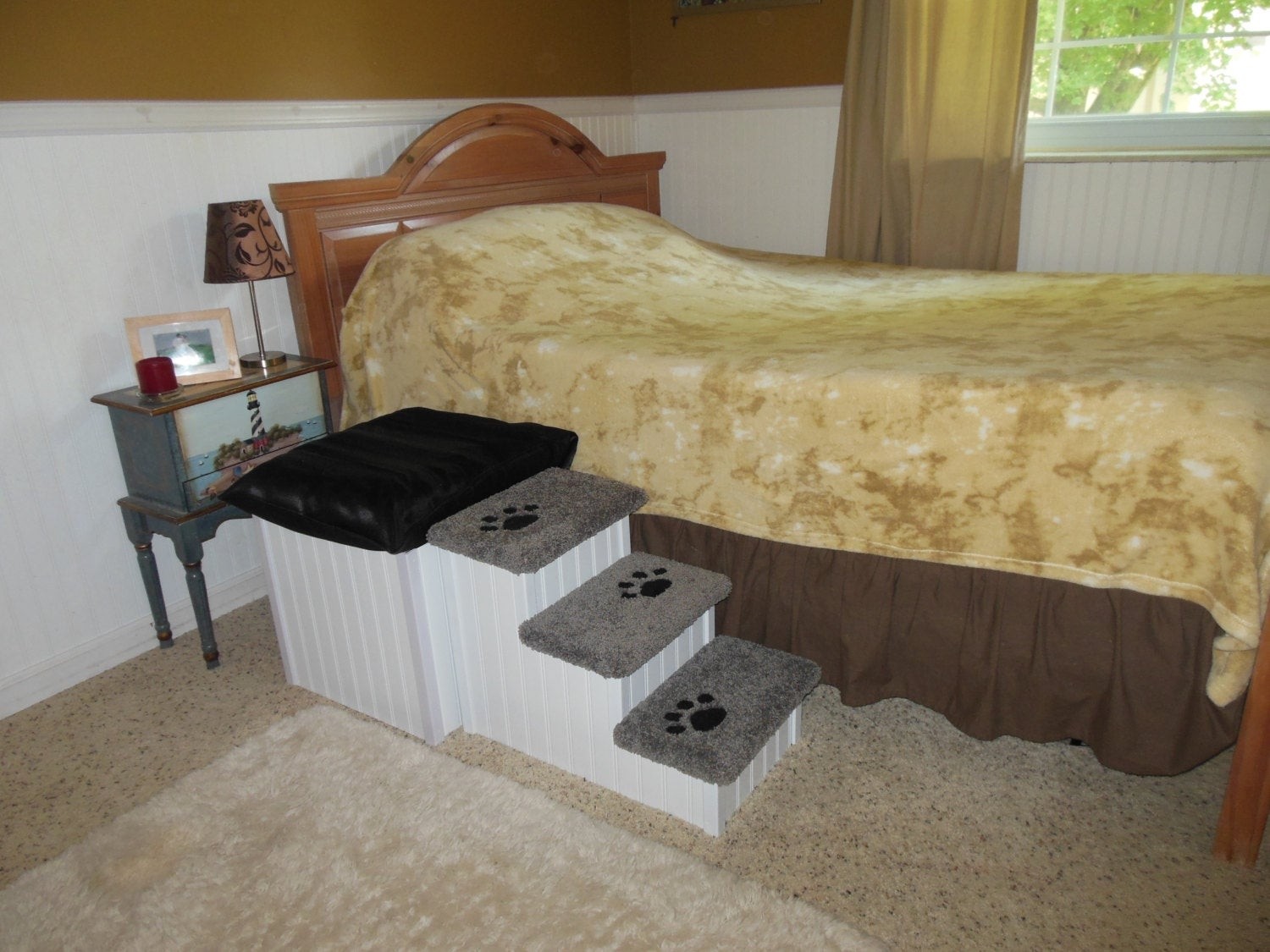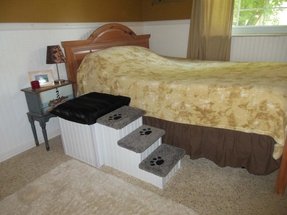 Dog Beds, Pet Steps, Dog Steps, Cat Bed, Pet Furniture, Buy Through ...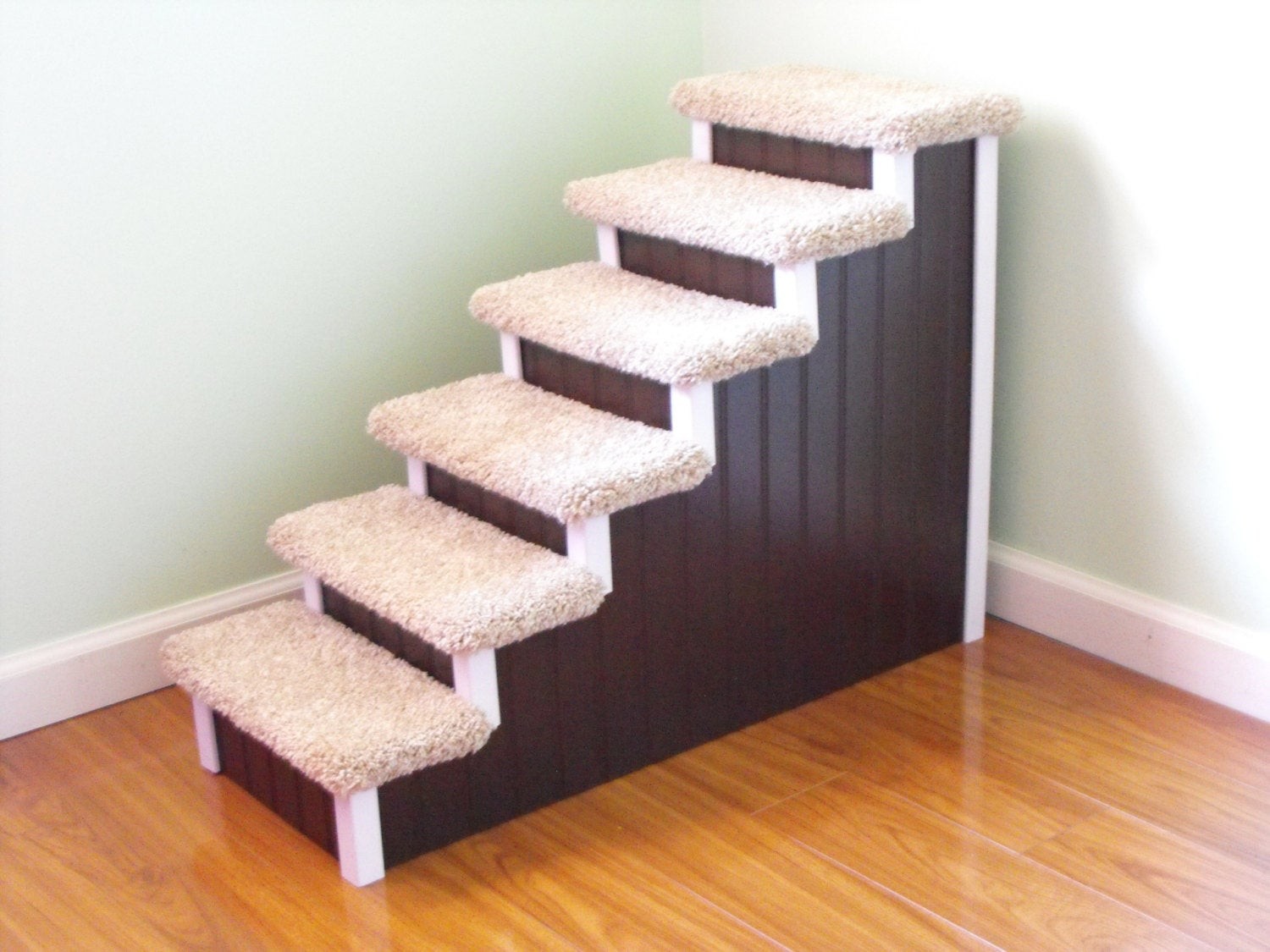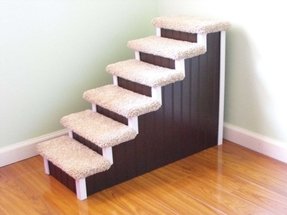 Pet Steps, 24" High, Custom Made, Dog steps for Beds, Dog Stairs, Pet ...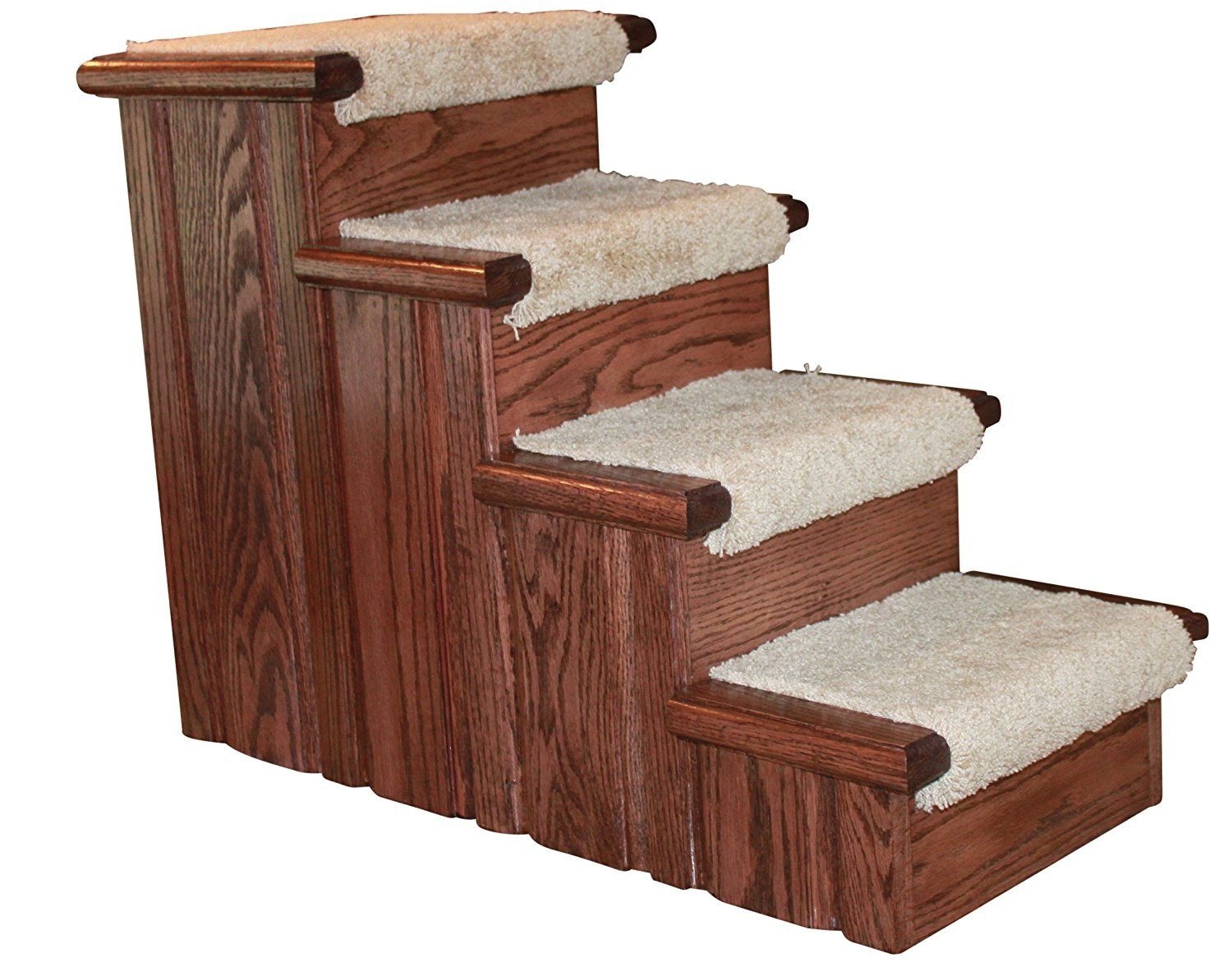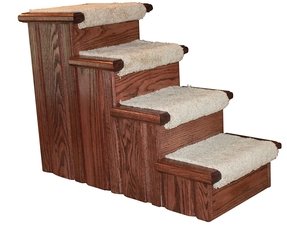 Stably, step by step, your little dog or small cat will be able to reach you near you to support each day. Made of red oak, pet stairs for tall beds will facilitate access, have a stable construction and anti-slip overlays on beautiful light microfiber wood.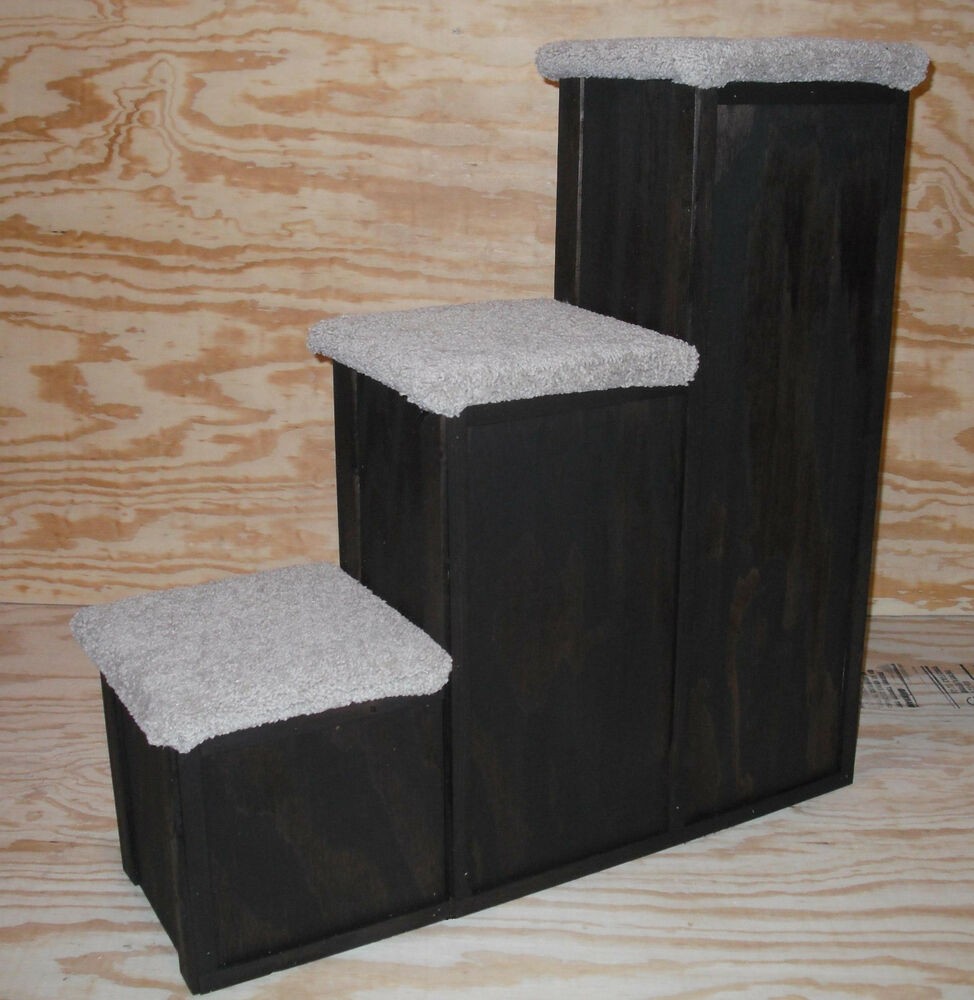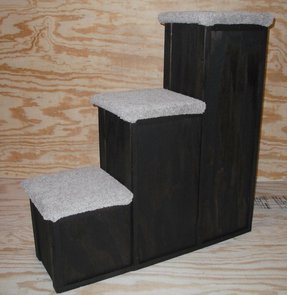 Pet step 30 Inch tall Wood Pet Step LARGE TOP LANDING 30X35X10 5 STEP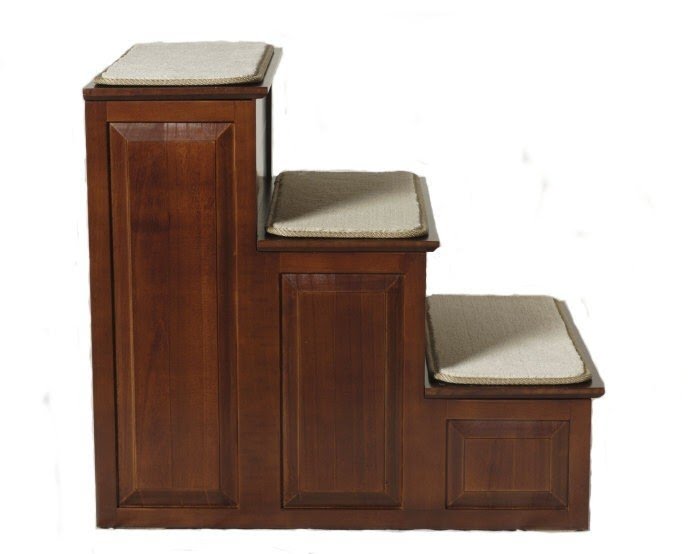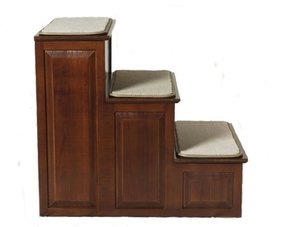 Stair Designer Pet Steps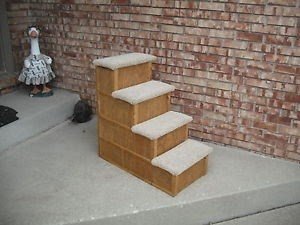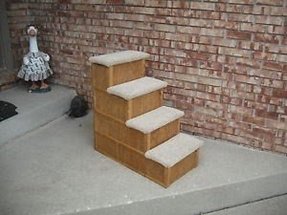 Step-Pet-Stairs-Bed-Step-30-inches-tall-Now-with-Beige-Carpet