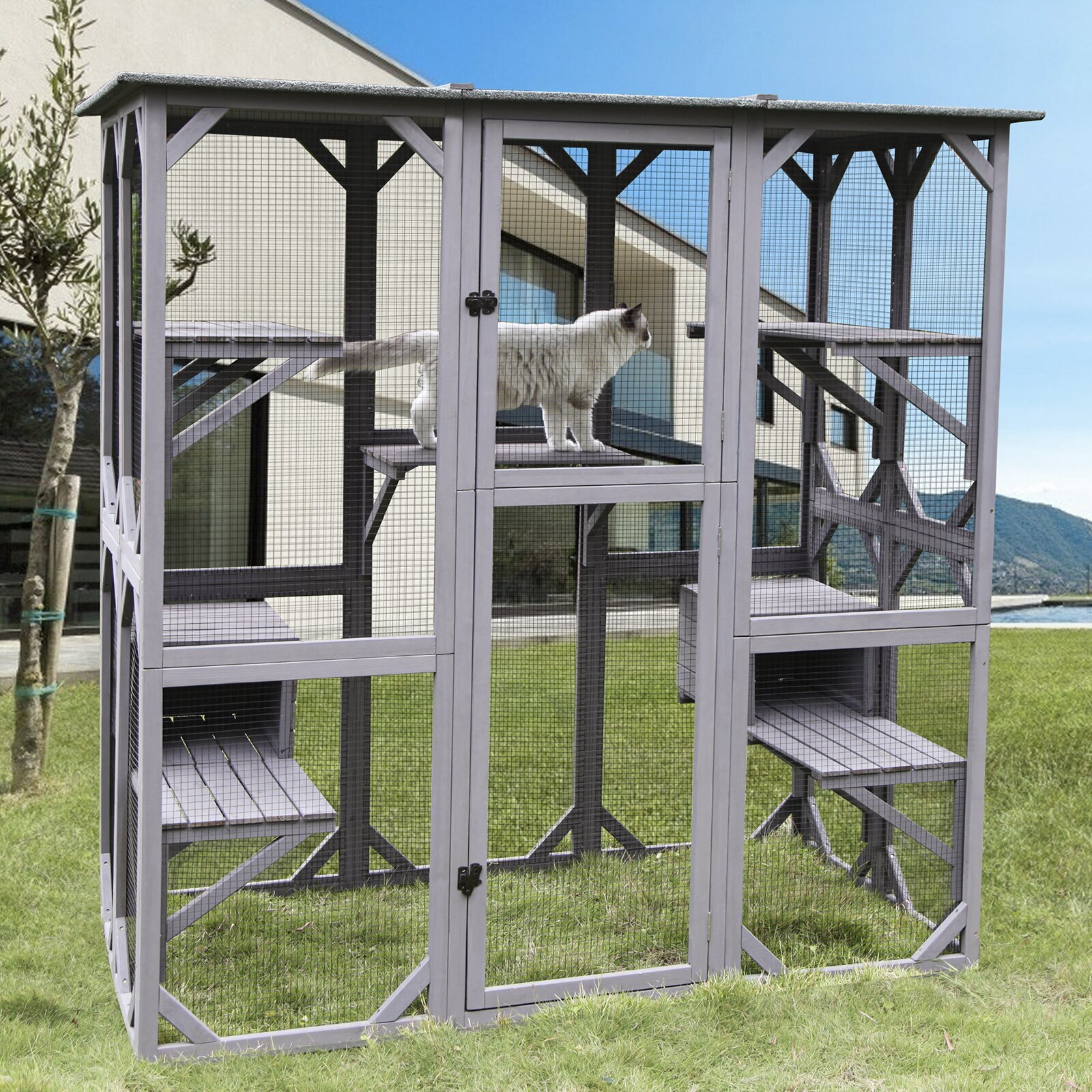 Two story Cat Playpen
Tucker Murphy Pet™
What we like: The fully enclosed design
What we don't like: Only suitable for smaller cat breeds
Not so great for: Small backyards; yards with asphalt, concrete, or stone ground covering
Perfect for: Protection against feral predators
This spacious two-story cat playpen will provide your beloved pet with hours of fun while offering them ample protection against the risks of free-roaming. The waterproof asphalt roof ensures your cat can enjoy their play space, even in inclement weather, and the solid wood structure is reinforced at the corners for long-lasting durability.
With multiple platforms for jumping and climbing and two cubbies for taking naps, this is the ideal playpen for a pair of adult cats to spend lazy days together.
$429.99 $579.99
Merchant links are sponsored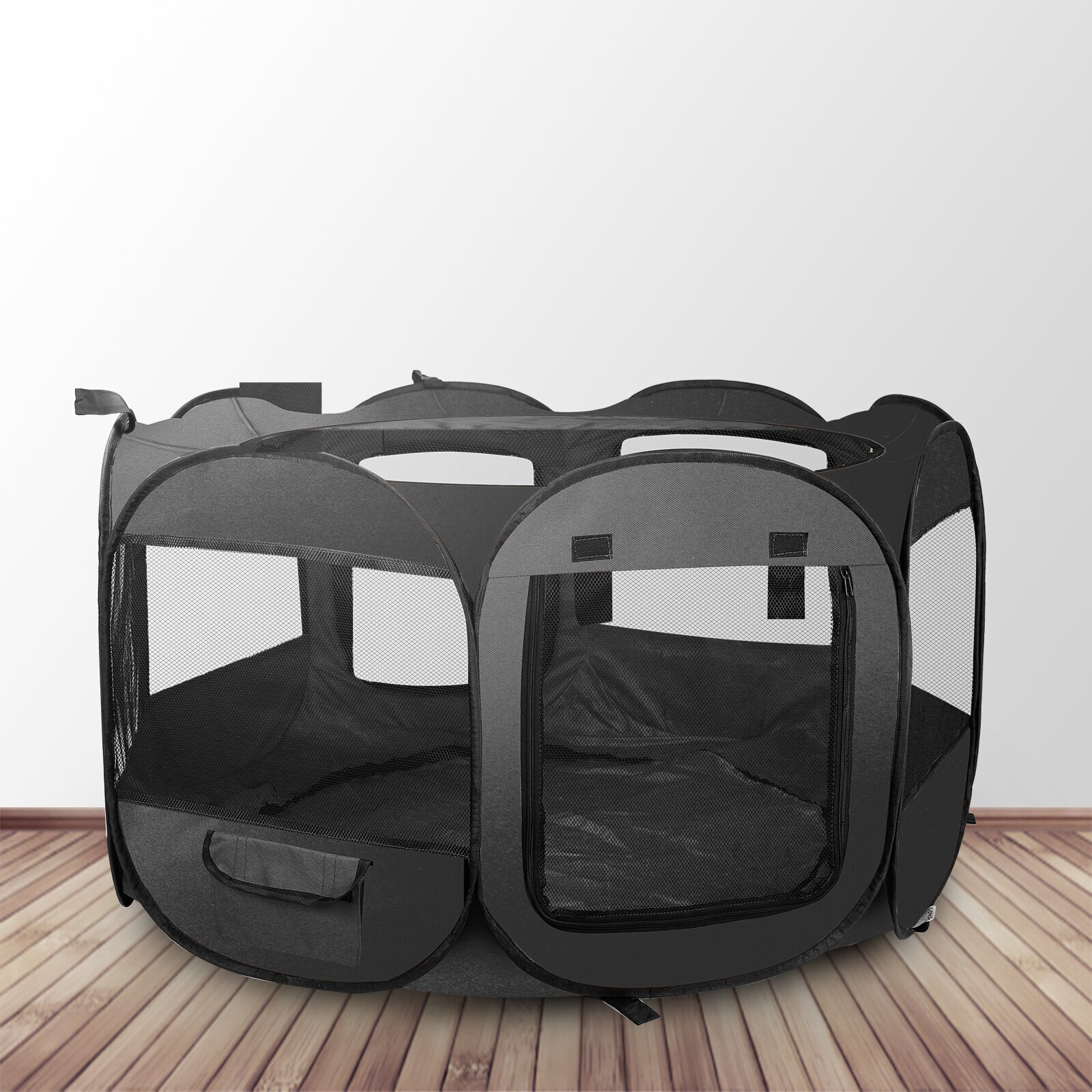 Portable Cat Playpen
Confote
What we like: Comes with a free bonus carry case
What we don't like: Only available in two shades
Not so great for: Leaving out overnight; it's light enough to blow away
Perfect for: Indoor and outdoor use
This conveniently portable cat playpen is the perfect choice for people on the go. Made from 600 deniers Oxford cloth with reinforced seams, this spacious eight-sided playpen is lightweight and durable. It's also 100% washable, meaning you can transition easily between the great outdoors and the living room floor.
Featuring water-resistant material and breathable mesh panels, this is a great playpen for including your cat in the fun on days out camping or by the sea.
Merchant links are sponsored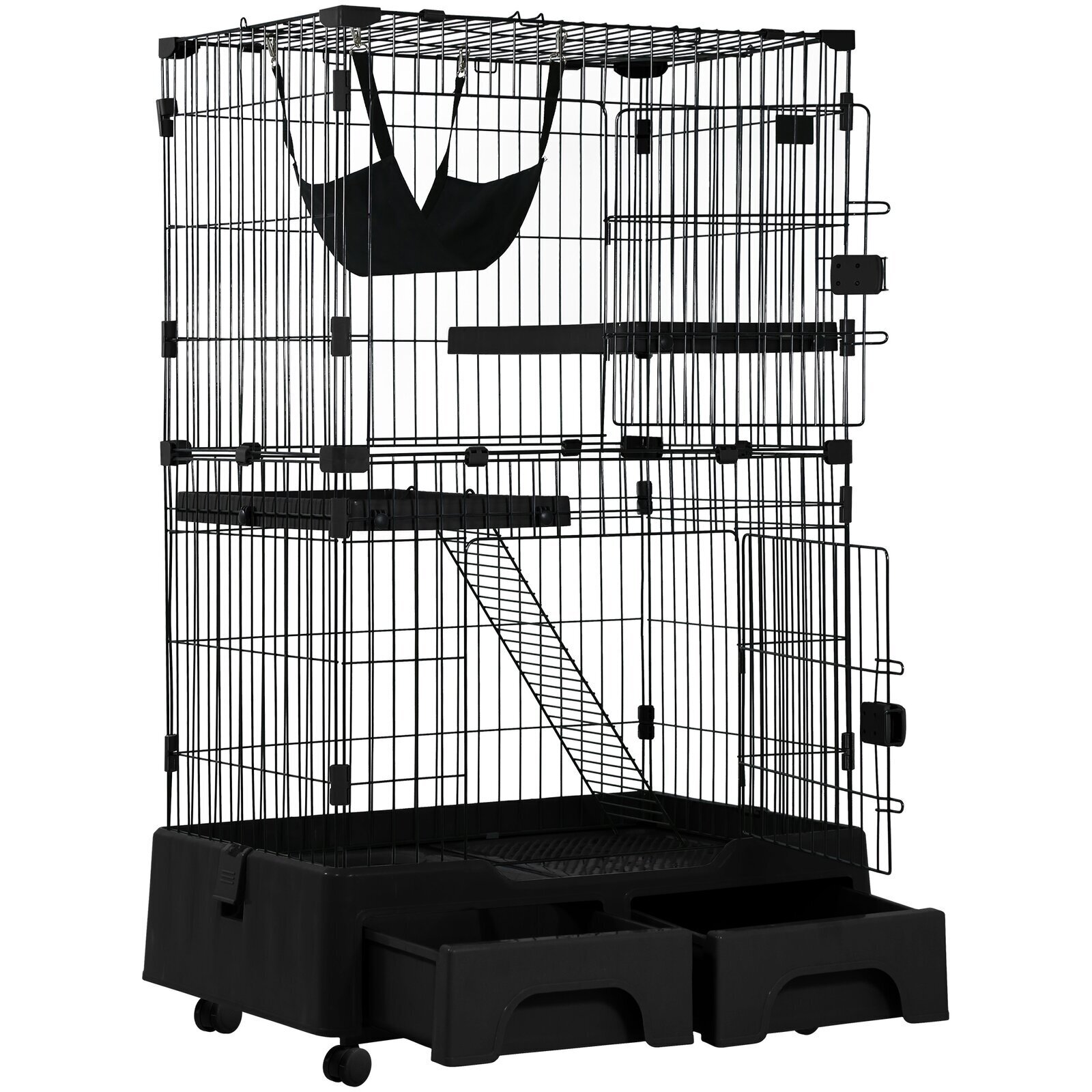 Cat Playpen With Litter Box
Tucker Murphy Pet™
What we like: The sleek minimalist design
What we don't like: Requires assembly
Not so great for: Small spaces or low ceilings
Perfect for: Accommodating multiple cats
This stylish and modern cat cage playpen will delight you and your pet. With two levels of platforms, a comfy hammock, and two metal ladders included, even the most energetic cats will be stimulated for hours. This deluxe cat playpen features litter box space incorporated at the bottom and a removable storage drawer for toys and treats. It also features two large doors, making it easy for you and your kitties to access.
Standing at an impressive 52.3" high, this playpen has space for up to three cats to run, jump, and lounge.
$206.99 $229.99
Merchant links are sponsored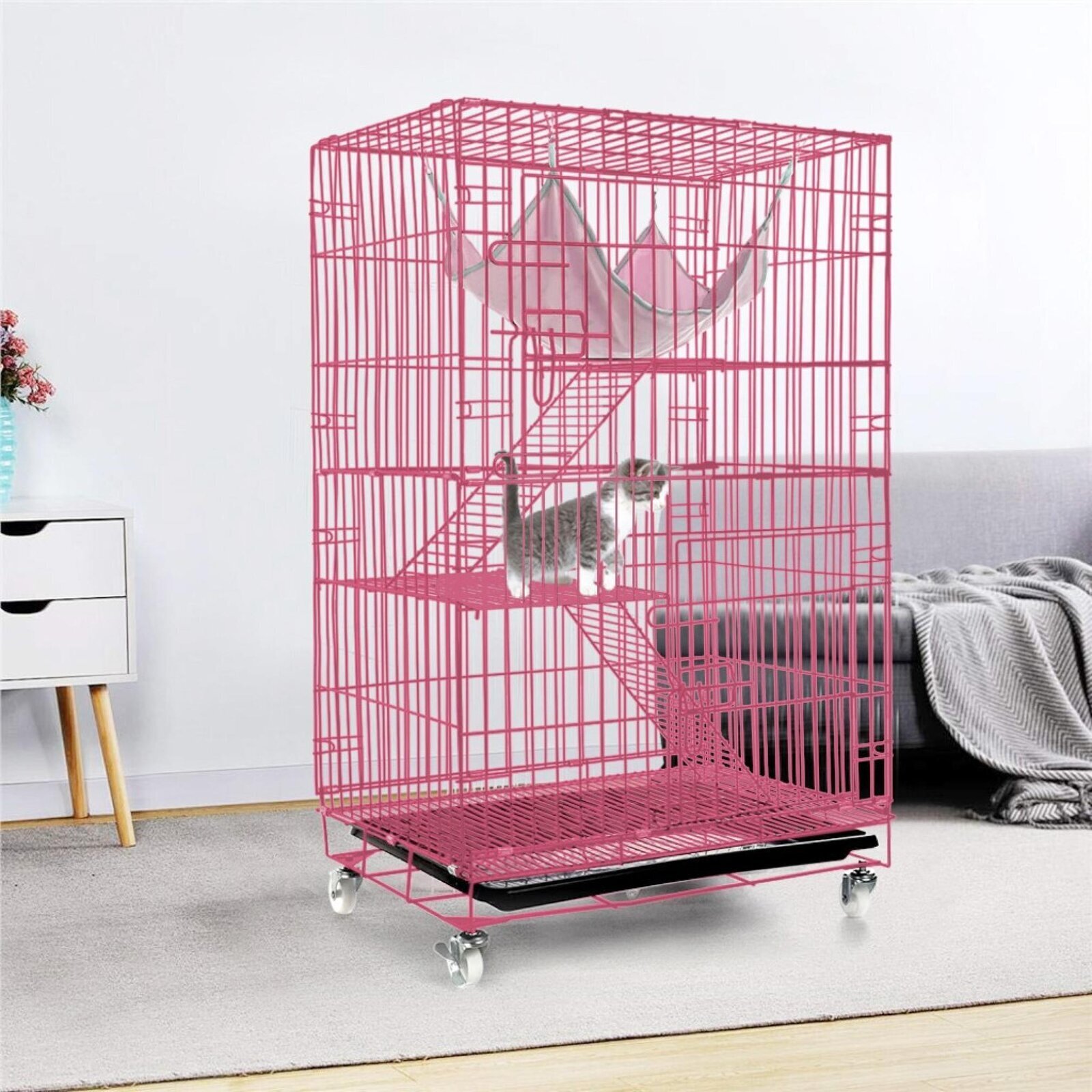 Playpen for Cats With Wheels
Tucker Murphy Pet™
What we like: The 360° rotating wheels, for maximum maneuverability
What we don't like: Limited color palette; only available in pink
Not so great for: Uneven or slanted surfaces like driveways
Perfect for: Storing when not in use; it's fully foldable
This playpen for cats with wheels will add a playful splash of color to your home. Suitable for both the house and yard, this playpen is mounted on a set of fully rotating wheels, making moving it a breeze. Your cat will be safe inside this cage's high-quality metal mesh walls while you enjoy watching it explore four tiers of fun. As a bonus, this playpen also features a removable slide-out litter tray for easy clean-up.
With two adjustable metal platforms, two ladders, and a large hammock, your cat can climb, swing, and play all day long.
Merchant links are sponsored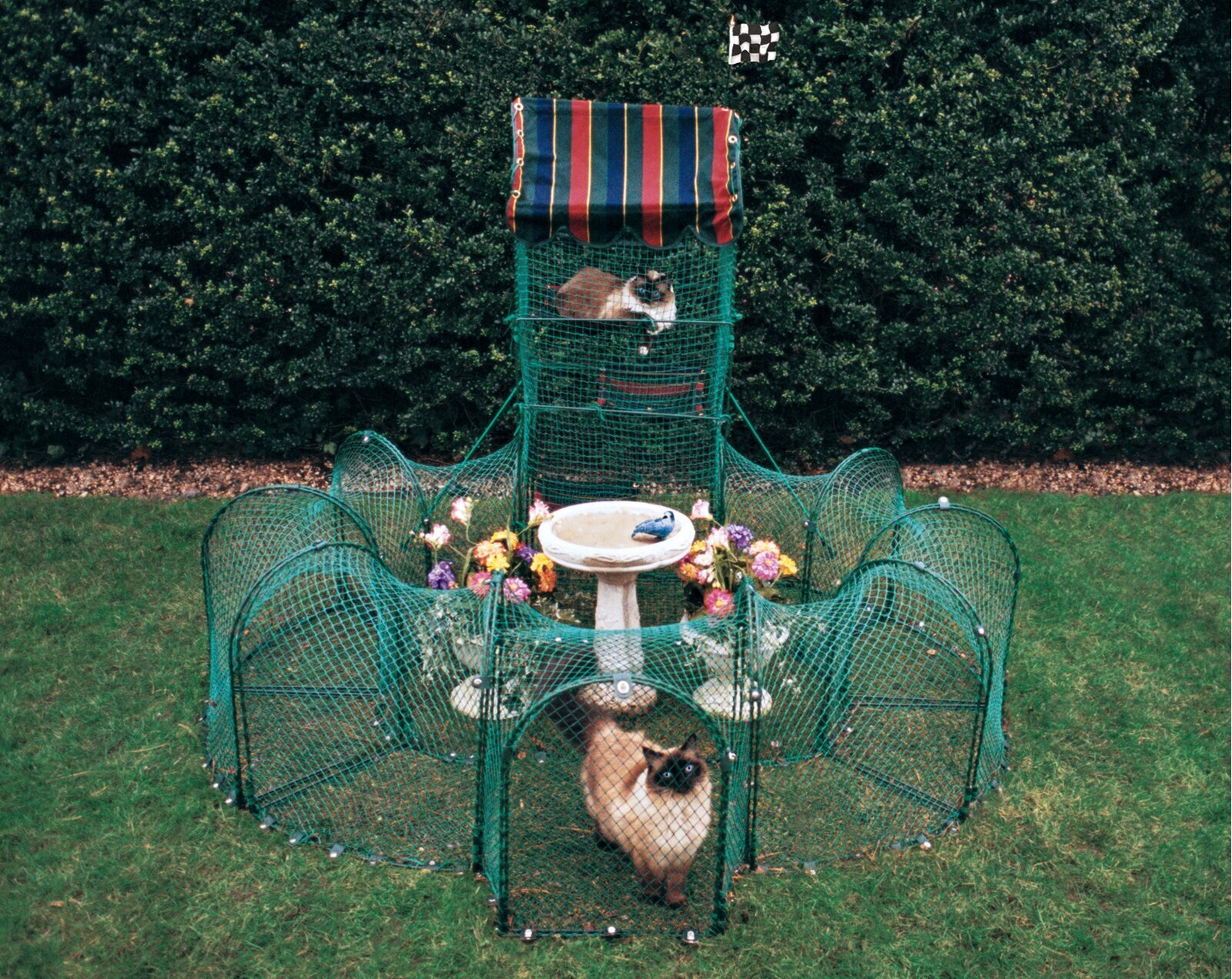 Large Cat Playpen With Tower
Kittywalk Systems
What we like: The attachable tower
What we don't like: Only has one door
Not so great for: Using in inclement weather
Perfect for: Cats who love to run
Your cat will feel like royalty in this incredible cat playpen with a tower. Boasting a circular mesh tunnel 86" in length, the clever design of this playpen allows your kitty to run without interruption for as long as they please. With its cheerful striped roof, the covered two-story tower can be added or removed from the tunnel and is 60" tall, making it an excellent addition for cats who love to climb.
The generous 70" width allows up to three large cats to race around this tunnel-and-tower playpen.
$1029.99
Merchant links are sponsored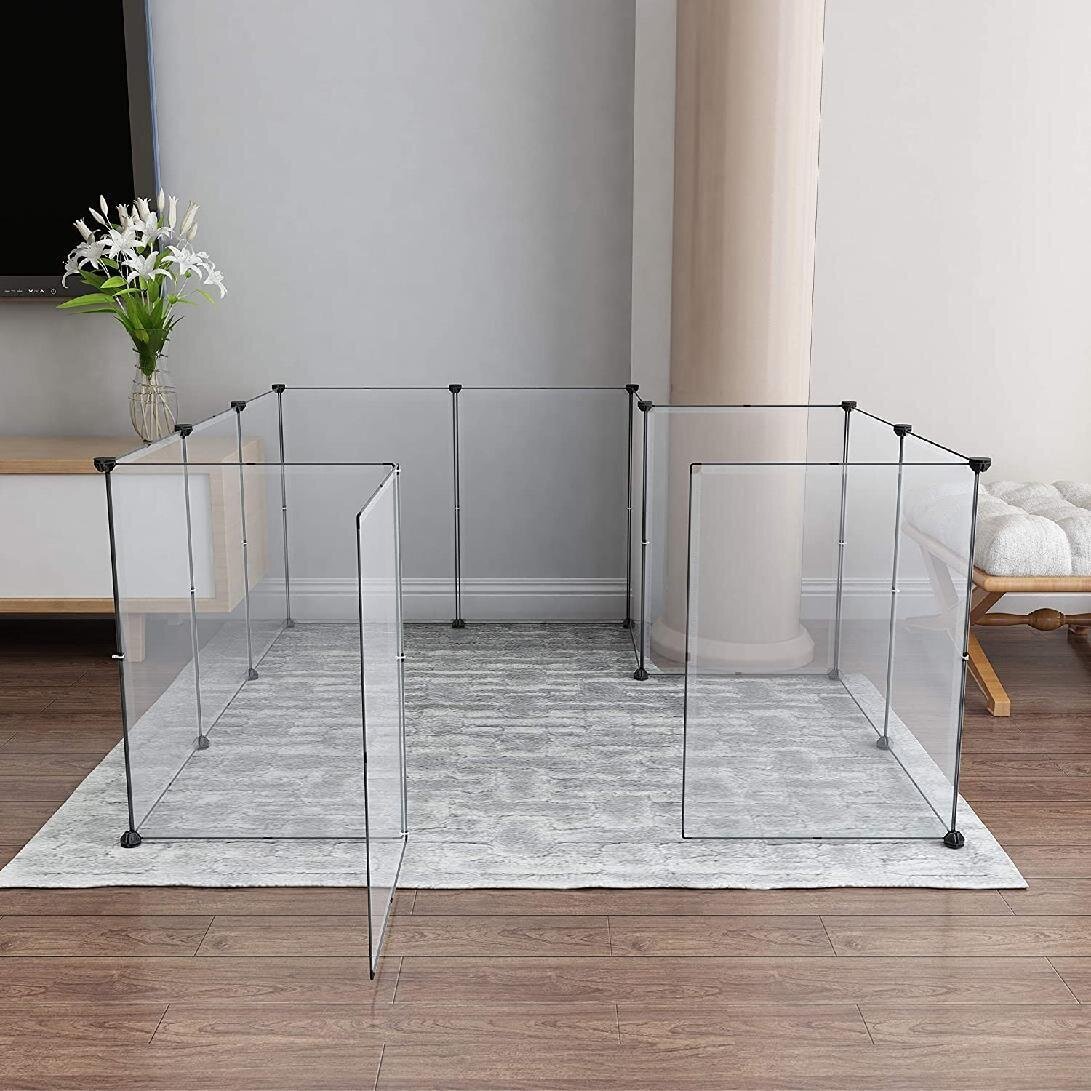 Expandable Cat Playpen
Tucker Murphy Pet™
What we like: The transparent walls won't clash with your decor
What we don't like: No roof to prevent cats from jumping out
Not so great for: Large or active cats
Perfect for: Smaller breeds and kittens
This expandable kitten playpen is crafted from 12 individual plastic panels, which you can configure to suit any room or yard layout. The transparent, acrylic material allows complete visibility of your adorable cat as they play. An upgraded version of this model includes a set of anti-slip pads to protect your floors and cable ties, allowing you to create doors that open and close.
This flexible cat playpen is easy and quick to assemble and expands to an impressive 20 ft².
Merchant links are sponsored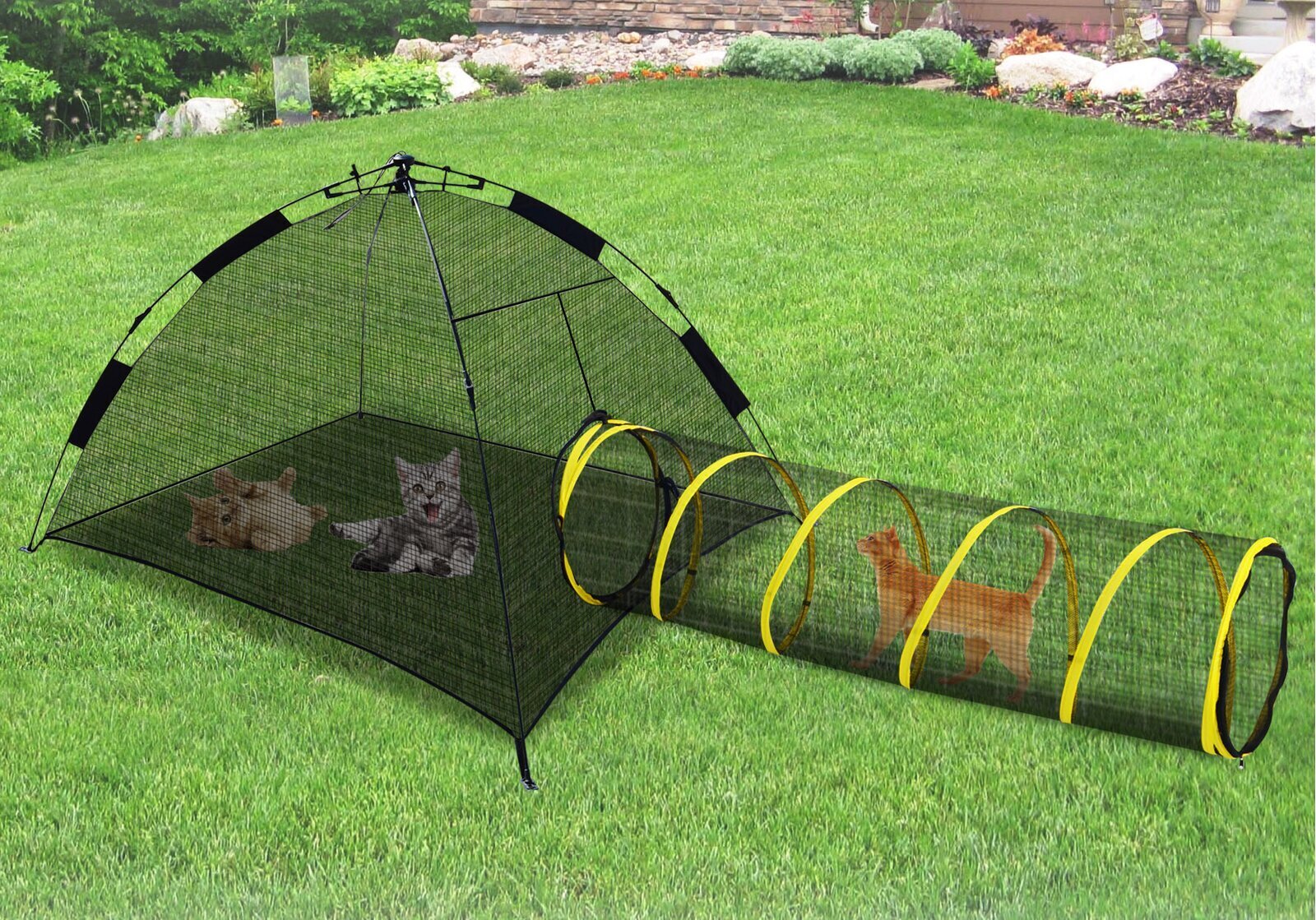 Cat Playpen Tent
Tucker Murphy Pet™
What we like: Easy tool-free assembly
What we don't like: Too large for indoor use
Not so great for: Offering protection against outdoor predators
Perfect for: Bringing to the park
This handy mesh tent and tunnel combo is an excellent option for bringing your cat out for a sunny day in the park or the countryside. Both components are lightweight and sturdy and only take seconds to put together. The black mesh material provides shade and sun protection, while the tunnel adds extra length for your pet to prowl in.
Thanks to an automatic assembly mechanism, you won't waste any time with poles, and the tent secures to the ground using standard tent pegs to prevent movement from sudden gusts of wind.
Merchant links are sponsored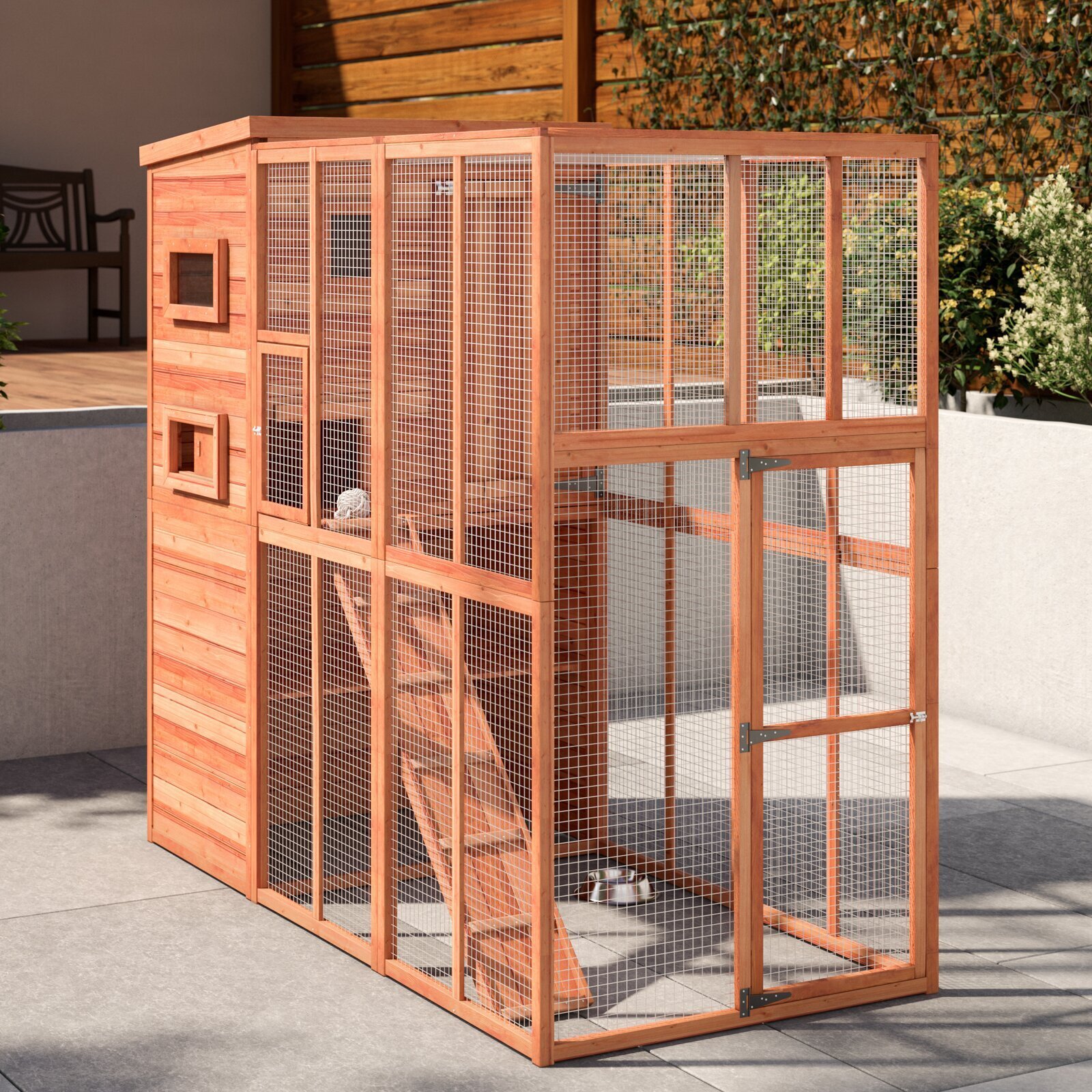 Solid Wood Playpen for Kittens
Tucker Murphy Pet™
What we like: Solid wood construction
What we don't like: Assembly tools not included
Not so great for: Small backyards or stony ground
Perfect for: Overnight catnaps
This beautiful fir wood kitten playpen with roof will make a picturesque addition to any yard. Its durable model is both water and rust-resistant, ideal as a permanent installation in your yard. Your kitten will have two different stories to explore, in addition to an outdoor area protected by wire mesh. This kitten playpen is safe enough for your cat to spend the night in.
A secure and cozy wooden cabin with two sealable windows is the finishing touch on this gorgeous model.
$560 $631.98
Merchant links are sponsored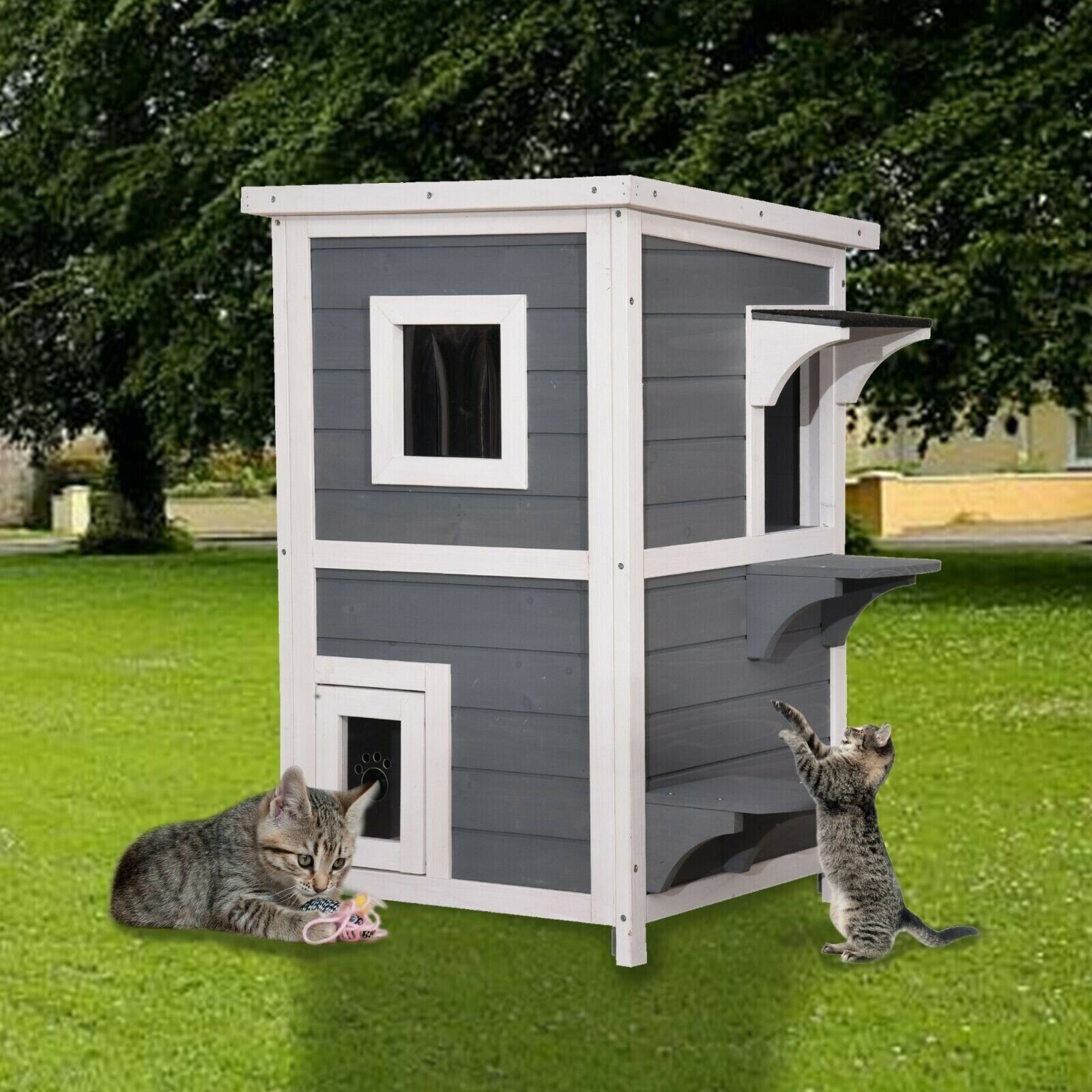 Outdoor Cat Playpen and House
Tucker Murphy Pet™
What we like: The waterproof roof
What we don't like: Accessible to stray animals when outdoors
Not so great for: Homes in areas with abundant wildlife
Perfect for: Rainy days
This short and sturdy outdoor cat house is perfect for smaller spaces, both indoors and out. With four points of entry and two balconies, your cat will enjoy plenty of opportunities for jumping and climbing. Meanwhile, the easy to open top door will give you hassle-free access for cleaning.
Made of cedarwood, with elegant white trim and carved balconies, this playpen is ideal for your fashionable feline.
Merchant links are sponsored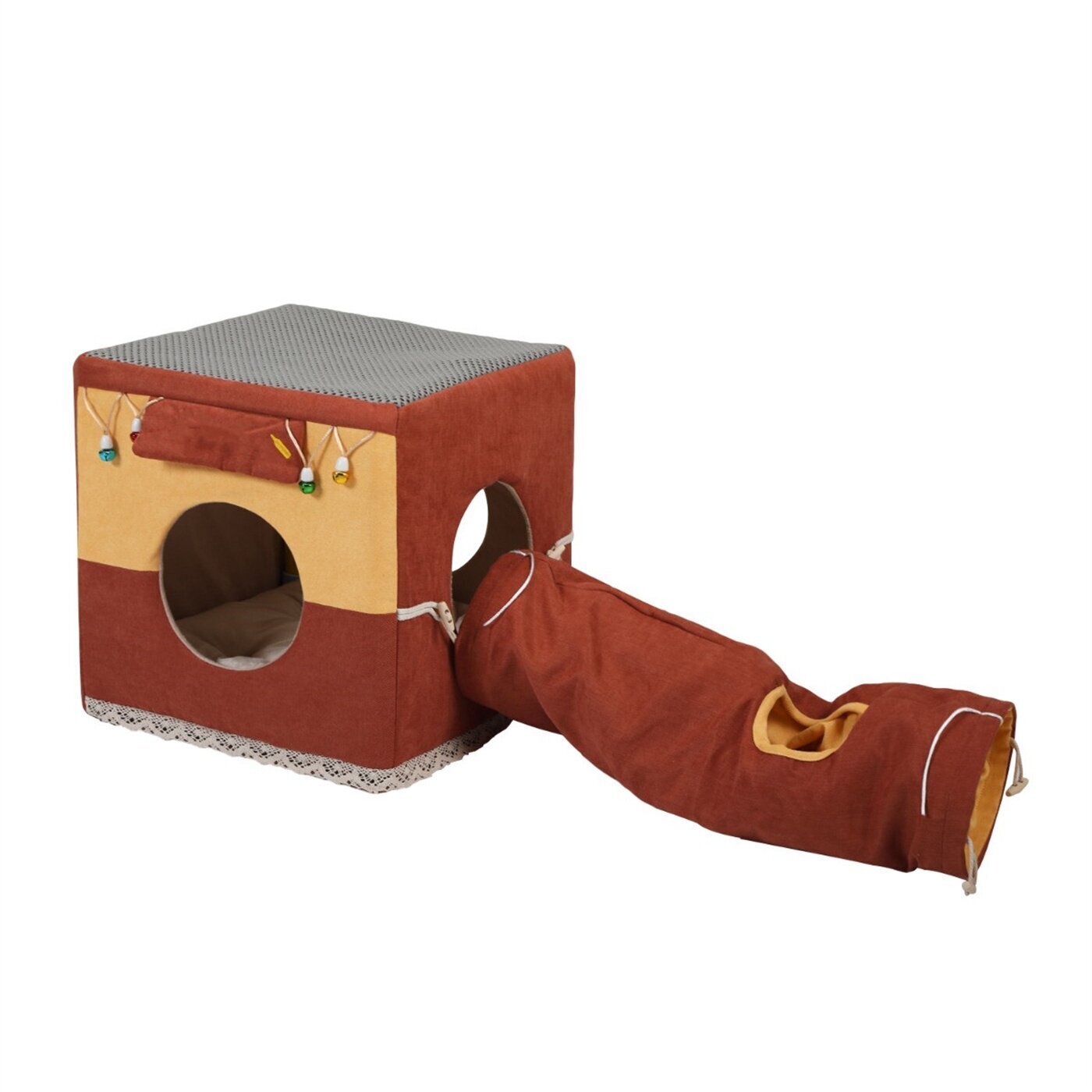 Plastic Cat Playpen for Indoor or Outdoor Use
Tucker Murphy Pet™
What we like: The soft flannel material
What we don't like: Only fits one cat
Not so great for: Active cats
Perfect for: Comfortable napping
This cat playpen can be used indoors and outdoors and comes with a cat tunnel and an extra cushion. Your cat will love hiding away in its inviting flannel interior for some peace and quiet. The detailing on this model includes lace trimming, dangling beads, and a mouse toy.
The lightweight plastic frame of this cat playpen makes it easy to transport, while the fully removable cover is simple to clean. This is the ideal low-maintenance cat playpen.
Merchant links are sponsored