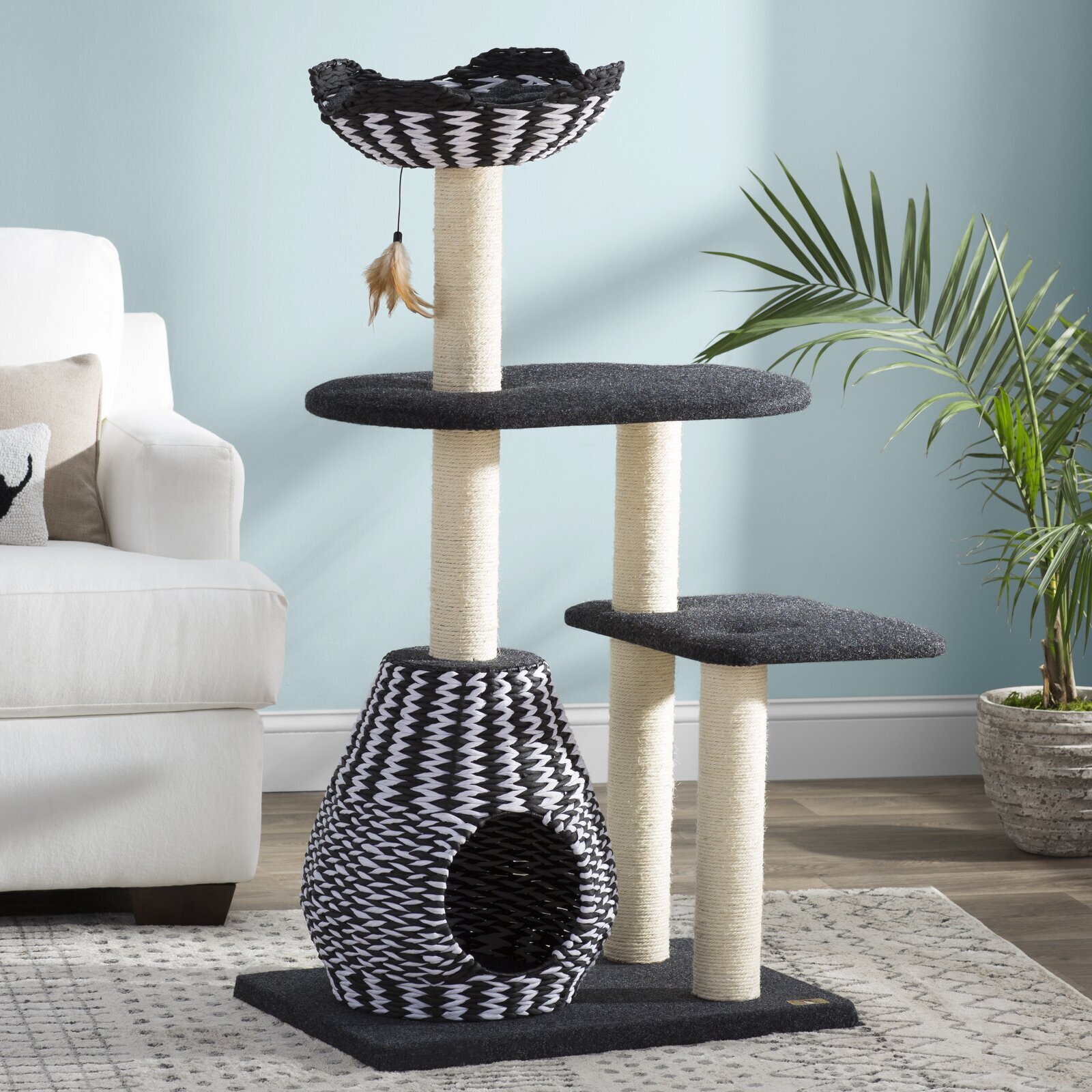 Multi layered cat tree with sisal posts
Archie & Oscar™
Featuring everything your cat needs in one piece of furniture, this cat tree is perfect for scratching, playing, climbing, and relaxing. It has four layers, with five scratching posts, a cozy cottage at the bottom, a top basket, and a feather toy as a bonus!
$189.99 $145.99
Designer Advice:
With its contemporary style and monochrome colorway, this unit fits seamlessly into homes with modern furnishings. Not only is it stylish enough to not be an eyesore, but it's also super durable to withstand everyday use—thanks to its MDF wood, sisal rope, premium paper, and lamb fleece construction. On a side note, some of these materials tend to hold onto cat hair which may be a downside for some.
Merchant links are sponsored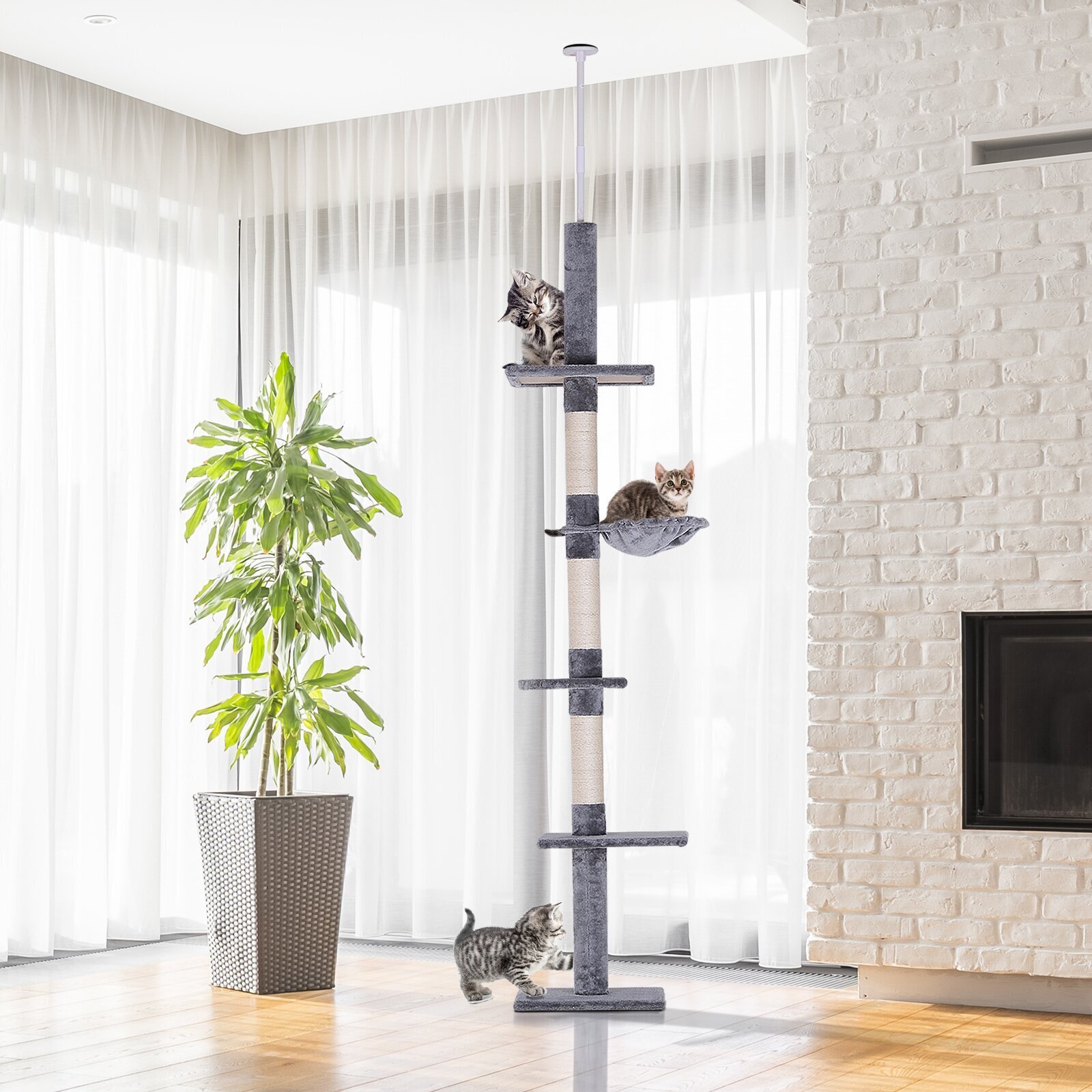 Tall narrow cat tree with 5 tiers
Tucker Murphy Pet™
Compact yet still gets the job done, this cat tower is composed of a long middle post surrounded by several tiers for cats to perch or jump on. At only 15.75'' wide, it barely takes up room and comes in either beige or gray color schemes.
$47.99 $81.23
Merchant links are sponsored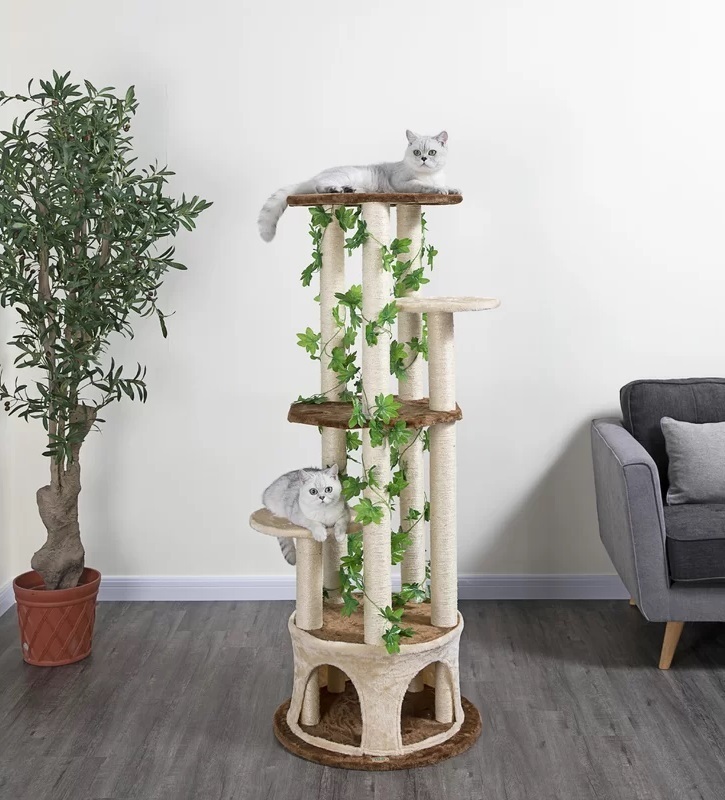 Sisal cat tower with leaves
Go Pet Club
This large, jungle-themed cat tower is guaranteed to make your cats' playtime more exciting! It stands 61 inches tall and comes with a handful of faux fur levels and scratching posts covered in sisal. A little kitty cave sits at the bottom for lounging time.
$119.07 $116.99
Merchant links are sponsored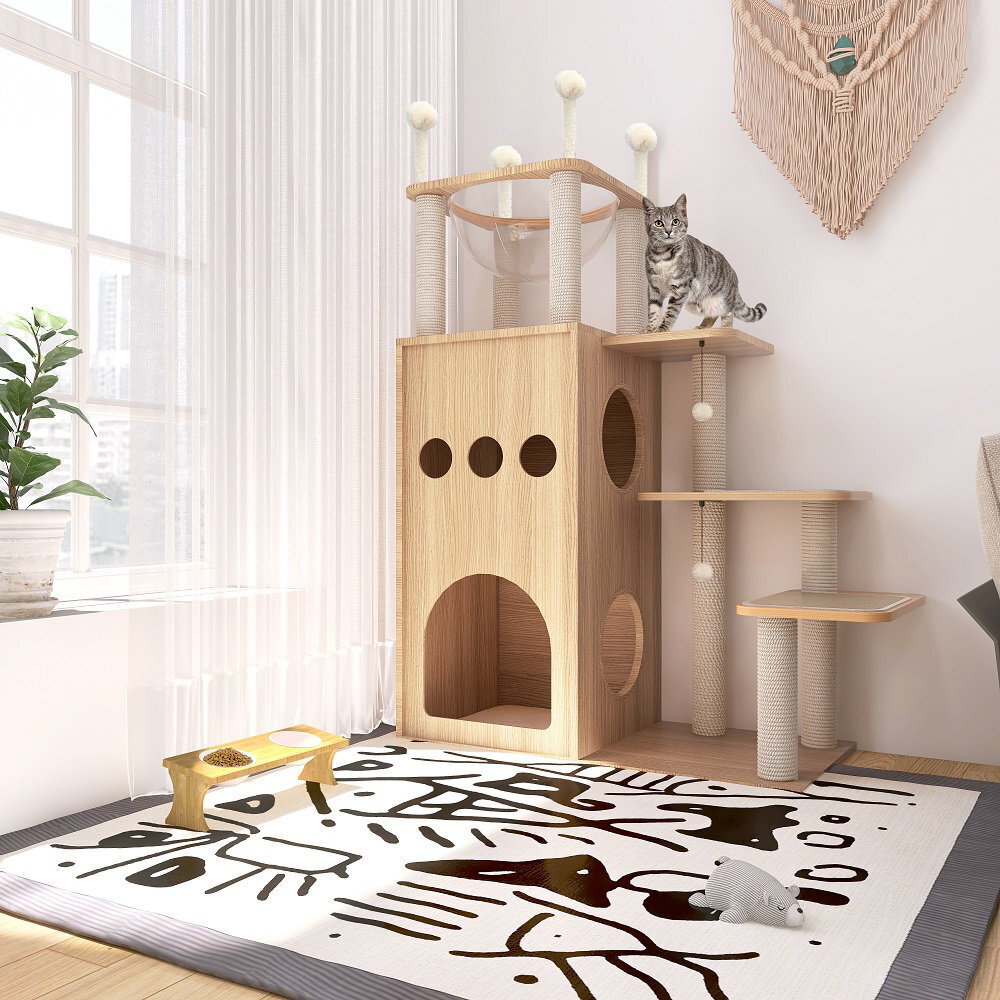 Luxurious wooden and sisal cat condo
Tucker Murphy Pet™
This all-in-one cat tree combines modern styling with top-notch features like comfy cushions, anti-slip mats, bouncy balls, sisal posts with varying heights, an enclosed nook, along with a clear capsule bowl right at the top. Better yet, it is tip-resistant and has a weight capacity of up to 50 lbs.
$156.99 $175.99
Designer Advice:
Equally functional as it is fashionable, this cat condo is sure to satisfy your furry friend's needs while also elevating your interior decor. Besides, nothing beats sisal when it comes to clawing assault. It's strong, rough, long-lasting, and also very sustainable. That said, this material can be quite hard to keep clean so we recommend scrubbing it with a gentle brush every so often.
Merchant links are sponsored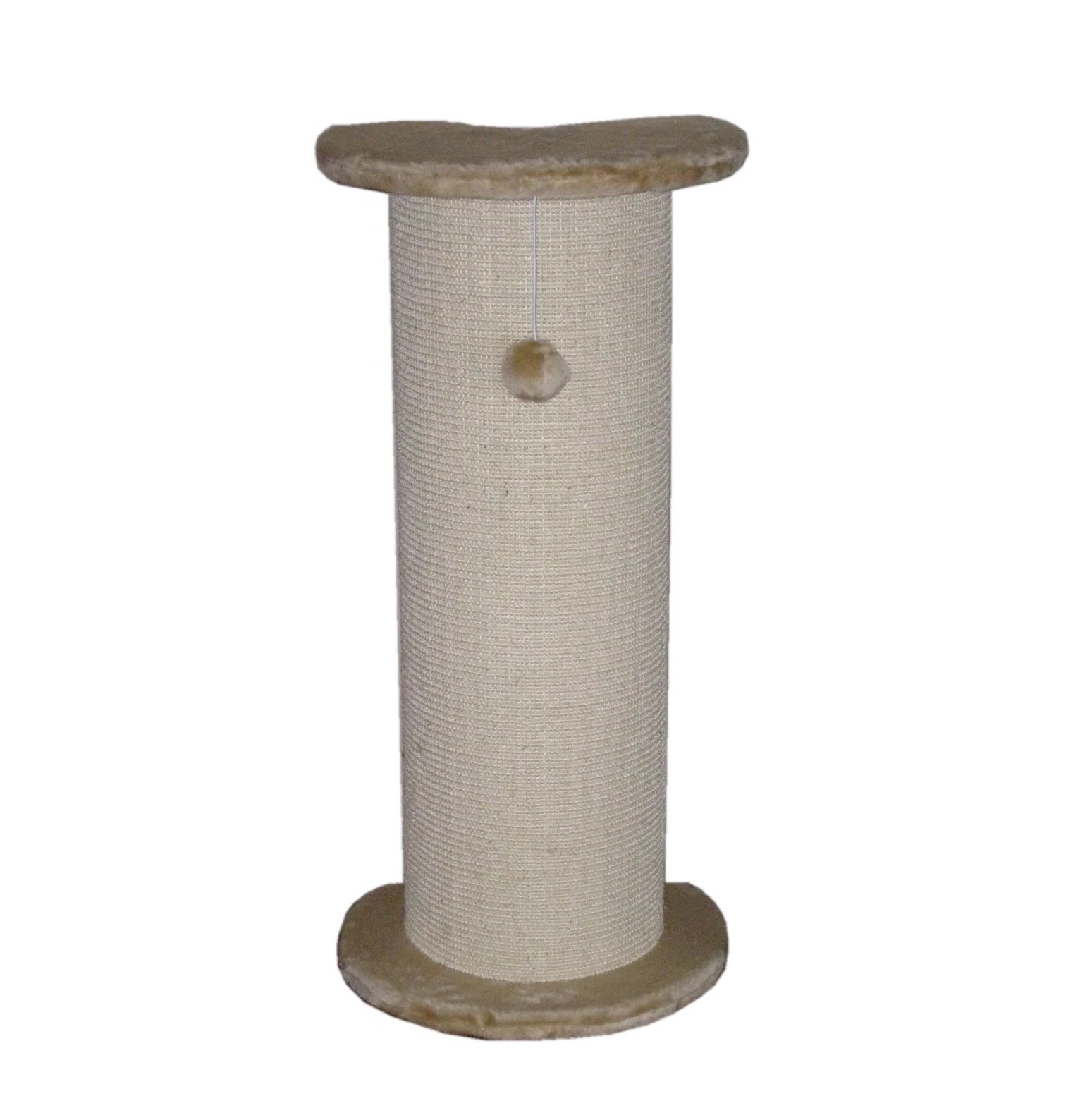 Cat tree sisal for corners
Go Pet Club
Although this sisal cat tree only has one tier, it fits snugly in corners, making it a great addition to have anywhere around the house. It is made of Presswood and finished in sisal rope and plush faux fur for a cozy look.
Merchant links are sponsored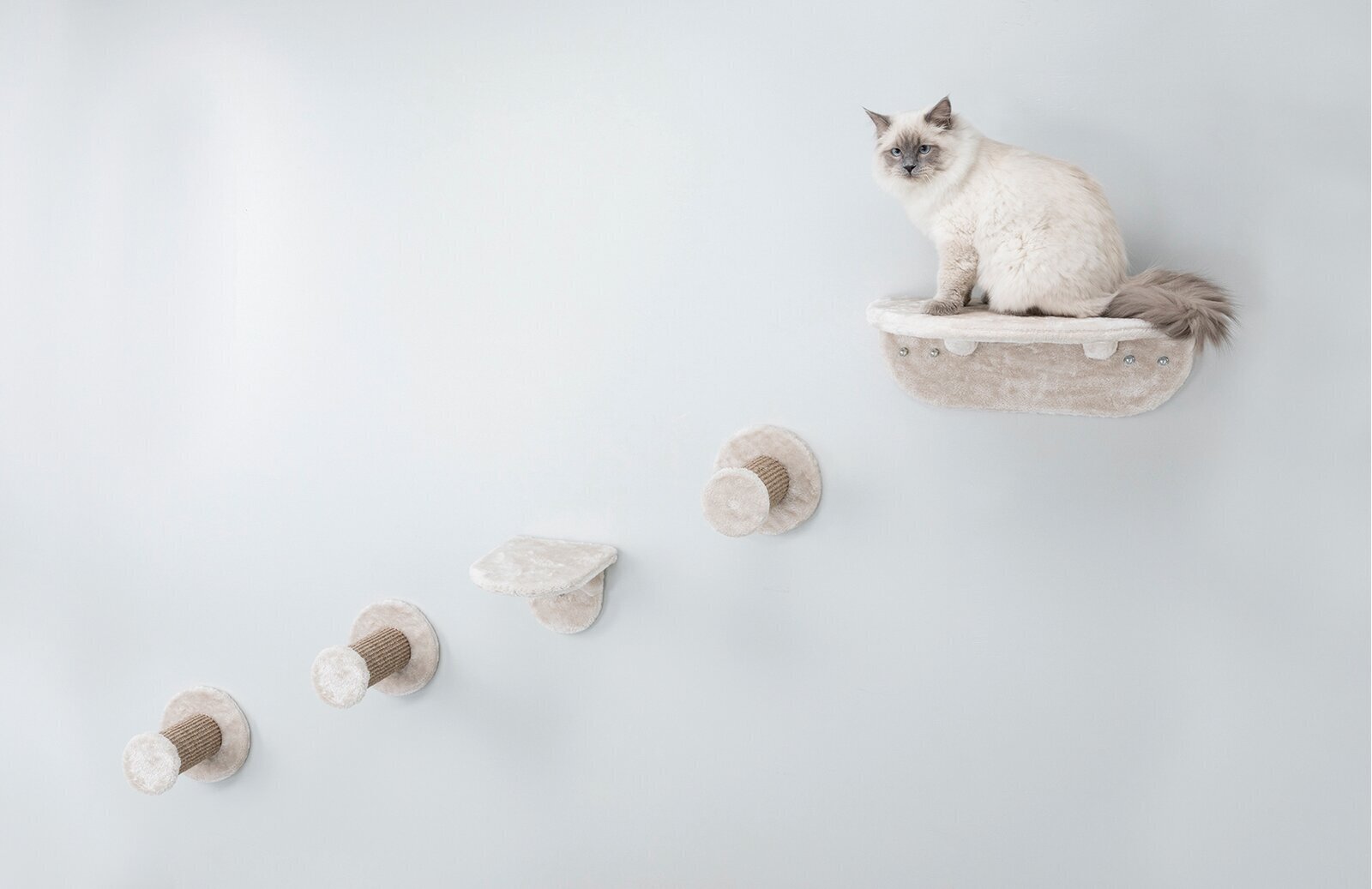 Wall mounted sisal cat tree
Tucker Murphy Pet™
Crafted from manufactured wood and wrapped in sisal and fluffy polyester fabric, this cleverly-designed cat furniture depicts quality craftsmanship with an approachable feel. It includes three sisal posts, a small flat step, as well as an extra-wide perch for your cat's climbing adventures.
$49.99 $69.99
Designer Advice:
Don't have enough space to accommodate a freestanding cat tree? This space-efficient set could be just what you're looking for! Plus, its brown/beige finish blends well with most, if not all, color palettes without looking out of place. It even works with wallpaper accent walls! The best part, though, is that you can hang the tiers in any way you want!
Merchant links are sponsored