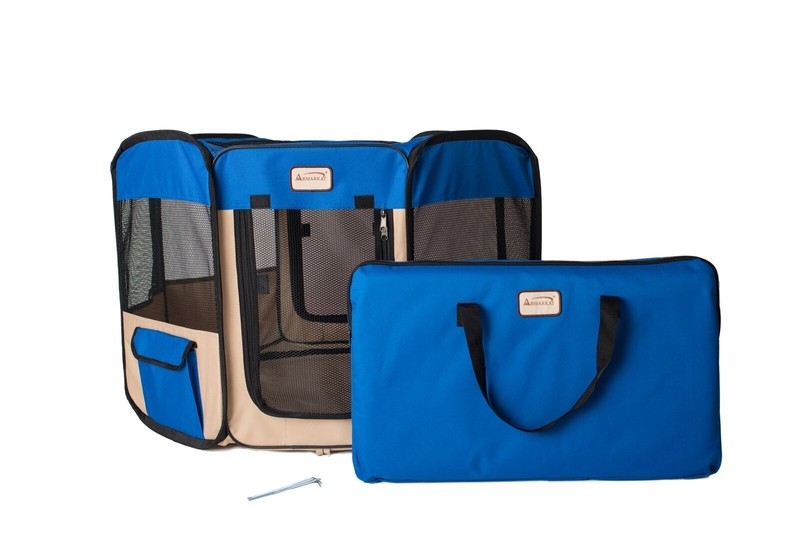 Portable Cat Cage Outdoor Playpen

Easy to set up and put away when done, this simple but effective design works not only for outdoor use when you want to give your cat some sun and fresh air, but also indoor, perhaps in a sunroom or screened patio. It is made of nylon, giving it terrific durability with limited weight, and all sides are screened with a thin mesh. The front has a zipper enclosure that is large enough to accommodate even larger breeds.
For the cat owner who likes to keep their furry pal close when doing outdoor work, but doesn't have the strength to haul a large, steel enclosure, this is the right choice.
What we like:
● Lightweight
● Heavy-duty mesh screen
● Front and rear door
● Weather- and water- resistant
What we don't like:
● Nylon can fade and crack with too much constant sunlight
● No storage bag
$63.99 $75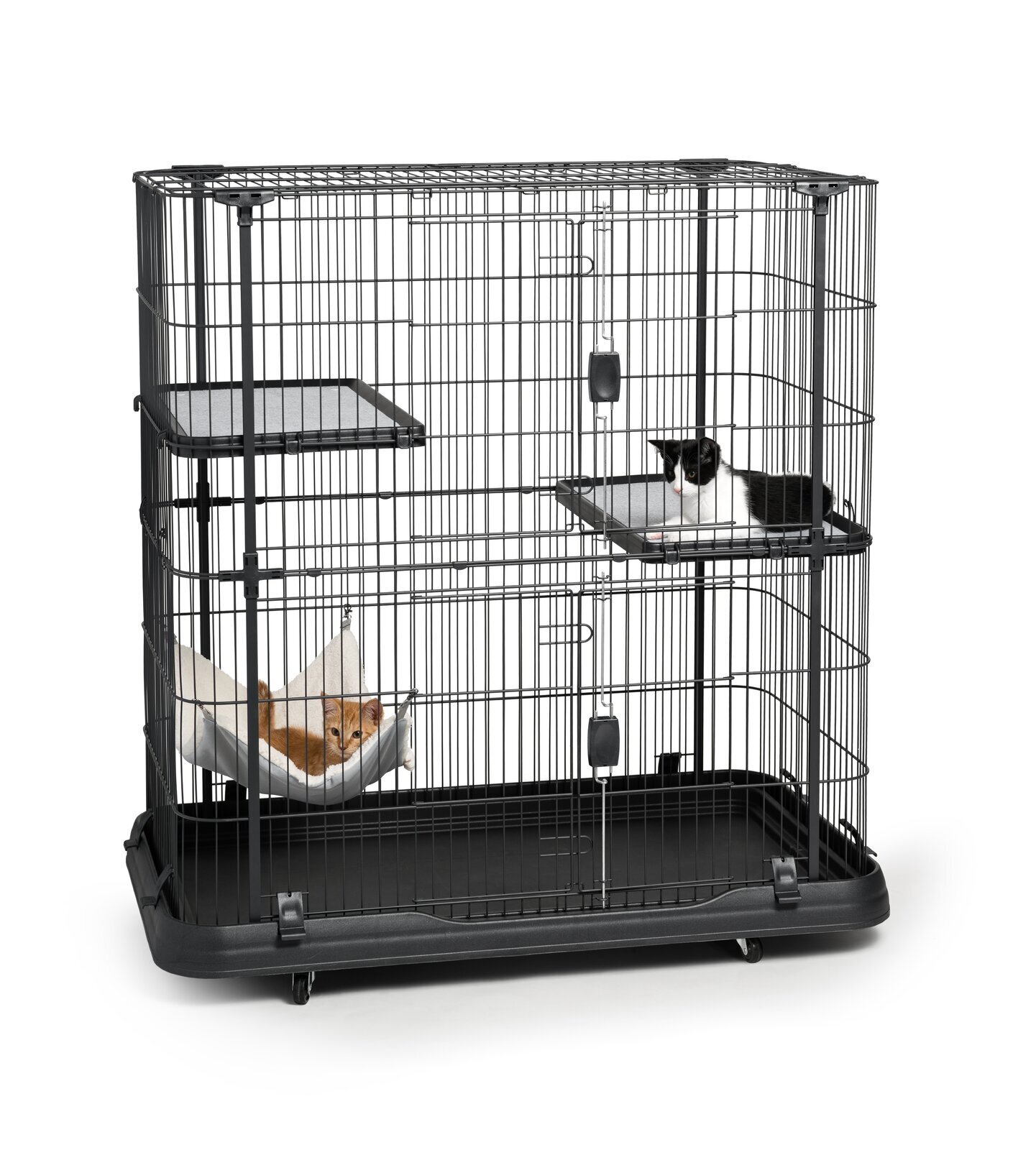 Cat Cage with Hammocks

This cat cage is as sturdy as it is simple, to keep your cat not only safe but comfortable. The construction is all steel, with three resting areas and a plastic base to keep those messes under control. The two platforms are large enough to accommodate a small to medium-size cat looking for a nice perch to take a nap, and the last resting area is a tough nylon hammock that will support your cat's weight without concern.
Perfect for indoor use only, you can be sure your favorite furry friend will be relaxed and safe in this enclosure.
What we like:
● Steel cage construction
● Comfortable for most cats
● Plastic removable base
● Castors for easy relocation
What we don't like:
● Not water resistant
● Not weather resistant
● Indoor only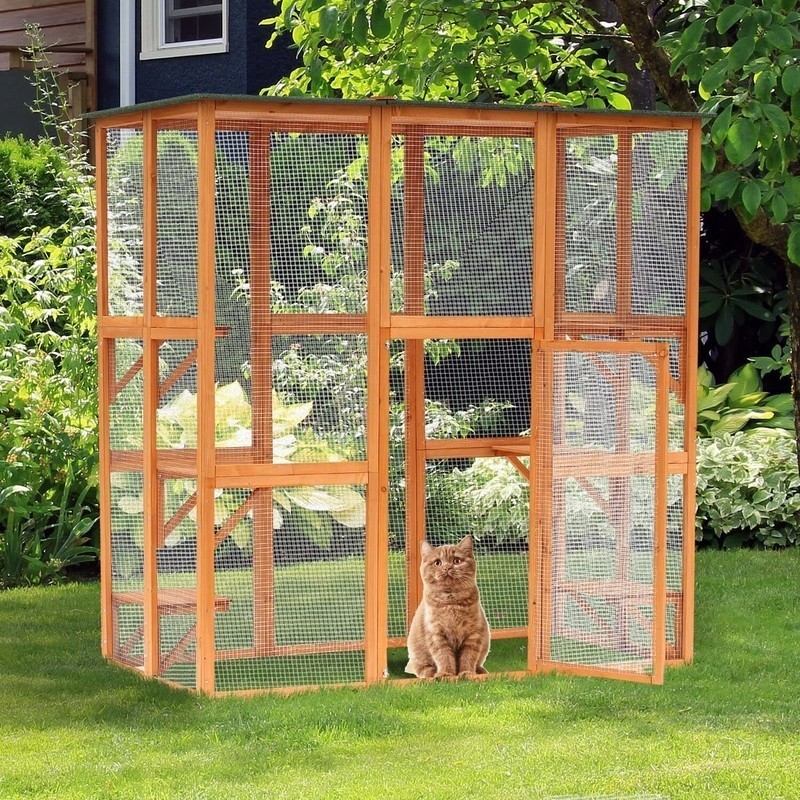 Wood Outdoor Cat Playpen

For a cat enclosure that is both stylish and roomy, you can't do much better than a wood outdoor cat playpen. This particular cat cage design is perfect for homes with a few cats who love to interact in their special way. The enclosure is sizable in dimensions with multiple platforms built into the interior sides, plus a large door for ease of use. The wood frame is quite fetching and the steel mesh screen brings the look together.
Even if you have what some might consider too many cats, they will still be very happy to play and relax in this outdoor cat cage.
What we like:
● Attractive & sturdy
● Can fit several cats of all sizes
● Water-resistant
● Covered roof
What we don't like:
● Heavy
● Only for outdoor use
$399.99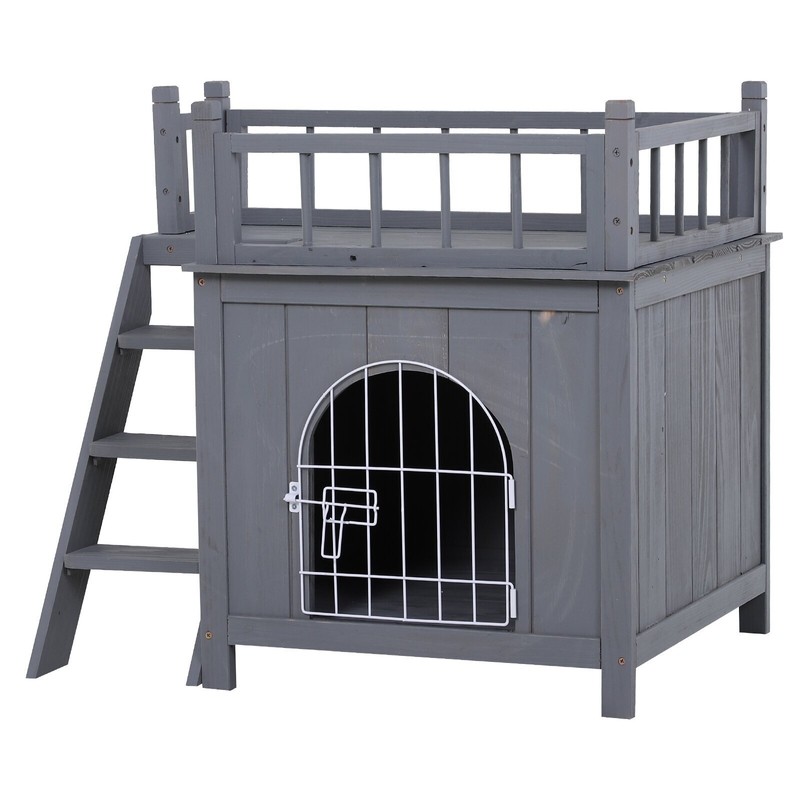 Wooden Cat House

Also great for indoor and outdoor use, this is a fun design that has two great functions. On the one hand, you have a balcony-type perch for your cat to survey their favorite play area: your home. But underneath, there is an enclosure that will keep your cat safe and happy if they need to be put away for guests or other purposes that will ensure they are not allowed to roam freely, often protecting them from their curiosity.
These are sturdy and built to last. They look like a lot of fun. You might even find your kids playing on it. But rest assured, this is for cats only.
What we like:
● Solid wood
● Indoor/outdoor use
● Can accommodate all cats
What we don't like:
● One solid unit
● Heavy
● The door has wide slats, easy for small cats to escape
$102.99 $118.99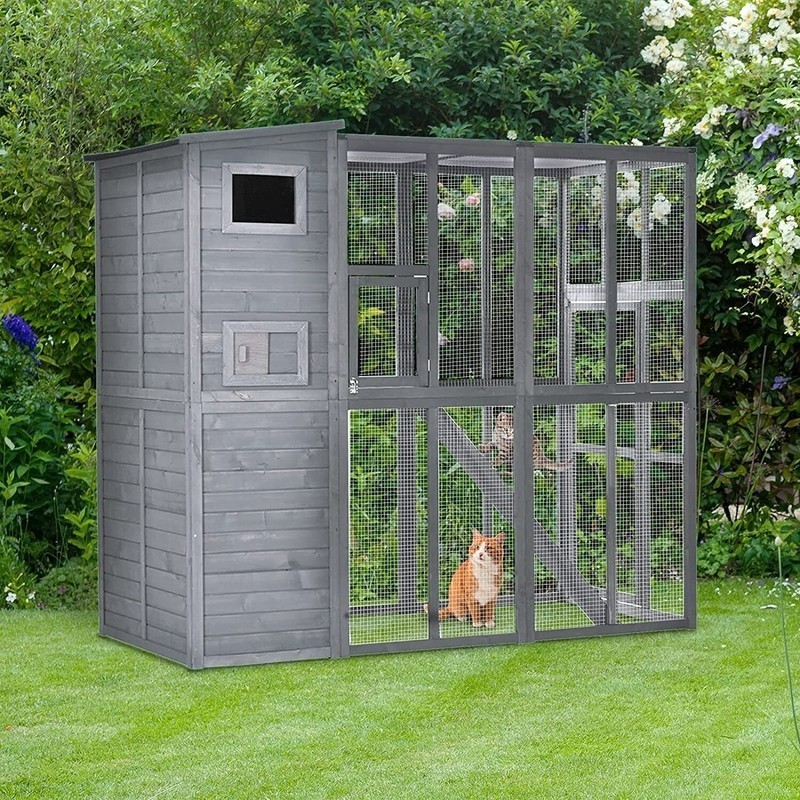 Large Wooden Outdoor Cat House

This model looks more like a chicken coop than a place to keep your cats safe and comfortable, but we promise, it is designed with your cats in mind. It is built of solid wood with a steel mesh screen that covers three sides of the structure. It is more like a cat condo than a simple play structure. It has two doors, one small and one large, and a ramp that leads to the multitier "condo" area within. Your cat will think they have their own home.
Even though it says outdoor, no one says it can't fit inside your home as well. If you have space, this large wooden outdoor cat house is the cat condo cage of choice for discerning cat owners.
What we like:
● Large in scale with two doors
● Solid Wood Structure
● Good for all cats
● Water-resistant
What we don't like:
● No roof
● Incredible heavy
$579.99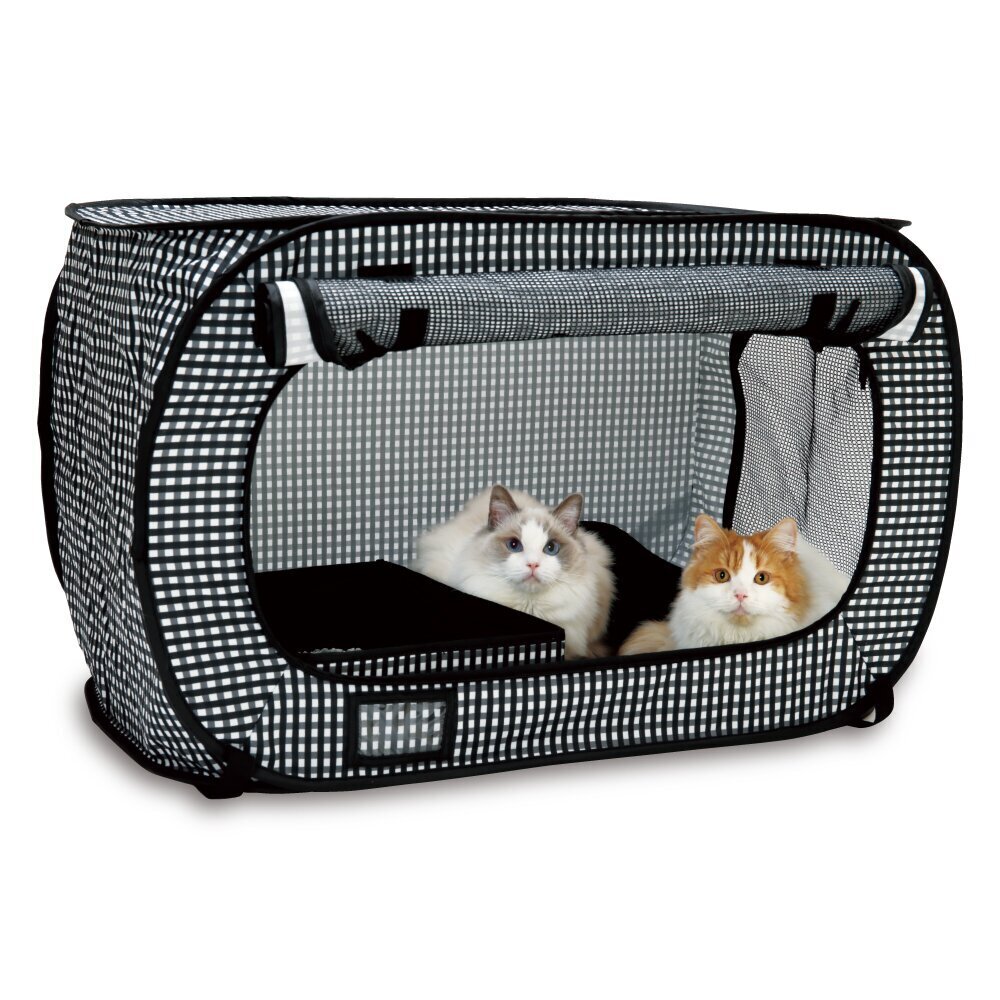 Portable Outdoor Cat Cage

This model is strictly a reservation for one. It is designed to fit a single medium-sized cat, but it is possible to put two smaller cats in it comfortably. The design is no-frills. It is made of tough yet flexible polyester with a single mesh screen to look out, or for you to look in if you wish to check on your enclosed feline. The best part of it though is the weight. It is incredibly light and the compact design allows for easy carry just about anywhere.
Keeping it simple was never so, well, simple. Take your tabby to the park, to the garden for some yard work, or an event, and do it in style with this elegant and basic portable cat cage.
What we like:
● Very lightweight
● Portable
● Indoor/outdoor use
● Water-resistant
What we don't like:
● Small in scale
● No accommodations for feeding or litter needs
Large Cat Cabinet Enclosure

You have seen cabinets for storing old books, or even your favorite collectibles, but this will blow your mind. We have a multilevel cabinet that is perfect for your cat. Entirely made of strong pine, this "cat villa" has it all. On the first floor, you have a litter box area, the second floor offers a place for food and water, and the third, and yes, the fourth, has perches for relaxing and watching the outside world. There is even a scratching post. And the wood can be stained to match your furniture for continuity of aesthetics.
Every feature is designed to give your cat the best experience. And it is made of recycled materials, so if you like to be green, this is the enclosure you have been looking for.
What we like:
● Elaborate design & safe materials
● Easy to change the look
● Made of sturdy pine
● Heavy-duty casters
What we don't like:
There is nothing we don't like about this cat enclosure!
$459.99 $499.99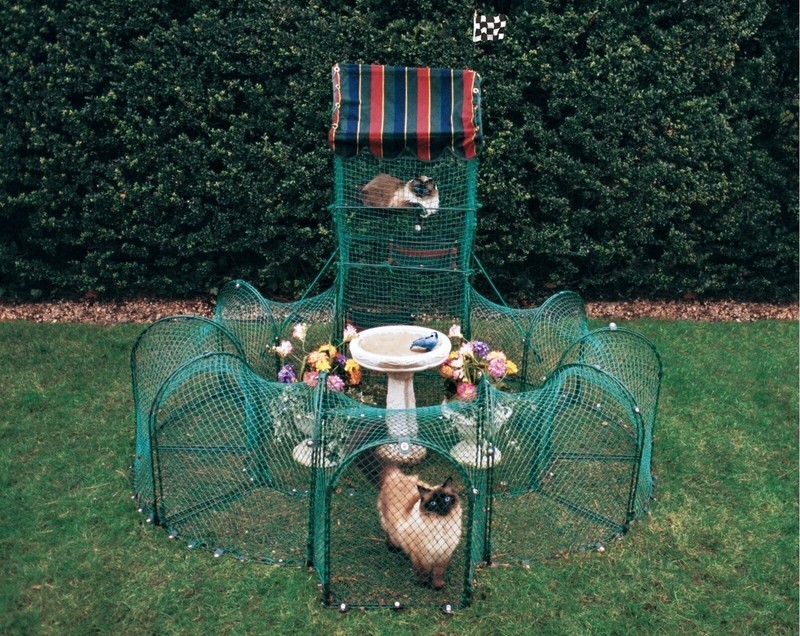 Grand Prix Playpen Outdoor Cat Cage

This design looks as if it was modeled to be built in a garden. It has a round track the culminates at a small tower with perches. The center of the unit is open for your decorative handiwork to be on display. You can put a few flowers, a birdbath (which your cats will enjoy watching), or just leave it empty, but we think you will be inclined to be more creative than that. The award-winning design will let your cat feel the grass beneath their feet without you having to worry about their escaping.
With four travel bags, you can be ready for your next outing with the kitties, and know they will enjoy spending time with you outdoors.
What we like:
● Metal Mesh Award-winning design
● 4 carry bags
● Portable
● Indoor and outdoor use
What we don't like:
● Mostly open design
● Limited condo space for more than 1 cat
$659.99 $739.99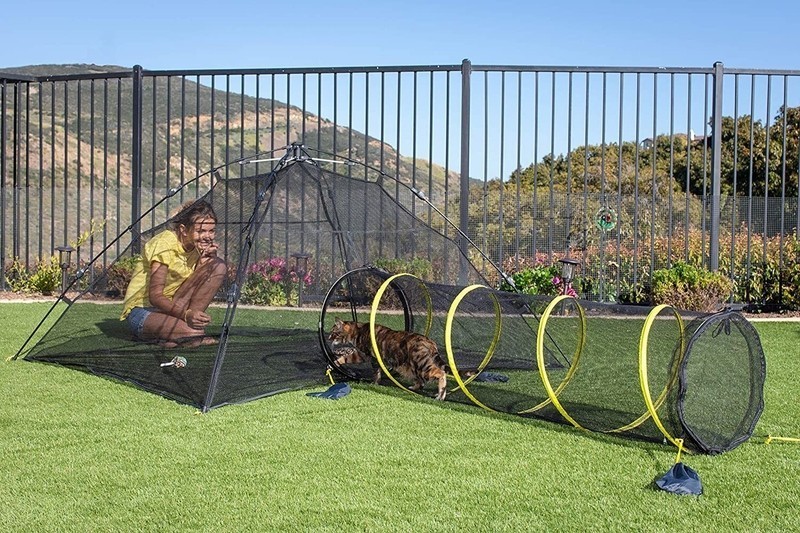 Cat Enclosure Tent Playpen

Another item your kids will want to play with, this fun option looks like something from a toy catalog. But it is for cats only and it is perfectly designed to keep them safe and active. The long mesh tube leads to a tent-like structure that is made of the same heavy fabric screening and is woven together to prevent your cat from getting too much sun if used outdoors. Great for all cats, but kittens will especially love it.
Just like a tent, it is portable and comes with a carry bag for convenience. It is easy to set up and can be staked down in case of wind.
What we like:
● Fun design
● Portable
● Carry bag
● Lightweight
What we don't like:
● 1 door
● Not water resistant
● No roof
$53.92 $79.99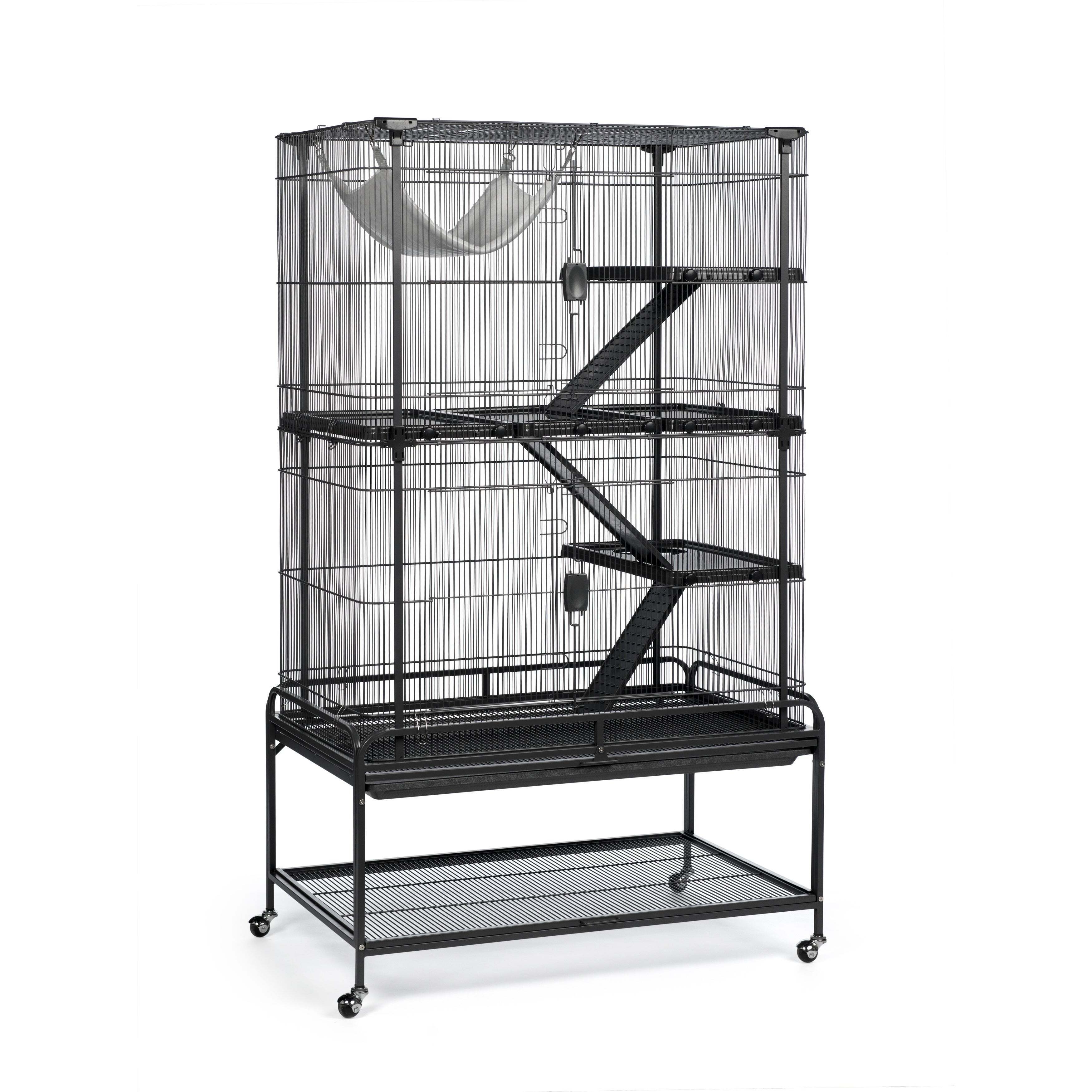 Luxury 3 Tier Cat Cage

If you are seeking an easy-to-move yet entirely sturdy cat cage option for both indoor and outdoor use, look no further than this amazing inside cat enclosure. It is on heavy castors to support its all-steel frame and bars. Under the cage is a shelf for additional storage. The interior, as the name indicates, is composed of three tiers of feline interaction, including a ramp and three perches for relaxing and taking long cat naps. And it is designed with a tray at the base of the cage unit to keep those messes under control.
Your cat will love to play in this enclosure with other cats, or just enjoy the freedom of having the whole space to themselves. Either way, they will be safe.
What we like:
● Heavy-duty castors
● Storage shelf
● Lots of space
● Adjustable platforms
What we don't like:
● Not water resistant
● No covering for outdoor use