If you're a cat owner, you know who really wears the pants in your household (and it's certainly not you!). Whilst our feline friends can be loving and adorable, they can also be extremely fussy, even when it comes to their bathroom habits! Yet, one thing both cats and humans can agree on -at least when it comes to doing their business- is the need for a clean, odorless, comfortable and private environment. Luckily, cat litter box furniture provides just that. And, they give you the added benefit of not having an unsightly litter box tainting your stylish home decor.
Also referred to as litter box enclosures, or cat cabinets, these cleverly designed pieces look like normal furniture, such as a side table or bench, but conceal your cat's litter tray within. Available in a wide variety of colors and styles, there's something to compliment every decor and suit every sized space, as well as the taste of your meticulous furry boss. We've done the hard work for you and rounded up and reviewed some of the best cat litter box furniture out there. Take a look!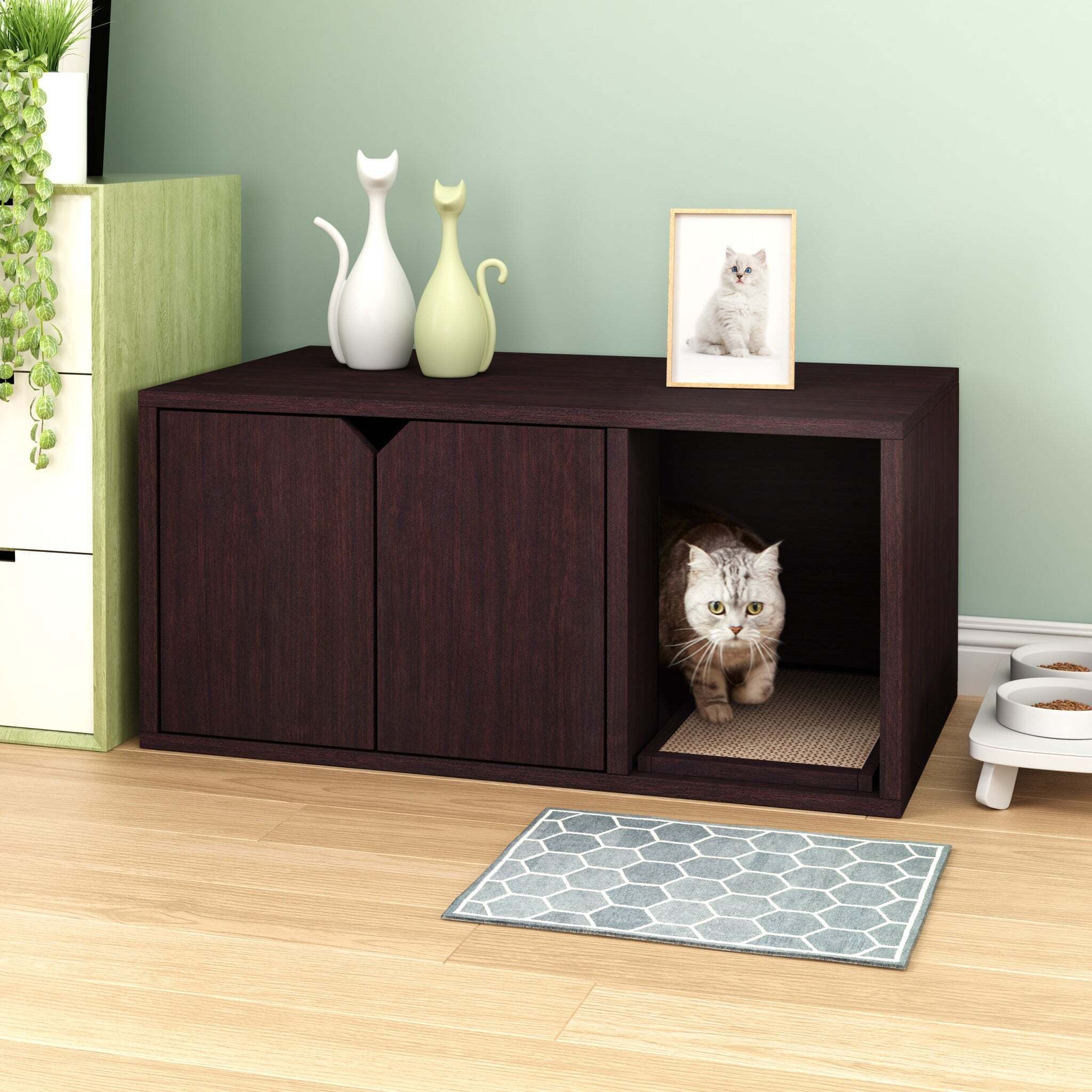 Eco Friendly Cat Litter Box Furniture

Treat your feline to its very own private kitty condo. This sharp, modern design is a smart and attractive way to hide unattractive litter trays. The discreet walkway is ideal for older cats who find it hard to access high or small openings. The piece also comes with a litter catcher to help keep your floor clean, particularly useful if your kitty likes to kick litter. The best part? This cat cabinet is 100% recyclable and made with durable and eco-friendly zBoard recycled paperboard, which is non-toxic and free of formaldehyde and VOC.
What we like:
● Easy to clean
● Discreet walkway
● Magnetic door lock
What we don't like:
● Not water-resistant
● Material lacks sturdiness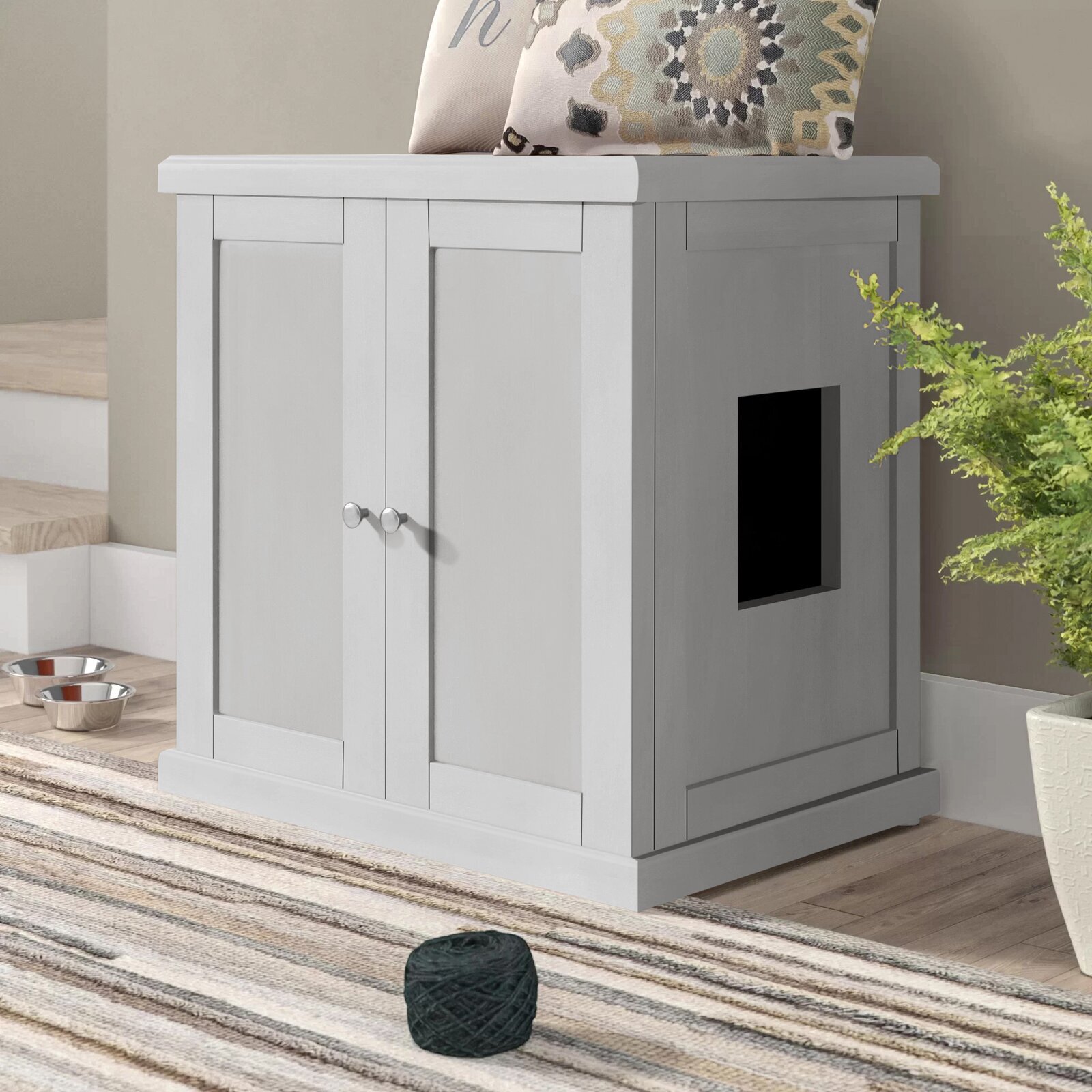 Contemporary Cat Litter Box Furniture

Not even the biggest cat lover enjoys looking at their furry pal's litter. This cat cabinet's modest, contemporary design lets your kitty conduct their daily necessities in privacy and keeps your interior looking smart. Crafted from manufactured wood with a selection of three neutral colorways, this piece will easily blend in with your current furniture ensemble. The two doors open to reveal a plastic corrugated litter liner for catching debris, and a small storage drawer, useful for storing cat accessories. Style it up to match the rest of the room with a lamp, framed photos or potted plants.
What we like:
● Reversible entryway
● Sliding storage drawer
● Plastic corrugated litter liner
● Available in 3 colors
What we don't like:
● MDF is not as durable as solid wood
● Difficult to assemble
$190.5 $199.99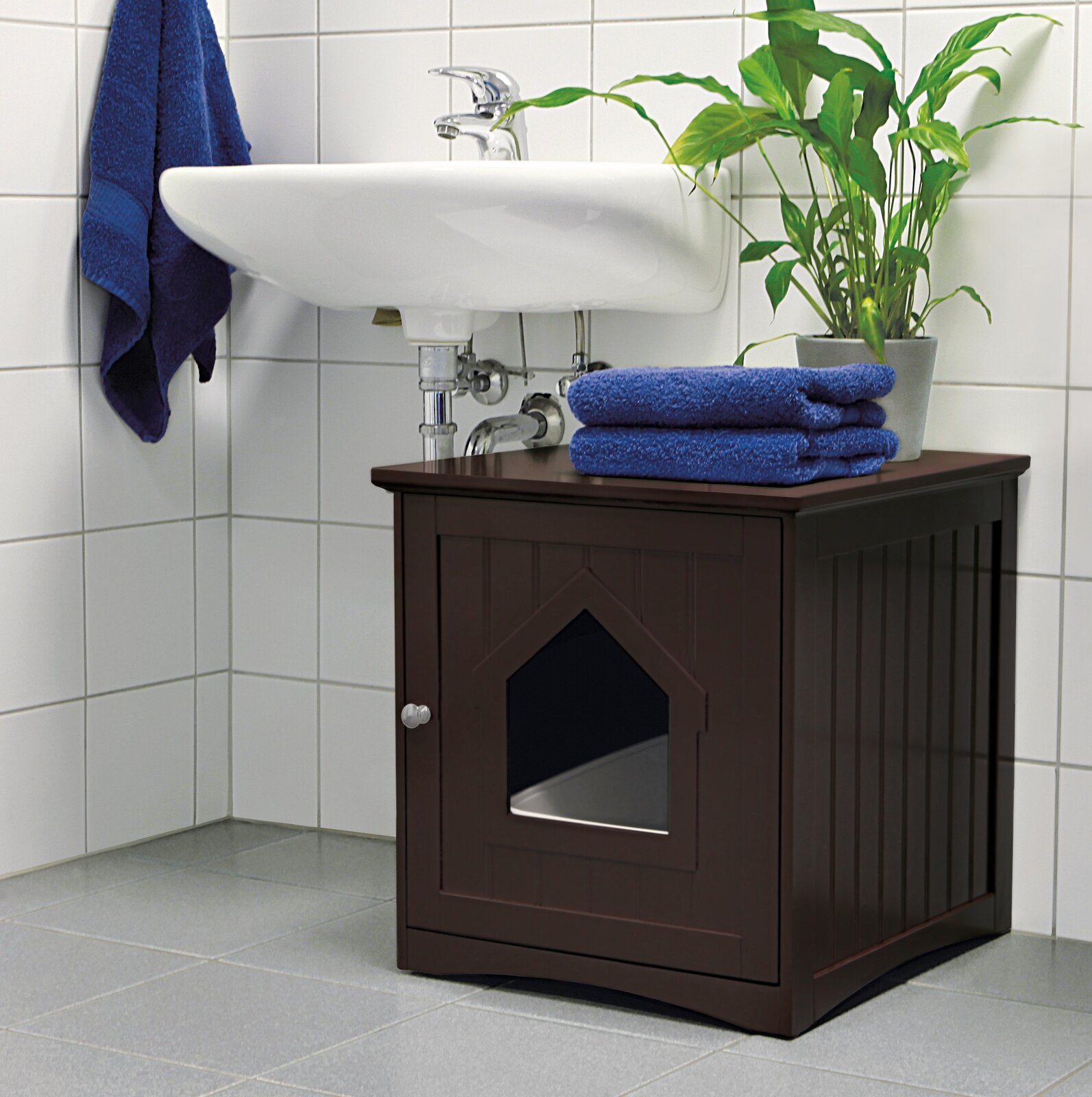 Compact Cat Litter Box Enclosure

Give your kitty a bathroom of their own with this litter box enclosure. It's compact shape and small size means it will easily fit into a small studio apartment, master bathroom or laundry room, in a corner or under the sink. Crafted from manufactured wood, it is water-resistant and features ventilation holes in the back panel for air circulation. The door has a cute house-shaped entryway for your cat to enter and leave with ease, and a wide door opening with a simple magnetic closure, for cleaning. The cat litter cabinet provides ample inner floor space for regular sized litter pans.
What we like:
● Water-resistant
● Magnetic door lock
● Ventilation holes
What we don't like:
● Doesn't fit an oversized litter box
$58.42 $85.86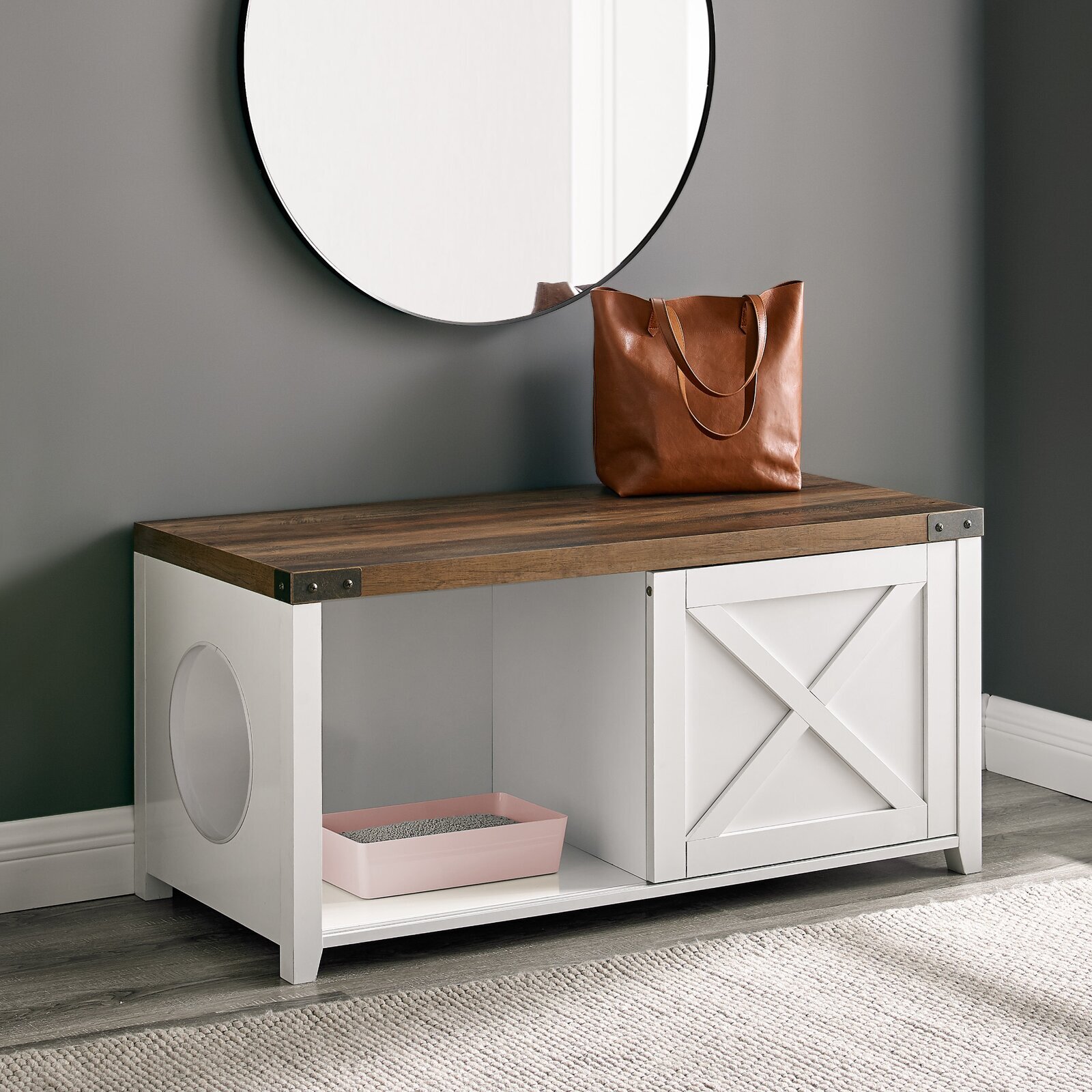 Contemporary Farmhouse Litter Box Furniture

Combining functionality with contemporary flair, you would never guess this stylish piece of furniture is a litter enclosure. The bench inspires a modern farmhouse aesthetic with a sliding barn door and bronze metal accented corners. The litter box sits behind the door, on one side, to give your whiskered friend some deserved privacy. The other side provides shelved storage space for shoes or cat accessories, allowing you to keep your entryway clutter-free. Made of warp-resistant MDF wood with a hard-wearing laminate finish, this litter box bench is sure to endure it's multiple functions.
What we like:
● Available in 2 finishes
● High-end design
● Easy to clean
What we don't like:
● There's nothing we don't like about this cat litter box furniture.
$212.51 $455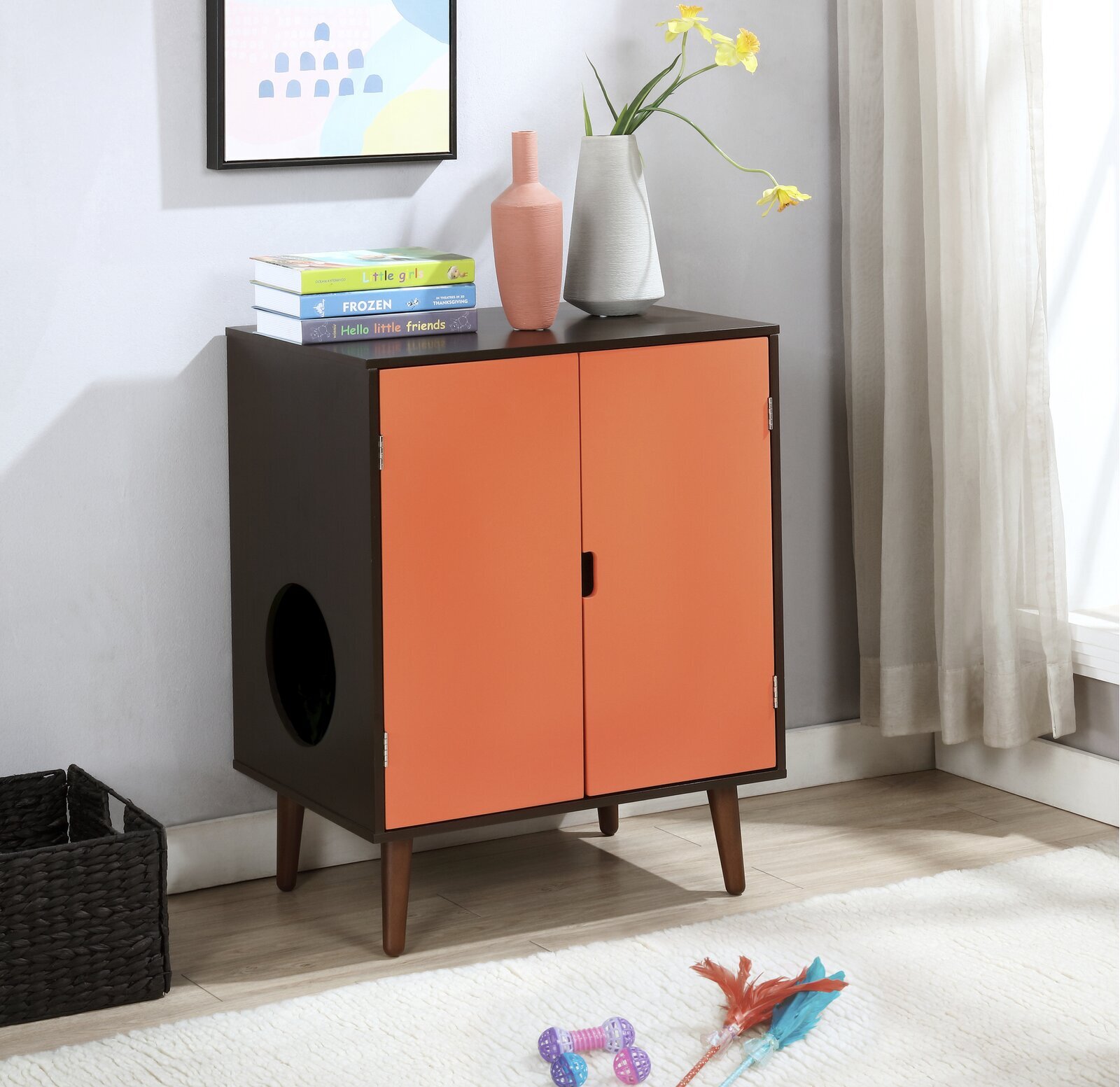 Mid Century Modern Cat Litter Cabinet

The sleek frame and tapered legs of this cat cabinet makes it the pur-fect addition to a mid-century modern style decor. The circular opening on the side allows your cat to conduct their business as they please, whilst being concealed by two double doors. The cabinet fits a standard sized litter box, or pet bed, if you decide to convert it into a feline lounging area instead. Further disguise the furniture piece by placing decorative items on the flat top. Or, make it a complete cat zone by placing a bed or pillow on top, giving your fluffy friend a new hangout spot.
What we like:
● Sleek, mid-century design
● Available in 3 color combinations
● Magnetic door lock
● Easy to assemble
What we don't like:
● Low entryway requires a low litter box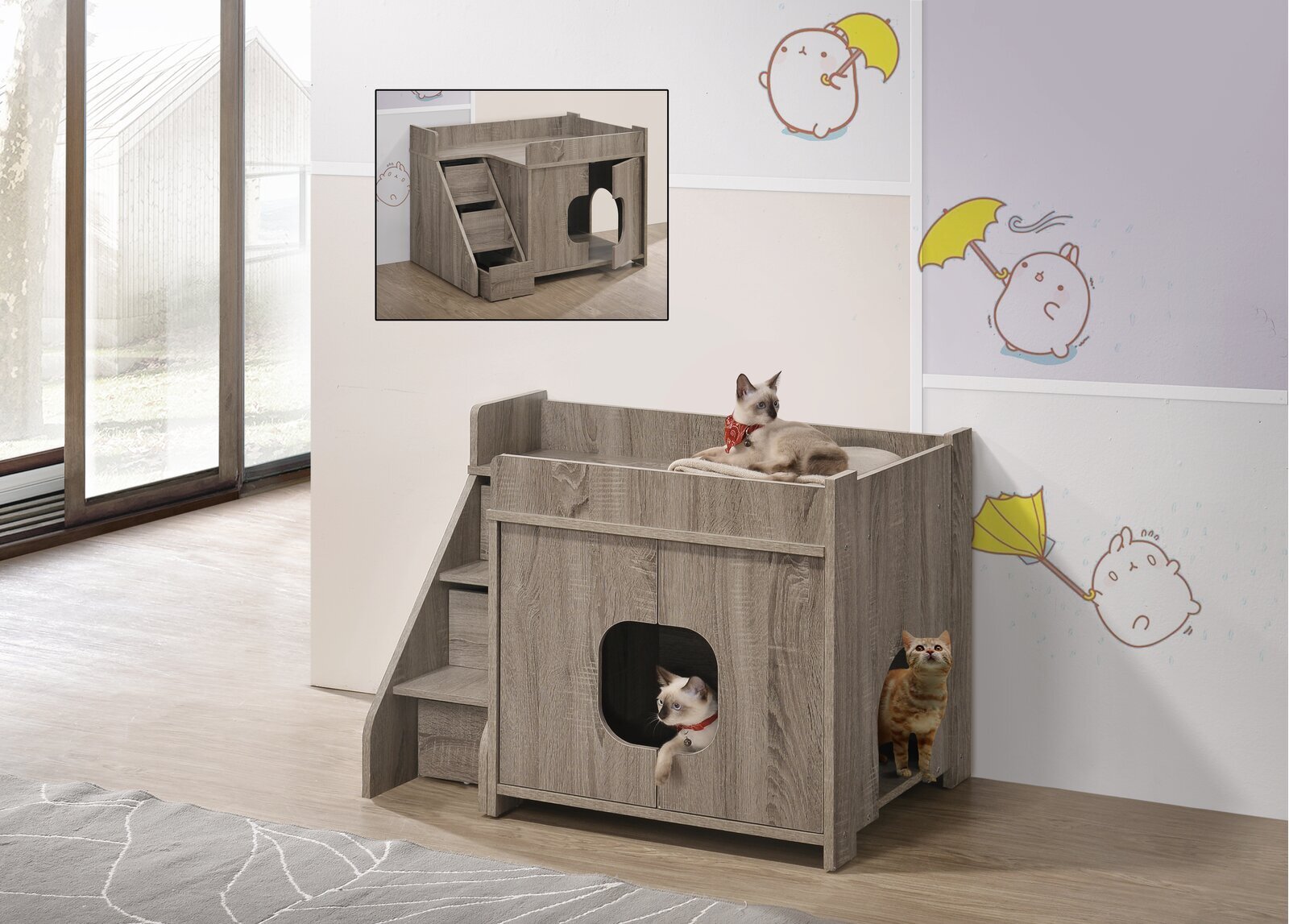 Multi Functional Cat Litter Box Enclosure and Pet House

Upgrade your cat's litter box twofold with a stylish and functional pet house. This clever design features a spacious concealed area, ideal for keeping your cat's litter out of sight, with two entryways for easy access. The double doors, with a magnetic lock, make it easily accessible when it's time to clean. Three small steps lead your fur-iend to a platform where they can play or lounge. What's more, each step disguises a drawer for storing toys, treats or litter box accessories.
What we like:
● 3 storage drawers
● Suitable for multiple cats
● Multiple entry points
What we don't like:
● Assembly is time-consuming
● Not water-resistant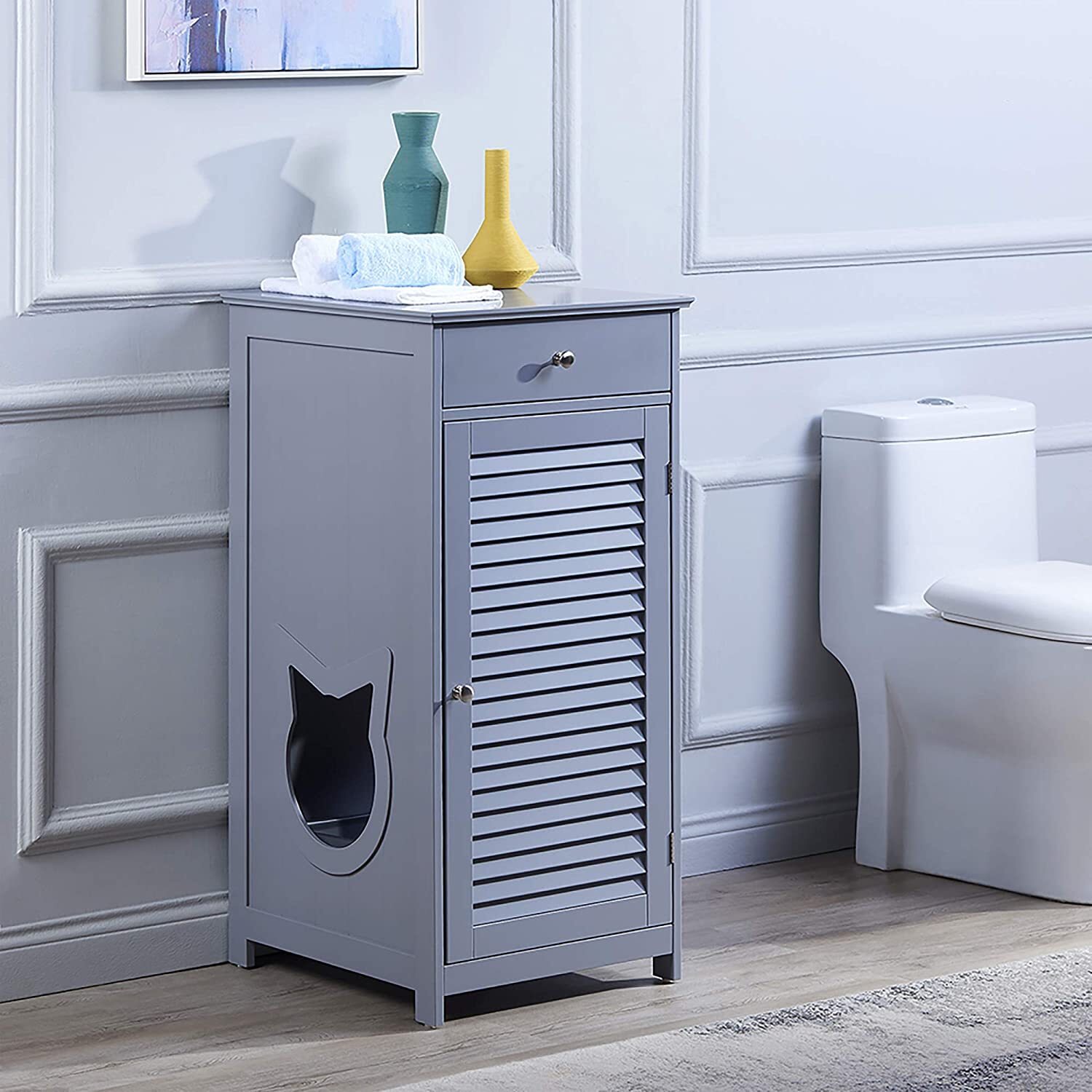 Tall Cat Litter Cabinet with Storage

Short on space but desperate to remove that unsightly litter box from view? This tall cat litter cabinet is a paw-some, space-saving and discreet solution. The vertical form takes up little square-footage and it's multi-functional design features an optional inside shelf and drawer for extra storage space. Two cute cat-shaped entryways allow your kitty to enter and leave with ease, and the slatted door and holes in the back panel provide plenty of ventilation.
What we like:
● Vertical design is optimal for small spaces
● Includes extra storage space
● Cute cat-shaped entryway
● Room for large litter pan
What we don't like:
● Thin material means it is not very sturdy
● Not water-resistant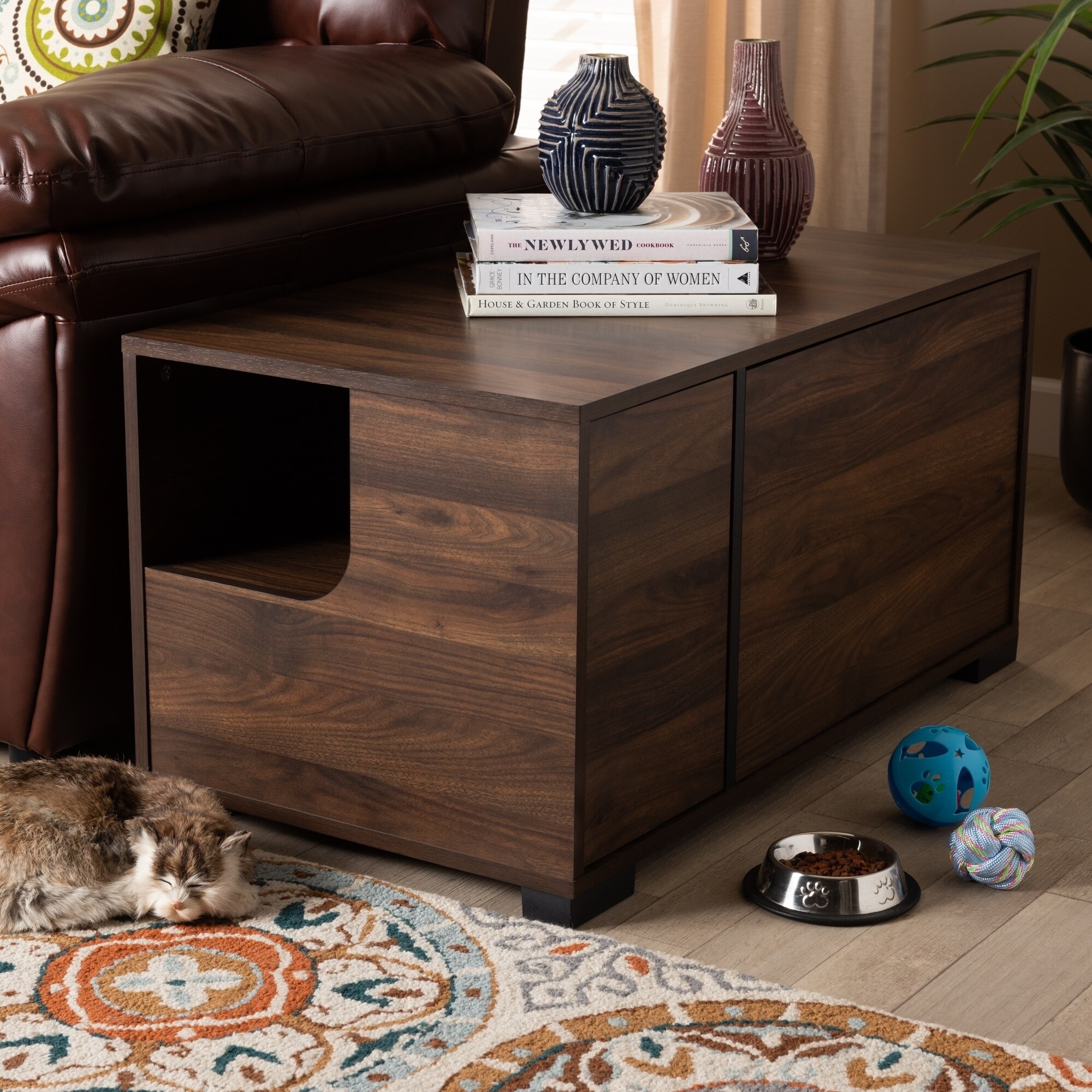 Inconspicuous Cat Litter Box Furniture Side Table

Incorporate your cat's necessities into the cohesiveness of your home, without sacrificing on style. This polished, modern design wins a place on the leaderboard for inconspicuous cat litter furniture. Used as a side table and decorated with coffee table books, candles or other ornaments, no one will suspect that your cat's litter cabinet lies within. Two unsuspecting doors disguise a secluded space for a litter box, as well as a small shelf to store your pet's supplies. The entryway is high and does not open directly into the main space, meaning there is no height restriction for the litter tray, unlike in other designs. With a smooth walnut brown finish this piece is sure to compliment any color scheme.
What we like:
● High entryway
● Storage space
● Inconspicuous modern design
● Rich walnut brown finish
What we don't like:
● Unclear assembly instructions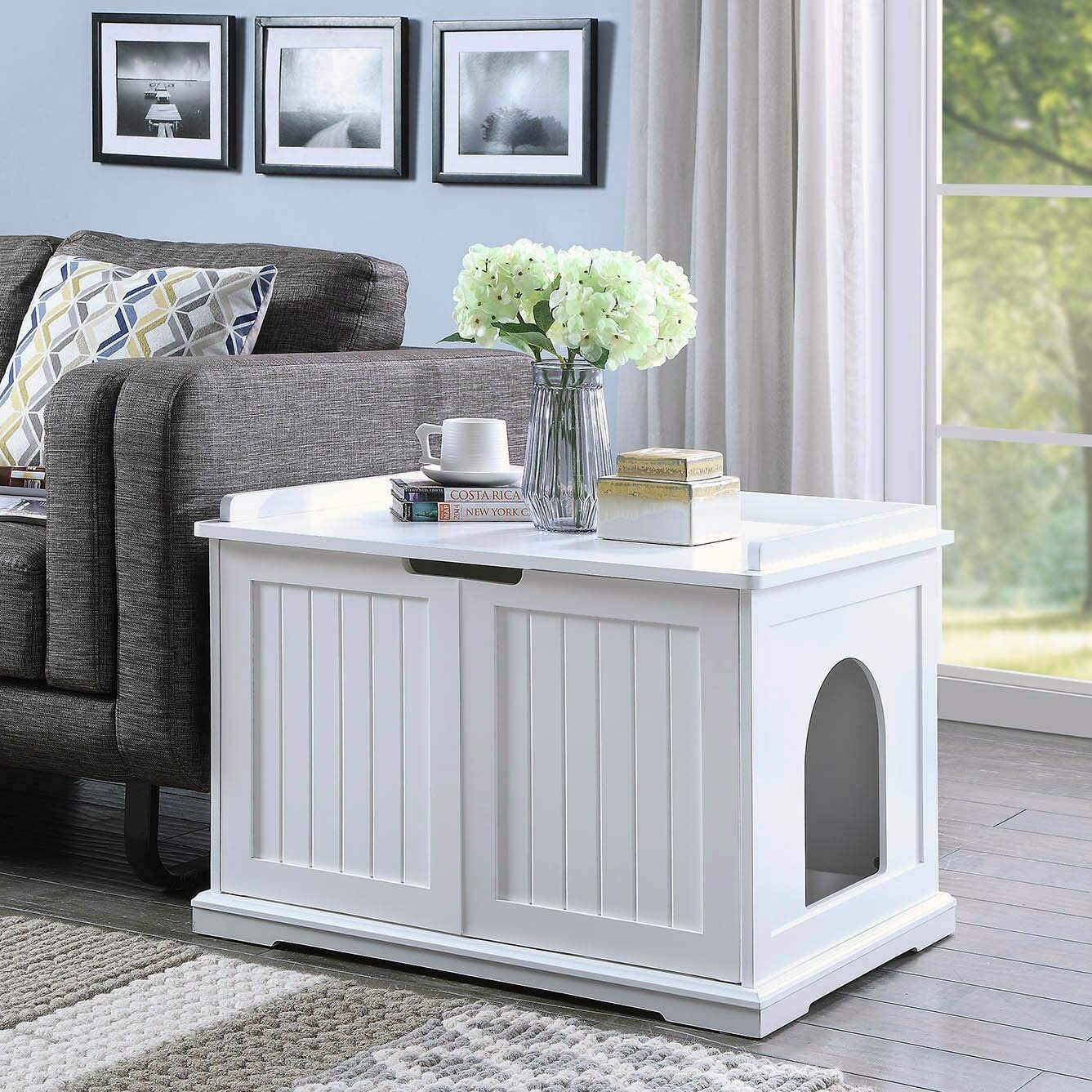 Large Contemporary Furniture Litter Box

Looking for a way to keep small kids or dogs out of your cat's litter tray? This large litter box enclosure is disguised as a contemporary side table to blend seamlessly into your decor. The small entryway is only fit for cats, keeping curious children and dogs out, and allowing your kitty to conduct his business in peace and privacy. The low entryway is perfect for cats with joint issues, or who find it hard to climb through high openings, allowing them to walk straight into their very own washroom instead. The versatile design allows the entrance to be installed on either end. And, the litter box hutch features a removable interior panel that prevents litter from being kicked out and tracked into the floor, maintaining a clean and odorless space.
What we like:
● Reversible entryway
● Removable interior panel
● Wide top with apron design
● Magnetic touch design
What we don't like:
● Strong manufactured smell