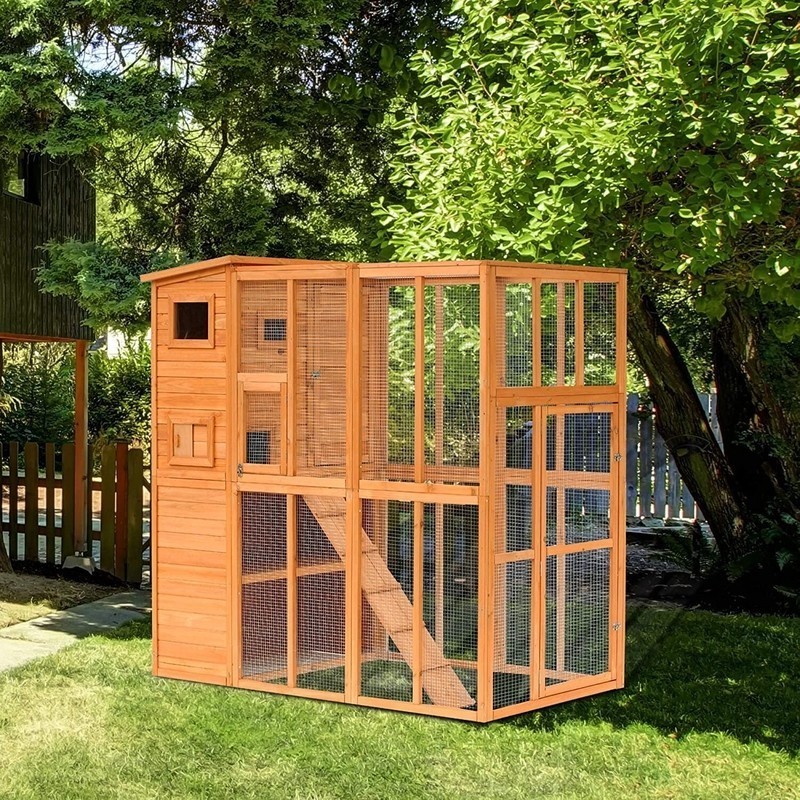 PawHut Large Wooden Outdoor Cat House with Large Run for Play, Catio for Lounging, and Condo Area for Sleeping

What we like: Easy to assemble and features multiple levels
What we don't like: It has a high price tag and once installed, you can see some blemishes on the wood
If you want to pamper and protect your pet, this cat enclosure is the ideal solution. It boasts an attractive wood frame that's durable and easy to assemble. It is water-resistant and coated with a non-toxic sealant to protect against the elements. The roof is reinforced with asphalt to shield your pet from rain and provide shade from the sun.
Not all large outdoor cat enclosures are created equal. This one is completely enclosed with hardy mesh wire so your pet can enjoy the great outdoors without the dangers of feral animals or pests.
The multi-tiered design gives your furry friend space to lounge and explore securely. It comes fully equipped with a window, access ramp, sliding door, and a large front door that safely secures with an easy latch.
$539.99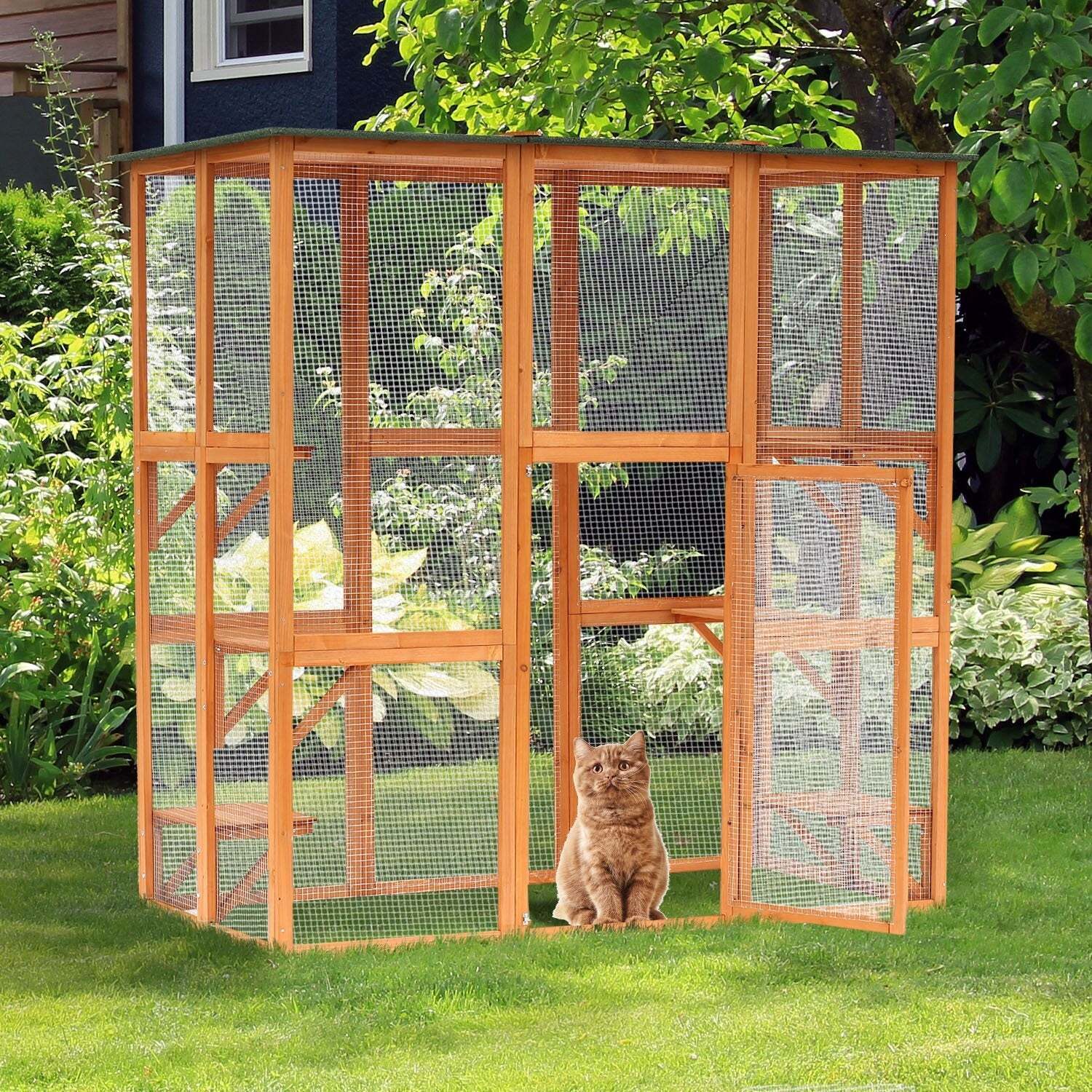 Large Wooden Outdoor Cat Enclosure Cage 71" L x 38 5" W x 71" H

What we like: The sturdy and attractive design features enough room for multiple cats
What we don't like: Takes approximately two hours to install with tricky instructions
If you can get past the confusing assembly instructions, this outdoor cat enclosure is the perfect combination of smart design and affordability. Inexpensive cat enclosures usually lack quality, but this solid fir catio is built to last.
The frame is covered in strong mesh wiring to protect your pet from wandering away and stops lurking predators from getting into the enclosure. The frame is sealed with a pet-safe bonding, and the roof is flat and boasts an asphalt cover that offers superior weather protection. To make things simple and accessible, the front door latch is easy to use, providing quick access to hang with your buddy, and six tiers ensure there is plenty of space to entertain your pet.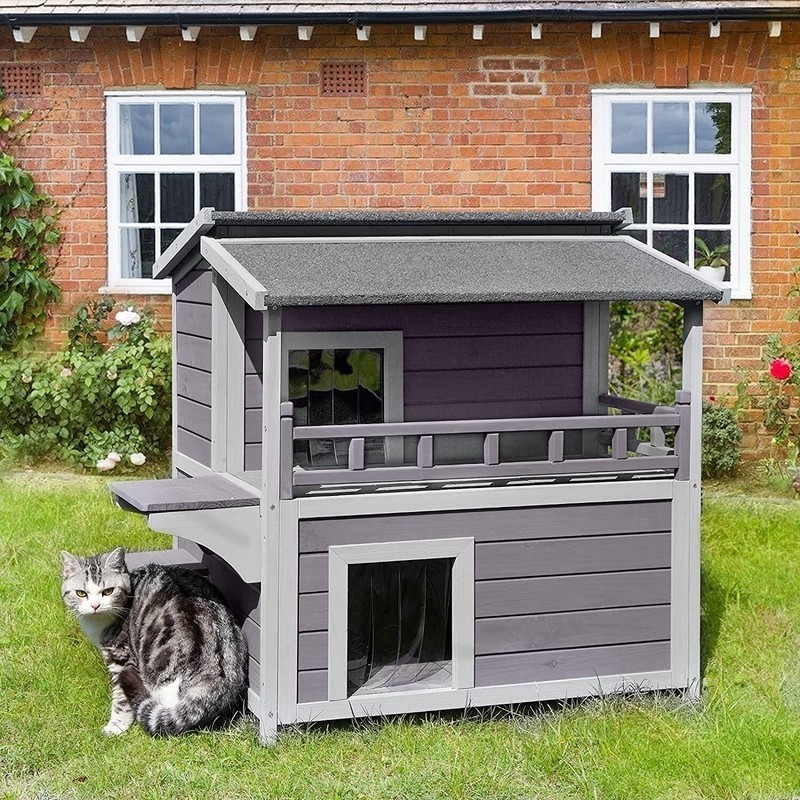 Cat House for Outdoor Feral Cats Enclosure with Large Balcony, Wooden Kitty Shelter, Waterproof

What we like: Low price point, adorable design, and easy to assemble
What we don't like: Not very water-resistant. Performs best when kept under a covered patio
If you're seeking stylish cat patios for sale, this charming catio is recommended for cats under 18 lbs. and features an adorable flower bed built into the left side of the house, perfect for planting feline-friendly herbs. It's easy to assemble without power tools; all you need is a Phillips screwdriver.
The bottom floor can be removed to create more space, and the roof is designed to open up for easy cleaning access. There are multiple balconies for lounging and two openings for your cat to use. The emergency opening on the back has an acrylic flap door for a quick exit.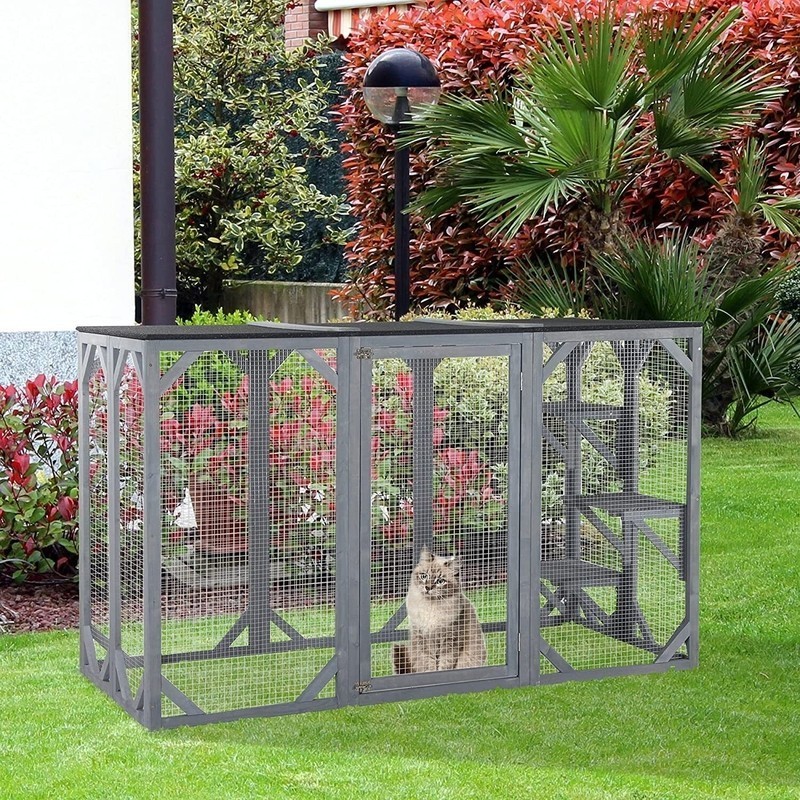 PawHut 71" x 32" x 44" Large Wooden Outdoor Cat Enclosure Catio Cage with 3 Platforms

What we like: Light enough to be moved around once assembled
What we don't like: Locks on the door are a bit flimsy
If you're looking for a spacious catio for sale, this is the right choice for you. This impressive outdoor pet enclosure has three elevated platforms for your kitty to snuggle up on. With its oversized door, it's easy to join in the fun or change out toys.
Built of solid fir wood and coated with a pet-friendly sealant, this fully enclosed wooden catio can comfortably house two smaller cats as they enjoy the 365° view. The roof is flat and asphalt-coated to boost its weather protection and keep your pet shaded.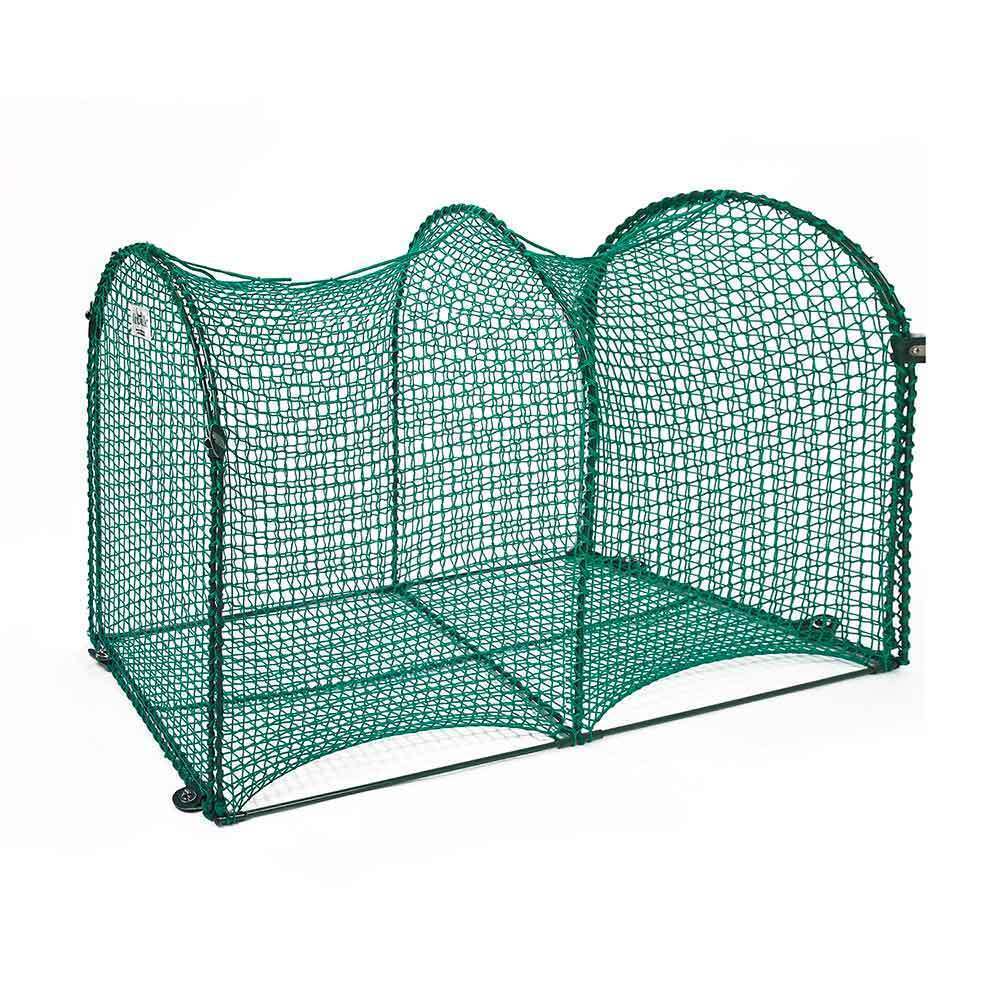 Kittywalk Deck and Patio Outdoor Cat Enclosure

What we like: Well suited for areas with limited space and highly portable
What we don't like: On the smaller side, so only suitable for a single cat home
Live in a smaller space with a patio or balcony? Want your furry friend to keep you company while you watch the world go by? The Kittywalk deck and patio is a great outdoor cat cage option if you have limited space.
This 4' pen is made of solid steel wickets and rip-stop netting. It's a fantastic choice for apartment balconies, small patios, or even backyard decks. Two doors enclose this open net construction, so there's plenty of ventilation and total visibility.
Although it's weather-resistant for all seasons, you won't want to leave your cat outside during inclement weather due to open construction.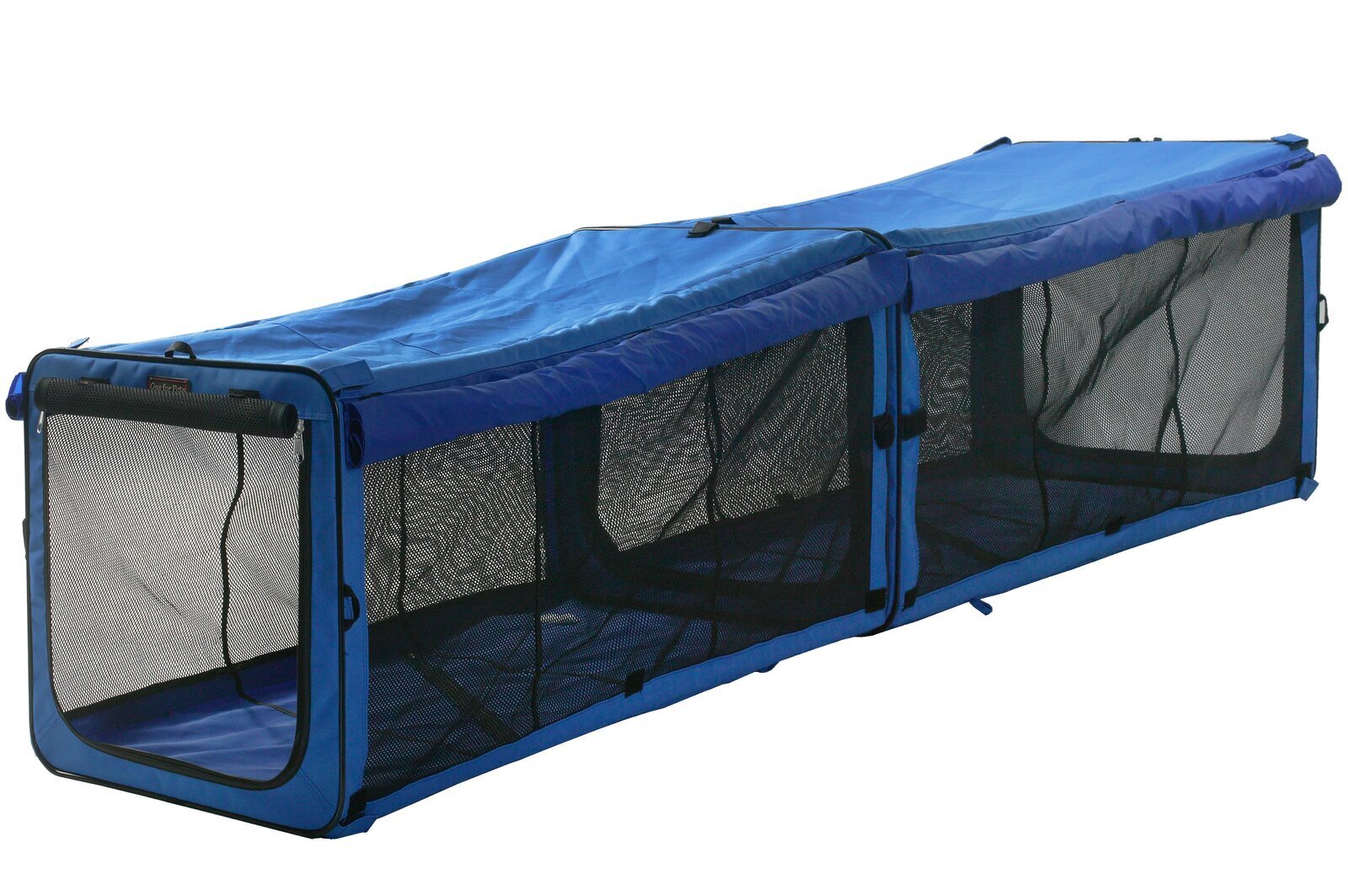 Pfister Portable Outdoor Playpen with Door

What we like: Portable and durable construction
What we don't like: No carrying case
This is another great option for those living in smaller quarters or those traveling with their feline companions. Made from rugged nylon, it can fit in the trunk when folded. The simple setup and breakdown make it easy to stow away when not in use.
If 4' isn't long enough for your cat, the structure is modular, so you can add a second one to allow more room for your cat to strut. When it comes to portable outdoor cat enclosures, this one offers exceptional versatility, allowing a full range of view through the mesh sides while still providing protection from the rain.
It features roll-up sides that close to provide shade and security and has a top and bottom to protect your cat from the elements.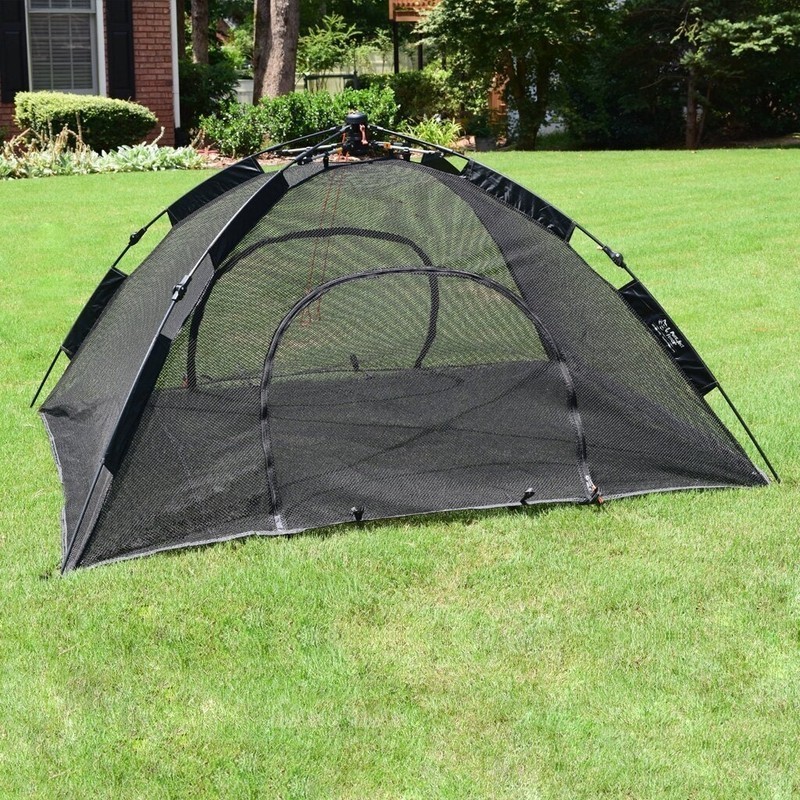 Purrfect Portable Outdoor Playpen with Door

What we like: Comes with an optional nylon cover to provide extra protection from the elements
What we don't like: There's a learning curve to set it up and break it down.
For outdoor enthusiasts who love to take their cat along for the ride, this outdoor playpen offers your kitty their very own 32 ft² tent for protection against predators.
Whether you're hanging out in the backyard or visiting a park, this portable outdoor cat enclosure is ready for adventure. This pen has a solid yet flexible framework that is easy to set up, and the cover features two doors with a strong zipper for easy access. The removable weather guard and durable carry bag are convenient and won't weigh you down when trekking to your favorite campsite. It's a unique choice among cat enclosures for nature lovers.
$146.99 $164.99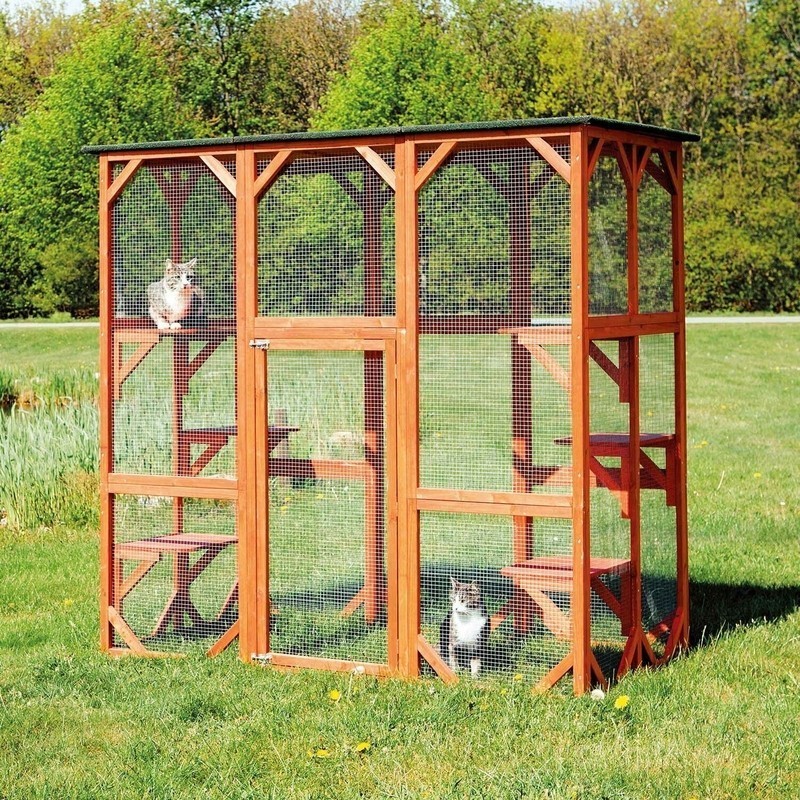 Outdoor Playpen

What we like: If you prefer to connect your catio to a wall of your house, there are pre-drilled holes and a mounting pole provided for your convenience
What we don't like: No floor can be a turn-off to some, and assembly instructions are challenging to understand
This stylish outdoor animal enclosure will protect your cat from predators and give them loads of lounge options.
It features six shelves, is water-resistant, and has single door access. Many users attach it to their homes so their cats can access their lux condo directly from a window or door. This is the perfect solution for homes without a screened-in porch but still want their pets to enjoy the outdoors safely.
Installation can be difficult and time-consuming, as the instructions aren't clear, and you'll need to have access to a power drill to ensure that all components are secure. However, once the playpen is set up, you'll struggle to get your cat to come indoors.
$569.99 $621