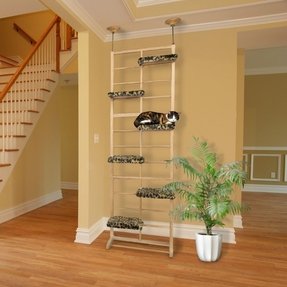 Ware Manufacturing Sky Tower
A floor to ceiling cat climber that will make your pet love you even more! It's a kind of simple, high, light-wooden shelf with a few spotted cushioned seats. It's narrow and in natural colors so it will blend in every space and design perfectly.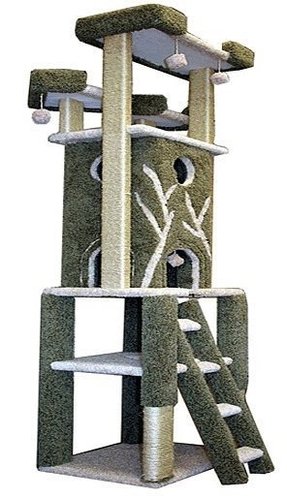 This sleek and very impressive cat tree is a great way to decorate the interior and provide a happy home cat. The solid wood construction and soft upholstery allows for great fun, and yet it looks impressive in any decor.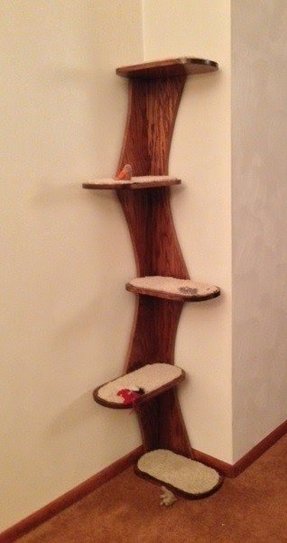 Cat tower suitable for corner placement. It includes a durable wooden frame based on solid wood. Five cat platforms are covered with material that is soft, comfortable and safe for animals. The whole tree is resistant to the weight of five adult cats.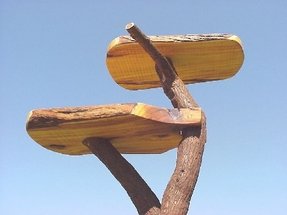 Natural Wood Cats Tree Furniture - Rustic Outdoor Osage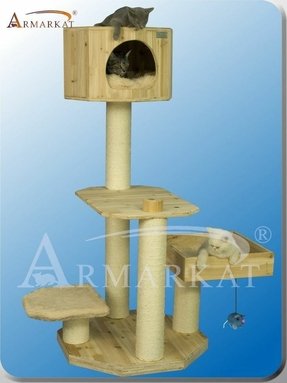 A great tree for your crazy cats that will have a real blast while jumping from one platform to another. Crafted of solid wood, the tree is stable and very durable, consisted of 3 platforms, 1 cozy house on top, and sturdy poles wrapped with material that your cat will love to scratch.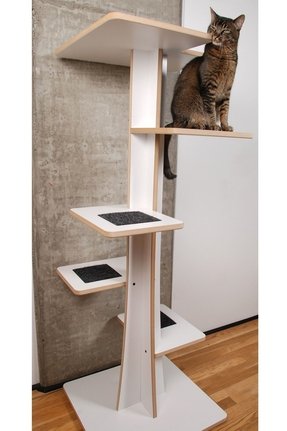 60" Baobab Cat Tree
High cat tree with pads to scratching. It has 5 levels to climb. Stable construction made of wood. Ideal gadget to play for each cat.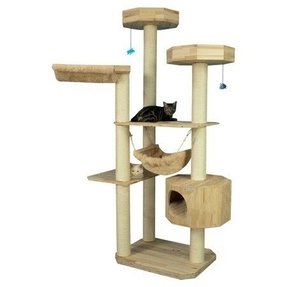 Cat Scratch Fever%253a Posts %2526 Trees 77%22 Solid Wood Cat Tree In Beige
A great attraction for your cat that loves to jump on trees and take soothing naps in comfortable places. This 77'' cat tree is made of solid wood, has several diifeerent platforms, 1 kitty house, and 1 comfy hammock for your cat to swing with style.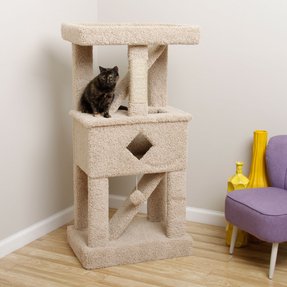 Cat Play Gym Fully Assembled & Solid Wood Cat Condo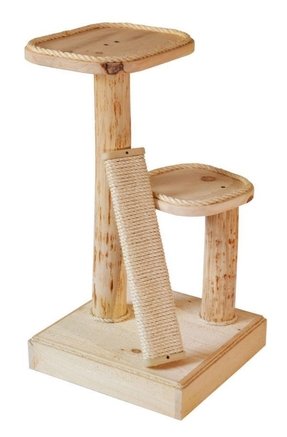 Two Level Natural Cat Furniture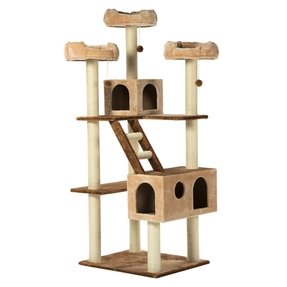 71" Cat Tree
A very complex cat tree that provides good fun for one or more cats. It is made of wood covered with faux fur or natural rope. It includes many scratching posts and small cat condos. All elements of this tree are safe for cats.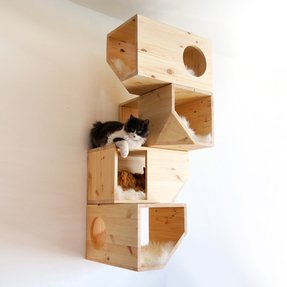 Mount on the wall the funny cat tree with a lot of attractions for your lovely kitties. It is made of solid wood and sheepskin, so it's comfy, attractive and fits to any decor.

Your cats will love this double wooden perch. Its versatile design blends seamlessly into any space. It features solid wood construction, wide base for stability and protective felt pads that prevent scratches, chips or dents on your floor.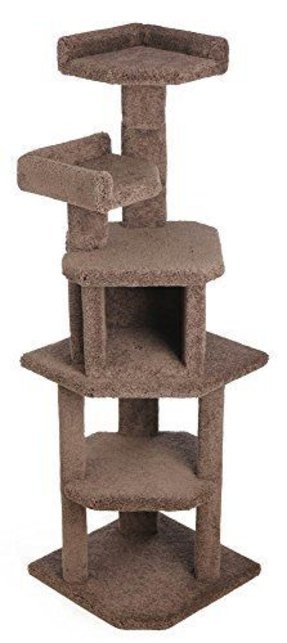 Solid Wood Cat Tree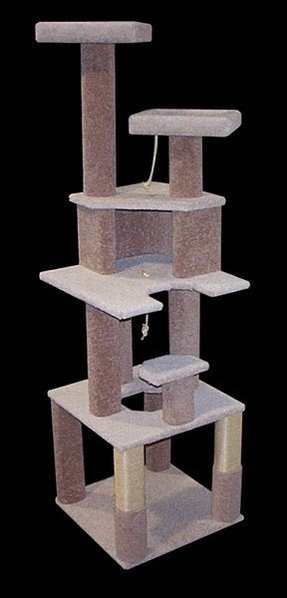 Cat tree made of wood and reinforced with solid supports. It is covered with thick carpet to prevents scratching. It has 6 levels in various sizes and shapes. Simple form and neutral design for each place.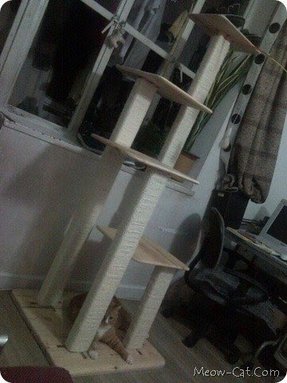 A practical toy for your energetic cat and a nice decoration for your home. This tree is consisted of multiple wood platforms, where your cat can rest and train its jumps. And the poles are covered with durable material that your cat will love to scratch.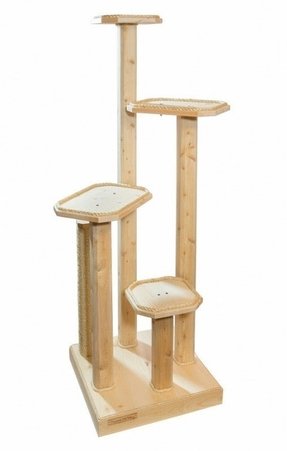 Cat tree in traditional form. Construction is made of wood. It consists of 4 levels in various sizes. Application in all kinds of interiors as needed.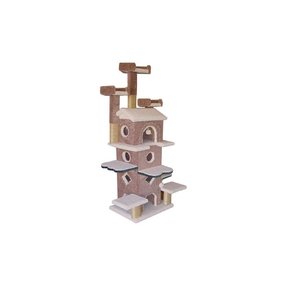 Cat Tree made of solid wood. The Best Cat Furniture on the market!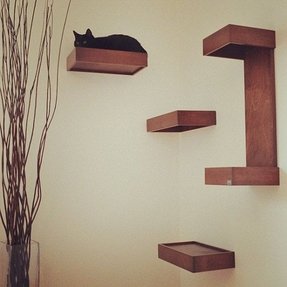 Cat Wall Shelves
Unusual cat furniture. Set at different heights, these shelves will be a great treat for your beloved cat. Plus, given how stylish these wooden shelves are, your guests won't be sure if this is art, or maybe cat's entertainment indeed!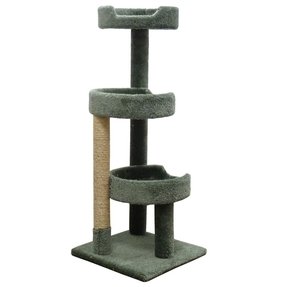 50" Premier Kitty Pad Cat Tree
Lady and sir cats, we have something for you! This cat tree has a solid wood construction and is perfect for every size of a kitty - for these bigger and smaller ones. It is worth highlighting that this piece has been made in the USA - for an American quality!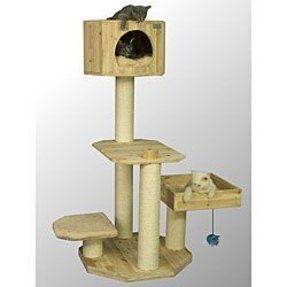 142 19 cat furniture high solid armarkat high cat entertainment ...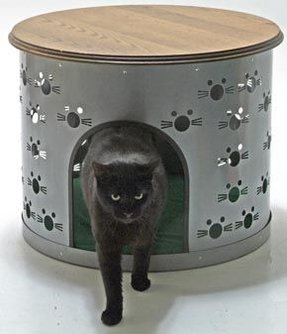 23" Round Cat Cubby with Solid Wood Top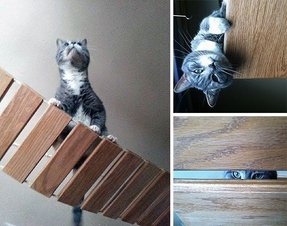 Everything is handcrafted with solid wood using fine woodworking ...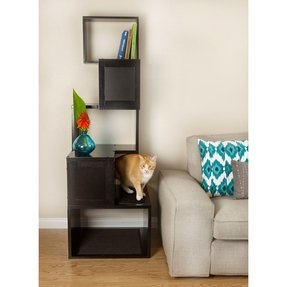 The Sebastian 65" Modern Cat Tree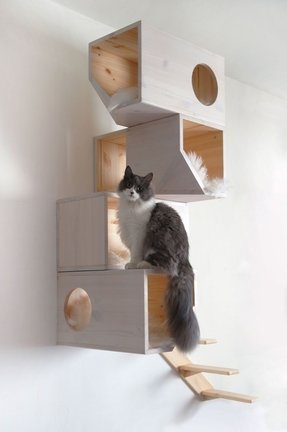 This cat looks really pleased with its brand new cat furniture crafted skillfully from solid wood. Blending perfectly with minimalist contemporary style, this cat house features lots of compartments with stairs and cutout round peek-a-boo holes.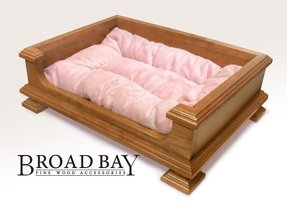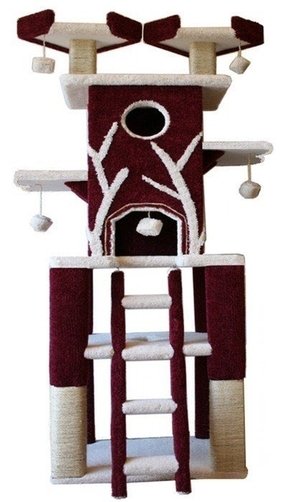 Our Cat Condos are solid wood.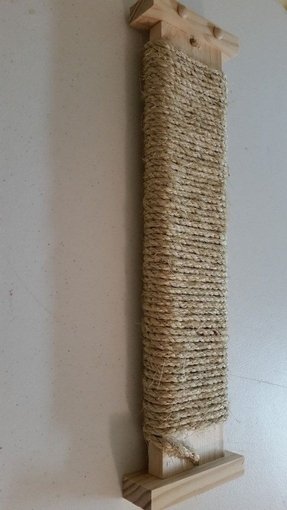 Cat Scratching Post Floor Model , Solid Wood and Sisal Rope New, Custom Built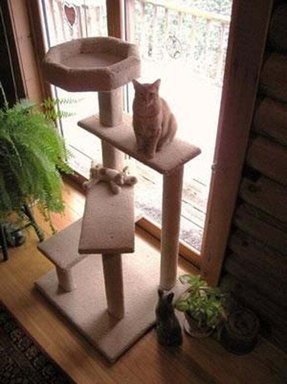 Solid Wood Cat Tree Scratching Post
The cat tower, which is constructed of the solid press board and heavy plywood. It has a lot of attractions for your lovely cats. Everyone will tell you how cool it looks in your home.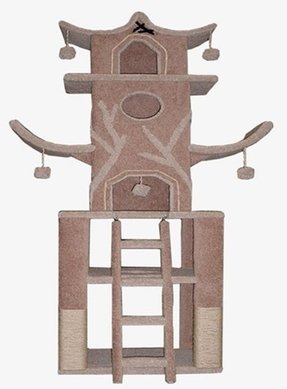 Cat Tree made of solid wood. The Best Cat Furniture on the market!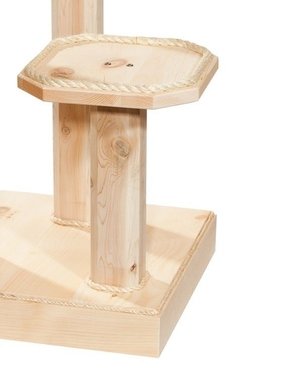 ALL NATURAL CAT TREE - 53" MEDIUM 3 LEVEL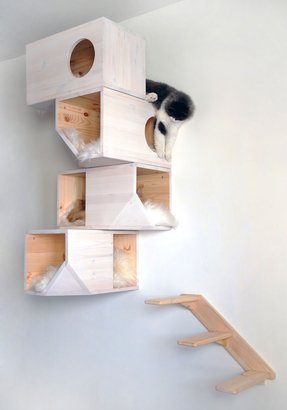 Catissa Wall Mounted Cat Tree Solid Wood and Sheepskin Cats Love It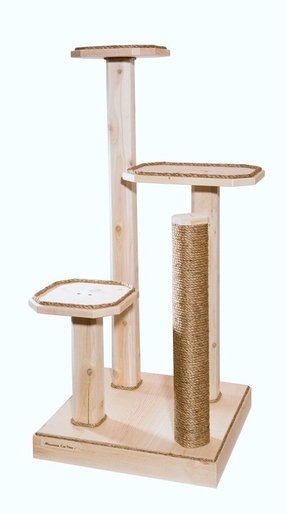 natural wood cat trees give your cat her own solid wood cat furniture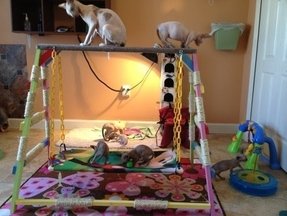 Fun Solid Wood Cat Climber & Scratcher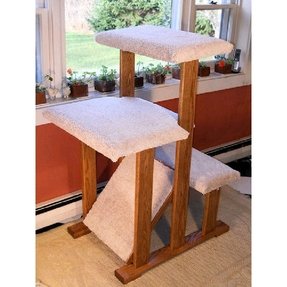 ... Cat Furniture by Type » Cat Trees » Solid Wood Triple Perch Cat Tree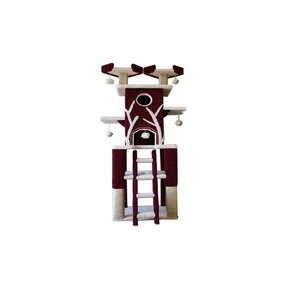 If you are looking for an attractive solution for your cat's play and relaxation, this stylish solid wood cat furniture will be perfect. Impressive form and colors will fit it into the decor, and the cat will be euphoric with the playground.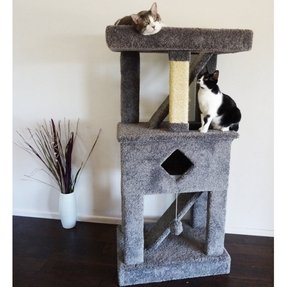 Cat-Play-Gym-Fully-Assembled-Solid-Wood-Cat-Condo-88bcba29-aa47-4214 ...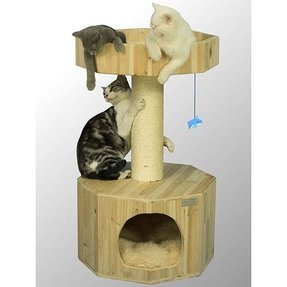 - Armarkat High Solid Wood Cat Tree - Color: BeigeCat Condo is made of Fabric, solid wood, sisal ropeCat Tree Dimensions: 18 inches long x 18 inches wide x 31 inches high
Cat Tree Clearance 72%22 Premiere Solid Wood Skyscraper Cat Tree
A cool tall contemporary cat tree with a frame of solid wood entirely wrapped in light grey carpet fabric. It's built of a square base, 3 tall round posts, 4 semi-cylindrical alternately directed horizontal shelves, a top shelf with raised edges.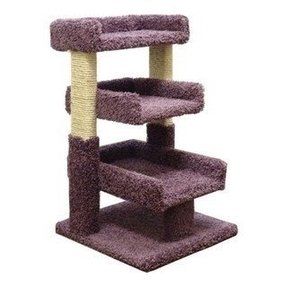 New Cat Condos Solid Wood Triple Cat Perch (Thinking I could make something like this as steps out to the catio)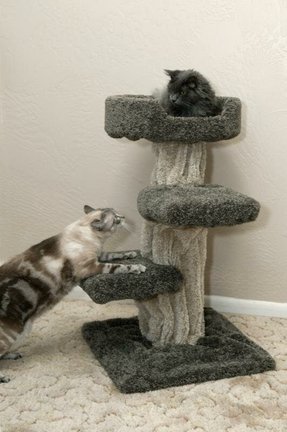 33" Premier Cat Tree