Wooden Dog Gate
Letting your pooch have free reign of the house when you're out is risky-business, especially in their earlier years. Wooden dog gates are a trusted way of keeping your pup out of unwanted places (and trouble), and provide a more spacious alternative to a crate.
There are more styles of pet gates out there than you may think! To help you pick the right one, consider the size of your dog to make sure they can't jump over or squeeze beneath the gate. Looking for something temporary or portable? Then a free-standing style will do the trick. Otherwise, a wall-mounted design provides a sturdy and more permanent option. Check out our suggestions!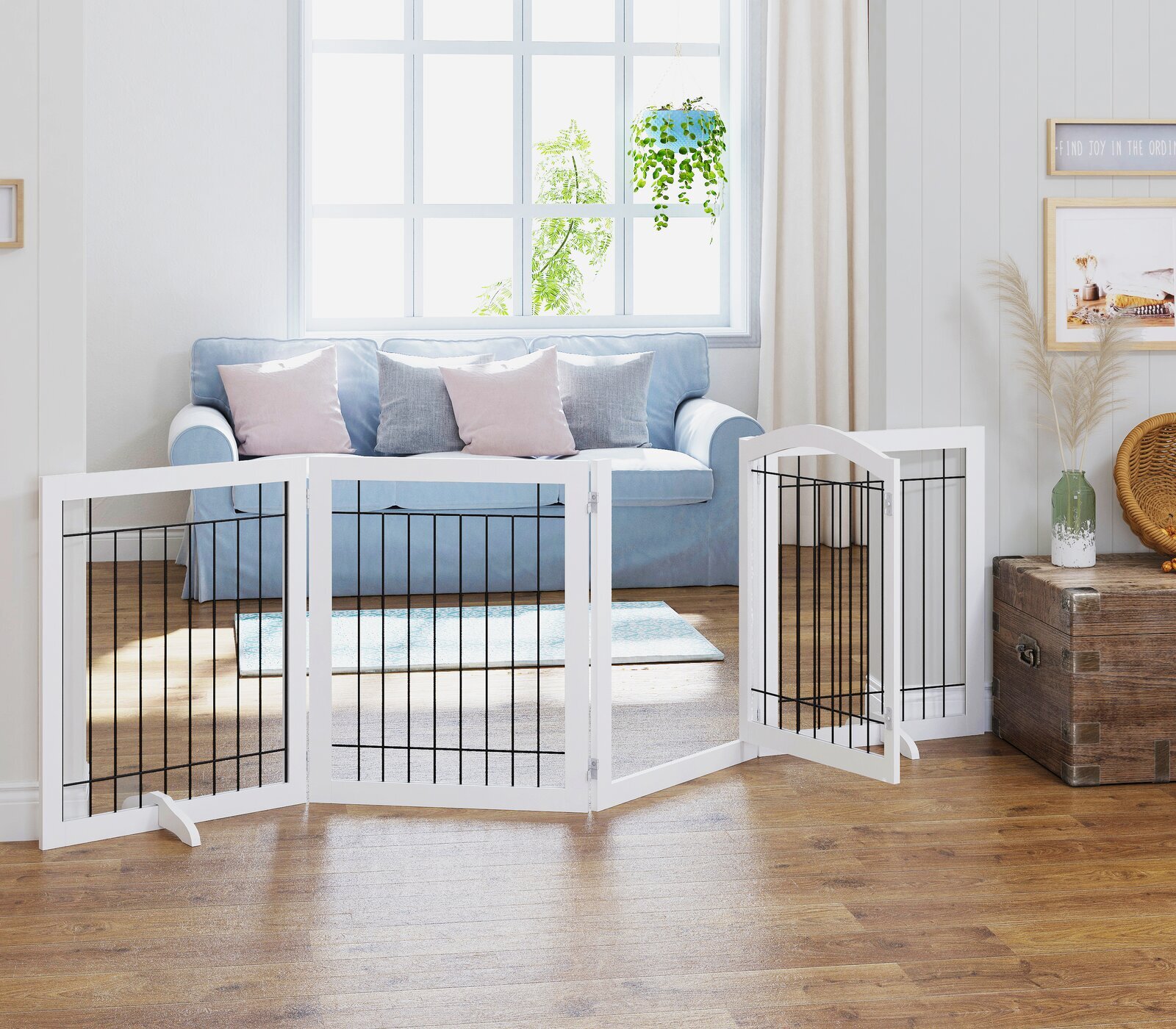 Freestanding Wooden Dog Gate with Support Feet

Worried about your hyperactive canine chewing your furniture to pieces? Freestanding wooden dog gates are a popular solution amongst dog owners, particularly where versatility and portability are a priority. Light-weight and foldable, they can be easily moved around the house, packed into the car, or compactly stored away when not in use.
If you're worried about your mischievous pup knocking the gate over, look for a model with attached support feet for added balance and solidity.
Wall Mounted Solid Dog Gate

Tired of chasing your naughty dog down the stairs? Some pups just never learn their lesson, so a wall-mounted solid wood dog gate is a great choice if you need a more permanent solution. Easy-to-install in any doorway or staircase, wall-mounted designs are ideal for the more boisterous furry characters, as there's no chance of them being knocked down.
Make sure to measure the width of the space you wish to install your wall-mounted gate before purchasing. And, particularly if you are planning on installing it at the top of the stairs, opt for a design without a step-over bar, for obvious safety reasons!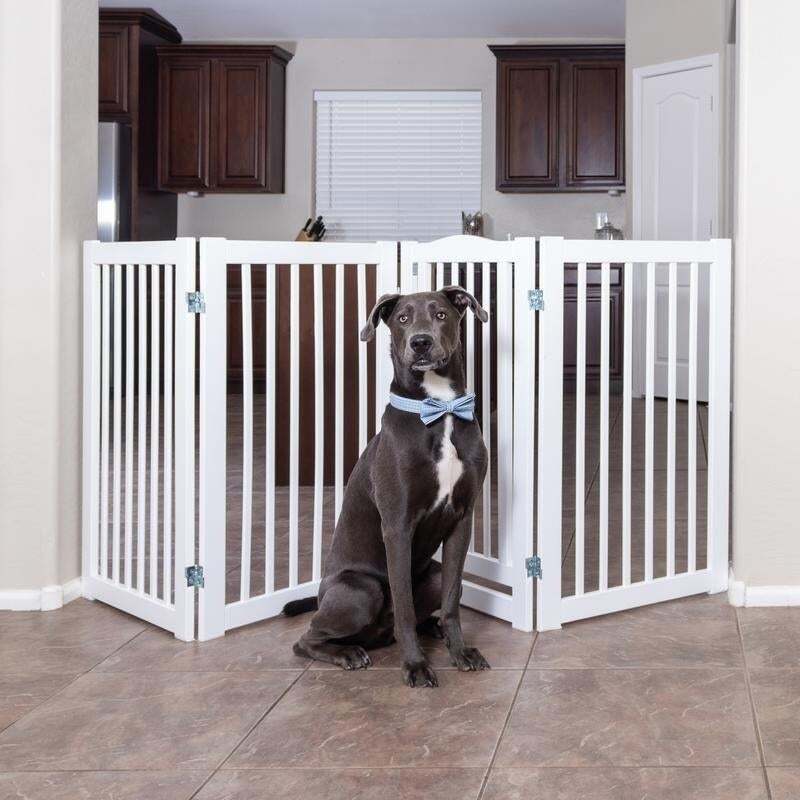 Tall Wood Dog Gate Indoor

Whether you're the owner of a large hound, furry high jumper or four-legged escape artist, an extra-tall wooden dog gate is what you need. Standard pet gates vary between 20 to 32 inches high, but sometimes that just doesn't cut it. Gates with a height of 36 inches are regarded as extra-tall, and that extra bit of height will help prevent even the most lively of dogs from escaping!
To help you choose the correct height for your pet gate, take into consideration both the height and sprightliness of your canine.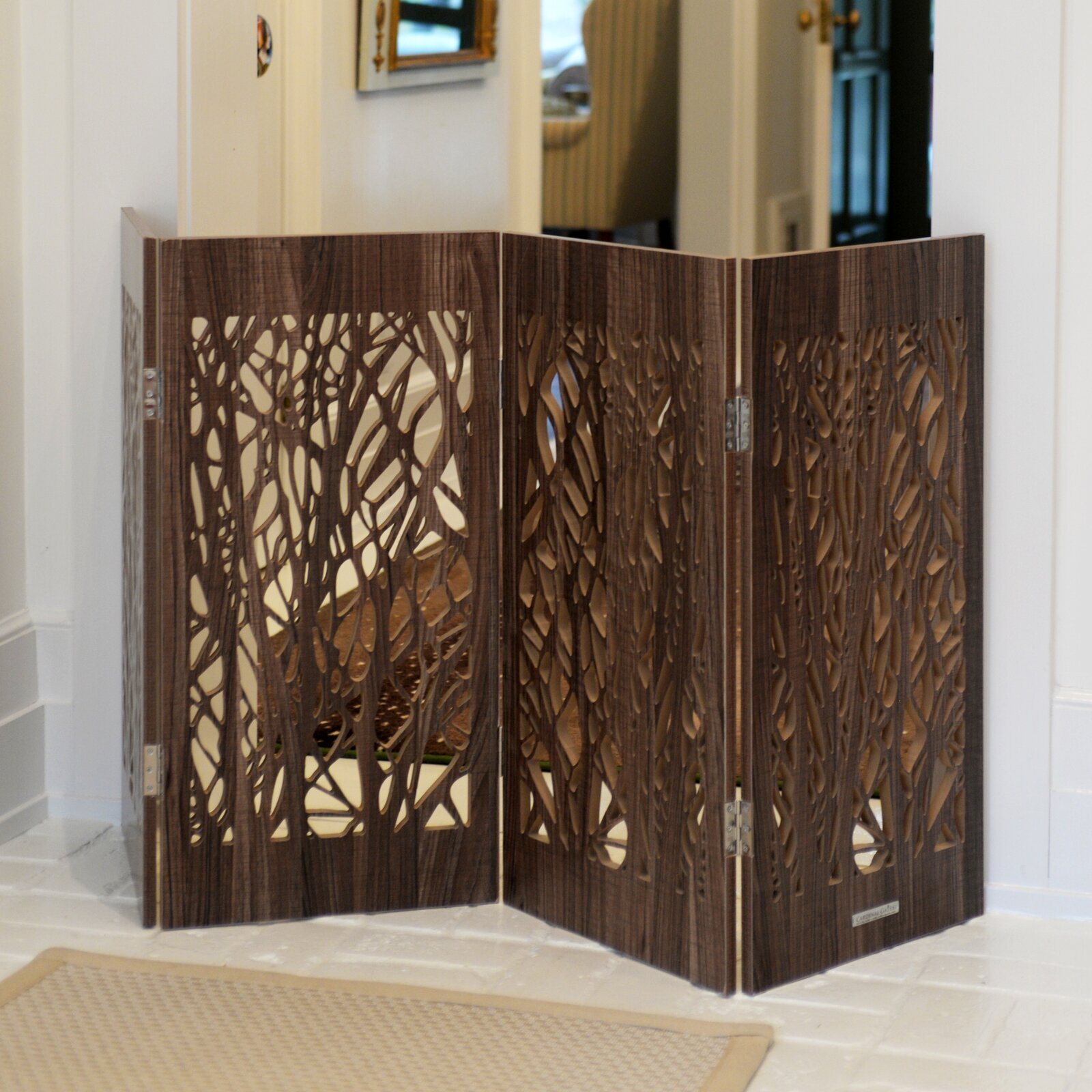 Decorative Wooden Pet Gate

Looking for a dog gate that's not a complete eye-sore? One of the benefits of wooden pet gates is that they come in a variety of styles, colors and designs to suit every decor. Aesthetics aside, small decorative details, like this example, also have the added benefit of being more challenging to chew through!
Some wooden gates are heavier and harder to manipulate than others. Be sure to pick one that can be easily handled by all household members.
$149.99 $159.95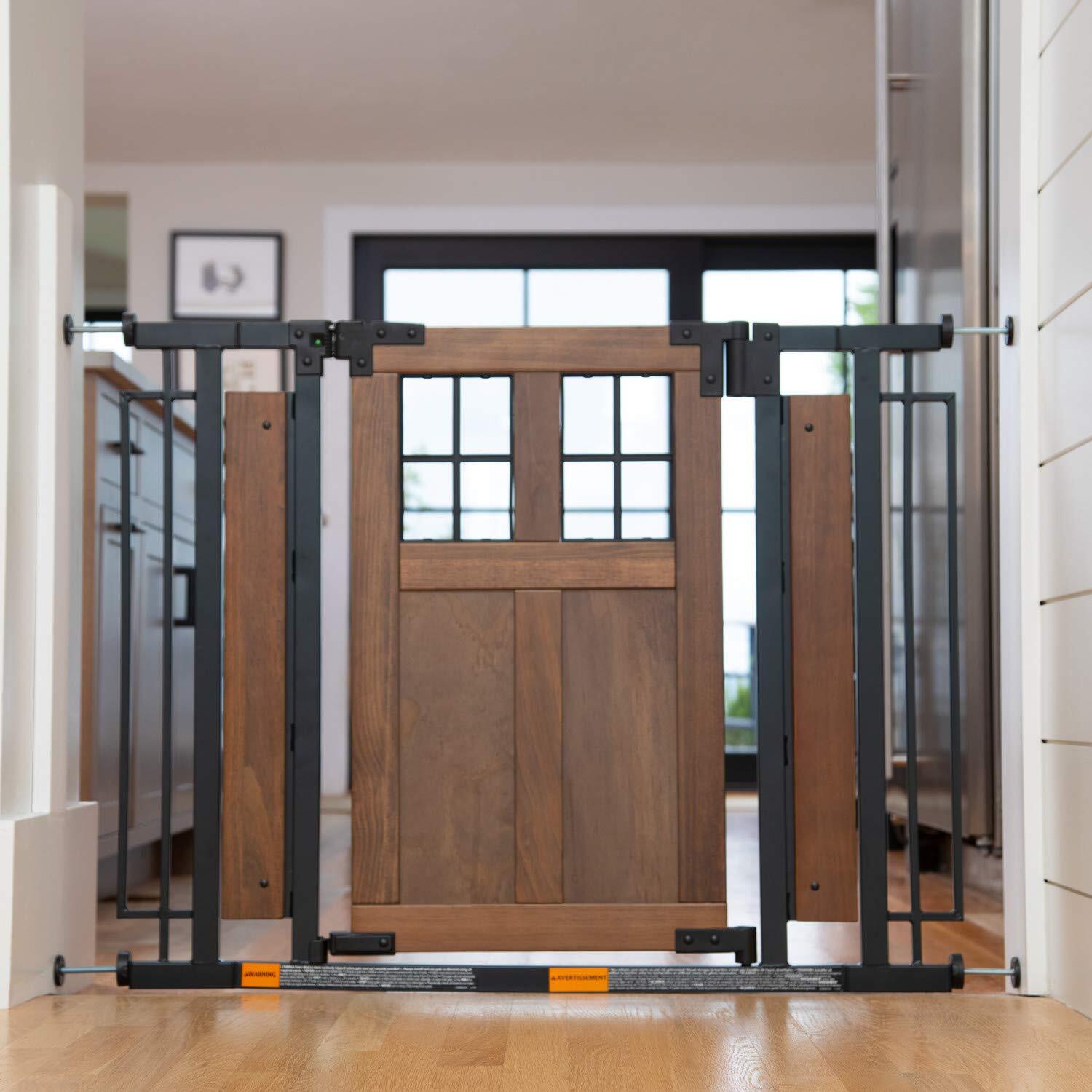 Walk Through Wooden Door Gate for Dogs

For paw-rents who need easy, fluid access between gated spaces, a walk-through wooden pet gate is a great option. One-handed latch systems allow you to open the gate with ease and walk from room to room, without the hassle of having to take the gate down or re-adjust it into place each time.
Some walk-through gates come with other handy features such as an auto-close hinge, so you don't have to worry about guests or kids forgetting to close the gate behind them.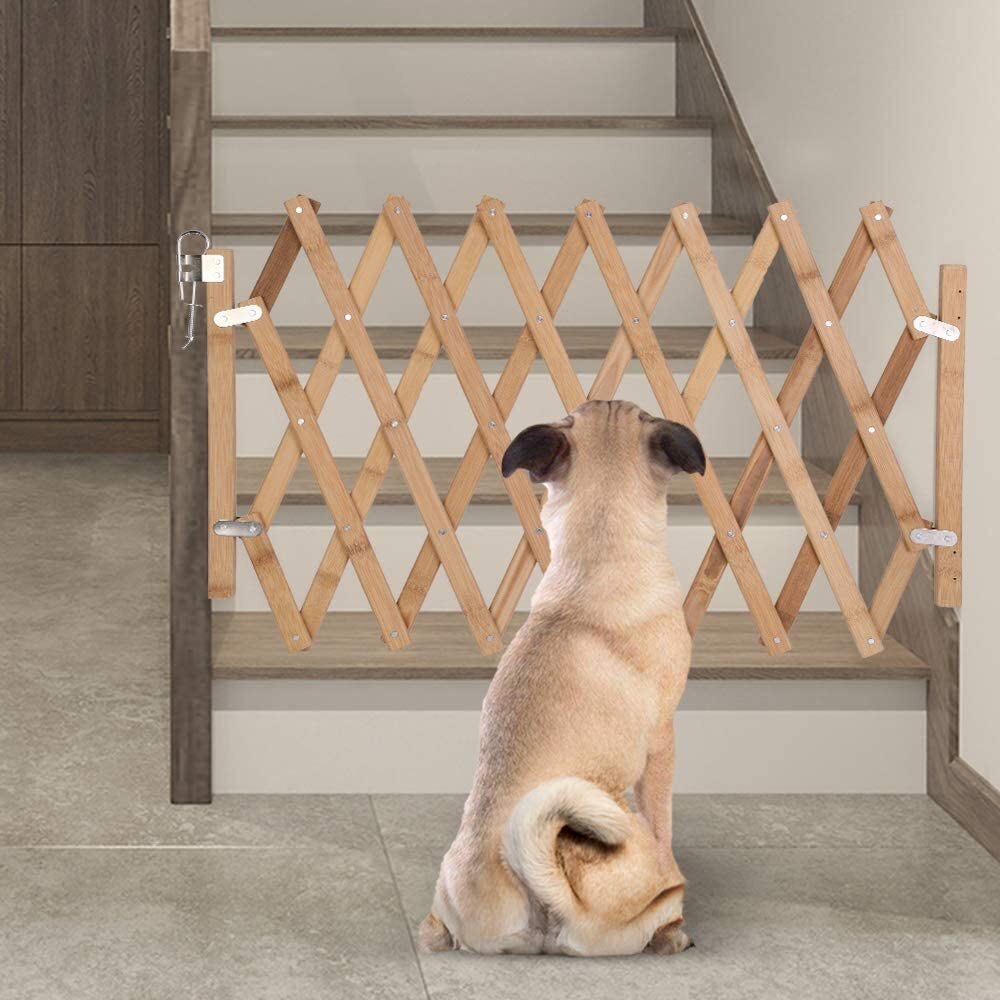 Wooden Expandable Accordion Dog Gate

Do you have unusually wide or narrow hallways or doorways? Expandable dog gates have a versatile design that easily expand and contract to accommodate a range of widths. The accordion-style is particularly practical for tight spaces as, when contracted, it occupies minimum space for easy maneuverability, and compact storage when not in use.
Make sure to measure your dog's chest before purchasing and installing a suspended gate to ensure they can't pass underneath it.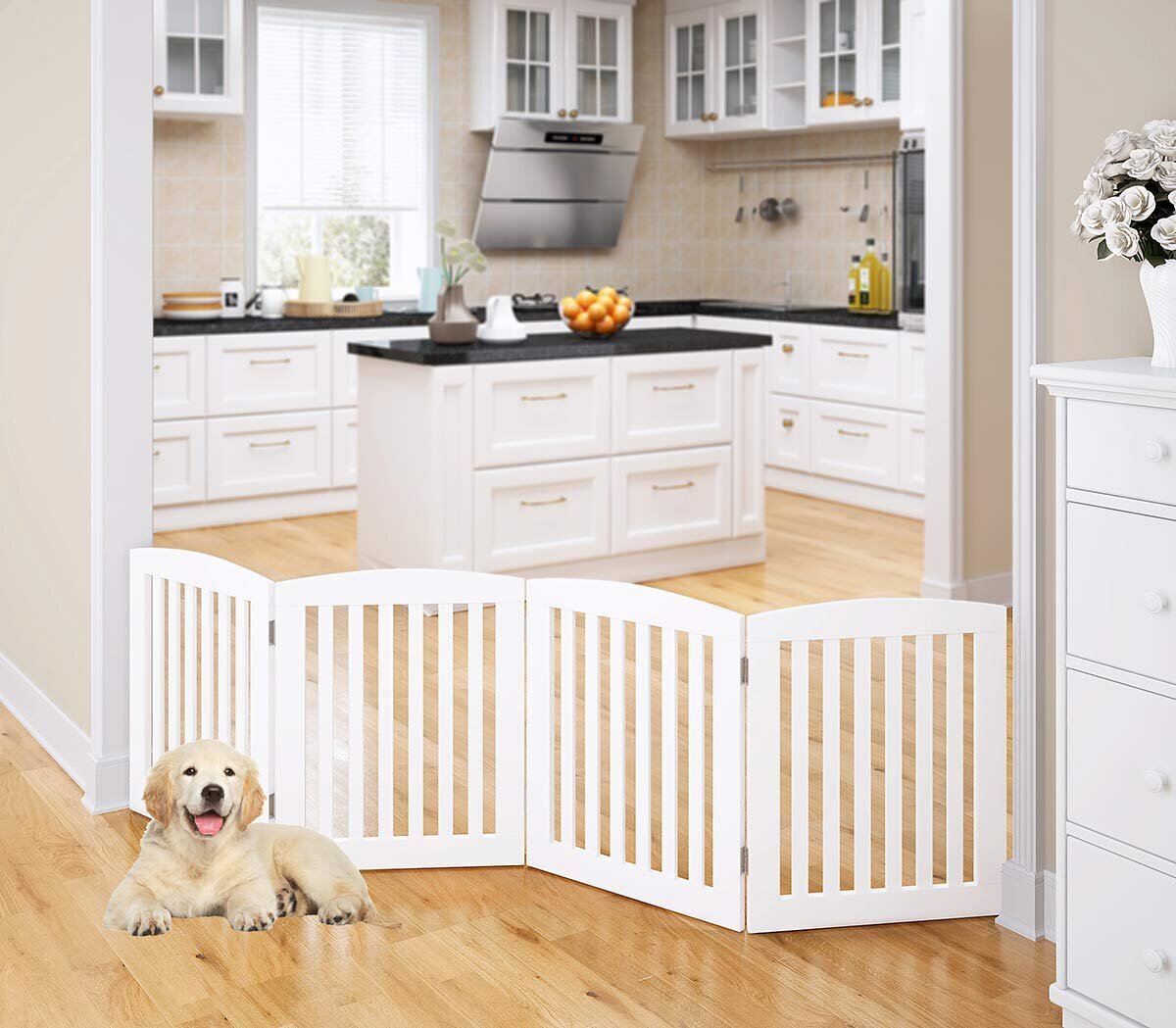 Freestanding Foldable Wooden Dog Gate

From pet gate, to room divider or dog pen, freestanding foldable wooden dog gates provide infinite ways of keeping your fur-iend from wreaking havoc whilst you're out! Flexible 360-degree hinges allow you to bend it into the shape you like and easily fold it flat for convenient storage.
Gates with wide wooden slats provide your dogs some pawsonal space, without making them feel as though they are completely cut-off from the home.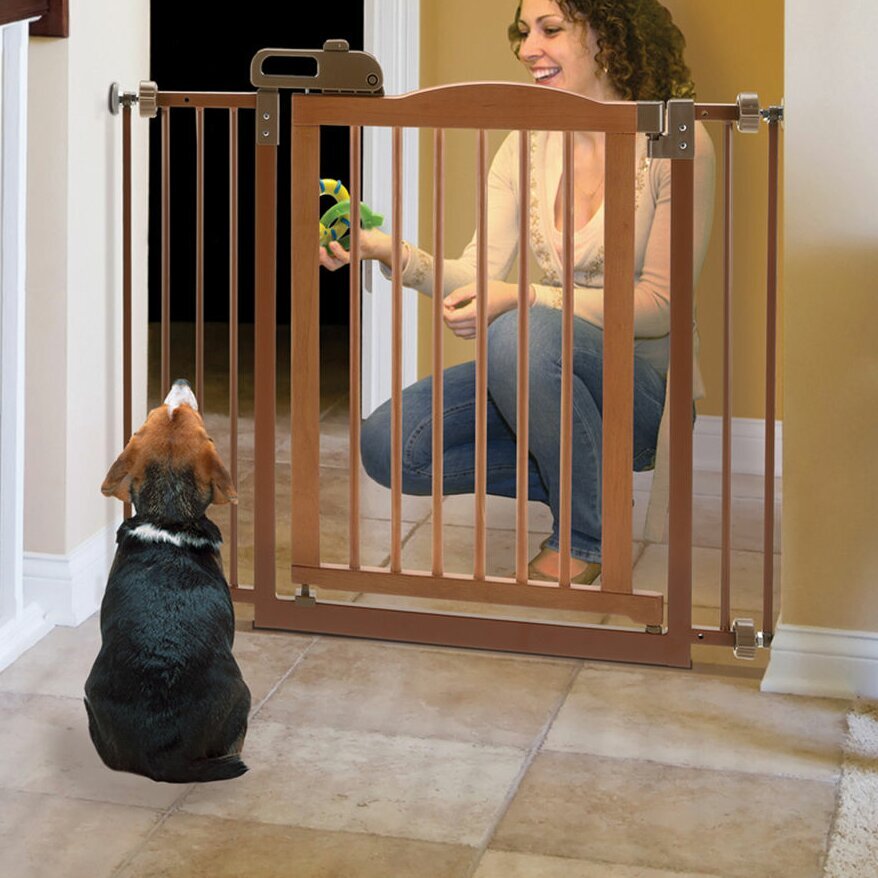 Pressure Mounted Wooden Door Gate for Dogs

Looking for a sturdy yet temporary pet gate whilst your pup is in training? Pressure mounted wooden door gates provide a secure alternative to its wall-mounted counterpart, without the need to drill or screw. The rubber stoppers allow the gate to stay securely in place, without damaging wall surfaces, making them particularly ideal for renters.
Pressure fitted gates are ideal for smaller breeds, or larger dogs that aren't boisterous or prone to jumping up.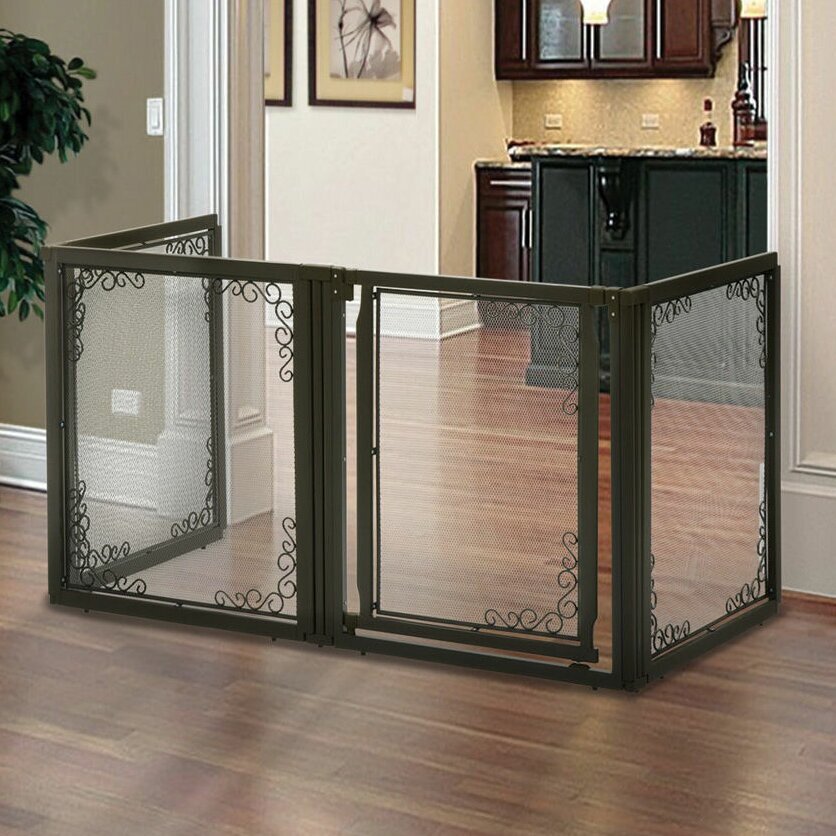 Mesh and Wood Dog Gate

Have you got a young pup who's going through teething? You may opt for a dog gate with a wooden frame and strong wire mesh panels that will prevent him from eating his way through your furniture, walls and even the gate itself! Plus, there's no chance of even the smallest puppies escaping through any gaps.
Consider how you want to use the gate. Perhaps you just want to block off a room or corridor, or maybe you want to be able to create a play pen too; in which case you will need a gate with a minimum of four hinged panels that can be maneuvered into the desired shape.
$349.99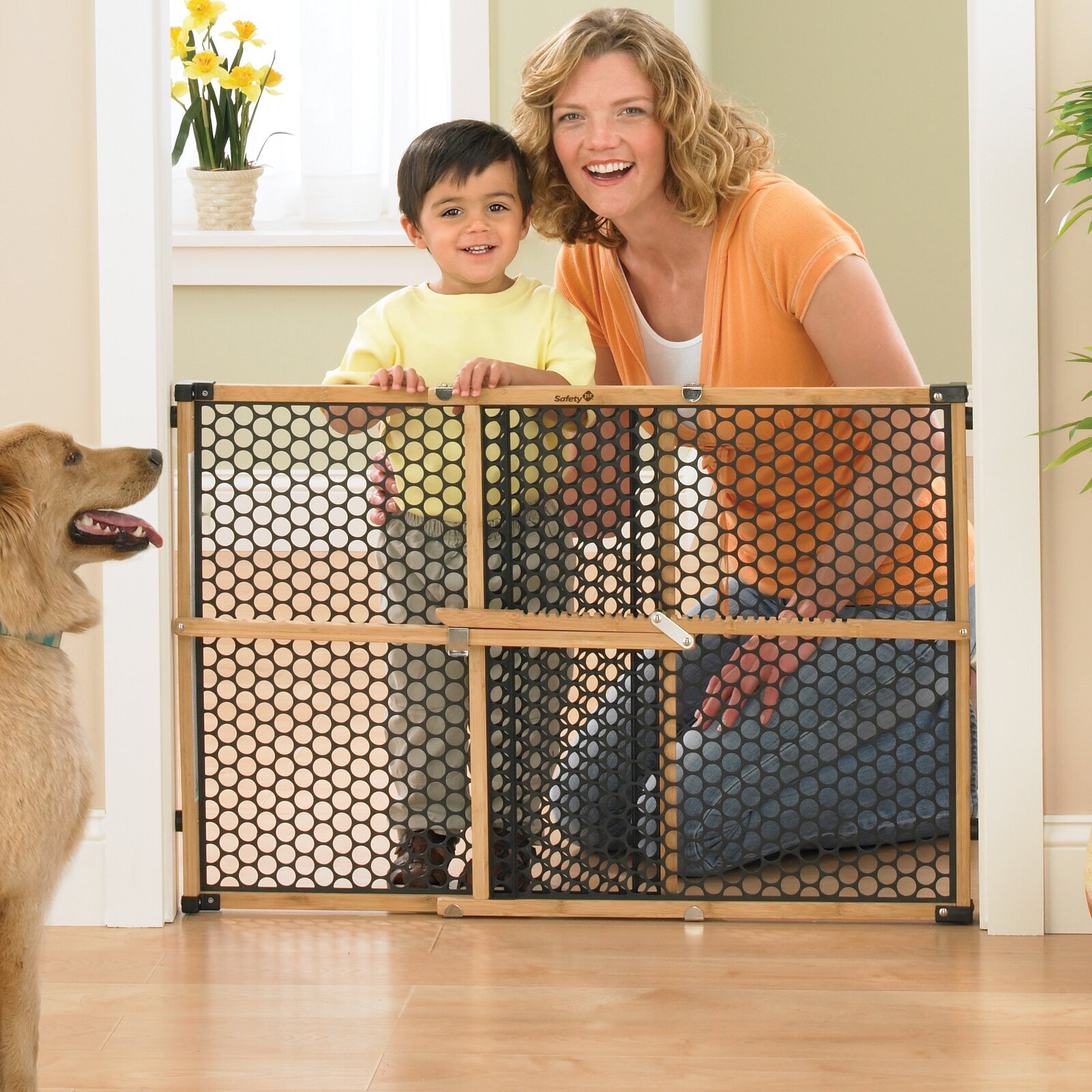 Eco Friendly Bamboo Solid Dog Gate

Bamboo dog gates provide an eco-friendly way to restrict your pooch's access between rooms. A renewable resource, bamboo provides a solid, durable and stylish structure. Some eco-conscious designs combine wood with other recycled materials, such as plastic. These gates are just as sturdy and practical as solid wood pet gates.
If you're planning on using the gate in different parts of the house, opt for a design with a customizable width that can be adjusted to fit different sized doorways and hallways.