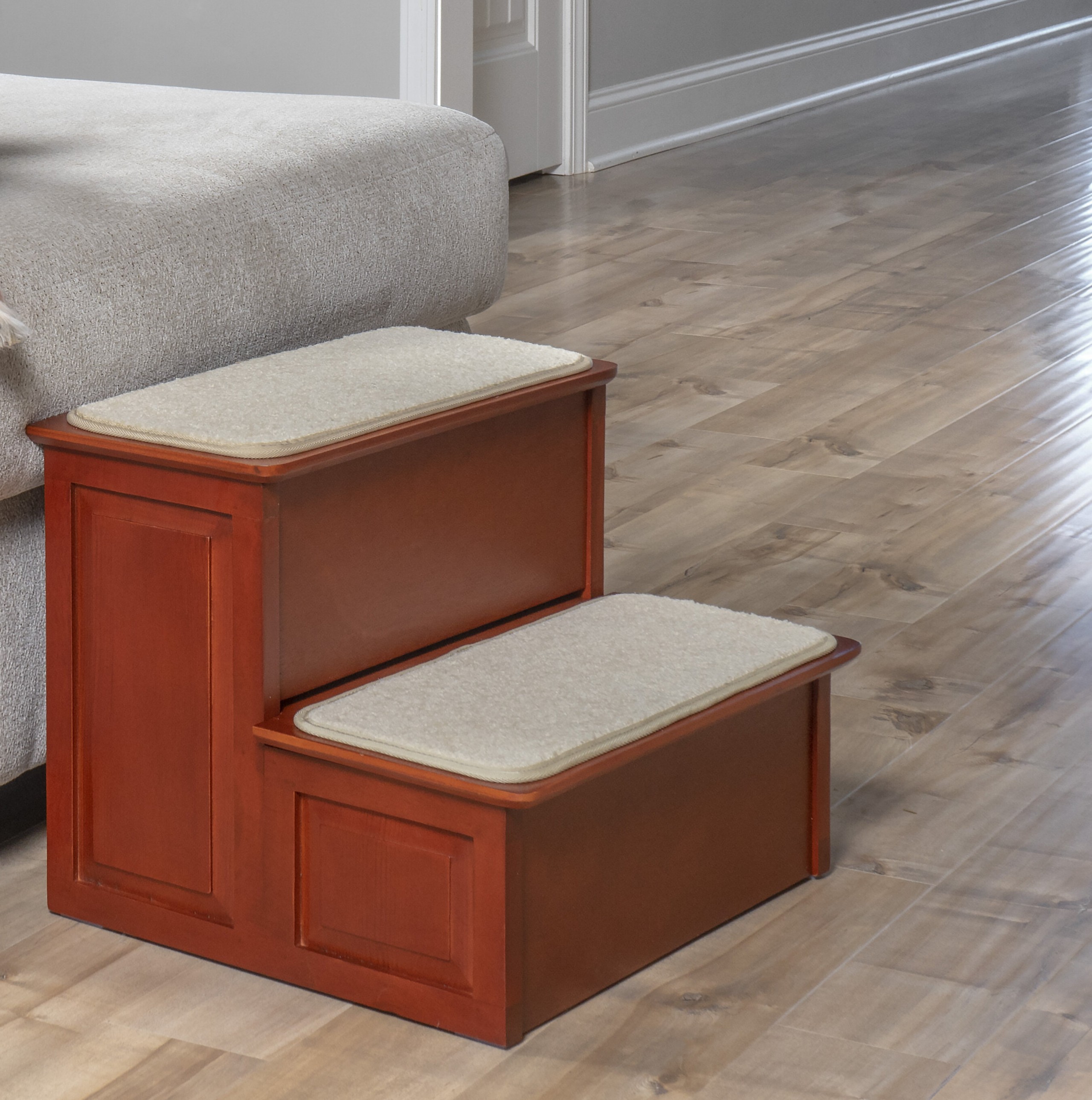 2 Step Pet Ramp
These wooden stairs will support any older dog from a Pomeranian to a St. Bernard up to 120 lbs. Say goodbye to the days of throwing out your back by lifting your dog into bed with these cherry finished, carpet topped elegant dog stairs. Weighing only 14 lbs., these beautiful stairs are a portable option that fits in any room.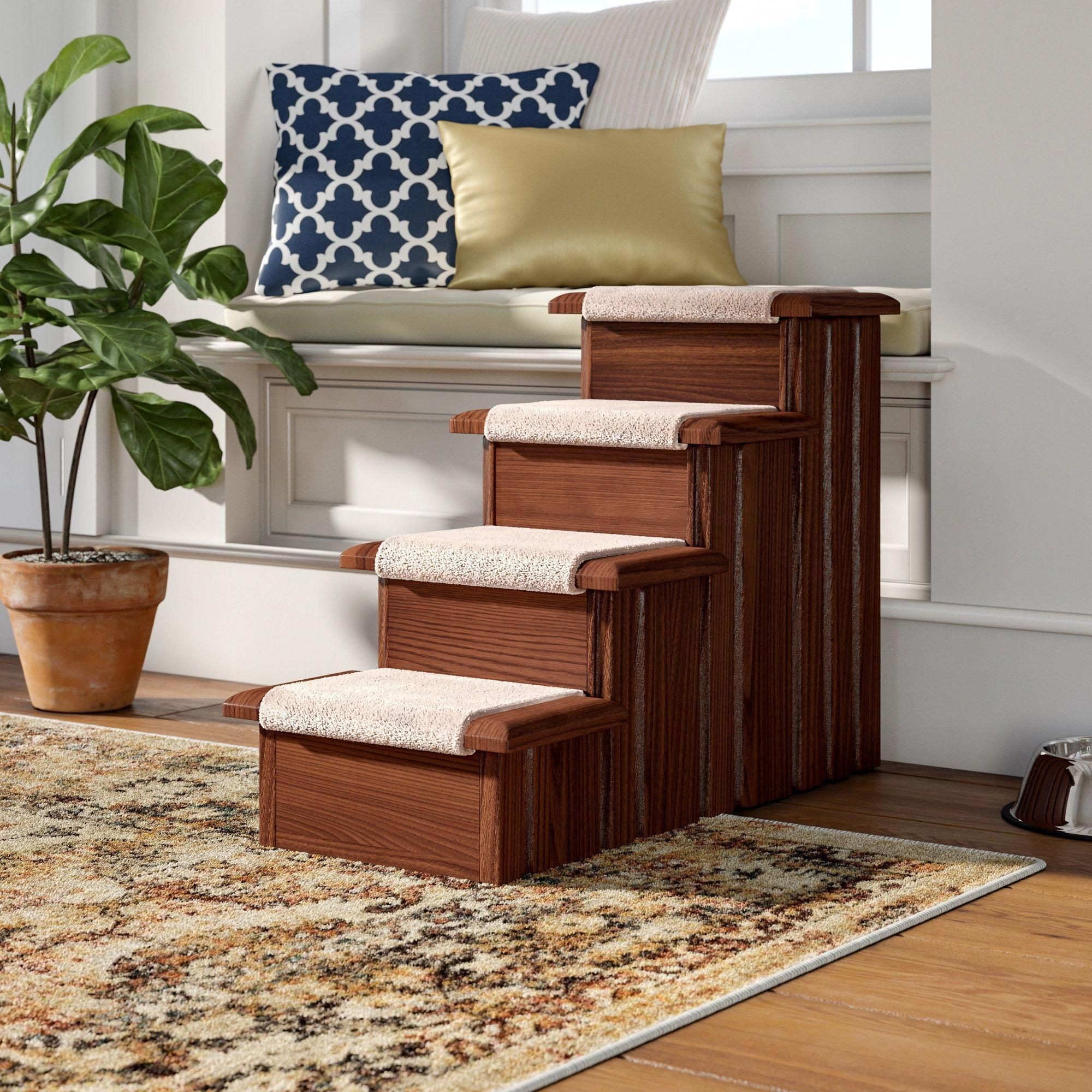 Daria Raised Panel 4 Step Pet Stair
These Appalachian red oak carpeted stairs are both beautiful and an essential item for people with large senior dogs. Choose from a warm, rich cherry, early American, or deep dark walnut finish to complement your bedroom set, and enjoy the dark stain-resistant carpet color. Dogs up to 300 lbs. can use these stairs for cuddling up with you in bed.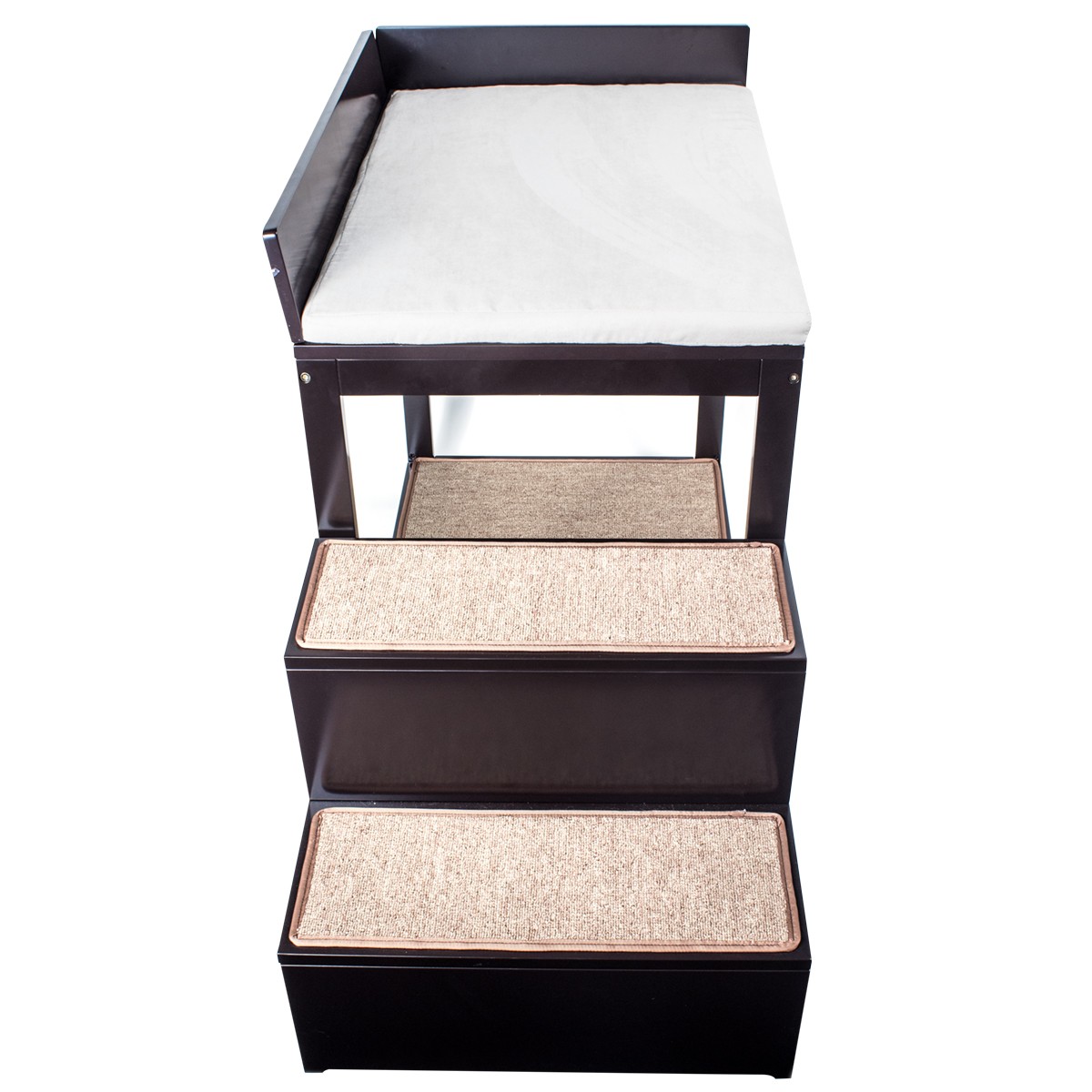 Bunn Buddy Bunk Bed Sider 2 Step Pet Stair
This combination of bed and stairs allows owners with large dogs to sleep closeby without losing precious mattress space. The comfortable sleeping mat is machine washable, and the dark brown and tan color scheme will fit in with most bedroom sets. These stairs support dogs or cats weighing up to 60 lbs., and it's easy to assemble.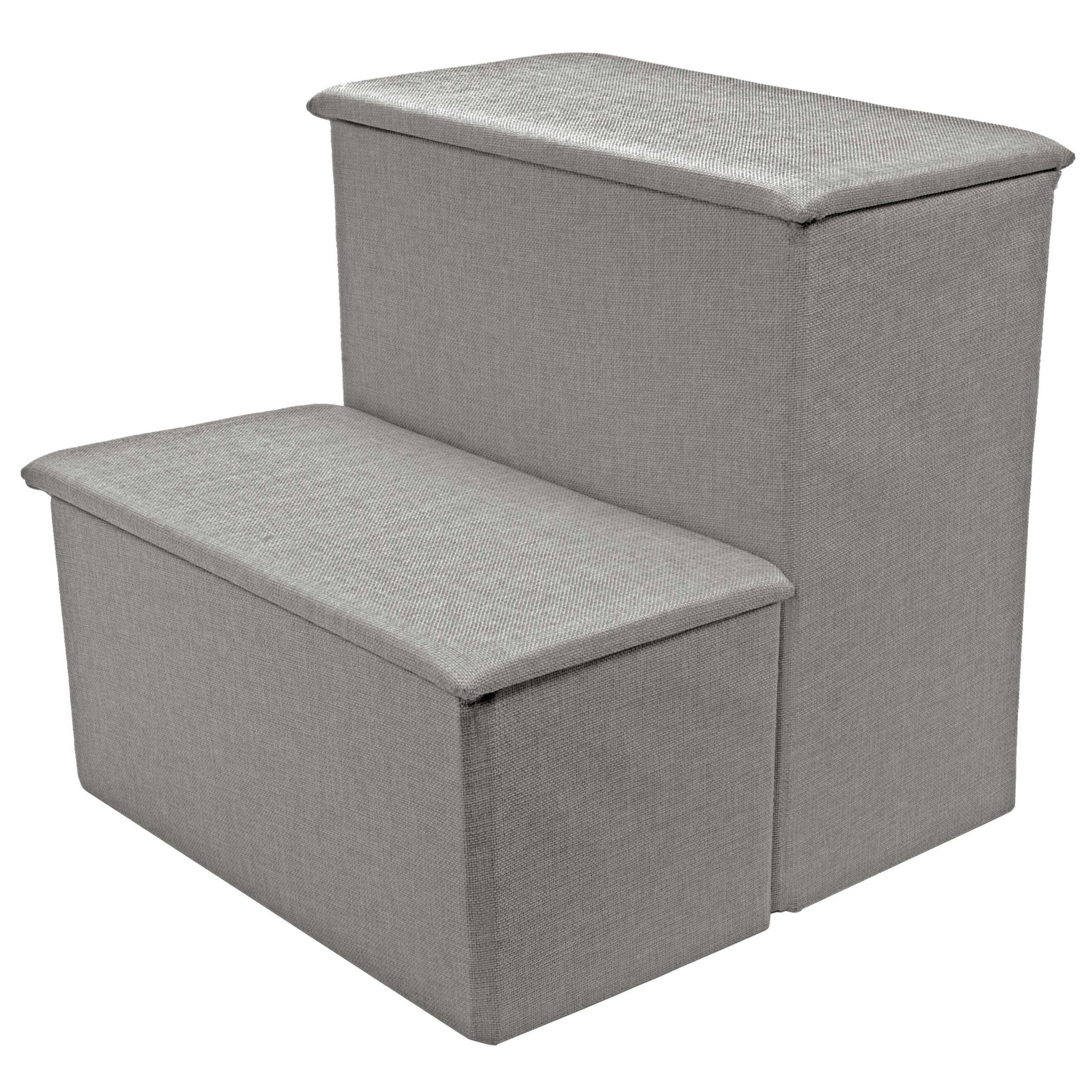 Chi Collapsible Storage 2 Step Pet Stair
This set of doggie stairs requires no assembly and is fully collapsible, making it ideal for small bedrooms or studio apartments. Despite its compact, foldable design, dogs up to 150 lbs. can enjoy these stairs, as long as you have space on your bed for them. The muted grey fabric blends in with your furniture.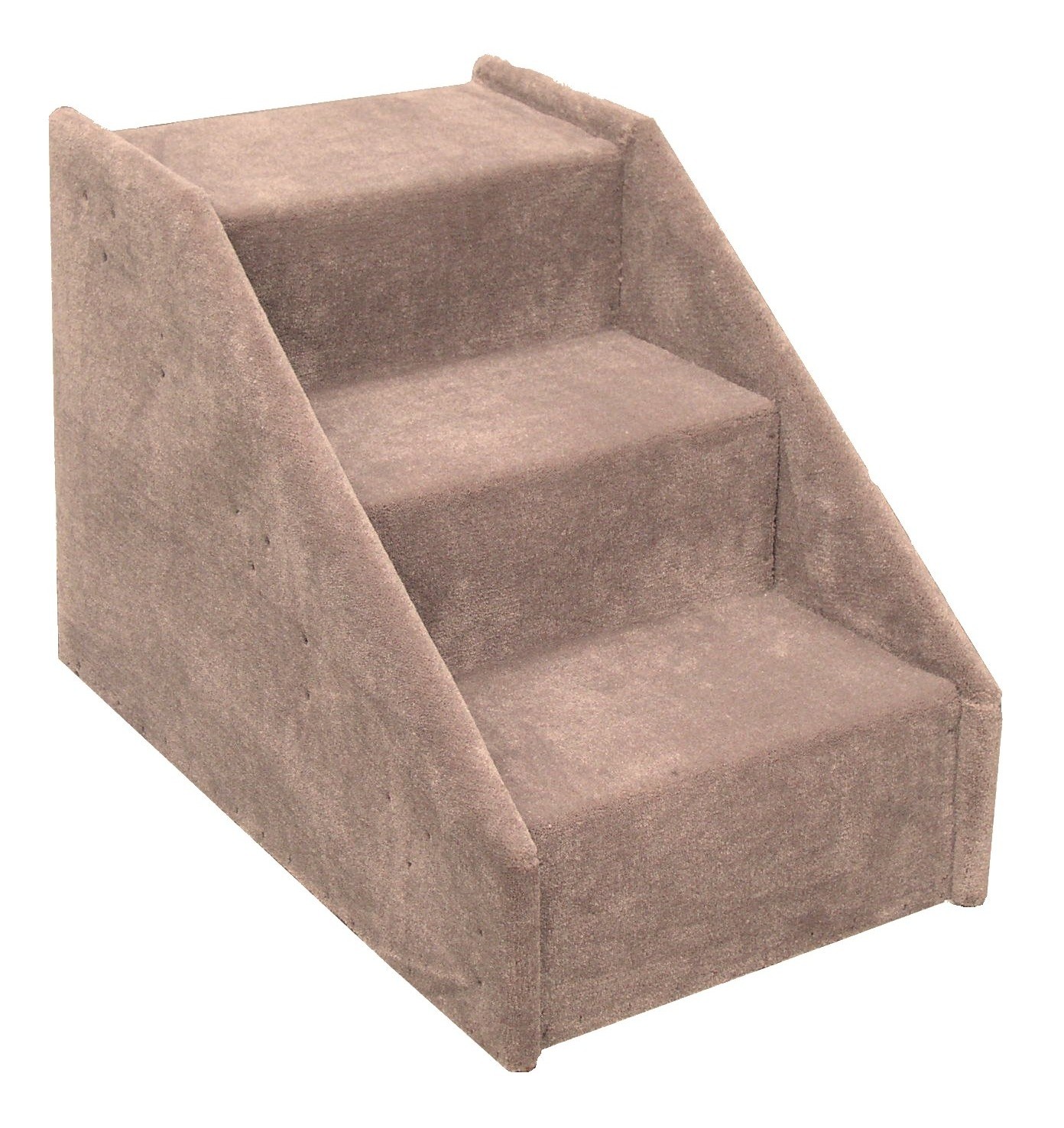 Dog Stairs Carpeted 3 Step Pet Stair
It is a dog stairs carpeted three step pet stair that is perfect for your little pets. It helps your animals to climb into bed or sofa with ease. If you looking for perfect stairs for dogs you need to buy this one.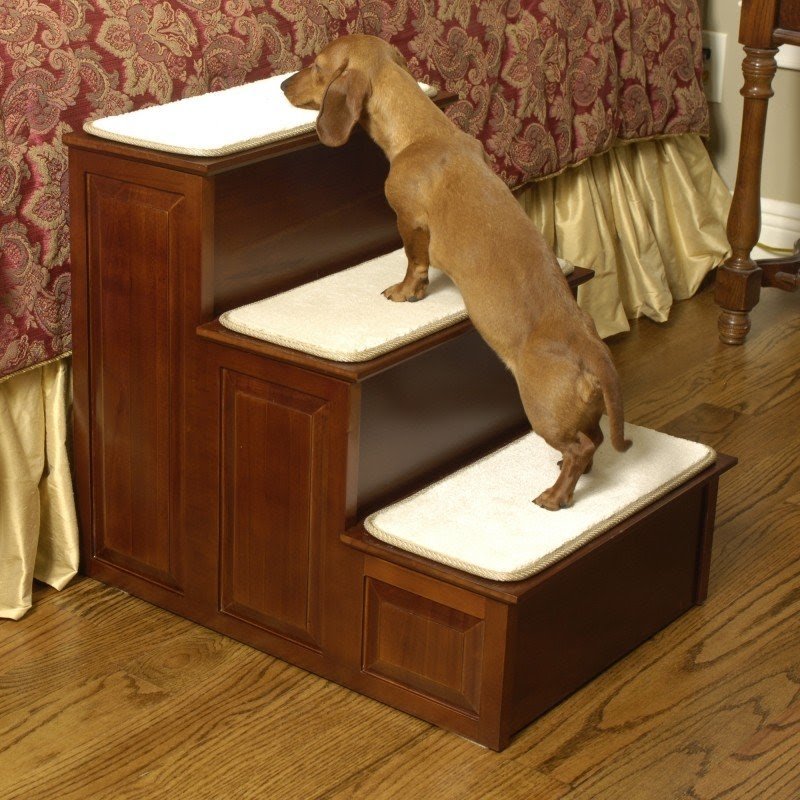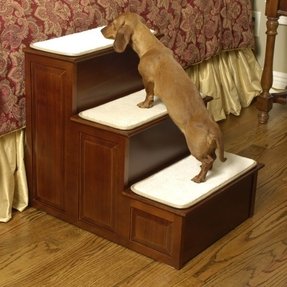 3 Step Pet Stair
Useful pretty stairway intended for old, disabled or small pets. It's made of laminated wood with a cherry-brown finish. It has sides decorated with milling-cut. Steps are lined with durable white carpet fabric with reinforced edges.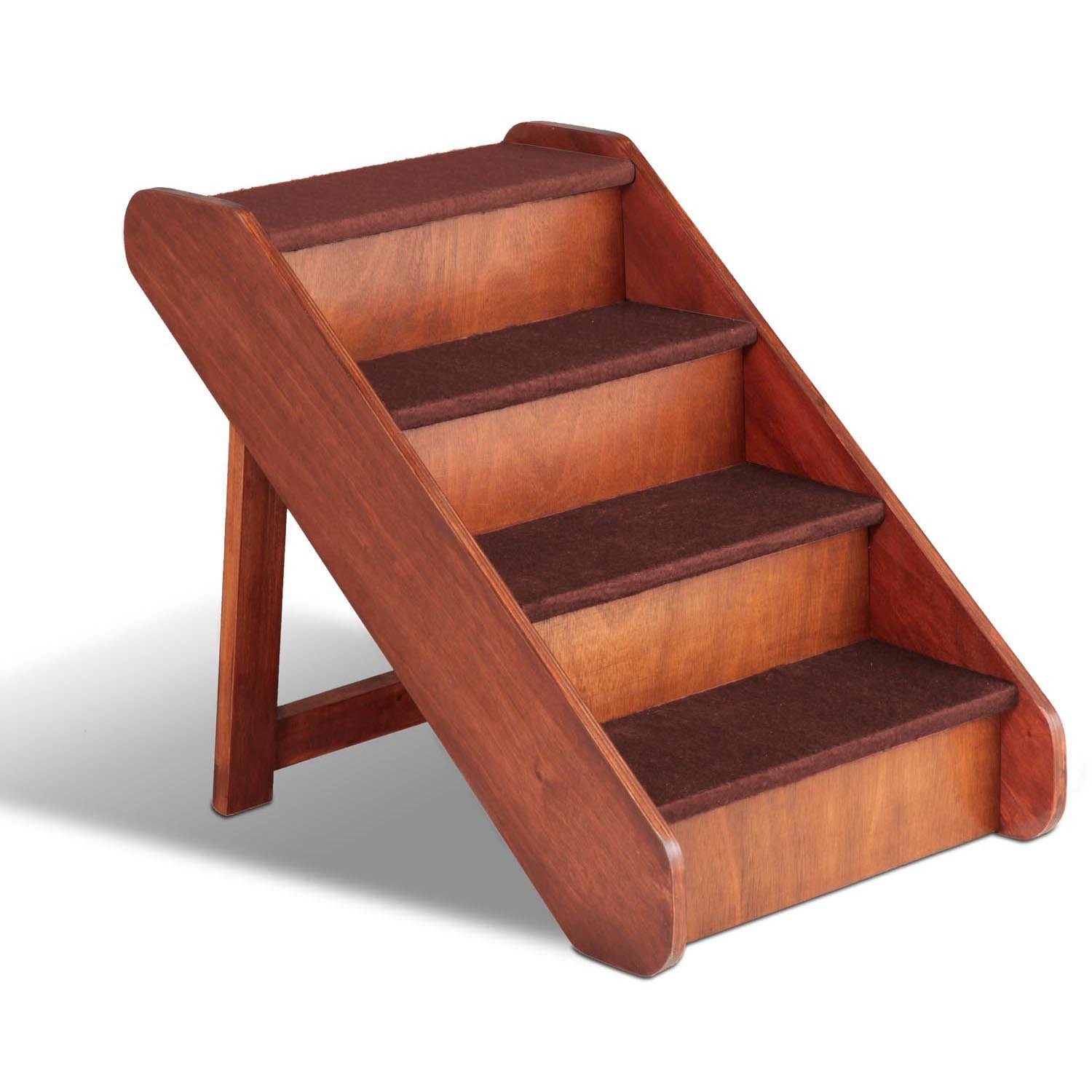 Creature Comforts Winston 24%22 Pet Stairs
If your furry friend is tiny and you want him to easily reach your bed, a window sill or other places, you should get these stairs for dogs and cats. The steps are covered with no-slip treads for greater safety.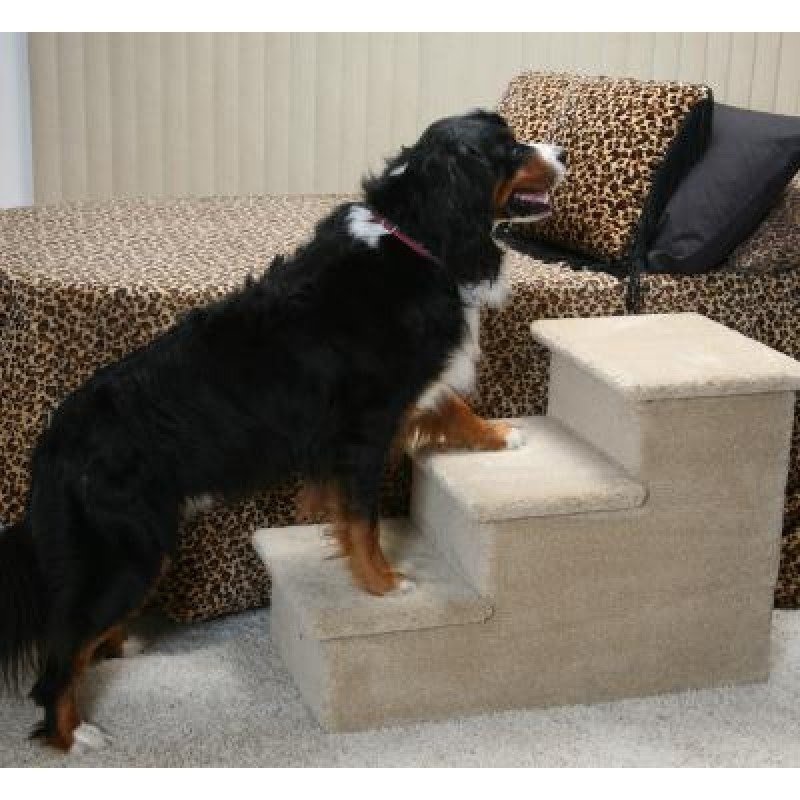 If you are one of those who cannot split up with your doggy, these stairs for bed should come with a solution. They are ideal for elderly or disabled large dogs. Each step rise is 8.5″ high; the lower two stair treads are 13.5″ deep and the top stair tread is 15.5″ deep.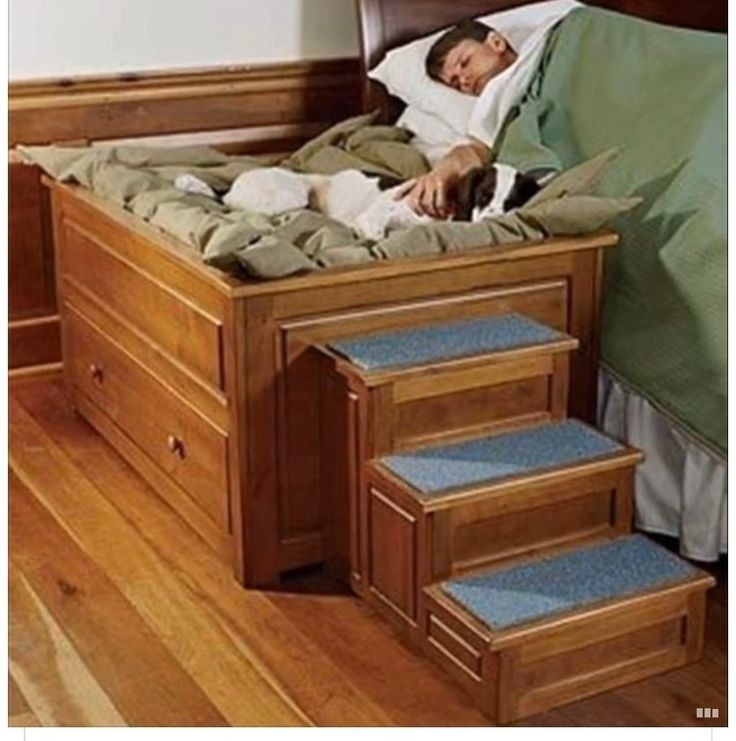 This is a marvelous option for all, who cannot part with their dogs, even while sleeping. This dog stairs are functional and compose well with the rest of wooden interior. Both you and your dog will love them.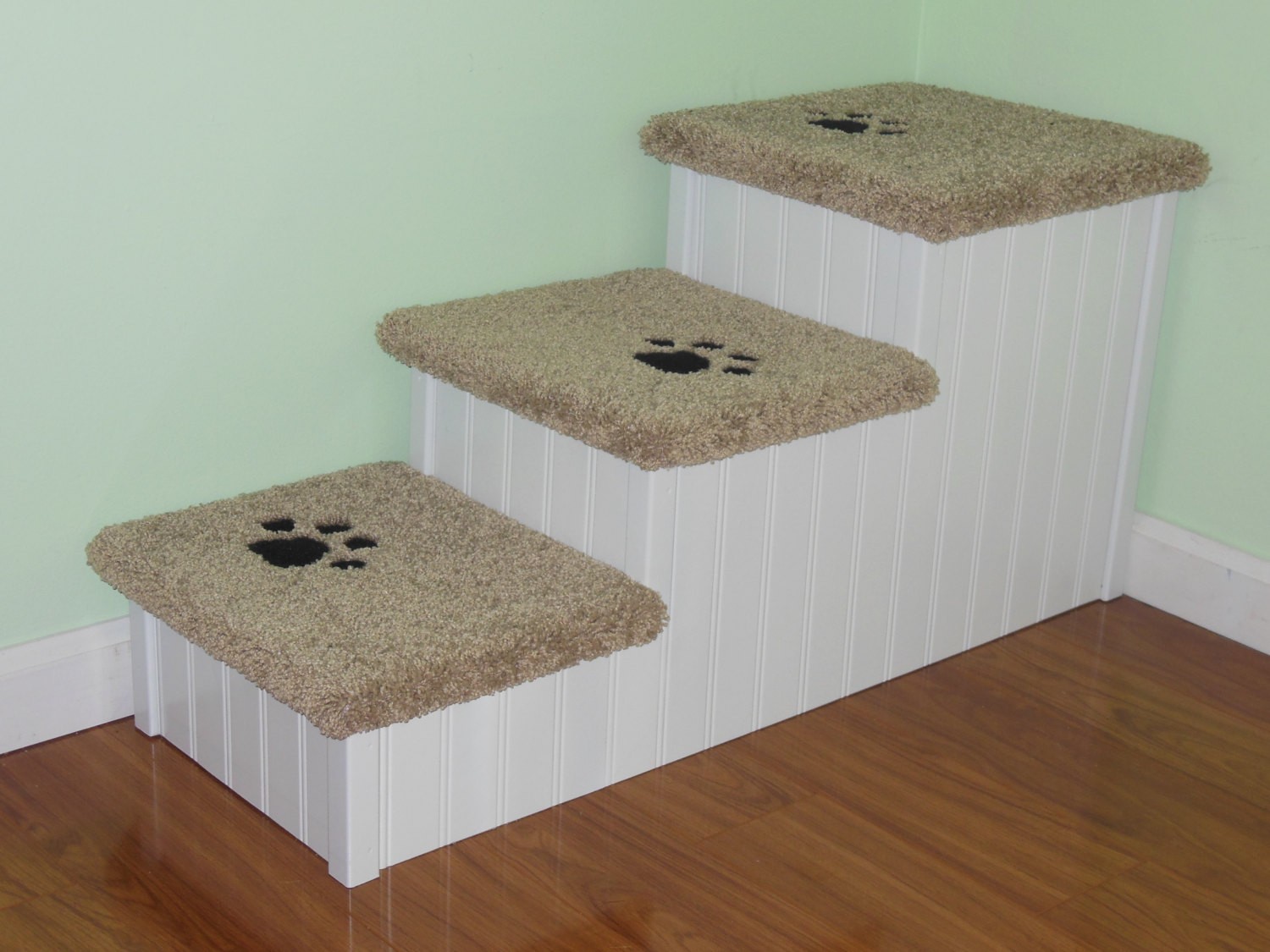 Dimensions are: 24 H x 18 W x 33 L Each step is approx. 8 H x 18 W x 11 D If 18 is too wide we can make them any width you want. Just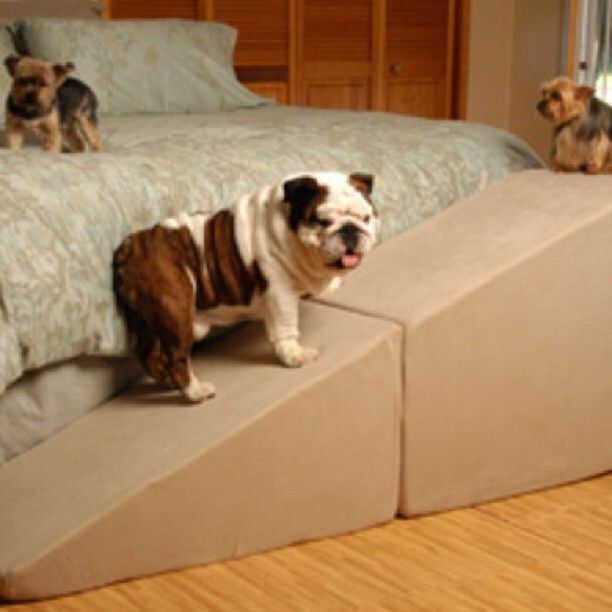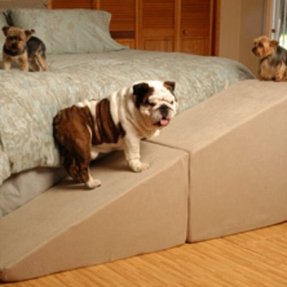 For every small pet out there that has troubles with jumping on a high bed, we have something special. This puppy stairs are made of few separate pieces that can be formed into a comfortable ramp, leading your pup straight up on the bed. The elements are fast and easy to set.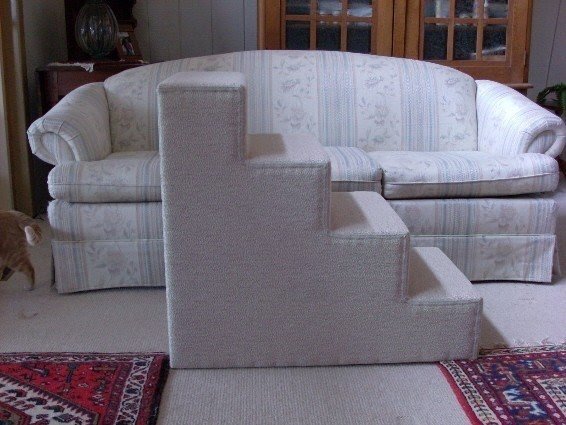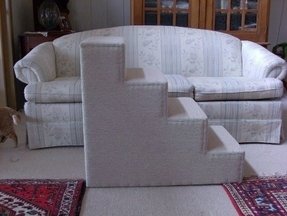 Take care of your pet and buy him dog stairs for large dogs and tall beds, and prevent possible injuries of paws caused by multiple jumps and jumps eg. From the bed. The stairs are made of rigid foam, in this case with a light beige upholstery.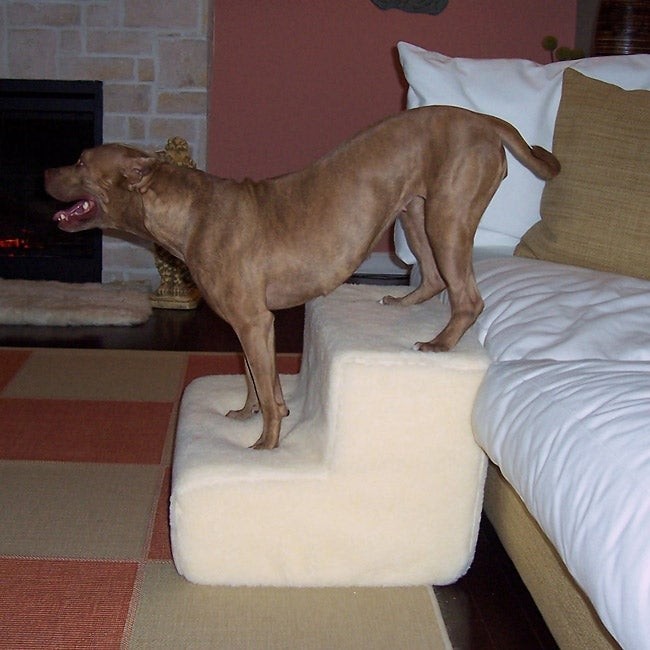 PetStairz Big Dog 2-step Pet Stairs Today: $89.99 3.6 (15 reviews) Add ...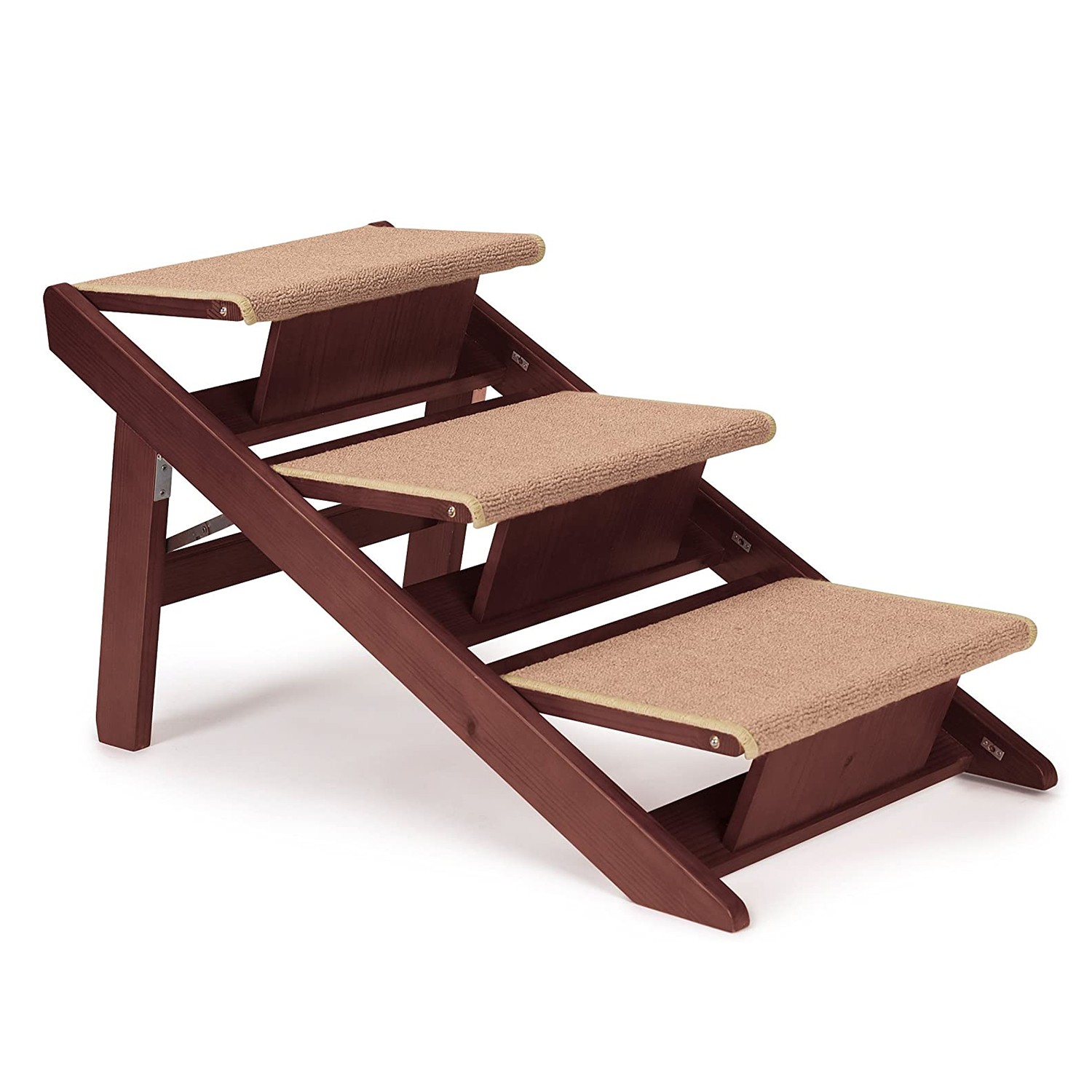 Details about Pet Studio DOG RAMP Stairs Folds Flat Carpeted ~3 Steps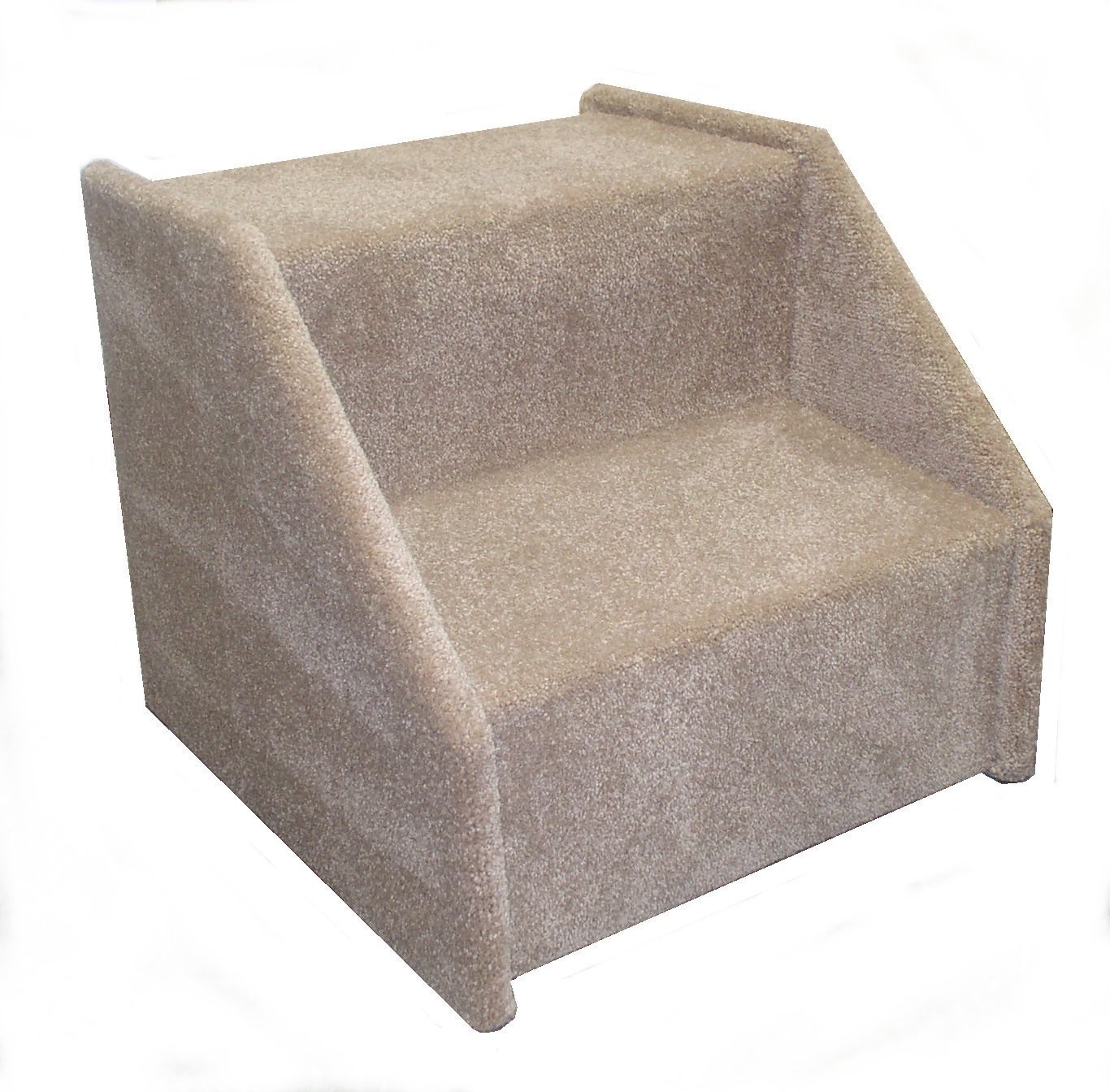 Big Dog 2 Step Dog Steps – Petiquette Dogs - Big Dog 2 Step Pet Stairs hold up to 200 pounds! Make life easier on your pet. The Big Dog 2 Step Pet Stairs are 17" wide for large sized dogs. These pet steps are constructed from plywood and are covered wi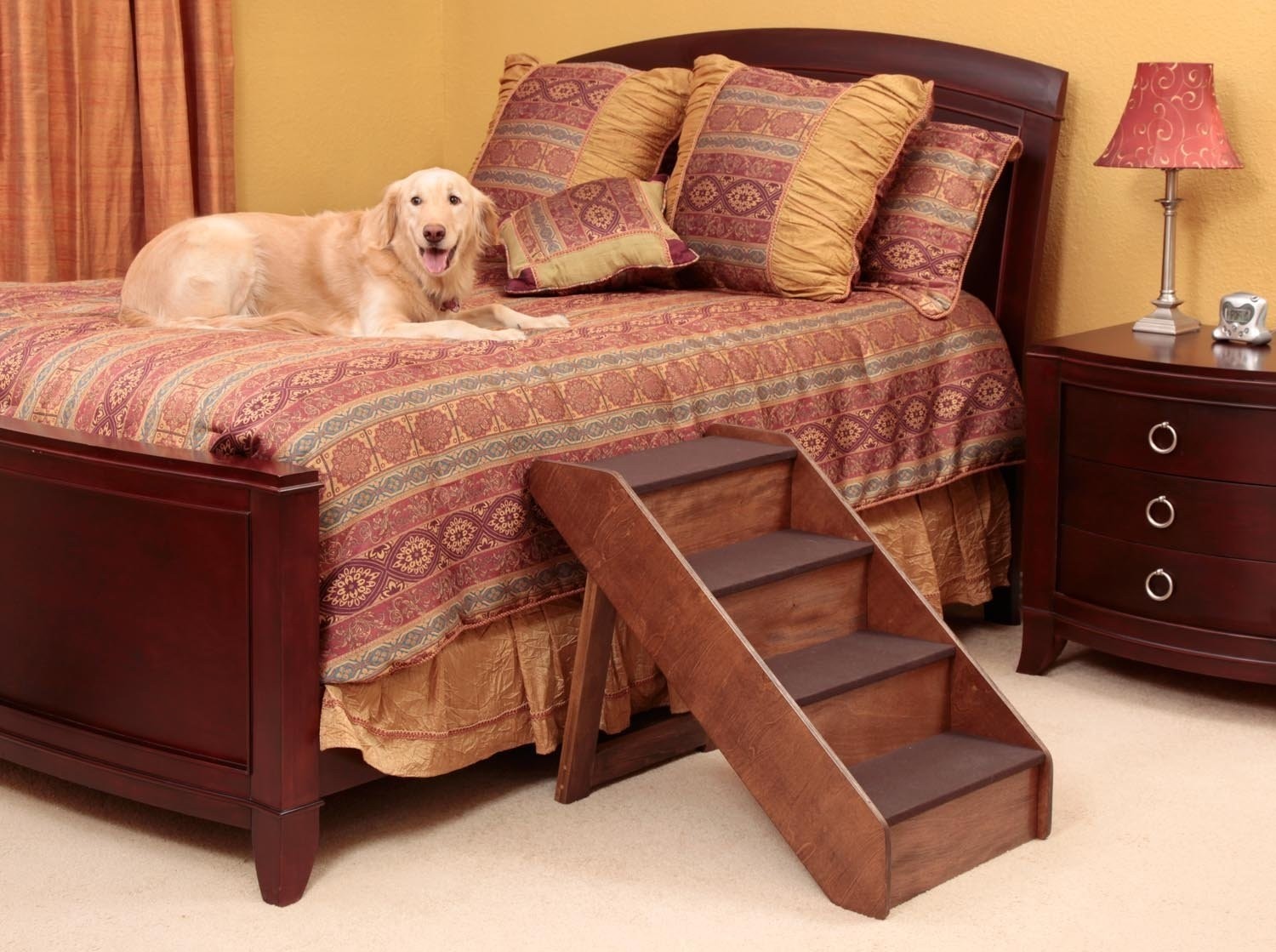 Are you concerned about your dog's joints, climbing up and down from the bed or furniture? Get it here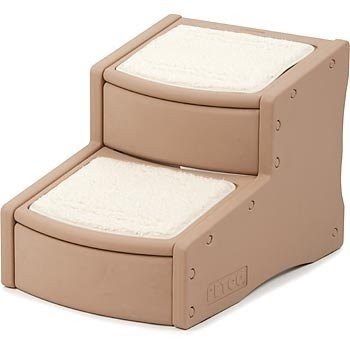 An aesthetic modern portable 2-step stairs for large pets. They're manufactured of durable lightweight light beige plastic. Steps are gently concave and covered with quite thick soft white carpet fabric.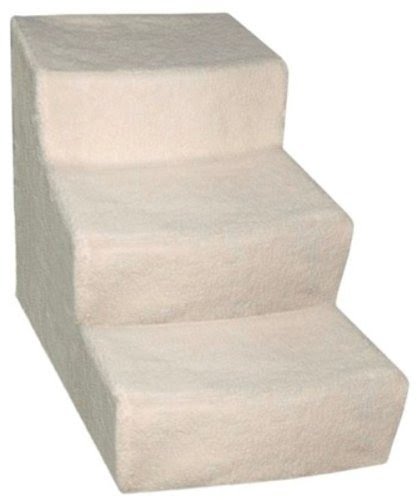 Especially for young, small, elderly, weak or sick dogs entering the couch or jumping into the car is a real problem. Dog stairs, lightweight - white, can be a convenient solution. These are for dogs up to 150-pounds!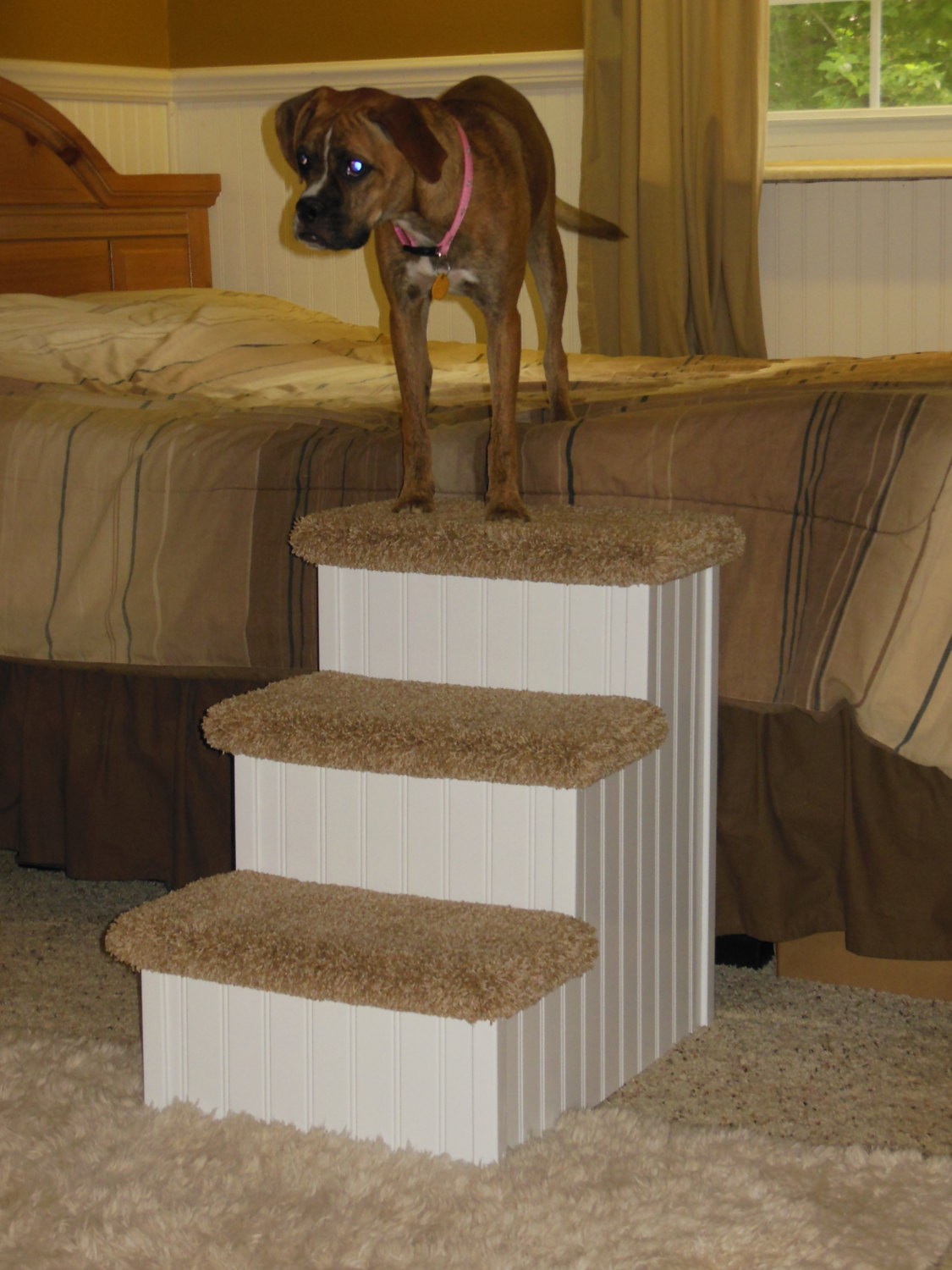 24 inch tall dog steps, either for small or big dogs 5 to 80 LB. Nice white wood finished with fluffy, brown material.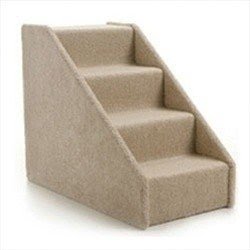 Large Solid Side 4 Step Pet Stair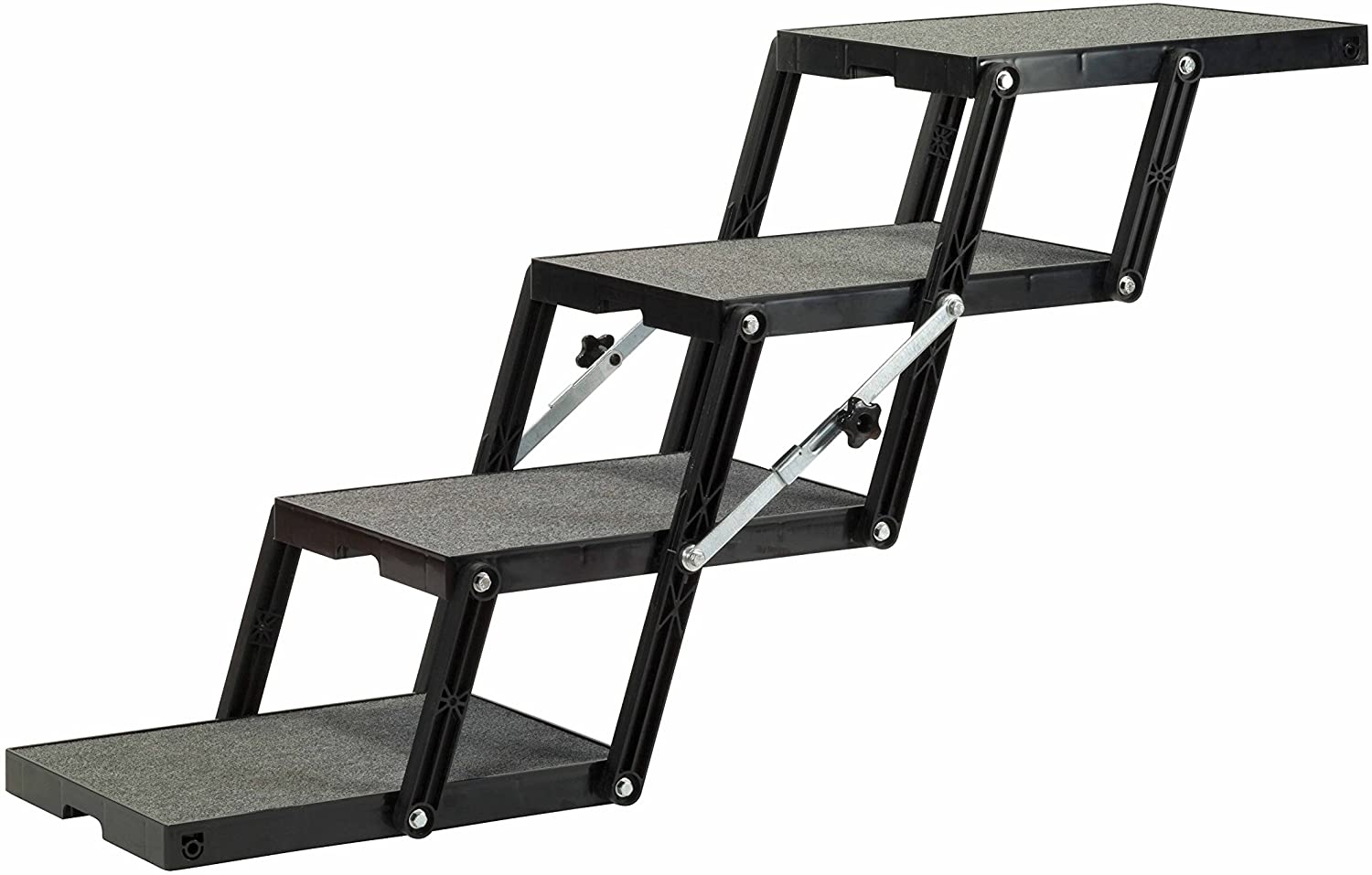 This Professional Mini 12-Inch Platform is designed of quality aluminum for proper sturdiness and durability. Perfect choice for car backseats, beds, and couches – this platform can be quickly folded, carried, and stored.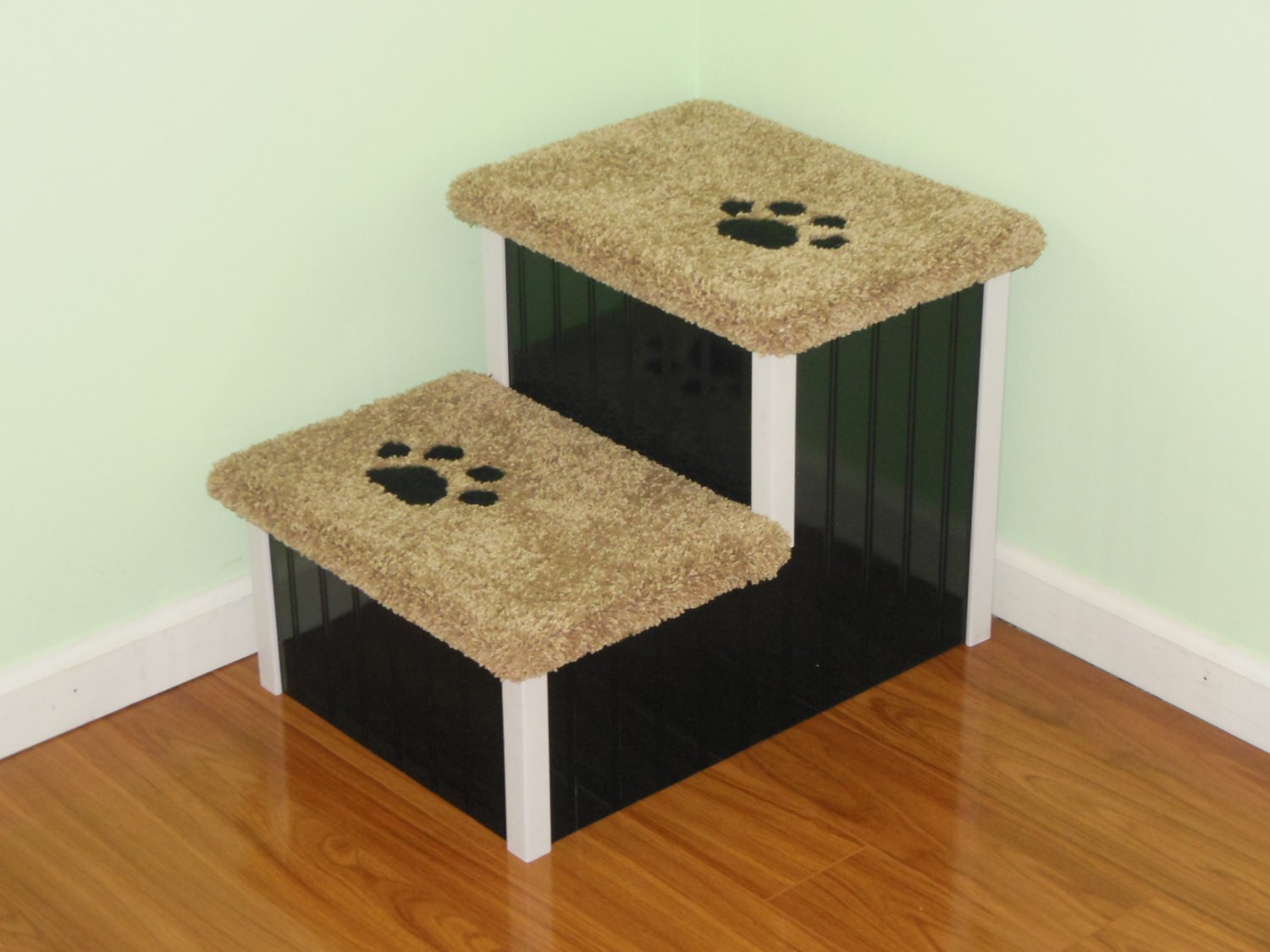 18 Wide Large Dog Step Perfect for Large by HamptonBayPetSteps, $129.00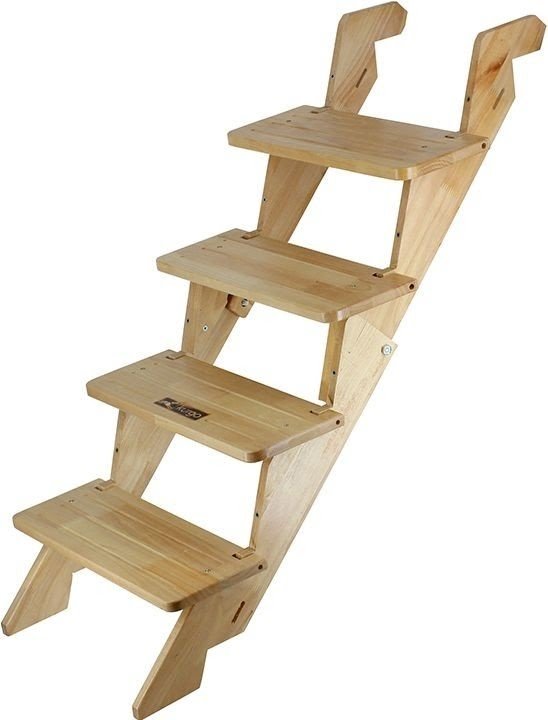 Automobile Up Pup™ Foldable Dog Stairs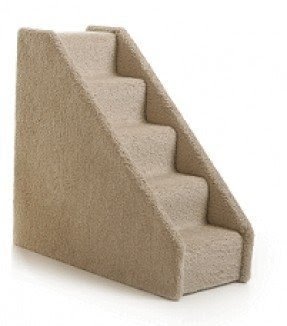 A wonderful addition for when you need to provide your dog with just that tiny bit of a boost when it comes to height. These solid side pet steps will let you keep your pet happy and safe at all times.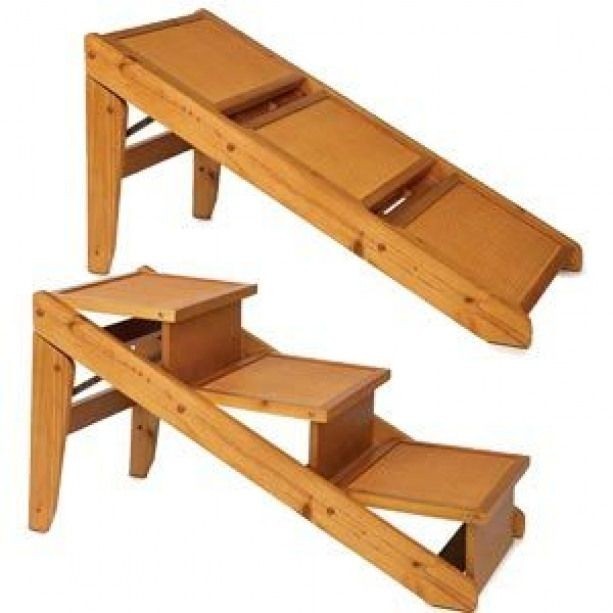 RusticRampStep3003.jpg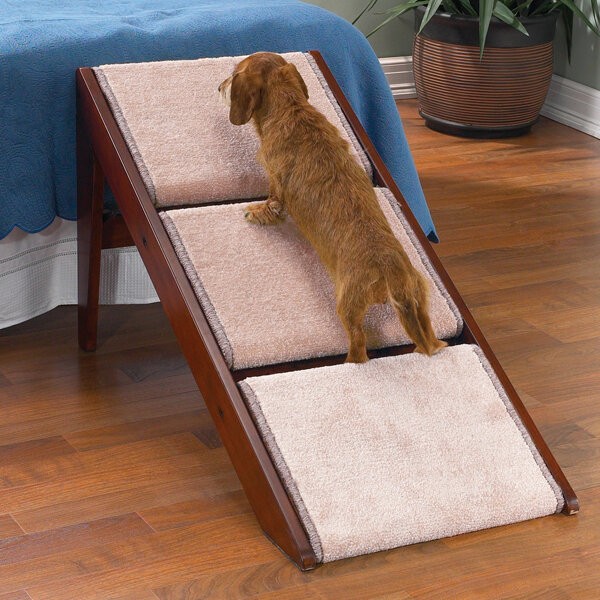 Pet Studio Convertable Stairs/Ramp - 3 Steps - dog gift for senior dog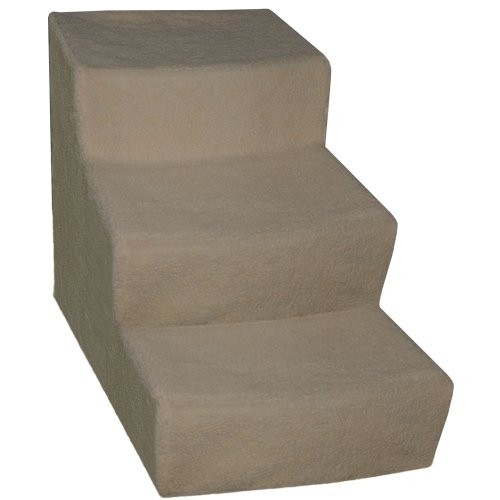 Soft Step III Pet Stairs – Petiquette Dogs - The Soft Step III Pet Stair with Removable Cover has wide, deep steps to give smaller dogs the ability to get their entire body on each platform and large dogs the ability to comfortably climb the stairs. The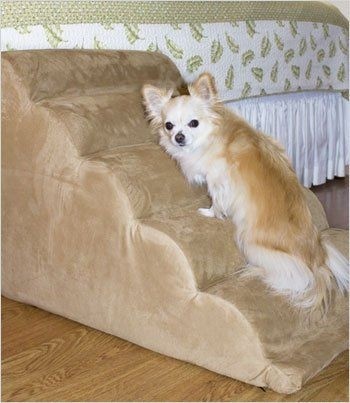 Dog Ramp Scalloped - somewhere between a ramp and stairs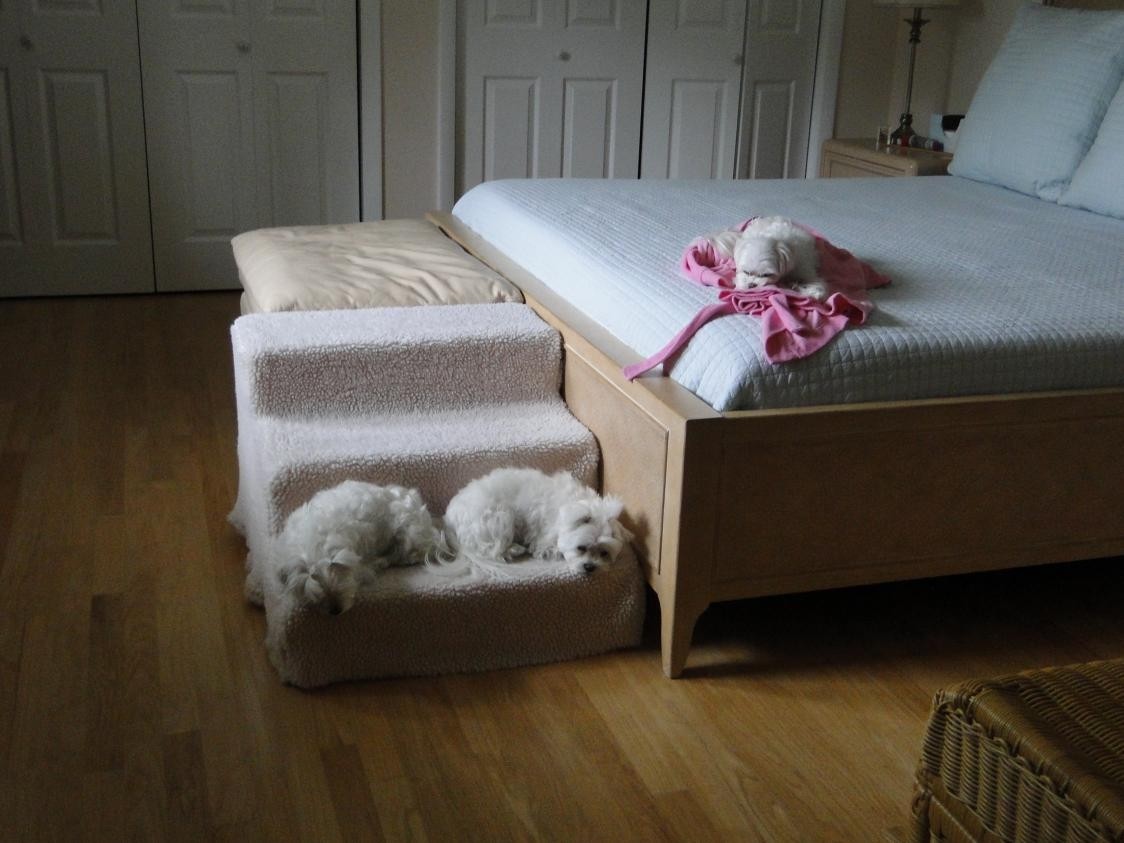 Dog stairs for bed can be the only solution for pet owners. Young and old dogs can be more accommodated with health supporting products. TCool idea for pet owners to make it easier for their pets to join them while sleeping.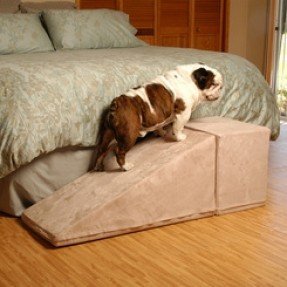 Shown in Oyster Suede - $255.00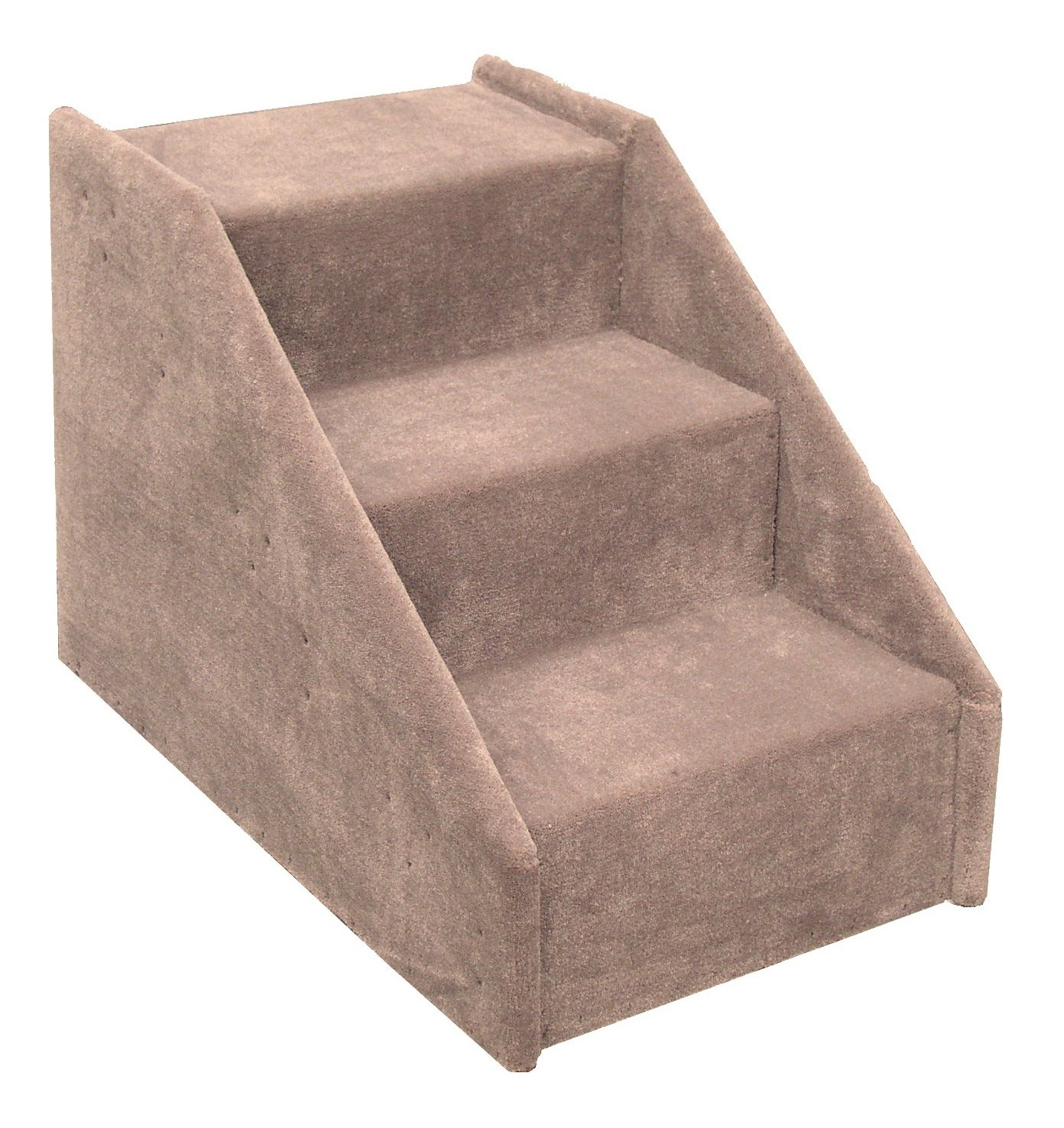 beige dog steps big dog 3 step dog steps part number availability in ...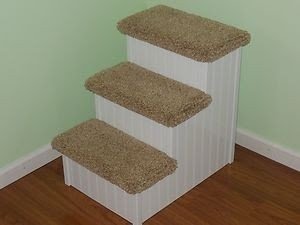 Wooden Dog Steps and Pet Stairs for large animals!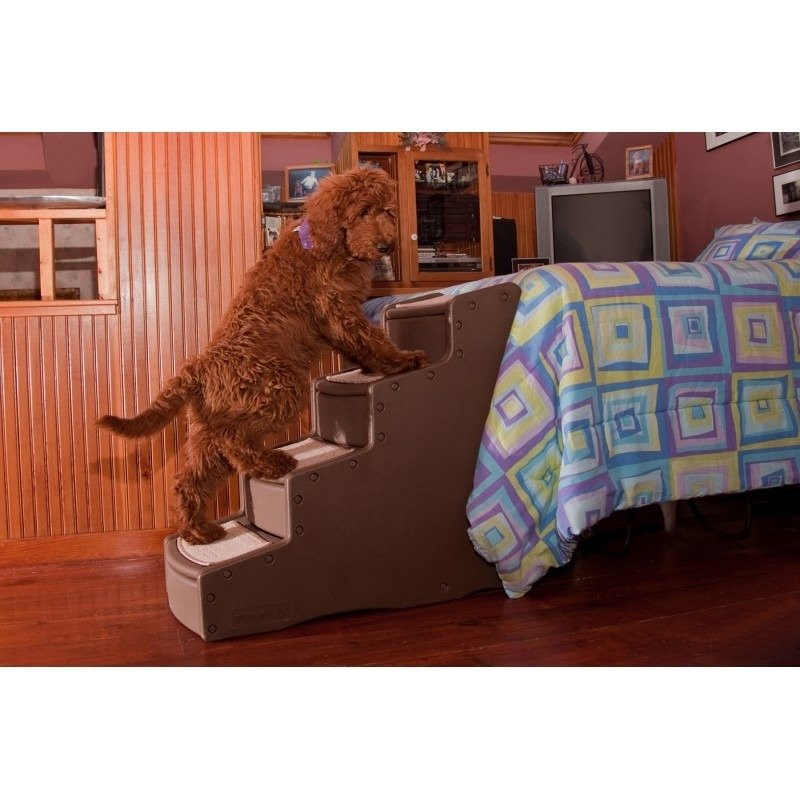 Dogs both large and small can now get access to those hard-to-reach pieces of furniture with the super-stylish and functional Pet Gear Easy Step IV. 30.5" high with removable, washable carpet tread, these wipe-clean steps are made with large, wide stair l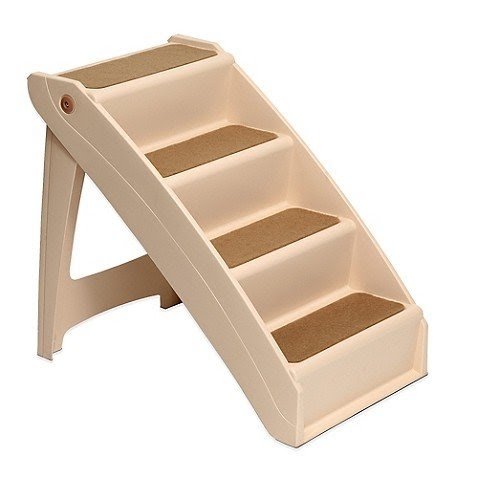 An aesthetic modern foldable step stair for dogs and other pets. It's manufactured of durable pale pink plastic. It has an A-shaped support and 4 steps covered in robust light brown anti-slip material.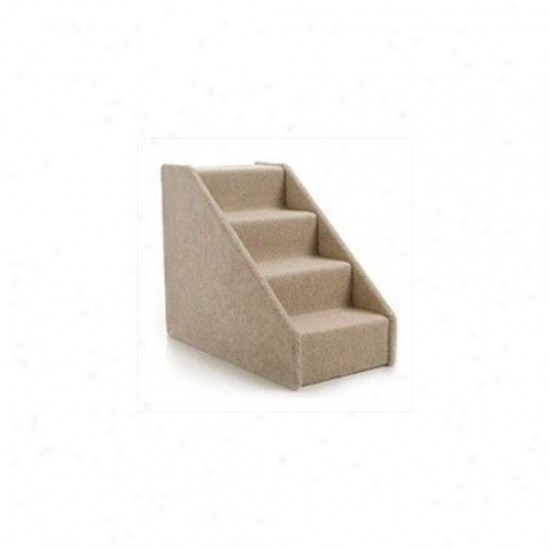 Solid Side Pet Steps - Large Dog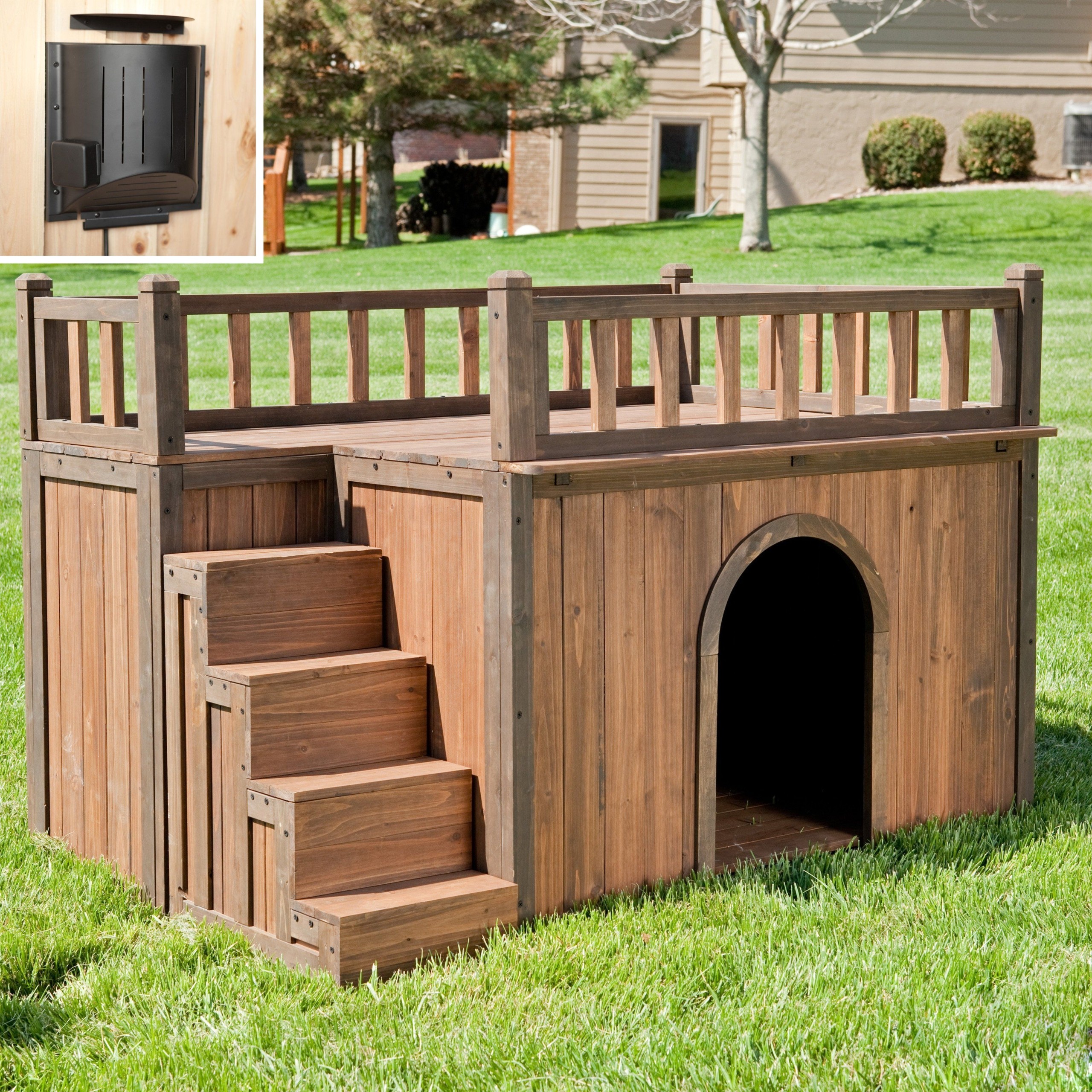 Cozy solution for a dog sleeping space if your dog is too big to be sleeping inside the house – an oversized dog house meant to be placed in the garden with a compartment inside and a little area with some stairs above.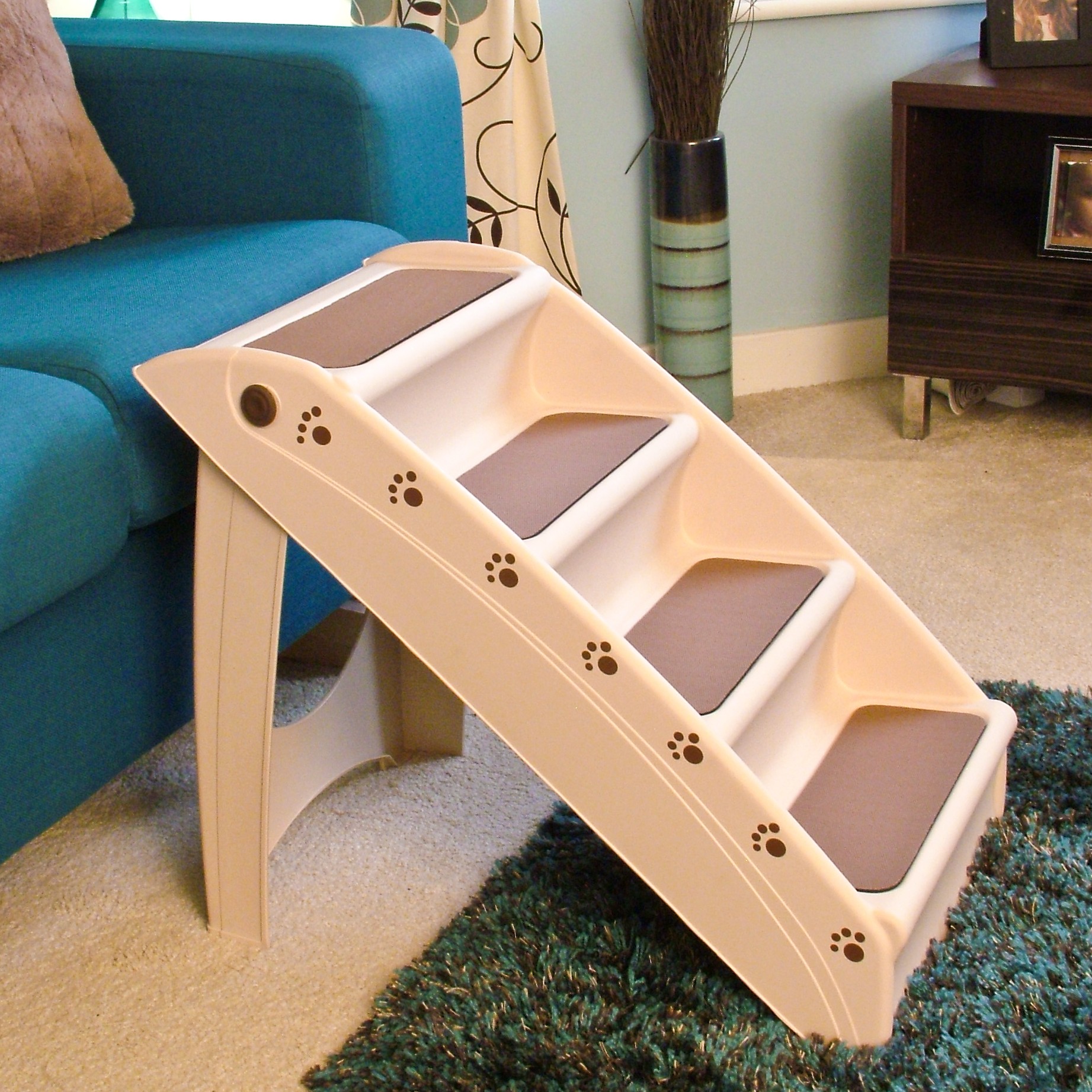 How to Choose Dog Stairs - : #StairIdeas Dog stairs – Consider about stairs for your pet especially dogs whether small or large to let them easily climb up and down. Which design that you will pick? Wh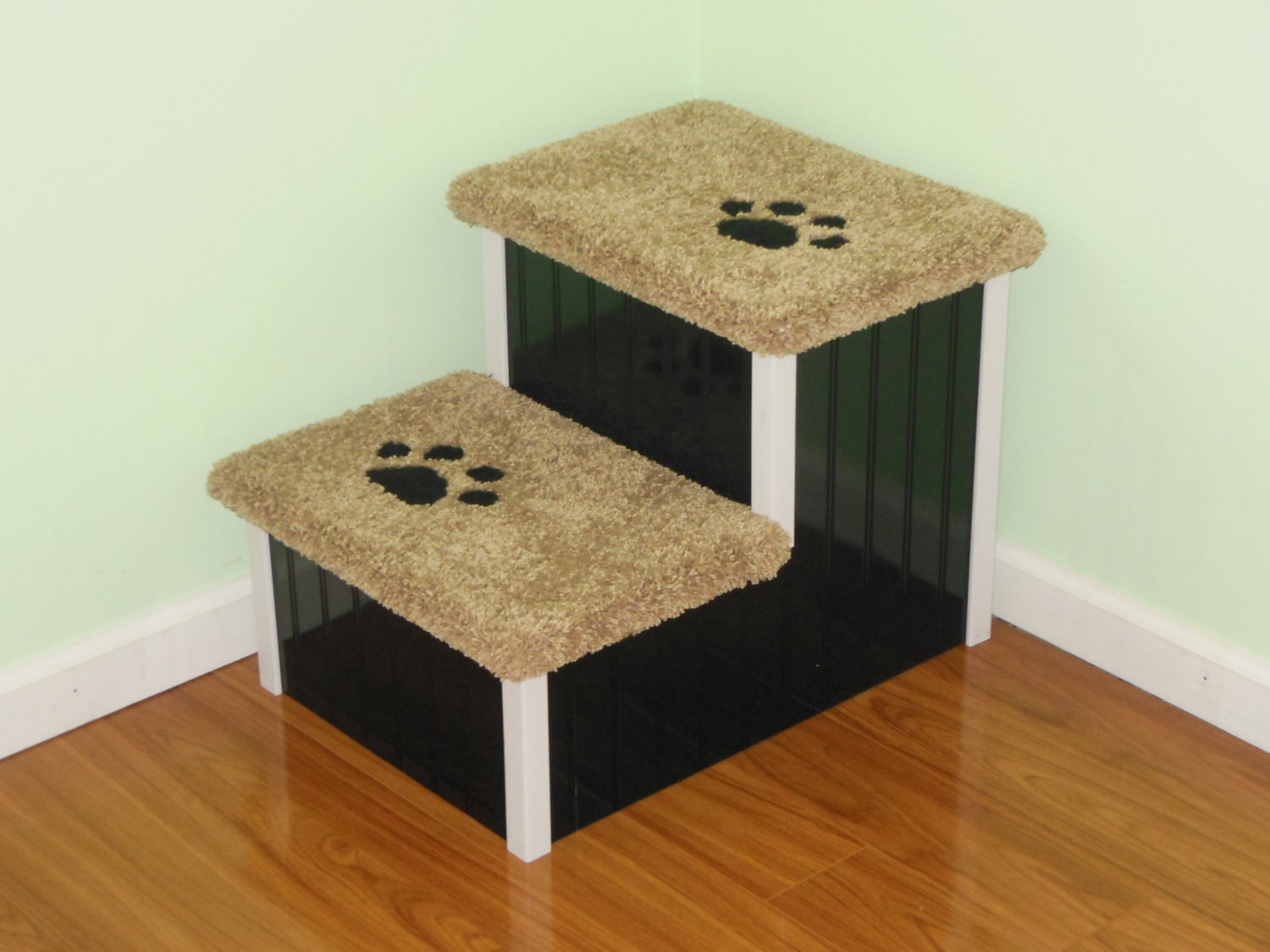 Pet Stairs 18 High Dog Steps Pet Steps for Big Dogs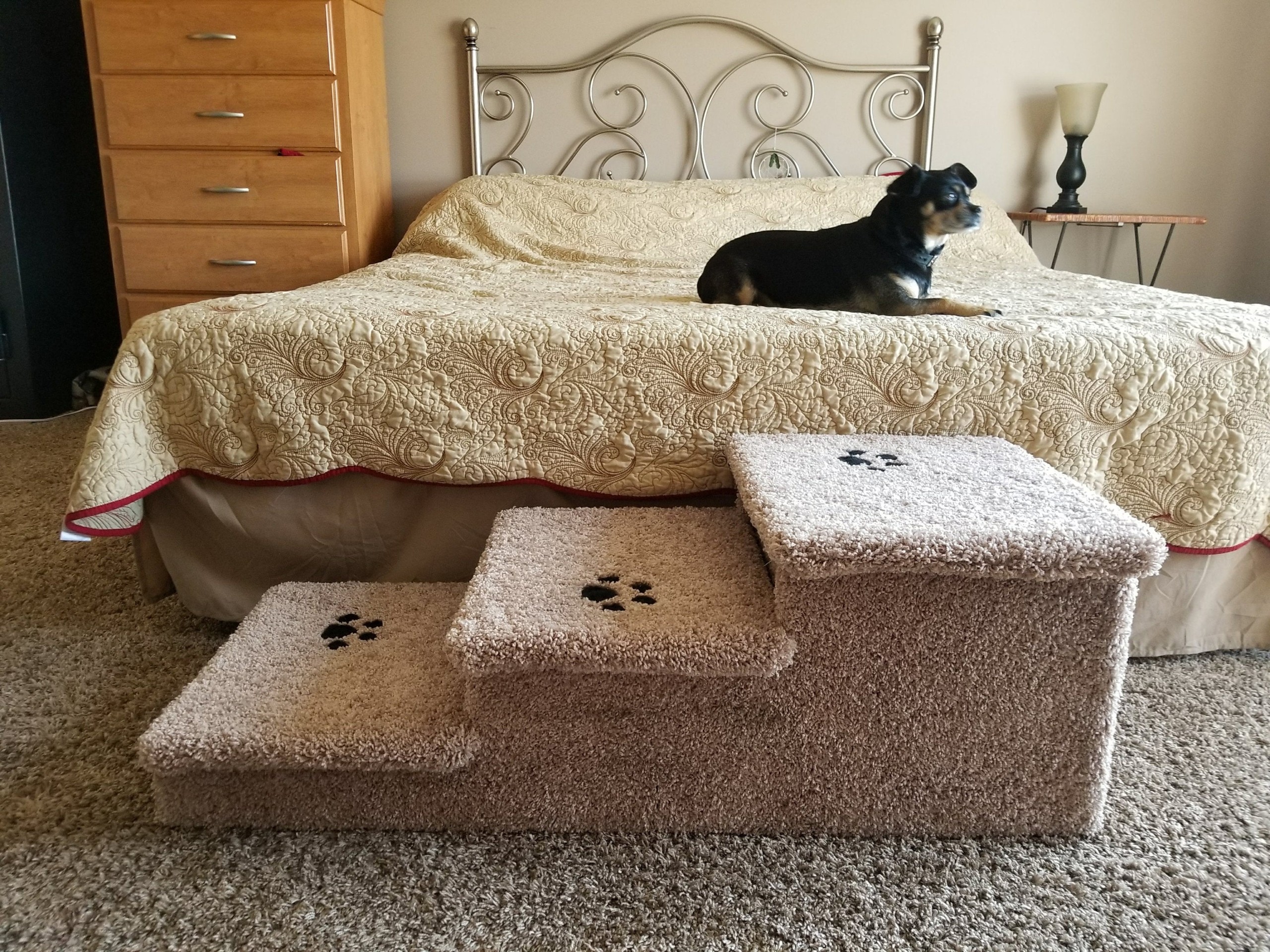 Large Dog Stairs | NO Foam or Cardboard | For Pets 5-80 ...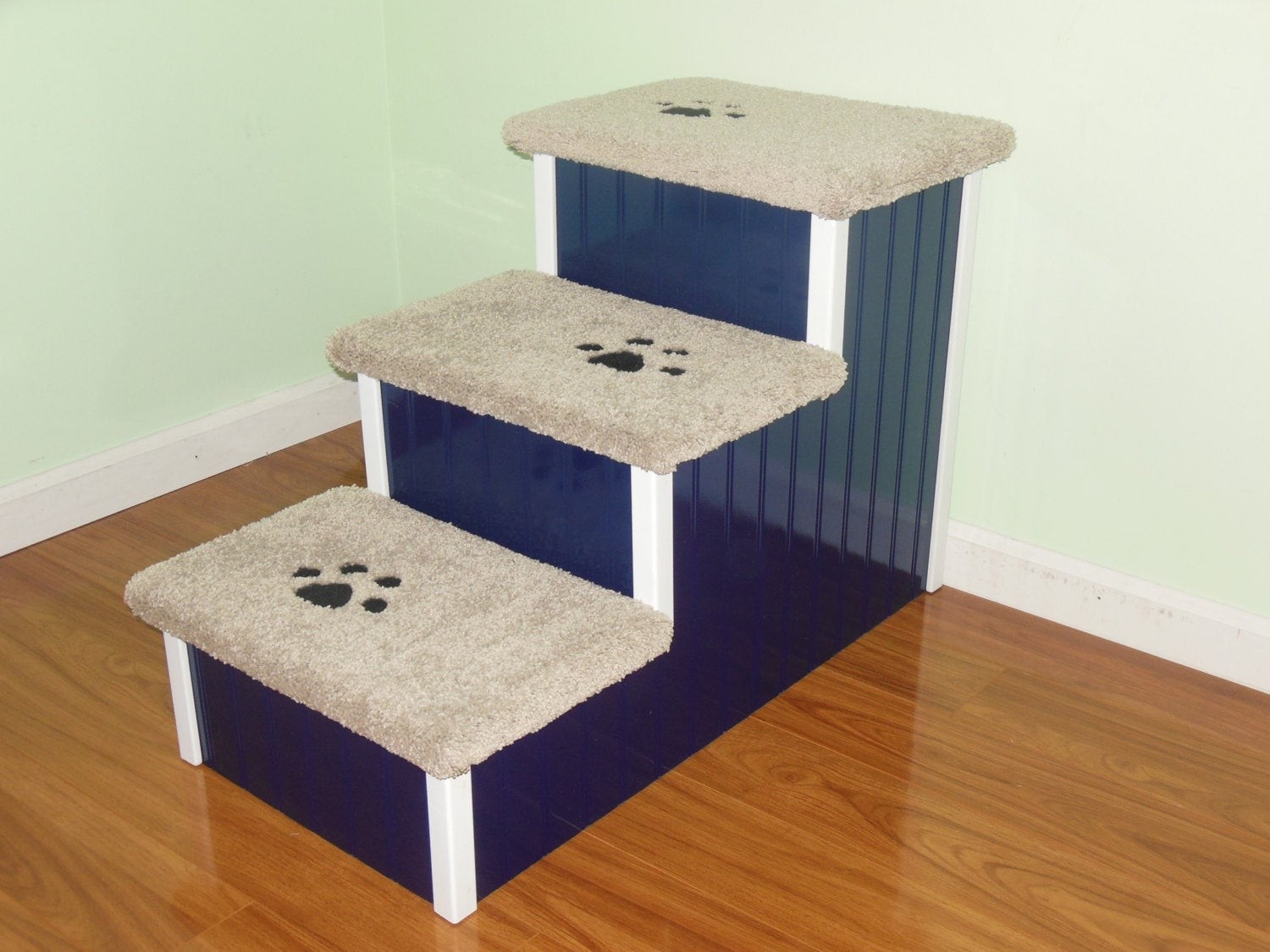 Pet Stairs for Big Dogs 24 Tall Dog Stair Pet Steps | Etsy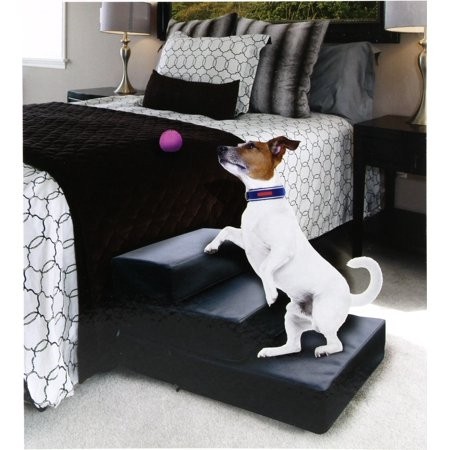 Leatherette Adjustable Large Pet Dog Stairs Set Create ...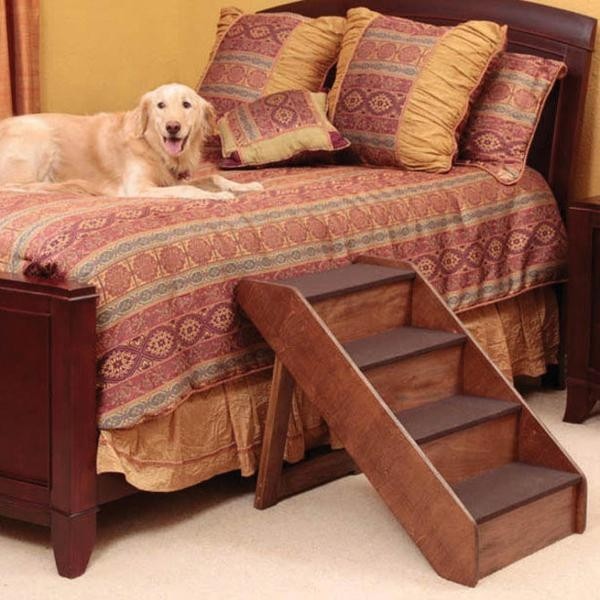 Large Dog Wooden Pet Steps Stairs for Pets – OfficialDogHouse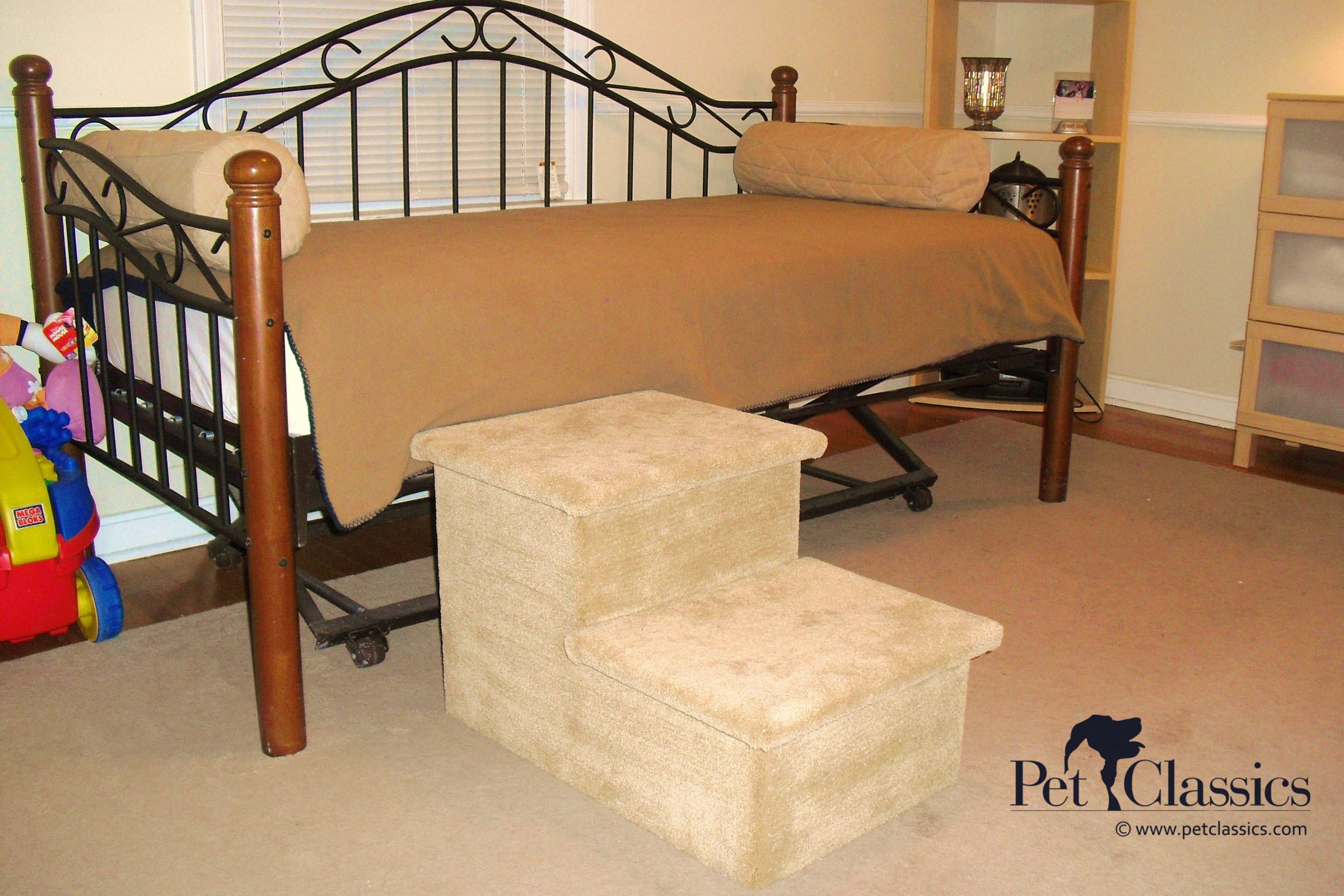 Carpeted Pet Stairs for Large Dogs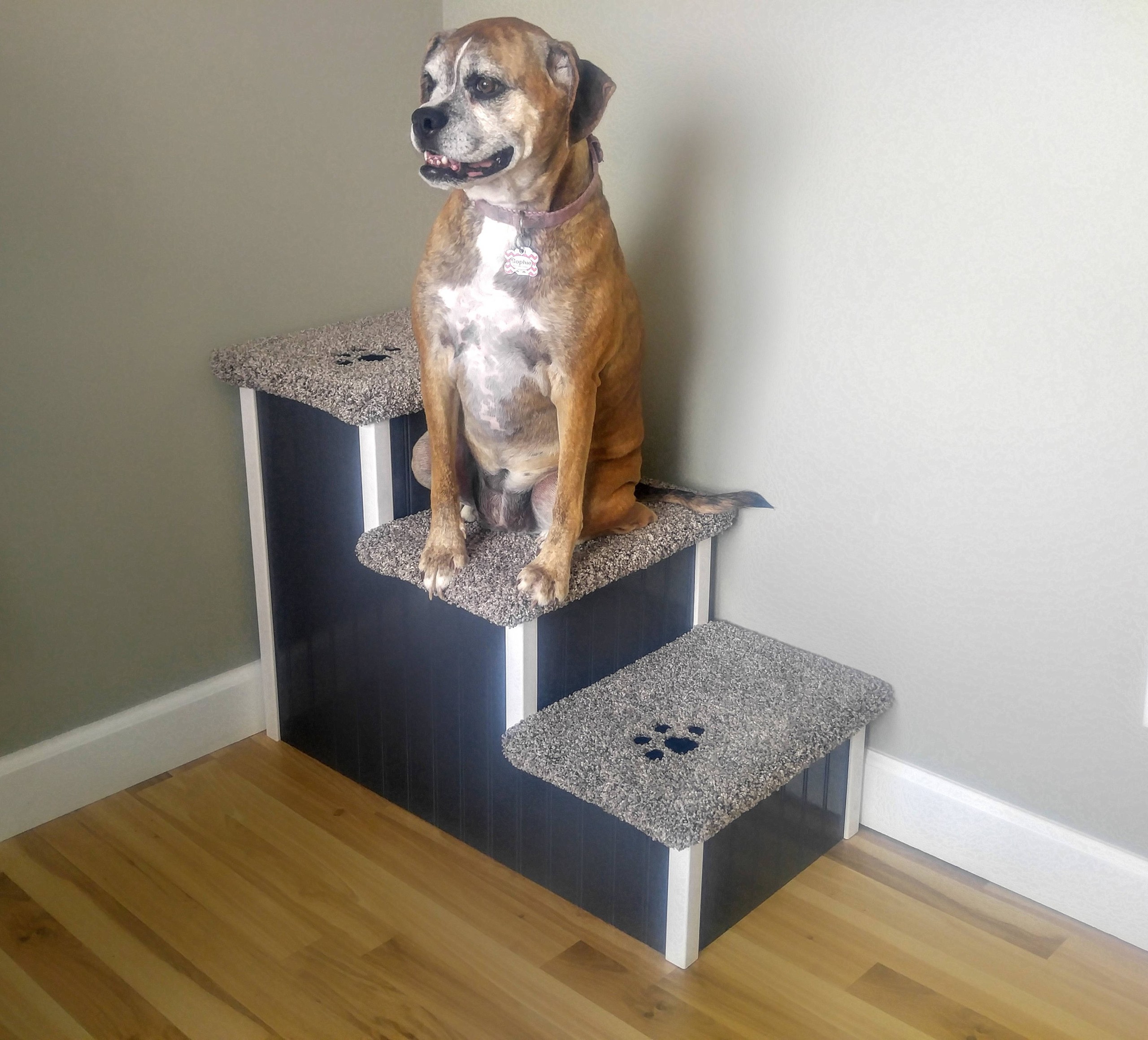 Pet Stairs for Big Dogs, Dog Steps, Pet Steps for Dogs ...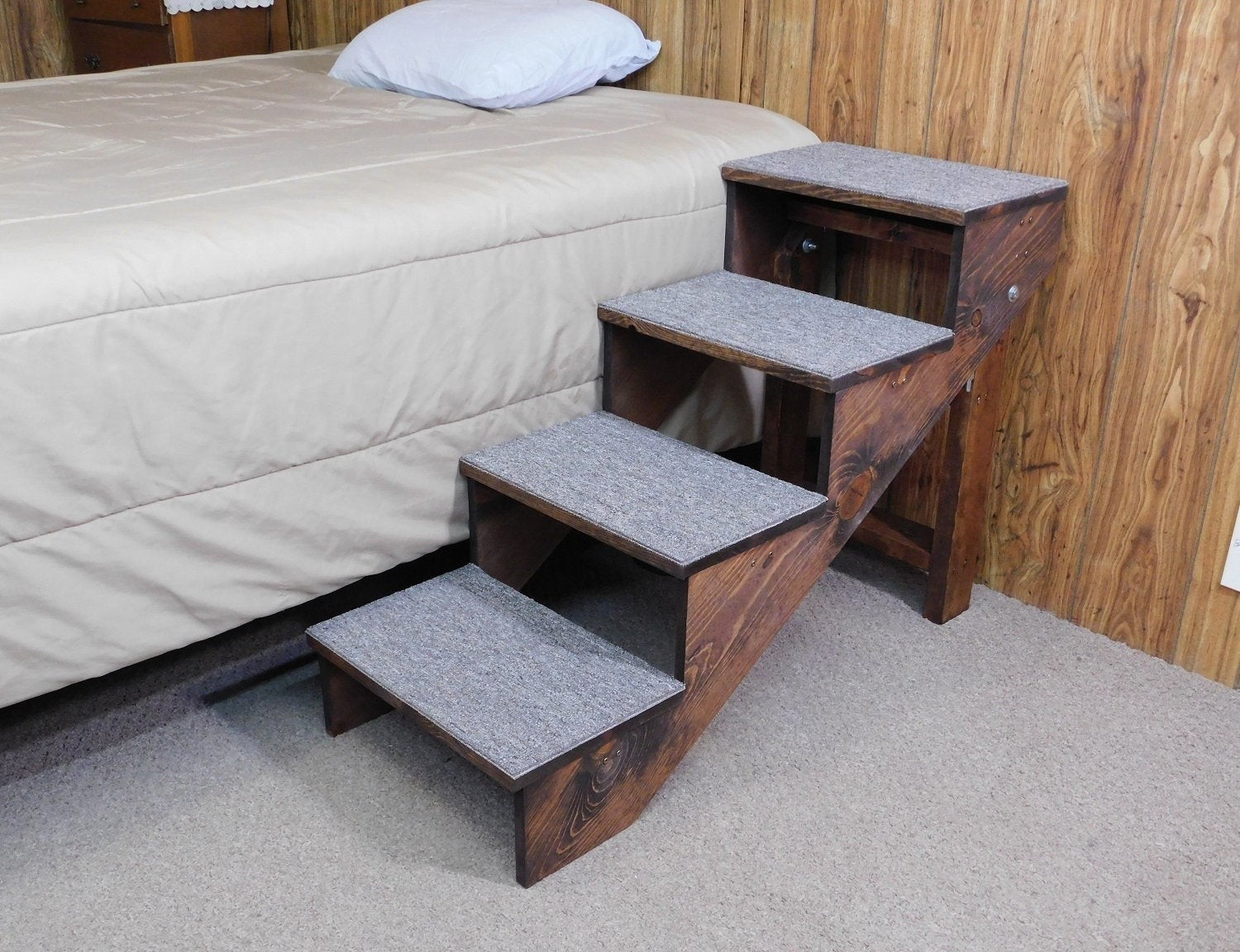 Pet Stairs 24 - 28 Tall 16 Wide X-Large Wood Handmade ...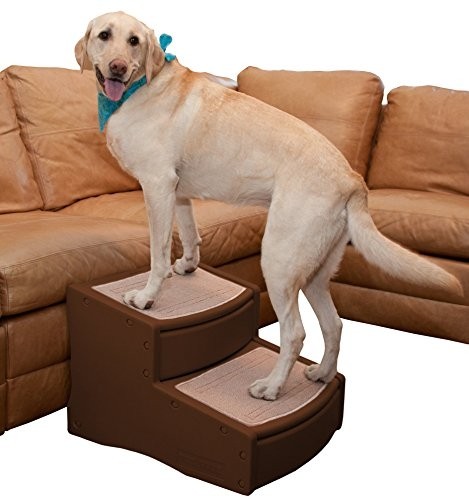 Top 15 Best Dog Stairs for Bed or Car in 2017 (large and ...