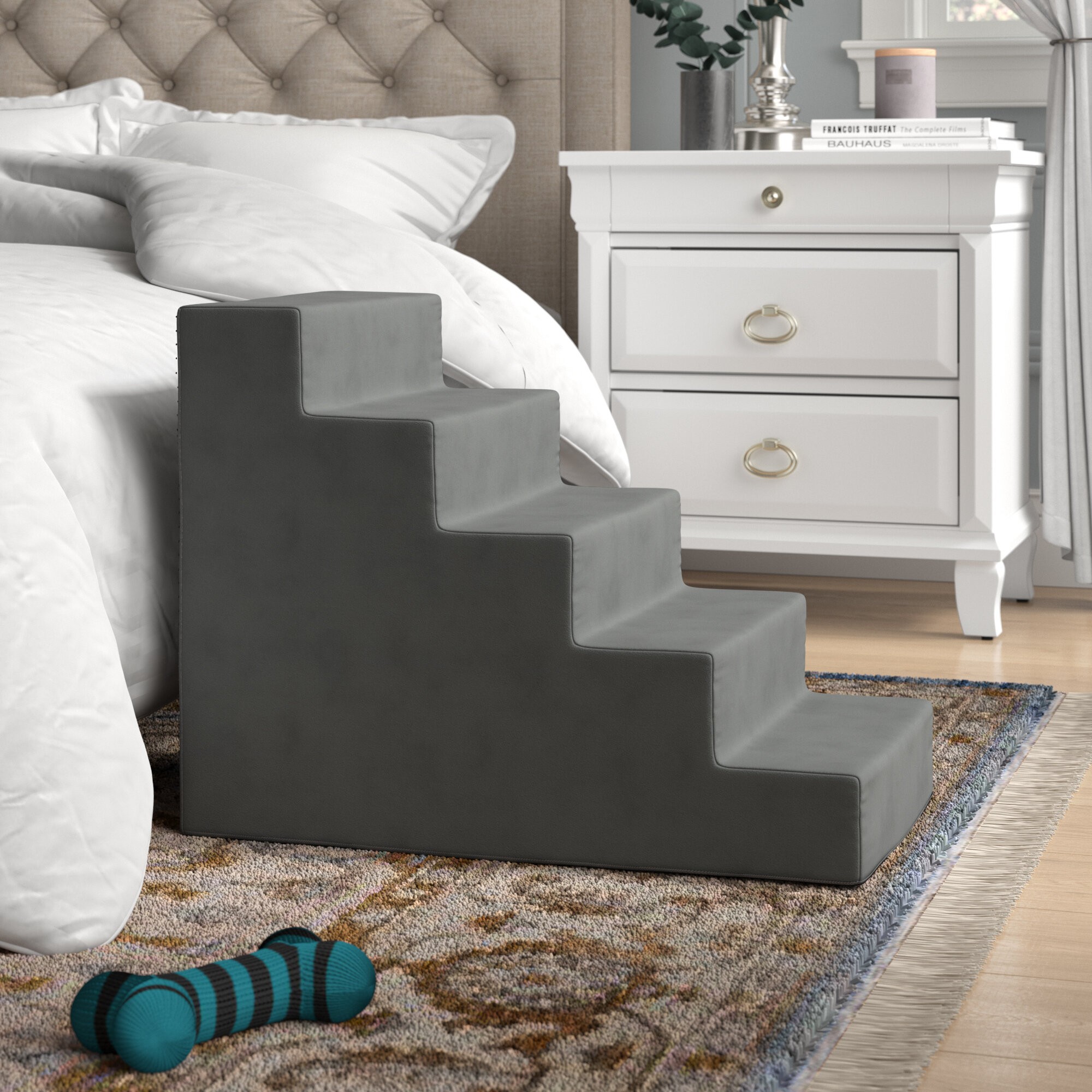 Grommit High Density Foam 5 Step Pet Stair
This high-density foam 5-step pet stair will allow your pet to cuddle up at bedtime. Standing at 20", this pet stair is ideal for beds, chairs, sofas, or couches. Its fabric-covered, slip-resistant, UV resistant, lightweight design gives practicality, while neural color choice will suit any home decor.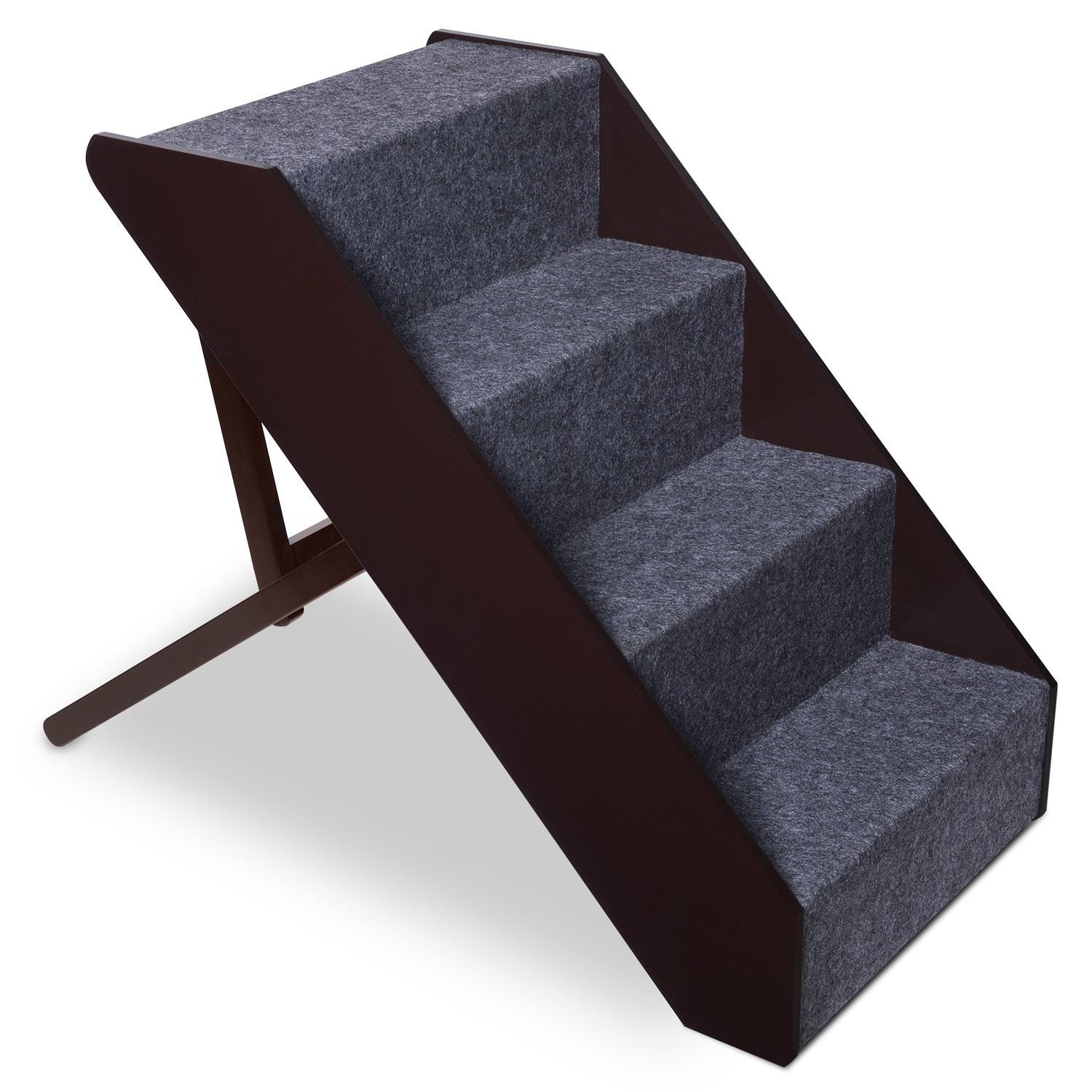 Chang Wood Height Adjustment 4 Step Pet Stair
If you want a pet step that looks like a permanent fixture, this is the piece for you. This 25.5" pet staircase comes in an elegant anti-slip grey fabric and deep espresso wood finish. The side rails and supportive infrastructure can hold up to 100 lbs. and give your pet the assistance they need as they join you for snuggle time.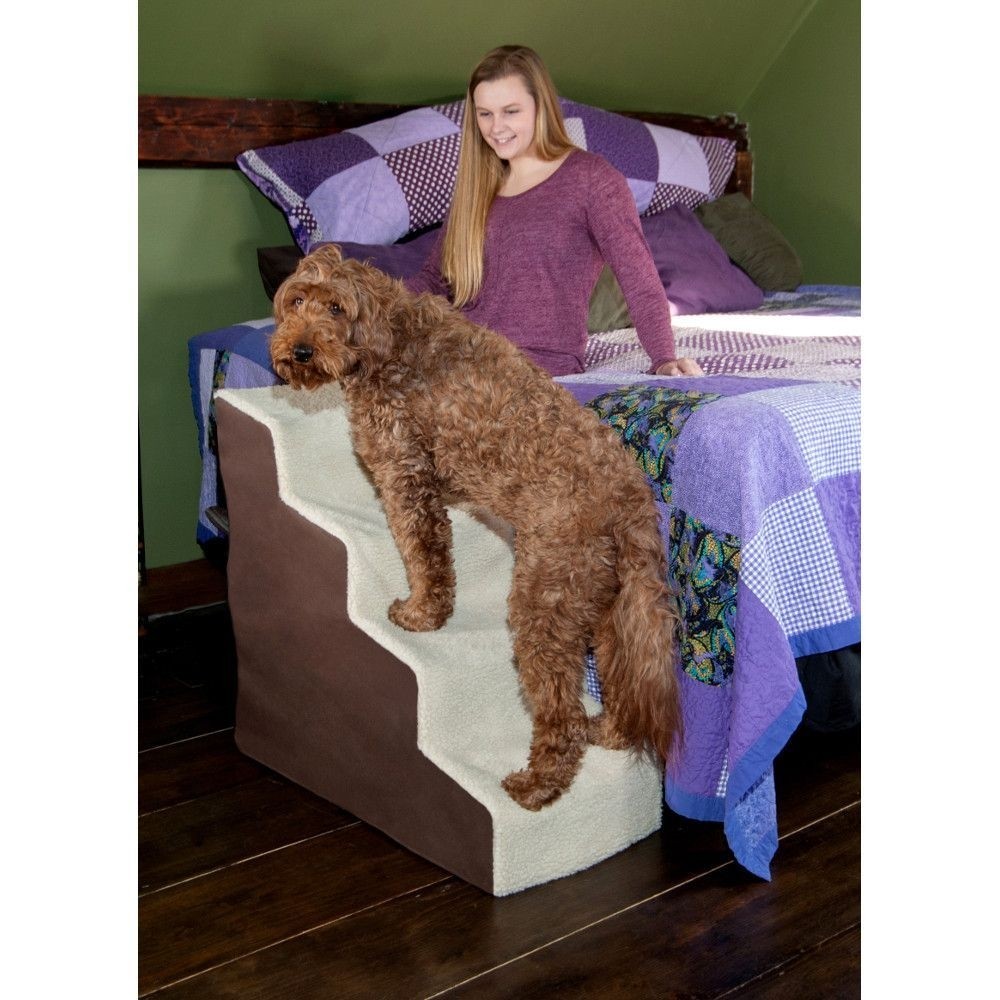 Easy Steps Deluxe Soft 4 Step Pet Stair
Cater to large dog breeds with this soft step pet stair. This 4-step unit with deep steps utilizes a unique incline, which reduces the number of steps required. Constructed from slip-resistant fabric and capable of supporting 150 lbs. this is a practical solution for your pet.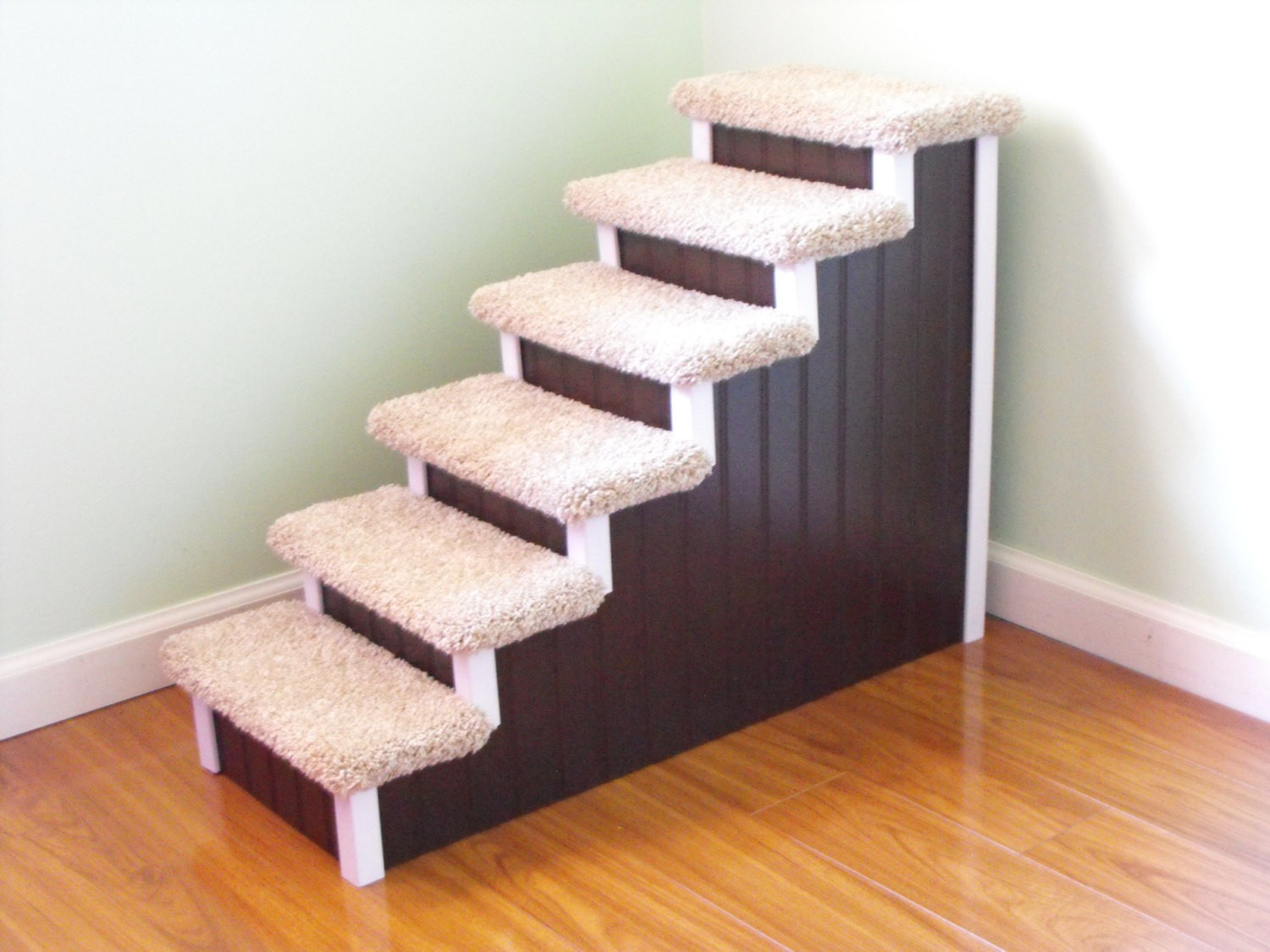 Dog steps pet steps 24 high hand built
This handmade steps for pets are designed for cats and dogs not heavier than 15 lbs! The whole piece is made of a wooden frame with steps that are covered by a fluffy carpet. Each step is approx. 4'' high and 6'' deep.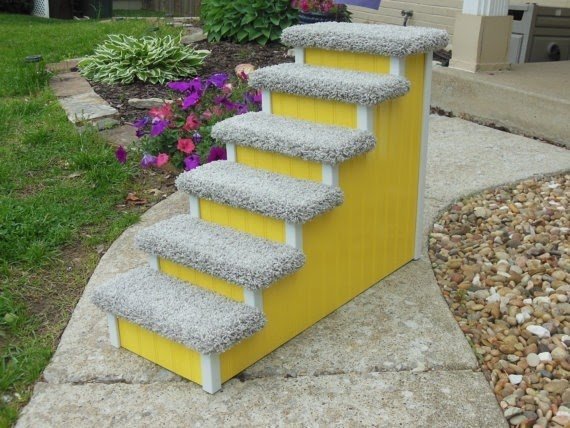 Dog steps free shipping 24 high pet
Dog stairs dedicated to high beds. Base is made of wood and covered with thick carpet. Suitable for dogs and cats. Received a lot of top ratings from satisfied customers for functionality and neutral design.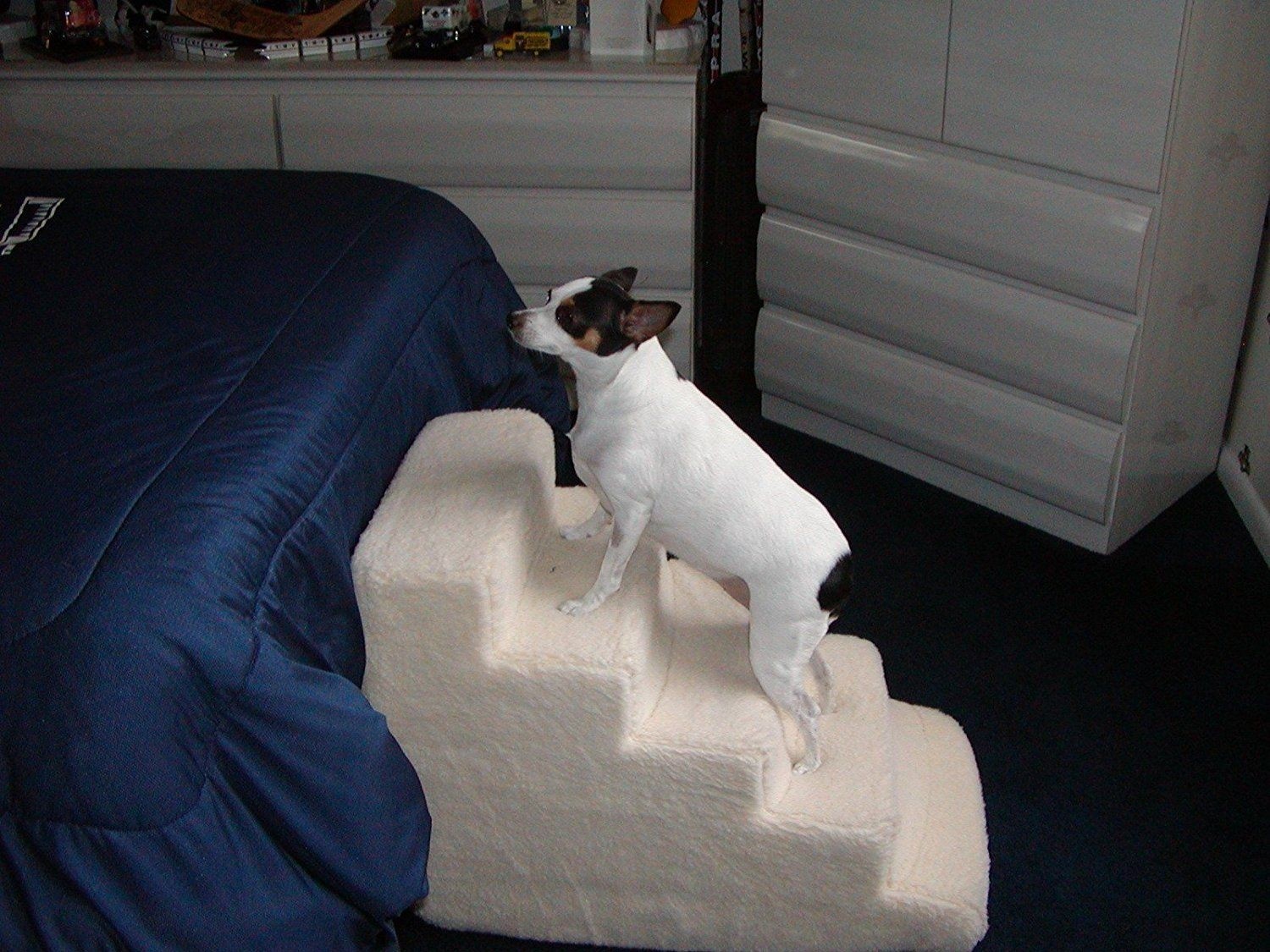 Petstairz 5 step foam pet steps
This interesting piece of furniture is the perfect solution for your pet. Soft upholstered stairs make it easy for small dogs to get on a sofa or armchair. The whole, made in a lovely light shade, perfectly fits in with the different interiors.
18 tall dog ramp hand made custom built
Practical sturdy ramp for small, old, senile, ill or injured pets. A frame is handmade of brown-finished wood and has pets' names written in white on a side. Its upper surface is covered with carpet fabric in beige tones with inlaid black paw prints.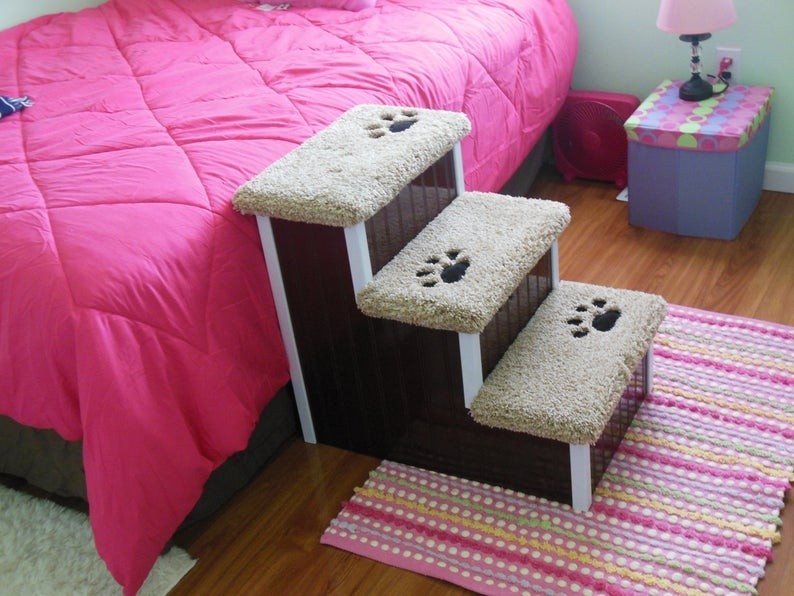 24 tall dog steps all wood and screw
An original, hand-made item created for pet lovers. These steps provide access to upper areas for dogs. These wooden steps feature soft and stylish surfaces on each step. This functional element is also a very nice decoration.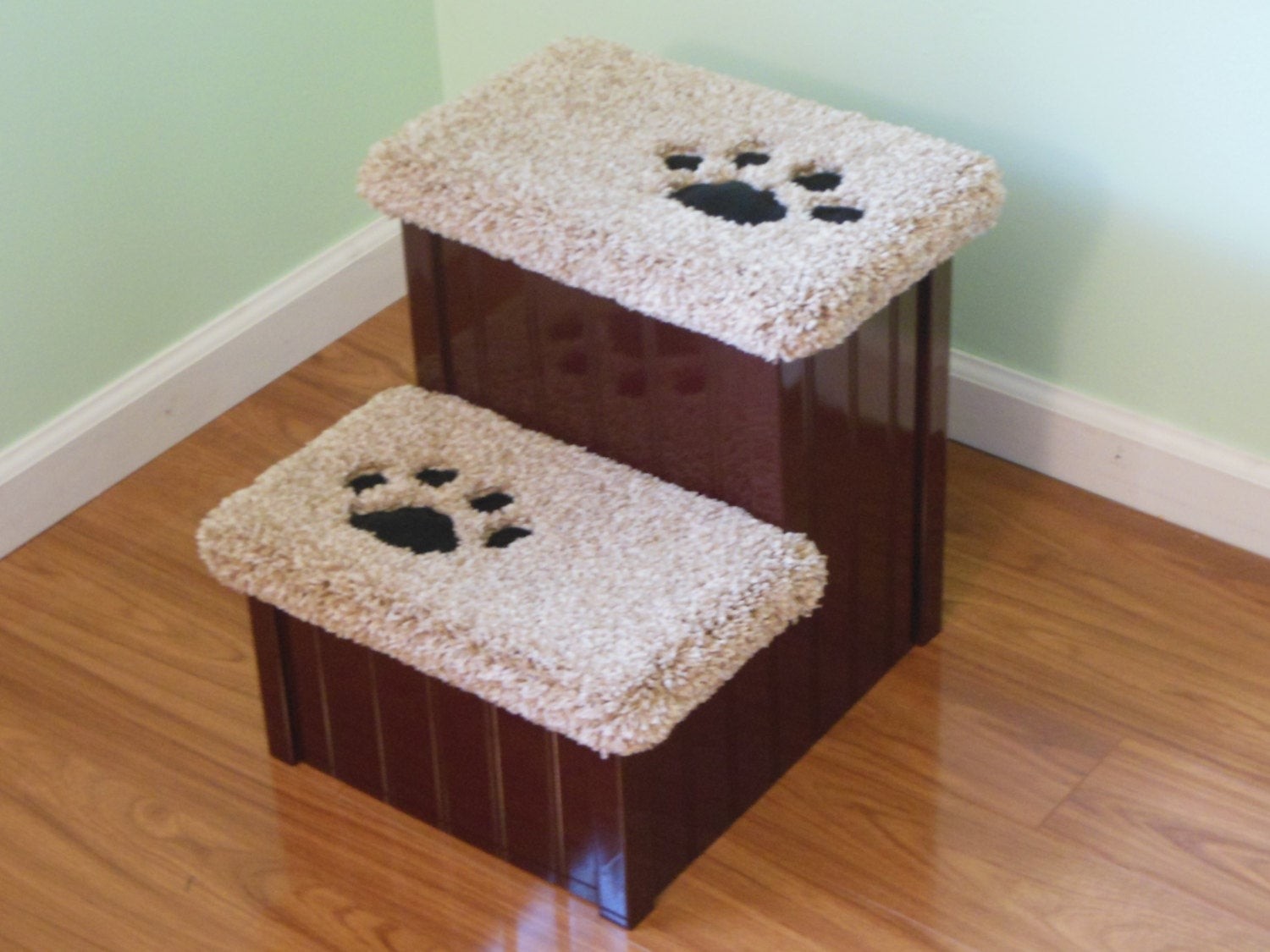 Dog steps 15 high wooden dog stairs dog
Does your pet has difficulties with reaching higher places, such as sofas, beds, or chairs? Using this 15'' high dog stairs with two steps, your four-legged friend will now have the opportunity to hop on the bed with no effort, whatsoever. The piece is hand made of wood and carpet.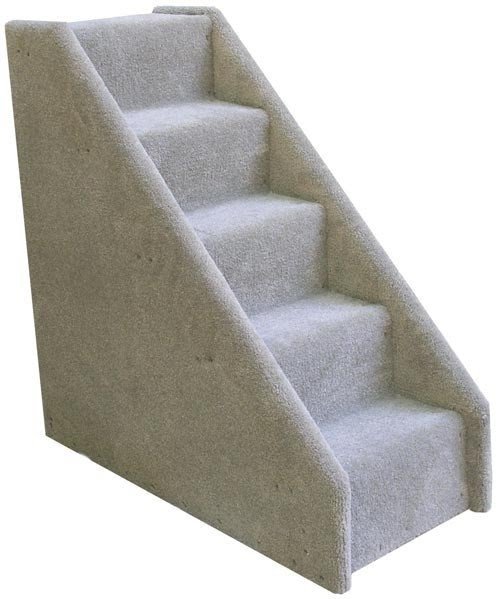 Trust me, your pet needs this tall dog bed steps. They've got six steps and soft cloth upholstery. It's a fantastic product for high beds. If you searching for a high quality pet steps, you should try this!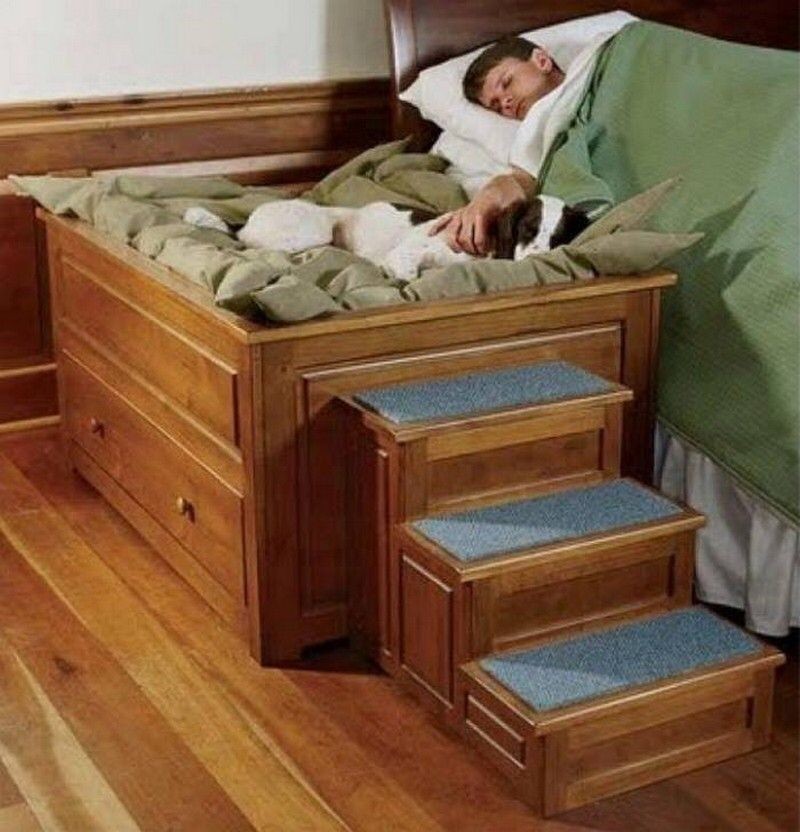 If your bed is too high for your dog to get on, try a dog ramp. This one is fit for traditionally stylized bedrooms as it sports elegant medium toned wood construction and anti-skid blue carpet covered steps.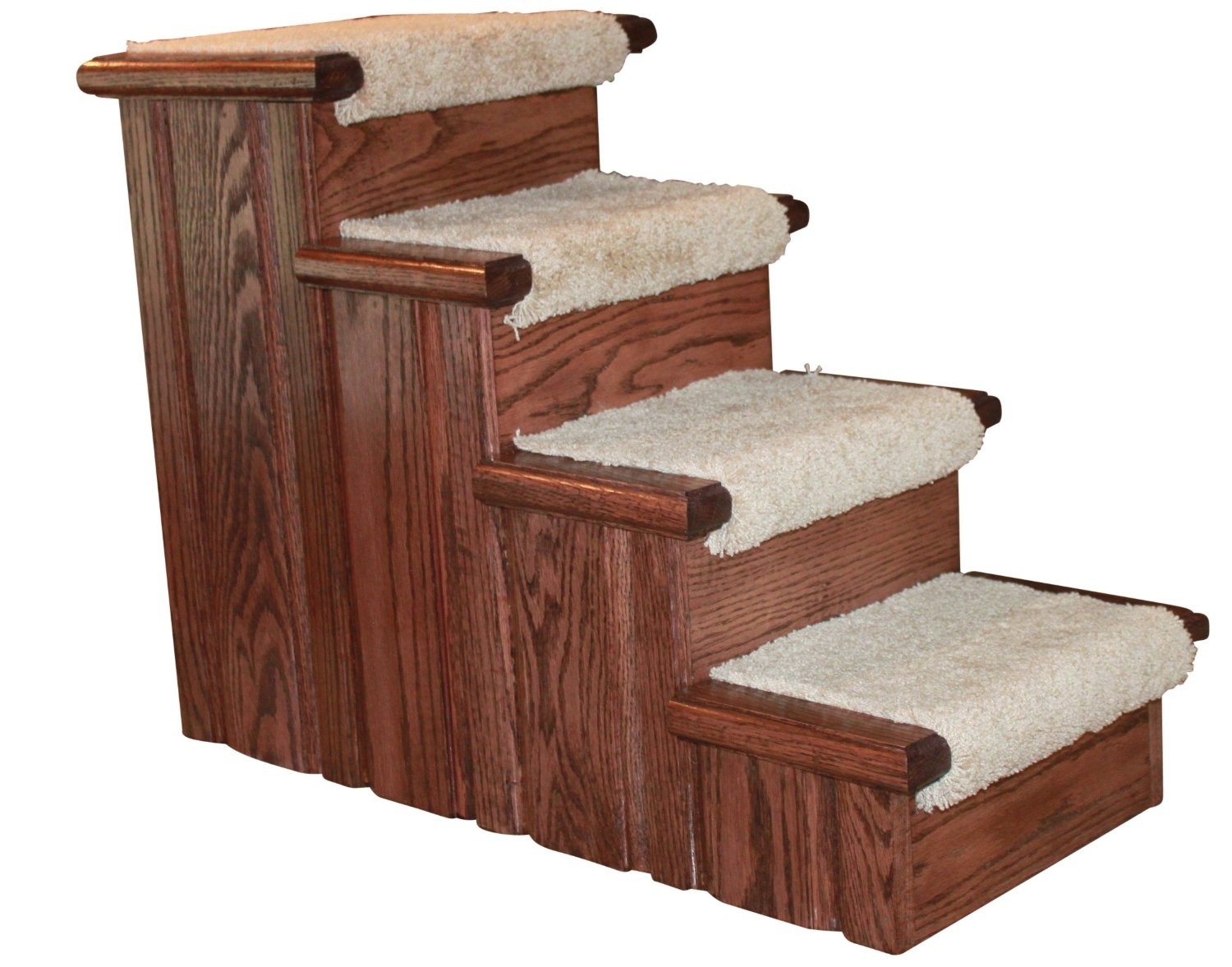 This item includes solid and functional steps for dogs that provide access to higher areas like sofas or beds for dogs or other small animals. These wooden steps feature a nice rich cherry stain finish.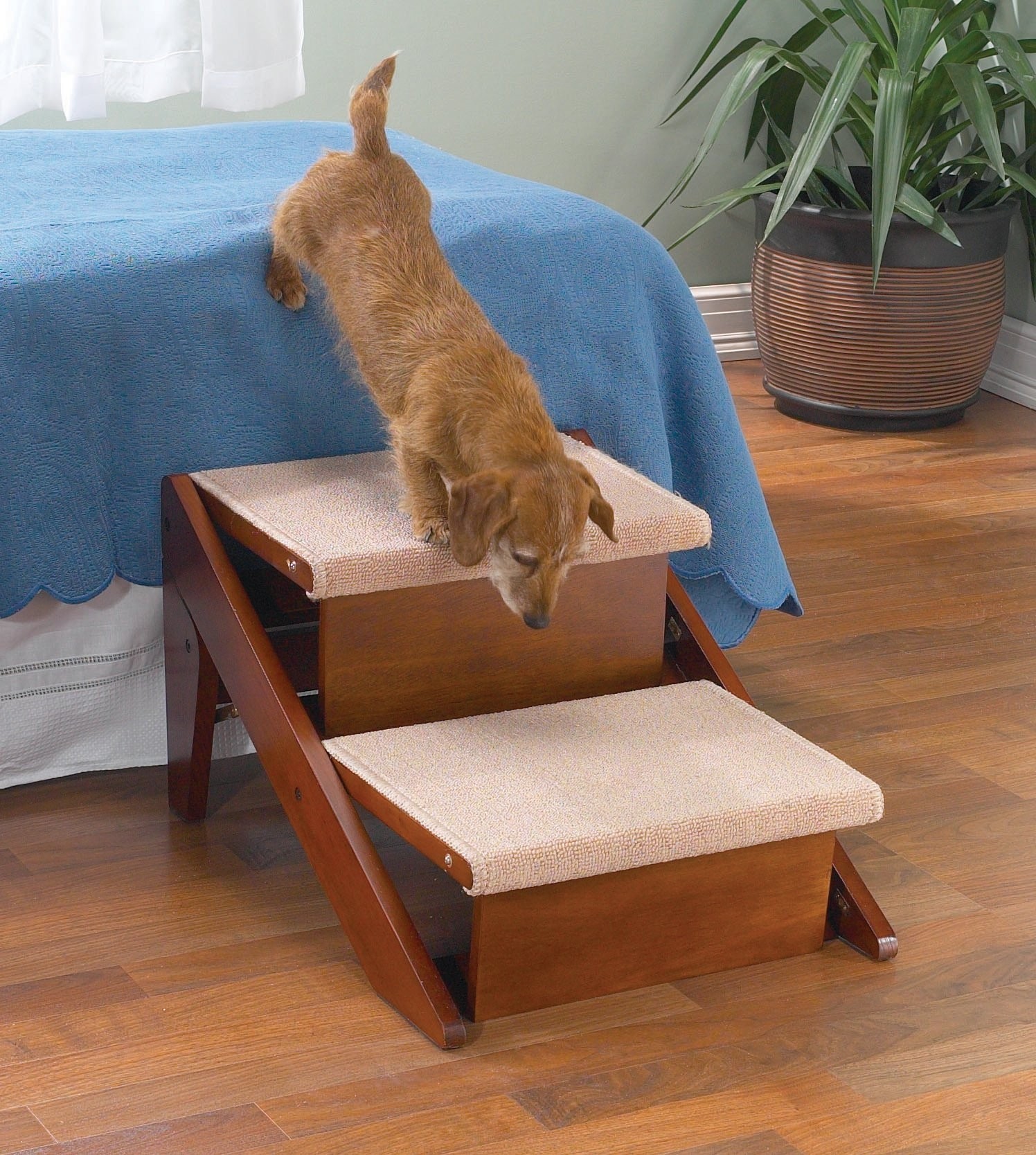 Your pets can't conveniently reach your bed? Look at these wooden stairs. Designed to reach high beds, with nice and soft upholstery on each step. Wooden construction makes them stable and reliable. That's a lot of problems gone!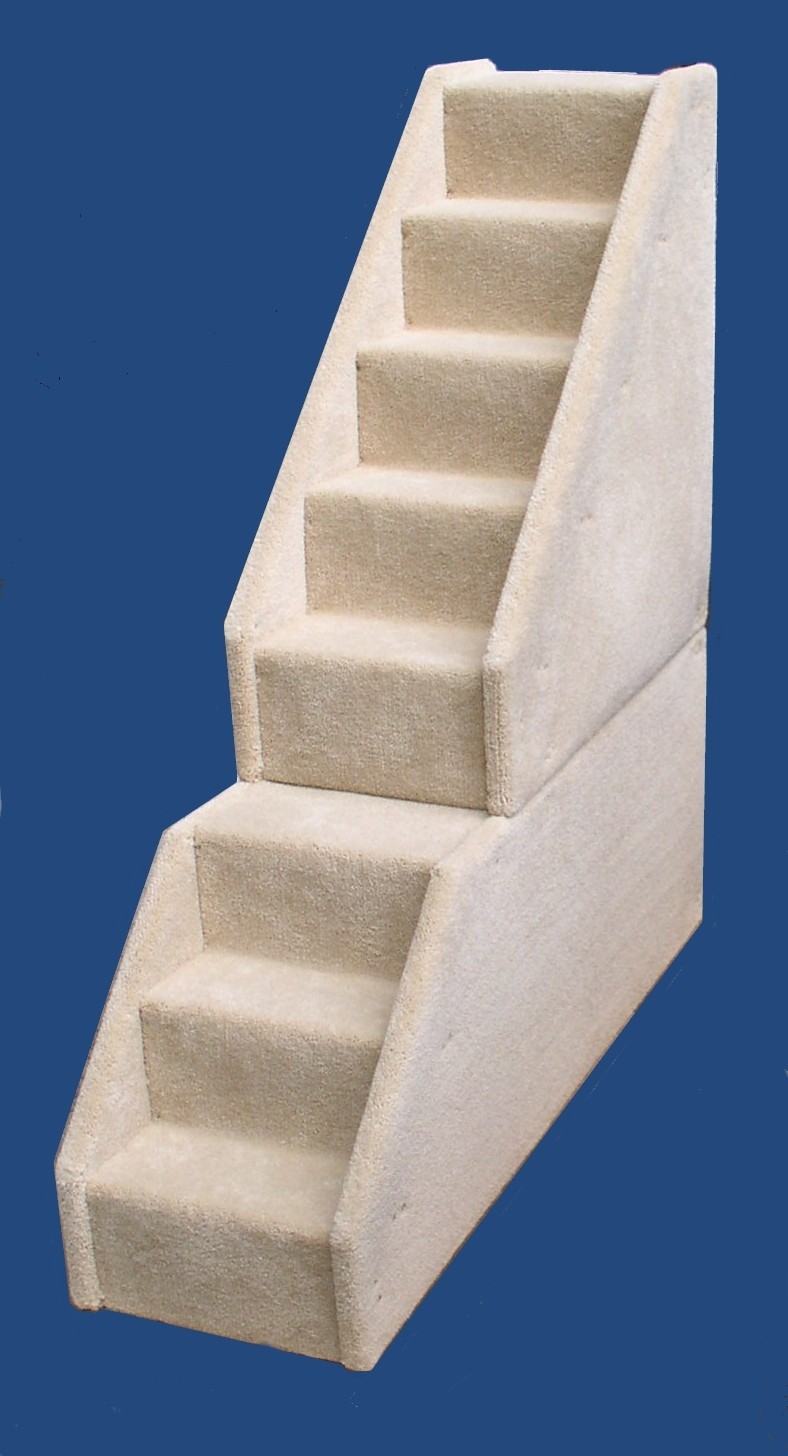 Two sections, 8 steps, 3 1/2 feet high dog ramp for medium sized pets (sections can be separated). Constructed from plywood, covered with light beige/cream plush carpet. No tools are needed for assembling.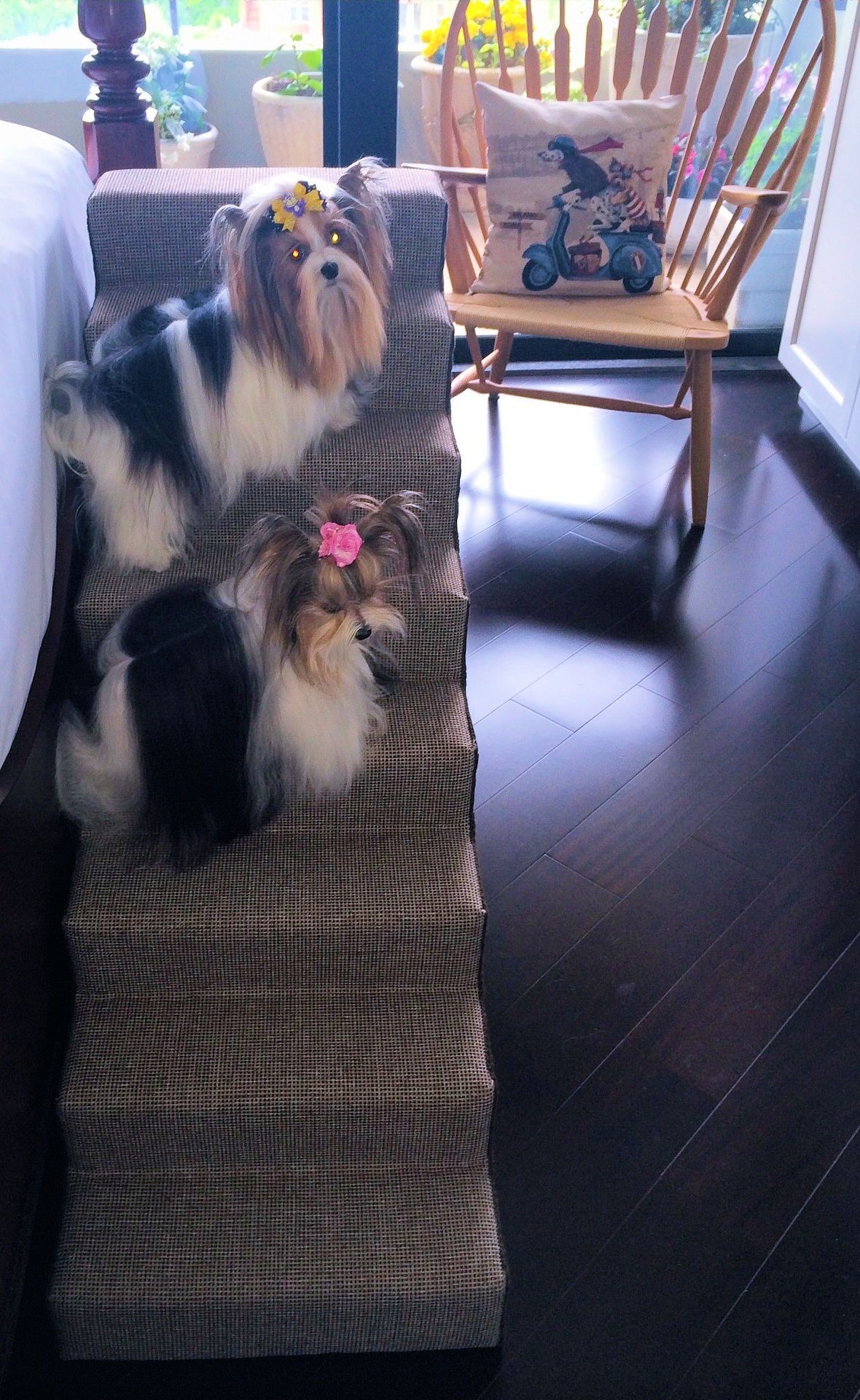 Stairs with 8 steps dedicated to small pets. It is covered with thick material and reinforced with solid seams. Suitable for cats and dogs. Application in all kinds of interior as needed.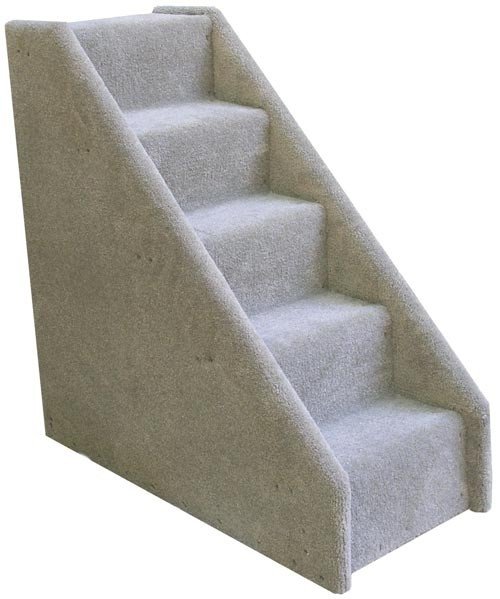 These stairs are durable and comfortable for animals. They are suitable for small dogs and they provide access to tall beds. These durable stairs are covered with soft and safe material finished in universal gray color.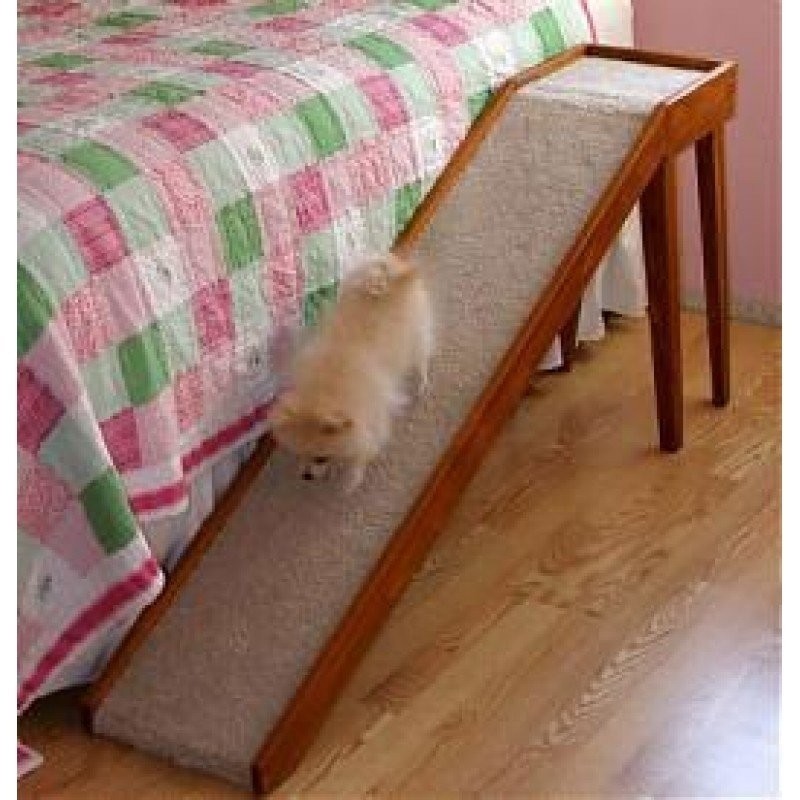 Pet Ramp for Bed - 12in Wide Climber Slope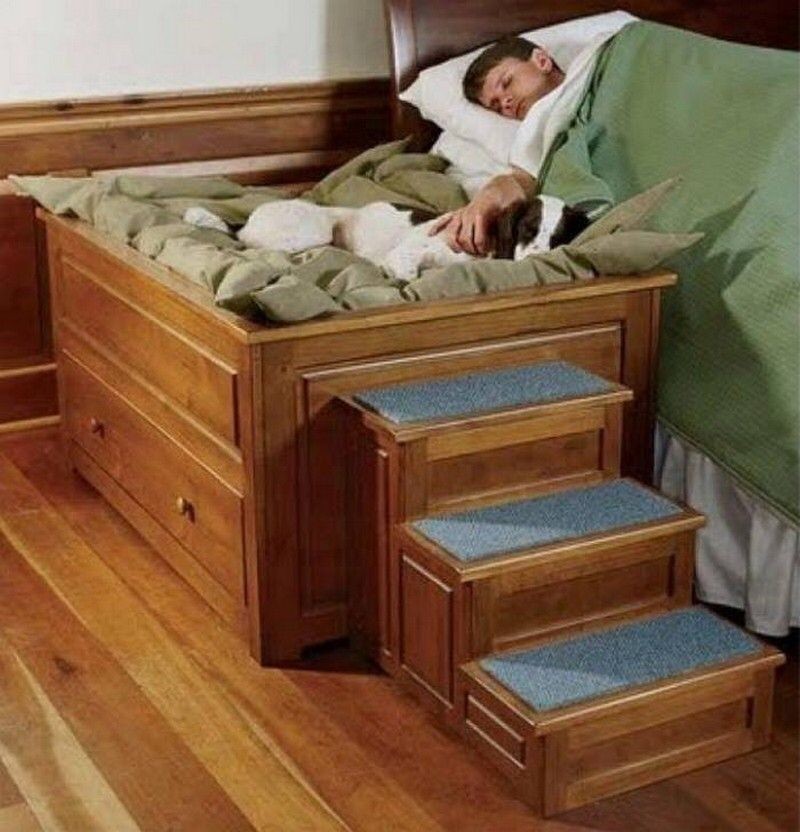 Side Dog Bed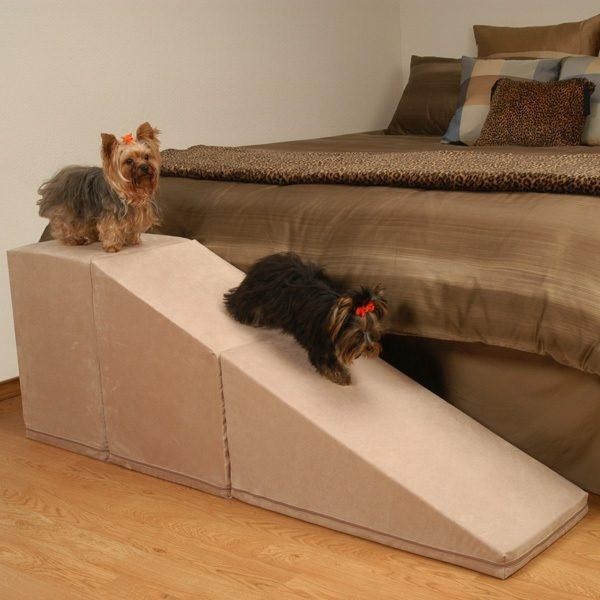 This straightforward and robust animal ramp construction is the perfect solution for any home where there are small dogs. The soft upholstery ramp is universal for all types of interiors, and the pets are free to go to higher couches or armchairs.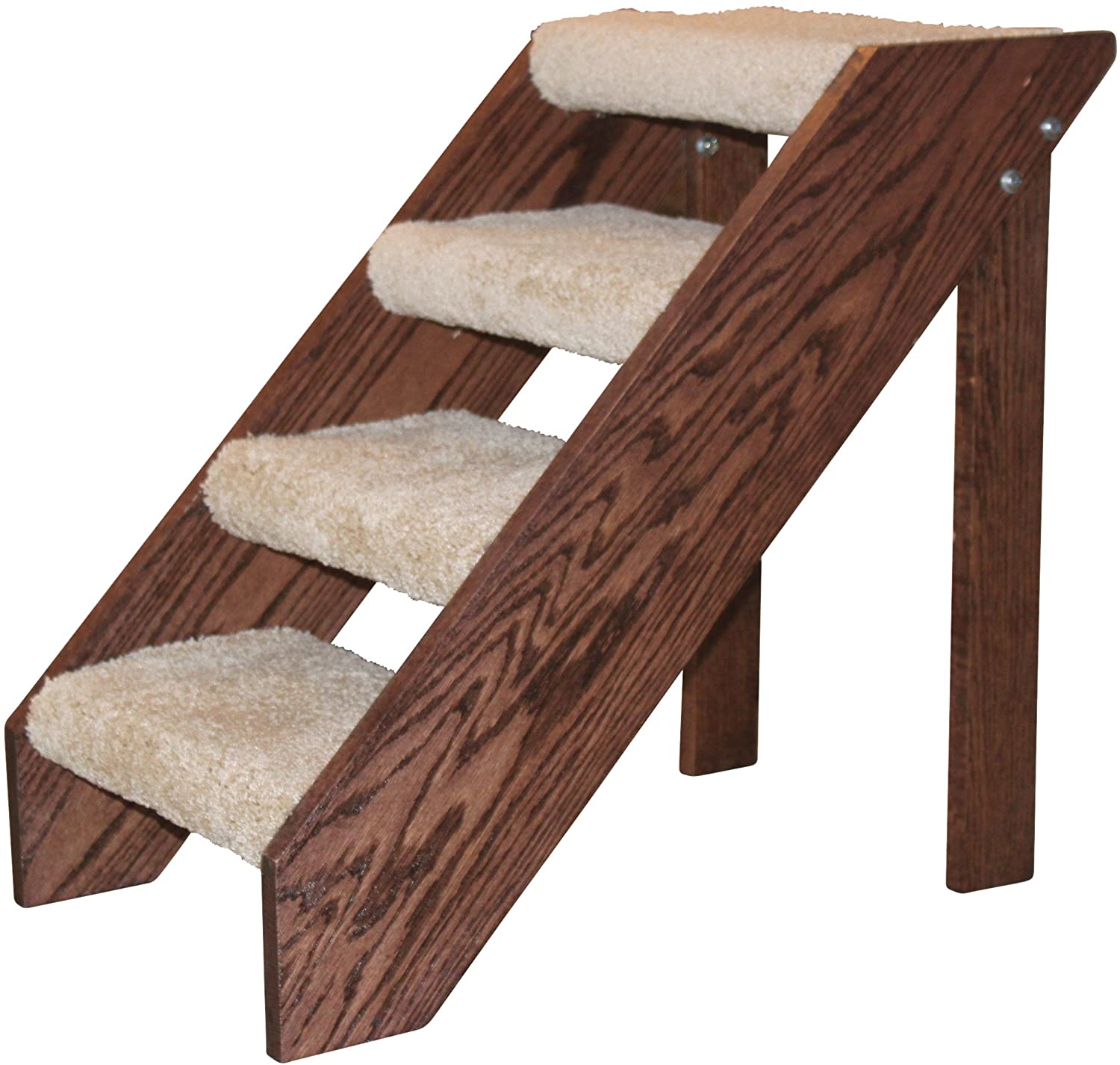 Modernity will allow us to help our dog to climb to the bed. These wood tall dog steps have open steps, enriched with non-slip coverings, thanks to which they are more compact and light and take up less space, guaranteeing safety. The wood has a warm hue.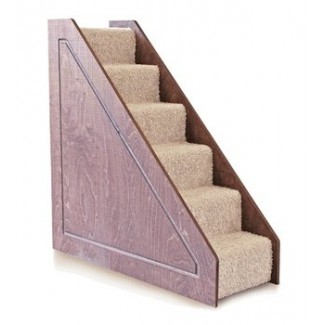 Decorative Wood Steps for Small Dogs - 6 Step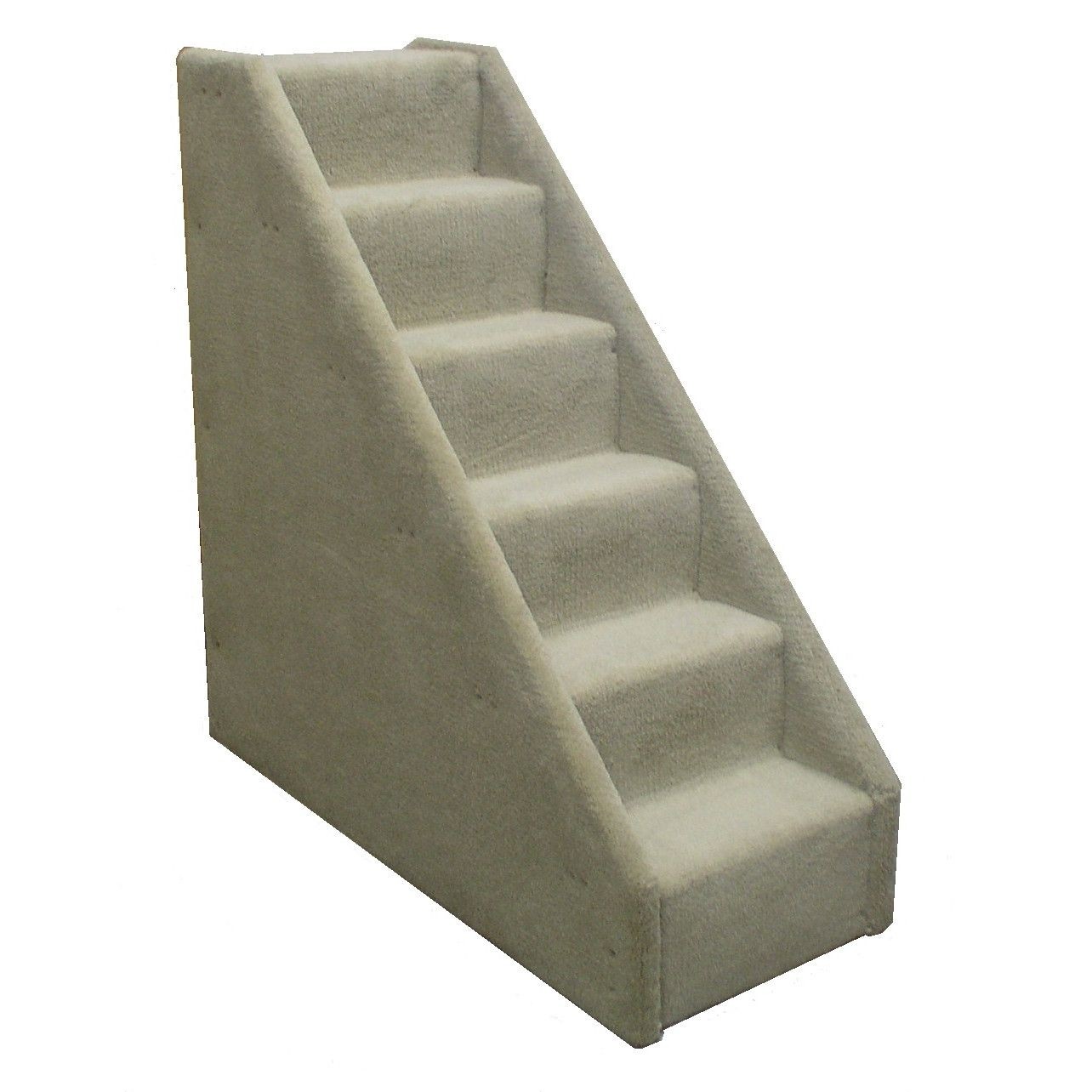 Dog Steps for high bed stairs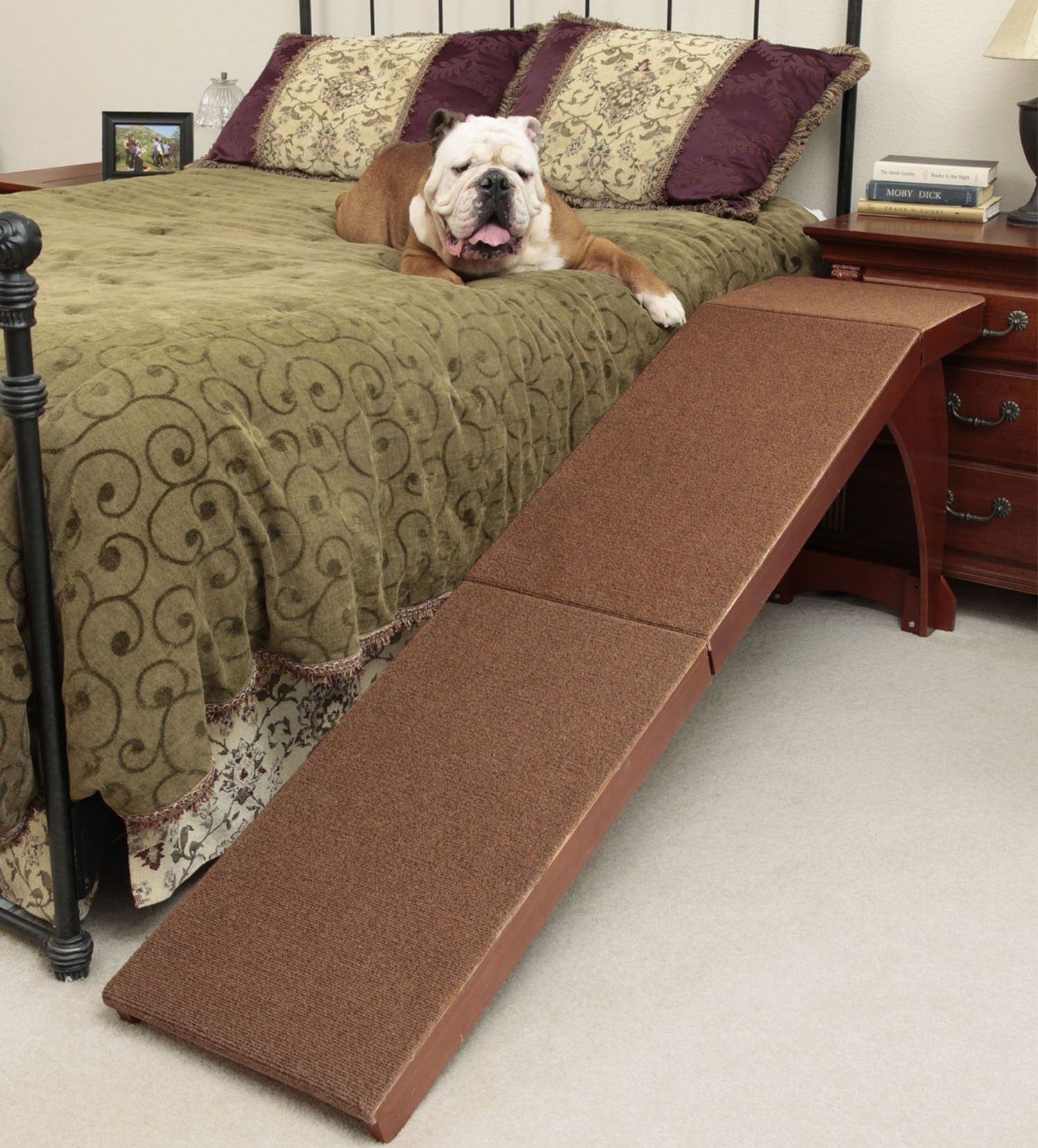 If your pet is having troubles reaching higher places, we have a perfect solution. The bedside ramp is made of wood, and covered with a anti-skidding material. It can be quickly folded or unfolded. And you can be sure that your four-legged friend will be able to climb on the bed, effortlessly.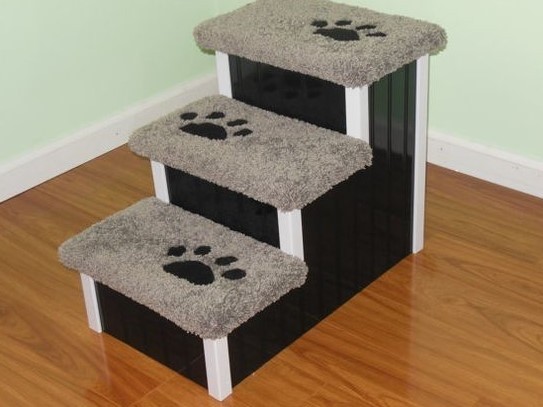 Steps are great for pets that you want to get in and out of your bed. At one time I had 12 tiny Yorkies that slept with me, and they needed steps.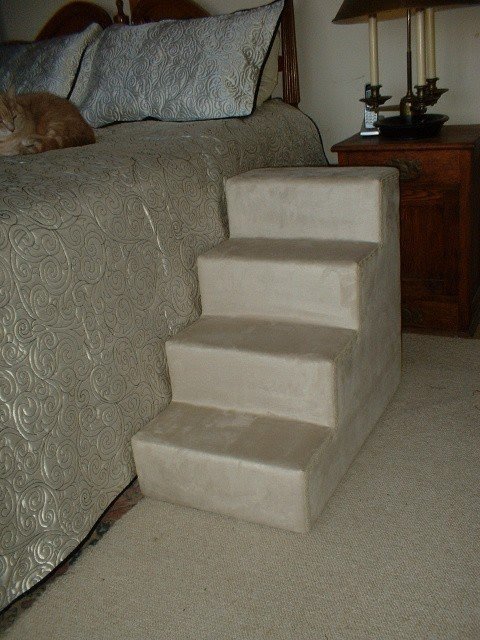 PET STEPS FOR SMALL DOGS AND CATS >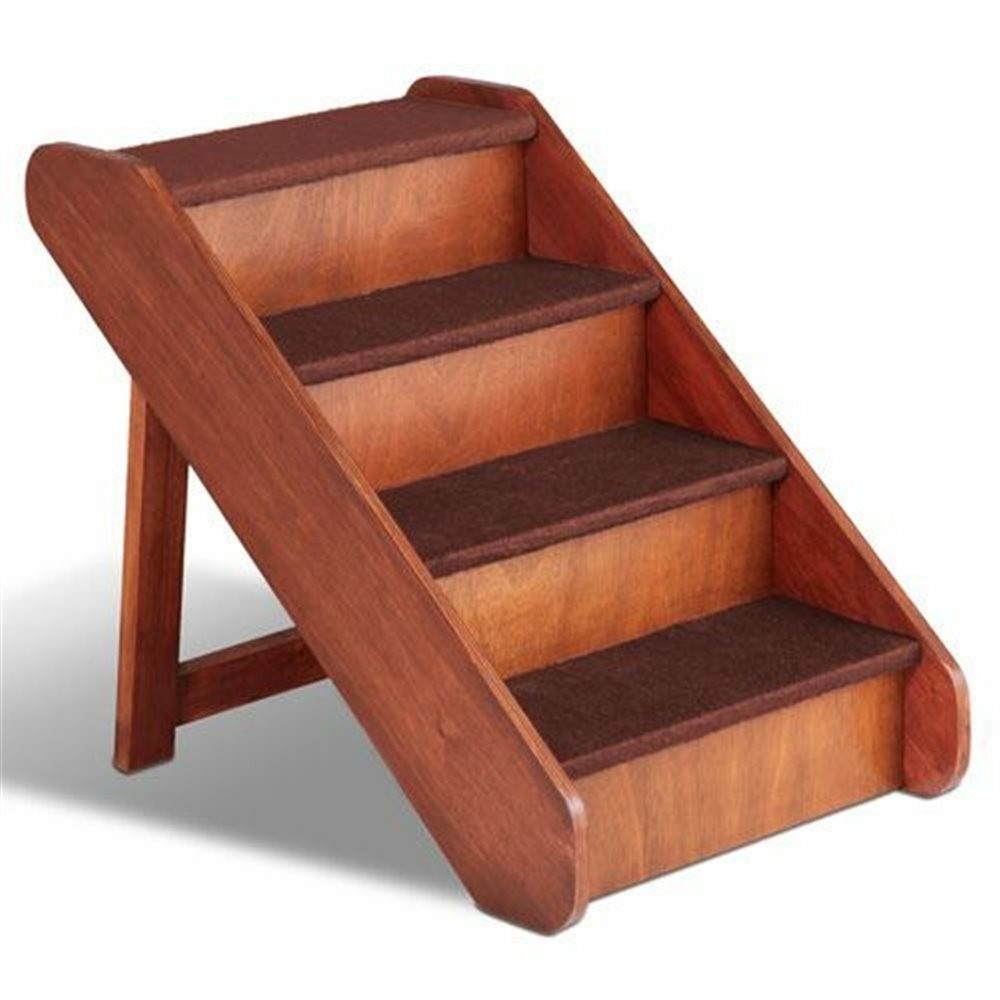 Pet stairs made of mahogany wood. It is dedicated for old or sick pets, especially dogs. It is available in two sizes: the classic model is intended for small- to medium-sized pets, large size is recommended for medium and big size pets.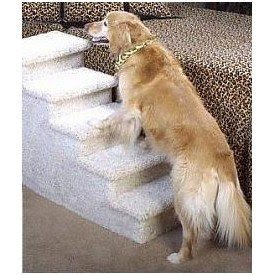 dog or cat get to the high places with our high carpeted pet steps ...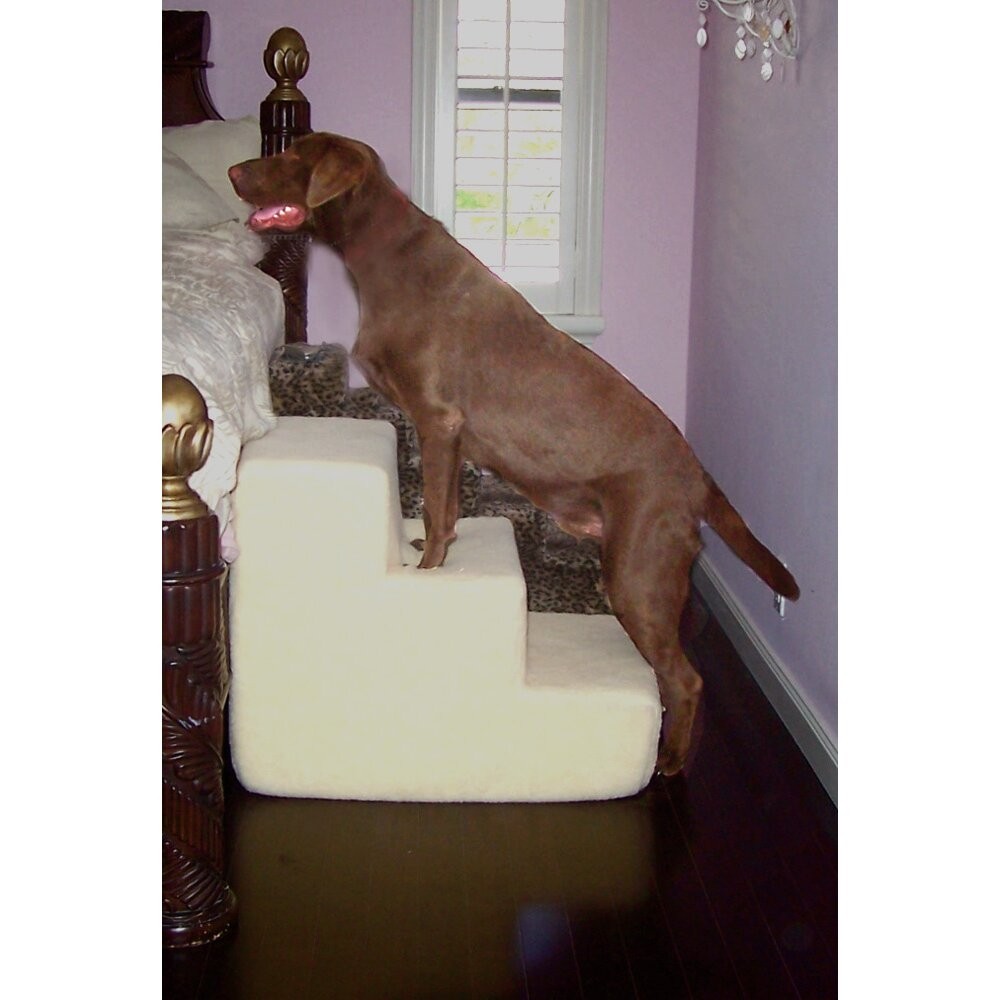 Minimalistic and simple approach to a set of handy pet stairs for smaller dogs, helping them reach a high bed. The three-step structure is made entirely out of foam, which makes it plushy, comfy and easy to clean.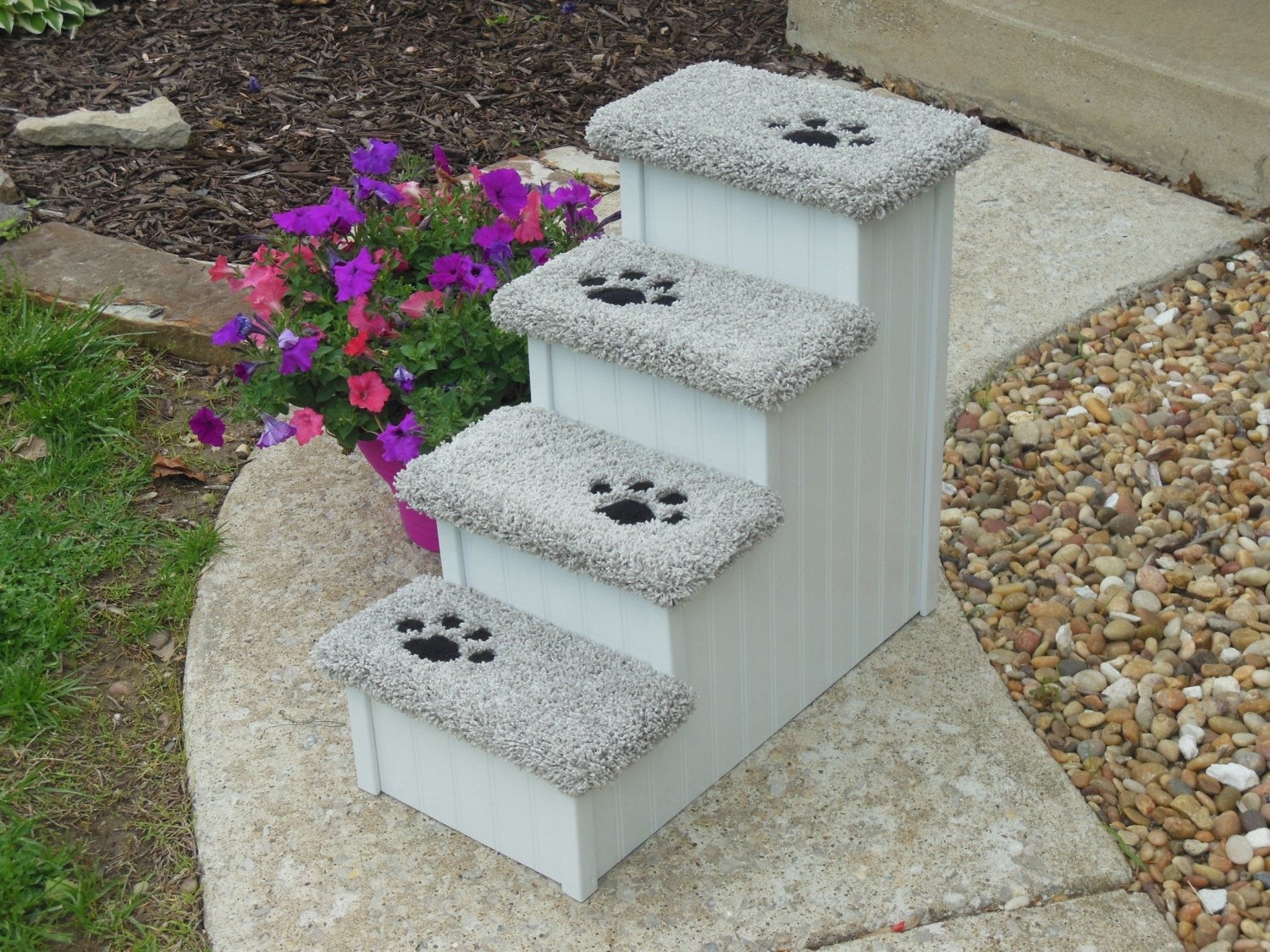 24 High Dog Stairs for Tall Beds. All Wood by HamptonBayPetSteps, $149.00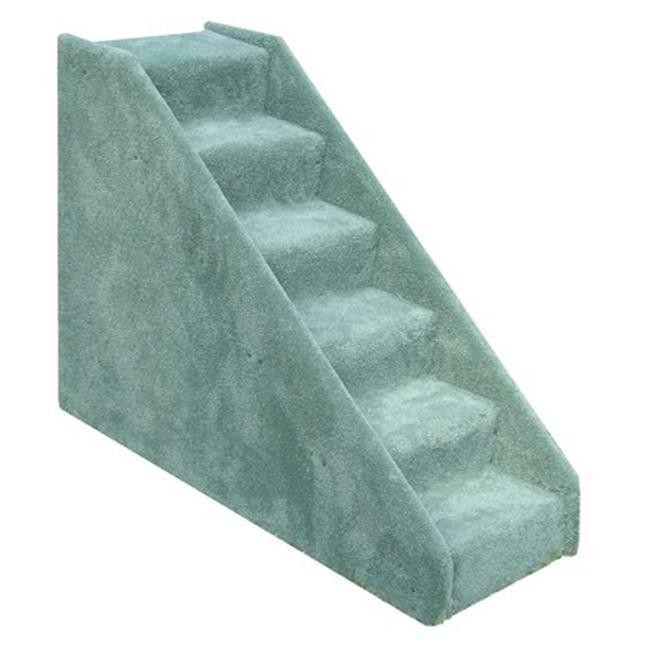 Dog Steps and Pet Stairs - Carpeted wood dog steps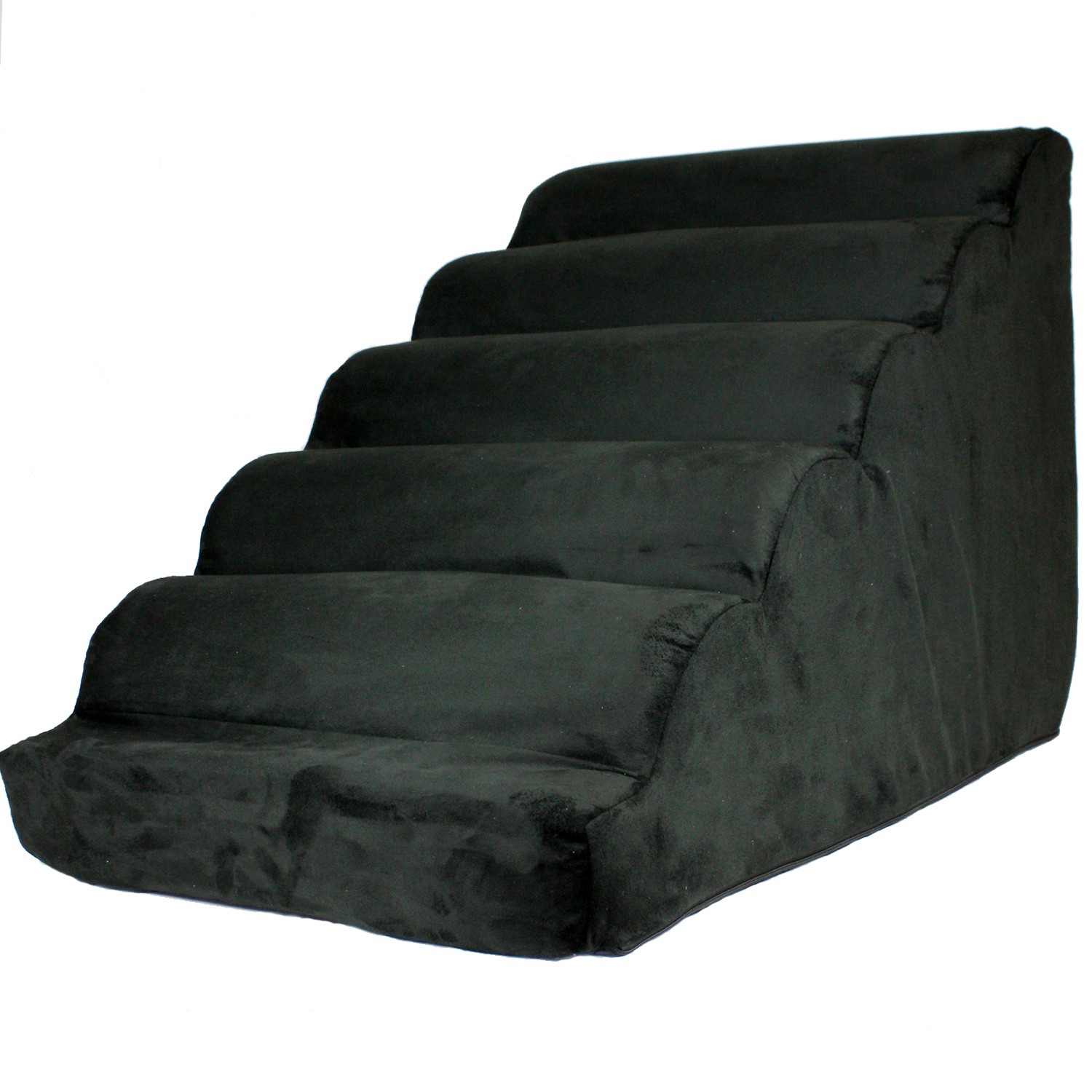 This small, decorative and functional element provides access to high beds for small dogs. This pet ramp features a very soft fill that is safe and comfortable for animals. Black finish of this ramp looks very nice in any interior design.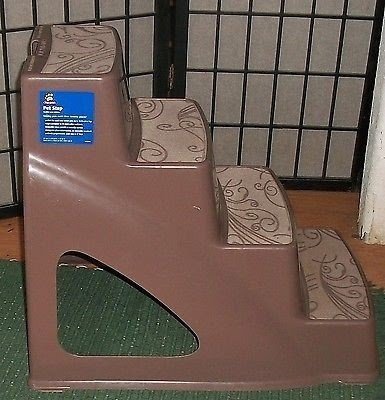 This doggie steps for smaller pets are a very good idea, if you want for your pet to be able to reach higher spots. Each step is covered with a non-slipping surface, while the whole structure is created of strong material.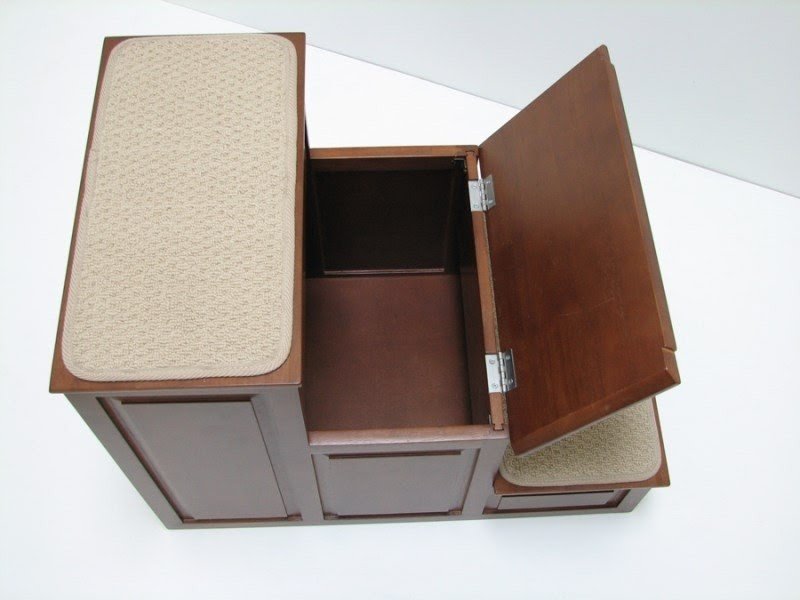 Crown Pet Designer Pet Steps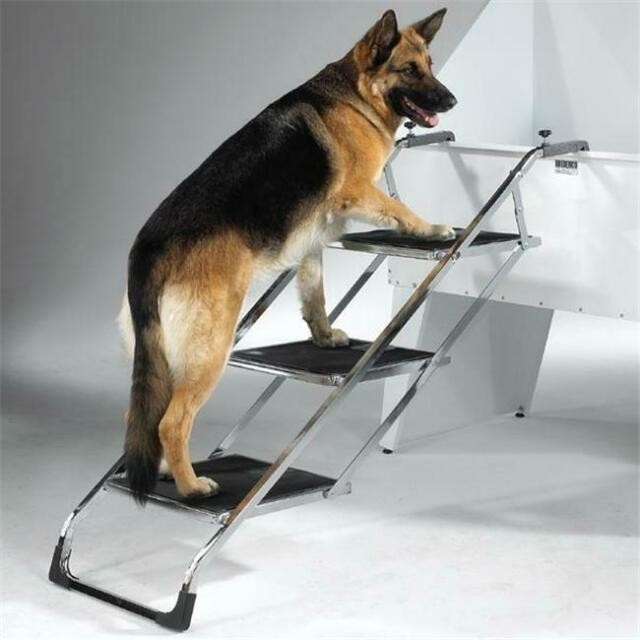 Non Skid 4 Step Pet Stair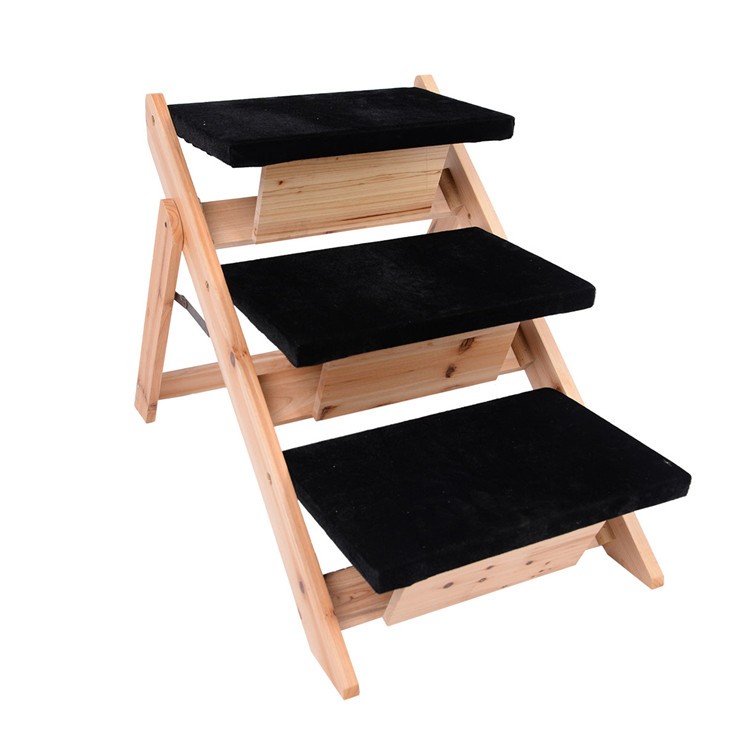 1000x1000.jpg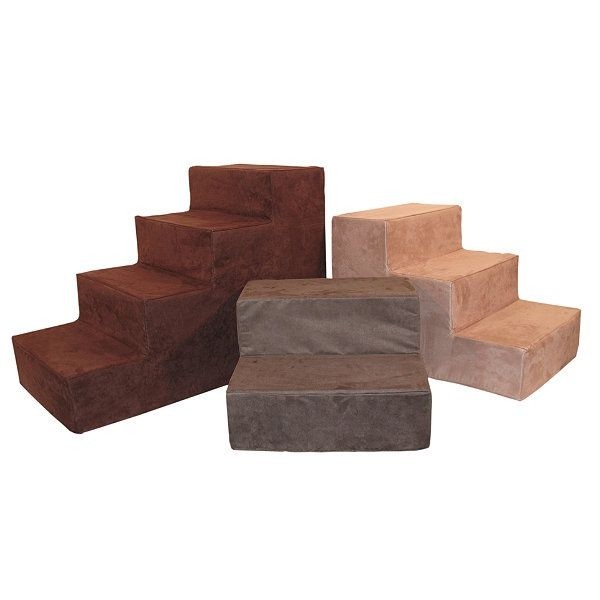 This dog stairs for high beds will allow your beloved companion to spend the night with you. Especially when they are ageing and tired, arthritic or smaller. Constructed of high-density foam and professionally upholstered in lush micro velvet.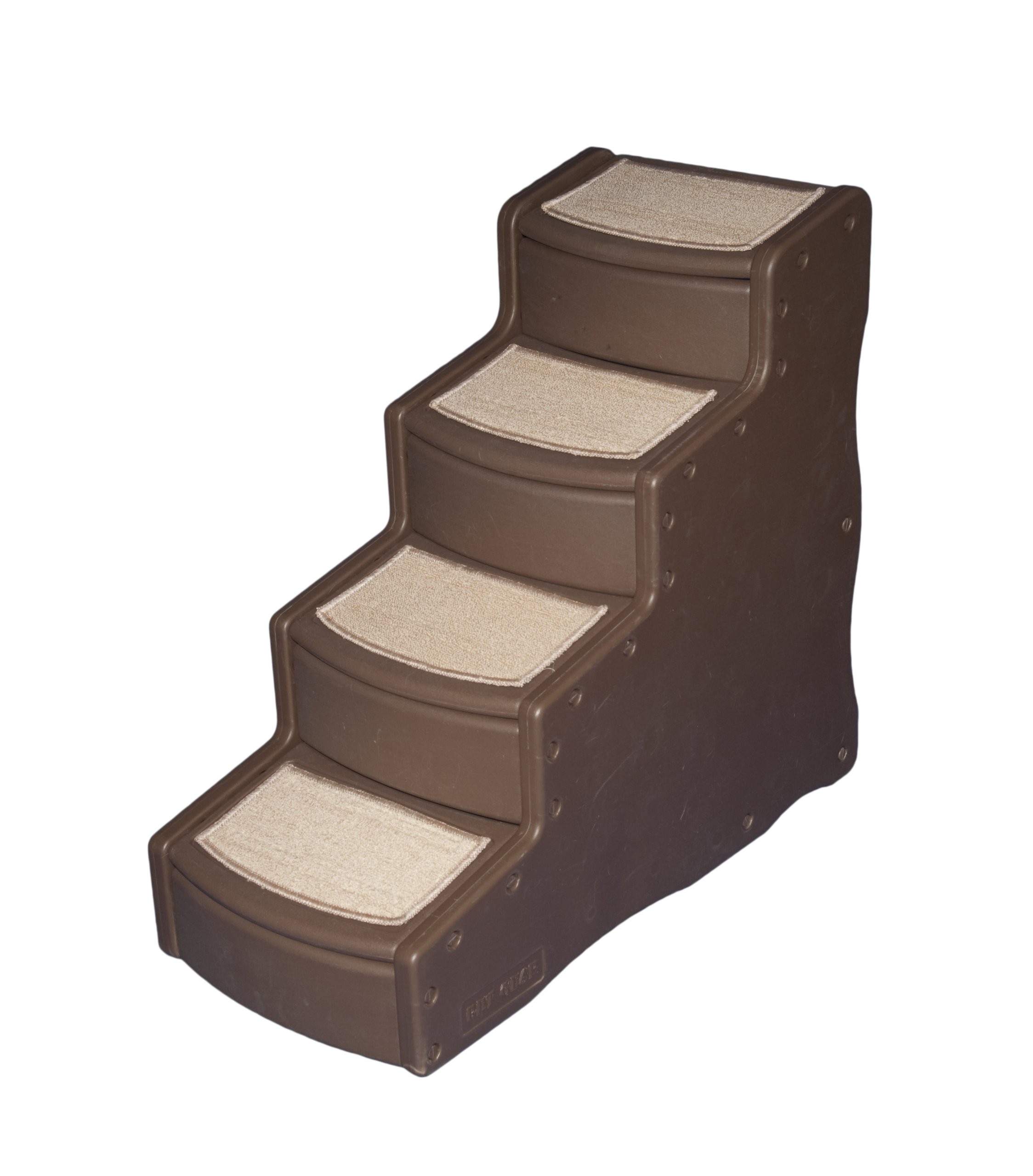 This Durable Dog Steps is consisted of a carpet tread and rubber grippers. The carpet thread can be easily removed for a convenient cleaning, while grippers ensure that the whole structure is firm and properly secured.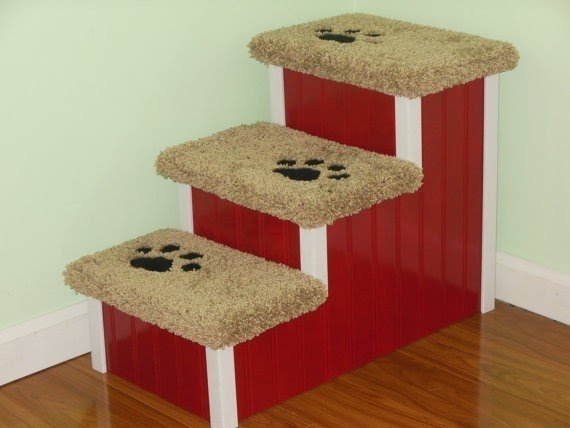 18"Tall Dog/Pet Stairs, Dog Steps! Pick any color to match your decor! Hand made, custom built in the USA.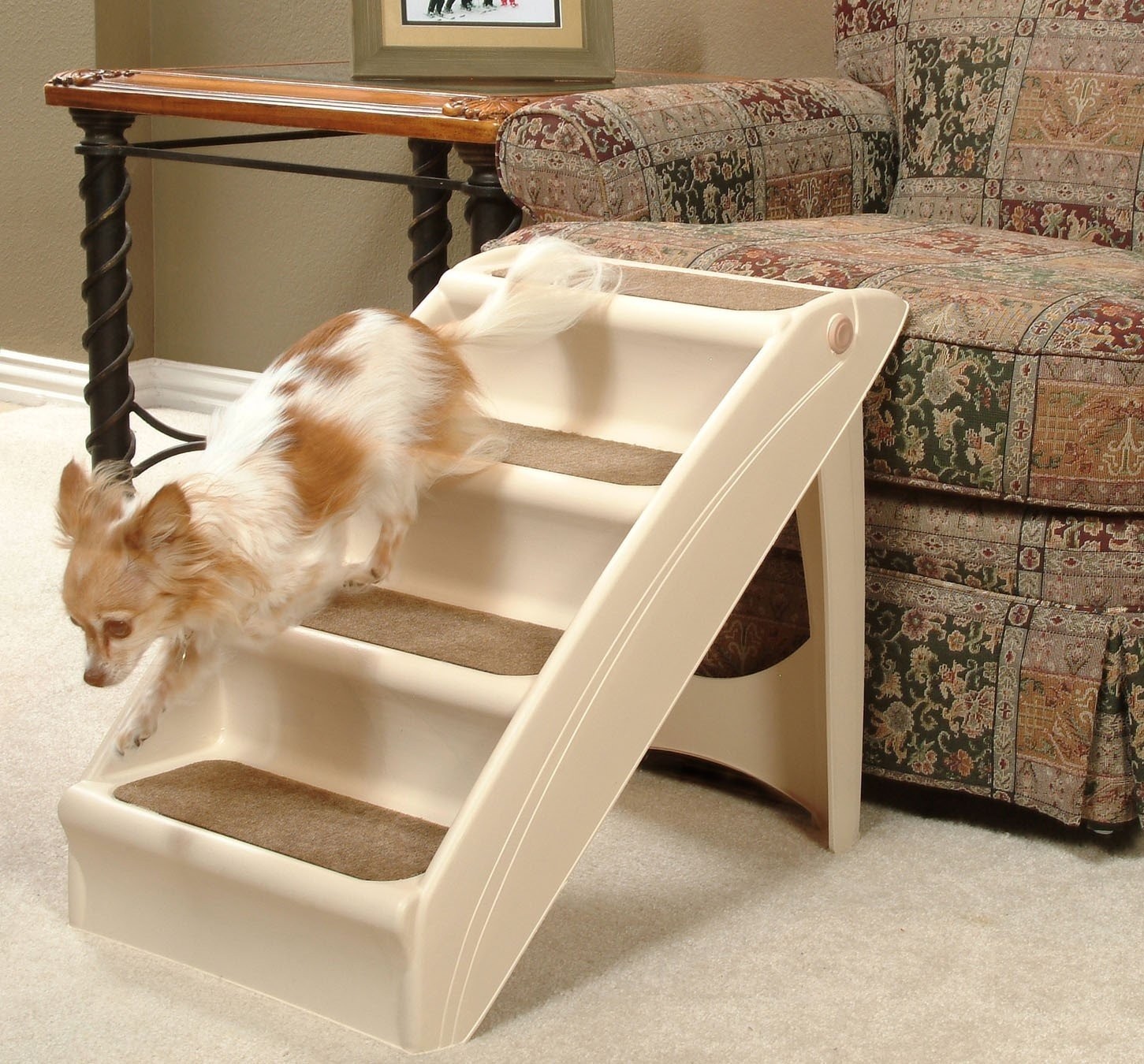 Dog Steps For small dogs. Use pet stairs so pets do not have to jump off sofas or high beds.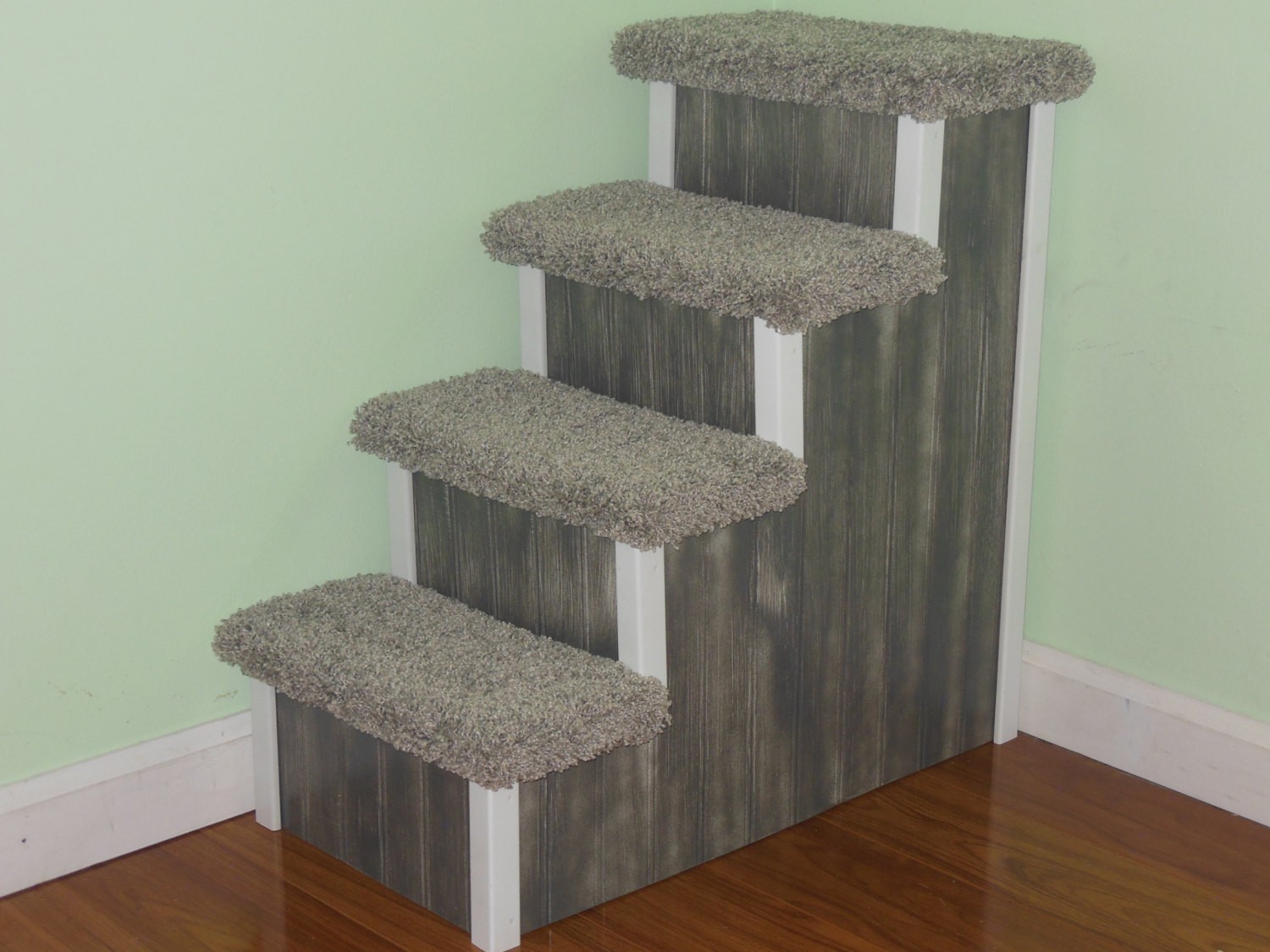 Dog Steps FREE SHIPPING 24 High Designer Dog by HamptonBayPetSteps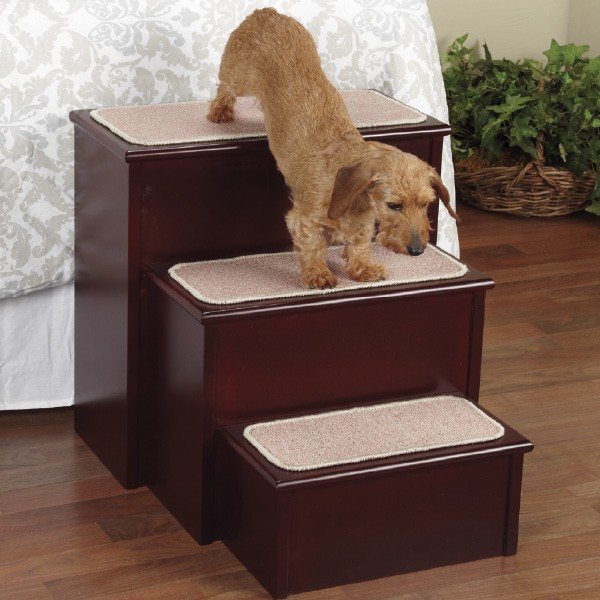 $149.94-$189.98 These Mahogany Finished Carpeted Pet Steps are just the thing to give small, older, or arthritic pets a boost! The 3-step piece allows your pet to have easier access to higher places - like couches and beds - and each of the steps is carpe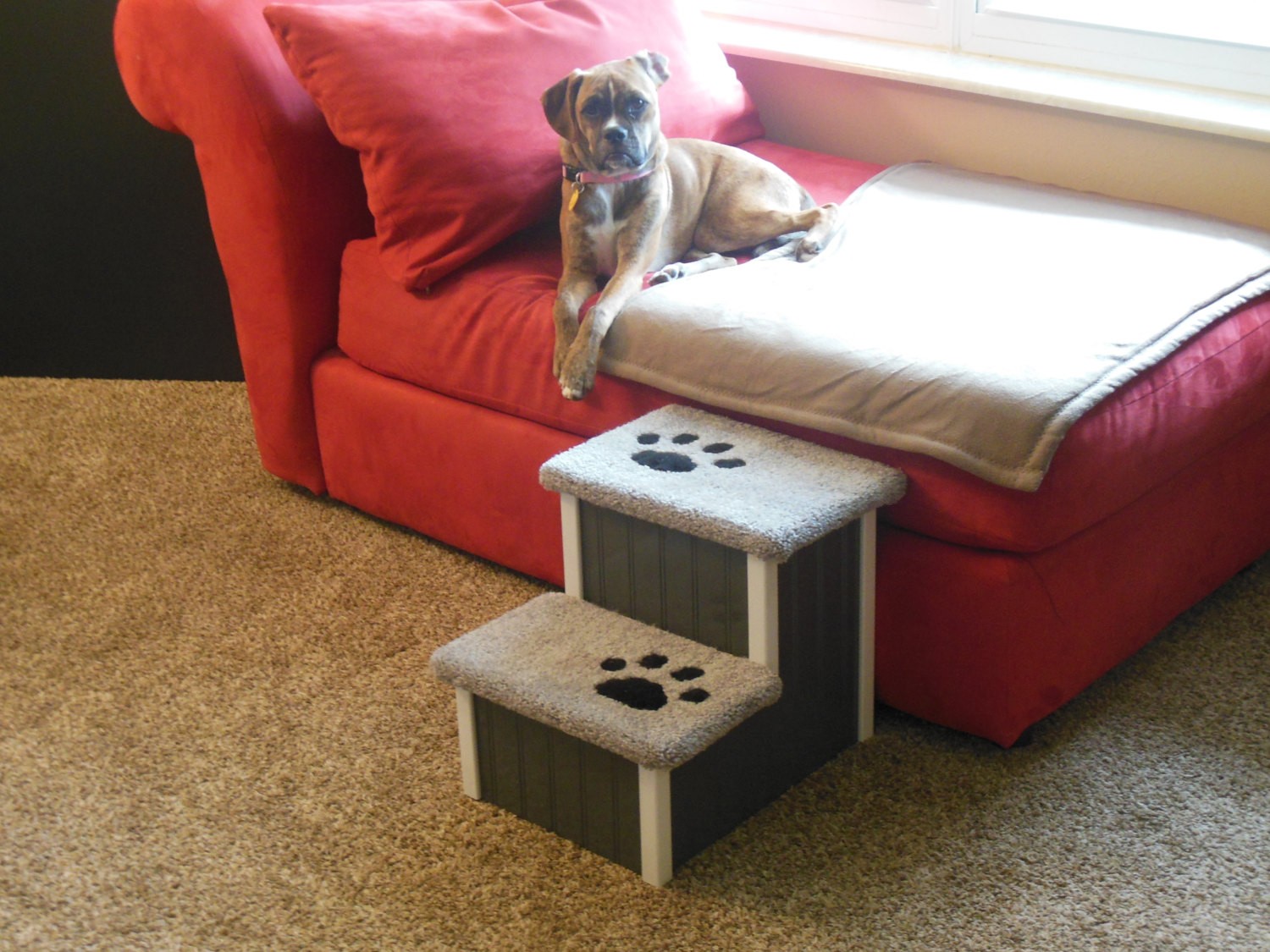 Dog/Pet Steps, Dog Stairs 15" High. Pick any color to match your decor. Help ease & prevent arthritis!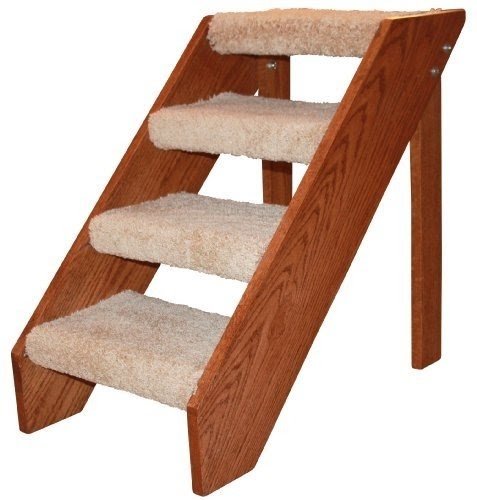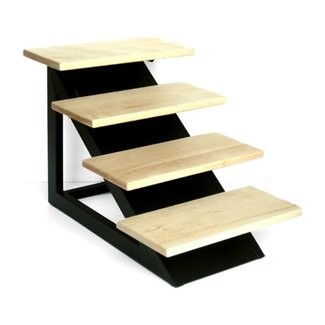 Dog Stairs For High Bed You'll Love in 2021 - VisualHunt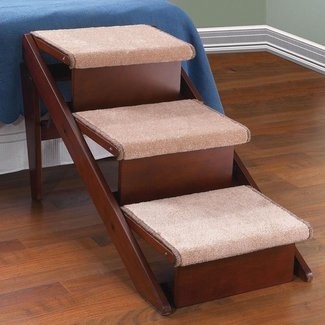 Dog Stairs For High Bed You'll Love in 2021 - VisualHunt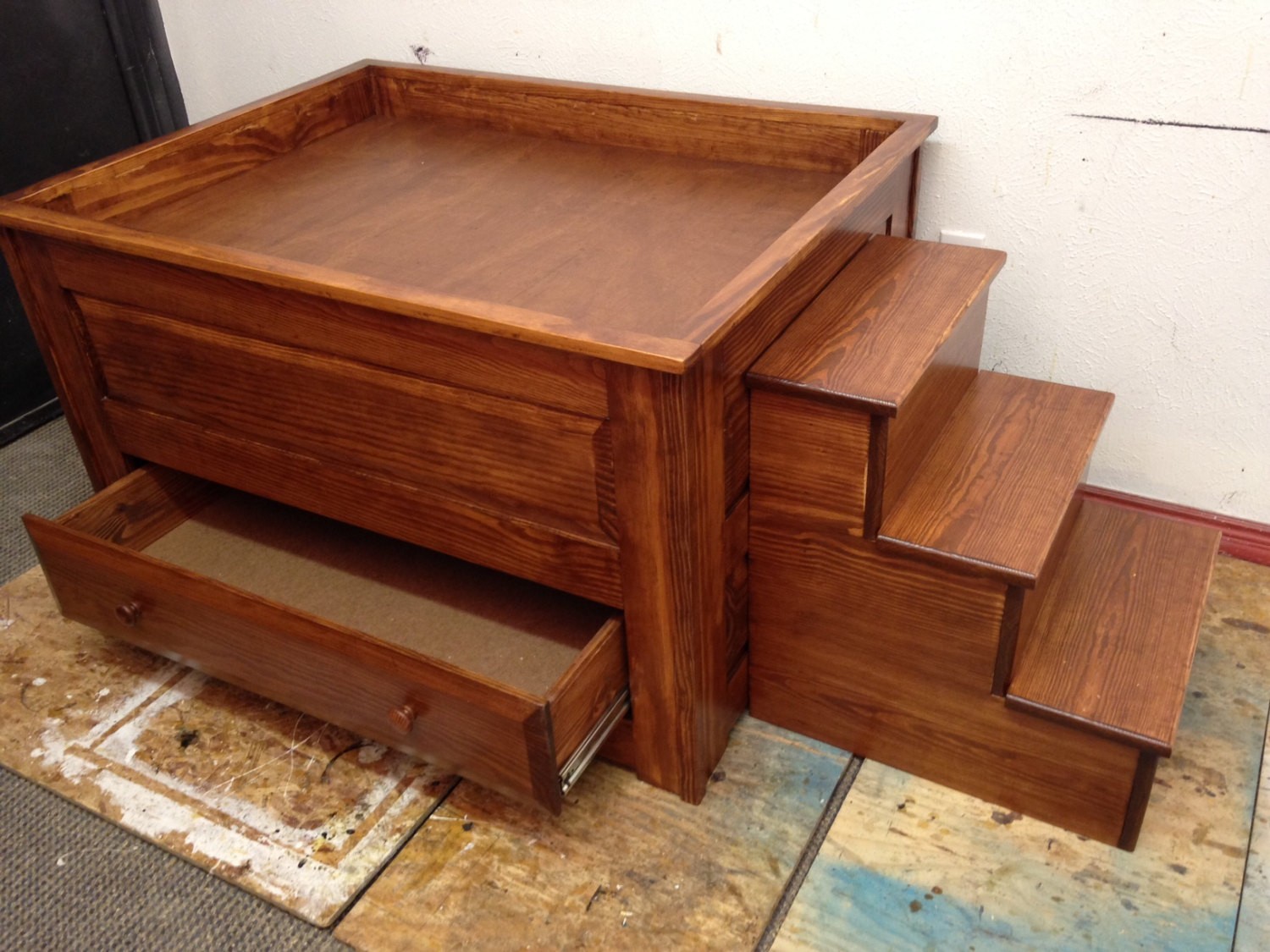 Elevated Dog Beds Stairs — Best Room Design : Cozy and ...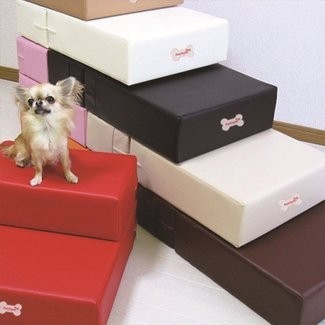 Dog Stairs For High Bed You'll Love in 2021 - VisualHunt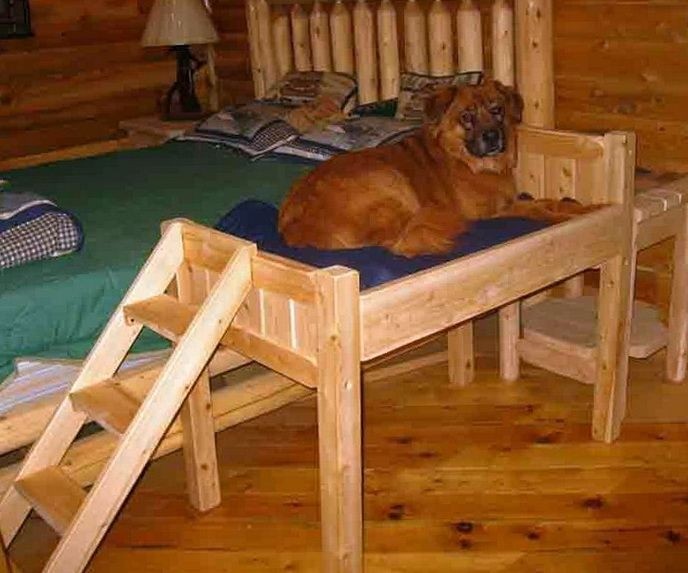 Elevated Dog Bed With Stairs | Elevated dog bed, Cool dog ...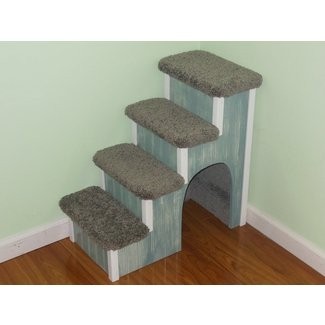 Dog Stairs For High Bed You'll Love in 2021 - VisualHunt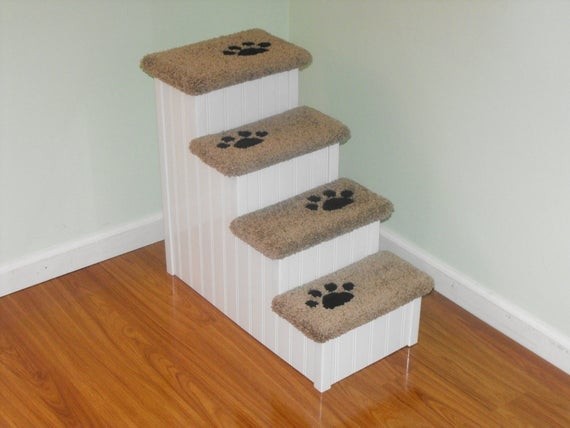 Dog Stairs 24 High Dog Steps for Beds Pet Stairs Pet