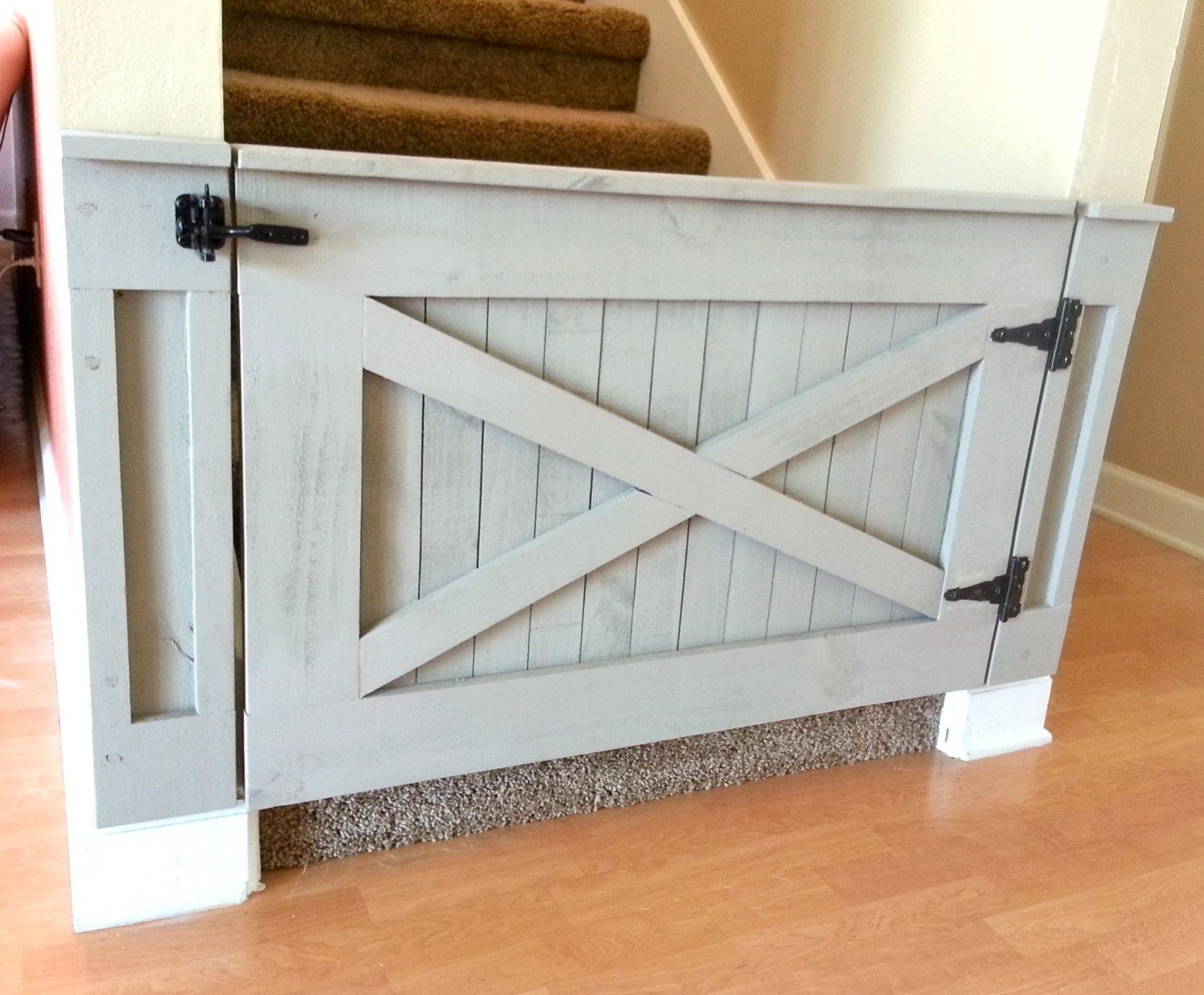 Dog or baby gate barn door style
This functional and handmade item is a dog gate for stairs with side panels. It features a solid wooden construction with black metal hardware. White color of this gate perfectly matches many indoors thanks to its simplicity.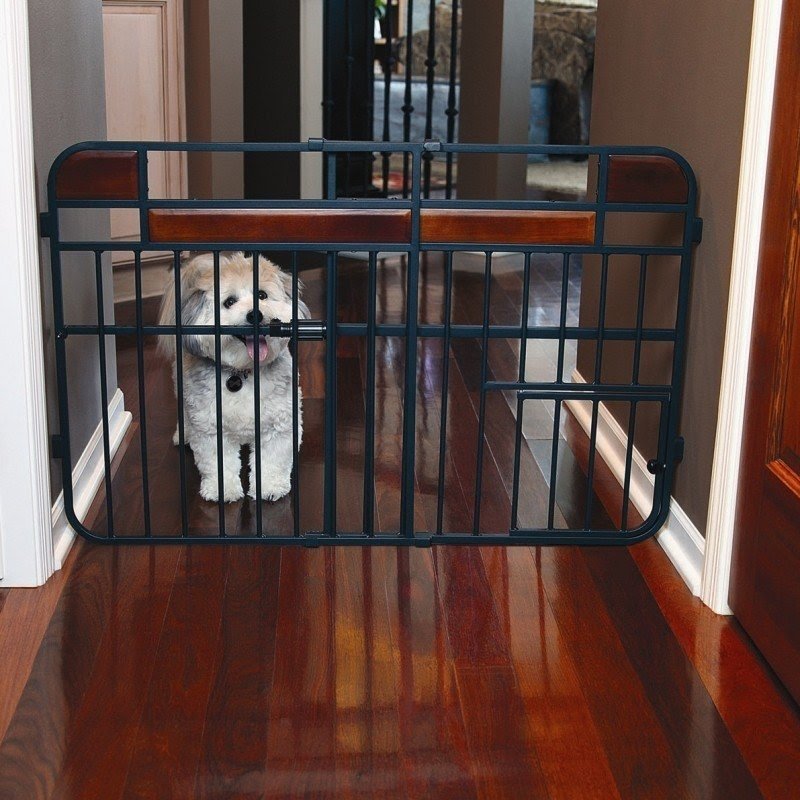 Design Studio Expandable Dog Gate
It is very practical and extremely safe gate that will protect your bedroom. Usually, bedroom is the place where we do not want to invite a dog. Therefore, such a gateway perfectly fulfilled its purpose. A dog can move freely around the apartment except this one place.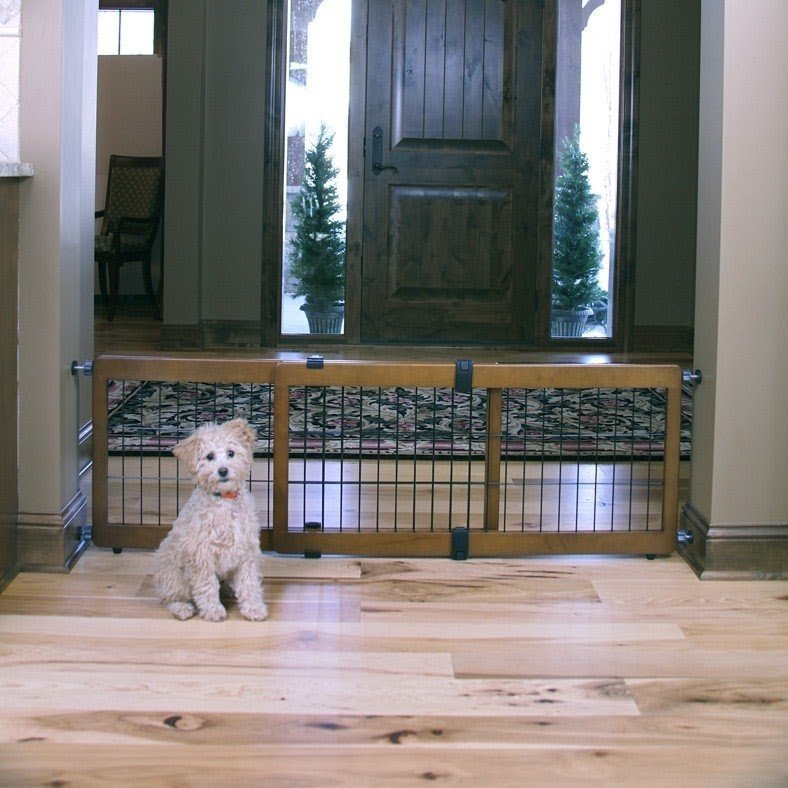 Design Studio 2-in-1 Free Standing Pet Gate
Great looking and functional pet gate made of sturdy wood with black steel accents. Features easy to install and remove construction, security latch, and convenient step-over design allowing customization.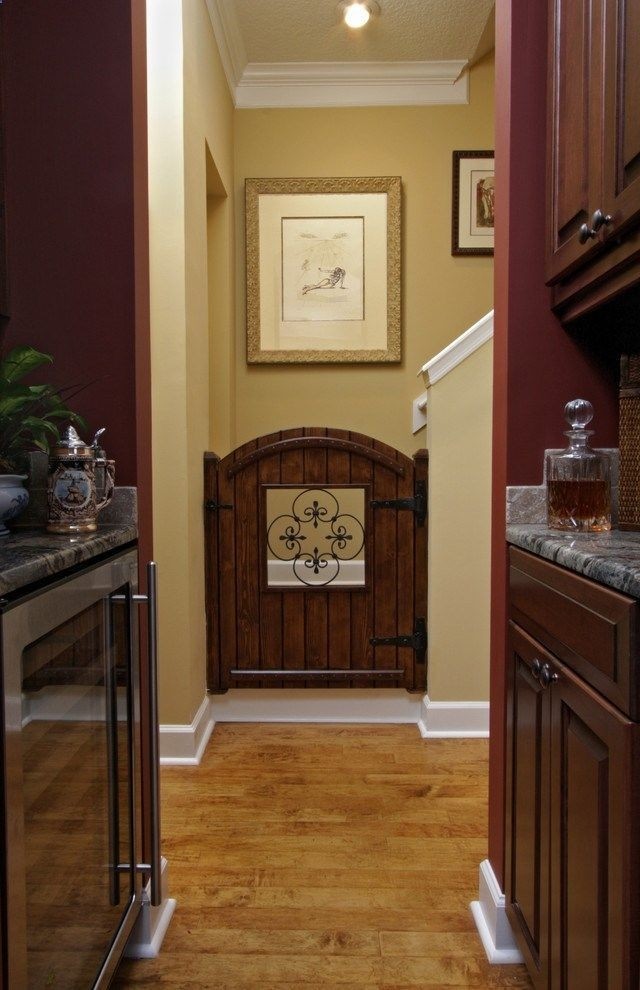 Beetree homes mediterranean kitchen jacksonville
An aesthetic stylish protective gate to install on stairs. It's made of vertical wooden planks in mid brown shades. It features a square window in the centre with delicate scrolls and has an arched top. Hinges and a catch are of black coated metal.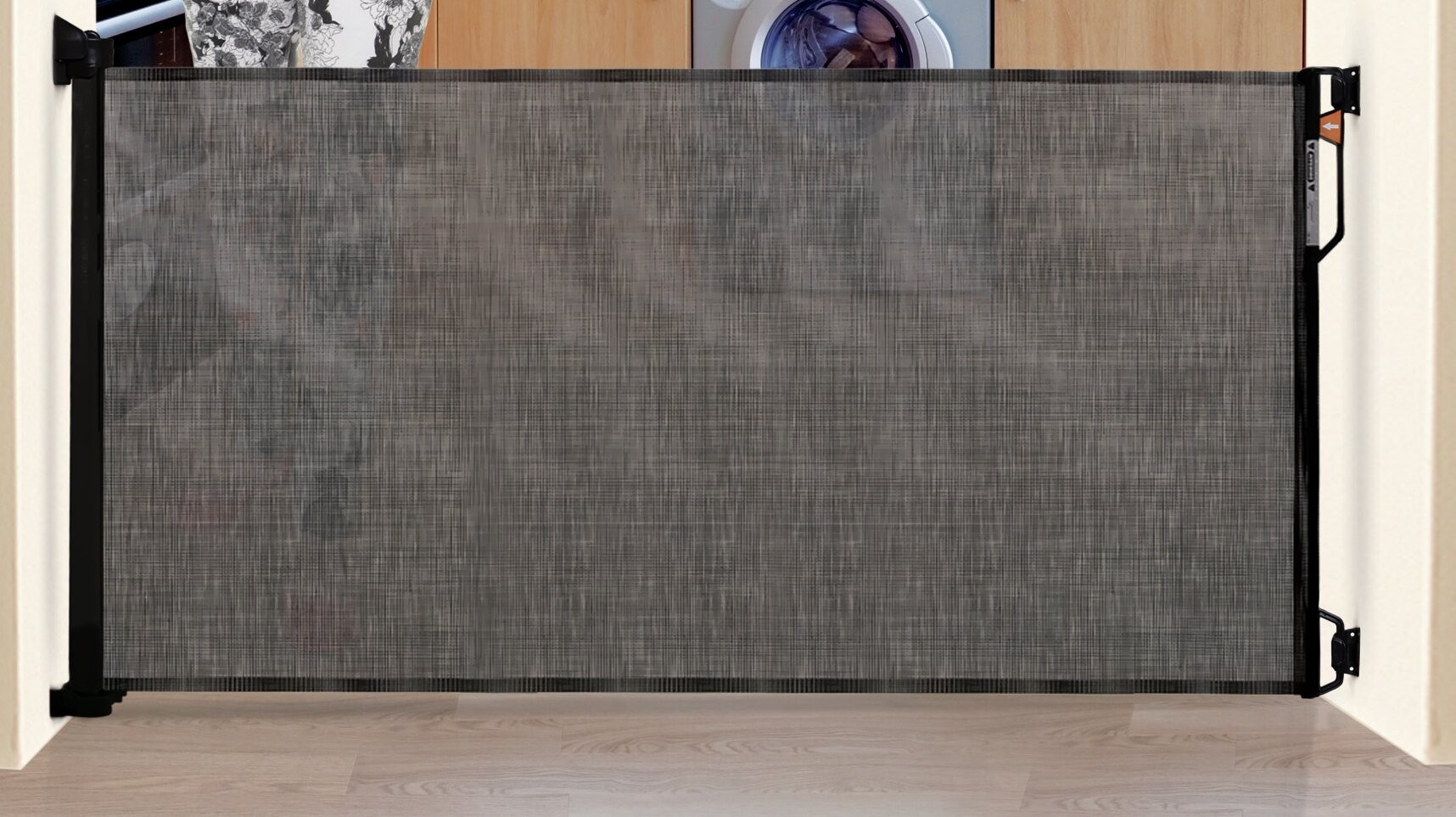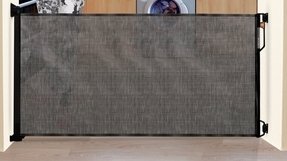 Retractable Gate Spacers
The retractable gate installed in an area where there is a molding, this spacer will help the gate to be in parallel with the wall. As this gate is made from high-quality materials, it is sure to be a part of your home for years to come.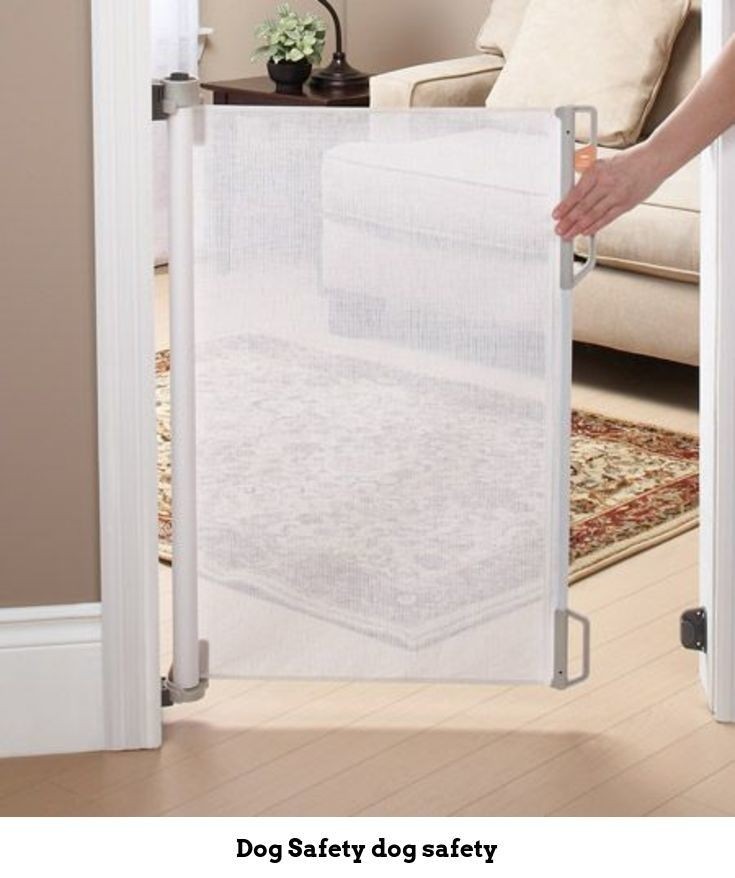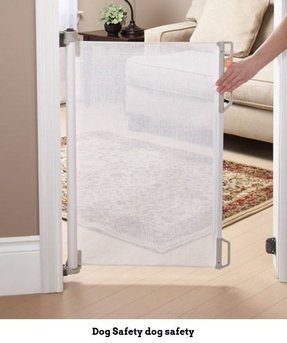 This delightful gate for indoor use is foldable, and made of a quality, white material. It is mounted on the one side of the window-frame, and then stretched out to the other end, where strong clips keep it in place.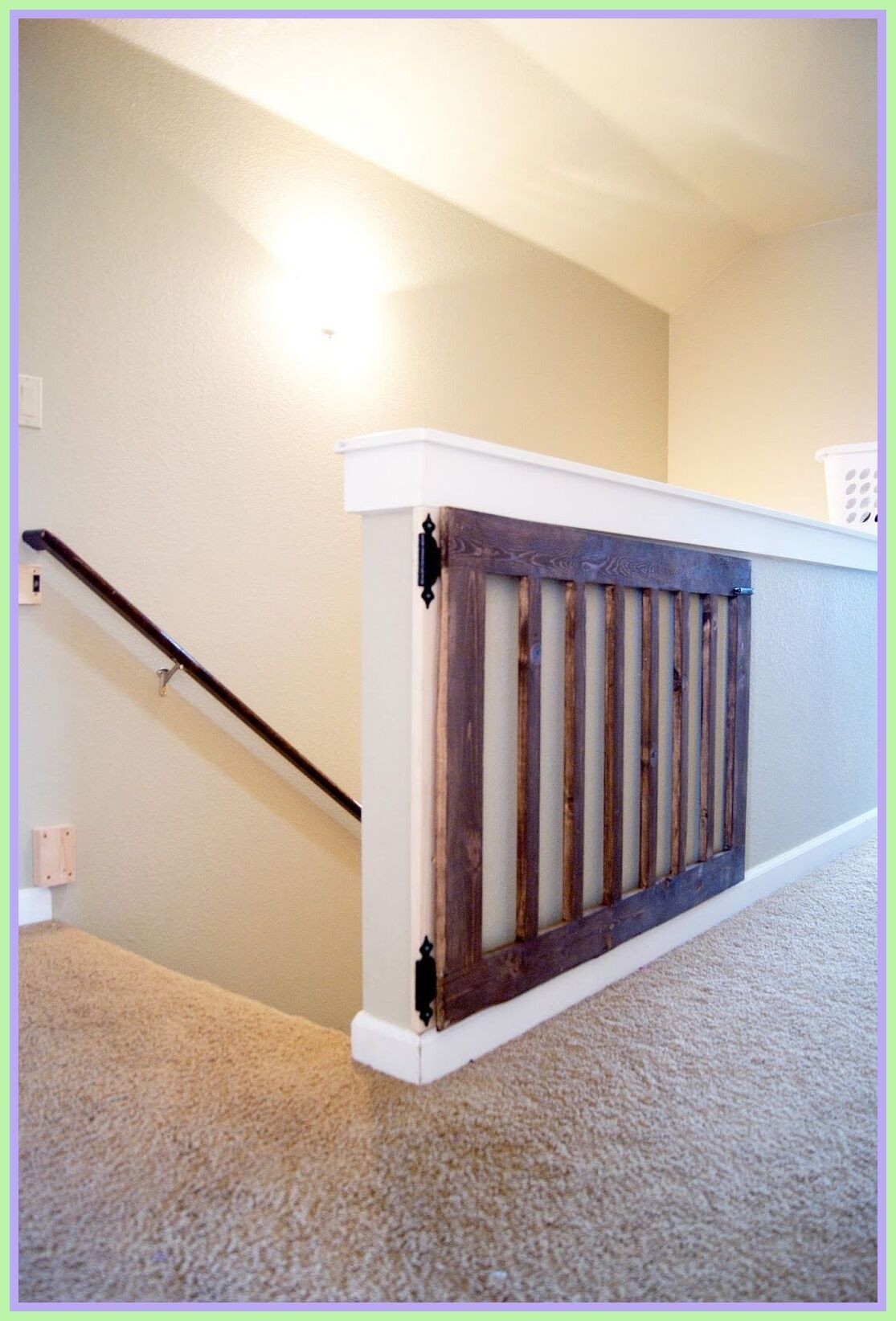 This dog and baby gate for stairs is a very durable protection for animals and small users. This gate features a simple construction with vertical slats. It also includes solid metal hardware finished in black color.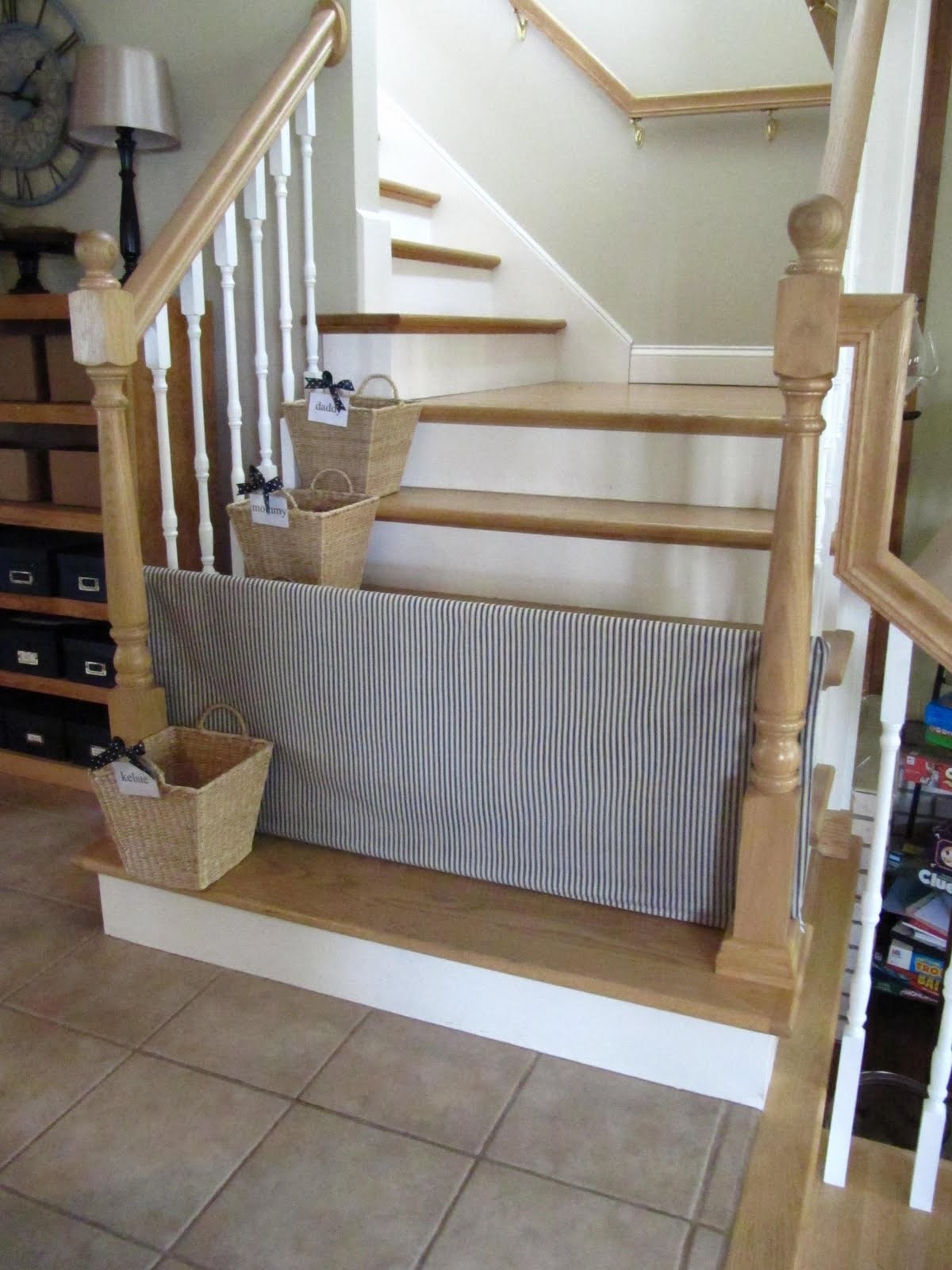 This creative gate can be used for securing stairs in your home, to keep your children safe and prevent your pets from walking upstairs. The gate is made of wood and covered with a stripe-patterned fabric.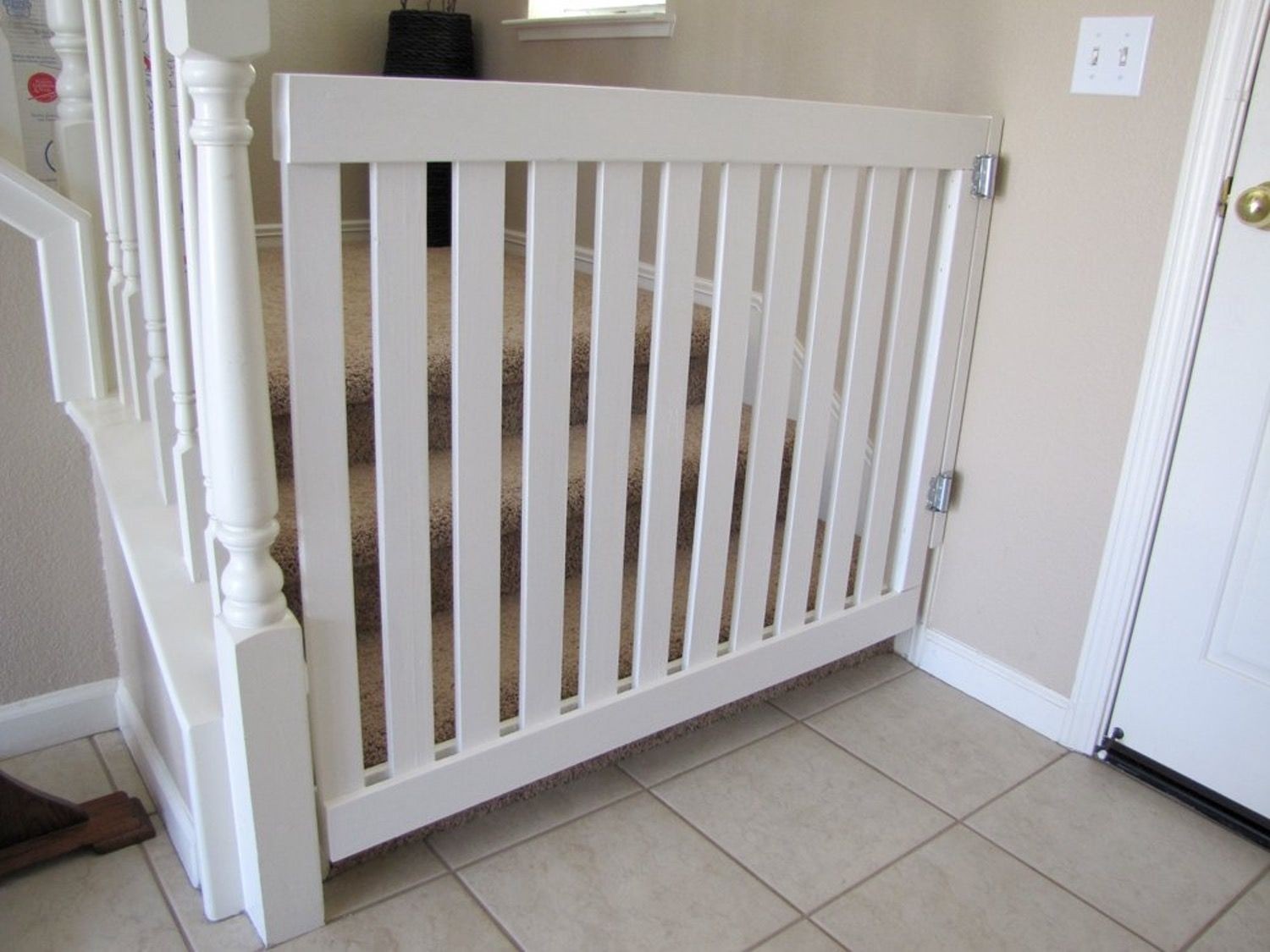 A solid and simple gate for doorways or stairs. It blocks the way for animals or small children, so it assures safety. The whole gate is made of wood except for metal hinges. Its neutral white color looks nice among other colors.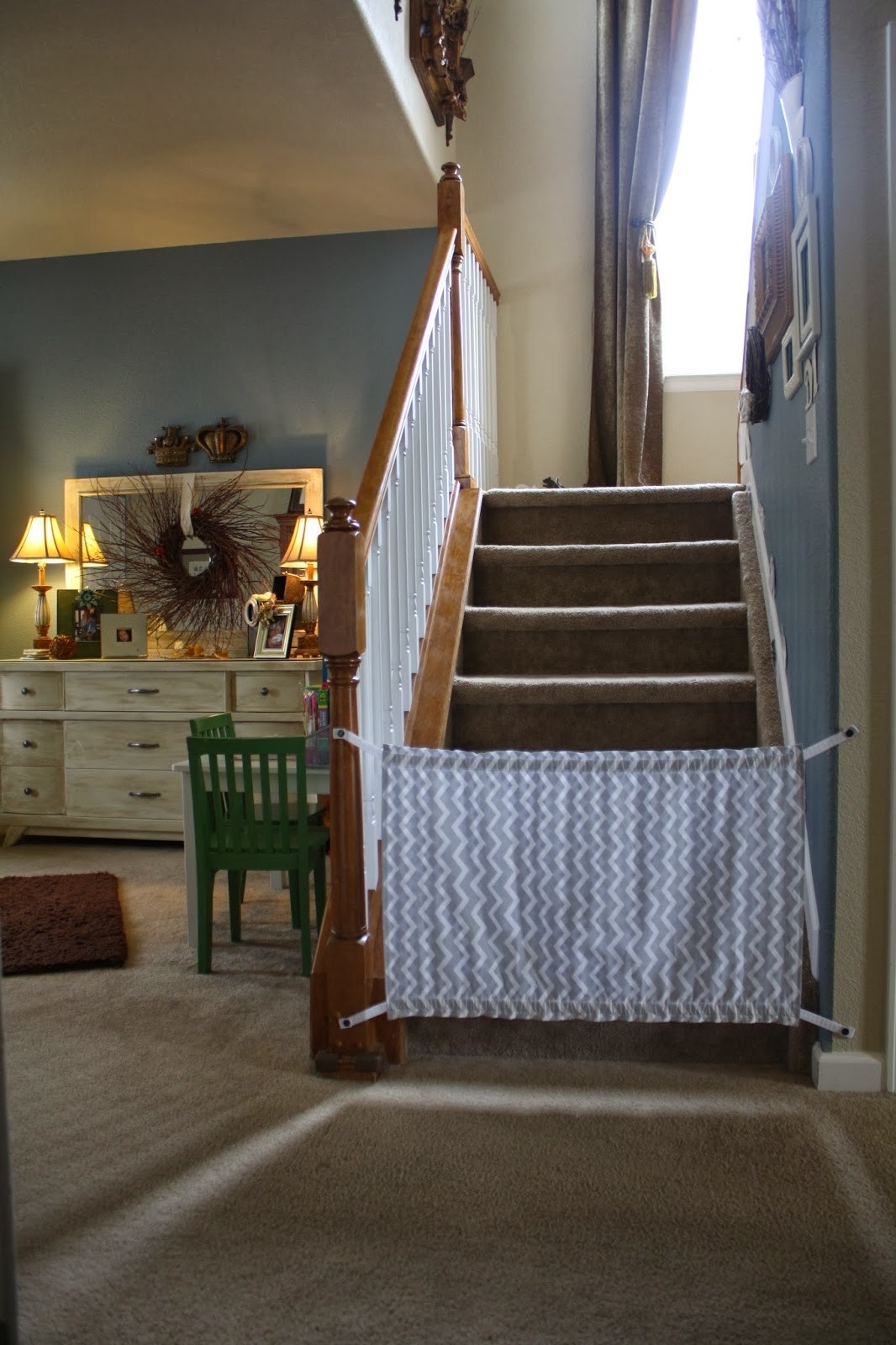 A very original piece of fabric that plays the role of a gate for babies or animals. It is very soft and not dangerous for the youngest users. Neutral colors and pattern look very good in any kind of decor.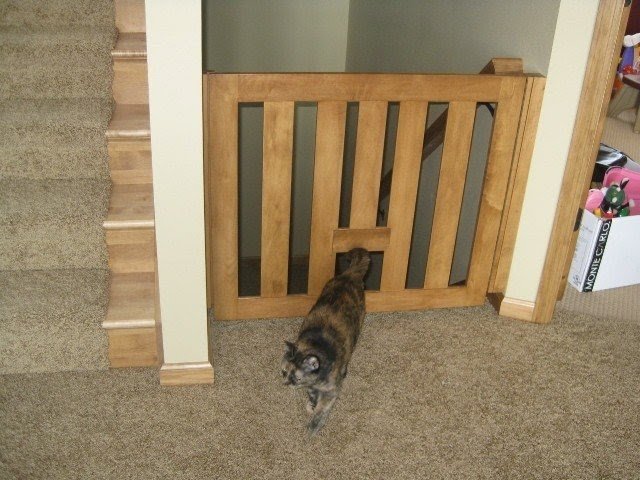 Long time ago someone named this kind of gate a "baby gate". Is not true - it could protect also you animals against falling down the steps. Except cats - for them there are no barriers, because they follow their own paths.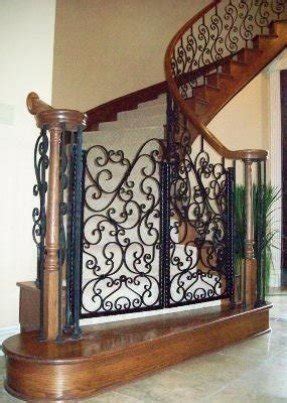 Decorative, solid and practical dog gate for stairs. This element of home equipment is made of metal and it includes many decorative scrolls. Universal black color looks very good in different types of stylizations.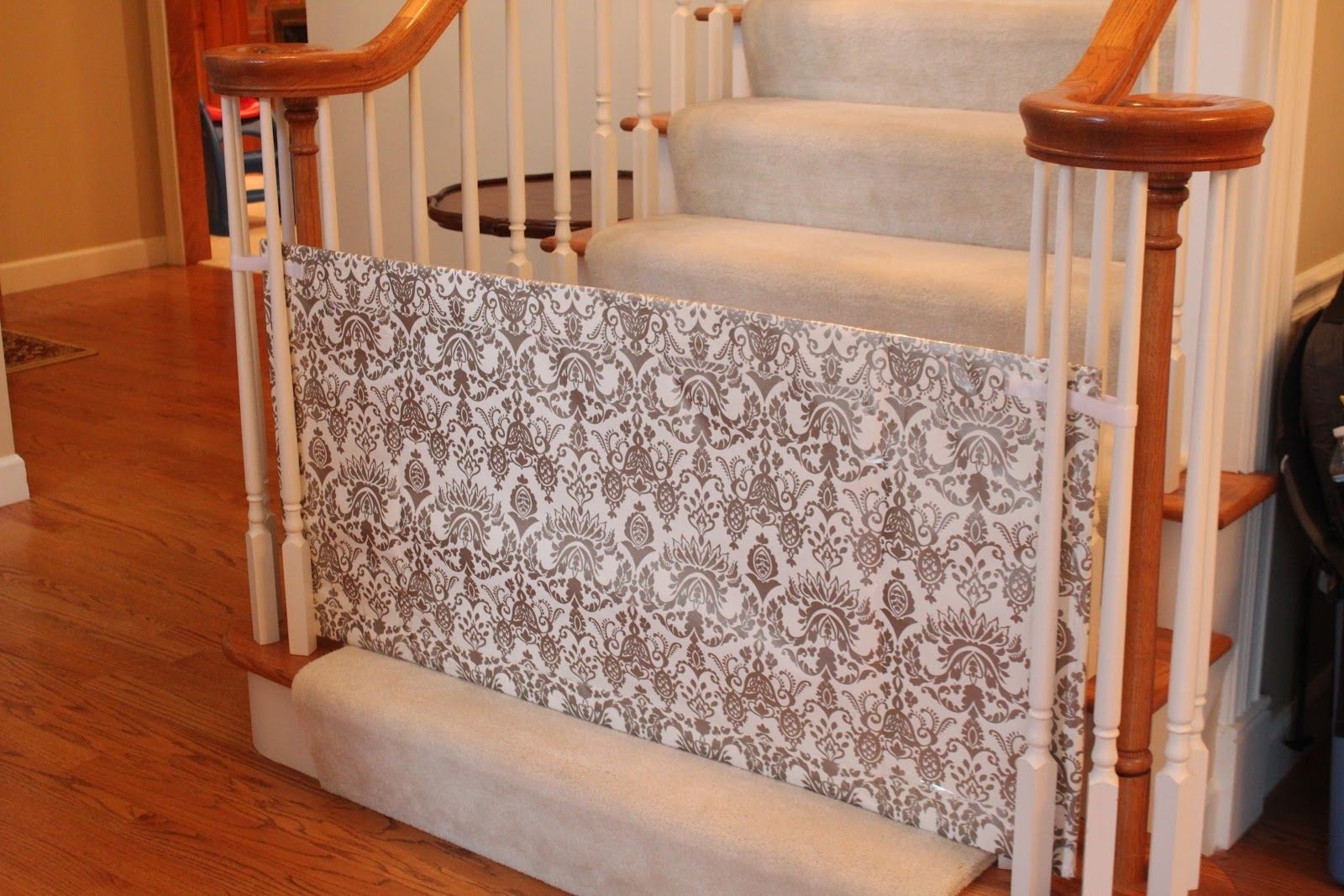 Simple and minimalistic approach to a DIY, self-made cheap paper gate for keeping dogs out of the higher floors. The paper gate is made out of cardboard box with a classy cover providing a traditional look.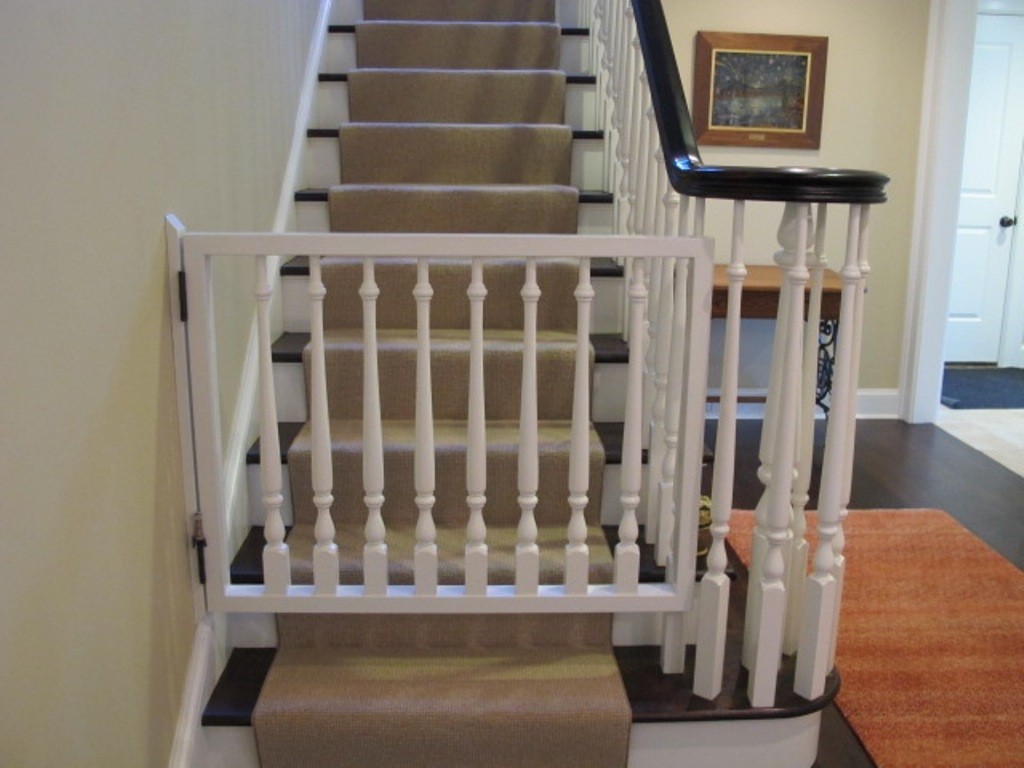 Easy Open Baby Gates for The Stairs Interior Furniture Decoration - Baby Gate Ideas for Interior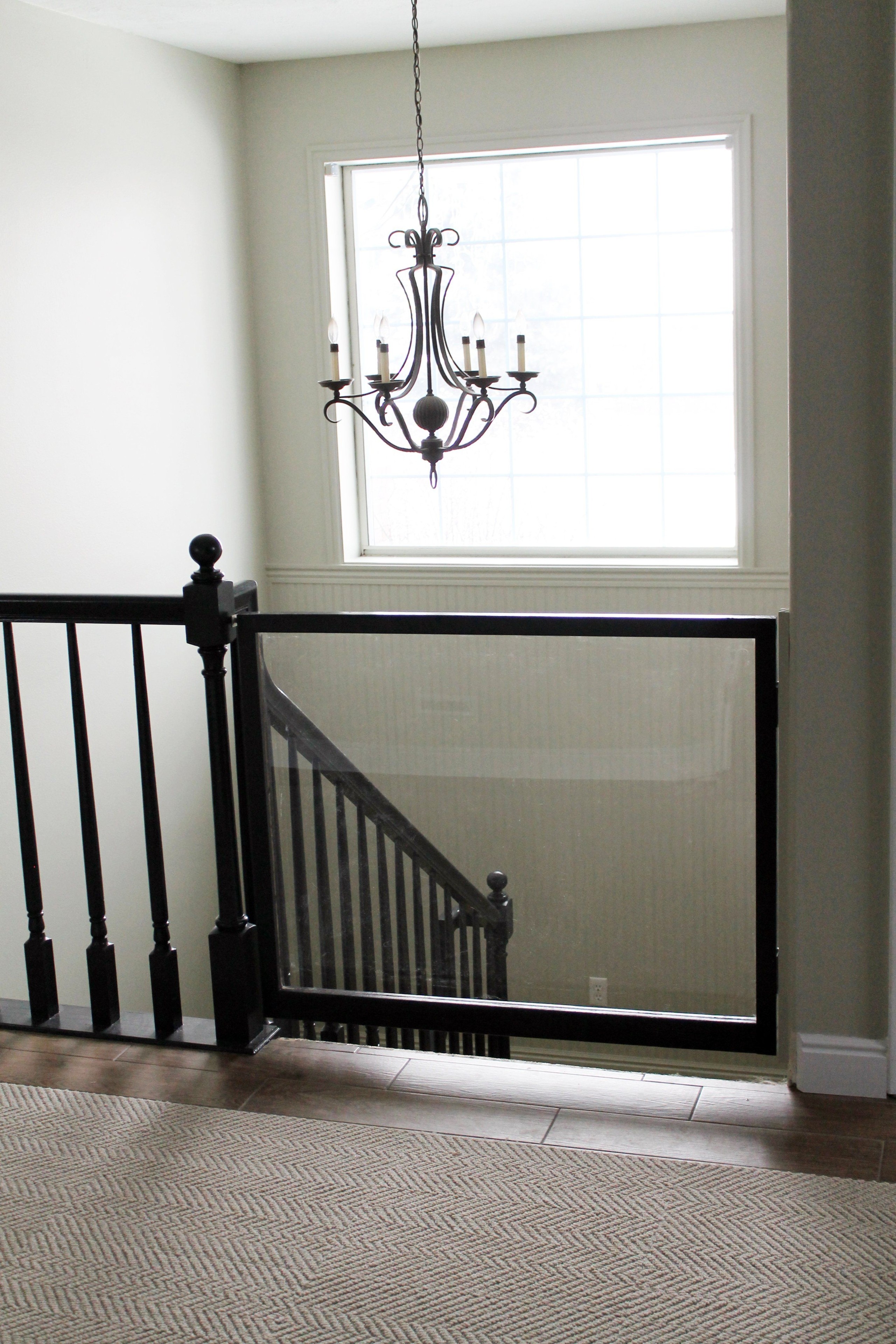 Stairs gate for kids or pets. Frame is made of metal and covered with clear glass. Includes screws holes for easy mounting. Functional design for each home as needed.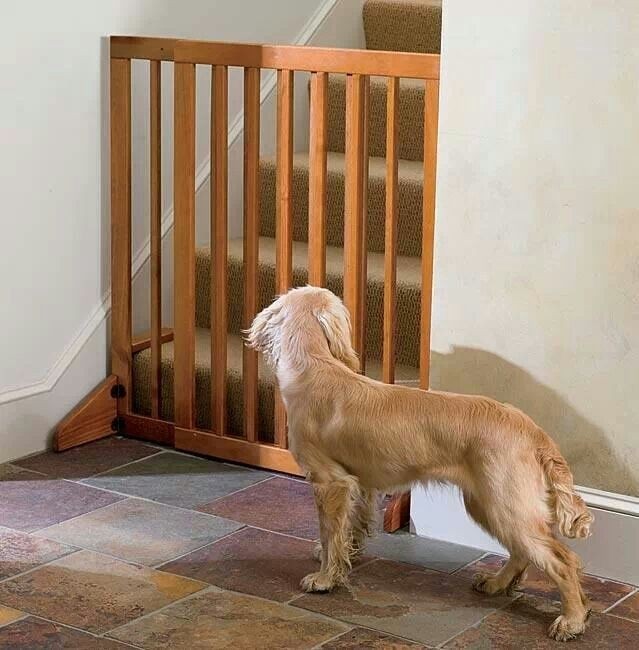 If you can't teach your dog to stay away from the upper floors, take a look at this stair gate for dogs, made out of oak wood with a lock, making it a perfect way to keep your dog out, and it works for child-proofing as well.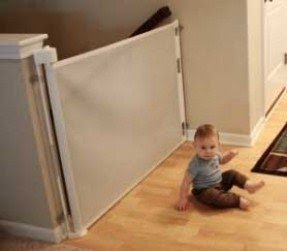 This retractable baby gate is a smooth way to protect your baby from experimenting with with dangerous staircases. It will let you have free mind, not worrying about the baby's time.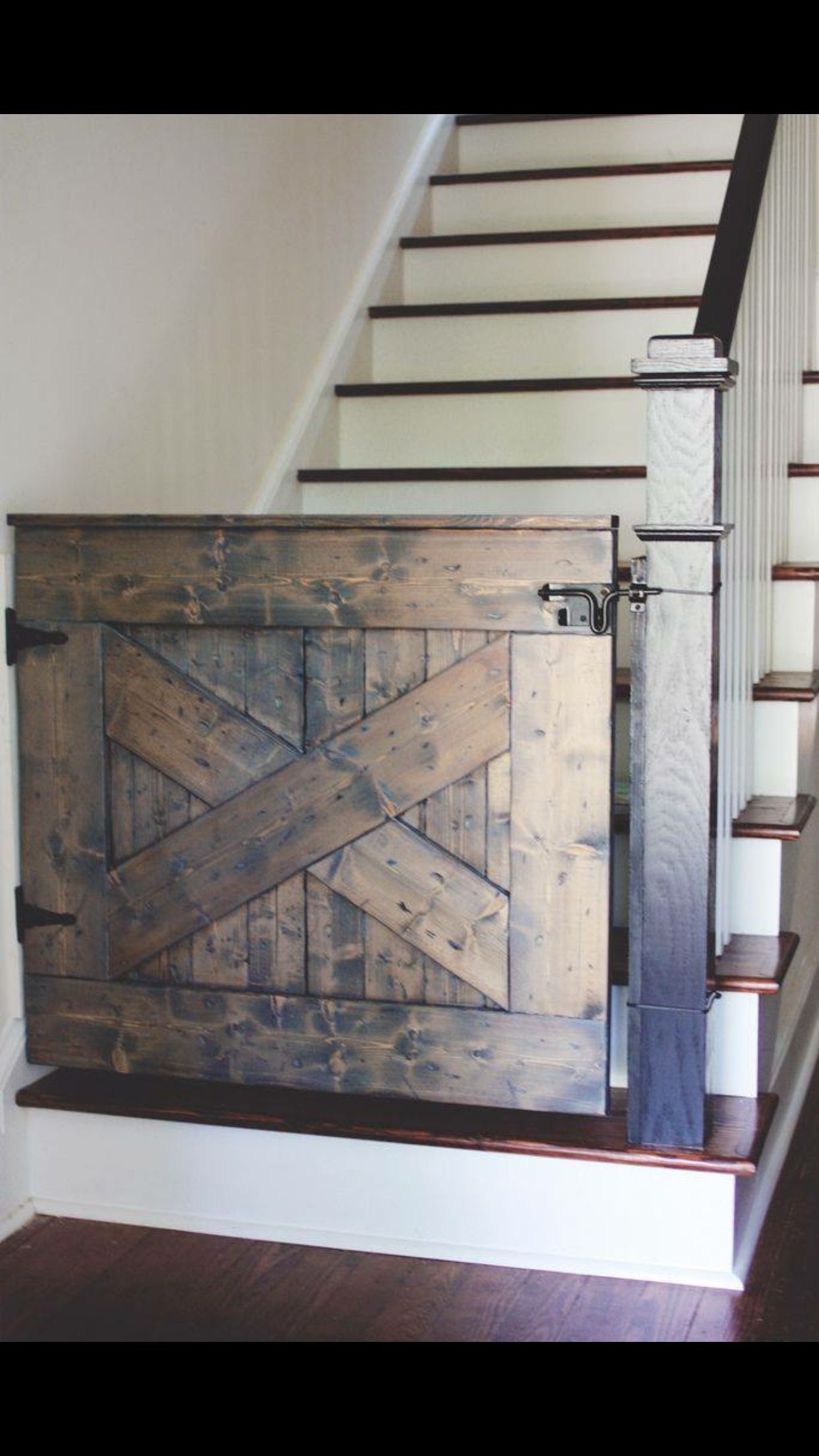 If you have got kids, dogs or cats, you need the barn door stain gate to protect them. It's a nicely finished and high quality product for any apartment.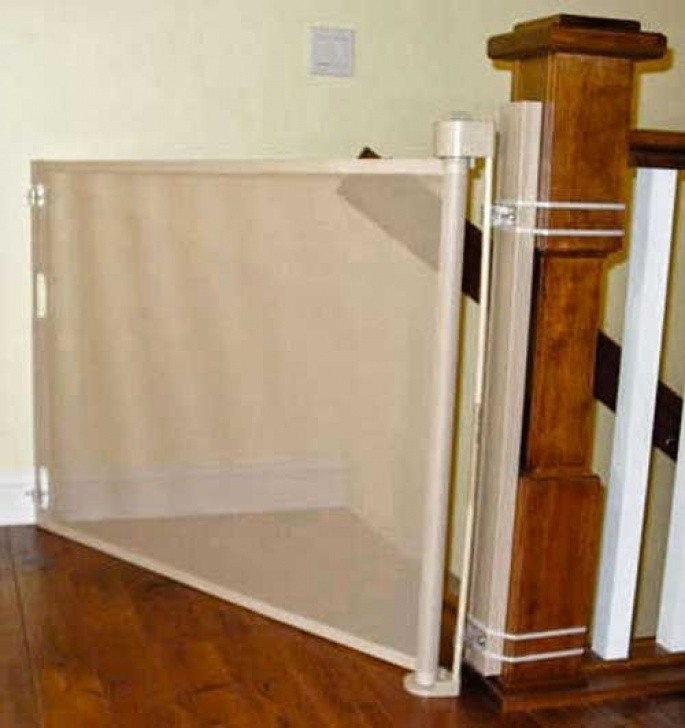 Retract-A-Gate - Retractable Safety Gate, An easy to use wide retractable safety gate for indoors or outdoors and certified for use at the top and bottom of stairs. There are banister adapter kits so it can be installed on the stairs without drilling hol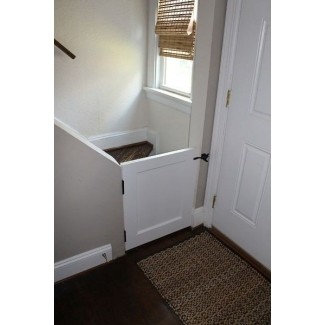 The baby gate for safe your kids. The door are cut in half and they have got a traditional latch lock. You need to have it if you've got small children or home pates. It's nicely finished and high quality product.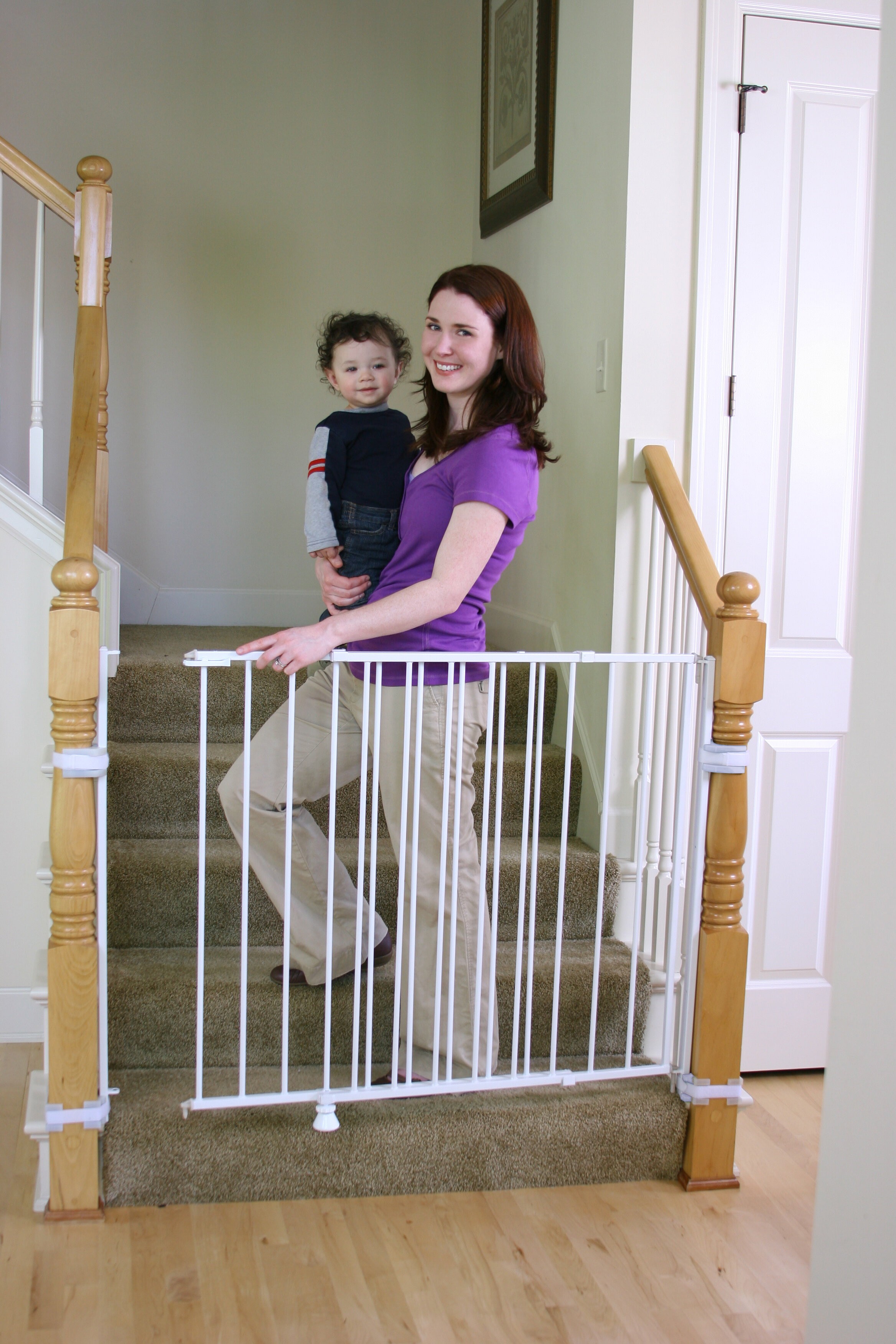 ... of all stairway openings with its universal top of stairs design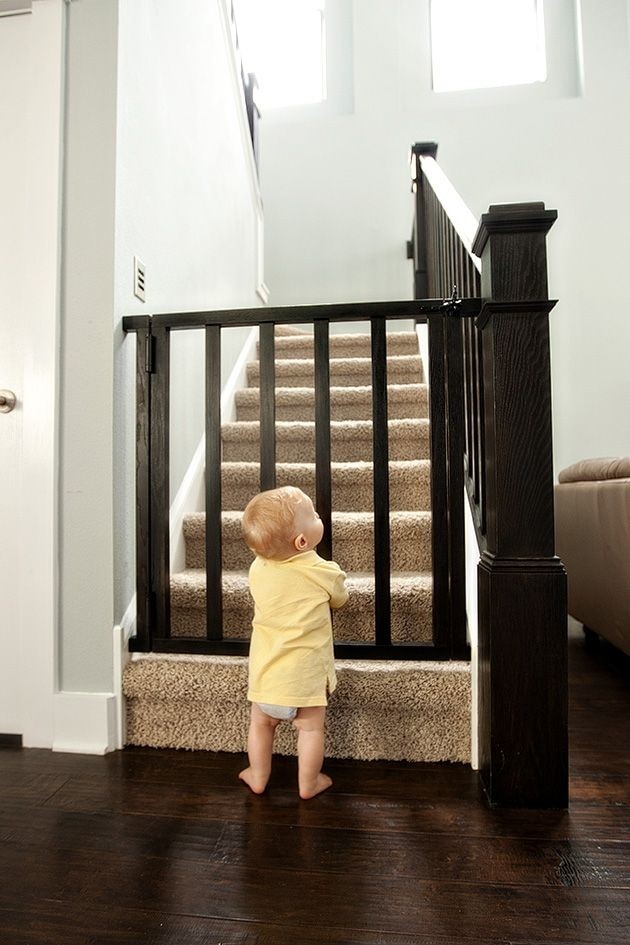 Protect your child or dog from losing his life on the steep stairs - to the balustrade from the dark brown stairs it is enough to add a wicket door connected to the wall, which will prevent the little traveler from climbing to dangerous levels.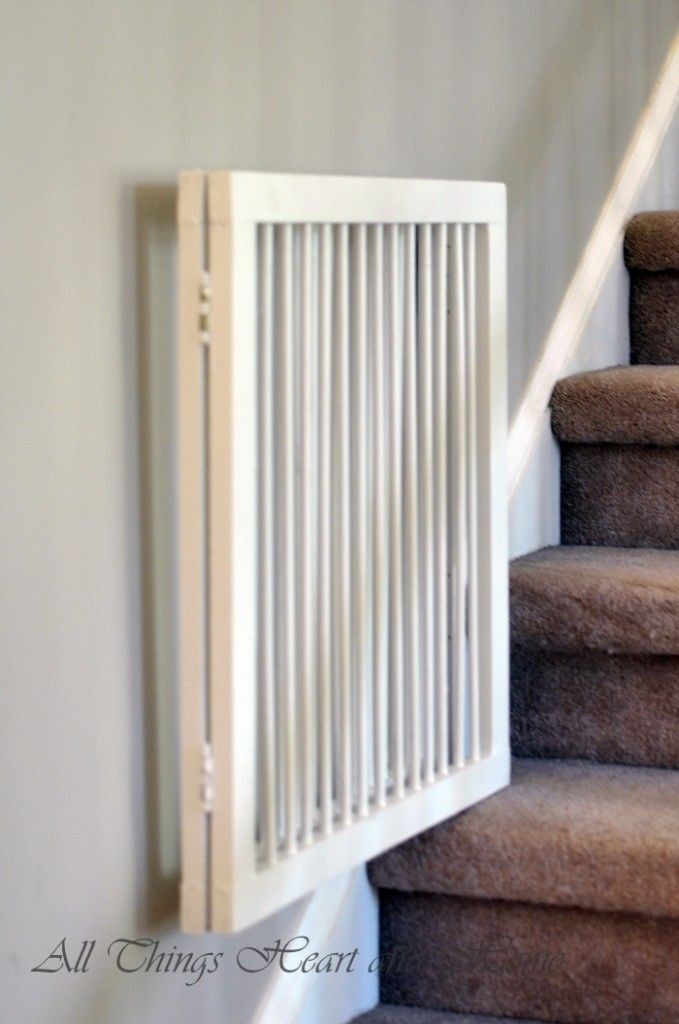 This wall-mounted gate is an element that provides safety for children or pets. Its solid construction includes vertical elements finished in neutral white color, so it looks very nice in different indoors.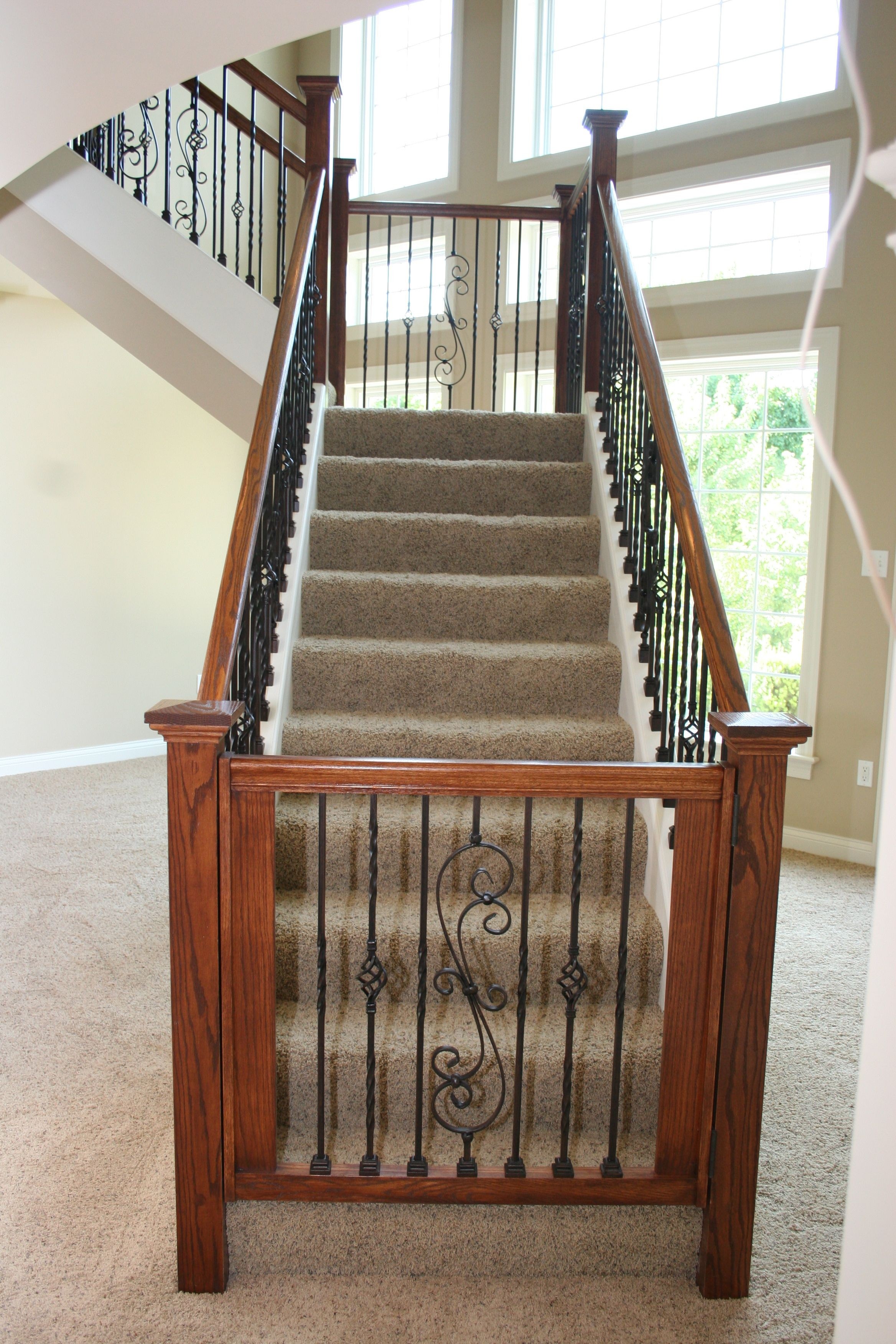 Stairway gate for dogs. This element of design can be used on top or bottom of stairs. Wooden construction is supported by metal elements that include decorative accents. It keeps dogs away from forbidden areas.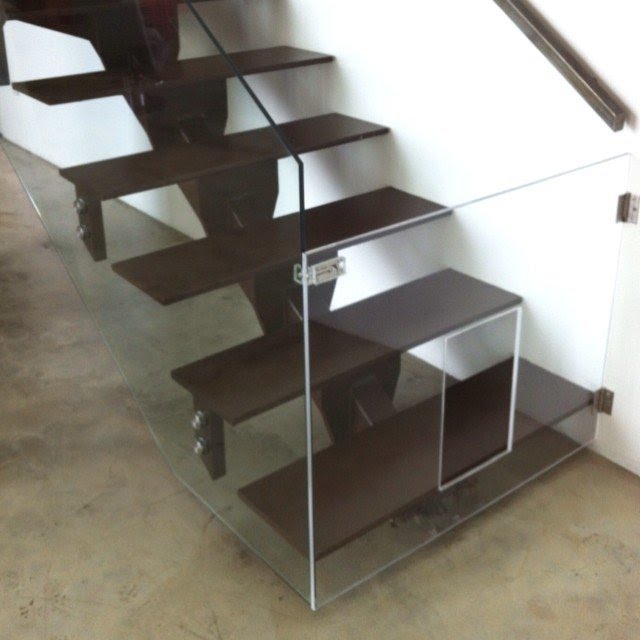 Interesting DIY project for making a child-proof set of stairs that also has an incorporated dog gate in it. This one is made out of acrylic glass latched onto an actual glass handrail, which gives the stairs a contemporary look.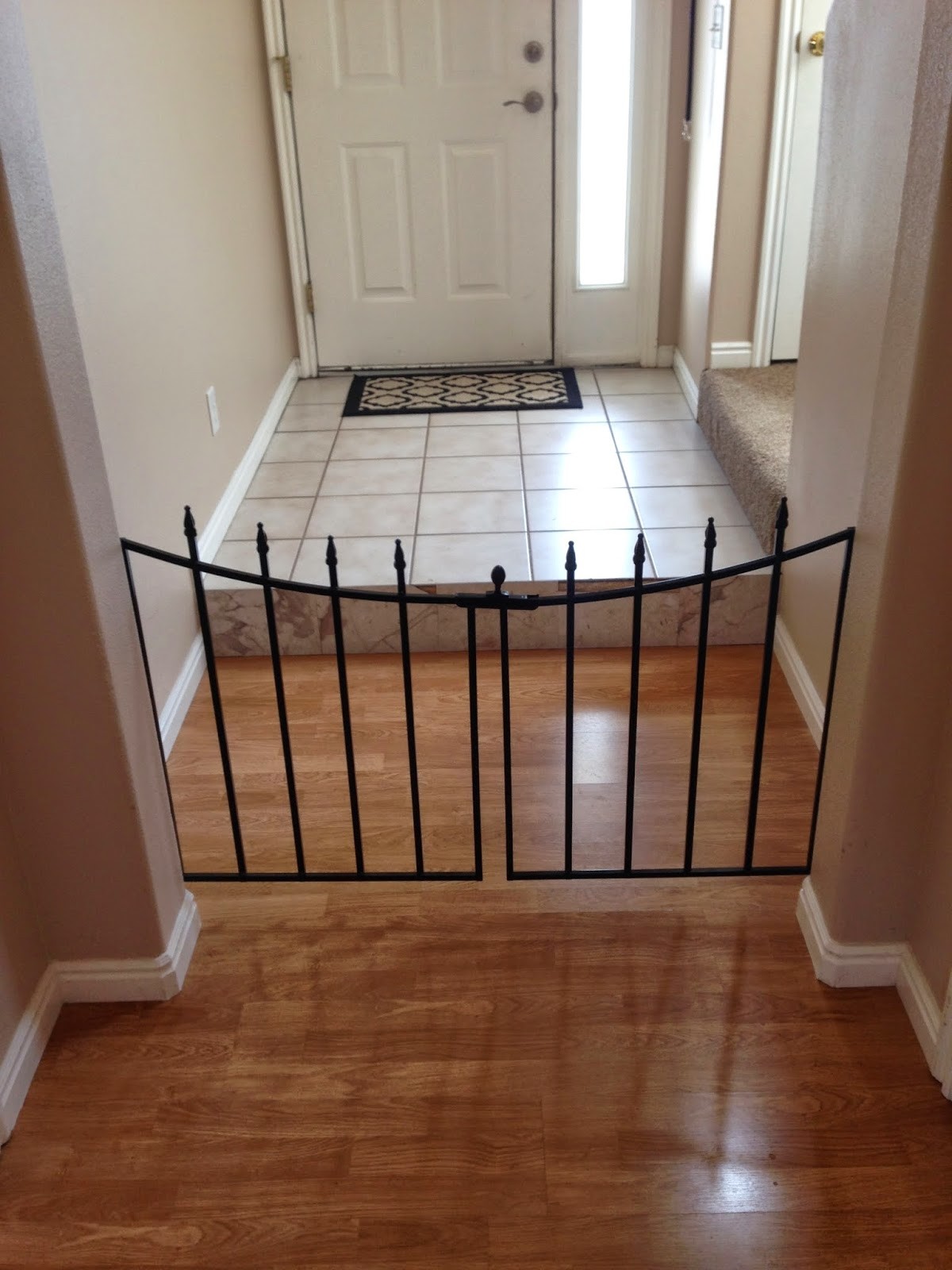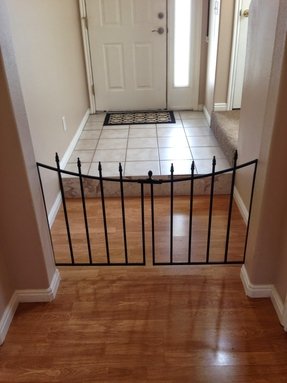 A high quality, sliding dog gate that blocks stairs and other areas that are dangerous or forbidden for dogs. This white wooden construction is equipped with black wheels located on solid metal hardware.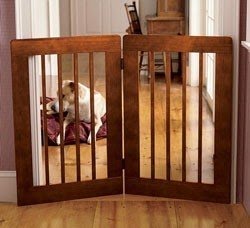 This is not an expression of distrust of your dog - but an expression of concern for his safety. The dog gate for stairs, designed ideally, has a wooden, pine structure made of solid wood. Stable from the wall to the balustrade. It can be adjusted.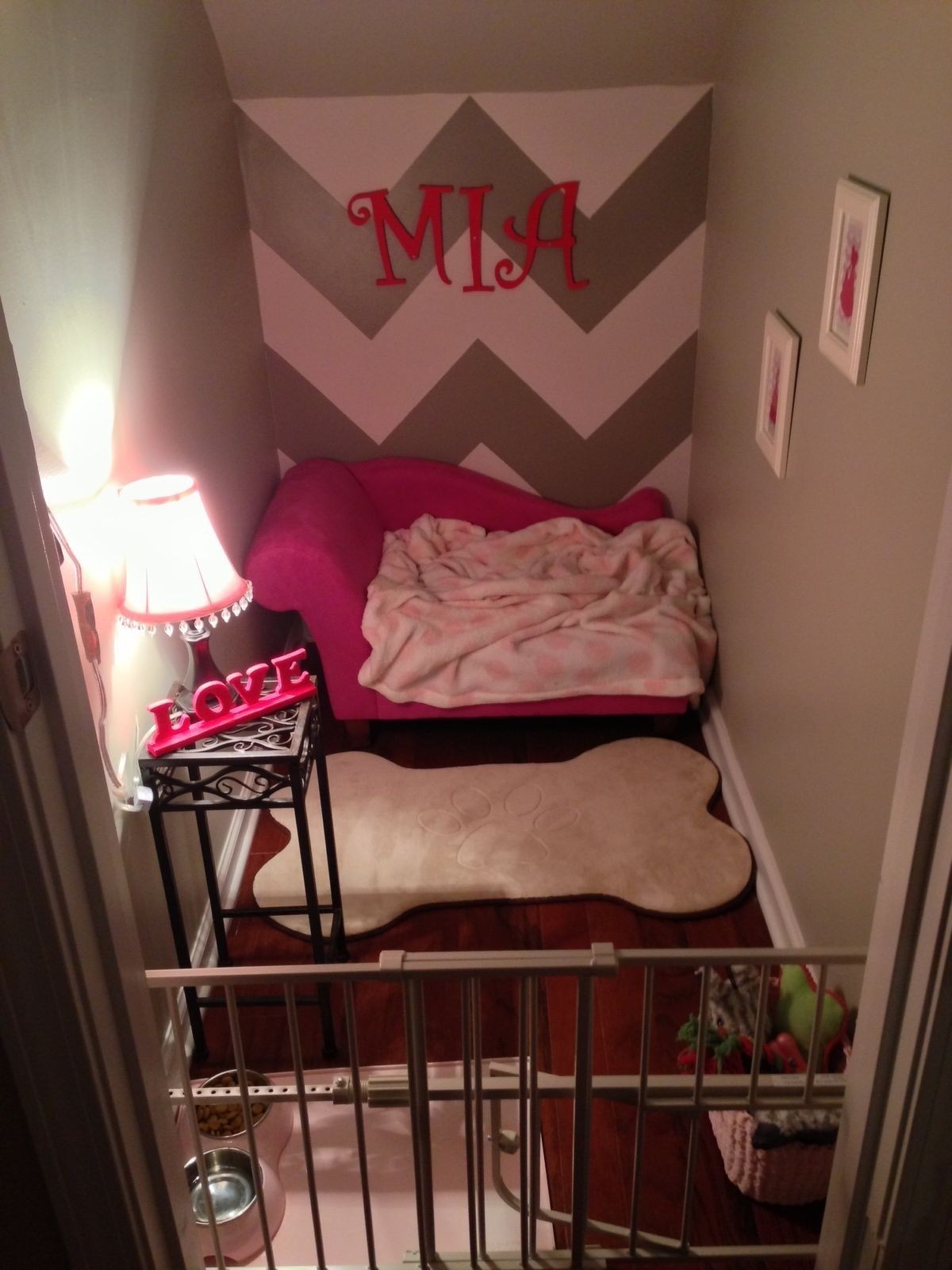 Large dog bed with stairs for larger dogs is a great solution for the pet. The whole made of excellent quality materials and in attractive colors creates a nice whole. The perfect solution for any decor.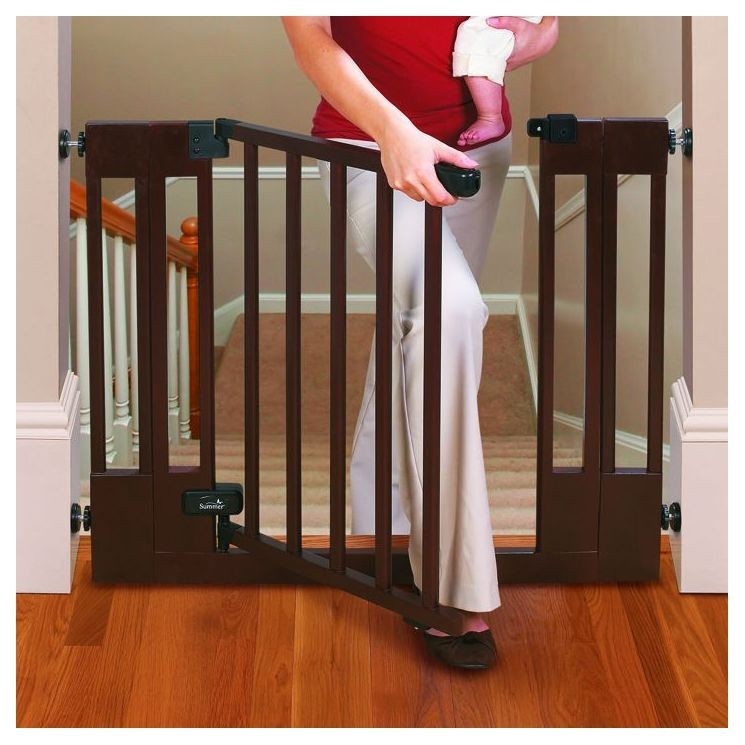 Sure and Secure Deluxe Top Of Stairs Wood Walk-Thru Gate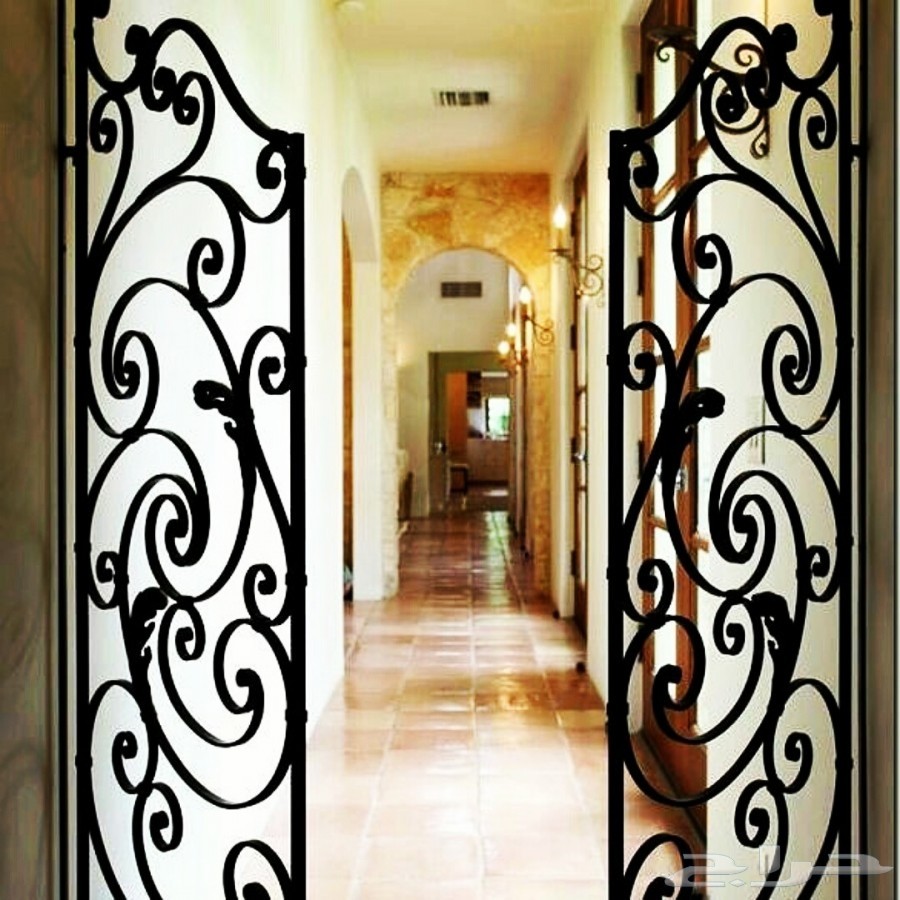 An elegant traditional dog gate crafted of black-finished wrought iron. Wall-mounted hinged panels have rectangular frames with curved top edges and showy openwork scrolls and floral motifs inside. They're closed with a catch.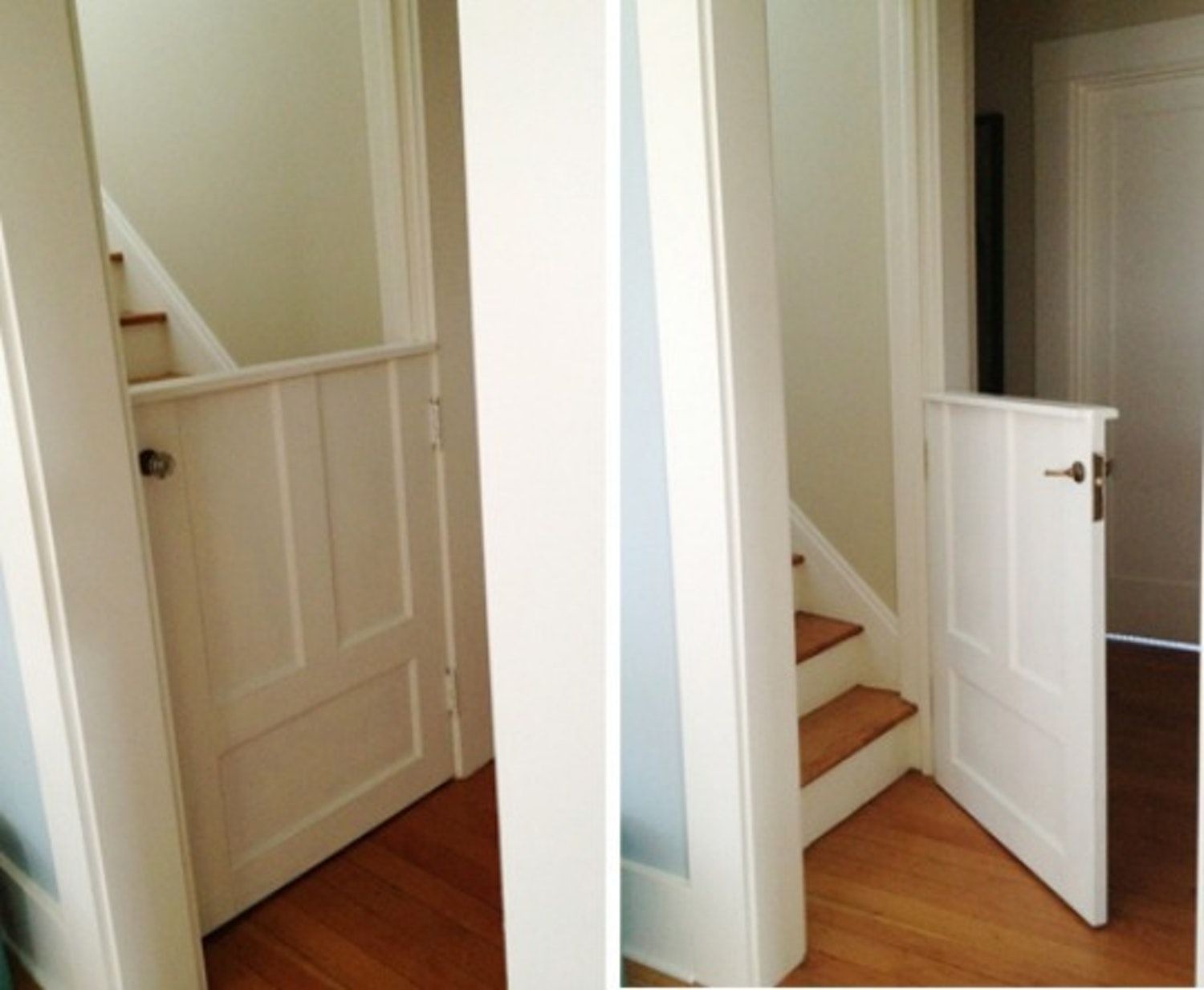 Wow-I might actually be able to get rid of the last baby gates in the house. Truth be told, they're not for babies any more, but for the dog. Either way, I'd love to see them replaced with a few of these!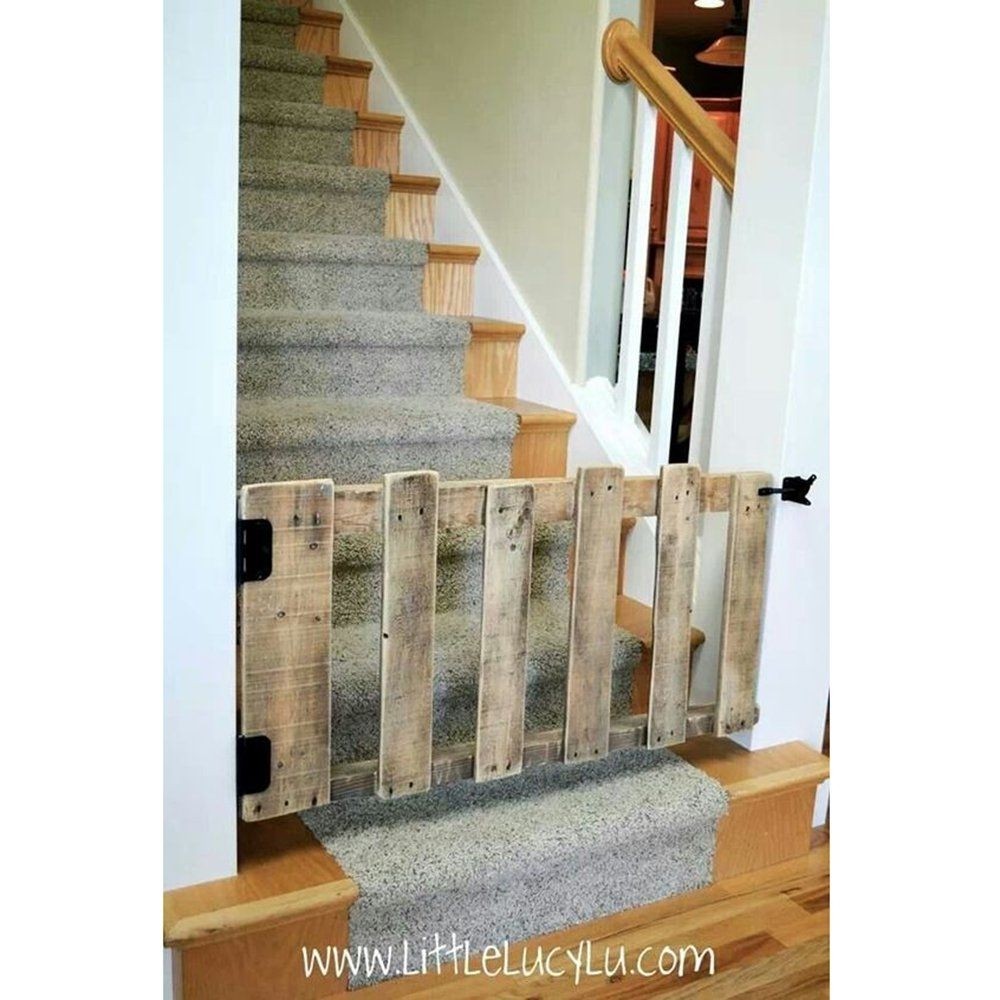 9 PALLET PROJECT IDEAS | Our Holly Days. This would be great if painted. I might try to expand it for our large kitchen opening. Cheaper then buying a large child's gate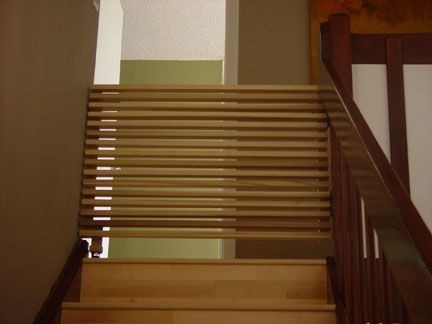 Great looking gate, even for pet protection!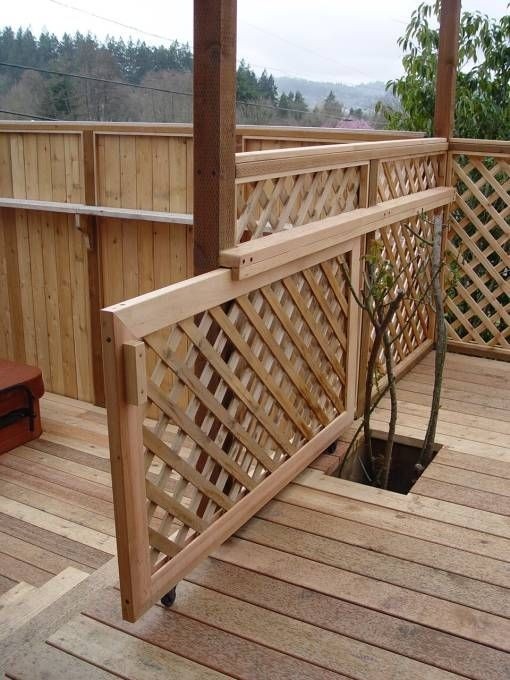 sliding deck gate - a good start with a couple tweaks here and there. # Pin++ for Pinterest #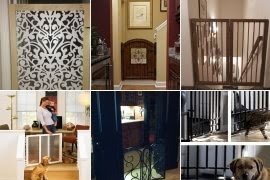 ... baby gate it is easy to remove after removal of the gate and latch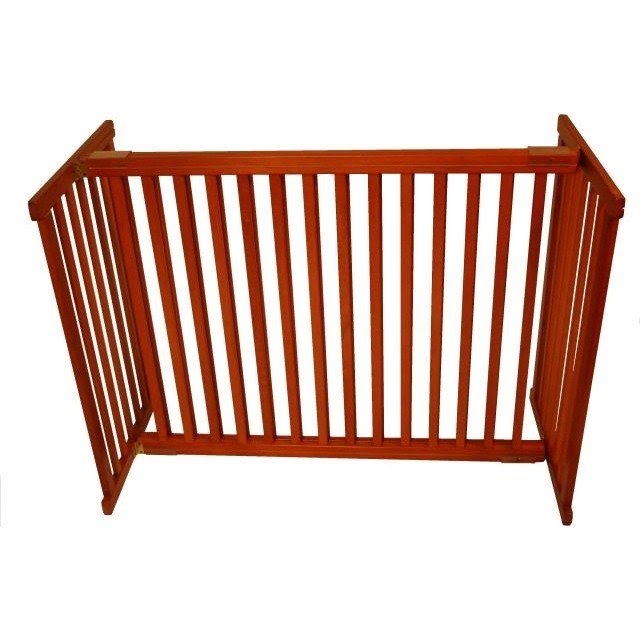 30" Freestanding Slide Gate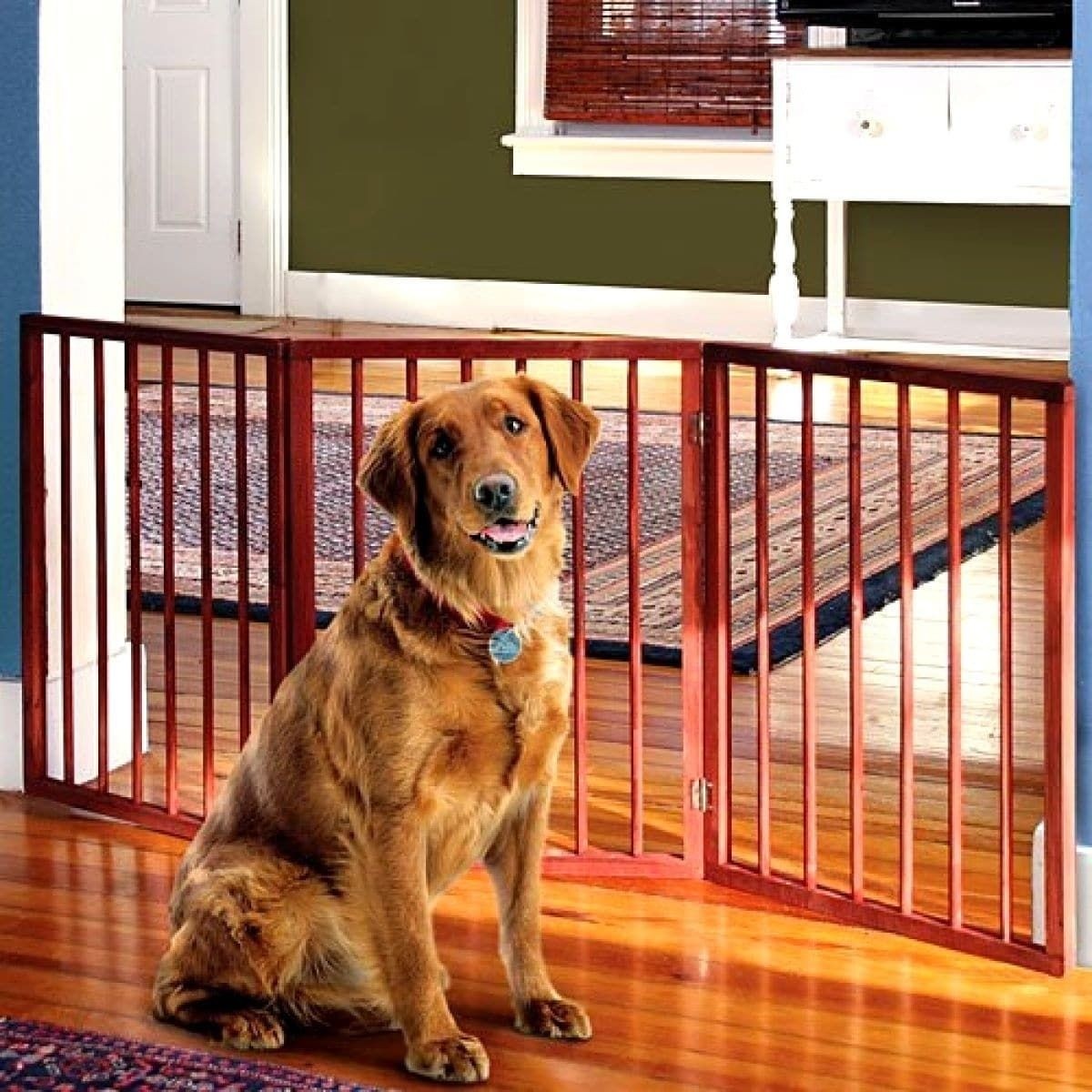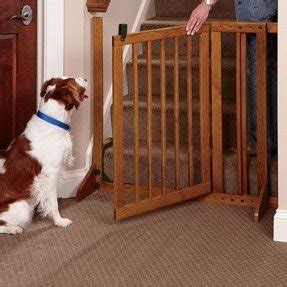 Stair Gate With Door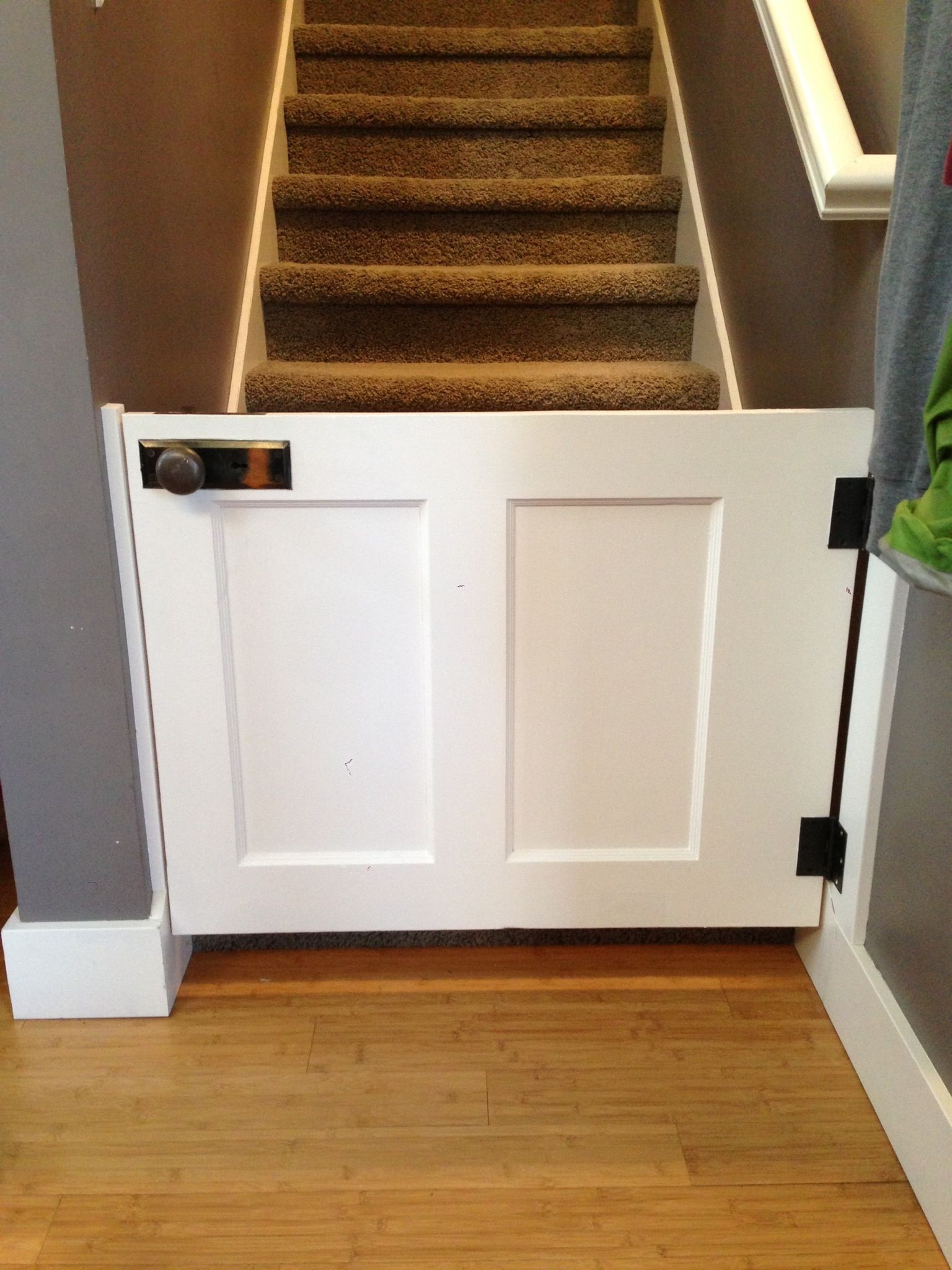 Find old doors, cut them skillfully and decorate with white paint so that they look neat and safe. In this way, you can create the necessary security gate for a child or dog - so that none of them would have to fall down the stairs.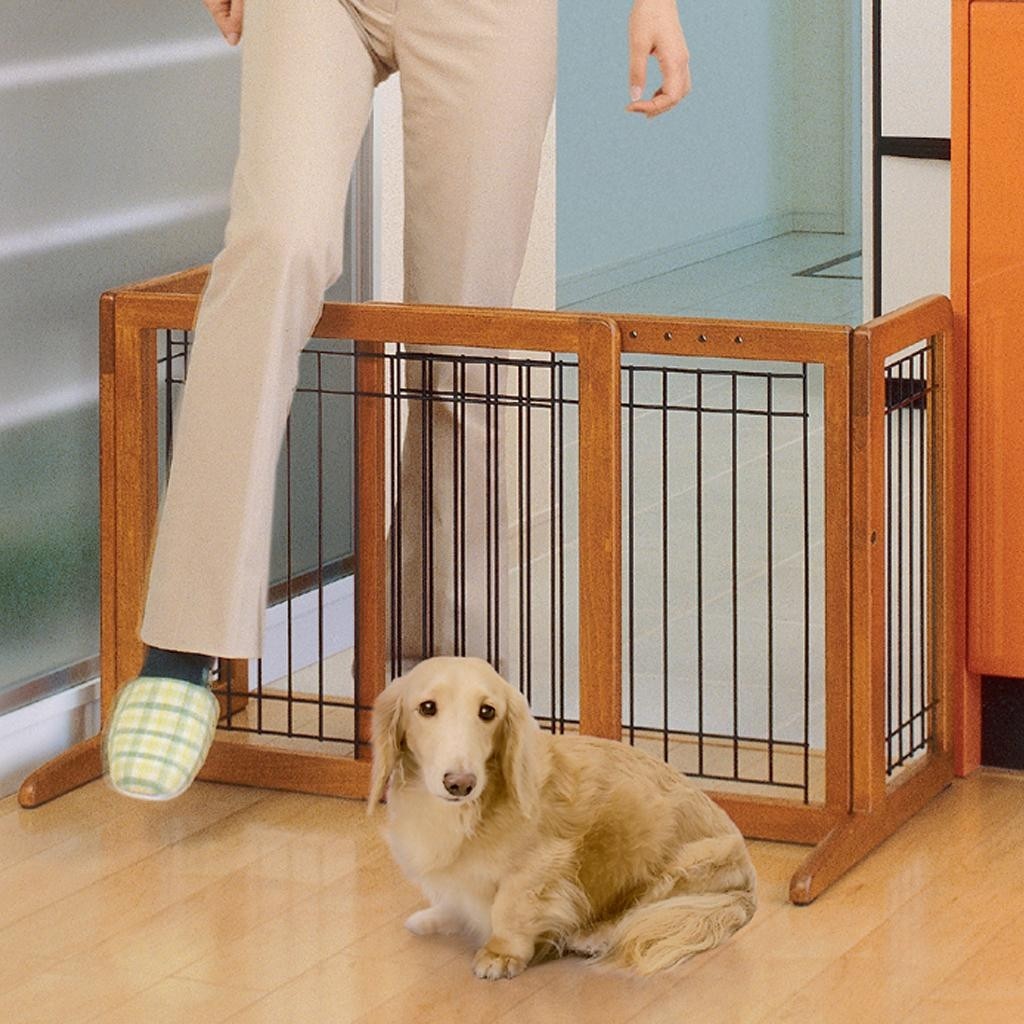 Dog Household Products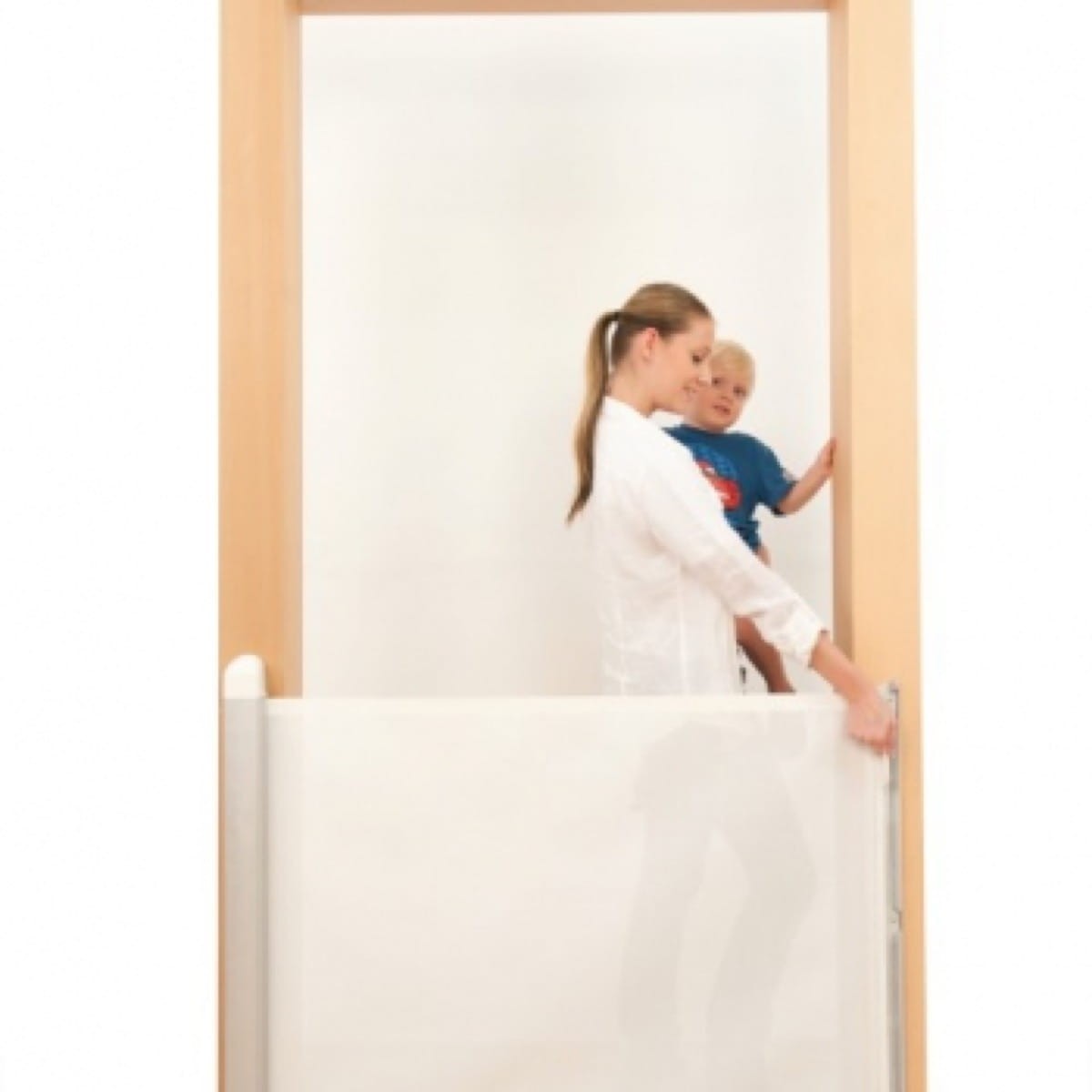 Kiddy Guard Avant Gate. Costs waaay too much, but the idea of having a hate completely out of the way when it's not being used is a pretty fabulous thing.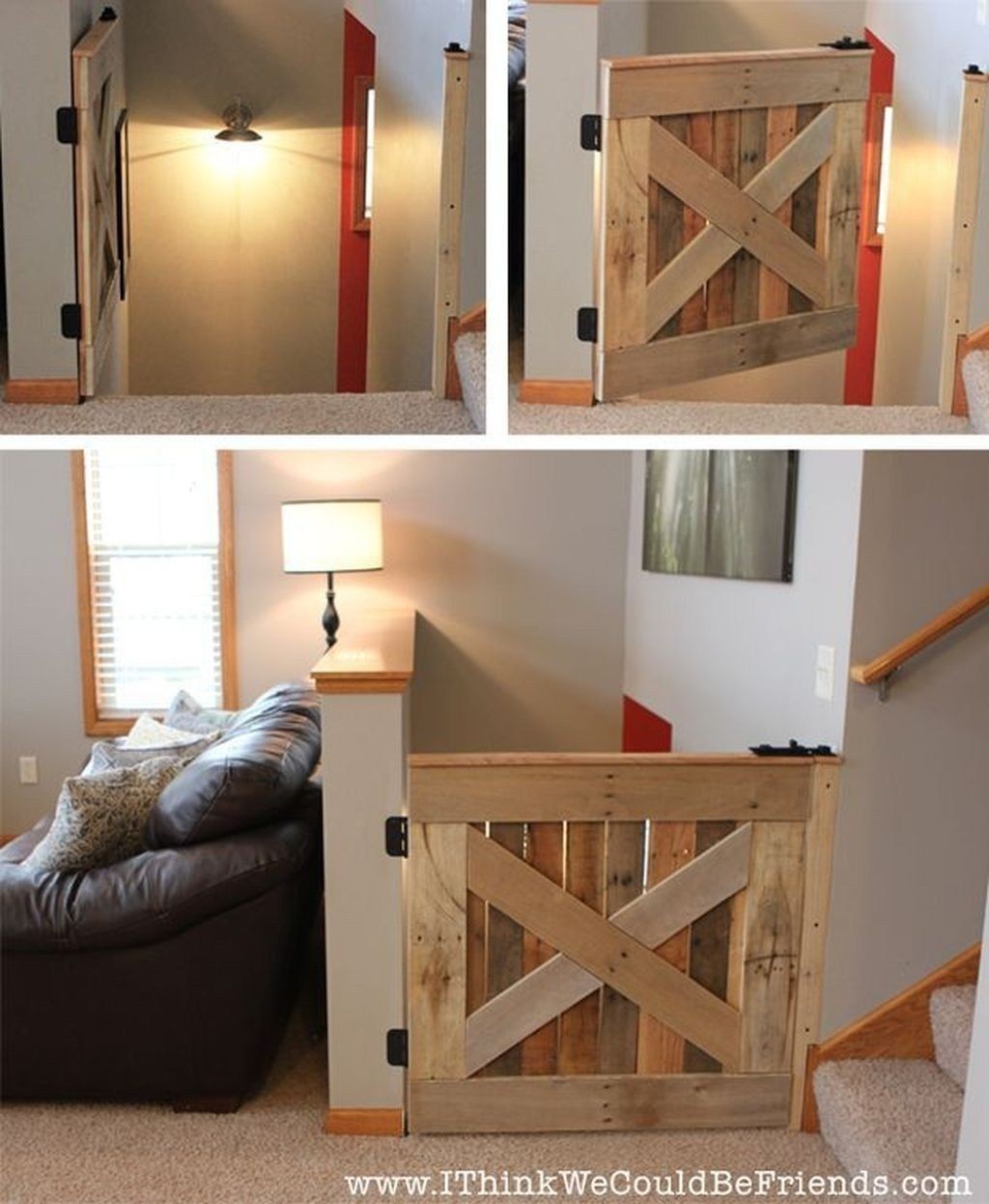 Simple gate for protecting babies and pets from falling out of stairs. It is made of lacquered planks from pallets. Vertically arranged planks are framed and reinforced with 2 X-crossed ones. Two hinges and a latch on an upper edge are of dark metal.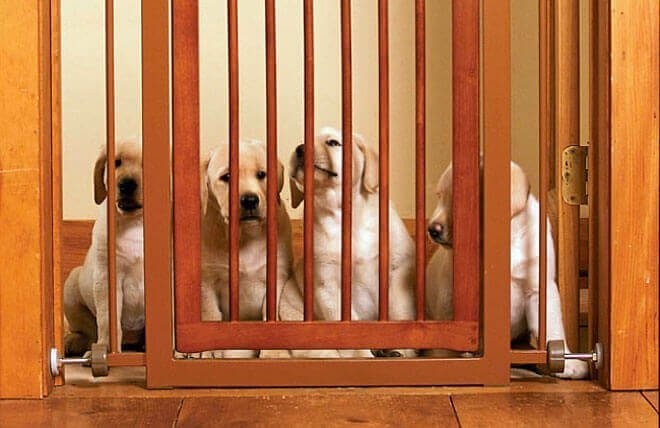 wood door frame gate our portable wooden dog gates complement the ...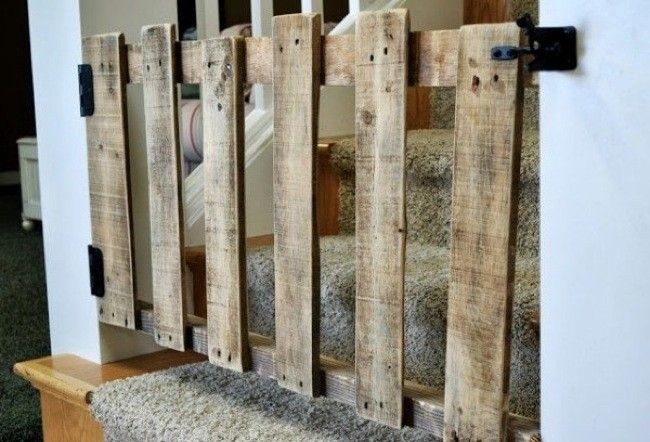 A very nice idea for reuse of wooden pallets. This dog gate is suitable for stairway use. It keeps dog away from forbidden areas. Durable wooden construction is based on vertical and horizontal slats from pallets.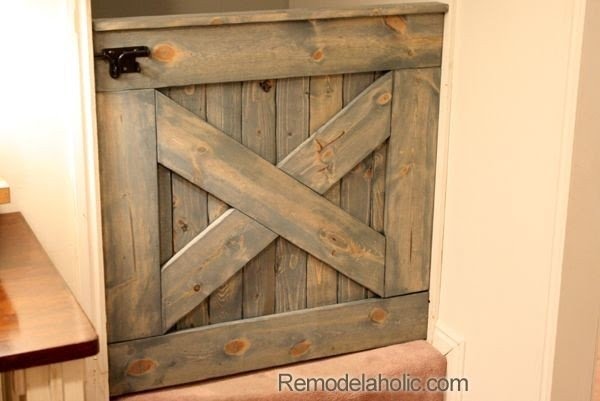 who can make this for me soon? I need it for a 44 inch opening and I need it ASAP... How much do you want to make it?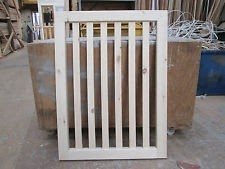 Bespoke Timber Stair gate, Baby Gate, Dog gate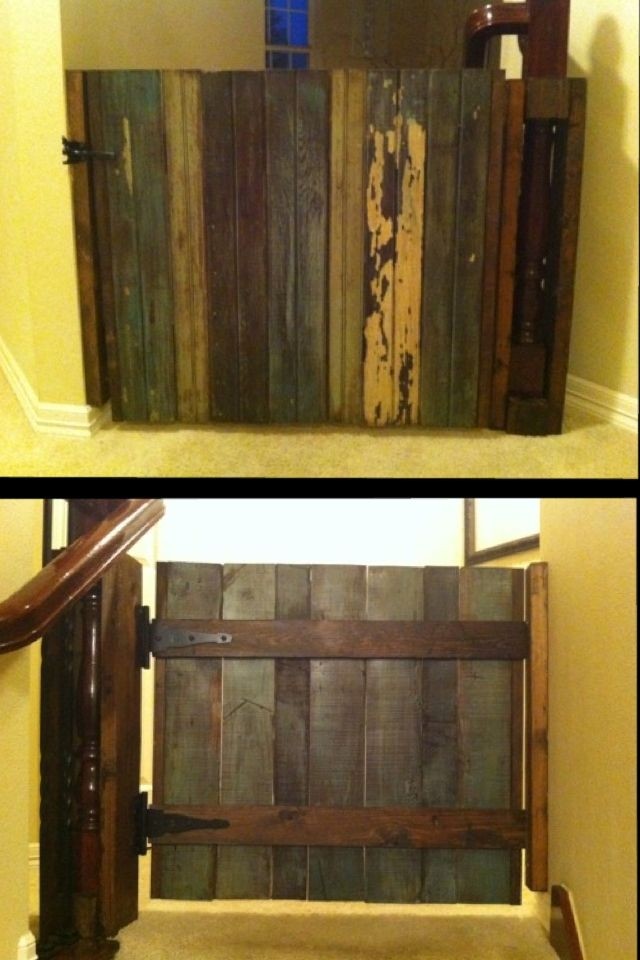 Our new baby gate for the stairs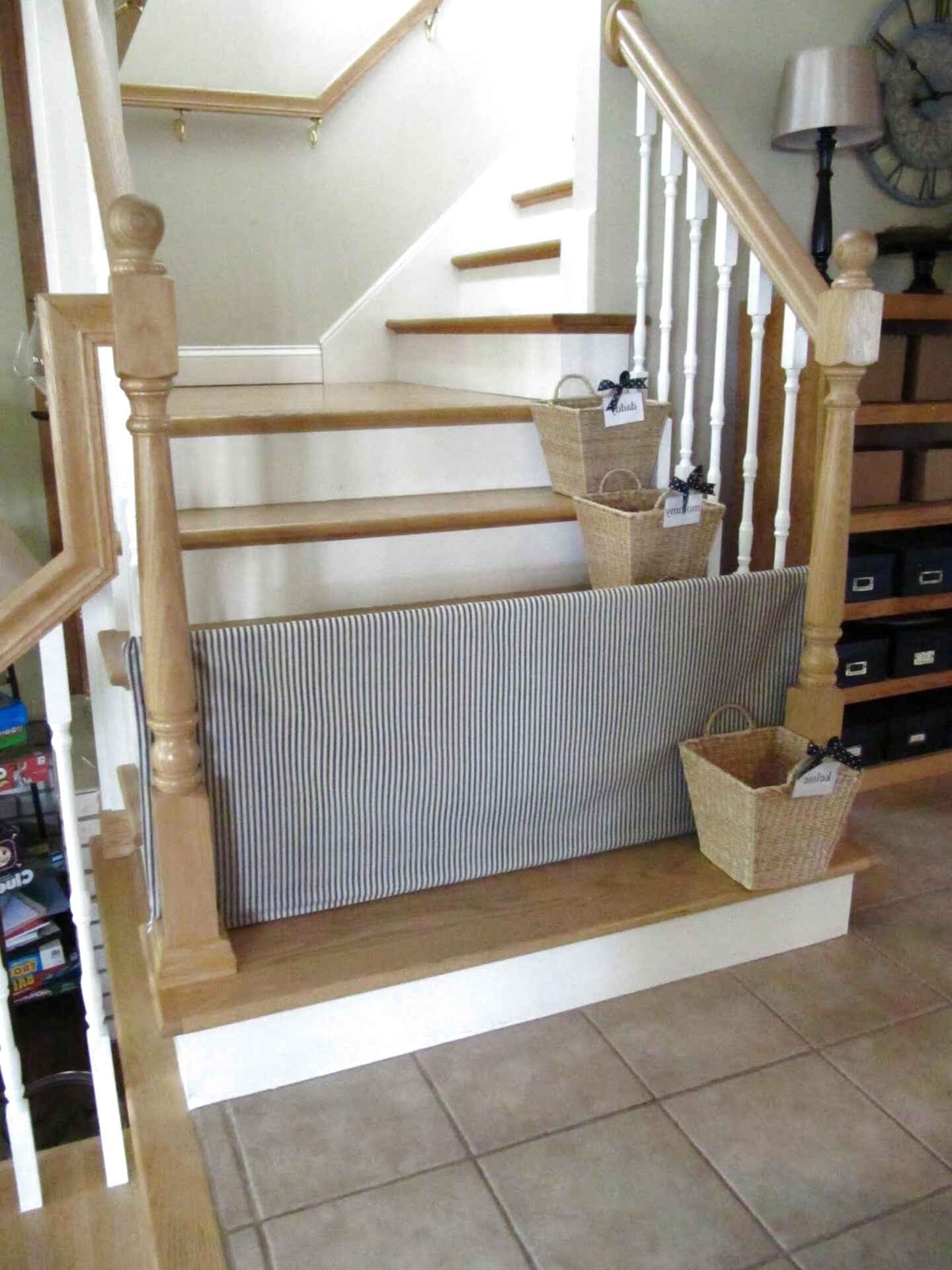 Dog Stair Gate for sale in UK | 21 used Dog Stair Gates