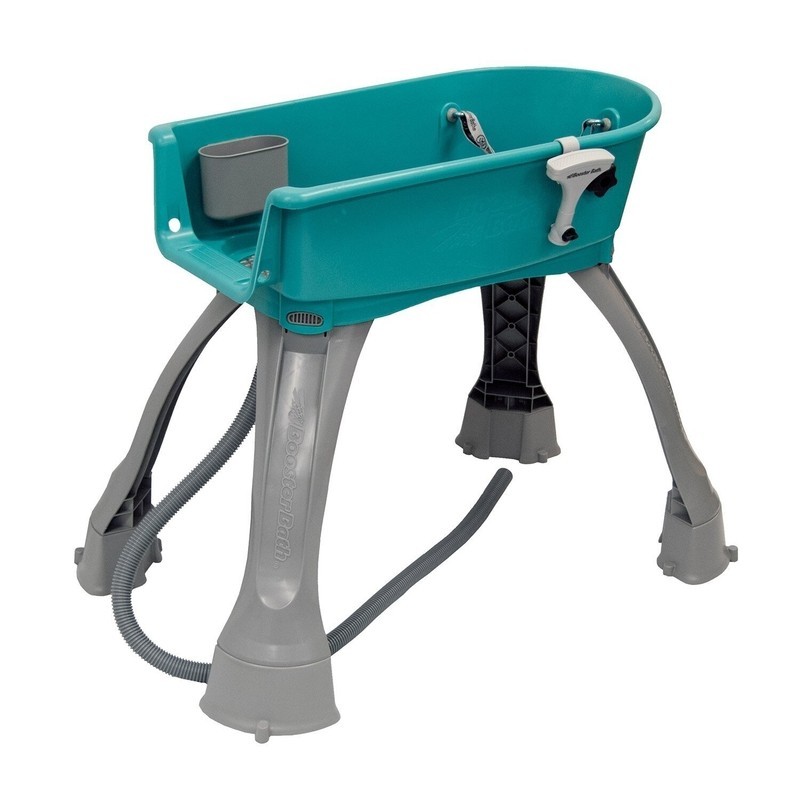 Booster Bath for Dogs

Make bathing your dog a quick and dry task with this booster pet grooming tub. Made of UV stabilized polypropylene and stainless steel components, it is durable, lightweight and portable. The dog bath also ticks the box for ergonomics, as well as for restraint systems and drainage. It's elevated height, 360-degree access and 3-point leash adjustable restraint will save your back and your time. And, the rubber pads, non-slip mat and drain hose will save your bathroom! Plus, the clever two-piece quick-snap design allows you to detach the legs for easy storage.
What we like:
● Max. weight: 150lb.
● Indoor and outdoor usage
● 360-degree access
● Sturdy and non-slip
● Lightweight and portable
● Easy storage
● 3-point restraint system with collar
● Directional drain hose
● Shampoo caddy
● Fan nozzle
What we don't like:
● Not the most stable tub.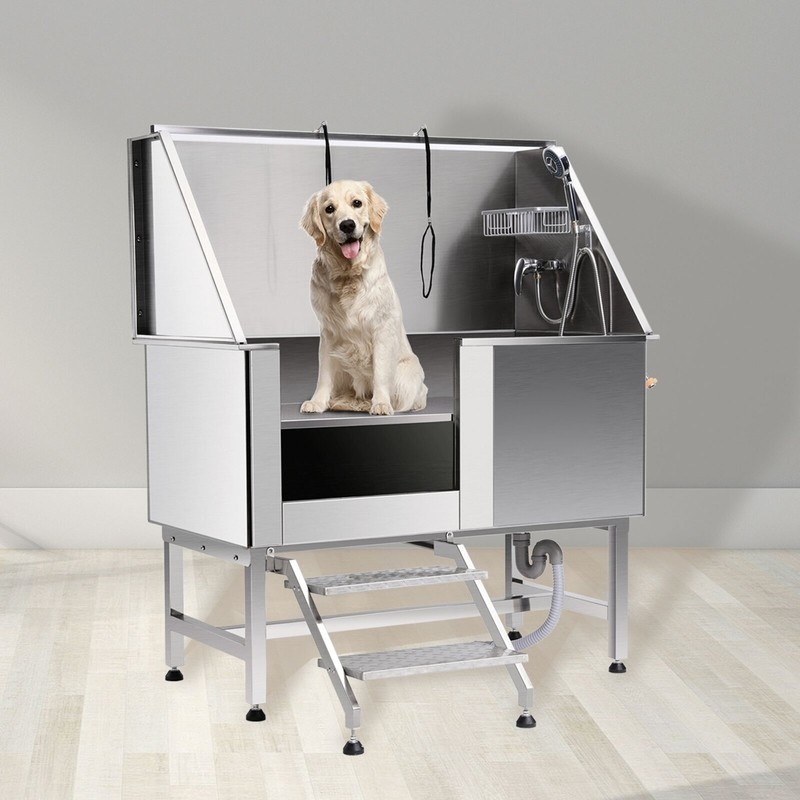 Professional Steel Dog Grooming Bath Tub

Do you have several furry friends at home? Doggy bath time can be a messy and time-consuming business, especially if there's more than one to manage! A professional steel dog grooming sink could be just what you need. And when we say professional, we mean it. Whether you're a breeder, groomer, or multiple dog owner, a metal tub is a great investment. Stainless steel is sturdy, easy to clean and maintain and will last a lot longer than it's plastic alternative. Suitable for dogs of all sizes, from Chihuahuas to Great Danes, the design includes a removable floor grate and non-skid ladder. The high sides and watertight sealed door will keep all the wet, messy business contained. The tub also comes with an adjustable faucet and hose for hot and cold water, a restraint system, plumbing hardware and shampoo caddy.
What we like:
● Max weight: 260lb
● Indoor and outdoor usage
● Shower faucet
● Shampoo caddy
● Pet securing straps
● Removable floor gate
● Non-skid removable ladder
● Durable material
● Hot/cold settings
What we don't like:
● Reported issues with faucet and drainage.
$1256.18 $1599.99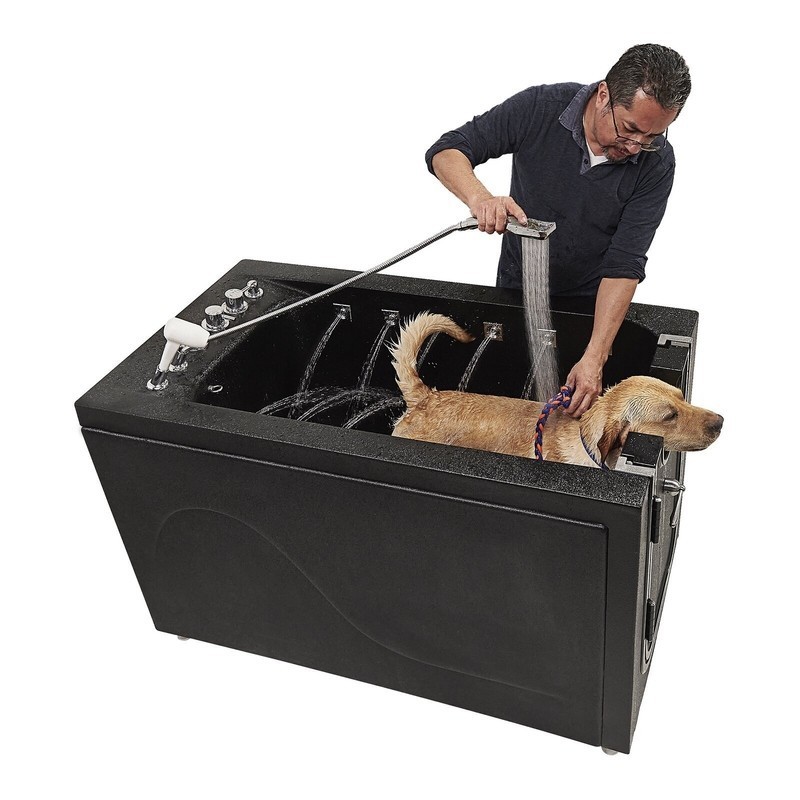 Pet Walk In Spa Microbubble Therapy

Pamper your four-legged friend with a walk-in spa experience. Clean, hydrate, soften, exfoliate and restore your pet's skin at the simple push of a button. This new microbubble therapy breaks down water molecules into billions of tiny, oxygen-rich bubbles that burst out through a dedicated hand mixer. The therapy helps soothe dogs suffering from skin problems, itching, unpleasant smells and allergies. The walls of the tub have 12 jets for maximum therapeutic relief and an additional hand-held shower with a retractable stainless steel hose. Made of high-quality acrylic with a textured floor, this luxury dog grooming tub is durable and slip-free!
What we like:
● For small/medium size dogs
● Microbubble therapy
● Multi-function faucet
● Dog chain hooks
● Removable floor gate
● Non-slip floor
● Durable material
● Stylish aesthetic
● Two side removable access panels
● Adjustable heavy-duty leveling legs
● 2" drain
What we don't like:
● Heavy weight
● No shampoo caddy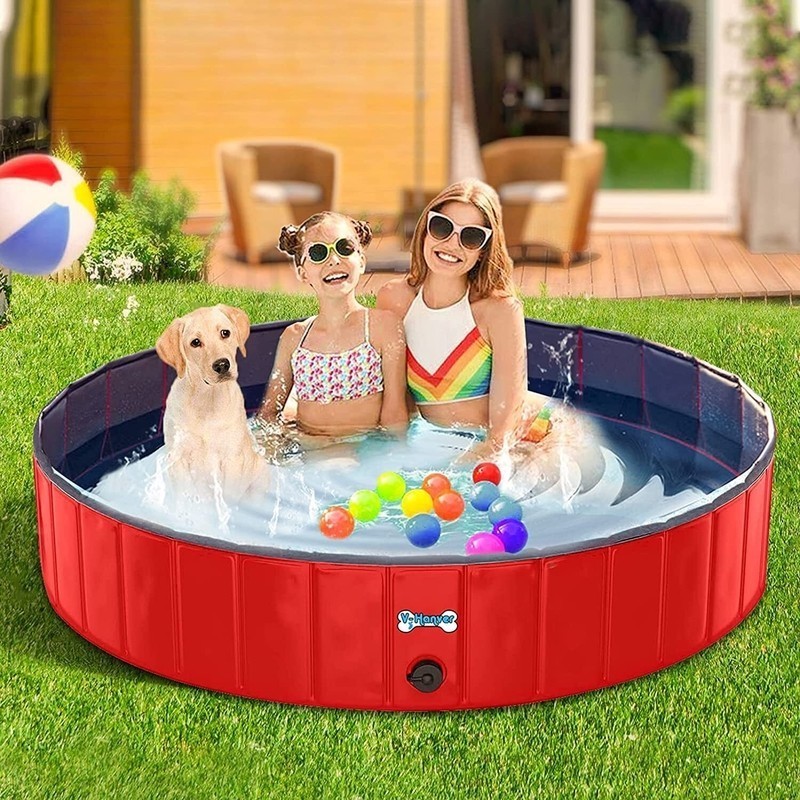 Collapsible Indoor/Outdoor Bathing Pool

Turn bath time into a fun bonding moment with your pooch with this splash pool! Perfect for families with kids and furry friends, this multi-functional indoor/outdoor pool can be used to cool down in the hot summer months, or as a fun ball pit! Made of PVC and built-in high-density fiberboard, with a non-slip, scratch-resistant base, this pool is strong and hard-wearing. Plus, it is lightweight, easy to set up and has a large drainage outlet. After use, simply fold it up and store it away, ready for next time!
What we like:
● XL size suitable for dogs up to 132lbs
● Portable and foldable
● Durable and non-slip
● Easy to use
● Multi-functional
● Different sizes available
● Easy drainage
What we don't like:
Not as strong and long-lasting as hard-plastic/metal alternatives.
$33 $65.99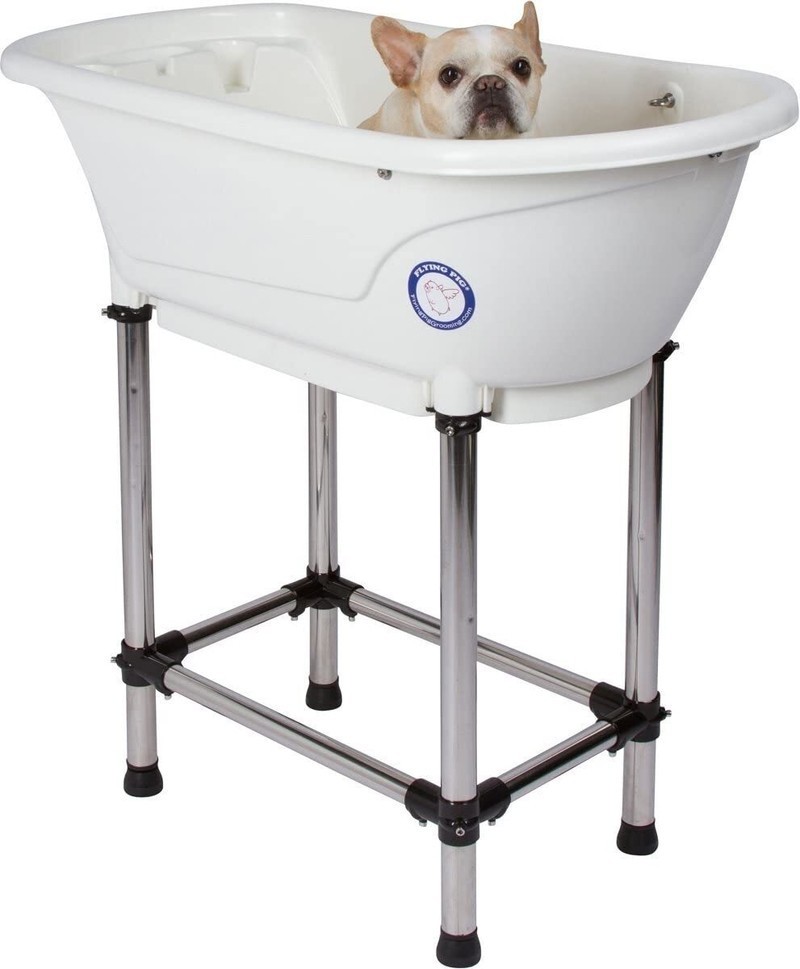 Dog Grooming Portable Elevated Bath Tub

Forget about back strains and dirty baths by gifting your pup his very own tub! The stainless steel legs elevate the grooming tub to meet your height and it's free-standing design provides 360-degree access. The bath comes with a leveler, so uneven surfaces will never be a problem. Fill it up with a hose, or in the bath with the shower head, and pull out the plug when you're done. The drain hose allows you to flush away the dirty water with accuracy and ease. Made of hard-wearing plastic, the bath is durable, lightweight and portable and an all-round great solution for an easy, fluffy wash and dry!
What we like:
● Max. weight: 150lbs
● 360-degree access
● Lightweight and portable
● Stainless steel legs
● Leveler for uneven floors
What we don't like:
● Drain hose is not the best quality
$149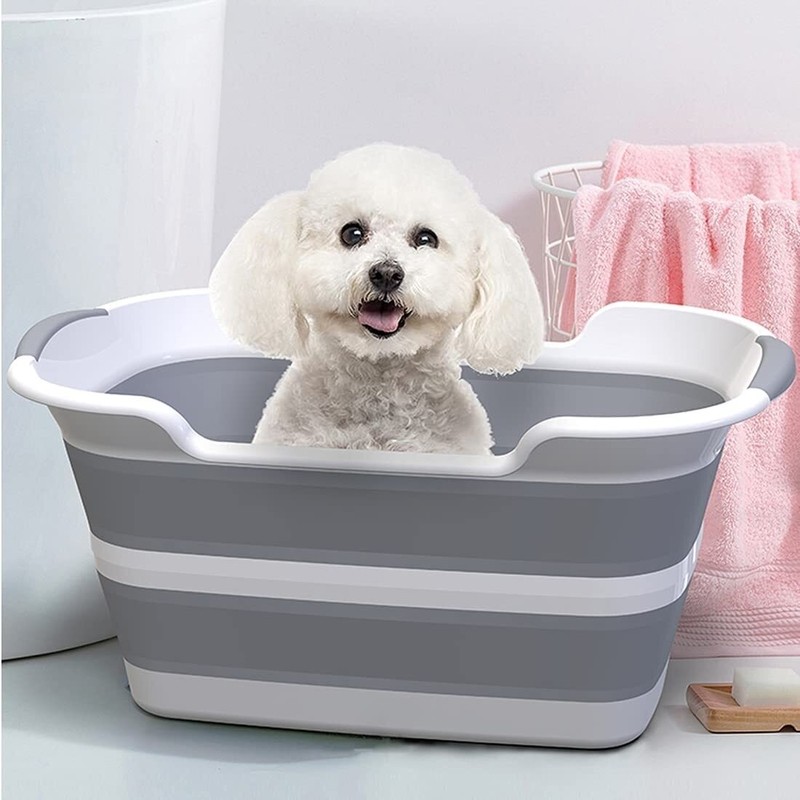 Multi Functional Collapsible Pet Bath Tub

Short on space but looking for an alternative to the kitchen sink or your own bath tub to wash your furry pal? This collapsible bath tub is perfect for small dogs, and small spaces. When collapsed it is compact and takes up very little storage space. It's multi-functional design means it can also be used to hand-wash clothes, as a laundry basket, or an organizer for the bedroom or bathroom! It's white and grey modern aesthetic makes it far from an eye-sore and makes a tasteful storage accessory. Made of soft, but strong PP and TPR, the tub can withstand daily wear and tear, and outdoor use.
What we like:
● Max. weight: 33lbs
● Collapsible and space-saving
● Lightweight and portable
● Stylish aesthetic
● Convenient drainage
● Multi-functional
What we don't like:
● There's nothing we don't like about this pet bath tub!
$38.34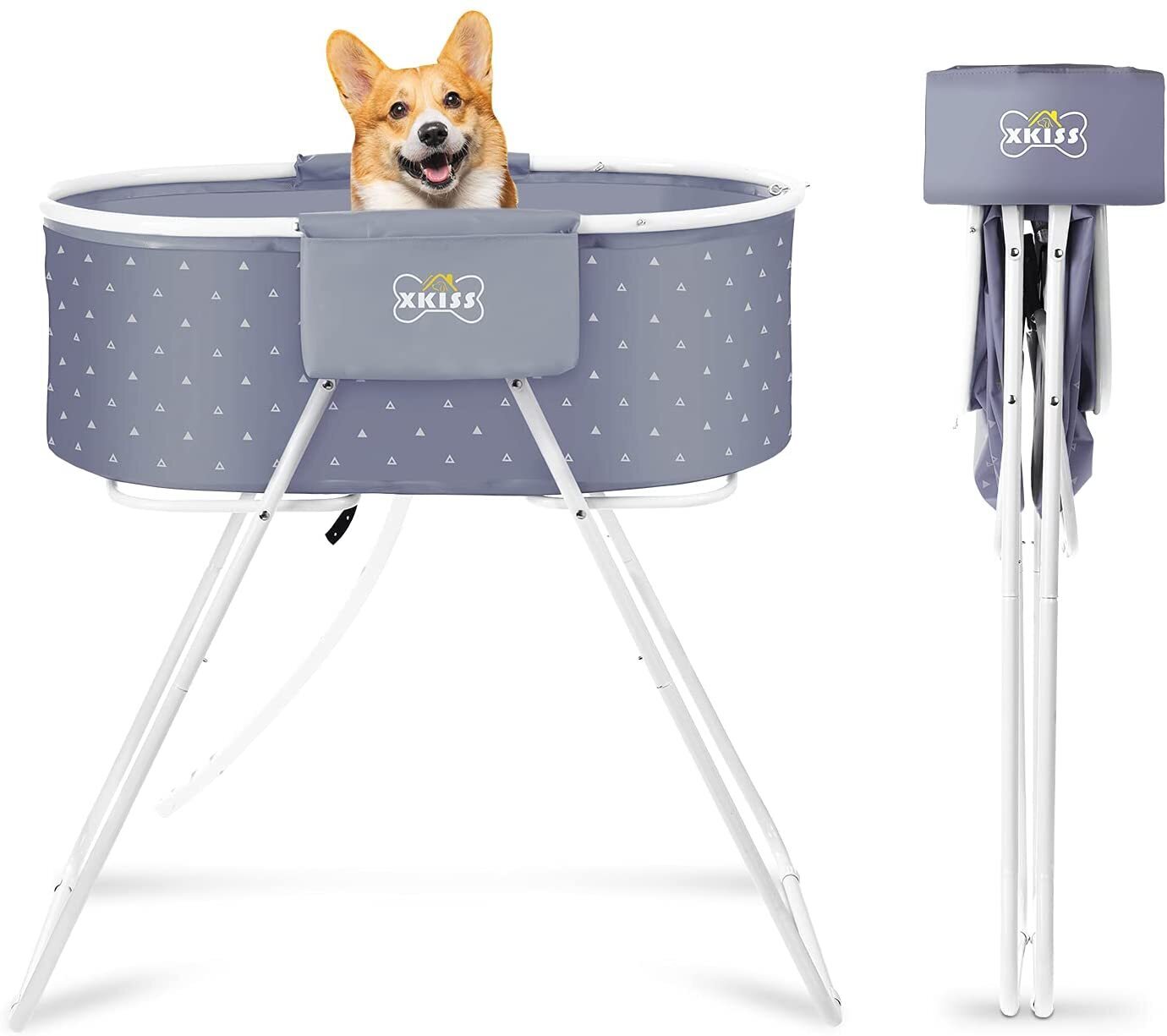 Foldable Elevated Pet Shower Tub

Bathing your canine companion will never have been smoother with this bath tub! Best-suited to smaller dogs, this elevated folding pet bath, made of strong PVC, is a fabulous solution for anyone living in a small apartment, or short on storage space. The shower tub has a lightweight, easy-to-fold design. Simply pull the handle in the middle of the tub and it will reduce from a width of 32 inches to less than 8 inches. You can even remove the legs for easier storage, if needs be. This tub has been designed with you in mind with 360-degree access and elevated to an optimum ergonomic height. Two side pockets have been strategically placed so you can have shampoo, towels and other necessities to hand, without leaving your pup's side. And, to top it off, it is even equipped with a three-point traction belt, convenient drainage and non-slip pads for a safe and easy dog-bathing experience.
What we like:
● Max. weight: 40lbs
● Ergonomic height
● Space-saving folding design
● Convenient drainage
● Lightweight and portable
● Durable materials
● Non-slip pads
What we don't like:
● Not the sturdiest option for big, overly-excitable or feisty dogs!
$259.98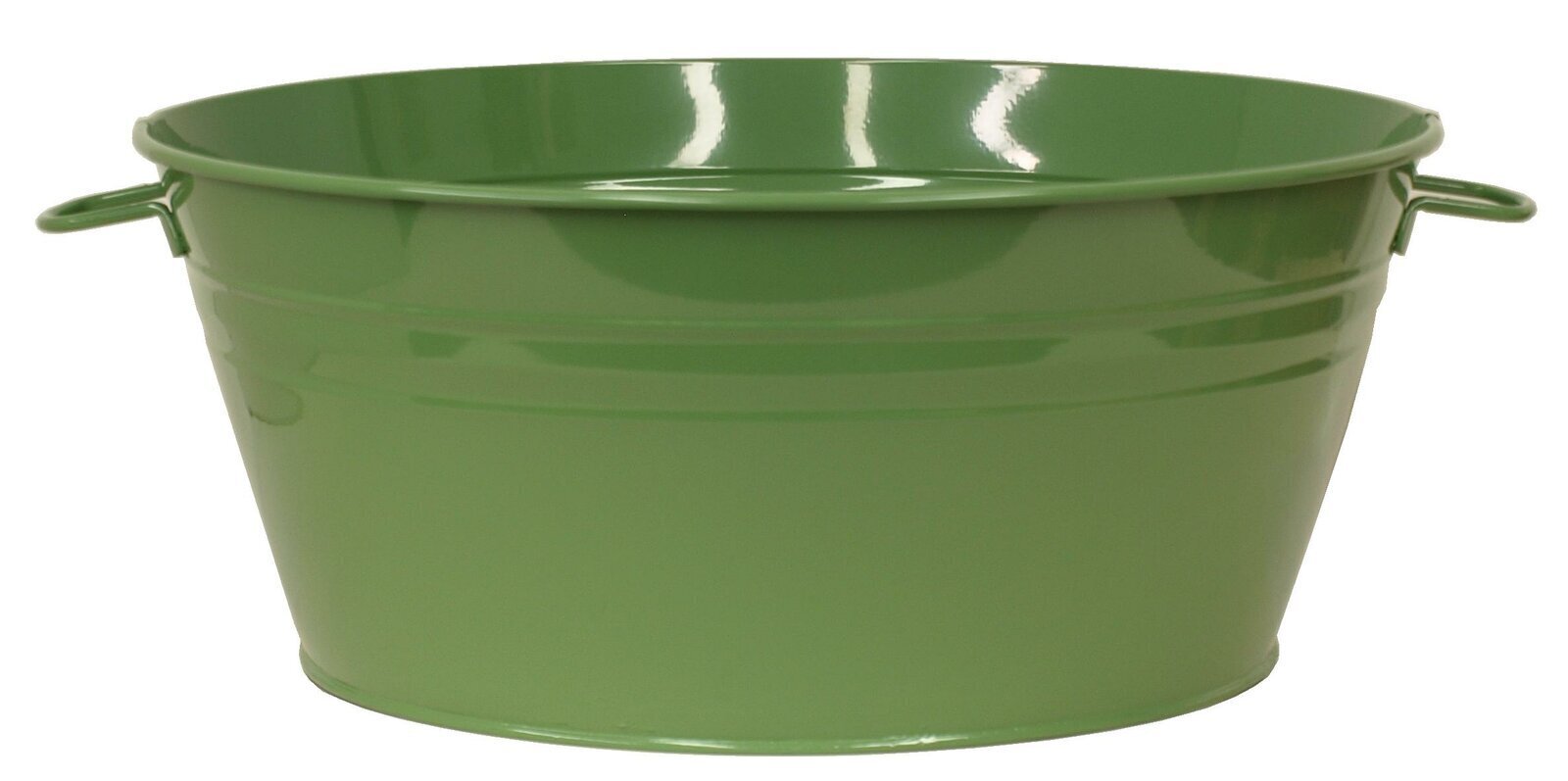 Galvanized Dog Bath Tub

You can't go wrong with a galvanized grooming tub. It's as simple as it gets and does what it says on the tin - and not much more! This tub is perfect for bathing small to medium dogs, indoors or out. Coated with baked enamel paint, it's easy to clean and maintain and, weighing only 5lb, it's lightweight and portable too. When not in use, store it away, or use it for washing clothes, shoes, storing dirty laundry, or other bits and bobs!
What we like:
● Lightweight and portable
● Easy care and maintenance
● Multi-functional
● Durable
● Simple design
What we don't like:
● No drainage.
● No non-slip base.
$33.99 $37.99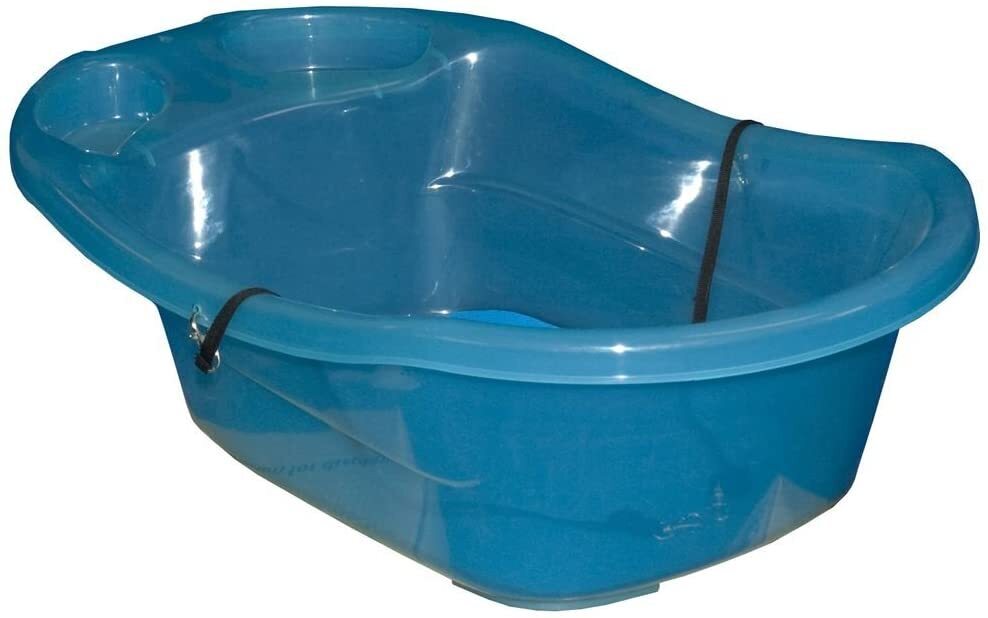 Lightweight Plastic Pup Tub

Give your small four-legged friend a relaxing bath in this pup tub. This simple design has everything you need to make bath time a stress-free event. Two quick-connect adjustable leash restraints help keep your puppy in place and the rubberized mat prevents slipping and sliding. The tub also has rubber grippers on its base to keep it securely in place. The two built-in holders are useful to keep shampoo, conditioner and brushes to hand, and the quick drain feature makes it easy to empty the tub of mucky water. You may be surprised to know that the ocean blue, translucent plastic material was not only selected for its durable and practical qualities and aesthetic appeal. By allowing small dogs to see through the tub, it reduces their stress and anxiety levels, encouraging them to sit back, relax and enjoy their pamper session!
What we like:
● Two quick-connect adjustable leash restraints
● Non-slip bath mat and rubber grips
● Shampoo caddy
● Drainage
● Lightweight and portable
What we don't like:
● Reported leaks through drain
$34.98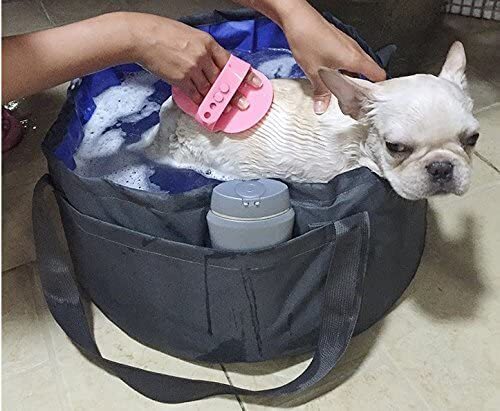 Portable Folding Bath Tub for Small Dogs

Portable, foldable and easy to store, this bath tub is as much of a pleasure for you, as it is the dog! Use it in the shower or bath, and take it with you on your travels. Made of strong 600D oxford fabric, with a high-quality PVC interior, the bath is lightweight, easy-to-clean and maintain, fast drying and super durable. It also comes with a nylon strap for easy transportation. When not in use, it serves as a great doggy travel bag for toys, blankets, towels and dog food. It also has an extra side pocket for storing grooming essentials such as shampoo, hair brushes and yummy treats!
What we like:
● Lightweight and portable
● Easy care and maintenance
● Multi-functional
● High-quality materials
● Durable
● Pocket storage
What we don't like:
● No drainage