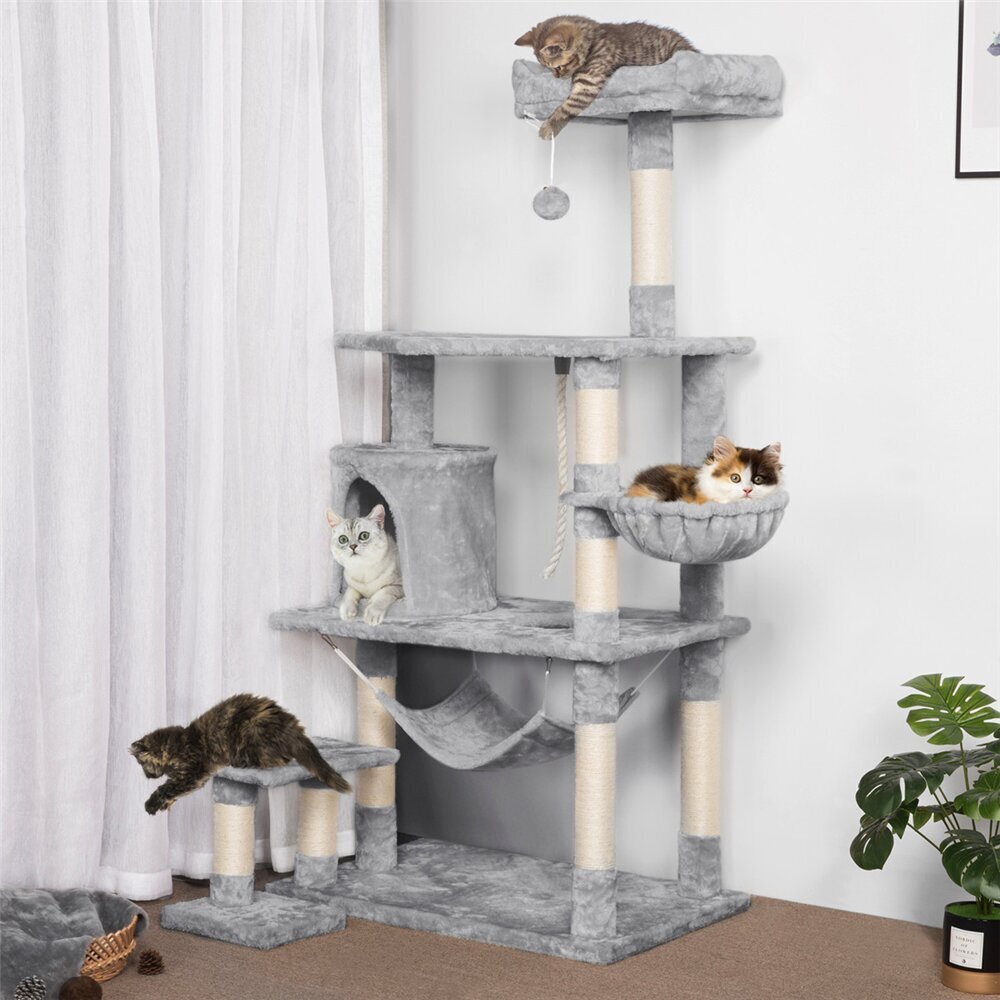 Multilevel Eco Cat Tree
Tucker Murphy Pet™
What we like: Multiple activity stations
What we don't like: With six tiers, this tree may be too big for an apartment
Not so great for: Small spaces
Perfect for: Two adult cats or a single cat with kittens
Crafted from eco-friendly materials, including natural sisal and E1-compliant particleboard, this multilevel tree is a paradise for your furry friends. It contains six separate tiers and features a cozy mid-level condo, a plush hammock, and several stations to relax. If jumping between levels isn't entertaining enough, the tower also has a built-in bungee cord and suspended furball to play with.
The spacious tower has eight individual scratching posts at various levels, helping keep your furniture damage-free. The baseboard can be anchored to the wall, providing additional stability for active cats.
$78.99 $87.99
Merchant links are sponsored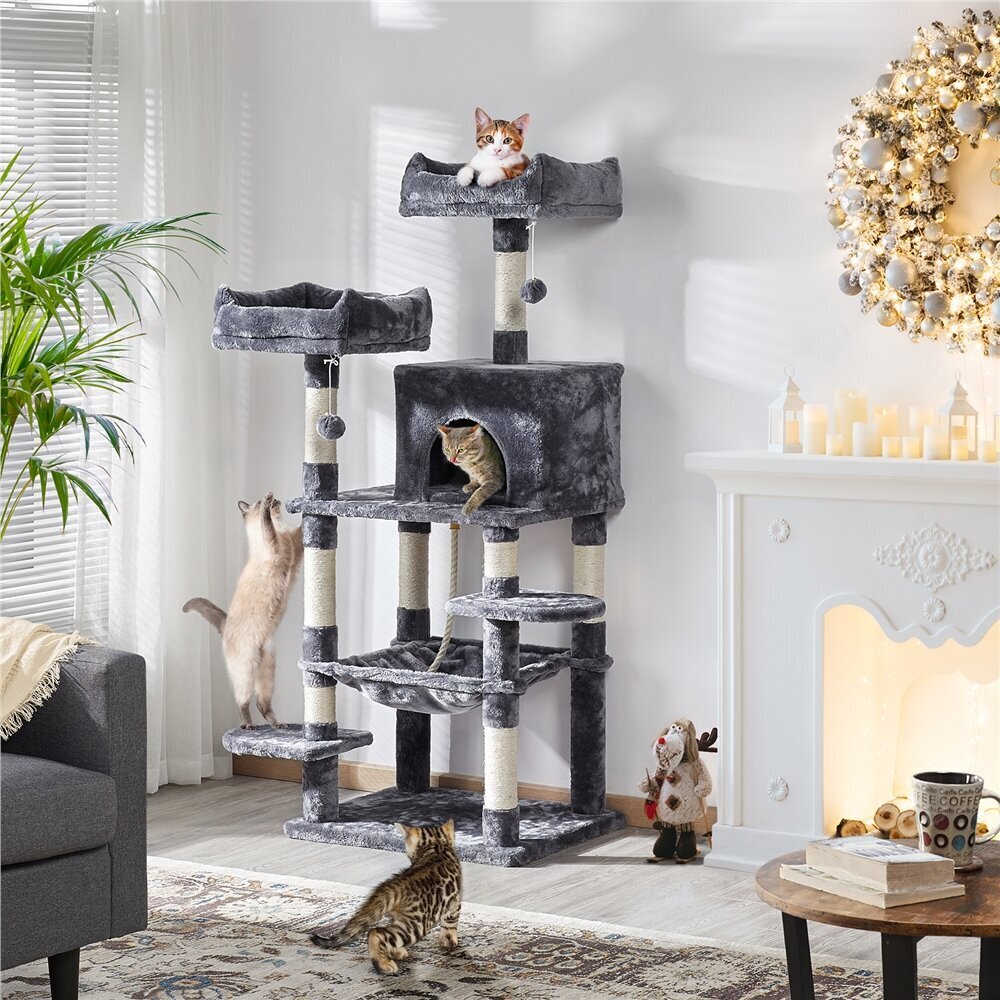 Large Non Toxic Cat Tree Tower
Tucker Murphy Pet™
What we like: Large condo provides ample space for cats to sleep
What we don't like: Requires two people to install
Not so great for: Older or sedentary cats
Perfect for: Two to three young and playful cats
This eco friendly activity center offers the perfect stimulating entertainment space for your pets. It is made from ethically sourced particleboard and skin-friendly plush fabric, providing a fun and healthy place for your cats to play and relax. This tower has multiple levels, making it an ideal option for two to three medium-sized cats.
Several activity stations give each of your cats plenty of space to play. The tree contains two large perches, a spacious soft hammock, two sisal furballs, and a large condo for sleeping.
$101.99
Merchant links are sponsored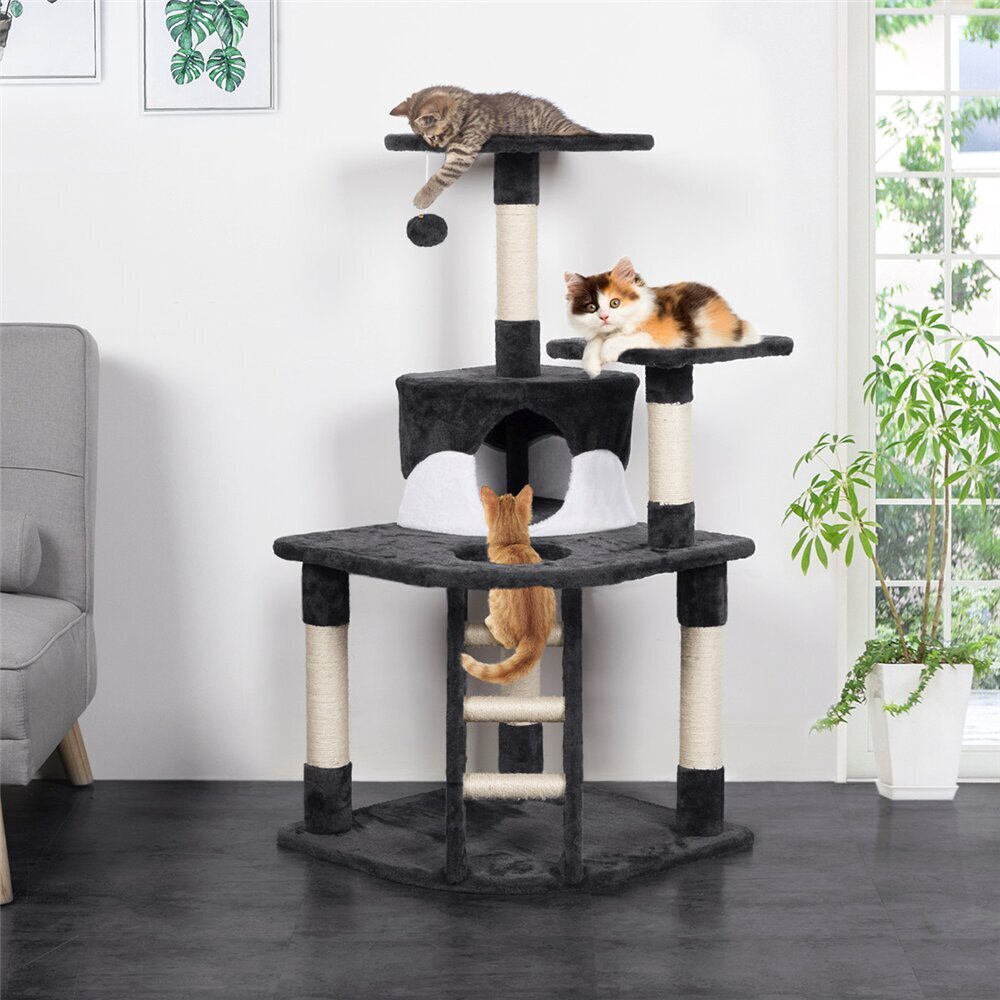 Soft Fabric Sustainable Cat Tree
Tucker Murphy Pet™
What we like: Ultra-soft polyester fabric
What we don't like: Top platform is a bit shaky
Not so great for: Homes with multiple large cats
Perfect for: Kittens or small cats.
Topped with plush 400 gsm fabric, this cute playhouse is the perfect retreat for laid-back cats or young kittens. With four perches and a snug condo, your kittens will have plenty of lounging spots to rest after hours of playtime. The sisal ladder connects the ground floor to the mid-tier, providing an easy route for growing kittens who need extra help learning how to climb.
Despite the number of features, this tower is relatively compact compared to other natural cat trees. It can fit neatly in the corner of your den without being too distracting.
$61.99
Merchant links are sponsored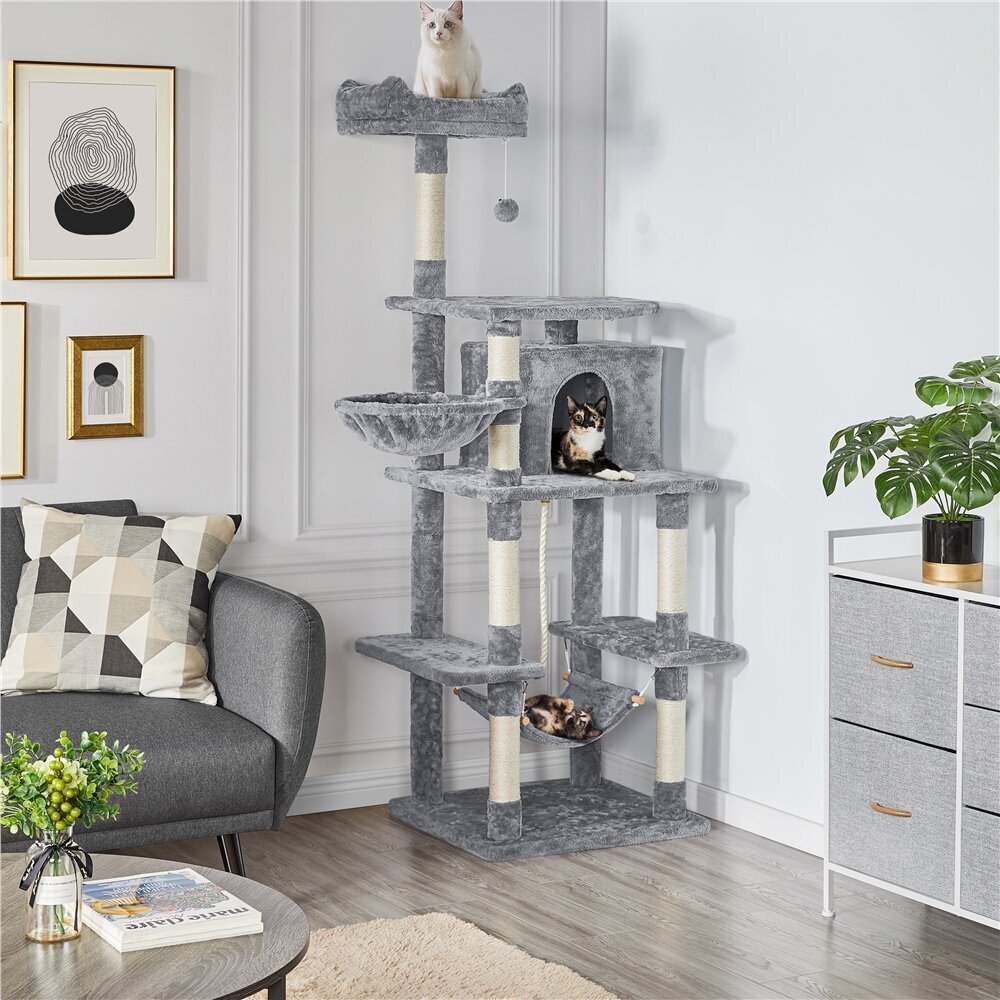 Eco Friendly Cat Tower For Multiple Cats
Tucker Murphy Pet™
What we like: Spacious design provides several areas to lounge, play, climb, and scratch
What we don't like: Kittens may have difficulty climbing the tree
Not so great for: Small apartments with limited space
Perfect for: Large rooms like open-plan living areas, rec rooms, or finished basements
If your pets are constantly competing for the comfy sections of your sofa, this roomy cat tower is a cozy solution. It contains multiple nooks, including a string suspended hammock, a napping basket, and multitiered platforms. Your cats will love climbing to the top, with each level providing a different challenge.
Twelve scratching posts help keep your furniture safe from your pet's claws. This tree is perfect for two to three energetic cats. However, kittens may need some time to grow before using all the fun features.
$98.99
Merchant links are sponsored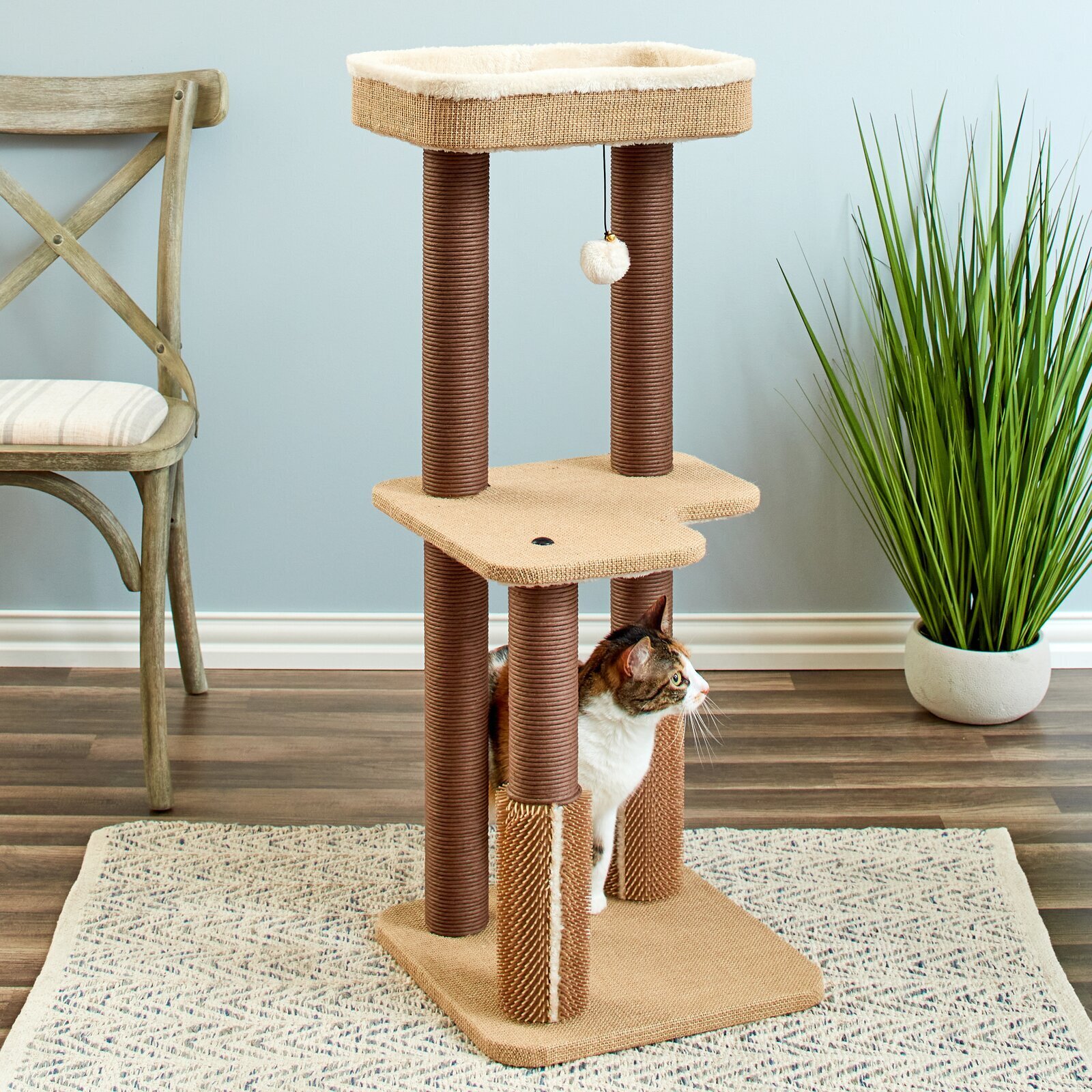 Double Platform Natural Cat Tree
Tucker Murphy Pet™
What we like: Fast and easy assembly that requires no tools
What we don't like: Limited play accessories if you have multiple cats
Not so great for: Multi-cat families
Perfect for: A playful addition to an enclosed cat playpen
Consider this multifunctional three-tiered tree if you're looking for a small and convenient play area for your cat. Its discreet design ensures it can fit into virtually any room in your house. The jute material surfaces provide the perfect material for your cat to scratch and shed layers from its claws.
The top tier features a padded perch that will become your pet's favorite hangout spot. Unfortunately, the suspended furball is the only distinctive play feature, so you may still need to purchase additional toys for entertainment.
$129.99
Merchant links are sponsored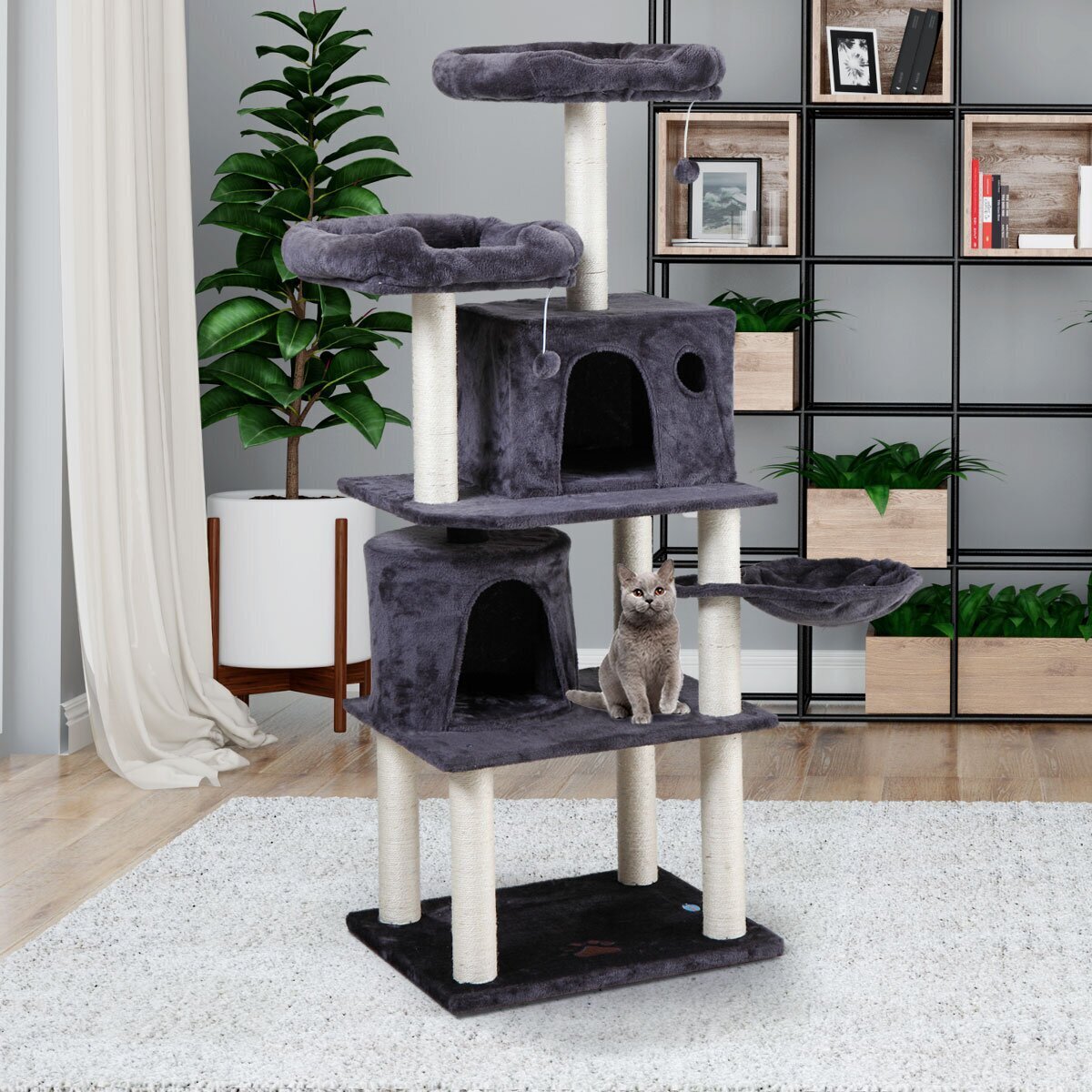 Particleboard Condo Style Cat Tree
Tucker Murphy Pet™
What we like: Two comfortable padded perches at different elevation levels
What we don't like: Thin sisal rope may be vulnerable to damage
Not so great for: Multiple large cats, as they may damage some of the features
Perfect for: Small to medium-sized cats or kittens
Give your fur babies their very own cat mansion with this grand tower. It is large enough for two big cats, featuring dual cozy condos. Placing this tree next to a window provides your cats with endless hours of entertainment, watching birds and passers-by from five different tiers.
Hanging balls are fun play features, but they may be fragile for larger felines. If you're worried about its stability, the tower is built with an anti-tilt design. Each piece comes with anti-toppling fittings and a wall anchor to give it extra stability.
Merchant links are sponsored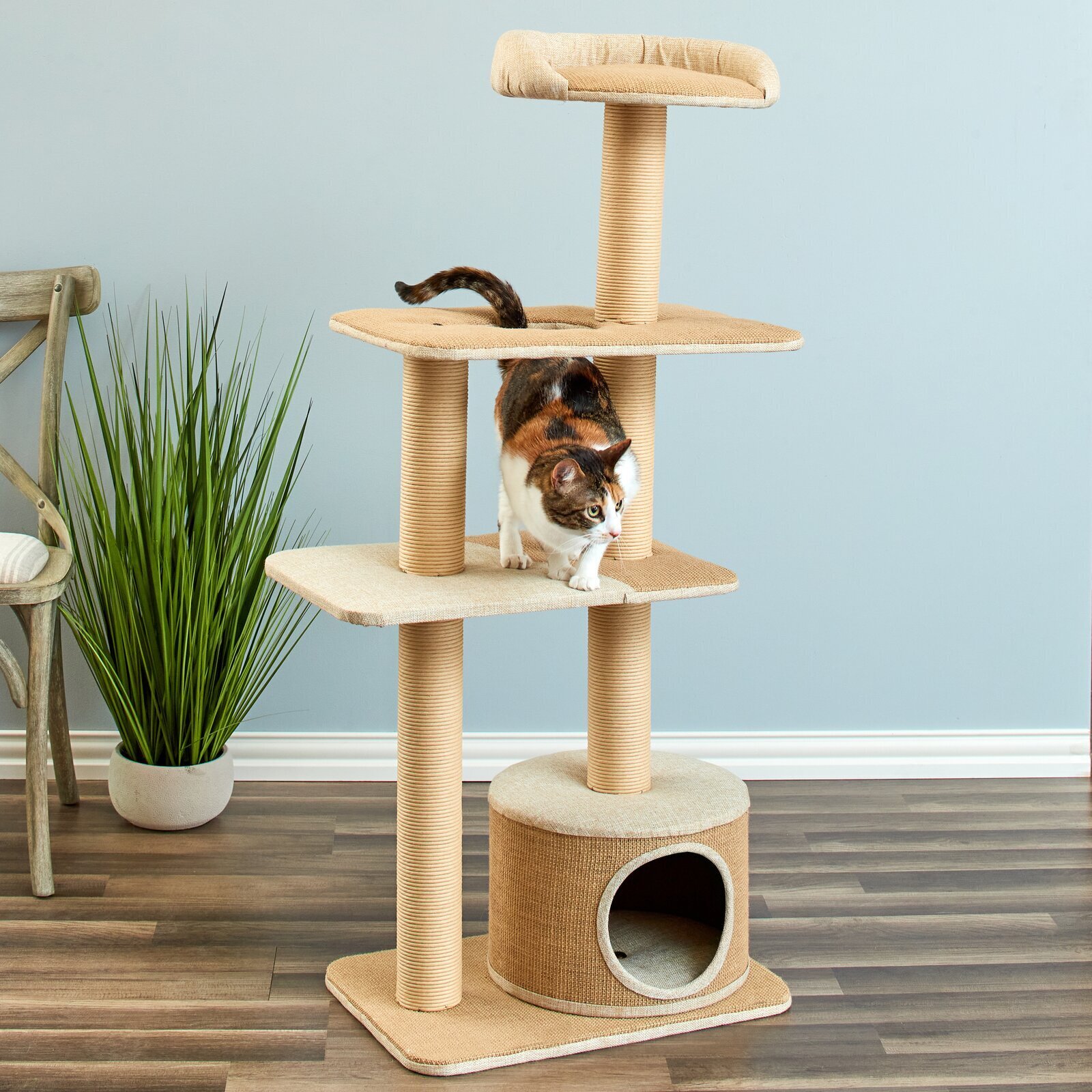 Four Level Polyester Cat Tree
Tucker Murphy Pet™
What we like: Cozy ground floor condo is perfect for an older cat
What we don't like: High price point compared to other options
Not so great for: Energetic cats that need constant entertainment
Perfect for: Older cats that enjoy relaxing and scratching their claws
Not all cats are bursting with energy all day, every day. If your cat is getting older, this wooden tower features a ground-floor condo for easy access. On days when they have more energy, the four tiers create a perfect playground. The top level is a padded perch for the ideal vantage point next to a window.
This is a durable cat tree made from high-quality and eco friendly recycled wood. It is freestanding but tip-resistant, keeping your cat safe during playtime.
$199.99 $194.99
Merchant links are sponsored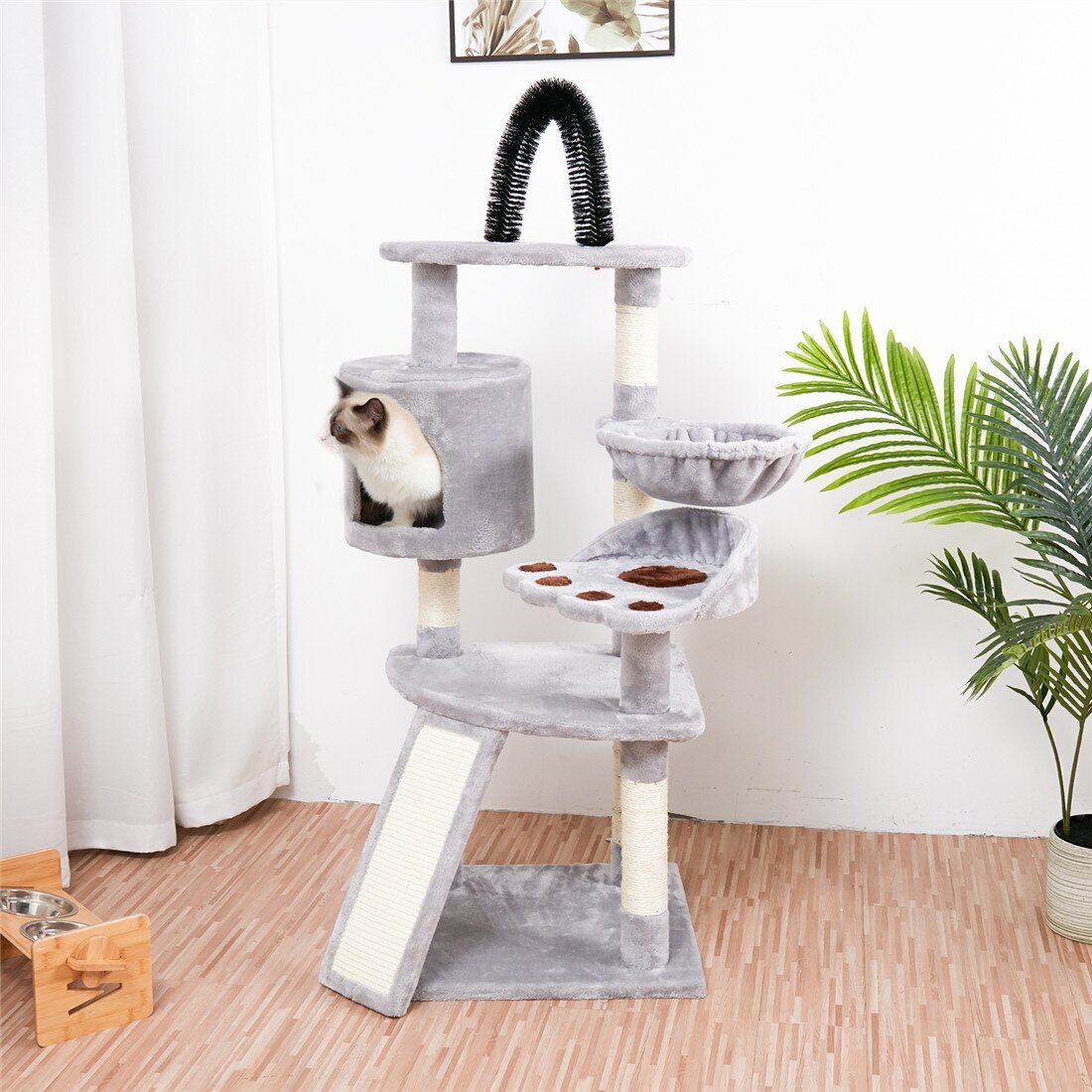 Luxurious Cat Tree With Groomer
Tucker Murphy Pet™
What we like: Cute cat paw-designed platform
What we don't like: Built-in groomer can accumulate a lot of cat hair
Not so great for: People who keep their cats in their bedroom
Perfect for: Large, heavy cats (supports cats up to 11 lbs.)
This uniquely designed cat tree exudes fun, adding character to your cat's play area. It has a large, fluffy platform shaped like a cat's paw for lounging or sleeping. It also features a hammock, spacious condo, and multiple tiers, making it a suitable option for multiple cats or a small kitten litter.
Another unique feature of this cat tree is the self-grooming bristle. It is designed to collect excess fur when your cat rubs against it. However, it's important to clean the bristle regularly to prevent hair from circulating around the room.
Merchant links are sponsored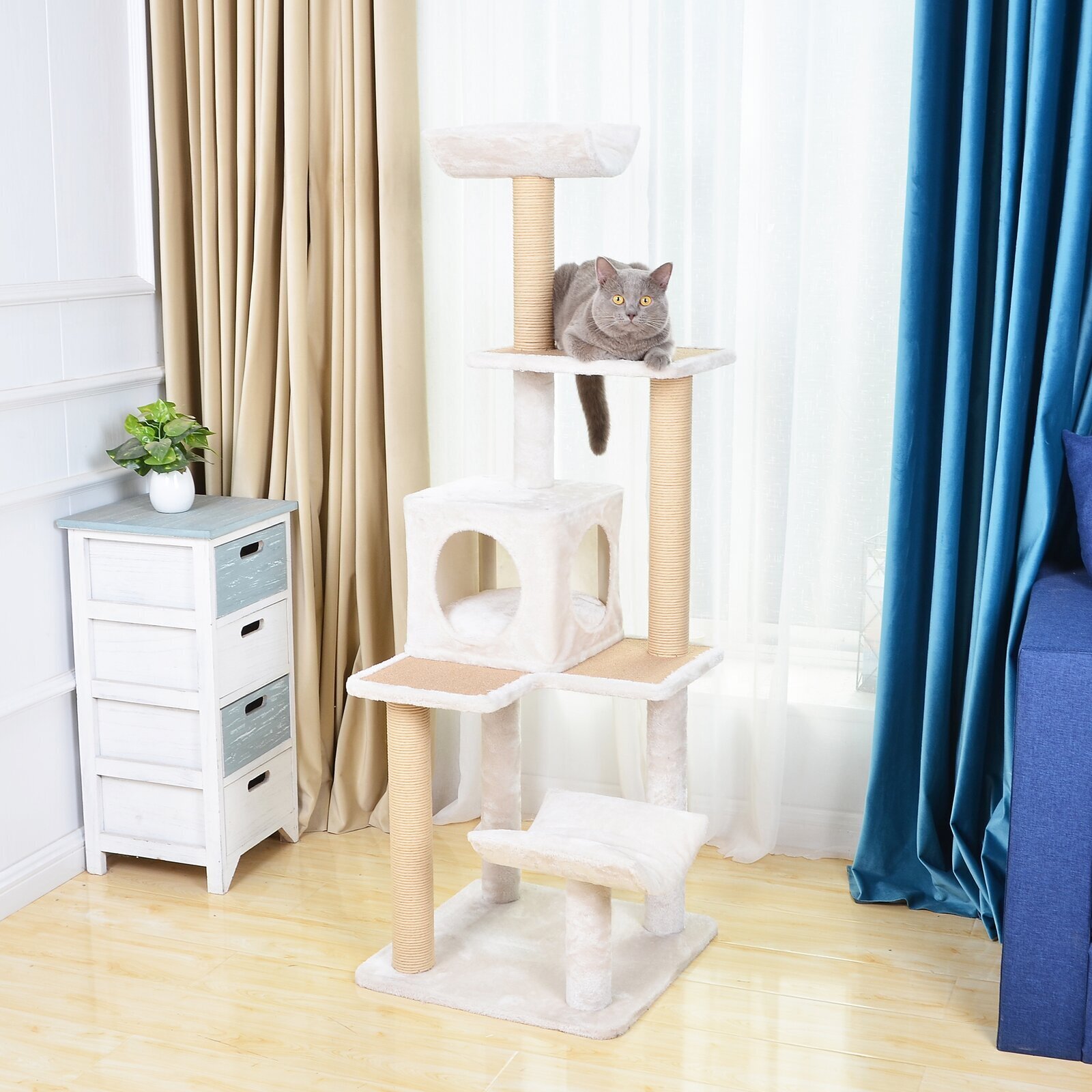 Tall Cat Tree With Curved Perch
Tucker Murphy Pet™
What we like: Curved perch allows cats to rest comfortably
What we don't like: Cardboard frame material may be a little fragile
Not so great for: Several playful cats
Perfect for: One to two small, gentle cats
Cats feel safe and dominant in high places, whether they're on a tree branch or in the rafters of your garage. It's important to provide house cats with vertical space to enjoy. This four-tier tree provides almost 5' of vertical space, with multiple rest areas and cozy perches. The fun design features a curved resting place, allowing your cat to stretch out and rest comfortably.
This piece also includes a spacious condo that's accessible from two sides, giving your cat plenty of space to watch their surroundings. Although this tree is crafted from eco friendly materials, the cardboard frame means it may lack durability.
Merchant links are sponsored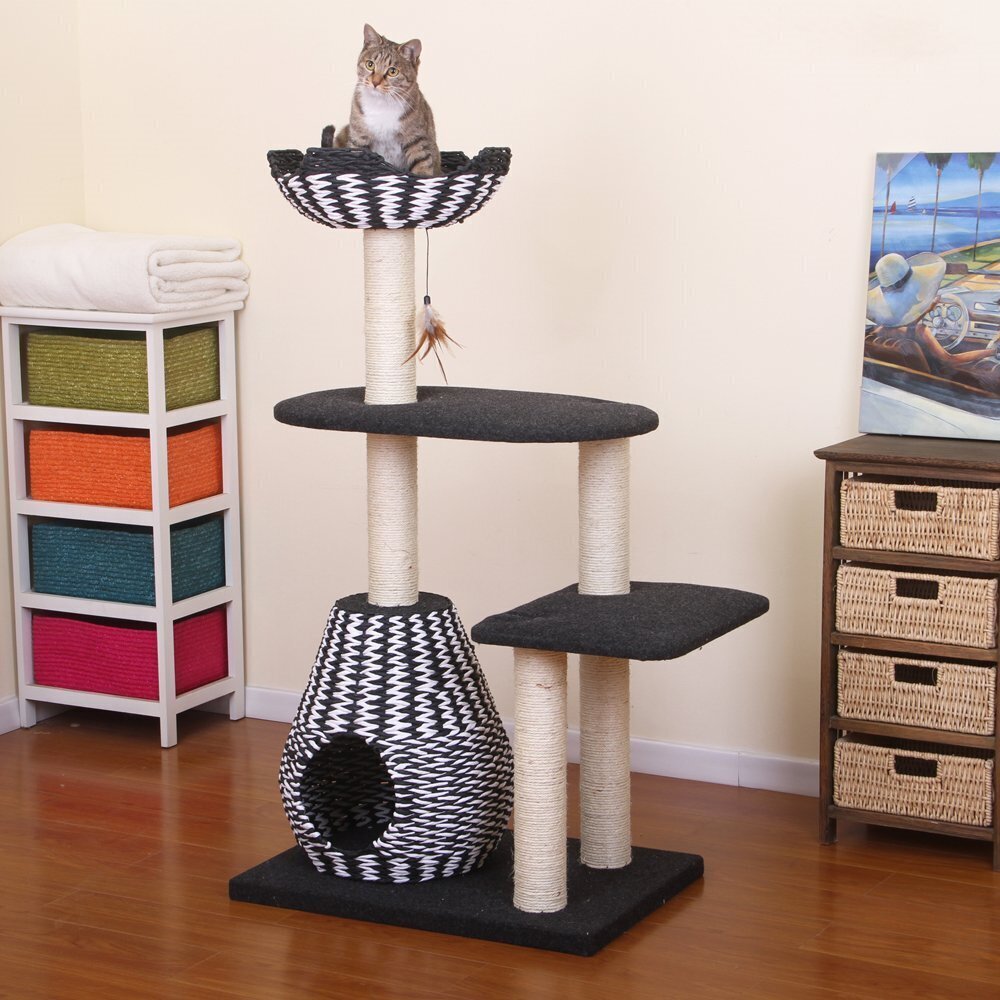 Multilevel Tree For Medium Sized Cat
Aperture Corner
What we like: Unique design resembles a bamboo cat tree
What we don't like: High price tag
Not so great for: Bargain-seeking cat owners
Perfect for: Chic, boho style homes with two cats
This luxurious cat tree is designed for felines that enjoy the finer things in life. It is crafted from a combination of white recycled paper and manufactured wood. The wood ensures your cat will get years of enjoyment from this tree.
With four spacious tiers, this tower can easily accommodate two cats. The ground-floor condo is very spacious, allowing your cats to snuggle together. The top of the tree features a bowl-shaped perch with a suspended feather for playing. This is a very sturdy piece with a tip-resistant design and non-skid base.
Merchant links are sponsored