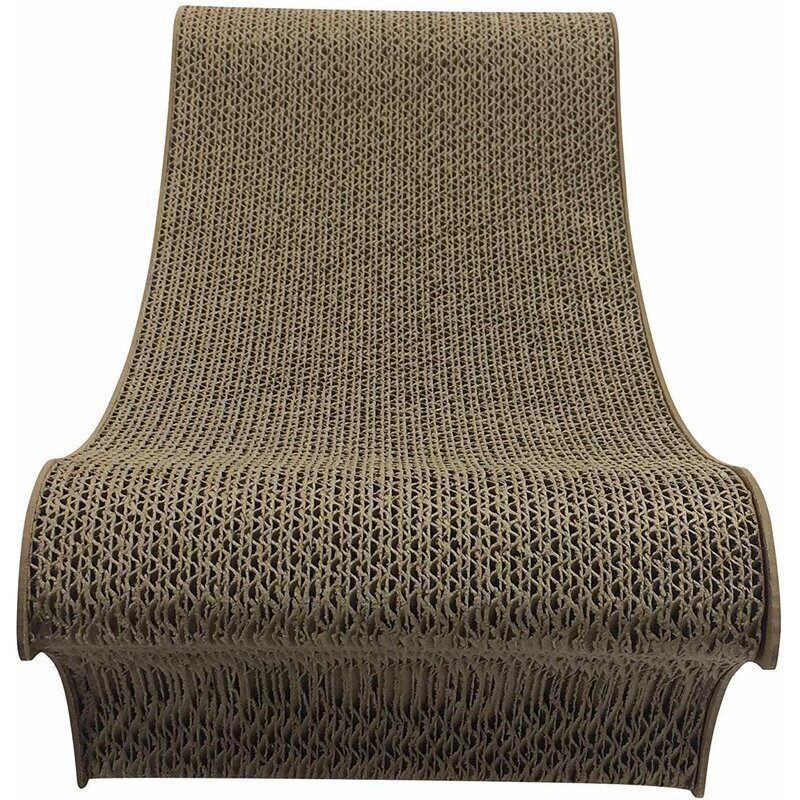 Lounge Scratcher Cat Furniture
Tucker Murphy Pet™
This scratcher is a new style of an old favorite for cats. Made from recycled materials, it provides a relaxing spot for your cat to rest, while also satisfying their need to scratch. This scratcher is 17" long and slopes up to a height of 3.5". The thick corrugated cardboard allows this lounge scratcher to support cats up to 25 pounds.
$38.99 $39.99
Designer Advice:
This cat scratcher and lounge combination fits into any decor without being out of place. It has smooth rounded corners and a unique corrugated look that cats love to lay on and scratch to their heart's content. The modern design and neutral colors of this scratcher fit into any decor in your home.
Merchant links are sponsored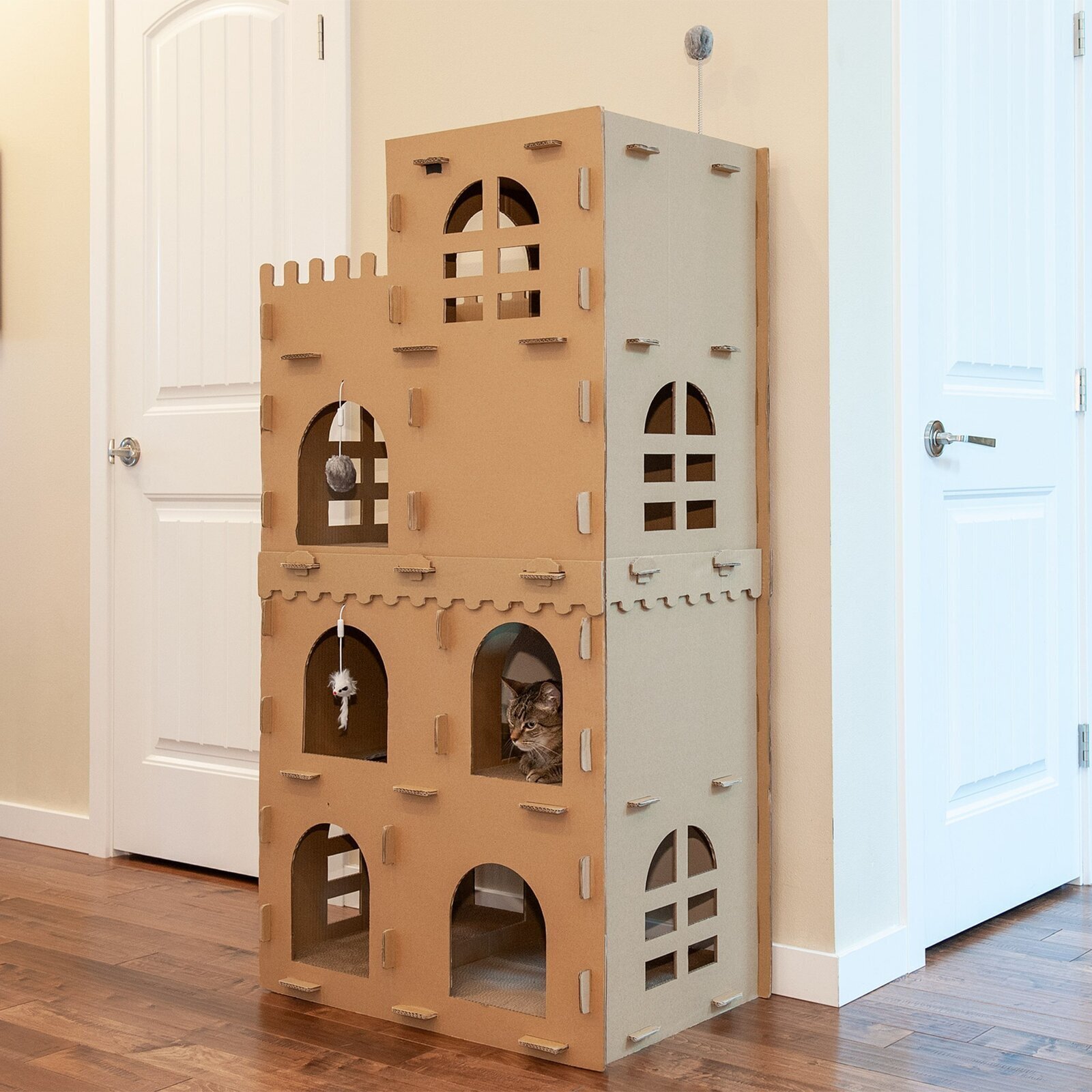 Large Multi Story Cat Furniture
FurHaven
At a height of just under 56", this large and impressive cardboard cat house can provide sleeping spaces and play areas for multiple cats or kittens. The weight capacity per level is 18 pounds making this a suitable piece of cardboard furniture for even larger felines.
$88.99 $209.99
Designer Advice:
This cat house is large and perfect for both kittens and adult cats. The footprint measures 29.5" by 20", making it easy to set near a window or in a new spot in your bedroom or living room. Your cats will love climbing all over this fun cardboard house and finding their favorite spots inside to sleep and relax.
Merchant links are sponsored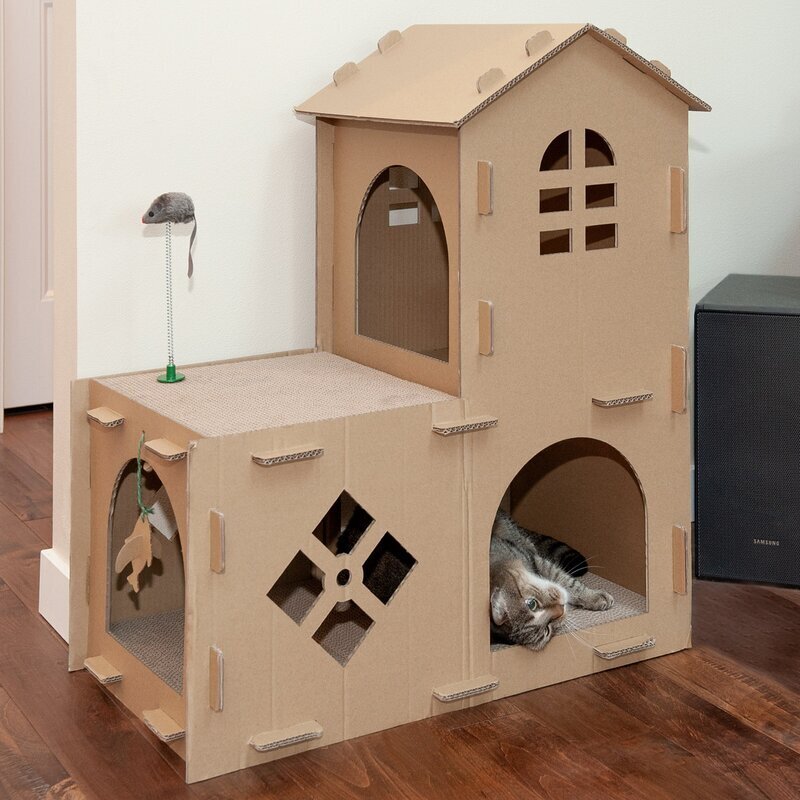 Farmhouse Shaped Cardboard Cat Furniture
FurHaven
Standing 31" high overall, this farmhouse shaped cardboard cat house is a fun and unique toy or lounge spot for your furry friends. Each entry door is large enough for adult cats, and the windows provide plenty of ventilation for cats and kittens playing inside the farmhouse. The 16.5" width of the farmhouse allows large or multiple cats to play inside at once.
Designer Advice:
The adorable shape on this two-story cat furniture can fit into any decor in your home and looks great near a window or in a corner of the room. The platforms are sturdy enough to support up to 18 pounds with ease, making this the perfect play area for both kittens and larger cats to climb on.
Merchant links are sponsored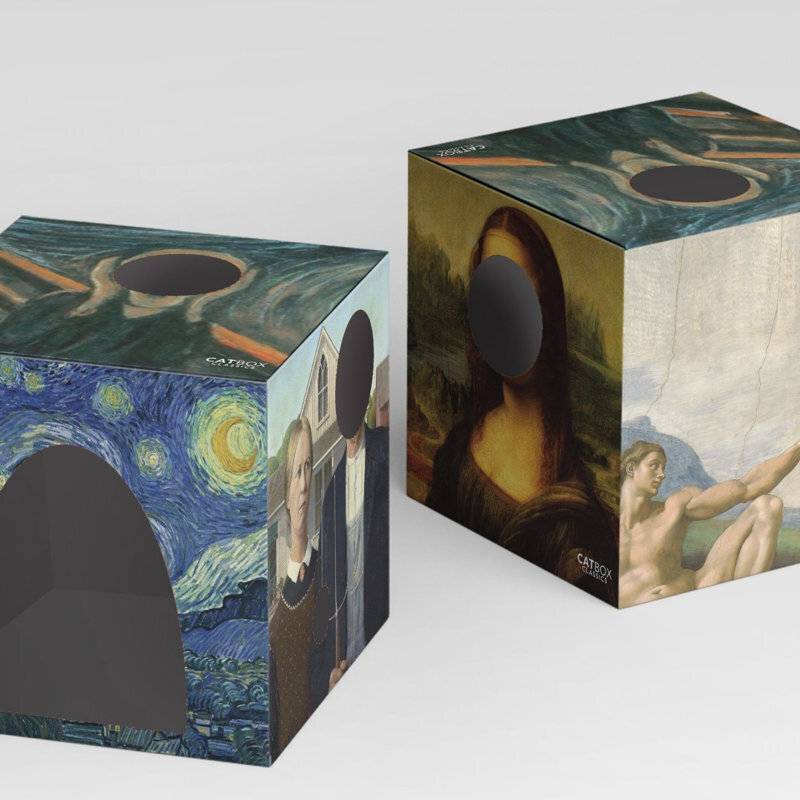 Classic Paintings Cat Cubes
Cat Box Classics
Bring a unique combination of class and whimsy into your home with these catnip-scented cat cube houses and scratcher combinations. Decorated with images of famous paintings, including the Mona Lisa and American Gothic, these 14" square cubes are a fun plaything or relaxing spot for a nap.
$39.99 $39.69
Merchant links are sponsored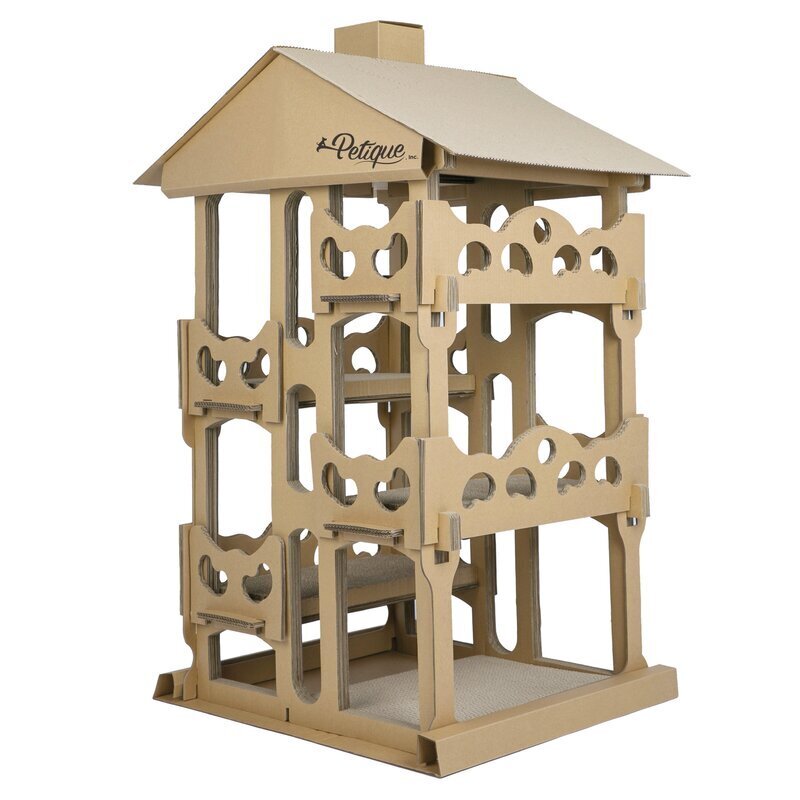 Open Sided Cat Chateau Cardboard Furniture
Petique
Made to be lightweight yet sturdy, this 43" tall cardboard cat chateau provides a cozy place for your cat or kitten to take a nap and plenty of areas for them to play and have fun. Multiple scratching boards on the inside floors give multiple cats plenty of opportunity to play in the chateau together.
$120.32 $139.99
Merchant links are sponsored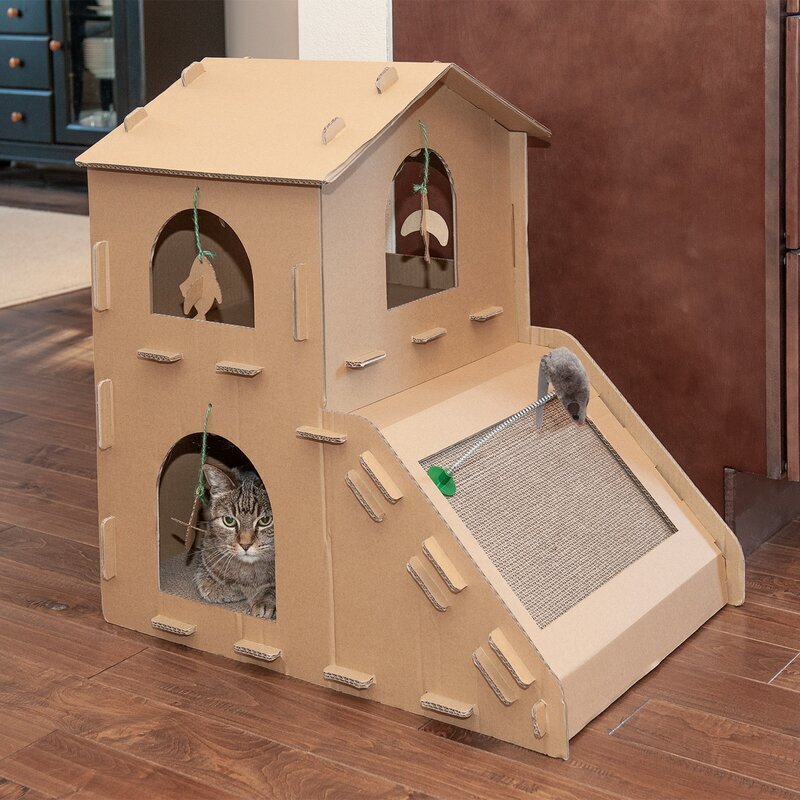 Small Cardboard Cat Condo with Scratcher
FurHaven
Measuring 26" high overall, this cat condo features a two-story house on one side and a sloped carpet scratcher on the other. Able to support up to 18 pounds, this cardboard cat condo is ideally suited for large cats and kittens. Various small cardboard toys dangle from the openings, and a springy mouse toy is attached near the scratcher.
$38.99 $96.99
Merchant links are sponsored