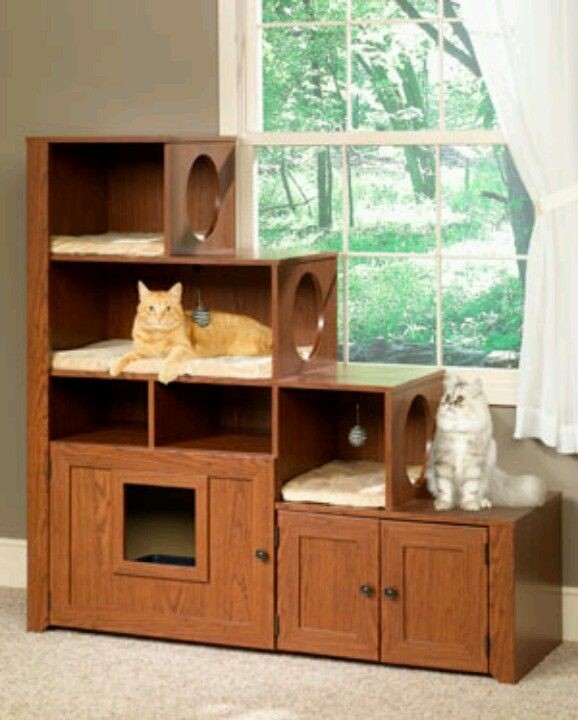 Gift your kitties with this palatial cat condo. The lower level holds a cat box, keeping the litter inside. Supplies cabinet is beside the box cubbie while lounging, resting, and play spots are located above the litter box container.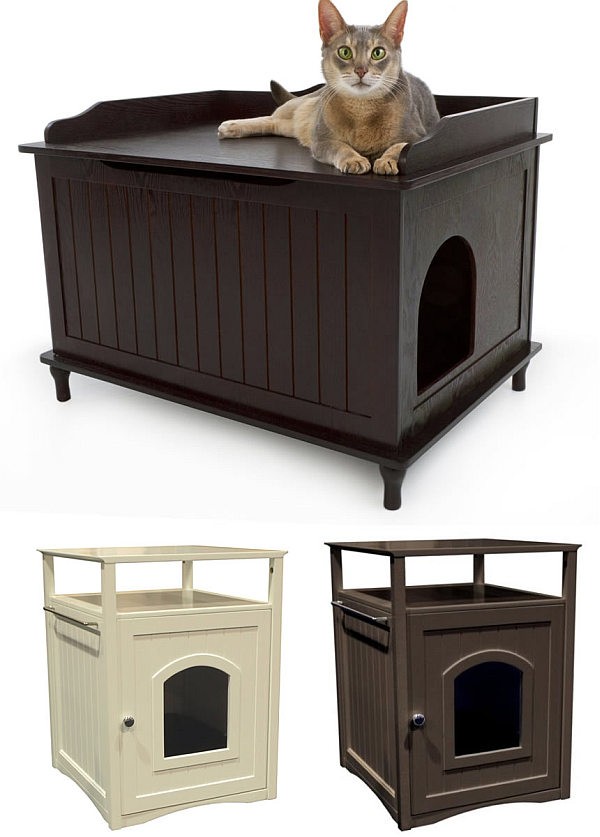 A cat litter box is rarely an attractive element of the room. However, there are some simple ways to hide it. You can use an old cabinet that you don't often use. Just add a simple pet door at the front.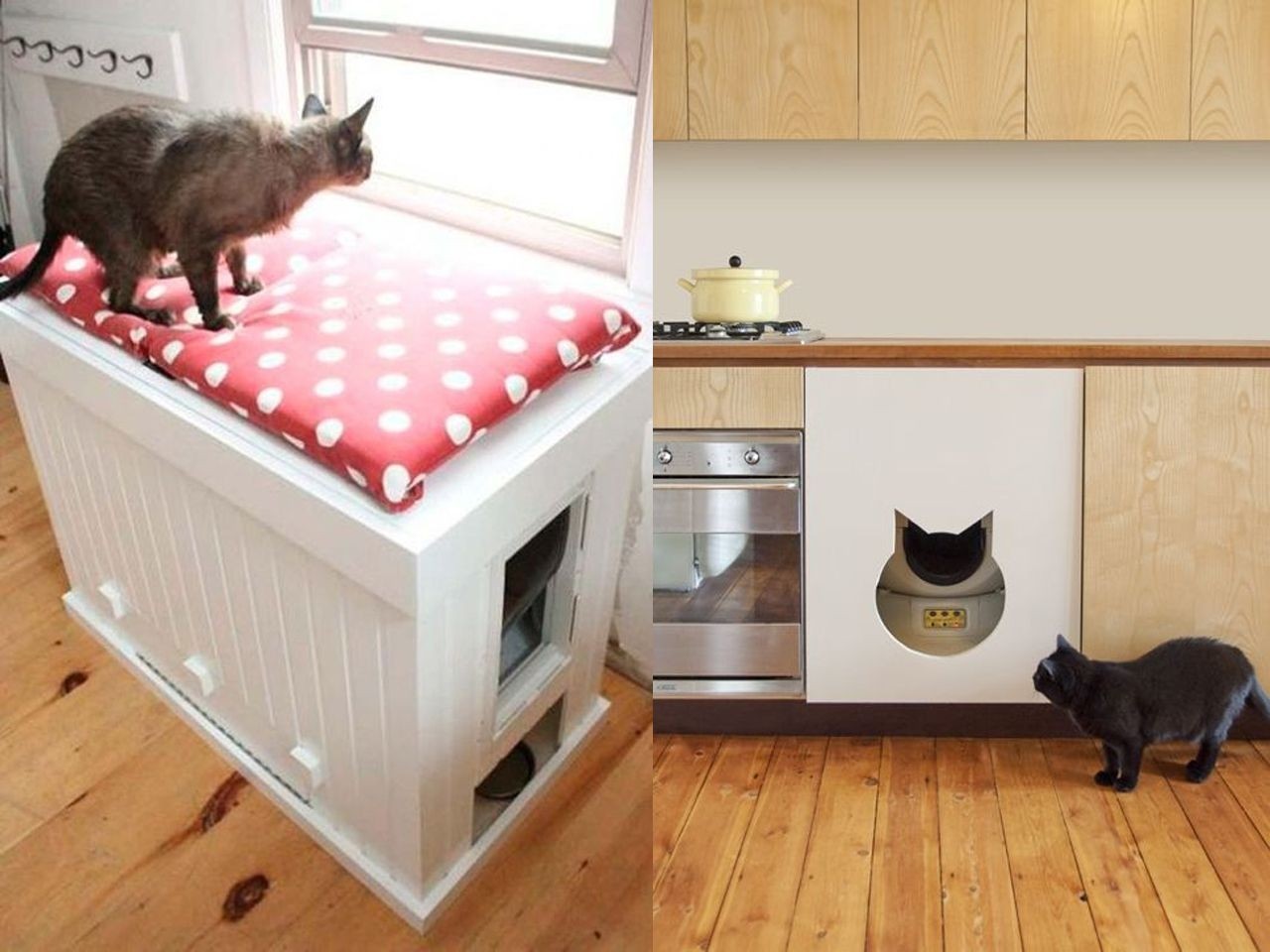 A handy and interesting idea for hiding a cat's litter box. This one is hidden inside of a window with a structure made out of manufactured wood with oak veneers in a white color and has a cat door on the side.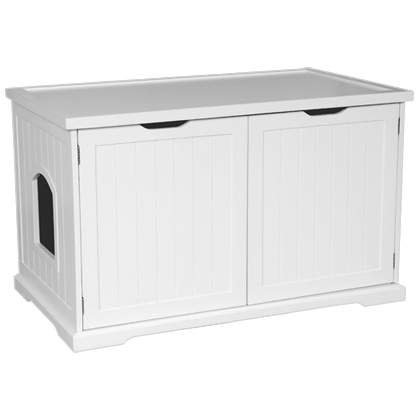 This DIY project is a great example of a modern approach to the litter box problem. Gently hidden under the snowy white surface of a modern closet, it won't even signalize its presence.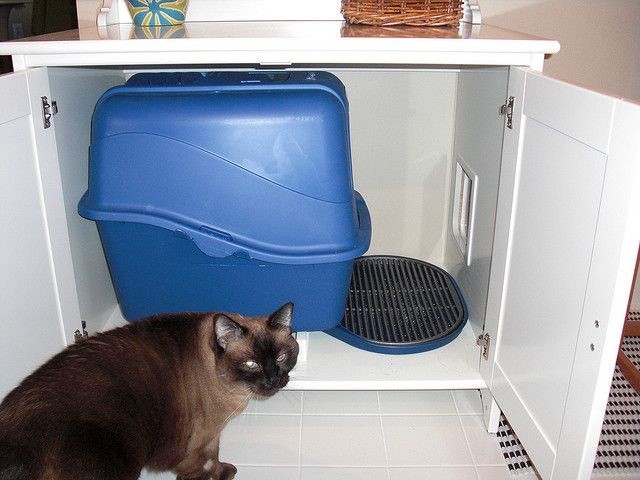 Highly useful litter box cabinet made from wood. The piece is finished in a modern white shade and accentuated with silver-coated hardware for an incredible touch of modern elegance. The cabinet should fit a standard size litter box or even larger ones.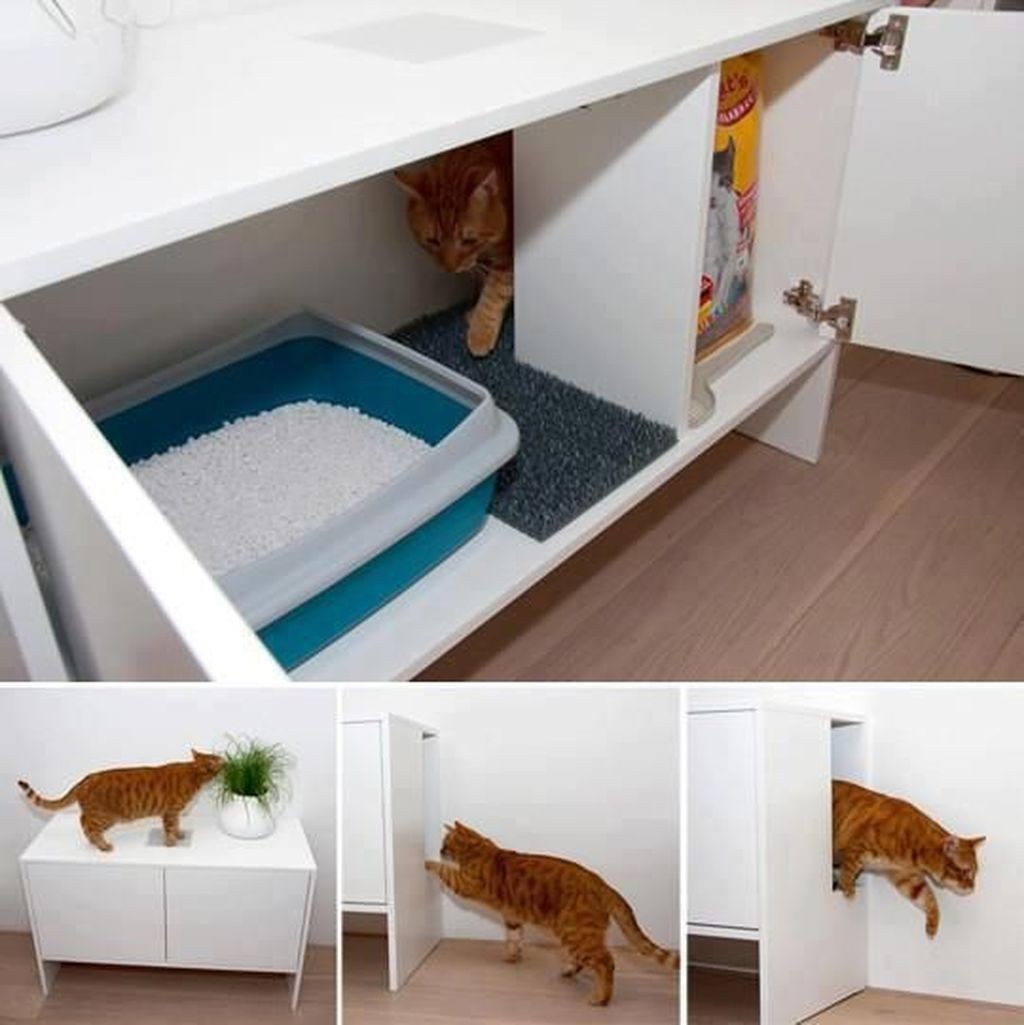 The practical and highly efficient cat litter box cabinet is a very functional connection to any interior where a cat lives. The beautiful white design is stylish and contemporary. It can serve as a table.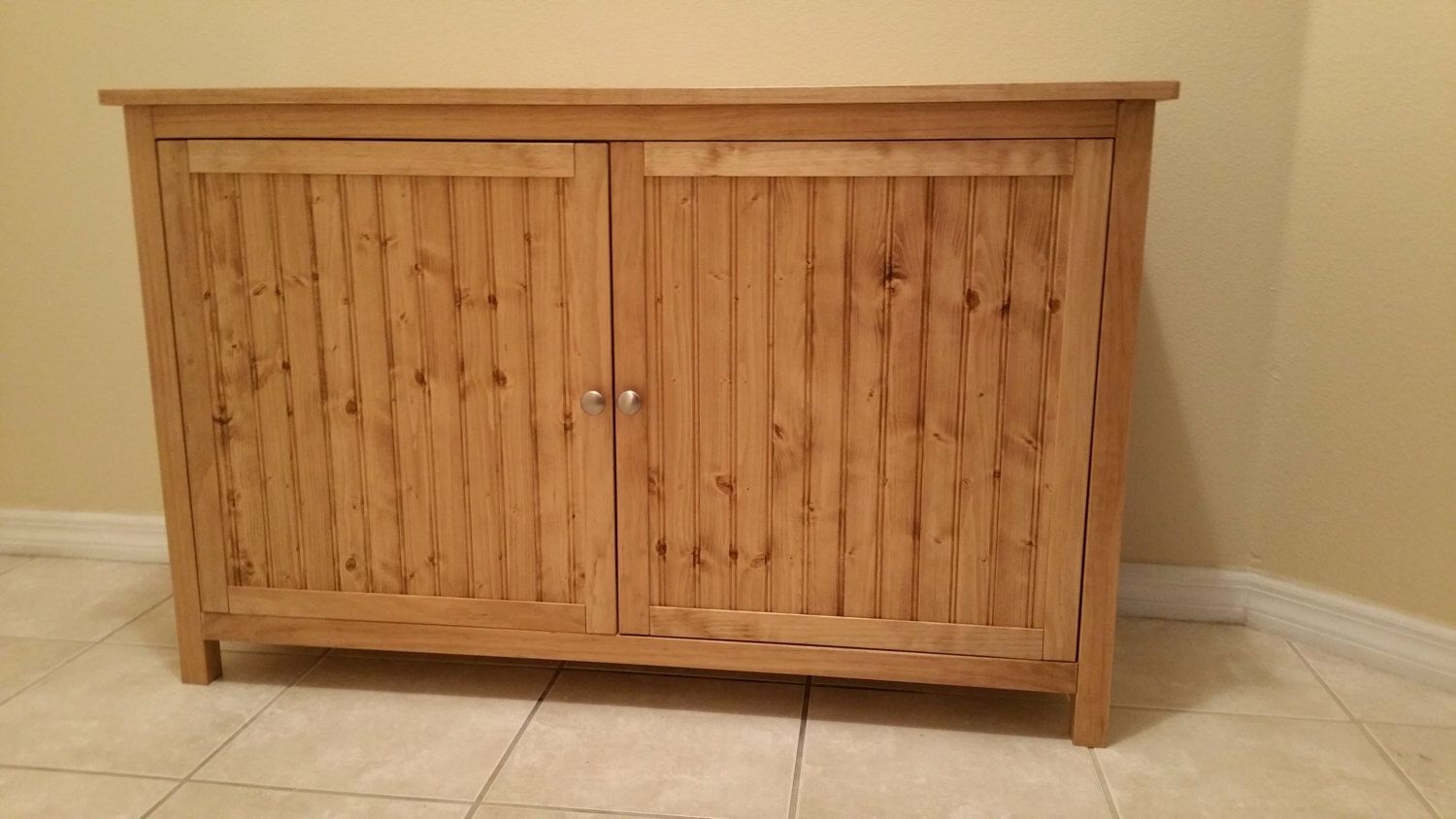 Long, Tall and Narrow Odor Free Cat Litter Box Cabinet / Bathroom. Made in Usa. Flat pack. Wood, No Mdf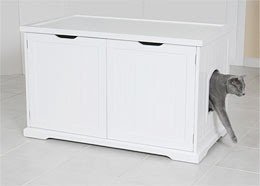 An aesthetic traditional litter box cover of wooden materials with a white finish. It has a rectangular, 2 hinged full doors with cutout edge pulls and low wide angle feet. It's equipped with a removable tray and a semi-oval entry in a shorter wall.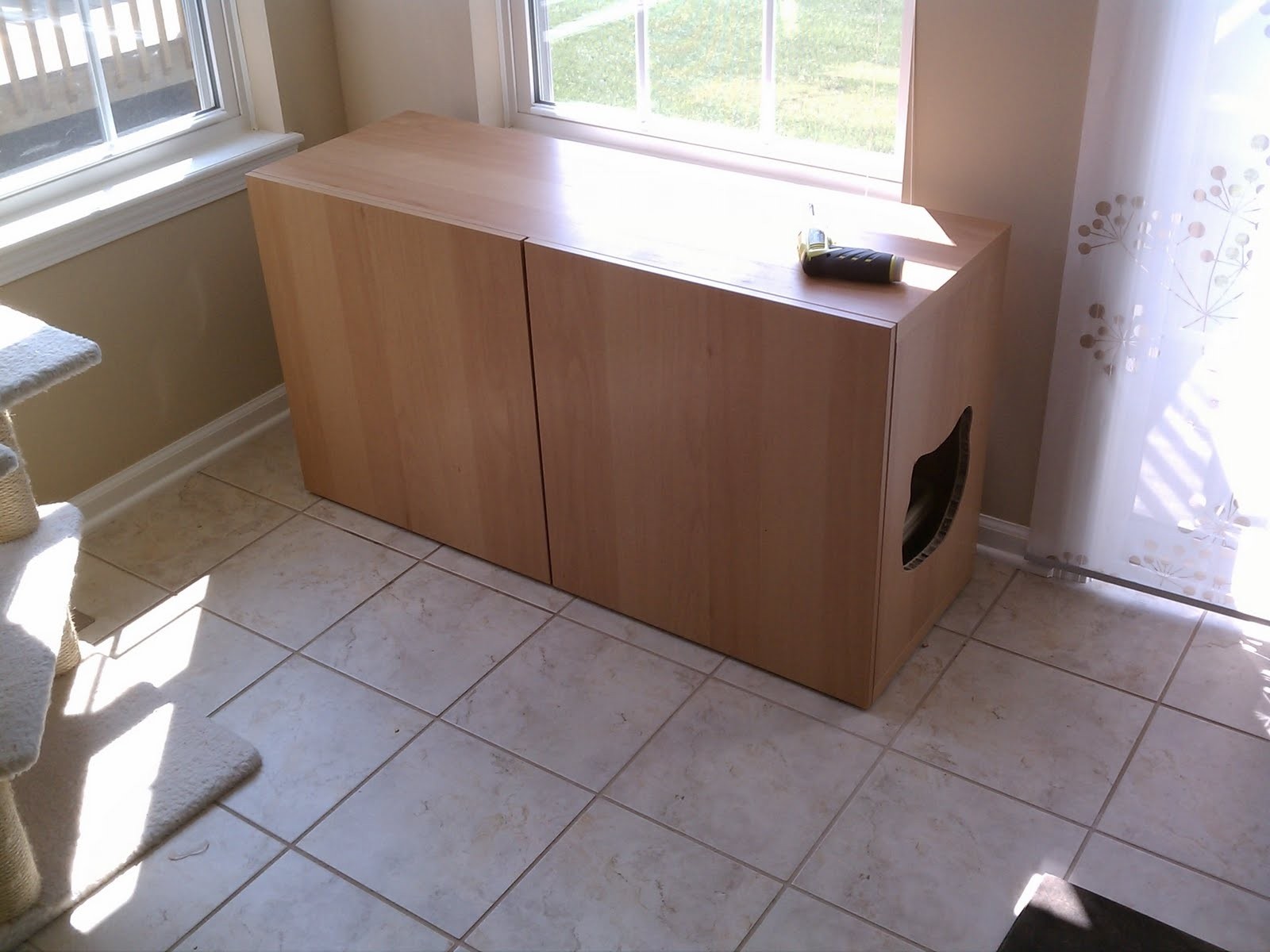 This Besta litter box cabinet from IKEA constitutes a clever way to hide all your pet's unpleasant stories. Classic, wooden cabinet with a hole hollowed-out on one of its sides will smoothly combine decorative and functional aspects.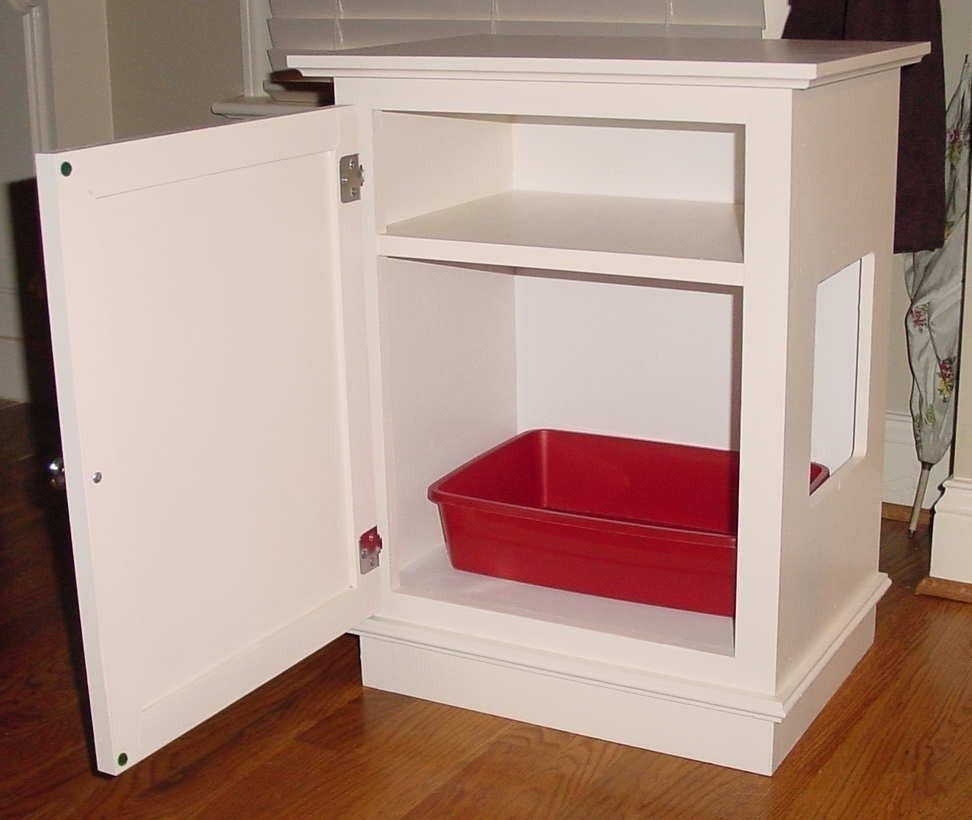 Cat Litter Box / Cabinet w/Shelf except there should be air holes so ...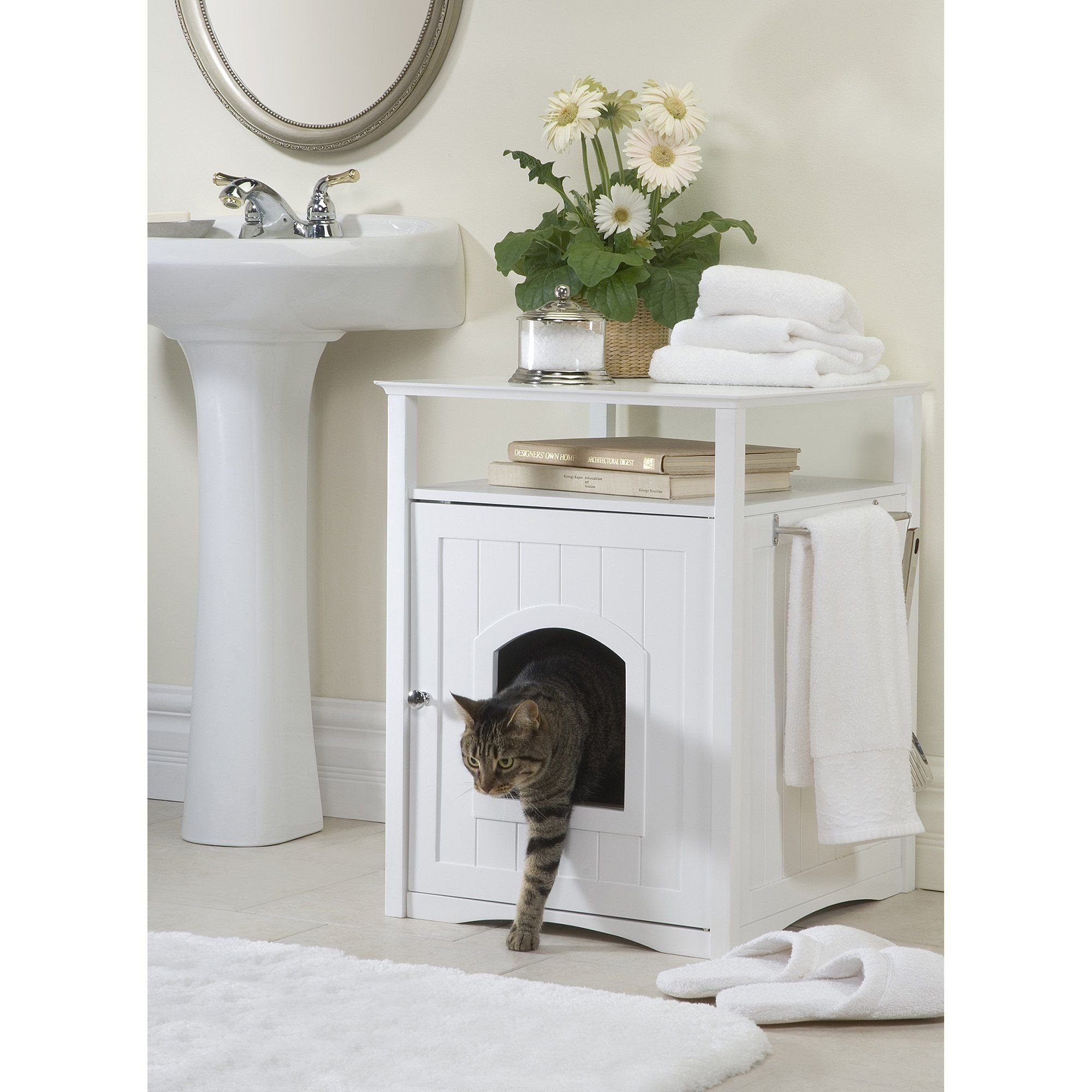 Cat washroom and a night stand. This brilliant furniture combines a cat's litter box and a simple night stand. The interior is the litter box which will keep

the litter and the odor away. The top is an elegant night table which may be used as a display or a storage for many items.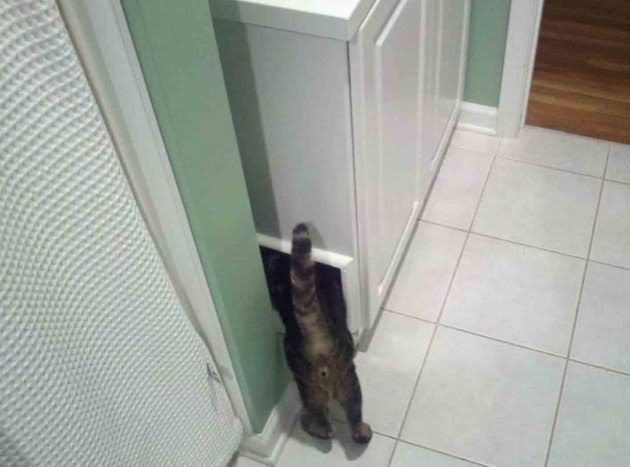 Hiding the Cat Litter Box - I need to do this!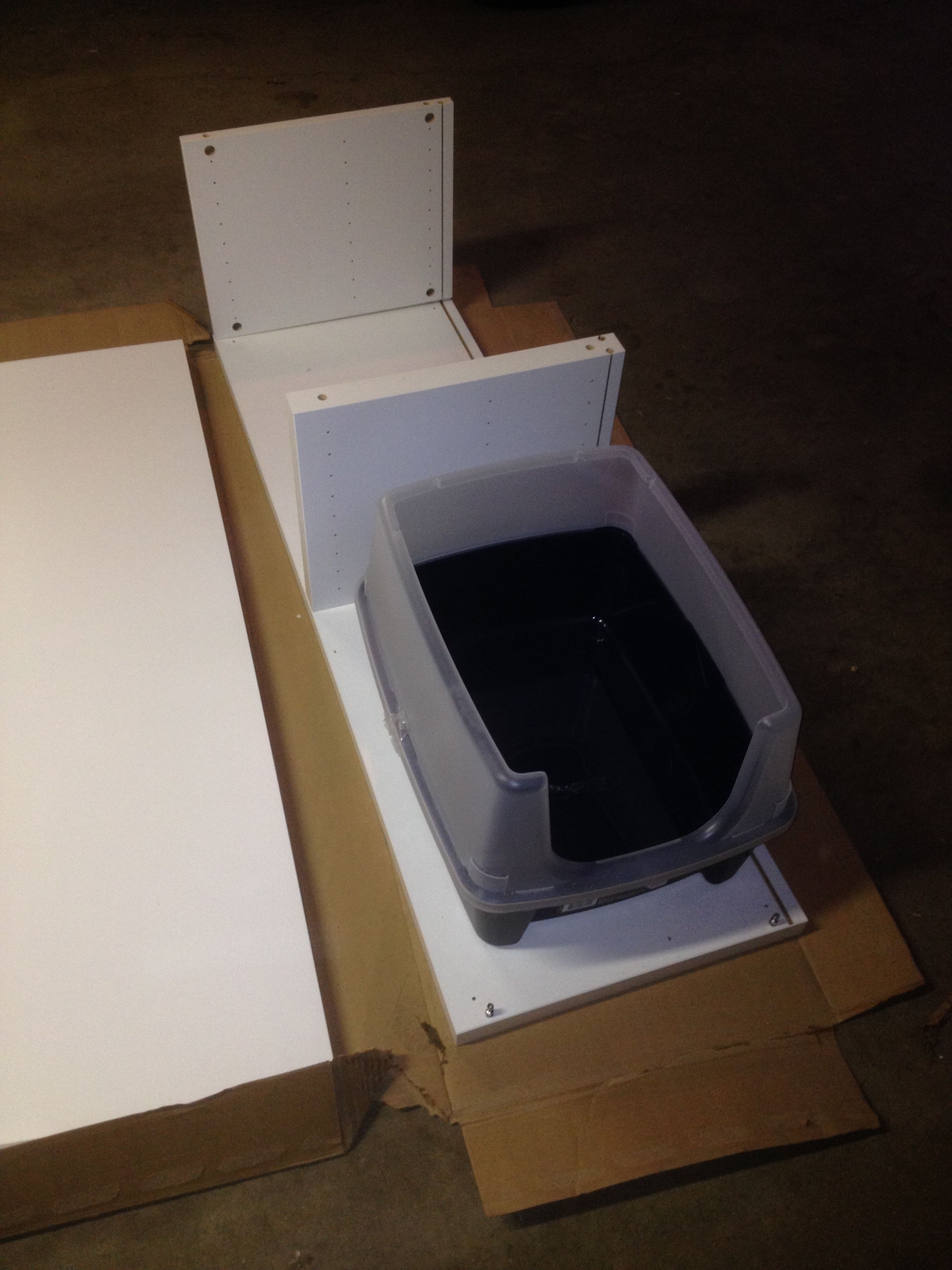 Ikea Hack – Besta Storage Cabinet/Hidden Cat Litter Boxes - IKEA Hackers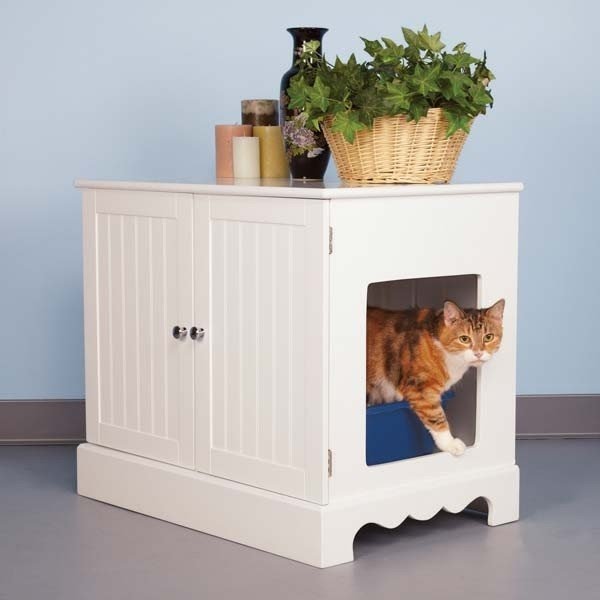 Take a look at this Pet Studio Newport White Litter Box Cabinet by MVS on #zulily today!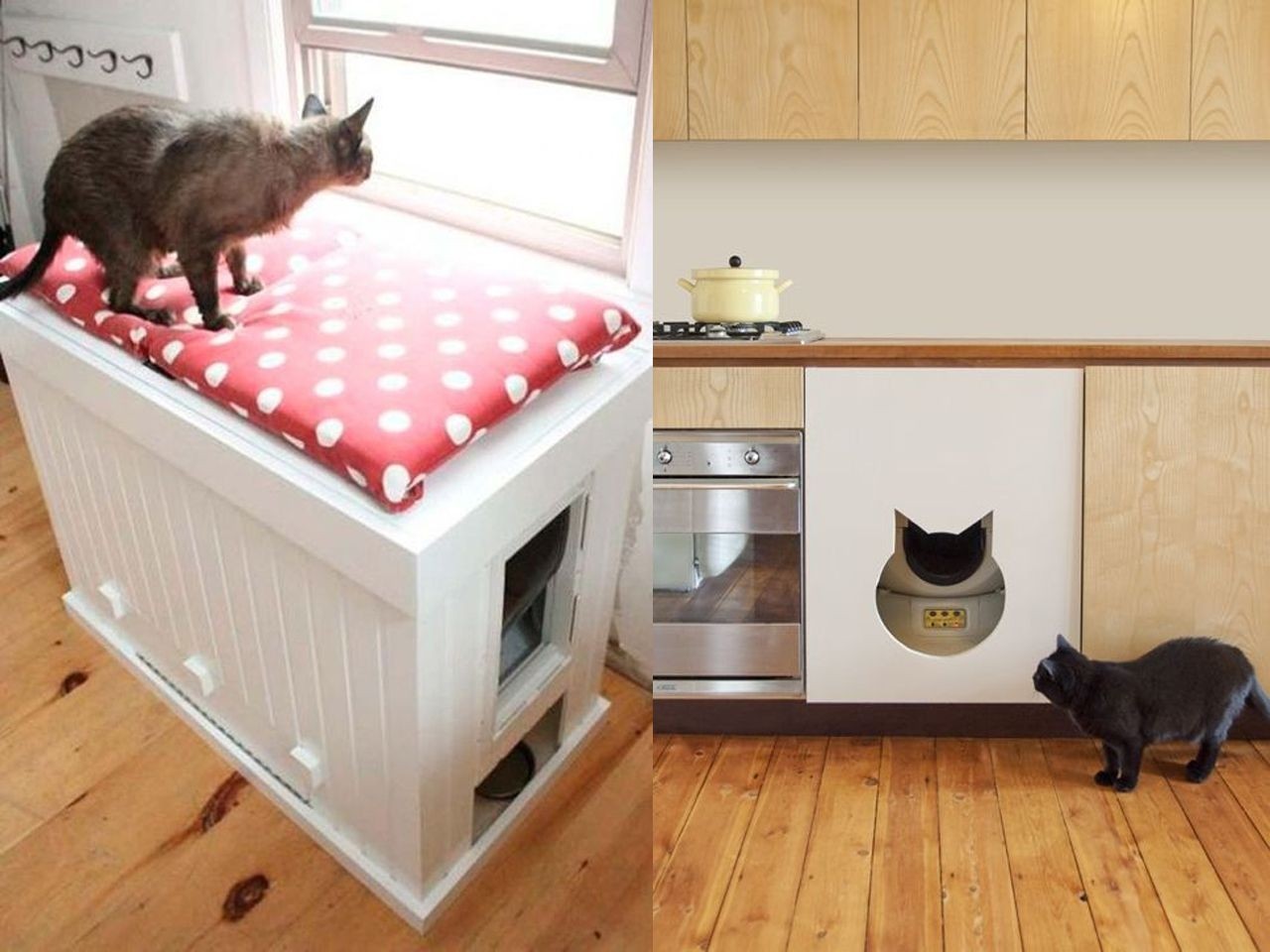 This smoothly designed cabinet actually conceals a cat litter box. Entered from its right side, it allows the cat to leave all unpleasant stories without any undesired signs for his owners.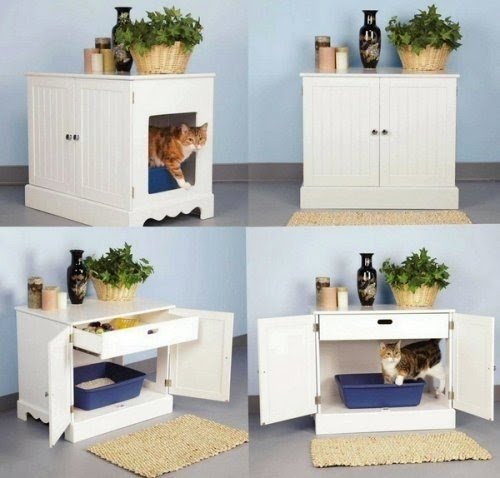 How to not love these smart and individual, clean animals - we talk about cats and the privacy of them.Fantastic white furniture-a cabinet for a cat that can hide the litter box inside has also a functional white drawer and is all finished with a white veneer.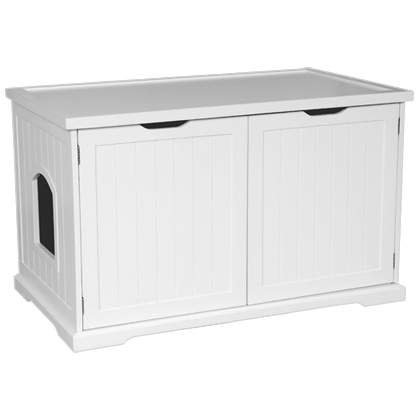 pet supplies cats litter housebreaking litter boxes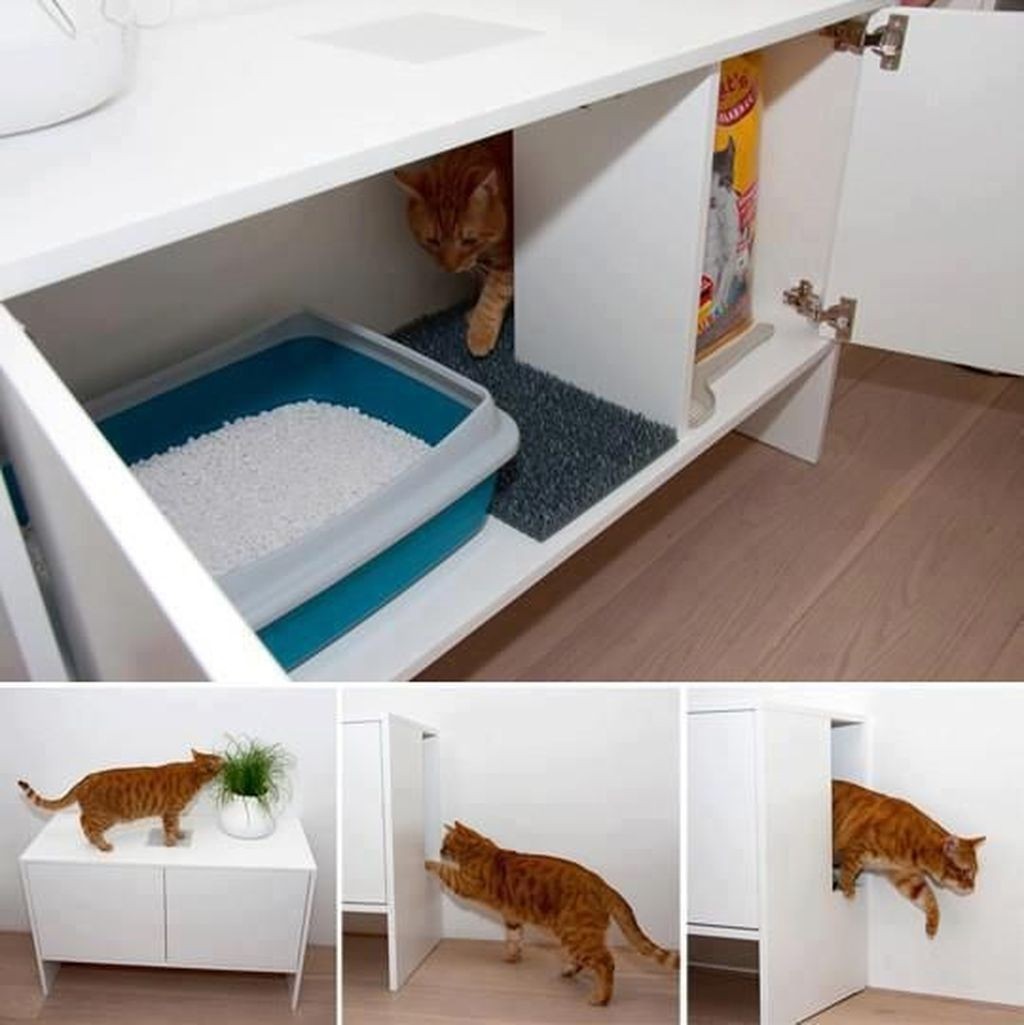 ... right into the cabinets do you don't even know the dogs are there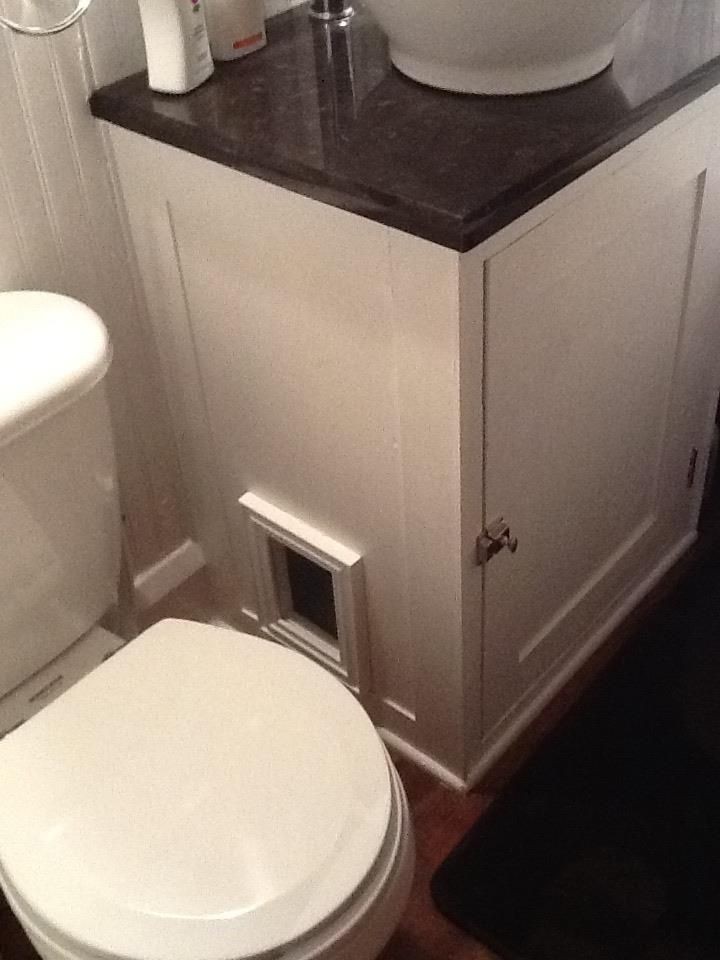 This cabinet modified for cat litter box will provide your cat some privacy and less smell at home for you. The whole for cat is discretely hidden on the side of the cabinet which allows to cover up the litter box in classy way.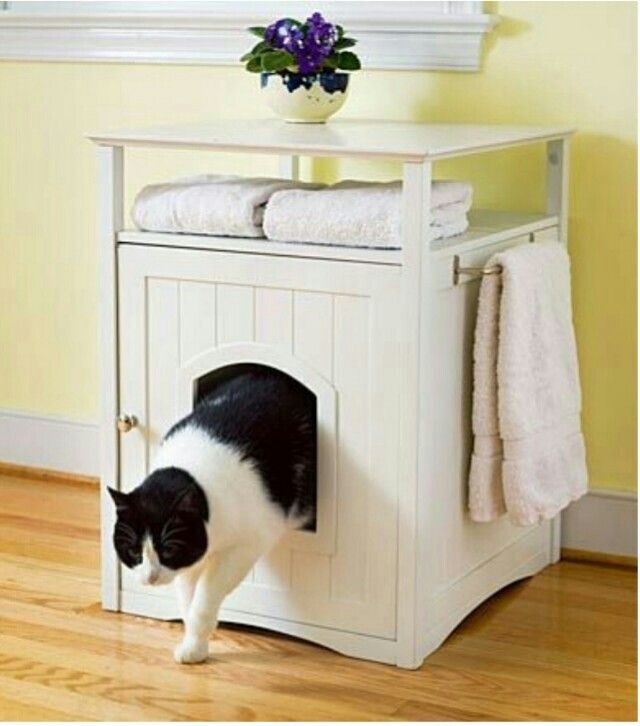 Cat Litter Box Cabinet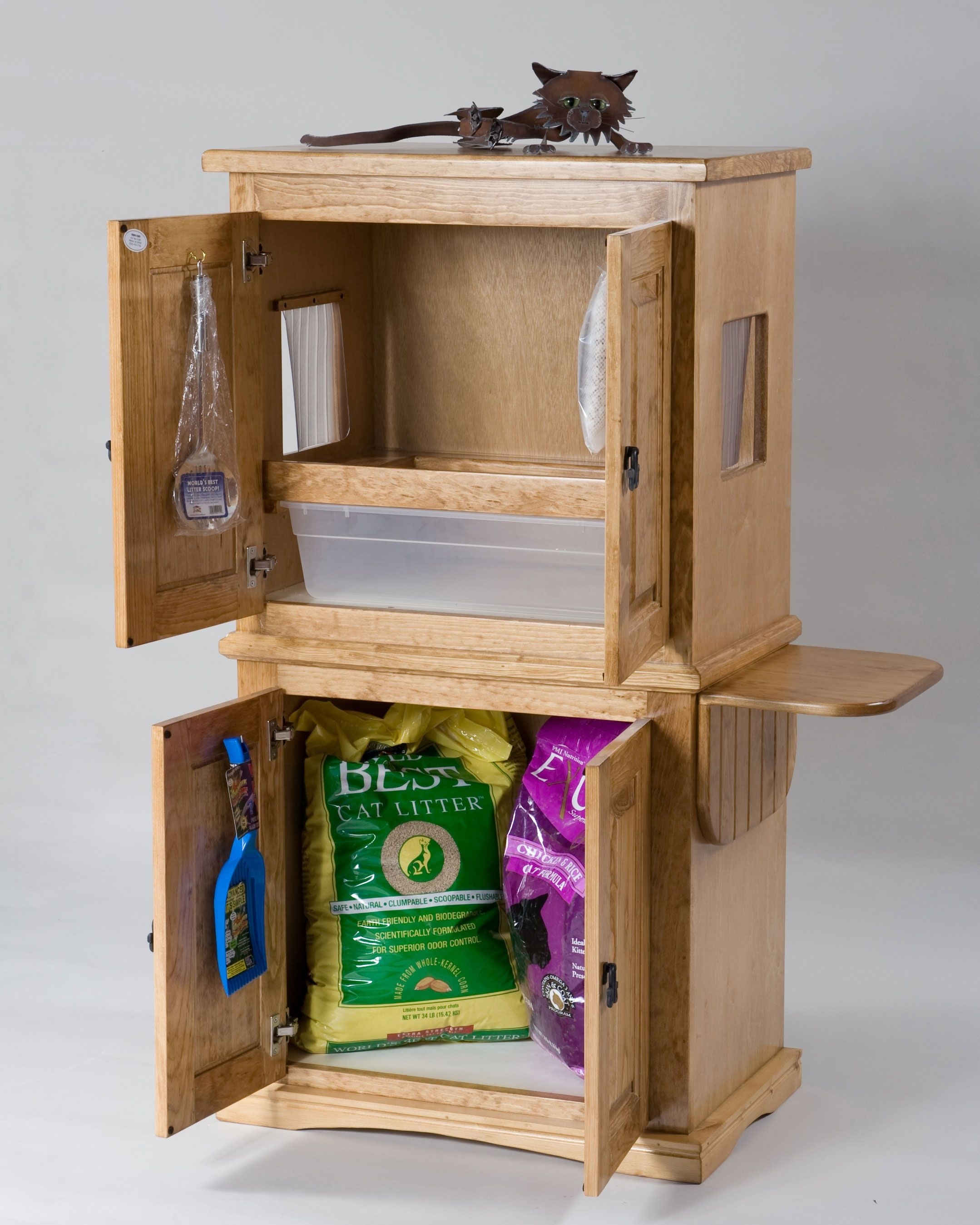 Hides the litter box plus all the supplies. And it would be great not to have to bend down to scoop the litter.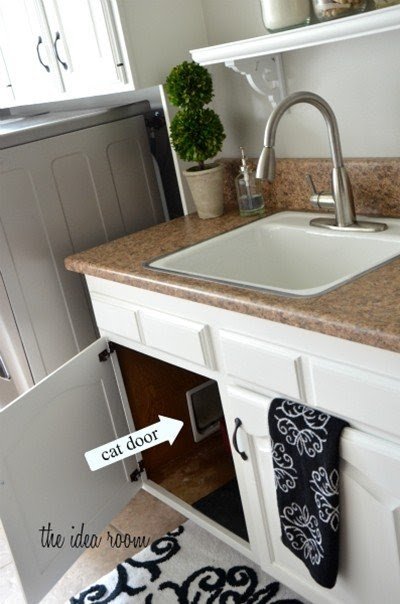 This is such a fantastic idea for cat lovers! Under your kitchen sink, right below is a cat secret passage that only you and him know about. It's a hidden door with litter box and hidden food storage box. Great idea!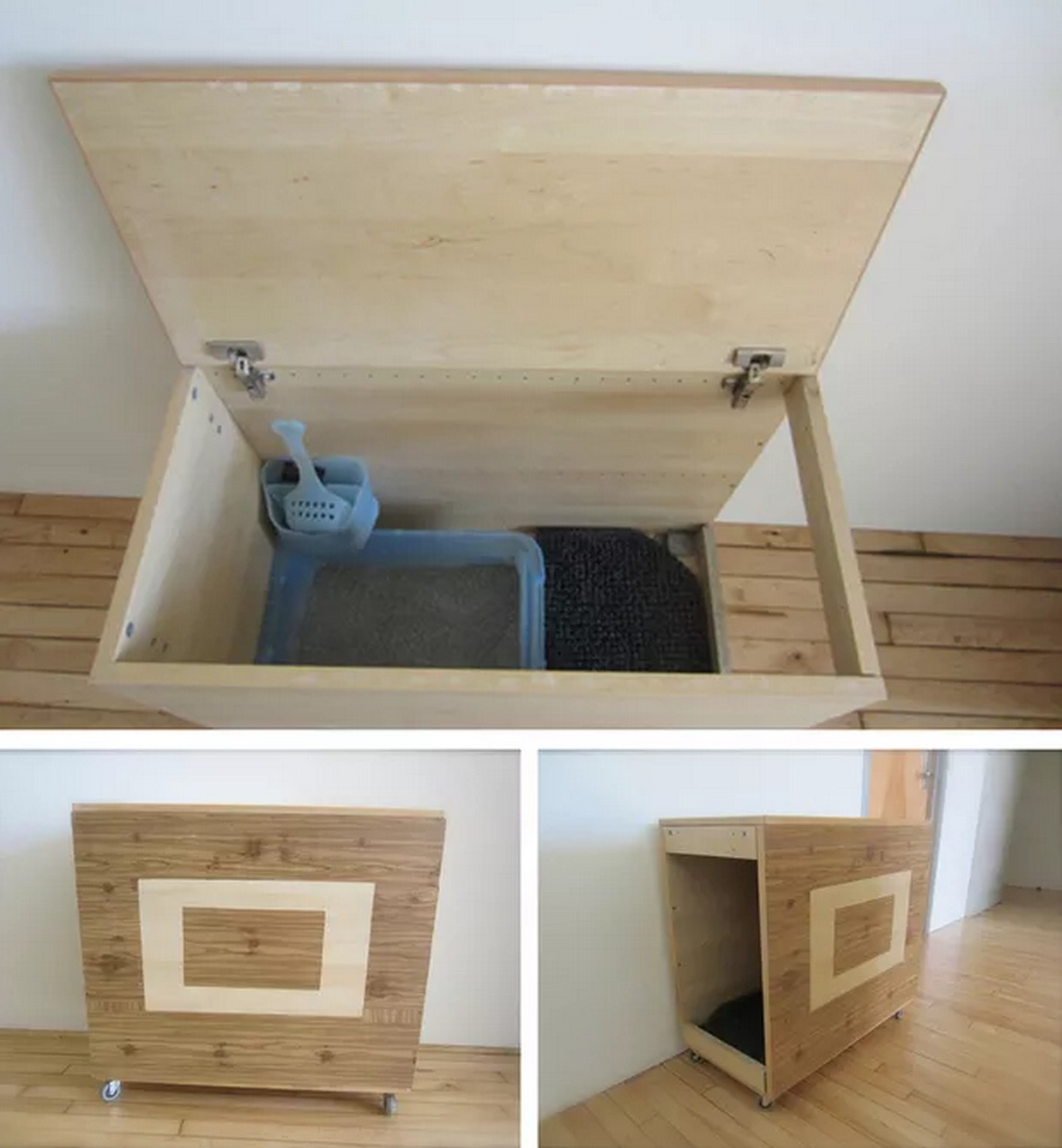 DIY Modern Litter Box Hider | 27 Useful DIY Solutions For Hiding The LitterBox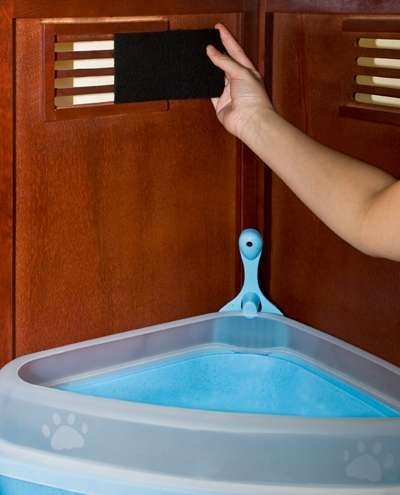 The Corner Litter Cabinet Is About As Refined As A Litter Box Can Be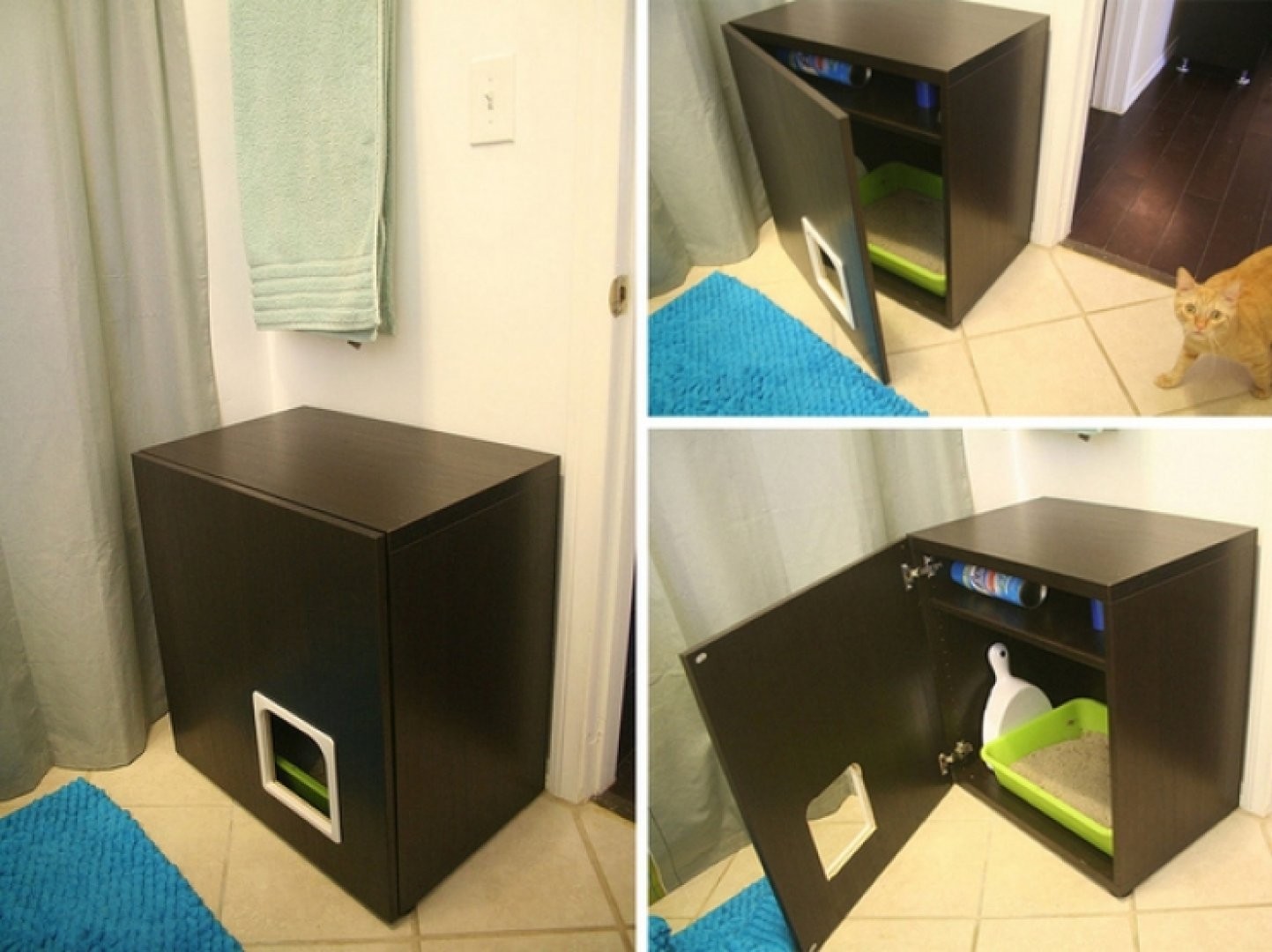 A pretty box for your cat's litter that looks like an ordinary cabinet. The only element that makes it distinctive is a small hole at the bottom. The inside features an extra shelf for your cat's things.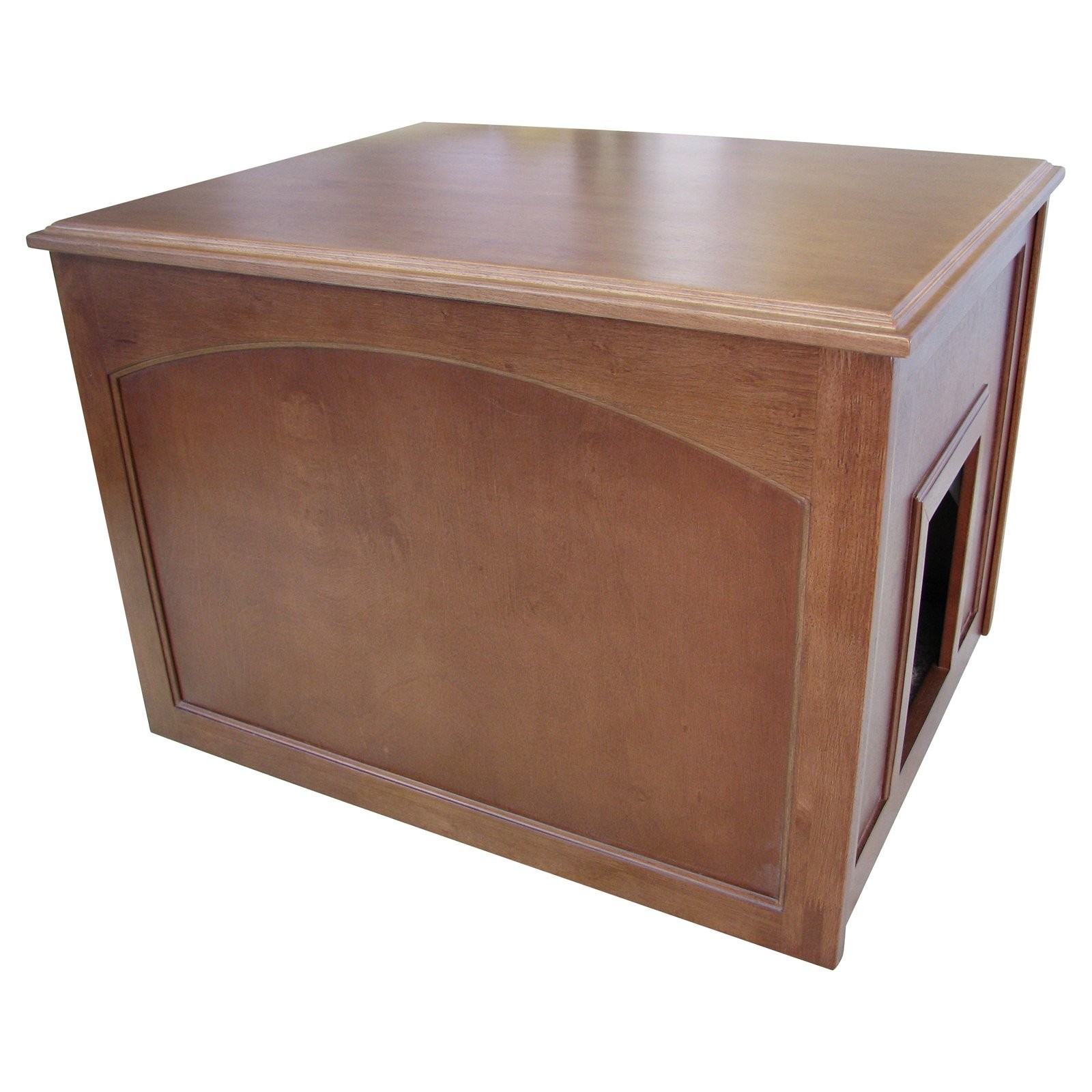 Cat Condo And Litter Box Cabinet Finish Espresso from Crown Pet ...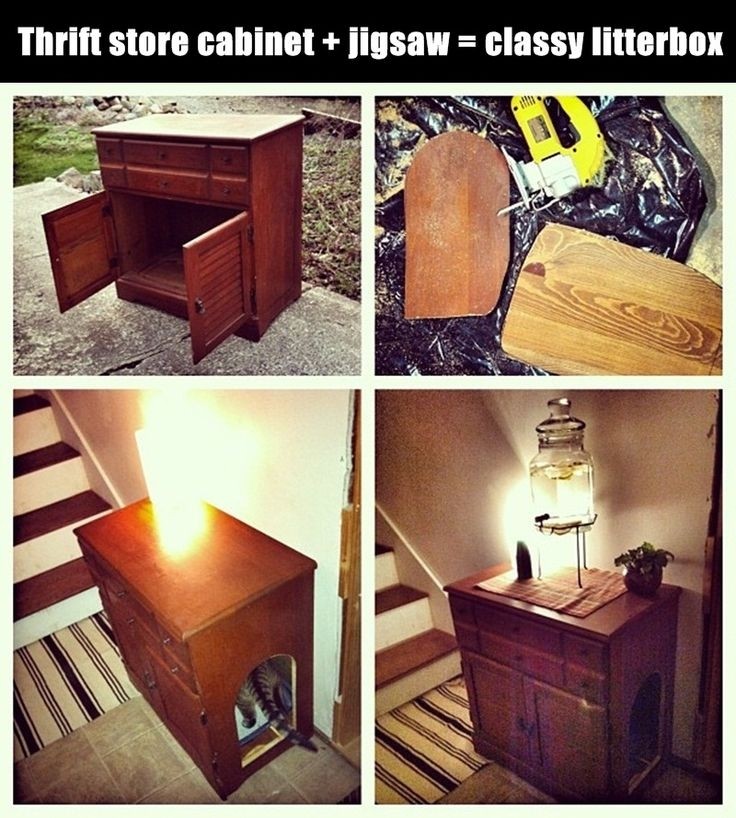 Great Idea to hide the kitty litter box. Bonus it keeps the litter kitty kicks out of the box contained to the cabinet.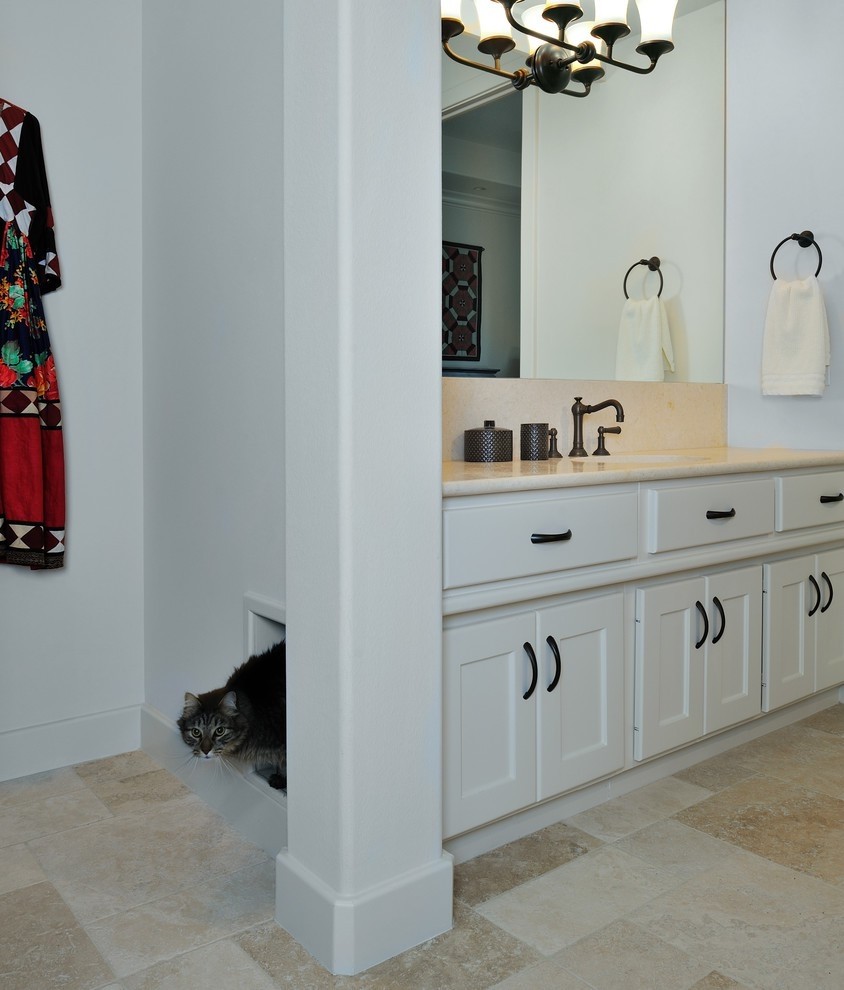 Master Bath Remodel with built-in kitty litter box - eclectic - bathroom - houston - Carla Aston | Interior Designer I like the kitty litter box included. It would give me more space in the laundry room and would work in the 2nd bathroom.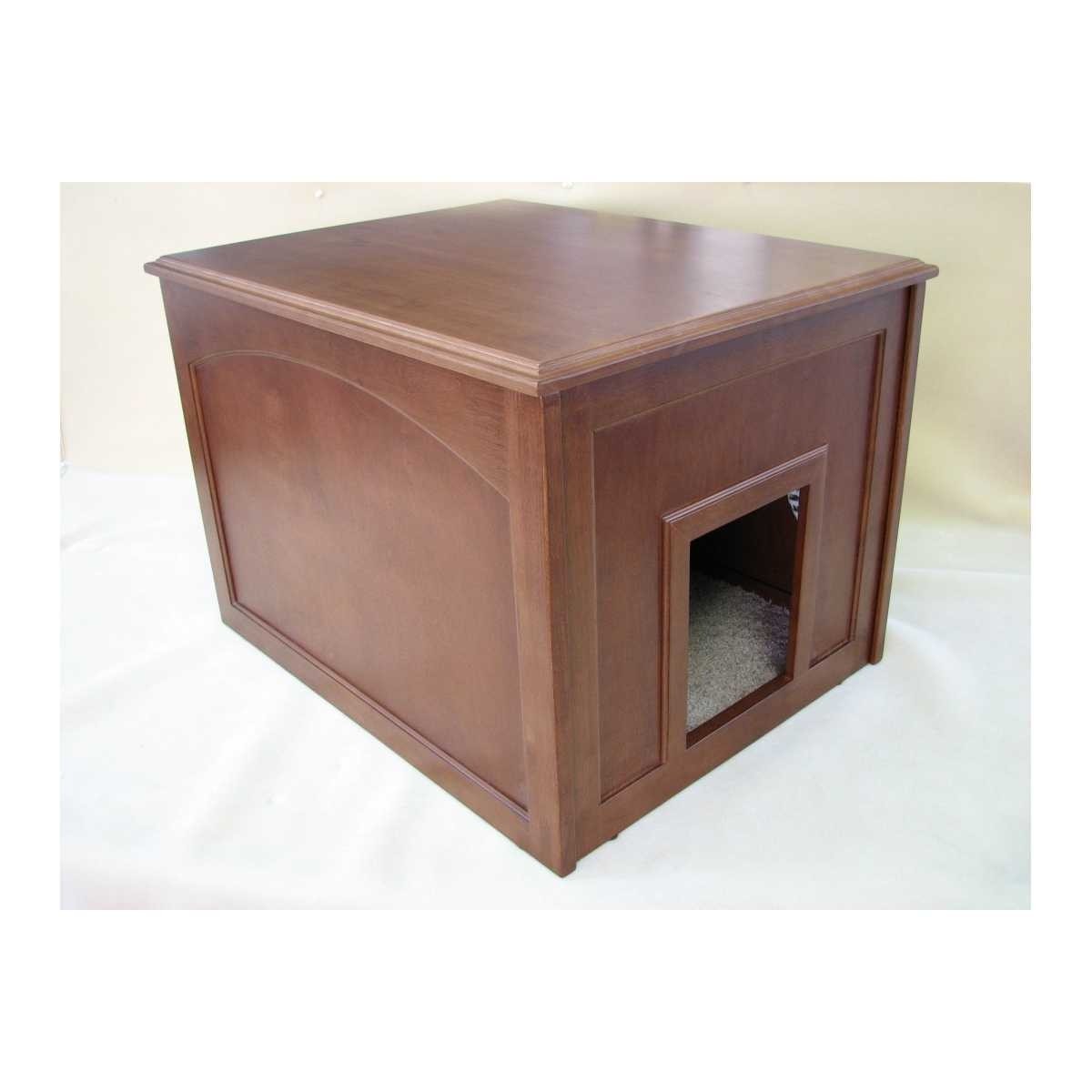 Details about Doggie Cat Litter Box Cabinet Mahogany Wooden Dog Kennel ...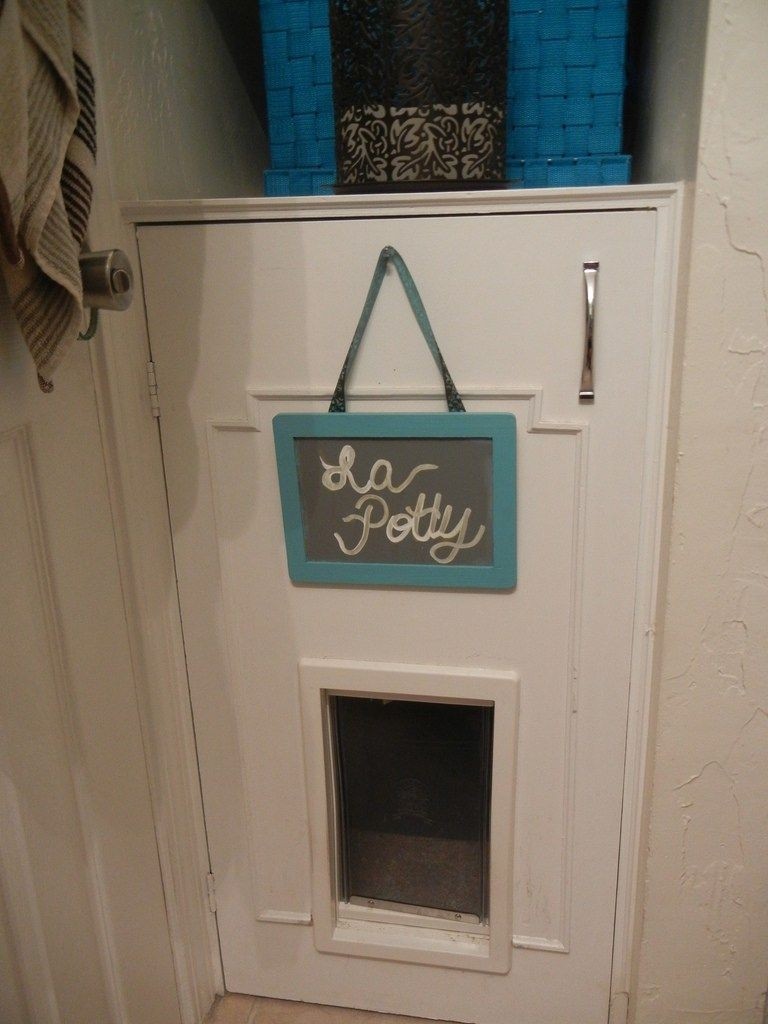 A clever DIY idea that your cat will just love! It's an old bathroom cupboard that was transformed into a cat litter box. There are no shelves inside so the cat owner only had to make a small entry door for a cat.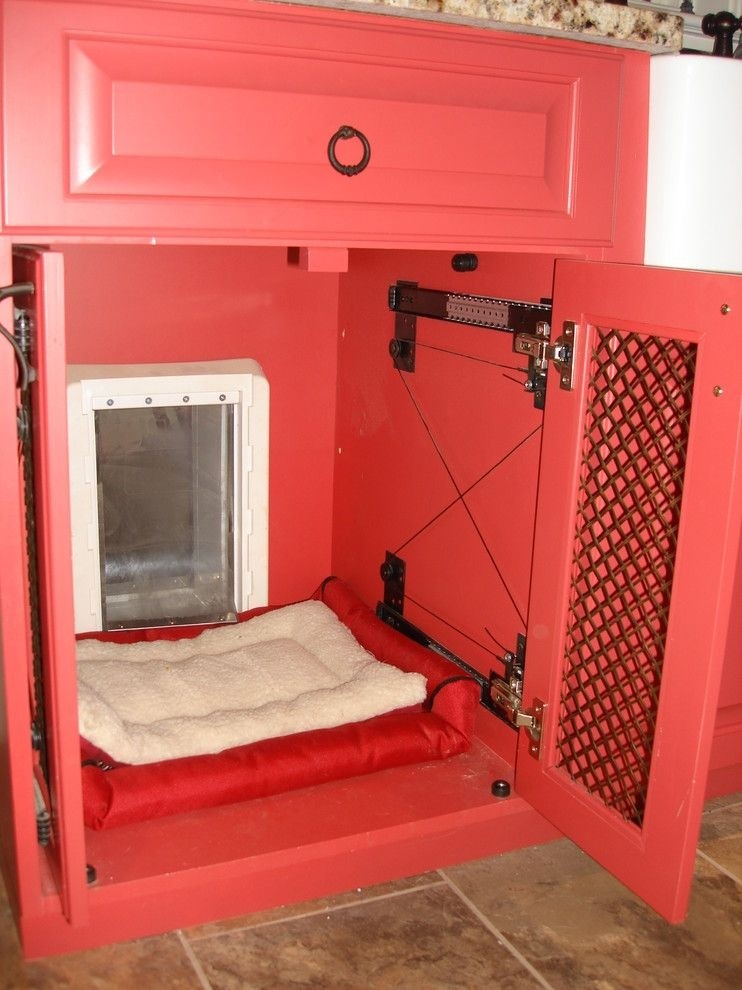 Dog Door. Could lock the cabinet when not home and dog could still come and go. What a fantastic idea! Only if I had smaller dogs :(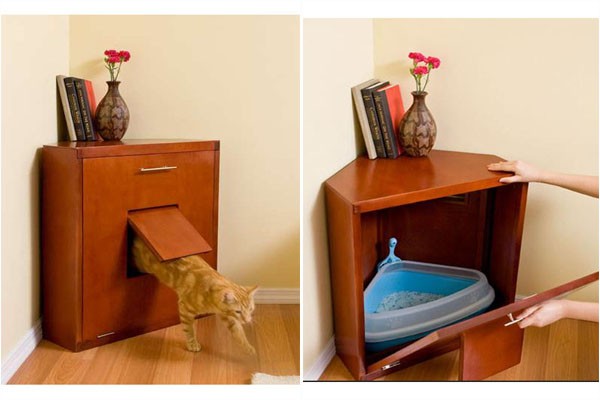 I didn't know that there were litter boxes that fit into corners to start with. This would be a great way to hide the litter box and save some space at the same time.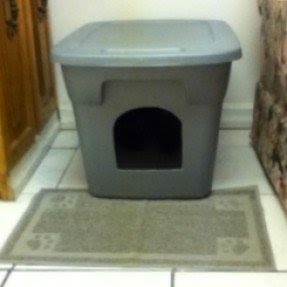 A DIY cat litter box with cover, made out of a plastic container. It is both inexpensive and fairly easy, creating a good proposition for those, who have tiny spaces. Convenient in cleaning and durable for years.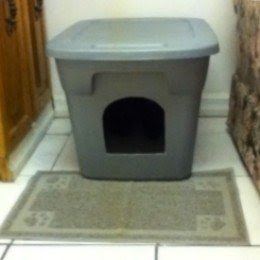 Get the cat litter box that sports the perfect protection from the unwanted smell in your interior and will make for a nice choice to those homes, in which there might not be too much space to choose from.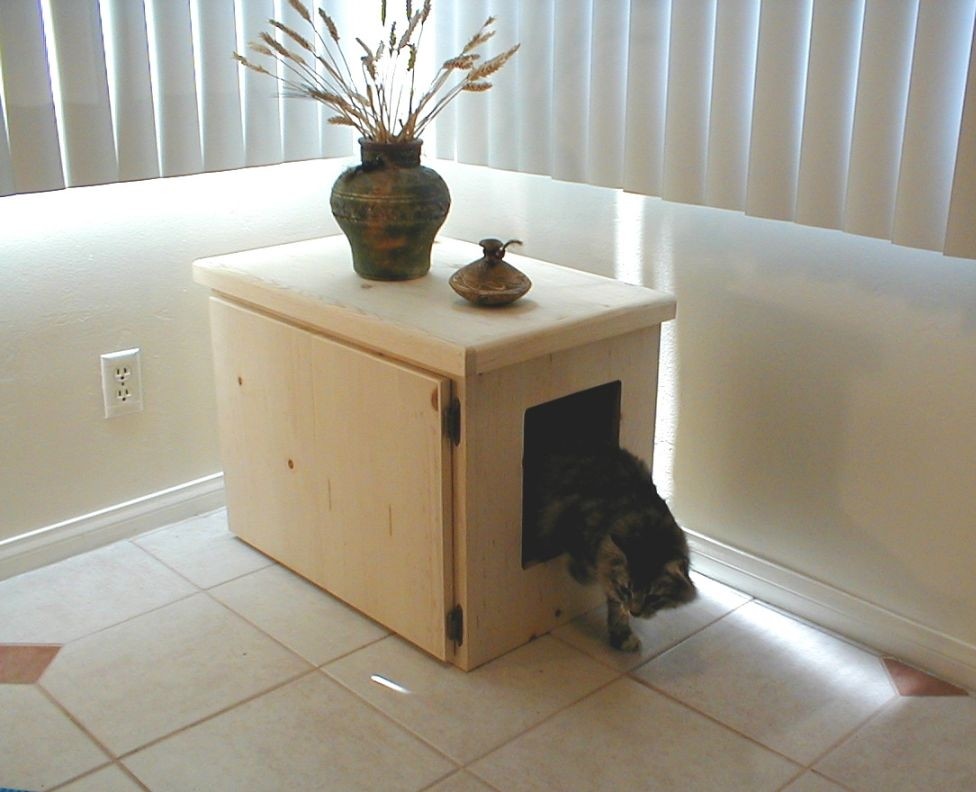 This stylish cat litter box can be smoothly used as an etagere for your odds and sods. It can be a good stand for vases, various containers etc. It's convenient in usage both for the pets and their owners.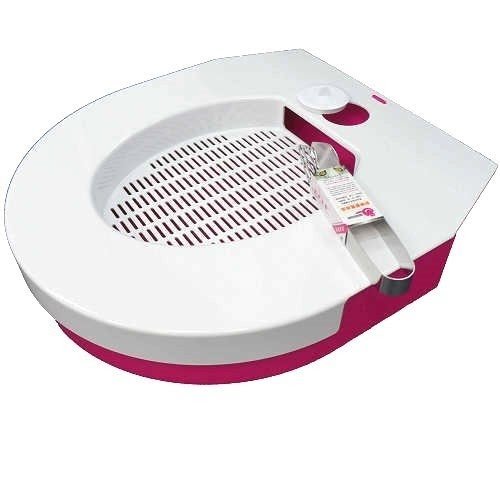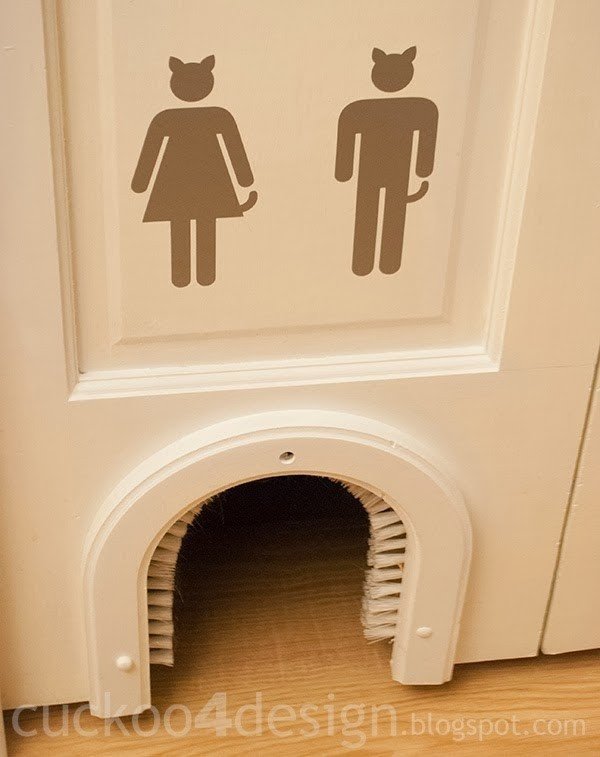 I don't have a cat but this is hysterical! cat litter box or toilet wall vinyl decal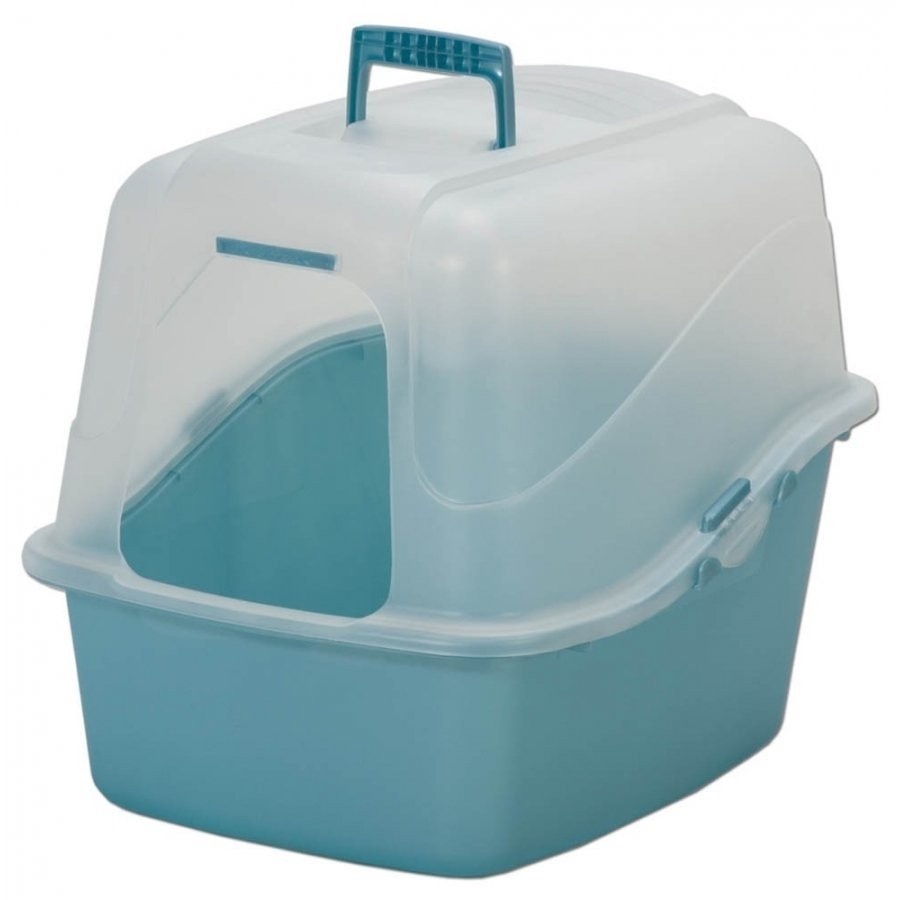 Thanks to one piece of furniture ensure the safety of your cat, purity for him and your home. Blue cat litter box with cover for travel, as well as a cradle box. It has a single molded-in snap latch on each side to safely secure the hood.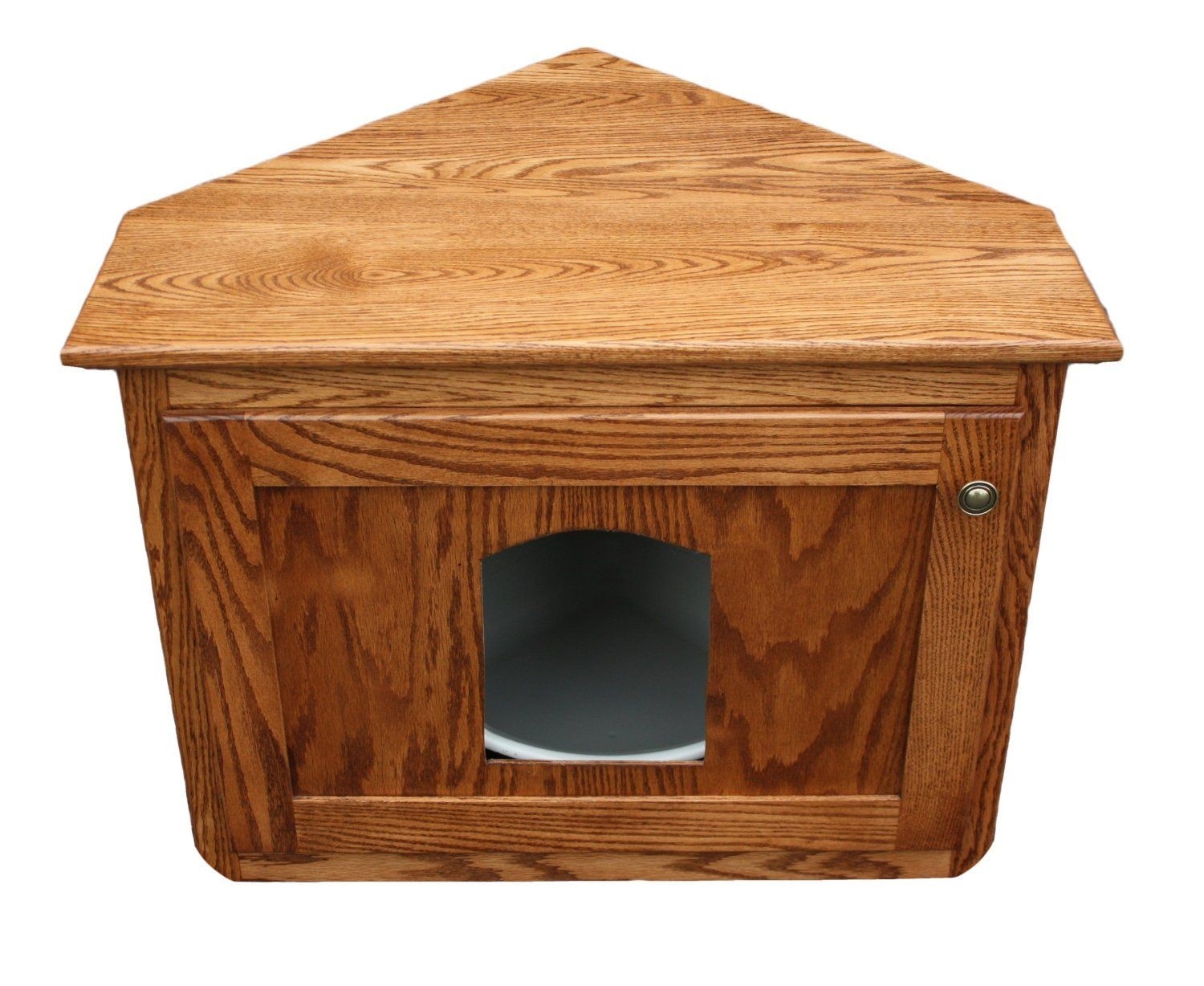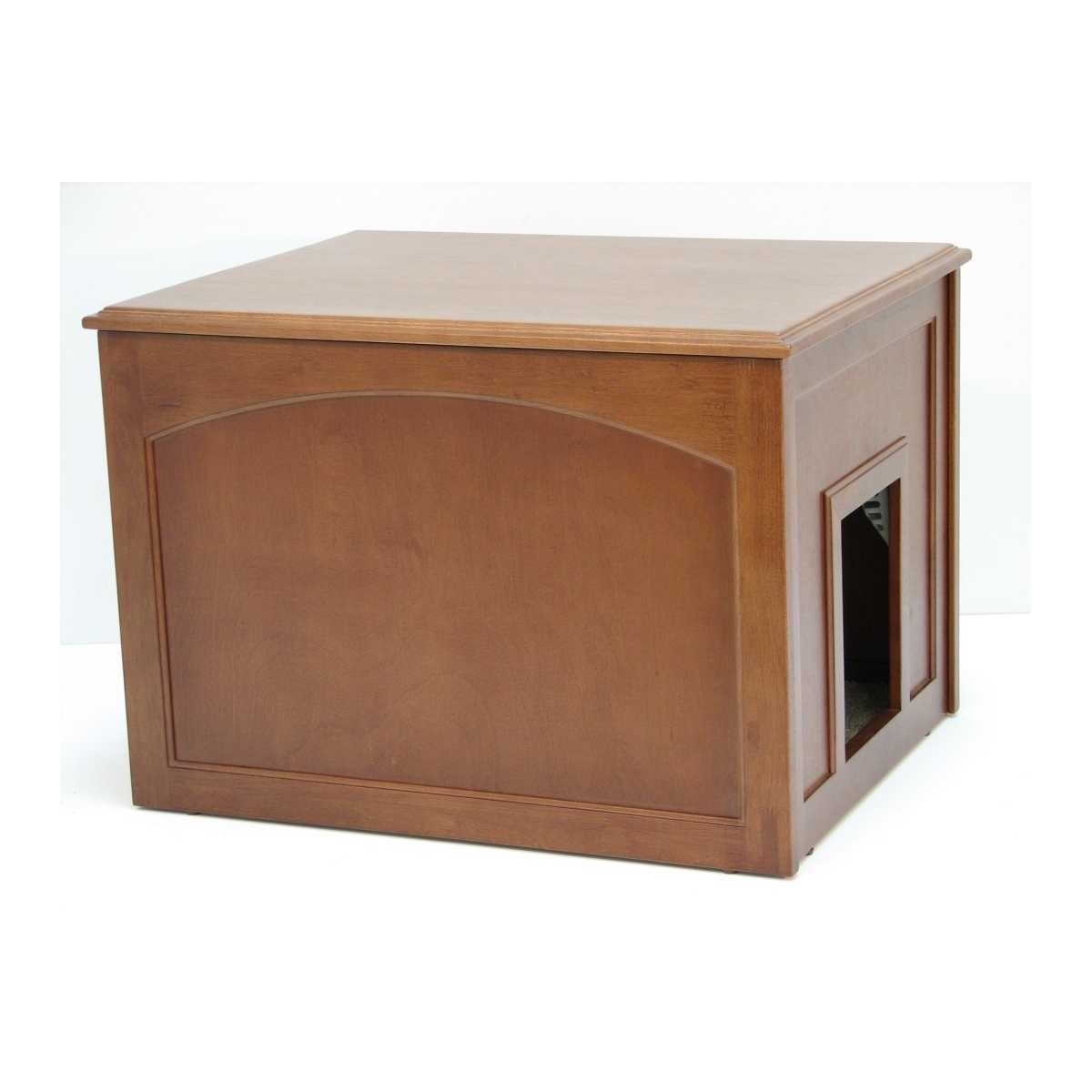 Cat Condo And Litter Box Cabinet Finish Espresso from Crown Pet ...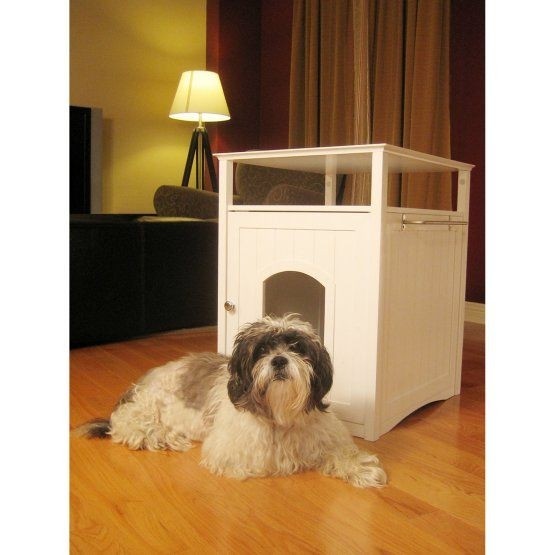 This tastefully made pet house with litter box is the perfect place for your pet. Robust design and charming perform well fit into any decor. Ideal for smaller breeds of dogs and cats.