Black Marble Coffee Table
A marble coffee table is immediately going to showcase your sophisticated approach to decor, but… a black marble coffee table? That's an even stronger statement!
With their one-of-a-kind veins, these models will make your seating area truly unique.
Actual marble is obviously the best option with its natural and luxurious feel. However, if it's above your budget, you can always consider some faux marble coffee tables, too.
Either way, be realistic when it comes to size. To avoid disappointment, we recommend measuring the space between your TV and the sofa, subtracting 42". It's also handy to leave around 24-30" around the table so that you and your guests can walk across your living room without having to squeeze past it.
As for styles, have a seat and check out these ten ideas.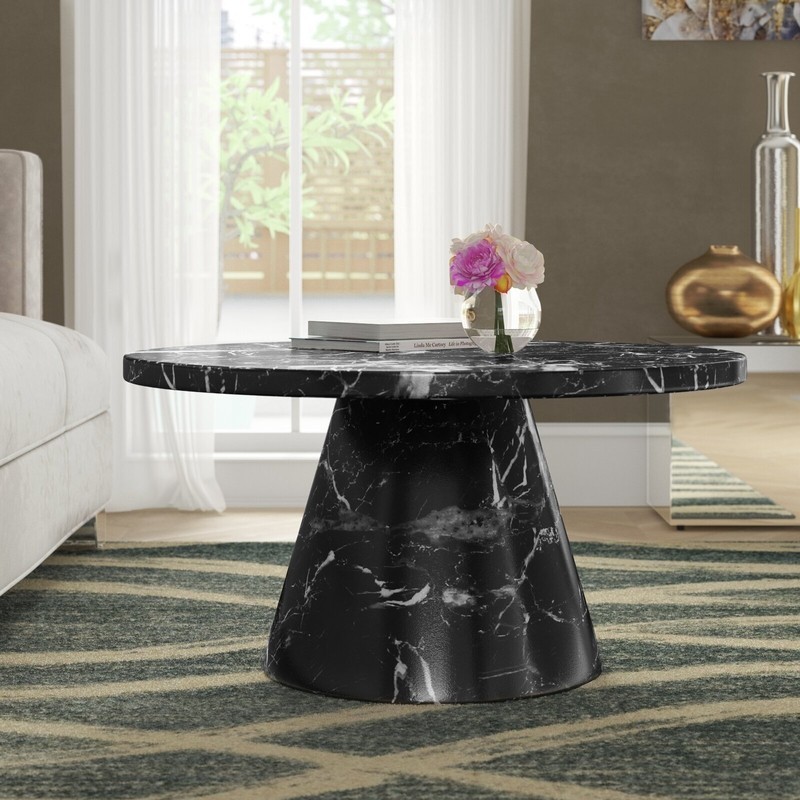 Round black marble coffee table with a pedestal

While extremely versatile, the timeless round shape is especially ideal in two cases: to complement the nook of a chaise-lounge sofa or to make a fairly small seating area appear bigger.
An elegant idea would be to opt for a round black marble coffee table that includes a pedestal in the same material.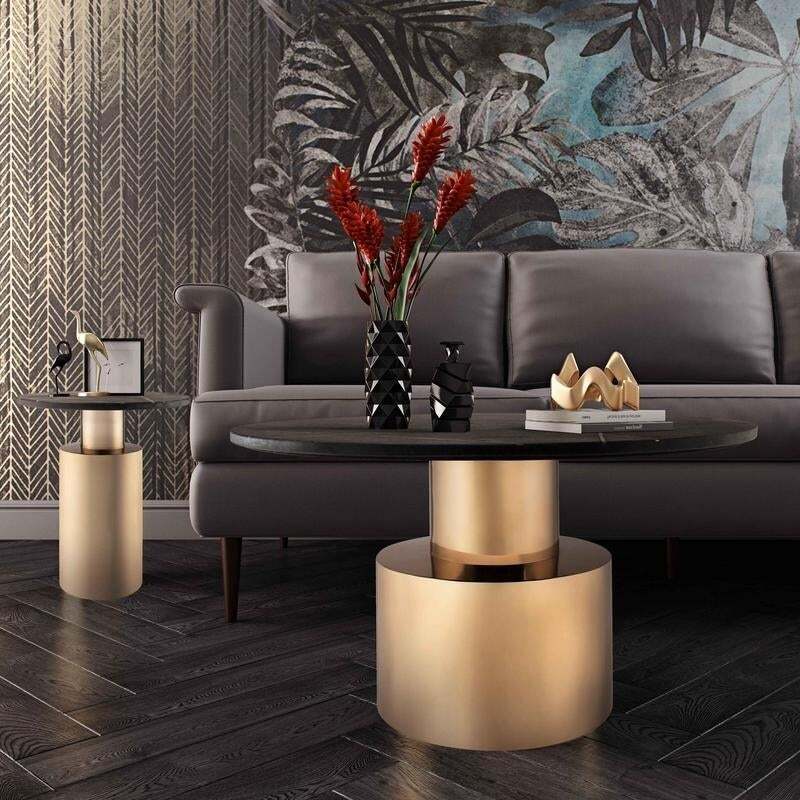 An extremely stylish pedestal

What better way to complement the sophisticated surface of a black marble coffee table than to pair it up with a pedestal that's just as eye-catching?
One of our favorite ideas is to strive for something similar to this model, combining a gold finish with a bold geometric design.
Elegant black marble coffee table in a solid rectangular design

Rectangular coffee tables are a popular option in living rooms that, rather than a square seating area, involve furniture arranged in that same, longer shape. They're also handy if you're planning on using them to showcase quite a few decorative items or to serve drinks and snacks.
A solid black marble coffee table design can help you inspire an opulent feel.
However, it's only a wise choice if you have a fairly spacious seating area as this type of design takes away from your existing legroom.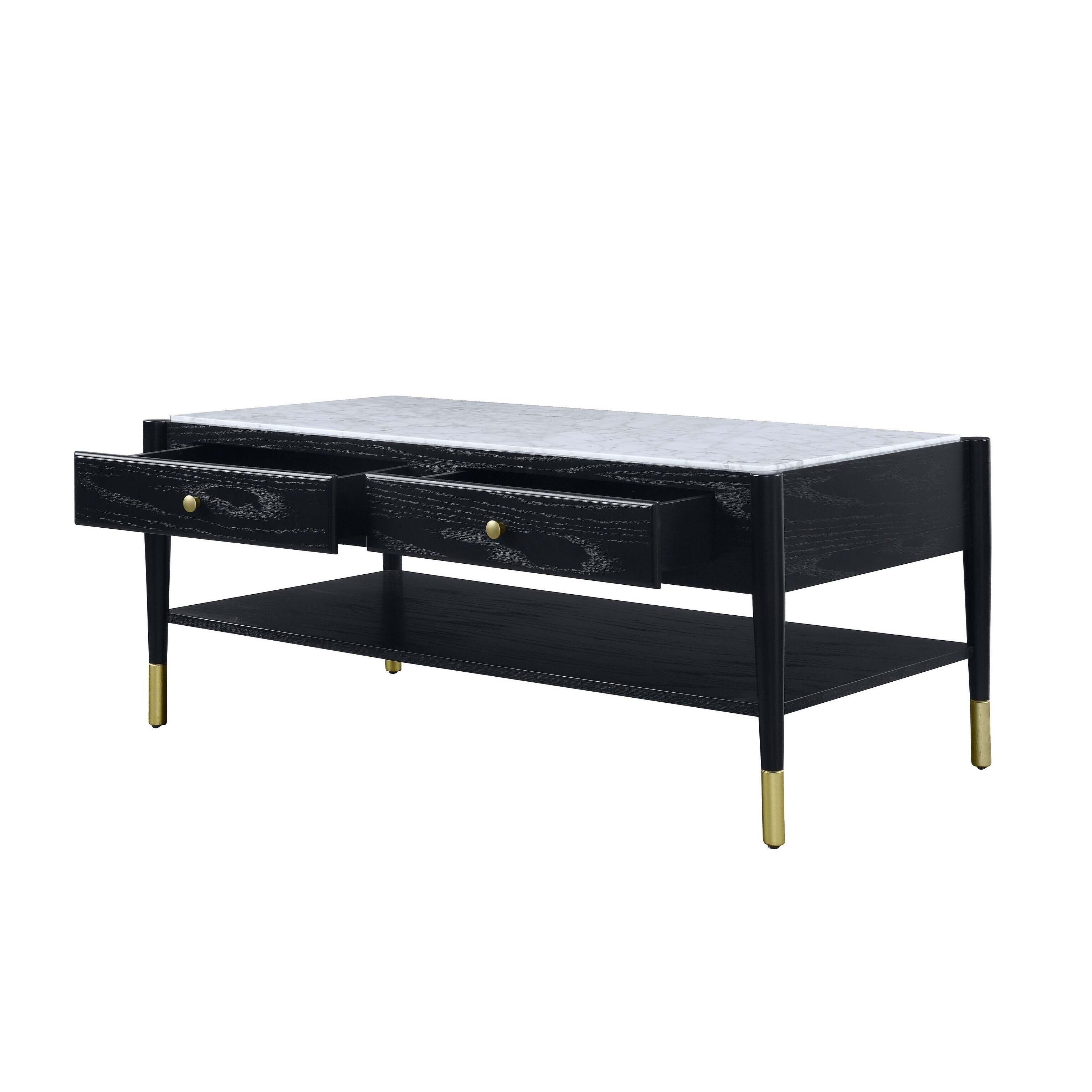 Black wooden coffee table with marble top & drawers

Or maybe you were hoping for a black coffee table with a marble top in a different color? That's also another stylish, versatile idea.
The main benefit is that, unlike coffee tables made entirely from marble, these designs will allow you to make the most of a few drawers, too.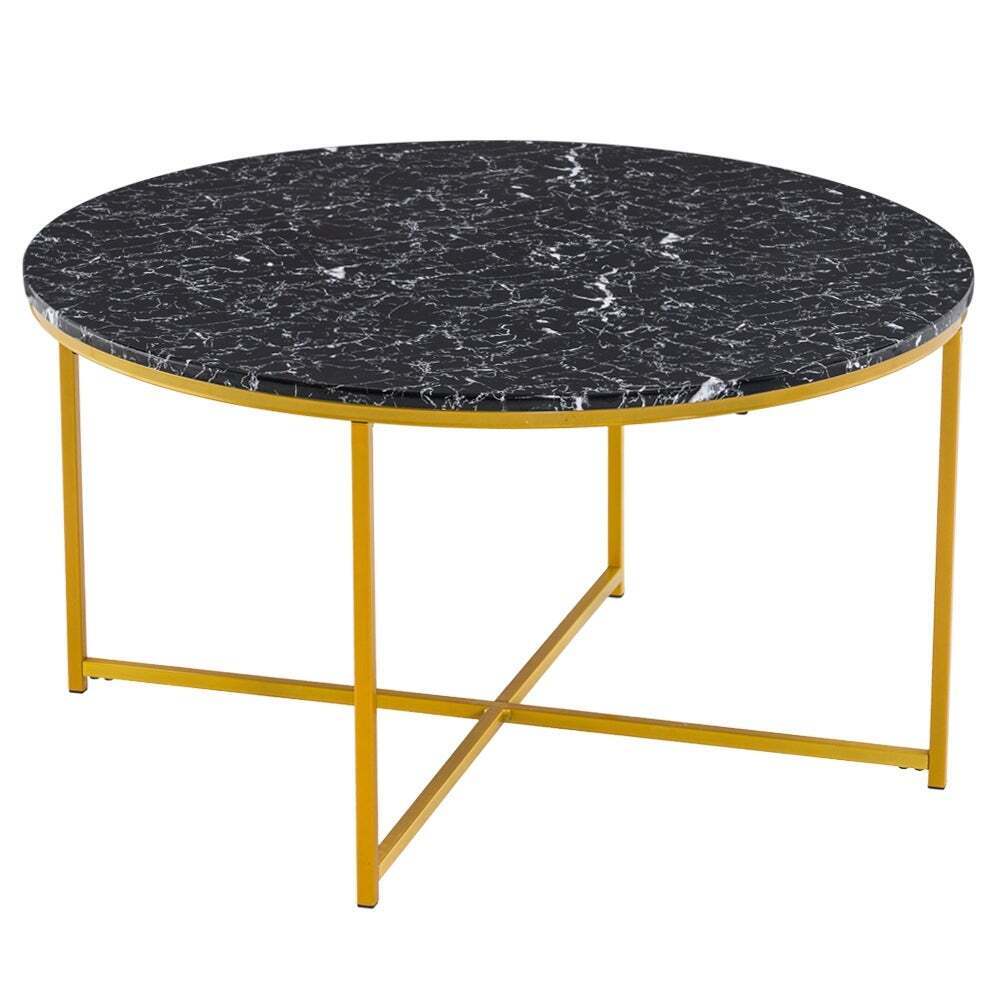 A simple round design

If you're set on the idea of owning a black marble coffee table but aren't a fan of the heaviest solid designs, the trick is to choose a thinner surface and streamlined legs following clean lines.
This type of coffee table can be the perfect addition to minimalist living rooms or, if you opt for golden metallic finishes, art deco interiors, too.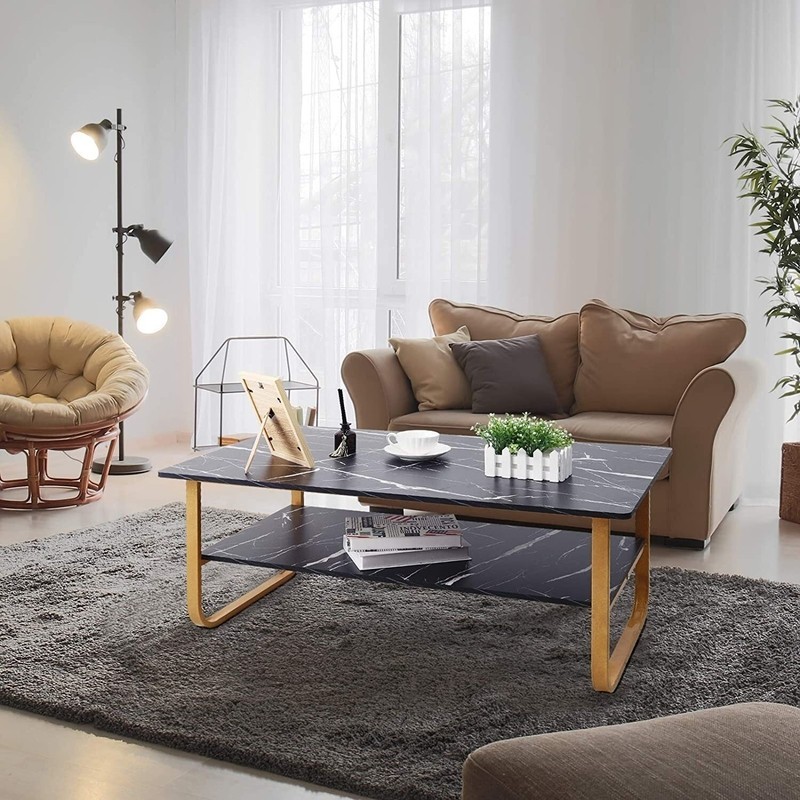 Beautiful faux marble coffee table

As we mentioned before, faux marble is a more cost-effective option that we recommend if budget is one of your main concerns.
These designs can also offer more options when it comes to storage, either by including drawers or open shelves.
$75.99 $119.86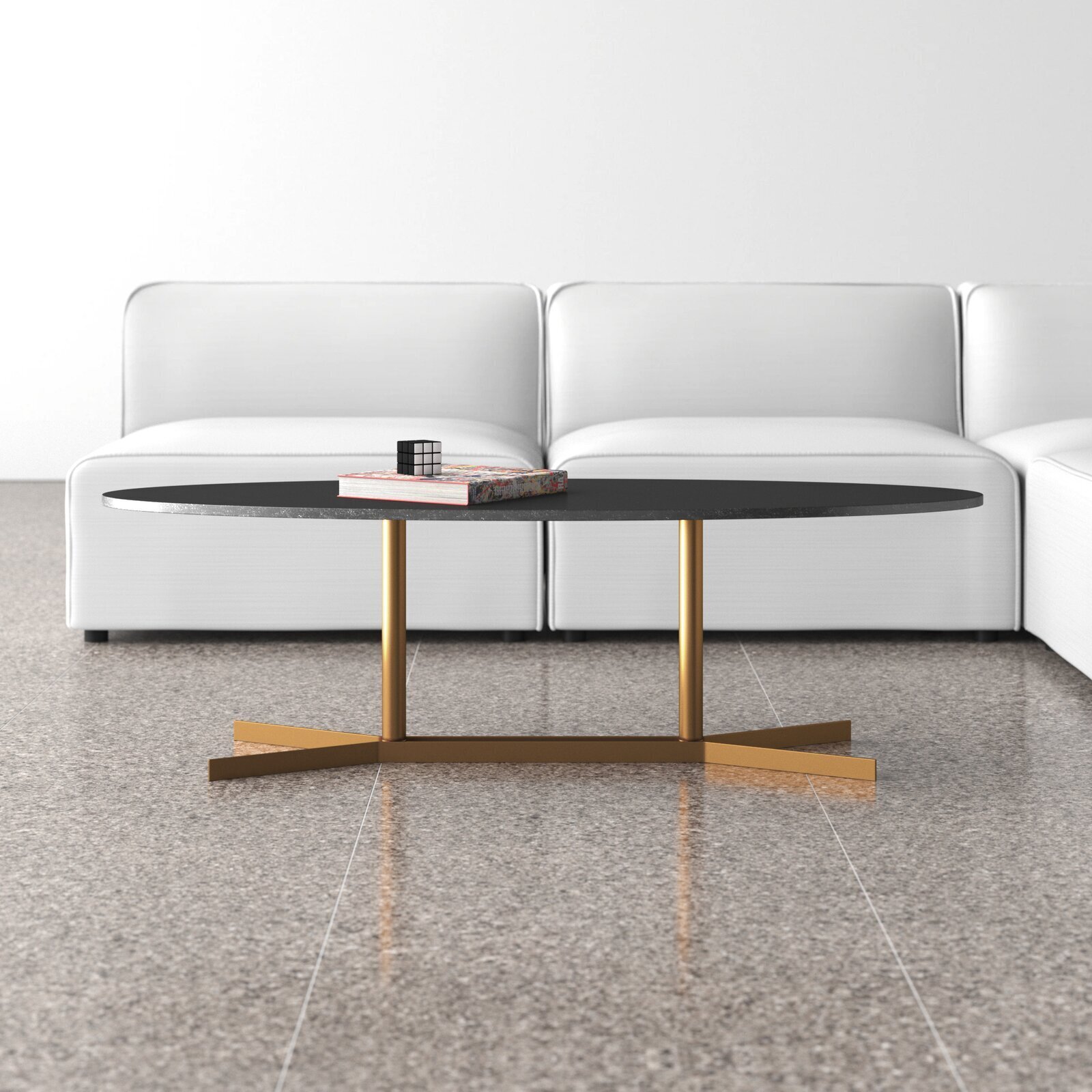 Oval coffee table design

Torn between round and rectangular ones? Black marble coffee tables in an oval shape combine the best of both worlds.
They're a handy idea if you want to avoid sharp corners (safer if you have children!) but also need more surface space than a smaller round table would give you.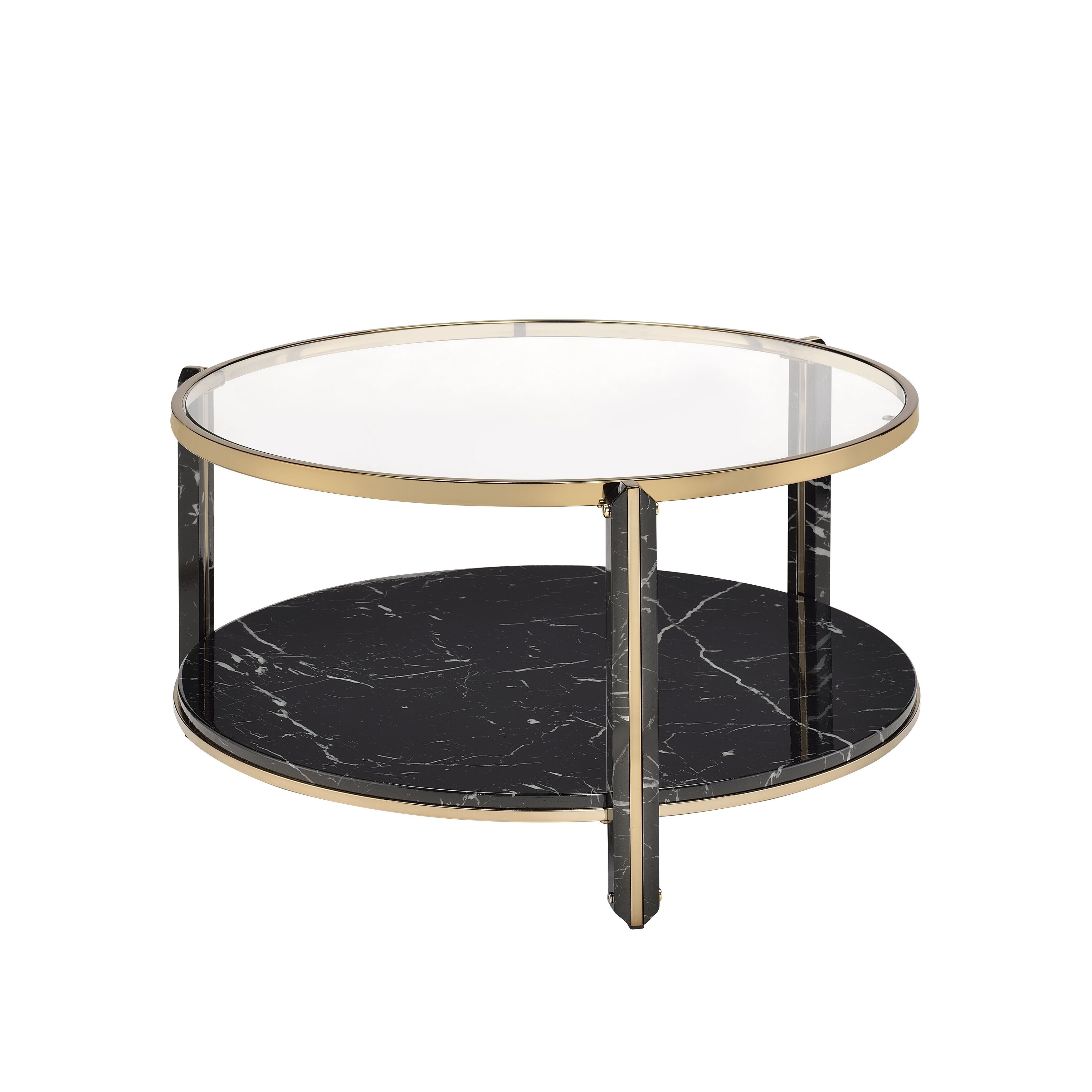 A glass and black marble coffee table

Another trick to create an illusion of space in smaller living rooms is to opt for a glass surface. Wait, but I'm looking for a black marble coffee table!
Great news: you can easily combine the two by choosing a design with a glass top surface and a bottom marble one for extra storage.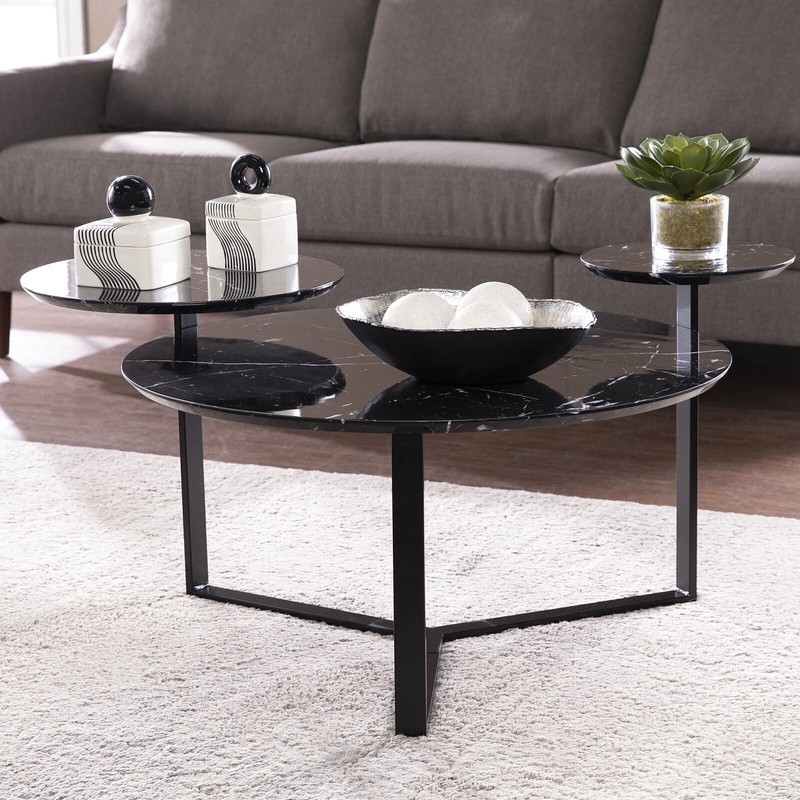 Black marble coffee table with layers

Or why not break free from traditional shapes altogether? If you're known for your outside-the-box thinking when it comes to interior design, surprise your guests yet again with a black marble coffee table including different layers.
This will also allow you to decorate it in an even more creative way: for example, by placing plants, flowers, or fruit bowls on the smaller surfaces and keeping the main one for entertainment.
$319.99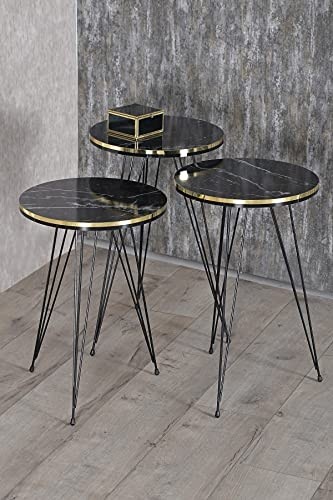 Black marble coffee table & set

Have you always been striving for cohesive rooms? Then, instead of settling for just one black marble coffee table, get yourself an entire set that includes some smaller side or nesting tables, too.
While this could end up being too much in small living rooms, it's definitely a game-changing solution in larger ones, especially if you're already lacking storage space or room to display your newest decorative items.
$129.99