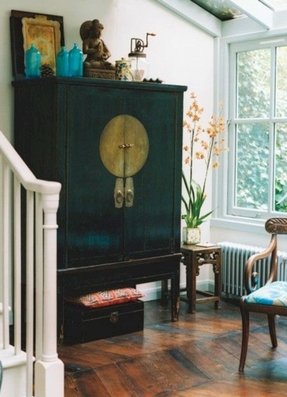 Eclectic English Conservatory

English, Chinese and Indian artifacts mix beautifully for a well-travelled look.
Nos encanta este mueble de estilo asiático perfecto para combinar con colores profundos en las paredes. #esmadeco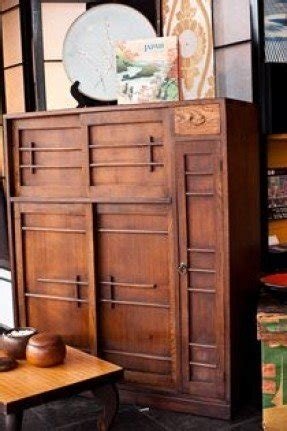 This traditional Asian cabinet tells a story. I find it extremely stylish to introduce antique inspired Japanese design to Western interior decors, just for a chic oriental hint. This outrightly Asian cabinet is wooden, with metal glides.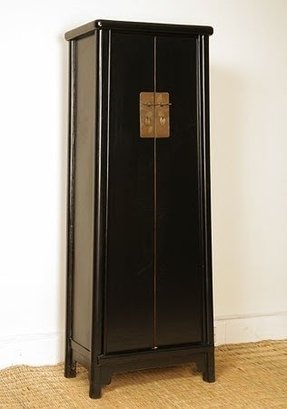 ... Cabinet Red Chinese Marriage Cabinet Small Chinese Cabinets Tall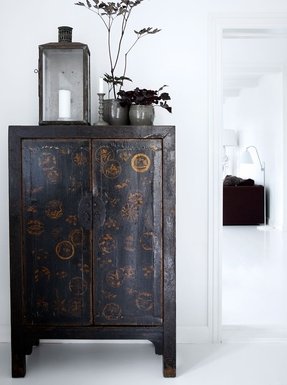 Adorned with oriental symbols, this cabinet constitutes a great example of the antique Asian art. Its versatile character makes it a good proposition to actually both the traditional or modern interiors.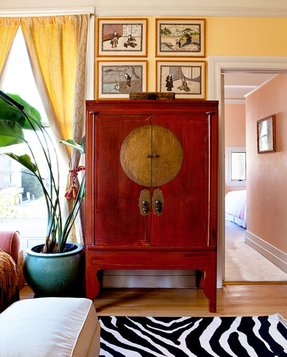 Red Chinese moon cabinet, yellow walls Benjamin Moore Dalila 319, zebra rug Cost Plus. Leslie Lundgren Design.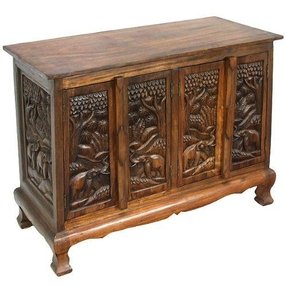 The 39- inch wide handmade royal elephant storage cabinet. Lovely dark finish will complement any color scheme, but brings some tropical style also. Wide flat top surface is ideal for showcasing your favorite personal treasures.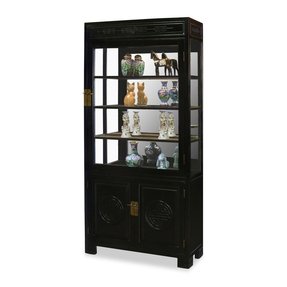 42in Longevity Design Elmwood Cabinet - Black

Curio Cabinet 8-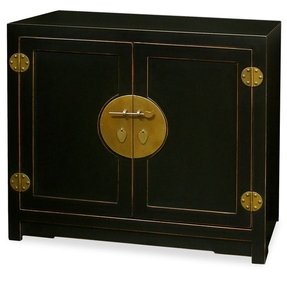 At first glance, we know that this is a piece of furniture from Chinese territory. An Asian black cabinet, elegantly decorated with gold calligraphy. The double doors also ensure its spaciousness. Black finish, well emphasizes rounded edges.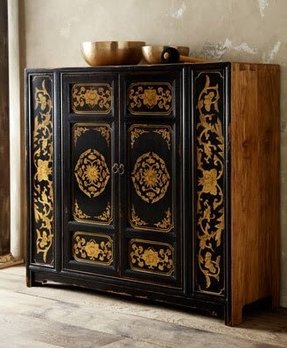 Mix of old and new Asian / Chinoiserie / Oriental decor Somehow it becomes an elegant modern design when you blend a true antique with something sleek and modern!CKL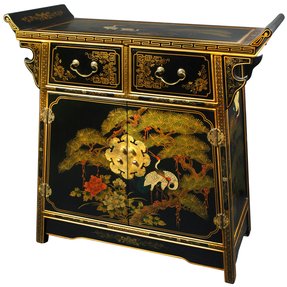 Asian 2 Drawer Altar Cabinet
It is an Asian two drawers cabinet that is handmade and hand painted. It has got two doors, mahogany construction, hand lacquered finish and Genuine brass hardware. You will be impressed.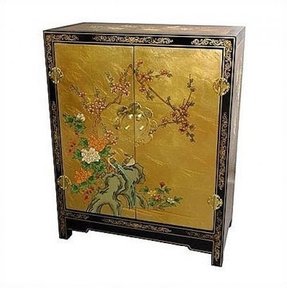 Asian Gold Leaf Lacquer Cabinet
The majestic cabinet in the oriental style. Thanks to it you will feel like in a Chinese imperial palace. Front is decorated with a motif of cherry blossom. This furniture is made by hand, finished with varnish. Doors open to reveal two shelves for easy storage.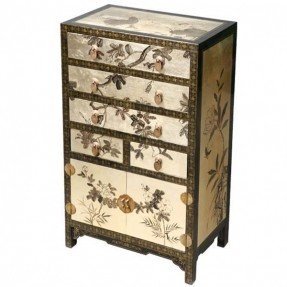 Silver/Black Lacquer Asian Dresser/Storage Cabinet
Grace your home with the true elegance of this French inspired high chest, hand-crafted of beautiful and durable rosewood. The chest features a large double door compartment with two removable shelves and three spacious drawers below.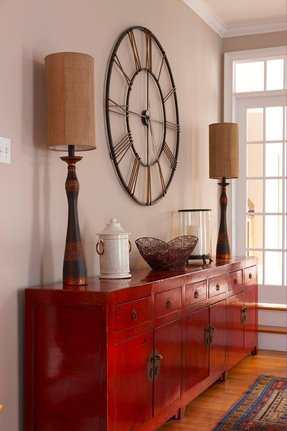 Wildon Home %c2%ae Frost Decorative Wall Clock
In case of naked walls in larger rooms, this wall clock will, surely, help you to decorate them properly. Its all crafted from metal, and has large Roman numerals, bringing vintage accents to your home decor.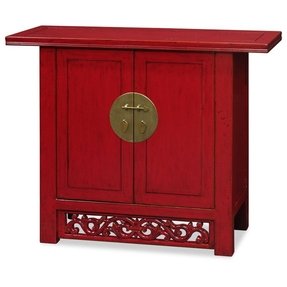 It is a cabinet that has got a Ming style, Elmwood construction, red finish and shelves to storage your favorite items. You will be impressed how fantastic it looks in your home.
It is a beautiful hand crafted Zhou Yi Ming cabinet that has got a black finish, wood construction and hand-forged brass hardware. It adds oriental style to any home.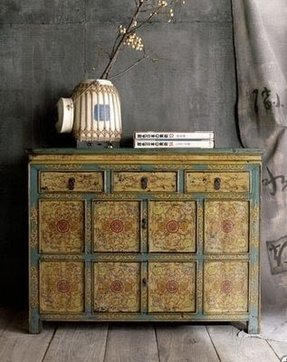 With the sublime and immensely well-detailed fronts of the drawers this amazing cabinet sports a Tibetan design and is just the most fitting choice for any possible interior style, from the modern to more traditional ones.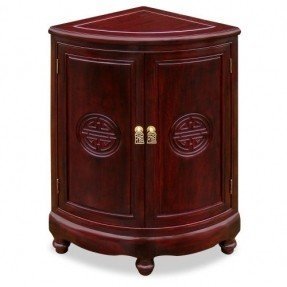 A functional and attractive piece of furniture created for a corner placement. This cabinet doesn't require plenty of space in the house. It is made of durable wood with a stylish rosewood finish. The size of this cabinet is 24"W x 17"D x 32"H.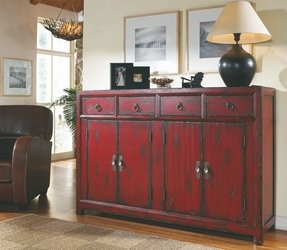 Asian Cabinet
It is a chest that has got a Ming style, Elmwood construction, black finish and shelves to storage your favorite items. You will be impressed how fantastic it looks in your home.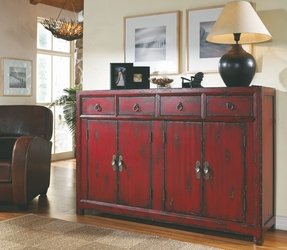 Seven Seas Asian Cabinet
What a marvelous piece! This Asian-style cabinet is esigned to deliver a memorable impression. It looks unique thanks to the hand-painted finish and it's also solidly crafted of hardwood solids and veneers. It features four drawers and two door cabinets.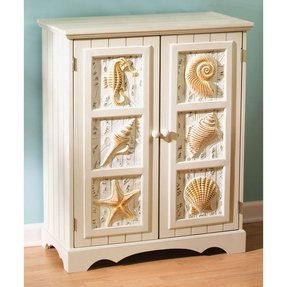 This small, 31.5x25.75x12.5 Inches cabinet hides a summer vibe inside. Resembling the best example of tropical design, it enchants with its beautiful ornaments and intricately curved shape.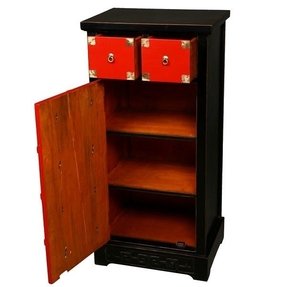 Asian 10-Drawer Red, Black Storage Cabinet/Dresser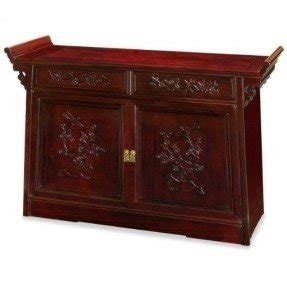 Distinctive and endlessly beautiful Ming style multiple-purpose altar cabinet hand-crafted in rosewood. It features hand-carved flower and bird motif on the doors and drawers and hand-applied rich cherry finish.
Yellow chinoiserie cabinet and faux bamboo walls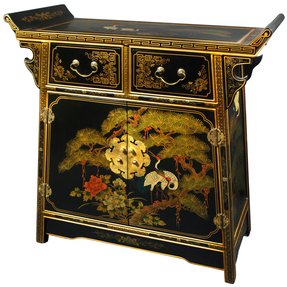 A real bargain for the Oriental design lovers. Made from solid pine wood, this 32-inch Chinese black-lacquered cabinet with an altar top will add brilliance to any refined interiors.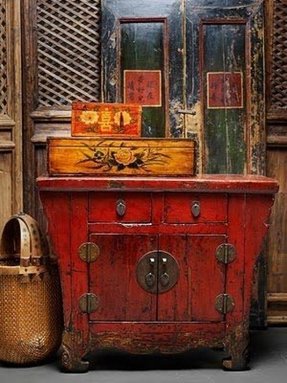 An Asian rustic style wooden cabinet with a weathered red finish. It has carved low curved legs and an apron, curved corner wings, a thick rectangular top. A 2-door compartment and 2 drawers up have dashy metal hinges and pulls, respectively.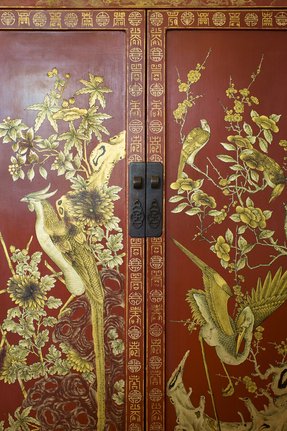 Jacqui Getty's armoire decorated with a painted Chinoiserie motif of gold birds.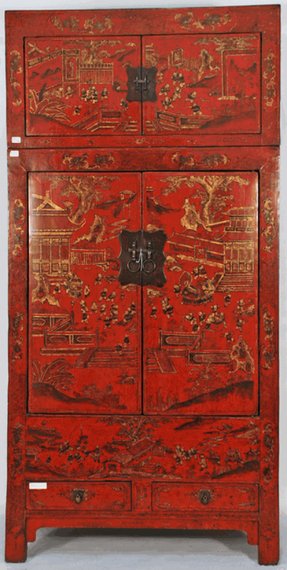 Antique Asian Furniture, from Mongolia, Cabinet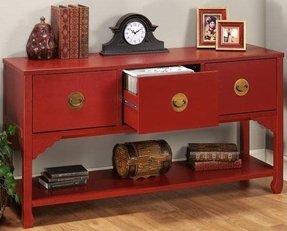 An authentic vintage file console of red-finished wood. Its top and open bottom shelf are rectangular. It has straight square corner posts, low feet, small triangular serrate corner aprons. Each of 3 drawers has a brass C-pull with a wide round base.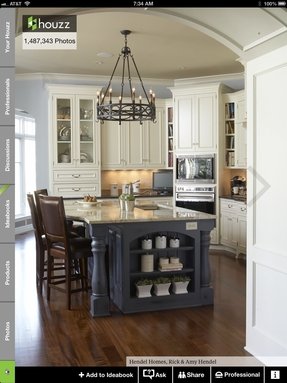 Kitchen cabinets for storing dinnerware, tableware, pots, food and more. Includes lot of cabinets and drawers in various sizes. Elegant design for each home.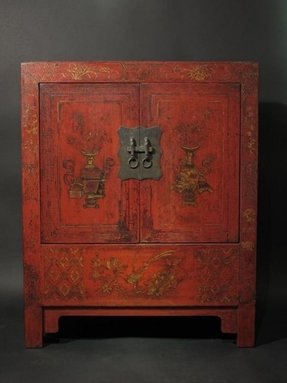 19th Century Chinese Red Lacquer Cabinet. I want! Would make a good drinks cabinet Hmmmm?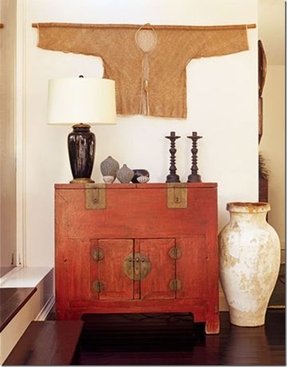 Shabby Chic Style - Home Makeovers - Manhattan Apartment - House Beautiful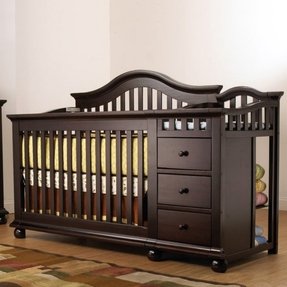 Cape Cod 4-in-1 Convertible Crib
It is a 4-in-1 convertible crib that is a perfect and functional addition to your nursery. It has got two finish options to choose: espresso and French white. It can be used as a crib, daybed, toddler bed or full size bed.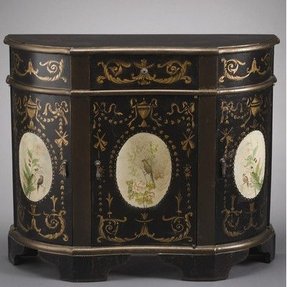 1 Drawer Console Cabinet
Alluring semi-oval brown antique style cabinet with a recessed centre. It features hand-painted colourful nature life motifs, golden cornices, dashy plate-like feet. A drawer, a central and 2 side cabinets (with curved doors) have bronze handles.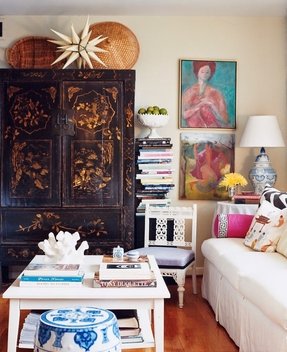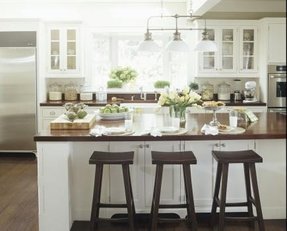 Inspirational kitchen style: white wood kitchen island with sleek dark brown top is matched with backless counter stools that sport the same dark finish. White wall cabinets echo the kitchen island design.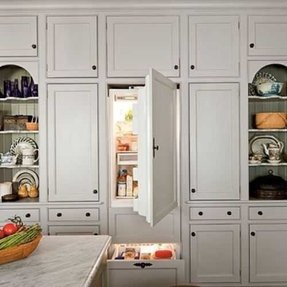 A classy kitchen arrangement that features a set of functional, grey cabinets, which is accompanied by elegant, granite countertop. The wall between the cabinets is covered with small, white tiles, which give the space a homely feel.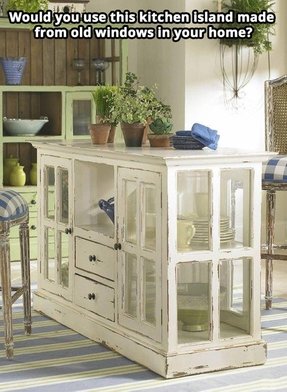 A vintage wooden kitchen island with a worn white finish. It has a rectangular top, a full base, an open niche in the centre, 2 drawers underneath, 2 cabinets with wooden shelves and glazed walls and doors. Drawers and doors have round black knobs.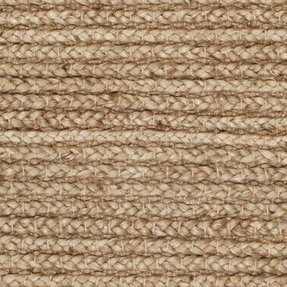 Cape Cod Beige Area Rug
Hand woven beige area rug made of jute/sisal. It's perfect for casual beach house. Thanks to it's classic design it fits majority of styles and designs. Additionally, it's made of eco-friendly materials.