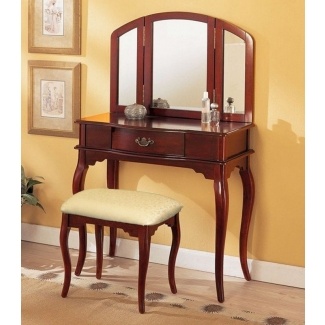 Vanity Set with Mirror
It is a vanity set that has got a mirror and felt-lined drawers. It is perfect for your morning make-up. It is very elegant so it is perfect for stylish and classic bedrooms. You will be impressed how beautiful this vanity set is.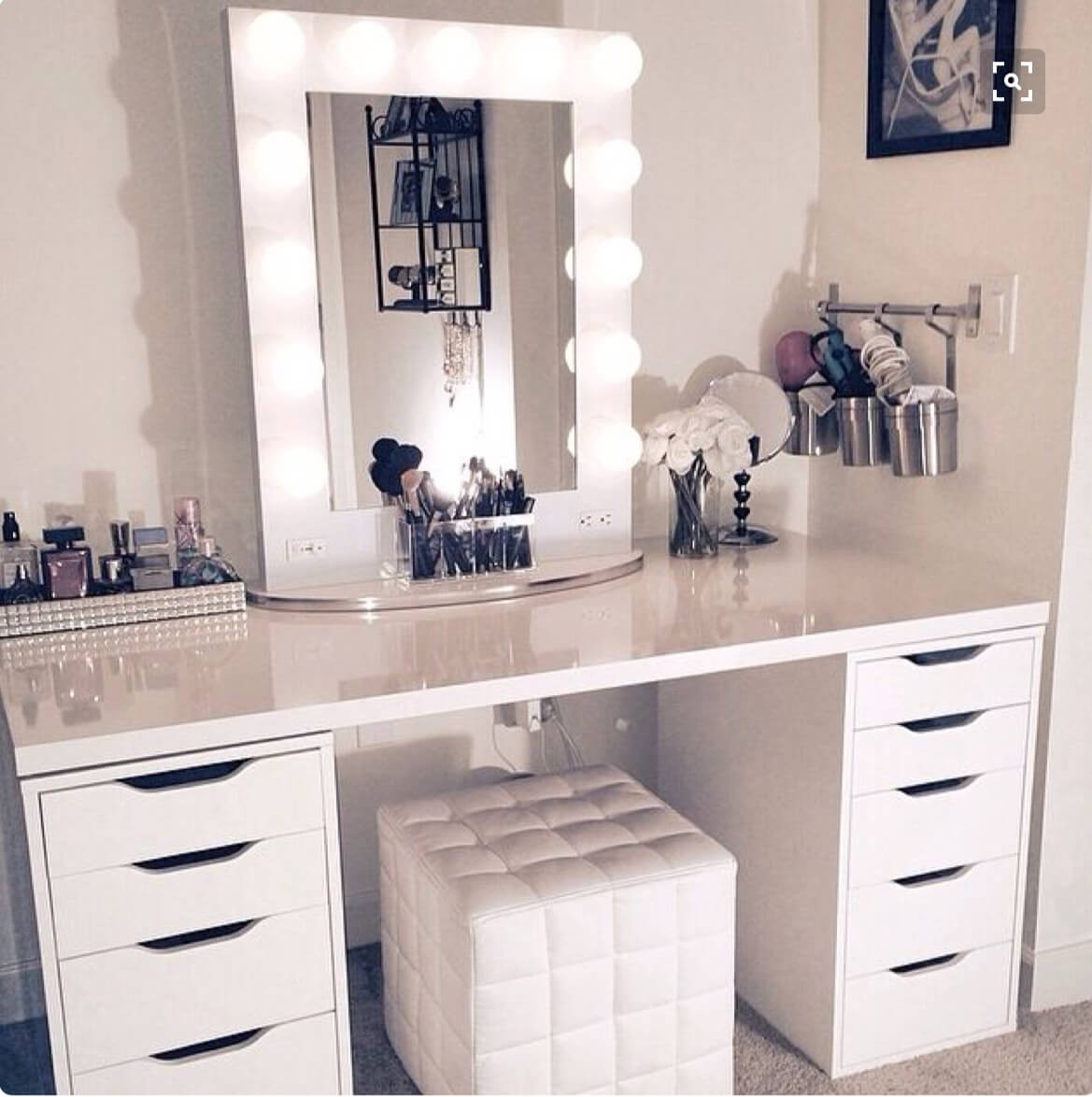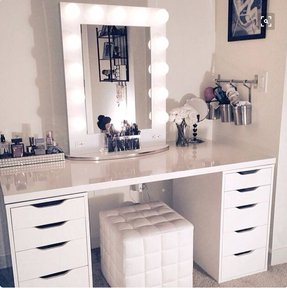 This crystal white makeup vanity delights with its cool and clean design, representing the best features of the minimalistic style. Along with an illuminated mirror, cubic, tufted ottoman and lots of drawers, it constitutes a gorgeous arrangement.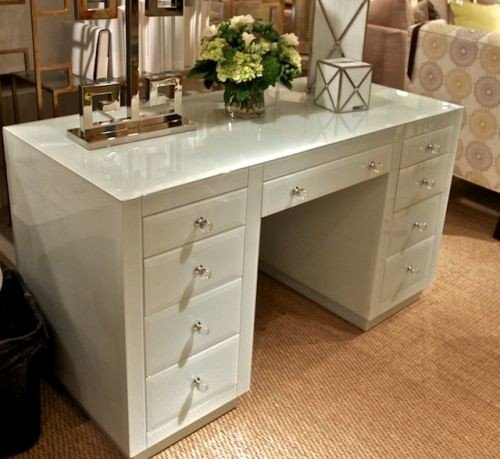 A luxury modern vanity table crafted of wooden materials with a glossy white finish. It has a rectilinear frame with a recessed base. It features a rectangular top of translucent glass. It has 9 size-varied drawers with glass mushroom pulls.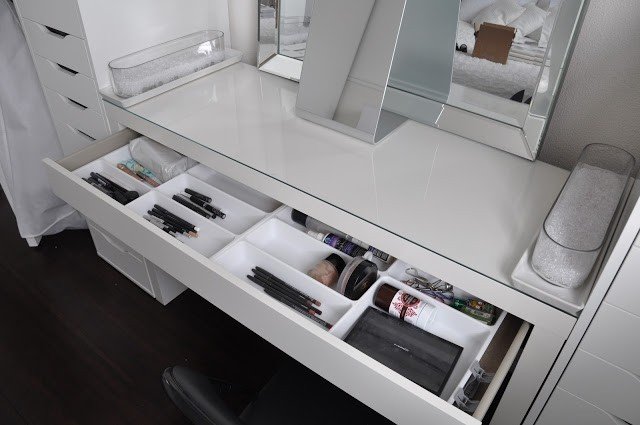 A wonderful dressing table in a modern design.It consists of nine drawers that offer maximum of storage space. The unit is in a white, high gloss color and it even features candle dishes! The mirror has a stunning, silver frame.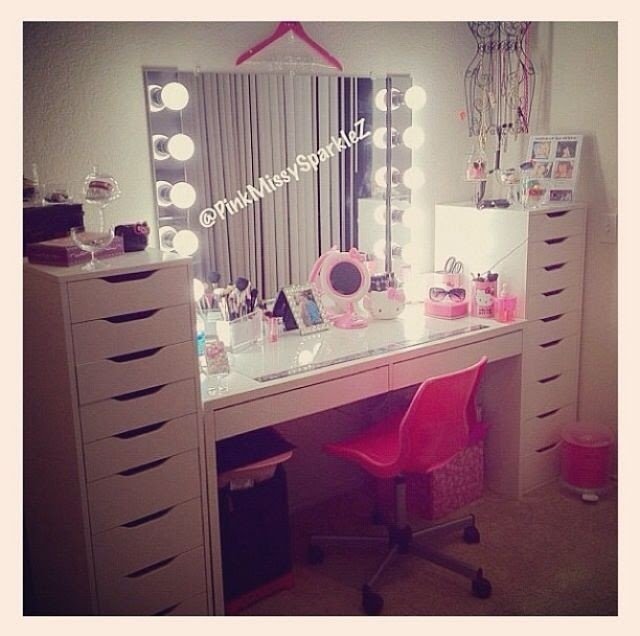 Makeup vanity finished in neutral white color. Its side towers include plenty of drawers with storage space for cosmetics and other makeup products and accessories. Its top is paired with large square mirror with light bulbs.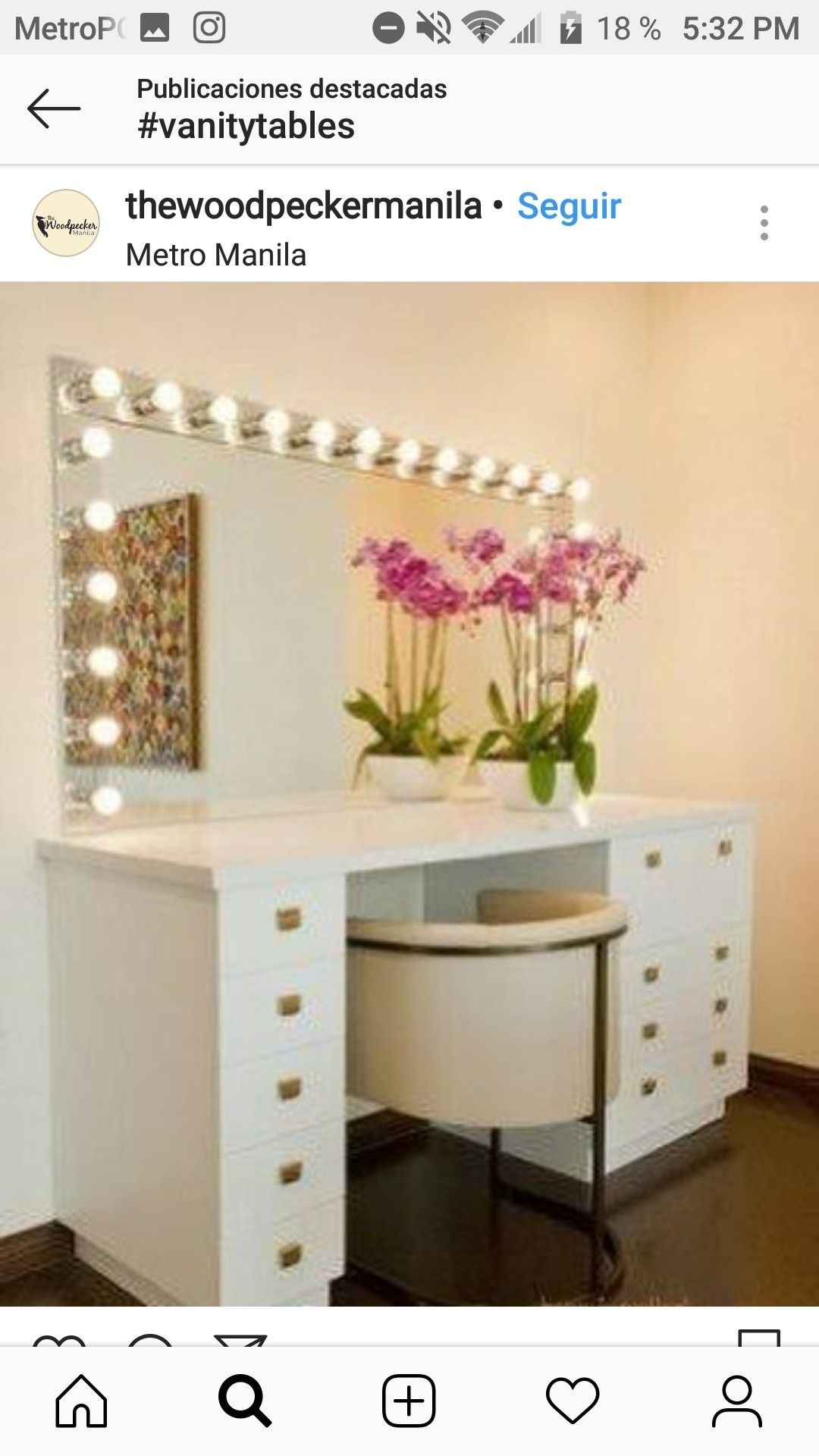 Vanity table in elegant style. Construction is made of wood. Includes a lot of drawers in various sizes for storing personal items. Rectangular top has large usable surface. Tasteful addition to the living room, bedroom and more.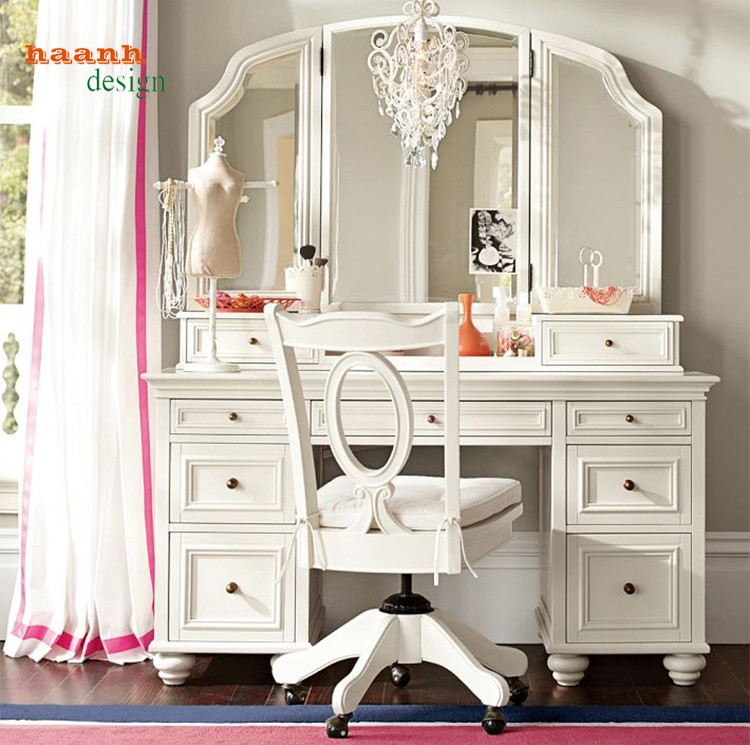 This is a modern dressing table design. The unit has a pale white color and it has maximum storage space with nine drawers. The chair has an ornate base which has tires to make it easy to move around the table.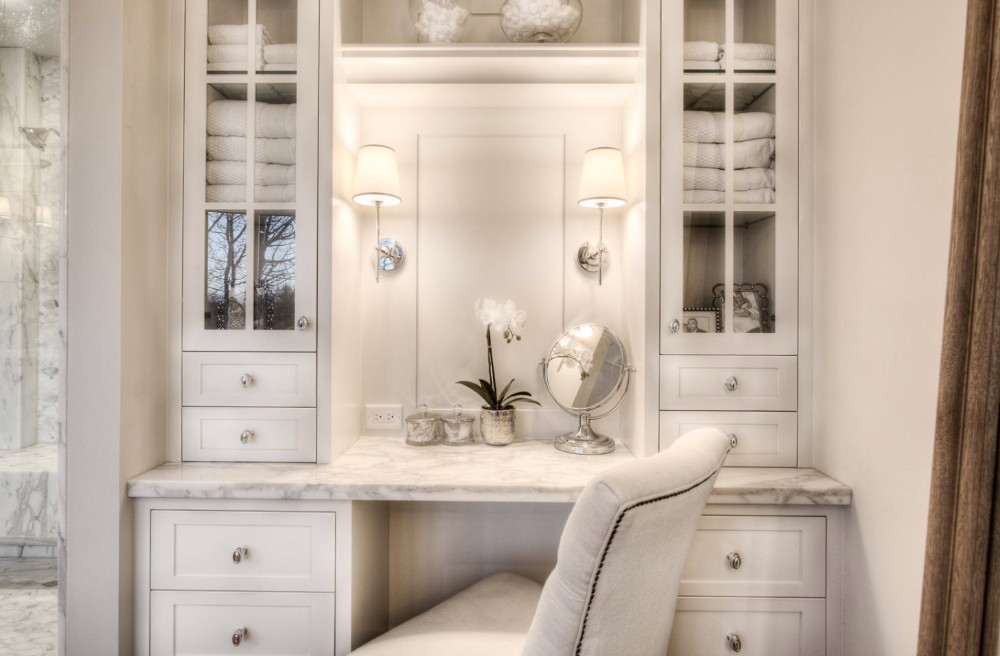 This white makeup vanity constitutes a great proposition for all shabby chic or vintage enthusiasts. With its marble white countertop and glass front cabinet, surrounding a frameless illuminated mirror, the whole creates a very cleverly-designed composition.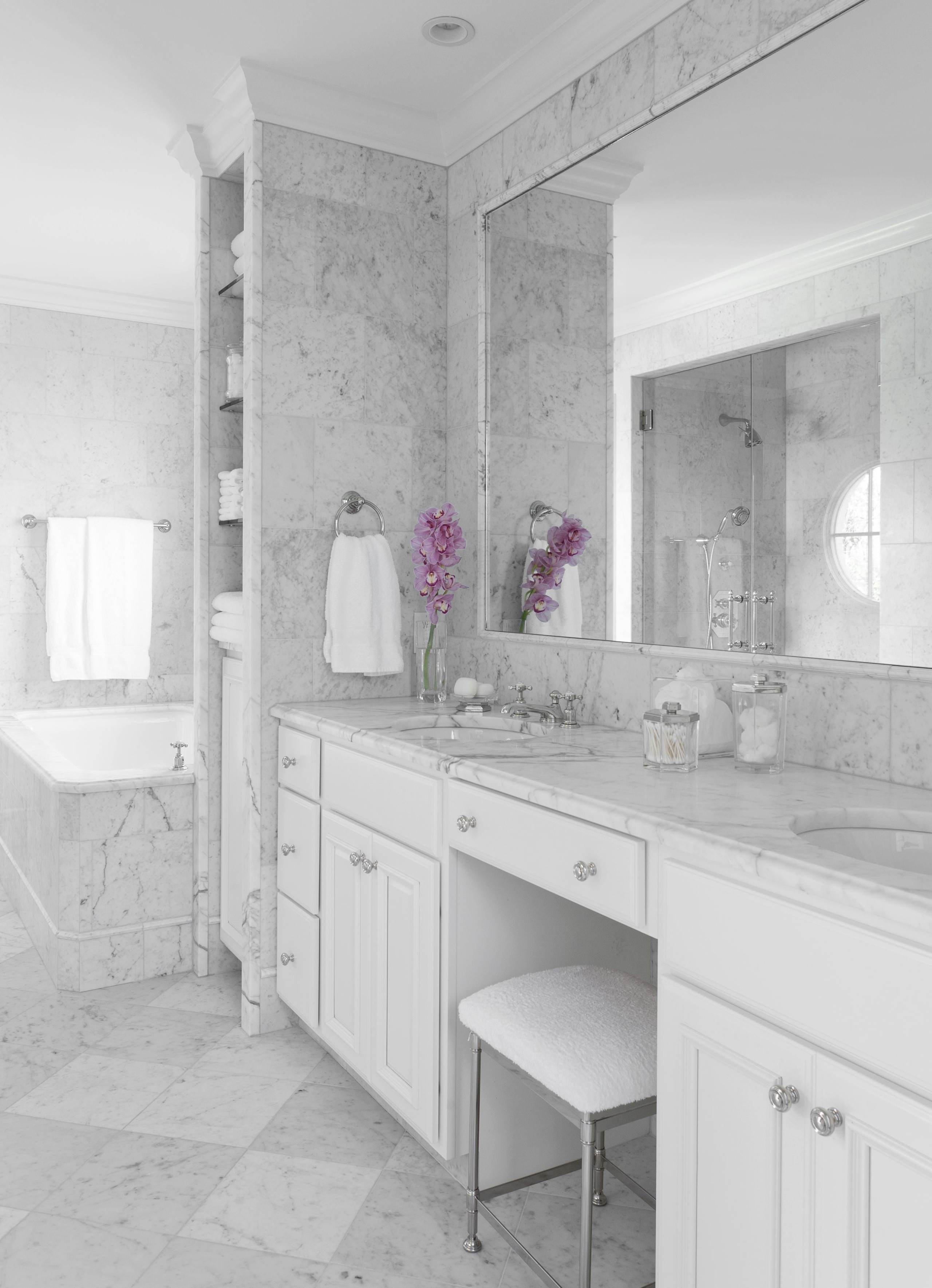 A breathtaking bathroom arrangement that is characterized by classy cabinets and elegant, marble tops and tiles. The combination of white and grey makes the bathroom look really posh and fresh. A large, built-in mirror adds to the chic atmosphere.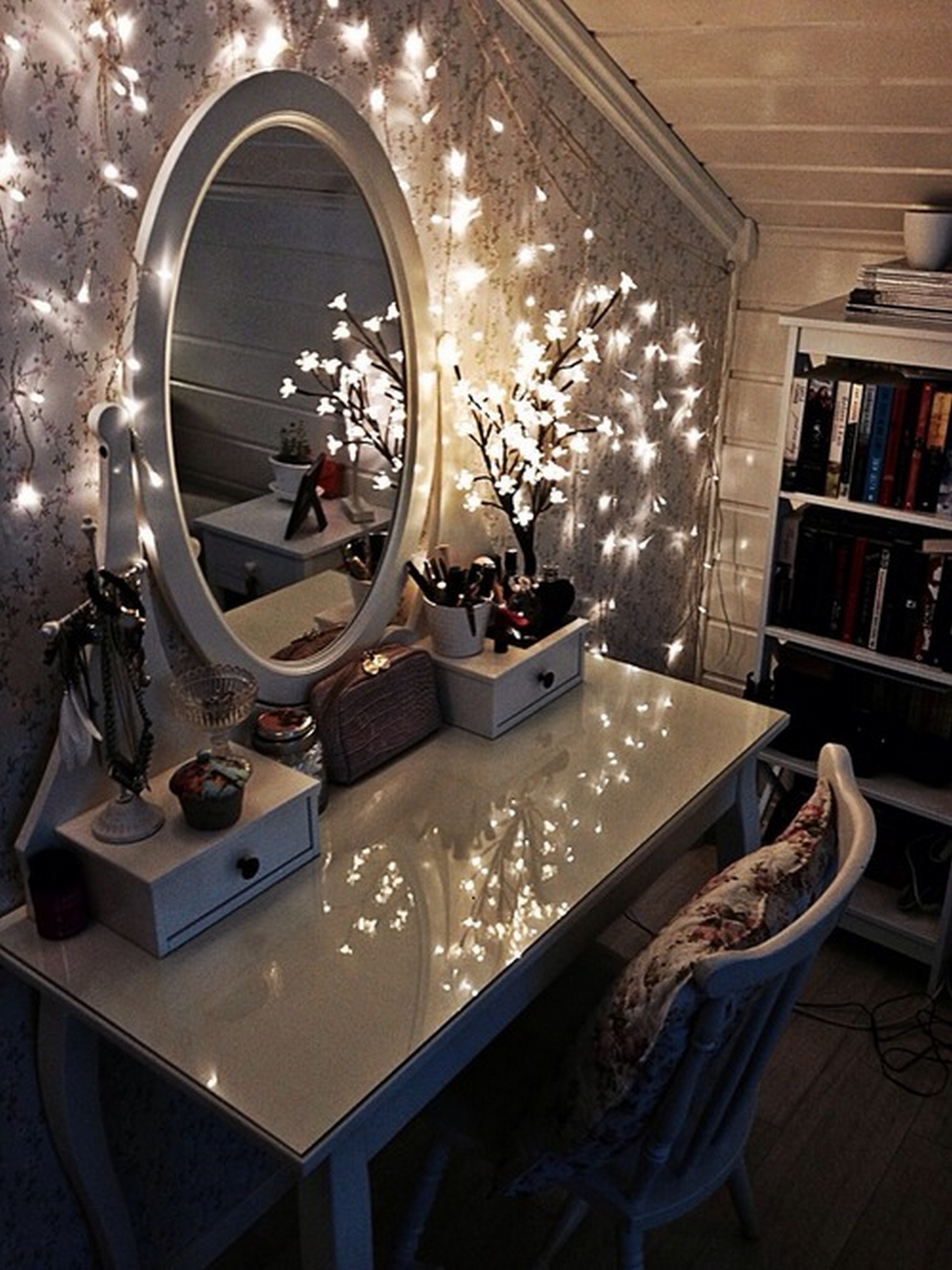 White elegant dressing table made of burnished wood. Dressing table has oval mirror with minimalistic frame and two little drawers destined to storage jewellery or cosmetics. This piece of furniture is must-have for every smart dresser girl.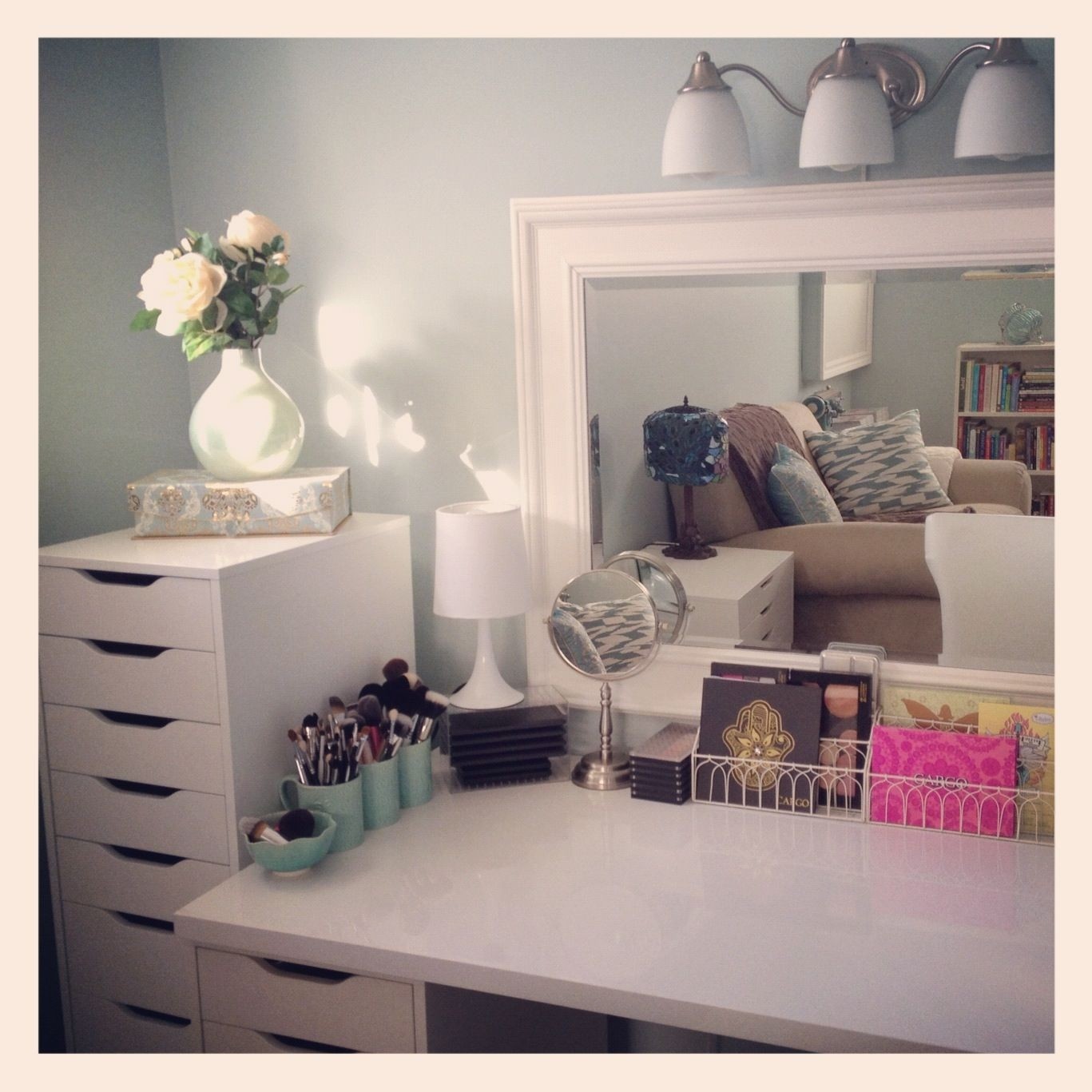 It can be said- the mirror is the greatest source of lateness,but how beautifully decorates our interior? White makeup vanity presented here is a great storage layout. Many small drawers, with simply top and mirror matching the rest-all in white, high gloss.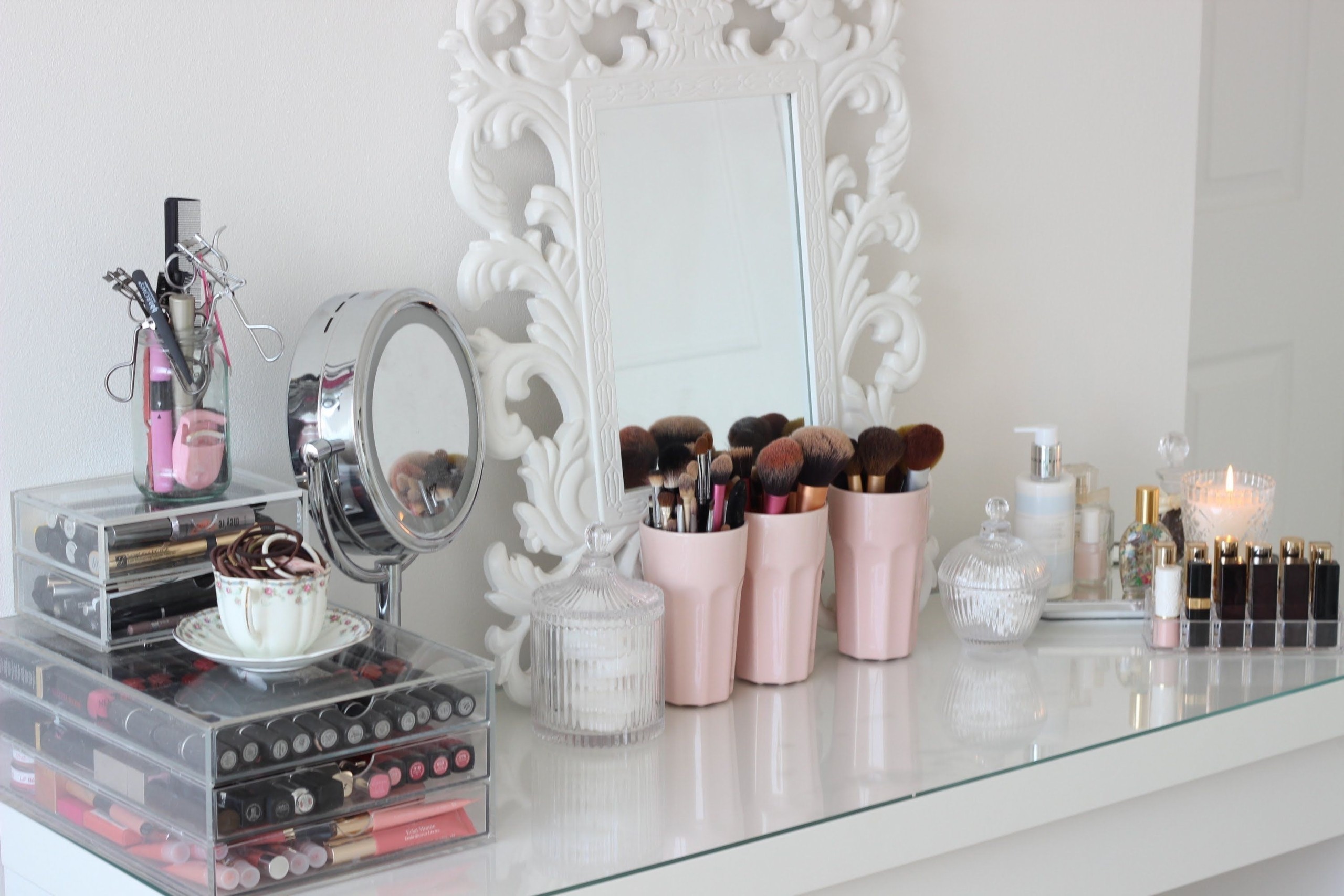 A marvelous vanity table that has everything a woman needs. It's equipped in functional containers for all the makup pieces. It has a glass top, which can be easily cleaned and a small, square mirror in an ornamental frame.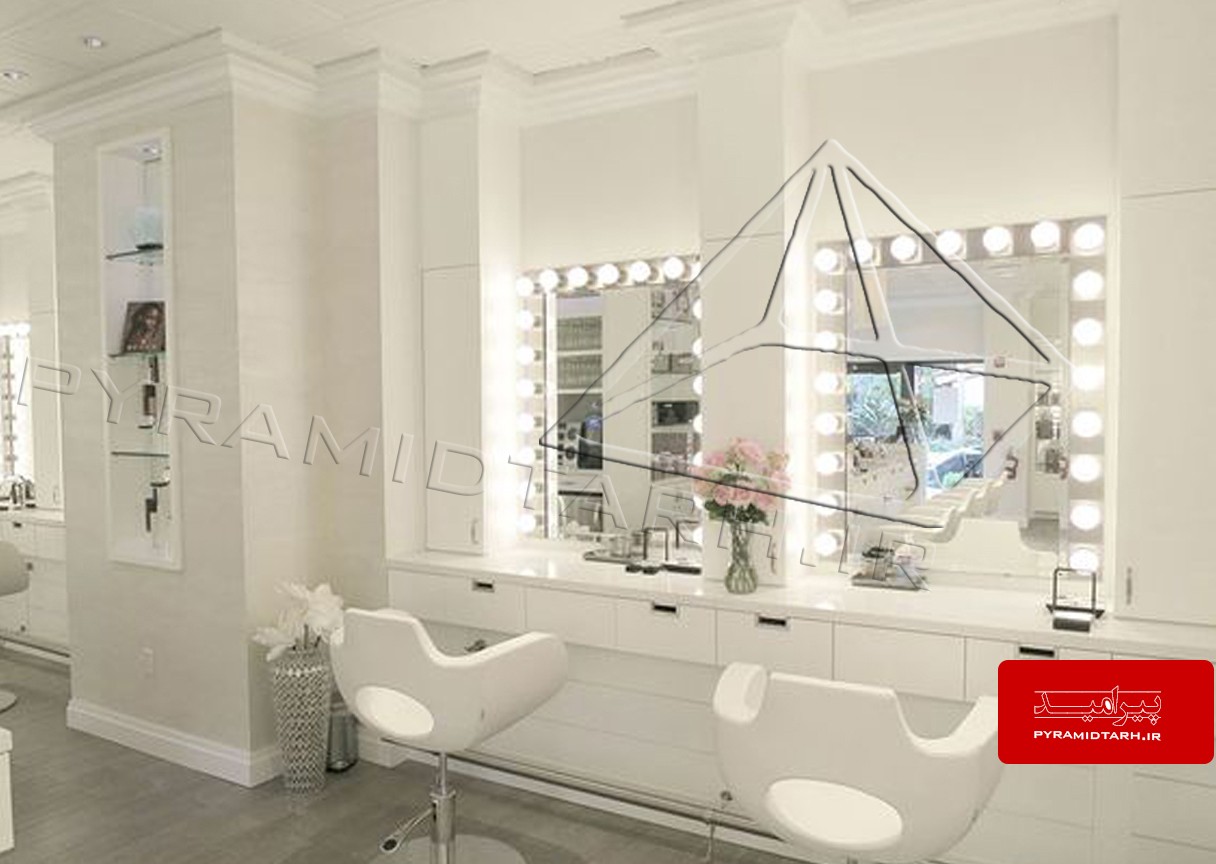 Elegant minimalistic dressing table built-in wall. It has a few drawers intended to storage cosmetics and mirror encircled of globular bulbs, which help make you up perfectly. In the set, there are two small chairs with adjustable height.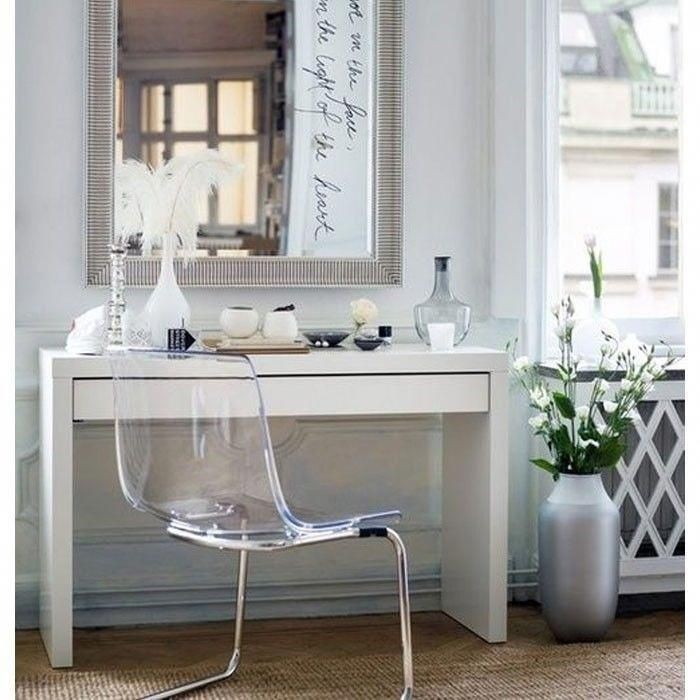 Suitable for enhancing modern interiors, this dressing table in a white finish features a particleboard and fiberboard design, with 1 storage drawer with a pull-out stop. The top is made of safety/tempered glass. Wipe dry with a clean cloth.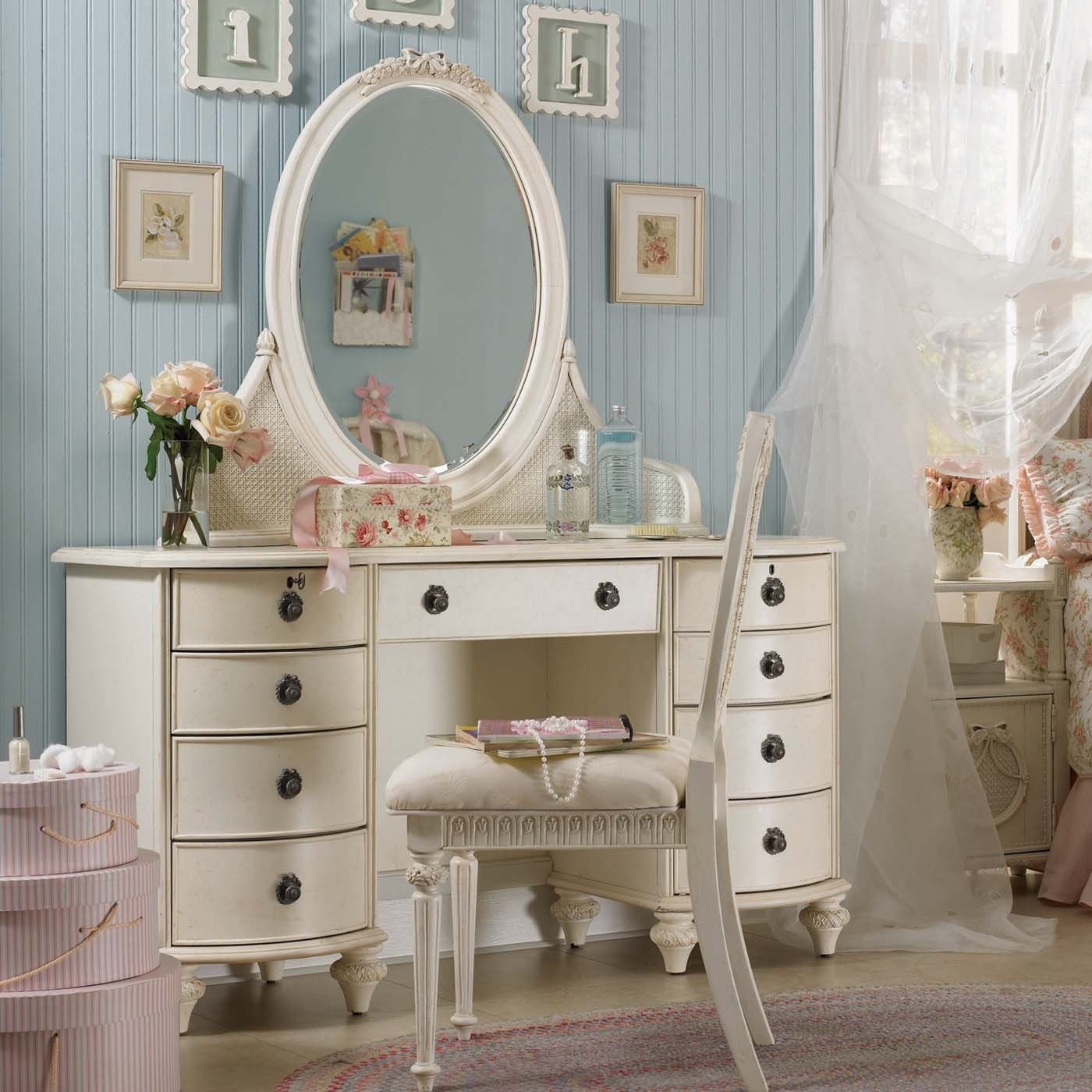 the bedroom vanity and vanity tops discussed in this article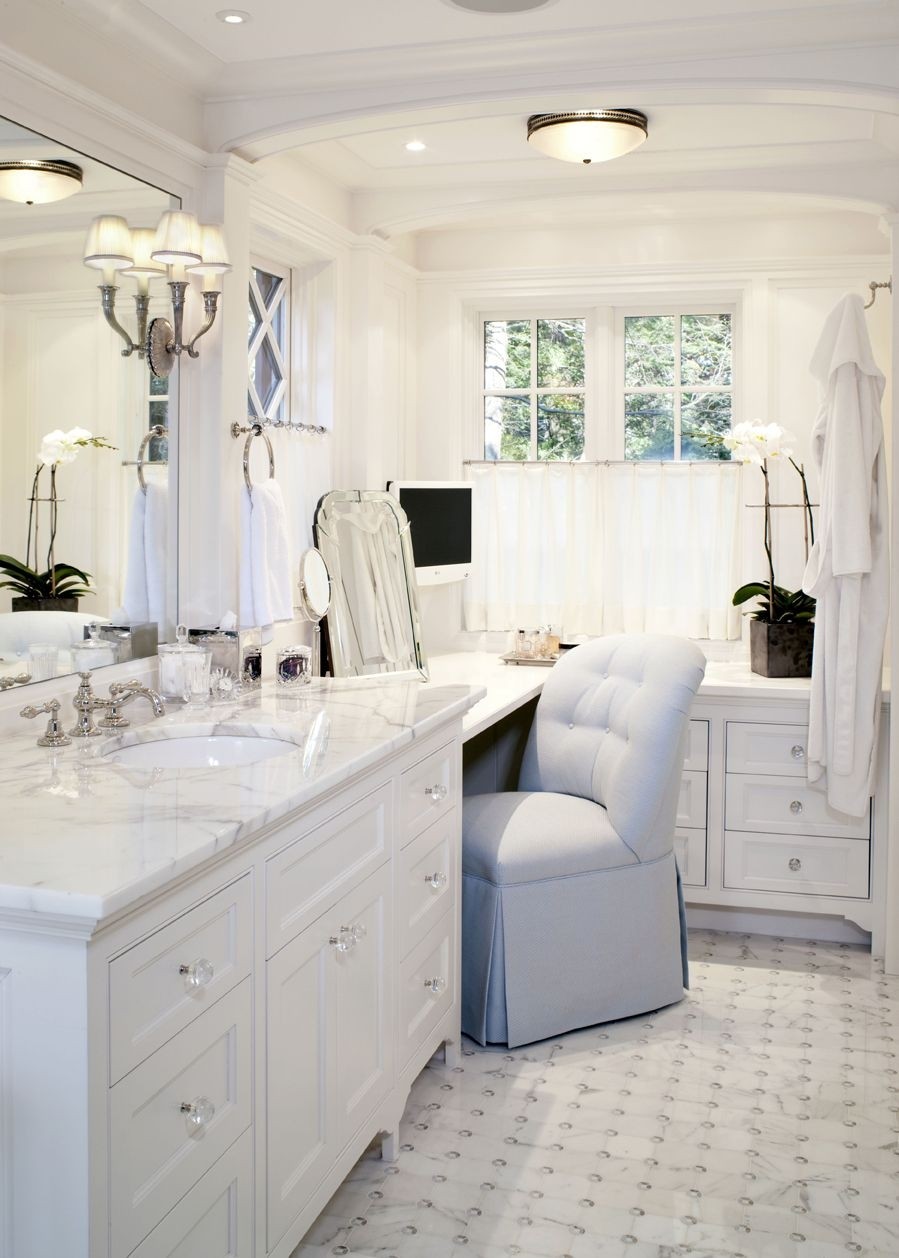 This white makeup vanity will work like a charm in your master bedroom, letting you feel how important it is to know comfort from the moment you wake up. It sports the light finish and marble top for a more refined look of elegance.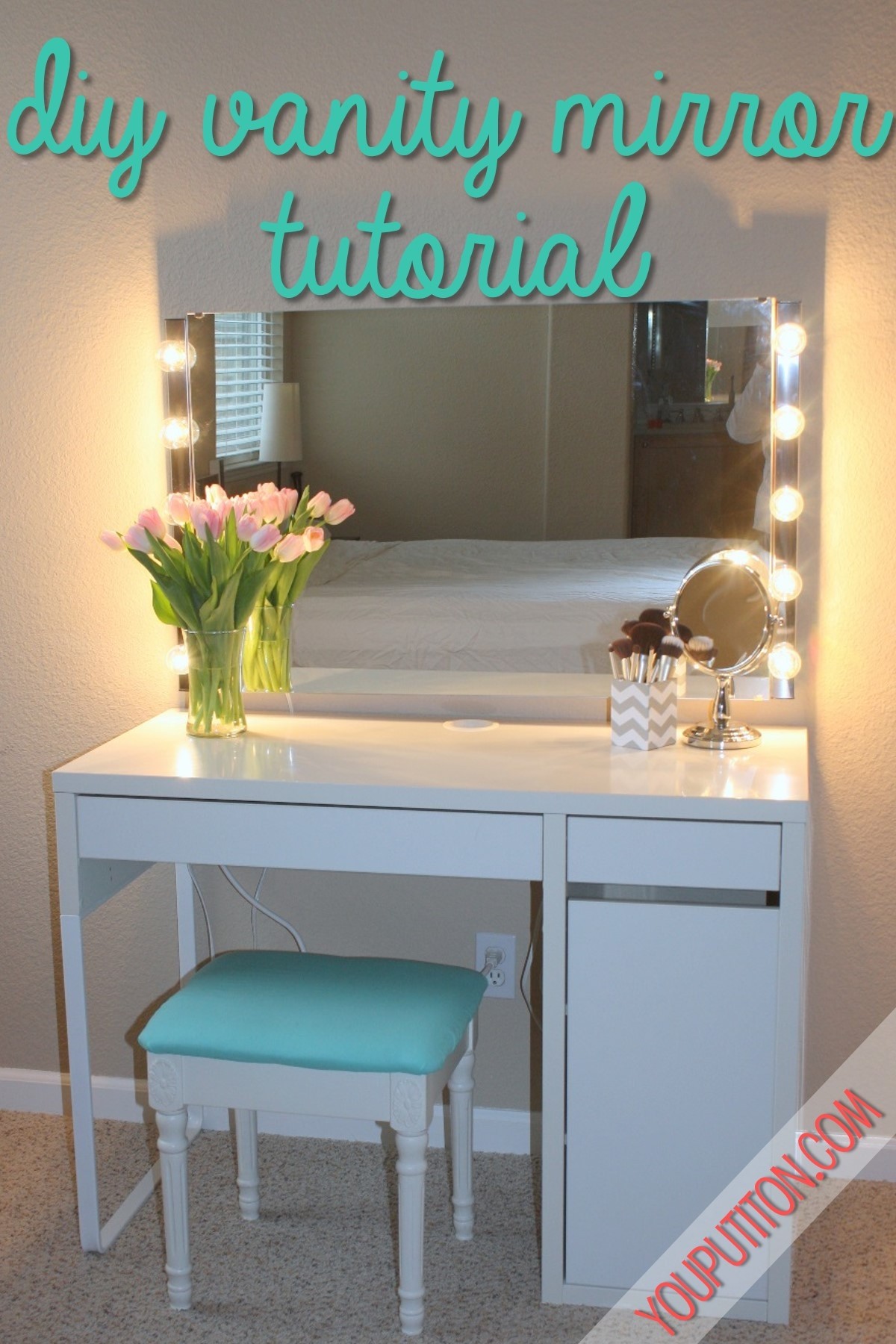 Feel like a movie star in your bedroom! A great DIY project, easy to do and pleasant for the eye. Paint a cheap desk white, hang some lights around a window, get a little stool and decorate it the way you see fit!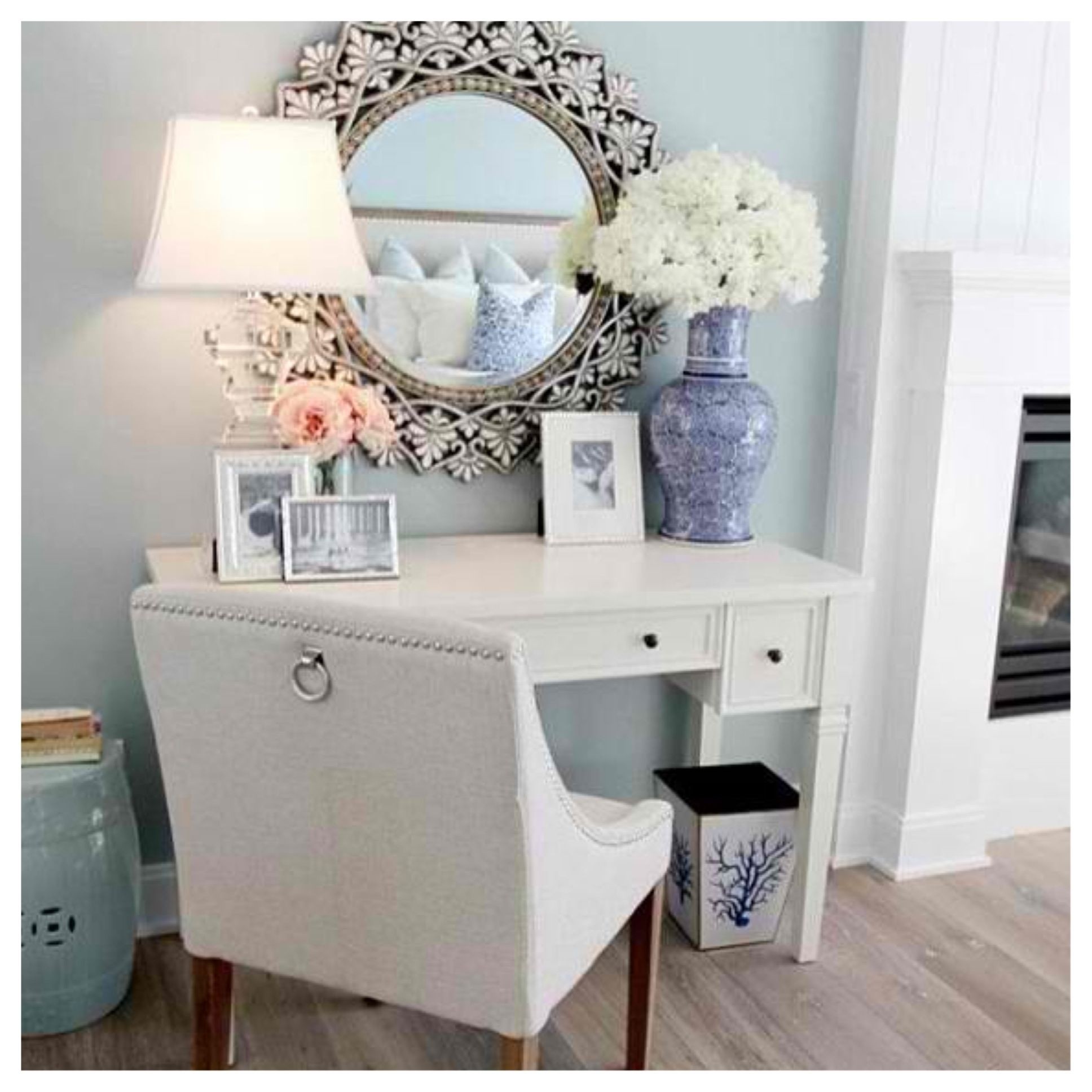 A beautiful vanity table that features an elegant and classy design with two simple drawers. It's accompanied by a wonderful, round mirror in a decorative frame and a wingback chair in a matching ivory color.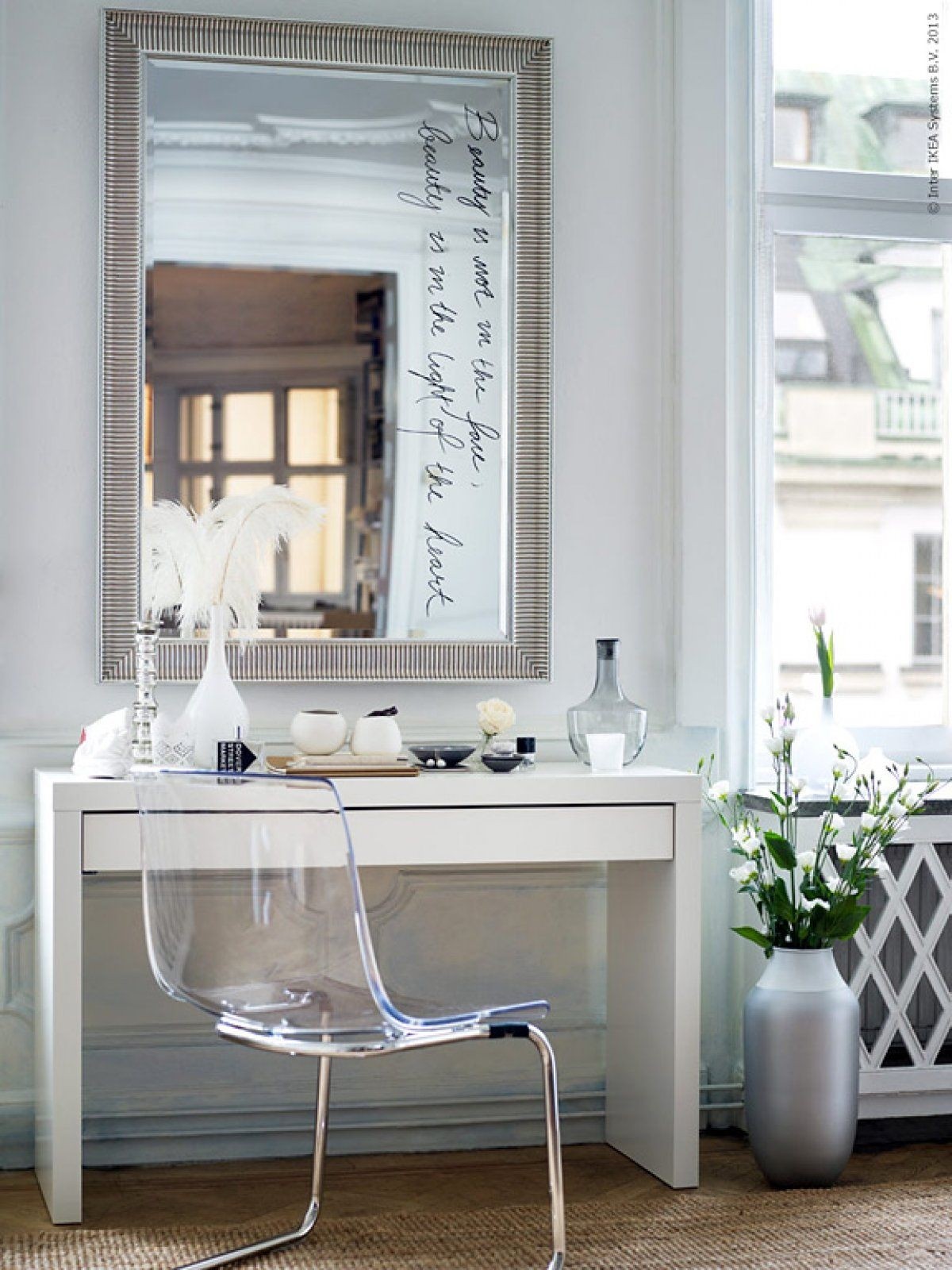 malm vanity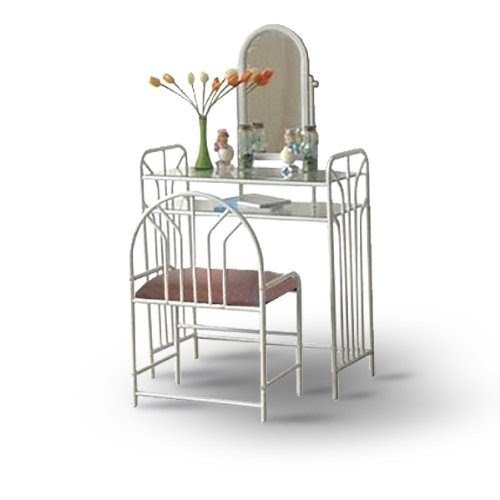 It is a vanity set that includes white metal vanity and bench. It fits to romantic and classic bedroom. The vanity has got two glass shelves for your cosmetics and other items. You need to have it.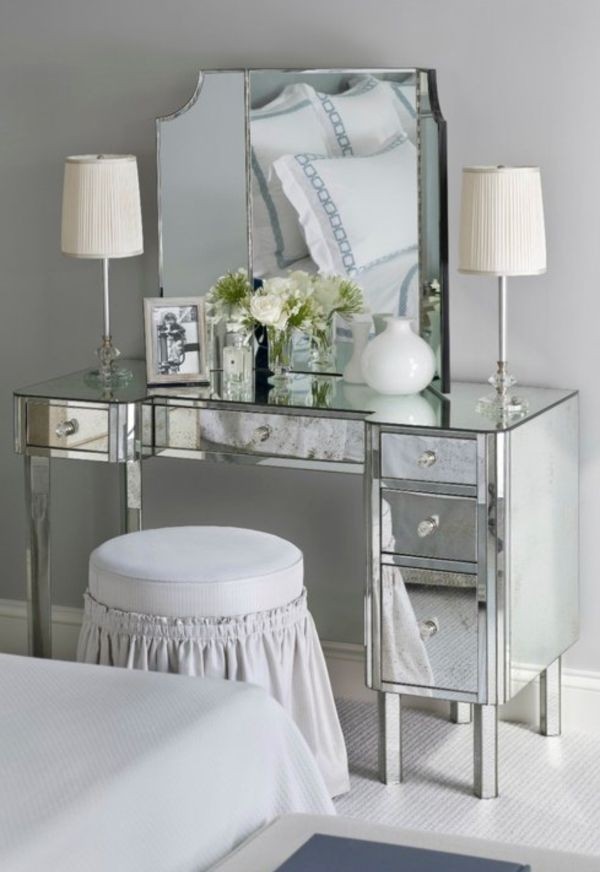 Covered entirely in mirrors, this vanity set with lights draws glances and contributes to glamorous touch and feel. Multi panel mirror with lights allows for a precise make up. A backless stool with white skirt accompanies the bedroom vanity console.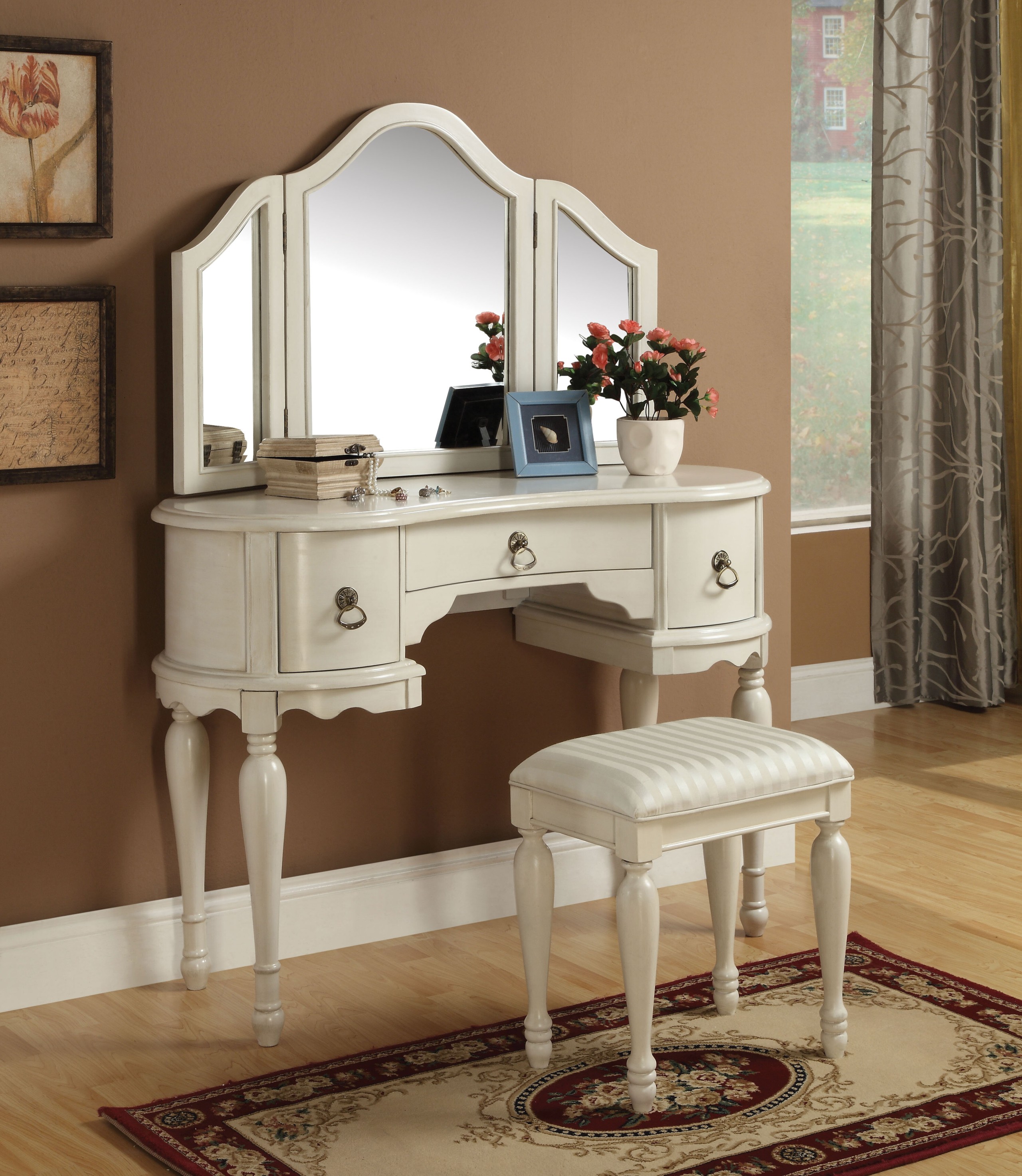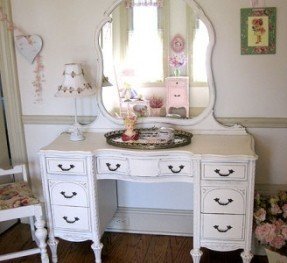 bedroom makeup vanity white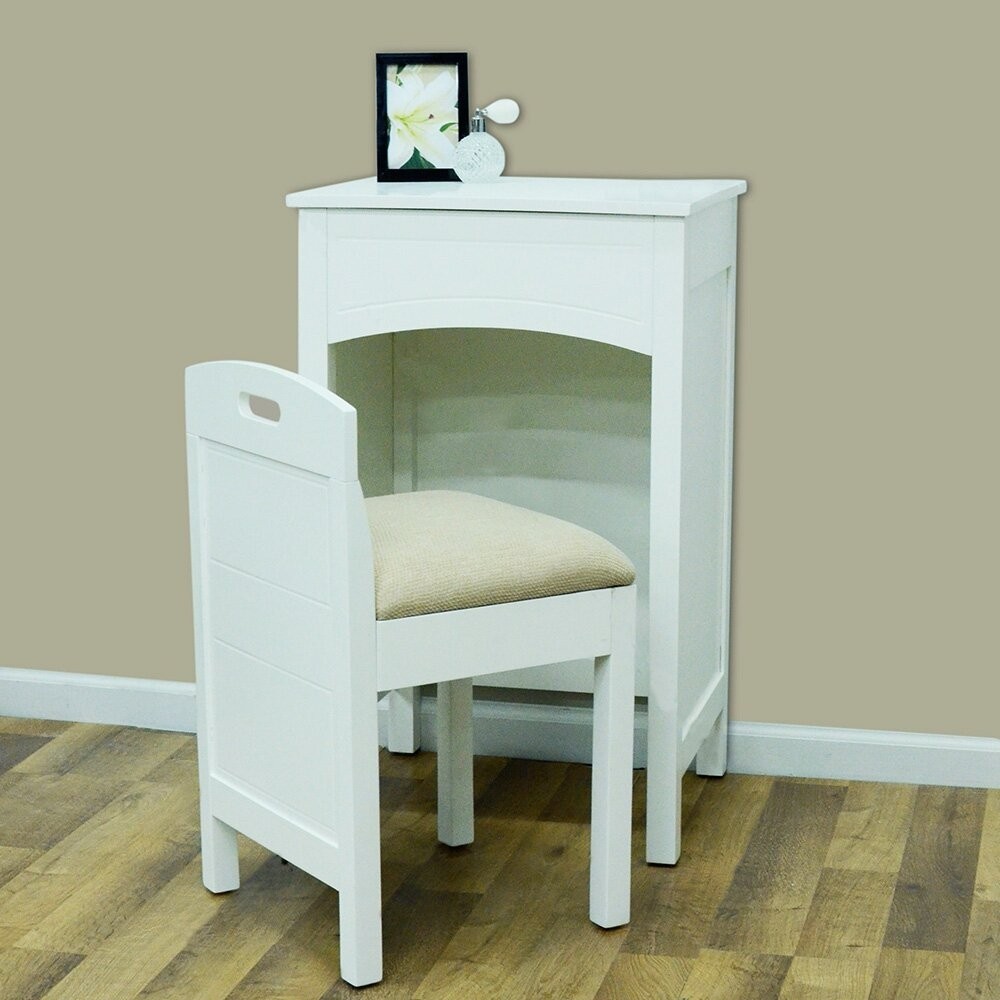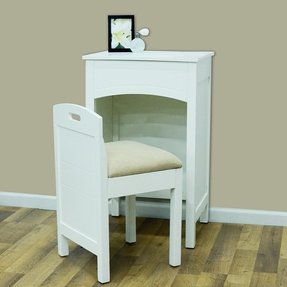 Simple and cute vanity set in white; perfect for limited interior spaces - the cushioned stool tucks neatly under the table, and the whole set transforms into a side table. Besides, the table has a flip up mirror on hinges.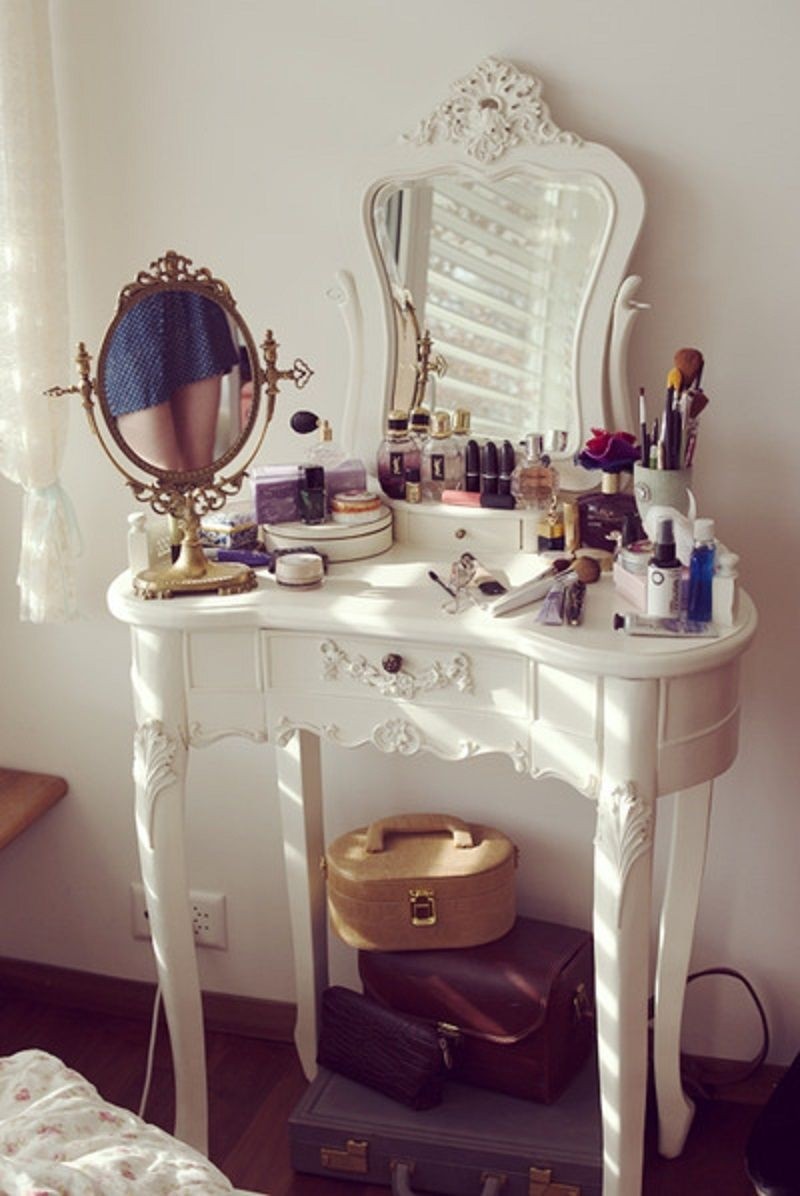 A fabulous vanity table in an elegant and rustic look. It's a solid wooden piece that features slim lines and beutiful, but delicate, curved ornaments. It's in a charming, pure white color and has a medium size mirror and two drawers.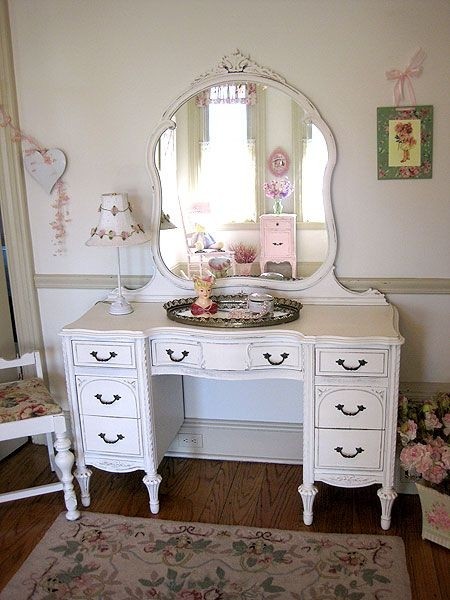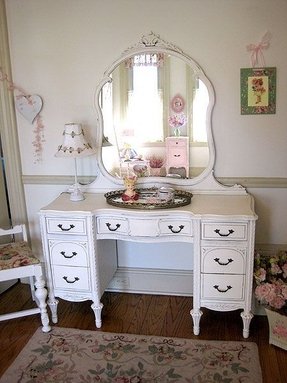 Magnificent Antique White Vanity With Mirror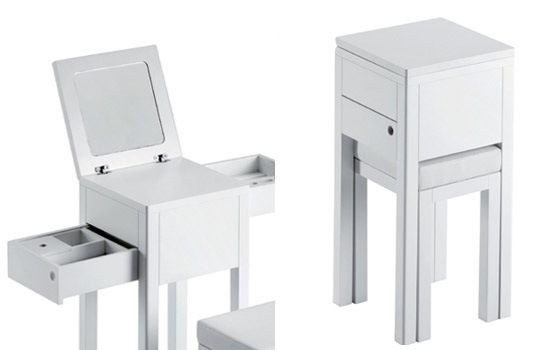 Clever space saving ideas alert! Ideal for small room layouts. Love this for a tight bed room. Giving the perfect spot for primping. Too bad it doesn't have a space for hot irons. Anyways it's really handy and allows you to store many small items.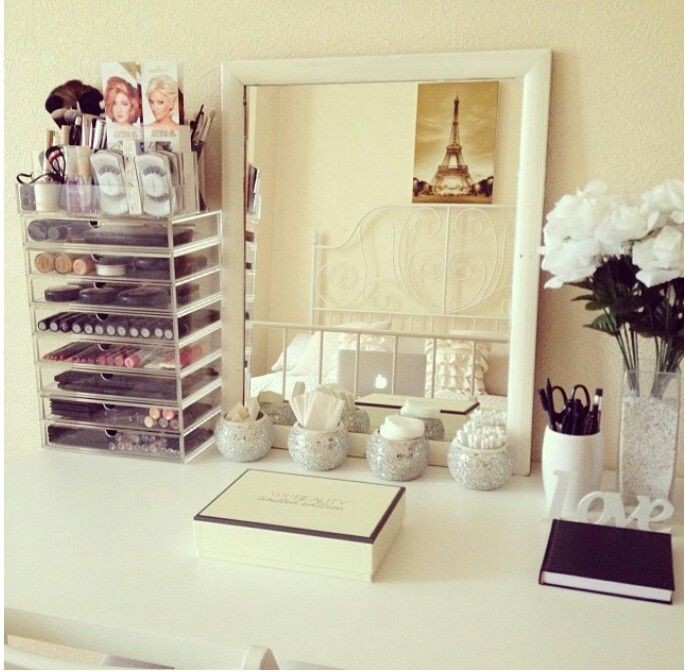 A wonderful vanity table that will let you keep all your makeup accessories organized. It features a practical container divided into sections, perfect for smaller things. It's also equipped in a framed mirror.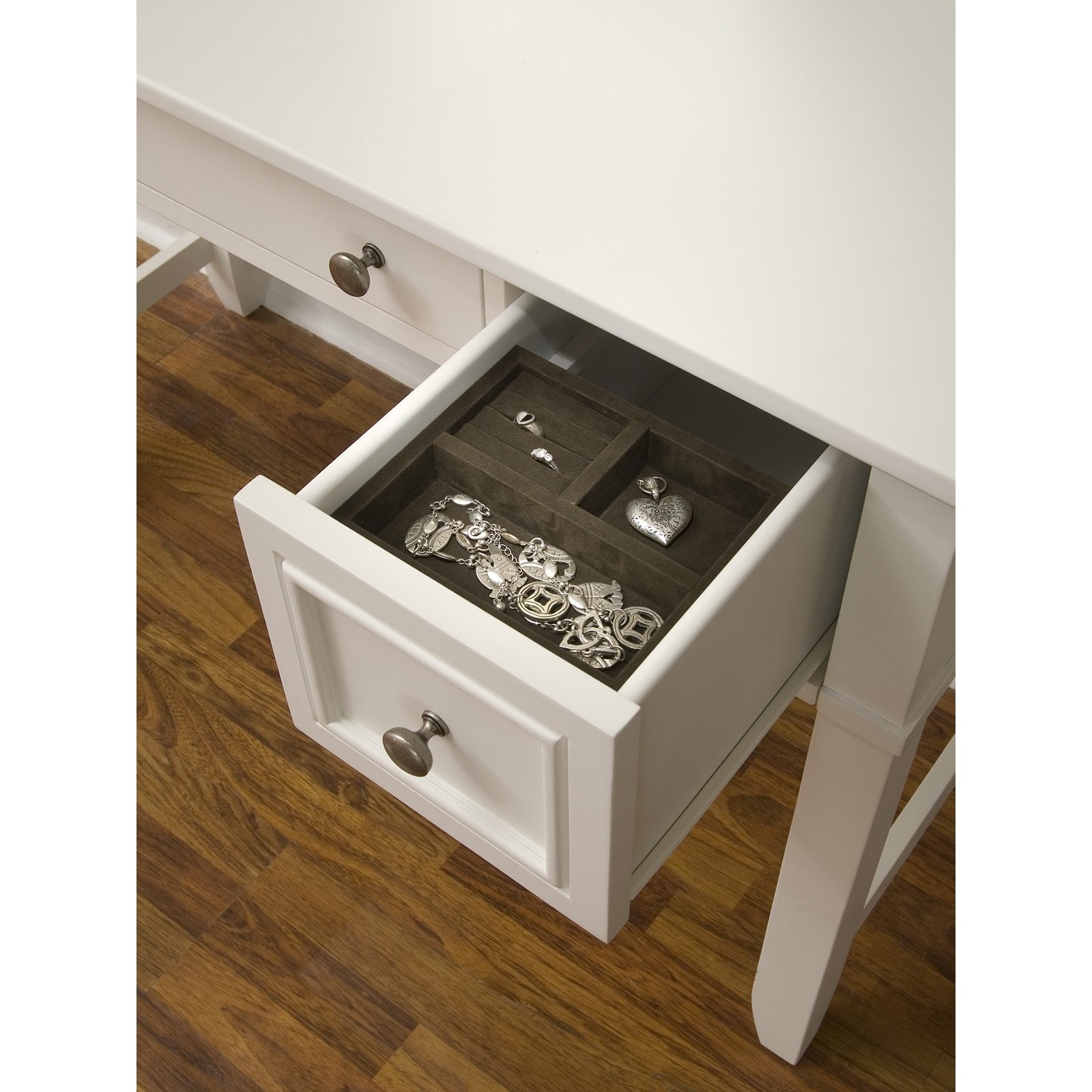 If you're looking for a way to spruce up your home décor while still adding some convenience, then this accent chair with a stunning antique oak and espresso finish will surely do the trick, especially since it's classy and comfortable.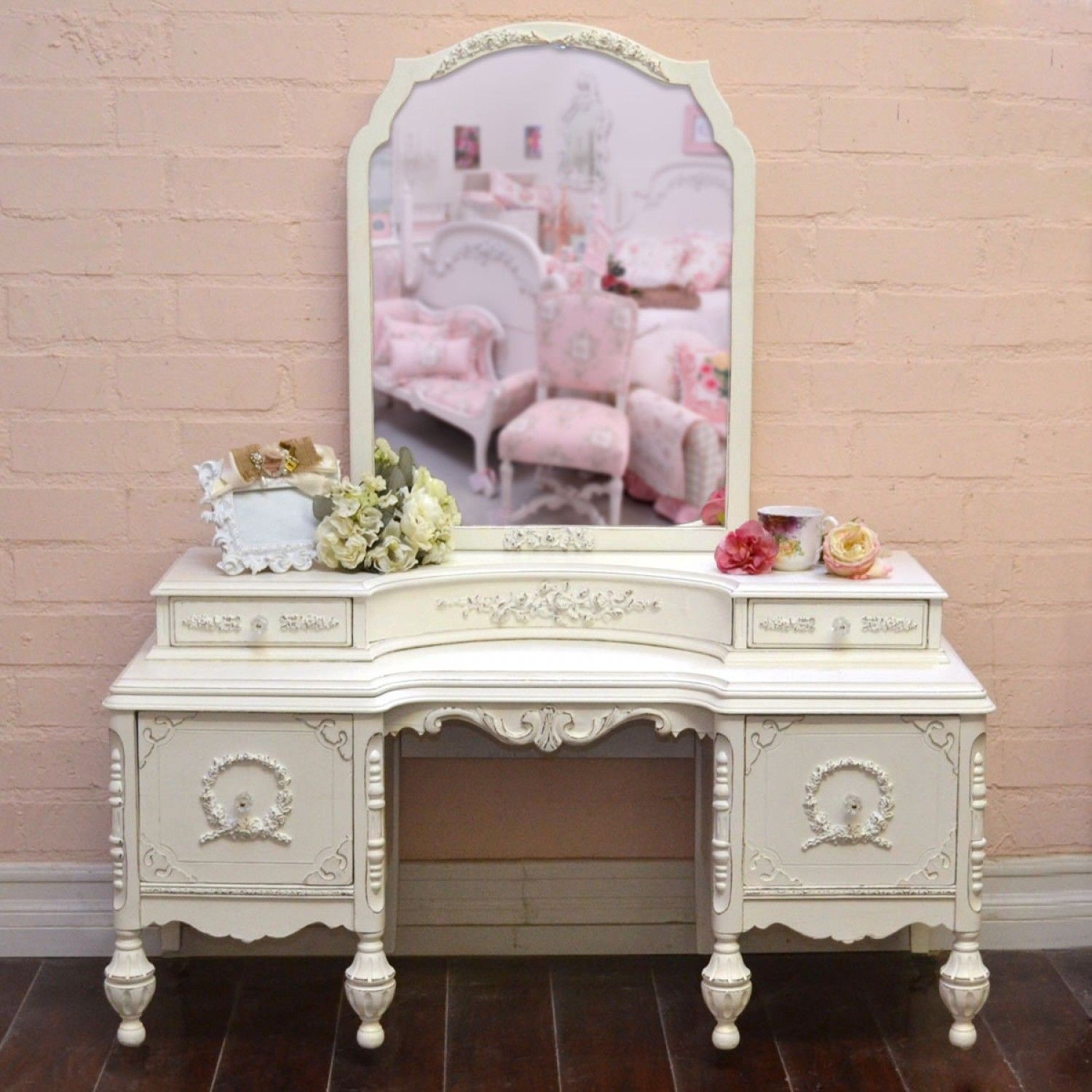 ... Vintage Vanity in White with Mirror mediterranean-makeup-mirrors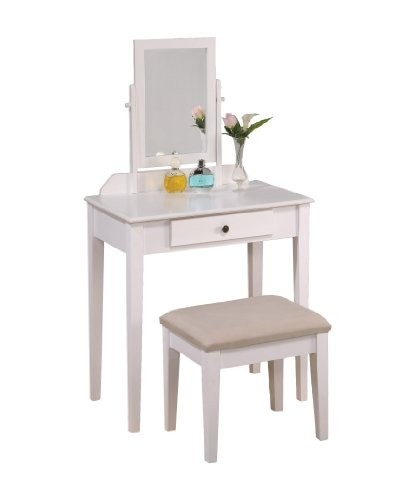 With the neutral white finish that adds a touch of elegance and charm to your interior this vanity with mirror and bench will become immensely useful for your home, allowing you to prepare with convenience in the mornings. Simply amazing! This stunning, gorgeous armchair is a perfect addition to a makeup cabinet with its stylized, jewelled back. One-of-a-kind, unique design and an amazing addition to any bedroom.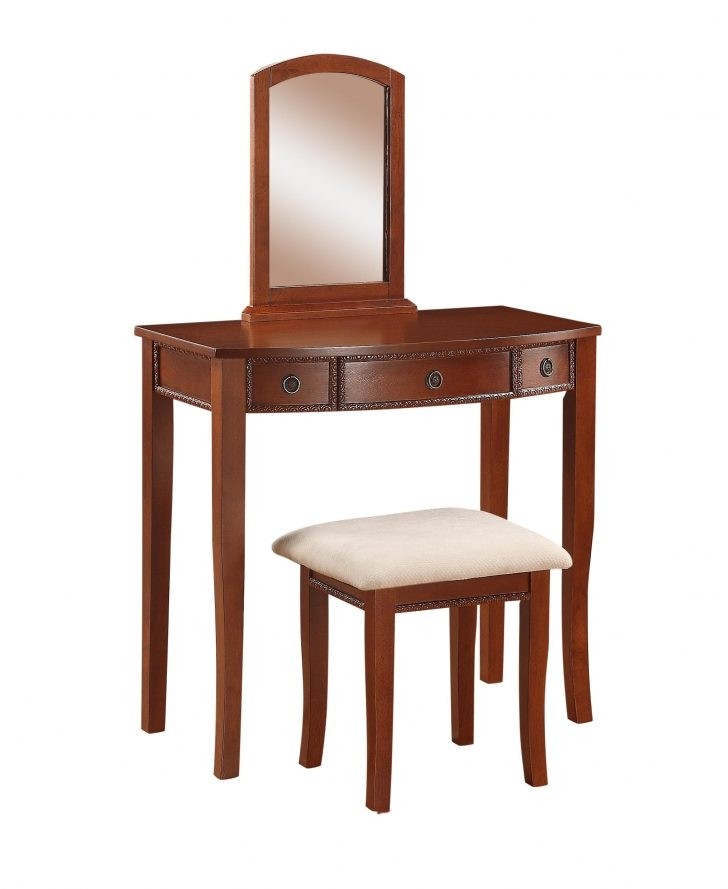 Crafted from wood in a rich cherry finish, this chic and classy vanity set with matching stool brings snazzy accents to any bedroom. Includes 1 rectangle mirror with arched top, a storage drawer, handsome legs, and a plush upholstered bench.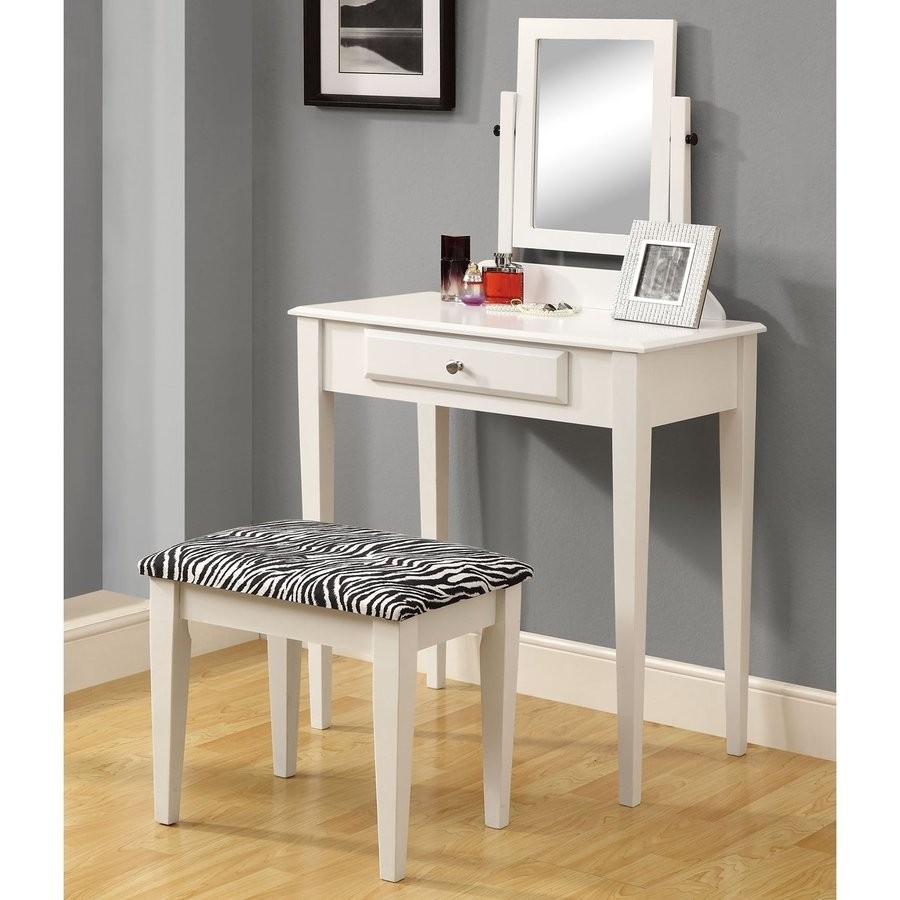 Shop Monarch Specialties White Makeup Vanity at