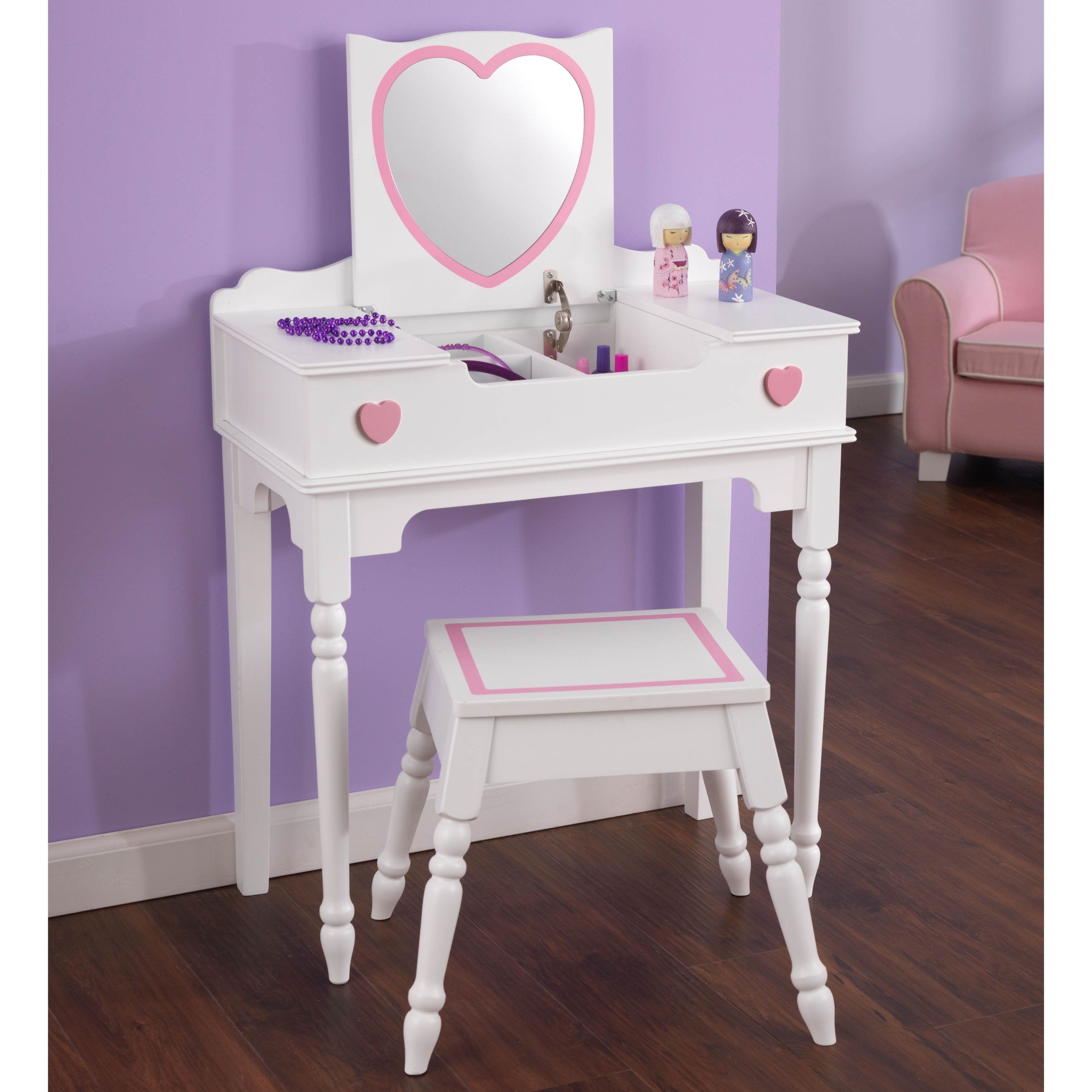 Now you can overflow your bedroom with feminine accents and graceful silhouette, thanks to this fabulous vanity set. Made of white-finished wood, the set is gorgeously adorned with pink hearts, offering a lift-up top with heart mirror that reveals a storage compartment, turned legs, and a matching stool.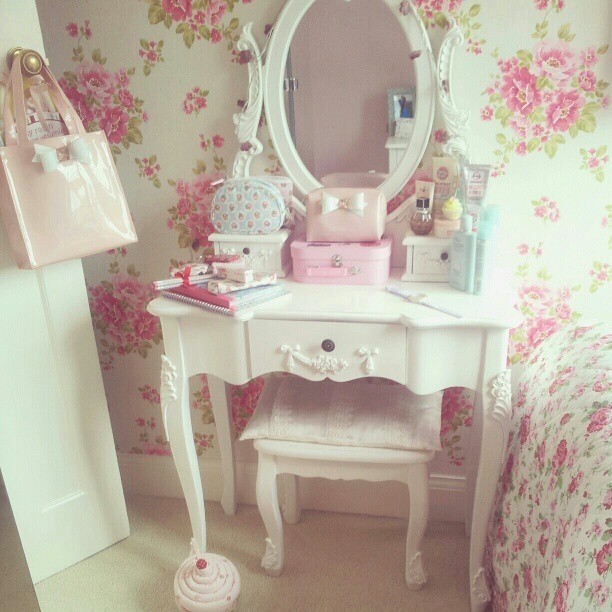 If you want your little girl to have a lovely vanity table as well then this piece is a perfect option with its charming white finish and ornate accents on the legs and fronts of the drawers, making for a perfect choice for any decor.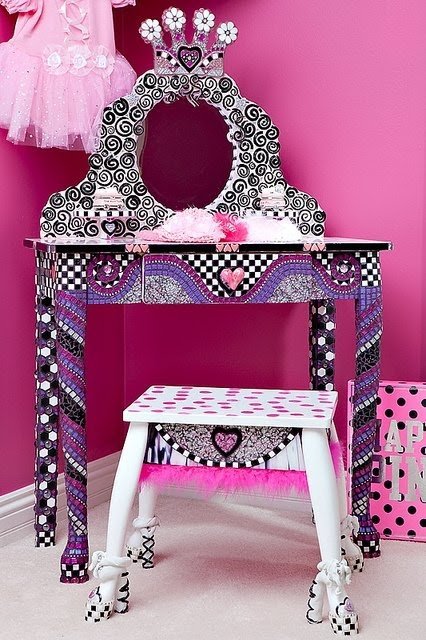 Beautiful vanity table perfectly designed for your little girl. The piece is relatively small and comes in a predominant white finish, touched up with elements of pink and black for the perfect balance. The piece is ideal for girls under the age of ten years.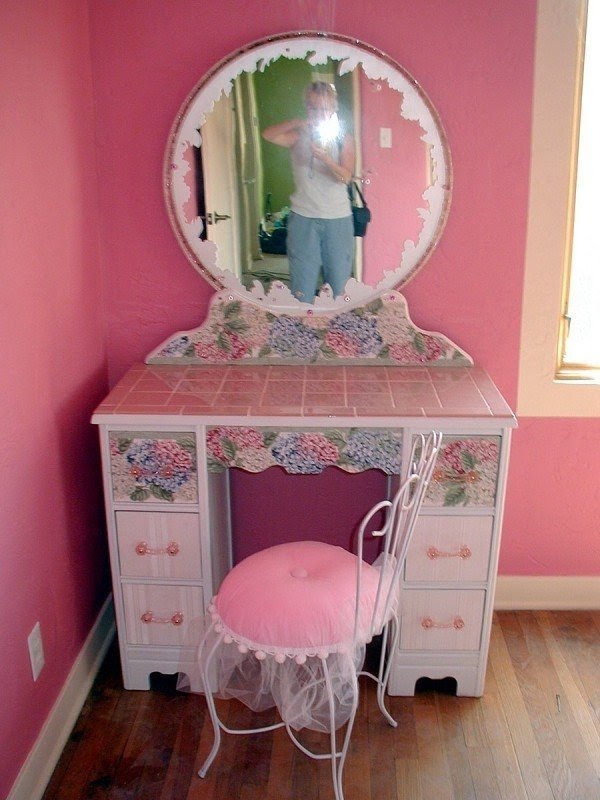 little girl's vanity by elljaye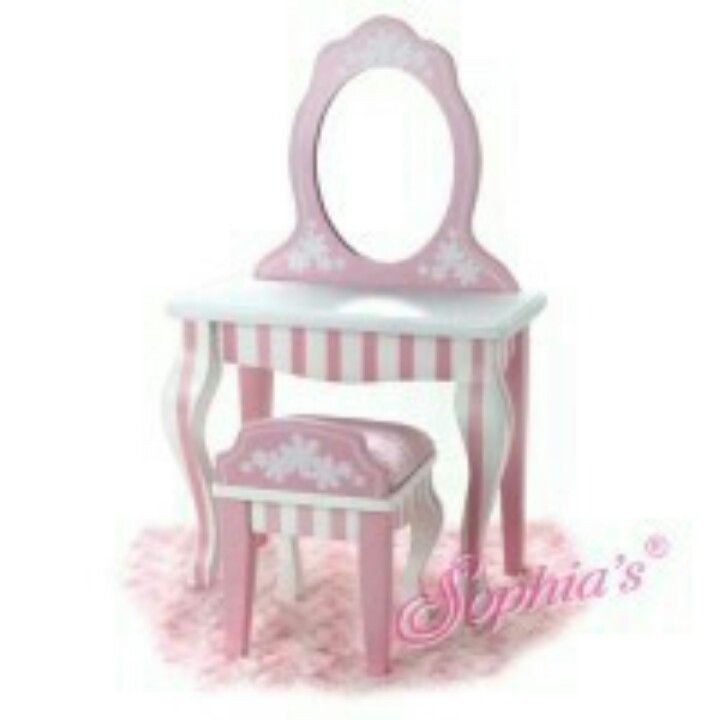 Lovely vanity set with oval mirror. It is made of wood and decorated with striped pattern. Stylish accent for any little girl's room according to taste.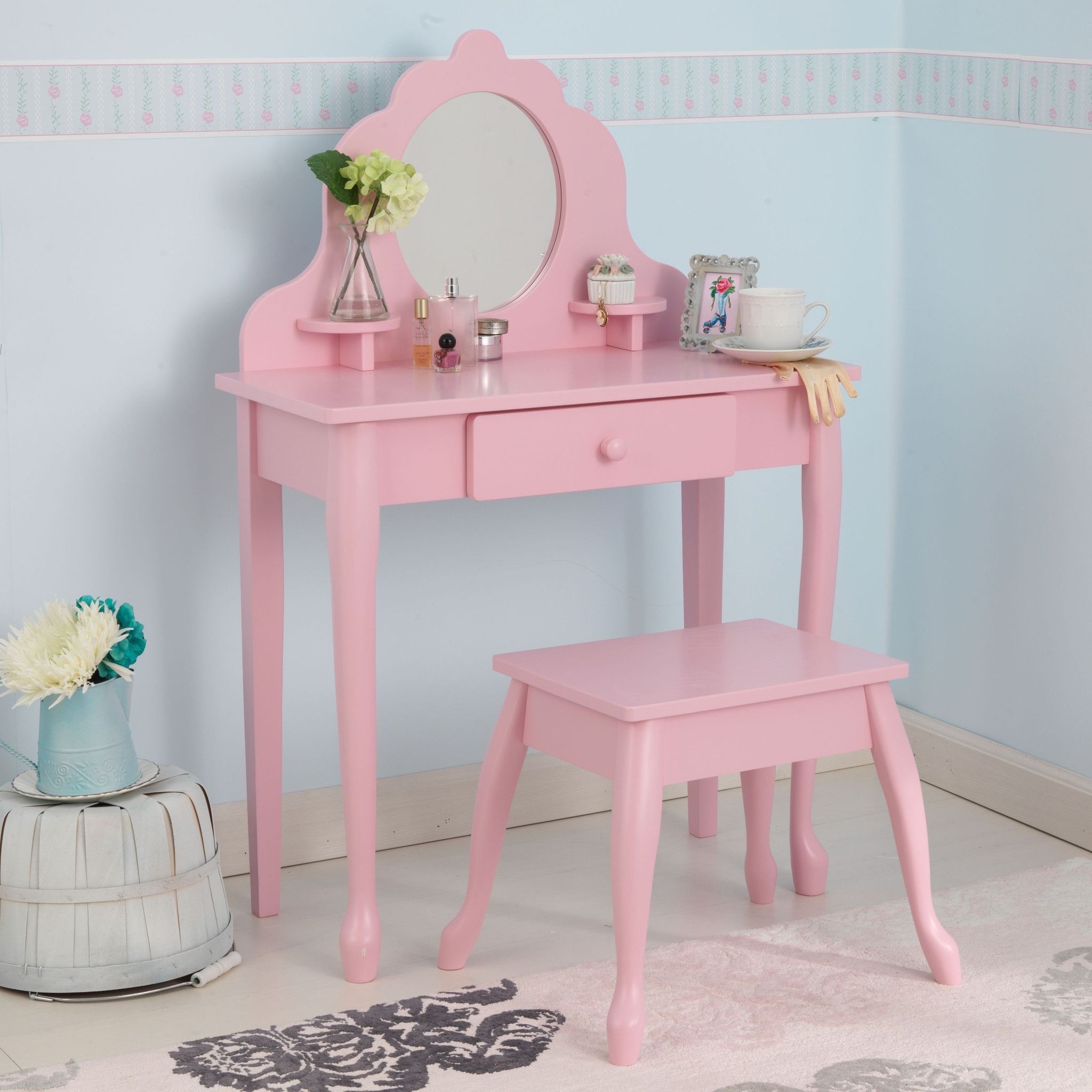 The lovely vanity girl set is a charming way to get an interesting touch to a little lady's room. Beautiful colors and details in the form of a mirror, drawer and matching stool delight. Pastel roses will appeal to every little woman.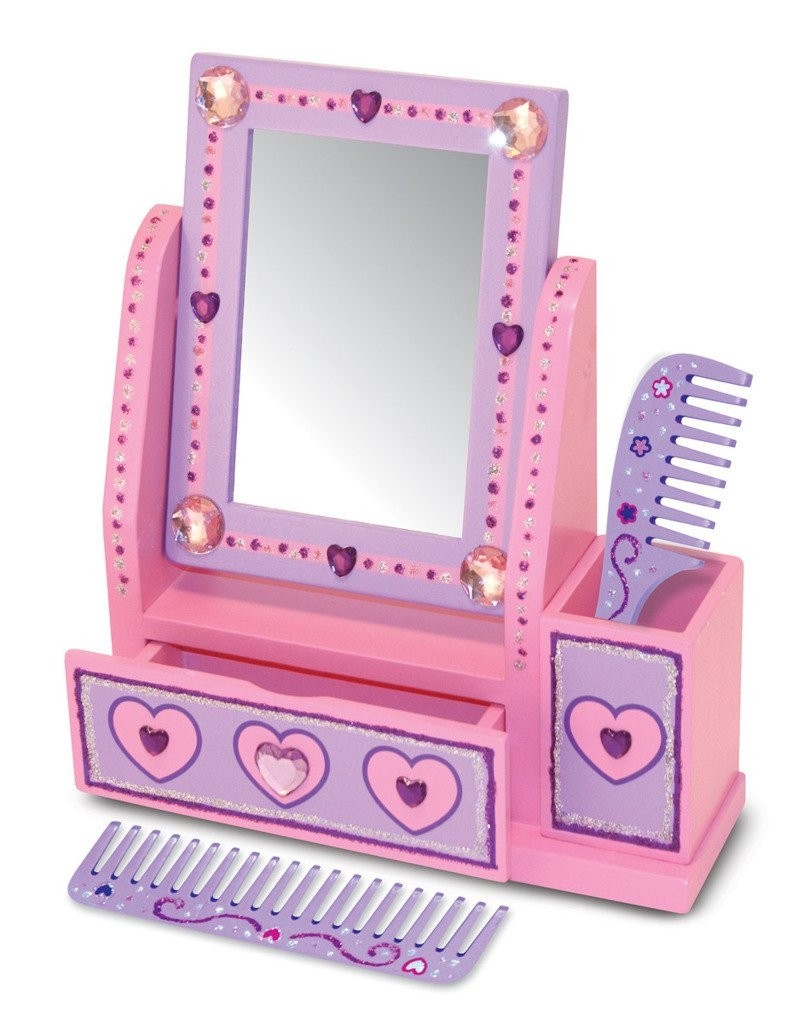 Durable wooden vanity set for girls. It includes a small mirror and two combs. All elements of this vanity set are finished in attractive colors that are ideal for girls. This set also includes a small drawer under the mirror.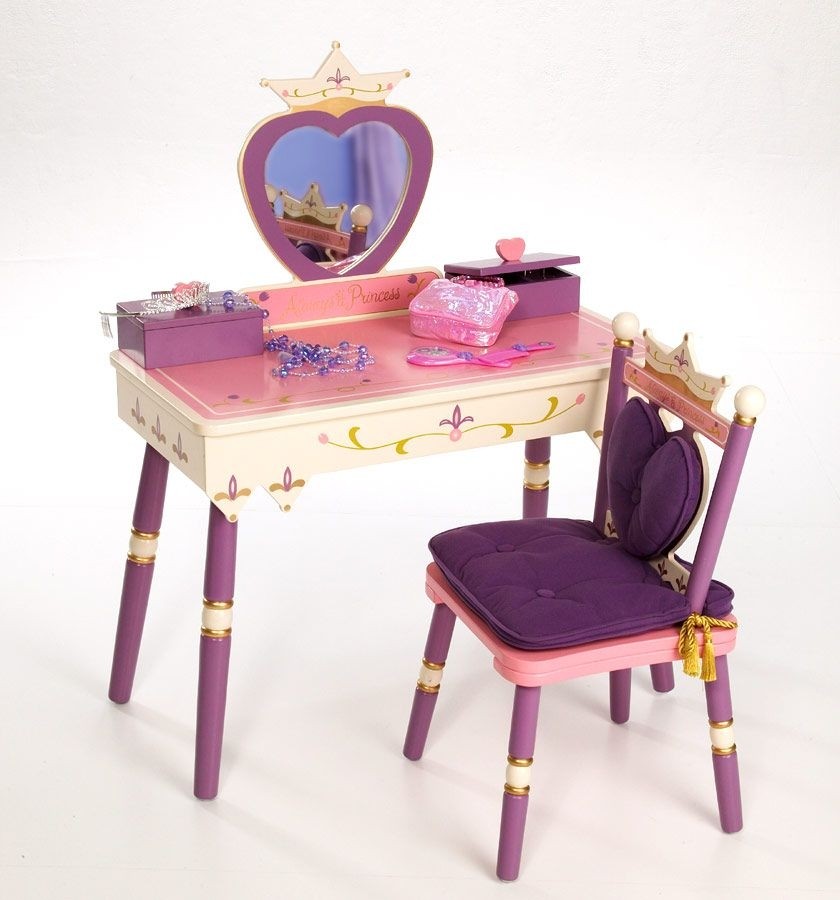 Thanks to this adorable vanity set, the room of your little princess will be swimming in feminine accents and a lovely mix of pink, cream and purple. The set is wood crafted and adorned with gold accents, offering 1 table with a heart-shaped mirror, and 1 matching chair with a button-tufted seat cushion and a heart-shaped back cushion.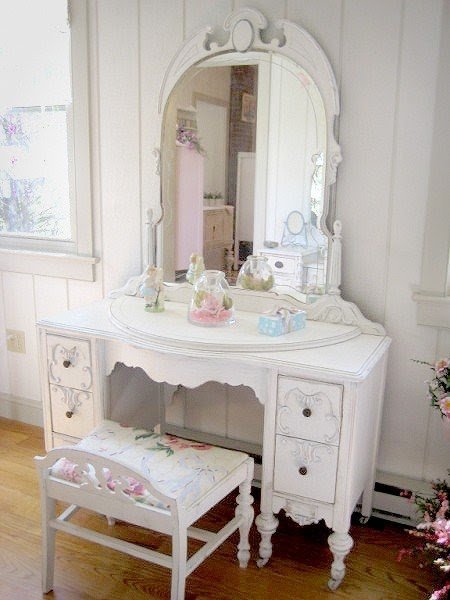 Vanity table in the French style. It is made of wood with antique finish. Includes mirror and 4 drawers for storing needed items. Stylish addition to the bedroom and others interiors according to taste.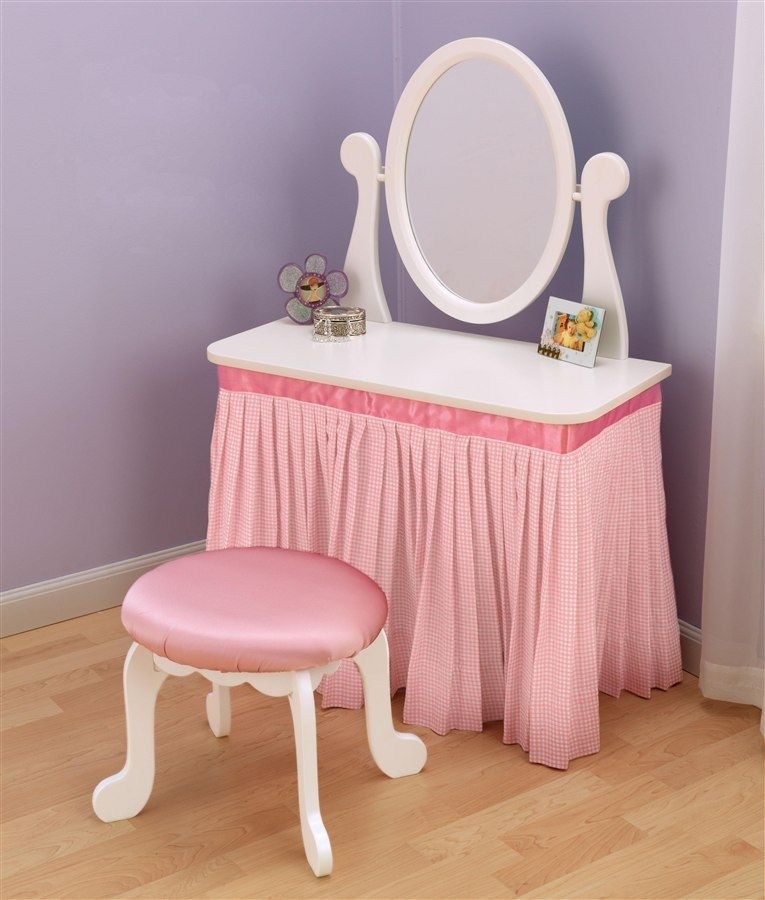 pretty vanity to play dress up. Love it for my little ones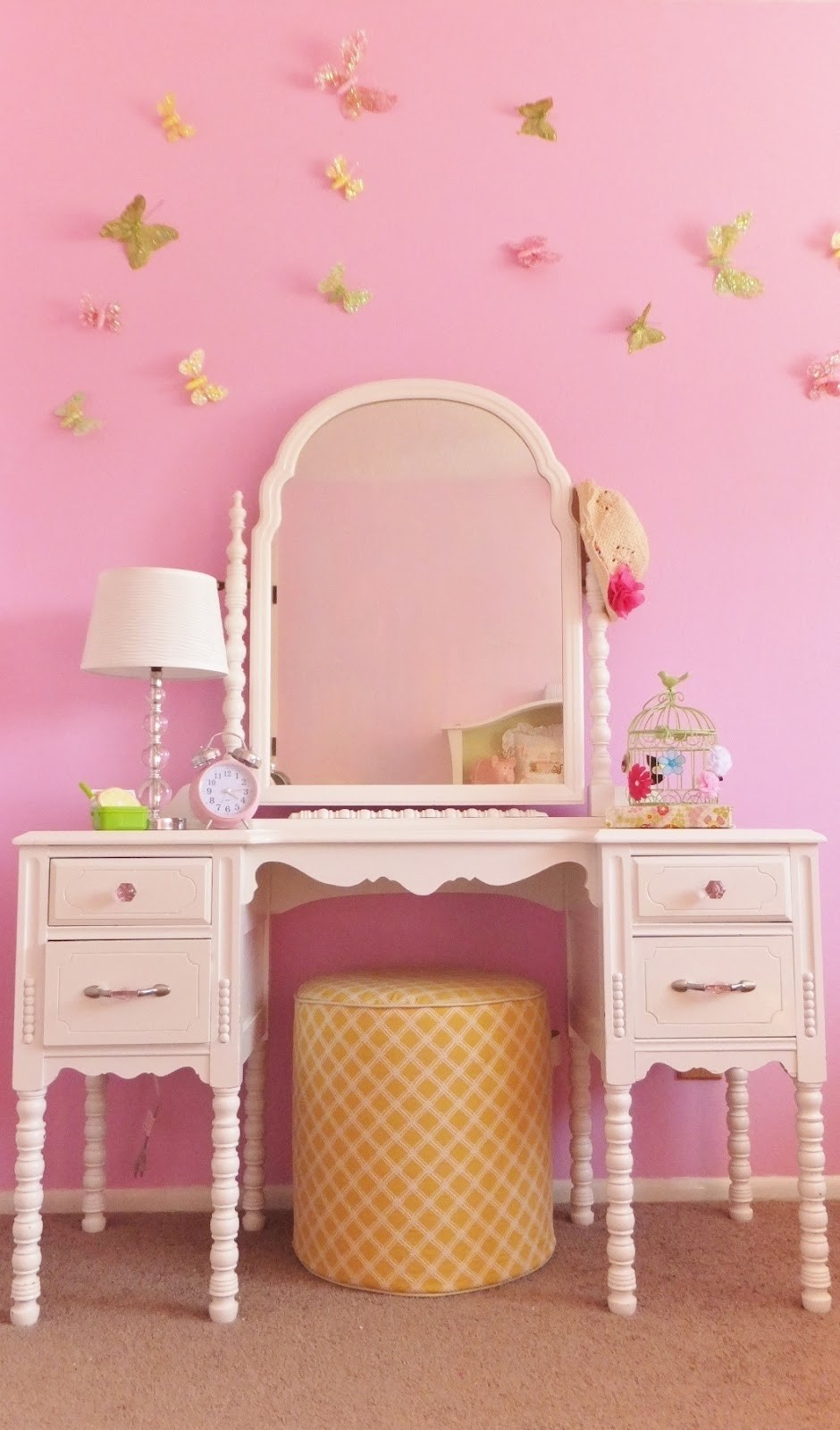 little girls room reveal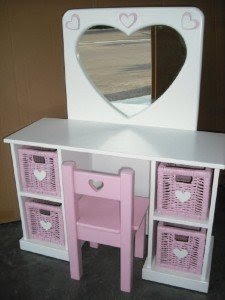 little girls vanity table and chair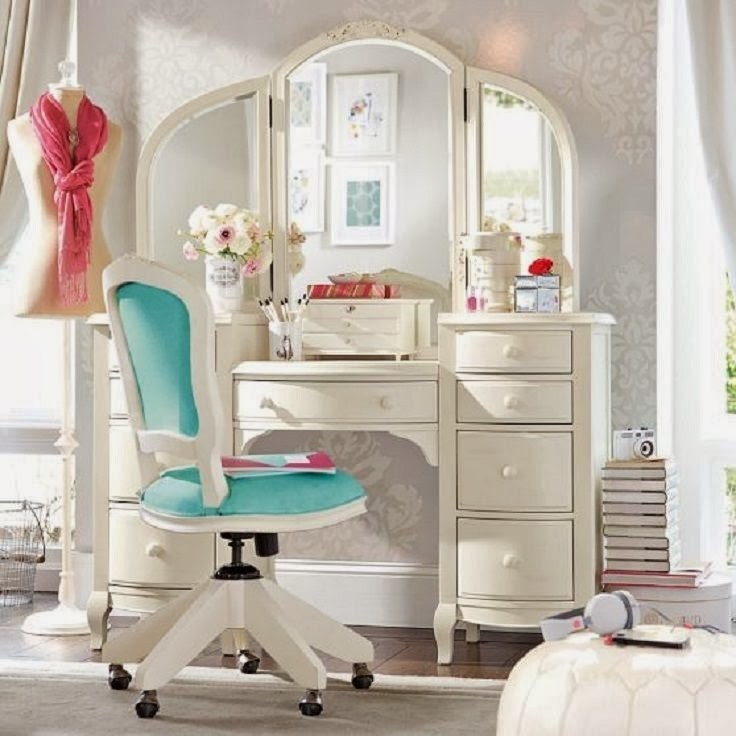 Vintage setup for a traditional bedroom with a sophisticated vanity desk fitted with a winged mirror. The desk is made out of white painted wood and finished off with a matching office chair with blue upholstery.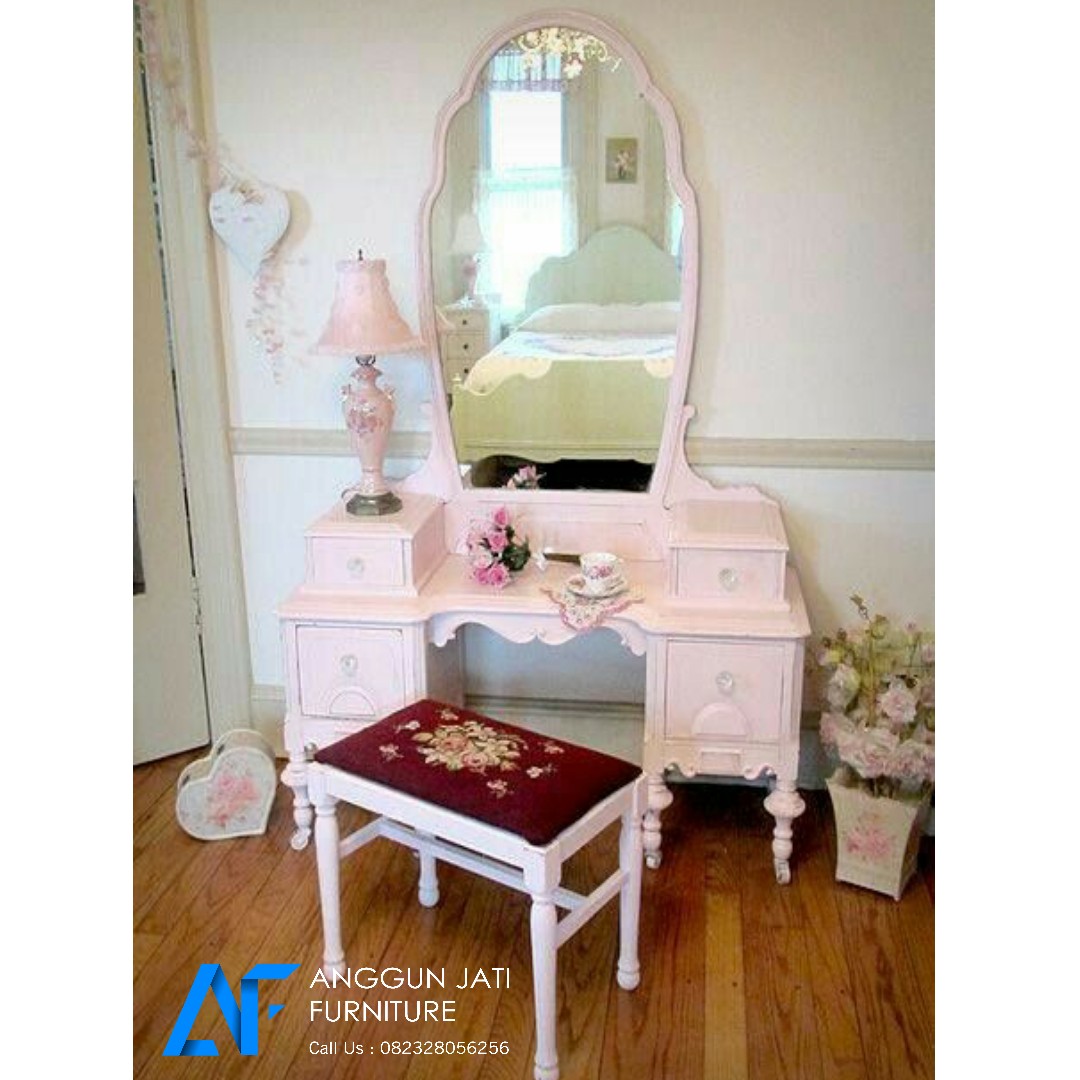 Beautiful Antique Pink Vanity. You see these all the time in dark wood. But a little paint makes such a huge difference. Any girl would love it!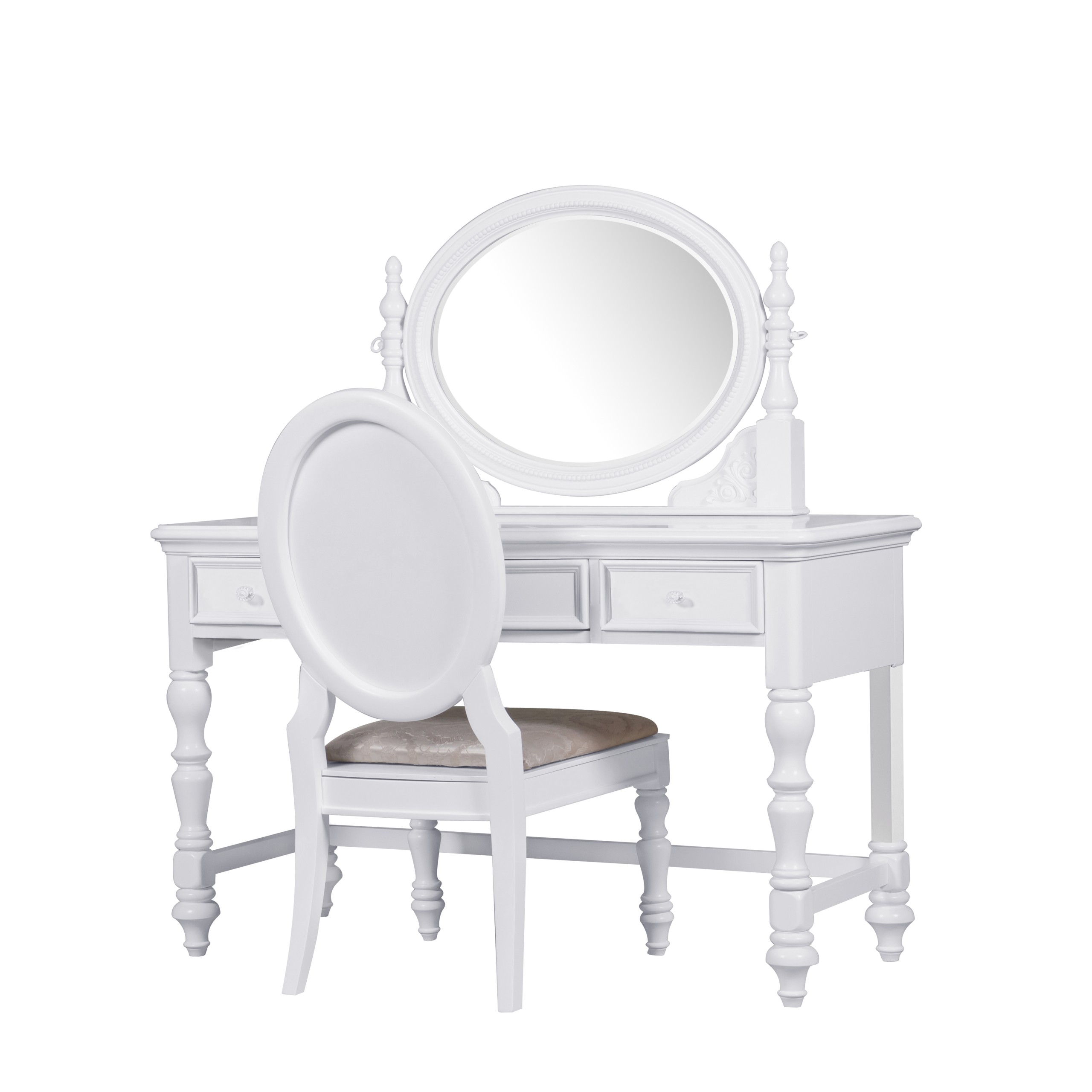 Sweet Heart 3 Piece Vanity Set
The perfect vanity....a must have!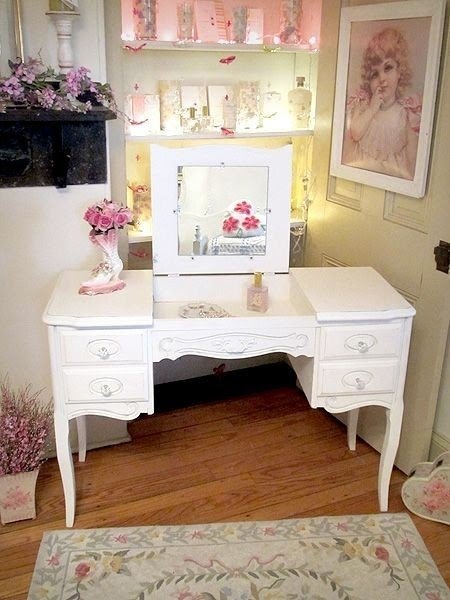 ... Vanity Desk. I would have loved this when I was a little girl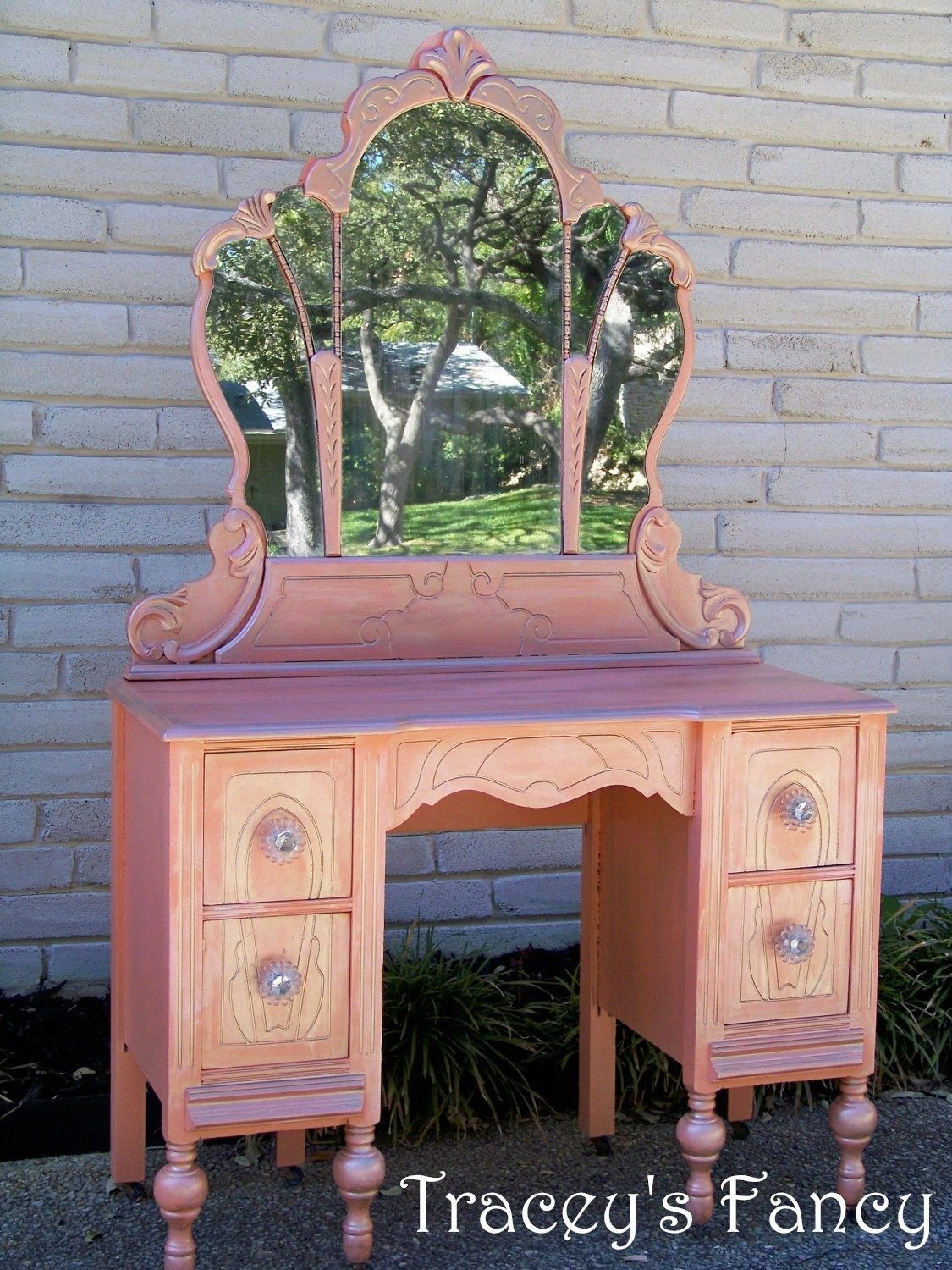 Vintage Cottage Vanity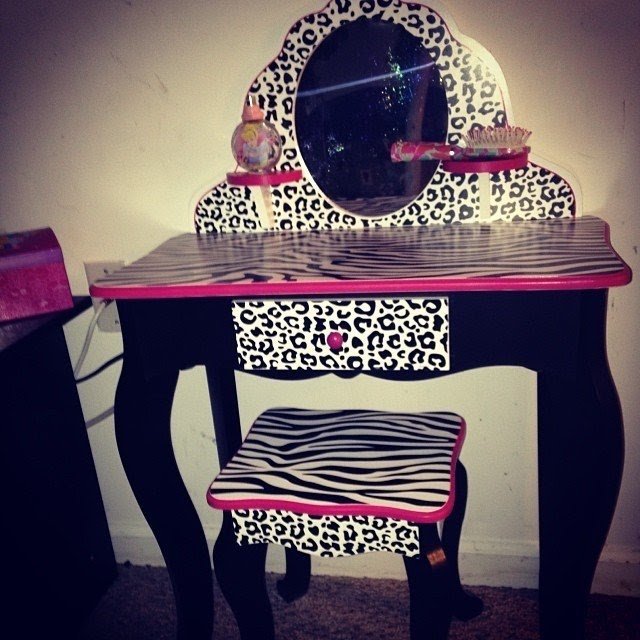 Adorable Little Girls Vanity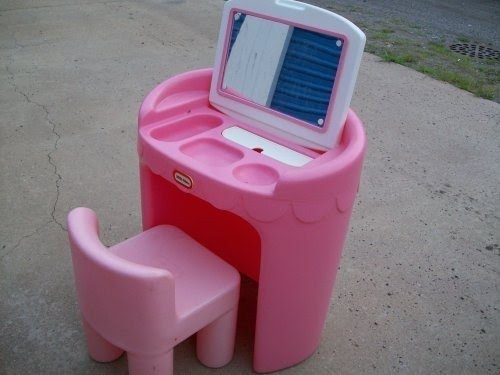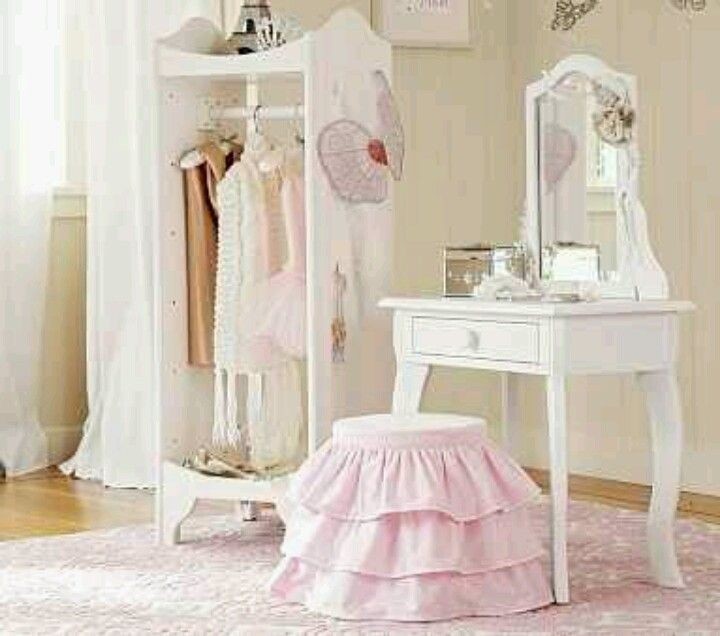 Lovely vanity table and stool dedicated for kids. Includes mirror and drawer for storing personal items. It is mounted on wooden frame. Stool is covered with fabric and finished with decorative frills.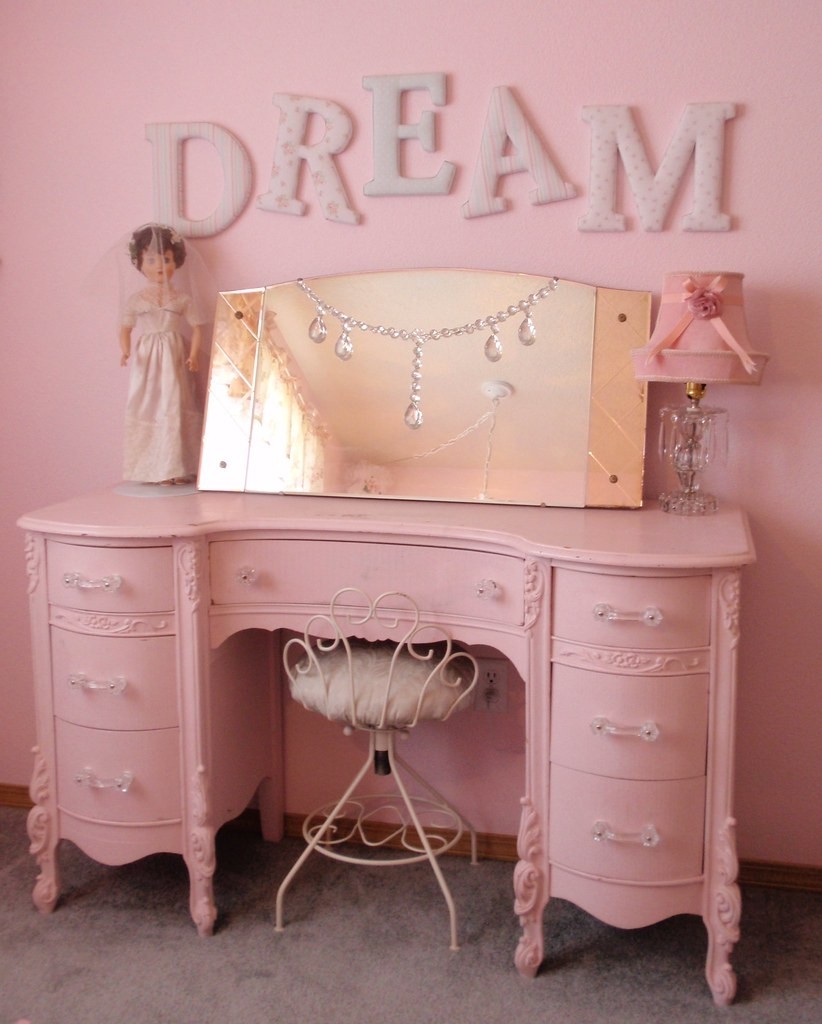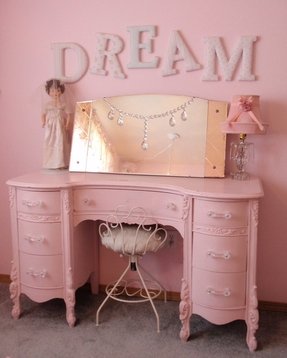 Simply Shabby Chic DREAM letters & pink vanity dresser by eg2006, via Flickr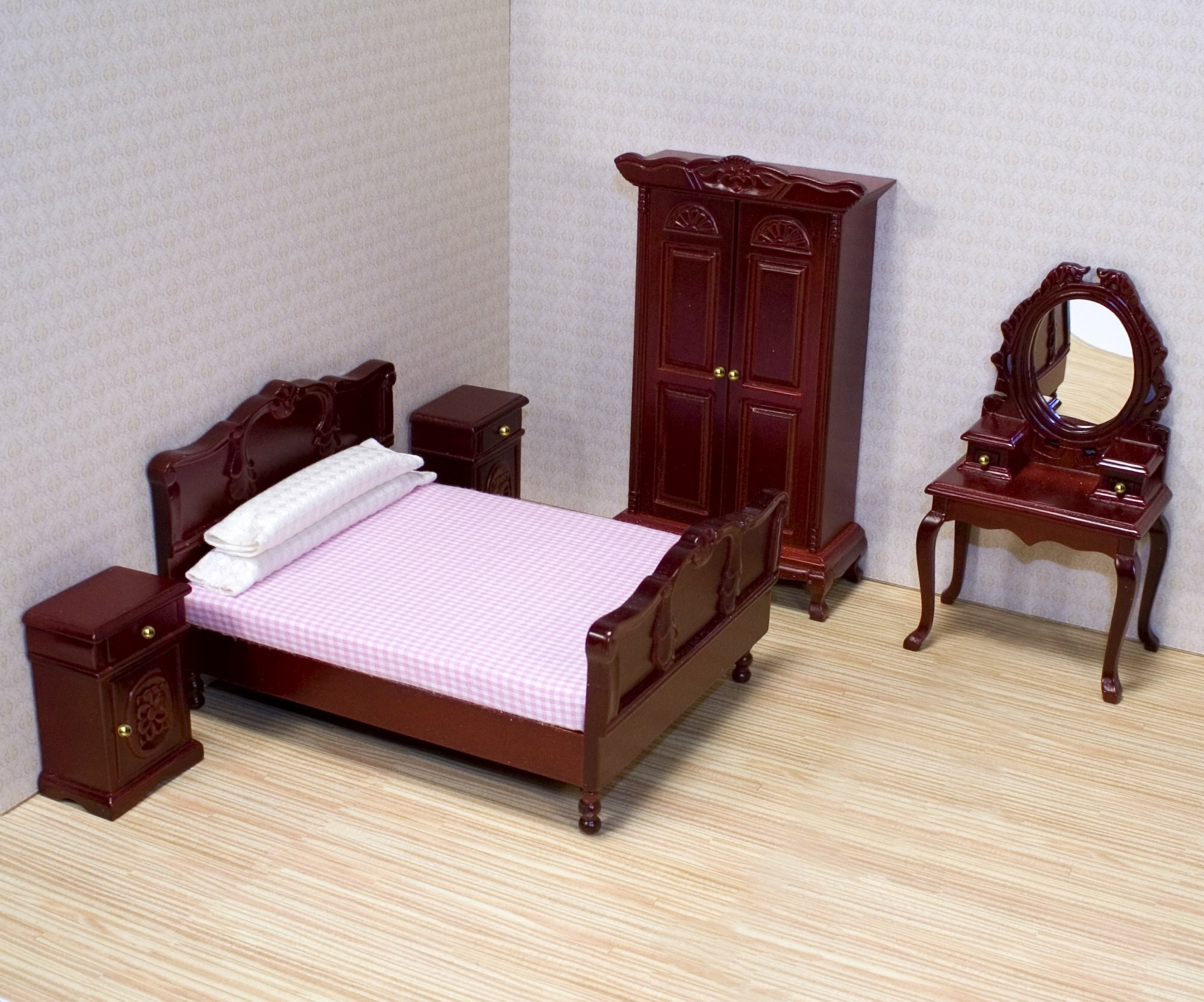 It is a beautiful set that includes bedroom furniture for your doll house. They have got an elegant and stylish design and looks amazing. It is a great fun for your kids. You need to have it.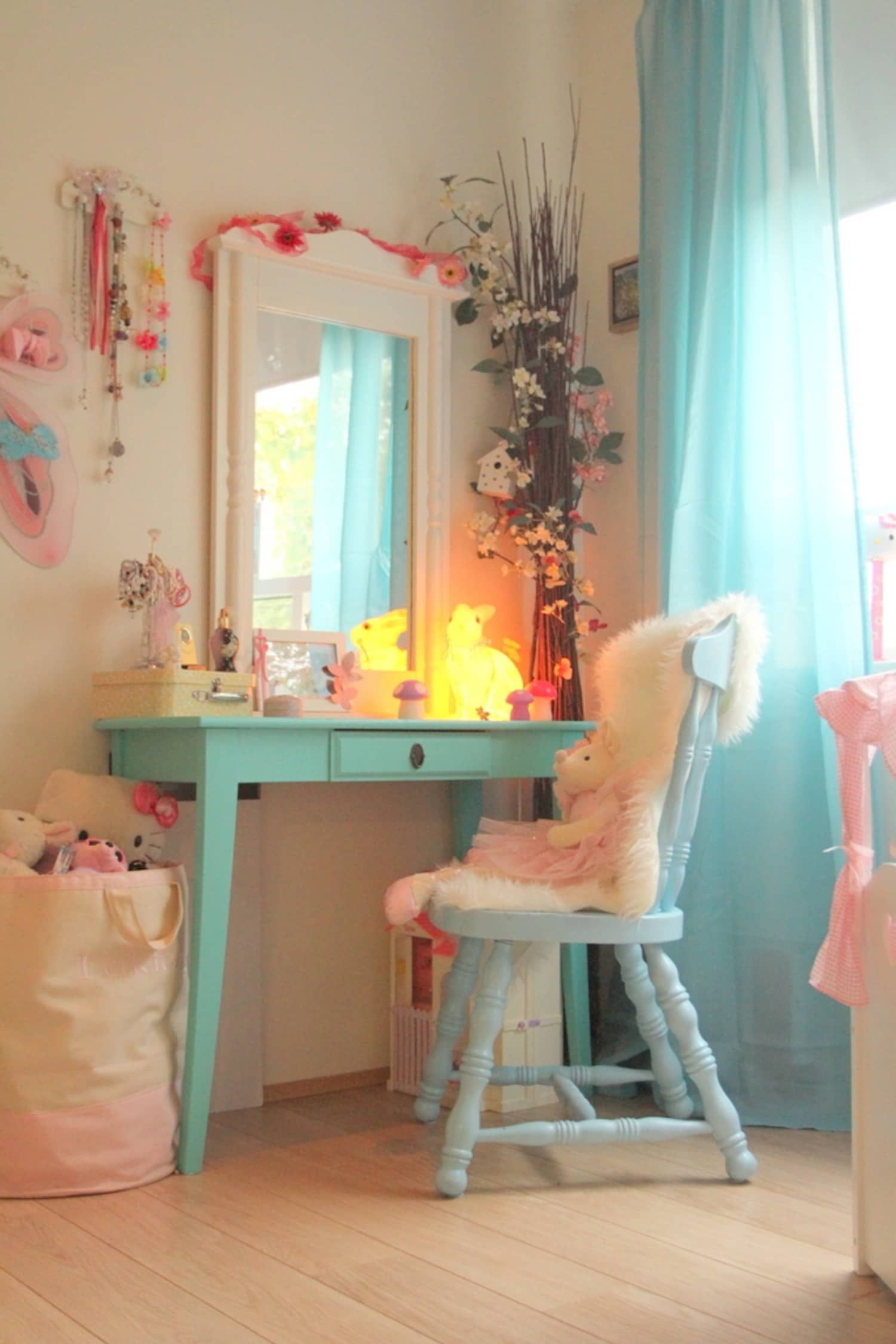 Eerst als kaptafel later als bureau door spiegel te vervangen in letterbakjes en plank voor leesboekjes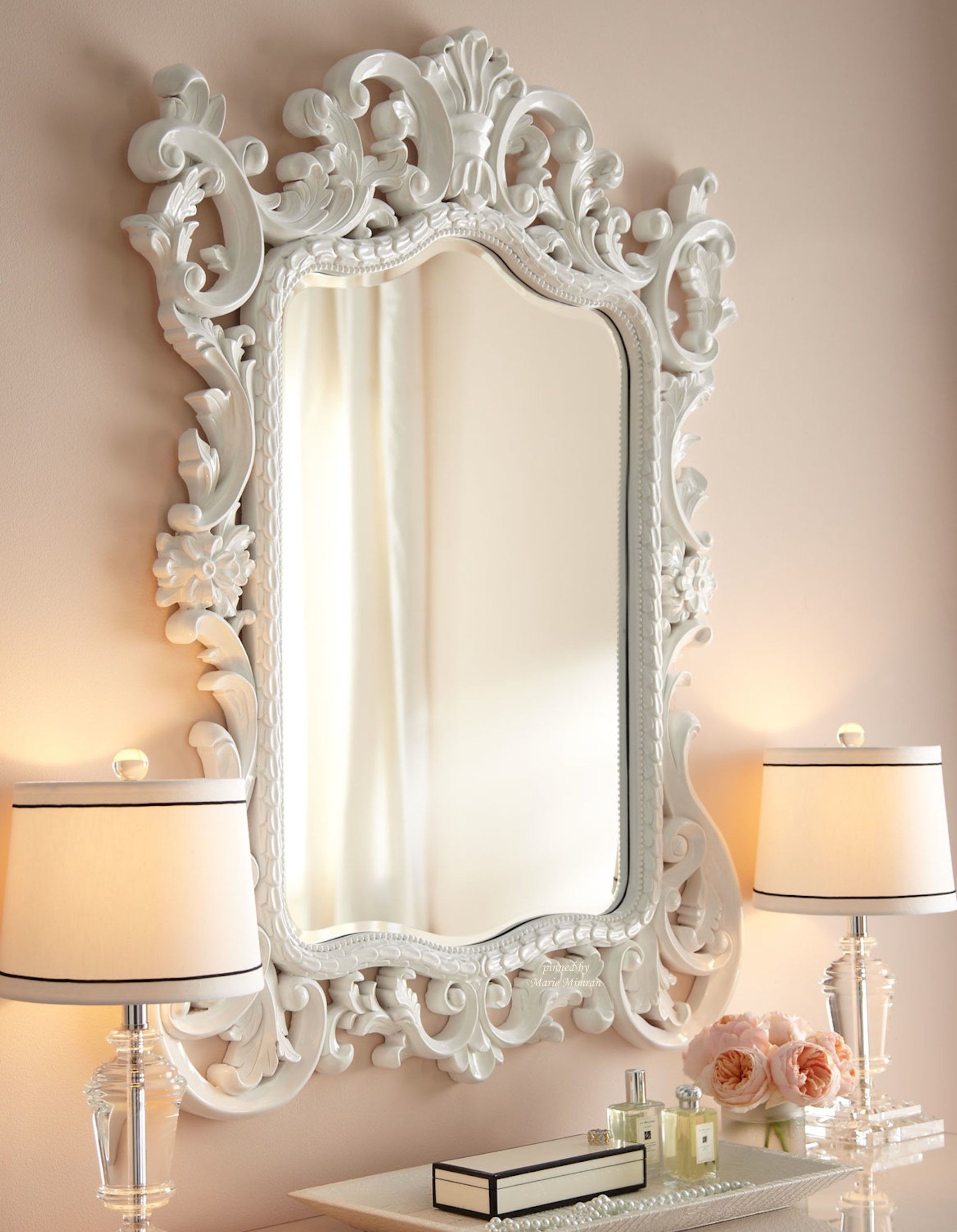 Blush walls + gaudy white mirror - I would love this them in my little girls nursery!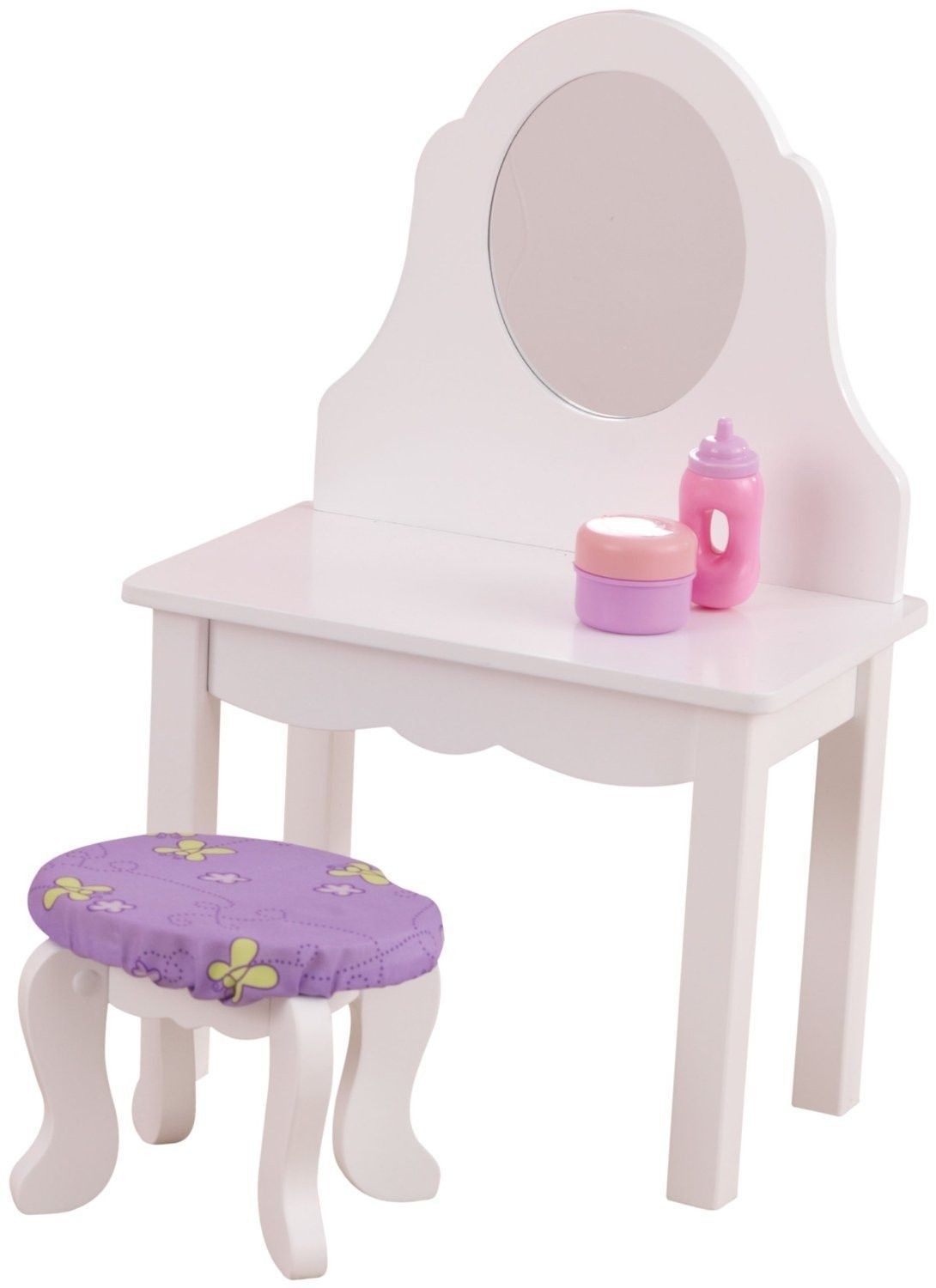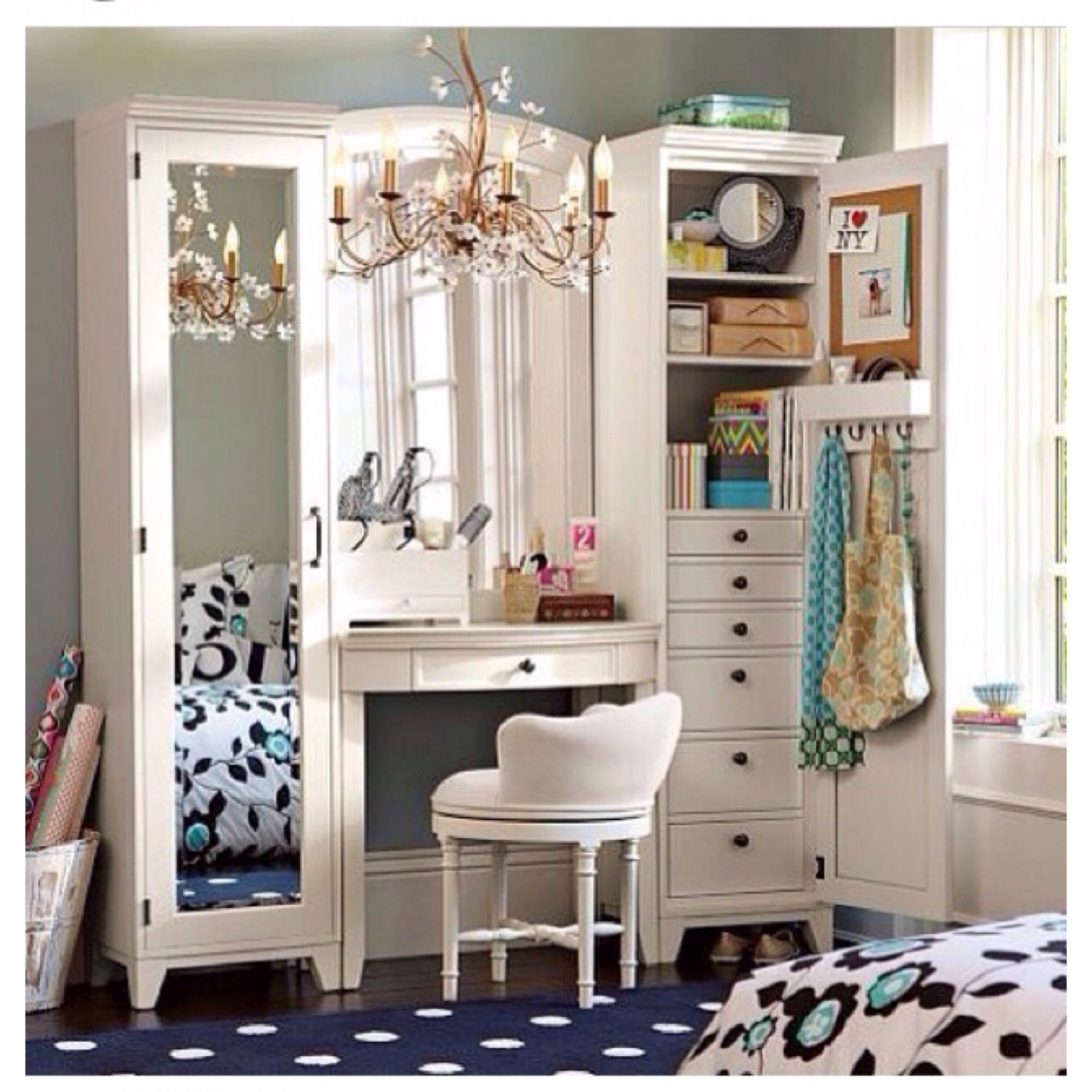 With its gently arched silhouette, this vanity desk for girls will be a lovely addition to any girl's bedroom. Its sleek, white finishing creates a timeless appeal, fitting well into most of the decors.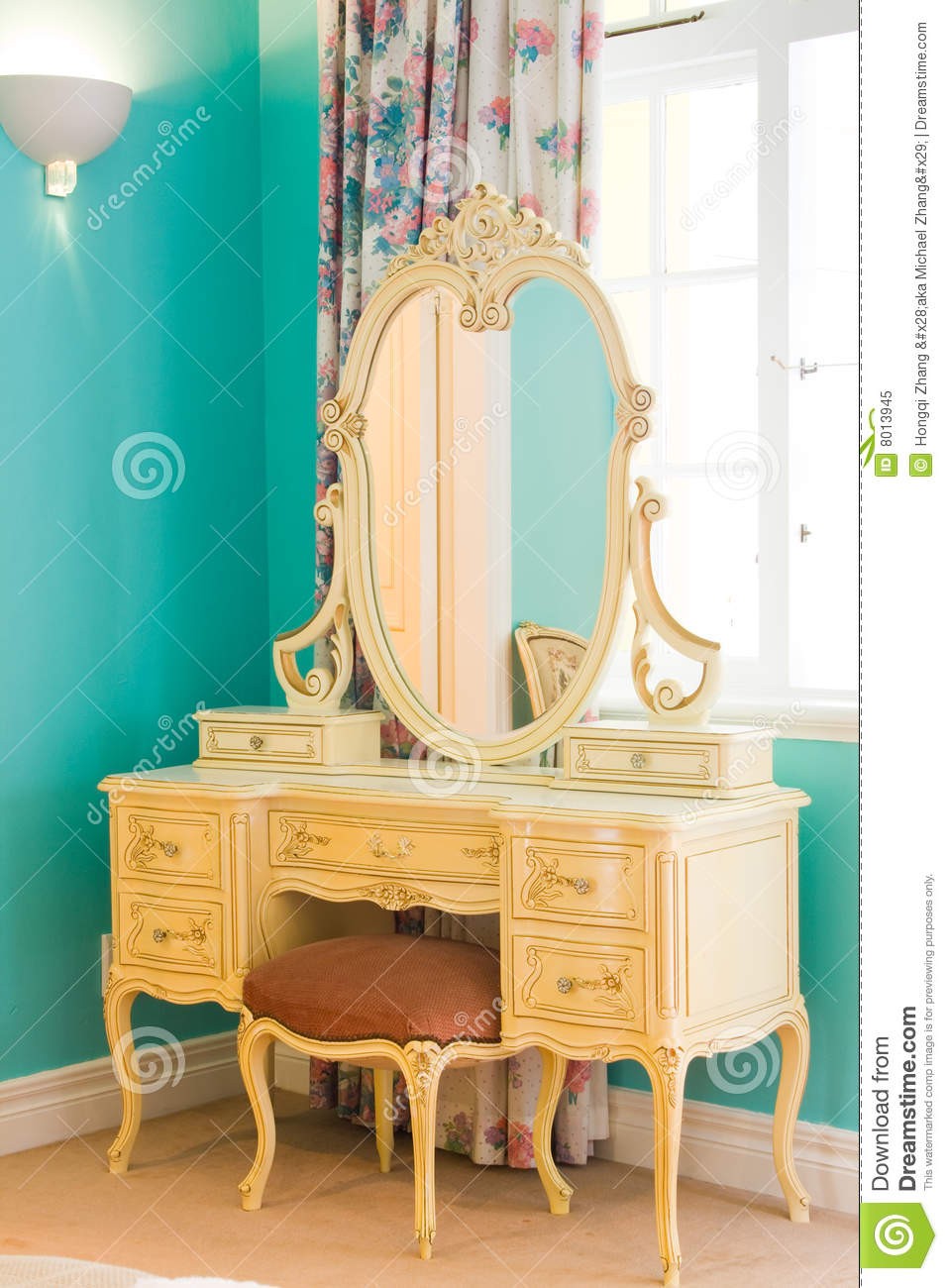 A beautiful classic style vanity table for girls. It's of wooden materials in creams. A table features a recessed central part, drawers with decorative floral motifs and handles, curved legs. An oval mirror has a frame with scrolls and a top crown.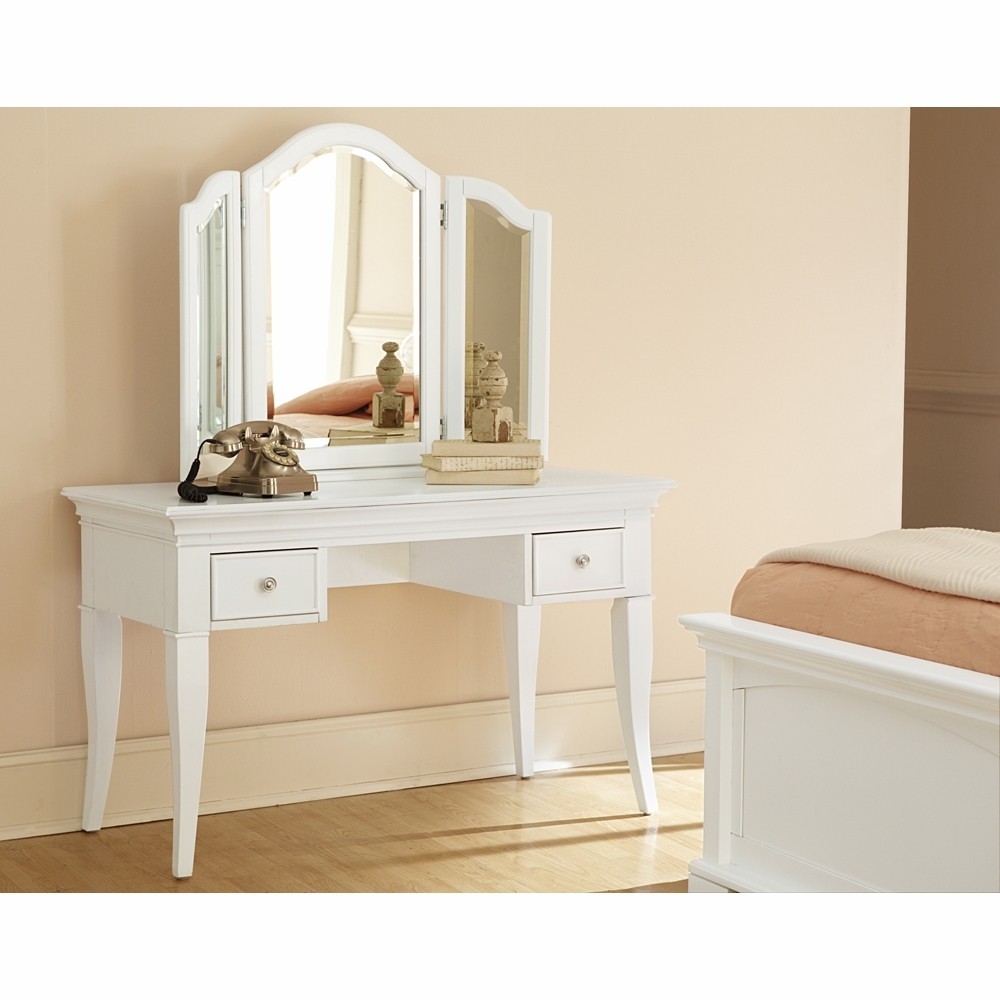 Walnut Street Vanity Set with Mirror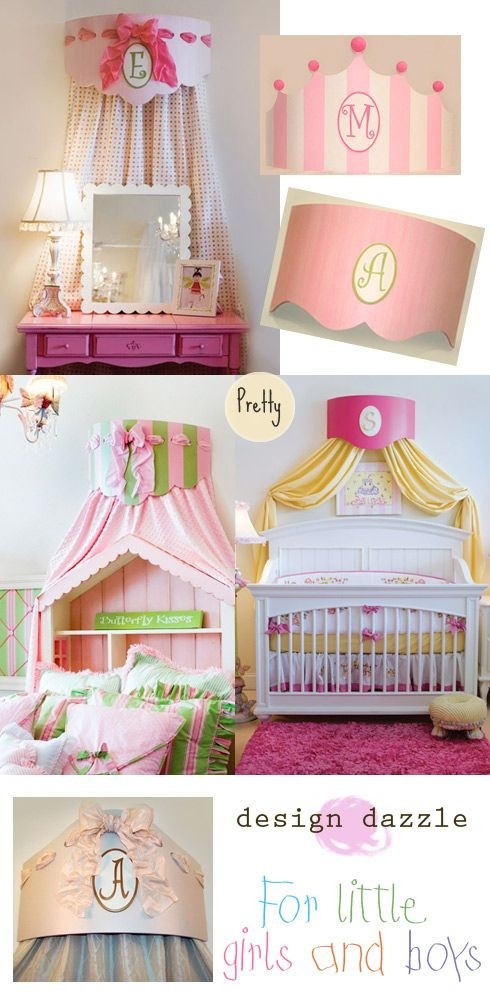 bed room vanity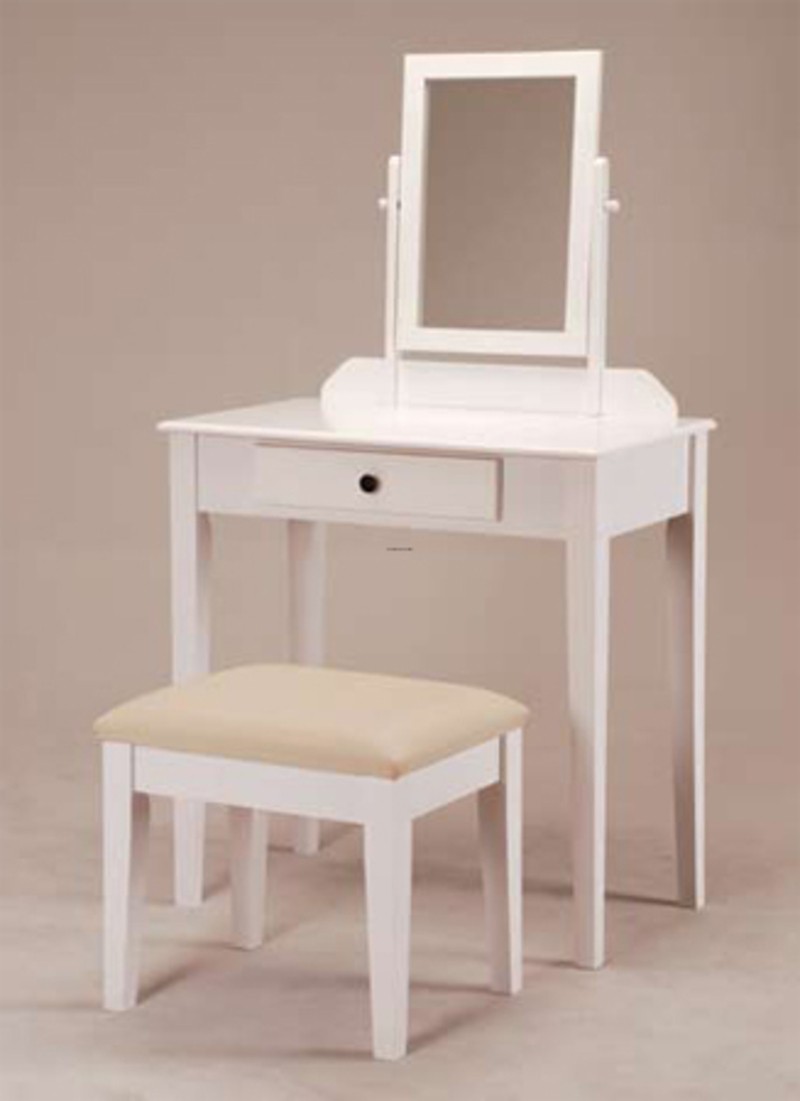 Oozing with elegance and feminine silhouette, this beautiful vanity set is wood-made and white-finished. Includes a stylish table with a movable rectangle mirror, a glossy top, 1 small drawer with black pull-knob, tapered legs, and a matching stool with beige fabric seat.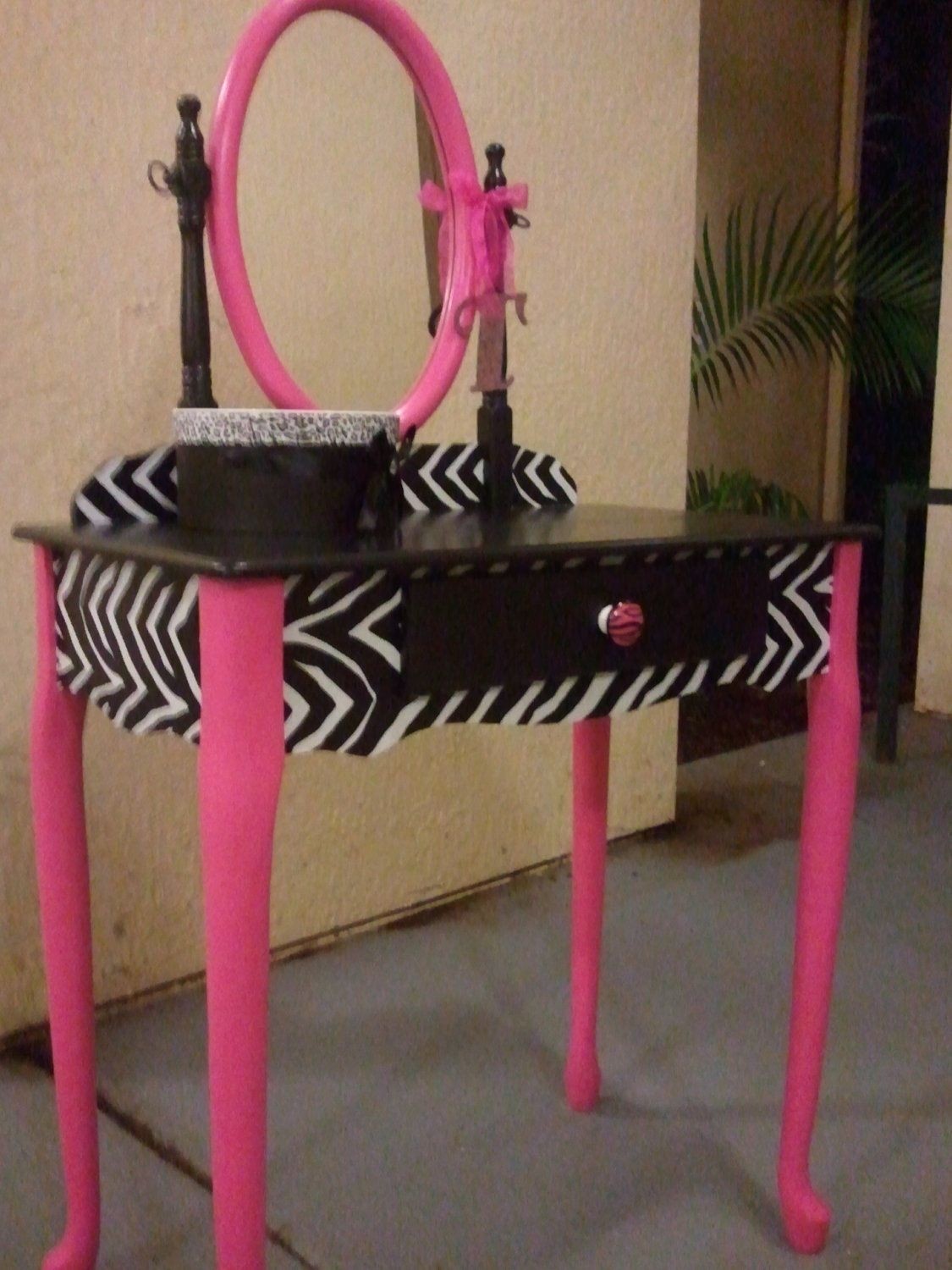 all she has ever wanted her own little vanity! must make it happen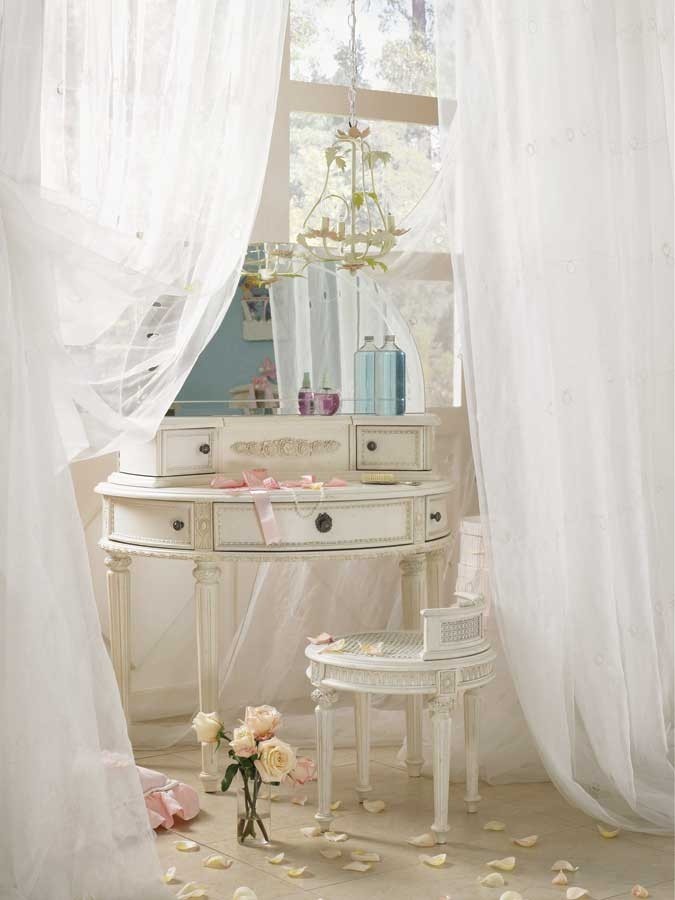 dressing table...gauzy curtains...natural light...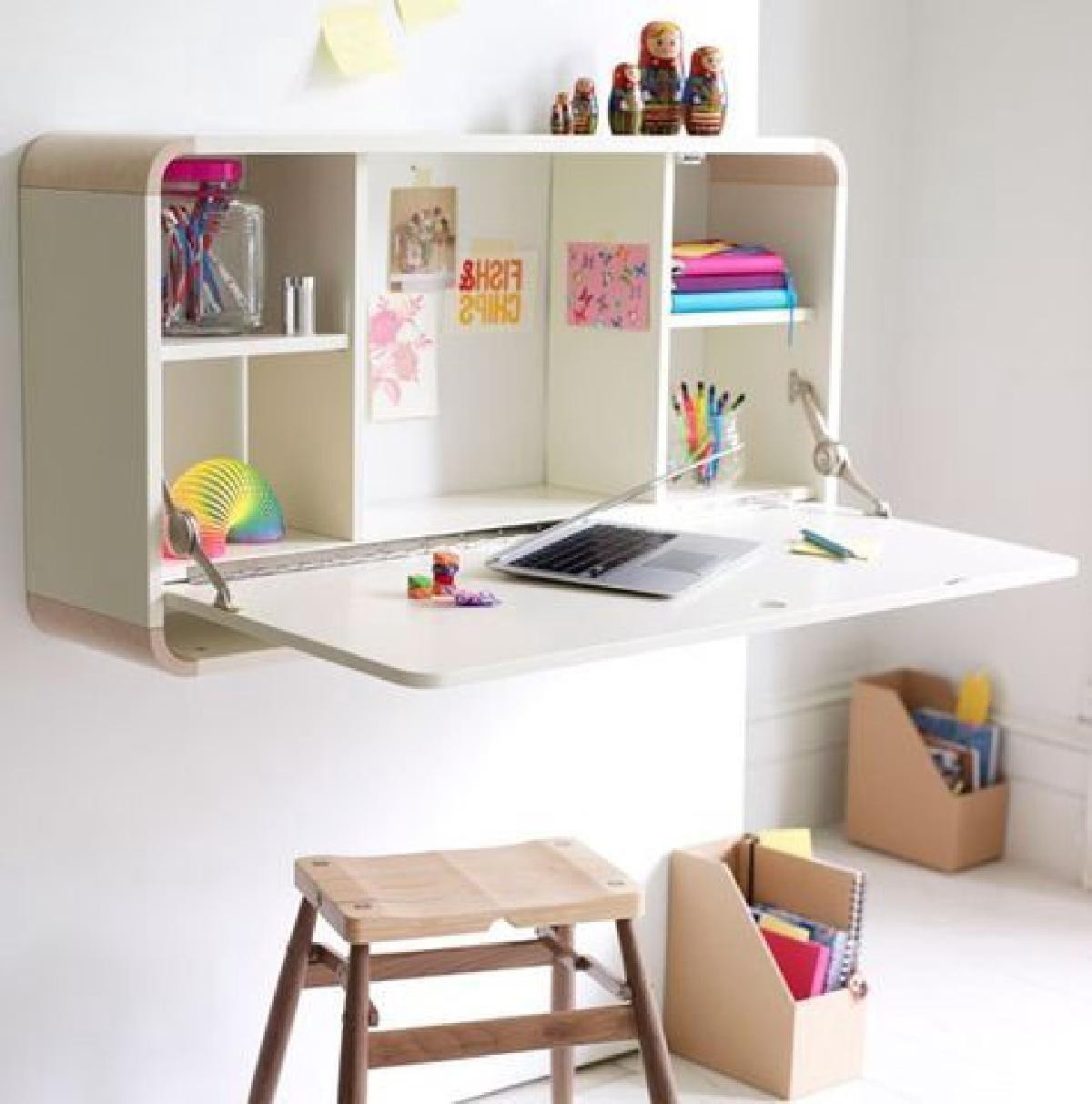 When we no longer want to muddle the floor of a child's room - where there will always be an artistic mess - a suspended girls desk vanity with a bookcase can be used. Made of hardwood and veneer board with white color. It has no sharp but rounded edges.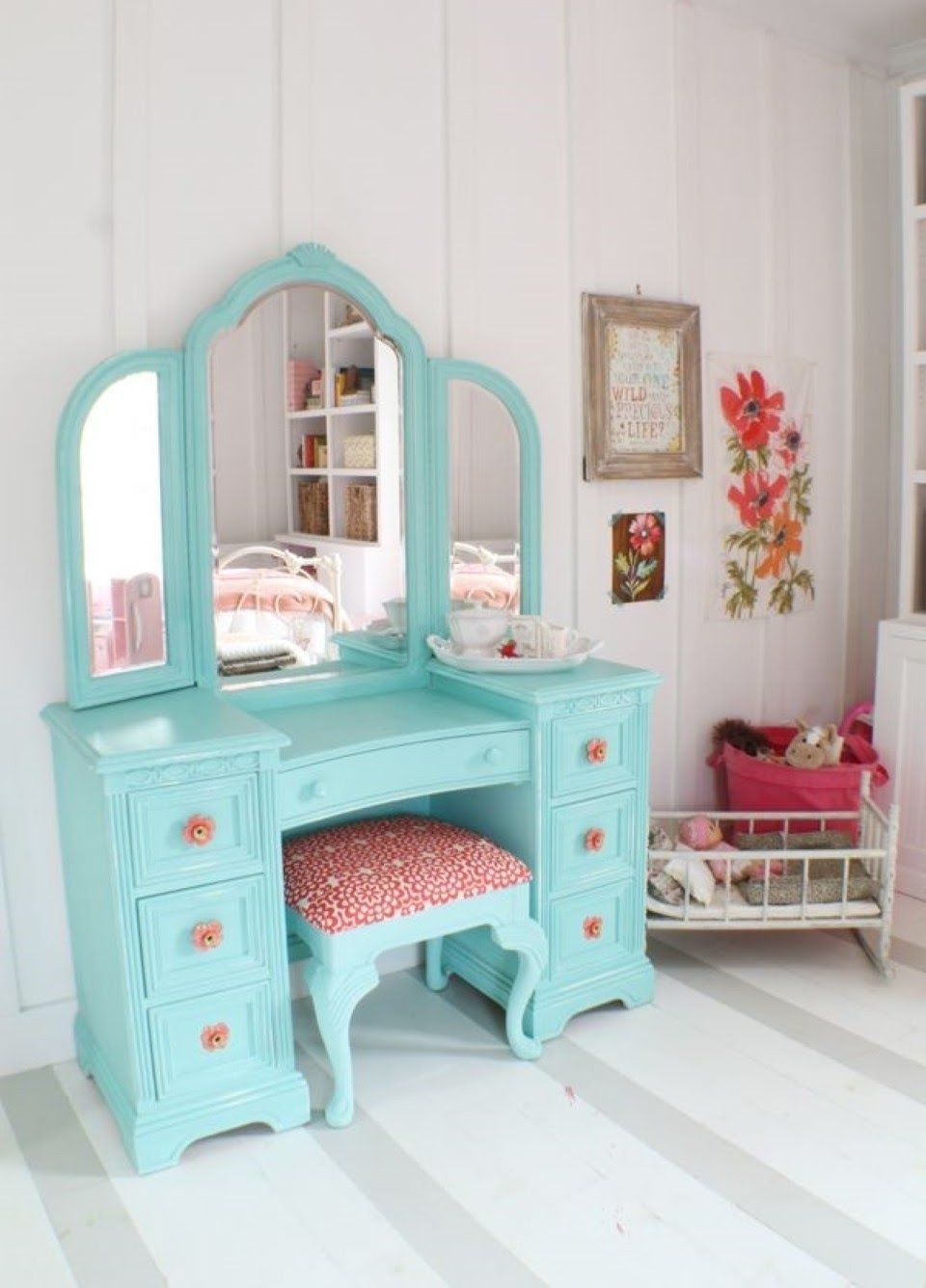 A chic traditional dressing unit of wooden materials painted in a light blue shade. A bit recessed top (with a drawer under) is flanked by 2 slightly taller 3-drawer chests (with flower-like pink pulls). A mirror has wings and an arched frame.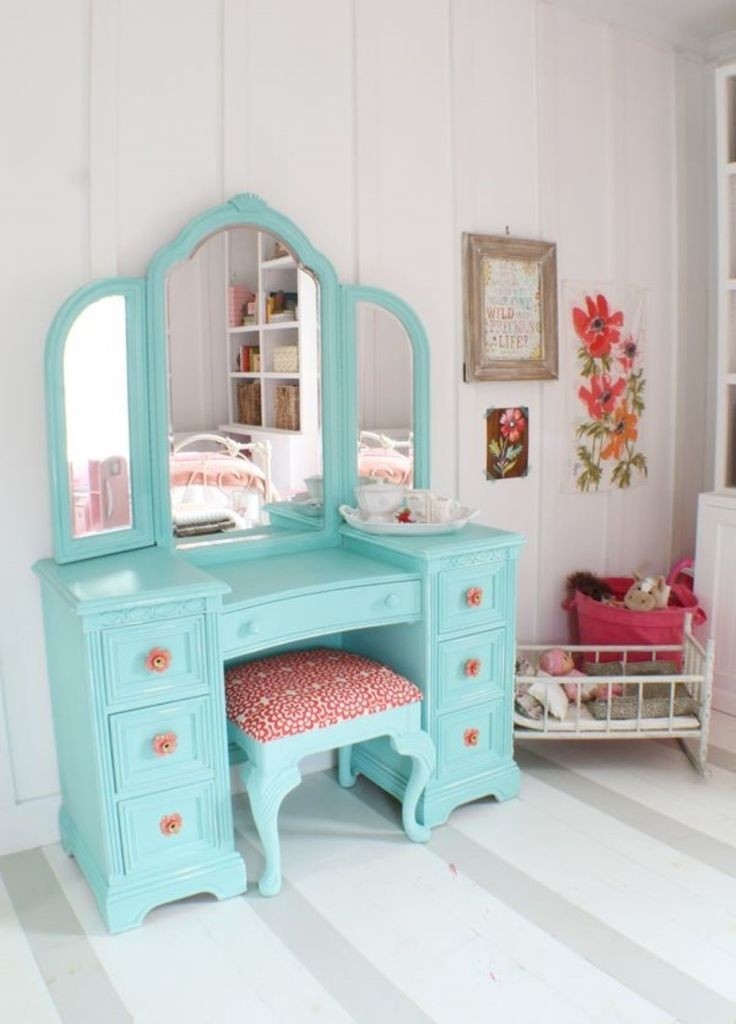 Cute dressing table redo for a little girl or... - Magical ...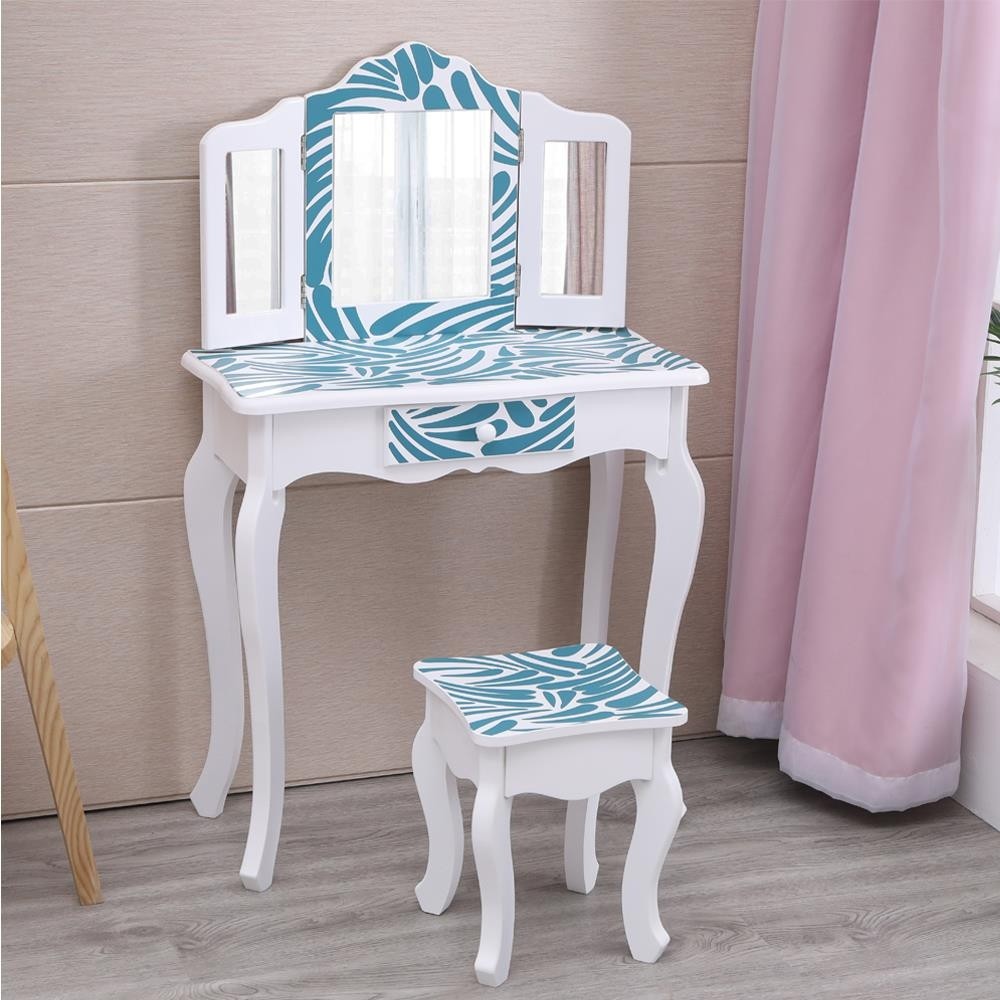 Kids Little Princess Girls Vanity Table Set w/ Drawer and ...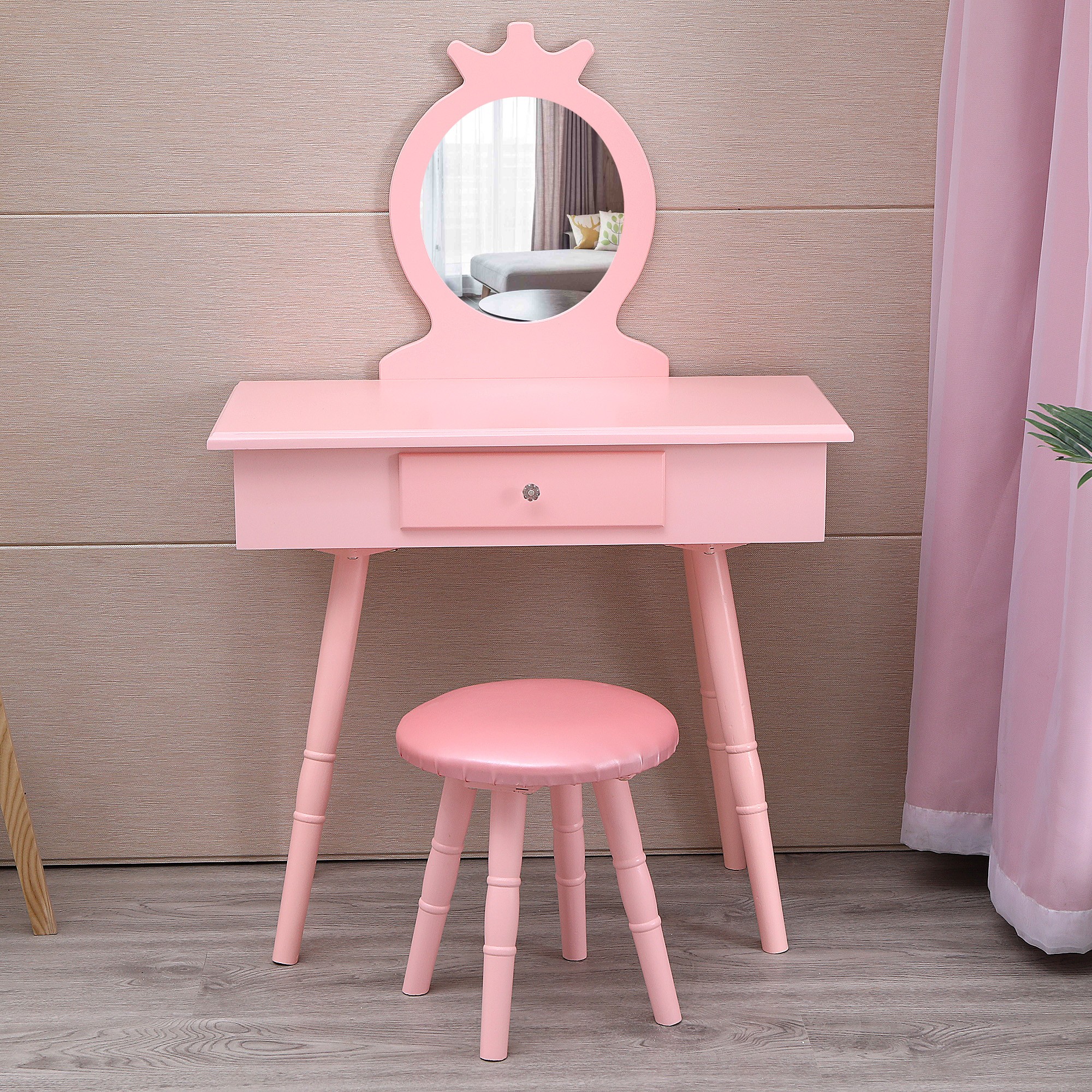 Winado Kids Vanity Set, Princess Dressing Table Set ...