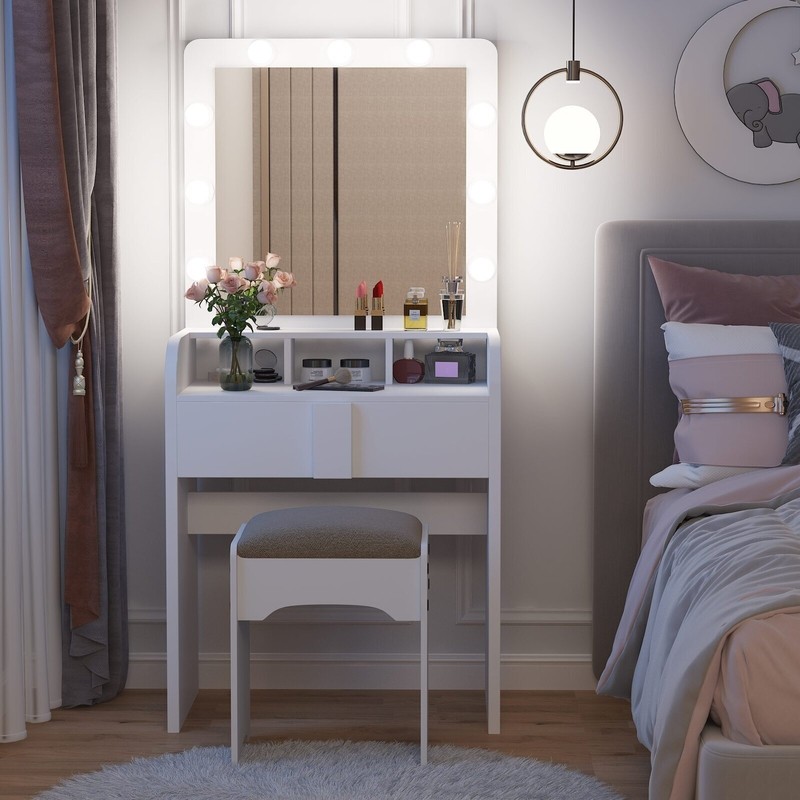 Baldon Vanity Set with Mirror

What we like: Lightweight makeup vanity with lights and drawers, perfect for a small bedroom
What we don't like: Too small to be a professional makeup table
The Baldon vanity with lights is a compact makeup area ideal for a bedroom, large walk-in closet, or spare room. Although it's a relatively small makeup vanity with lights, it has three storage compartments and several surfaces for holding cosmetics, hair accessories, and beauty supplies. It can also double as a miniature journaling desk for reflective time first thing in the morning or before bed.
Crafted from solid wood, the Baldon is elegantly finished as a white vanity with lights. It is surprisingly sturdy for its size, but it is lightweight so that you can move it to different areas of your room. The design is relatively modest, but the white color can be easily accessorized to match any space. The clean lines and gentle curvature of the edges make this a perfect fit for a minimalist home.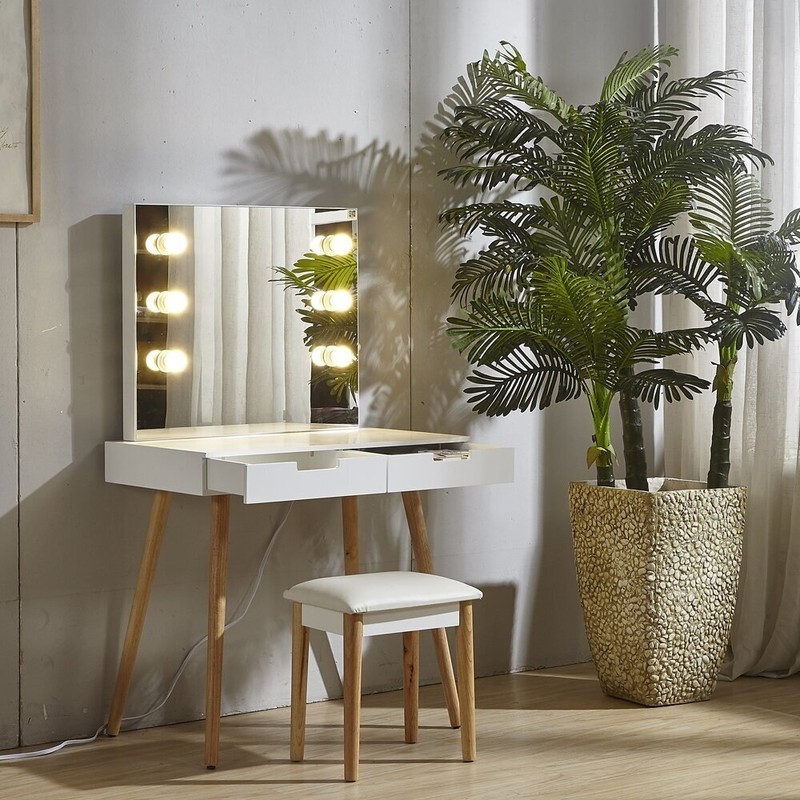 Ciccarelli Solid Wood Vanity with Mirror

What we like: LED bulbs are dimmable, making it a versatile and adjustable makeup vanity with lights and storage
What we don't like: Minimalistic design with limited storage space
The Ciccarelli is another white makeup vanity with lights. Finding the proper lighting is extremely important when applying makeup and styling your hair. One of the main advantages of this item is that it has six adjustable LED light bulbs that you can soften or intensify as you please. These allow you to create an ideal atmosphere for even makeup application, devoid of unwanted shadows.
Besides being a makeup table with lights, the Ciccarelli contains two useful storage drawers for holding various beauty products. Some of the most valuable features of this vanity are the electrical sockets and USB ports, and side panel. These can be used to plug in hair straighteners, a hairdryer, a diffuser, a Himalayan salt lamp, or to charge your phone.
$479.99 $559.99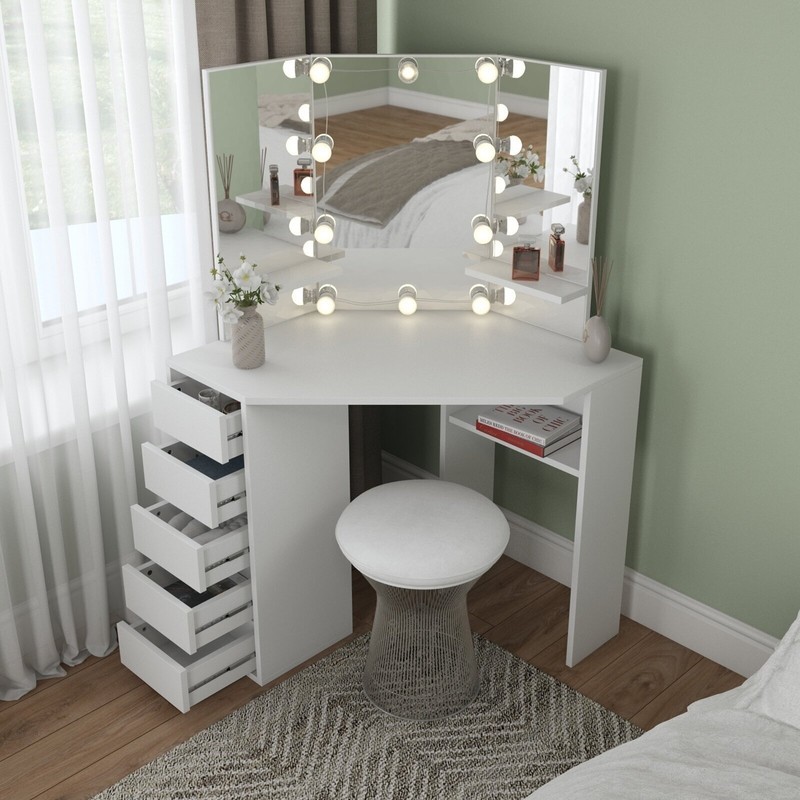 Jaylianie Corner Makeup Vanity Desk with Mirror

What we like: Ten dimmable lights for maximum brightness control
What we don't like: Full assembly is required
This corner vanity desk with mirror and lights is one of the most versatile products on our list. It can be assembled in different ways, depending on your needs and the setup of your room. The desk comes with three mirrors, giving you multiple angles and a clear picture of your face and hair to ensure you're highlighting all your best features. With ten Hollywood-style dimmable lights, it replicates a professional vanity table, allowing you to create the perfect settings for your makeup application.
This contemporary style of this corner makeup vanity pairs beautifully with an ivory boucle ottoman in place of a traditional makeup stool.
The Jaylianie corner makeup vanity with mirror and lights is bigger than some other products on our list. However, because you can place it in the corner of a room, it uses space efficiently.
$329.99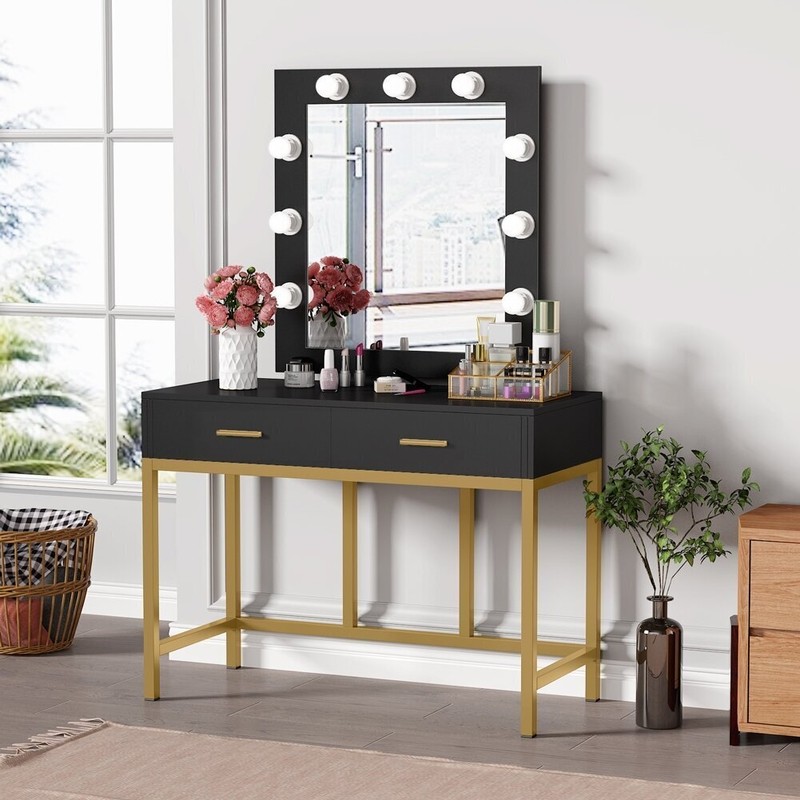 Antony Vanity Set with Mirror

What we like: Classy design, makeup vanity table with lighted mirror
What we don't like: Relatively small surface for additional storage
If you're in the market for classy-looking lighted bedroom vanity sets, the Antony set has a little bit of everything. It is an elegant makeup vanity that can add a touch of sophistication to your bedroom or grooming space. This set is also perfect if you plan to move or rearrange the room regularly because the mirror is removable. The mirror holds nine separate bulbs, evenly dispersing light for a soft glow that prevents shadows on your face.
While the tabletop doesn't have as much space as other vanity sets, the Antony has two large drawers with plenty of room to store cosmetics, perfumes, and various other products. Provided you don't have too many items; you can use this vanity as a makeshift desk. To create a moodier dressing room aesthetic, you can also opt for this vanity in black.
$349.99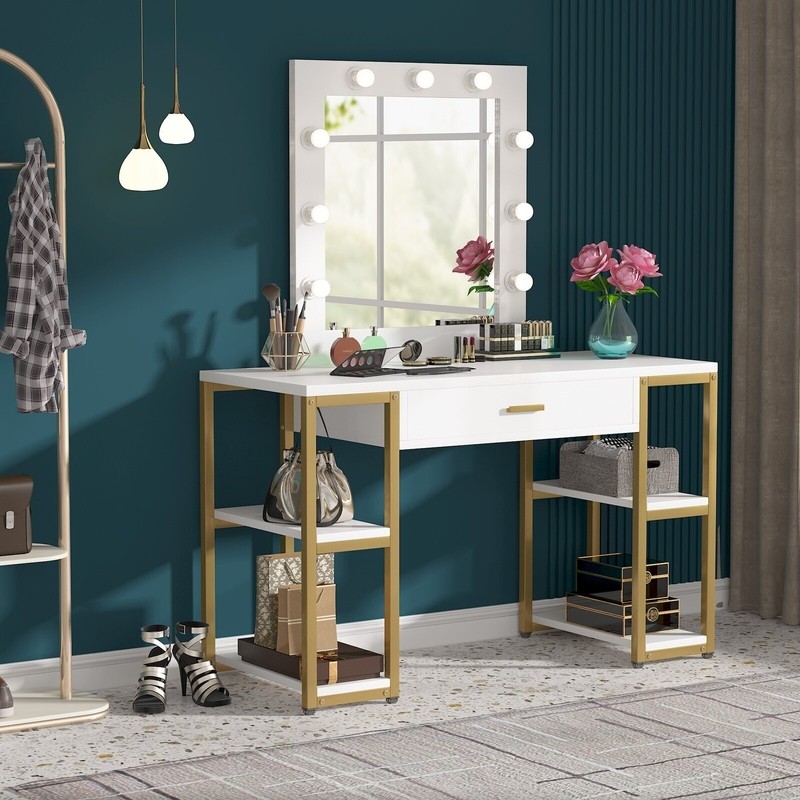 Sumpter Vanity with Mirror and Lights

What we like: Removable mirror makes relocating the set simple
What we don't like: With only one drawer, there may not be enough storage space for a lot of cosmetics
The Sumpter vanity dressing table with lights is similar to the Antony vanity set with mirror and lights, but it is bigger and more spacious. It has a single large drawer in the center and four small shelves built into the support beams on either side. These shelves can provide additional storage space for cosmetics, but they are also perfect for displaying your designer handbags.
Enhance the look of this vanity with a glamorous and modern cane vanity stool. Select an option with mirrored panels, a solid wood frame, and a silky or faux fur seat in neutral tones.
The white and gold color scheme gives the piece a luxurious appearance. The nine lights reflect off the surface, making space bright and welcoming. This affordable vanity makes an ideal gift for a teenager's bedroom.
$309.99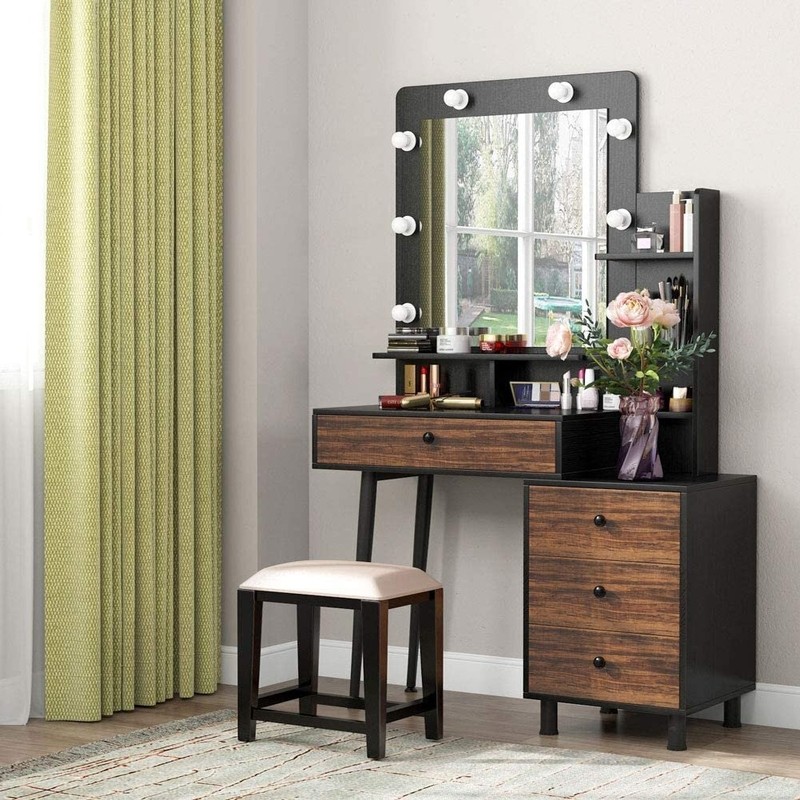 Celyne Wooden Makeup Vanity with Lights and Mirror

What we like: The dark wood design creates a unique vanity dresser with lights
What we don't like: Surface space may be too small for some people to use comfortably
The Celyne makeup vanity set with lights and mirror is crafted from black and brown manufactured wood, giving it a rustic appearance that also works well in a minimalist setting. Three spacious drawers are large enough to hold clothes or cosmetics. The drawer under the desk is ideal for storing pens and stationery or makeup brushes.
The mirror is surrounded by eight bright light bulbs and two sets of shelves, giving you quick access to your products as you do your hair and makeup. At 23.2'' H x 21.5'' W, the mirror is small but sufficient for a single person. Weighing just 60 lbs., the set is relatively easy to move.
$359.99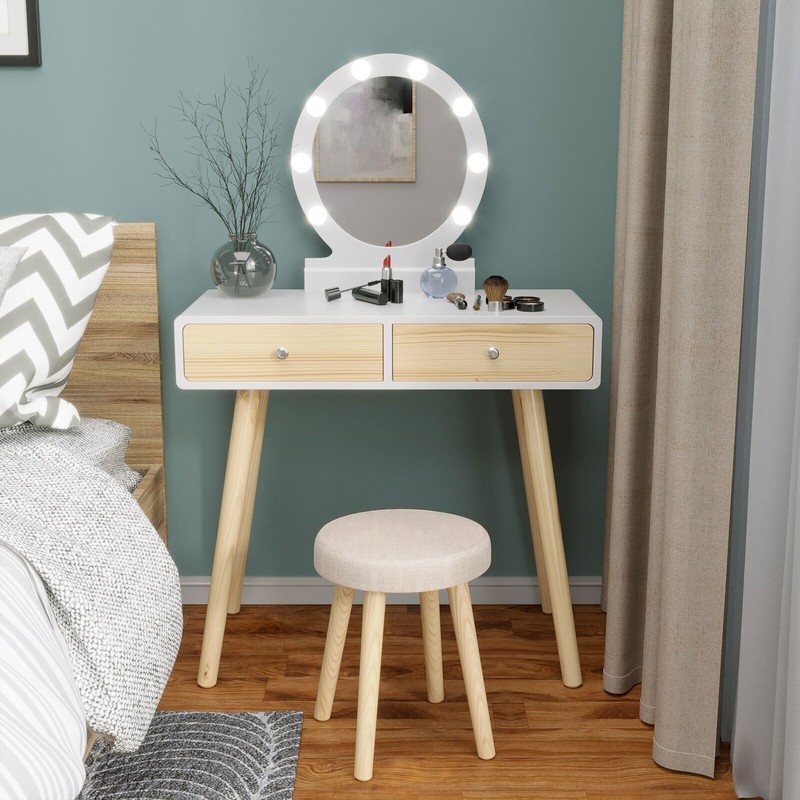 Bedroom Vanity with Lights and Mirror

What we like: Relatively cheap makeup vanity that can fit into virtually any space
What we don't like: Small mirror compared to other models
While it won't work as a professional makeup vanity set, this Corrigan Studio product is an ideal cheap vanity with lights for a small bedroom, dorm room, or studio apartment. The eight Hollywood-style light bulbs make you feel like you're in a professional dressing room, but the compact design ensures it fits neatly into a small space.
Despite the small frame, the set has two large, soft-close drawers giving you a spacious storage area. It is also one of the few on the market that comes with an attractive stool included. The round mirror and Scandanavian style of this vanity are perfect for a contemporary, feminine bedroom.
$144.99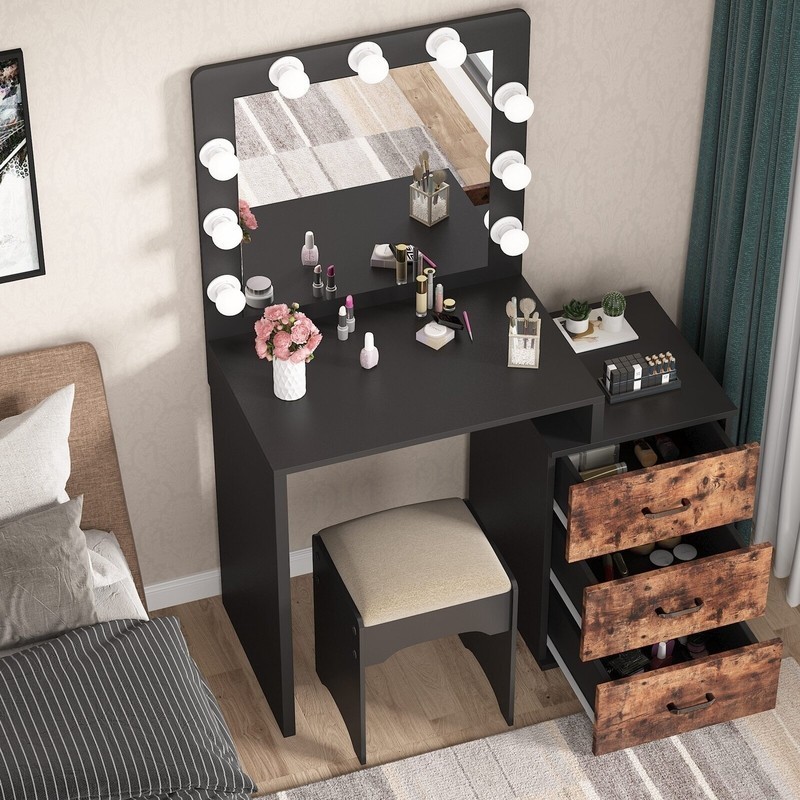 Safira Vanity with Lights and Drawers

What we like: Quaint makeup desk with lights at an affordable price
What we don't like: No additional shelving apart from the three drawers
The Safira makeup dressing table with lights and drawers is a multifunctional piece that allows you to make the most of your space. It has a clean look, inspired by contemporarily designed furniture. The Safira is made from quality products, with a metal frame and E1-graded MDF wood, giving it durability and stability.
Nine LED bulbs surround the mirror, offering excellent lighting and clear visibility. The three large drawers provide enough space to store plenty of cosmetics and beauty supplies. While it isn't a large makeup vanity, the Safira uses space effectively.
$313.99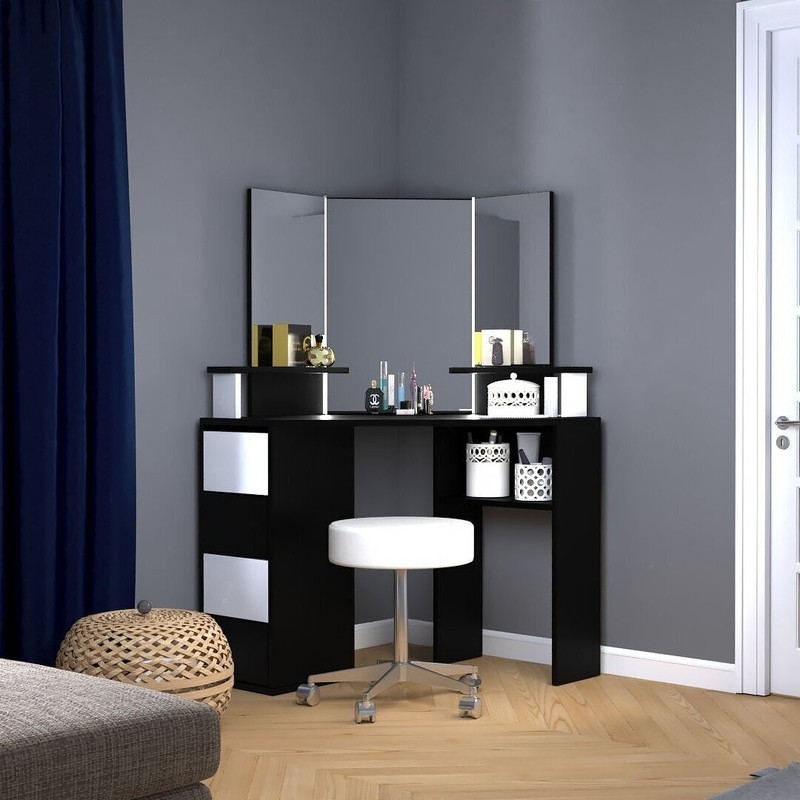 Cindy Corner Black and White Makeup Vanity with Lights and Drawers

What we like: Large makeup vanity with lights, suitable for more than one person
What we don't like: Extremely expensive
If you require a makeup dressing table with lights suitable for two people, the Cindy is an excellent option. It has ample desktop space, legroom, a three-panel mirror, and four drawers, so two people can easily do their hair and makeup side-by-side, making it perfect for sisters sharing a room or college roommates. Apart from being a practical corner makeup vanity with a mirror and lights, it is a stunning furniture piece.
The black and white shades contrast dramatically, providing instant style to your space. The drawers swivel, giving you fast and easy access to all your beauty products.
$479.99
OUR ADVICE Questions & Answers
Every woman needs a proper makeup vanity, that's a fact. The ones that come with lights attached are even better, as they are a real dream come true for most women. Let us elaborate a bit on how they are better than the standard makeup kit, and how will they easily turn a makeup session into the highlight of a day for any woman!

First of all, it's important to mention the main asset of a bedroom makeup vanity with lights – it's as ergonomic as they get. By that, we mean such vanities make the most out of the space they take. Some people think they couldn't possibly fit a full-sized makeup vanity into their bedroom, but it turns out they could very well end up saving space. That's because makeup vanities come equipped with plenty of storage compartments. Not only that, but they also come with a mirror attached. That means you can get rid of a lot of standard storage units, dedicated to storing makeup utensils, and the mirror if you happen to have any in your bedroom.

Other than for their ergonomy, makeup vanities are also famous for their usefulness. Trust us, applying makeup on a professional-grade vanity is in every way superior to applying it with the use of a simple, handheld mirror. You or your wife will be able to apply a perfect, flawless makeup. The effect will be just as good as visiting a beautician! The lights attached to the bedroom makeup vanities we present here further improve the outcome of applying the makeup, as they make sure you don't leave any spots unattended, so you won't ever have to worry about uneven makeup.

Now, let's not forget that a makeup vanity will not only help you beautify yourself or your wife but also your bedroom. Nothing screams "luxurious" as loud, as a bedroom with a professional, impressive makeup vanity. It's even better when it comes with lights attached! If you decide to invite any guests to your bedroom, we're sure that it's the makeup vanity that's gonna stay in their memory for hours after they leave your house.

As you can see on this site, makeup vanities with lights come in plenty of styles and shapes. Therefore you won't have any trouble finding one that fits the design of your house and your bedroom. Be it a modern, minimalistic apartment in New York or a rustic, cosy cottage somewhere in Texas, rest assured that there is at least one makeup vanity with lights right here that will be a great match!

Having told you all about the amazing assets of the makeup vanities, there is one last thing we didn't cover yet. Any of these will make your wife feel like a true movie star every time she applies makeup. Therefore, if you want to show your wife that she's your most precious star, just get her one of these vanities and you will thank us later!